9 Useful Travel Accessories to Buy
Traveling somewhere soon and looking for travel accessories to help make your travels smoother? You've come to the right spot! The best travel accessories, the best travel accessories for men and women, it's all covered in this travel guide!
It can be overwhelming to pack for vacation, especially if you're someone who overthinks. However, having some essential travel accessories when traveling abroad for the long term or a quick vacation is vital.
The better you pack, the more prepared you will be. And suitable travel accessories make things more convenient when traveling. Some travel accessories in this list should be a choice, others are essential, and you shouldn't travel without them.
I've noticed several lists online that boast and recommend 50+ travel accessories. This is ridiculous; you want to pack light when traveling. But besides that fact, that's too many options, and most shared ones aren't necessary.
I find these lists of travel accessories a tad overwhelming. That's why I decided to share a concise list of must-buy travel accessories, not anything more, nothing less.
When traveling, if there is one thing you want to do, it's pack as light as possible. That means no-nonsense travel accessories, only helpful travel items!
READ ALSO: 8 Best Budget Travel Tips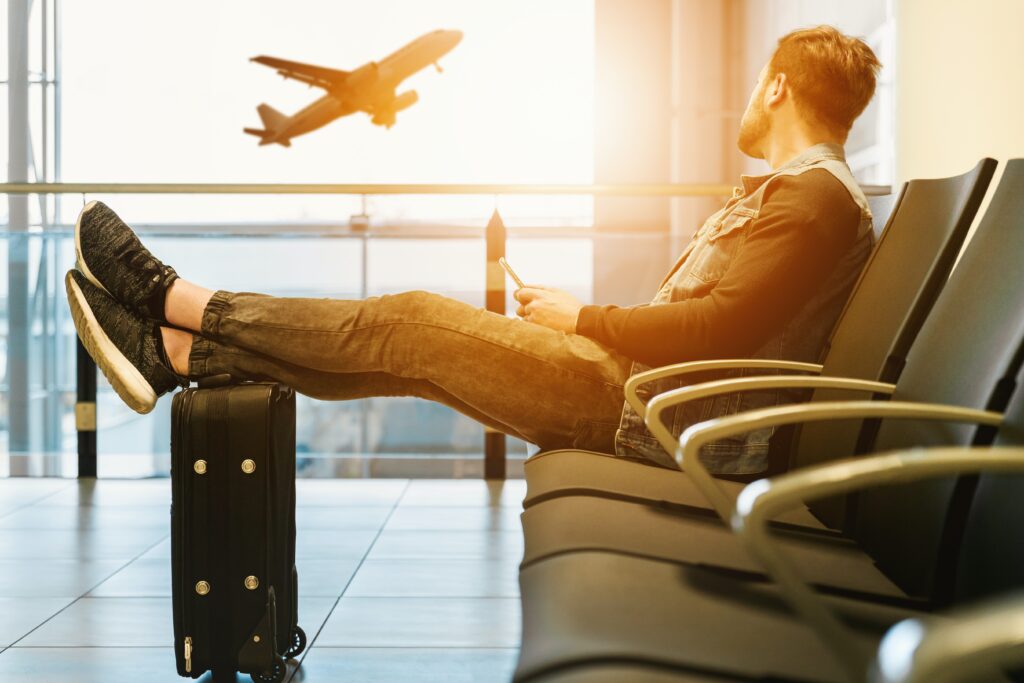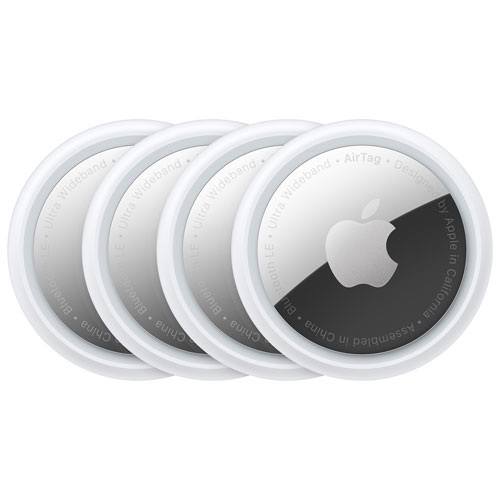 Unless you've lived under a rock the past few months, you've heard of Apple AirTags. Many Bluetooth trackers are on the market, but Apple AirTags work the best. It's one of those must-have travel accessories.
Also, the price for them is pretty reasonable; you can purchase one of them for $29 US or buy a 4-pack for $99 US.
Not a high price to pay to reassure you where your items are at all times. This is a must-have travel accessory. I've always got my eye on my bags at the airport, but this is a great reassurance.
Not to mention lost checked-in luggage, unfortunately, which is awfully common nowadays. Having an AirTag in your checked-in luggage bag will always let you know where your luggage is.
Yes, you can use AirTags if you have an Android phone. An app allows you to connect your AirTag and see where it is. For those with an iPhone, using the Find Me app is more convenient.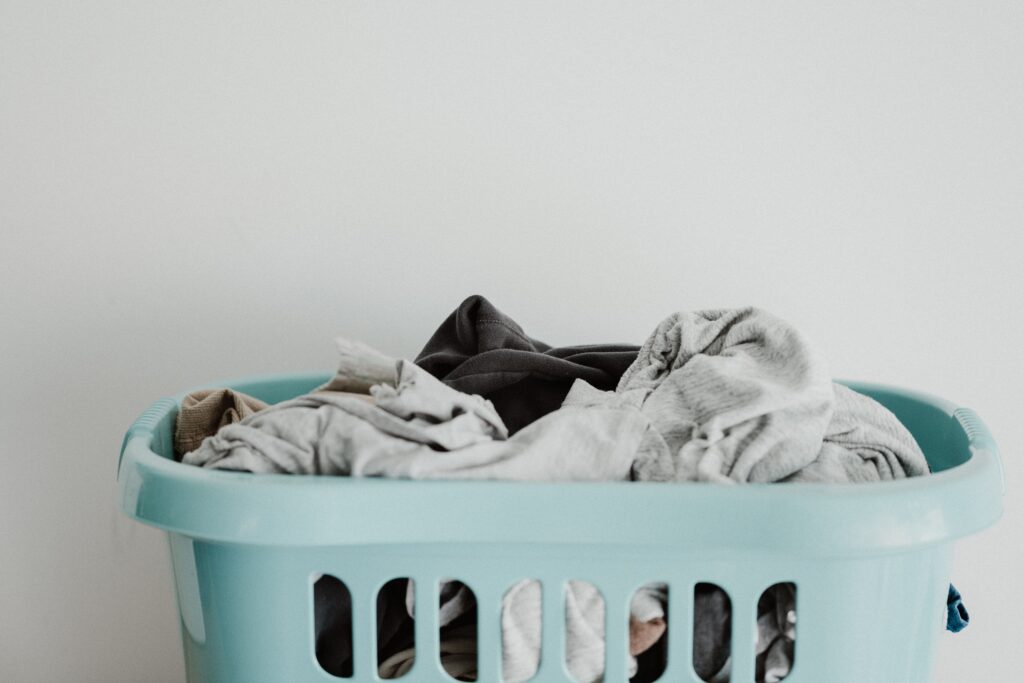 I'm always surprised when I learn that most don't travel with a travel laundry bag. How do you know which clothes are clean or dirty? Better yet, how are you taking your dirty clothes to the local laundry place if you're doing laundry in that country?
You won't have a laundry bin like the one photographed above when traveling.
It doesn't have to be a fancy laundry bag purchased online; it could be as simple as a plastic or clean re-usable grocery bag. Next time you're traveling, pack a laundry bag. Believe me, you will get into the habit of bringing one after doing it once!
I use a laundry bag that comes with my luggage and the classic blue IKEA Frakta shopping bag for my longer trips. I wrote more about this in my other article, 12 Travel Hacks You Need to Know.
An absolute must-have travel accessory is a travel adapter. The last thing you want to happen is flying somewhere abroad and not being able to charge your mobile phone. We use our phones to get around, store digital tickets and have access to much more.
Our phones keep us connected to family, friends, and any business commitments we may have. It's essential to stay connected when traveling. The one photographed above is the Universal All in One Wall high speed Charger.
You can't get far nowadays without having your phone with you. So make sure you purchase an adapter that you can use in most countries, allowing you to charge your devices where ever you travel.
Compact Umbrella – #4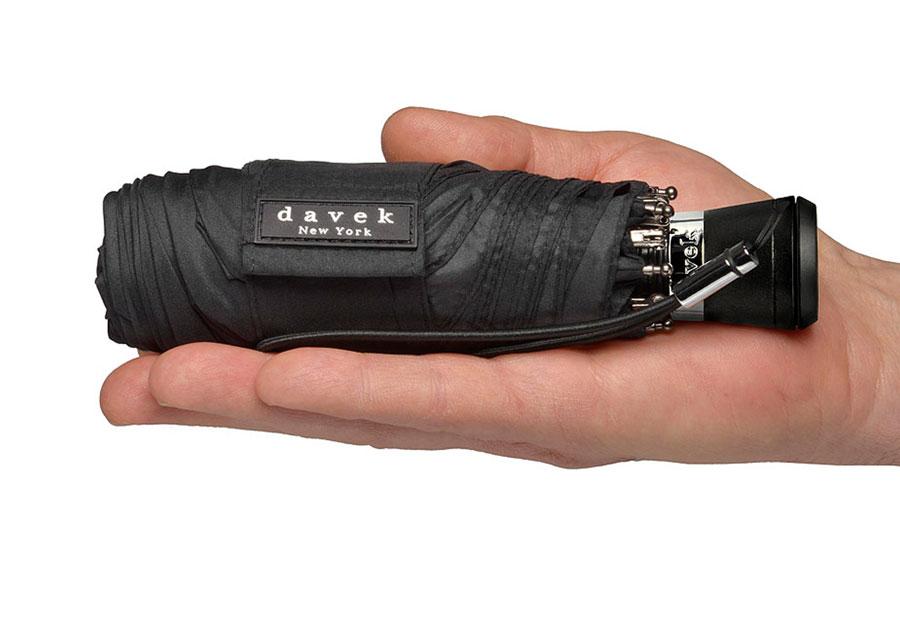 A tiny umbrella that is lightweight and compact but will keep you protected from both the rain and sun is a must-buy. An umbrella is one of those travel accessories that many people look past, especially when flying to a sunny destination.
Unless I'm going to a resort in a sunny destination and I don't plan on leaving the resort, I'm 100% packing a compact umbrella in my carry-on bag. The umbrella photographed above is from Davek New York. For a basic compact umbrella, check out this selection of compact travel umbrellas.
Make sure you purchase one that is compact so you can save room in your luggage; that's important. Trust me, buy and pack a compact umbrella; when it rains and you have to walk, you'll be prepared.
This past February, I visited Playa Del Carmen, and it poured rain every few hours for the first few days. Despite February being a dry month in Playa Del Carmen, Mexico, it rained for the first few days. Friends of mine were laughing when they found out I had packed an umbrella, well they weren't laughing when it started to rain!
If you're looking to pack your carry-on bag to save space strategically, you're either rolling up your clothes the old-fashioned way to save space or purchasing compression packing cubes. It's one or the other.
I'll be honest; I was reluctant to purchase compression cubes when I first heard of them. They felt like one of those travel accessories that weren't a necessity.
I changed my mind after trying out my friend's compression packing cubes. The compression packing cubes in the photo above are from Monos.
Not only did they allow me to save space in my luggage, but everything was nicely organized—underwear and socks in one cube, shirts in another.
Saving room and being more organized? Nothing to think about; buy a set! Compression packing cubes are one of the best travel accessories out there.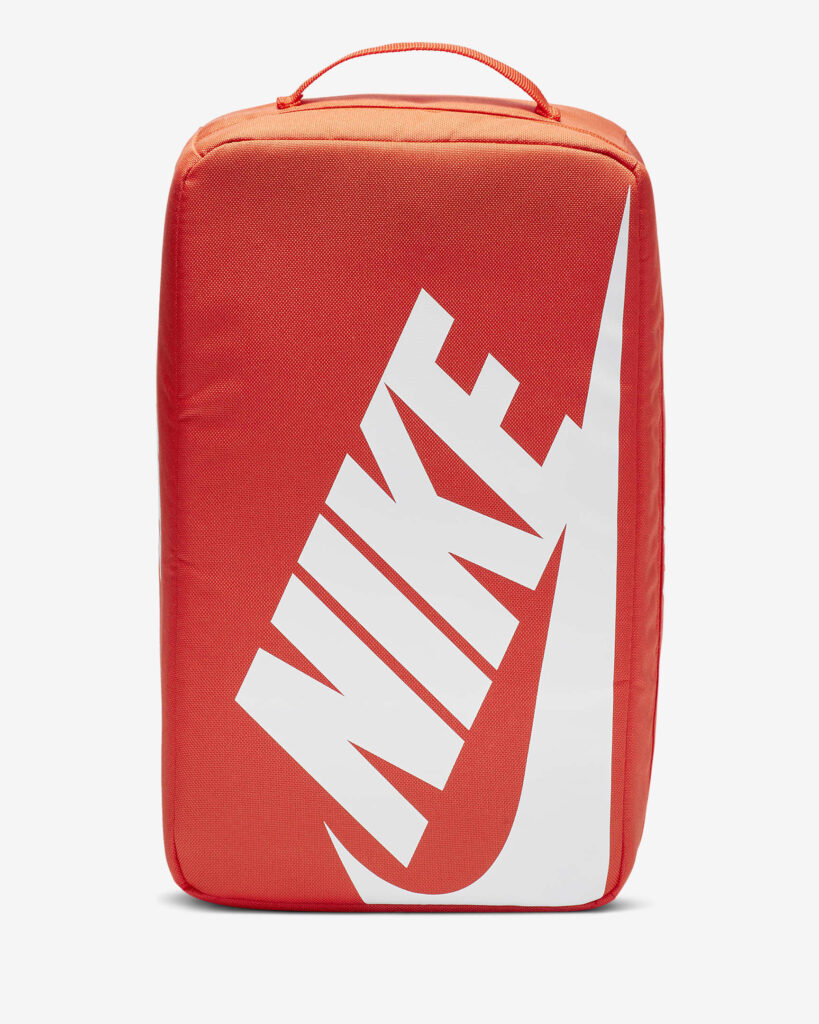 Waterproof shoe bags for travel are a no-brainer; they keep your shoes separate from anything else in your bag. Like a laundry bag, you won't stop once you use a shoe travel bag. It's the practical thing to do when packing shoes in your luggage.
A shoe travel bag is one of those unique travel accessories overlooked; honestly, I don't understand why. If you'd like to purchase the Nike shoe travel bag, it's available here.
I've always used a plastic bag to cover my shoes in my luggage; I don't want my dirty shoes coming in contact with any clothes I wear. But now I use the shoe travel bag that came with my Monos carry-on luggage.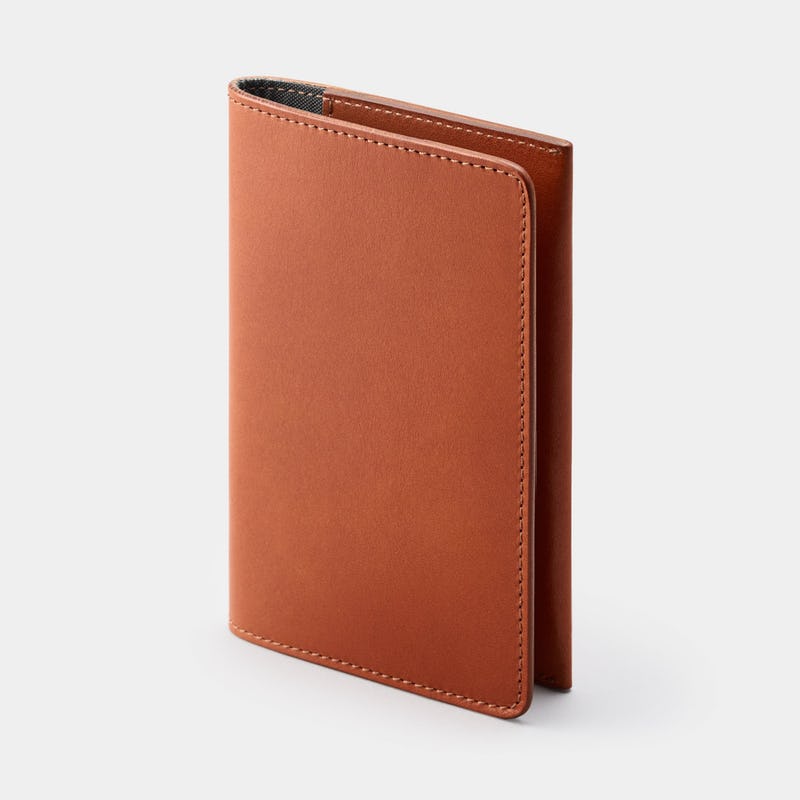 Some don't believe passport holders are a must-buy travel accessory; I strongly disagree. First, most passports' outer material is slippery, so it can easily fall out of your pocket or hand without you noticing.
Passport holders add some grip and weight to your passport and avoid any water damage. The brown leather passport photographed above is from Carl Friedrik.
When traveling abroad, your passport is something you should hold onto for dear life. The last thing you want to do on your trip is go to the embassy of your country and deal with getting a new temporary passport.
If you're abroad in another country, you spend your time doing other things. Putting your passport into a passport holder makes it much easier to keep track of your passport.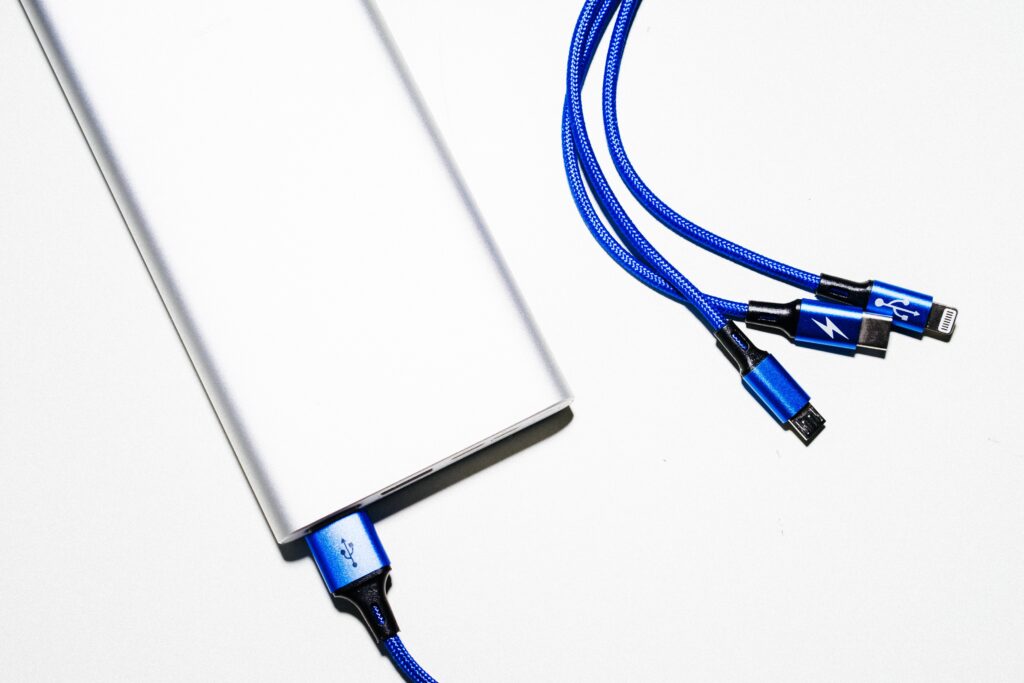 These days, who doesn't have a power bank when they travel? A power bank is essential for long-distance travel. It isn't easy to find a power outlet while you are in the woods, on the beach, or anywhere else. If you have a power bank, you are always prepared.
I recommend purchasing a power bank smaller than 20,000 MAH in battery capability. So instead of getting a smaller power bank offering only 1 or 2 complete charges for your phone, with a 20,000 MAH, you should get at least 4+ total full charges.
I use this 20,000 MAH power bank from Anker. Make sure you know the MAH count before purchasing a power bank.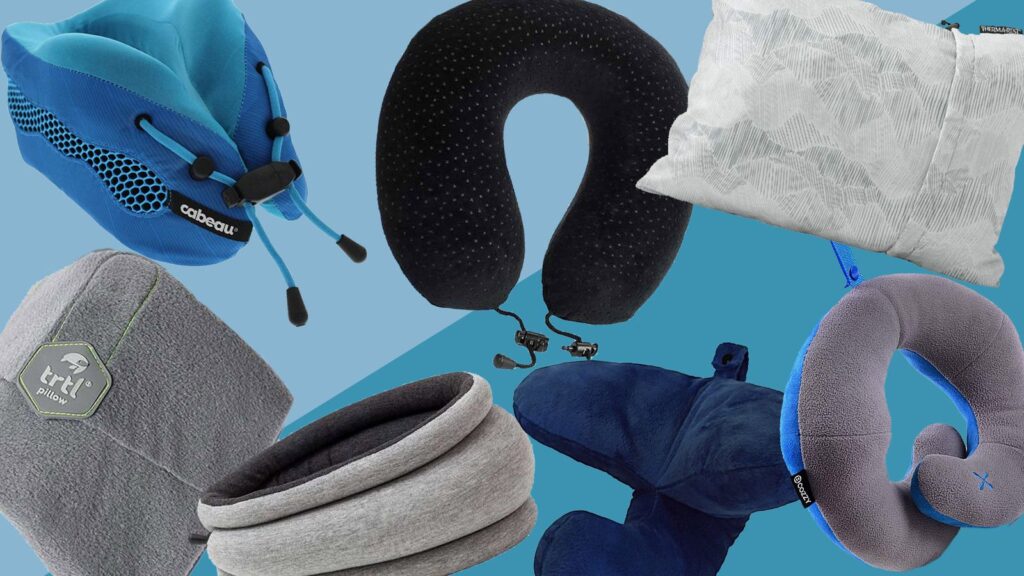 For those who usually sleep during flights, neck pillows are essential. But don't go out and buy one at the airport. You pay more than you should and don't even know if you'll like it. Travel neck pillows are one of the best travel accessories for long flights.
I don't own a neck pillow and never have. Despite sleeping quite a bit on flights, I make it without one. If you're going to skip this travel accessory, be careful how you place your head when sleeping on your flight.
You don't want to wake up with neck pain as you land in a new country. Not the ideal way to start your adventure!
Best Travel Accessories for Women
Toiletry Bag for Women – #1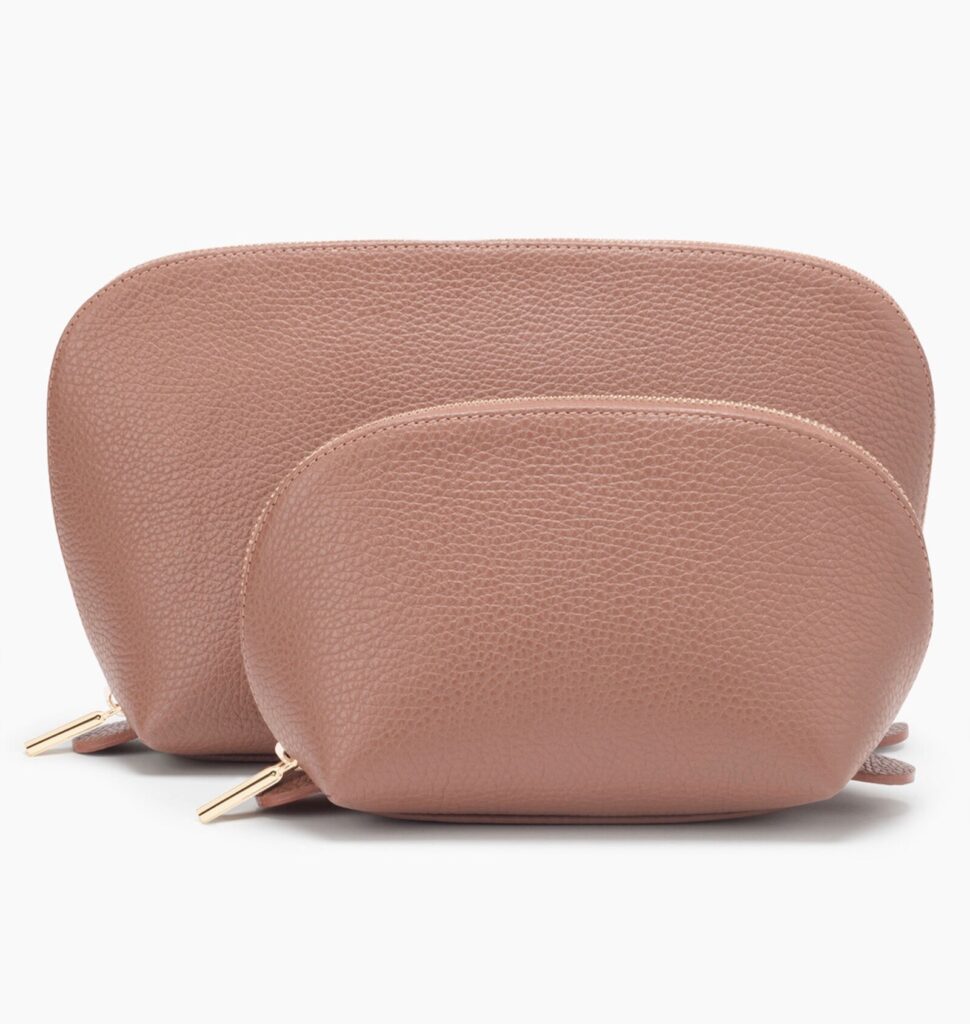 Toiletry bags are a must for everyone when traveling, but different toiletry bags cater to different needs. Most women agree that they pack more things in their toiletry bags than men do. So, of course, they need more room and compartments in their toiletry bags.
That's precisely why a toiletry bag specific to women is what you should buy. The toiletry bag photo above is from Cuyana. If you're looking for a more affordable bag, this is a great choice!
Travel Purses – #2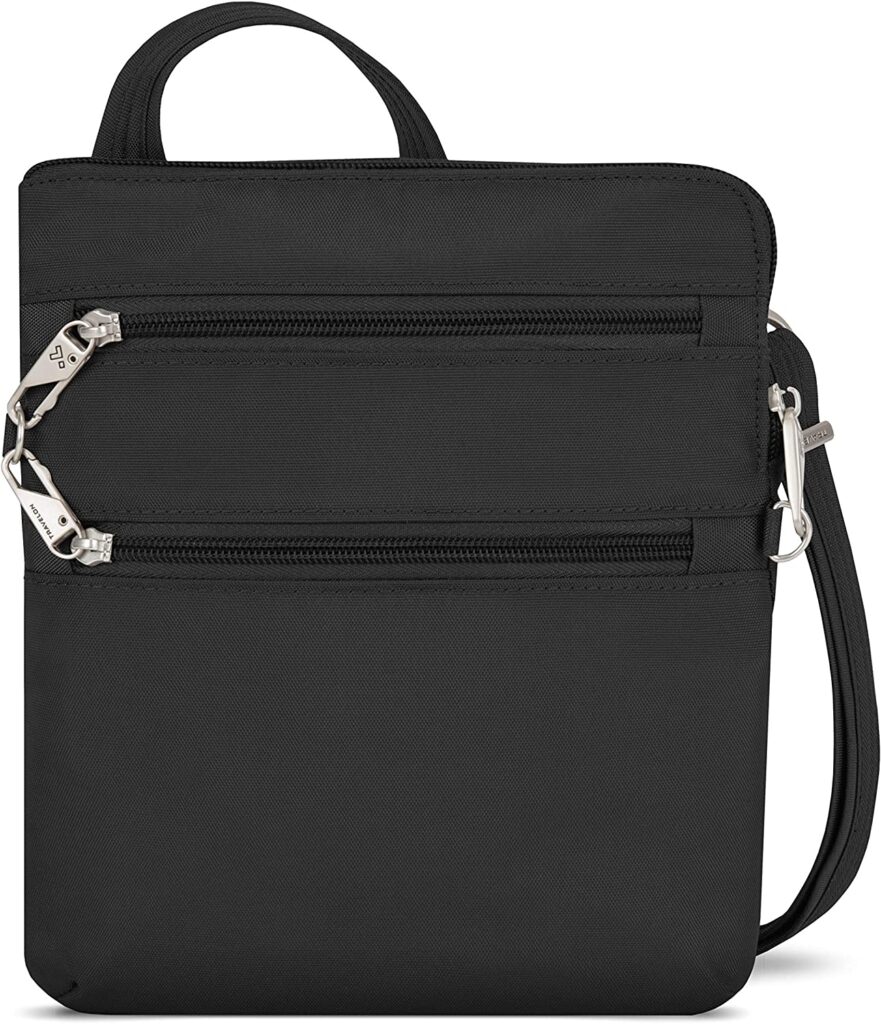 Travel purses can carry small items like a Kindle or tablet. They have lots of compartments and sections to organize things. Compartments for sunglasses, passports, lipstick, and much more. Find one that suits your needs best.
Travel Makeup Bag – #3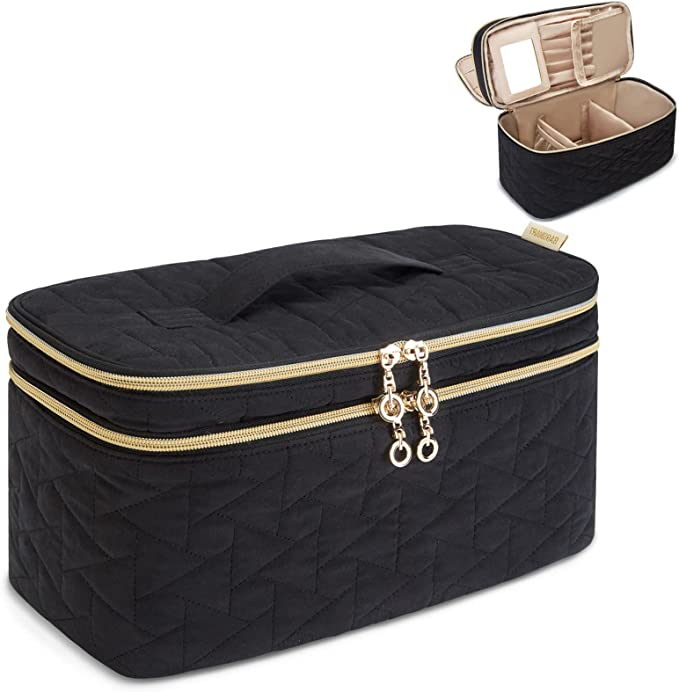 For ladies who wear makeup, a travel makeup bag is one of the best accessories for traveling.
Makeup can end up everywhere; products are small and can be displaced (and they aren't cheap). Having a bag dedicated to your makeup while traveling is a great idea.
Remember what sizes of each product you can bring; below is an image from TSA sharing what you can bring in both Checked and Carry On luggage.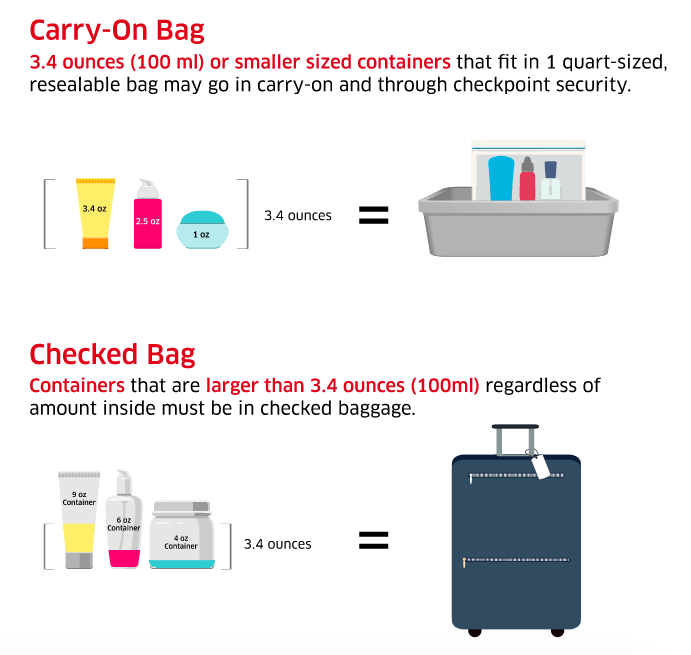 Best Travel Accessories for Men
Mens Toiletry Bag – #1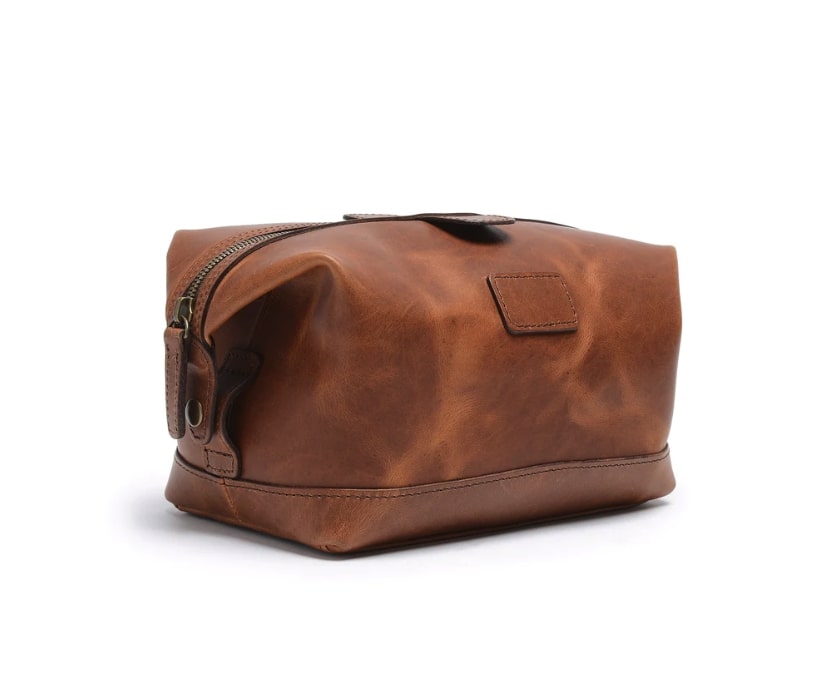 A nice sleek men's toiletry bag is a must-travel accessory for men to keep their deodorant, toothbrush, cologne, and other possible medical products organized.
Use the TSA image above to know the sizes you can bring for any product. The men's toiletry bag photographed above is from Korchmar.
Travel Backpacks for Men – #2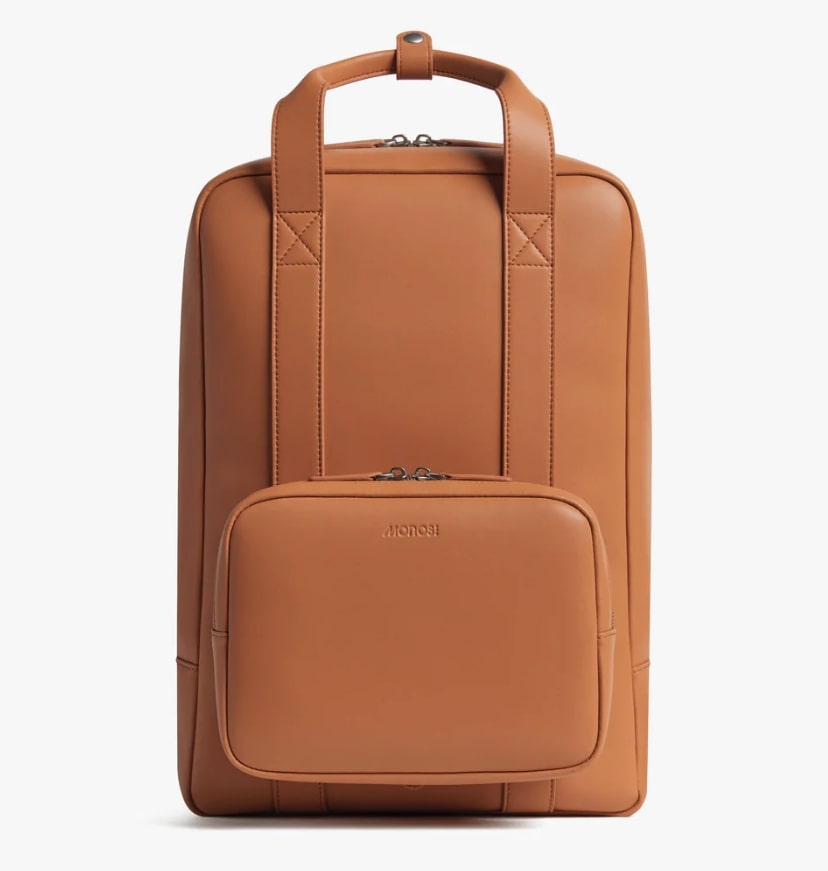 Of course, you can purchase just about any backpack and call it a day. Whatever you do, make sure you buy a backpack with many practical compartments suitable for travel.
But for those going for something fashionable, finding a practical and stylish backpack is a great idea. The backpack photographed above is the Monos Metro Backpack.
Portable Speaker – #3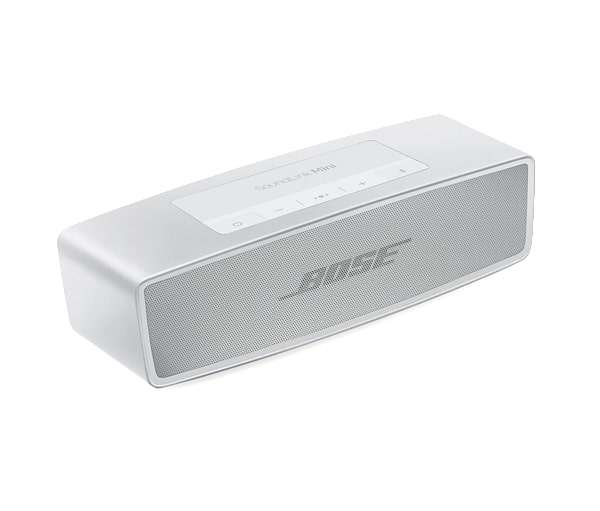 There's nothing like hearing your music out loud. It just doesn't compare to headphones. Beach days with a portable speaker are just that much better. I recommend Bose portable speakers; they're loud but still consider sound quality.
Not only the beach but putting on some music loud as you get ready to go somewhere while abroad really sets the mood! This shouldn't be on the top of your list to pack, but if you can fit it .. you won't regret bringing it!
Final Thoughts
I hope you found at least one or two helpful travel accessories you didn't think you'd need for traveling in this list. No matter what you purchase, make sure you use it and feel it will be helpful when traveling.
Now that you know what to buy, check out our favorite 12 travel hacks you need to know when traveling.
When traveling, you want to travel as lightly as possible. So make sure your purchase will be helpful in your travels, otherwise don't buy it. If I'm missing something on this travel accessories list, comment below!
You don't want to make an unnecessary purchase that you most likely won't take on your trips. You should think about travel accessories a little more before purchasing!
Purchasing travel insurance is essential to have for multiple reasons. You never know what can happen when you're abroad. For travel insurance, I recommend using SafetyWing.
Subscribe to Travel Hiatus!
Receive updates on my latest posts, insider travel tips & the best destination guides to your inbox!
Happy & Safe Travels
Featured Image Credit: Charlotte Noelle
---
Planning Checklist
---
Disclaimer: Please note that some of the links shared in this article might be affiliate links; this means that at absolutely no extra cost to you, we will earn a small commission for any sales generated through this article and/or this website. We recommend products/services we've either used or researched thoroughly – Thank you for supporting us so we can continue to share helpful travel content!