Karon Beach, Phuket: Best Visitor Guide
Karon Beach is a famous beach area/village located along Phuket's coastline.
The area is beautiful, calm, and not busy, unlike other beach areas in Phuket, like Patong.
Not only is Karon Beach one of the most beautiful beaches of Phuket, but it's also one of the most extensive beach shorelines in Phuket as well.
Karon Beach is also referred to as Karon or Karon Village.
The beach here is long enough to accommodate everyone, whether you're looking for a beach chair rental for the day or looking for space on the beach for your towel.
Something you can only say about some of the beaches in Phuket, most get very busy and have limited room, but not Karon Beach.
One of the most convenient things about Karon is there are precisely two main roads in the village area, so it's hard to get lost here. Patak RD has many restaurants, shops, and bars, and Karon Rd is the main street along the beach.
In this visitor guide, I will cover everything you need to know about Karon, including how to get to Karon, things to do in Karon, the best hotels and restaurants in Karon, and more.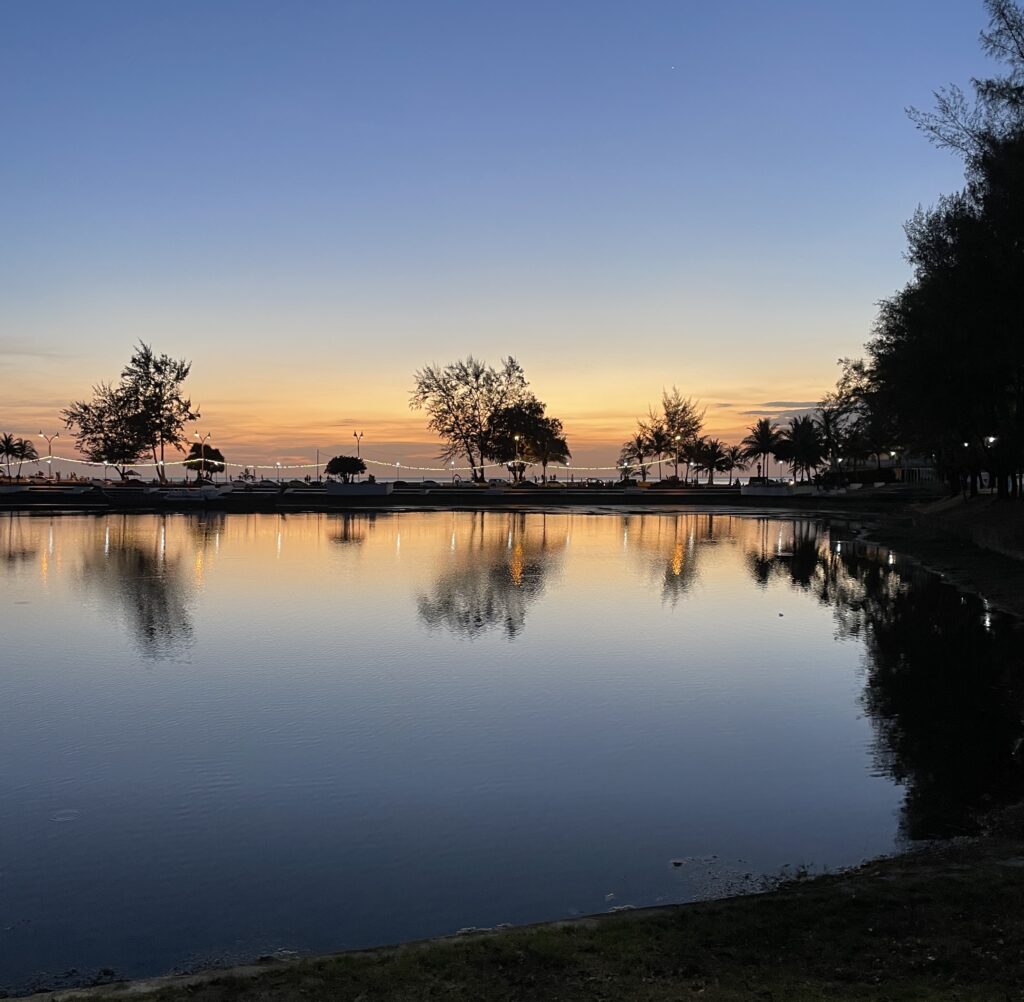 How to Get to Karon Beach
First, I will cover how to get to Karon from Phuket Airport. For the Cheapest Flights into Phuket Airport, use SkyScanner.
Travel time from Phuket Airport to Karon Beach in Phuket is 1 Hour – depending on traffic.
Private Airport Transfer: The most convenient way is by private airport transfer; you will have a car waiting for you once you arrive and don't have to worry about figuring anything out once you're there! – PRICE: $36 – 40 US
GRAB: This is UBER in Asia/Thailand; you can download the app and find a ride easily – But when you exit the airport, you must take a left and walk to the MAIN road because GRAB drivers are NOT allowed to come into the airport. – PRICE varies by time of day 600 – 800 Baht / $30 – $35 US
Phuket Smart Bus: This is the cheapest way to get to Karon from Phuket Airport, this local bus travels from Phuket Airport along the coast of Phuket and stops at all the main beach areas in Phuket, including Karon. It leaves around every hour. Check the Schedule – PRICE: 100 Baht / 2.88 US.
Taxi @ Airport: Once you arrive at Phuket Airport, many taxis are trying to gain your business; you can take one, but I'd be careful with this option only because they tend to overcharge tourists. – PRICE: 1000 Baht / $40 US
Rent a Car: Another option is renting a car from Phuket Airport, an excellent idea for those exploring Phuket! – PRICE: Varies on vehicle and day amount
AIRPORT TIPS: Phuket Airport has a Taxi mafia. They operate a firm hold on taxis at the airport and are notorious for overcharging tourists for TAXI rides into Phuket. – You must LEAVE the main airport area and go to the MAIN road for any ride pickup other than an airport taxi.
How to Get to Karon from Another Area in Phuket
For those staying in a different beach area in Phuket that would like to visit Karon for the day, here are your options for how to get to Karon from any location in Phuket you may be staying in!
The best way to get around Phuket is by renting a Scooter, Phuket Smart Bus, or GRAB.
GRAB: As mentioned before, you can take a Grab car anywhere around the Island – PRICE: Depends on your location in Phuket
Phuket Smart Bus: You can go to Karon from any beach area along the coast using the Smart Bus. The bus stops at each bus stop every Hour; check the schedule here. – PRICE: 100 Baht / 2.88 US (no matter where you're coming from)
Song Taew (local Blue Bus): This is the local Bus; it can take you to Karon from Central Phuket and other areas. But it does NOT operate along the coast, passing through beach areas of Phuket, as the Smart Bus does. Operates from 6:00 AM and 6:00 PM and frequents approx every 30 mins – PRICE: 40 Baht / $1.20 US (no matter where you're coming from, you may have to take more than one bus)
6 Things To Do in Karon Beach
Beach Day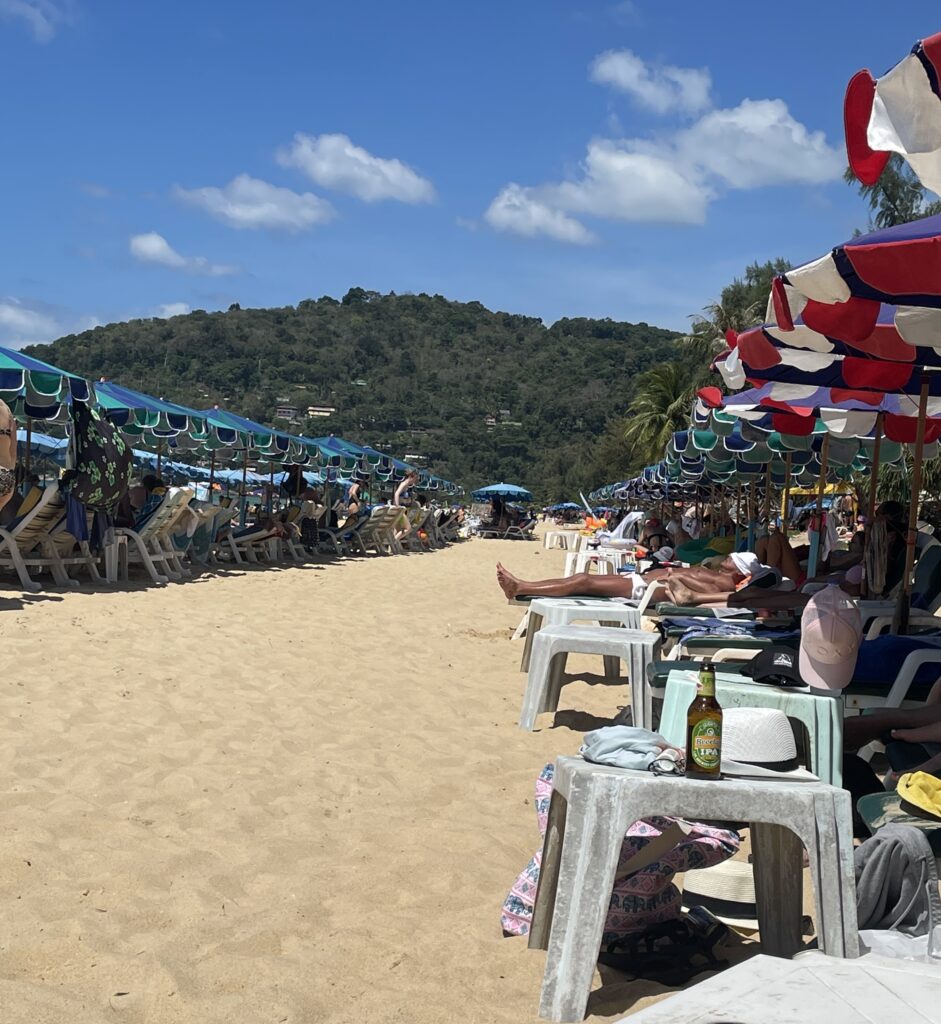 Famous for being one of the best beaches in Phuket, there's nothing better in Karon than going to the beach.
The beach shoreline in Karon is 4km long, full of beach lounge chair rentals, vendors selling drinks/snacks, and many activities to enjoy.
The water at Karon Beach is a crystal blue color and see-through. As you're in the water and look around your surroundings, you'll quickly notice the mountainous range that surrounds Karon. Try to spot the Big Buddha when you're in the water!
No matter what end of the beach you decide to spend the day, there are convenience stores, restaurants, and shops right across the street for your convenience.
Another convenient part about Karon is how close Kata Beach is. If you'd like to visit Kata Beach instead one day, it's only a 4-5 minute drive away!
Other Beaches in Phuket to Visit – Drive Time from Karon
Kata Beach – 5 minutes
Kata Noi Beach – 8 minutes
Freedom Beach – 15 minutes
Nai Harn Beach – 20 minutes
Patong Beach – 25 minutes
Kamala Beach – 35 minutes
Surin Beach – 40 minutes
For a list of the Best Beaches in Phuket, details, and how to get to them, view my guide: 8 Best Phuket Beaches.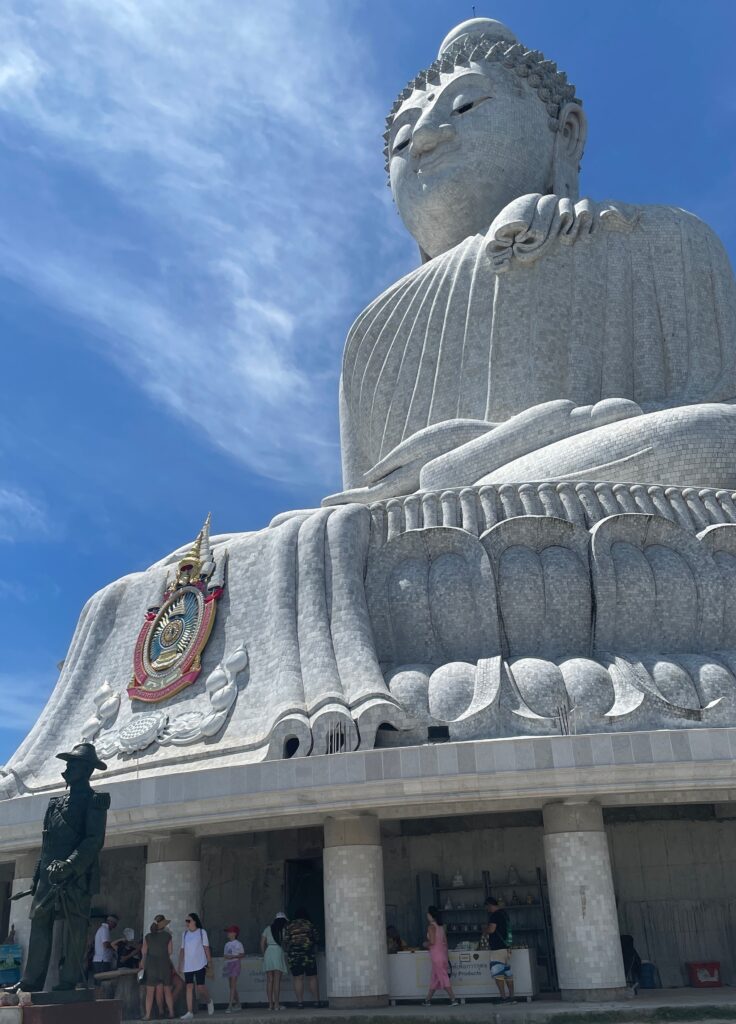 One of Phuket's most famous landmarks is the Big Buddha, standing 45 meters tall.
The Big Buddha is located at the top of the Nakkerd hills. Visiting the Big Buddha offers spectacular aerial views of Phuket.
The Big Buddha is Phuket's most famous tourist attraction and landmark, so you can imagine how busy it gets here, especially during Buddhist holidays.
Hours to see the Big Buddha are 6:00 AM to 7:00 PM Daily. It's FREE to visit the Big Buddha.
You might notice the Big Buddha as you're on a bus driving around Phuket or you're driving on a scooter, and as mentioned earlier, you can spot the Big Buddha from when you're swimming in the ocean in Karon.
Here's how to get there: rent a scooter, take a taxi/grab, or hike there. For those looking to go to the Big Buddha by vehicle, I recommend attending this organized tour, including transportation!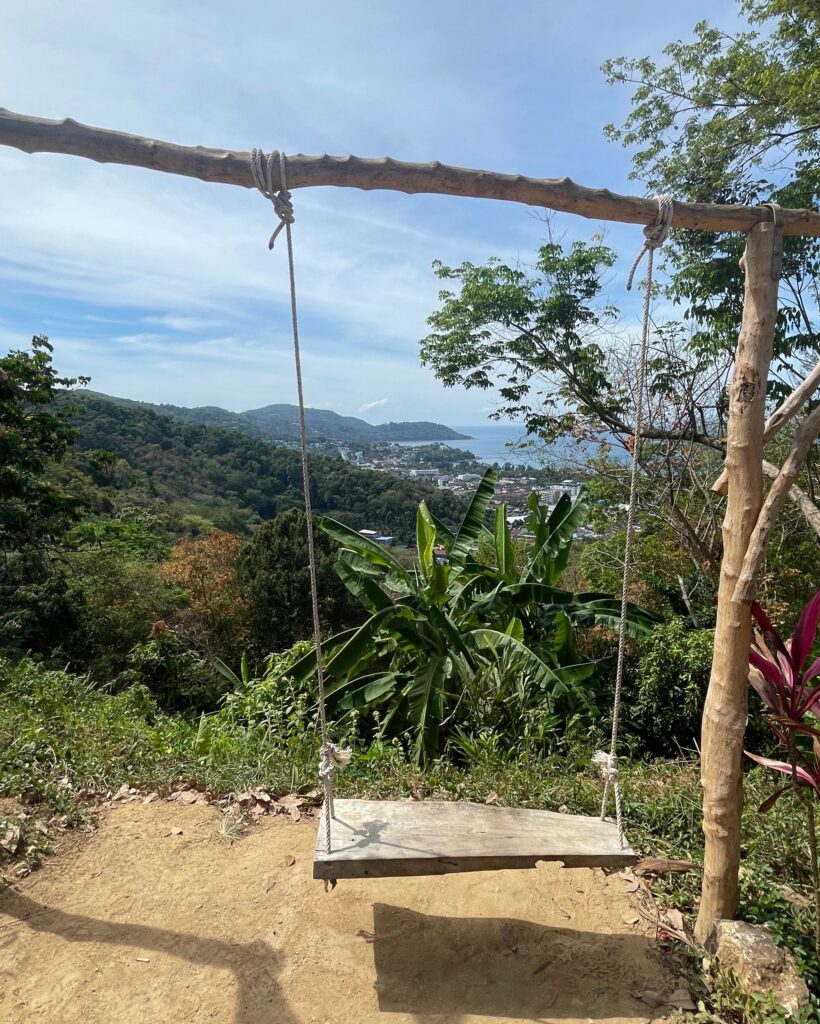 To hike there, you must go to the Main Big Buddha Trail, which takes around 90 mins or more, depending on your speed. I'd avoid the hike for those not up for an adventure and workout.
We decided to hike because of the fantastic views you can see along the way to the Big Buddha. If it's a hot day, I'd recommend you go earlier to avoid the hot weather and crowd of tourists!
This is a place of worship for those practicing Buddhism; please remember to respect your surroundings when visiting the holy site.
Also, please ensure you cover your knees and shoulder here, or you can't come in; security won't let you in otherwise.
Visit Ethical Elephant Sanctuary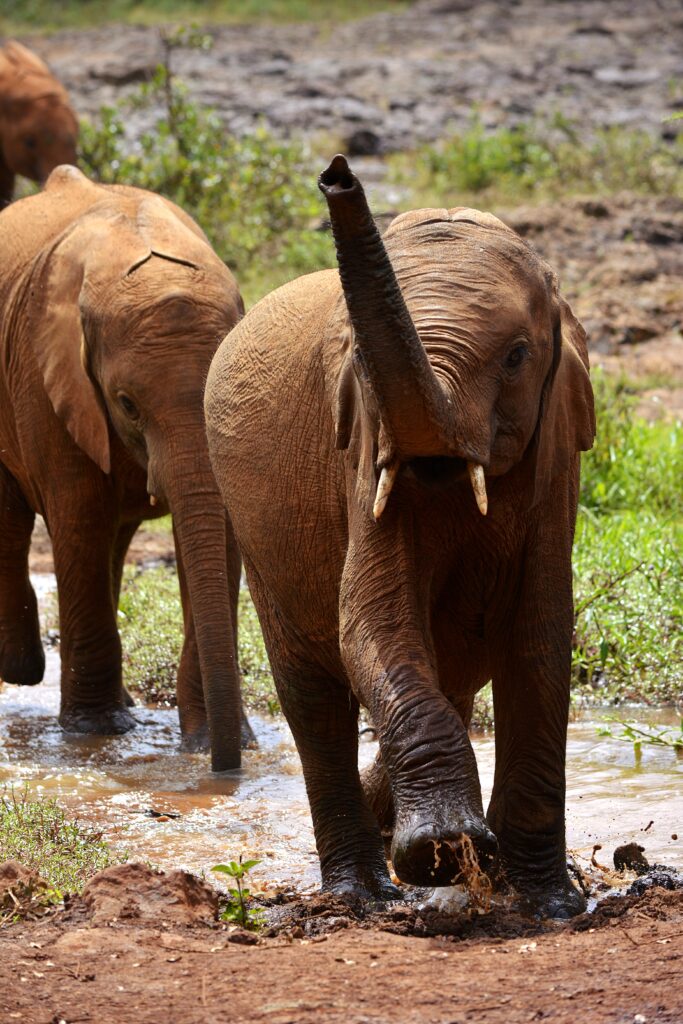 One of the most popular attractions in Phuket is visiting an elephant sanctuary and experiencing how these friendly giant creatures live, eat, and learn about them.
While this activity is popular and fun, please understand that most elephants in Thailand aren't correctly cared for. I'm sure the idea of it sounds fun, but elephants aren't supposed to be ridden or chained to the ground so they can amuse humans.
The official Phuket Elephant Sanctuary is an ethical sanctuary that properly cares for its elephants.
You may notice the price of going to ethical sanctuaries is costly, and that's because it's expensive to take care of elephants. They eat a lot and need lots of room to roam.
Make sure the Elephant sanctuary or nursery you choose to go to is ethical to these beautiful giant creatures; animal abuse is not okay.
Karon Night Market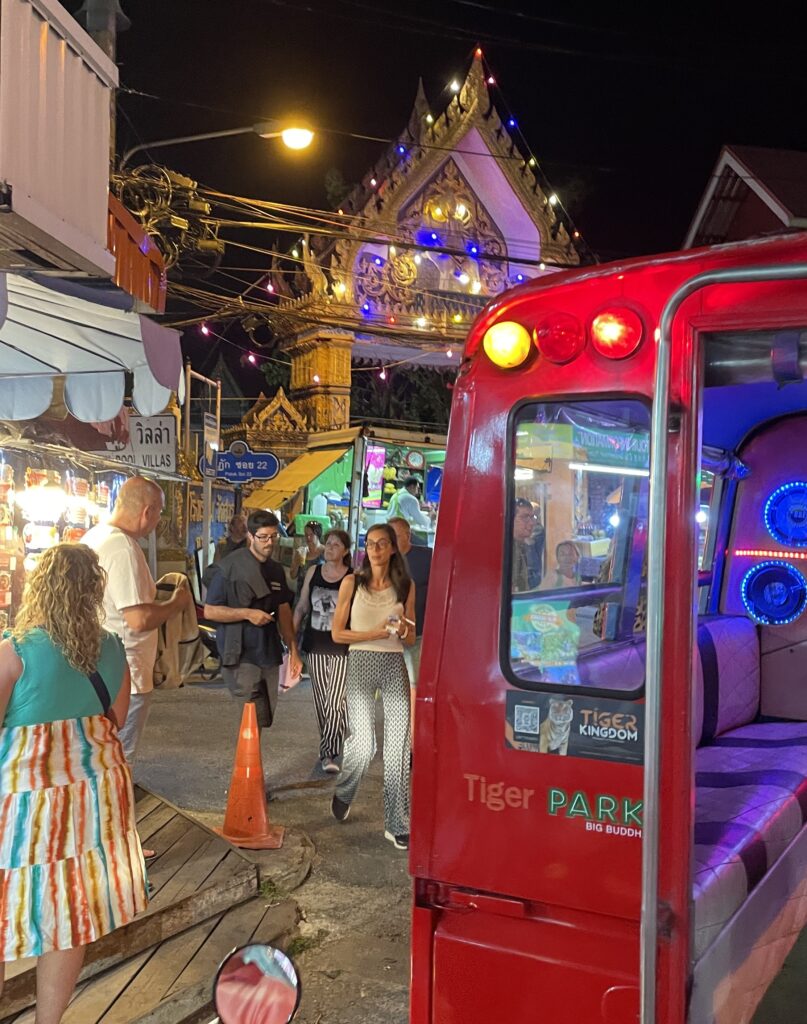 The Karon Night Market, also known as the Karon Temple Market, is one of the best night markets in Phuket.
The market is open on Tuesdays and Fridays, but when there are special Thai holidays, the market sometimes is open on those days as well.
Here you will find several delicious foods, including pad Thai, bbq skewers, fried chicken, freshly squeezed juice, coconut pancakes, sushi, fresh fruit, and anything you can think of.
You will also find several products being sold here, including all sorts of health products, soaps, creams, aloe creams, handcrafted goods, bags, t-shirts, and much more.
If you've read any of my articles about Thailand, you will already know how much I love the night markets in Thailand. They're the perfect place to spend an evening; they've got many food options, desserts, souvenirs to buy, and even essential home products.
Foodies, those who are foodies, if you're looking for the best food tour in Phuket, attend this Phuket Old Town Food Tour; I highly recommend it!
Other Night Markets in Phuket
Kata Night Market (open daily)
Sunday Old Town Night Market (Sundays only)
Night Market Patong (operating daily)
Naka Weekend Market (operating only on Saturday/Sunday)
Shop at Bazar Karon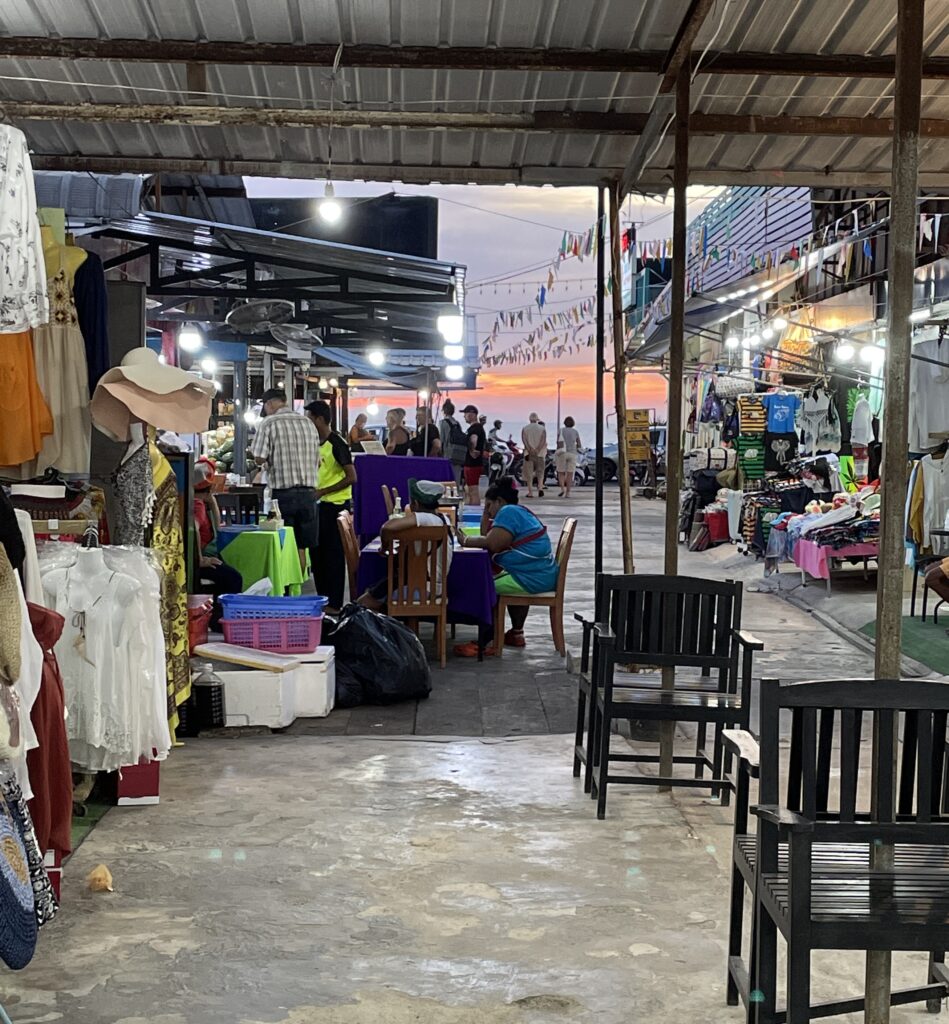 As you go down Karon RD, the main street along the beach, you will get to the Bazar Karon.
You will find many similar products at the temple market at Bazar Karon, but Bazar Karon is open every day of the week. And compared to the temple market, you will find more goods here.
If you're looking for bikinis, slippers, or beach towels for the beach, this is the best place in Karon to purchase them.
Bazar Karon is also famous for its extensive selection of open-kitchen restaurants serving various bbq seafood every night. After your meal, buy some ice cream and walk along the beach directly across the street.
Watch Sunset by Volleyball Courts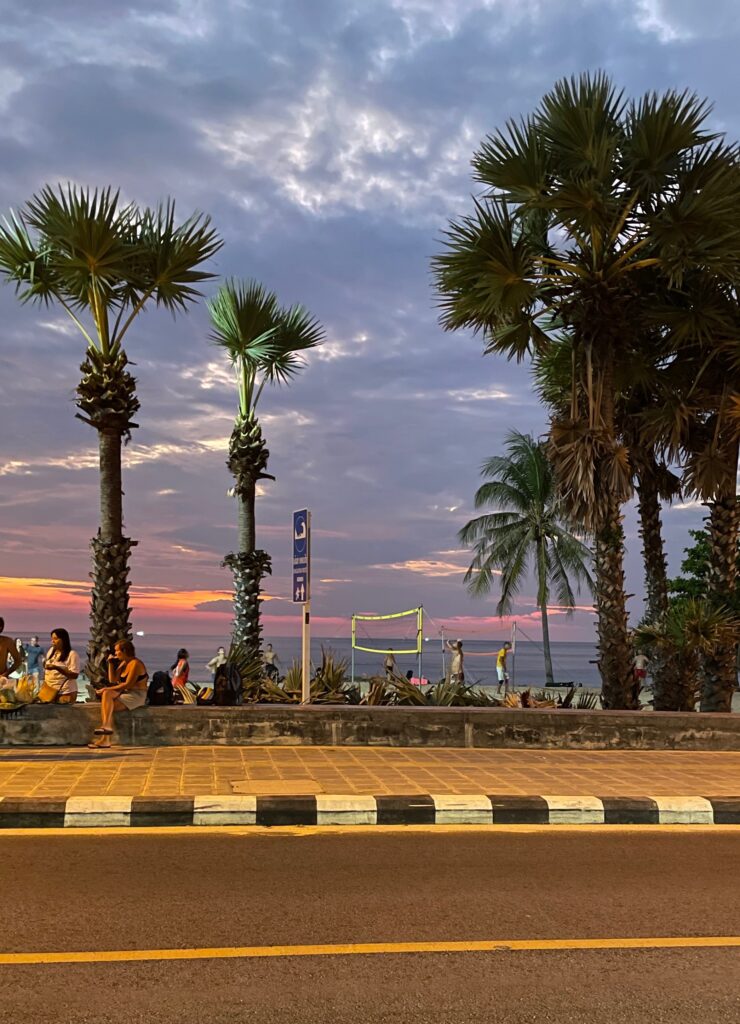 One of the best things to do in Karon is watch the sunset with locals and tourists at the volleyball courts.
There is an area on the beach with about 12 full-sized volleyball courts. In the evening, you will spot many people playing volleyball or setting up their beach towels, ready to watch the sunset.
So get some food from the market across the street or snacks from 711, bring your towel, or sit on the ledge and enjoy the beautiful sunset!
Looking for more Things To Do in Phuket? 9 Best Things To Do in Phuket
Karon Beach Hotels
There are many different hotels to choose from, some closer to the beach and others near Karon Beach, but no matter what hotel you're looking for, you can find it in Karon.
In this list, I've included the best hotels in Karon, a 5 Star Karon beach resort, two modern 4 Star hotels, and more. No matter your budget, this shortlist has an excellent hotel option for where to stay in Karon Beach.
Le Meridien Phuket Beach Resort – (5 Stars)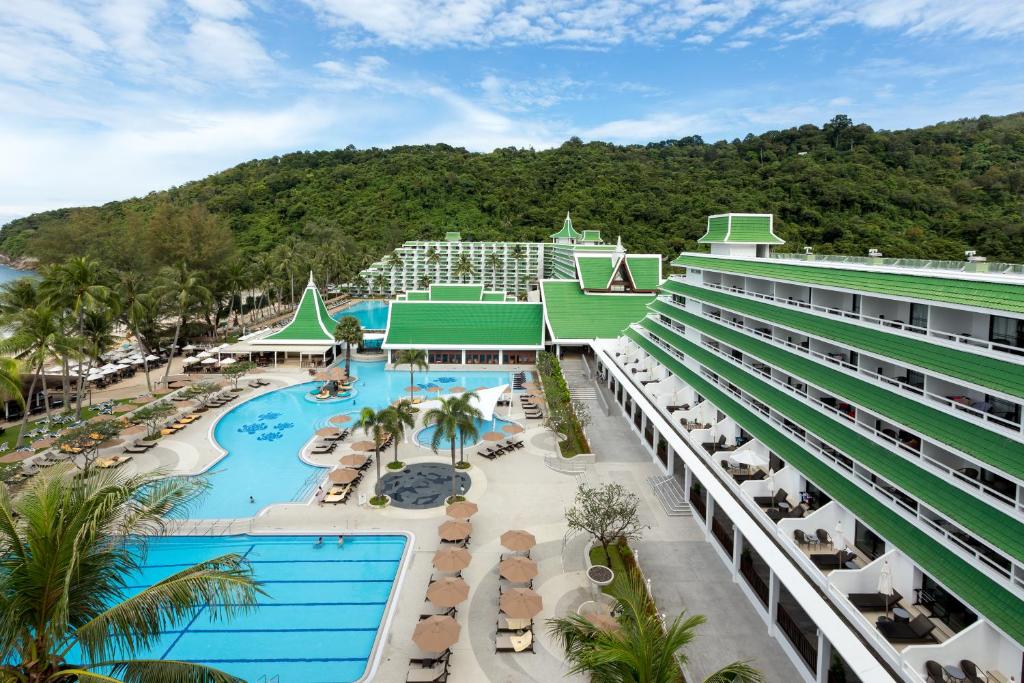 Slightly outside of Karon is the stunning Le Meridien 5 Stars beach resort. Ranked as the best hotel in all of Karon for many reasons.
Le Meridien Phuket Beach Resort has two large pools for guests to enjoy and a private beach only for hotel guests, Had Karon Noi Beach. This is a rare occurrence in Phuket for a hotel with a private beach area.
The decor here is modern with a tropical touch. Inside the hotel, you will find their exceptional on-site spa, playroom for kids, gym, and many other amenities.
Best For: Private Beach, 5 Stars
JonoX Phuket Karon – (4 Stars)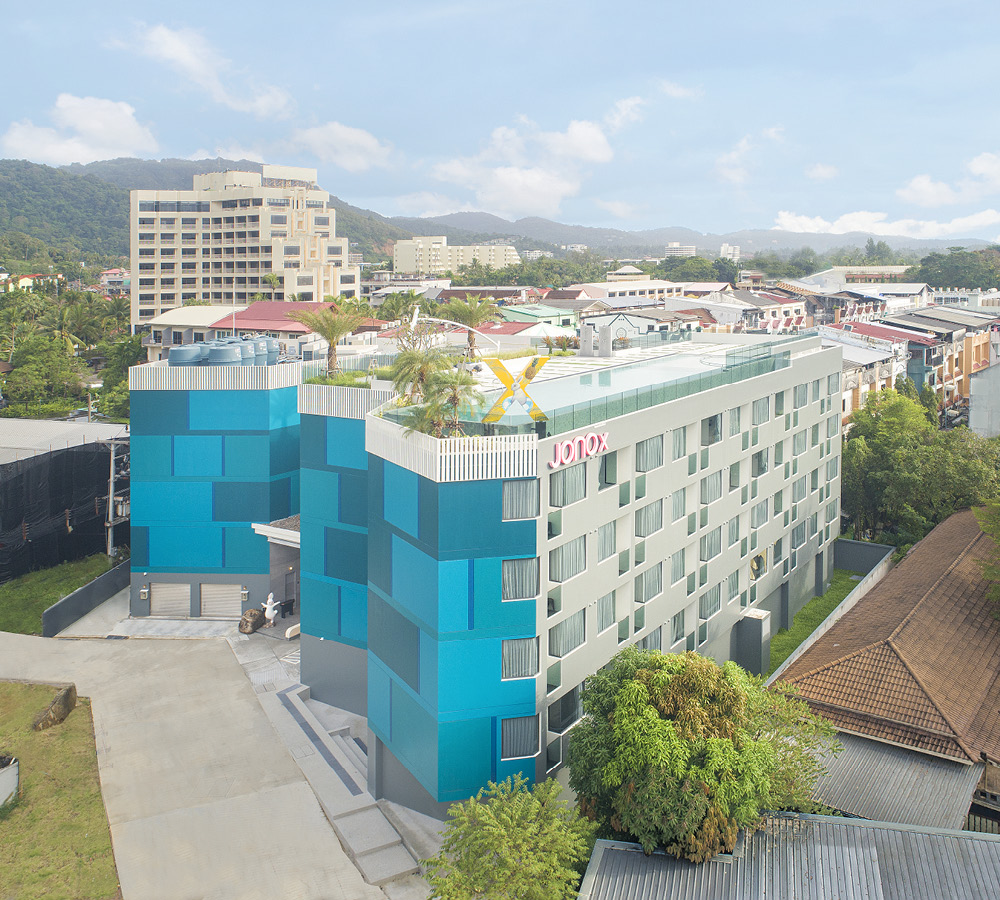 Another exceptional hotel option in Karon is the beautiful JonoX hotel, the best part about this hotel is the well-decorated modern decor, the rooftop pool with ocean and mountainous views, and its fantastic location.
JonoX Karon has an on-site restaurant, and the rooftop pool is nice enough that you might want to sunbathe here instead of on the beach some days. There's a kid's playroom, office space, and more. The hotel is full of amenities.
The hotel is it's steps away from Karon Park, a 711 convenience store, and several restaurants. And only 100 meters away from the main beach in Karon and Patak Rd, a street with many restaurants and shops.
Best For: Modern, Rooftop Pool
Sugar Marina Resort – (4 Stars)
Located steps away from the popular Patak Rd, full of several restaurants, bars, and shops, is Sugar Marina Resort—a quiet condo-style hotel with modern decor and finishes.
The Sugar Marina Resort has a pool, a yard for children to play, an exceptional on-site restaurant, a gym, and more.
Some rooms here are spacious and even offer a small kitchen-like area, ideal for those looking to stay for quite a few weeks.
Best For: Modern, Good Location
Best Western Phuket Ocean Resort – (3 Stars)
The best part about the Best Western Phuket is the exceptional ocean views from the front-facing rooms. See the ocean in the morning for those looking to go on their hotel balcony.
The Best Western Karon is steps from Karon Park and is only a 2/3 minute walk from the beach. There are two different pools here for guests to enjoy, and all types of breakfast types served in the morning.
Best For: Great Views, Value
Karon Sino House – (hostel)
Located on Patak Rd, steps away from many convenience stores, restaurants, and shops, and only a 10-minute walk from the beach is Karon Sino House.
A perfect accommodation stay for those looking for a hostel.
Karon Sino House is the best-rated hostel in the area; it's very reasonably priced considering its location and very clean, exactly what you're looking for hostel accommodation.
Best For: Clean, Hostel
Best Restaurants in Karon Beach
No guide to anywhere is complete without fantastic restaurant recommendations to eat at.
Having spent many weeks in Karon trying several restaurants, here's my shortlist of the best Karon Beach restaurants for you to consider when visiting. Or refer here for more restaurants in Karon Beach.
Karon Restaurant Recommendations
Pinto Karon (best Thai restaurant in the area)
Napoli in Vespa (best pizza in all of Phuket)
Cappadocia Turkish (excellent Turkish cuisine)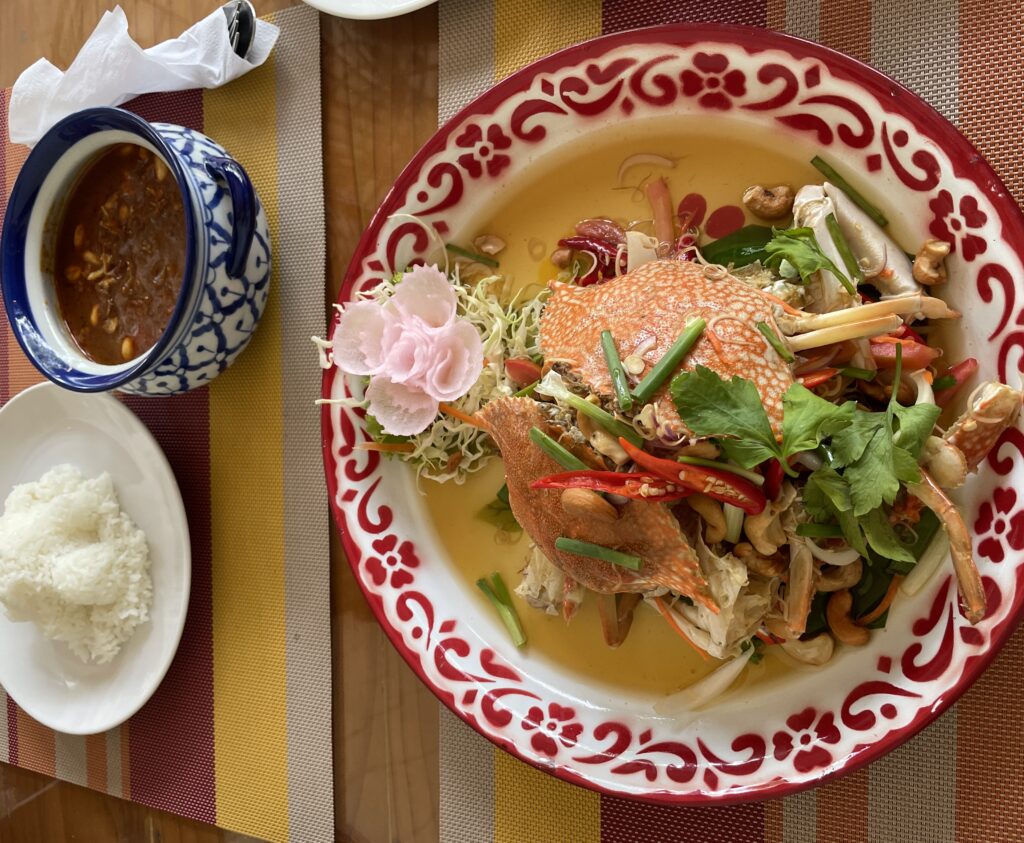 Coral Inn & Rosmarino (best pasta in town)
Nui's Kitchen (breakfast place serving western breakfast)
Mama Jin Restaurant (humble Thai restaurant)
If you're looking for a restaurant with an ocean view, head over to On The Rock Restaurant, I haven't been, but it's the only option in town for dining with a view!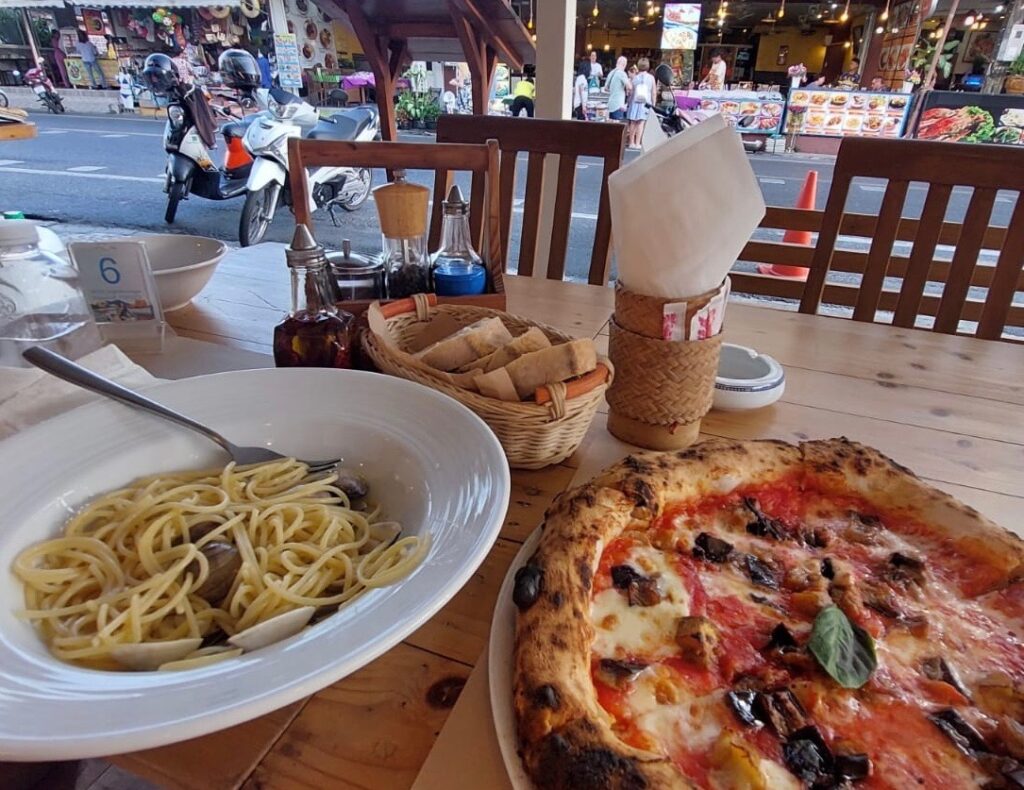 Karon Beach Nightlife
When it comes to nightlife in Karon, it's quite non-existent here. Karon Village is a small beach area perfect for families, couples, or others who prefer a quieter beach area.
That doesn't mean there isn't anything going on, I mean, there are quite a few bars here open late, Irish ones, some on Patek Rd, but if you're looking for nightclubs, they don't exist here. You'd have to go to Patong.
Walkabout Sports Bar
The Garage OG Phuket
Karon Aussie Bar
O'Reilly's Irish Pub
If you'd like a more extensive selection of bars, you can always go to Kata Beach, only a 5 minutes drive away.
Karon Beach vs Kata Beach
This is a famous debate when comparing two beach areas in Phuket. It's natural to spark a discussion because the two beach areas are so close.
But there's honestly there's no reason for it. Here's why, it's about a 5-minute drive between both beach areas, so whether you're staying in Kata Beach, it's easy to get to Karon and vice versa.
The main difference between the two areas is this. Compared to Karon, Kata Beach is more developed, with more condos, hotels, shops, restaurants, and large grocery stores. And Kata Beach is famous for its surfing.
Karon's advantage over Kata Beach is its beach; Karon Beach is much larger than Kata Beach, there are always beach loungers available for rent in Karon, and just much more overall space on the shoreline.
Not a big difference between each area; I've stayed in both, enjoyed both, and can't say I'd pick one over the other. Make sure to visit other beaches in Phuket when visiting!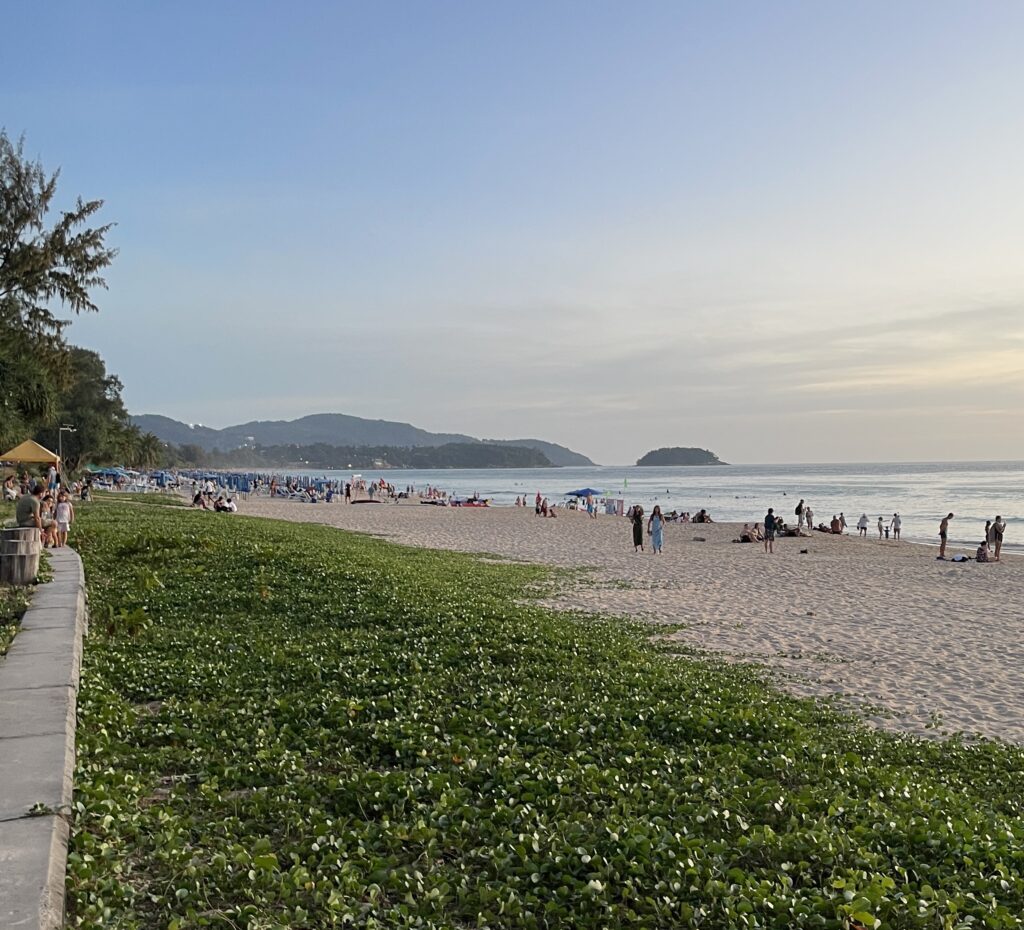 Is Karon Beach better than Patong?
You cannot compare Karon and Patong; they're two very different beach areas. Patong is more developed and has large malls, many restaurants, condos, a famous nightlife, and much more.
On the other hand, Karon is a small beach area with much less going on but still has its fair share of stores and restaurants. Patong's beach is okay but not nearly as beautiful as Karon's.
It depends on what you're looking for; if you prefer a quieter area, less touristy, and care about a much more beautiful beach, then Karon is the place for you. Karon has one of the best beaches in Phuket.
But if you're with friends who enjoy the nightlife, prefer to be surrounded by more tourists, and would like access to large shopping malls, then Patong Beach is the place for you.
Patong has a lovely beach and others surrounding it, but it doesn't compare to Karon's Beach. The beach in Karon is far more beautiful.
Is Karon Beach Safe?
You don't have anything to worry about visiting Karon Beach. It's very safe here. I had the pleasure of staying in Karon for three months and never ran into any trouble, even walking the streets at night.
Make sure you purchase Travel Insurance before visiting Thailand.
Locals are friendly here, and most tourists visiting are either families staying here for an extended period or tourists visiting to be by the beach for a few weeks.
And as I mentioned earlier, Karon is relatively quiet, so it doesn't attract large crowds or partygoers.
That said, be sure of your surroundings, know where you're going, and exercise simple safety measures.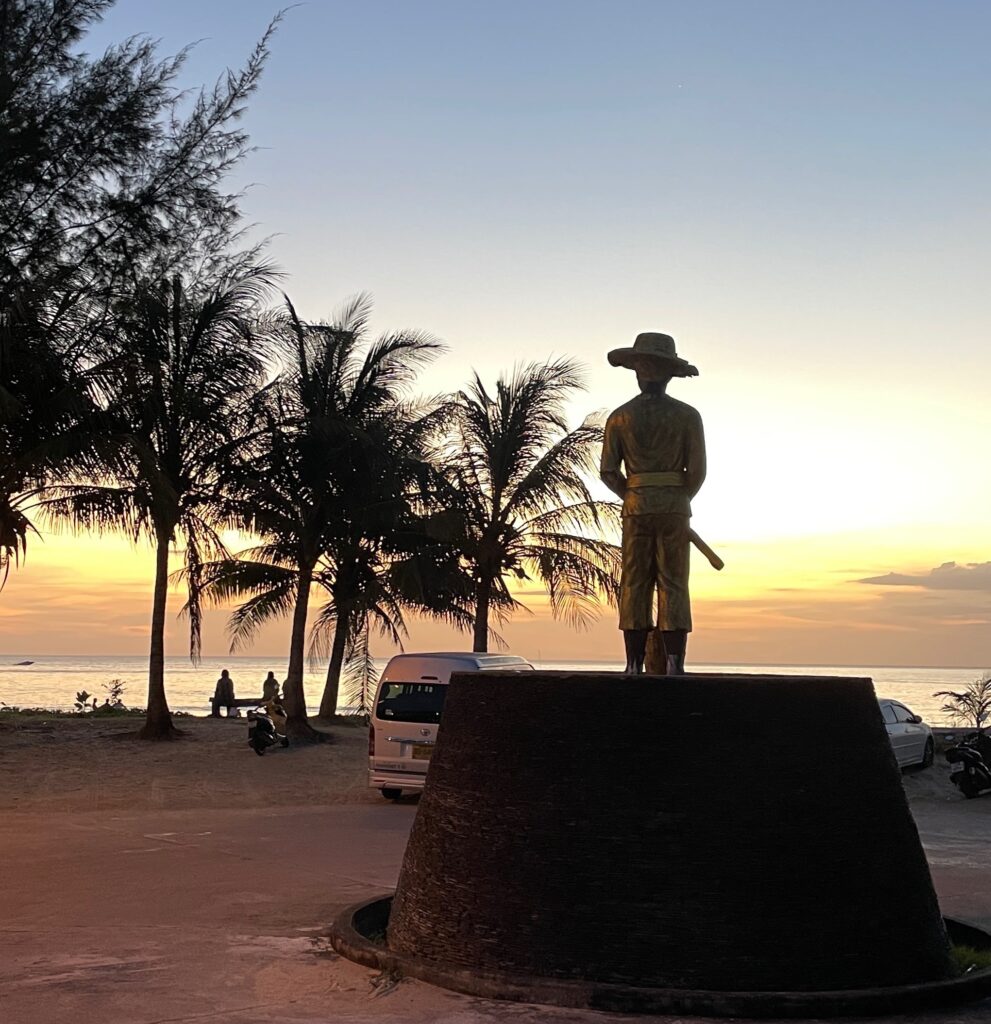 Is Karon Beach a Good Place to Stay?
It depends on what you're looking for in a beach area; if you're looking for a quiet, calm beach area in Phuket full of couples, and families, Karon is the perfect area for you to stay in when visiting Phuket.
Especially because Karon has one of the most extensive beach shorelines in Phuket, if you love spending your days at the beach, Karon is one of the best areas in Phuket, without a doubt.
Regarding nightlife, there isn't much going on in Karon other than a few bars and local talent performing sometimes; if you'd like to be surrounded by nightlife and malls, stay in Patong instead.
One trip you must consider doing when in Phuket is visiting Phi Phi Islands.
Subscribe to Travel Hiatus!
Receive updates on my latest posts, insider travel tips & the best destination guides to your inbox!
Happy & Safe Travels
---
Planning Checklist
---
Disclaimer: Please note that some of the links shared in this article might be affiliate links; this means that at absolutely no extra cost to you, we will earn a small commission for any sales generated through this article and/or this website. We recommend products/services we've either used or researched thoroughly – Thank you for supporting us so we can continue to share helpful travel content!