How To Get Around Koh Samui: 6 Best Ways
Are you visiting Koh Samui and wondering how to get around Koh Samui? This guide covers the best transportation options in Koh Samui.
Koh Samui is the second largest island in Thailand after Phuket, so knowing how to get around Koh Samui is a must, with many different beach areas and attractions needing some form of transportation.
Getting around Koh Samui is accessible at all times of the day, and this is made possible by the many Songthaew Taxi trucks driving around the island and ridesharing apps like Grab and Bolt.
If you plan to stay in one of Koh Samui's popular beach areas, such as Lamai Beach, Chaweng Beach, or Bo Phut Beach, many restaurants, shops, and things to do will be nearby, and you'll only use transportation somedays during your visit.
Songthaew Koh Samui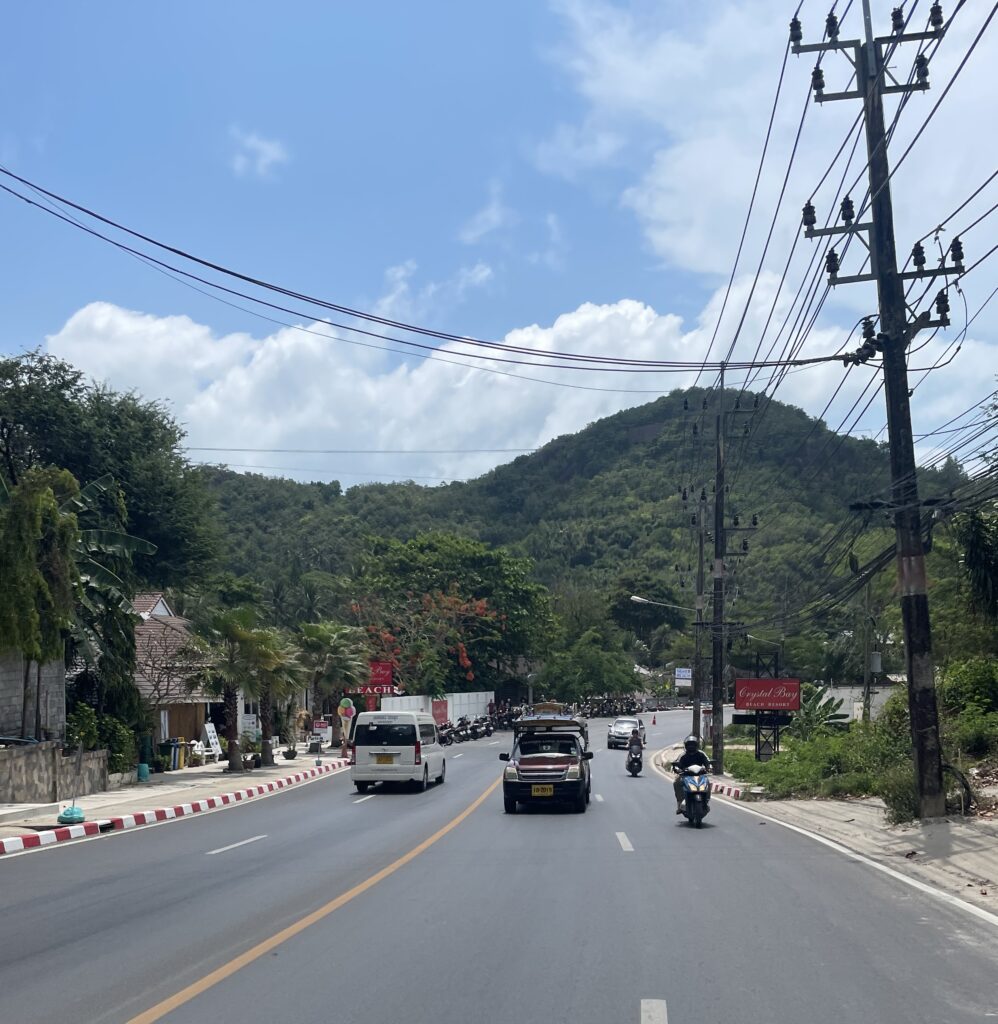 SongThaew taxi pickup trucks operate as public transportation in a sense on the island, though you can take a private ride with one as well, though it will cost you more.
This is the cheapest and most popular way to get around Koh Samui. With so many Songthaew taxi trucks driving by in all areas and the main island road, flagging one down is quick and convenient.
To take one, wave your hand for the driver to stop; if there's room in the shared taxi, they'll stop. After, speak to the driver, tell them where you'd like to go and ask for the price.
Unfortunately, there isn't a set price; try to negotiate between 40 – 100 Baht. Once you've taken one or two on the island, you'll get a feel for the cost, and sometimes you could always wait for the next driver!
When you'd like to get off, click the button in the back to ring the driver, and they'll promptly stop for you to get off, pay your driver, and be on your way.
TIP: The Songthaew Taxis sometimes operate as private taxis; if you use them that way, the driver will charge you more. To negotiate with the driver, check what Grab is charging at the time for the same trip!
Grab or Bolt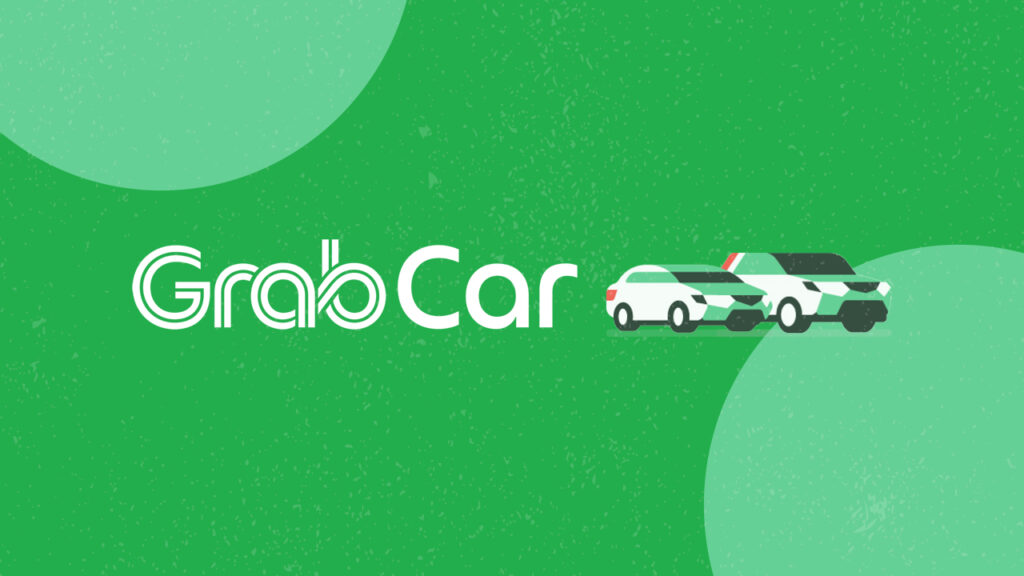 If you've traveled around Asia before, you're most likely familiar with Grab and possibly Bolt. The two best ride-sharing apps in Asia are great to have downloaded on your phone when visiting Thailand.
Both apps operate precisely the same as Uber; use either app to order a ride during all times of the day on the island.
The price for your ride will depend on the distance of your trip, time of day, and possible vehicle preference.
Also, you can order food on Grab in case you're looking to have a lazy evening. It's fast, cheap, and has plenty of food options.
TIP: If you're on a budget and alone, use the scooter option for a ride; it's always the cheapest ride on the apps!
Rent a Scooter/Motorbike or Car
For those looking to get around Koh Samui on their own, rent a scooter/motorbike.
There are plenty of scooter/motorbike rental shops all around Koh Samui, as well as car rental shops as well. When visiting, we used DiscoveryCars and rented a car for a few days via them!
Koh Samui is very easy to navigate; one main road circles the entire island, so exploring different parts of the island is very easy!
If you're visiting for only a few days, it will only make sense to rent a scooter/car if you want to explore on your own.
Keep in mind the main beach areas in Koh Samui are walkable, and you can walk to shops, restaurants, gyms, and grocery stores in minutes, so you may not require transportation some days!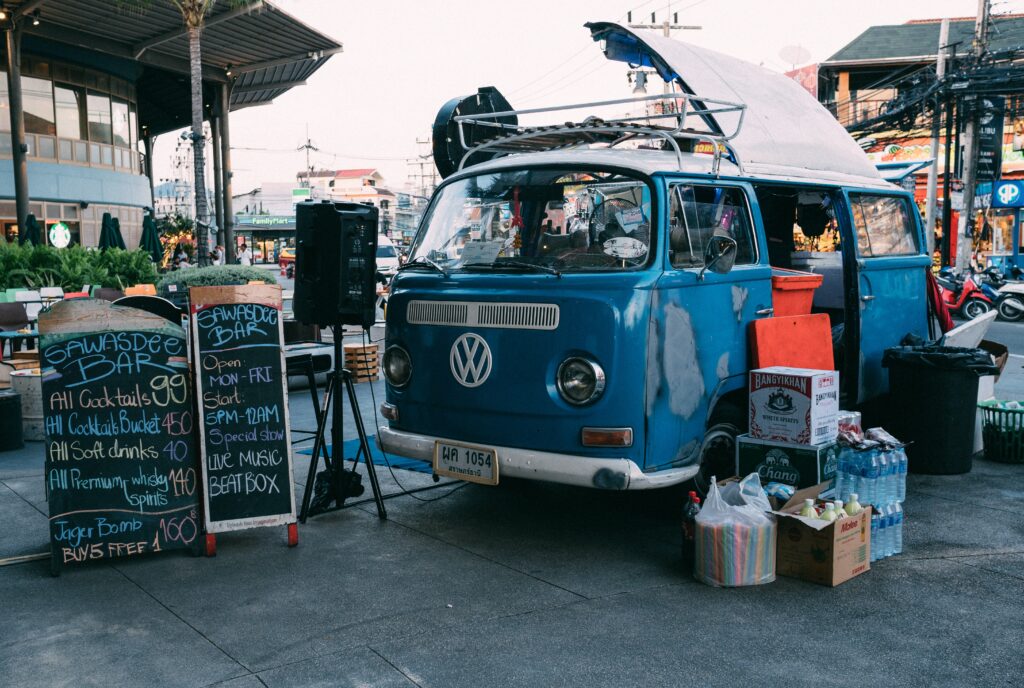 Walking Around
One of the best ways how to get around Koh Samui is by walking, believe it or not. That's because Koh Samui has several beach areas that are their own small towns in many ways.
Most tourists tend to stay in one of the three beach areas, and they're all very walkable, with plenty of restaurants, bars, grocery stores, and entertainment options nearby.
I chose to stay in the Chaweng Beach area (the most popular area in Koh Samui) and walked most places I went to. I only found myself using transportation some days during my visit!
Chaweng Beach
This beach area has an extensive beach shoreline with plenty of restaurants, bars, nightlife, grocery stores, and Central Samui, the island's largest outdoor shopping mall.
Lamai Beach
Known as the second most popular beach area in Koh Samui, the Lamai Beach area has a night market, a large big-chained grocery store named Lotus, and plenty of cafes and restaurants. And is quieter than the Chaweng Beach area.
Bo Phut Beach
Also known as the Fisherman's Village, this is an upscale area with many fine-dining restaurants and boutique shops. It's more touristy; there aren't grocery stores around here, but the popular Fisherman's Night Market is happening on weekend nights!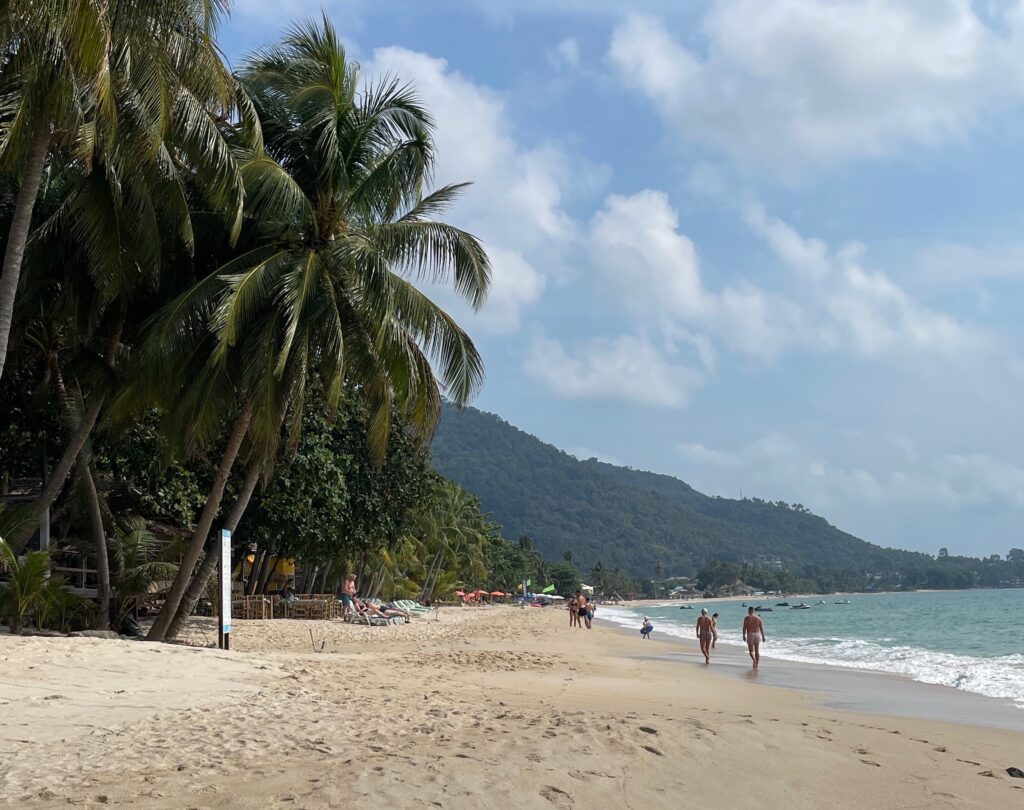 Taxi
Besides all the Songthaew taxi pickup trucks in Koh Samui, you will also spot several traditional taxis in Koh Samui to take.
It's convenient for those in a rush, and if you visit any touristy areas, you will spot them quickly. Mention where you'd like to go and negotiate your price with the driver.
TIP: If you don't know how to negotiate, use the Grab App to check the trip price and then negotiate your way as near as possible to that price
Guided Tours
Last but not least is using guided tours to get around Koh Samui. Most popular Koh Samui day tours include roundtrip hotel transfers.
Attending many of these popular day excursions, you won't have to worry about transportation. By the way, I recommend experiencing Pig Island in Koh Samui!
You'll be picked up from your hotel by a white mini-bus and then, after the tour, dropped back to your hotel.
Getting to Koh Samui
There are two ways to get to Koh Samui: take a ferry from Donsak Pier on the mainland or fly into Samui International Airport.
Donsak Pier to Koh Samui:
You'll buy your ferry ticket and board one of the many ferries heading to Koh Samui daily. It takes 1.5 hours to get to Koh Samui from the mainland.
Flying to Koh Samui:
Koh Samui's airport receives primarily domestic flights, so you can't fly into Koh Samui from far away.
You can fly into Koh Samui if you're already in Thailand from another domestic airport or select a few places outside Thailand, like Hong Kong and Singapore.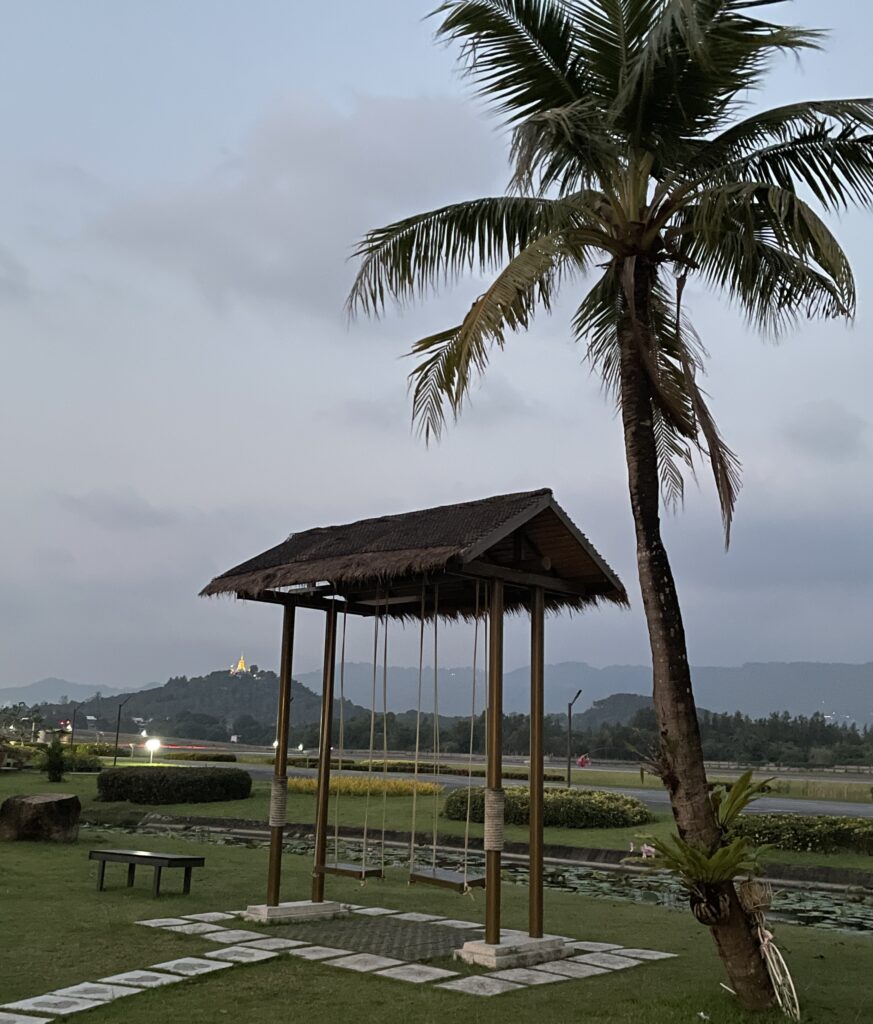 Koh Samui Airport Transfer
If you plan to fly into Koh Samui International Airport, you will need an airport transfer to your hotel.
Use a trusted airport transfer service like GetTransfer, which will have a driver with your name waiting at the airport to take you to your hotel.
The price depends on your hotel's location and vehicle size. You will also get to choose the vehicle type, so if you visit with family and have lots of luggage, you'll be taken care of!
You can take a taxi from the airport directly, but I'd advise against it because many taxi drivers will charge tourists landing in Koh Samui all sorts of prices.
Many drivers will offer decent pricing, but you'll most likely have to negotiate your way for that price; that's the last thing you want to do after a flight when you have luggage and want to get to your hotel!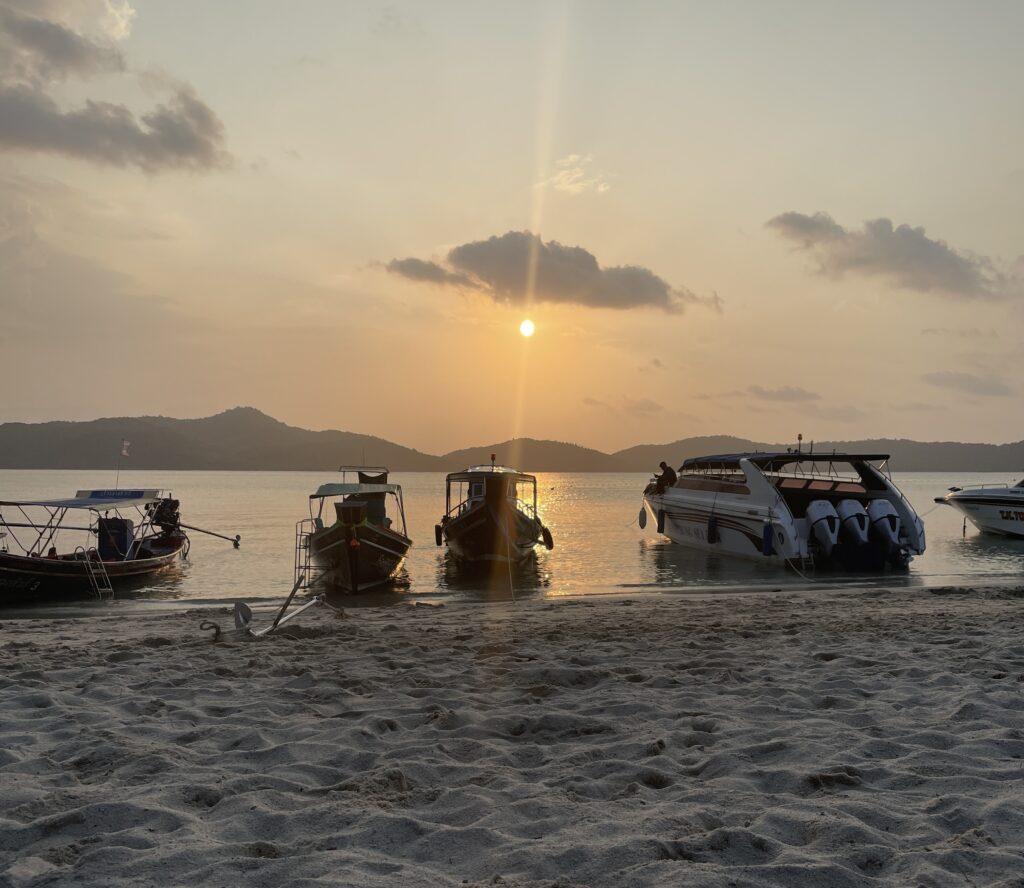 How to Get Around Koh Samui – Final Thoughts
There you have it; those are all the best transportation methods for getting around Koh Samui!
As mentioned earlier, Koh Samui is the second largest island in Thailand, so if you plan to visit and would like to see different spots and attractions around the island, it's a good idea to get familiar with how to get around Koh Samui!
While Koh Samui may not be one of the cheapest places in Thailand to visit, the island is stunning, and with how developed the island is, it's an ideal/comfortable place for all visitors!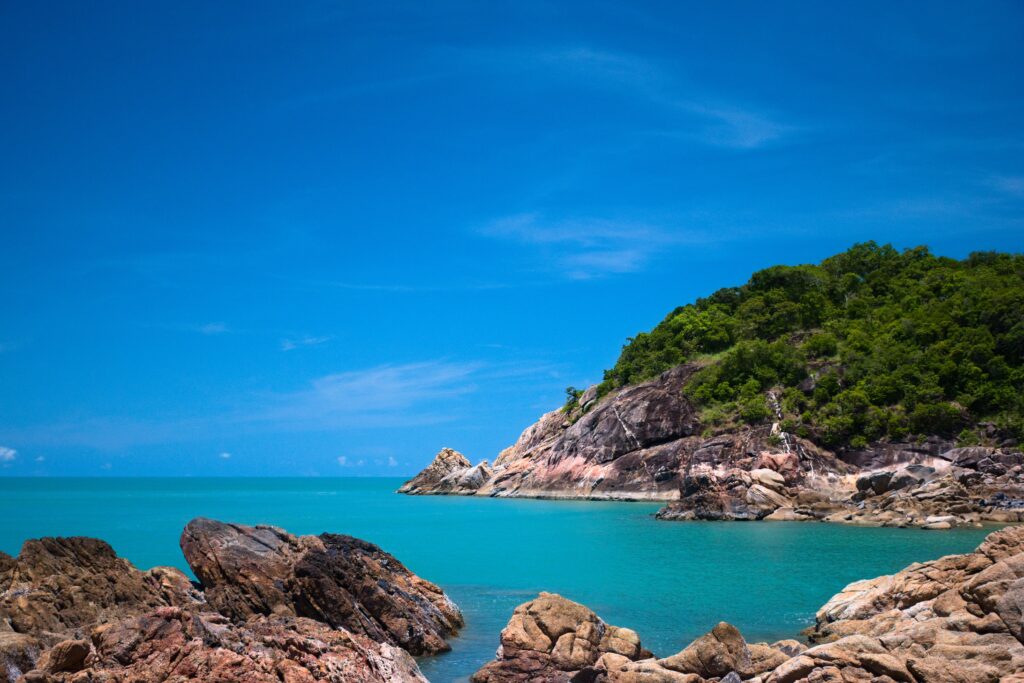 Is Koh Samui easy to get around?
Yes, it is; you can use the Songtaew taxi trucks for a quick ride, ridesharing apps like Grab or Bolt, or rent a scooter!
Is Koh Samui walkable?
These areas are very walkable if you stay in popular beach areas like Chaweng Beach, Lamai Beach, or Bo Phut Beach. Otherwise, Koh Samui isn't walkable; the island is the second largest in Thailand!
Is Uber available in Koh Samui?
No, there isn't UBER in Koh Samui, but you can use Grab, Asia's largest ridesharing app; it works like Uber!
How do you get around the island of Koh Samui?
The Songtaew taxi trucks are the best way to get around Koh Samui. These are shared taxi trucks driving throughout the island, and you can flag one down, hop on, ring the bell, pay, and hop off!
Subscribe to Travel Hiatus!
Receive updates on my latest posts, insider travel tips & the best destination guides to your inbox!
Happy & Safe Travels
---
Planning Checklist
---
Disclaimer: Please note that some of the links shared in this article might be affiliate links; this means that at absolutely no extra cost to you, we will earn a small commission for any sales generated through this article and/or this website. We recommend products/services we've either used or researched thoroughly – Thank you for supporting us so we can continue to share helpful travel content!