Patong Beach Or Kata Beach: Which To Stay In?
Are you planning a trip to Phuket but need help deciding which area to stay in, between staying in Patong Beach or Kata Beach?
This guide will compare all essential factors regarding Phuket's two most popular beach areas. Comparisons will include each area's main beach, things to do, hotels, restaurants, and the nightlife in each beach area!
Patong Beach and Kata Beach are often compared because they're Phuket's two most well-known beach areas.
Each is famous for their reasons, and both beach areas are similar in some ways but very different in others!
Phuket has many beach areas to consider, but if you're debating between Patong or Kata Beach, it is safe to assume you prefer a slightly livelier beach area.
I've spent many months living throughout Phuket, including Kata Beach, and spent several days/nights out in and around Patong Beach; I know both areas and Phuket very well.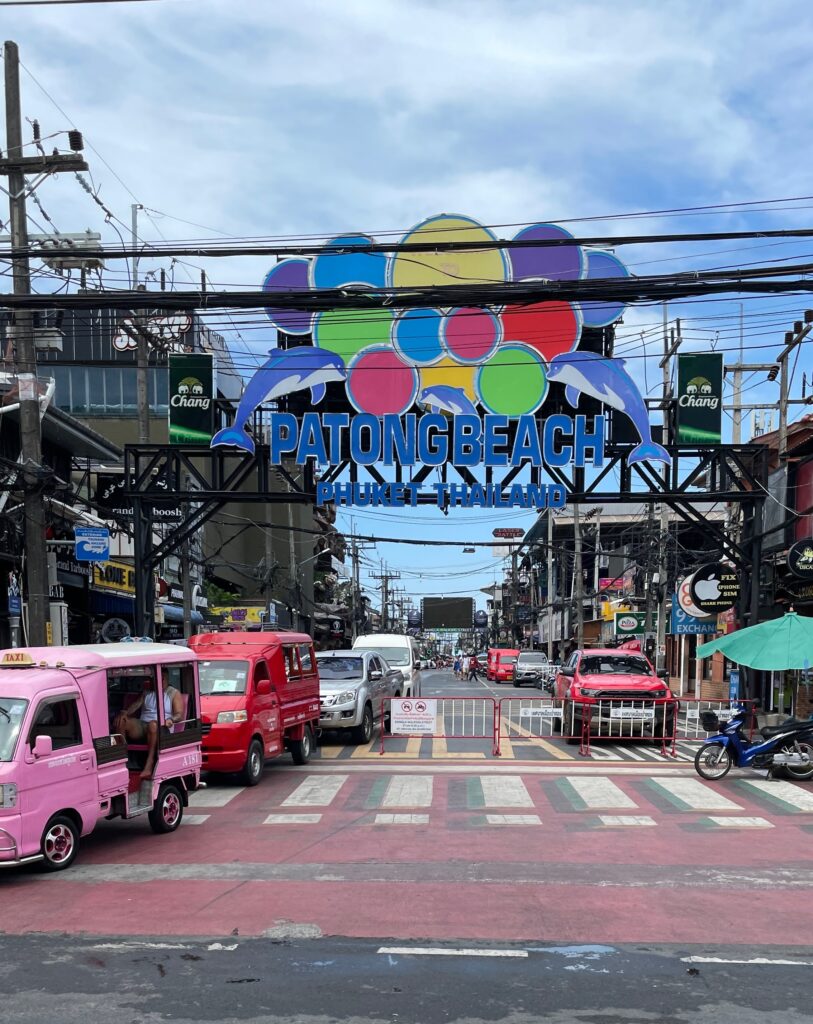 Getting to Patong Beach or Kata Beach
First, let's discuss getting to Kata or Patong Beach from Phuket International Airport.
Once you've flown into Phuket International Airport (HKT), you must travel south of the island to Patong Beach or Kata Beach
Phuket Airport to Patong Beach takes 1 Hour or less.
Phuket Airport to Kata Beach takes 1 Hour and 10 Minutes.
Travel time depends on the method of transportation you choose to take; the times above are by private car/taxi!
Here are all your options from Phuket Airport to Patong or Kata and some essential tips you should know!
Private Airport Transfer: The most convenient way is by private airport transfer; you will have a car waiting for you once you arrive and don't have to worry about figuring anything out once you're there! – PRICE: $20 – 42 US
GRAB: This is UBER in Asia/Thailand; you can download the app and find a ride easily – But when you exit the airport, you must take a left and walk to the MAIN road because GRAB drivers are NOT allowed to enter the airport – PRICE varies by time of day but usually is 500 – 800 Baht / $15 – $25 US
Phuket Smart Bus: This is the cheapest way to get to Patong or Kata from Phuket Airport. This local bus travels from Phuket Airport along the coast of Phuket and stops at all the main beach areas in Phuket. It leaves around every hour. Check the Schedule / Bus Map – PRICE: 100 Baht / 2.88 US.
Taxi @ Airport: Once you arrive at Phuket Airport, many taxis are trying to gain your business; you can take one, but I'd be careful with this option only because they tend to overcharge tourists – PRICE: 1000 Baht / $40+ US
AIRPORT TIPS: Phuket Airport has a Taxi mafia. They operate a firm hold taxis at the airport and sometimes overcharge tourists for TAXI rides out of Phuket Airport. – You must LEAVE the main airport area and go to the MAIN road for ride pickups.
Getting Around Phuket:
Grab
Phuket SmartBus
Song Taew (local Blue Bus)
Negotiate a TukTuk/taxi
For more in-depth info on how to get around Phuket, refer to my Phuket Beaches guide!
TIP: If you need to know what to pay for a taxi at any time, use the Grab/Bolt apps and negotiate based on the price you see in the app!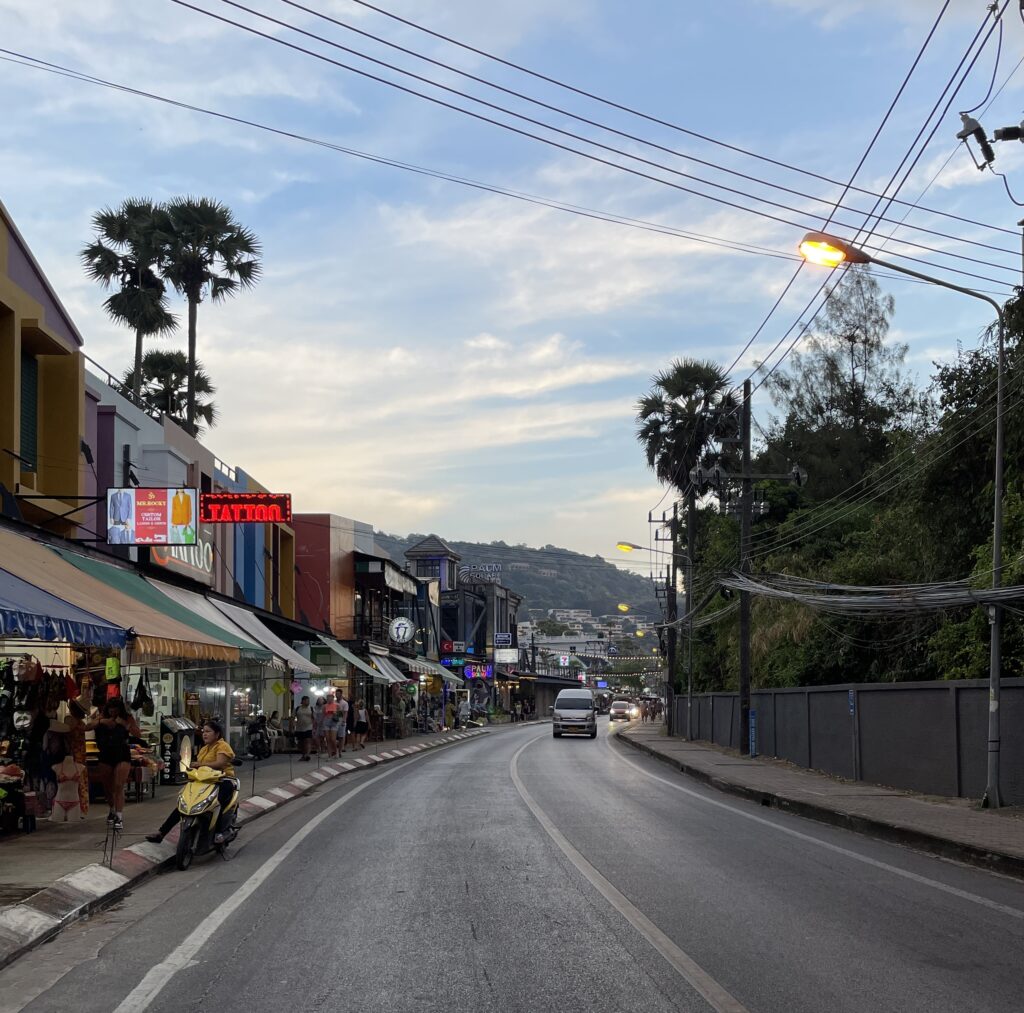 Patong Beach vs Kata Beach: Which Beach is Better?
One of the significant differences between these two popular areas in Phuket is the beach in each area.
Kata's Beach is far superior to Patong's Beach in every single way. The water is more transparent in Kata, the shoreline in Kata Beach is more extensive than in Patong, and overall, the nature/atmosphere of Kata feels more tropical than Patong's Beach.
Patong Beach may have more restaurants/shops nearby because it's the busier, more popular beach area, but Kata Beach also has several restaurants and shops near the beach.
Whether you choose to stay in Patong or Kata Beach, make sure you visit the many other beautiful beaches in Phuket!
Patong Beach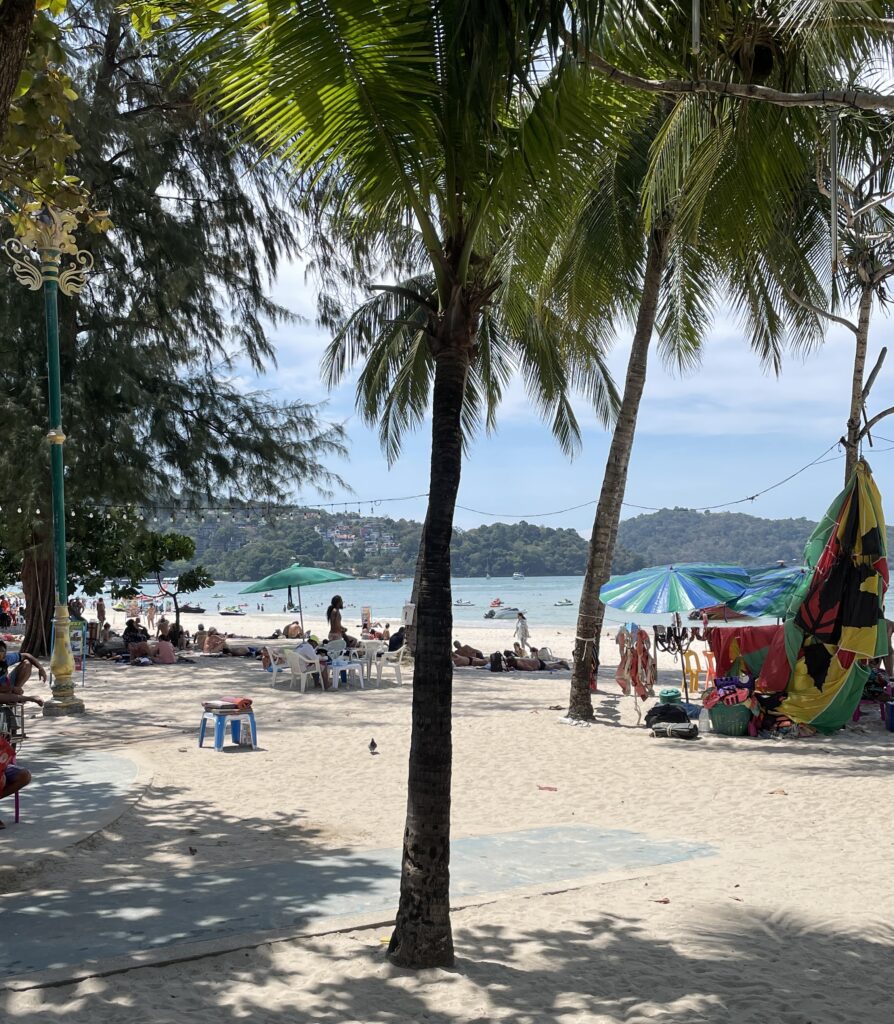 The beach in Patong is lively and crowded at all times of the day, with young adults, families, and several tourists.
The shoreline isn't tiny, but it's not extensive either; you can find a few beach sun loungers to rent, but it's limited.
On both ends of the beach, you'll spot mountains and hotels in the distance and some high-rise condos.
The famous Bangla Road, a street full of restaurants, bars, nightclubs, shops, and more, connects to Patong Beach. At night, the street is closed off and turns into a walking street full of nightlife with a very Vegas feel to it.
Kata Beach
The beach in Kata is absolutely stunning, and the shoreline is extensive. Palm trees surround the beach, and the mountainous hills are nearby, making for a picture-perfect island experience.
There are plenty of sun lounge chair rentals at the beach here. The road behind the beach is full of street food stalls, from Thai to Western food; it's very convenient to grab a quick snack and return to the beach in minutes!
In a minute's walk from the beach are many restaurants, bars, convenience stores, and shops for all your beach essentials.
Patong Beach or Kata Beach: Things To Do
Here is a short list of the best things to do in the beach area; I will not include the actual beaches because I've covered this already, and the nightlife in each area I'll cover later in this article in-depth!
Regarding things to do, there is more to keep you busy in Patong, but Kata Beach offers a more authentic island vibe!
The distance and travel time between Patong Beach and Kata Beach is 10km and 20 minutes without traffic.
No matter which area you decide to stay in, visit the famous Phuket Sunday Market!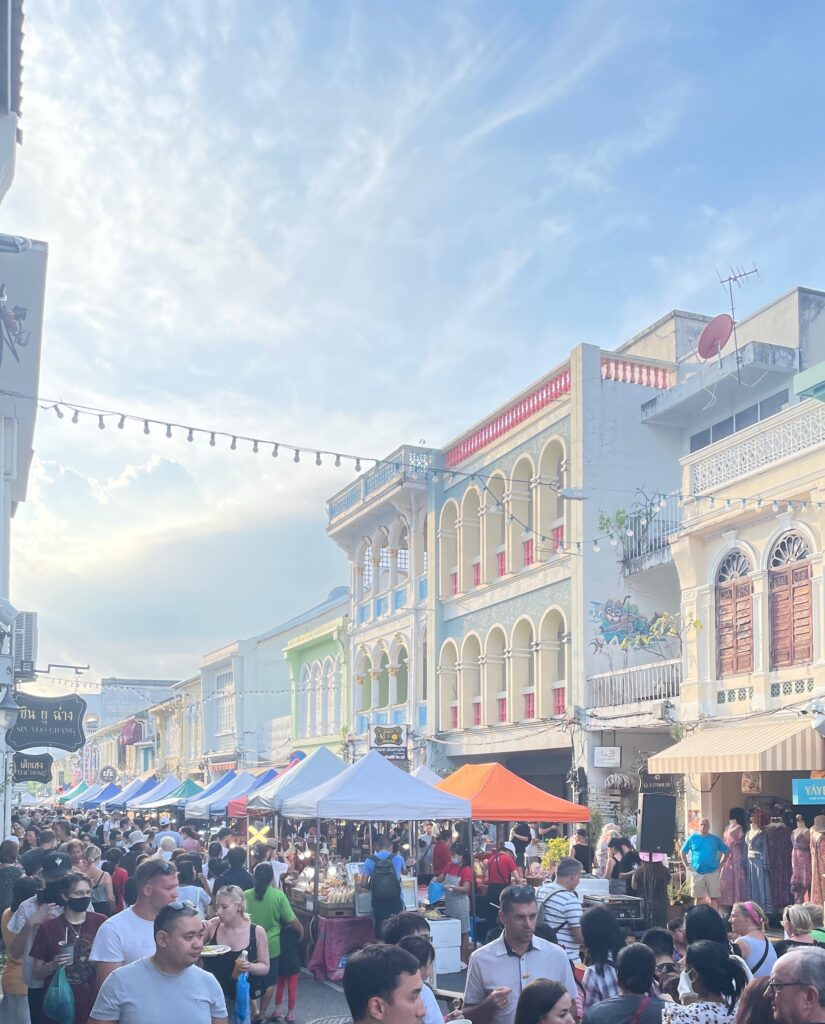 Patong Beach — Things To Do
Malin Plaza Night Market — Known as the most popular night market in Patong; here you will find many street foods, souvenirs, and various goods/household items for purchase. It's the perfect place to go late in the evening to snack away
Visit Freedom Beach — Located slightly southern to Patong, Freedom Beach is a secluded shoreline known for its surine tropical beach atmosphere. And it is one of the nicest beaches in Phuket!
Go Shopping — Patong is known for its shopping; whether you're looking for inauthentic designer goods on Bangla Road or looking to walk around large shopping malls with AC, Patong has it all. There are two huge shopping malls here: Jungceylon Mall and Central Patong Mall.
Attend Muay Thai Fights — The two best boxing/Muay Thai stadiums in Phuket are located in Patong; if you're visiting Patong, coming out to experience a few fights in the evening with a few drinks is a must! As you walk the streets of Patong, you'll constantly see/hear promotions for upcoming fights.
Kata Beach — Things To Do
Kata Night Market — Known as one of the best night markets in Phuket, the Kata Night Market is open daily from 5:00 PM till late evening; here, you will find a wide variety of local/western street foods, fresh fruit, seafood restaurants, and much more!
Go Surfing — Kata is the best beach to go surfing in Phuket; its waves are ideal for those who are beginners looking to learn. There's even a bar there offering artificial waves where you can practice before getting into the ocean!
Big Buddha — The Big Buddha is Phuket's most famous landmark, and sometimes you're able to spot the Big Buddha from different points of the island. No matter where you choose to stay in Phuket, I'd recommend visiting the Big Buddha; it's one of the top things to do in Phuket!
Dino Park Mini Golf — This is the perfect activity for those looking to have a laid-back evening with a bit of competition. You will find an artificial jungle mini-green course to get through here
Patong Beach or Kata Beach: Hotels & Resorts
Both Kata or Patong Beach offer an excellent selection of hotels, resorts, and apartment rentals to consider.
Highrise modern hotels, budget-friendly hostels, and luxurious boutique hotels; both beach areas offer all sorts of accommodations.
Below, I've shared the best 3 accommodations for each beach area, starting with luxurious, then mid-range, and budget-friendly!
Patong is a larger area; because of this, Patong has more hotels and accommodations to choose from than Kata Beach. But again, it depends on the atmosphere you're looking for!
Where to Stay in Patong Beach
Rosewood Phuket — A luxurious boutique hotel located in the hills of Patong in a private area, offering villas equipped with all you need and stunning panoramic ocean views
Amari Phuket – The Amari Phuket offers exceptional views of Patong Beach and the area; the hotel is well-rated and conveniently close to the main Patong area
Lub d Phuket Patong – Known as the best hostel in Patong, Lub D has a fun communal space with many activities and opportunities to meet other travelers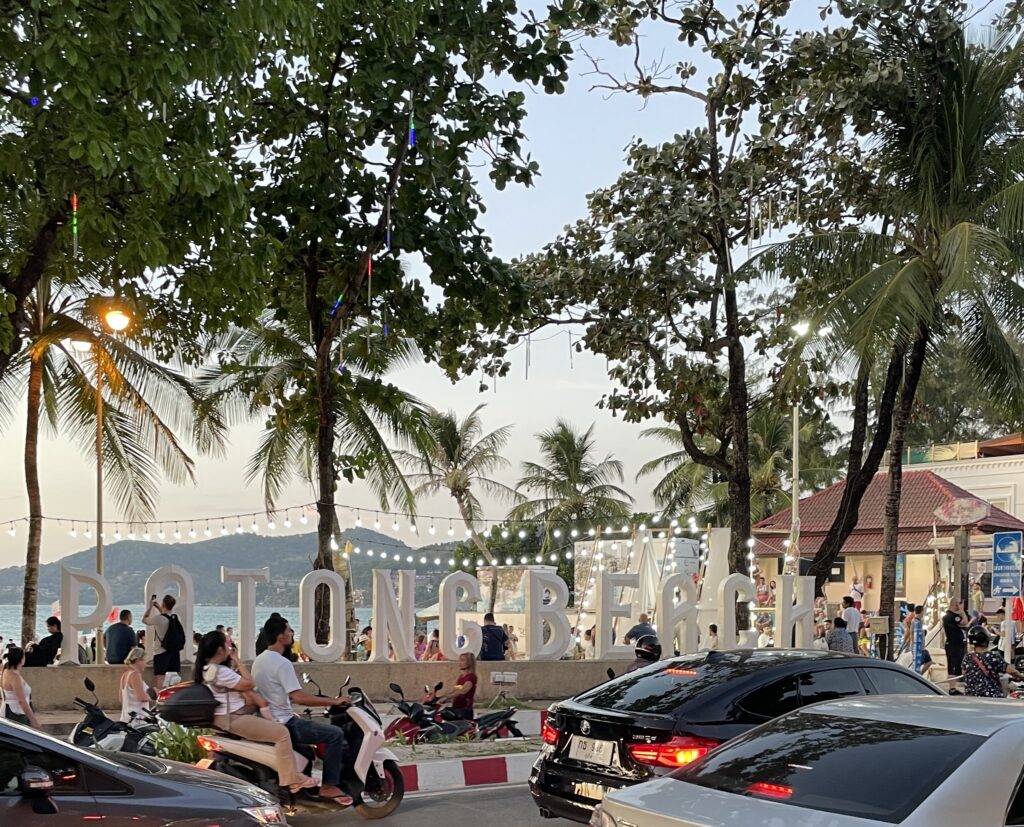 Where to Stay in Kata Beach
Katathani Phuket Resort — A stunning 5 Star beachfront resort full of many amenities and activities for the family, located along Kata Noi Beach
Blu Pine Villas — These modern villas have a boutique-style hotel feel to them, located very close to several bars/restaurants in Kata Beach
Nonnee Hostel — Well-rated Hostel in Kata Beach offering spacious rooms, a lovely pool, and great communal space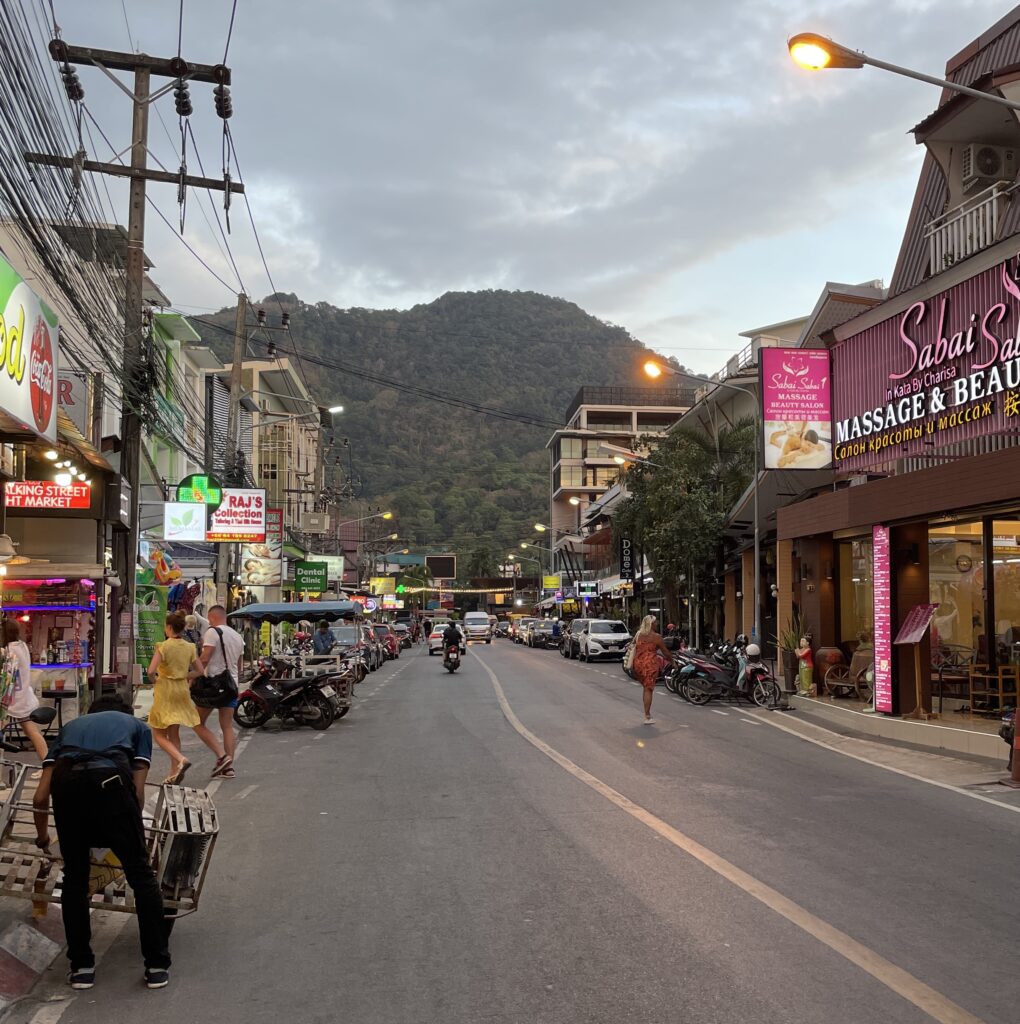 Patong Beach or Kata Beach: Restaurants
Both areas have countless restaurants to consider and several cuisine types, from local Thai restaurants to Italian, Turkish, and much more!
The most significant difference restaurant-wise in both areas is Patong has American fast food chain restaurants like McDonalds and Burger King, but Kata Beach doesn't offer that.
Here are shortlists of some of the best restaurants in each area to try, and don't forget to eat at the many night markets in each beach area!
Where to Eat in Patong Beach
Ta Khai — Fine-dining Thai restaurant located in the hills of Patong with stunning ocean views
La Gritta — Fancy Italian restaurant serving all the classics, located in the Amari Phuket hotel
ZomPaul Eatery — Tapas-style Thai restaurant serving several affordable small-plate dishes
KUDO Beach Club — A fun/relaxing beach club to hang around during the day, serving Italian food
Consider Tops Food Hall inside the mall, and there's a large food court and countless types of foods in an airconditioned area.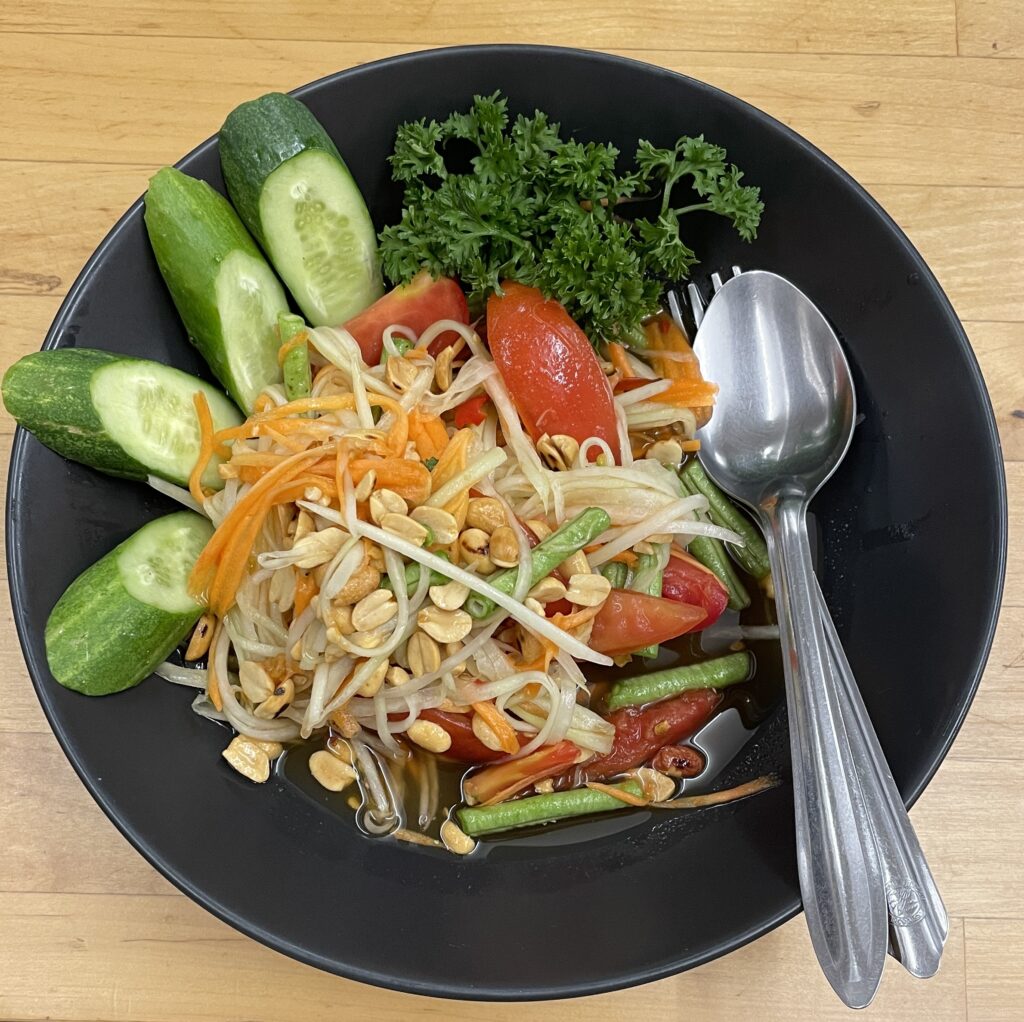 Where to Eat in Kata Beach
The Pad Thai Shop — A local Thai restaurant known for its limited menu but delicious dishes
Oh San Ramen & Izakaya Kata — Japanese Tapas restaurant offering various ramen bowls, sushi and more
Istanbul Restaurant Kata — Classic Turkish cuisine, BBQ meats, fresh bread, and classic breakfast
Pomodoro Pizza Restaurant — Popular pizzeria known for its pizzas, pastas, and more
For more restaurant recommendations, refer to my Kata Beach Guide!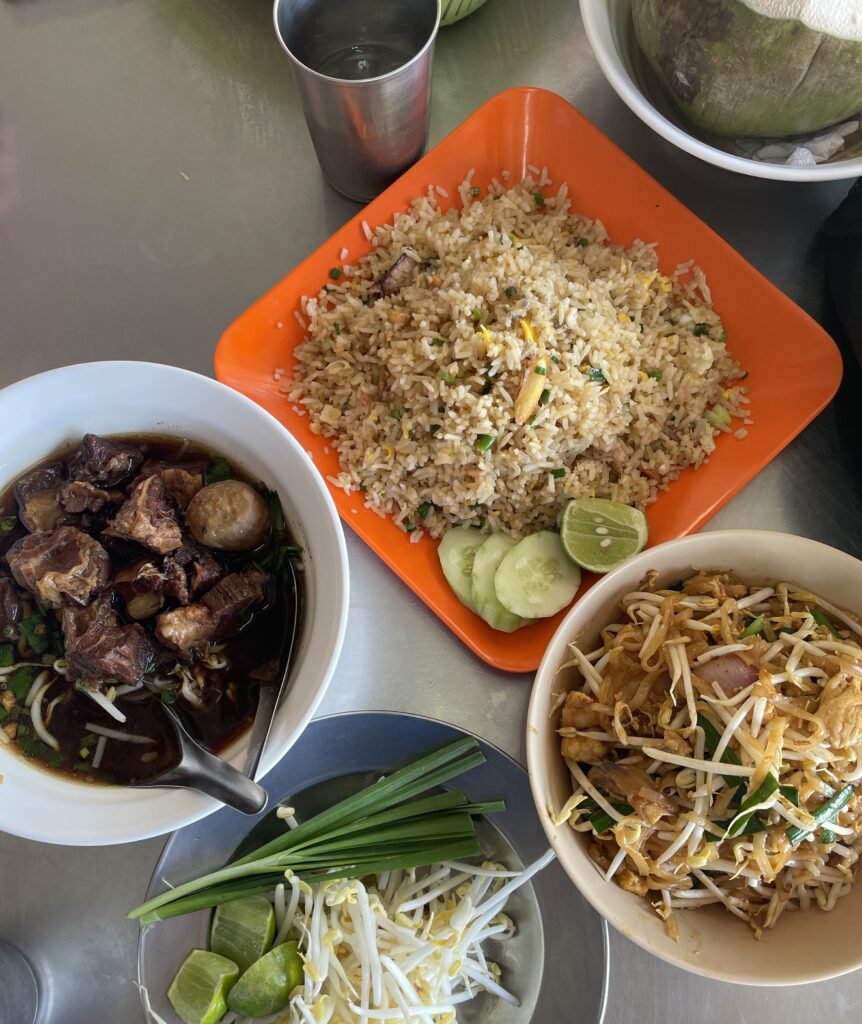 Patong Beach or Kata Beach: Nightlife
This is the most significant difference between Patong and Kata Beach. Because the nightlife in Patong Beach compared to Kata Beach is very different.
Patong Beach has countless bars, nightclubs, venues offering ping-pong shows, and much more. The famous Bangla walking street at night is an absolute nightlife spectacle in Patong. For those visiting in a group or who'd like to party, Patong is the area to be.
Kata Beach, on the other hand, is very different; the nightlife in Kata Beach consists mostly of bars where you can drink, mingle, play some snooker, or see a live band perform some nights.
If you decide to stay in Kata Beach because you prefer the calmer island atmosphere, you can always take a Grab/taxi and be in Patong in 20/25 minutes!
RELATED: 9 Scams in Phuket to Avoid
Nightlife in Patong Beach
Bangla Walking Street (countless bars/nightclubs)
Watch a Fight at Patong Boxing Stadium
Illuzion Phuket Nightclub
Nightlife in Kata Beach
Mee Bar
Back Cat's Bar
My Bar is Your Bar
AllStar Aussie Sports Bar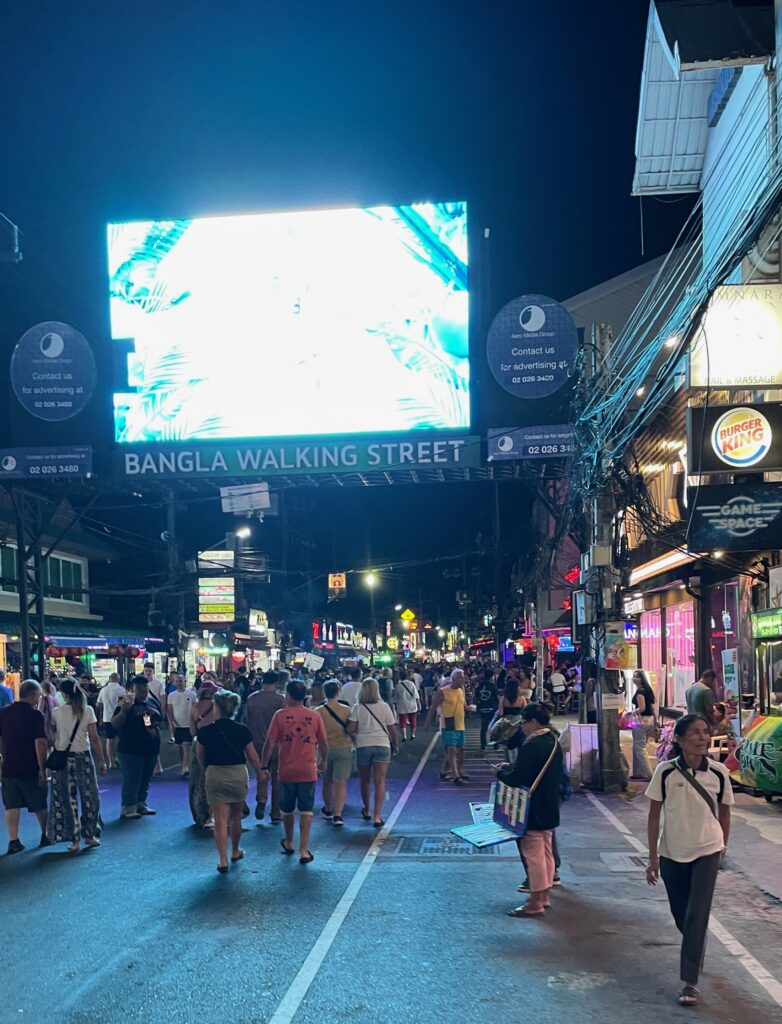 Best Time to Visit Patong or Kata Beach
The best time to visit Phuket or anywhere in the South of Thailand is during the dry season, from November to April.
January and February are the driest months of the year in Phuket and are considered the most optimal time to visit the island. Both months offer the best chance for sunny/dry weather daily. Regardless, November to September is the best time to visit Phuket!
Monsoon/Rainy Season in Phuket: May to October
Dry Season in Phuket: November to April
The rainy season in Phuket is from May to October. Suppose you choose to visit during this time; you will experience some days with sunny weather, but understand the chances of it raining are higher than when visiting during the dry season.
Another downside to visiting during the off-season months is the beaches sometimes have red flags warning tourists to swim due to rough tides.
Phuket has a tropical climate, so when it does rain during the off-season or any other time, it usually passes by quickly.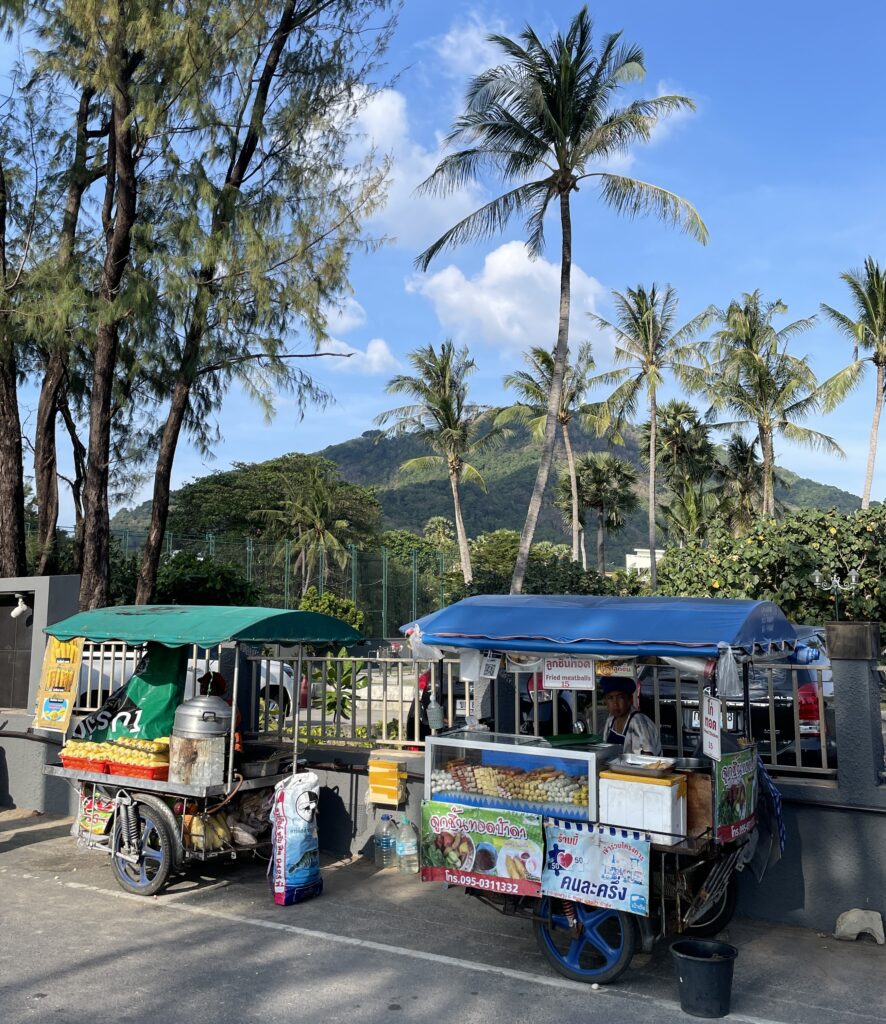 Patong Beach or Kata Beach — Final Thoughts
So which area have you decided on, Patong Beach or Kata Beach? The two beach areas are very different, so it should be easy to determine which beach area you'd prefer to stay in.
I prefer Kata Beach because it's less touristy, has more of a tropical island atmosphere, is laid back, the beach is far superior, and there are still many things to do there!
While Phuket isn't one of the cheapest places in Thailand to visit, it is one of the nicest!
If you haven't decided, I will leave you with a few parting words to consider that may convince you to stay in one beach area over the other!
Solo Traveler: Both beach areas are excellent for solo travelers; if you appreciate a more authentic island atmosphere and a calm/laid-back area, you will prefer Kata Beach. Patong Beach would be better for those looking to mingle and meet other solo travelers!
Couple: It depends on what type of couple you guys are; if you prefer active activities during the day like hiking/surfing and laid-back relaxing evenings, Kata is your choice. If nightlife and access to shopping, with a beach, is your preference, Patong Beach it is!
Family: Kata Beach is far better for families than Patong Beach; it's safer, the beach is less crowded than Patong, and the area is more family-friendly.
Group of Friends: Patong Beach is better than Kata for a group of friends because it offers more things to do than Kata; being with friends, you'll most likely prefer to have many options to go out, and the food variety in Patong is better than Kata. But if the group chooses a more laid-back beach town vibe, do Kata!
RELATED: 8 Best Beaches in Phuket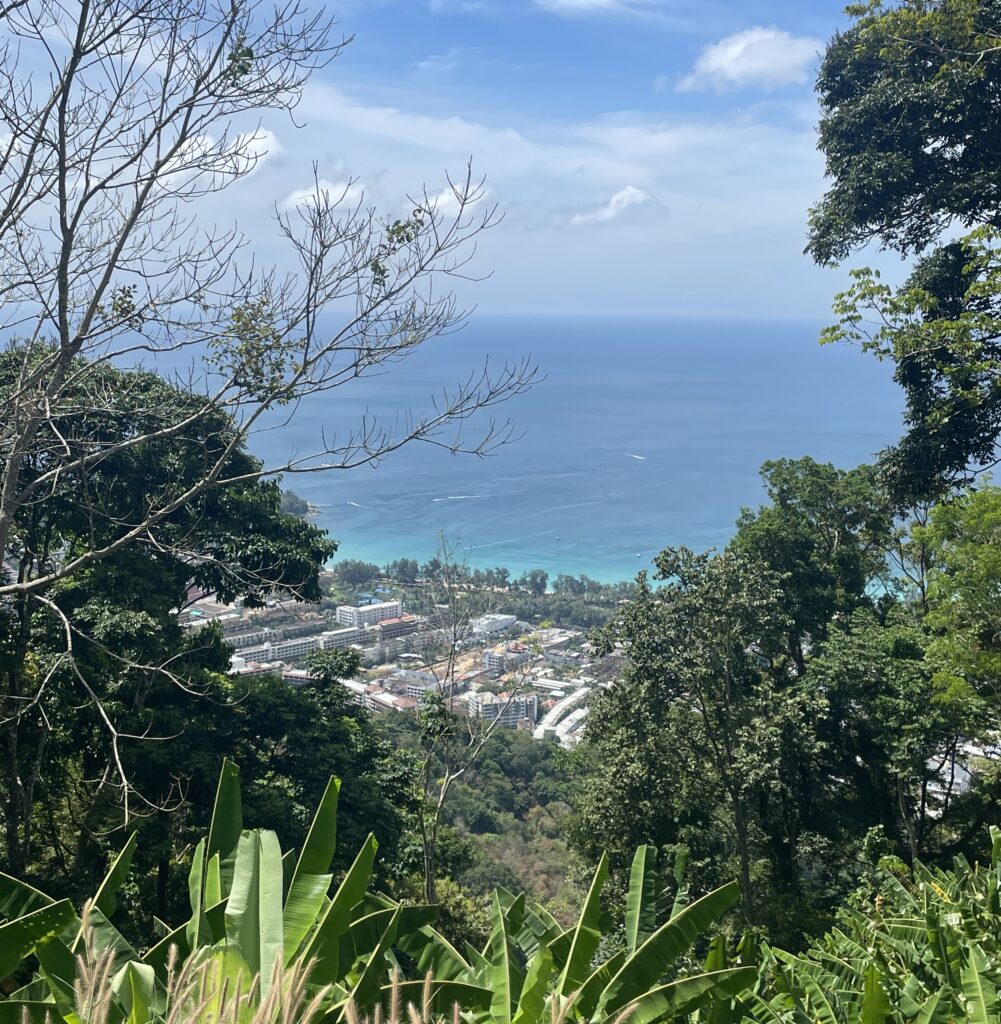 Is it better to stay in Patong or Kata Beach?
It depends on the atmosphere you're looking for; Patong Beach is more touristy and lively, with more things to do. On the other hand, Kata Beach is a more authentic representation of Phuket with its stunning beach, many-day activities, and laid-back atmosphere.
Which beach is better Patong or Kata?
Kata Beach is far more excellent than Patong's; the shoreline is more extensive, and its surroundings consist of palm trees and a mountainous range.
What is Patong Beach known for?
Patong Beach is most known for its nightlife, with plenty of bars/restaurants/nightclubs, and attractions to visit at night. It's also the most popular beach area in Phuket.
What is Kata Beach known for?
Kata Beach is most well-known for its surfing; the beach has ideal waves for beginners to learn how to surf. Besides that, Kata Beach is known for its authentic, laid-back beach town atmosphere!
Subscribe to Travel Hiatus!
Receive updates on my latest posts, insider travel tips & the best destination guides to your inbox!
Happy & Safe Travels
---
Planning Checklist
---
Disclaimer: Please note that some of the links shared in this article might be affiliate links; this means that at absolutely no extra cost to you, we will earn a small commission for any sales generated through this article and/or this website. We recommend products/services we've either used or researched thoroughly – Thank you for supporting us so we can continue to share helpful travel content!