Is Isla Mujeres Worth Visiting? Honest Guide
Curious and wondering: Is Isla Mujeres worth visiting? You've come to the right place!
I'll cover with you reasons you to visit Isla Mujeres as well as a few reasons you should skip visiting Isla Mujeres.
But the short answer is Isla Mujeres is definitely worth visiting, but if you're limited on time and really on the verge of visiting or not, read further!
Isla Mujeres is one of the most popular islands in the Caribbean, and for a good reason, it's home to some of the most pristine white beaches and perfect turquoise blue waters. There are also many things to do in Isla Mujeres, and you'll never be bored visiting!
Fun Fact: Isla Mujeres means "The Island of Women" and is pronounced: "ee-sluh-moo-heh-rays."
In this article, I'll cover reasons to visit Isla Mujeres, reasons not to visit, how to get to Isla Mujeres, and essentials travel tips for visiting Isla Mujeres.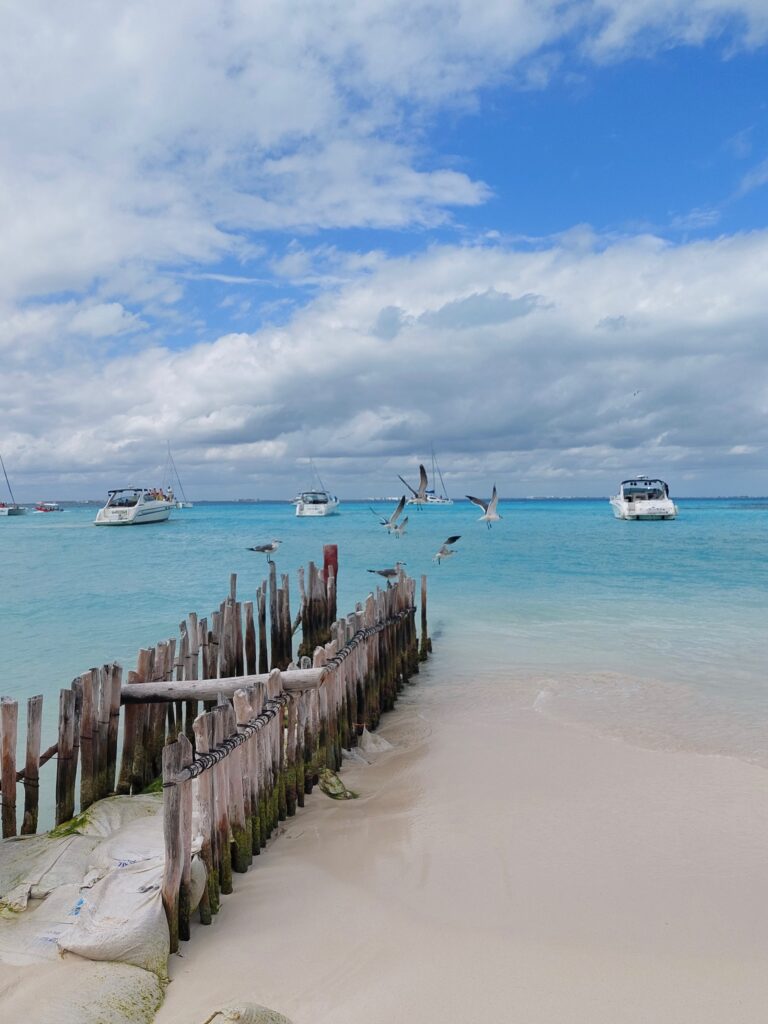 Is Isla Mujeres Worth Visiting? 6 Reasons to Go
Let's start with why you most certainly should make a trip to Isla Mujeres, whether it's a day trip or you stay a few nights!
Isla Mujeres Beaches
Isla Mujeres is most famous for its beaches. The beaches in Isla Mujeres have pristine crystal clear water, soft white sand, and gentle waves.
All of these attributes make the beaches in Isla Mujeres ideal for relaxing and soaking in the Caribbean sun!
There are three main beaches in Isla Mujeres:
Playa Norte – The best and most popular beach on the island, voted #23 best beach in the world
Playa Lancheros – Located slightly south of the island, an ideal place to rent a chair
Playa Centro – An alternative to Playa Norte, usually slightly less crowded
Many Things To Do
There are several things to do in Isla Mujeres, despite the island's smaller size of only 7km long.
Besides going to the beach, of course, popular things to do in Isla Mujeres are the following:
Visit Punta Sur: Located in the most Southern part of the island is this stunning park.
Go to Isla Contoy: Visit this beautiful deserted island full of nature close to Isla Mujeres
RELATED: 12 Best Things to Do in Isla Mujeres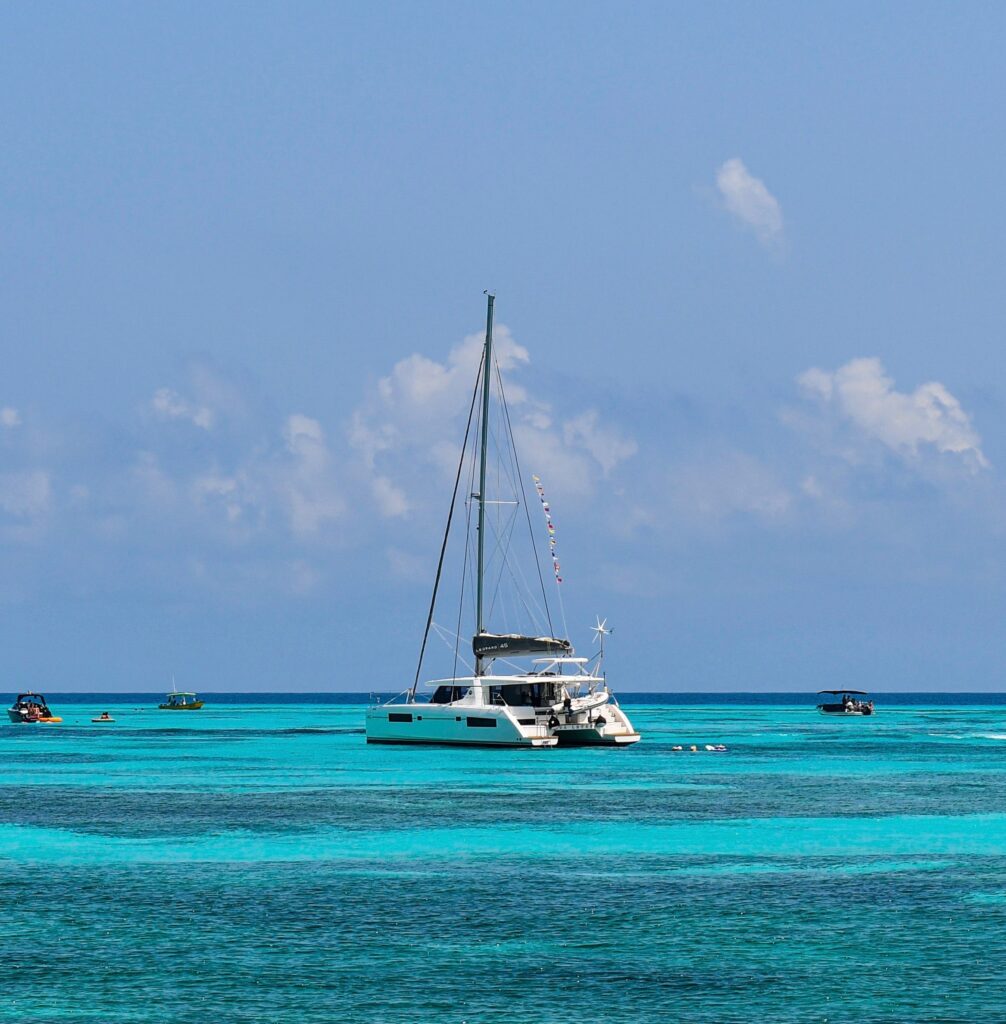 Island Atmosphere
There's a special atmosphere when you visit any island; it's nature's paradise, the beaches, the laidback vibes, and overall a simplistic day routine. An island atmosphere that can't be replicated on the mainland.
Isla Mujeres is just that; days in Isla Mujeres involve the beach, dining out, bar-hopping, and just soaking up the beauty of the place, and that's it; what more could one ask for?
My favorite thing to do in Isla Mujeres is rent a scooter or golf cart and drive around the island gazing out on the island's beautiful coastline.
Beach Clubs in Isla Mujeres
Isla Mujeres is known for its many beach clubs, and they're the perfect place to sit back, relax, eat some good Mexican food and soak up the sun for the day!
Here are a few of the best beach clubs in Isla Mujeres to consider:
Isla Mujeres Beach Club Prices: The average price is 400-800 Mexican Pesos / The cost of entry/seat usually goes towards buying food and drinks.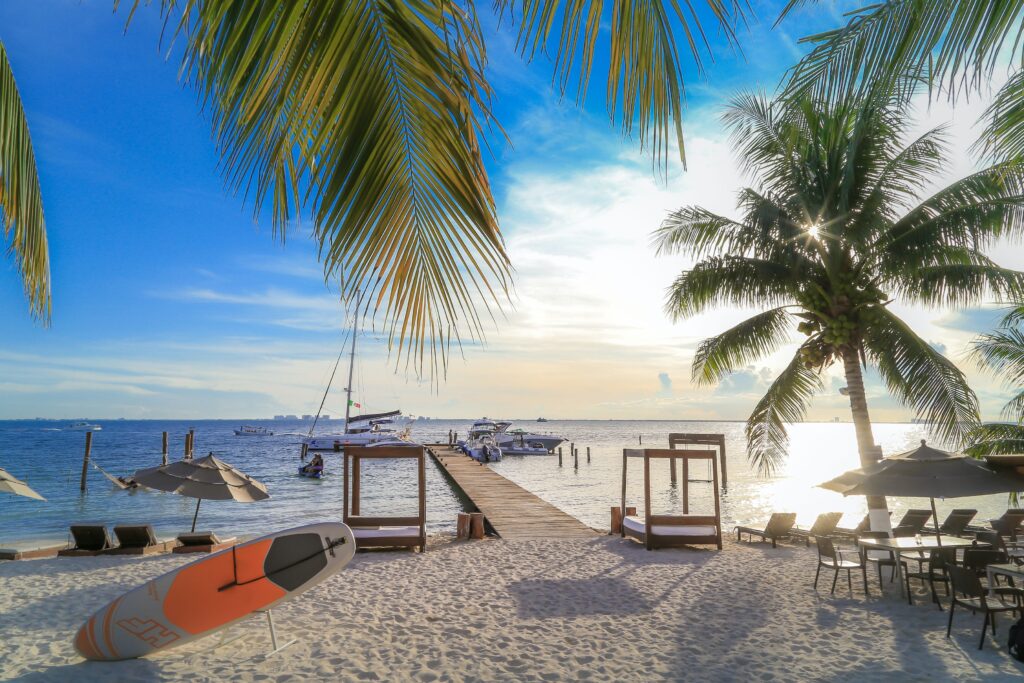 Isla Mujeres is Walkable
One of the highlights of Isla Mujeres is just how walkable the island is. You can walk just about anywhere on the island, and distances are short. Something very convenient when you're looking to visit somewhere to relax!
The only time you'll have to use transportation is if you're staying outside of the Centro area on the island.
If you stay in the middle of the island, like in the La Gloria area, you will need to use some sort of transportation to get to Centro. Visiting Punta Sur also, if you're going there from Centro you'll need to use a taxi.
For reference:
From the middle of the island to Centro, it's about a one-hour walk.
Visiting Punta Sur park, which is the furthest point from Centro, it's a one hour and 40 minutes walk.
Great for All Travelers
One of the best attributes of Isla Mujeres is that it's welcoming to all types of travelers.
Whether you plan to visit Isla Mujeres solo, with a loved one, or with your family, Isla Mujeres accommodates everyone!
Solo Travelers: Isla Mujeres is a great time for solo travelers; walking around Centro and bar hopping, you'll find it easy to meet others also traveling alone. Nomad is an excellent hostel hosting many solo travelers and has a beach club, so pay it a visit! Another option is Selina Isla Mujeres!
Couples: Those visiting with their loved one and looking for a romantic time, there are many excellent resorts in the southern area of Isla Mujeres for privacy. Stay in the Centro area if you're looking for a lively time with your partner!
Group: Staying in Centro Isla Mujeres is a fun time when your with a group of friends, beach clubs, bar-hopping, and more. Privilege Aluxes is the best hotel for those visiting in a group; the hotel has a nightclub on site!
Family: There are many excellent large resorts in Isla Mujeres with several amenities, making it a perfect destination for families! Consider either Hotel Belo or Mia Reef if you're visiting with your family.
Is Isla Mujeres Worth Visiting? 3 Reasons Not to Go
There are more reasons to visit Isla Mujeres than not to. But that being said, there are a few reasons not to go to Isla Mujeres that should be addressed.
Despite the majority of people, including myself being on the side to visit!
Too Busy/Very Touristy
Isla Mujeres can get very busy, and I mean busy, especially during the high season months from November through April.
The fact it can get so busy in Isla Mujeres really takes away from the authentic "island experience."
Beach clubs get full sometimes, making it hard to find a lounge chair; Centro gets busy, especially in the afternoon and late evening hours.
The worst part is when you are staying on Isla Mujeres for a few days looking to relax, and every day you notice a massive influx of more tourists coming to visit Isla Mujeres for the day from Cancun, making it even busier than it already is.
Lastly, Isla Mujeres is very touristy, for those who don't enjoy a touristy atmosphere, you won't particularly enjoy visiting Isla Mujeres. You'd be better off visiting Isla Holbox; it's touristy there but not nearly as much as in Isla Mujeres!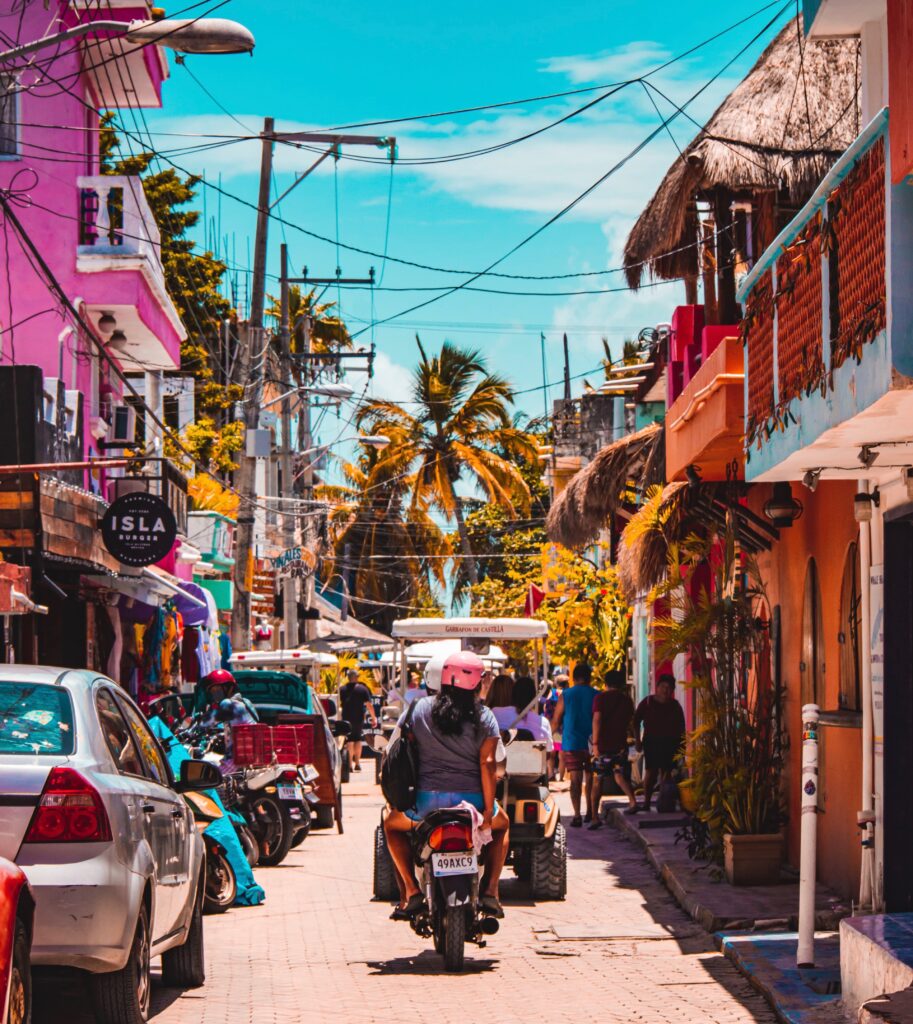 Scams in Isla Mujeres
In most places you visit in the world, scammers are lurking around, crafting methods to trick tourists visiting.
Not only is this the case in Isla Mujeres, but over the last few years, as the island's gotten more famous, scams have become more common. These are things to be careful of in Isla Mujeres:
Golf Cart Scam: You'll spot workers trying to get you to rent a golf cart everywhere you walk on the island, and there's no problem doing so and riding around. But some places try to scam tourists once they rent a golf cart.
Once you've rented the golf cart and you return it to the shop, the worker at the shop claims you've "damaged" the golf cart while you rented it and will ask you for money. This "damage" they claim can be as little as a dent or scratch; they're trying to scam you out of money.
Mention politely that you'll get the police involved. This is similar to the Jetski scam in Thailand.
Beach Theft: Watch your belongings when visiting the beach. Valuables being stolen at the beach has risen in the last two years. Limited beach space and many locals/tourists visiting, so you can imagine it's easy for someone to steal things from others on the beach.
Theft happens from both tourists and locals; needless to say, keep an eye out for your belongings when at the beach and going into the water.
Hotel Theft: While hotel room theft isn't common, it happens not only in Isla Mujeres but other places in Mexico. I know this first-hand as well as from friends, clients who've visited Isla Mujeres.
It's best not to bring any expensive jewelry or lots of money with you to Isla Mujeres/vacation. And yes, even the safe is vulnerable. I'm not suggesting this is the case for all hotels, but this is a precaution to take so you can avoid even the chance of it happening.
Pick-pocketing: It doesn't happen often, but when you're leaving the ferry, boarding, or walking in busy crowds in the Centro area, be slightly more cautious.
Scams occurring in Isla Mujeres shouldn't be the sole fact to convince you not to visit Isla Mujeres by any means, but it is something you should beware of.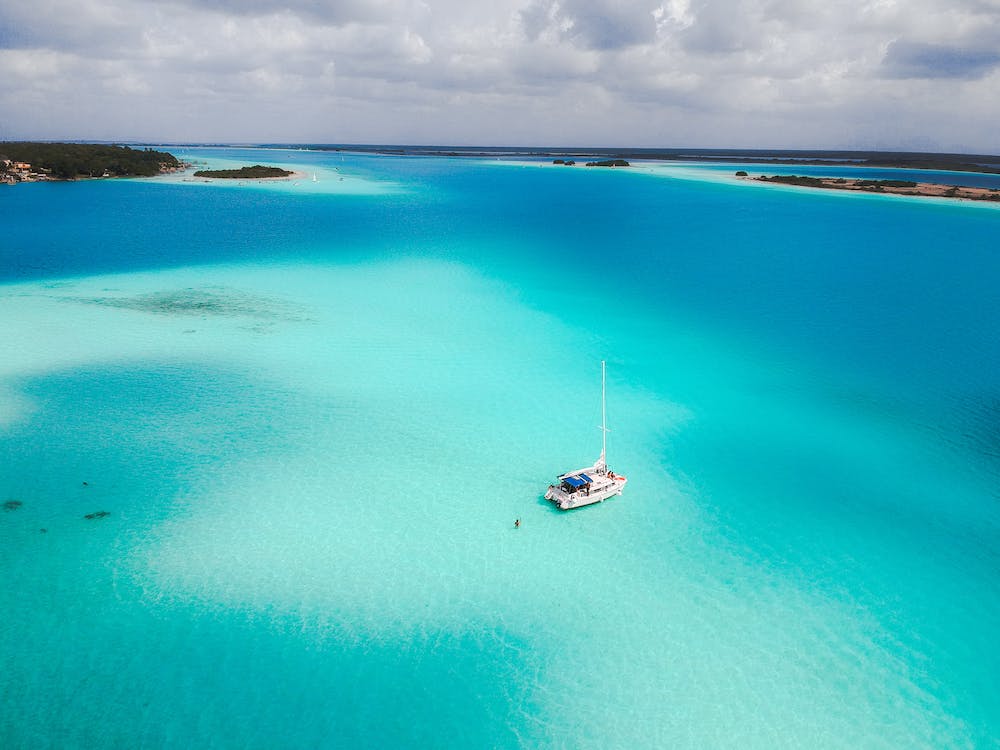 Isla Mujeres is Expensive
Overall when considering all the destinations in this region of Mexico, such as Cancun, Playa Del Carmen, and Akumal, amongst other cheaper destinations, Isla Mujeres is considered expensive to visit.
Isla Mujeres isn't very expensive to visit. But still, because it's costlier to visit than the majority of places nearby, except for Tulum, Isla Mujeres is considered expensive to visit.
While part of these costs, especially for food, is justified because you know you're visiting an island after all, everything is slightly costlier in Isla Mujeres compared to other destinations in the region.
The average daily cost to visit Isla Mujeres is $160 US, and this includes accommodation, food, and transportation. While this is the average accounting for those staying in budget-friendly hostels, a more accurate daily cost for those staying in hotels is around $181 – $240 US a day.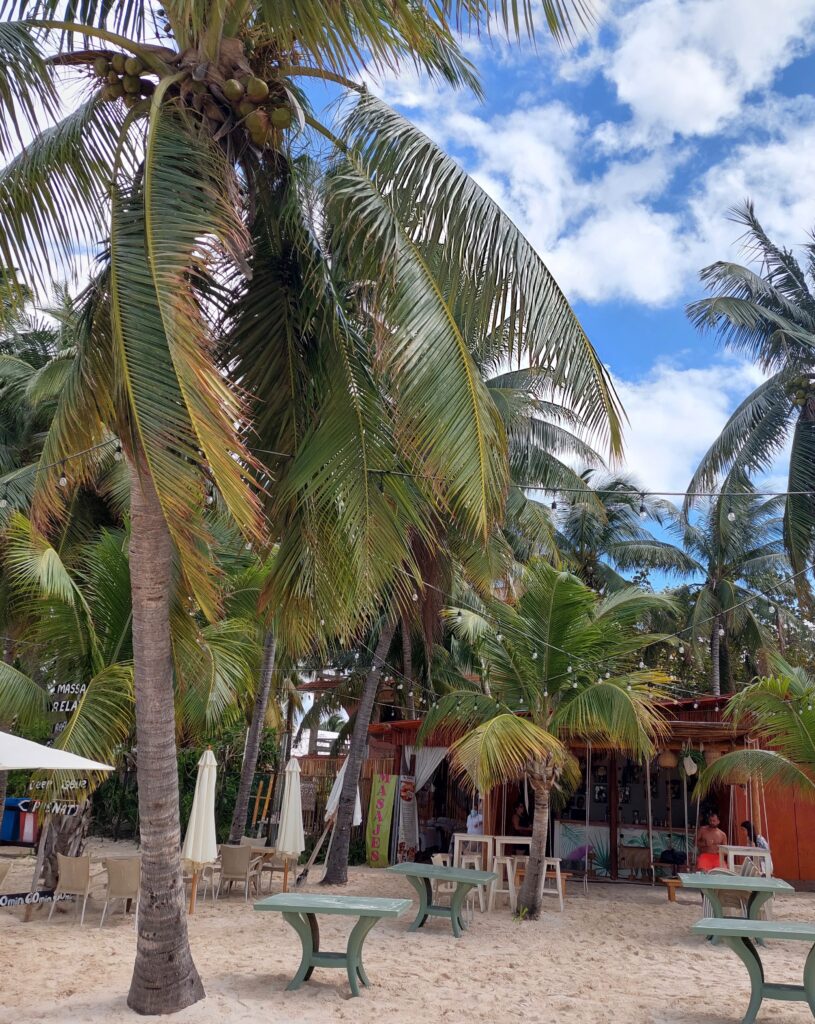 Should you stay in Isla Mujeres?
Yes, you should spend at least one night on Isla Mujeres if you can, without a doubt!
I've always said you can't fully experience a place unless you've spent at least one night there.
Is Isla Mujeres Worth a Day Trip?
If you can't, of course, make the day trip over to Isla Mujeres from Cancun; it's only a 20-minute ferry ride. Visiting Isla Mujeres is one of the must-do things in Cancun!
Below you'll find the best hotels for any budget in Isla Mujeres:
Cheap Hotels in Isla Mujeres
There are a few budget-friendly hotels in Isla Mujeres; the two I've recommended below are hostels with both private rooms and shared-dorm options as well!
Nomad Hostels & Beach Club: Located in the Southern area of the island, Nomad is the most popular hostel in town, and it's the best place to meet new people. The hostel has its own beach and hosts beach parties!
Selina Isla Mujeres: Selina is located in the Centro area, very convenient with its location
Mid-Range Hotels in Isla Mujeres
Here are a few mid-range priced hotels I'd recommend you consider when visiting Isla Mujeres.
Hotel Isla Caraco: Well-priced mid-range hotel located a short walk away from Playa Centro / Beach
Nautibeach Condos: Condo rentals by night, conveniently located in the Centro area with beautiful beach views of Playa Norte (the main beach)
Luxury Hotels in Isla Mujeres
These are the top two 5-Star hotels in Isla Mujeres, each perfect for different crowds. Zoetry is great for couples looking for a romantic setting and families. Privilege Aluxes is ideal for couples looking to be social and those visiting with friends!
Zoetry Villa Isla Mujeres: Located in the middle of the island along Joyxee Island with a private beach and excellent spa, among many amenities
Privilege Aluxes – Adults Only: In the Centro area, steps away from both main beaches on the island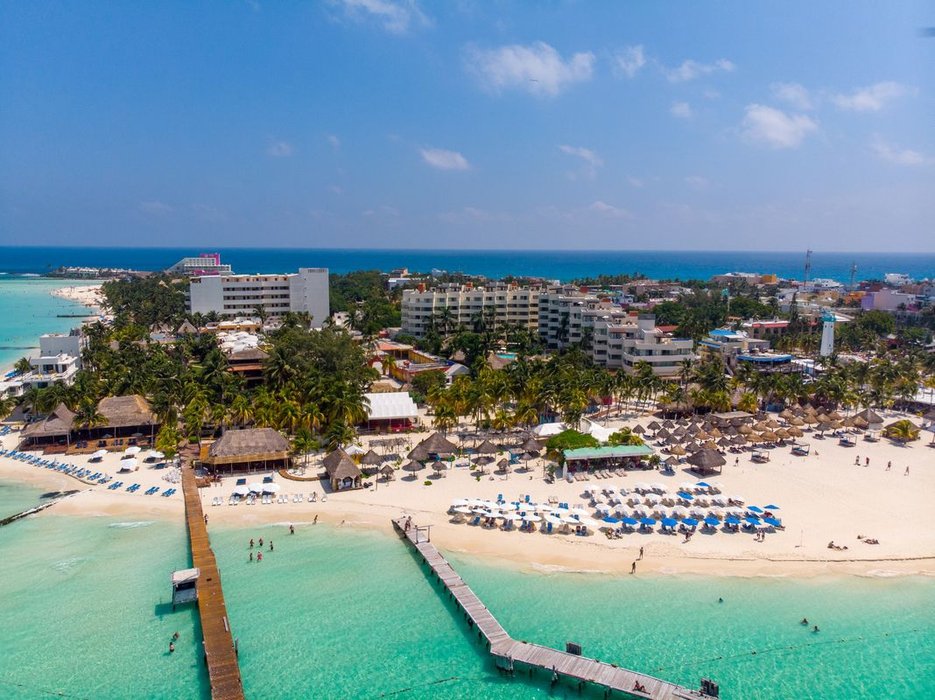 How to Get to Isla Mujeres
To get to Isla Mujeres, you first must get to Cancun, where all the ferries leave from to get to Isla Mujeres.
There are four different ferry departure locations from Cancun to get to Isla Mujeres.
Three ferries go back and forth from 9:00 AM to 7:00 PM throughout the day, departing roughly every hour.
Except for Puerto Juarez, this ferry has rides going back and forth from 5:30 AM to 12:00 AM every hour.
Puerto Juarez
Playa Tortugas
Playa Caracol
El Embarcadeo
Departing from Puerto Juarez tends to be the cheapest way because of the frequent trips back and forth to Isla Mujeres from Cancun.
Is Isla Mujeres Worth Visiting — Final Thoughts
So, is Isla Mujeres worth a day trip or staying a night? Yes, Isla Mujeres is definitely worth a day trip, and if you can, I recommend you spend at least one night on the island to experience Isla Mujeres to the fullest!
Some visitors choose to fly into Cancun Airport and spend their entire vacation in Isla Mujeres. While I recommend visiting Isla Mujeres, I wouldn't recommend that. As I stated earlier, the island isn't that large, and it can get quite busy, especially during the high season.
At the most, I'd recommend visiting Isla Mujeres for three to four nights and then visiting somewhere else nearby, Cancun maybe, Playa Del Carmen, or perhaps another island, Cozumel!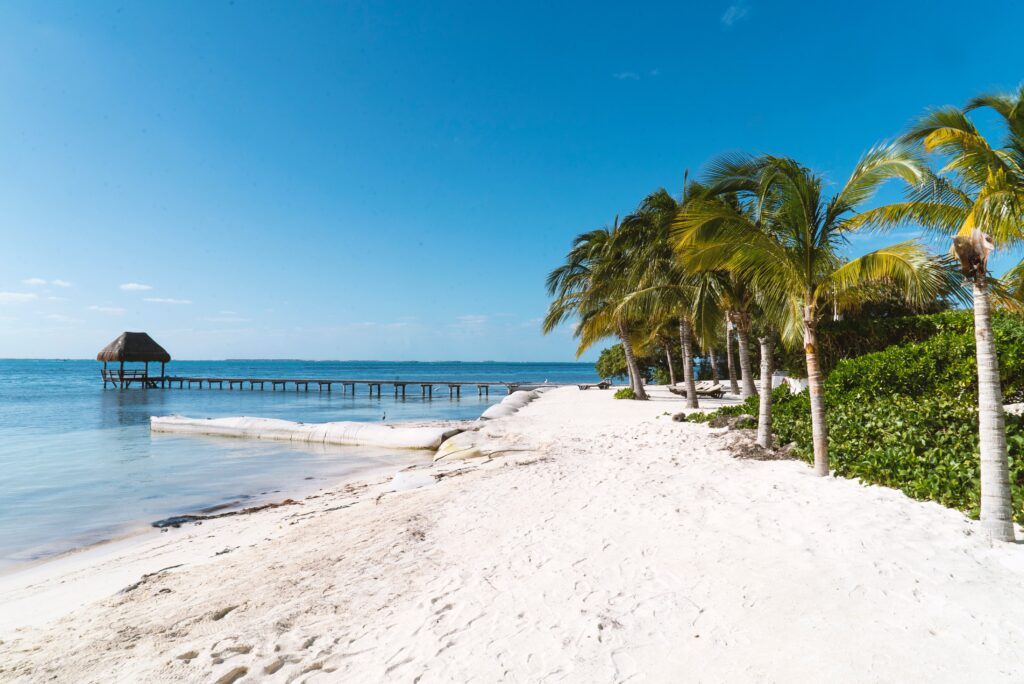 What is special about Isla Mujeres?
Isla Mujeres is home to one of the best beaches in the world, full of crystal clear water and ideal soft white sand. There are many things to do in Isla Mujeres, and it's only a short 20-minute ferry ride from Cancun.
Why do people like Isla Mujeres?
Isla Mujeres is loved by all for its picturesque beaches, many things to do, island atmosphere, and being walkable.
Is Isla Mujeres a party island?
No, Isla Mujeres isn't a party island; it has several beach clubs and bars, but that's about it.
There aren't any serious nightclubs or beach parties going into the early morning hours. If that's what you're looking for, you'd be better off visiting Tulum.
Is Cozumel nicer than Isla Mujeres?
Cozumel is a beautiful island and is more of a developed island compared to Isla Mujeres. Cozumel is better for snorkeling and diving trips, but Isla Mujeres has nicer beaches.
Featured Image: Nathan Cima
Subscribe to Travel Hiatus!
Receive updates on my latest posts, insider travel tips & the best destination guides to your inbox!
Happy & Safe Travels
---
Planning Checklist
---
Disclaimer: Please note that some of the links shared in this article might be affiliate links; this means that at absolutely no extra cost to you, we will earn a small commission for any sales generated through this article and/or this website. We recommend products/services we've either used or researched thoroughly – Thank you for supporting us so we can continue to share helpful travel content!