Is Tulum Expensive To Visit? An Honest Guide
Are you thinking of visiting Tulum? But you're curious, is Tulum expensive to visit? You've come to the right place; I will explain everything you need to know in this guide!
Yes, Tulum is expensive, and here's why. Tulum caters to those who crave luxury; the Hotel Zone is full of 5 Star Hotels and fancy restaurants, appetizing those visiting Tulum with a lot of money. Unique party experiences in Tulum in the jungle and sunrise parties are expensive to attend.
No, Tulum is not expensive, and here's why. Tulum was originally a haven for yogis and backpackers, and it still has that side of it. Tulum has several hostels, far more than most towns in the Riviera Maya, and you can find cheap food in Tulum, especially in Tulum Centro.
Anyone whos been to Tulum many times can tell you this, you can visit Tulum and spend $70 US a day, or you can visit and spend $700+ US a day easily. Depending on your budget, you can visit Tulum in either a backpacker way or a luxurious manner.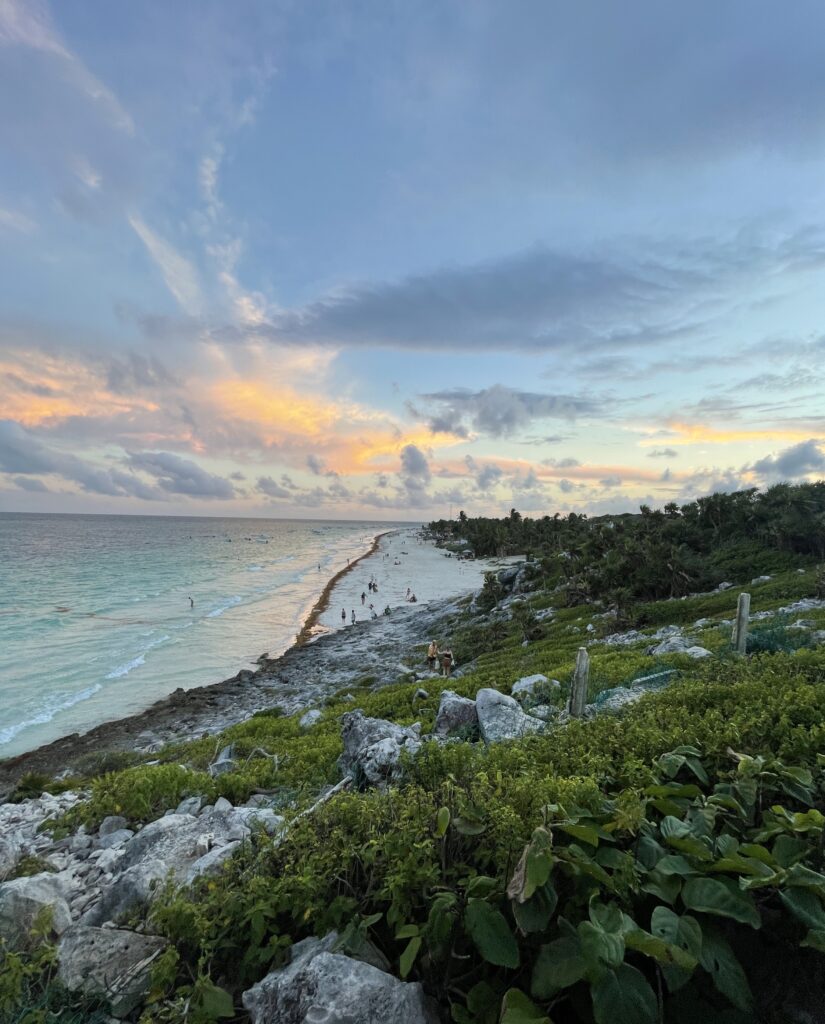 Let's talk about why Tulum is so popular amongst travelers. The main beach here is mesmerizing, with a sizeable extensive shoreline. The layout and atmosphere of the beach here make you feel like you're on a deserted island, minus all the tourists, of course.
The nightlife in Tulum is some of the best in the world, and beach clubs are excellent here, along with the cenotes and ruins; there's lots to see and do in Tulum!
In this guide, I'll cover a budget and luxurious ways to enjoy Tulum. This includes how to get to Tulum, average hotels and eating out costs, transportation costs, and day trip costs from Tulum!
Flights to Tulum – How to Get to Tulum
To get to Tulum, you first must fly into Cancun International Airport and then go from Cancun Airport to Tulum. From Cancun Airport to Tulum, it takes 2 hours to get there.
Budget Way from Cancun to Tulum
ADO Bus: This is the cheapest way to get to Tulum from Cancun Airport. ADO buses are large travel buses that travel within Mexico — Cost: $15-25 US
Luxury Way from Cancun to Tulum
Private Airport Transporation: Private airport transfer is the most convenient way to get to Tulum. With the vehicle of your choice, you'll have a personal driver.
Cost: Depends on vehicle size, you could always split the cost among friends
How to find cheap flights to Cancun International Airport
The best way to find cheap flights to Cancun Airport is by using SkyScanner.
To avoid higher flight costs, avoid flying from December till January 7th.
Hotels in Tulum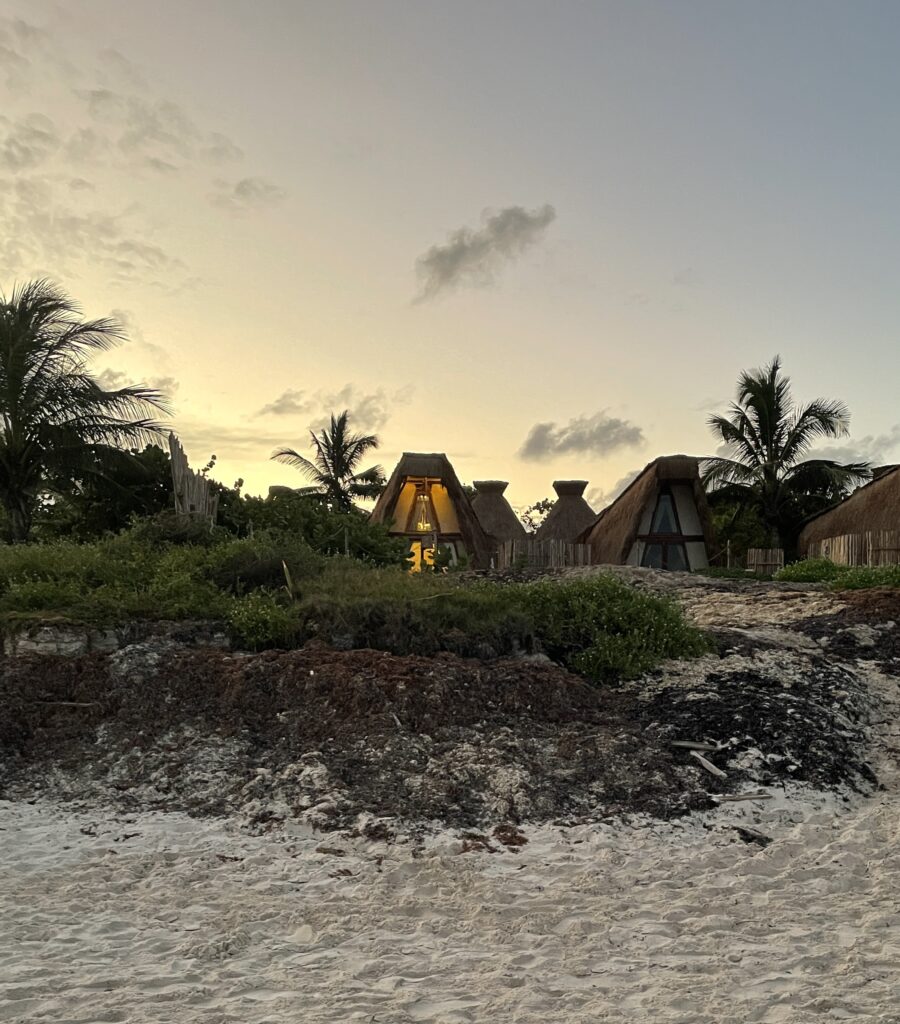 Tulum has all types of hotels and accommodations, from hostels to boutique hotels, resorts, and 5 Star luxurious hotels with exceptional sea views.
Staying close to Tulum Beach is always more expensive; that's where most of the 5 Star Hotels and fancy restaurants are. This area is the Hotel Zone Tulum.
Aldea Zama is located between the beach and Centro Tulum, full of a thriving ex-pat community. Here you will find mostly house and apartment rentals and some boutique hotels.
Centro, or Tulum Town as some may call it, is the city center. You will find plenty of hostels and boutique hotels here. Not only is it the cheapest area to stay, but it's close to everything in town.
Luxury Hotel Average Prices: $420 – $1,100
Boutique Hotel/Rentals Average Prices: $130 – $430 US
Hostel Average Prices: $15 – $35 US
All hotels and accommodations cost more during the high season: November to April.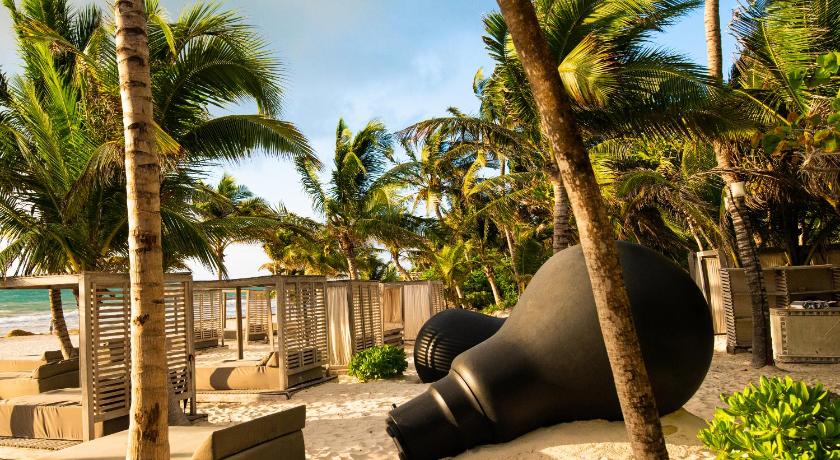 Luxury Hotels in Tulum ($$$)
All hotels below are located in the Hotel Zone Tulum. Here you will find all the fancy restaurants to dine at and beach clubs to enjoy during the day!
Be Tulum Hotel: A 5 Star chic-bohemian style oasis with exceptional decor/service
Casa Malca: Modern fancy well, decorated hotel with huge rooms
Azulik Tulum: Famous for its luxurious treetop suites in a unique location
Boutique Hotels in Tulum ($$)
The boutique hotels in Tulum are in different areas throughout the town. The first two hotels I've suggested are located very close to Centro. The third one is located on Tulum North Beach, in a different area than the expensive Hotel Zone.
Layal Boutique Hotel: Chic-Bohemian style hotel with nice rooms & steps away from Centro
Villas H20: Slightly North of Centro, a modern apartment-like hotel
Ikal Tulum Hotel: Located on North Beach, a wooden-themed/Tulum-style hotel
Hostels in Tulum ($)
Most hostels in Tulum are located in the Centro area, with the exception of the Mayan Monkey, which is located about halfway between Centro and the Beach.
Che Hostel & Bar: Modern hostel with spacious rooms/dorms, great working area
Mayan Monkey Tulum: Exceptional modern hostel with a beautiful rooftop bar and plenty of amenities
Straw Hat Hostel & Rooftop Bar: Humble hostel, famous for its rooftop parties
Is Tulum Expensive To Eat Out?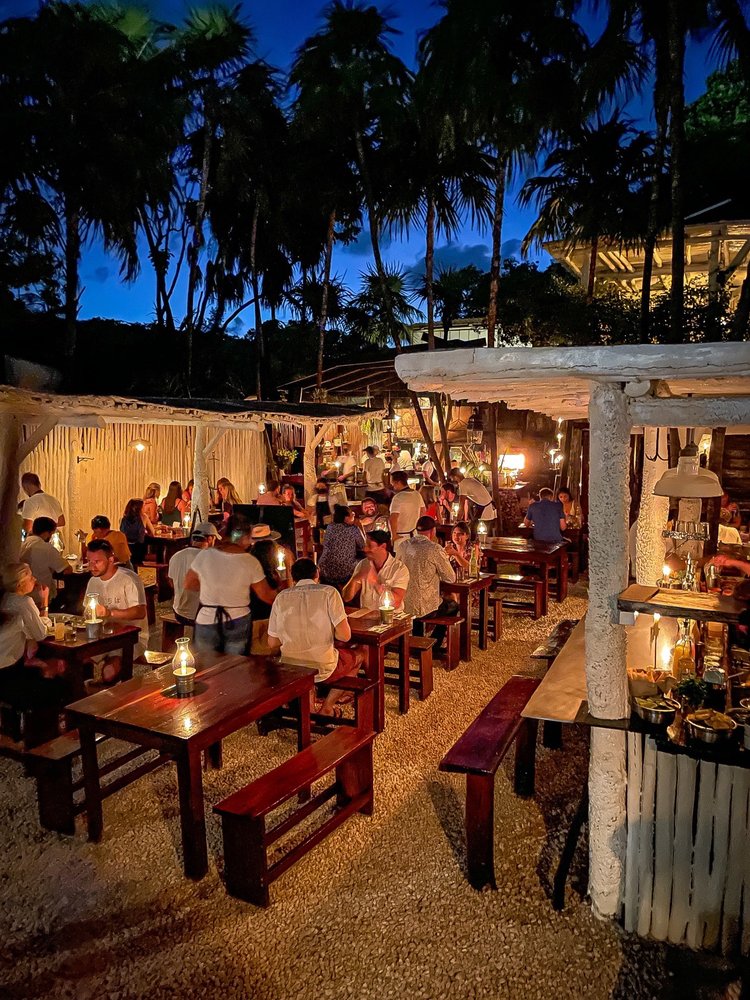 One of your most significant expenses anywhere you go is eating out and drinking.
Avoid the Hotel Zone's restaurants and beach clubs if you want to keep your food/beverage spending low.
Tulum is one of those places in the world where you can eat a street taco for $2 US and then pay $15 US for one at a fancy restaurant. Cheap food is around Tulum, and so is expensive food.
On average, food in Tulum is costlier than in other places in the Riviera Maya; your average meal at a mid-range restaurant in Tulum will cost you $20 US per person.
Cheap Restaurants in Tulum
Most of the affordable restaurants in Tulum can be found in the Centro area, including all the recommendations I've suggested below.
In Centro Tulum, you can find meals for under $20 US and cheap eats like $2 US street tacos on this street. Appetizers cost around $4-10 US.
Alcohol is also cheap in the area as well, and you can find cocktails for around $7 US and beers for around $4-7 US.
Many restaurants tend to have happy hour promos throughout the day, which you could take advantage of!
Taqueria Honorio
El Takazo Jr
Bocanera
Taco Trucks by OXXO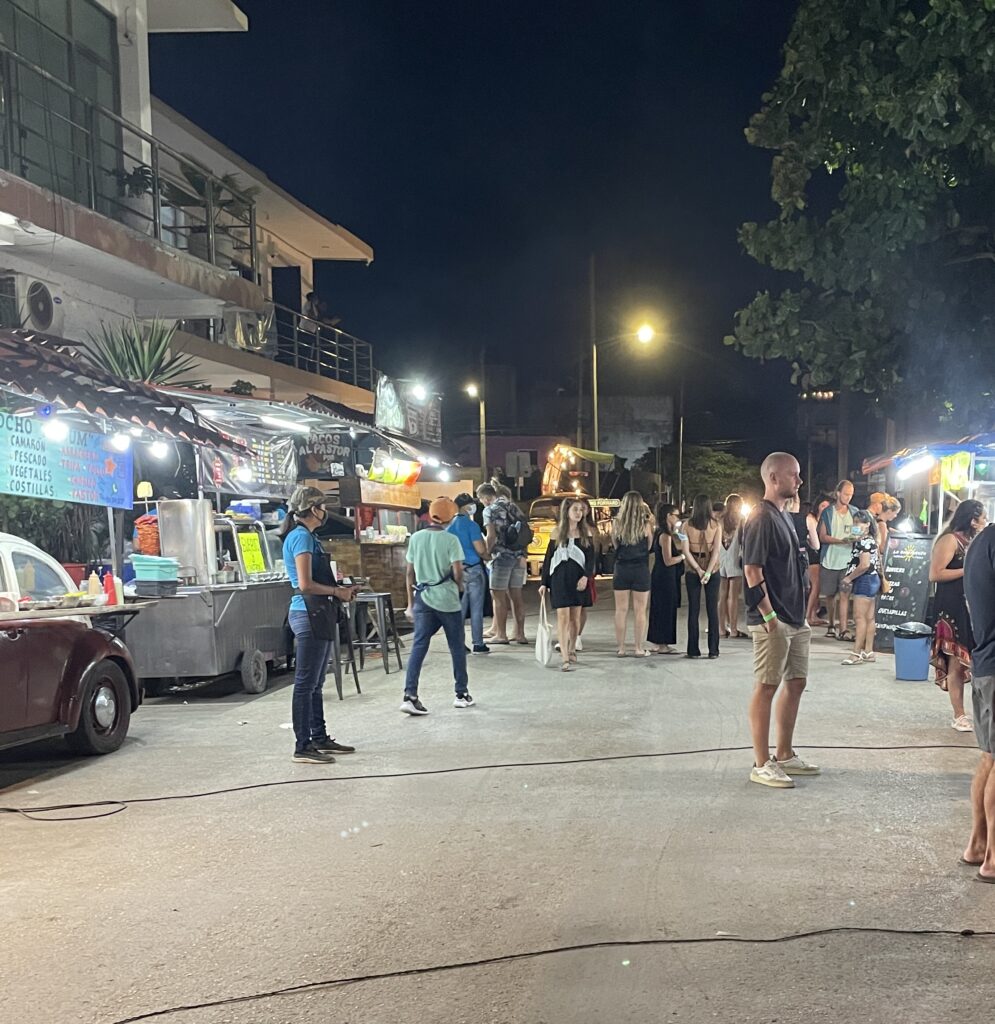 Fancy Restaurants in Tulum
There is plenty of fancy restaurants in Tulum. Most of these chic establishments are located in the Hotel Zone. Below, I've listed some of the best restaurants in the Tulum Hotel Zone.
In the Hotel Zone, you can expect to pay $20 US for appetizers and anywhere from $35-$90+ US for a main dish. Cocktails in the area are around $17-$25 US each. Not cheap at all, the Hotel Tulum Zone is far more expensive than Centro for eating out.
Factor in a tip at the end of your meal around 15-25%, and you're paying quite the bill for dinner.
Even if you're staying in the Hotel Zone and spending most nights eating at restaurants in the area, I recommend you visit a restaurant or two in Centro to get a more authentic feel for the authentic local cuisine of Tulum.
ARCA
Hartwood
Bak Prime Steakhouse
Casa Jugar
RELATED: 12 Best Restaurants in Tulum
Tulum Beach Clubs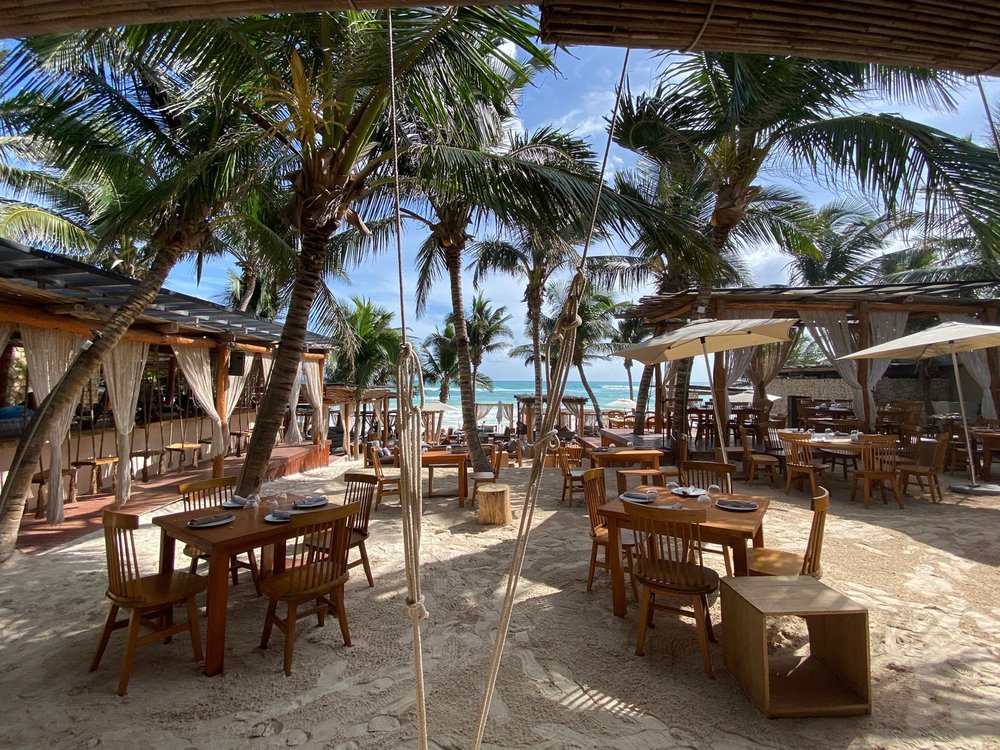 One of the best things to do in Tulum during the day is to spend the day at a beach club.
Cocktails, perhaps champagne, appetizers like guacamole, and chips by the beach. Music playing, live instrumental performances, who doesn't love a relaxing/party day by the beach?
Unfortunately, the beach clubs in Tulum are expensive. Some have cover costs to enter or minimum spend; beach chair rentals and food/drinks can add up!
Tulum's more affordable beach clubs charge a cover from $50-90 US.
Tulum's more luxurious beach clubs charge a cover from $100-$200 US. Half of your cover charge at some beach clubs will go towards any food and drink purchase.
If you'd like to visit one of the many beach clubs in Tulum, determine what you'd like to spend for the afternoon.
And if you're on a travel budget visiting Tulum, skip the beach club and head to Tulum North for free!
More Affordable Beach Clubs
La Zebra
Ziggy's Beach Club
Selina Beach Club
Luxury Beach Clubs
Casa Malca
Nomade Beach Club
Taboo Beach Club
Rosa Negra
Tulum Day Trips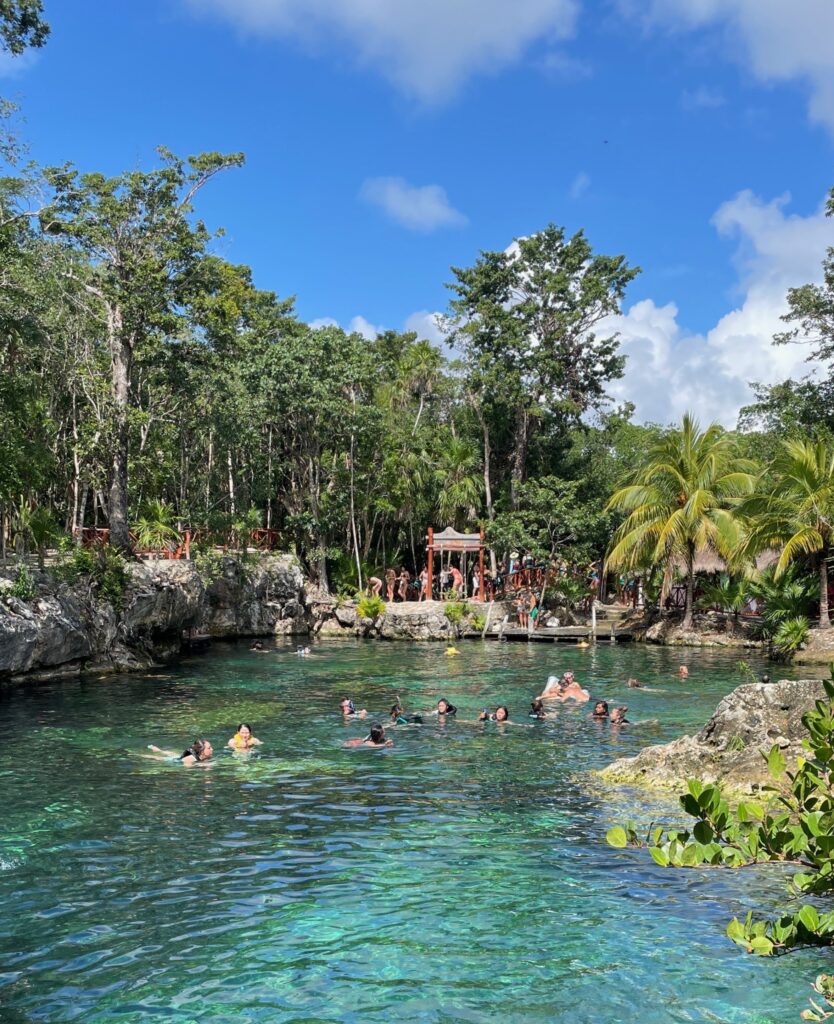 There are plenty of day trips in and outside Tulum; here is a list of great day trips to consider when visiting.
The most popular activities in Tulum are visiting some of the many cenotes here and seeing the Tulum Mayan Ruins.
In Tulum, most day trips will cost between $20 – $100 US. Tulum Ruins cost $5.50 US.
The average cost of a day trip outside of Tulum is between $50 – 200 US.
Tulum Ruins: Located along the coastline, visiting and seeing the many ruins here is a must-do when you're in Tulum!
Casa Tortuga Cenotes: A Cenote park with 4 excellent unique cenotes to discover and swim in. Casa Tortuga Cenotes Tulum is only 15 minutes away from Centro Tulum.
Tulum National Park: Free park to visit along Tulum North Beach and the best place to watch sunsets in Tulum.
Swim with Turtles in Akumal: Only 30 Minutes away from Tulum is Akumal Beach, a shoreline famous for its many sea turtles inhabiting its waters.
Catamaran Boat to Isla Mujeres: Isla Mujeres is an island located across the water from Cancun and is absolutely stunning. On this tour, you can sail there from Tulum.
Chichen Itza: Mexico's most famous attraction, the archaeological site of Chichen Itza, is a must-visit when visiting this region of Mexico. Attend this Chichen Itza tour from Tulum!
Cities Close By To Visit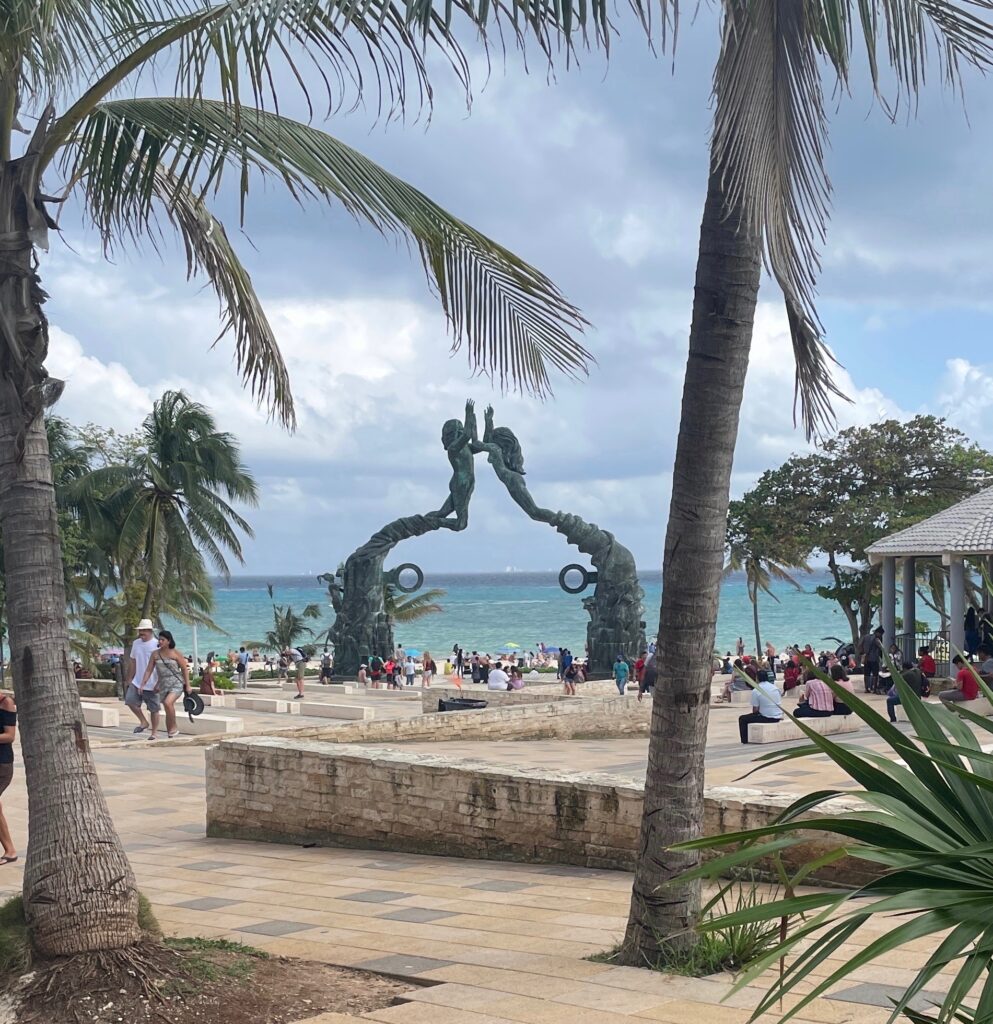 Another option is to visit one of the many cities close to Tulum and explore another place in the region!
The best way to get to these neighboring cities is by taking the ADO Bus; these travel buses are cheap and reliable.
If you'd like to visit Akumal, which is only 30 minutes away, ADO Bus doesn't stop there. You must take a white Colectivo van on the highway. For more info on how to take one, refer to my Tulum transportation guide.
Akumal: Small beach town famous for its many sea turtles swimming in its shorelines. Akumal is also known for its many large resorts as well.
Playa Del Carmen: Beach town known for its beaches, many restaurants, and great shopping. Also, a much cheaper place to visit than Tulum – Playa Del Carmen vs Tulum
Valladolid: Colonial town known for its excellent Yucatan food, many stunning cenotes, and the closest town to Chichen Itza.
Is Tulum Expensive To Get Around?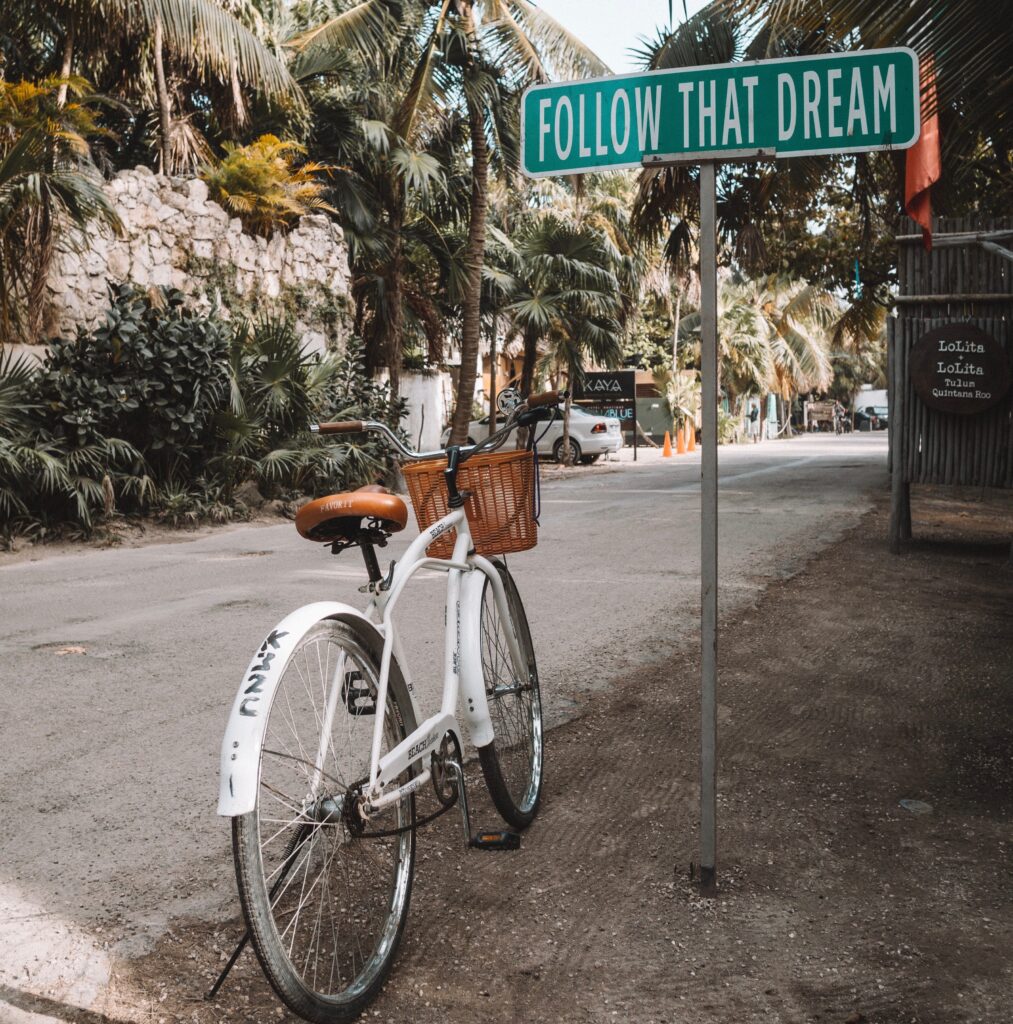 Getting around Tulum isn't cheap unless you choose to walk places or bike places.
Walking, for the most part, is an option if you're walking from place to place in the Centro area. Besides that, most places in Tulum are too far to reach by walking.
Taxis in Tulum charge anywhere from $30-$50 US to go from Centro to the beach, despite it only being 5km away. If you're taking a taxi often in Tulum, you can imagine it will start adding up!
At night, taxi drivers charge a higher rate to get around, knowing taxis are Tulum's main form of transportation. Expect to pay $50+ US no matter where you go at night.
Riding a bike or walking long distances at night isn't recommended in Tulum and isn't considered safe.
Taxi Tip: Don't be scared to negotiate; taxi drivers in Tulum are notorious for overcharging tourists. Also, make sure to reconfirm the agreed-upon price before taking the taxi.
Budget travelers tend to stay in the Centro area, where you can walk most places, and if you'd like to go to the beach, you can bike there in 15 minutes!
Walking from Centro to the Hotel Zone or Tulum North Beach takes over an hour, which is quite a long walk.
In the daytime, it's best to bike or drive to further places if you've rented a car.
Is Tulum Expensive To Live?
Tulum isn't a cheap place to live, but it's also not expensive. The average spend per month for one person is $1500 US. This does depend on the lifestyle you're looking to have in Tulum and your spending habits.
Living in Tulum is cheaper than visiting Tulum; your monthly apartment rent will cost less than those paying a rate to stay for 2-3 days.
Studio's in Tulum Town you can find for $500-$700 US monthly.
Apartments around or in Aldea Zama will cost from $1000-$2500+ US monthly.
For groceries, you can expect to pay around $50 US at local markets and $80-$120 US at supermarkets like Chedraui and Super Aki.
Eating out in Tulum will cost you the following on average:
Breakfast is $7-16 US
Lunch is $7-17 US
Dinner is $20+ US
Transportation will be cheaper for anyone visiting if you're living here, you're most likely always using your bike, or you've bought a scooter/car.
Or you live in Tulum Town and don't need any transportation! If you would like more living cost numbers in Tulum, please refer here.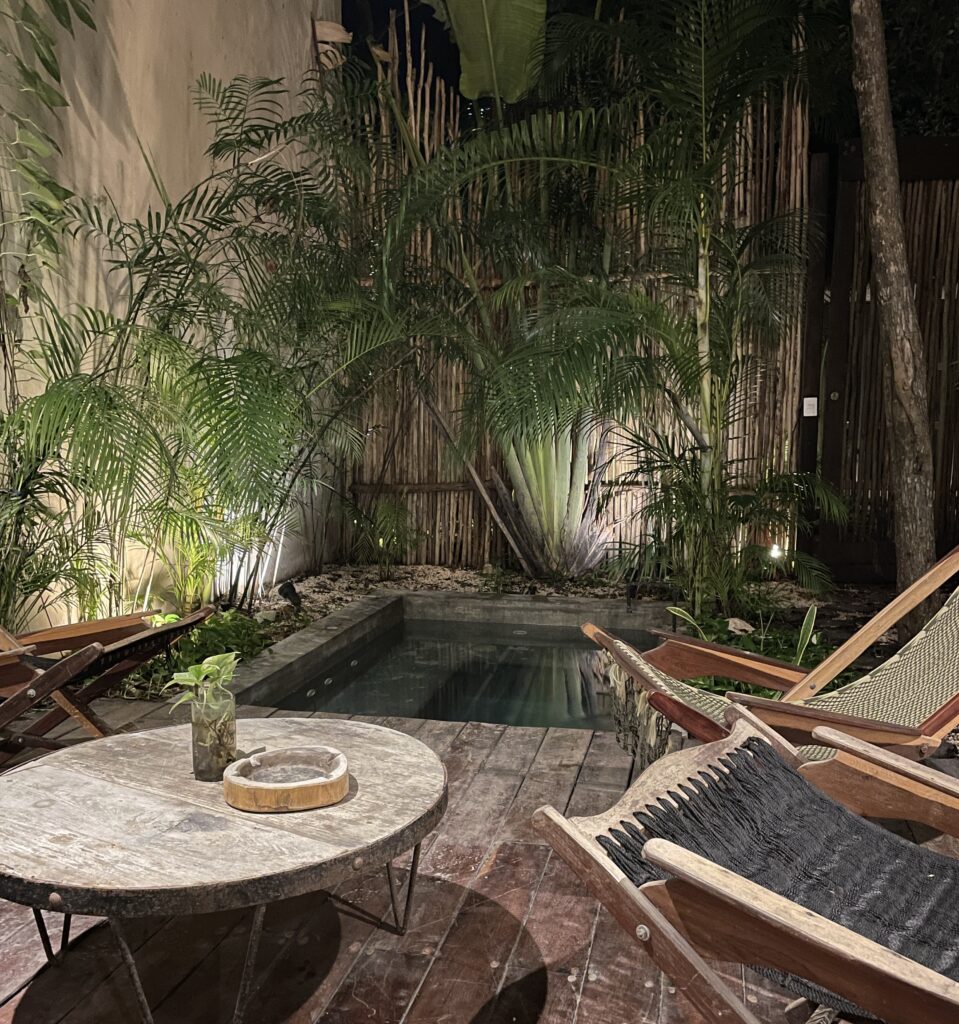 When Is the Best Time to Visit Tulum?
The best time to visit Tulum is during the dry season. This period is from November through April.
During these months, the weather in Tulum is ideal, it's hot enough to go to the beach, but the humidity levels aren't too high, unlike the off-season months from May to October.
In the off-season, also known as the rainy season in Tulum, humidity index levels are higher, and there's a greater chance for rainfall.
Seasonal Breakdown:
Dry Season: November to April
Rainy Season: May to mid-November
Hurricane Season: June to November
TIP: The best and cheapest time to visit Tulum in the year is during November when the season is changing, and there are still more affordable flights/hotels!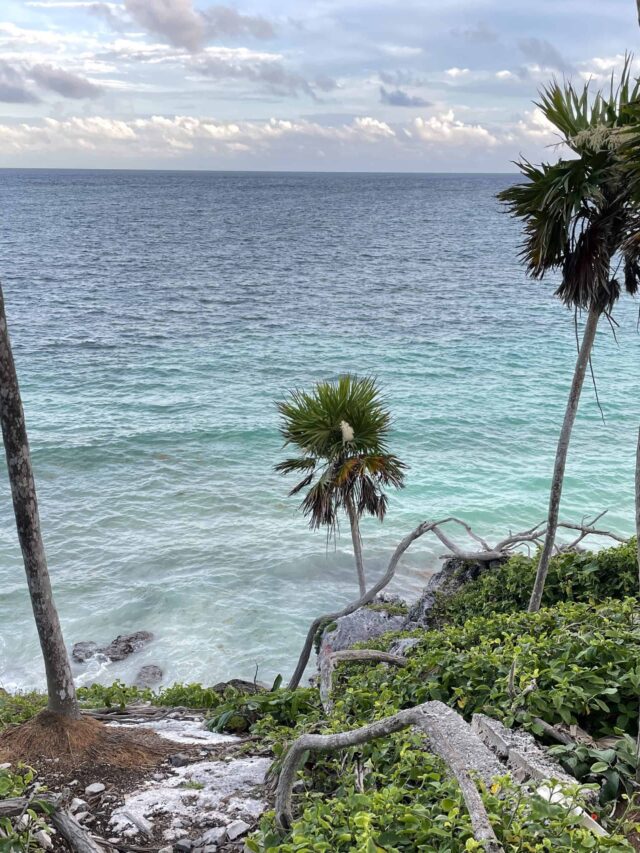 Is Tulum Expensive to Visit? — Final Thoughts
Tulum is one of Mexico's most expensive destinations; some may say it's worth visiting, and others will say otherwise.
It can't be argued that despite being an expensive destination, the town still caters to backpackers with its many hostels.
Those who aren't into techno or house music should know that Tulum is the #1 destination in the world for international DJs to visit and perform during the high season months from November to April.
Also, social media has done its fair share of making Tulum the "IT" place to visit. All that and the rising ex-pat community have contributed to Tulum's high prices over the years!
So, is Tulum expensive to visit? It is costly to visit but isn't off-limit to budget travelers.
If you'd like to visit Tulum on a budget, it's doable. If you'd like to visit Tulum and experience the town like a social media influence, come with a lot of money!
How much does an average trip to Tulum cost?
The average daily spend is $137 US, including accommodations, food, and transportation costs.
What time of year is Tulum cheapest?
The cheapest time to visit Tulum is during the off-season months from May to October. While it may be more humid during this time of year, with a higher likely chance of rain, it is the cheapest time to visit Tulum.
Is Tulum more expensive than Cancun?
Tulum is more expensive than Cancun, including hotels, food, and transportation. In Cancun, it's easier to find deals on accommodation with so many hotels in the city. Also, there are more cheap food options in Cancun versus Tulum.
Is a week in Tulum too much?
With one week in Tulum, you will have more than enough time to experience Tulum. More than a week in Tulum isn't too much, but it depends on whether you enjoy your time there!
Is Tulum a luxury destination?
Tulum is very much a luxury destination. Tulum's Hotel Zone is full of 5 Star accommodations and fancy chic restaurants to explore every night of the week!
Subscribe to Travel Hiatus!
Receive updates on my latest posts, insider travel tips & the best destination guides to your inbox!
Happy & Safe Travels
---
Planning Checklist
---
Disclaimer: Please note that some of the links shared in this article might be affiliate links; this means that at absolutely no extra cost to you, we will earn a small commission for any sales generated through this article and/or this website. We recommend products/services we've either used or researched thoroughly – Thank you for supporting us so we can continue to share helpful travel content!