11 Best Tulum Excursions You Must Do
Swimming with sea turtles, visiting Mayan ruins, and exploring different islands are just some of the many Tulum excursions to experience during your visit to Tulum – These are the 11 best excursions from Tulum!
Famous for being one of the most popular towns in the Riviera Maya coastline of Mexico. Tulum is full of things to do: visit Mayan ruins, spend a day at a beach club, swim in cenotes, and more.
In this guide, I will cover the best excursions to experience from Tulum (outside of Tulum) and a list of things to do in Tulum.
RELATED: How to Get to Tulum from Cancun Airport
For those not staying in Tulum, I will include a list of the tours in Tulum from Playa Del Carmen and Cancun. If you're staying in another area along the Riviera Maya, you should also be able to attend these tours.
Here is a list of my favorite day trips from Tulum to go out and experience when you're visiting!
Swim in Cenotes
Regarding things you must absolutely do when visiting this region of Mexico, visiting Mayan Ruins and swimming in a cenote are the top two things one must experience.
Cenotes are sinkholes full of fresh water from rainfall formed within many years. Cenotes form when cave ceilings fall to reveal amazing turquoise pools.
The word "cenote" is derived from the Mayan term d'zonot, which means "sacred well."
All across the Yucatan and Quintana Roo regions, cenotes are scattered all around, some more famous than others.
These are the best cenotes to visit, as well as tours operating services to them:
Casa Tortuga – Located in Tulum
Cenote Suytun – Outside of Tulum
Rio Secreto – Outside of Tulum
Luckily Tulum is home to some beautiful cenotes and isn't too far from other impressive ones as well.
There are a few to explore in Tulum, but I recommend you also explore the others if you have time. You'll see a few cenotes in a day during most of these tours!
RELATED: 7 Best Cenotes in Tulum
While swimming in the ocean cools you off on a hot day in Mexico, locals will tell you nothing beats swimming in a cenote. Salty ocean water cannot compare to fresh spring water when you want to cool down!
Explore Chichen Itza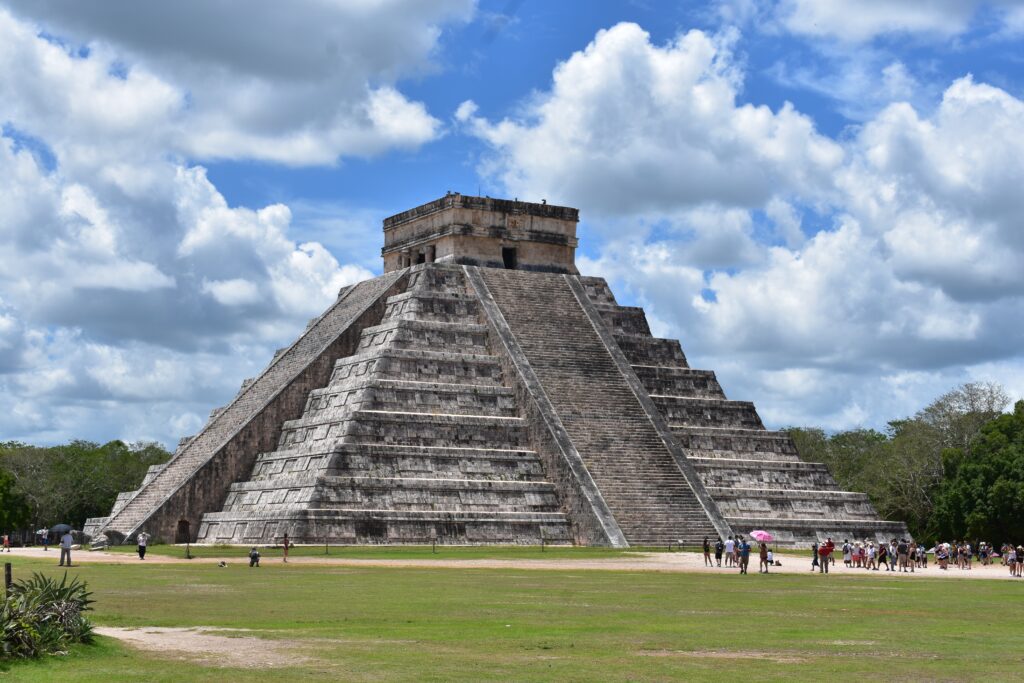 You've more than likely heard of it; Chichen Itza is the most famous attraction in Mexico and is recognized as one of the seven world wonders.
The ruins of Chichen Itza played a vital role in the Mayan Civilization that once conquered this region of Mexico. This archaeological site was a city center for the Mayans to come to conduct business, trade, and more.
Visiting Chichen Itza should be on the top of your list, whether you're staying in Tulum, Cancun, Playa Del Carmen, or anywhere by.
The best way to visit Chichen Itza is by attending a Chichen Itza Tour from Tulum. During this day trip, you won't have to worry about transportation, and a guide will assist you along the way.
Make sure you bring a hat when visiting, as you can see by photos there aren't any trees around so there isn't much shade here and the sun is beaming down.
Visiting Chichen Itza is an excellent choice if you only have time for one of these Tulum excursions.
Another way you could visit Chichen Itza is by going to Valladolid and staying there for a night. For more information on that, refer to my How to Get to Chichen Itza guide.
Day Trip to Cozumel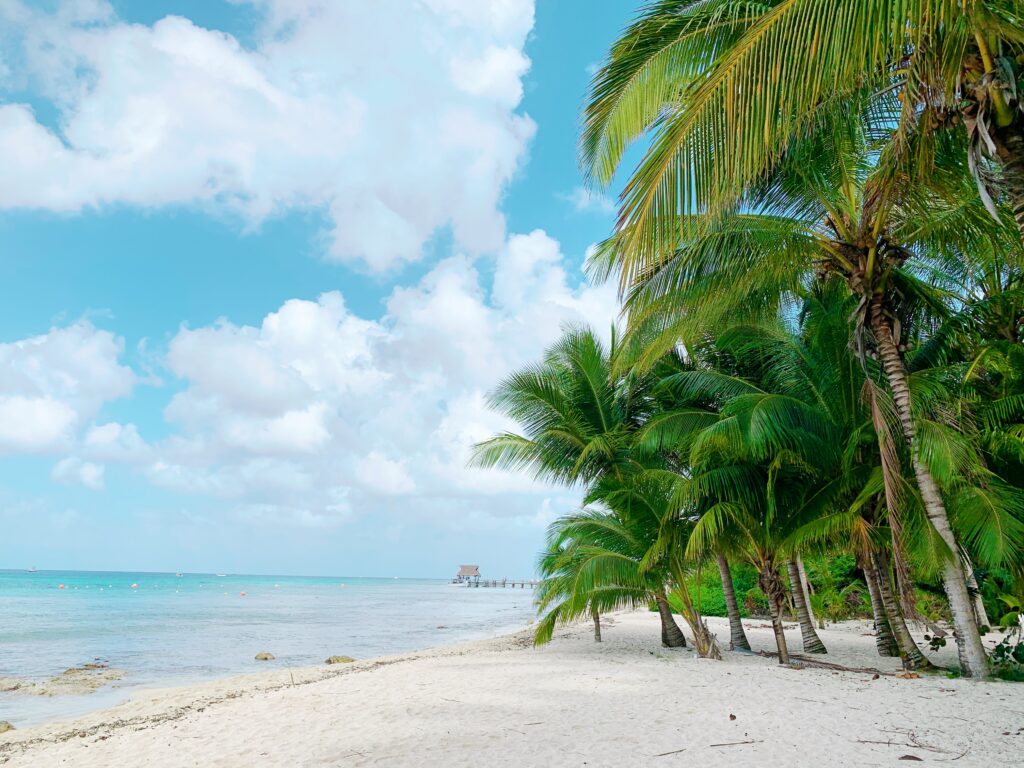 Cozumel is a beautiful island just 40 minutes across the water from Playa Del Carmen.
The island is famous for its luscious green jungles, beach clubs, jeep excursions, and snorkeling/diving adventures.
To get there, you must first go to Playa Del Carmen and take the ADO Bus to get there. Then take the ferry from Playa Del Carmen ferry dock to Cozumel.
The coral reefs of the coast of Cozumel are part of the second-largest barrier reef system in the world. Tourists from all over the world come here to scuba dive in Cozumel.
To get the best experience in Cozumel, attend this Snorkeling Tour; it's the highest-rated on the island.
Those not up for snorkeling, I highly recommend you rent a scooter or bike and go for a drive around the island. There's only one main road; you can stop and admire different parts of the island along the way!
Cozumel is different from many islands only because it's pretty developed; in fact, many ex-pats call Cozumel home.
There are several restaurants around, you can go shopping, and the island even has an airport. The island of Cozumel is one of my favorite places to visit in Mexico.
Swim with Turtles in Akumal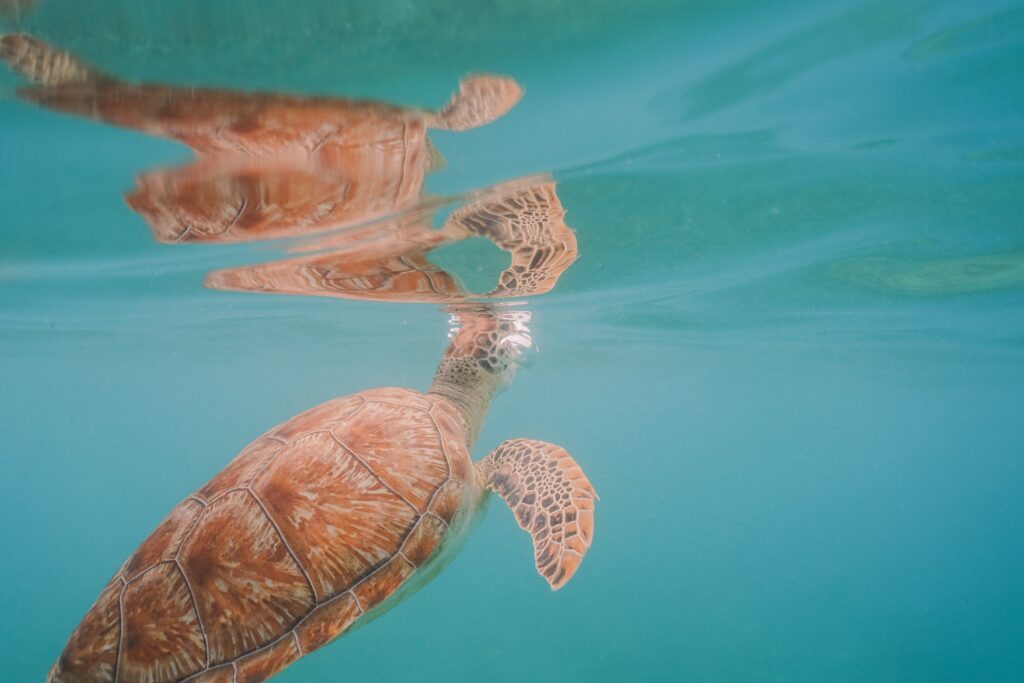 The small town of Akumal is located just 25 minutes North of Tulum on the main highway.
While the small town isn't as famous as Tulum, it is more famous than Tulum regarding one thing. It's home to an abundant amount of sea turtles in its waters!
You will spot seven different sea turtle species swimming in Akumal's waters. You will also spot several species of tropical fish and healthy corals in the water.
Fun Fact: In Mayan, "Akumal" translates to "turtle"
On this Akumal Sea Turtle Tour from Tulum, round-trip transportation is included, snorkeling gear, snacks/water for the day, and a guide sharing their tips about marine life below.
This is the closest excursion from Tulum regarding this list of Tulum excursions. So if you're in a rush, consider going to Akumal for the day!
Visit Valladolid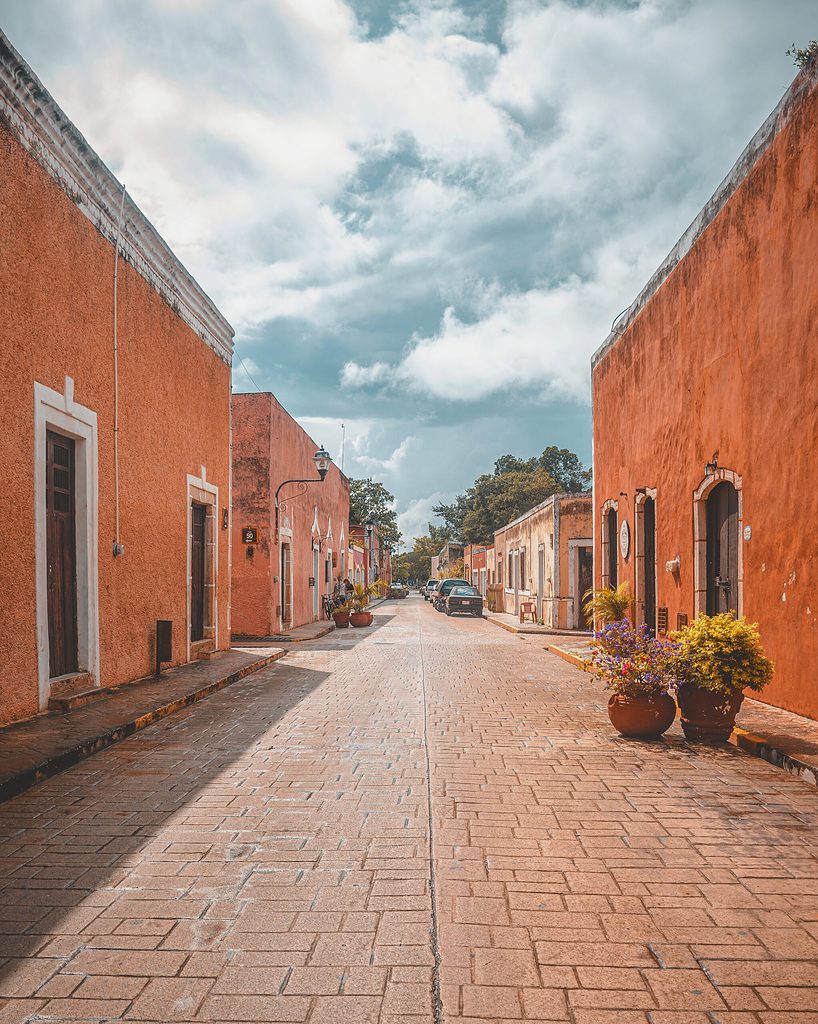 Famous for its rich Yucatan history, magnificent architecture, and colorful buildings, Valladolid is a beautiful and charming town.
The many street-side restaurants here are one of the many reasons I fell in love with this city when I visited.
This tour from Tulum includes a stop in both Valladolid and Chichen Itza, so you can see both places in one day!
While Valladolid is most famous for being the closest town close to Chichen Itza and several of the best cenotes in the region, the town is so much more than that. It's worth visiting and discovering for yourself.
I didn't plan on visiting Valladolid when I was in Mexico. But a friend recommended that we stay a night at a hotel in Valladolid and explore the town, then go to Chichen Itza the next day because of how close it is to Valladolid.
I'm glad I took their advice, Valladolid was beautiful, and I intend to visit again soon.
Check out Rio Secreto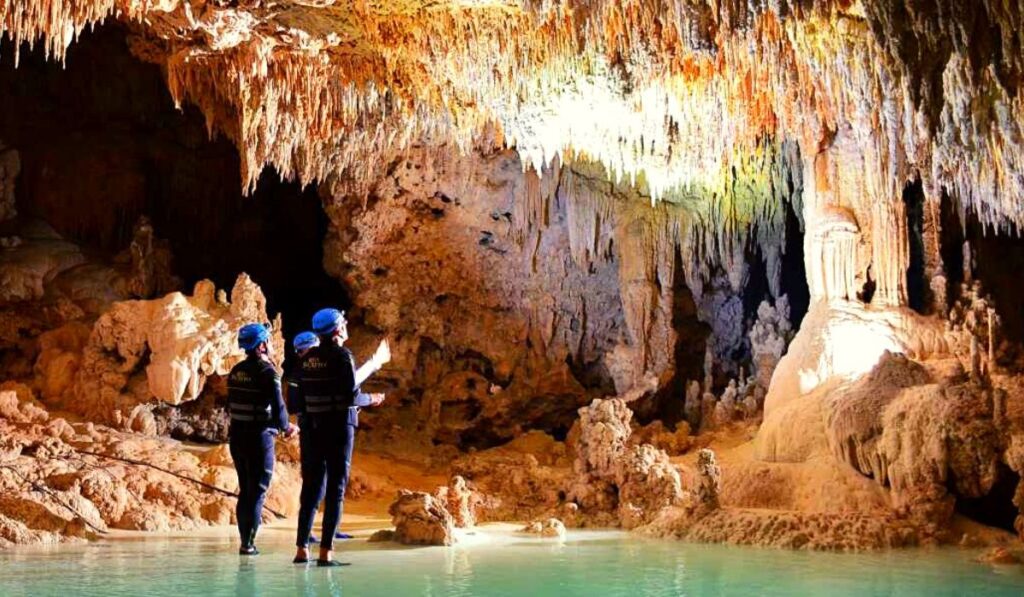 Famous for being one of the most picturesque cenotes in the Riviera Maya, Rio Secreto is an underground cave featured in National Geographic.
The caves and caverns are filled with stunning stalactites and stalagmites, making for a truly breathtaking experience. In addition to the guided trek, visitors can participate in swimming, biking, and rappelling activities.
This Rio Secreto Tour from Tulum includes roundtrip transportation, admission, bicycle rental, and lunch!
Rio Secreto is famous for being a semi-flooded cave; it's not complete with water, so you can walk inside and see it. Today visiting Rio Secreto has become one of the top Riviera Maya excursions to experience.
Despite Rio Secreto being in a prime location, just 15 minutes away from Playa Del Carmen, the now famous underground cave was only discovered in 2004.
Sail to Isla Mujeres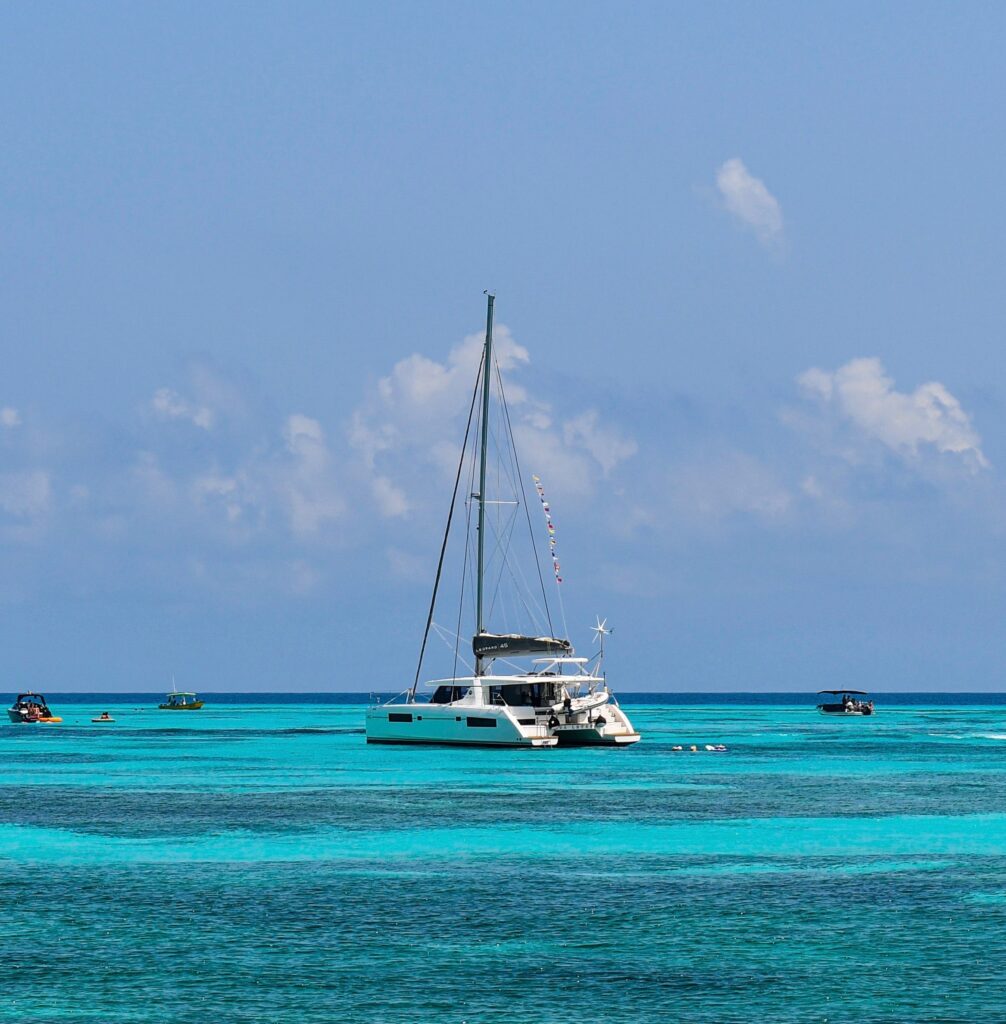 Located off the coast of Quintana Roo, Isla Mujeres is a stunning island that offers visitors an authentic paradise experience.
Known as a popular day trip from Cancun because it's only a 20-minute ferry ride away.
Isla Mujeres is famous for its astounding beaches, lively Centro area, beach clubs, and small shops.
Enjoy the afternoon as you sail into the waters of the Caribbean Sea. During the cruise, you will enjoy several snorkeling spots in prime locations on your way to Isla Mujeres.
On this Luxury Catamaran Tour, you will get access to a Beach Club in Isla Mujeres to spend the day; lunch is included in the price of this tour, alcoholic drinks on board, and snorkeling gear is included!
If you'd like to visit Isla Mujeres on your own, first, you need to get from Tulum to Cancun, and from there, you can catch the ferry from Puerto Juarez port. For more information on how to get to Isla Mujeres and a list of things to do, refer to my Isla Mujeres guide.
Having experienced this with a few friends, this is one of my favorite Tulum excursions. You get to visit Isla Mujeres, and overall it's an enjoyable day trip!
Day at Xcaret Park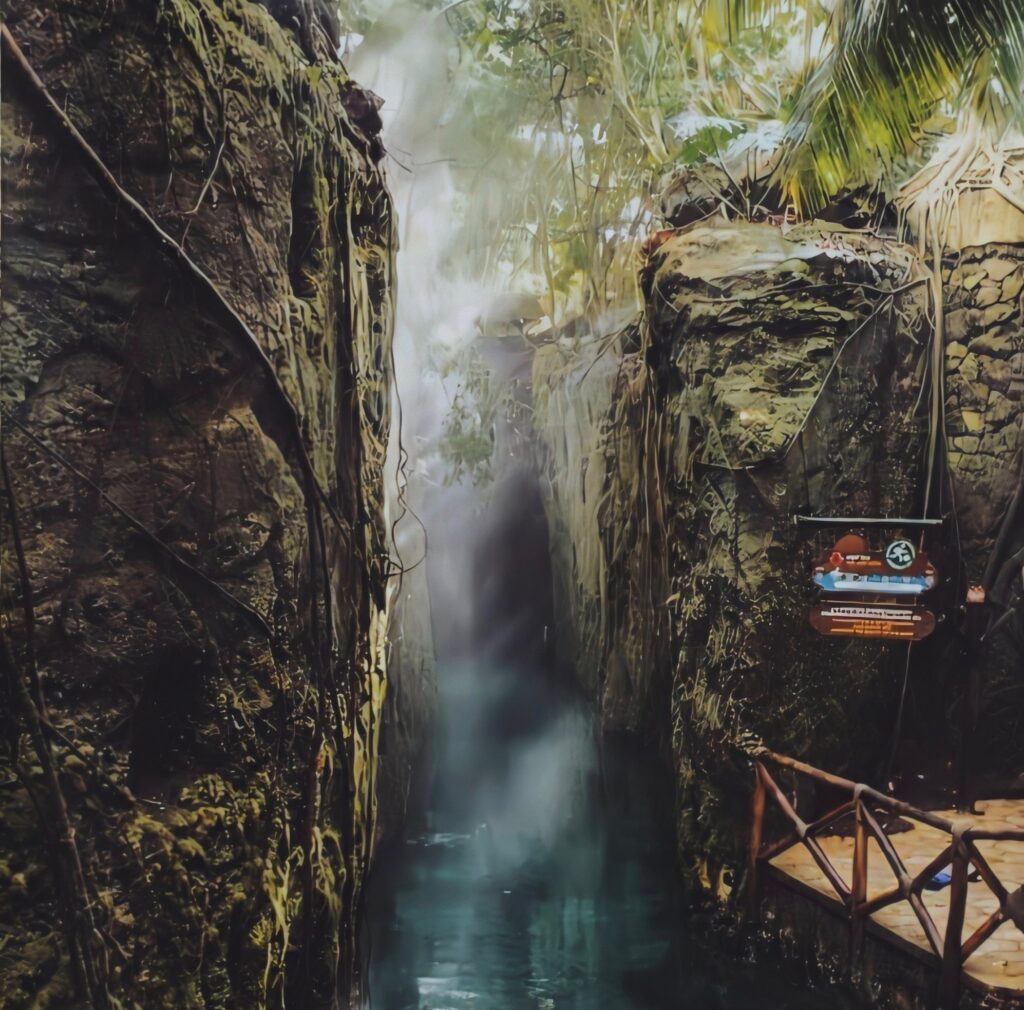 Xcaret Park is the best amusement park in the Riviera Maya, attracting tourists from all nearby cities.
The large amusement park is a haven for nature lovers and thrill-seekers, boasting many activities and attractions from ziplining through the treetops to exploring the depths of the underwater cenotes to navigating the challenging terrain of muddy roads.
There's something for everyone to enjoy at this adventure-packed destination; Xcaret Park is an ideal day trip from Tulum for those visiting with families. Or, for those looking to have an action-packed day in the sun, this is one of the best Tulum excursions to consider!
Xcaret Park's main attraction is the Xcaret México Espectacular. A show that has been captivating audiences for over two decades now. This daily performance is a must-see for anyone visiting Xcaret Park. The show is remarkable and an unforgettable entertainment experience.
Book Your Xcaret Adventure tickets in advance to save; this entry purchase Includes the show.
Xcaret Park is about 50 minutes from Tulum and just minutes outside Playa Del Carmen.
Discover the Bacalar Lagoon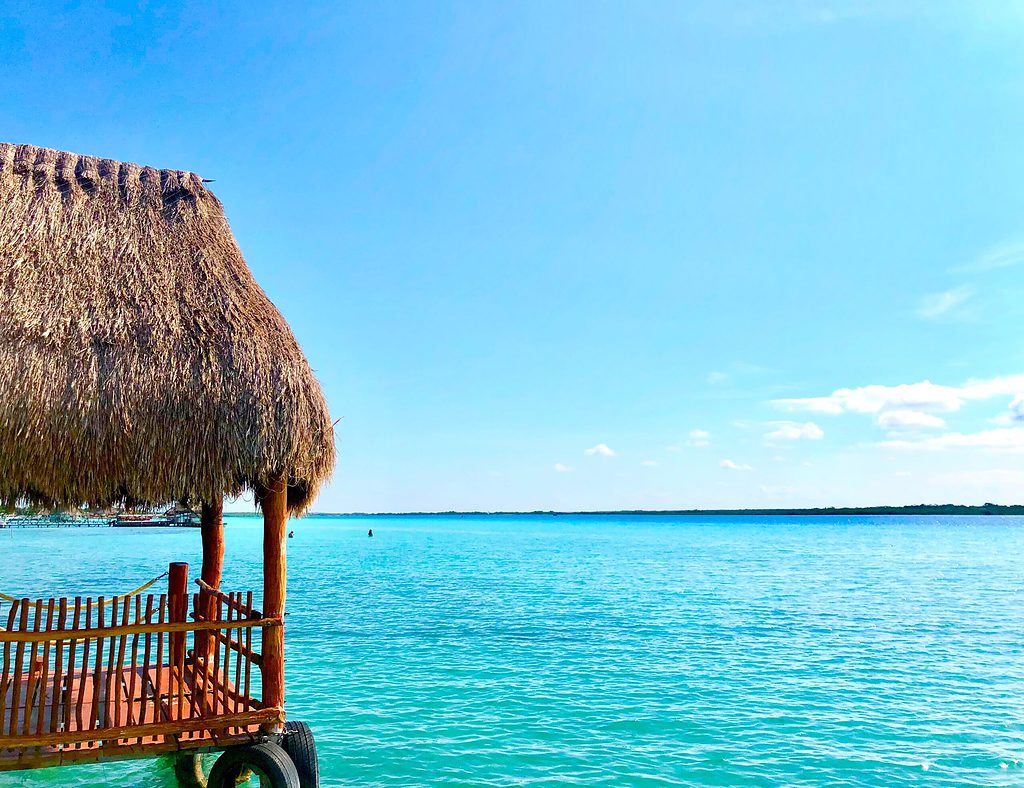 Bacalar is an absolute must-visit, famous for its Lagoon with various shades of turquoise waters; it's a site to see!
The various shades of the turquoise water in the lagoon are stunning; the lagoon's nickname isn't the Lagoon of Seven Colours for no reason. You can see everything right down to the bottom when swimming in the Bacalar Lagoon.
The narrow lake is roughly 1 mile wide and stretches nearly 30 miles, making it Mexico's second largest freshwater lake.
This Bacalar Lagoon tour from Tulum includes transportation to Bacalar and back to Tulum, filled with an afternoon sailing the famous lagoon and an A la carte lunch!
Activities in Bacalar include snorkeling/swimming in the lagoon, cruising the Lagoon by boat, and exploring the town. Visiting Bacalar is another one of my favorite Tulum excursions to experience.
If you'd prefer to go to Bacalar without a tour and spend a night or two, you can take the ADO Bus from Tulum Centro to Bacalar. Here's a list of the best Bacalar Hotels for all budgets!
Visit Playa Del Carmen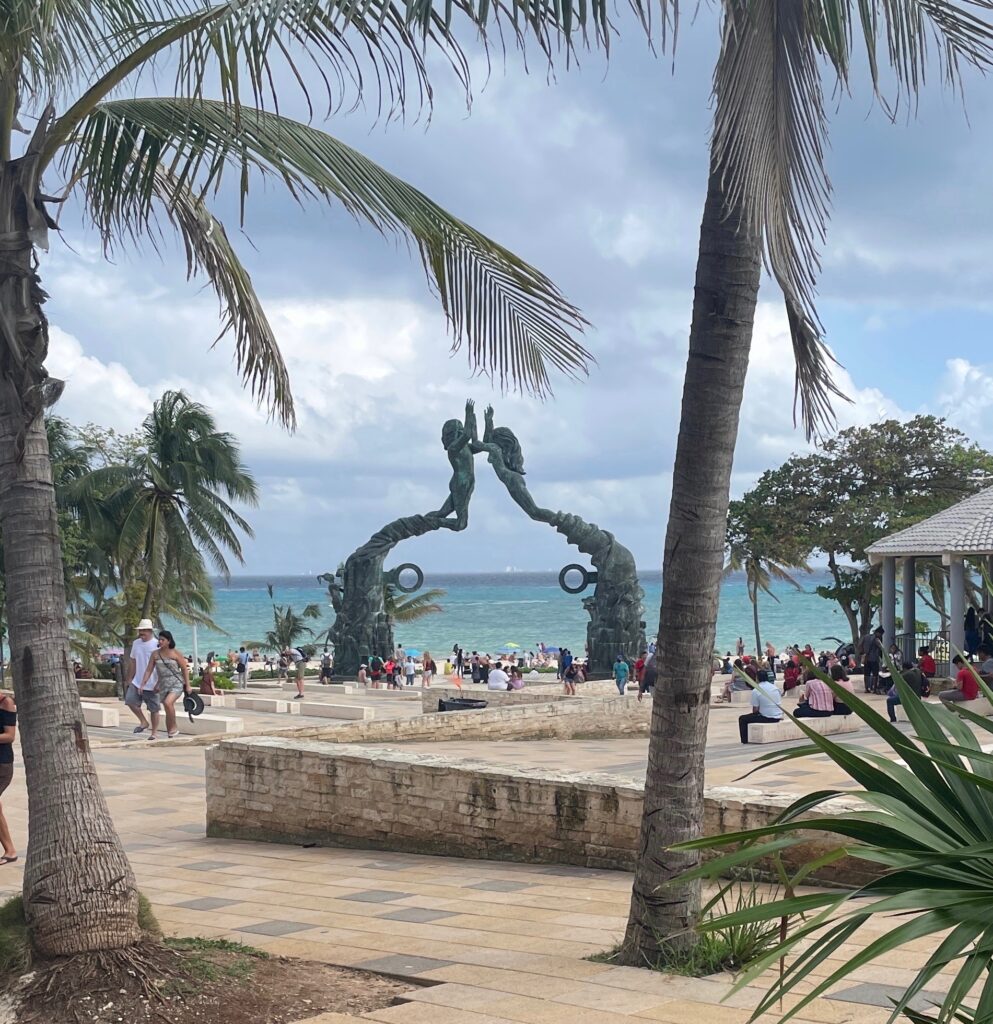 Playa Del Carmen is similar to Tulum in many ways but different in many ways. Playa Del Carmen is famous for its sandy beaches, shopping, beach clubs, excellent restaurants, and its famous 5th Avenue Street.
The best part about Playa Del Carmen is how walkable the city is. You can get anywhere in the city within a 20/30 minute walk or less. For those looking to get some shopping done, there's plenty of it here, unlike Tulum.
You can conveniently go to the beach, stop by a bar for an hour, then be at a mall shopping within minutes, and then spend the evening at a beach club. This is what I love about Playa Del Carmen; you can do so much in one day.
The best way to get to Playa Del Carmen from Tulum is by taking the ADO Bus; the bus takes you from Tulum Centro bus station right into the heart of Playa Del Carmen at its Bus station.
Regarding convenient Tulum excursions, visiting Playa Del Carmen has to be up there. Getting here from Tulum is straightforward, and it's only 1 hour away from Tulum.
I recommend spending one night in Playa Del Carmen if you have time. As mentioned earlier, Cozumel is a 40-minute ferry ride from Playa Del Carmen, so you can go to Playa Del Carmen and spend the day exploring. The next day you can explore Cozumel and then return to Tulum! – That way, you'll be able to see both places
Whale Shark Adventure in Cancun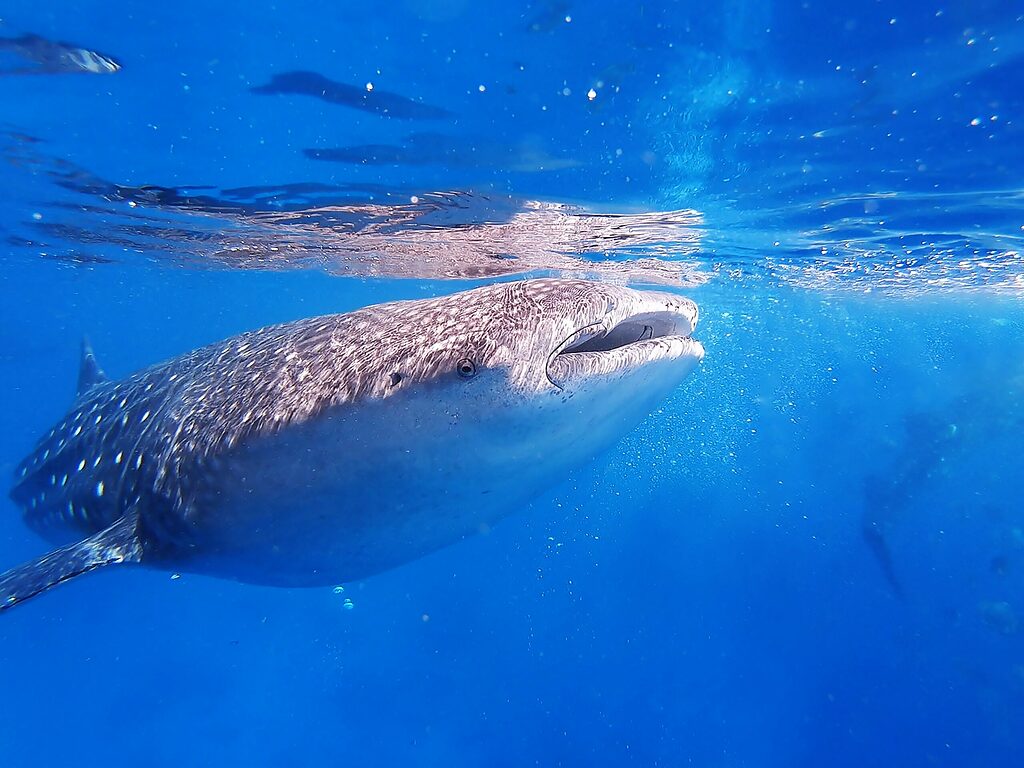 One of the most popular things to do along the Riviera Maya is swimming with the largest fish in the world, whale sharks. Whale sharks can reach 14 meters long!
These magnificent creatures are omnivorous and eat plankton, so you don't have to worry about being eaten or bitten by them.
On this Whale Shark Tour from Tulum, you will spend the day sailing the Caribbean waters and snorkeling with Whale sharks; the tour includes roundtrip transportation. As well as Lunch off the coast of Isla Mujeres.
Don't be surprised if you spot several dolphins, manta rays, sea turtles, and other tropical fish while swimming with whale sharks.
TIP: Don't bring sunscreen; the chemicals in these products are unsafe for the animals.
I experienced this in Isla Holbox; It was one of the most amazing experiences I've done to be able to swim so close to these large friendly creatures.
Excursions in Tulum
Those looking to do excursions in town and prefer not to leave Tulum. Here are a few must-do tours in Tulum when visiting. These are the best excursions in Tulum, Mexico!
Besides the list below, I recommend you spend at least one day at one of Tulum's many Beach Clubs.
Make sure you visit the ruins in Tulum; the area is one of the most famous archaeological and historical sites in the Rivieria Maya. It's a must-visit when visiting Tulum!
Home to four of the best cenotes in Tulum, Casa Tortuga is a must-visit Cenote Park when you're in Tulum.
On this tour, you will experience and swim in four different cenotes, do some ziplining, and relax at a beach club inside a cenote! – The meeting point is at the Super Aki grocery store in Centro.
Sailing Experience in Tulum
I've mentioned this above with a trip to Isla Mujeres. But for those not looking to go to Isla Mujeres, here is a Luxury Catarman Sailing experience in Tulum. – Open bar included!
Instead of a full-day, this is a half-day tour on the water, perfect for those looking to do something else in the evening!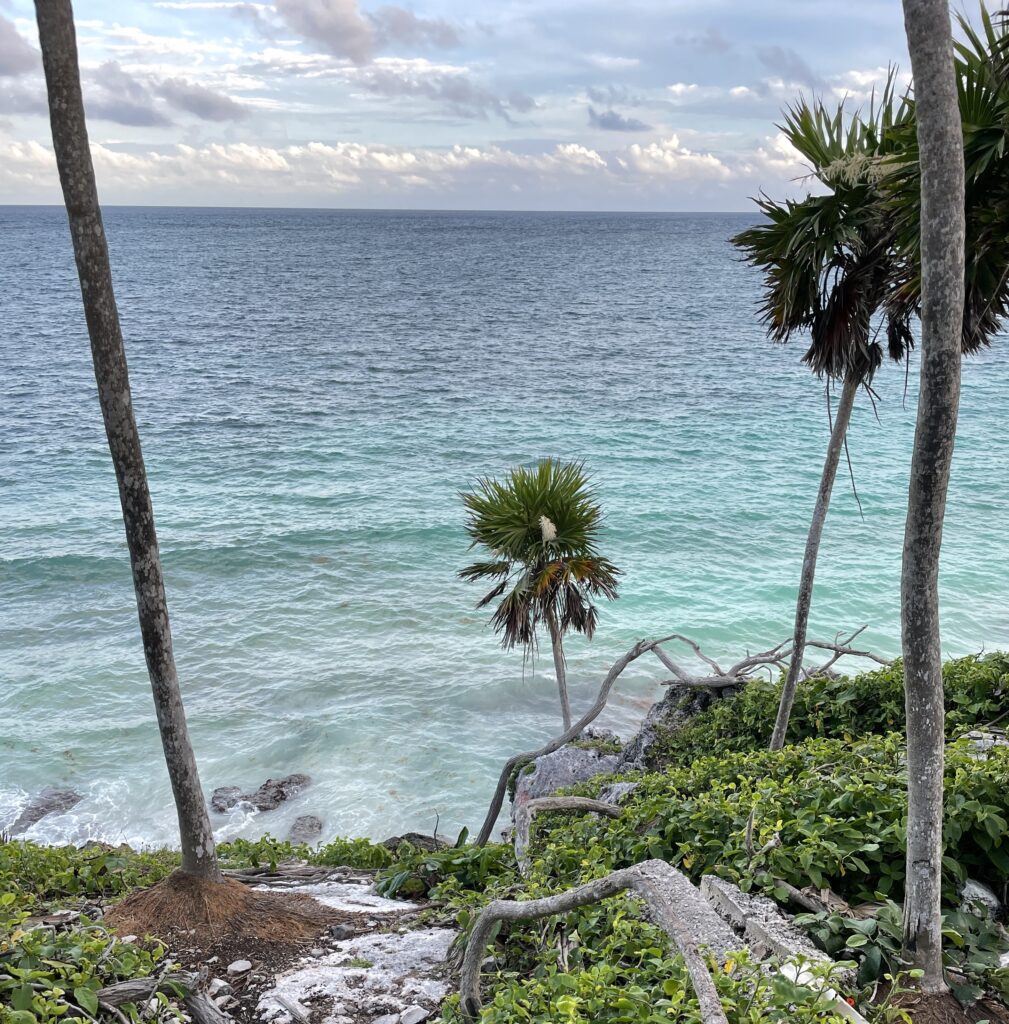 Tulum Excursions from Playa Del Carmen
Those staying in Playa Del Carmen but want to visit Tulum for the day and do excursions here.
Here is a list of Tulum tour packages from Playa Del Carmen in Tulum!
Tulum Ruins, Cenote, and Snorkeling Tour from Playa Del Carmen – Book Here
Tulum Ruins and Sea Turtle Snorkeling in Akumal – Book Here
Casa Tortuga / 4 Cenotes and Zippling Adventure – Book Here
Are you looking to visit Tulum from Playa Del Carmen on your own? Take the ADO Bus from the bus station in Playa Del Carmen to Tulum's Centro bus station. It's straightforward to do!
Tulum Excursions from Cancun
Those staying in Cancun but want to visit Tulum for the day and do excursions here.
Here is a list of the best Tulum, Mexico excursions from Cancun.
Tulum Ruins, Cenote, and Snorkeling Tour from Tulum – Book Here
Tulum Cenote and Sea Turtle Snorkeling in Akumal – Book Here
Are you looking to visit Tulum from Cancun on your own? Take the ADO Bus from the bus station in Cancun Centro to Tulum's Centro bus station. It's straightforward to do!
Where to Stay in Tulum
If you still need to make reservations for your hotel in Tulum, here are a few things you should know before booking!
Tulum is not walkable; to get around Tulum, you have to take a taxi, bike places, or rent a car.
That being said, what area you choose to stay in Tulum matters because of this. So choose what works best for you!
First, decide what area you'd like to be in: Tulum Beach, Aldea Zama, or Centro.
Tulum Beach: For those who want to be close to the beach, the downside is other than fancy restaurants, staying here means you're further from most things in Tulum.
Aldea Zama: This is the most popular area in Tulum; it's in the middle between Centro Tulum and the beach; staying here means you're close to both main points of Tulum.
Centro Tulum: Staying here means you're close to all the restaurants, bars, shops, and more. It's very convenient, but you will be furthest from the beach among these three areas.
Here is a short list of luxury boutique hotels, Centro hotels, and hostels in Tulum that I recommend.
Tulum Luxury Boutique Hotels: Be Tulum Hotel/Spa & Casa Malca
Tulum Hotels: Layla Tulum & Hotel Bardo
Tulum Hostels: Mayan Monkey Tulum & Che Tulum Hostel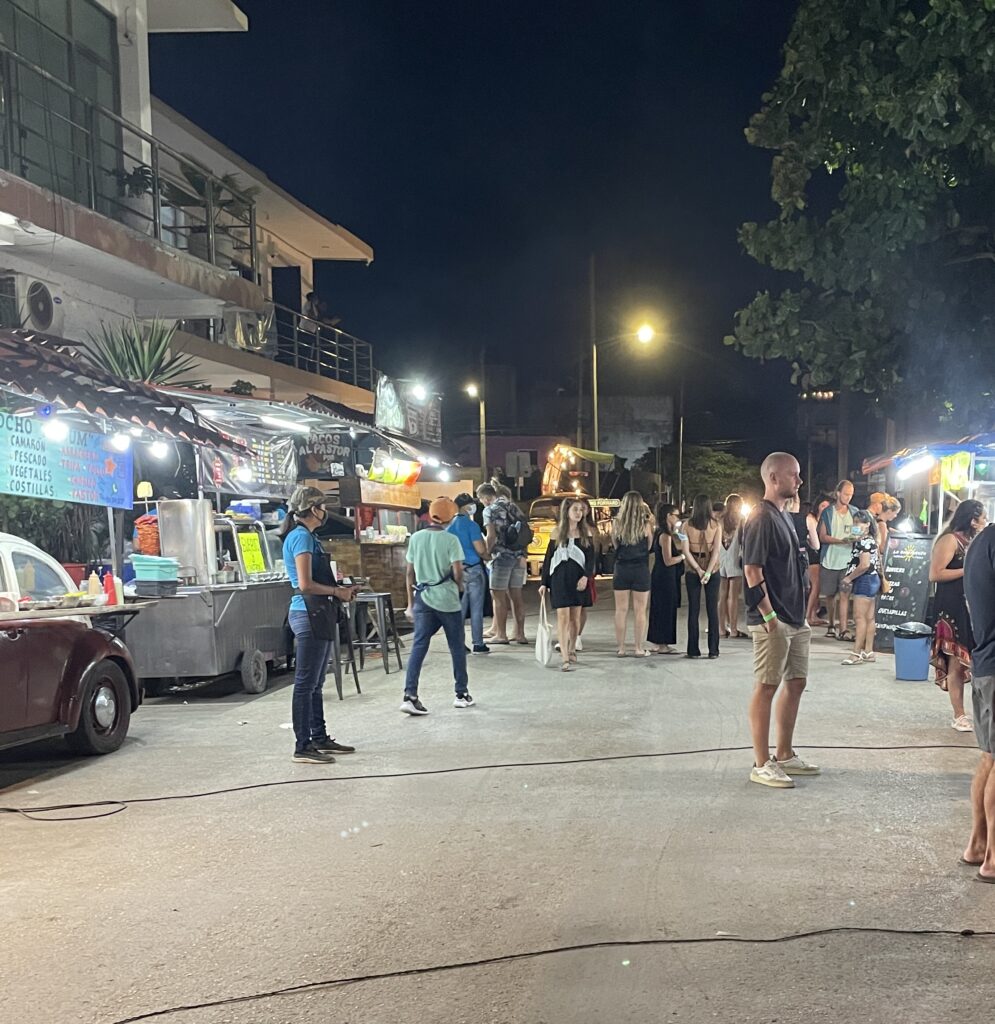 The food in Tulum is exceptional; it's a foodie's paradise in Tulum. My favorite thing about the food in Tulum is the food scene caters to everyone here.
If you're looking for fancy dining in Tulum, it's straightforward to find, and if you're looking for excellent street tacos, you will find that also!
Here is a guide to the Best Restaurants in Tulum – In this list, I've included fine-dining options, cheap eats, restaurants on Tulum Beach, and more.
Foodies, here's an intimate Taco Tour in Tulum to attend!
Tulum Centro is an excellent place for those looking to go bar/club hopping; at the end of the night, you will spot many stands selling tacos; make sure you try some!
Tulum Excursions FAQ
What Tulum Excursions are the best? – Day Trips From Tulum
Any Tulum Excursions in this list are great, but if you have limited time, do these!
What are the best tours in Tulum? – In Tulum
If you're staying in Tulum, here are a few Tulum excursions in the city you must!
Mayan Ruins
Tulum National Park
Things to Consider Bringing with You on Tulum Excursions
CASH: First and foremost, bring some cash! Mexico operates on cash; many places don't accept credit cards. Some places have ATMs, but not all do. Better to be prepared; bring cash on these Tulum excursions!
Fast Drying Towel: A towel for cenotes is necessary, of course. But the best towel to bring is something made from microfibre, which drys quickly. You'll be in and out of cenotes frequently, so always having a dry towel is excellent.
Thermal Water Bottle: You want to keep hydrated when visiting cenotes & other excursions; bringing a thermal water bottle will allow you to keep your water cold.
Action Camera: For those diving and looking to capture some footage while snorkeling, you'll want to bring a GoPro to capture some fantastic footage on these Tulum excursions!
Waterproof Mobile Phone Case – When you're on excursions, you will more than likely want to take pictures when you're on the boat, but that also means your phone will get wet. This waterproof phone case will prevent that from happening!
Travel Insurance – You never know what may happen when visiting; hospital visits in Mexico can add up—boat accidents, food poisoning, flight cancelations, etc. Don't take the risk!
Subscribe to Travel Hiatus!
Receive updates on my latest posts, insider travel tips & the best destination guides to your inbox!
Happy & Safe Travels
---
Planning Checklist
---
Disclaimer: Please note that some of the links shared in this article might be affiliate links; this means that at absolutely no extra cost to you, we will earn a small commission for any sales generated through this article and/or this website. We recommend products/services we've either used or researched thoroughly – Thank you for supporting us so we can continue to share helpful travel content!