Is Kas Worth Visiting? Best Travel Guide
Visiting Turkey soon and thinking of spending a few days in Kas, but curious is Kas worth visiting?
You've come to the right place! I'll cover many reasons why Kas, Turkey, is worth visiting!
Kas is a charming tiny seaside town located along Turkey's turquoise coast. The atmosphere here is quiet and laidback, unlike other larger popular beach towns in Turkey like Bodrum or Antalya.
Kas is one of the most picturesque towns in Turkey, with its hilly streets, vibrant turquoise water beaches, and mountains surrounding the town; those traits alone make Kas worth visiting!
TIP: Kas is pronounced "Cash," like the English slang word for Money
Whether you're considering stopping for a few days in Kas or planning a whole vacation there for a week or more, in this travel guide, you'll find the best things to do in Kas, where to eat in Kas, hotel recommendations, how to get there, and other travel tips for Kas!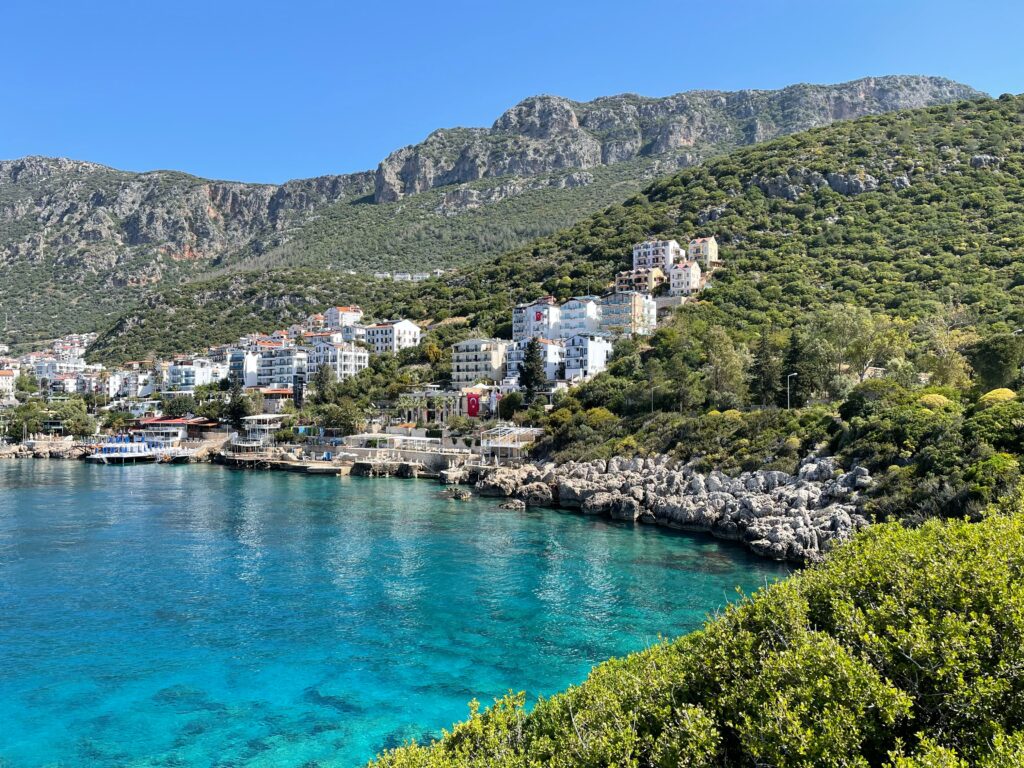 Beaches in Kas, Turkey
What makes Kas unique is the sheer number of mesmerizing beaches nearby to spend the day sunbathing and relaxing.
While there are a few beaches accessible from the center of Kas, for most of the best beaches in Kas, you'll need to take a taxi there or drive there yourself.
A sunbed and umbrella at most beaches here cost 50 Turkish Lira / $1.90 US. This is an average; it can be higher, depending on the beach.
Try to come to the beach early; Kas beaches get busy after 10:30 AM!
To get to any of the following beaches, you can take a taxi for the fixed rate of 25 Turkish Lira / $1 US – There's a fixed taxi rate of 25 TL to get around anywhere in Kas, Turkey
TIP: Taxi drivers will sometimes try to charge you more, be aware of this. If you're going to one of the further beaches like Patara Beach or Kaputas Beach, you can pay slightly more!
Otherwise, you can always drive to any of these beaches if you've rented a car!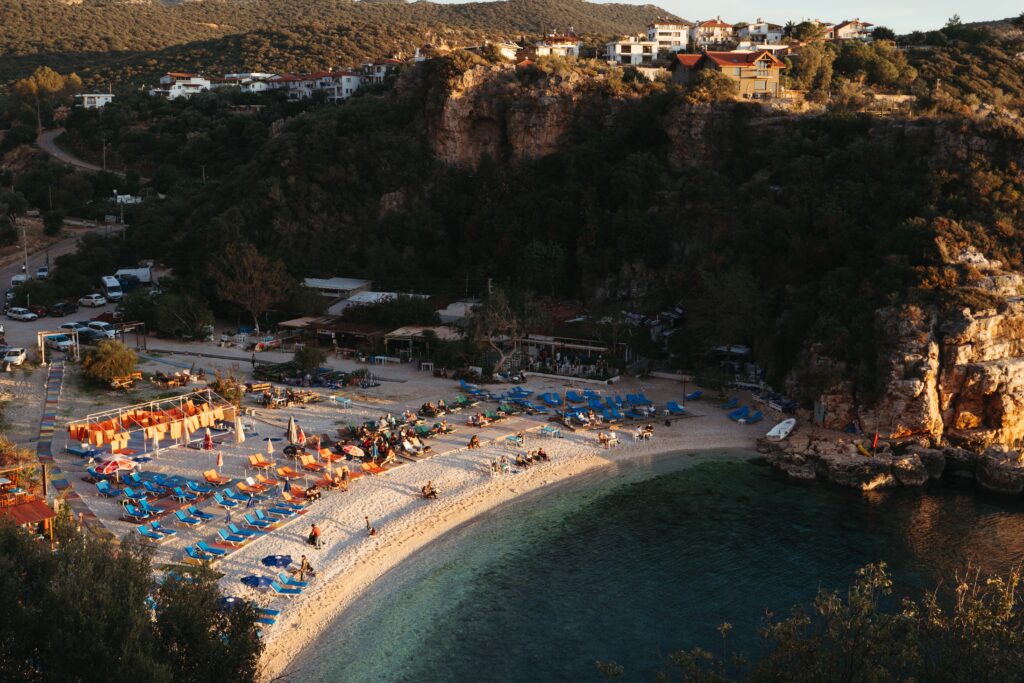 Kalkan Public Beach
Located only a 5 to 10 minute walk from anywhere in the city center of town is Kalkan Beach, the main beach and most accessible beach in Kas.
With beautiful shades of turquoise water, pebble stones, and ideal views of the Kas Marina, Kalkan Beach is a top beach due to its beauty and accessibility!
There are sunbeds on the beach for rent for the day. Walking along the steep hills of Kas, you'll see beautiful aerial views of the entire beach.
Kaş Belediyesi Halk Plajı
This is one of the most beautiful beaches in Kas. Besides its beauty, this beach is popular for its grass-filled space before the shoreline, ideal for picnics and relaxing under a shady tree.
Like most beaches in Kas, as you make your way down the hill to this beach, you will quickly notice various mesmerizing shades of blue water and mountains in the distance.
Kas Belediyesi Beach has amenities like washrooms, changing rooms, free parking, and platforms that go into the water.
Getting to this beach from the town center is a 30-minute walk, so you might want to take a taxi!
Patara Beach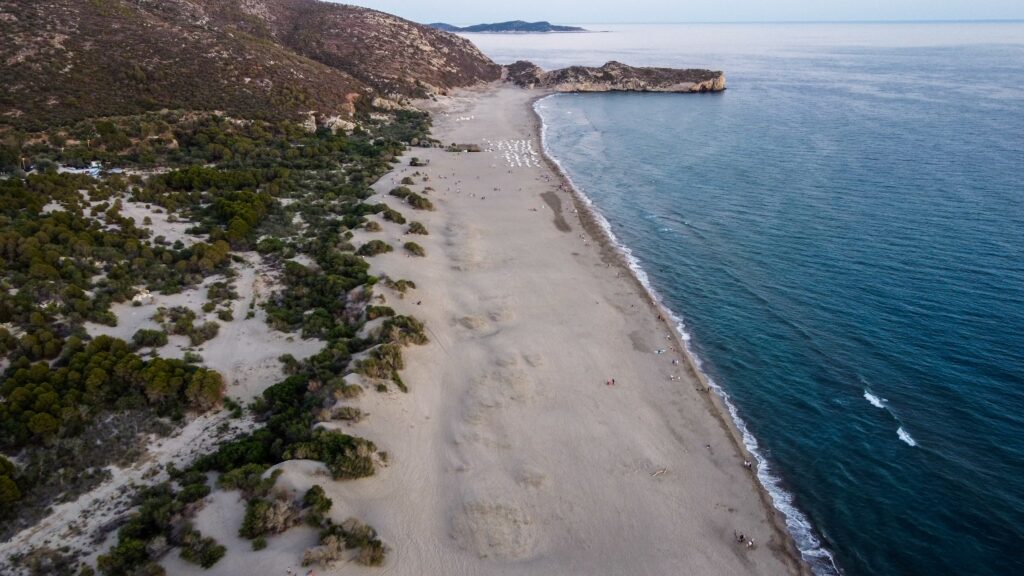 While this is the furthest beach on this list of the best beaches in Kas, it's very much worth the visit!
Patara Beach is known for its extensive beach shoreline stretching out 7 KM and is a protected national park. As you walk the beach, you'll notice a significant high mountain, making for a perfect picture.
Patara Beach is also known for its many soft sand dunes, offering more significant views of the long shoreline. If you're lucky, you will spot the endangered loggerhead sea turtles laying eggs on the beach; please respect the sea turtle's space!
The fee to enter this beach is 200 TL. If you visit this beach during the Summer, there should be umbrellas/sunbeds for rent, which will cost you 200 TL for an umbrella and sunbed. So prepare to spend 400 TL for entrance and a sunbed here.
If you visit Patara Beach, stop by and see the Patara Ancient City ruins, it's on the way to the beach!
Kaputaş Beach
Regarding picture-perfect beaches, Kaputas Beach is by far the most beautiful beach in Kas and a must-visit!
As you hike downwards through the steep steps toward Kaputas Beach, you will quickly notice the high cliffs surrounding the beach and the most elaborate shades of turquoise waters.
There are bathrooms, showers, changing rooms, and a small cafe serving food/drinks. While there are sunbeds and umbrellas at this beach, they're limited, so if you want to rent one, make sure you come early! – The cost is 75 TL
It's best to take a taxi here and not drive because parking at this beach is difficult and on the highway. It's a 25 Minute drive from the town center of Kas.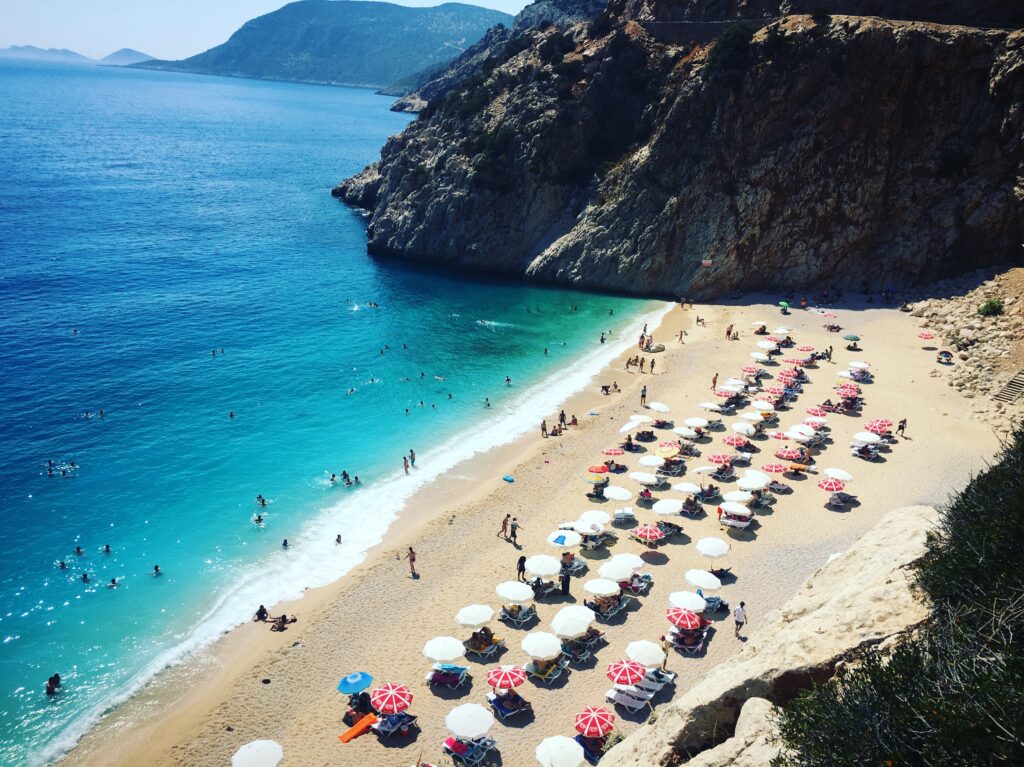 Hidayet Koyu Plajı
Located close to the town center, Hidayet Beach is a 30 Minute walk or a 6 Minute taxi. Convenient if you're looking for a nearby beach to visit!
It's a small gorgeous beach; most of the area here consists of two large platforms on each side with many sunbeds and umbrellas for rent. In the middle is a small beach shoreline. It's an ideal beach for those who like to snorkel!
The cost of sunbeds/umbrellas is 200-300 TL, but there's no fee to access the beach.
The only downside here is the consistent loud music, which could bother some looking to relax. Washroom, showers, and restaurant are right along the beach.
Büyükçakıl Plajı
Another nearby beach to the town's city center is Buyukcakil Plaji, and it's only a 20-minute walk or a 7-minute taxi.
Nestled between two cliffs is this small shoreline with crystal clear waters; the water here isn't as salty as other beaches in Kas, making for a refreshing swim!
Make sure to bring some footwear because the pebbles at this beach are large. There are small cafes serving food, free WIFI, and showers. Sunbeds will cost you 40 TL for the day here.
This pebble beach is known for some of the best sunset views in town. And the cafes here also offer dining options, so you could always stay here for dinner!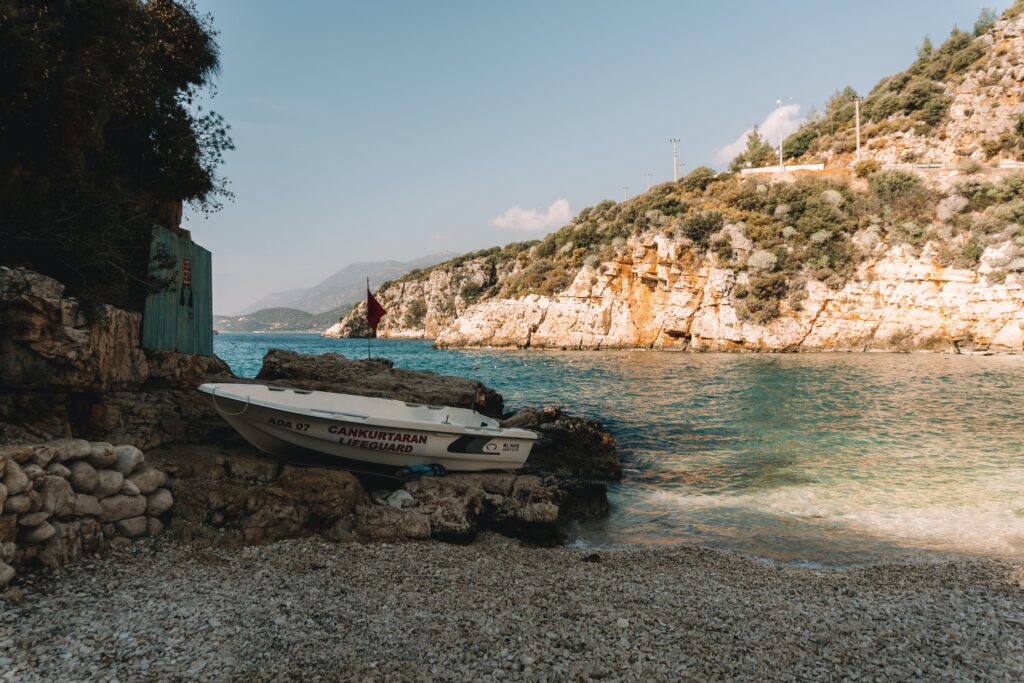 Things To Do in Kas
Besides going to one of the many stunning beaches in Kas, if you're still questioning if Kas, Turkey is worth visiting, here's a list of the best things to do in Kas!
There are many exciting things to do in Kas, including sailing the picture-perfect waters, island hopping, safaris, and more.
Kekova and Sunkey City Tour
The Kekova/Sunkey Tour is the #1 rated tour in town and includes a delicious Turkish lunch onboard!
Enjoy an incredible day on the water as you sail through the crystal-clear waters of Kas. During the trip, you will visit Kekova Island, swim/snorkel in the island's bays and see the underwater city!
Other highlights of the day trip are visiting Kalekoy Harbour, a sea village only accessible by boat, visiting the Castle of Simena, and more!
Sunset at Pebble Beach
Who doesn't love to experience a vibrant sunset along the beach? The perfect place to do just that is Pebble Beach, aka Buyukcakil Plaji.
At the beach, a few cafes and bars serve food and drinks. So grab a lounge chair, sit, enjoy some drinks/food, and watch the sunset from one of the best spots in Kas.
Located south of the Kas Marina, it's only a 20-minute walk to get here, or you can take a taxi for a fixed rate of 25 TL.
Saklikent Gorge Jeep Safari
Get your running shoes on and prepare yourself to experience the rugged wilderness at Sakilikent National Park.
The Saklikent jeep safari tour is a day full of adventure. You'll get to hike canyons, see captivating waterfalls, and visit the best beaches in Kas, Kaputas Beach and Patara Beach.
Breakfast and lunch are included in the tour price, and roundtrip transportation from and back to your hotel!
Kayaking around Kekova
An excellent way to see the Turkish coast is to go kayaking! On this kayaking tour, you will join a small group the whole day as you kayak around the stunning island of Kekova.
At lunchtime, the tour will pause for the group to enjoy a Turkish-style lunch in Simena, a nearby village to Kekova island; shortly after, you will visit the famous Simena Castle.
The tour included roundtrip transportation from your hotel and back.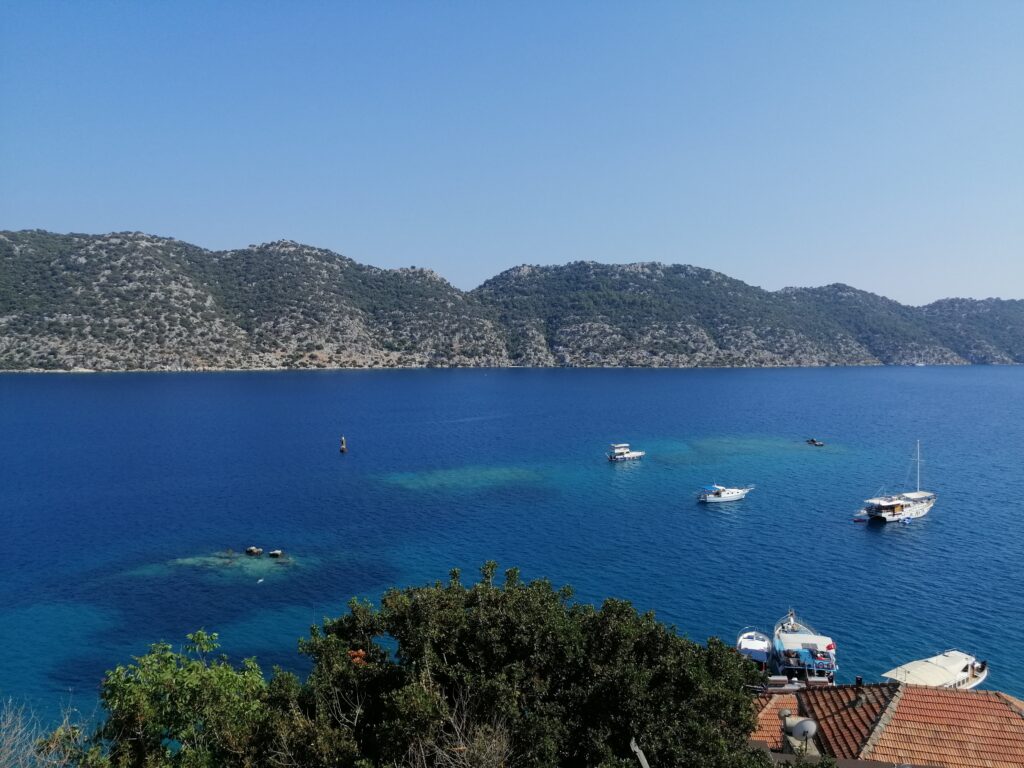 Private Boat Trip to Islands
For those visiting Kas with a group of friends, this tour is perfect for a group; look no further!
On this private yacht charter tour, you'll sail the waters of Kas on a traditional wooden yacht and hop from island to island. During the tour, you'll snorkel in various locations, see the underwater canyon, and more!
The tour includes a buffet lunch, snacks, and water, and alcohol is also available for purchase on the yacht!
Stroll the City Center
Kas is well-known for its adorable cobblestone streets, full of cafes, galleries, and small shops selling carpets, clothing, souvenirs, and more.
Grab a cup of coffee or maybe some ice cream, and explore the beautiful streets!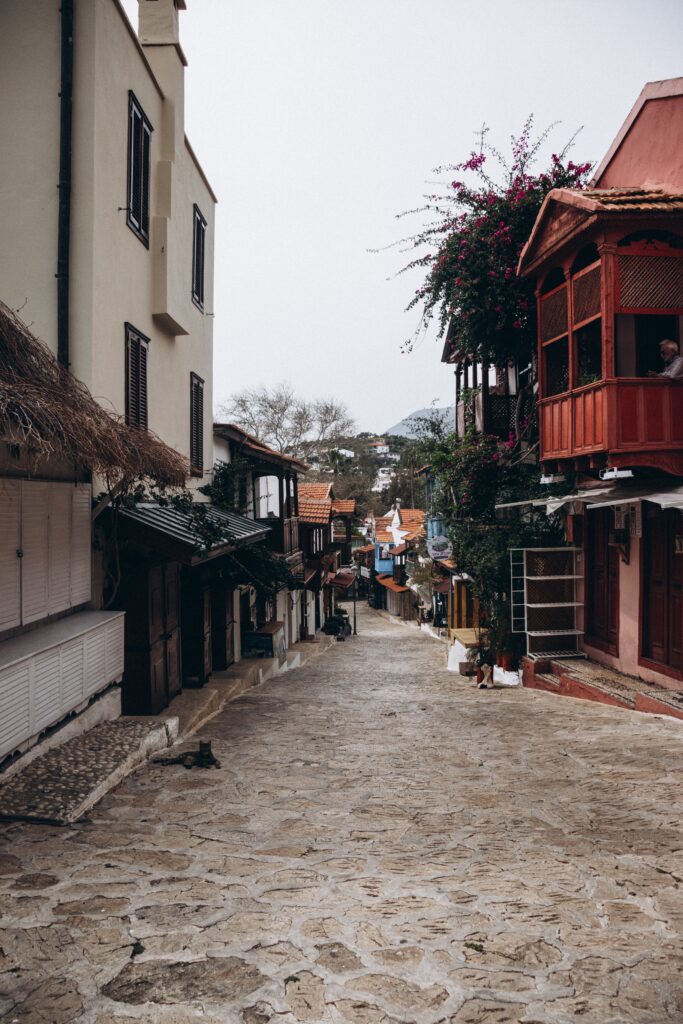 Best Restaurants in Kas Turkey
Surprisingly for being a small town, Kas has a wide variety of restaurants, bars, and cafes.
Here is a list of places we enjoyed and I'd recommend when considering where to eat in Kas, Turkey.
Eating out in Kas is relatively affordable, though cocktails are costly here!
Dinner Time starts at 7:00 PM; Bars in Kas tend to stay open till 12-2 AM at the most!
Zaika Ocakbasi: Known for its grilled meant, serving all the Turkish bbq classics
Oburus Momus: Plant-based restaurant best known for their few Arabic dishes
Cinarlar Garden Restaurant: A Turkish restaurant with a wide variety of cuisine, from traditional food to pizza and more
L'Apero Kas: French restaurant serving traditional French cuisine, from escargot to onion soup and more
Bella Vita: Well-known Italian restaurant known for its pizza, kinds of pasta, and salads
Voyn Meyhane: Best breakfast spot in town to experience an authentic Turkish breakfast
Mumi Cafe Beach: Beach Bar restaurant with exceptional sea views; a perfect place to come for a sunset drink
Tipping in Kas: Regarding the restaurant service, the general standard tip amount in Kas is 10-15%.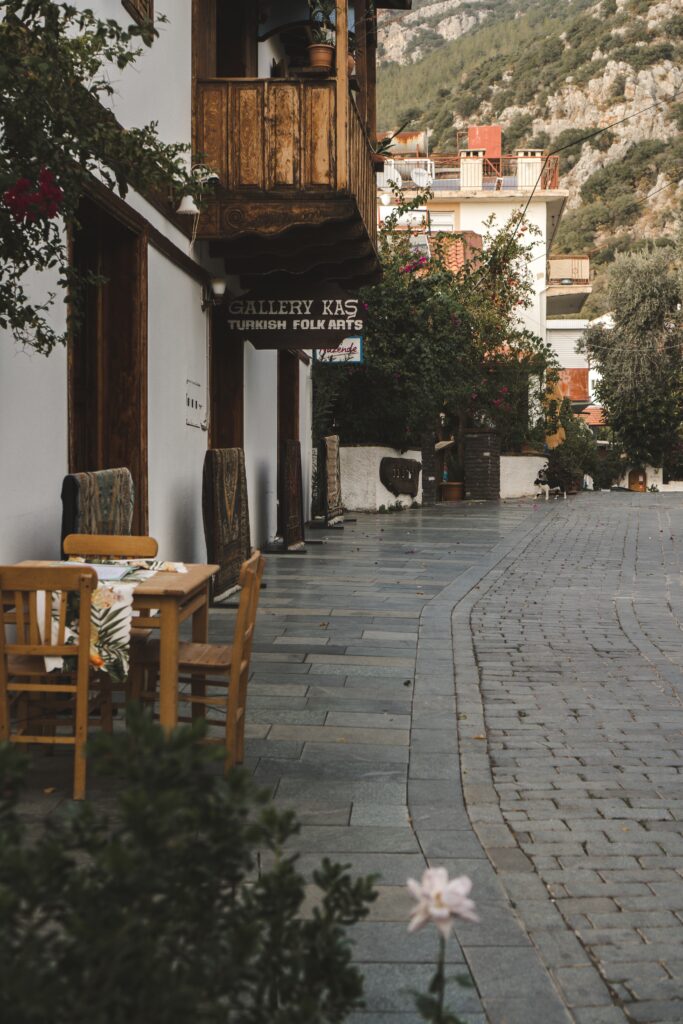 Where to Stay in Kas, Turkey
There are several accommodations in Kas, hostels, guesthouses, hotels, and resorts.
Depending on your preference, here is a list of the best hotels in Kas, considering each budget!
Understand that hotel prices are slightly higher during the Summer, so if you plan to visit, it's best to book your hotel in advance to save money!
If you're wondering where to stay in Kas, location-wise, it's best to stay in the town center, where you can walk around to shops and restaurants.
But if you'd prefer to look at stunning sea views every morning, you'll most likely stay slightly south of the city center or west on the long strip of land!
Budget-Friendly Hotels
Sole'n Blu – Ranked #1 hostel in town, Sole'n Blu is a beautiful property; rooms here are very clean and spacious, and there's a rooftop pool with sea/mountain views and a restaurant
Can Mocamp – Located slightly north of the town center, Can Mocamp is a beautiful lodge-style hostel offering stunning sea views, an option to camp outside, and a lovely communal area
Mid-Range Hotels
Mavilim Otel – A stunning modern hotel with spacious rooms and picture-perfect sea views
Hotel Club Phellos – Large hotel very close to the town center offering a great breakfast buffet and a large pool perfect for lounging
Luxury Hotels
Payam Hotel – A lovely luxurious boutique hotel in the town center; rooms are spacious with very nice modern finishes
Peninsula Gardens Hotel – This hotel is an oasis with large rooms and an excellent pool with stunning sea views. Amenities include a top-rated spa, several cabanas/sunbeds, and more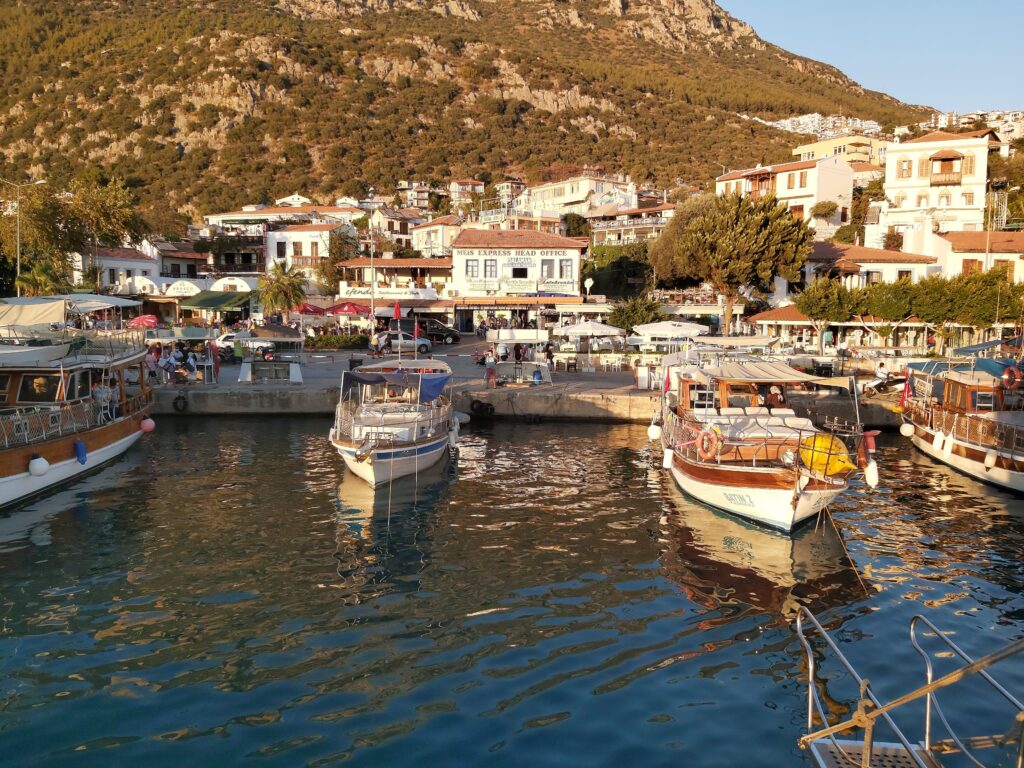 How to Get to Kas, Turkey
Kas is in the most southern part of Turkey, and the town has no airports in Kas.
The closest airport to Kas is Dalman Airport, but there are fewer frequent flights because it's smaller.
If you find a flight to Dalman Airport convenient for you, take it. From Dalman Airport to Kas, it's a 2-hour drive. You can book a private airport transfer from the airport to your hotel in Kas. Or you'll have to get to the local bus station in Dalman to take the local bus to Kas.
Otherwise, you'll have to fly to Antalya International Airport, a larger airport with more frequent flights. From Antalya Airpot to Kas, it's around 4 hours. Once you're in Antalya Airport, you can take a private airport transfer, taxi or get to the local bus station in Antalya and take the local bus to Kas.
For the cheapest domestic flights in Turkey, use SkyScanner!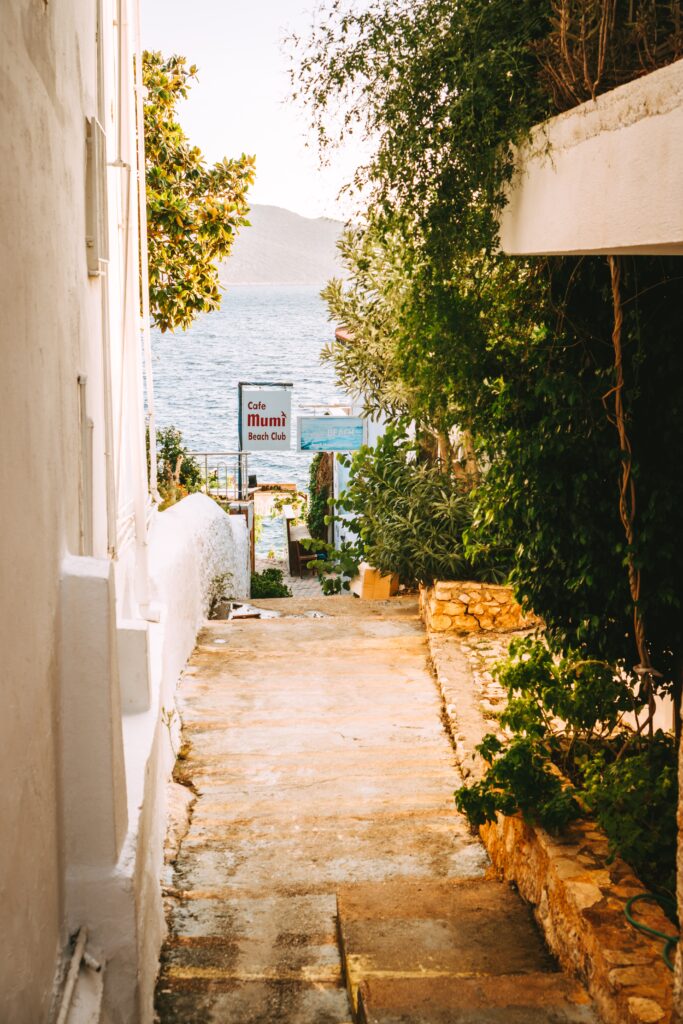 Best Time to Visit Kas, Turkey
The best time to visit Kas, Turkey, is during the Summer, which is also the high season for tourism in Kas.
This is when you can experience all the activities in Kas, swim at the many beaches, and explore the shops/restaurants!
In the Summer, you can expect temperatures to be around 23-30 Celcius.
Here is a breakdown of the different seasonal times in Kas and the temperatures you can expect when visiting!
Shoulder Season (April to June): This is a great time to visit if you're looking to go when there are fewer crowds and hotels cost less. Don't expect warm weather until May; water temperatures stay cool until mid-June.
During these months, temperatures will be around 13-22 Celcius.
High Season (June to September): This is when the weather is most favorable for visiting Kas. Despite being the high season, it doesn't get overly crowded here. Turkey is full of beach towns, like Antalya, Maramis, and Bodrum, to name a few!
During these months, temperatures will be around 23-30 Celcius.
Shoulder Season (End of September to November): If you'd really like to avoid crowds, this is the best time to visit. It's still warm enough to go to the beach during this time, but temperatures start dropping the first week of October.
During these months, temperatures will be around 11-24 Celcius.
Off Season (November to February): There's no reason to visit Kas during the off-season, it's too chilly to go to the beach, and all the restaurants/shops are closed!
During these months, temperatures will be around 7-12 Celcius.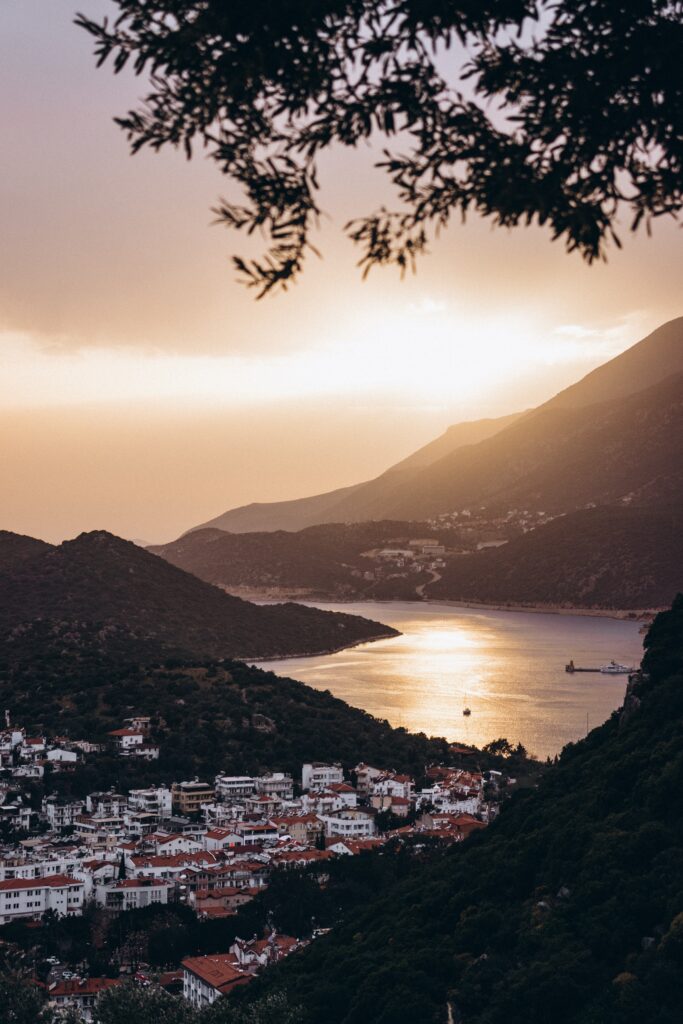 Is Kas Worth Visiting? — Final Thoughts
So, what do you think? Is Kas worth visiting? Kas is most certainly worth visiting because of its many beaches, charming small-town attributes, and mountainous range surrounding it.
If you love and appreciate nice beaches, you will fall in love with Kas! But remember that Kas is a small town, so if you'd prefer somewhere with beaches but more lively, it would be best to consider Bodrum or Antalya.
I had a great time in Kas; I'm a beach person at heart, so anywhere with plenty of beautiful beaches is heaven for me!
While Kas isn't one of the cheapest places in Turkey to visit, it sure is one of the most beautiful places in Turkey and is a must-visit if you plan to make a trip to this region of Turkey!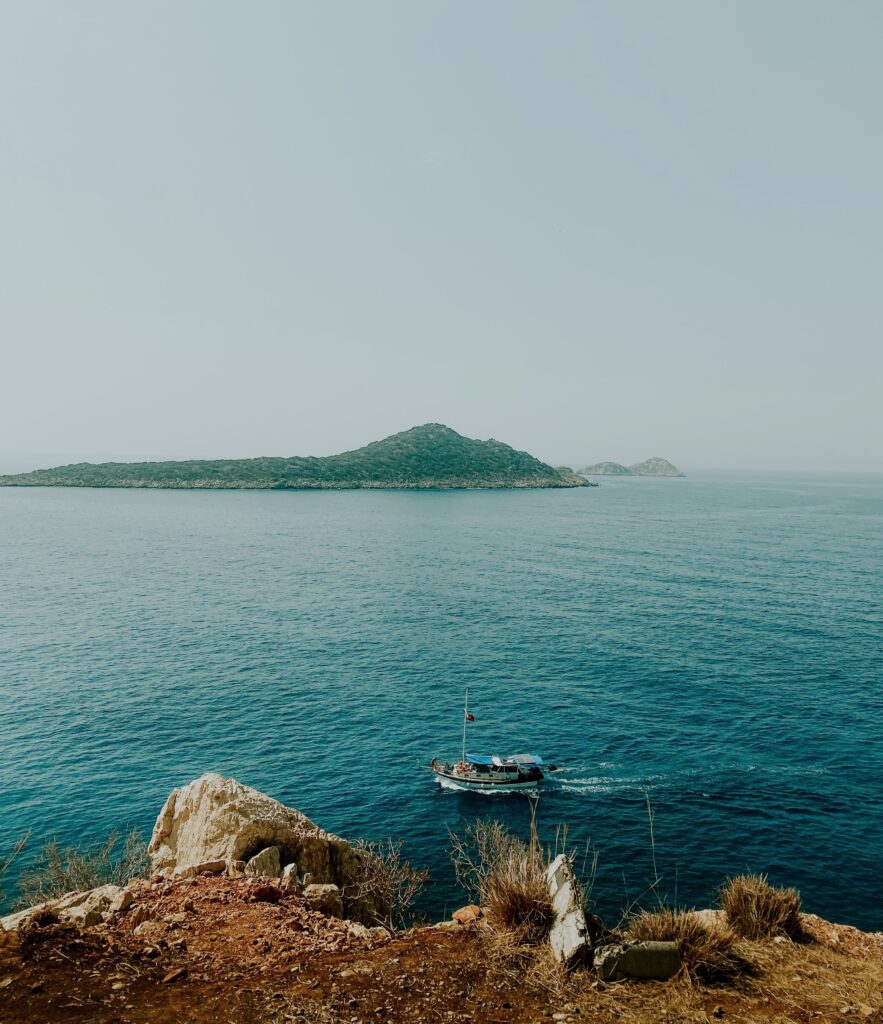 Which is better Antayla or Kas?
Antalya is a developed beach town with many amenities, has its own airport, and a wider variety of hotels/restaurants. On the other hand, Kas is an adorable beach town with a more laid-back atmosphere and many more beaches.
What to see between Fethiye and Kas?
Fethiye is more of a developed port city with lovely beaches. Kas is a small town with several beaches and is more famous for its beaches compared to Fethiye!
What is Kas in Turkey like?
Kas is a picturesque, charming beach town with adorable cobblestone streets and a stunning mountainous range. It's most well-known for its many captivating beaches!
Featured Image Credit: Burak Erenoglu / Others via Unsplash
Subscribe to Travel Hiatus!
Receive updates on my latest posts, insider travel tips & the best destination guides to your inbox!
Happy & Safe Travels
---
Planning Checklist
---
Disclaimer: Please note that some of the links shared in this article might be affiliate links; this means that at absolutely no extra cost to you, we will earn a small commission for any sales generated through this article and/or this website. We recommend products/services we've either used or researched thoroughly – Thank you for supporting us so we can continue to share helpful travel content!