Freedom Beach, Phuket: In-Depth Guide
Freedom Beach in Phuket is one of Thailand's most captivating and mesmerizing beaches. In some ways, it reminds me slightly of Maya Bay Beach in the Phi Phi Islands.
It's gorgeous here, the white sand is incredibly soft, and the water is shades of clear turquoise blue. Situated on the ends of the beach are beautiful large rocks.
What makes this beach so unique is not only how beautiful it is but its secluded, remote location. Where it's located is inaccessible by car or scooter.
While that can be inconvenient, it makes the beach more charming, adding to the tropical beach atmosphere we crave!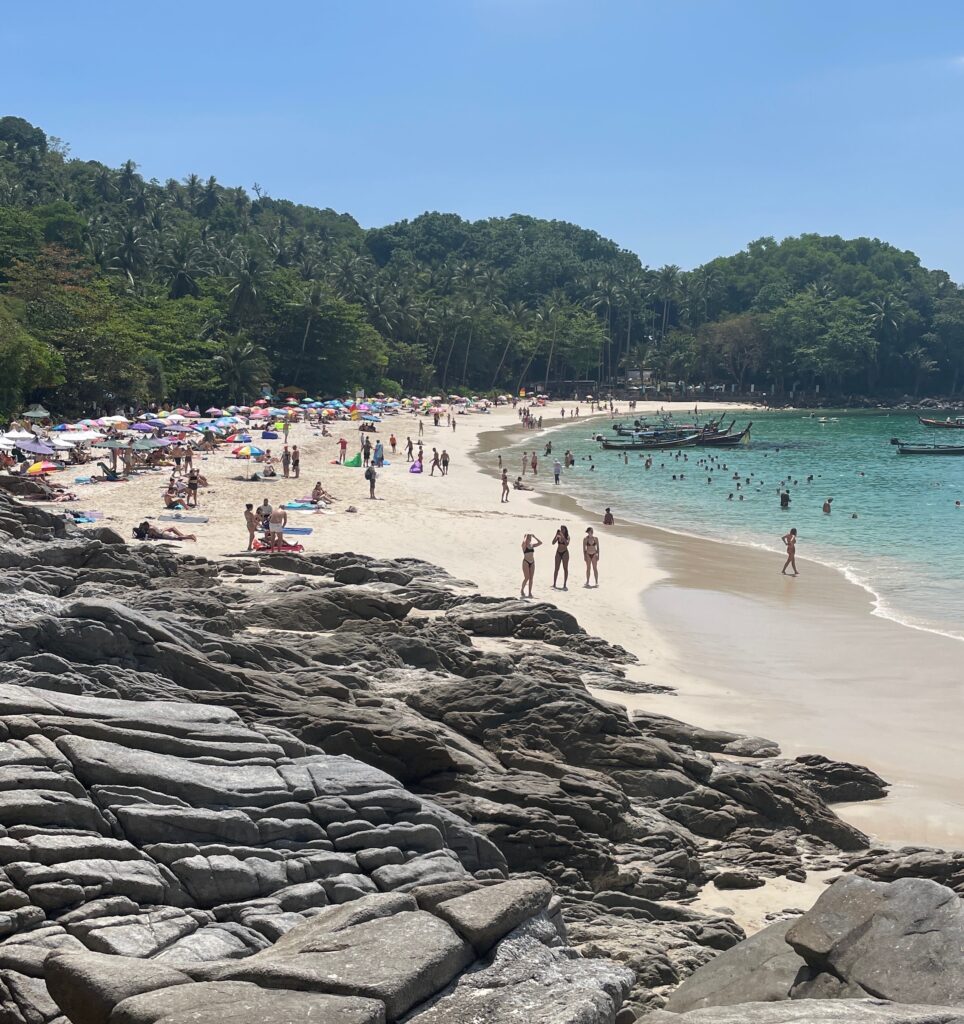 On the one side is a small hidden beach area separated from the main beach by large rocks. The small hidden beach area has a small natural spring water stream. Dipping your feet into it after coming out of the ocean is refreshing.
To reach this small hidden beach area, you can either hike through the forest, swim from the main beach, or go over the rocks, but be careful!
I will tell you everything you need to know in this in-depth beach guide. The different ways to get here, any crucial general information you should know, things to do here, and the closest hotels to Freedom Beach!
RELATED: 9 Best Things To Do in Phuket
How to Get to Freedom Beach
You're in Phuket already and looking to make your way here. Okay, let us discuss the different ways you can get here!
There are two different ways to get here: by sea or land. By sea, you will have to take a longtail boat. By land, you must take one of the two main paths and then hike downwards for 10/15 minutes.
The easiest way to get to Freedom Beach is by sea on a Longtail boat taxi; longtail boats frequently operate during high season, from December to May, and depart from Kata, Karon, Kamala, and Patong.
In Patong, near the big bridge by Amari Phuket, you will find the most frequent longtail boats going back and forth between Freedom Beach.
TIP: The price is usually 1200 – 1500 baht per boat ride. But you may be presented higher, so be prepared to negotiate down to a reasonable price!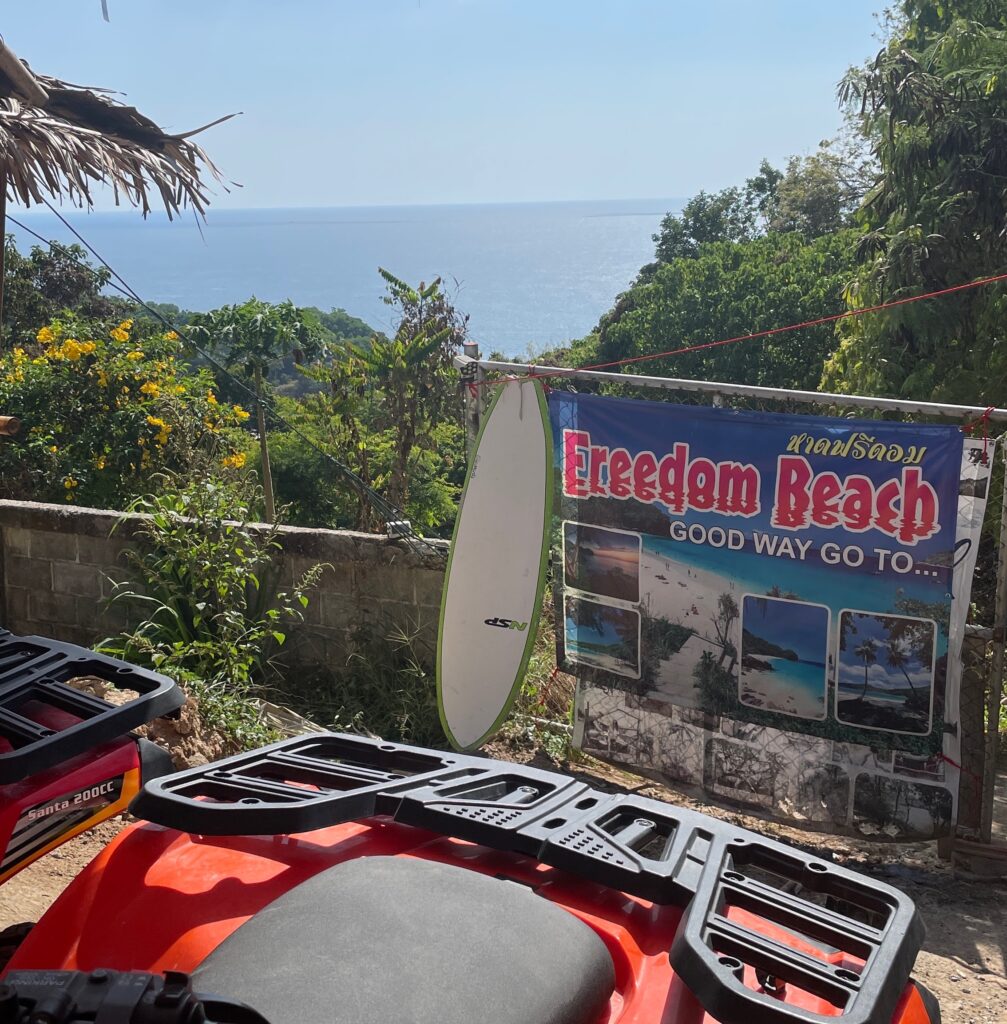 The second way to get here is by land. As mentioned earlier, you must hike a bit to get there!
You can take two different paths to get here: the first is just a bit past Lek Sand Bar, and the second is here, and then you take a right into the path. The first path is much easier to hike down than the second one.
Use the Google Map image posted below alongside Google Maps on your phone to pinpoint either spot!
The first path by Lek Sand Bar has parking for scooters, so if you've rented a scooter, drive here since there's parking for your scooter! – Alternatively, you can also take a Grab or Taxi here.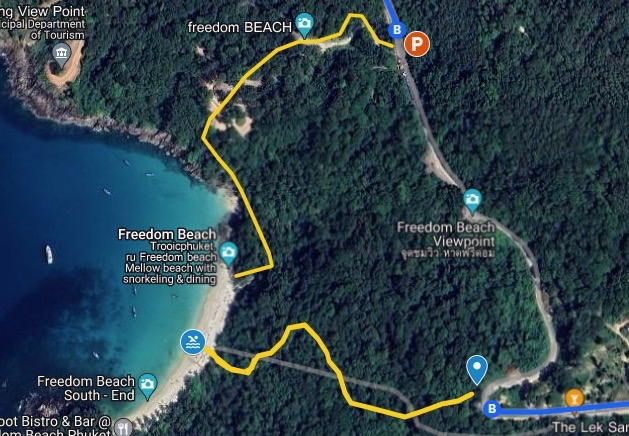 Suppose you DON'T want to rent a scooter. I would avoid constantly taking a Grab/Taxi everywhere because that can get expensive if frequently used.
The best way to get around Phuket is by the Phuket Smart Bus. In another post about Phuket's Best Beaches, I've covered how to take this bus in detail. If you'd like more information on the bus, take a look!
General Info – Freedom Beach
Freedom Beach is quite secluded, and that's part of what makes it so unique and beautiful. But with being secluded comes a few inconveniences.
There are no washrooms or showers available here, and no 711s nearby for you to stop in to buy a cold drink or anything else.
On the beach, there are a few vendors you can rent beach mats and umbrellas for the day.
Several vendors sell cold drinks, including water, juice, beers, chips, nuts, and fresh coconuts. Food-wise, these vendors have Pad Thai, Pad kra pao, fresh fish grilled on an open charcoal BBQ, and a few other dishes!
There is a single restaurant on the beach, Barefoot Bistro & Bar, but when I was visiting, it was temporarily closed and still says temporarily closed on Google. You can see if it's open depending on when you're visiting.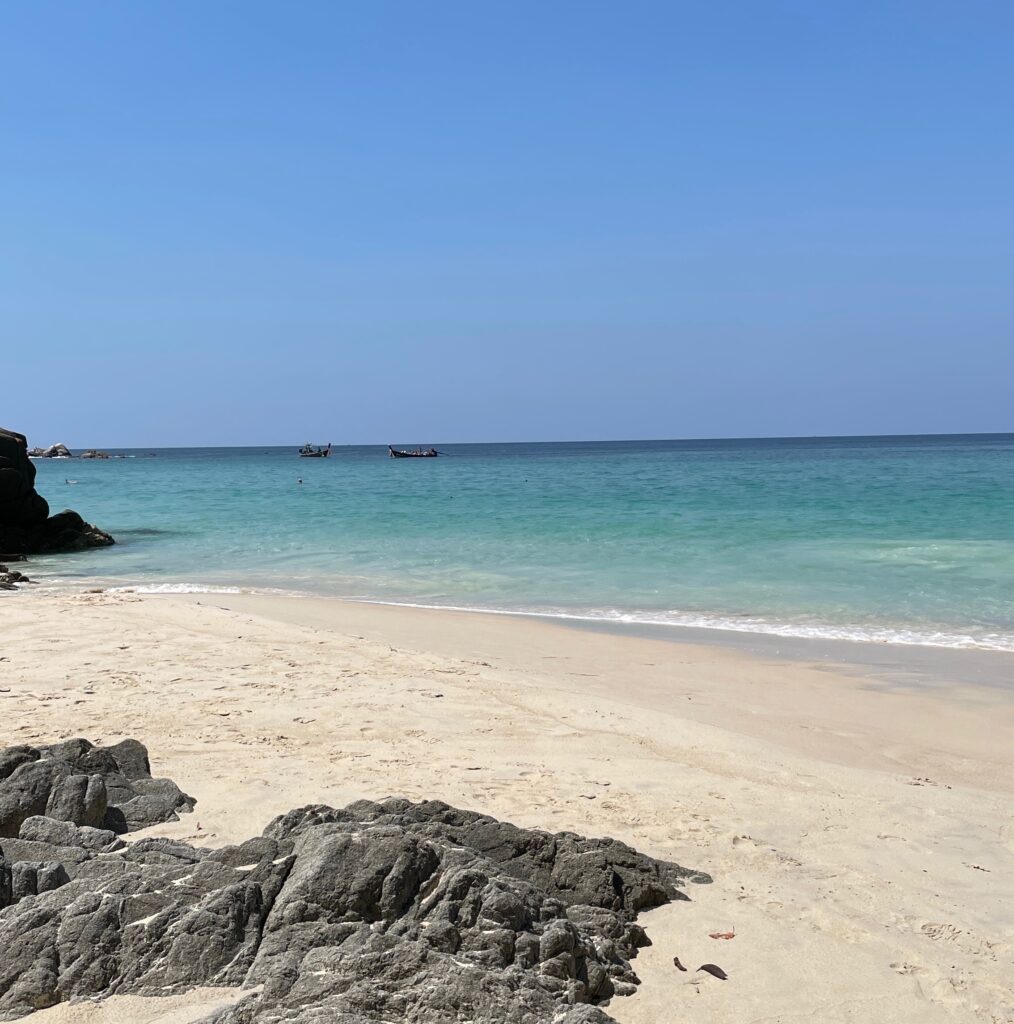 Is Freedom Beach Free?
No, it's not free to come here. Alternatively, I don't believe you must pay an entry fee if you arrive by long tail boat. – I've always come by land.
Freedom Beach Entry Fee:
The cost to get in is 200 baht per person, and this is an environmental fee; the gentlemen at the front told me to support the beach cleaning.
Is Freedom Beach Family Friendly?
Not by any means, no, it's not a family-friendly beach. If not visited by a long-tail boat, the two hike paths to get here aren't safe for children. And there aren't any washrooms here or lifeguards. You'd be better off going to Kata Beach or Karon Beach!
Things To Do at Freedom Beach
You're visiting a secluded beach that is challenging to get to, so I'd imagine you're coming to Freedom Beach to see its beauty in person, not for the several activities here.
That said, there are a few things to do here that you should consider doing when visiting!
Visit Both Sides of Freedom Beach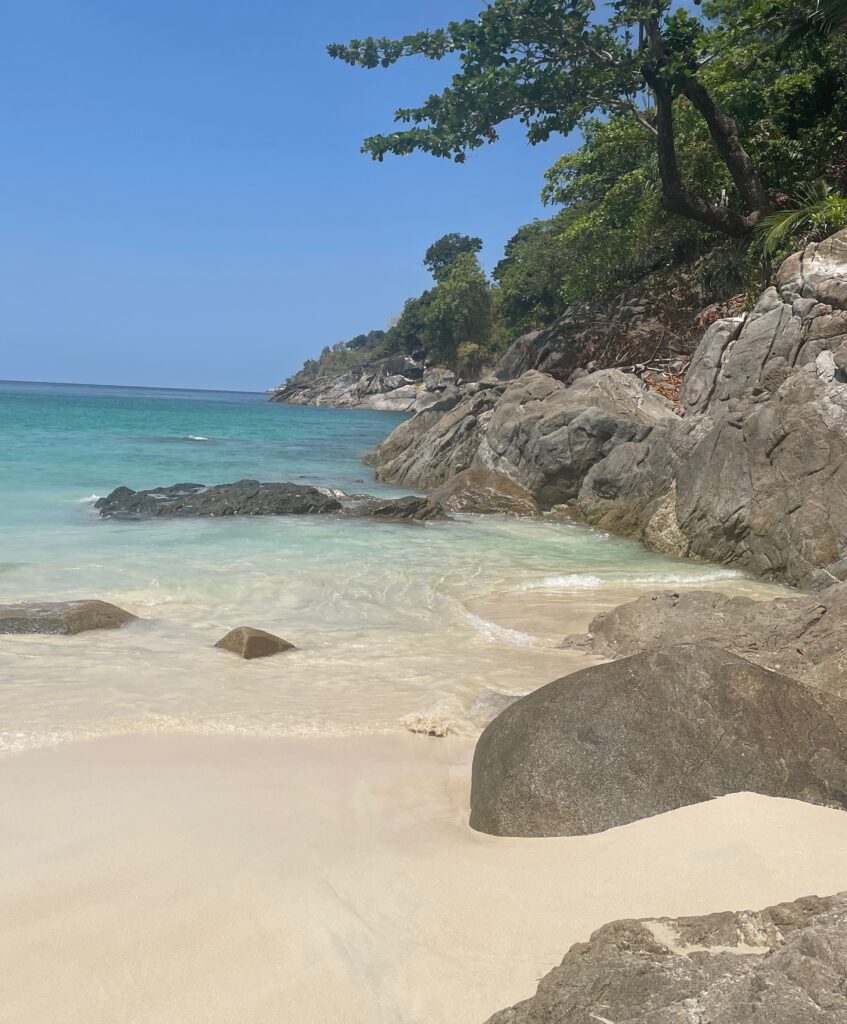 As I mentioned earlier, there are two sides to the beach here. One is the main area, and the other is a small hidden area, and large rocks separate both beach areas.
Supposably, you come by long-tail boat, or when you hike downwards, you go through the path to the main beach. Make sure to check out the other hidden beach area at some point throughout the day!
Those who hike from the second path I mentioned will likely arrive at the Hidden Beach area rather than the main beach area. So you won't be able to miss it!
Lunch On the Beach
You've gone into the water for a bit, and you're hungry. Walk over to the food vendors, grab yourself a fresh coconut, maybe a Chang beer, and a few different foods!
BBQ fish, seafood pad Thai, chicken skewers, or something else. You will have to sit on your towel or a few logs some vendors have set up for you to sit on if there's space!
Hike for Scenic Picture Views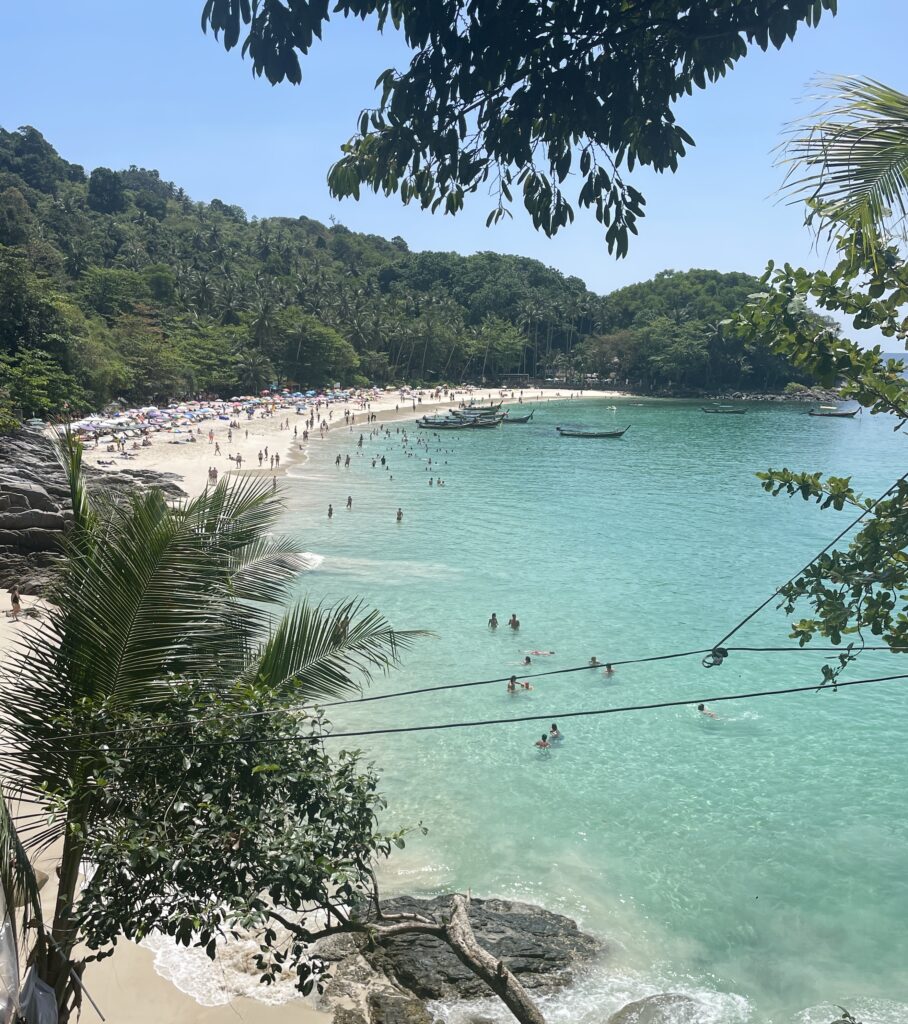 When you're at the hidden beach area, you will spot a stairway, head up that stairway for quite a few steps, and soon find yourself with this beautiful scenic view of Freedom Beach.
For those coming from the second pathway I've described earlier in this article, you will pass this scenic beach view before you get to Freedom Beach. If you choose to come from that direction, as you get close, remember to slow down before going down the stairs so you can capture a few photos of this beautiful view!
Closest Hotels
The closest area to Freedom Beach is Patong, which is also the most popular area in Phuket due to its nightlife, restaurants, etc.
There are a few resorts relatively close to Freedom Beach, and if you're looking to stay close to it, here are some to consider!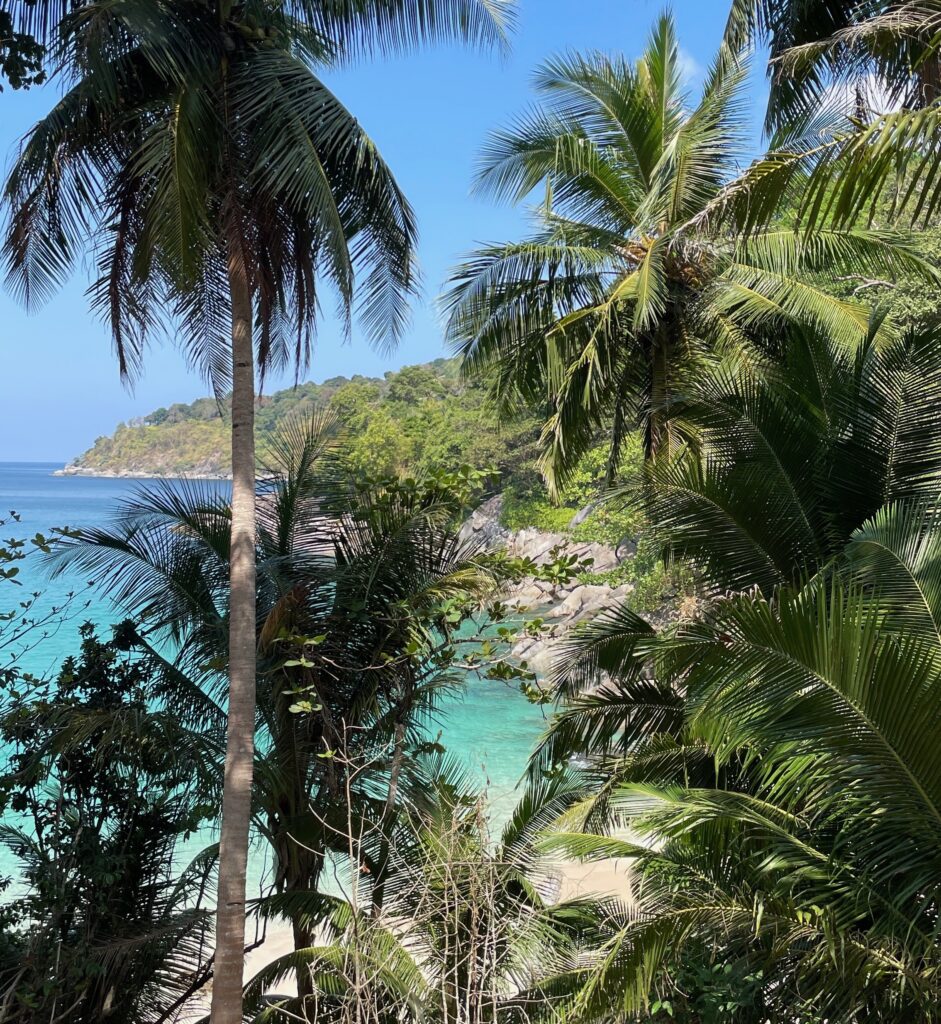 Is Freedom Beach Worth Visiting?
Yes, it's worth visiting; Freedom Beach should be at the top of your list when visiting Phuket.
Being so secluded adds to the beauty of this place, the hills and dense green forest surrounding it, and the crystal clear water. As I stated earlier, it reminded me of Maya Bay Beach in Phi Phi Islands.
Having gone to all the main beaches in Phuket, I can guarantee that Freedom is one of the best beaches in Phuket.
Are you looking for another beach in Thailand that is mesmerizing? If you plan on visiting Ao Nang or Railay in Krabi, visit Phra Nang Beach.
Subscribe to Travel Hiatus!
Receive updates on my latest posts, insider travel tips & the best destination guides to your inbox!
---
Planning Checklist
---
Disclaimer: Please note that some of the links shared in this article might be affiliate links; this means that at absolutely no extra cost to you, we will earn a small commission for any sales generated through this article and/or this website. We recommend products/services we've either used or researched thoroughly – Thank you for supporting us so we can continue to share helpful travel content!