Bacalar or Holbox: Which Should You Visit?
Need help deciding between Bacalar or Holbox? You've come to the right place!
This guide covers the main differences between Bacalar and Isla Holbox: things to do, accommodation, restaurants, nightlife, and how to get to each place!
Both Bacalar or Isla Holbox are destinations that have an abundance of natural beauty and provide a more laidback atmosphere compared to other famous places in the region like Cancun, Playa Del Carmen, or Tulum
TIP: Holbox is also referred to as "Isla Holbox", the word "isla" means Island in Spanish.
Having visited Bacalar and Isla Holbox several times, I've gotten a good feel for both places. I don't have a favorite, Bacalar I enjoy some things more, and Isla Holbox for others.
Though you may think differently and heavily favor one over the other once you've read this guide!
Bacalar and Isla Holbox share quite a few similar traits, and that's precisely why the two destinations are often compared. However, one should know a few significant differences before making a decision!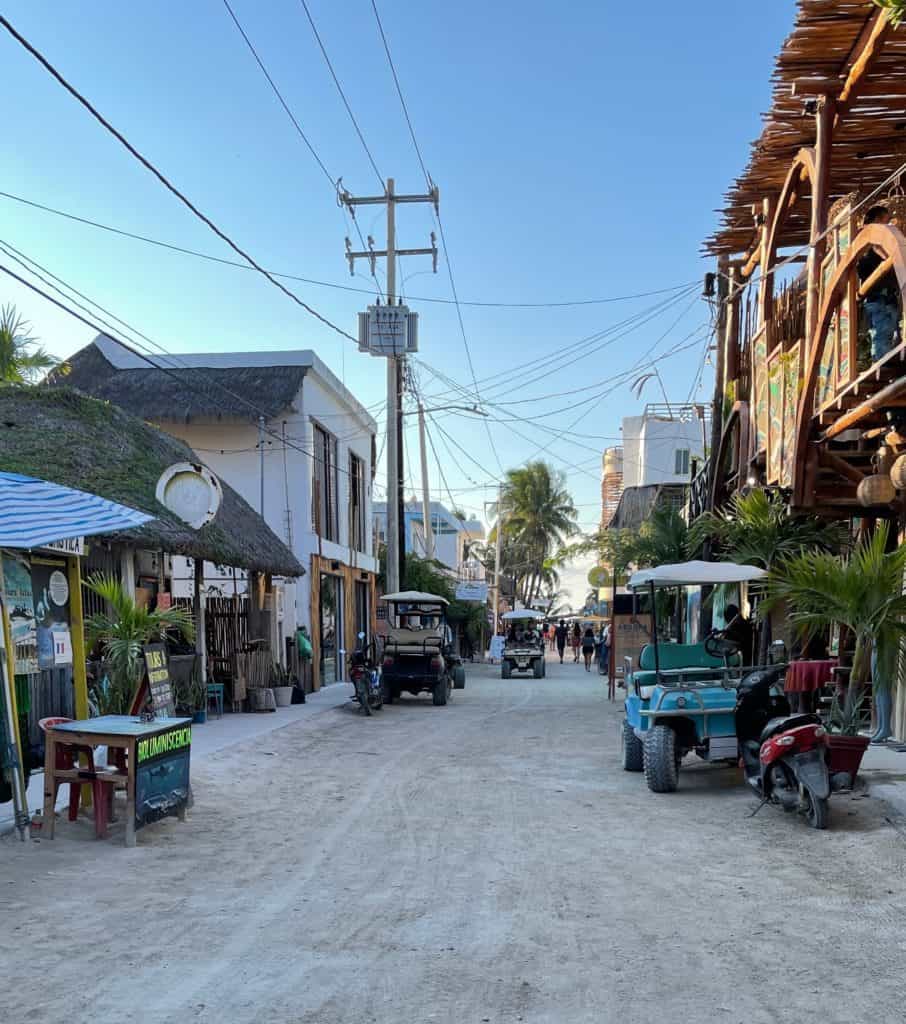 Bacalar or Holbox – Main Differences
Bacalar and Isla Holbox are both popular destinations in their own right, similar in many ways but with a few significant differences that may be a make/break for you!
Bacalar is famous for being home to the Bacalar Lagoon, a beautiful freshwater lagoon perfect for swimming, canoeing, kayaking, and paddleboarding. But this isn't just any old lagoon; it's nicknamed the Lagoon of 7 Colors because you can often spot seven shades of color in the water!
Besides the lagoon, Bacalar is a small quaint town with accommodations along the lagoon, cafes, and restaurants. Nearby Bacalar are national parks and Chetumal, a neighboring small town.
Isla Holbox is famous for its shallow beaches, extremely laid-back vibe, and lively evenings, but nothing too crazy! Holbox offers many activities, including island tours, kite surfing, and more.
Besides the many activities, Isla Holbox has an impressive food scene and many bars to visit in the evening. There's something special about this place relaxing-wise; it truly is a paradise for those looking to have a laidback visit.
Here's a quick comparison table between Bacalar and Holbox showing a few talking point comparisons.
| | | |
| --- | --- | --- |
| Things to Consider | Bacalar | Holbox |
| Landscape | Mainland | Island |
| Main Attractions | Great | Great |
| Restaurants | Good | Great |
| Hotels | Good | Good |
| Nightlife | Okay | Good |
| Walkability | Great | Great |
| Safety | Great | Great |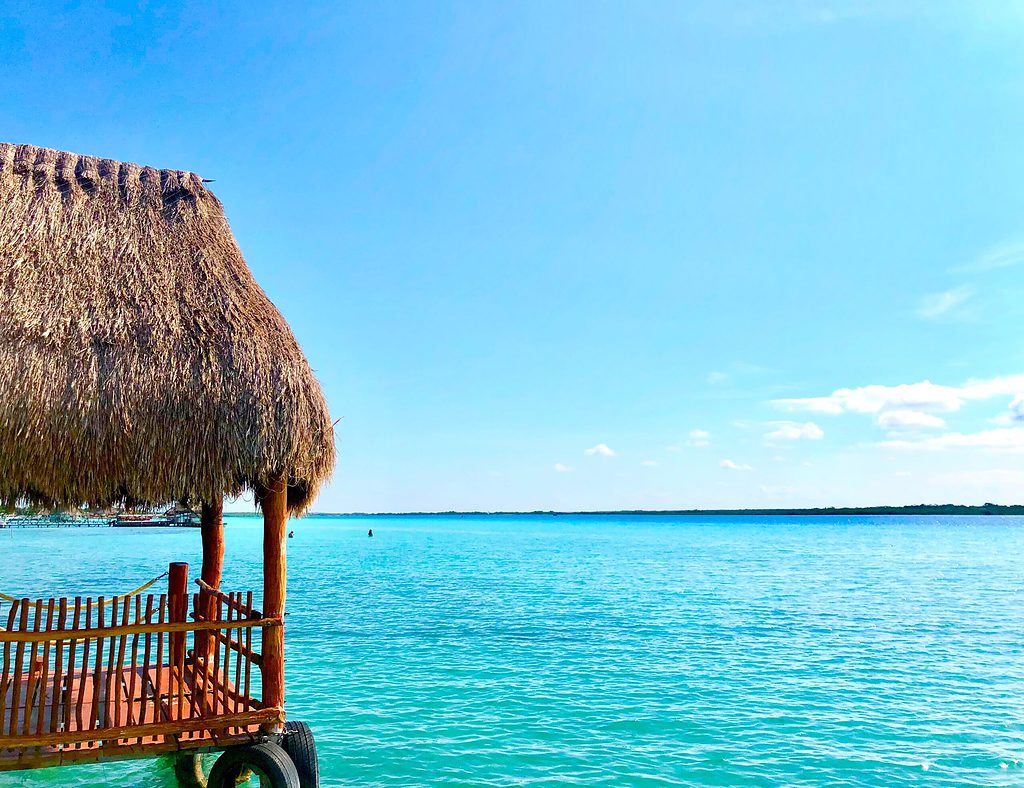 Things To Do in Bacalar
Despite not being a beach town, Bacalar feels like one because of the vast lagoon along the town's coast.
There are several things to do and experience in Bacalar. Here is a list of the things you must consider doing when visiting!
Bacalar Lagoon: With its perfect calm waters, it's ideal for paddleboarding, canoeing, kayaking, and snorkeling. Consider this sunrise paddleboard adventure!
Cenote Azule: Famous for being the biggest cenote in Mexico, it's another ideal spot to take a refreshing swim in its sparkling blue waters. The cenote is quite deep, perfect for those looking to do some cenote diving.
Fuerte de San Ruins: In the heart of town is Fuerte de San, an 18th-century fort; there's also a museum here. The top of the fort has excellent panoramic views of the Bacalar Lagoon.
Canal de los Piratas: Once an entry point for pirates long ago, this island in the middle of the Bacalar Lagoon is home to a shipwreck to discover. To get here, you can either kayak there or take a boat tour
Explore City Center: Also known as the "Centro" area, the city center of Baclar has a small park, several restaurants, and shops. In the evening, you'll spot many restaurants hosting live music.
Visit Chetumal or Mahahual: Neigbouring Bacalar is Chetumal, a small town known for its museum and many restaurants. Mahahual is a fun beach town and is the nearest beach to Bacalar.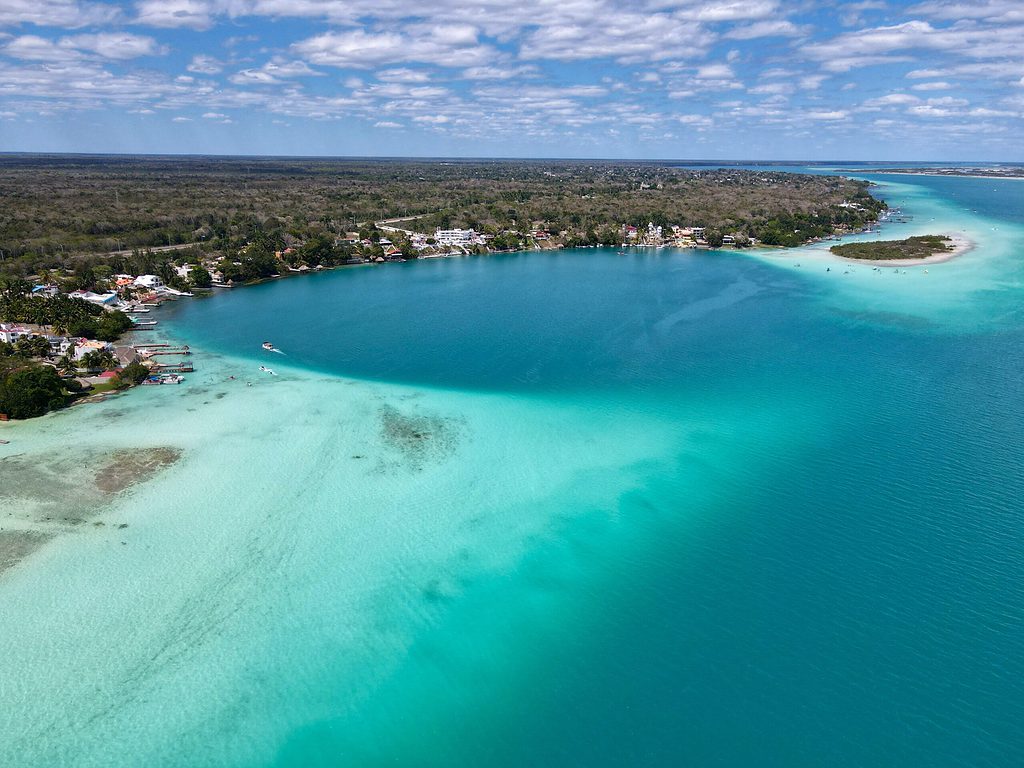 Things To Do in Holbox
There are abundant things to do in Holbox, from island tours to many water-related activities, bird watching, and much more!
Holbox has a vibrant nightlife in the evening with things to do for everyone, from rooftop parties to open-concept bars flooding into the street and restaurants hosting live band performances.
Playa Holbox: This is the main beach in town with an extensive spacious, beautiful beach shoreline; here, you will find plenty of room to relax, beach clubs, and restaurants. The water in Holbox is calm and very shallow; you can walk quite far before the water begins to reach your waist!
Make sure to come by during sunset one night; the sunsets in Holbox are colorful!
3 Island Tour: The most popular tour in Holbox is the 3 Island tour; this boat tour is an excellent way to see the island's natural beauty; you will visit bird island, passion island, and a Yalahau cenote
Visit Playa Punta Cocos: Punta Cocos is a beautiful beach just seven minutes west by bike from Holbox main town area. Here you will find another beach with pristine waters and several bird species, and if you're lucky, you'll spot a few flamingoes in their natural habitat.
Kitesurfing: Holbox is a perfect place for kite surfing because of the conditions here; Holbox has easy winds and shallow water. Kite surfing is a popular activity in Holbox!
Snorkel with Whale Sharks: Another popular thing to do is to swim with whale sharks; snorkeling and seeing these gentle giants is a fantastic experience. Whale Shark season runs from mid-May through mid-September.
Explore City Center: No matter the time of day, the main town area of Holbox always has something to do. During the day, you can explore the streets full of graffiti and many quiet coffee shops to try.
At night it's a lively place full of many restaurants, bars, and street food being sold. And because the town is walkable, it's an excellent time to walk around Holbox in the evening, going from place to place!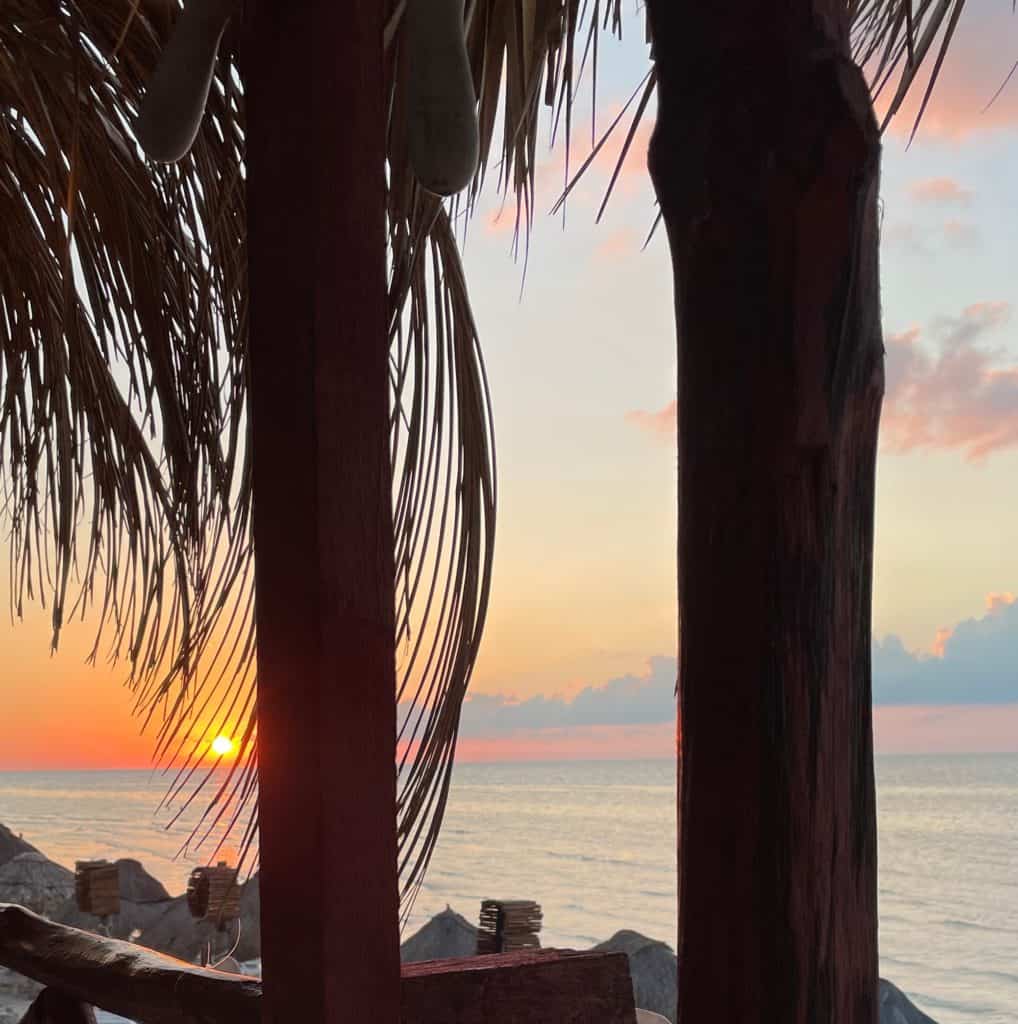 Bacalar or Holbox: Beaches
A deciding factor for many when considering a destination is a beach, especially if one is going on vacation! Holidays are meant for the beach, right?
This is the most significant difference between Bacalar and Holbox, Bacalar has a Lagoon, and Holbox has beaches!
Bacalar Lagoon
The Bacalar Lagoon is the largest freshwater lagoon in Mexico, and the water is stunning, clean, and perfect for swimming, snorkeling, and all types of water-related activities!
The lagoon's nicknames are the lagoon of 7 Colors and the Maldives of Mexico because the clear and vibrant turquoise hues of the lagoon are second to none in Mexico!
It's the perfect place to swim on a hot day because the Bacalar Lagoon is full of fresh water instead of salt water, like the ocean.
If you've swam in a cenote, river, or lake before, you'll be familiar with the cooling effects of freshwater on a hot day rather than salt water!
Does Bacalar have a beach?
No, Bacalar doesn't have a beach in town. It only has the famous Bacalar Lagoon. The nearest beach to Bacalar is Mahahual, a small beach town 1 hour and 15 minutes away.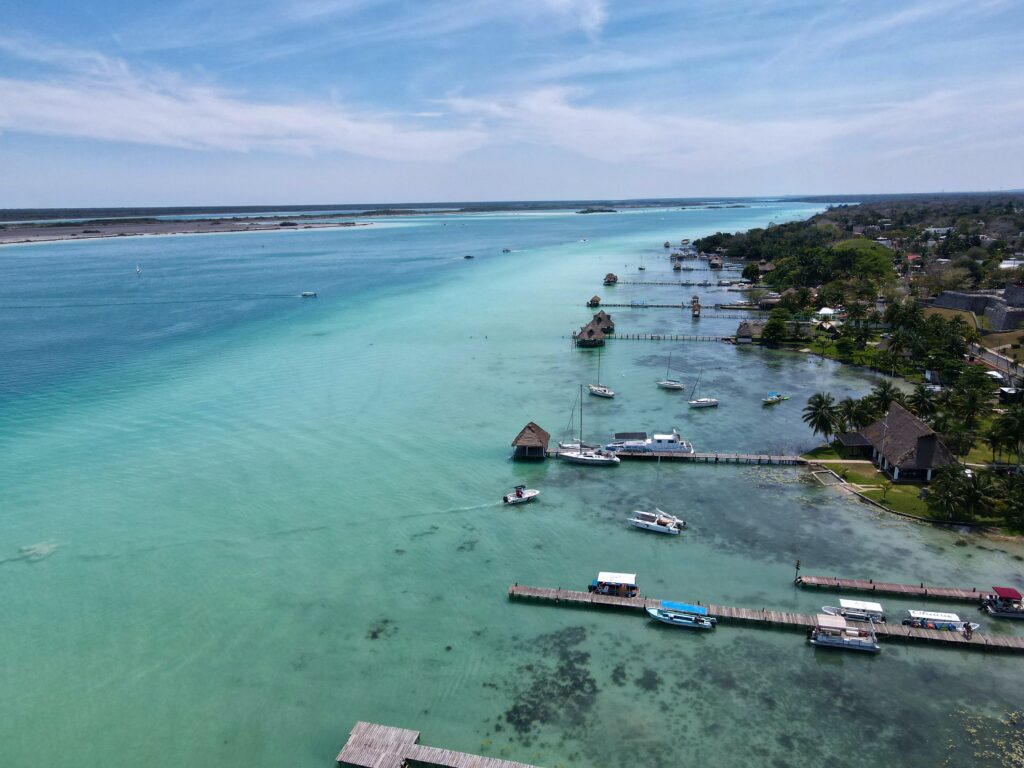 Isla Holbox Beaches
Holbox has a few beaches for you to consider when visiting. All beaches in Holbox boast calm, shallow seas with powdery white sands.
Nature in Holbox is abundant; several bird species, such as frigates, pelicans, flamingos, and more, inhabit parts of the beaches here!
Holbox Main Beach: This beautiful long extensive white sandy beach shoreline is the main beach in town and is the most accessible beach to get to. The beach has many amenities, including many restaurants, beach clubs, and beachfront hotels.
Between all the businesses, there's plenty of room for you to lay your towel down and relax!
Punta Cocos: On the furthest western side of the island is Punta Cocos, a more secluded beach sharing many similar traits to the main beach in Holbox. It's quieter with fewer visitors; two businesses are operating here, which is nice if you decide to spend the day here!
Punta Mosquitos: A white sandbank with beautiful panoramic views and crystal clear waters. Punta Mosquitoes is located in the most Eastern part of the island. Understand there's absolutely no shade here, and it's not much of a beach to relax at; it's somewhere you go to explore instead!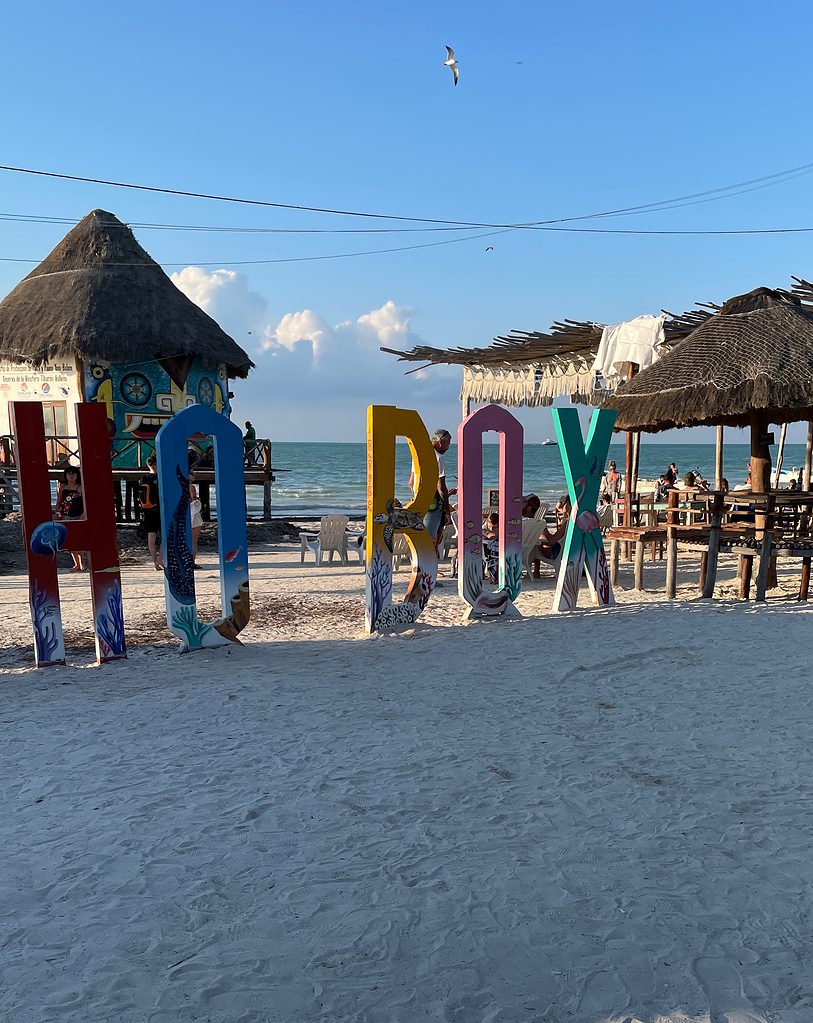 Bacalar or Holbox: Accommodations
Both Bacalar or Holbox have many accommodations, from beachfront/lagoon-front hotels to many budget-friendly hostels!
Isla Holbox is slightly a larger town than Bacalar, meaning it has many more hotels to choose from compared to Bacalar.
Also, for those looking for luxurious accommodations, you'll find more in Holbox versus Bacalar.
Bacalar has fewer hotels to choose from but still has plenty, best known for its lagoon-front hotels!
Where to Stay in Bacalar
In this list of hotel recommendations, I've included the best hotels in Bacalar, luxury, mid-range, and a budget-friendly hostel!
Habitas: Luxury glamping huts located right along the Bacalar Lagoon
Khaban Bacalar: Beautiful modern Lagoon front hotel slightly North of town
Casa Hormiga: Boutique hotel located in the city center of town
Yak Lake House: Ranked #1 hostel in town, right along the Bacalar Lagoon and steps away from Centro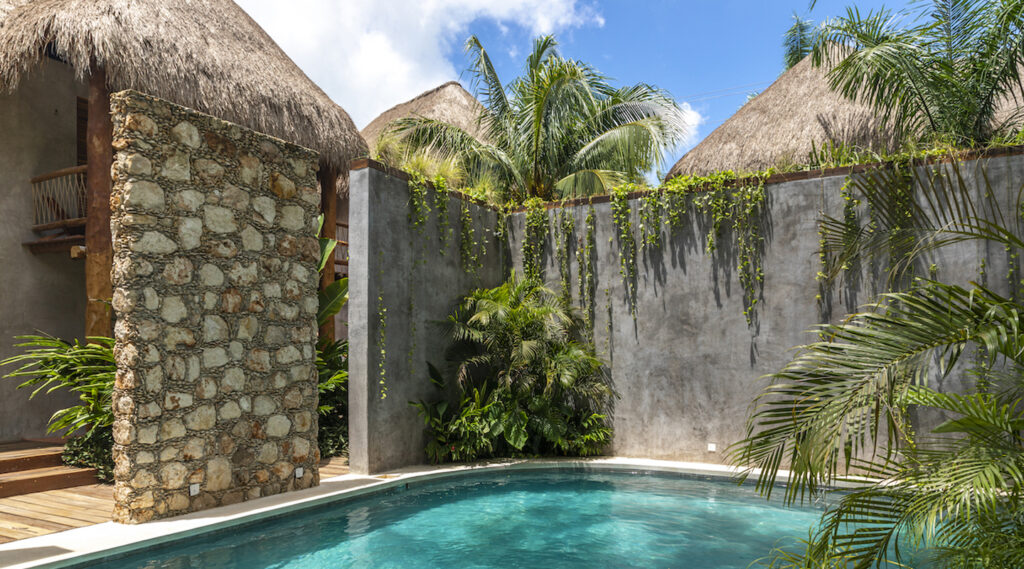 Where to Stay in Holbox
In this list of hotel recommendations, I've included the best hotels in Holbox, luxury, mid-range, and a budget-friendly hostel!
Hotel Villas Flamingos: A bohemian-chic decorated hotel right on Holbox Beach
Las Nubes de Holbox: Boutique hotel located along the main beach with a beautiful patio
Hotel Para Ti: Fun Adult Only hotel in the center of town with a fun rooftop bar
Che Holbox Hostel & Bar: Best hostel in town, with dorms & private rooms with a lively pool/bar area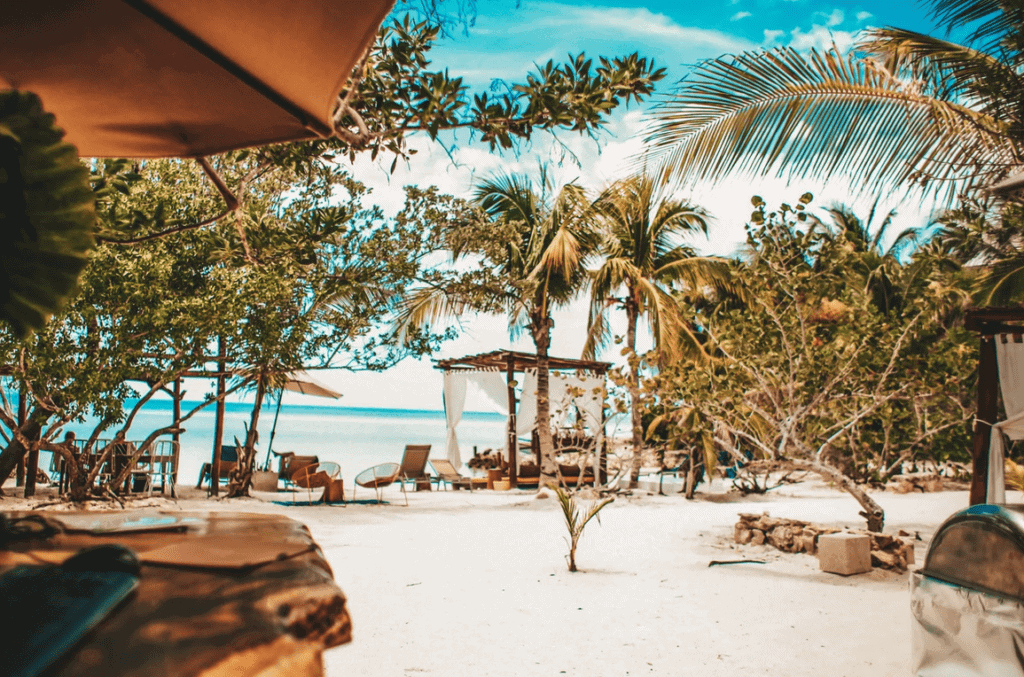 Bacalar or Holbox: Restaurants
Whether you visit Holbox or Bacalar, both towns have many excellent restaurants to consider.
Bacalar is mainly known for its local Mexican cuisine as well as seafood. Holbox is known for not only its local cuisine but its many diverse cuisine restaurants as well.
Isla Holbox is a bigger town than Bacalar, so it would make sense why Holbox has much better restaurants and more food options than Bacalar!
Best Restaurants in Bacalar
Here's a list of the best restaurants to consider where to eat in Bacalar; I've included a mix of local Mexican restaurants, seafood spots, and the best breakfast restaurant in town!
La Playita: Lagoon front restaurant known for its ceviche, fish tacos, and other Mexican dishes
La Catrina Bacalar: Lively restaurant known for its tacos, pizzas, and cocktails and an excellent spot for a lively evening dinner
Christian's Tacos: One of the best taquerias in town, they have excellent guac/chips
Taqueria Los Primos: Authentic humble taqueria, best tacos in Bacalar
Enamora Bacalar: Popular healthy based breakfast spot known for its wraps, salads, and sandwiches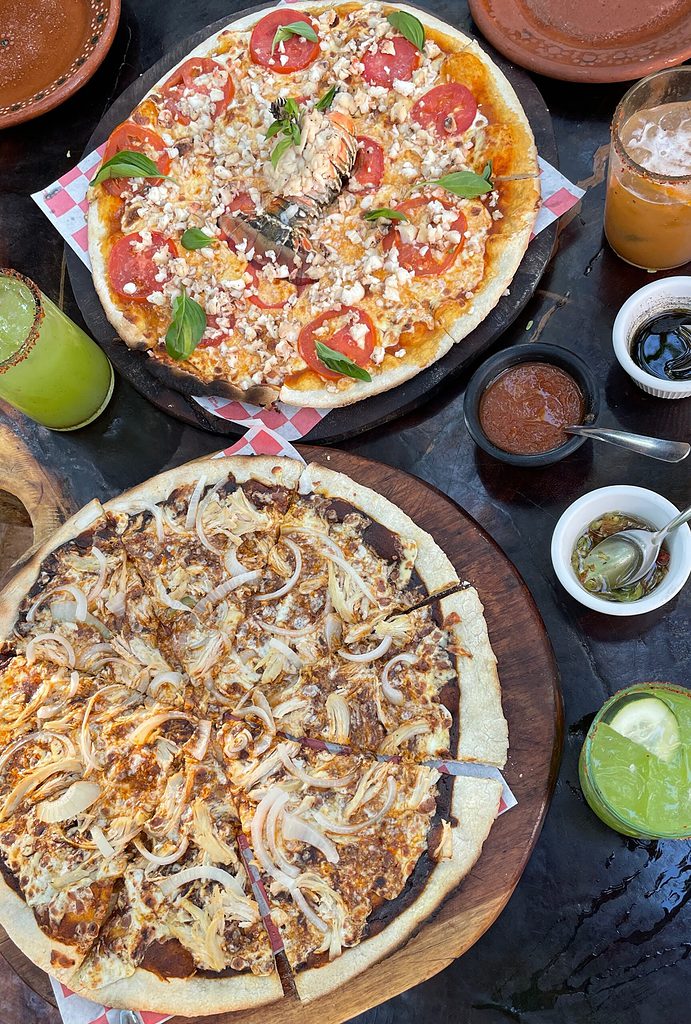 Best Restaurants in Isla Holbox
There are many food cuisine types in Holbox, from local Mexican restaurants to seafood, Italian, Arabic food, and more. Here is a list of great restaurants to consider where to eat in Holbox!
LUUMA: Fancy tapas bar with jungle decor, famous for its lamb tacos and well-crafted cocktails
Restaurante Viva Zapata: Mexican restaurant known for its many seafood dishes and cocktails
Los Tacos de Barbacoa: This isn't a restaurant but a taco street cart selling amazing barbacoa tacos/consome
Las Panchas: A local favorite seafood restaurant located along the main beach, most well known for their Ceviche
Mr. Happy: Breakfast restaurant serving a wide variety of Western-style and Mexican local dishes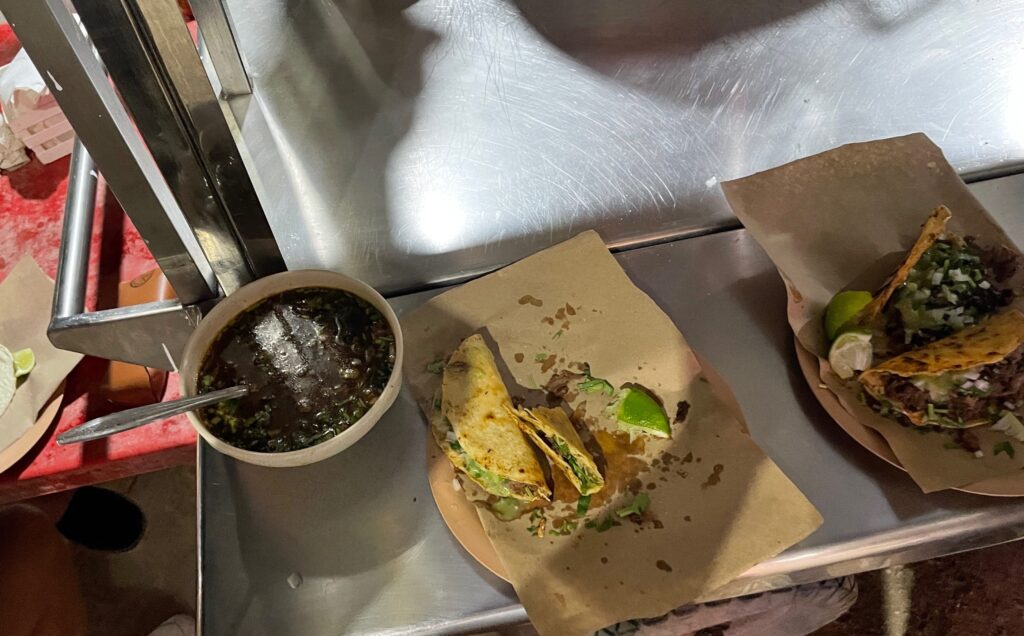 Bacalar or Holbox: Nightlife
While both towns have nightlife, Isla Holbox is a more lively nightlife being the larger town of the two. But it's not a big difference by any means.
Both Bacalar and Isla Holbox are laidback towns, not known for partying by any means. Most restaurants, bars are closed by midnight in both towns.
Bacalar Nightlife
Here's a short list of restaurants/bars to consider for a fun night in Bacalar!
La Catrina Bacalar: Most-well known spot for live music, open latest till 2:00 AM
Xolo Itzcuintle Taco Bar: Jungle atmosphere, bar/restaurant open till 1:00 AM
I Scream Bar Bacalar: Fun outdoor bar serving many drinks till 2:00 AM
Katx Marisqueria de Barrio: A restaurant and bar located right along the Lagoon
Holbox Nightlife
Here is a short list of restaurants/bars to consider when visiting Holbox!
Sunset Holbox: Fun bar full of swings as chairs, a perfect place to watch the sunset
The Hot Corner: Most popular bar in town, gastropub open till 3:00 AM
Bar Arena: Rooftop bar open till 12:00 AM serving many crafted cocktails and dishes
Kraken Chiringuito: Bar located right on the street, the perfect spot to grab some pre-drinks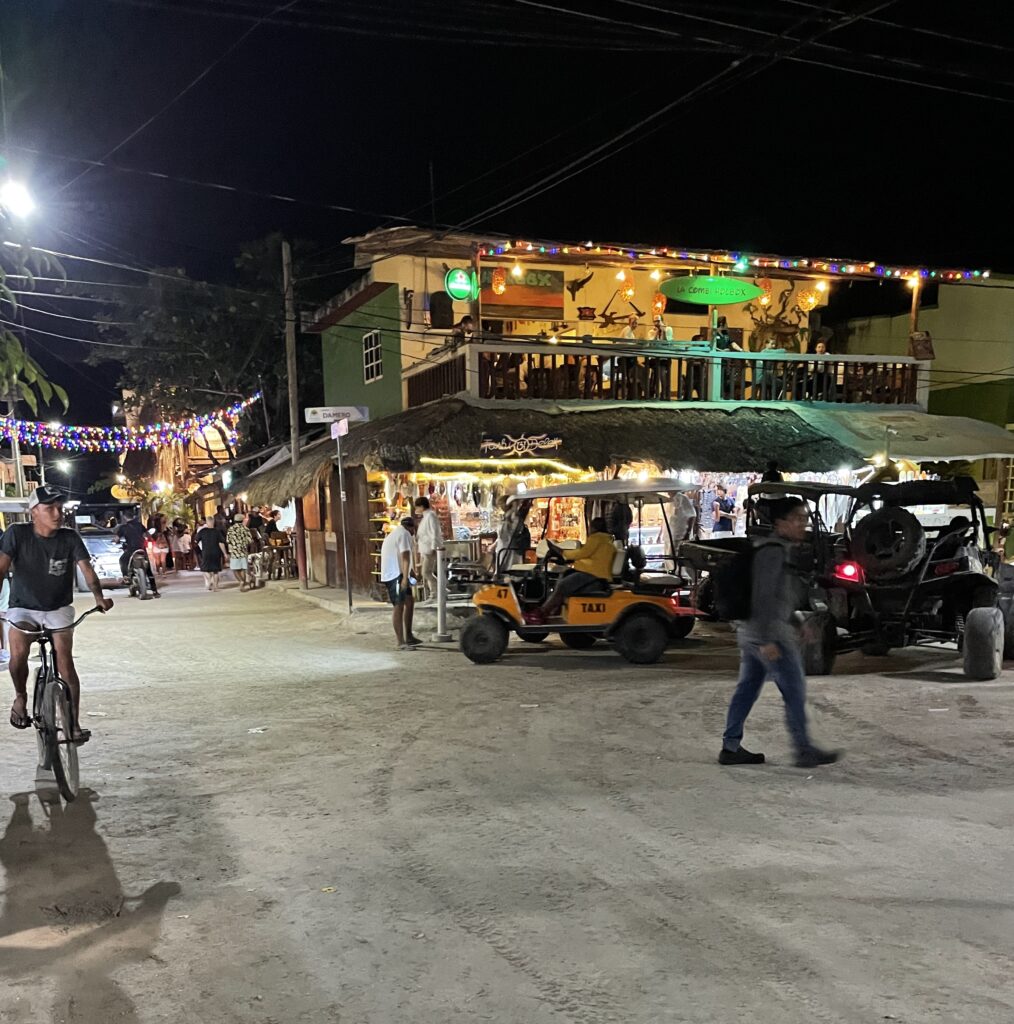 Best Time to Visit Bacalar or Holbox
Bacalar and Holbox share the same climate on a seasonal basis. The best time to come to either place is between November and April; this time of year is considered the dry season in the Riviera Maya and Yucatan regions.
During the dry season, you can expect it to be hot enough to go to the beach but not nearly as humid as the off-season months from May-October.
Dry Season: November to April
Rainy Season: May to October
How to Get to Bacalar
Getting to Bacalar is easy, and there are two airports you'd come from—either Chetumal or Cancun International Airport.
Chetumal mainly operates domestic flights, so if you're coming from anywhere else, you'll be flying into Cancun International Airport.
From Cancun Airport to Bacalar, it's 4.5 hours.
Once you've arrived at Cancun Airport, you can use any of these transportation options to get to Bacalar!
How to Get to Holbox
Getting to Isla Holbox is easy, but you must use two forms of transportation since you're going to an island—a bus/car and then a ferry onto Isla Holbox.
First, you must get to Chiquila. If you're coming from Cancun to Holbox, it's about a 2-hour drive to Chiquila. Here are a few ways to get to Chiquila from Cancun.
Once you've arrived in Chiquila, you must walk towards the Holbox Ferry and take a 20-minute ferry ride to the island.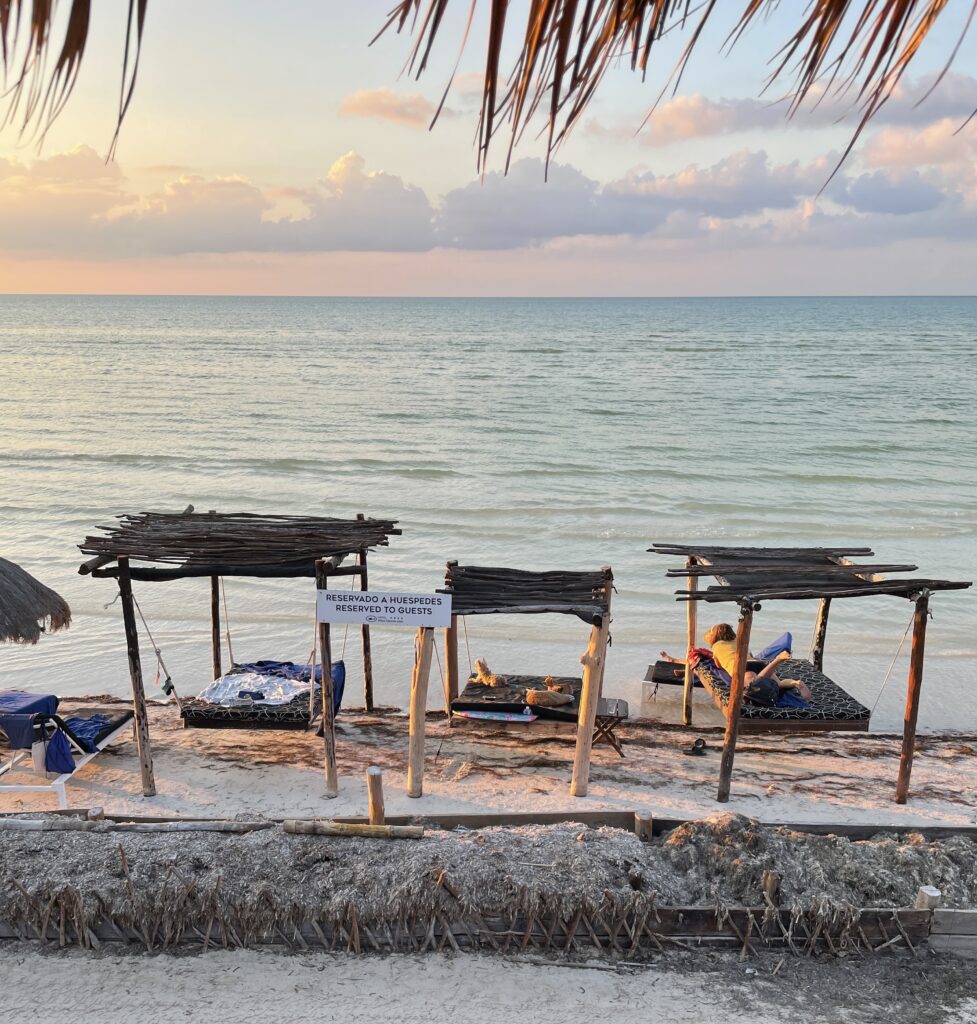 Is Holbox or Bacalar better? – Final Thoughts
It's a tough decision; both places are exceptional in their own right.
Isla Holbox has a surreal laidback atmosphere with a beautiful shallow calm beach and a fun, lively city center. Bacalar has a lagoon that's hard to experience anywhere in the world!
If you have the time, you must go to both. I've been to both many times and strongly recommend you visit both.
But if it's your first time visiting this region of Mexico, I'd favor Isla Holbox only because it's a bigger town with more things to offer.
Other islands I recommend visiting after Holbox are Cozumel and Isla Mujeres!
How do I get from Bacalar to Isla Holbox?
The easiest way is to take the ADO Bus from Bacalar to Chiquila and then take the ferry to Isla Holbox.
Does Bacalar have a beach?
No, it does not; Bacalar only has a Lagoon. The closest beach to Bacalar is in Mahahual, a neighboring small town 1 hour and 45 minutes away.
How many days is enough in Holbox?
Plan to spend at least three to four nights in Holbox. That gives you enough time to do a few activities here, try some delicious restaurants, relax, and get an overall feel of the place!
Subscribe to Travel Hiatus!
Receive updates on my latest posts, insider travel tips & the best destination guides to your inbox!
Happy & Safe Travels
---
Planning Checklist
---
Disclaimer: Please note that some of the links shared in this article might be affiliate links; this means that at absolutely no extra cost to you, we will earn a small commission for any sales generated through this article and/or this website. We recommend products/services we've either used or researched thoroughly – Thank you for supporting us so we can continue to share helpful travel content!