Is Playa Del Carmen Expensive to Visit?
Playa Del Carmen is one of the most popular vacation destinations in Mexico. Because of that, some assume it's costly to visit; so, is Playa Del Carmen expensive to visit?
On a world scale, Playa Del Carmen is a relatively inexpensive place to visit. It's considered mid-range, not expensive, but not cheap. But compared to most beach towns in Mexico, Playa Del Carmen is slightly more costly.
Fun Fact: Locals refer to Playa Del Carmen as just "Playa," and the word "Playa" means "Beach" in Spanish.
This cost breakdown guide will answer just that, telling you everything you need to know about the costs of visiting Playa Del Carmen. I'll cover budget-friendly, mid-range, and luxurious ways to enjoy Playa Del Carmen!
Considering Playa Del Carmen isn't a tiny beach town, and there are several hotels and restaurants, you can visit Playa Del Carmen on a budget.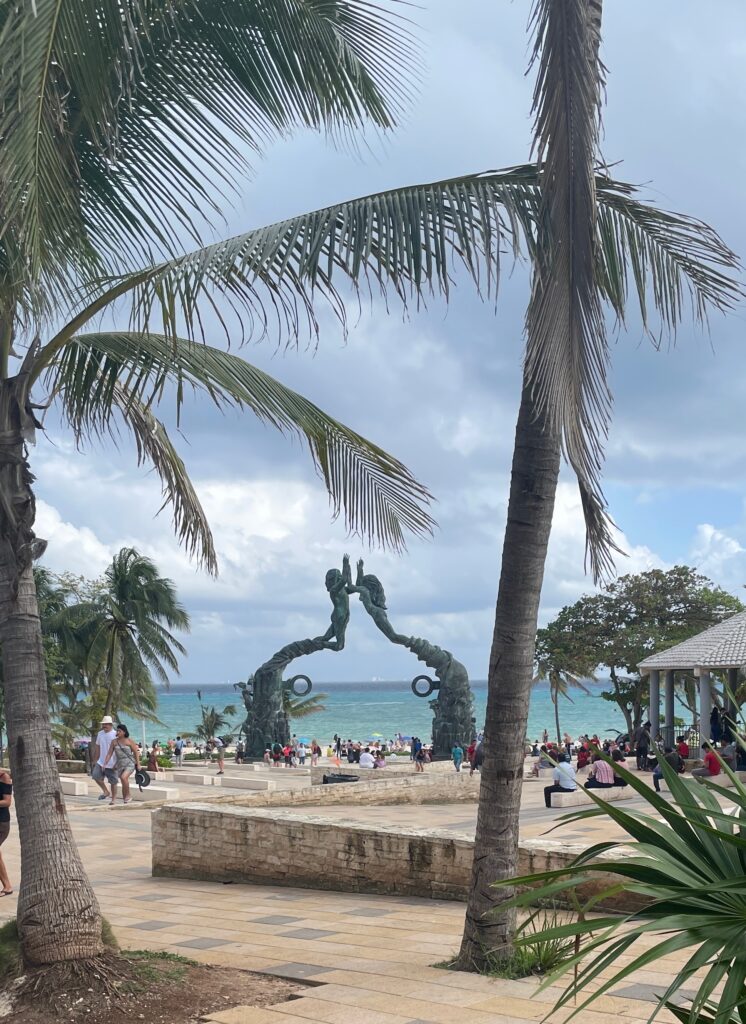 How to Get to Playa Del Carmen
The first thing you'll have to consider regarding your trip costs to Playa Del Carmen is transportation to get to Playa Del Carmen because there's no airport here.
You'll land at Cancun International Airport, the closest airport to Playa Del Carmen.
Once there, you must take a form of transportation for 1 hour from Cancun to Playa Del Carmen. The following are your options for transportation:
The cheapest way is to use the ADO Bus; prices vary from $10-20 US.
Aiport to Playa Del Carmen Trasnpoation Guide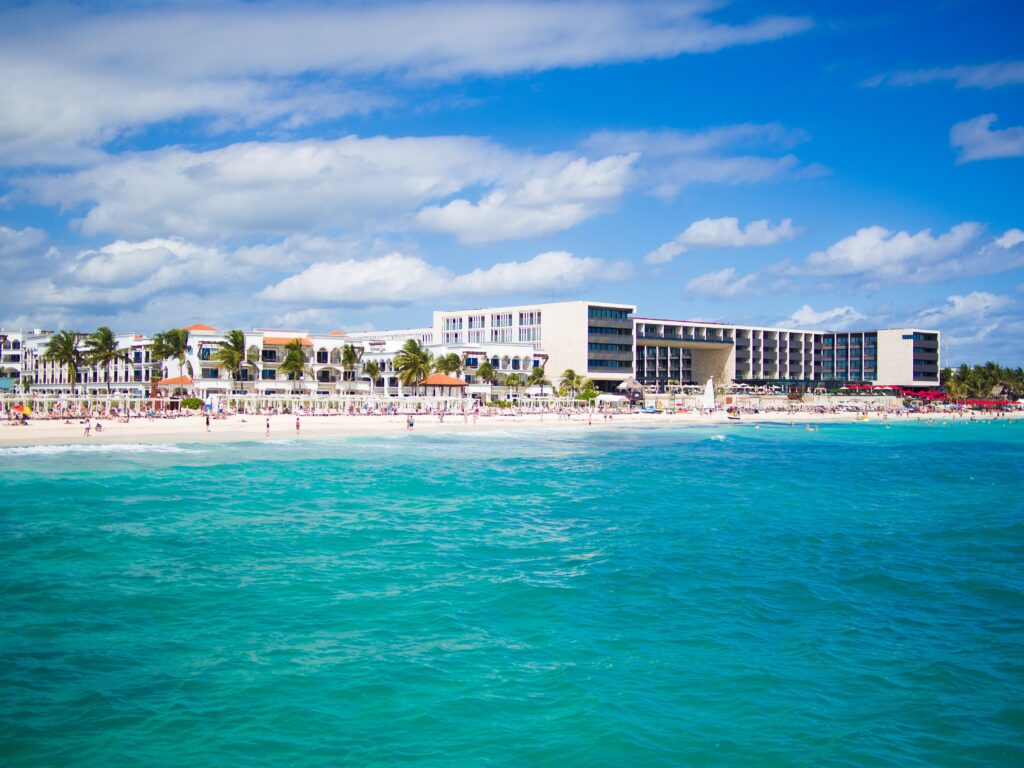 Where to Stay in Playa Del Carmen
Being the famous beach town it is, there are many hotels to choose from in Playa Del Carmen and a wide variety of accommodation options: resorts, boutique hotels, condo rentals, and hostels.
Cheap Hotel Prices: $30 – $50 US
Mid-Range Hotel Average Prices: $150 – $290 US
Luxury Hotel Average Prices: $320 – $600 US
All hotels and all accommodations cost slightly more during the high season months: November to April.
Cheap Hotels in Playa Del Carmen
Che Playa Hostel & Bar – Top-rated hostel in town with spacious rooms, clean dorms, and an excellent rooftop pool bar.
Maui Hostel – Popular hostel offers dorms and private rooms. Located steps away from the beach and 5th Ave Street.
Mid-Range Hotels in Playa Del Carmen
Mvngata Beach Hotel – 4 Stars / A boutique hotel with large spacious rooms, exceptional rooftop, and one of the best beach clubs in town.
Singular Dream Residences (Condo Residences) – Spacious condos just steps away from the main beach and located in a quieter area.
Thompson Playa Del Carmen – 4 Stars / Excellent location, steps away from the beach, and home to one of the best rooftop restaurants in Playa Del Carmen!
Luxury Hotels in Playa Del Carmen
Hilton Playa – 5 Stars / Located steps from 5th Avenue Street, Hilton Playa is a beachfront hotel with many shops/restaurants within walking distance.
Grand Hyatt Playa Del Carmen – 5 Stars / Large beachfront resort with several amenities and steps away from the main 5th Avenue Street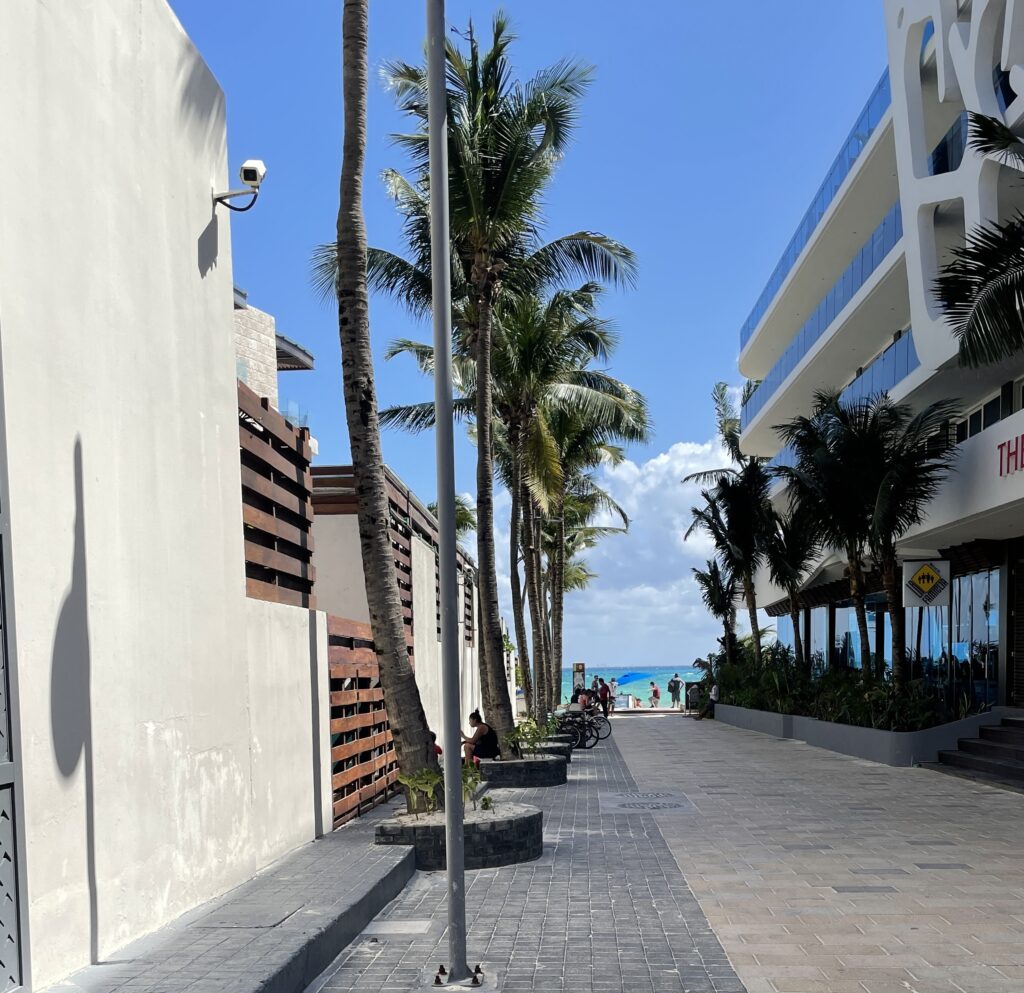 Cost of Eating Out in Playa Del Carmen
Eating out in Playa Del Carmen can be as cheap as you want or as expensive as you'd like.
Playa Del Carmen has many food options: local Mexican restaurants, fine dining options, street carts serving food, and quick grab/go spots.
As well as a wide variety of cuisine types, you can find Arabic, Thai, and Argentinian, among many other cuisine types, in Playa Del Carmen.
Eating out in Playa Del Carmen will cost you the following on average for each meal:
Breakfast: $7-16 US
Lunch is $8-17 US
Dinner is $27+ US
Cheap Restaurants in Playa Del Carmen
There are many cheap eats in Playa Del Carmen, and they are easy to find.
Here's a quick tip, they AREN'T on 5th Avenue Street, the main city center walking street. This is a tourist center, and the cost of food costs higher here.
But don't worry, these cheap restaurants I've recommended below are all within walking distance and still in the city center of Playa! Those who love tacos, refer to this guide!
El Fogon: Rated #1 restaurant in town, there are three locations. El Fogon serves all the Mexican classics, tacos, tortas, nachos, and more.
Taquerias El Nero: Popular spot with locals, this taqueria sells $1 US tacos!
Mariscos y Clamatos El Doctorcito: Those who crave seafood, which you should have in Playa because seafood is well known here. This is one of the cheaper seafood restaurants in town!
Hermanos Taco Cart: Located behind the MEGA supermarket store is this small taco cart dishing out cheap tacos all-day
Los Bisquets Obregon: A local favorite diner serving affordable, delicious Mexican breakfast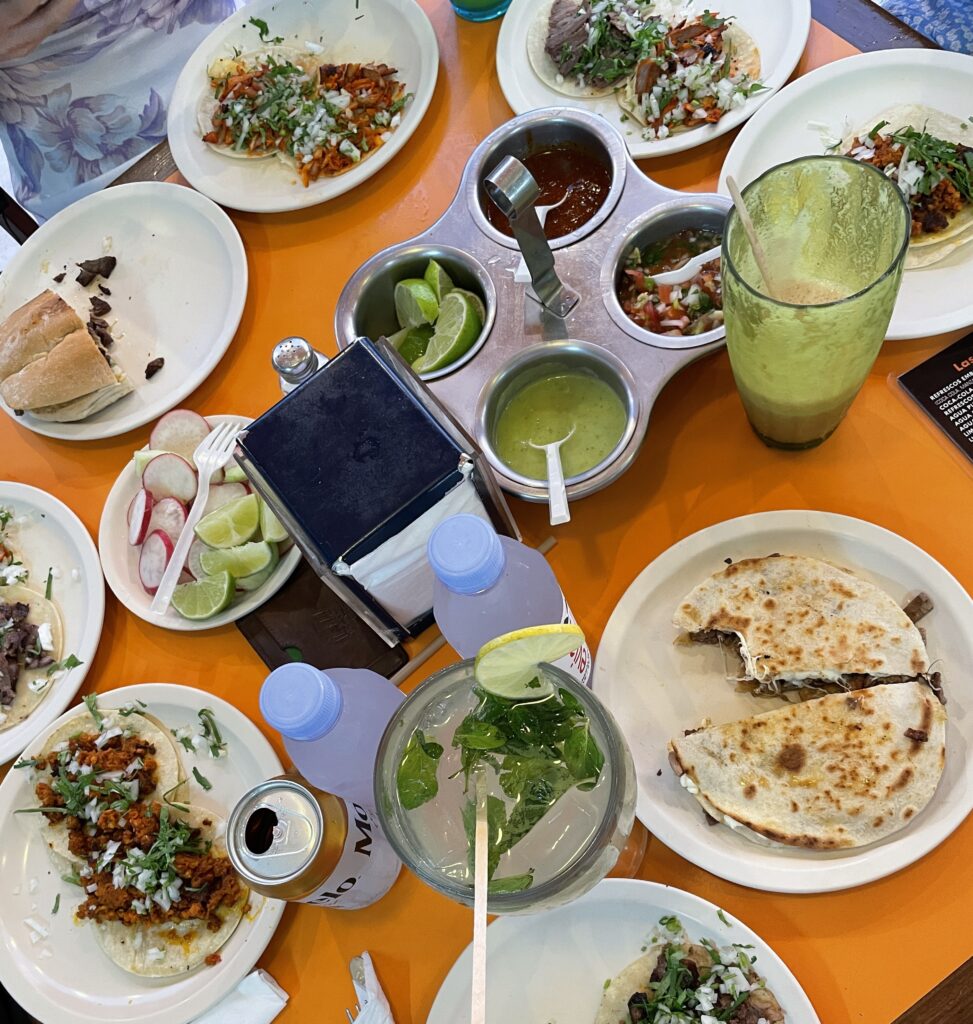 Mid-Range Restaurants in Playa Del Carmen
Most of the restaurants in Playa Del Carmen would be classified as mid-range priced restaurants catering to most tourists.
Here is a short list of my favorite mid-priced restaurants in Playa Del Carmen!
Po Thai: Known as the best Thai restaurant in town, they serve all the classic Thai dishes
Trattoria del Centro: Italian restaurant serving wood-fired pizzas, delicious kinds of pasta, and more
Rockas Jamaican Kitchen: Flavourful Jamaican restaurant, their rasta pasta has become one of the best dishes in town. Jerk chicken is excellent too!
La Cueva del Chango: Legendary Mexican breakfast restaurant; it's been here for decades, and for good reason.
Fine Dining Restaurants in Playa Del Carmen
There are several fine-dining restaurants in Playa Del Carmen to consider, serving various cuisine types.
ALUX Restaurant & Bar: Famous restaurant for being built in an underground cenote. They serve contemporary-Mexican cuisine and have an extensive wine list.
Bovinos Steakhouse: Brazilian Steakhouse serves several grilled meats, seafood, and a large salad buffet bar
Primo: Outdoor restaurant serving modern Mexican cuisine with a wide variety of flavors
Catch: Located on the Thompson Rooftop Hotel, an excellent spot for appetizers and cocktails at sunset
Tipping in Playa Del Carmen
Depending on where you're visiting from, this may come as a surprise to you. But the tipping standard is 10% – 20% when dining in Playa Del Carmen.
While it is accepted to tip in most currencies, it's best to tip in Mexican Pesos. Some tip with USD but understand that workers must convert the money and pay a fee, taking away from their overall tip.
Many restaurants accept cards, so you can use world-debit cards like WISE, where you can exchange funds in the app and pay in the local currency!
Watch Out For some waiters who will add a tip to the machine and then ask you to pay, suggesting this is the "standard" tip. This is not right and isn't allowed. It doesn't happen often, but it's happened to me once/twice in Playa Del Carmen.
Things To Do in Playa Del Carmen & Costs
Visiting a fun beach town like Playa Del Carmen, naturally, there will be many things to do in town and day trips you'll want to do.
So it would make sense to budget for activities, day tours, or trips into your visiting cost!
If you're visiting Playa Del Carmen on a budget, don't worry because Playa Del Carmen is probably one of the best places to visit. That's because the city is very walkable so you can explore and it won't cost you anything.
By the famous mermaid statues and ferry to Cozumel, there are free traditional Mayan performances some nights, and I'd recommend you check it out!
The cost of activities is subjective, and it depends from person to person, but for those looking to make a few day trips, you should budget $10-$15 US a day for your trips!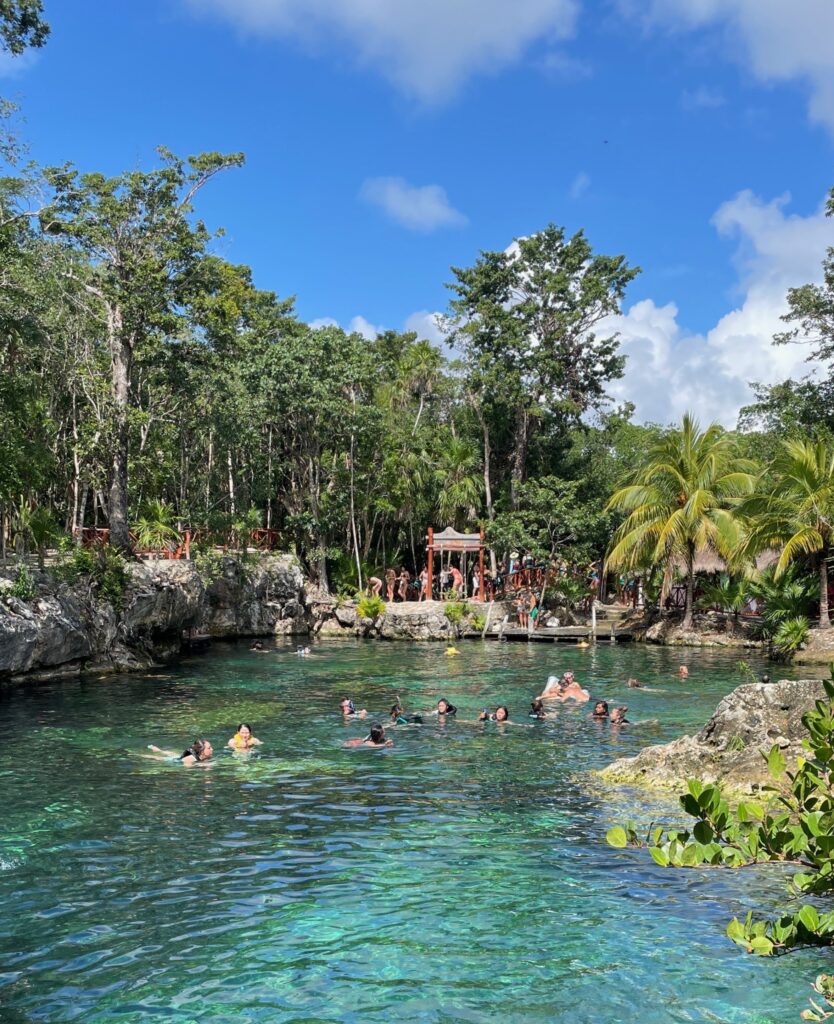 Beach Day: None of the beaches in Playa Del Carmen are private, so you can visit them all. The main beach here is a few minutes away from most hotels. Other beaches are North, and you'll have to take a taxi or walk for 20+ minutes.
Rio Secreto Cave: Famously featured in National Geographic, this underground cenote cave is a must-experience when in Playa Del Carmen
Day Trip to Casa Tortuga Cenotes: Four cenotes in one park; this is the best cenote tour to do; you'll be taken to the park, it's 45 minutes away.
Chichen Itza Trip: A trip to this region of Mexico is incomplete if you don't visit Chichen Itza; this is an all-inclusive trip from Playa Del Carmen
Taco Food Tour: This food tour is a fun time; you'll be trying several taco spots in town, and it's all included in one price!
Visit Cozumel: Located directly across the water and only a 40-minute ferry ride away is the Cozumel—an island with plenty of things to do and explore. Book your ferry tickets and go to Cozumel, it's so close, you must visit!
If you're on a budget, this is the best day trip. It only costs around $12-16 USD for a roundtrip ferry ride to Cozumel from Playa Del Carmen.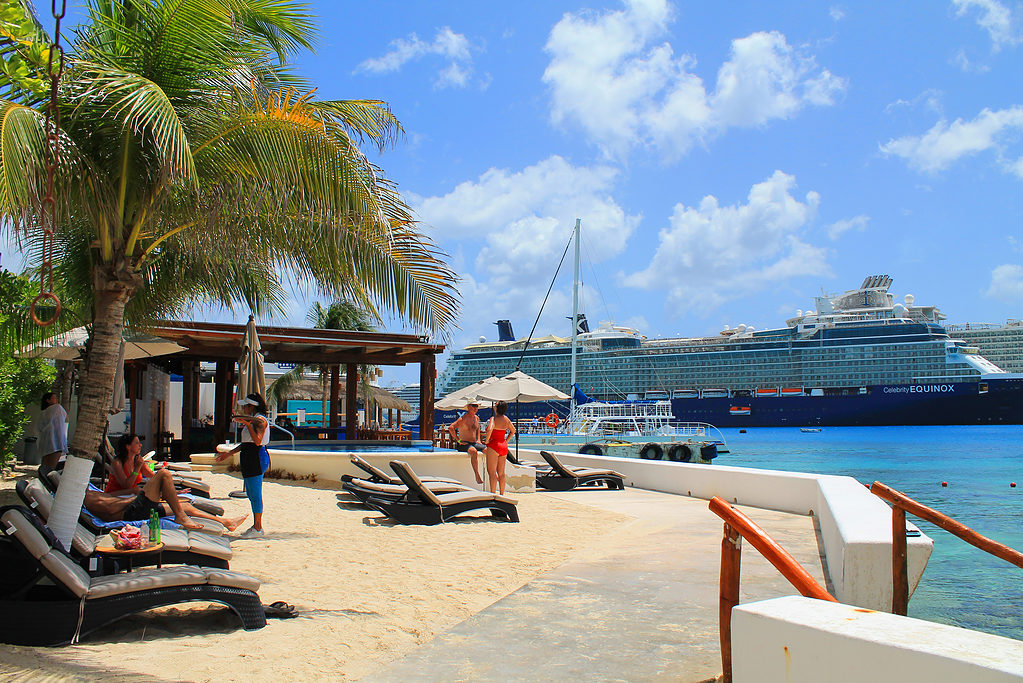 Adventure Parks
Located a few minutes outside Playa Del Carmen's city center are several fun adventure parks to consider visiting for the day.
Cave exploring, zipping from tree tops, buggy rides, and performances, all these parks have several things to do and experience!
The most popular amusement park in the Riviera Maya is Xcaret. This large park is a haven for those looking for a day full of adventure; cave swimming, buggy rides, and zip-ling from treetops — Book Xcaret Tickets Here
Those looking to have an active day visit Xplor; the park is more suitable for young adults and teens — Book Xplor Tickets Here
A unique type of adventure park, Xenses offers adventures into dark caves, gravity-defying chambers, zip lines, water activities, and more — Book Xenses Tickers Here
Getting Around Playa Del Carmen
You can visit Playa Del Carmen and never use a single form of transportation the entire time you're there. This makes Playa Del Carmen one of the best beach cities in Mexico to visit.
It takes approximately 35-50 minutes to walk from one side of town to the other. And you'd rarely have to walk from one side to the other; most hotels are in the middle of town. The beach is usually a 5-10 minutes walk from all hotels and hostels in Playa Del Carmen.
Besides walking, your only transportation option is a taxi; you'll spot taxi drivers everywhere in town. To get to most places in town, a taxi should cost $5-10 US, no more!
At Night: Make sure to walk on well-lit streets; otherwise, it's best to take a taxi!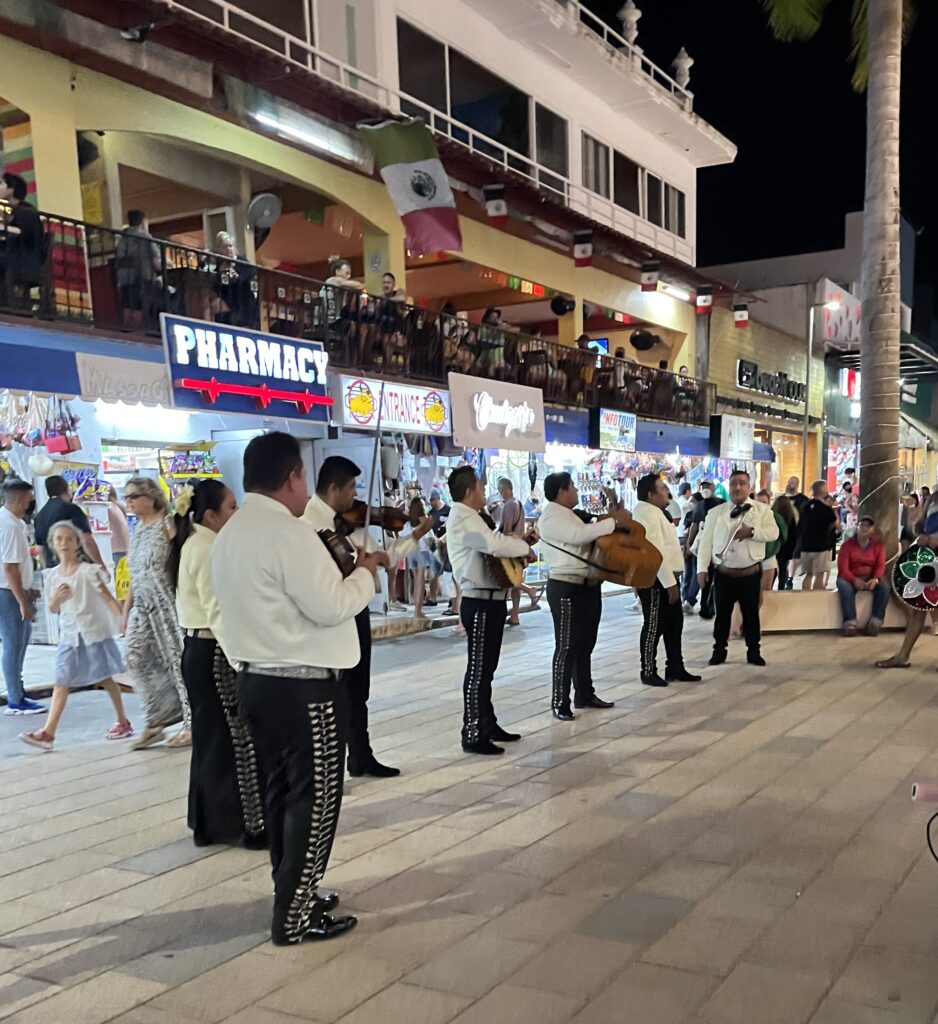 Best Time to Visit Playa Del Carmen
The weather in Playa Del Carmen and the rest of the Riviera Maya has two main seasons.
The dry season is from November to April, and the humid/rainy season months from May to October.
If you visit in the dry season, you can expect ideal weather for the beach, hot but with low humidity.
If you choose to visit during the rainy season, the weather can be a gamble; some days, it might be sunny, and others, it may rain for a portion of the day. But one thing is sure; the humidity levels are higher during this time in Playa Del Carmen compared to the dry season.
Dry Season: November to April
Rainy Season: May to October
Travel Tips for Playa Del Carmen
Here are a few tips you to keep in mind when visiting Playa Del Carmen. You should consider and follow all of them!
Don't drink tap water; you will get sick
If you are buying souvenirs or technically anything on 5th Avenue, NEGOTIATE! Some things may have prices on them, and others don't
Don't leave valuables in your back pocket; 5th Avenue is a busy street, and you might get pickpocketed
Don't purchase any illicit goods when offered on the streets
Avoid bringing with you and wearing expensive jewelry
Very late at night, if your hotel is far, take a taxi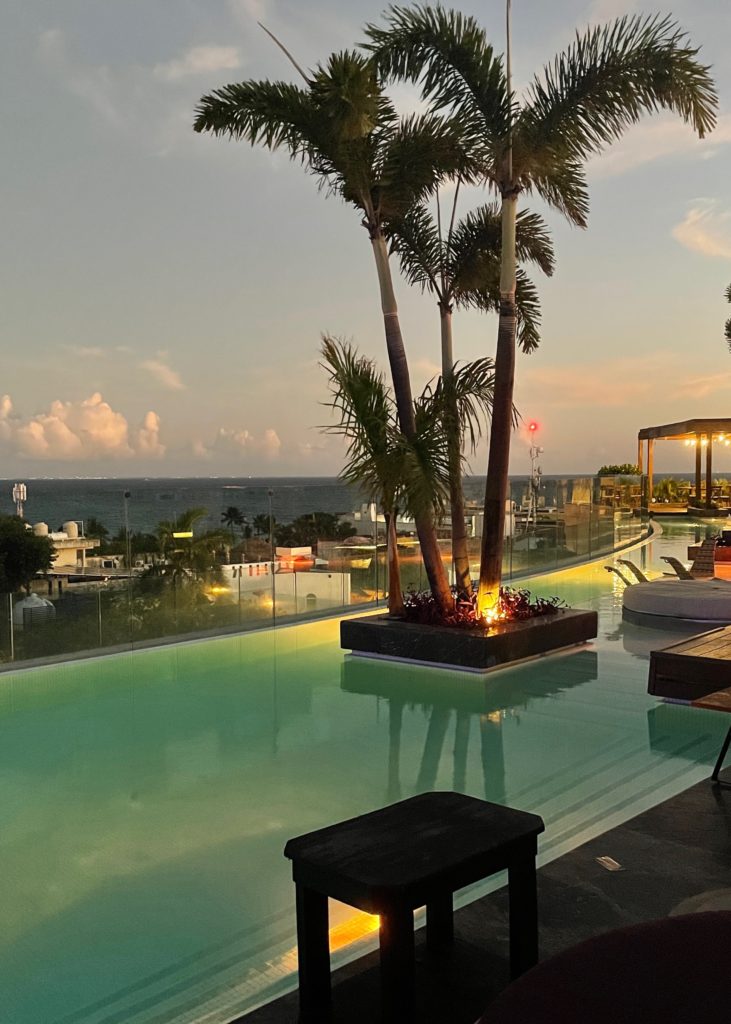 Is Playa Del Carmen Safe to Visit?
Yes, Playa Del Carmen is generally safe for all types of travelers, solo, couples, and families.
The best thing to do is stick to the tourist areas, which are most of the town's city center. As said earlier, beware of petty crimes, like pick-pocketing, beach theft, etc.
During all hours, you'll notice the Mexican national guards and police patrolling the streets to ensure the safety of tourists.
Do your best not to walk very late at night; if you do walk at night, stick to well-lit streets and shorter distances. And always be aware of your surroundings.
All that said, it's no secret that, from time to time, violence occurs between cartel members in Playa Del Carmen. While it doesn't happen, it occurs from time to time, not often, and it's good to know.
But you have nothing to worry about. Any violence that occurs in Playa is similar to any amount of violence that occurs in big cities, NYC, London, Toronto, etc.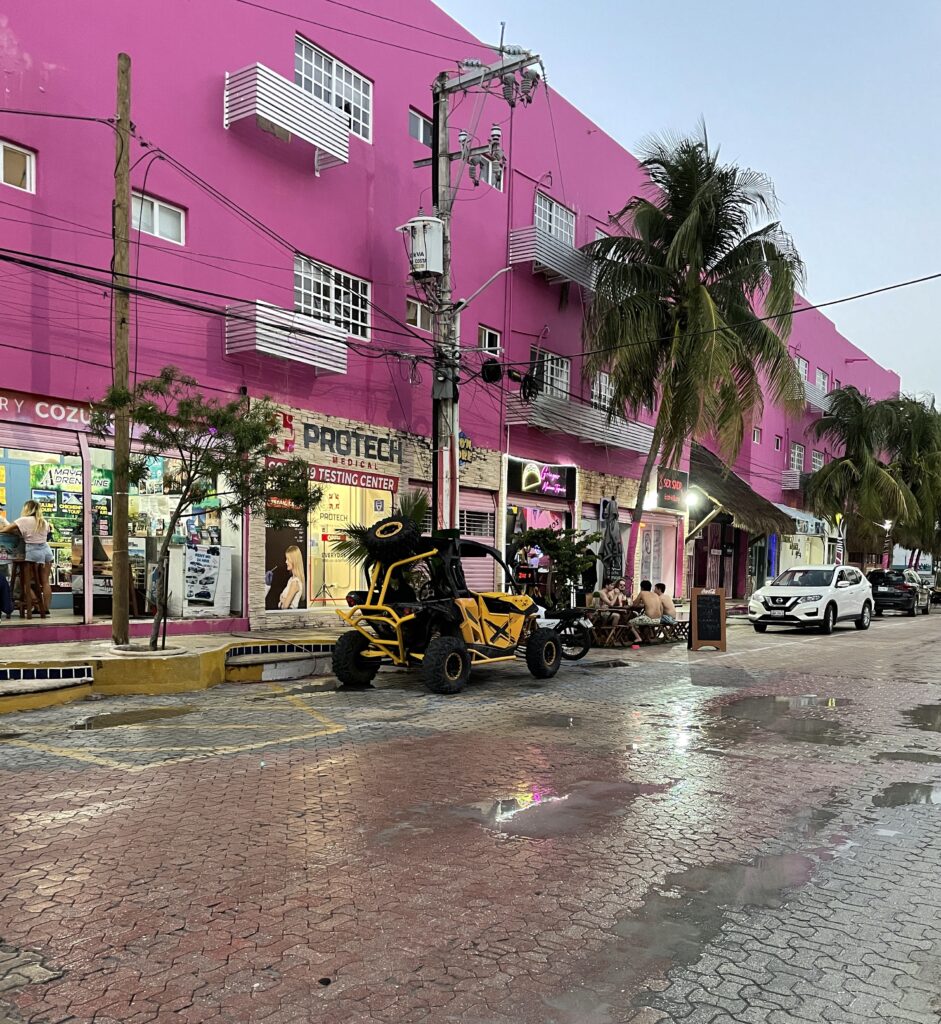 Is Playa Del Carmen Expensive to Visit — Final Thoughts
So, is Playa Del Carmen expensive to visit? It's not expensive, especially compared to many popular beach destinations worldwide.
But if you compare Playa Del Carmen to the cheapest beach towns in Mexico, it's more expensive to visit. For a good reason, though, Playa Del Carmen has many benefits and amenities to a beach town other cheaper beach towns don't offer!
I've listed three average day costs for types of visitors, considering all budget categories I've spoken of above; this will help you determine if Playa Del Carmen is expensive in your opinion to visit!
All costs below are average figures. Consider the fact hotel prices fluctuate depending on the season. You could always spend less or more compared to these average figures!
| | | | | | |
| --- | --- | --- | --- | --- | --- |
| Visitor Type | Hotel | Food | Transportation | Activities | Average Day Cost |
| Budget | $40 | $37 | $0 | $20 | $97 US |
| Mid-Range | $200 | $48 | $10 | $30 | $288 US |
| Luxury | $400 | $120+ | $20 | $70 | $610 US |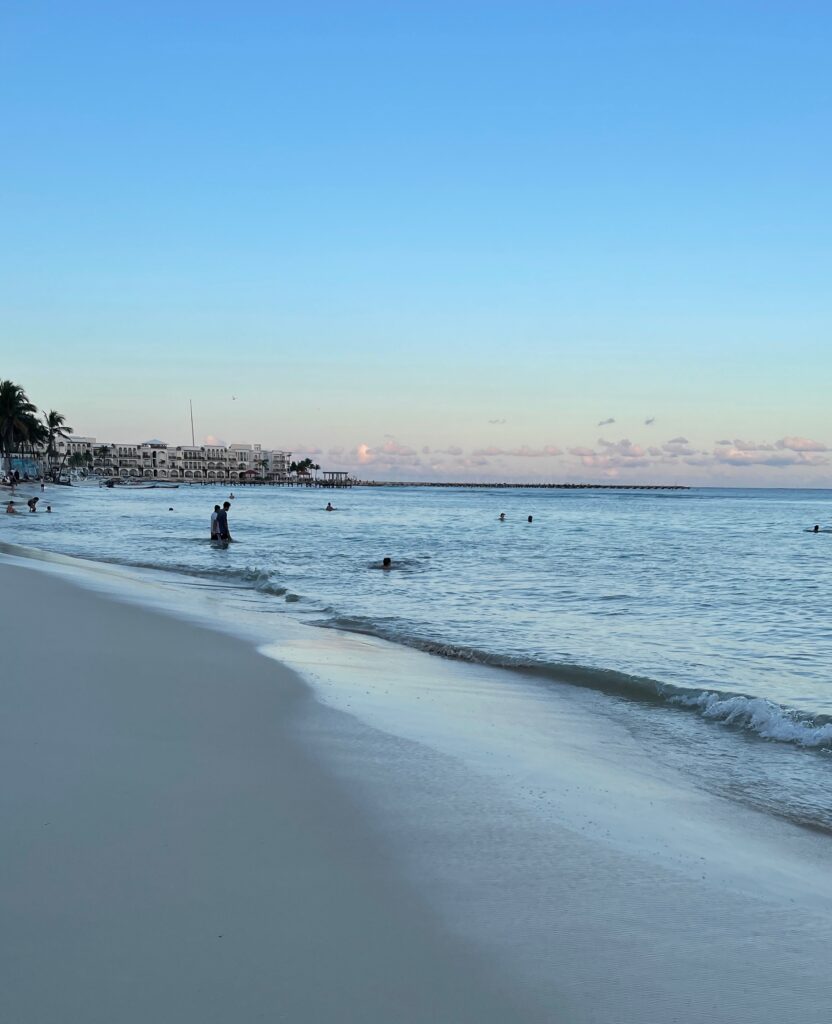 Is Cancun or Playa Del Carmen cheaper?
Playa Del Carmen is slightly cheaper than visiting Cancun, and that is because of the cost of eating out. Eating out in Playa Del Carmen is more affordable than in Cancun.
Is Tulum cheaper than Playa Del Carmen?
Tulum is more expensive than Playa Del Carmen for everything, hotels, eating out, beach clubs, everything in Tulum is costlier than Playa Del Carmen.
What is the cheapest month to visit Playa Del Carmen?
The cheapest months to visit Playa Del Carmen is during the middle of the off-season months, July and August, but expect it to be very humid during this time!
Is Playa Del Carmen or Puerto Vallarta cheaper?
Playa Del Camren is cheaper to visit than Puerto Vallarta. Hotels, eating out, and just about everything is more affordable in Playa Del Carmen than in Puerto Vallarta.
Subscribe to Travel Hiatus!
Receive updates on my latest posts, insider travel tips & the best destination guides to your inbox!
Happy & Safe Travels
---
Planning Checklist
---
Disclaimer: Please note that some of the links shared in this article might be affiliate links; this means that at absolutely no extra cost to you, we will earn a small commission for any sales generated through this article and/or this website. We recommend products/services we've either used or researched thoroughly – Thank you for supporting us so we can continue to share helpful travel content!