Cozumel, Mexico Best & Complete Travel Guide
Cozumel is one of the most beautiful islands in Mexico. The stunning island is known for its stretches of beaches, luscious green jungles, and scuba diving adventures.
Like many Caribbean islands, Cozumel has plenty of turquoise waters and palm-lined beaches.
The coral reefs off the coast of Cozumel are the second-largest barrier reef system in the world; it's part of the Mesoamerican Reef. This makes the island a well-known destination for scuba diving and snorkeling.
A great feature of Cozumel is the size of the island. The island measures approximately 30 by 10 miles in length.
It's small enough to visit most of the island in a few hours but big enough to support a lively town and many activities.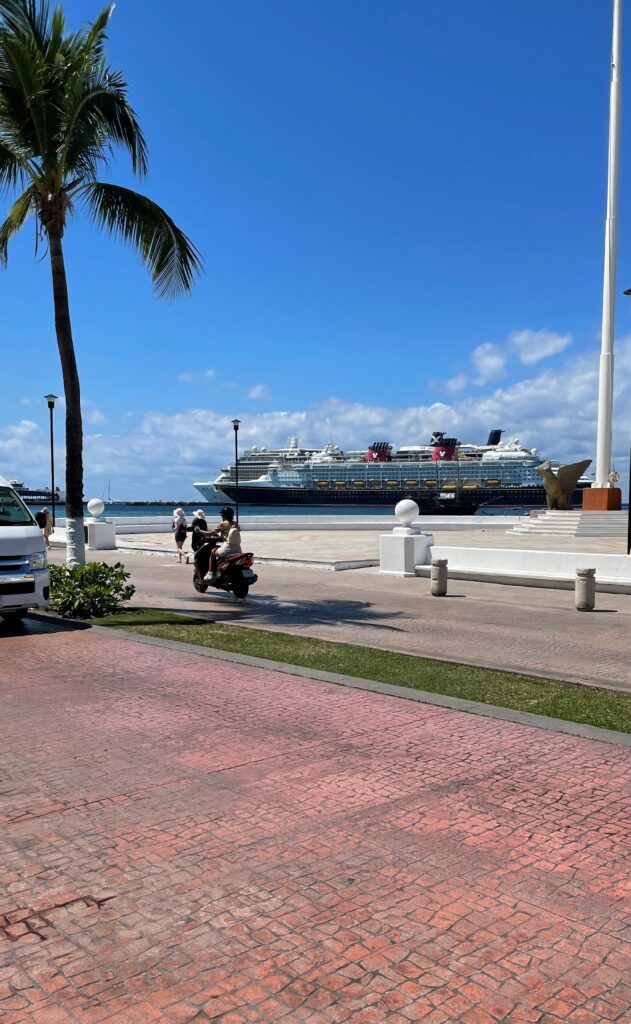 Cozumel is a popular place for cruise ships to dock for the day. Many cruise line ships take people to Cozumel, drop them off to spend only a few hours exploring the island, and then depart before they can experience the island. Not the ideal way to visit Cozumel, and I wouldn't recommend it.
Random Fact: San Miguel de Cozumel is the largest city in the Cozumel Municipality
Having visited Cozumel a few times over the years, I'd suggest you stay there for a few nights at least. There's plenty to see and do; you can experience an island lifestyle for what it is.
Also, the island is quite accommodating. In the city center, you will find several restaurants, shopping, banks, etc. So staying in Cozumel for a few days or weeks isn't hard.
What's the best part about Cozumel? Not only is it beautiful, but it is also one of the cheapest Caribbean islands to visit!
In this post, I will share with you all the things highly suggested to do in Cozumel. As well as the best Cozumel hotels, resorts, and hostels for each price point. And last but not least, restaurant and bar recommendations; I always say that a vacation isn't perfect without great food!
How to Get to Cozumel, Mexico?
You can either fly into Cozumel's airport if you find a direct flight to Cozumel International Airport.
Otherwise, you must fly into Cancun's International Airport, the leading international airport for the Quintana Roo region of Mexico.
From there, you need to go to Playa Del Carmen; you've got a few options to get to Playa del Carmen. You can take a taxi, an airport shuttle, or the ADO bus. It takes 1 hour to get to Playa del Carmen from Cancun International (CUN) or arrange Private Transporation from Cancun Airport to Playa Del Carmen.
Once you've arrived in Playa Del Carmen, you must head to the ferry dock. The ferry ride from the pier to Cozumel is around 45 minutes. The two ferry companies operating at this pier have boats coming back and forth every 30 minutes.
Tickets for the ferry cost around $14 – $20. If you choose to purchase a ticket at the pier, expect to pay more and be asked to pay in USD. Purchase your ticket in advance using this link.
Later this year, you can take the Mayan Train to Playa Del Carmen and then the ferry to Cozumel.
READ ALSO: Playa Del Carmen Guide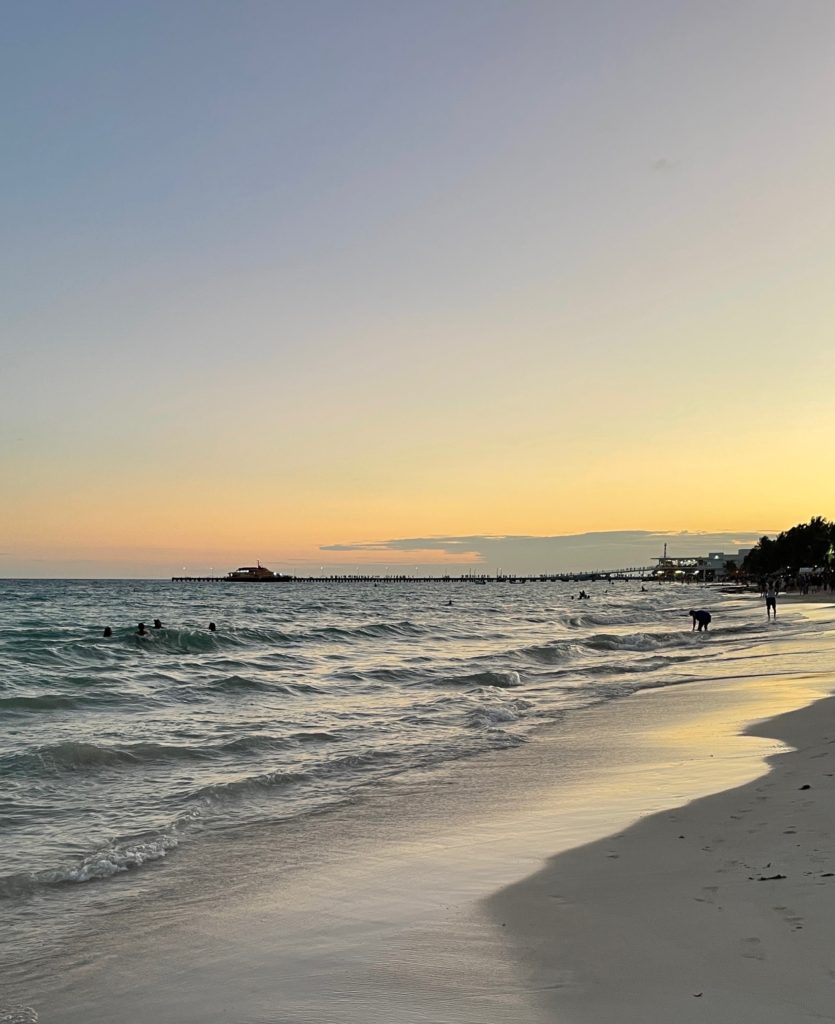 Things To Do in Cozumel Mexico
This island is full of things to do for just about everyone! So you won't have to be worried about being bored on the island!
If you're the adventurous type, there are plenty of diving locations or different ways to drive around and explore the island. Or perhaps you're more likely to relax wherever they go; Cozumel has plenty of quiet beaches and spas to visit.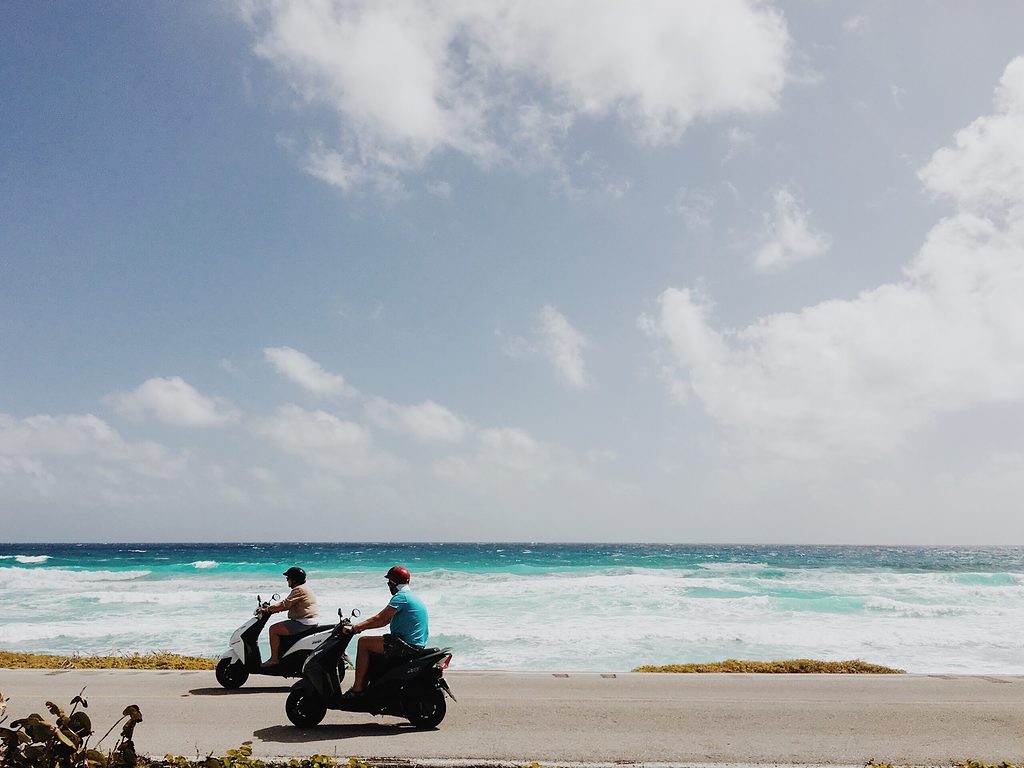 The best way to see the island of Cozumel is by either scooter, bike, or ATV.
You are riding around the island with the Caribbean island wind blowing in your hair and sea views during your entire ride. What's better than that?
This is a great way to enjoy the beautiful scenery. I highly recommend renting either a Bike, Scooter, or ATV.
Although the island measures 48km in length and 16km wide, the Northern part of the island is not accessible by regular transportation.
You can start in downtown San Miguel and then head south along the Caribbean coast, which runs 20 km to the southern tip. For those looking to use taxis, they're more expensive here compared to other cities in Mexico.
My favorite activity on the island was taking our snorkeling gear in a backpack, driving our ATVs around the island, and stopping in secluded, remote areas with no one around to jump in the water and snorkel!
Average pricing for these forms of transportation goes as follows, a scooter with insurance will cost you around $25 US a day, and Bikes go for about 10 US a day.
Car rentals vary depending on your choice but start at about $50 US a day; ATVs go for about 40-65 US a day. For scooter rentals, I recommend Fiesta, a local rental company.
For bike rentals, have a walk around downtown; ensure the bike's condition is good before leaving, and don't overpay! Same thing with ATVs.
For those looking for a unique adventure, I recommend an ATV Tour through the jungles or a Horseback Riding Tour on the beach!
Spend the Day at a Beachclub
For those looking to relax for the day, go to one of the many excellent beach clubs Cozumel offers.
A trip to the island isn't complete without a full day at a beach club. Food service and drinks while you're under an umbrella of shade on an island? It doesn't get any better.
Many beach clubs offer day passes, including everything you'll need for the day; tickets are cheaper when you purchase them in advance rather than at the beach club. I will share a "Buy Your Pass" link under each place.
This is a perfect way to relax by the beach. Beach Clubs have many nearby amenities, including sunbeds, lockers, bathrooms, and showers. As well as delicious restaurants and snorkeling spots.
4 Best Beach Clubs in Cozumel:
Mr Sanchos Cozumel
What's Included:
All You Can Eat Menu / Daily Buffet
Unlimited Drinks (Open Bar)
Lounge Hammock or Beach Chairs
Ocean Kayak
Opening Hours: 8:00 AM – 5:00 PM
Paradise Beach Cozumel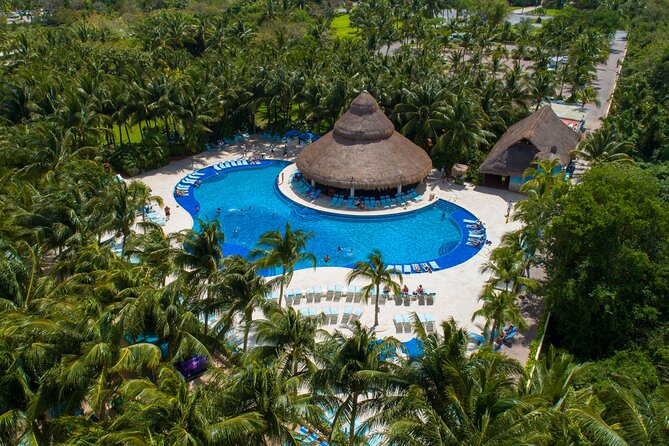 What's Included:
Entry Fee
High-quality food and drinks
Sol & XX Beer
Lounge Chairs
Wi-Fi
Heated Pool and Water Showers
Bathrooms and Changing Rooms
Opening Hours: 8:00 AM – 6:00 PM
Playa Mia Beach Breaks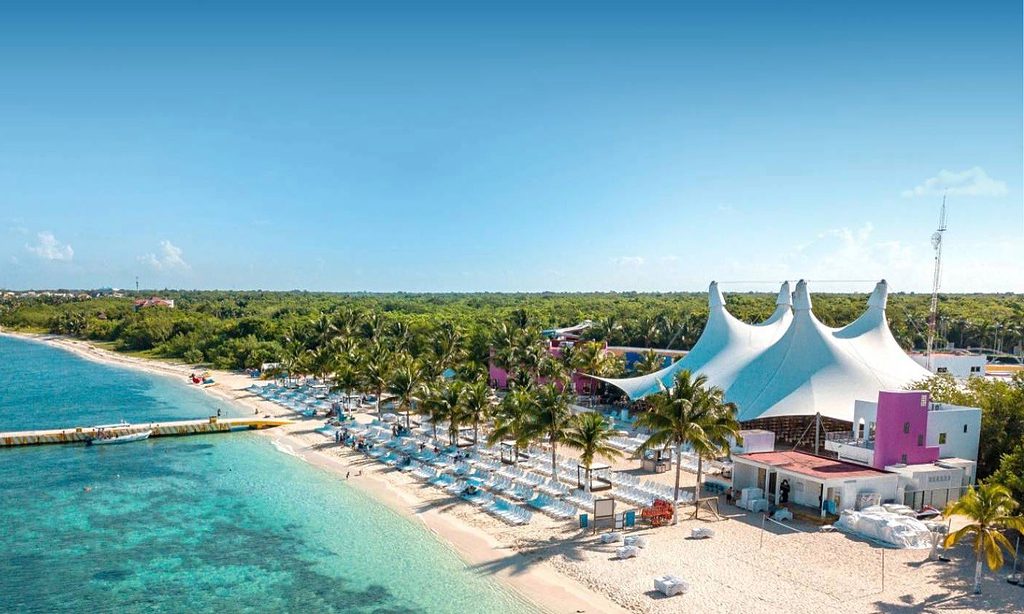 What's Included:
Day Pass
Access to Floating Park
Kayaks and Paddleboats
Not included – Upgraded is Needed for the Buffet and Bar
Opening Hours: 9:00 AM – 6:00 PM
Del Mar Latino Beach Club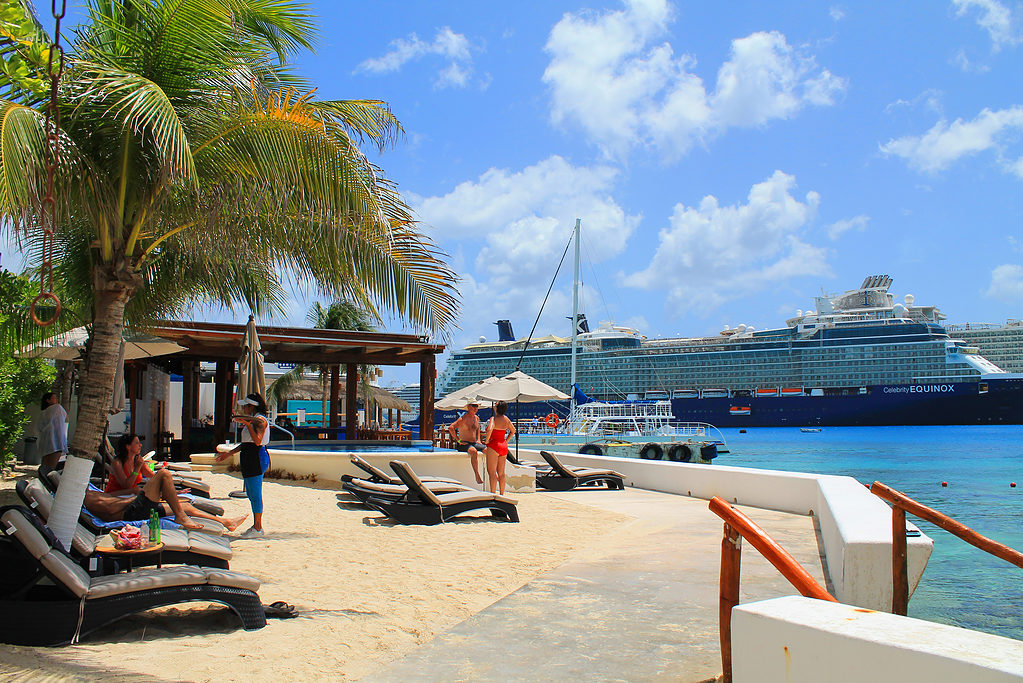 What's Included:
Cold & Hot snacks between 10:30 AM- 4:00 PM
Open Bar
Facilities, Lounge chairs, Umbrellas
Pool, Restaurant & Restrooms
Wi-Fi
Opening Hours: 9:00 AM – 5:00 PM
Cozumel Scuba Diving & Snorkeling
Diving and snorkeling are two of the most recommended activities on the island.
You'll notice this because everywhere on the island, you will spot snorkeling or diving gear to either purchase or rent.
As mentioned, the island is blessed with the second-largest barrier reef in the world (after the Great Barrier Reef in Australia), making the waters of Cozumel pretty picturesque below.
It stretches over 600 miles, from Contoi island in the north to Yukatan in the east to the Bay of Islands of Honduras. Most reefs in Cozumel belong to the Arrecifes de Cozumel National Park. They are therefore protected and maintained as virgin as possible.
Most diving and snorkeling tours accommodate both beginners and advanced divers.
There are various Diving & Snorkeling tours; browse my recommendations below and see what best suits your needs!
Invisible Boat Snorkeling Aventure
For an in-depth look into the famous reef barrier on the island's coast, check out ReefsOfCozumel.
Visit Isla de Pasion
This stunning island is worth visiting, and it's conveniently not too far from the main city center of the island.
Isla de Pasion is a long, beautiful white sandy shoreline separated from the main island by a line of thick mangroves.
It is a beautiful and peaceful place that is almost always deserted. Although the water is murky, you might see fauna underwater if you go a bit further. Take your snorkel and mask with you.
Here's how to get to the Isla de Pasion. First, you need to make your way to the Colibri fishing pier. One main road will take you there; head over by your choice of transportation.
Once you're there, you'll notice several boats docked, ready to take you to Isla de Pasion. Expect to pay around $10 US per person.
One negative part about this place is the sand files; they're a tad viscous here. So keep an eye out for that.
Explore Punta Sur Eco Beach Park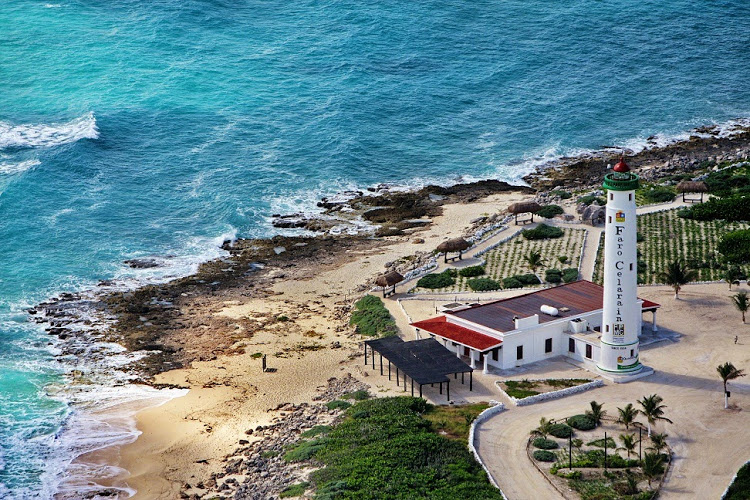 Punta Sur Ecological Park has one of the most beautiful beaches on the island. Visiting Punta Sur is a must-do in Cozumel, and there is so much to do there!
It is a natural state preserve that spans over 1,000 hectares. It includes a variety of flora and fauna as well as lagoon systems.
Here, nature lovers will find paradise. Punta Sur Ecological Park offers many activities and enjoyments, including:
Snorkeling along the reef
Relaxing on a hammock in the Beach Park
Exploring the Museum Lighthouse
Take a boat tour in the lagoon to see a wide variety of bird species, crocodiles & more.
General Information About Punta Sur Park
Entry Fee
Price Adults USD 18
Children USD 11 ( 4 to 12 years old)
Children under 3 Enter Free
Opening Time:
Monday to Saturday
9:00 am to 5:00 pm
Restaurants:
Anemona de Mar
Tikin Xic
Snorkel Equipment Rental
Available in Playa del Cielo – 15 USD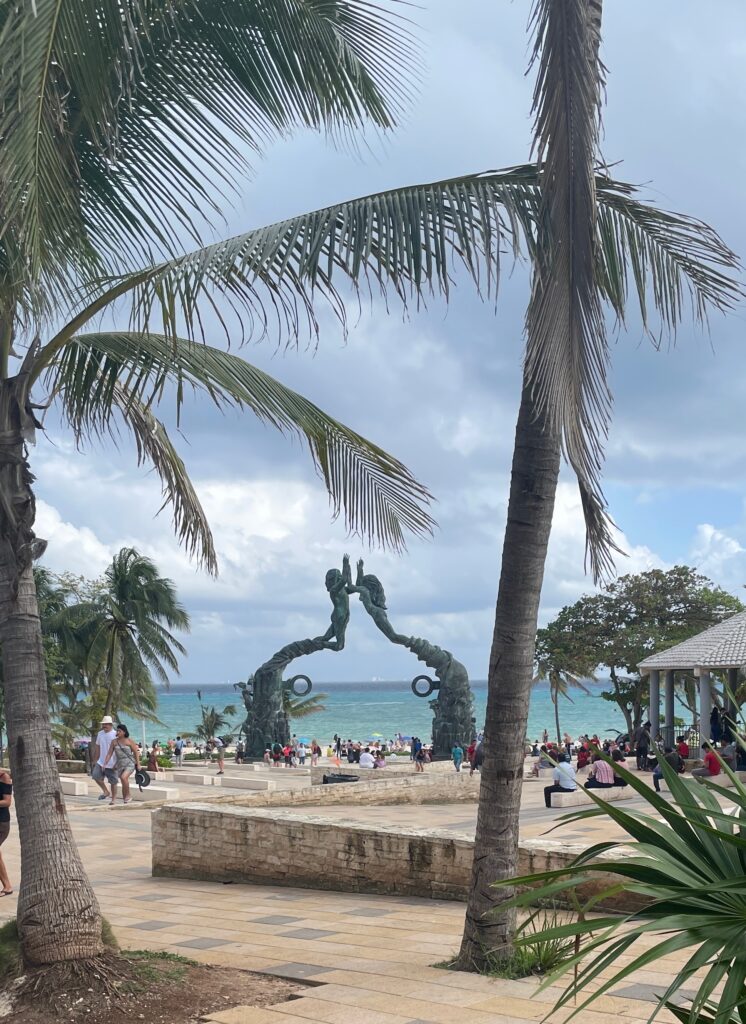 This idea is for those staying on the island for their entire stay. If you're visiting Cozumel and spending your whole vacation there, I suggest you visit Playa Del Carmen and explore it.
An alternative option I'd suggest is splitting your time between Playa Del Carmen and Cozumel.
Of course, you can visit in the afternoon and go back to Cozumel, but if you'd like to experience the beachside city, I'd recommend you get a hotel for a night or two!
There are many things to do in Playa; you can visit cenotes nearby, walk through the tourist full 5th AVE street or dine at the many restaurant options here.
For foodies, you'll find a more extensive selection of cuisine options here verse Cozumel. Check out my Playa Del Carmen Restaurant guide for a complete guide on restaurants you must visit!
Best Cozumel Hotels & Resorts
Presidente InterContinental Cozumel Resort & Spa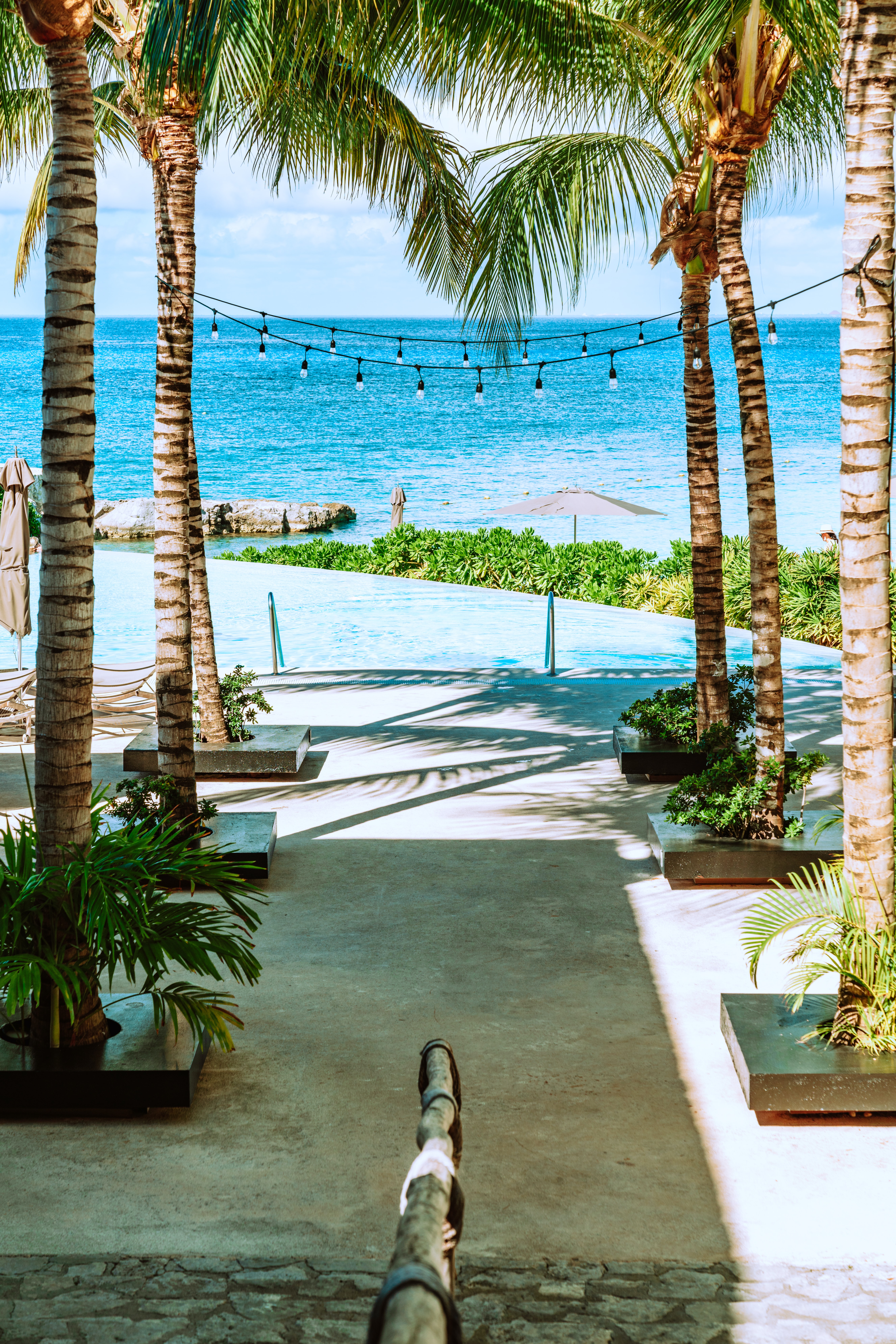 If you're looking for a luxurious stay on the island, look at Presidente InterContinental.
This hotel has been ranked #1 for years for luxury Cozumel resorts. The resort has a stunning private beach, a 5-star Spa, and floating cabanas on the water.
The hotel also provides certified dive trips offered by hotel staff. Many other amenities are here, including two tennis courts, excellent room service, two heated pools, and much more!
Rooms at this resort are spacious and comfortable. Most importantly, the food here is excellent. The two main beaches on the island are close by as well, Playa Santa Maria is 2.7km from the property, and Caletita Beach is 2.9km away.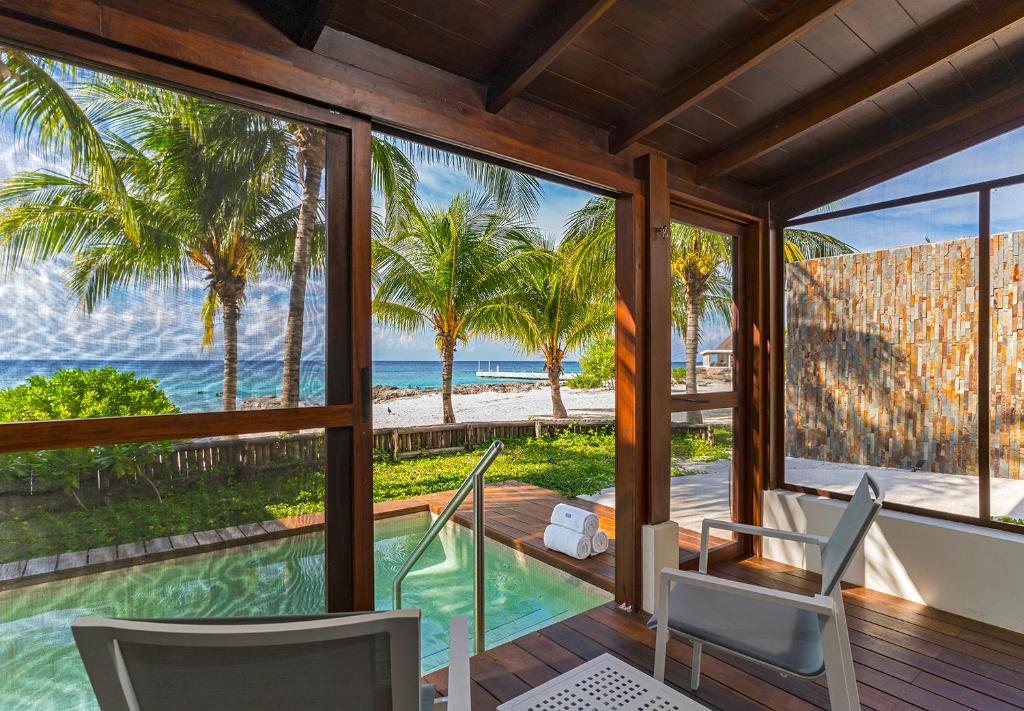 The Westin Cozumel offers a private beach and water sports facilities.
You can also enjoy a meal at the main restaurant with an outdoor pool and sun terrace. The property has three swimming pools.
There is free WiFi throughout the property. Guests have many fun activities, such as golfing, snorkeling, and diving! Isla Pasion is only 6km away from the hotel.
Best Cozumel All Inclusive Resorts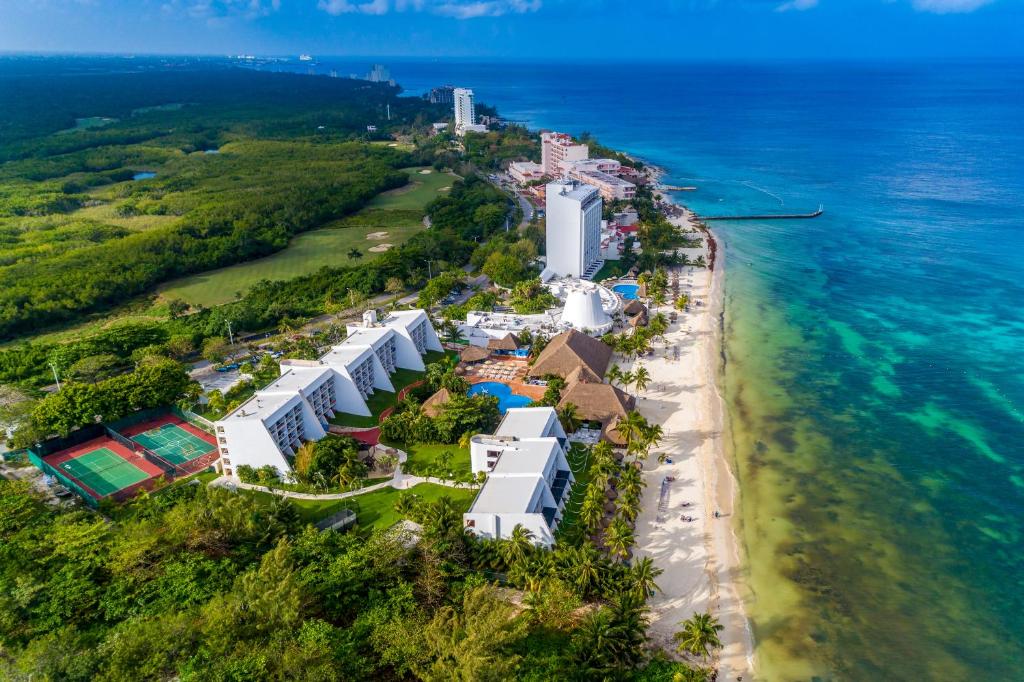 Melia is an all-inclusive resort offering spa services, child care, water sports, three restaurants, and five bars on the property.
The resort offers many activities and attractions for guests to take advantage of. The front desk can assist with arranging snorkeling, windsurfing, or kayaking.
Other daytime activities on the hotel property include cooking classes, beach volleyball, and more. This makes Melia one of the best Cozumel all-inclusive resorts.
In the resort, you can find Cafe Paraiso, which offers fine dining a-la carte menu. For breakfast, La Isla offers a buffet. La Lguana offers snacks throughout the day.
If activities aren't your thing, you can always relax by the poolside bar.
Fiesta Americana Cozumel All Inclusive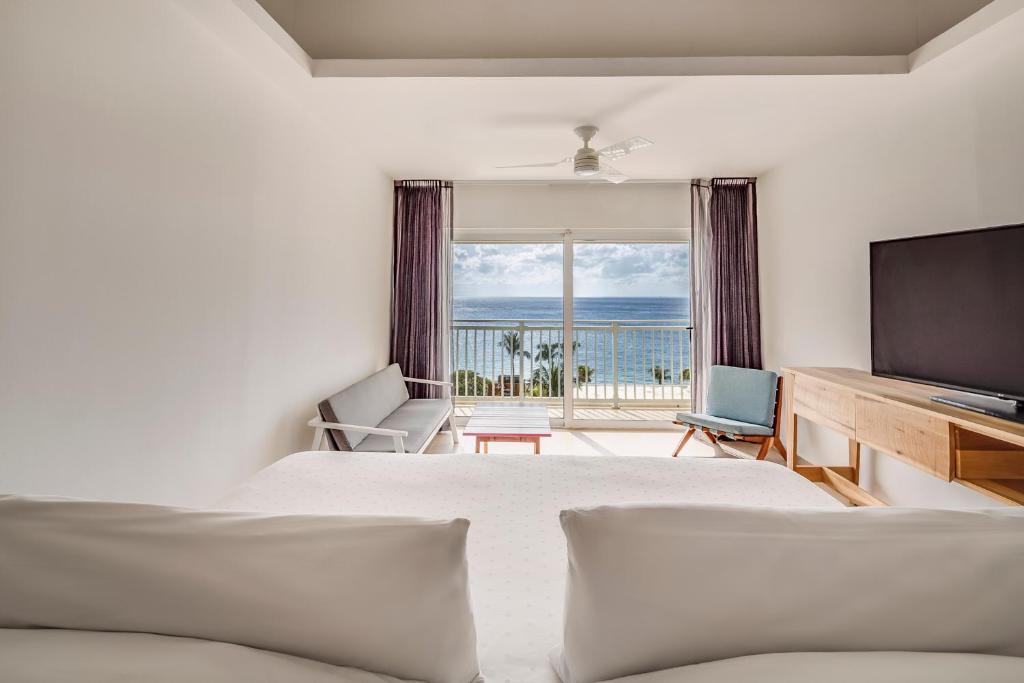 Fiesta Americana Cozumel All Inclusive offers a spa center and a private beach.
The resort has plenty of water sports to partake in. As well as a swimming pool. The hotel has a fitness center and spa as well.
All rooms come with complimentary free WiFi and flat-screen television. Breakfast here is American style. The property is conventionally only 1.3km from Playa Santa Maria
Cozumel Hostels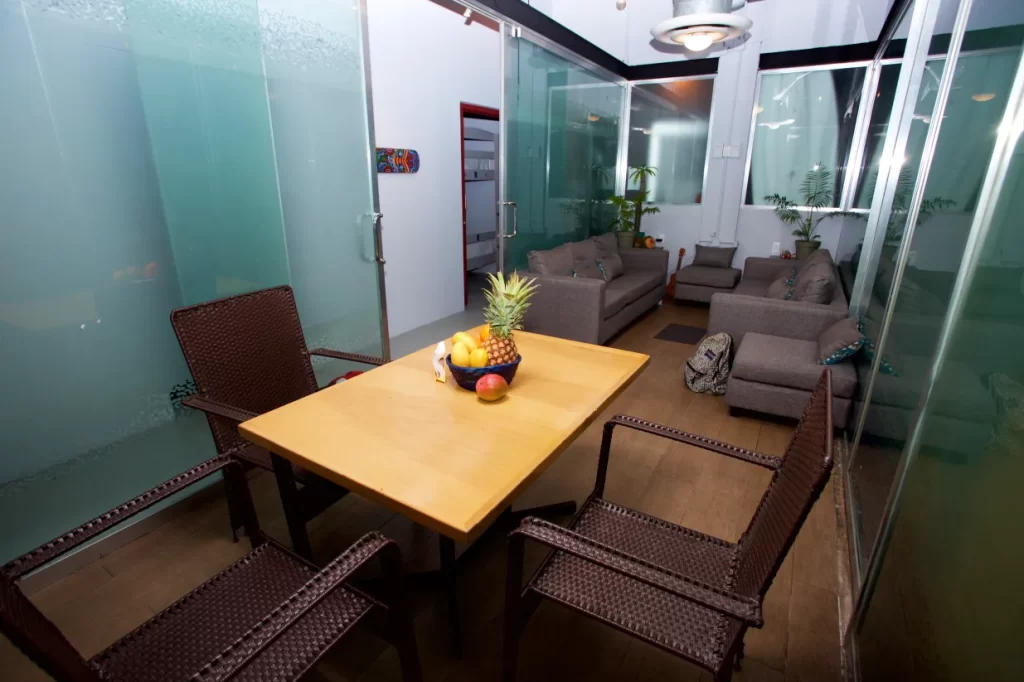 Hostel Auikyani is conventionally located in San Miguel's lively city center, with views towards the ocean.
Because of its location, the hostel provides quick access to many attractions on the island, including clubs, restaurants, bars, and more!
The hostel is just two blocks from the main ferry pier, going back and forth between Playa Del Carmen.
There are shared rooms here that host 4 to 6 people at once. All rooms have air conditioning, free high-speed WIFI, and personal lockers. The main kitchen area has a fridge, kettle, and more, but no stove.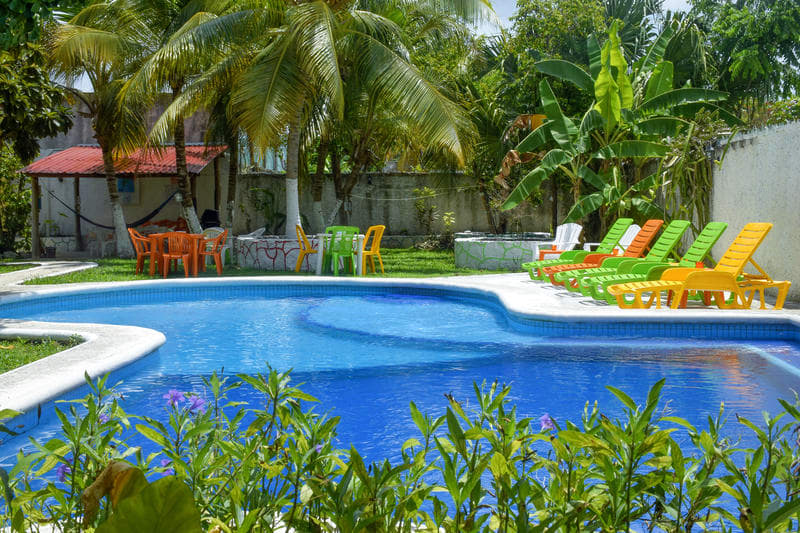 The dorms at Amigos Hostel all come with their own bathroom and shower. Air conditioning is available in the hostel from 10 pm to 8 am.
The hostel has a large tropical fruit garden with a large swimming pool. And the communal space here is fully equipped with a kitchen, pool table, small library book exchange, and much more for guests to enjoy.
They've got snorkel gear to rent on-site as well.
Amigos Hostel is about half a block from the local avenue, with several cheap restaurants. You're close to banks, pharmacies, and much more, all within walking distance. The hostel offers street parking for anyone renting a car.
READ ALSO: Puerto Vallarta Guide
Best Restaurants in Cozumel
Casa Mission
One of the best restaurants on the island, serving plenty of seafood dishes and various Mexican cuisine dishes.
Surf and turf fajitas are sizzling on a hot pan, coconut shrimp, guacamole table side, and much more.
The food is excellent here, and the atmosphere also pairs well. Set in an old-style building with a stunning garden. The restaurant is a popular spot for celebrations and weddings.
I highly recommend attending the Lunch and Tequila Tasting tour hosted here.
Buccanos is primarily a beach club but has a restaurant serving delicious food. Grilled octopus served under a fresh mango salad, guacamole served with fried tortilla chips and plantains, and countless shrimp dishes.
For those looking for something simple, they've got great burgers and tacos too.
I may not have included Buccanos in my list of best beach clubs, but if good food is an essential part of your day at the beach, you should come here!
If you're looking to visit Buccanos, I recommend you attend their Full-Day Snorkeling Adventure tour. Afterward, you can follow the day by dining at Buccanos, which is convenient!
La Choza Cozumel
Located in the heart of the city in the downtown area of San Miguel, La Choza is an ideal option for both lunch and dinner.
This Mexican restaurant serves all the classics, such as tacos and seafood dishes.
Traditional Mexican cuisines, such as Mole Poblano Chicken, and Puerco Entomatado, aren't as popular but served here as well. The lobster skewers and Chili Relleno are a must-try here!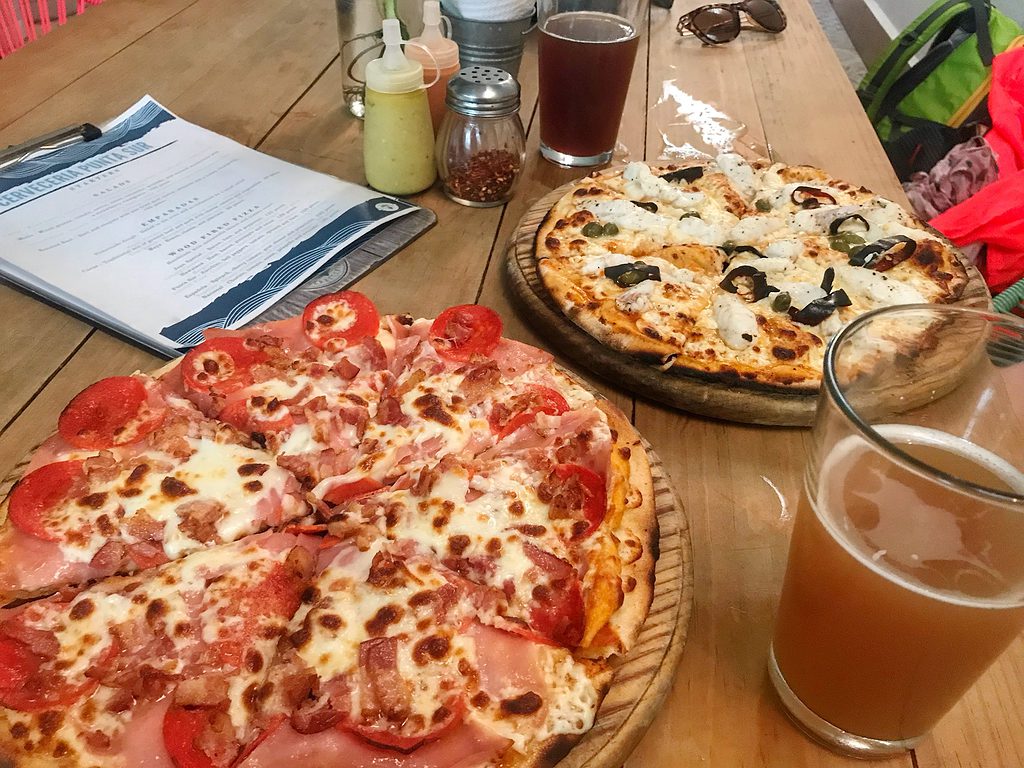 Open in 2017, this microbrewery/pub has focused on serving freshly crafted beer on-site with excellent pub-style food to go along with it.
You've got all the foods you want at a Mexican-style pub, different empanadas, choripan (an Argentinian sausage served with provolone cheese and chimichurri, lionfish ceviche (subject to availability), and more!
The pub is most famous for its pizzas; they've got a beautiful wood-fire burning oven on site and have taken full advantage of it, classics including margarita, Hawaiian pizza, and others like cebolla caramelizada and lionfish pizza.
Cheap Eats in Cozumel
Chilangos Taqueria – Breakfast Option
Maple Bakehouse Panaderia – Bakery, Light Breakfast
Corazon Ceontento – Breakfast Option
Taqueria El Pique – Great Mexican Food
Los Sera's Tacos – Pizza and Tacos
Mister Taco – Best Taco Place in Cozumel
Cozumel Weather All-Year Round
The best part about the Cozumel being in the Caribbean is the warm tropical weather all year round.
With that being said, there is a rainy season that passes through the months of May – October. The rainy season consists of frequent heavy rainfalls throughout the day.
January – April
This is the "peak" season for tourists. It's a beautiful time of year, with clear and warm weather. So expect to see a busier crowd in popular cities to visit in Mexico.
But for those who want peace, it's pretty easy to find it on the island! Cozumel is a large island with many empty beach shores.
May – October
May through October are the hottest and "rainiest months" of the year. However, there is still plenty of sunshine. These months are considered a "low season" for tourists.
It's not nearly as busy as other months of the year. The water is nice and warm, making it perfect for snorkeling, swimming, and diving.
November – December
Many consider the autumn-winter months to be the best time to visit Cozumel. Hurricane season has passed by then, and the summer's overly hot, humid temperatures have passed.
Humidity levels drop beginning of November, and the Caribbean Sea remains warm. Evenings can get a tad chilly, but a light sweater is all you need.
When is the Best Time to Visit Cozumel, Mexico?
It is easy to plan for the tropical climate of Cozumel. There isn't the best time to go; Cozumel is perfect for visiting throughout the year because of its ideal temperature.
The only thing to consider is if you'd like to avoid large tourist crowds, you should avoid the months of January through April. This is considered "peak season" throughout Mexico.
Though this is my favorite time to go because I don't mind crowds, flights are cheaper during these months to Mexico than around November and December.
November and December are favorable for many, it's quieter there, but flights to Mexico cost more during this time of year.
May through October, I would not recommend; frequent rainfalls aren't easy to coop with. And the humidity can be unbearable at times during these months. Also, many beaches are full of seaweed during these months UNLESS you're staying at a 5 Star resort, of course.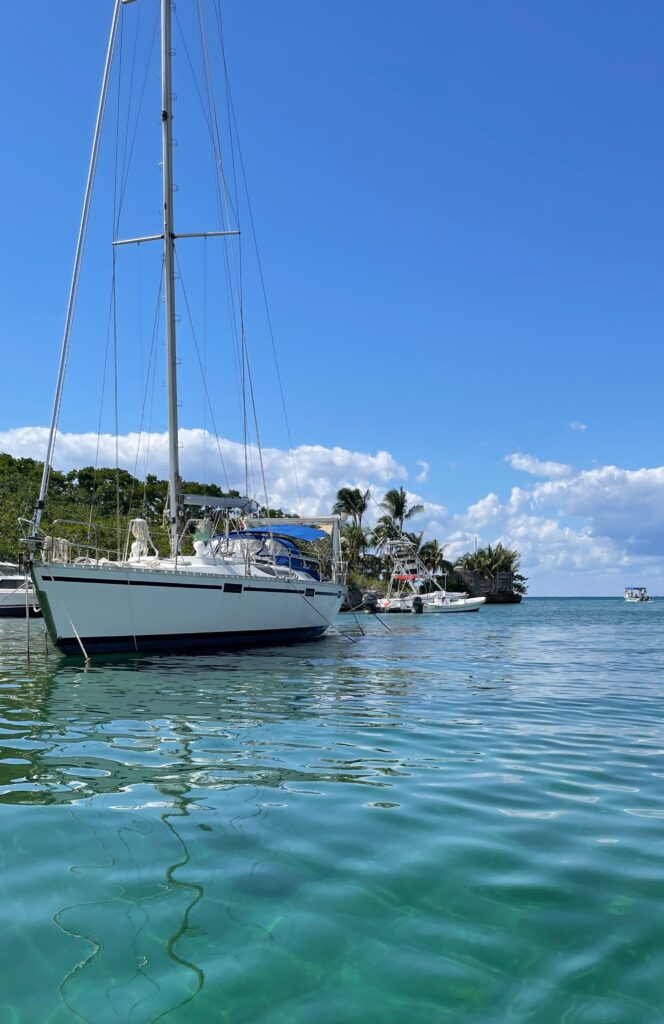 Is Cozumel Safe?
Yes, very much so. Cozumel is one of the safest places to vacation/visit in Mexico overall. Conveniently being an island, you can't get there other than by boat or plane.
This makes the island less accessible to many and one of the safest cities to visit in Mexico. You can spot the police or members of the Mexico National Guard around the island.
That said, It's best to follow the most common-sense rules. For example, don't leave your personal items unattended as you go for a swim, and don't accept strangers' invitations. Or, at minimum, be aware that you shouldn't walk alone on deserted roads at night. These are the essential tips I use wherever I travel.
Be careful where you park your bike or scooter, and if you're renting a car, never leave anything behind in your vehicle (especially not something visible someone can see through a window in your car).
I've visited many cities in the Quintana Roo Region of Mexico, including Playa Del Carmen, Tulum, Isla Holbox, and many more. And I felt safest in Cozumel.
CONCLUSION – Is Cozumel Worth Visiting?
Yes, Cozumel is worth visiting; it's one of the most beautiful islands in the Caribbean, full of rich nature and stunning beach shorelines.
There are many things to do on the island to keep you entertained no matter what type of activities you want to do that day.
And the fact that there is a main road you can drive on and explore shorelines with absolutely no one there makes Cozumel extra special.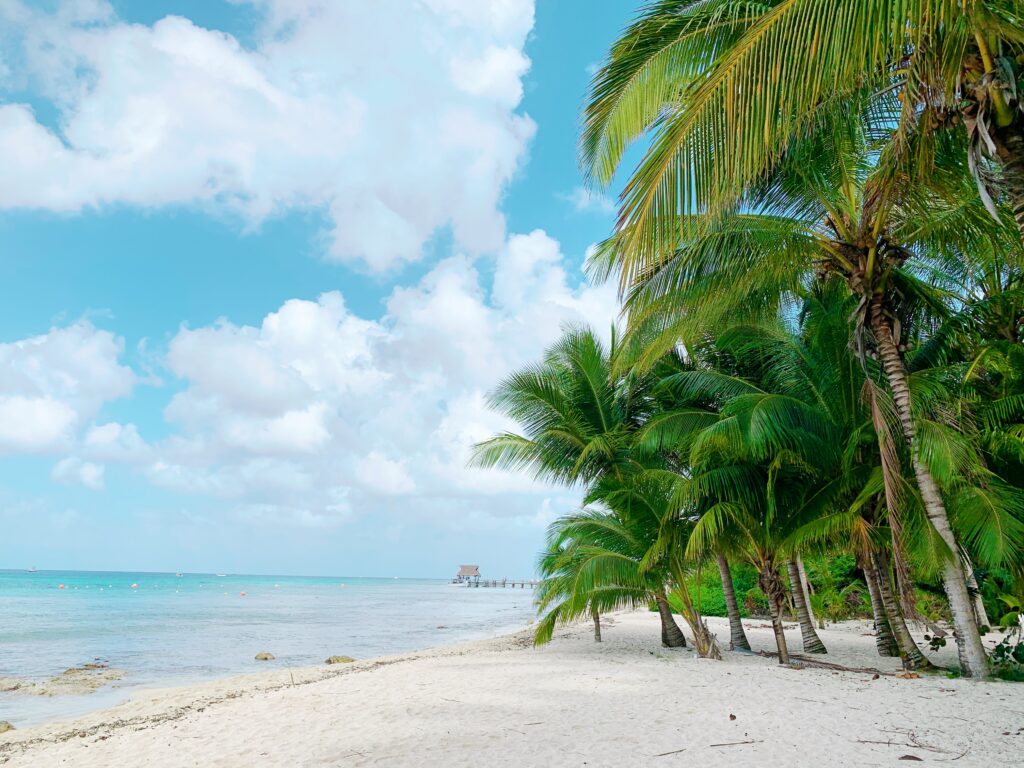 Everything you need is on the island, which makes Cozumel quite accommodating, with several restaurants, banks, and even places to go shopping.
Another two islands I highly recommend visiting in Mexico are Isla Holbox and Isla Mujeres, it's also close to the Quintana Roo region, so it's close to getting to Cancun International Airport. Another great option is Huatulco, Oaxaca, or Ensenada.
Mexico is one of the most beautiful and diverse countries in Latin America. It boasts a rich culture and delicious food, making it a top choice for tourists all year. Cozumel is no exception for one of the places you must visit in this country.
Subscribe to Travel Hiatus!
Receive updates on my latest posts, insider travel tips & the best destination guides to your inbox!
Happy & Safe Travels
Featured Image Credit: Clem Onojeghuo
---
Planning Checklist
---
Disclaimer: Please note that some of the links shared in this article might be affiliate links; this means that at absolutely no extra cost to you, we will earn a small commission for any sales generated through this article and/or this website. We recommend products/services we've either used or researched thoroughly – Thank you for supporting us so we can continue to share helpful travel content!