Is Thailand Cheap to Visit? Honest Guide
Thailand has many beautiful islands, famous national parks, and a metropolitan jungle capital, Bangkok, but the question of "Is Thailand cheap to visit?" is commonly discussed.
So, is it cheap to visit Thailand? Yes, it is; on a world scale, Thailand is one of the cheapest countries to visit. The average cost per day is only $45 US a day, though some places in Thailand cost slightly more to visit than others.
But like most places in the world, prices have steadily risen over the past five years, especially in the popular tourist destinations in Thailand, Phuket being a fine example of just that. Below in this guide, I've also included cost comparisons of the most popular places to visit!
A significant factor in whether you think Thailand is affordable to visit is where you're visiting from; Western and European currencies convert well against the local Thai Baht currency.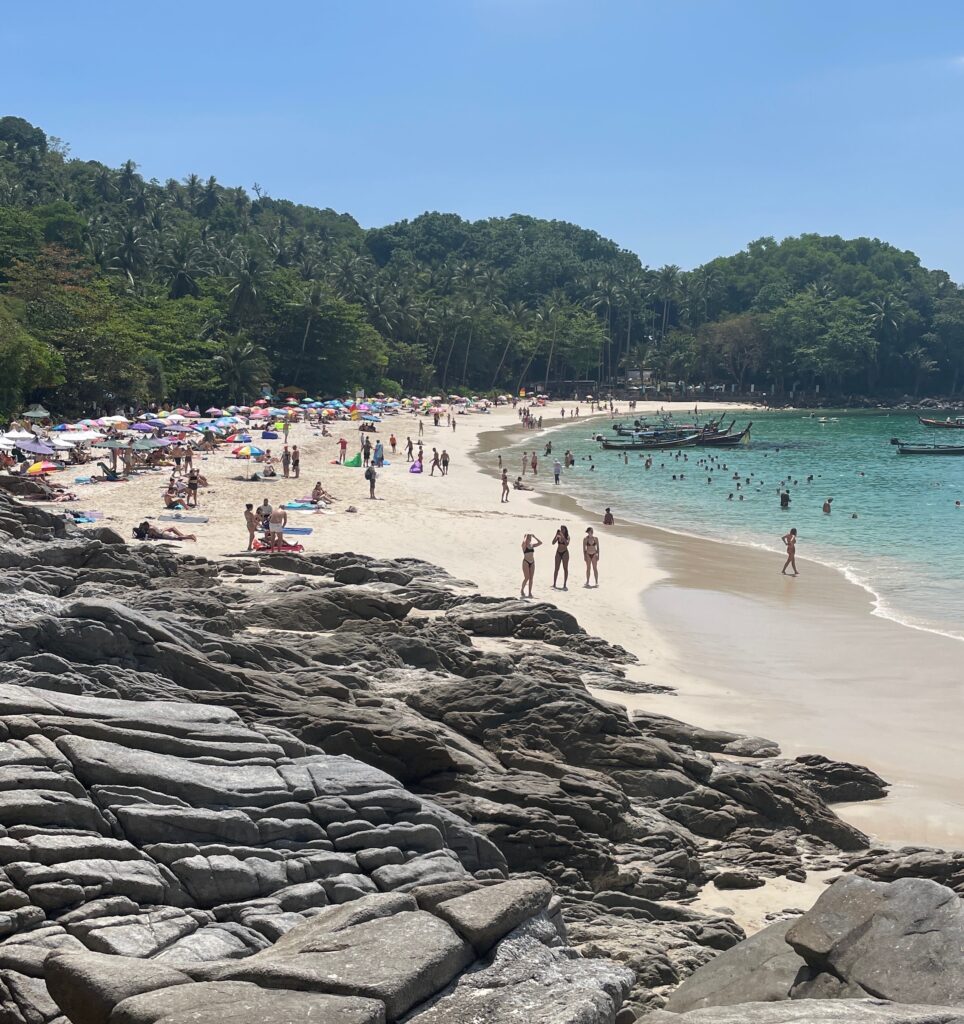 Thailand Trip Cost Breakdown
Let's get into it; in this guide, I'll cover the cost breakdown for all essential aspects of a trip to Thailand: hotels, food/drinks, transportation, and the cost of day trips/excursions.
Like anywhere in the world, there are three different ways to travel and see a new place, depending on your budget and travel style.
Below, I've shared the number breakdown for each type of traveler visiting Thailand; the rest I've expanded on within each section of the article. Note that these are average figures and can be lower/higher.
| | | | | | |
| --- | --- | --- | --- | --- | --- |
| Visitor Type | Hotel | Food | Transportation | Activities | Average Day Cost |
| Budget | $11 | $9 | $8 | $9 | $37 US |
| Mid-Range | $27 | $17 | $10 | $10 | $64 US |
| Luxury | $200 | $67 | $33 | $50 | $350 US+ |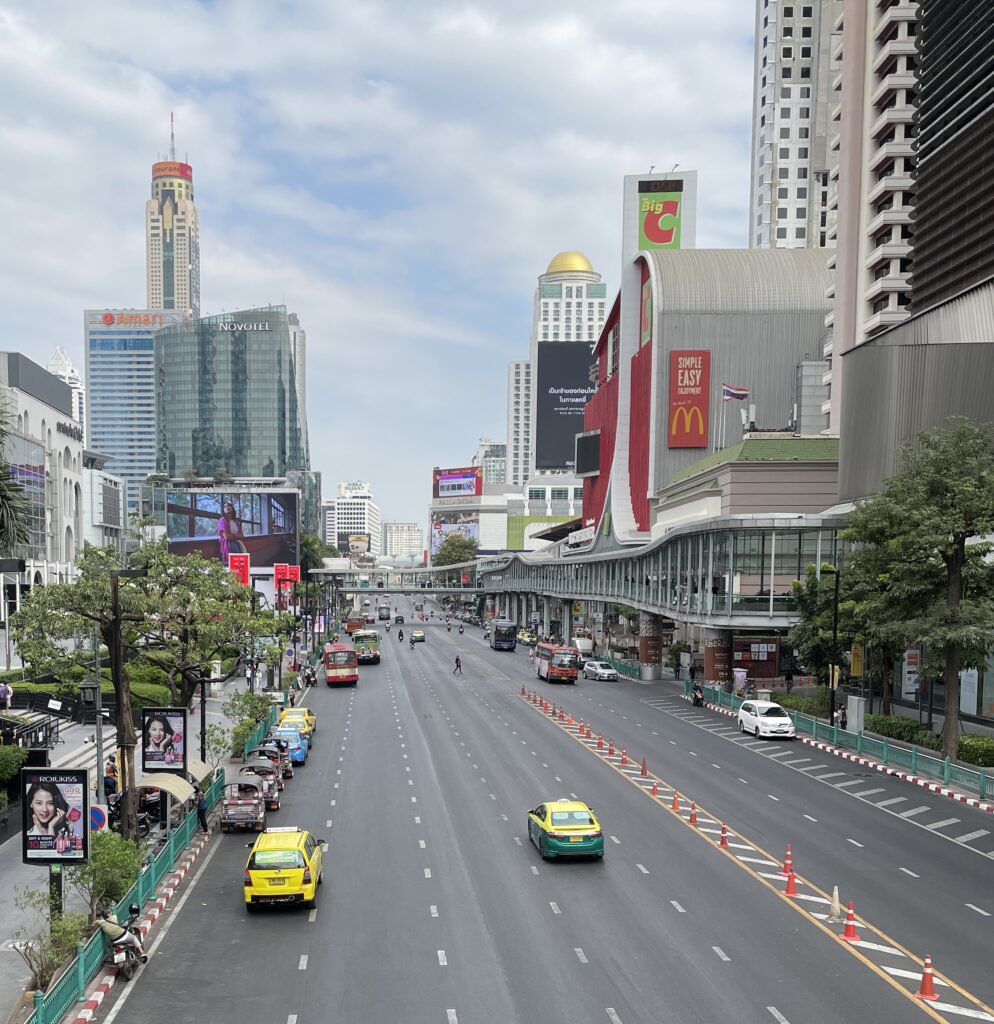 Hotel Costs
The most costly aspect of any visit is always accommodations; luckily, hotels in Thailand are cheap, but how reasonable are they?
Finding 5-star hotels in Thailand for as low as around $170 US is common. You can find 4-star hotels for $40+ US a night; I think you get the idea: hotels in Thailand are cheap!
For those traveling on a budget, you can find hotels for as low as $20 US a night, and if you're looking to stay in shared hostels, it's common to pay $8 to $15 US a night!
Here are a few factors to consider when looking for hotel costs. Location: like anywhere, Thailand has its pricer places to visit like Phuket and Koh Samui.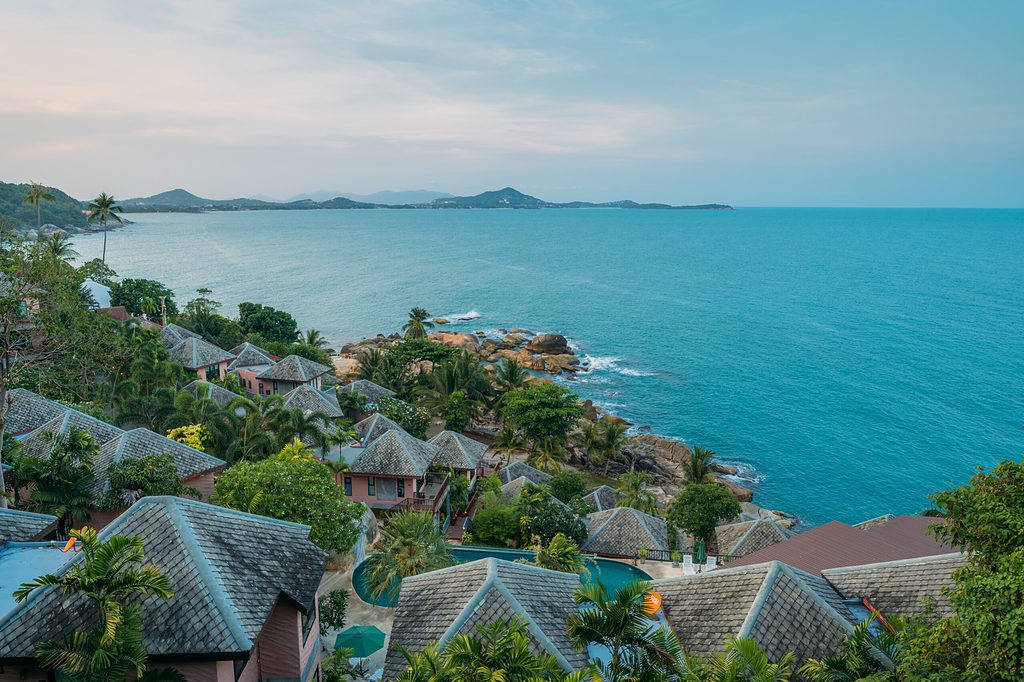 But regardless of that, you're still able to find cheap accommodations, and they'll only be slightly higher!
Expanding on location, it's a rule of thumb: the closer to the beach you are, the more you will usually pay for your hotel.
Another consideration is seasonality; hotels cost more when the place you're visiting in Thailand has the most optimal weather. High Season for most of Thailand is November to April.
Are you thinking of getting an apartment rental instead? Some places you'll want to visit don't offer rentals, only hotels. For those places that offer apartment rentals, the cost of short-term apartment rentals in Thailand is similar to that of hotels.
Because the prices are so similar, hotels tend to make more sense due to the many conveniences and deals you may find, though short-term apartment rentals make sense if you plan to stay in one place for around two weeks and would prefer more room!
Food & Drinks Costs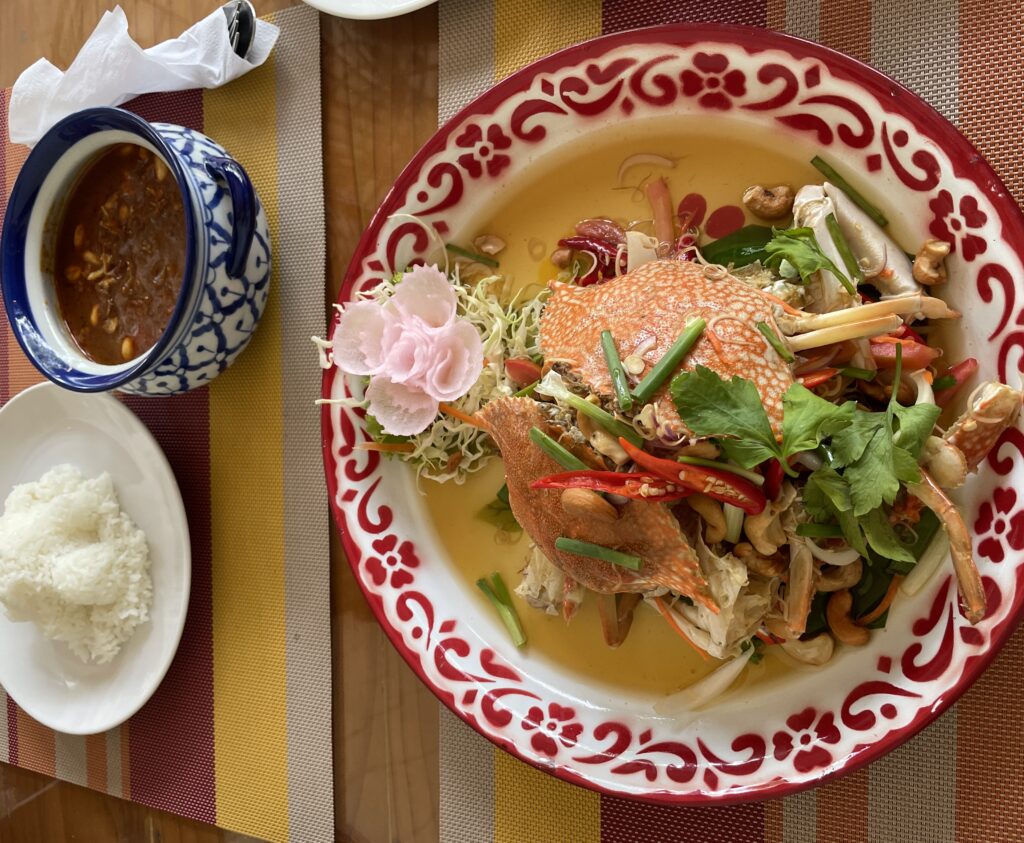 Is Thailand cheap to eat out? Yes, it is, though one thing to remember is that local food will always be more affordable than other types of cuisine.
That being said, different cuisines are also cheap, especially compared to worldwide food costs.
Everywhere you go in Thailand, you can find local dishes for as low as 30 to 80 Baht per plate; that converts to .82 cents to $2.20 US. That's very cheap!
Pad Thai, Pad Karpao, papaya salad, fried chicken, the list of local dishes goes on and on. These dishes can be found everywhere, especially at the many street and night markets; many local restaurants also offer promos with 20 different dishes for a fixed 80 Baht/$2.20 US.
At mid-range priced restaurants serving Western food, upscale Thai food, Italian, Korean, etc, the average plate cost is $4 – $9 US.
Which is still relatively cheap on a world scale, so Thailand is an excellent place to treat yourself to many cuisine types!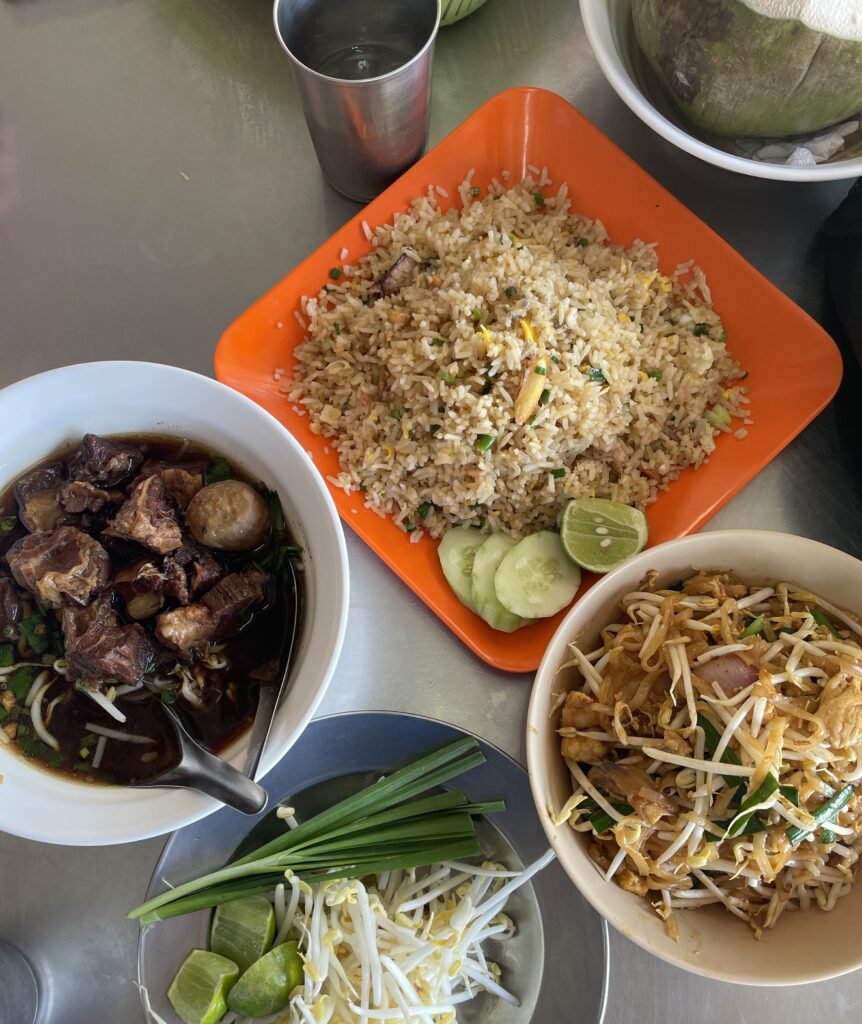 There are plenty of fine-dining restaurants when visiting popular places in Thailand, like Bangkok, Phuket, and Koh Samui.
Thailand is one of those places in the world where you can pay $2 US per plate for food at one place and then go to a fine-dining restaurant where you can pay $25 – $65 US per plate.
Alcohol is relatively cheap in Thailand, like everything else. Cocktails cost 100-200 Baht/$2.74 – $5.50 US, but if you're in Bangkok and choose to visit fancy rooftop cocktail bars, you can expect to pay $15-$25+ per cocktail. A beer in Thailand will cost you 30-80 Baht/$1.50 US.
Freshly squeezed fruit juices cost 10 to 100 Baht per drink/Thirty cents to $3 US; cold coconuts (my favorite drink when visiting) will cost between 30 to 80 Baht per coconut!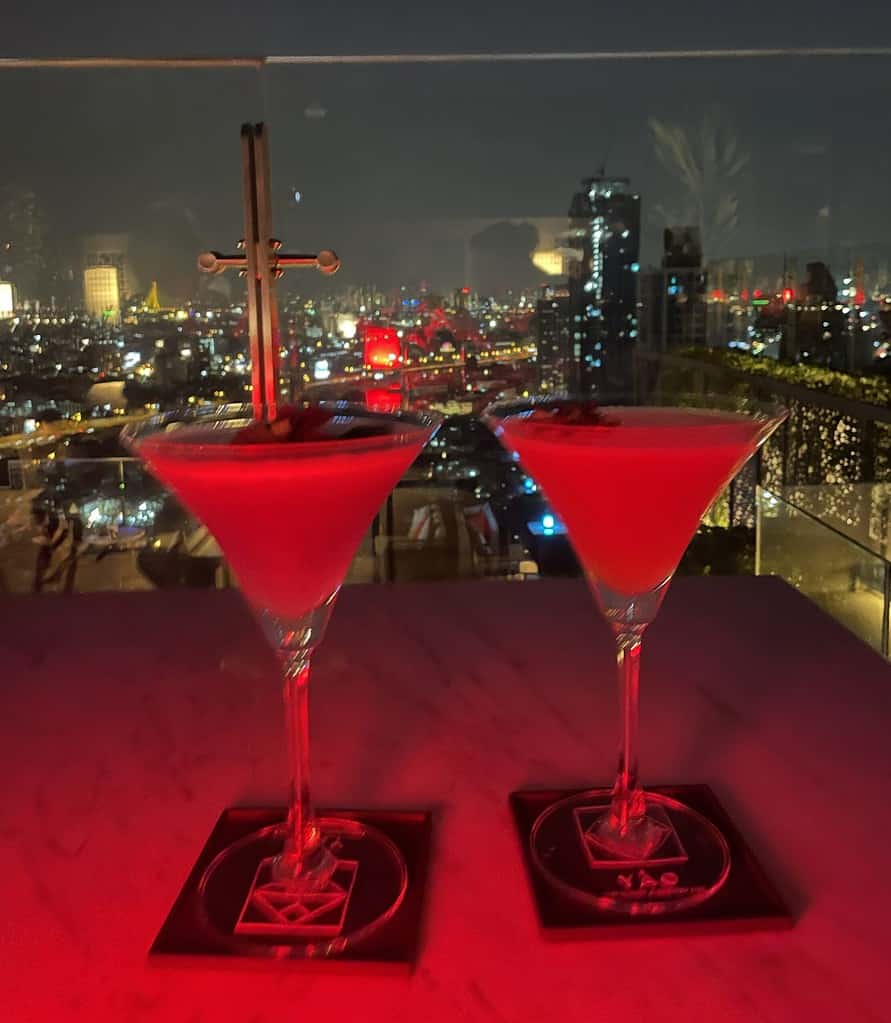 Transportation Costs
The third essential factor of your visit to Thailand is transportation. Getting around in cities/islands/towns in Thailand is cheap, and traveling around Thailand is also affordable.
In Bangkok, the public transportation options are top-notch; BTS or MRT systems in Bangkok work very well, costing an average of only 30 Baht per trip for both.
With its public transportation, Bangkok is a standout, offering methods unavailable in other places in Thailand. The rest of the transportation options in the cities/islands listed below are available in most places you'll visit in Thailand.
Then there are ridesharing apps like Bolt/Grab and taxis/TukTuks; you'll have a set price using ride-sharing apps, but with Taxis/TukTuks, you will find yourself usually negotiating to land a fair price sometimes!
Using the Songthaew buses or pickup trucks usually costs you between 30-60 Baht per trip.
Getting Around in Cities/Islands
Getting Around in Thailand
Flights
MiniBus Vans
Coach Buses
Ferries
Trains
TIP: You can book all your various travel options within Thailand with 12GO
Getting around Thailand is cheap; you can find flights for as low as $60 US.
MiniBus vans, Coach Buses, and Ferries usually cost $8 to $15 US for 2-5 hour trips.
Trains will cost around $2 to $25 US, depending on your trip duration.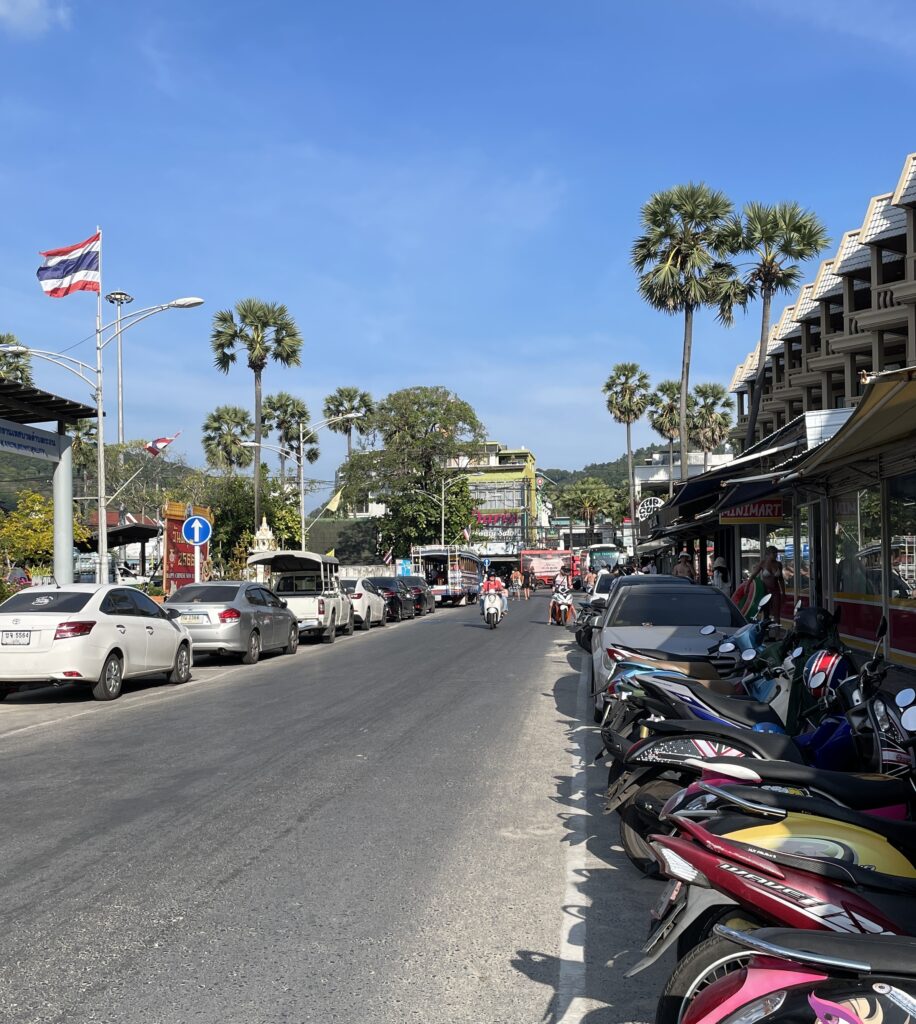 Day Trip/Excursion Costs
From island hopping, ATV adventures in the jungle, elephant sanctuary visits, scuba diving trips, and more.
Thailand is full of exciting day trips and excursions to experience, so budgeting a portion of your trip funds for activities is a must!
The average cost for day tours in Thailand ranges from 1000-2000 Baht per person, which is $29 to 58 US. Most tours in this price range are usually half-day tours.
While these previous figures are the average for excursions, many premium all-day tours (7-8 hours) cost $70 – $120 US.
On average, the most expensive day tour you may want to experience is the elephant sanctuaries; most ethical sanctuaries cost around $100 US for a half-day, 4-hour visit. Please avoid elephant sanctuaries that aren't ethical despite being more affordable.
If you're visiting on a tighter budget, there are many free things to do everywhere in Thailand. From viewpoint hikes, waterfalls, temple visits, the beaches, and the many night markets to experience!
For those who appreciate culture and food like me, I highly recommend a Thai Cooking Tour; it's a great way to learn about the local cuisine and go back home with new skills! Cooking tours are well-priced, and I mean you, you get to eat!
Top Places to Visit — Cost Comparisons
As you can see by now, Thailand is one of the cheapest countries to visit. And while some places may be slightly more expensive than others in Thailand. You can travel anywhere in Thailand on a budget.
That being said, if you're looking to budget yourself and would prefer to avoid the most expensive places in Thailand, it's best to avoid Phuket and Koh Samui, the two most costly places/islands to visit in Thailand.
If you're looking for the cheapest cities in Thailand, that's Chiang Mai, Hua Hin, and Bangkok.
Phuket
As mentioned above, Phuket is the most expensive place in Thailand. How much more expensive? On average, Phuket is 30% more expensive than the rest of Thailand.
It's the largest island in the country and has been a tourist tropical beach hotspot for many years.
Phuket's west coastline is entirely of picturesque, beautiful beaches; there are plenty of things to do here, and it's pretty liveable as well.
Average Day Cost: $117 US
Krabi
Is Krabi expensive to visit? Krabi is a backpacking paradise for travelers, especially with places like Phi Phi Island and Railay in the province.
Both destinations also offer 5-star accommodations for around $200+ US a night.
Ao Nang and Koh Lanta are cheaper destinations to visit in Krabi province for one to consider!
Average Day Cost: $57 US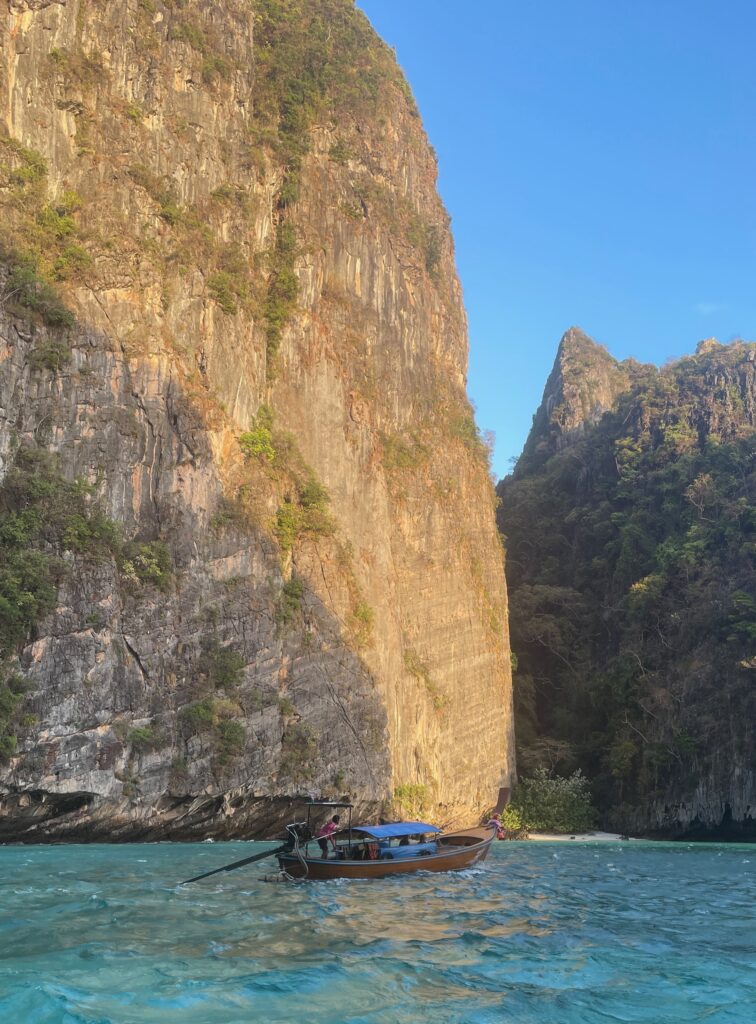 Bangkok
Being the metropolitan jungle it is, you'd think Bangkok would be expensive to visit, similar to other cities in the world resembling it, NYC, Seoul, etc. But that's not the case for Bangkok!
Despite being Thailand's capital/largest city, it's one of Thailand's cheapest places to visit.
The most noticeable affordable factor about Bangkok is the food; there's cheap food absolutely everywhere in this city!
Average Day Cost: $55 US
Chiang Mai
Known as the largest city in Northern Thailand, Chiang Mai is famous for its mountainous range, city life, night markets, national parks, and rich cultural history.
Like Bangkok, because the city is large by population, you'd assume Chiang Mai would cost more to visit, but that's not the case. Chiang Mai is the cheapest place to visit in Thailand!
Average Day Cost: $47 US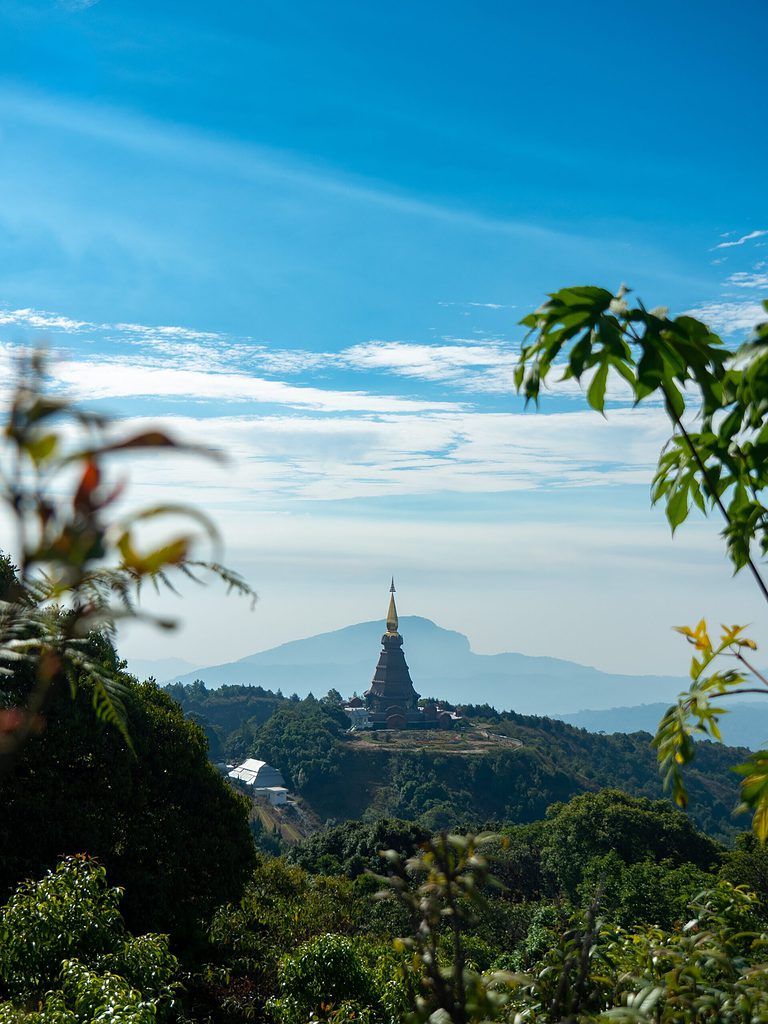 Pattaya City
Known for its famous nightlife walking street full of everything a group of bachelor guys are looking for on a Friday night.
Pattaya is located just under 2 hours away from Bangkok, so for tourists only visiting Bangkok, Pattaya is usually the most popular place to visit outside of Bangkok.
Because of its popularity among nightlife goers, Pattaya's many hotels/resorts tend to offer excellent deals to attract visitors to the city, usually from Bangkok.
Average Day Cost: $65 US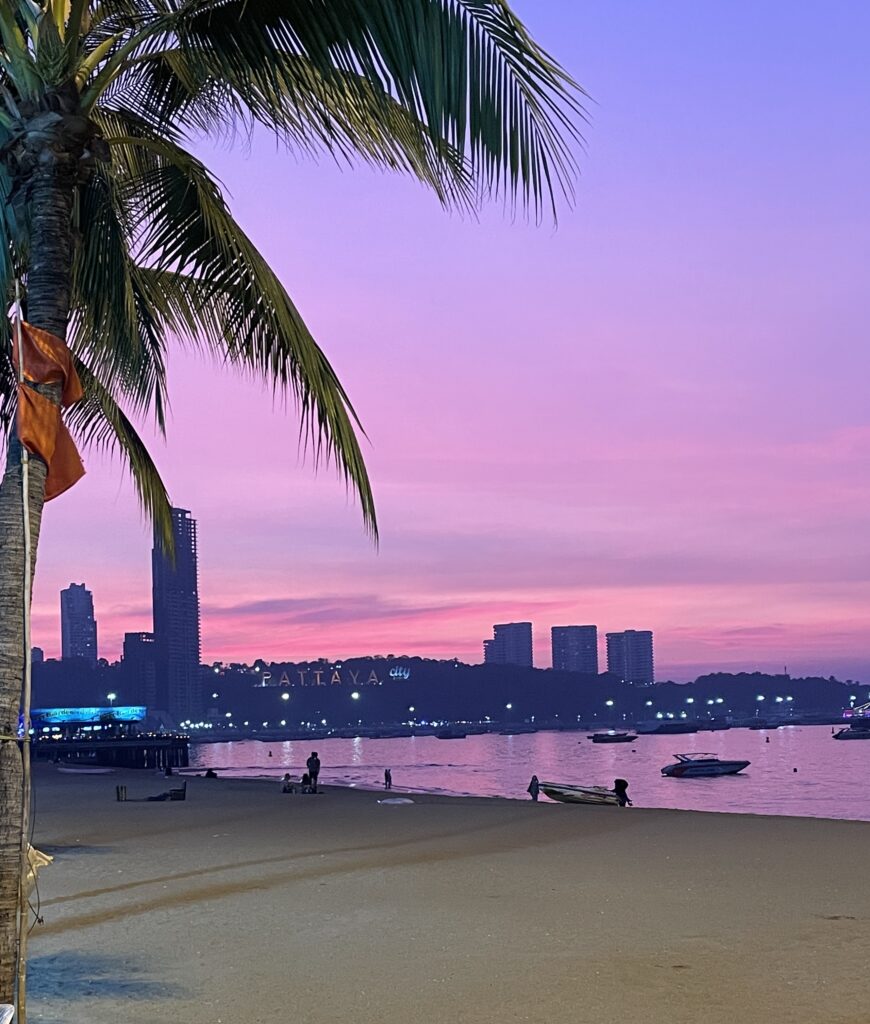 Travel Tips for Thailand
Thailand is diverse in culture and beliefs; its varied landscape, affordability, and English signage make it a top country to visit.
Thailand's capital, Bangkok, consistently ranks #1-3 most visited cities worldwide yearly.
While Thailand is an excellent destination, it is one of those countries you should brush up on your travel tips for. Here are some must-know Thailand travel tips before visiting!
Don't negatively speak on the monarchy; you could do jail time
At Buddhist temples, cover up and always remove your shoes when entering a temple
Don't drink the tap water in Thailand; you most likely will get sick
Always have cash; Thailand is a cash society; large establishments take cards but have cash on you always
Be prepared to negotiate, especially if you plan to purchase goods at markets with no pricing or take a Taxi/TukTuks. To avoid negotiating, use ridesharing apps Bolt and Grab
While it may be tempting to pet street dogs/cats, understand any scratch/bite will mean you have to get a series of rabies shots
Is Thailand Cheap to Visit? — Final Thoughts
So, is Thailand cheap to travel to? Thailand is cheap to travel to, one of many reasons why many visit Thailand as an introduction to long-term travel. The average daily cost is only $45 US.
Everything is affordable in Thailand: hotels, eating out, and most activities! But just how cheap is it?
Many don't discuss this, but currency conversions must be mentioned. Yes, on a world scale, Thailand is one of the most affordable countries to visit. Determining how cheap it is depends on the currency you're coming with.
Those visiting from Western and European countries will find Thailand very cheap. But those visiting, say from India, African countries, and other nations, will find Thailand reasonably priced but not very cheap.
One of my favorite affordable aspects of Thailand is the massages; you can find 1-hour massages as cheap as 150 baht/$4 US. However, the average price is around 200-400 baht an hour.
I cannot recommend visiting Thailand enough; you must visit Thailand at least once. It's one of my favorite countries to visit, and after all, they don't call Thailand "The Land of Smiles" for anything!
RELATED: 11 Cheapest Places in Thailand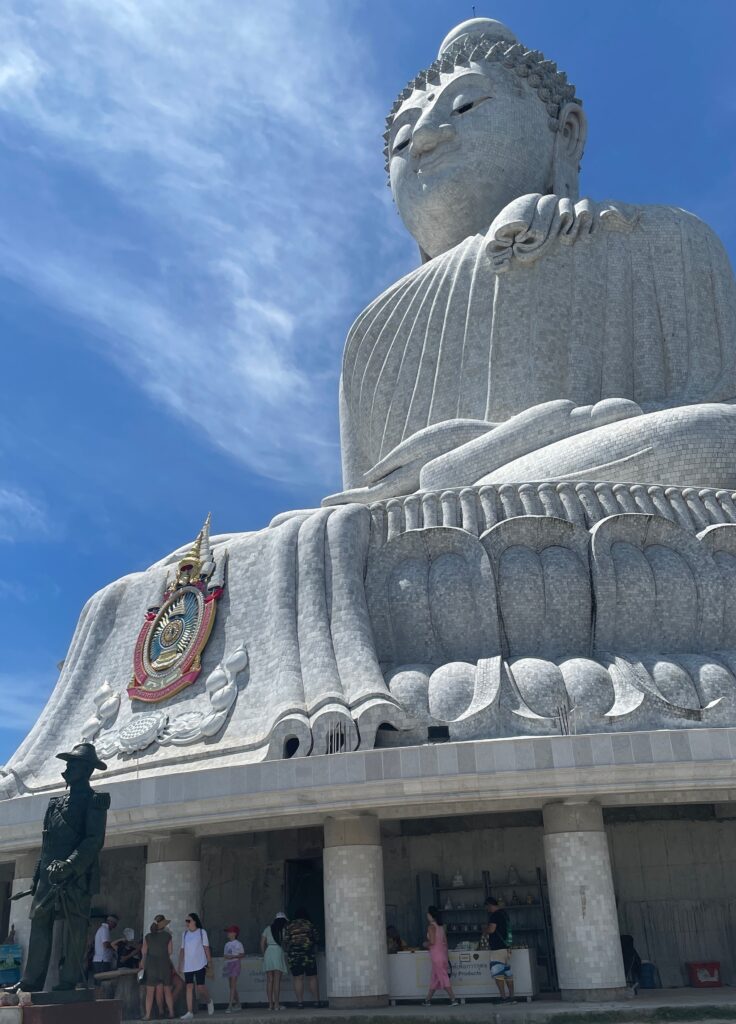 How much money do you need per day in Thailand?
This depends on where you're visiting in Thailand, but the average daily spent in Thailand is around $45 US per day.
How much does a meal cost in Thailand?
The average street food in Thailand costs between $1 to $5 US. The average meal cost at a restaurant is $4 to $11+.
How much money do I need for 2 weeks in Thailand?
The average daily cost in Thailand is $45/Day, so for two weeks, that's $630 US. Consider where you're visiting in Thailand when trying to stay around a $45 US daily budget.
How much is a massage in Thailand?
The average cost for a 1-hour massage is between 200-400 Baht, which is $5.50 – $11 US per hour. There are many massage parlors everywhere you go in Thailand, and some do try to provide a more premium experience and charge 800-1000 Baht per hour.
Subscribe to Travel Hiatus!
Receive updates on my latest posts, insider travel tips & the best destination guides to your inbox!
Happy & Safe Travels
---
Planning Checklist
---
Disclaimer: Please note that some of the links shared in this article might be affiliate links; this means that at absolutely no extra cost to you, we will earn a small commission for any sales generated through this article and/or this website. We recommend products/services we've either used or researched thoroughly – Thank you for supporting us so we can continue to share helpful travel content!