6 Best Things To Do In Kata Beach
Are you planning a trip to Kata Beach in Phuket, or perhaps you're there already and looking for the best things to do in Kata Beach? You've come to the right spot!
Kata Beach is one of the most popular beach areas to visit in Phuket. Kata has a laid-back atmosphere that is ideal for solo travelers, couples, and families vacationing.
One of Kata's main attractions is that you can walk just about everywhere you'd like to.
Kata Beach is known for its surfing, paddle boarding, snorkeling, and beautiful long beach shoreline.
There's a section for beach chair rentals and an area for those looking to paddle board, jet ski, and parasail—washroom facilities, street food vendors, and more.
There are two main roads in Kata Beach, and most of Kata is located within these two main roads. These two roads are 4030 and 4028. These roads can lead you to Karon Beach, Kata's neighboring beach area.
In this complete Kata Beach visitor guide, I will cover everything you need to know about Kata, including how to get to Kata Beach from Phuket Airport, the best things to do in Kata Beach, hotels and restaurant recommendations in Kata, and more.
How to Get to Kata Beach
Travel time from Phuket Airport to Kata in Phuket is just over 1 Hour – depending on traffic.
Private Airport Transfer: The most convenient way is by private airport transfer; you will have a car waiting for you once you arrive and don't have to worry about figuring anything out once you're there! – PRICE: $30 – 40 US
GRAB: This is UBER in Asia/Thailand; you can download the app and find a ride easily – But when you exit the airport, you must take a left and walk to the MAIN road because GRAB drivers are NOT allowed to come into the airport. – PRICE varies by time of day 900 – 1250 Baht / $30 – $35 US
Phuket Smart Bus: This is the cheapest way to get to Kata from Phuket Airport. This local bus travels from Phuket Airport along the coast of Phuket and stops at all the main beach areas in Phuket, including Kata. It leaves around every hour. Check the Schedule – PRICE: 100 Baht / 2.88 US.
Taxi @ Airport: Once you arrive at Phuket Airport, many taxis are trying to gain your business; you can take one, but I'd be careful with this option only because they tend to overcharge tourists. – PRICE: 1450 Baht / $40 US
Rent a Car: Another option is renting a car from Phuket Airport, an excellent idea for those exploring Phuket! – PRICE: Varies on vehicle and day amount
AIRPORT TIPS: Phuket Airport has a Taxi mafia. They operate a firm hold on taxis at the airport and are notorious for overcharging tourists for TAXI rides into Phuket. – You must LEAVE the main airport area and go to the MAIN road for any ride pickup other than an airport taxi.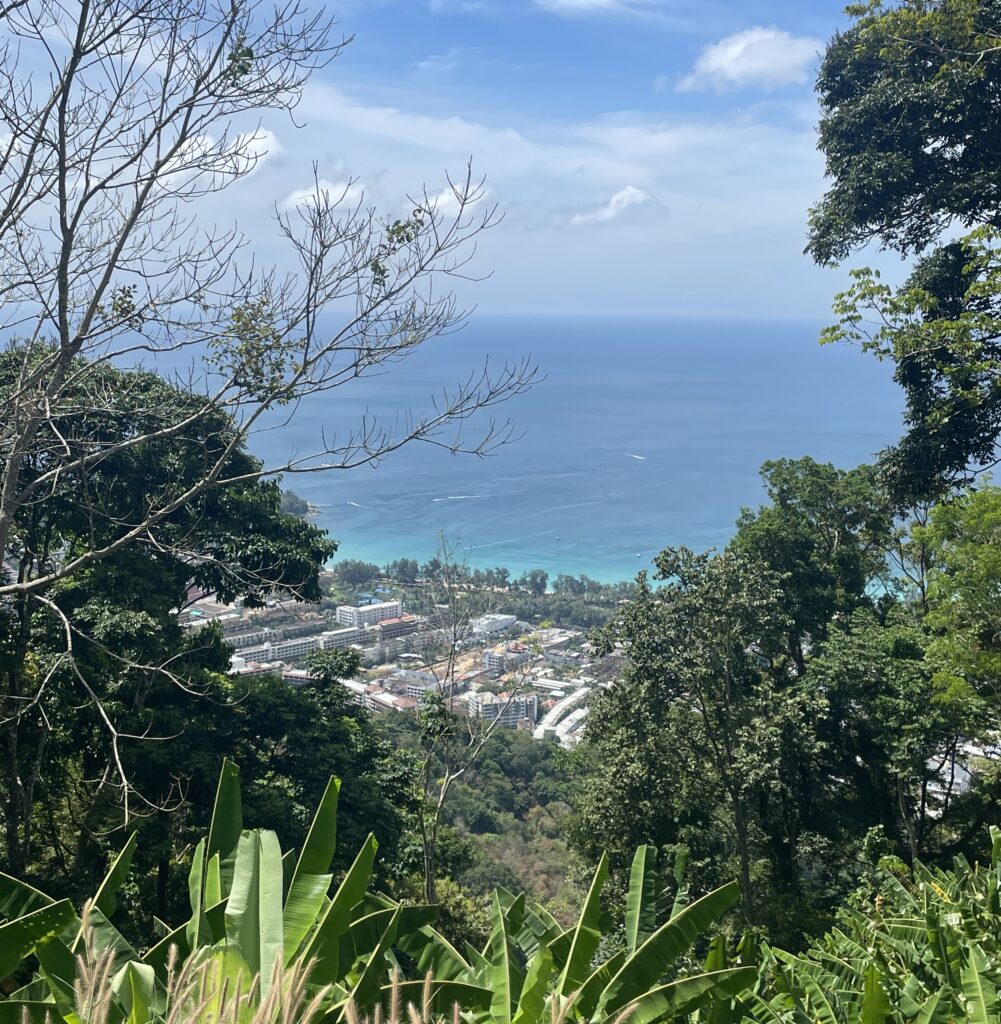 Getting Around Phuket
For those staying in a different beach area in Phuket who would like to visit Kata for the day, here are your options for how to get to Kata from any location in Phuket you may be staying in!
The best way to get around Phuket is by renting a Scooter, Phuket Smart Bus, or GRAB.
GRAB: As mentioned before, you can take a Grab car anywhere around the Island – PRICE: Depends on your location in Phuket
Phuket Smart Bus: You can go to Kata from any beach area along the coast using the Smart Bus. The bus stops at each bus stop every Hour; check the schedule here. – PRICE: 100 Baht / 2.88 US (no matter where you're coming from)
Song Taew (local Blue Bus): This is the local Bus; it can take you to Kata from Central Phuket and other areas. But it does NOT operate along the coast, passing through beach areas of Phuket, as the Smart Bus does. Operates from 6:00 AM to 6:00 PM and frequents approx every 30 mins – PRICE: 40 Baht / $1.20 US (no matter where you're coming from, you may have to take more than one bus)
Beach Day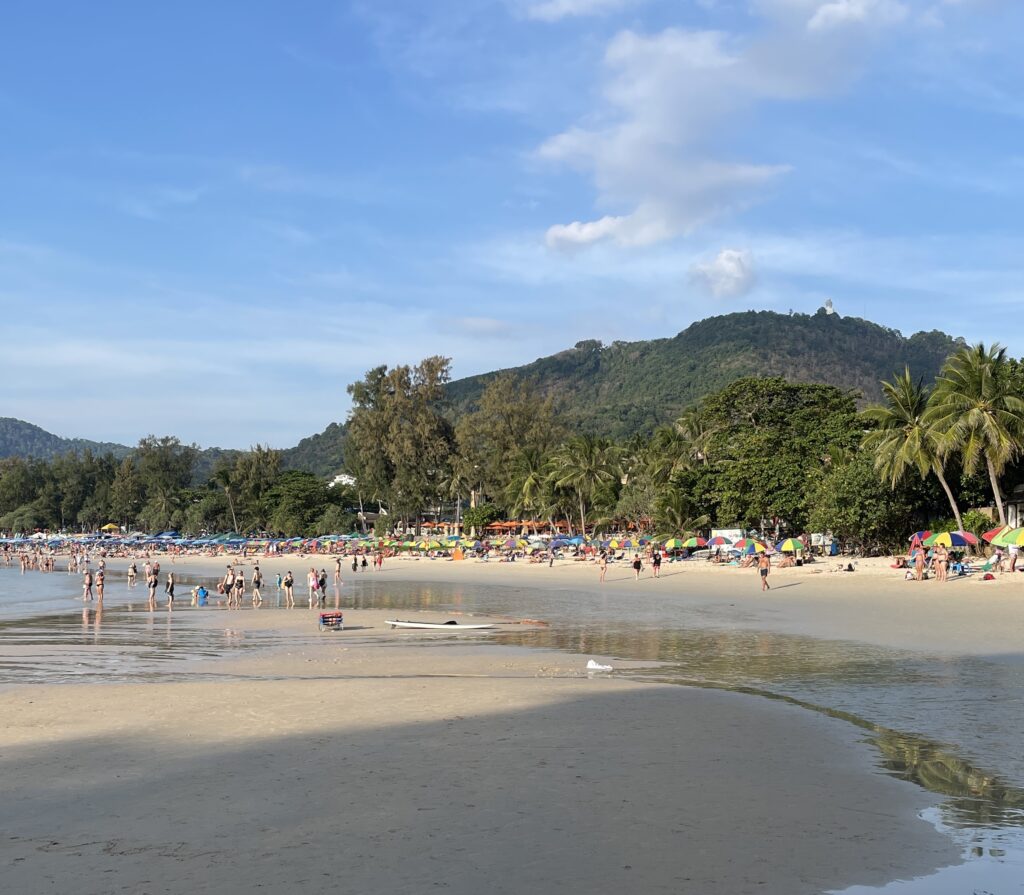 Kata Beach in Phuket is stunning; the water is ideally shallow for the first bit as you go in, with various shades of turquoise blue and a few waves, especially as you go deeper. It's one of the most excellent beaches in Phuket.
On the beach, you will notice an area for beach chair rentals, a few restaurants, and a long beach shoreline big enough for plenty to come to enjoy a beach day.
Surrounding the beach are the mountainous ranges of Phuket; it's a site to see, especially at sunset!
At one end of the beach are large rocks where you can spot various marine life. In the ocean, you will spot Ko Pu, a small island.
One of my favorite things about Kata Beach is the street food vendors. As you get to the beach, the road is full of vendors selling several types of street food, including fried fish, burgers, pad Thai, cocktails, and just about anything you can think of!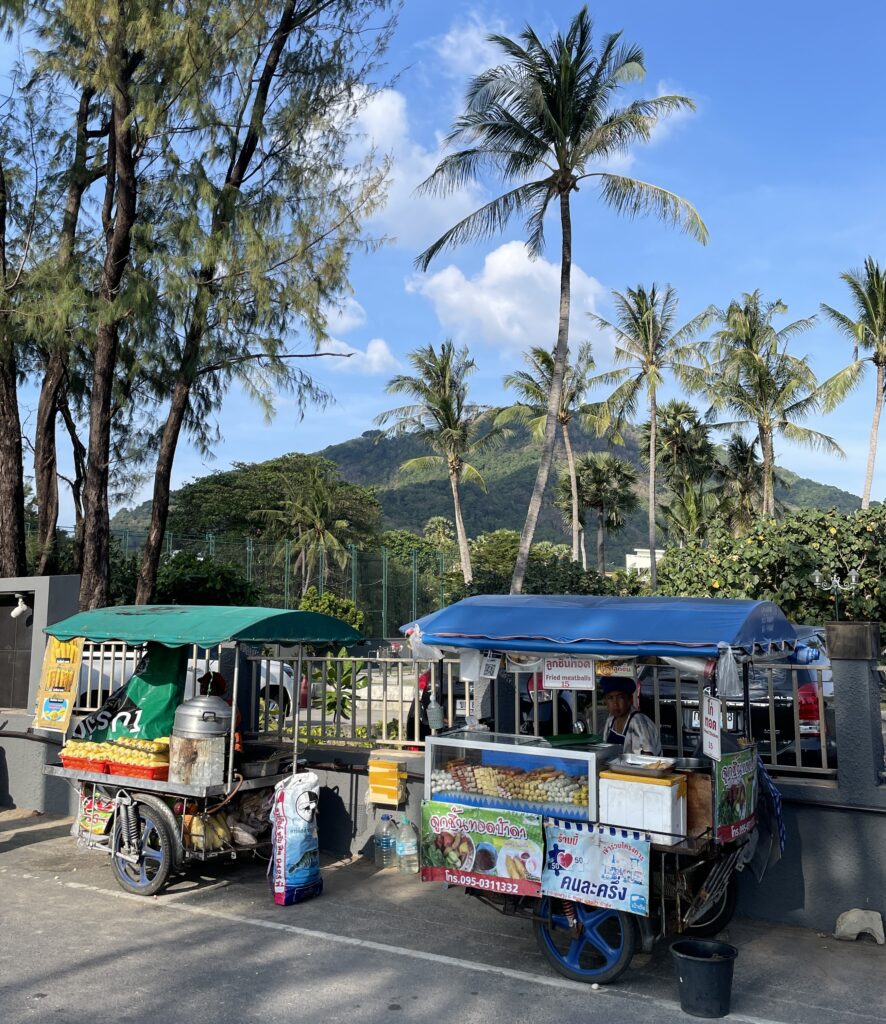 Being able to grab some street food quickly at lunch as you're at the beach for the day is convenient.
The only beaches in Phuket with lots of street food are Kata and Surin Beach.
Other Beaches in Phuket to Visit – Drive Time from Kata
Karon Beach – 5 minutes
Kata Noi Beach – 6 minutes
Nai Harn Beach – 15 minutes
Freedom Beach – 20 minutes
Patong Beach – 20 minutes
Kamala Beach – 40 minutes
Surin Beach – 45 minutes
For a list of the Best Beaches in Phuket, details about them, and how to get to them, view my guide: 8 Best Phuket Beaches.
Surfing Kata Beach
As mentioned earlier, surfing is a big deal here; the waves are ideal for those looking to learn how to surf.
There's even a surf bar on the beach with artificial waves, where you can practice before entering the ocean.
But if you want to learn how to surf, I recommend attending this Kata Beach Surfing Class. For those who enjoy surfing, Kata Beach is known for being the surfing capital of Phuket.
Walking around the area, you will quickly notice early signs that surfers love to come to Kata to surf.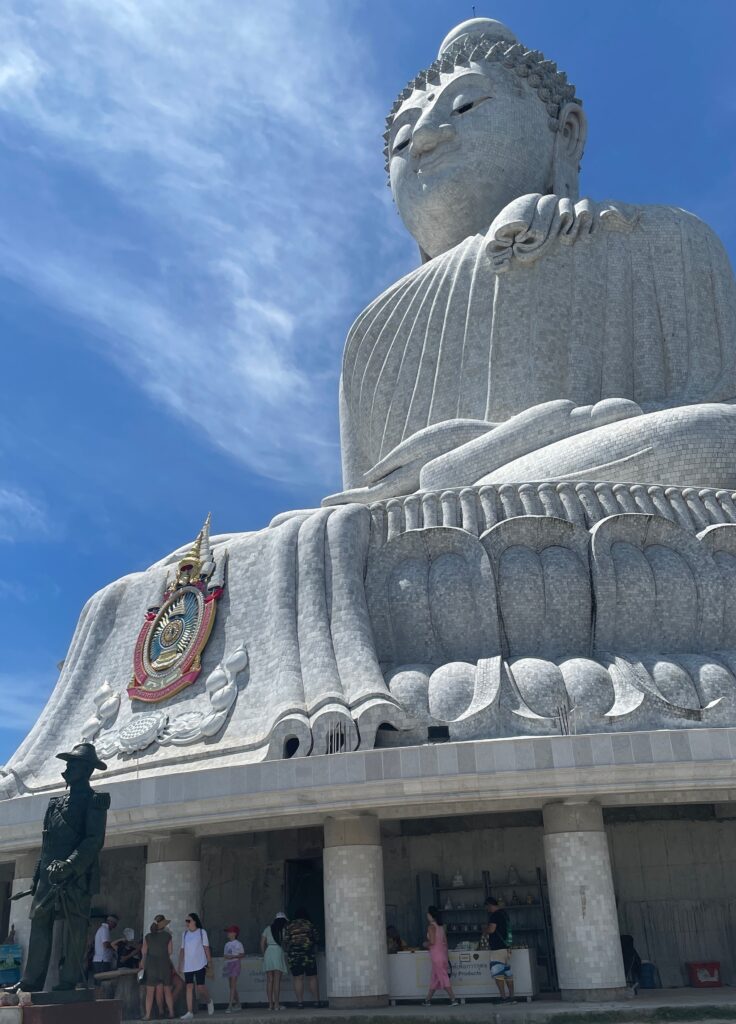 Arguably, one of Phuket's most famous landmarks is the Big Buddha, standing 45 meters tall.
The Big Buddha is located at the top of the Nakkerd hills. Visiting the Big Buddha offers spectacular aerial views of Phuket.
Fun fact: you can see the Big White Buddha from the beach in Kata and other places throughout Phuket.
Hours to see the Big Buddha are 6:00 AM to 7:00 PM Daily. It's FREE to visit the Big Buddha.
Here's how to get there: rent a scooter, taxi, Grab, or hike there. For those looking to go to the Big Buddha by vehicle, I recommend attending this organized tour, including transportation!
This is a place of worship for those practicing Buddhism; please remember to respect your surroundings when visiting the holy site.
Also, please ensure you cover your knees and shoulder here, or you can't come in; security won't let you in otherwise.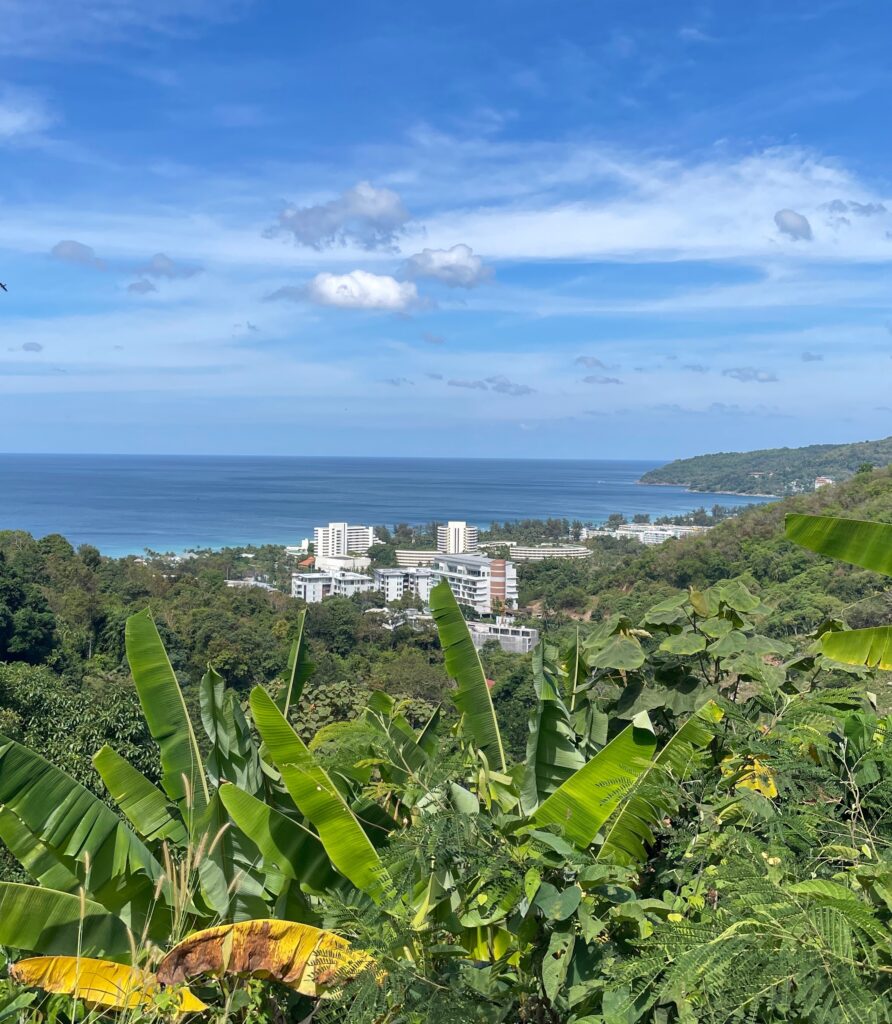 To hike there, you must go to the Main Big Buddha Trail, which takes around 90 minutes or more, depending on your speed. I'd avoid the hike for those not up for an adventure and workout.
We decided to hike because of the fantastic views you can see along the way to the Big Buddha. If it's a hot day, I'd recommend you start your hike earlier to avoid the hot weather and crowd of tourists there!
Kata Night Market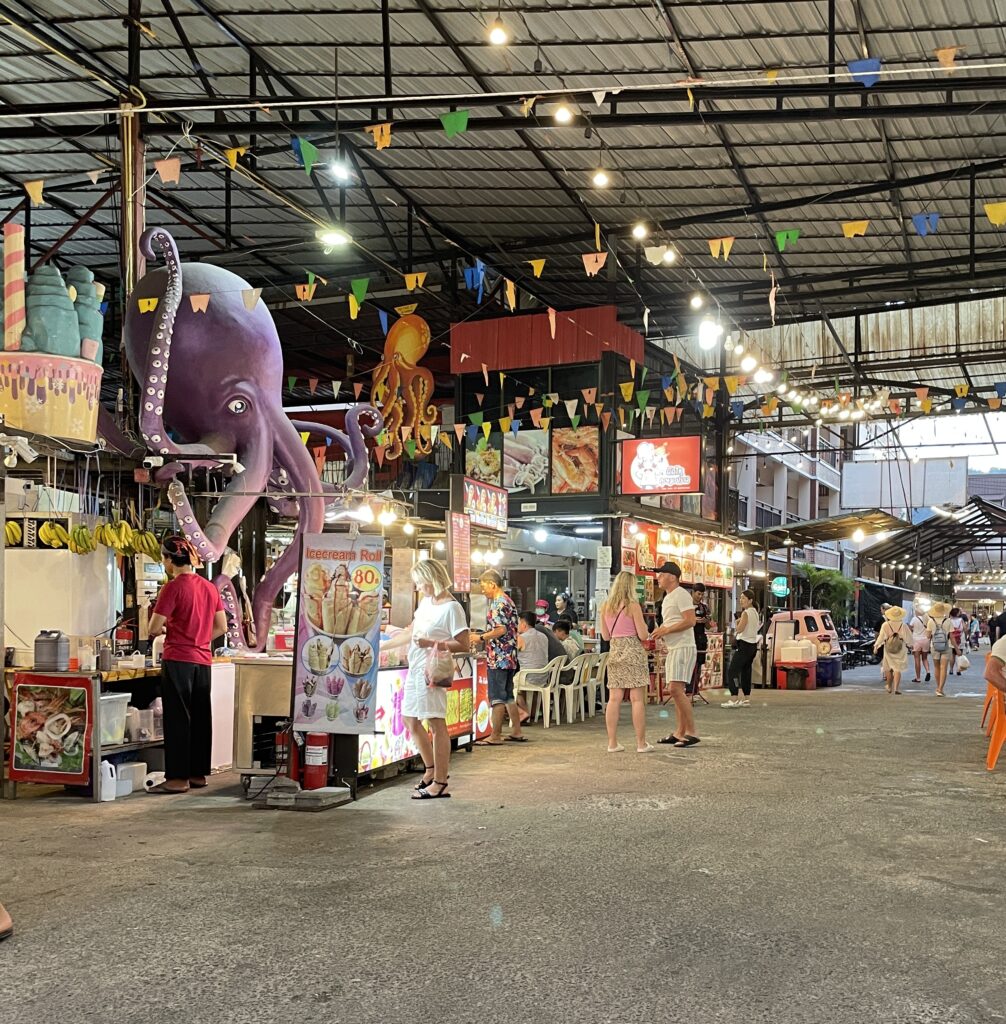 The Kata Night Market is one of the best night markets in Phuket. If you aren't familiar with night markets, they are where you can spend your evenings eating delicious street food, buying various goods, and enjoying a drink.
Unlike most markets in Phuket, the Kata Night Market is open every day of the week. Opening hours are from 2 PM, but some food vendors open at 5:00 PM.
At the Kata Night Market, you will find several delicious foods to eat: papaya salad, BBQ grilled skewers, various fresh seafood dishes, and many more great foods to try.
You will also find several products being sold here, including all sorts of health products, soaps, creams, aloe creams, handcrafted goods, bags, t-shirts, and other clothing.
Foodies, those who are foodies, if you're looking for the best food tour in Phuket, attend this Phuket Old Town Food Tour; I highly recommend it!
Other Night Markets in Phuket
Karon Night Market (Tuesdays and Fridays)
Sunday Old Town Night Market (Sundays only)
Night Market Patong (operating daily)
Naka Weekend Market (operating only on Saturday/Sunday)
One of the most popular attractions in Phuket is visiting an elephant sanctuary and experiencing how these friendly giant creatures live, eat, and learn about them.
When many think of Thailand, the first thing they think of is elephants. Rightfully so, in Thailand, elephants are popular among tourists and considered sacred animals in the Buddhist religion.
Because of this, it makes sense that many love visiting Elephant Sanctuaries in Thailand. The negative side to this is the animal abuse elephants suffer from tourism. It's not right for elephants to be chained or give rides to tourists all day.
Please make sure you go to only ethical Elephant Sanctuaries. The official Phuket Elephant Sanctuary is an ethical sanctuary that properly cares for its elephants.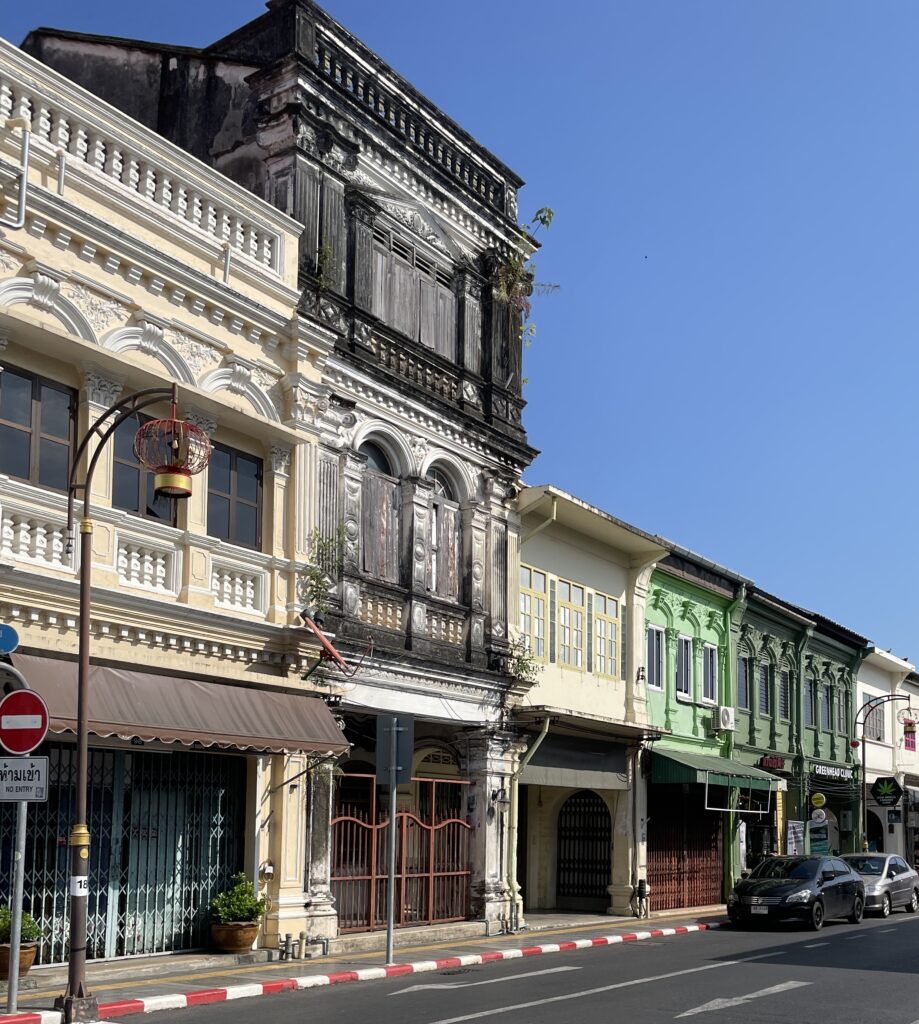 Looking to see as much as possible of Phuket in the shortest amount of time? This Private Phuket Tour is perfect for you!
On this Phuket Compete Site Tour, you will see many of the island's most well-known places, all in 4 to 8 hours.
During the tour with private transportation, you will be visiting the following places in Phuket.
Old Town Phuket
Chaithararam Temple (Wat Chalong)
Big Buddha
Kata Beach
Patong Beach
Promthep Cape (famous sunset viewpoint)
Looking for more Things To Do in Phuket? 9 Best Things To Do in Phuket
Best Hotels in Kata Beach
There are many different hotel types in Kata: resorts, villa stays, condo-like stays, and more.
No matter what hotel you're looking for, you can find it in Kata. All hotels are close to the beach; Kata isn't a big area.
In this list, I've included the best hotels for where to stay in Kata Beach, depending on your budget. This shortlist of excellent hotel options has an ideal hotel for everyone.
Katathani Phuket Resort – (5 Stars)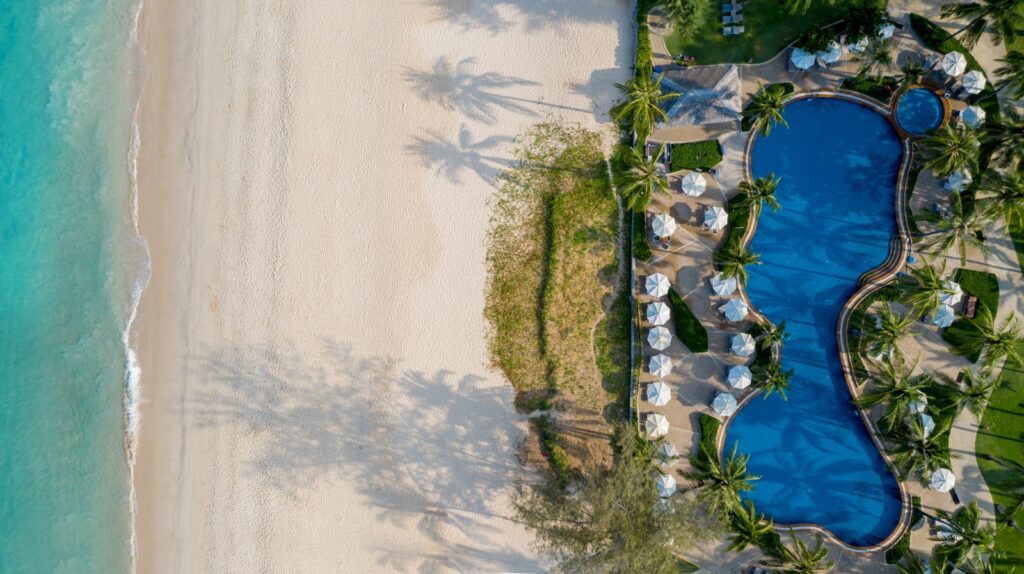 Known for being the best hotel in Kata, the Kathani Phuket Resort is along Kata Noi Beach. Visiting this resort, you have the convenience of being right on the beach, something most resorts in Phuket don't offer.
At the Katathani Phuket Resort, the hotel is complete with modern finishes. The extended hotel yard has a large pool with many beach lounge chairs.
Being a 5-star resort, the hotel has all the necessary amenities and more.
Regarding hotels directly on the beach, Katathani Phuket Resort arguably ranks #1 for best hotels on Kata Beach.
Best For: Beach Access, 5 Star Service
The Sea Galleri – (4 Stars)
Known for being one of the only hotels in the area that you can quickly notice when driving around Kata because of its height compared to other buildings, The Sea Galleri is an exceptional hotel.
The Sea Galleri is between Kata Noi Beach and Kata's Main Beach. Because of its unique location and height, staying here will mean you have exceptional ocean views.
It is famous for its rooftop infinity pool and a greenery area to relax. The hotel has modern finishes; some rooms have a jacuzzi on the balcony, and the overall decor is quite homey; you won't feel like you're at a hotel.
Best For: Ocean Views, Modern Style
Blu Pine Villa & Pool – (4 Stars)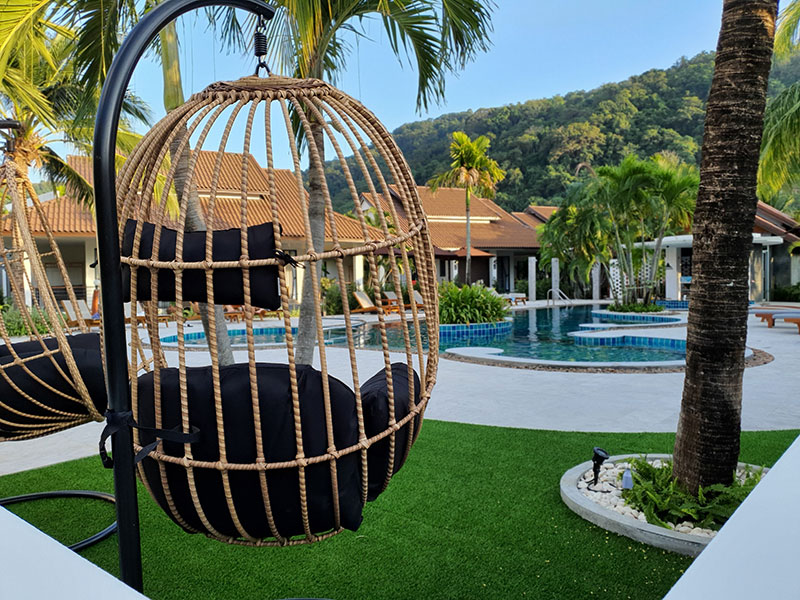 Located just down the road from the main beach in Kata, the Blu Pine Villa is one of the best hotel options in town because of its unique accommodation type.
Blu Pine Villa & Pool offers cozy ground-floor villas for guests, and there are few on the property, making for a private stay.
Furnished with a modern look, the villas are like an apartment; you even have a small kitchen. These villas are perfect for those visiting with a family.
Best For: Families, Great location
Ibis Phuket Kata – (3 Stars)
If you're unfamiliar with it, Ibis is a hotel chain offering cost-effective hotels worldwide, and luckily, they've got a location in Kata.
Ibis Kata is only a 5 minutes walk from the main beach and is steps away from several bars, restaurants, and the Kata Night Market.
The hotel has a pool and everything one may need; Ibis Phuket is a good choice regarding value and location.
Best For: Good Location, Value
Nonnee Hostel Kata – (hostel)
Those looking for a hostel in Kata, look no further. Nonnee Hostel is the highest-rated hostel in town.
Rooms at the Nonnee Hostel Kata are clean and modern; there's a nice pool in the middle of the hotel, and it's only a 20-minute walk from the main beach.
The hostel is also only a 2-minute walk to 4028 Road, and from here, you can catch the local bus and go to different parts of Phuket.
Best For: Good Location, Clean/Modern Hostel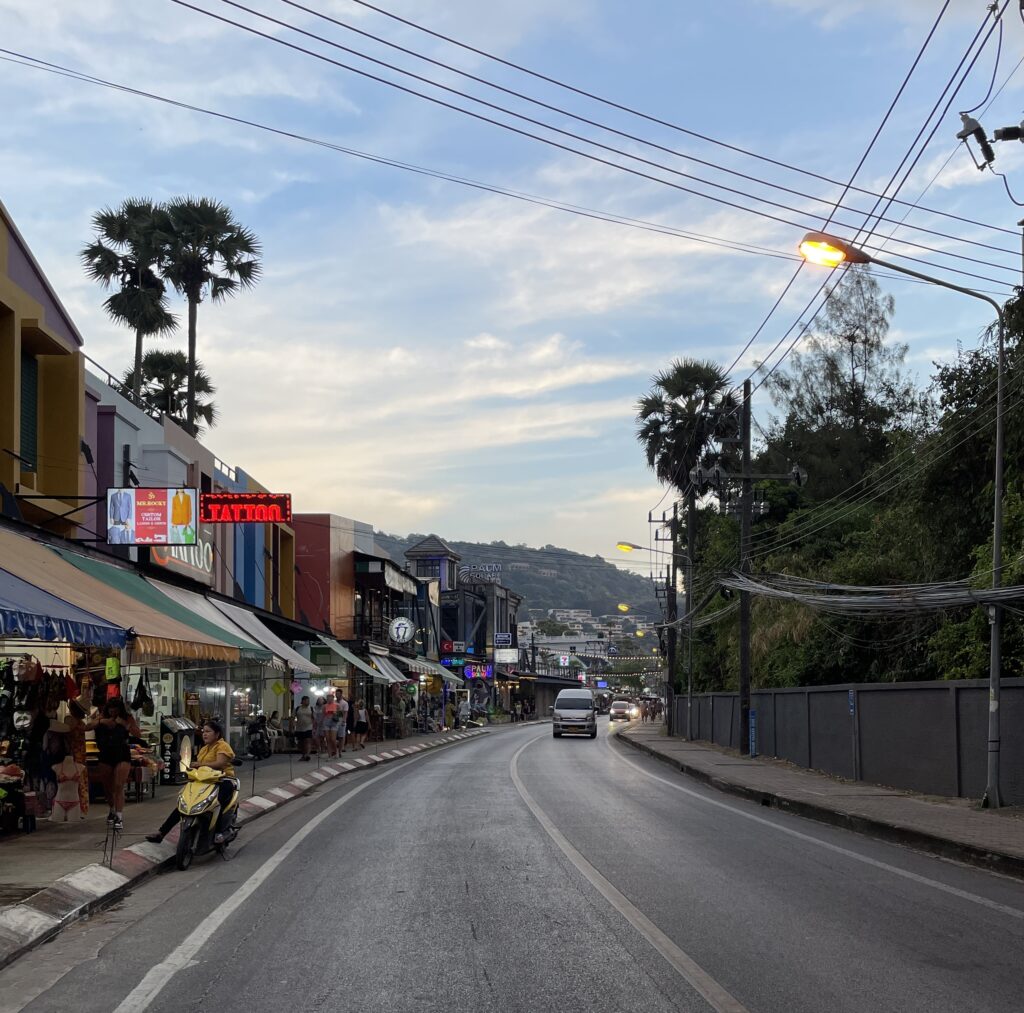 Kata Beach Restaurants
There is a wide variety of food in Kata, something I was grateful for when visiting.
Don't get me wrong, I love Thai food, and my favorite restaurant in Kata is a Thai Restaurant named "The Pad Thai Shop."
But if you're staying in Thailand for three weeks or more, switching things up, cuisine-wise, is a nice change!
Here is a short list of my favorite restaurants in Kata; and I'd recommend you consider visiting them when staying in Kata. If you spend the day in Karon Beach, consider these excellent restaurants in Karon Beach!
If you're looking to pick up some food for lunch on the go and then continue to the beach, go to this Street Food Market, which is open throughout the day. It's perfect for a quick lunch!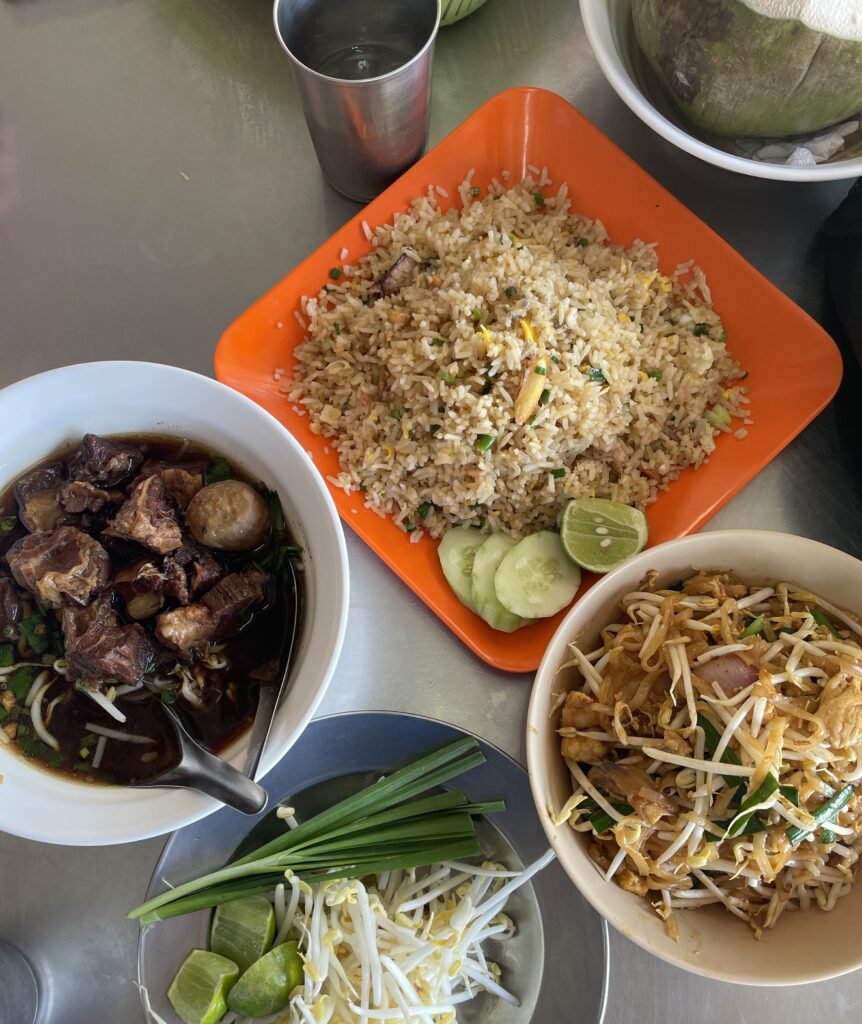 Kata Restaurant Recommendations
The Pad Thai Shop (a popular Thai restaurant amongst locals)
EAT Bar & Grill (steakhouse, also known for their burgers)
Gastone (best Italian restaurant in Kata)
Istanbul Restaurant Kata (traditional Turkish food)
Oh San Ramen & Izakaya Kata (Japanese izakaya food)
Pomodoro Pizza Restaurant (the best Pizza in Kata)
If you're looking for a restaurant with an ocean view, head over to Mom Tri's Kitchen. I haven't been, but it's the only option in town for dining with an ocean view!
Kata Beach Nightlife
Kata is a small beach town similar to its neighbor, Karon. There isn't much going on here nightlife-wise, besides a few bars where you can have drinks, watch sports, and meet others.
Nightlife in Kata involves going to a bar to meet other tourists and locals, spending the evening at the Kata Night Market, walking on the beach, or doing something laid back.
Bars in Kata
Mee Bar
Back Cat's Bar
My Bar is Your Bar
AllStar Aussie Sports Bar
If you'd like to switch things up, you can always go to Karon Beach and visit the bars on Patak Rd there as well.
How Far is Kata Beach from Patong?
It's about a 20-minute taxi to Patong from Kata and a distance of 13 km.
If you're looking for nightclubs, go-go bars, or even Muay Thai fights to attend, you will have to go to Patong Beach for that.
You can either take a Grab car, taxi, or tuk-tuk. On your way back from Patong to Kata, it may be slightly more expensive than there because it will be later at night.
TIP: If you're to take a taxi or tuk-tuk, check the GRAB price first so drivers don't overcharge you.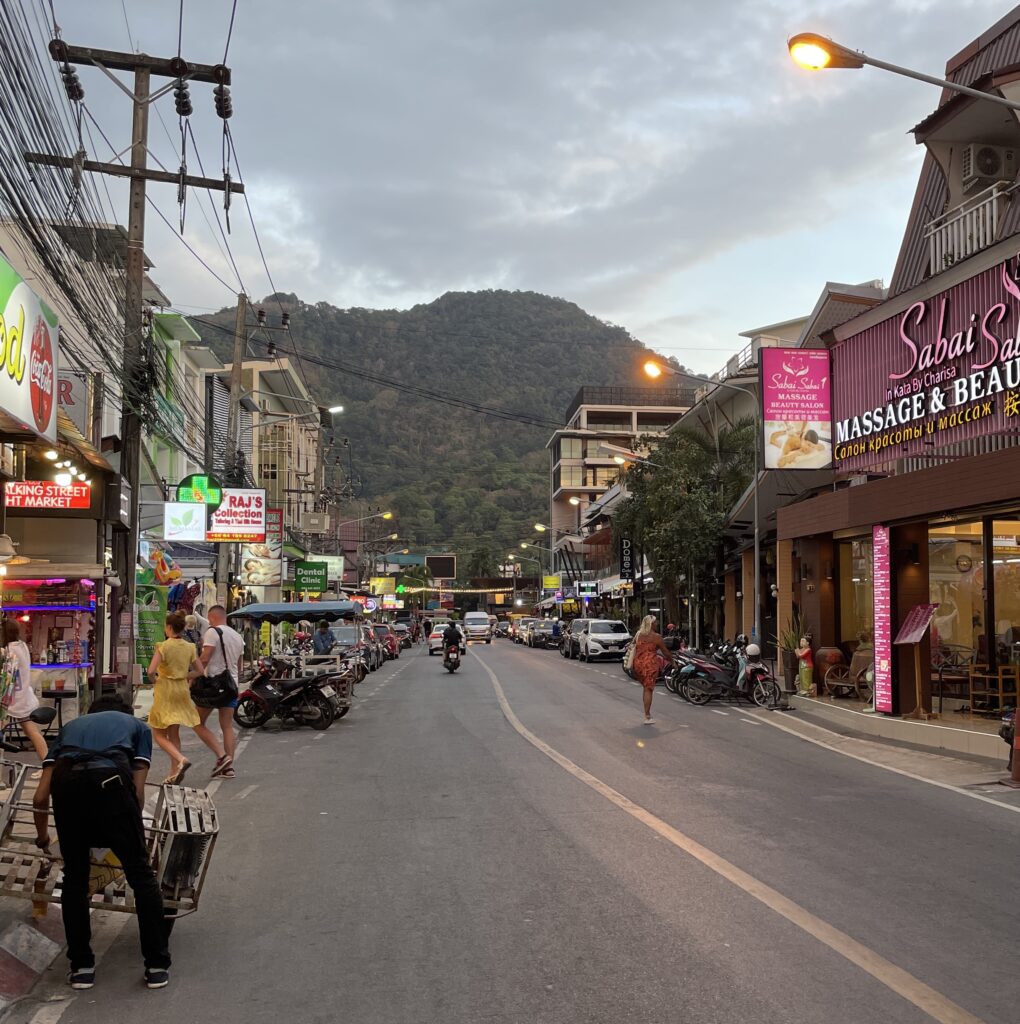 Kata Beach vs Karon Beach
Between Karon and Kata, it's about 5 minutes, and because of that, the two beach areas are constantly compared to one another.
Whether you stay in Kata or Karon, visiting both beaches is relatively easy. Technically, it only matters if you stay in either beach area if you'd prefer to be within walking distance of one specific beach.
The main difference between the two areas is this. Compared to Kata, Karon Beach is less developed, with fewer condos, hotels, shops, restaurants, and no large grocery stores.
Karon Beach also has the longest beach shoreline between the two. If you're looking for a beach chair rental, you can't always find one in Kata, but you can in Karon. But Kata has many food vendors by the beach.
If you're visiting shortly for vacation, staying in Kata or Karon Beach will be the same. But if you're looking at staying a month or more, I will pick Kata over Karon Beach, only because of the condo selection and access to more grocery stores.
Not a big difference between each area; I've stayed in both, enjoyed both, and can't say I'd pick one over the other. Make sure to visit other beaches in Phuket when visiting!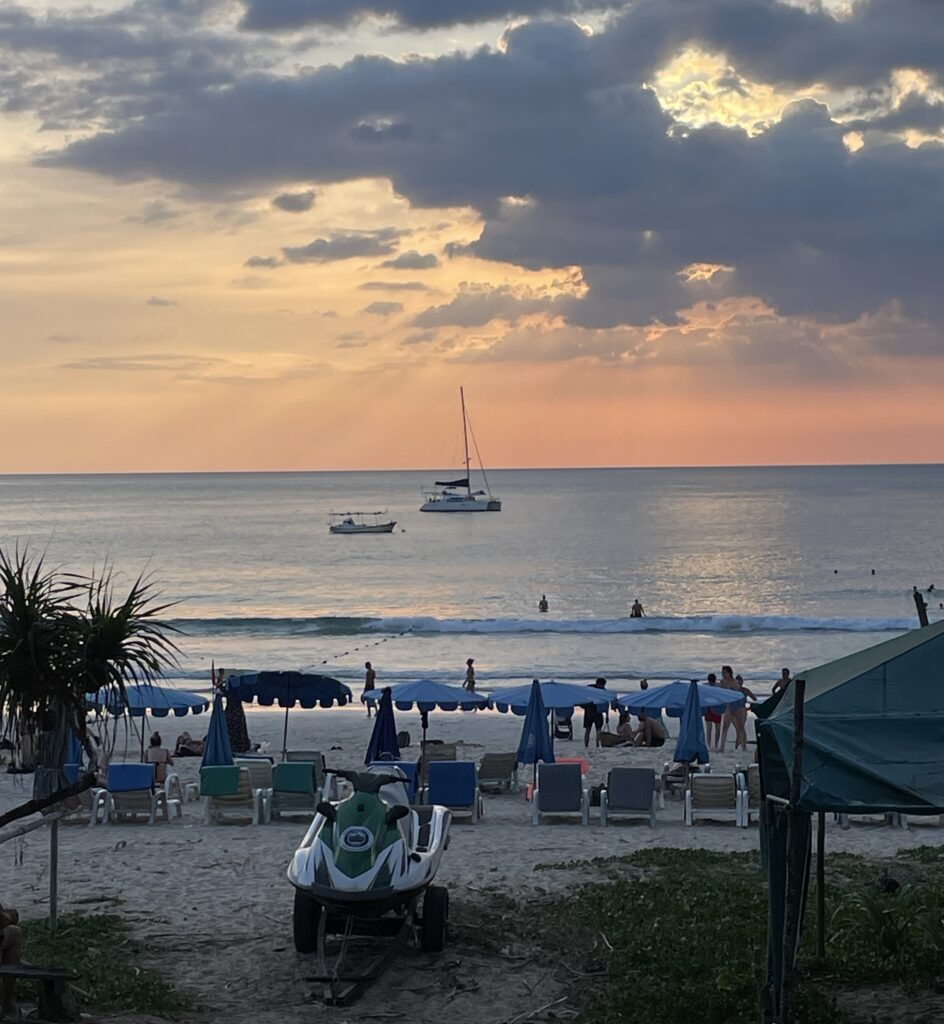 Things To Do in Kata Beach – Final Thoughts
If you're visiting Kata with your family or a loved one, Kata is, without a doubt, one of the best beach areas to stay in Phuket.
It's a calm and quiet area, but not dull. Kata Beach is one of the most excellent beaches in Phuket. The restaurant selection in Kata is exceptional.
As mentioned earlier, the location of Kata is ideal because it's the closest beach to where 4028 Road goes horizontally across Phuket island, giving you access to the eastern side of Phuket, where Old Town Phuket is, Central Phuket Mall, and more.
I highly recommend considering Kata when staying in Phuket or even for a beach day!
One trip you must consider doing when in Phuket is visiting Phi Phi Islands.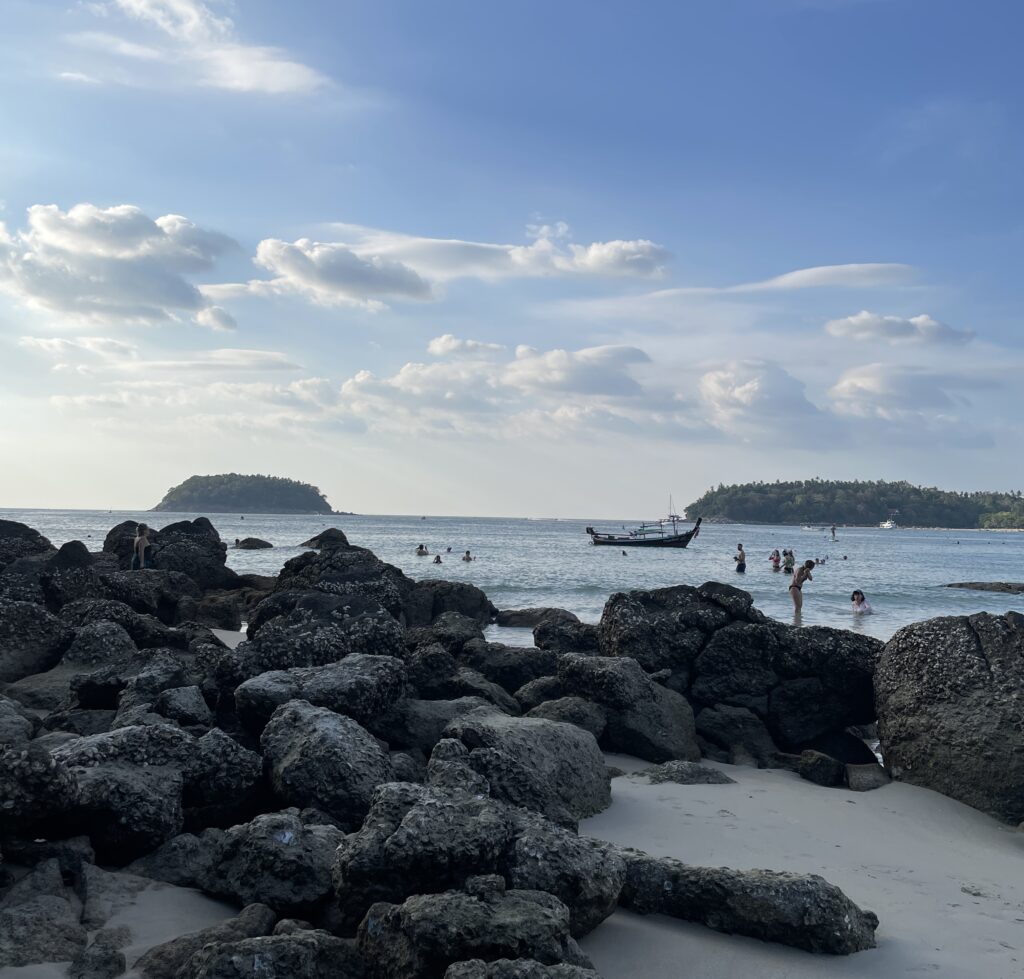 What is Kata Beach known for?
Kata Beach area is most known for its laidback atmosphere and is frequented by families on holidays and solo travelers. The actual beach is known for its waves and is popular amongst surfers.
Is Karon or Kata Beach better?
Both beaches are beautiful in their own way; Karon Beach has a more extensive shoreline with calmer water.
Can you walk from Kata to Karon Beach?
Yes, you can. It depends on where you walk from in Kata, but it should take around 10 – 15 minutes.
Can you swim in Kata Beach?
Yes, you can. Kata Beach does have some waves, but it's fine to swim in.
Subscribe to Travel Hiatus!
Receive updates on my latest posts, insider travel tips & the best destination guides to your inbox!
---
Planning Checklist
---
Disclaimer: Please note that some of the links shared in this article might be affiliate links; this means that at absolutely no extra cost to you, we will earn a small commission for any sales generated through this article and/or this website. We recommend products/services we've either used or researched thoroughly – Thank you for supporting us so we can continue to share helpful travel content!