Is Phi Phi Island Worth Visiting? Ultimate Guide
Are you curious and wondering: Is Phi Phi Island worth visiting? You've come to the right place!
The Phi Phi Islands are composed of six islands, the largest being Phi Phi Don, a small town comprised of bars, hotels, restaurants, shops, viewpoints, and many locals inhabiting the island. It's a unique place and worth exploring!
I'll discuss whether Phi Phi Don is worth visiting and staying on. I won't discuss whether a Phi Phi Islands tour is worth it.
Most tours of the Phi Phi Islands from Phuket and Krabi don't usually include visiting Phi Phi Don (main island), and it's unfortunate because Phi Phi Don is definitely worth experiencing!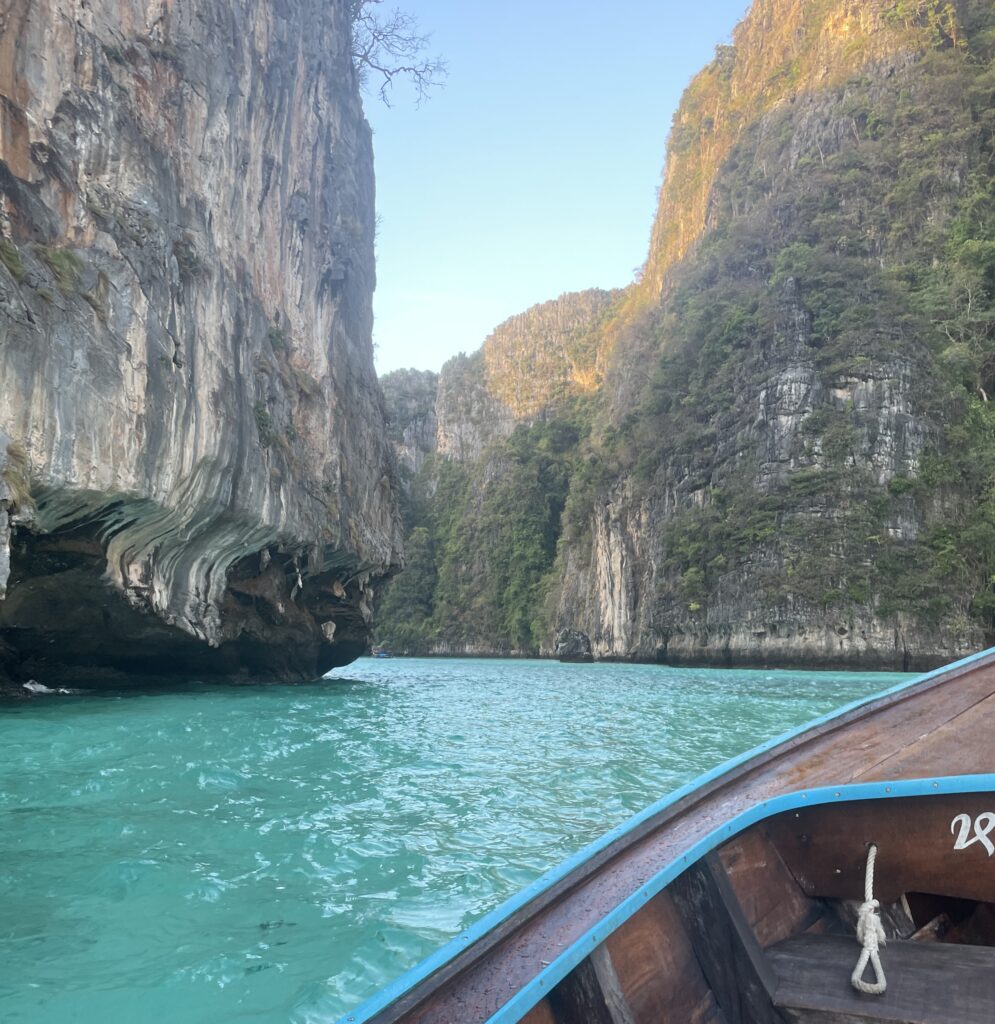 Before visiting Phi Phi Don, I was fascinated by it, a small island in the middle of the Andaman Sea with only 5,000 residents and what was once overflooded by a tsunami in 2004.
An island with no cars and food/produce gets around using large metal two-wheeled carts by locals; the streets are uniquely paved, and you can walk just about on the island in 5 to 15 minutes.
It was a unique experience, and if you're wondering whether you should tour the Phi Phi Islands or go to Phi Phi Don, spend a night here and do tours from here.
The answer is Phi Phi Don is worth visiting; go there, spend a night, and experience this tiny small town in the middle of the Andaman Sea!
How to Get to Phi Phi Island (Don)
Let's first discuss how to get to Phi Phi Don from Phuket or Krabi, the only two places you can reach Phi Phi Don from!
There is no other way to get to the Phi Phi Islands; you must be in Phuket or Krabi first.
*** When entering Phi Phi Don, you must pay a 20 Baht environmental fee to enter (have cash on you) ***
From Phuket
To get from Phuket to Phi Phi Don, you must go to the Rassada Pier in Phuket
Time: 2 hours by Ferry – 1 hour by Speedboat
Get your Phuket Tickets Here – Fill out the departure and the Date, and choose Ferry or Speedboat.
Cost: 500 Baht ($15 to 20 US) / Prices vary between companies and seasonal time of year
From Krabi
To get from Krabi to Phi Phi Don, go to Klong Jilad Pier or Nopparat Thara Pier. Depending on which pier is closer to you, these are the two main piers, but there are others.
Get your Krabi Tickets Here – Fill out the departure and the Date, and choose Ferry or Speedboat.
Time: 2 hours by Ferry – 1 hour by Speedboat
Cost: 500 Baht ($15 to 20 US) / Prices vary between companies and seasonal time of year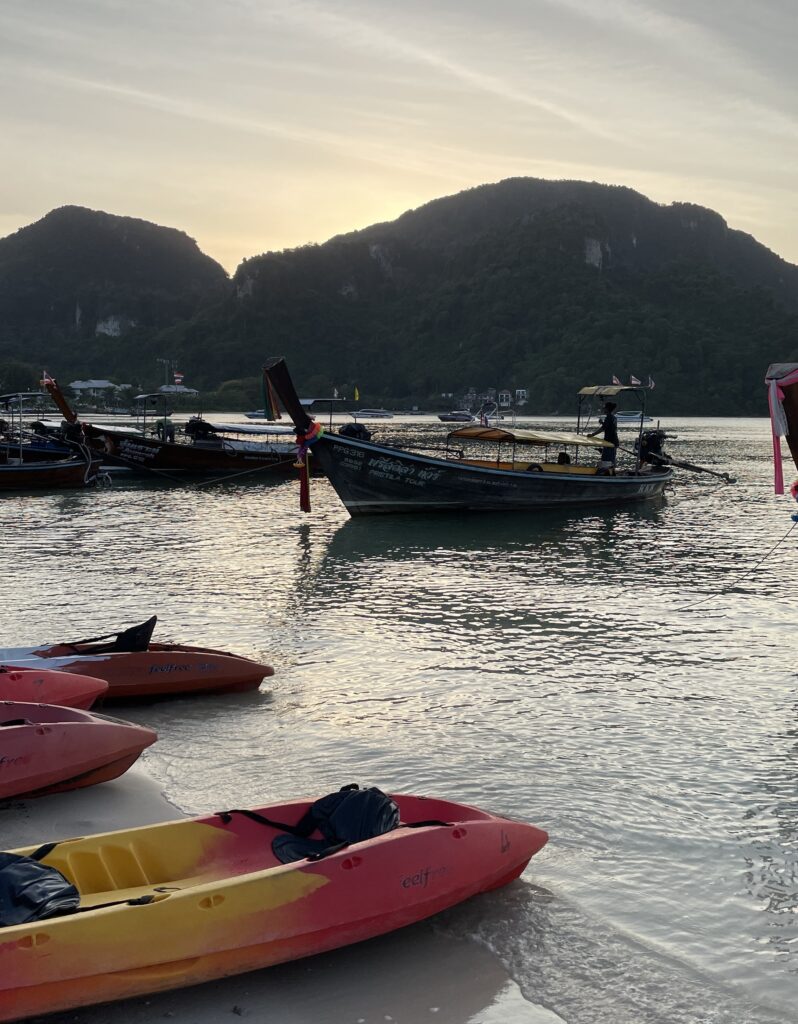 Best Things To Do in Phi Phi Island
Besides experiencing island living in the middle of the Andaman Sea, let's discuss a few fun things to do on Phi Phi Don!
I'll also include information regarding the many popular boat tours from Phi Phi Don.
Hike to Koh Phi Phi Viewpoints
If you've spent some time looking at images of Phi Phi Don online, you'll more than likely see a photo from the famous Koh Phi Phi Viewpoint of the entire island.
This fun 30-minute hike to the top of the island is a great way to spend the afternoon and a memorable way to go home with the best photos of the island.
Once you've reached the top, you will see mesmerizing views of Phi Phi Don, both bays connecting to the island and large limestones in the background.
Here's a tip for one picture-perfect shot: come early and see the sunrise, no crowds, and better views!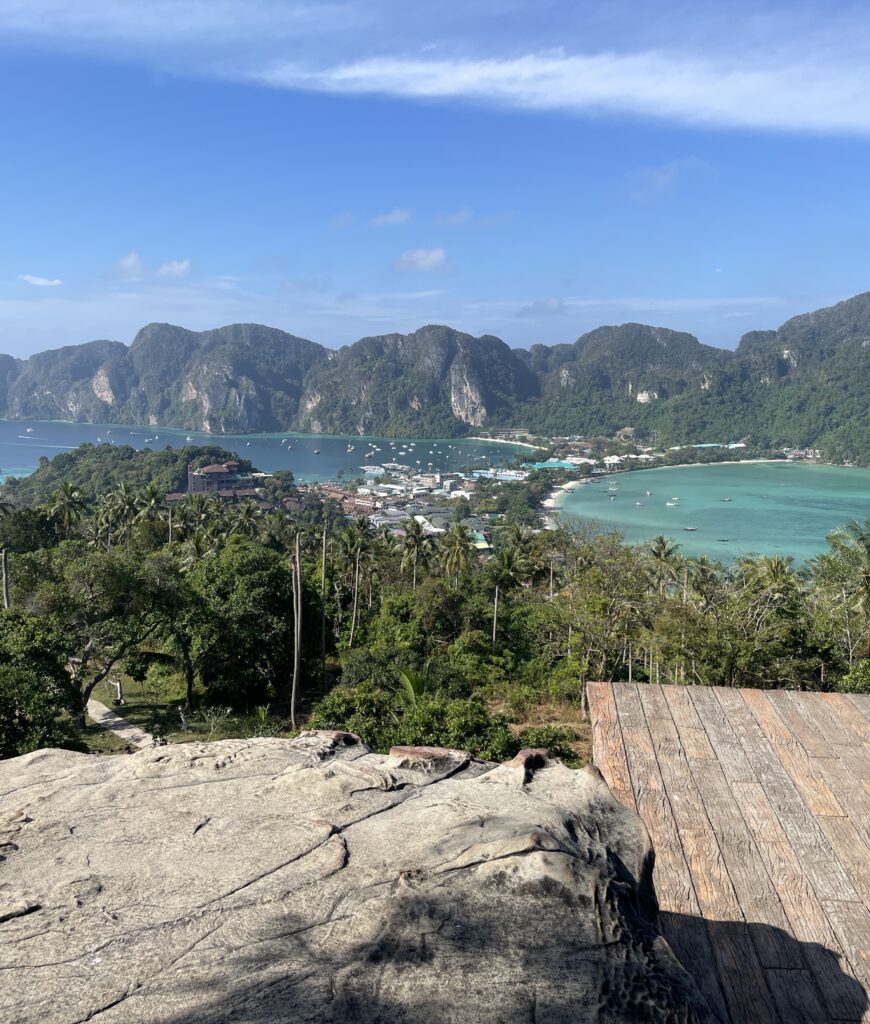 Sunset at Loh Dalum Beach
On one side of the two bays that connect to Phi Phi Don is Loh Dalum Beach. A beautiful beach shoreline with plenty of room to lie down and many beach clubs, restaurants, and cafes.
In the evening, many tourists gather here to see beautiful views of the sunset as it comes down along the bay with the sea in the distance; on both sides, you'll spot large limestones, making for a unique sunset view experience!
So buy food and drinks from the 711 convenience store and have a picnic. Or visit one of the many beach clubs, sit, and enjoy some cocktails as the sunset comes in!
During the day, the beach is full of tourists swimming, lounging around, and relaxing; you can also rent a kayak or paddleboard on the beach.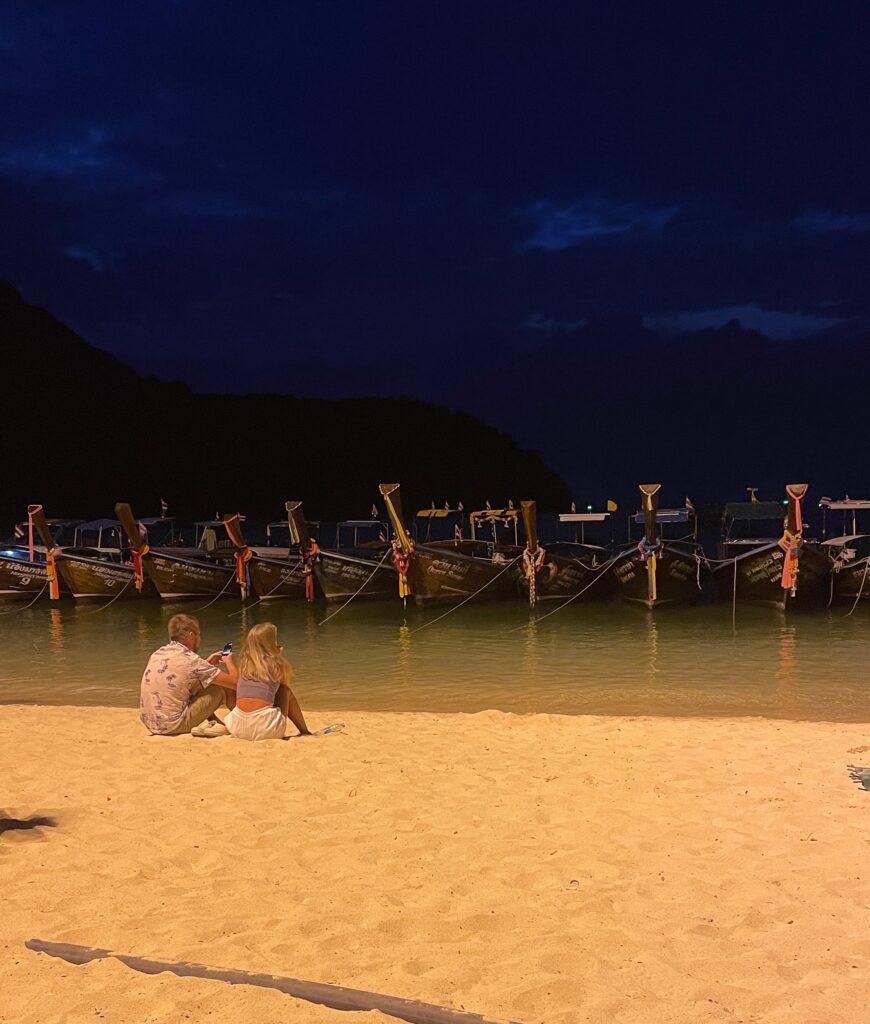 Stroll the Island
Believe it or not, one of the most fun things to do in Phi Phi Don is just walking around the island and exploring it. It's not large by any means, so you can walk most of the island in around 15 minutes or so.
But it's a unique experience, seeing the surroundings of where 5,000 people call home in the middle of the Andaman Sea—spotting the many backpackers from several different countries coming and going.
Visiting the many restaurants, cafes, and shops and talking to the locals, the island is uniquely placed geographically, and despite what others may say about Phi Phi Don, it's one of a kind!
This is one of the many reasons you should spend at least one night in Phi Phi Don. Many visit the Phi Phi Islands by tour and don't see Phi Phi Don or only visit it for an hour.
Book a hotel on Phi Phi Don for at least one night, and experience Phi Phi Don to the fullest!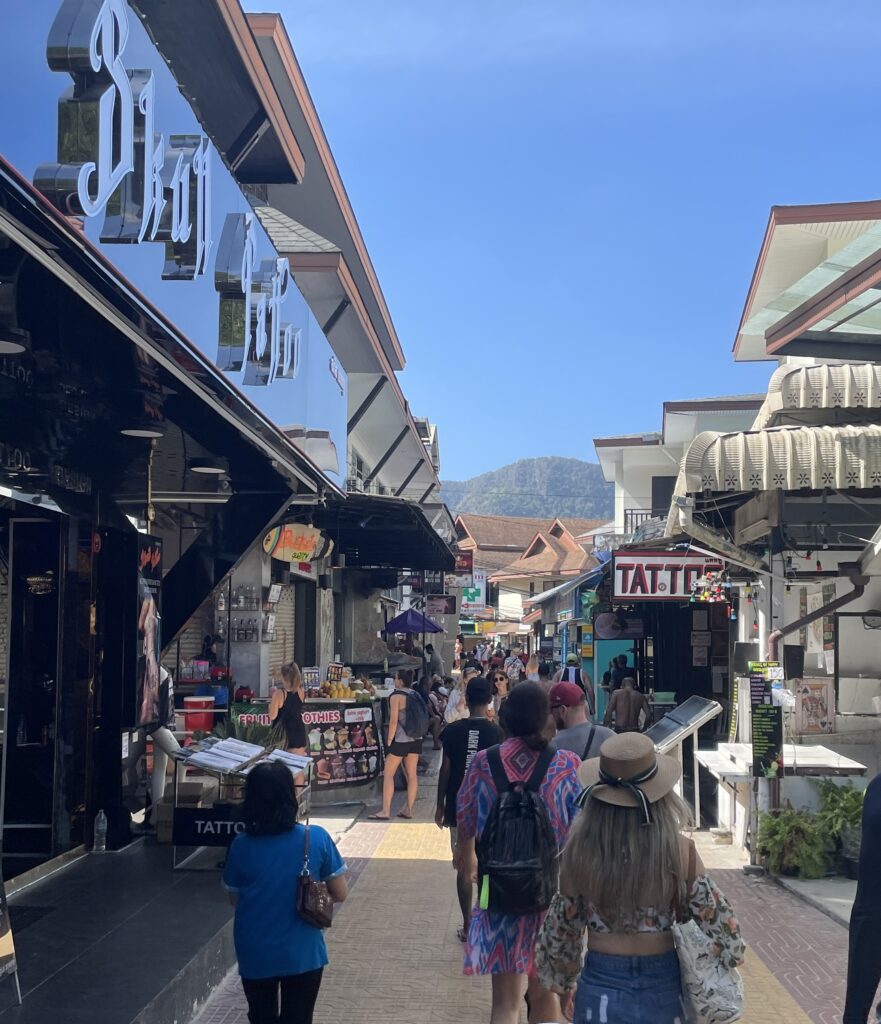 Check out the Night Market
In the heart of every city and town in Thailand is a unique night market full of friendly locals serving delicious food and selling souvenirs, and that's no different on Phi Phi Don.
There are many outdoor restaurants at the night market here; many have been open and serving tourists for several years.
What makes the night market unique here is the mix of nationalities you'll spot visiting Phi Phi Don. One of the best parts about Phi Phi Don is the mix of people and many solo travelers visiting!
Boat Tour to Phi Phi Leh Lagoon, Maya Bay & Monkey Beach
This is another significant reason to consider visiting and staying on Phi Phi Don for at least one night.
If you stay on Phi Phi Don, you'll be able to wake up early and experience the main attractions surrounding the main island first before other tourists come in the afternoon from Phuket and Krabi.
From Phi Phi Don, all the attractions, like Maya Bay Beach, the Lagoon, and more, are only a 10-minute longtail boat ride away!
Visiting the many attractions on the Phi Phi Islands is more convenient when you do it from Phi Phi Don!
So you'll get to visit with fewer crowds, and you won't have to come from much further than other tourists visiting from Phuket/Krabi for the day. Here's all the tour info you need!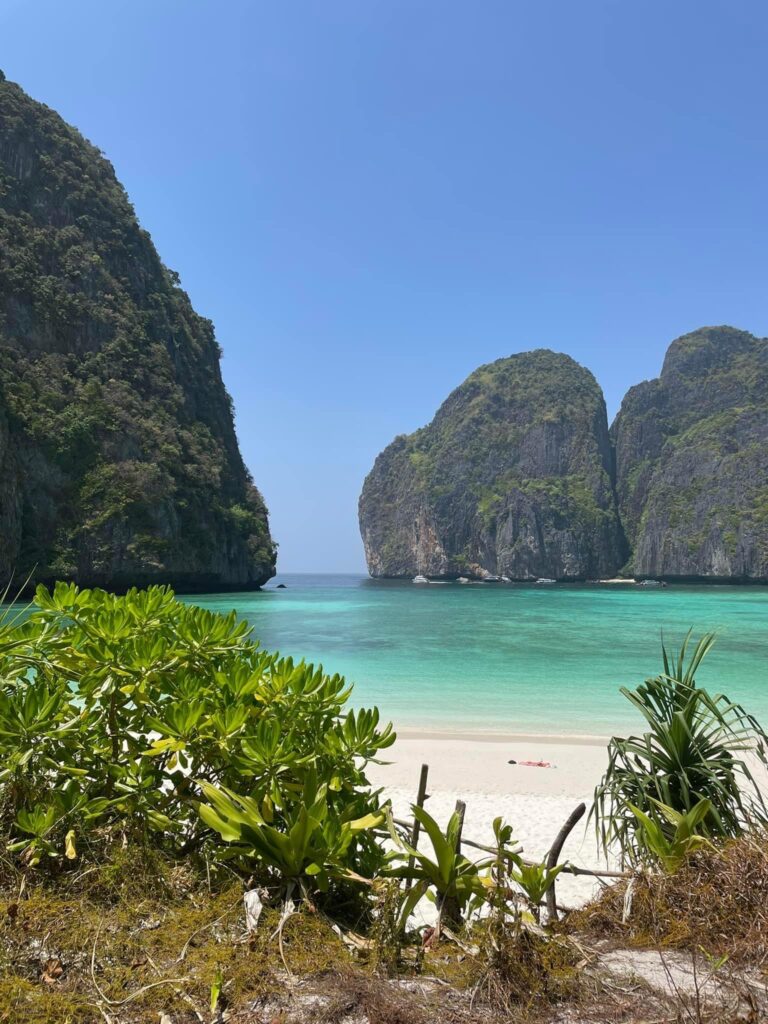 Phi Phi Island Nightlife
Many visit Phi Phi Don because of its party-like atmosphere; the wide variety of nightlife on Phi Phi Island is fantastic!
From nightclubs, beach/pool parties, many bars to check out, Muay Thai fights, or tipsy evenings by Loh Dalum beach followed by delicious food at the local night market.
One of my favorite aspects of visiting Phi Phi Don was the number of vendors selling buckets full of alcohol on the streets.
Having a cheap drink on a remote island, walking around, and knowing your hotel is close by, it's a fun time!
Night Clubs & Bars
The partying in Phi Phi Don is one of many reasons the island is famous among tourists. And for those traveling solo, the parties here are full of solo travelers, so it's an excellent place to meet others!
There are countless bars and venues on the island to have a fun night partying on the island, but here's a list of some well-known spots!
Ibiza Pool Party
Slinky Bar
Stones Bar (they've got a fire show on the beach in the evening)
Stockholm Syndrome
Muay Thai Boxing Match
A fun way to spend an evening in Thailand is watching a few Muay Thai matches, drinks, and a hyped-up crowd!
Visit one of the few Muay Thai venues on the island, watch a few fights, and then follow up with the evening with some food or head out to a party on the beach!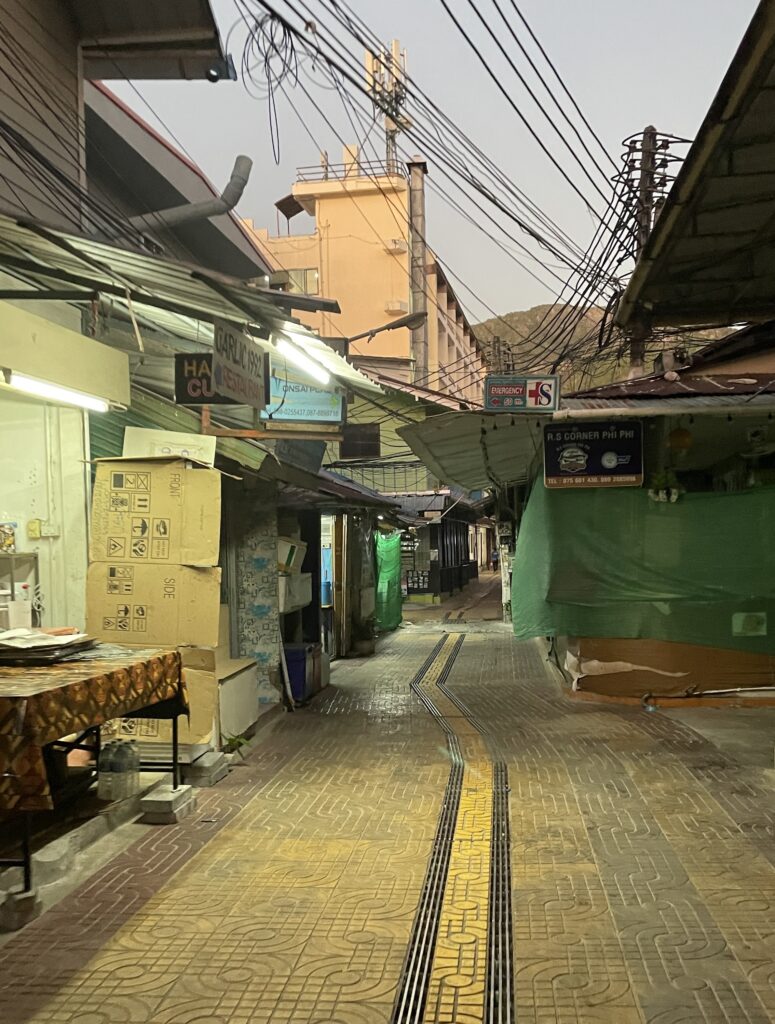 Best Restaurants in Phi Phi Don
Despite being a tiny island in the middle of the Andaman Sea, many great restaurants on Phi Phi Don offer various cuisine types!
Here's a short list of restaurants on the island that I'd recommend you try when visiting!
Garlic 1992 — A humble local Thai restaurant that's been open since 1992, family-owned/operated. The food was delicious here, it was well-priced, and their cocktails were massive
Phi Phi Don Cafe & Restaurant — This cafe/restaurant has the best view of the bay on the island. Their menu is extensive, and they serve cocktails throughout the whole day
Thai Duck Noodle Soup — Located right in the night market, the friendly man who owns this shop always has awesome music, serving several various classic duck Thai dishes
Atom Resto — Locally owned Italian restaurant serving both Italian and Thai food, an excellent choice for those craving pasta
Only Noodles — This small hidden restaurant on the corner of a street serves delicious cheap pad-thai in several ways, a perfect place for a quick, affordable lunch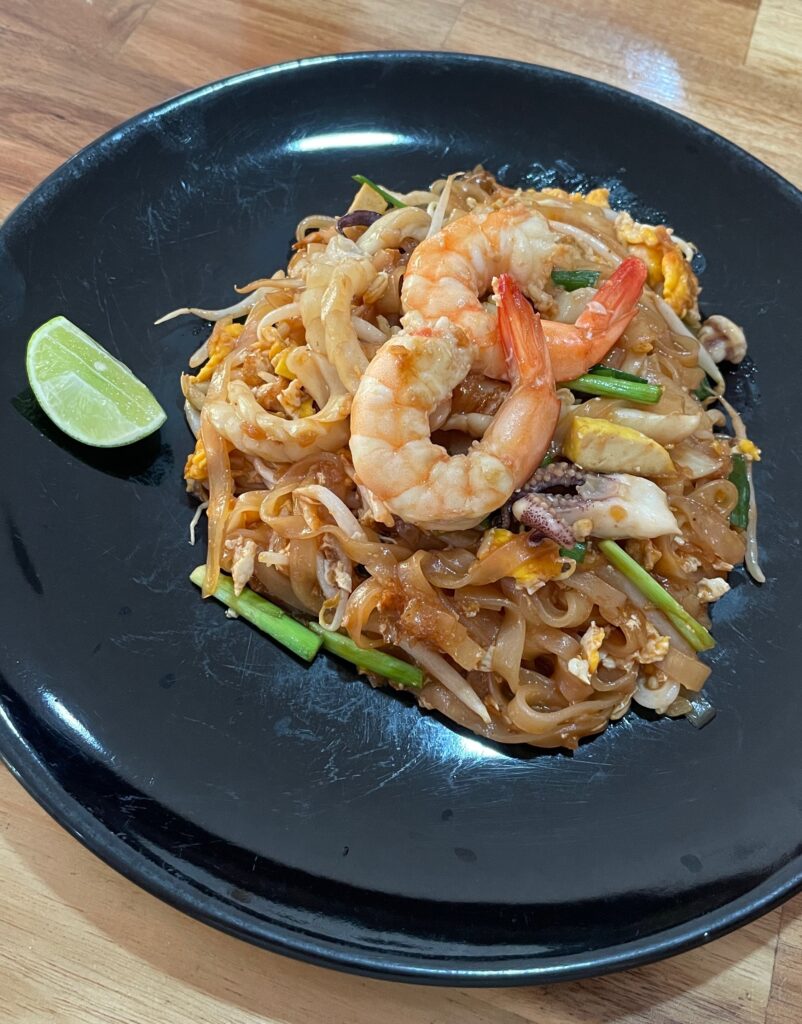 Where to Stay on Phi Phi Island
There are many excellent accommodations on Phi Phi Don, from bare-budget hostels to large resorts and boutique hotels.
Here is a short list of accommodations for all budgets on Phi Phi Don!
If you are visiting and wondering about one of the more luxurious accommodation options on the island, understand that some are only accessible by longtail boat taxi.
Regarding most accommodations, they're all located within walking distance of everything central on Phi Phi Don.
Zeavola Resort / A luxurious 5 Star resort offering a secluded, quiet atmosphere on the island.
Phi Phi Coco Resort / 4 Star Beach Resort is located by the main port, a beautiful hotel, and a convenient location.
Phi Phi Anita Resort / 3 Star resort located in the heart of the island, nearby bars, restaurants, and only a 10 minute walk to the main port
Ibiza House / 3 Star hotel famous for its infamous pool parties by the beach, the most popular accommodation for solo travelers in Phi Phi Don
As stated earlier, Phi Phi Don is famous for its many hostels; here are the two best hostels on the Island:
Blanco Beach Bar / Popular hostel with a beachfront pool facing the sea. And at night, the place turns into a fun, lively beach bar
The Pier 519 / A boutique-style hostel is centrally located and ideal for those not looking to be around too much partying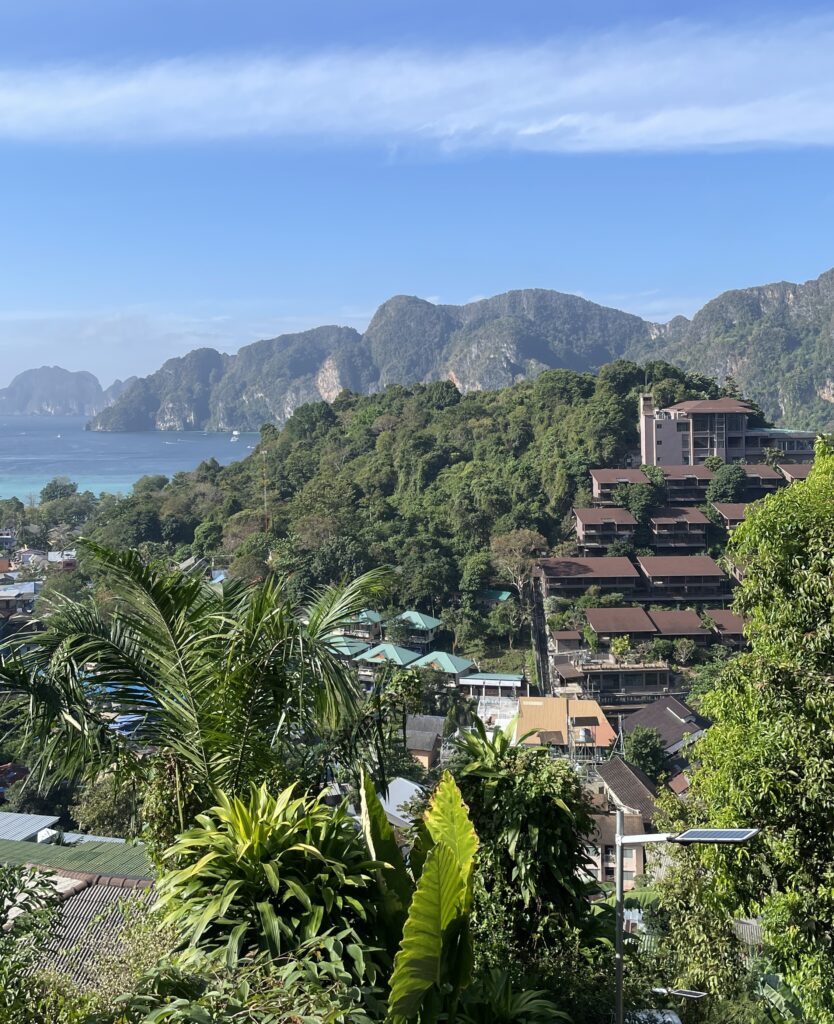 How Many Days to Spend on Phi Phi Island (Don)
I'd like to believe you aren't still pondering: Is Phi Phi Island worth visiting? And you've decided to spend at least one night on Phi Phi Don. Now the question is, how many days for Phi Phi Don?
Unlike most places in Thailand, the island is small, so two nights on Phi Phi Don would be enough for you to do tours one day, visit the Phi Phi Viewpoint and party, and get a feel for the island!
Some tourists visit and appreciate the island vibes and love the fact you can walk around everywhere and that there are parties every night of the week. And decide to spend three to seven days on Phi Phi Island.
I've gone to Phi Phi twice and never spent more than two days; it's a touristy place, so two days have always been enough for me!
Best Time to Visit Phi Phi Islands
The best time to visit the Phi Phi Islands and anywhere in Southern Thailand is during the dry season, from November to early April.
December, January, and February are the driest/sunniest months of the year in Phi Phi Islands.
If you choose to visit during the off-season months from May to October, you may experience some sunny days, but be prepared for some cloudy/rainy days as well.
Something important to note for the off-season is the aggressive sea amongst the Phi Phi Islands some days. Tours to attractions on the Phi Phi Islands are canceled for a day/s because of this. Also, beaches have red flags recommending tourists not swim some days.
Monsoon/Rainy Season in Phi Phi Islands: May to October
Dry Season in Phi Phi Islands: November to April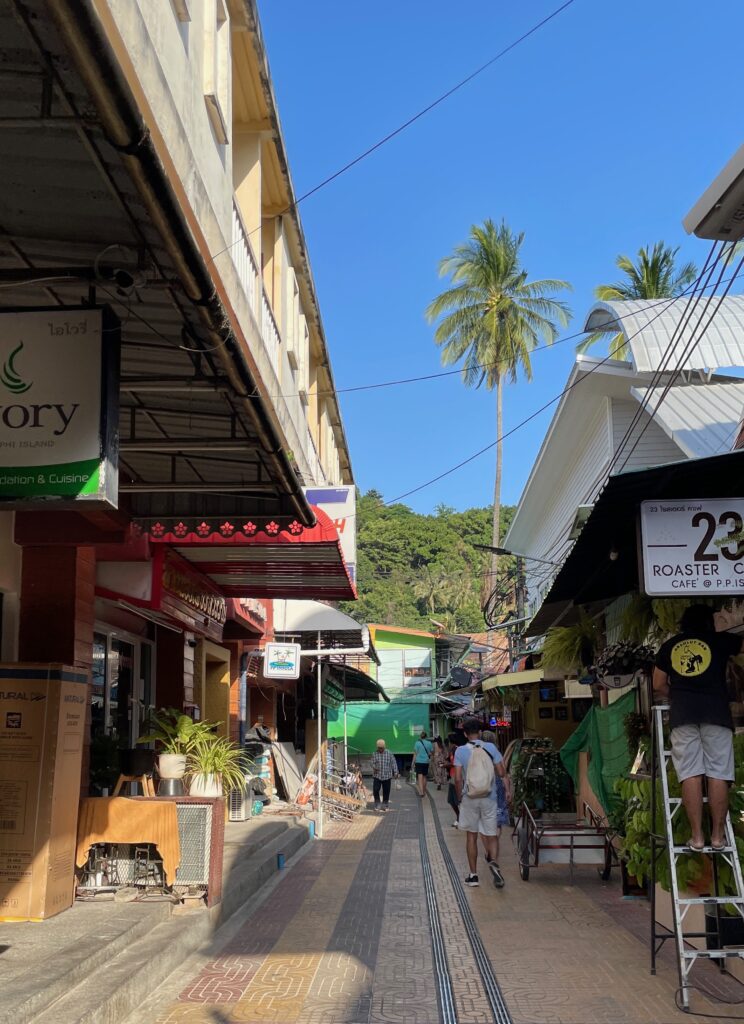 Is Phi Phi Island Worth Visiting? — Final Thoughts
So, is Phi Phi Island worth staying on? What do you think after reading this article? Are you considering spending a night on Phi Phi Don? It's very much worth visiting!
Doing Phi Phi Island tours from Phi Phi Don is more convenient, and you'll be able to take advantage of visiting the many attractions before they become crowded with tourists in the later afternoons.
Visiting Phi Phi Don will mean you get to experience another new small island town in Thailand! Take advantage of experiencing a new, unique island while visiting Southern Thailand. Spend at least one night on Phi Phi Don!
After Phi Phi Don, continue your tropical adventures and head over to Ao Nang or Railay in Krabi!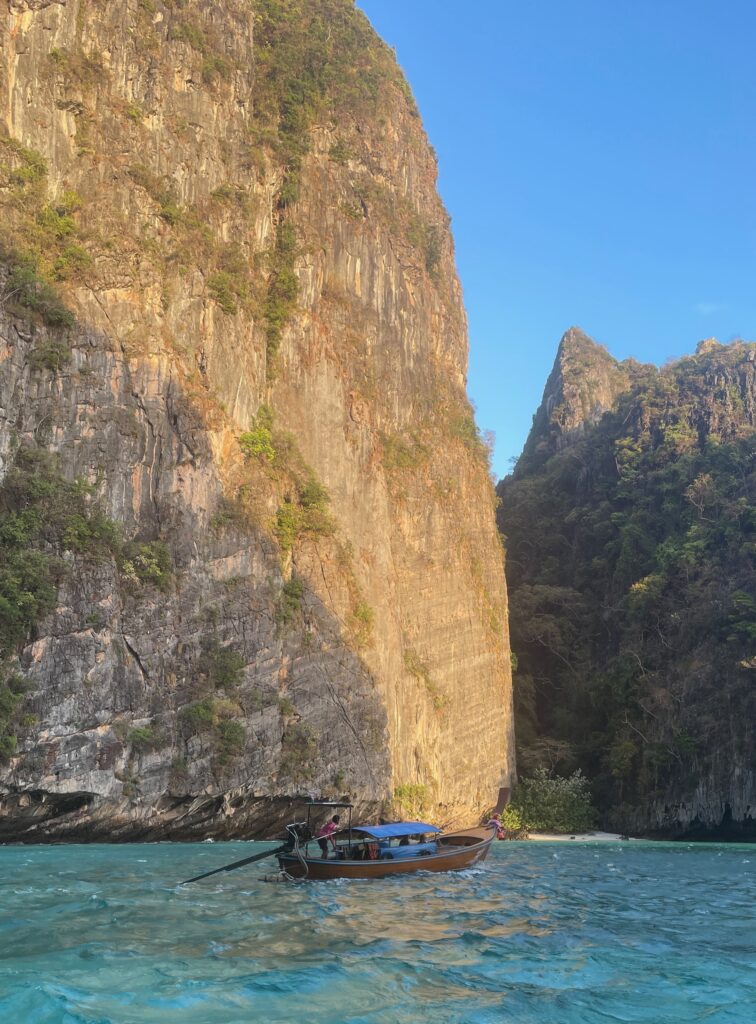 Why is Phi Phi Island so popular?
Phi Phi Island is famous for its many attractions, including Maya Bay, the Pi Leh Lagoon, Monkey Beach, and its natural surroundings. Besides that, the main inhabited island, Phi Phi Don, is a fun place to visit and explore for a few days!
Is Phi Phi Island expensive?
It's not expensive; Phi Phi Island is known for attracting backpackers worldwide and has plenty of budget-friendly accommodations. In perspective, Phi Phi's neighboring island, Phuket, is more expensive to visit.
Is Phi Phi Island a party island?
Phi Phi Island is known for its many beach parties in the early morning, bars, fire shows, and nightclubs. The island is famous for its nightlife, but that being said, there are many laid-back ways to enjoy your evenings in Phi Phi Don as well!
Is Phi Phi Island worth it for a day trip?
With its many attractions and mesmerizing natural beauty, it's worth visiting Phi Phi Island for a day! If you aren't able to spend one night on Phi Phi Don, you must at least make a day trip to Phi Phi Islands!
Subscribe to Travel Hiatus!
Receive updates on my latest posts, insider travel tips & the best destination guides to your inbox!
Happy & Safe Travels
---
Planning Checklist
---
Disclaimer: Please note that some of the links shared in this article might be affiliate links; this means that at absolutely no extra cost to you, we will earn a small commission for any sales generated through this article and/or this website. We recommend products/services we've either used or researched thoroughly – Thank you for supporting us so we can continue to share helpful travel content!