12 Best Tulum Restaurants to Try in 2023
The food scene in Tulum is excellent. From street tacos to fine dining, all types of cuisine are in Tulum. Being the popular vacation destination it is, it would make sense—being the foodie when I visited Tulum, I researched the best Tulum Restaurants.
In this list, I will share the best restaurants in Tulum—everything from Tulum's best taco spots to fancy fine dining restaurants by the beach. I will also include cheap places to eat, the best cafes in Tulum, and more. Every time I return to Tulum, the restaurant scene grows and improves.
If you're curious about how to get to Tulum from Cancun, please refer to my complete guide here.
There are many options when it comes to dietary choices in Tulum. The town attracts thousands of tourists every year from all over the globe.
So those who're vegetarians or vegans, you've got quite the selection of restaurants to choose from. This is also because foreigners living in Tulum full-time tend to be health conscious. There's a restaurant for everyone on this list.
I tried half of these restaurants on this list; others were recommended by friends living full-time in Tulum.
I've also included several taco spots in this; if you're in Mexico, eating many tacos is a must. For those looking for a foodie experience trying several taco spots, I recommend this Taco Tour.
Looking for the best Cheap Eats in Tulum? Scroll down; closer to the bottom of this article, I've included a list.
READ ALSO: Best Playa Del Carmen Restaurants
Below is a price guide grading each restaurant in this list from cheap to too expensive. Tulum is more expensive than your average city in Mexico.
PRICE GUIDE for Tulum Restaurants:
$ = Less than 200 pesos (less than USD $10)
$$ = 400 – 800 pesos (USD $20 to USD $40)
$$$ = More than 800 pesos (more than USD $40)
---
ARCA (Mexican)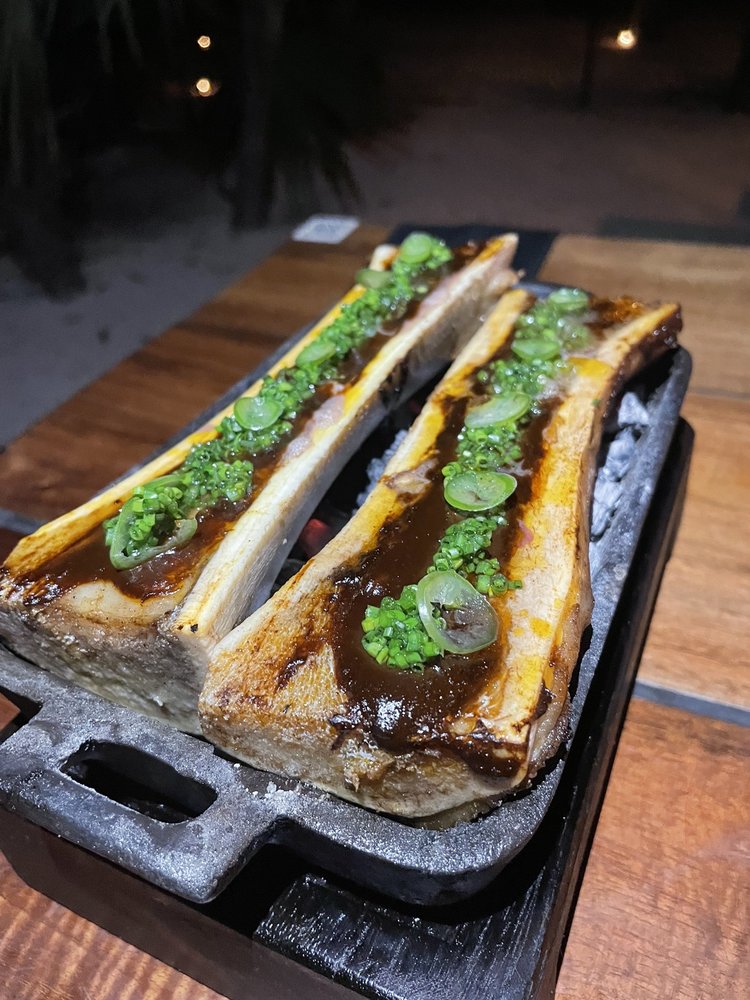 ARCA has it all. Excellent modern Mexican food is served here, and the food is executed with a flair. The dishes here are well thought out, and the presentation is top. ARCA took a 29th-ranking place in the world for best Latin American restaurants in 2022.
ARCA specializes in classic Yucatan food but with a twist, roasted bone marrow with sourdough bread, soft shell crab tacos, sweet potato empanadas, and much more. The cuisine here is diverse and is considered modern Mexican cuisine.
The presentation of the dishes here is what blew me away. The flavors were very much there and complex. The flavors, along with the presentation, really set ARCA apart from all the restaurants in Tulum. The cocktails are excellent here as well!
This place reminded me of Primo in Playa del Carmen, but it was better. Not only is ARCA one of the fanciest restaurants in Tulum, but the food is also excellent as well, and that's why it takes first place in this list of best Tulum restaurants. It's also my personal favorite Tulum restaurant.
Address: Av. Boca Paila, Tulum Beach, 77766 Tulum, Q.R, Mexico
Cost: $$
Hartwood (Seafood)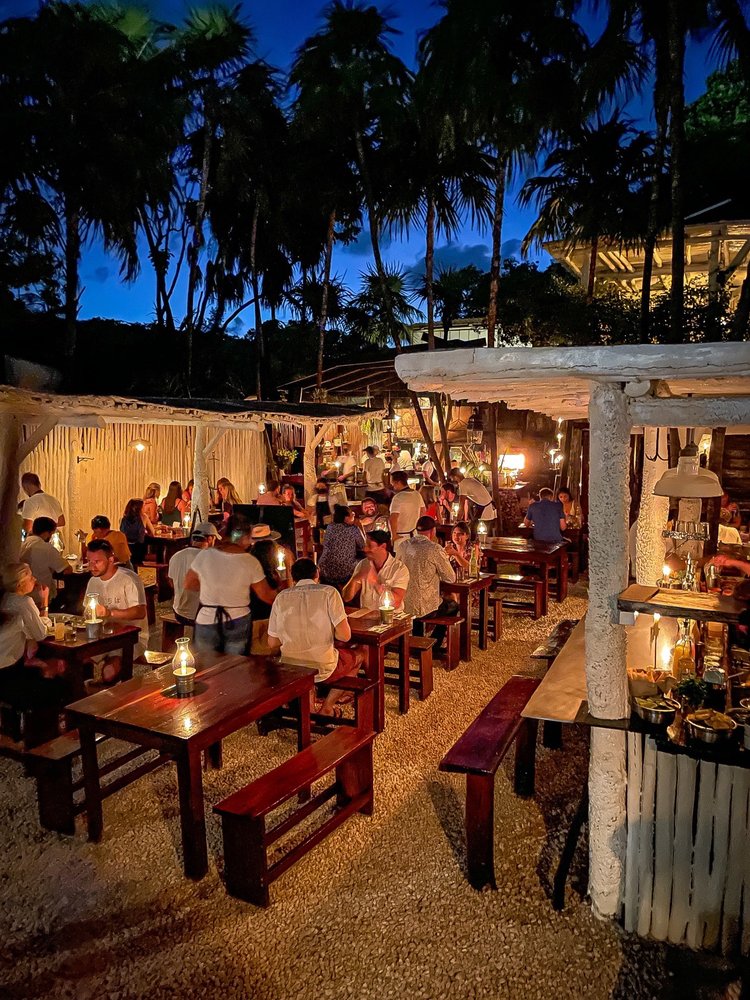 If you love seafood, stop scrolling this list of Tulum restaurants. And go to Hartwood.
Everything your seafood heart desires is here. Mayan prawns cooked in various sauces, sea bass served on top of a Mexican-styled salad, and whole lobsters served with a wood/smokey aroma.
The drinks are great here as well, and the restaurant's atmosphere is what caught my eye. The entire restaurant is open-aired, and you can see the magic happening in the kitchen. The floor is full of gravel, and you can spot palm trees surrounding the restaurant.
You can also feel a nice breeze in the evening because you aren't too far from the beach—an excellent place for Tulum fine dining. Also, if you're looking for a romantic restaurant to take your date, Hartwood is a great choice.
Address: Carr. Tulum-Boca Paila 7-6Km, Tulum Beach, 77780 Tulum, Q.R., Mexico
Cost: $$$
El Asadero (Mexican)
Meat lovers, this place is for you; if you're a big meat eater, stop scrolling this Tulum restaurant list.
El Asadero is the spot for you. Surf and turf, salmon sitting on top of the avocado, classic al pastor tacos, giant grilled prawns, and barbecued veggies.
This place is a serious BBQ spot. For those looking for even more veggies, don't worry; their salads are enormous and don't disappoint. For drinks, El Asadero has an extensive list of local and foreign beers, wines, and liquor.
Address: Av. Satelite Nte. Mz 23 Lt.5 entre Sagitario y, Calle 2 Ote, Centro, 77760 Tulum, Q.R., Mexico
Cost: $$
Asian Bodega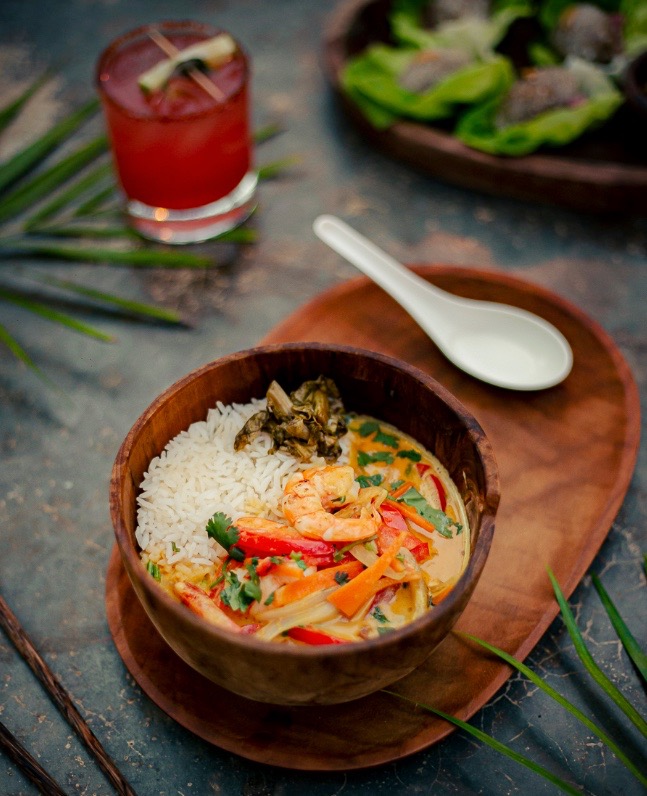 I bet you didn't think you'd find a mix of excellent Chinese, Korean, and Taiwanese cuisine in Tulum, Mexico.
Asian Bodega is doing just that. Conveniently located in Tulum Centro, it's easy to get to, and after dining here, you can always follow up your evening out in the downtown area.
Now let's discuss the food; you can expect pork satay with peanut sauce, crab and red curry wontons, Korean fried wings, charred wok edamame, and much more. With these unique flavors, Asian Bodega is one of the best downtown Tulum restaurants.
The aesthetic they go for when plating the food is very much a Tulum jungle vibe, an added bonus to the great-tasting food here. An excellent restaurant to visit if you'd like a palate change from Mexican food for an evening!
Address: Parque, Av. Kulkulkan 6, Palma Central
Cost: $$
Encanto Cantina (Mexican)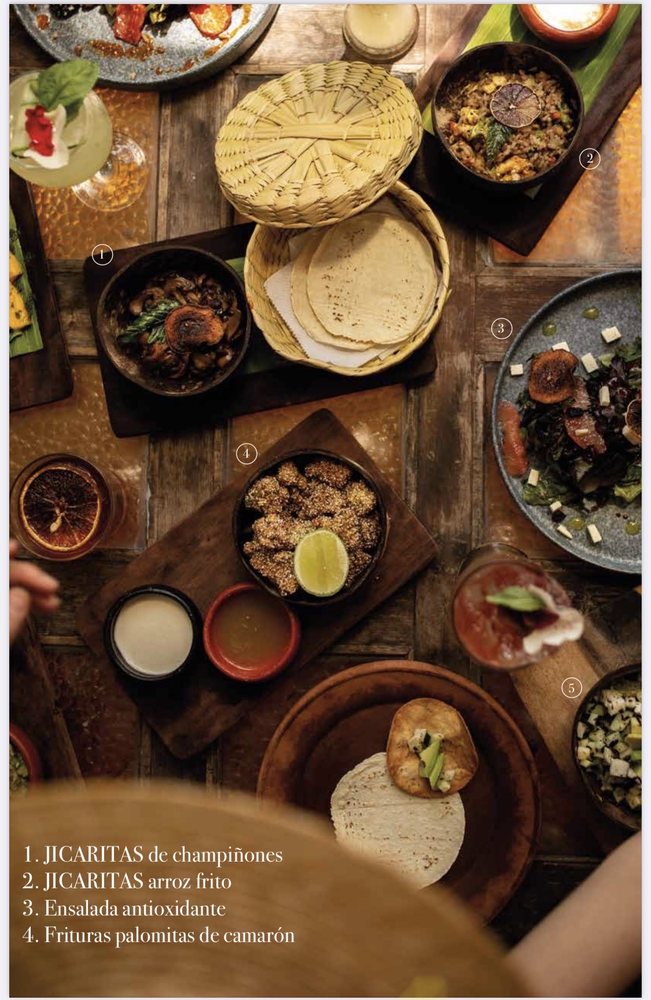 This bar's backyard garden is a great place to dive deeply into Mexican food and spirits. There are plenty of options for tacos, ceviches, and botanas.
You can also enjoy refreshing agave cocktails like the one that combines pox with Licor de damiana or a bright, tangy Gin tonic. Also, make sure you order the mezcalita.
Embracing the town's jungle vibe, Encanto Cantina has a full-out jungle atmosphere noticeable as soon as you enter the restaurant. The restaurant is also conveniently located in Tulum's Pueblo district.
Address: Av. Tulum 21, Tulum Centro, 77780 Tulum, Q.R., Mexico
Cost: $$
GITANO Tulum (Mexican)
Another popular Mexican restaurant you should try is Gitano. They also do a great job executing the "Tulum Vibe" with their decor.
While the restaurant is more or less a beach club suitable for its small appetizers and cocktails, the food I had here was really good.
Gitano has ocean views which is a big bonus; at night time, the restaurant is perfectly dimmed, adding to the place's ambiance. The bar is nicely decorated, and they have live musical performances some nights.
Overall along with the food, the restaurant is quite beautiful, another reason why I had to include Gitano in my list of best Tulum restaurants.
Address: Beach Road Km. 7, 77710 Q.R., Mexico
Cost: $$$
Taqueria Honorio (Mexican)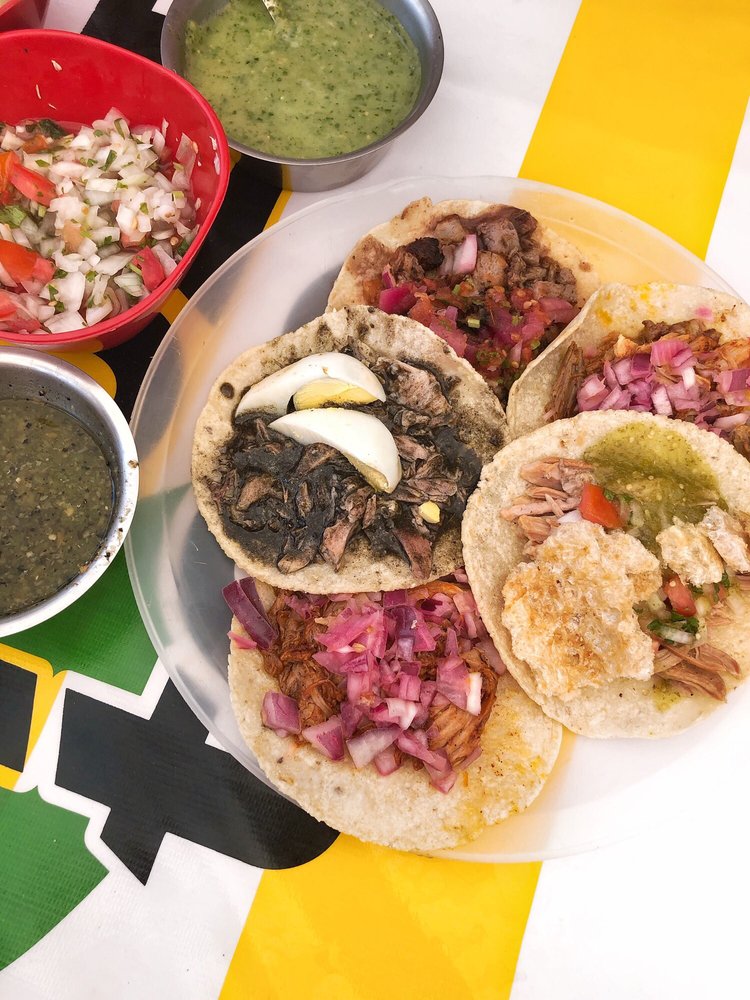 When your local taxi driver tells you to go somewhere to eat tacos, you listen. That's precisely what happened with Taqueria Honorio.
Despite already going to the top taco place in Tulum, Taqueria La Chiapaneca; I had to take the local man's advice, and I'm glad I listened. The tacos here were amazing; they had many options like al pastor, steak, and even lechon!
This place is a straight-up hole-in-the-wall type of spot, with absolutely nothing fancy about the seating or decor. And I loved that.
Taqueria Honorio is a restaurant that puts its focus only on its tacos. Not only did tourists come here, but many locals were eating amongst us. This reassured me we were having some of the best tacos in Tulum.
Address: Satélite Sur 19, Tulum Centro, Villas Huracanes, 77760 Tulum, Q.R., Mexico
Cost: $
Curry by Po Thai (Thai)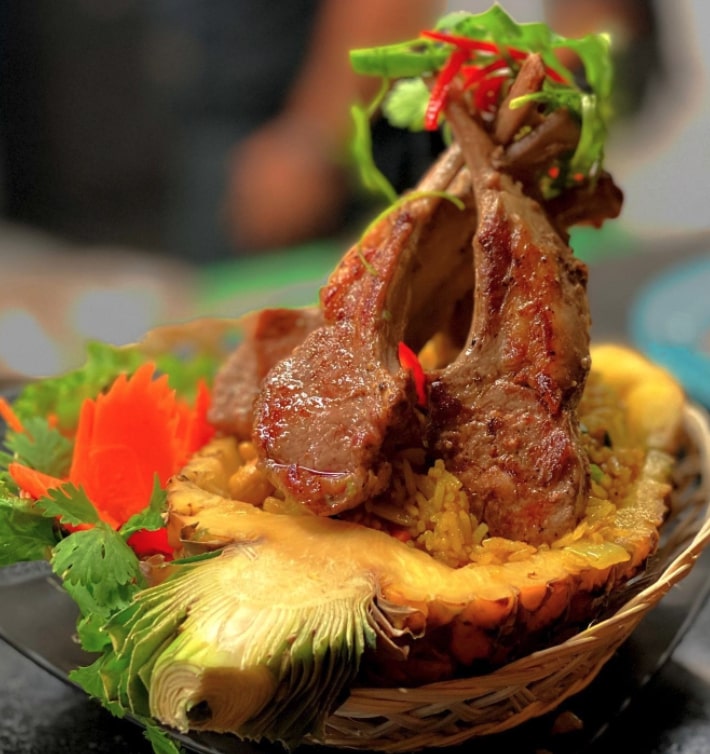 Great Thai food in the jungles of Mexico; that's what Curry by Po Thai is. As great as Mexican food is, naturally, sometimes you want to switch it up.
I didn't think I'd find really good Thai food in Tulum. The food was excellent here, and the staff was friendly and accommodating.
All the classics are here Tom Yum, Pad Thai, and satay skewers served with peanut sauce. I recommend the Khaw Pad Sapparod, Lamb Masaman Curry, and Kha Niaow Ma Muang (classic mango sticky rice) for dessert.
Address: 77780, Calle palenque y 1era poniente, La Veleta, 77760 Tulum, Q.R., Mexico
Cost: $$
Taboo (Mexican)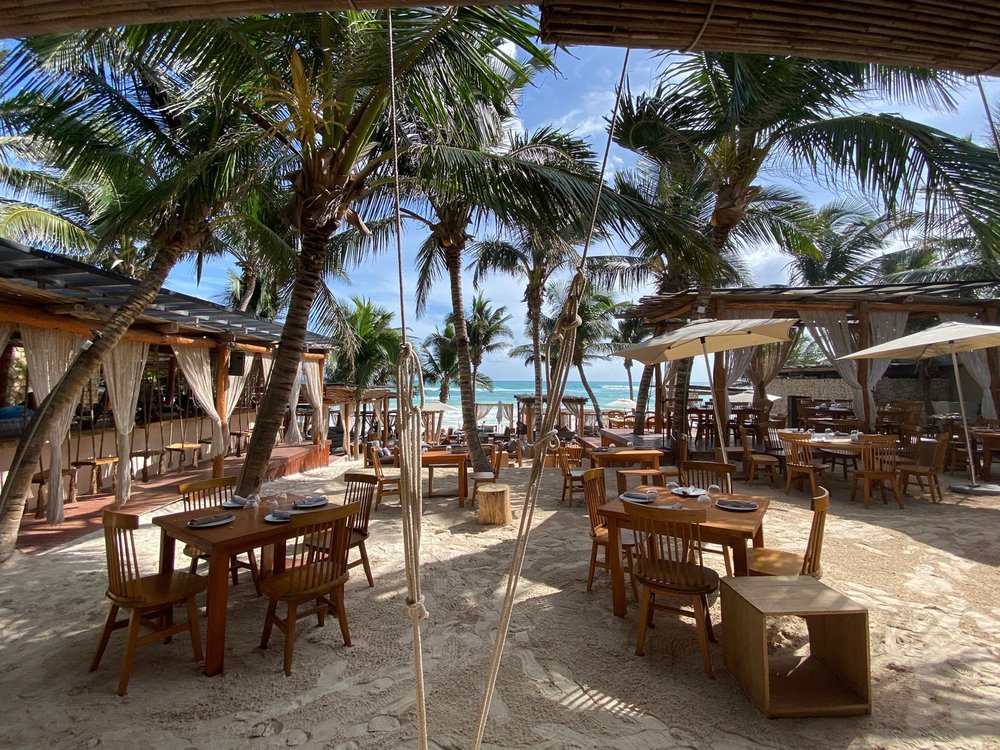 You're with many friends; some want to eat, and others want to party with ocean views. Taboo is the answer for you.
I'll be honest; the food was good here, but I won't say it blew my mind away. But I get the appeal of this place despite being quite expensive. It caters to those looking to sit on the beach and eat small appetizers.
Don't get me wrong, they have a dinner menu, but the establishment is more of a beach club.
I included Taboo in my list of best Tulum restaurants because it's a nice venue with good food and caters to a specific crowd, like Gitano, which I mentioned earlier.
Address: Carretera Tulum-Boca Paila Zona Hotelera Km 7, 77780 Tulum, Q.R., Mexico
Cost: $$$
Bonita Tulum's Burger Bar (Breakfast/Brunch Option)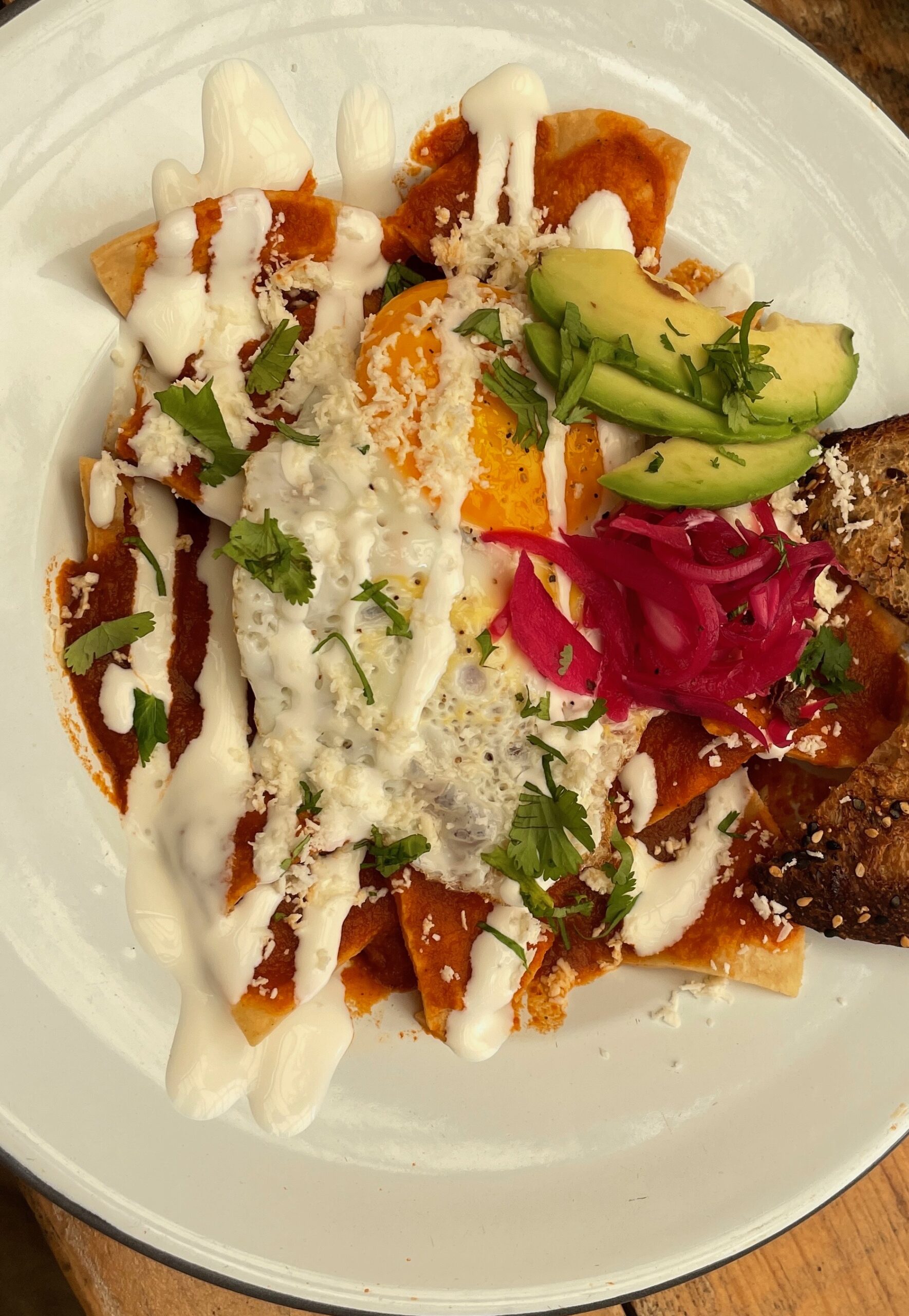 I have no idea why this place calls itself a burger bar because it's so much more than that. Please don't get me wrong; they have a good burger.
But Bonita's is also an excellent spot for brunch or an evening with shareable appetizers. I've been here both for brunch and late evening and was never disappointed.
If you're lucky, during brunch, you might be able to see some local talent playing bongo drums lightly in the background. Also, the restaurant is located centrally in downtown Tulum, making it easy to get to.
Address: C. Beta Sur, Tulum Centro, 77780 Tulum, Q.R., Mexico
Cash: $$
Posada Margherita (Italian)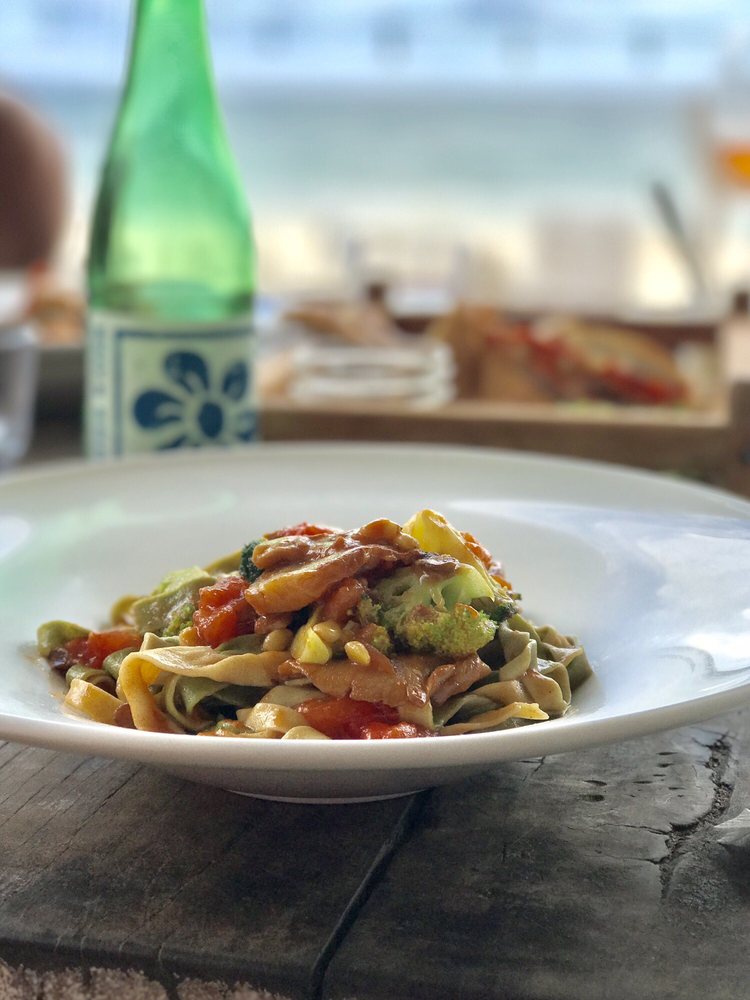 The concept of this place was appealing to me: pizza with a view of the ocean. That was enough for me to go try out Posada.
The pizza was good but not amazing. I also got the shell pasta, which I found far better than their pizza.
Everything is fresh here; there are dishes featuring a catch of the day, and all the pasta is homemade. Since you're in Mexico, add a side of guacamole to your meal.
They had a few cocktails for drinks, but I went for a few different glasses of wine instead. Finish your meal with their flavourful homemade gelato.
Suppose you're craving Italian cuisine and a beautiful sunset to go along with it. Then Posada Margherita is the spot for you.
Address: Km 4.5 Carretera Tulum Boca Paila, 77760 Tulum, Q.R., Mexico
Cost: $$
Burrito Amor (Vegan/Gluten-free)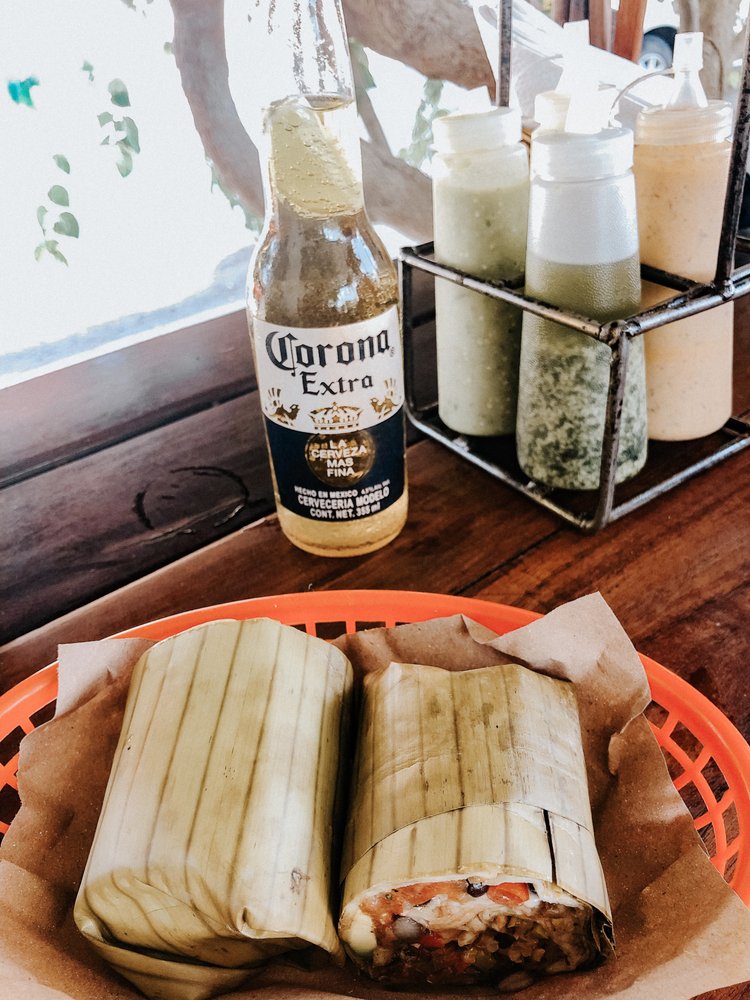 I was confused about this place only because it's literally the highest-ranked restaurant in all of Tulum on Google, sitting with around 4500+ reviews.
So, obviously, I had to check this place out for myself. It's more of a quick sit-down or grab-and-go type of place. But it's great for a solid breakfast burrito.
The burritos were good. I'm not a vegan myself, so I went for their meat options. But I couldn't understand what the hype was about Burrito Amor. It seems the appeal for Burrito Amor is because it's very much promoted as a Vegan place (despite having meat options as well).
For breakfast or a quick lunch, it's worth a visit! I had to include it on my list of Tulum restaurants for those who are vegans because it's still well-rated.
Address: Av. Tulum Mz 05-Lote 03, Tulum Centro, Centro, 77760 Tulum, Q.R., Mexico
Cost: $$
Tulum Restaurants on the Beach
For those looking for restaurants on the beach in Tulum with ocean views, here are a few options to choose from!
Tulum Restaurants: Vegetarian and Vegan Options
There is no shortage of vegan and vegetarian options in Tulum, and this is because Tulum is popular amongst health-conscious crowds.
Nomade Hotel
Pasha
The Pitted Date
Raw Law
Best Cheap Eats Tulum Restaurants:
Taqueria Honorio (Pueblo)
Antojitos la Chipacaneca (Pueblo)
El Takazo Jr. (Pueblo)
El Camello Jr. (Pueblo)
Bocanera (Beach)
Tulum Cafes
Rossina Cafe
Alagria Cafeteria Tulum
Ki'bok Coffe Tulum
Babel Cafe
Tulum Area Tip for Restaurants in Tulum:
Pueblo (Centro Tulum) = Cheaper Tulum Restaurants
Middle Beach Zone = Expensive Tulum Restaurants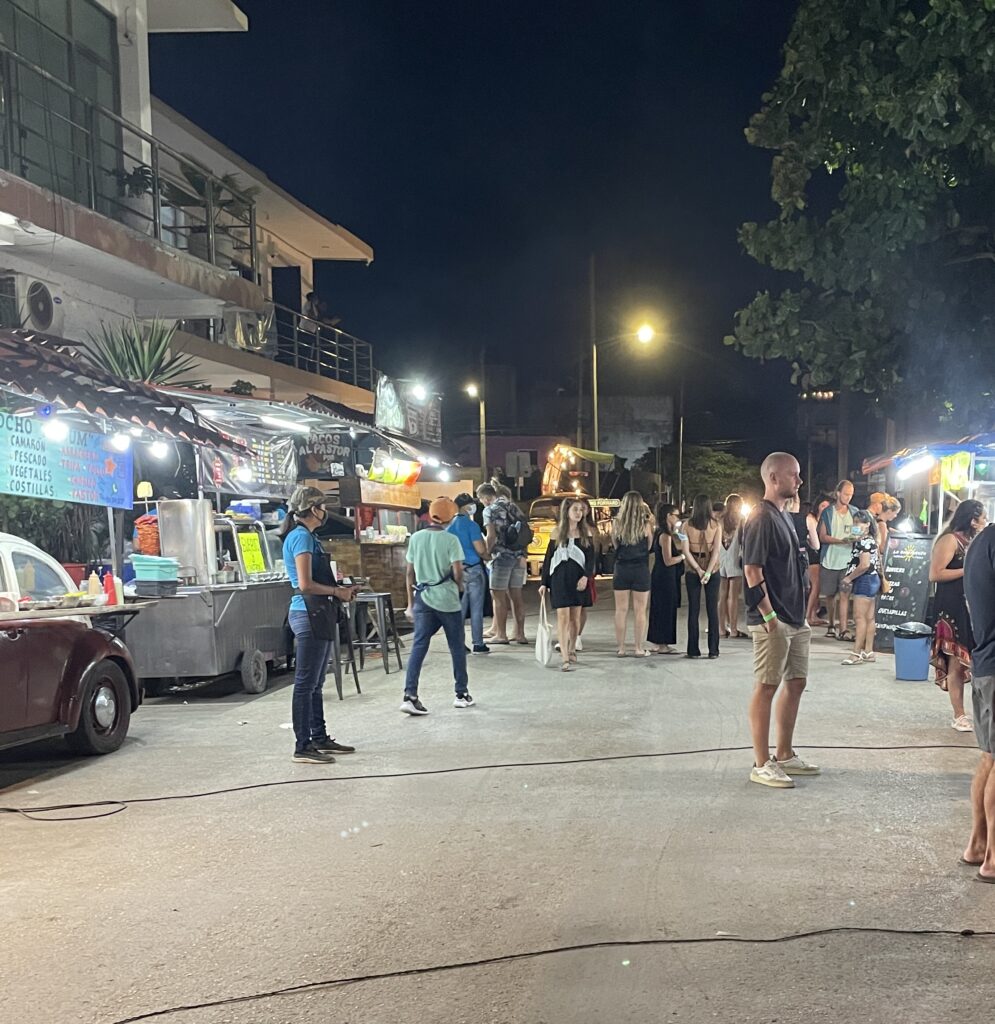 Is Eating and Drinking at Tulum Restaurants Expensive?
It depends on where you go. It's that simple. If you're looking for cheap food in Tulum, you will find it, and if you're looking for fine dining in Tulum, you will find that as well. Tulum is known for its hefty-priced restaurants.
Tulum's uniqueness is that you can pay as little as 1 USD for a taco at one place and $15 USD for another.
Tulum has many restaurants to eat or drink at to suit all budgets. Although many budget options exist in Pueblo, only a handful are available in the beach area.
Dining Advice – Tulum Restaurants
Cash: Some Tulum restaurants, even some fine dining establishments, only accept cash. While some restaurants accept U.S. Dollars, most require payment in Mexican Pesos. Pay in pesos if you have the option. You will always pay more if you use dollars.
Credit cards are accepted in many restaurants, but an additional 4%+ charge exists.
WISE cards are another option. They are international visa debit cards that work at any terminal that accepts VISA. The WISE card allows you to exchange your currency for the local currency of the country you visit through the app. So when you pay with a Visa, you still pay in the local currency.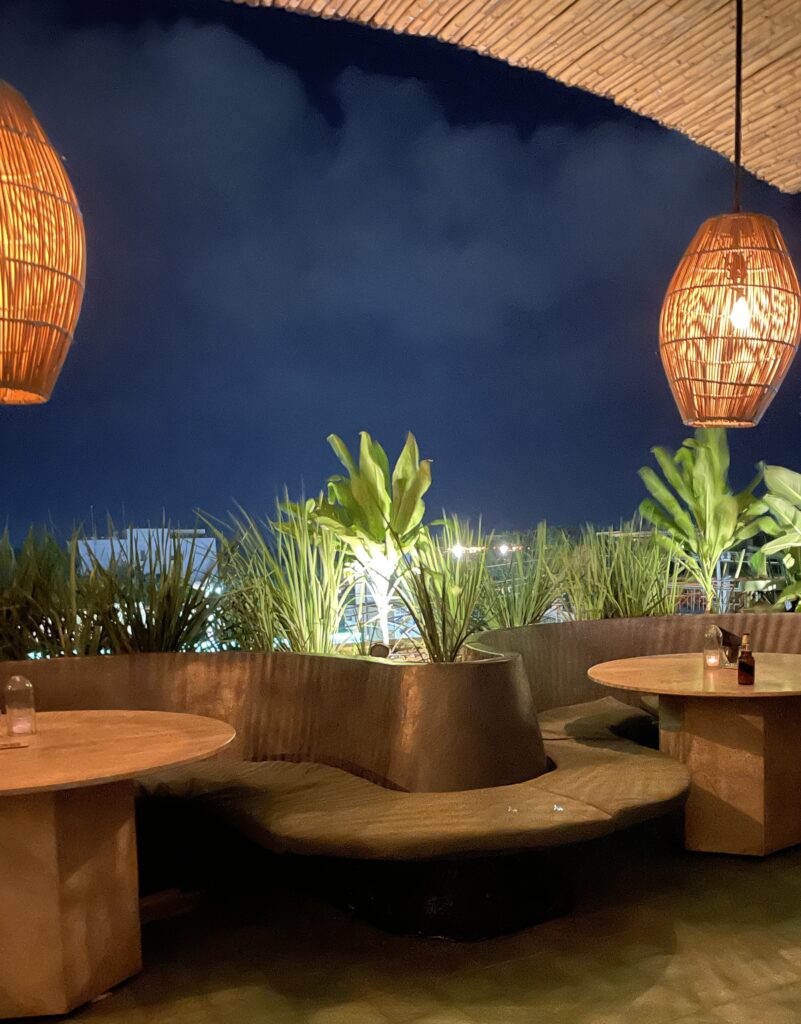 Tipping at Tulum Restaurants
Tipping is a part of the culture in Mexico, similar to the US and Canada. The standard rate at Tulum restaurants is 10 to 15%.
To check if the propina (Spanish word for "tip") has been included in the bill, first look at the bill. It is best to tip in pesos so that staff doesn't need to pay a bank to exchange it into pesos.
Watch out for some Tulum restaurants that tend to add a tip of their choice without your knowledge.
I've noticed this at some restaurants in Mexico. The waiter will add a very generous tip to themselves without your knowledge. You may be tipsy/drunk and not read the credit card machine before paying.
The Pueblo and Middle Beach Zones are where most of Tulum's top restaurants are. The Pueblo is home to more affordable Tulum restaurants and authentic Yucatan restaurants.
While the Middle Beach Zone offers more stylish, elegant, chic spots, most restaurants on the beach are on the jungle side.
When you're headed home from Tulum, head back to Cancun International Airport for your flight. Leave a few days earlier from Tulum and visit Isla Mujeres, an island next to Cancun.
Tulum Beach Clubs to Consider
If you're looking for a restaurant to eat at in Tulum in the middle of the day, you may want to skip the restaurant and go to a beach club with food instead!
Here is a list of Beach Clubs in Tulum to consider, and if you'd like more info, use my Tulum Beach Club guide.
Casa Malca
Rose Negra
Papaya Playa Project Tulum
Subscribe to Travel Hiatus!
Receive updates on my latest posts, insider travel tips & the best destination guides to your inbox!
Featured Image: Credit: Posada Margherita
Happy & Safe Travels
---
Planning Checklist
---
Disclaimer: Please note that some of the links shared in this article might be affiliate links; this means that at absolutely no extra cost to you, we will earn a small commission for any sales generated through this article and/or this website. We recommend products/services we've either used or researched thoroughly – Thank you for supporting us so we can continue to share helpful travel content!