5 Best Isla Mujeres Resorts in Mexico
Are you looking for the best Isla Mujeres resorts to consider as you plan your trip here? You've come to the right place!
Isla Mujeres has always been a main attraction for those visiting Cancun because of its proximity. If you're visiting Cancun, I strongly recommend you visit Isla Mujeres and spend a night there; there are so many things to do in Isla Mujeres as well!
If you're looking for a more laid-back vacation, I recommend staying in Isla Mujeres instead of Cancun.
Isla Mujeres is only 15-20 minutes by ferry from Cancun.
"Isla" means Island, and "Mujeres" means Women in Spanish, so Isla Mujeres translates to Island of Women.
Isla Mujeres has a more relaxing atmosphere than Cancun, fewer tourists, and no franchise businesses compared to Cancun.
In this Isla Mujeres Resorts guide, I will cover not only the best resorts in Isla Mujeres but also hostels in Isla Mujeres for those looking to visit on a budget!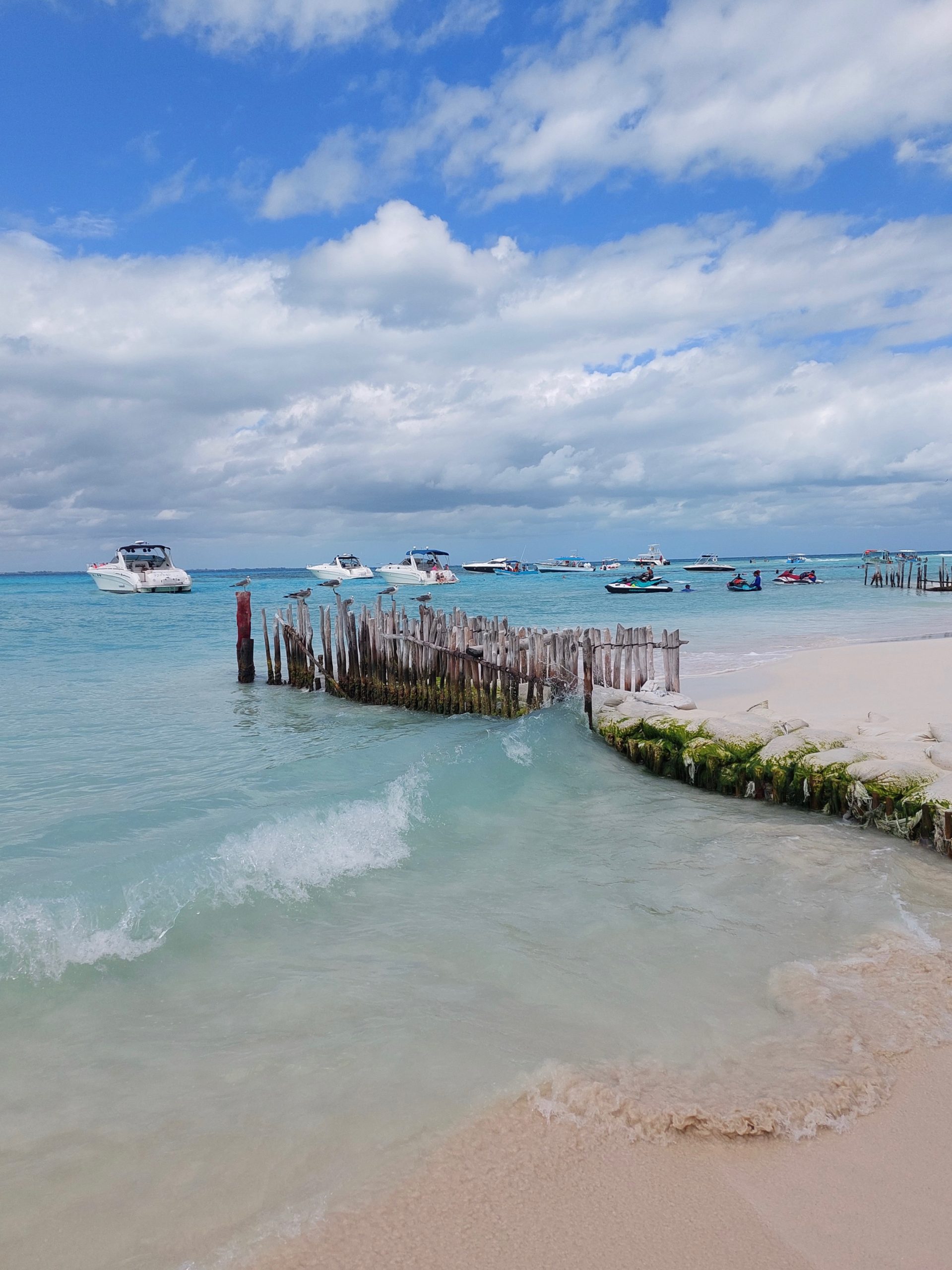 I've stayed at two different Isla Mujeres resorts, Mia Reef Isla Mujeres and Zoetry Villa Rolandi Isla Mujeres Resorts (both included in this list).
I enjoyed my stay at both resorts and look forward to returning soon. I'd strongly recommend both of them. But you may have your preference as I share detailed information about the other resorts in Isla Mujeres below!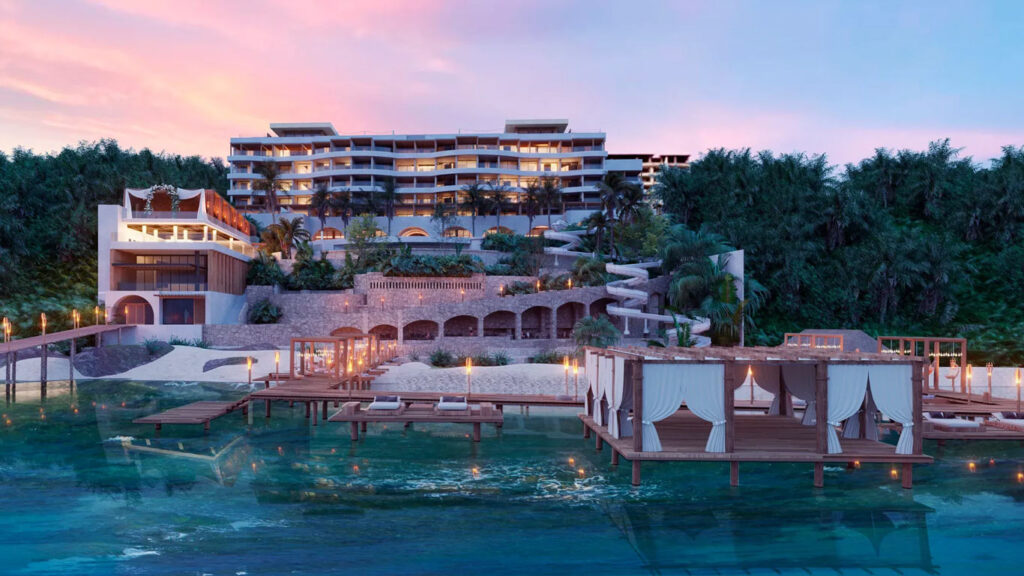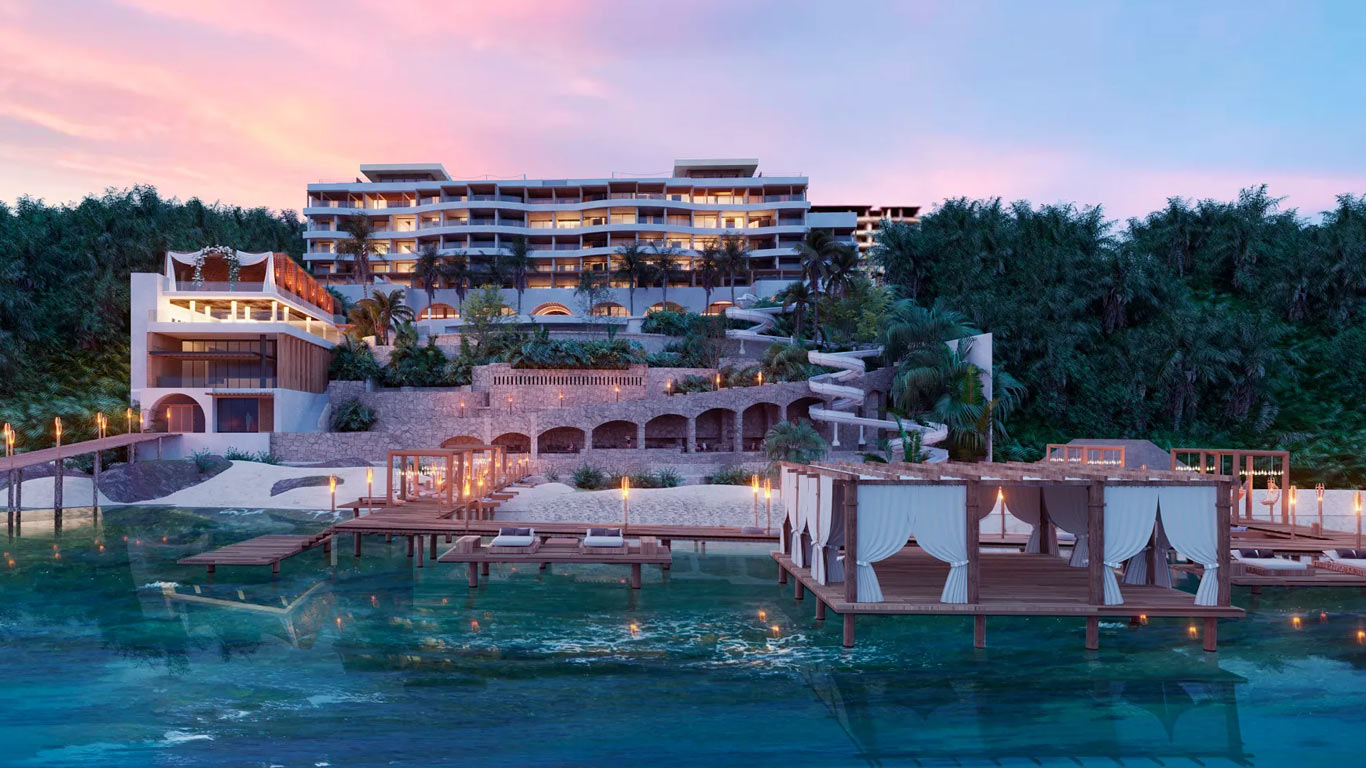 Impressions by Secrets is an exquisite boutique hotel that offers a unique and unforgettable experience for travelers seeking relaxation, natural beauty, and top-notch hospitality.
Nestled in the southern part of the island, Impressions by Isla Mujeres boasts a blend of modern design and traditional Mexican charm, creating a tranquil oasis that complements the island's serene atmosphere.
The hotel offers several great amenities, including a pristine infinity pool overlooking the ocean, providing a perfect spot to relax and soak up the sun, and a spa that offers a range of rejuvenating treatments and massages, allowing guests to unwind and indulge in self-care.
Dining at Impressions by Isla Mujeres is a culinary journey that showcases the diverse flavors of Mexico. The hotel's restaurant sources locally and serves delectable dishes crafted from fresh, seasonal ingredients. Guests can savor authentic Mexican cuisine, including seafood delicacies and regional specialties.
Accommodations at Impressions by Isla Mujeres are nothing short of luxurious. Guests can choose from a variety of well-appointed rooms and suites, each designed with comfort and elegance in mind. Look no further; this is the best resort in Isla Mujeres!
Address: 009, Manzana 055, 77400 Quintana Roo, Q.R., Mexico
FOR ACCOMMODATIONS: Impressions by Secrets Isla Mujeres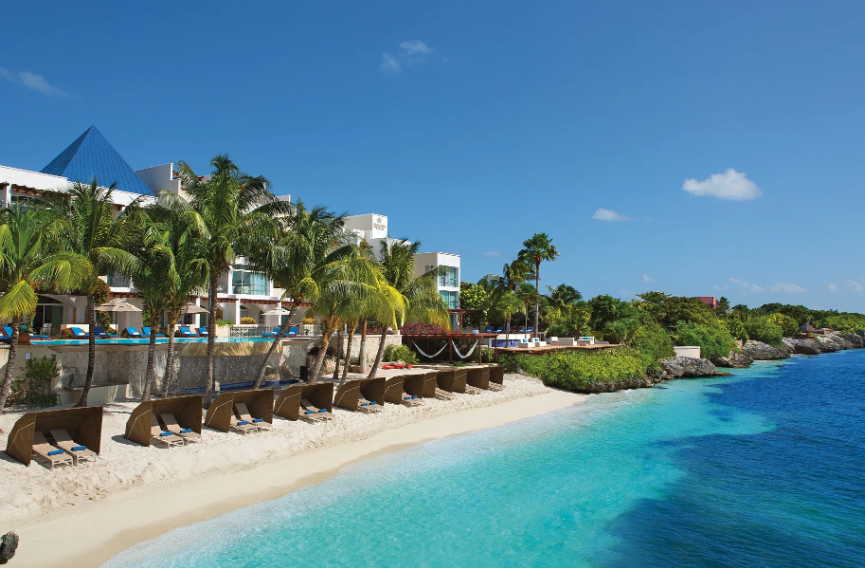 Having stayed at Zoetry Villa in Isla Mujeres, I got a real feel for this place firsthand. This resort executes a tropical luxury experience very well. Zoetry is the most luxurious resort in Isla Mujeres.
Staying here will make you feel like you're genuinely in paradise; the atmosphere here is very Mediterranean-inspired but with a barefoot luxe atmosphere. Zoetry has been known as one of the best resorts on Isla Mujeres for years now.
If you're looking for an intimate resort for you and your partner, Zoetry Villa is the best option in Isla Mujeres.
There are only 35 suites available at this resort, so you don't have to worry about big crowds here at the private beach. All suites come with oceanfront views, canopied beds, and marble floors.
They've done an excellent job providing a blend of indoor and outdoor spaces and a luxurious touch. If you prefer a pool plunge, three pools are here, all facing the ocean.
My favorite amenity here is the pool concierge; they're always ready to provide you with a drink throughout the day while you stay put!
Regarding dining options, you have two to choose from here. Casa Rolandi, an Italian restaurant that has been serving its guests for over 30 years, or Le Metissage, offers a Mexican-French fusion menu.
Both were great, but I must say I personally preferred Casa Rolandi. Food-wise, Zoetry takes the #1 spot among the 5 best Isla Mujeres resorts.
Address: Fracc. Laguna Mar, SM 7, MZ75, L15/16, Carr. Sac Bajo, 77400 Isla Mujeres, Q.R., Mexico
FOR ACCOMMODATIONS: Zoetry Villa Rolandi Isla Mujeres Cancun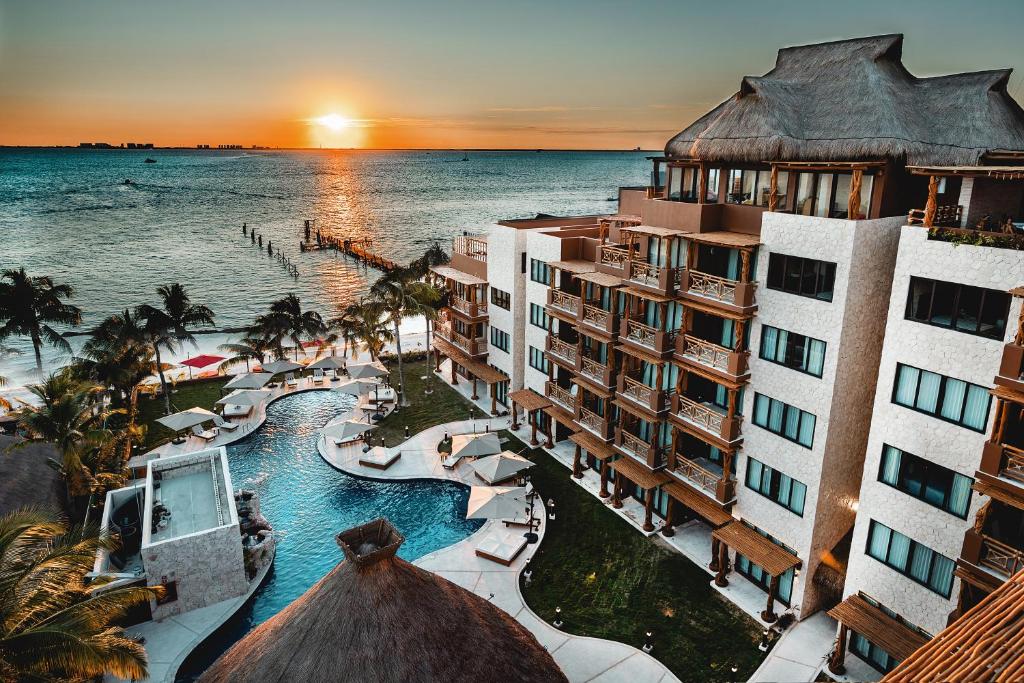 Nestled in a quiet corner of Isla Mujeres, Hotel Belo is a luxurious boutique property that offers a tranquil escape.
With only 70 rooms and suites, guests can expect personalized attention and a sense of exclusivity.
The hotel boasts a prime location right on a pristine white-sand beach, providing guests with the ultimate luxury of a private slice of paradise.
No matter your preference, this hotel has a room for everyone. From cozy junior suites with king or double beds to spacious rooms with marble floors and contemporary decor, each space is designed with comfort and style in mind.
For those visiting with families, Hotel Belo has oceanfront villas that come with two rooms, one with a king-sized bed and another the other room comes with two double beds.
This hotel can be booked as a room-only or all-inclusive option as well.
Regarding dining options at the hotel, guests have the choice of two restaurants: 140° serving up gourmet Mexican fusion cuisine. Meanwhile, The Palm is the perfect spot for a casual meal by the beach or pool, offering a mix of snacks and Mexican and American dishes. Keep in mind that The Palm is only open for breakfast and lunch.
While dining options are great, please leave the resort and head to the city center to try local cuisine.
Address: Avenida Sac Bajo 046, Lt. 5 Mz. 072 SM 07, 77400 Isla Mujeres, Mexico
FOR ACCOMMODATIONS: Hotel Belo Isla Mujeres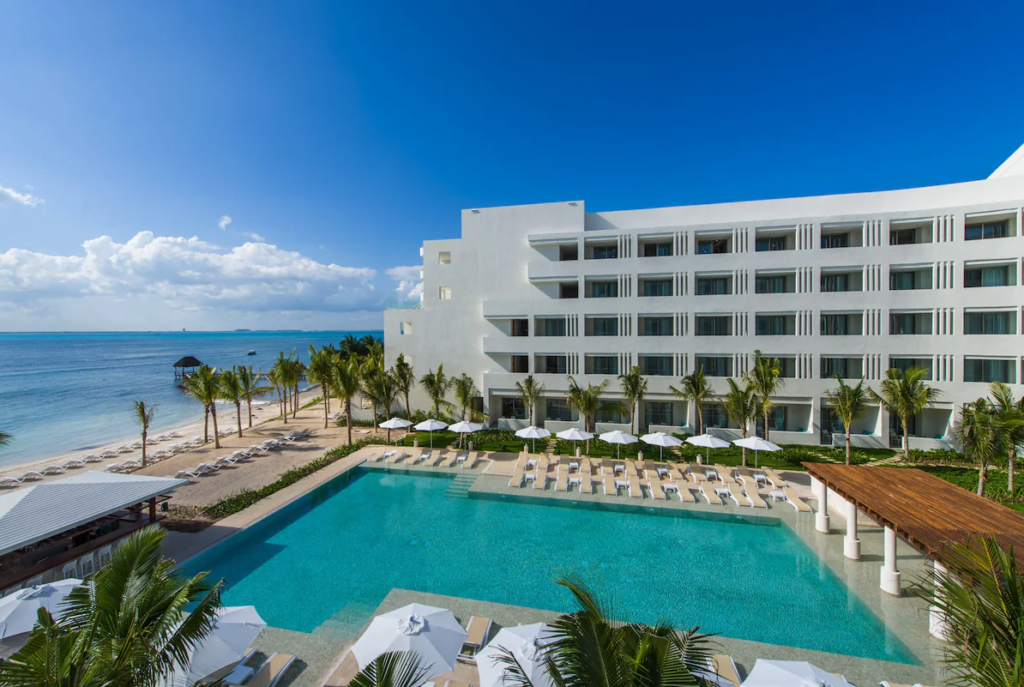 The Izla Hotel is a minimalist and modern resort. It resembles South Beach, Miami, in many ways. The hotel's all-white exterior has a turquoise hue touch and a breathtaking 360-degree view from the rooftop infinity pool.
This resort is my favorite for couples coming in a group. Izla Hotel has intimate features, but the resort is not as intimate as my first two choices above.
Izla Hotel features 123 rooms, the balconies are large, and most of the rooms at this resort have ocean views.
The hotel has three different types of rooms; all rooms feature a minimalist design with furnished balconies and soaking tubs or pools.
Ocean Front Superior Honeymoon
Deluxe Ocean View Rooms
Regal Chamber Ocean Front (with a plunge pool)
Regarding dining options at Izla Hotel, Izla Cafe offers a daily all-day breakfast featuring traditional Mexican breakfast. The main restaurant here is Numa, which specializes in various types of Caribbean cuisine.
The main attraction at Izla Hotel is their rooftop infinity pool; the pool area is perfect for you and all your friends to catch the sunset each evening alongside some cocktails.
This resort is quiet, calming, and has everything you need. Considering both resort standards and price, Izla Hotel is a great choice!
Address: Carr. Sac Bajo, Fraccionamiento Lagunamar, 77400 Isla Mujeres, Q.R., Mexico
FOR ACCOMMODATIONS: Izla Beach Front Hotel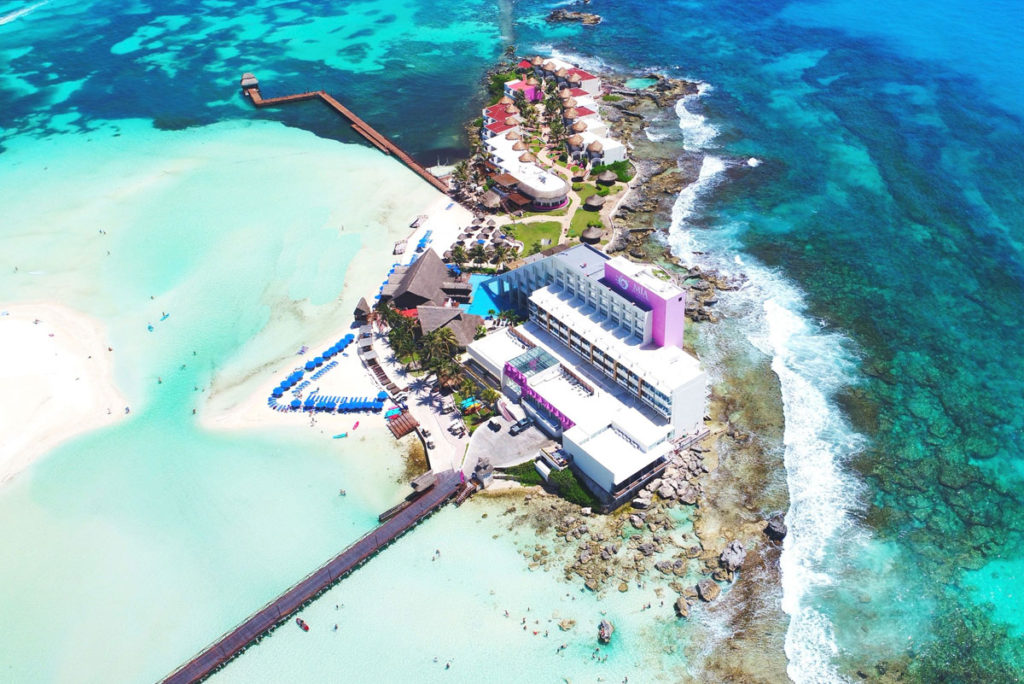 Mia Reef Isla Mujeres lies right in the middle of the action, just off Isla Mujere's main beach Playa Norte. Although the resort technically is on its tiny island, it's still considered part of Playa Norte.
Mia Reef has 156 guest rooms, making it the largest resort on this list of the top 5 Isla Mujeres resorts. That's why this resort is ideal for everyone.
Mia Reef has three options for your stay; the Deluxe rooms offer balconies with Ocean View rooms. Deluxe Jacuzzi Ocean View rooms have additional amenities like a two-person whirlpool on the terrace.
Mia Reef offers villas at the back of the island for those looking to make their stay extra spectacular. These villas offer a more private experience, ideal for families visiting Isla Mujeres.
This resort has all the amenities one may need, including a fitness center, sauna, and relaxing spa. But the main attraction is the stretch of beach that leads towards the resort sitting in the middle of its own island.
Making it perfect for offshore snorkeling. Mia Reef is recommended for those who enjoy water activities in my list of best Isla Mujeres resorts. Its location is unbeatable, making it one of the best all inclusive resorts in Isla Mujeres.
Address: Islote El Yunque, Zazil-ha s/n, Centro – Supmza. 001, 77400 Isla Mujeres, Q.R., Mexico
FOR ACCOMMODATIONS: Mia Reef Isla Mujeres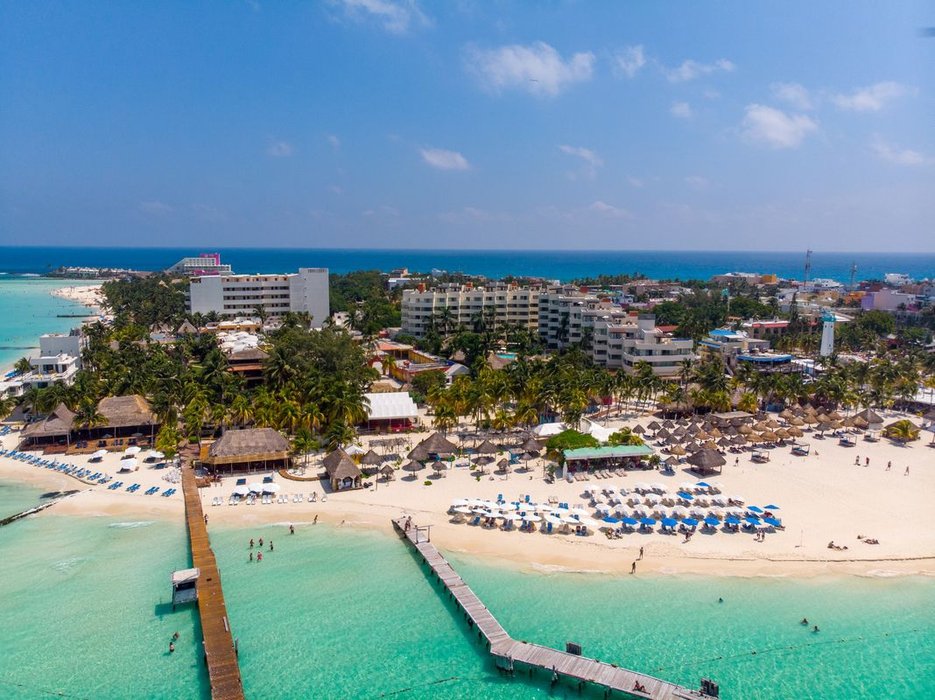 Another great option for an all-inclusive resort in Isla Mujeres is Privilege Aluxes. This adults-only resort is located directly across from Playa Norte (the main beach in Isla Mujeres).
The resort overall is modern, has a tropical vibe, and has great amenities. Because of the Privilege Aluxes excellent location, you can easily access several popular excursions in Isla Mujeres, including scuba diving, snorkeling, and more.
The Wow rooms are the most popular type here, as they sit on the top floor, all with stunning ocean views and spacious balconies. Other options are the Superior rooms (featuring whirlpools) or the Deluxe suites.
The hotel features various amenities: two pools, a swim-up bar, a salon, a spa, and a fitness center. A pool surrounded by beautiful cabana beds to relax on.
Indulge in a variety of mouth-watering dishes at the three on-site restaurants located here.
Sabor is a gourmet restaurant serving various fusion dishes throughout the day. Satay offers a taste of Thai Asian cuisine. Lastly, Privilege's Beach Restaurant/Beach Club, located on Playa Norte at the hotel, serves several delicious Mexican dishes!
Address: Adolfo López Mateos S/N, Centro, 77400 Isla Mujeres, Q.R., Mexico
FOR ACCOMMODATIONS: Privilege Aluxes – Adults Only
Isla Mujeres Hostels
For those looking for a few low-cost hostel recommendations, these are the two best hostels in Isla Mujeres.
Both are well-known hostel brands with other locations, so there's a standard here.
If you're traveling alone, staying at one of these two hostels in Isla Mujeres instead of a resort, you'll meet other solo travelers. Both hostels host day/night time events.
Nomad Hotel/Hostel & Beach Club
Located in the more Southern area of the island is Nomads Hotel/Hostel & Beach Club, a beautiful hotel & hostel; they offer both private and shared dorm rooms as well.
You'll keep busy staying here; there's a private beach, pool, yoga sessions, a DJ playing music some nights, and gatherings always.
This hostel is further than the Centro area of the island, but it offers a tropical island atmosphere, precisely what one desires when visiting an island!
Located right in the Centro area, close to everything on the island, is Selina Isla Mujeres, another excellent hostel option. There are both private and shared rooming options here.
The communal area is spacious and perfect for those nomadic individuals looking to get some work done. Selina promotes itself as a digital nomad paradise, and the space here states just that.
Otherwise, participate in yoga sessions here; the pool here is significant, and there's a DJ playing music some nights and movie nights!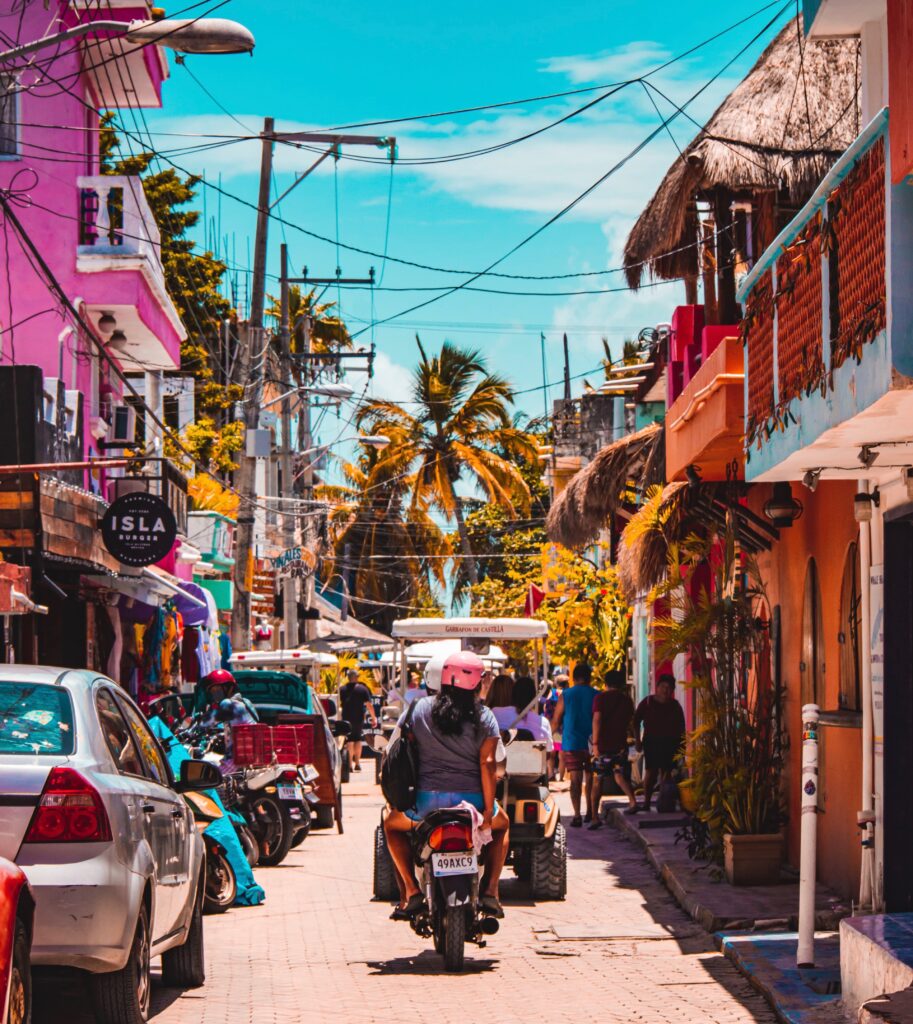 How to Get to Isla Mujeres – Isla Mujeres Ferry
The only way to get to Isla Mujeres is by taking one of many Isla Mujeres Ferry.
To take a ferry from Cancun to Isla Mujeres, first, you must go to one of the four different ferry departure locations.
Three ferries go back and forth from 9:00 AM to 7:00 PM throughout the day, departing roughly every hour.
Except for Puerto Juarez, this ferry has rides going back and forth from 5:30 AM to 12:00 AM every hour.
Puerto Juarez (closest to Centro Cancun & main departure for Cancun)
Playa Tortugas (closest departure from the Northern Hotel Zone area)
Playa Caracol (closest departure from the main Hotel Zone area)
Remember to book either a one-way or Roundtrip ticket, depending on your need!
Departing from Puerto Juarez tends to be the cheapest way because of the frequent trips back and forth to Isla Mujeres.
There are Standard ferries as well as High-Speed ferries. The time difference is only a few minutes.
Remember, if you're staying in Cancun and want to take a day trip to Isla Mujeres. Buy a return ticket when purchasing initially; if you get your ticket later separately, it will cost you more.
I recommend the Xcaret ferry that departs from Puerto Juarez.
By the way, ensure you catch your ferry ride back if visiting before ferries stop operating. Or you will be stuck on the island for the night.
Things To Do in Isla Mujeres
There are many things to do in Isla Mujeres to keep you busy; the island is full of fun and laid-back activities, like visiting a beach club.
Here is a quick short list of things I'd highly recommend you do when visiting Isla Mujeres.
If you'd like to know more about these activities and many more things to do in Isla Mujeres, view my complete guide on things to do in Isla Mujeres.
And if you're staying in Cancun, make sure to use my guide for the best things to do in Cancun.
Things to Be Careful of in Isla Mujeres
You should be careful of a few things before visiting Isla Mujeres.
Don't worry. It's not anything safety concerning; Isla Mujeres is one of Mexico's safest places to visit.
If you're visiting from Cancun for the day, catch your Ferry back.
In the Centro area, beware of pickpockets.
Don't drink the tap water; applicable to all of Mexico
When buying souvenirs, be prepared to bargain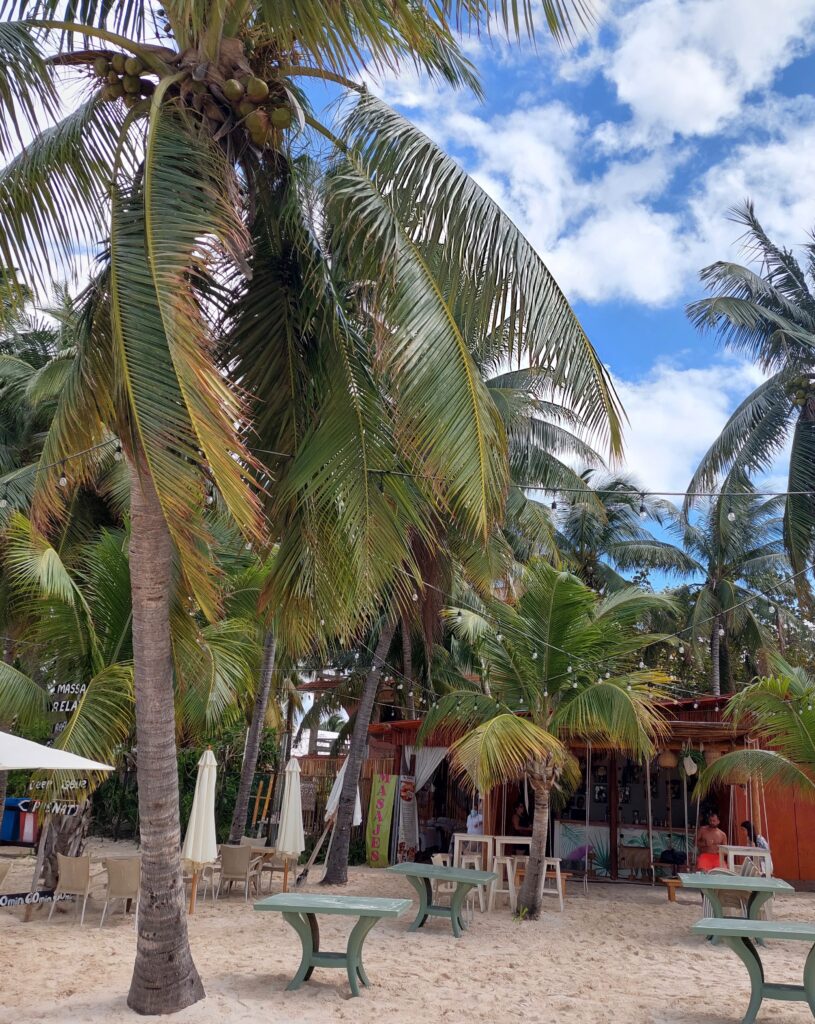 Isla Mujeres Weather
On average, Isla Mujeres has high temperatures throughout the whole year. But since it has a tropical climate, the island has a dry and rainy season.
The time when the weather is most settled is between the months of November and April.
The dry season is between the months of December and April; the off-season is between the months of May and October. October tends to be the coolest month of each year, with May being the hottest.
If you go during the off-season, any rainfall you may experience happens very quickly. Expect a strong tropical rain pour, followed by the sky's clearing up quickly.
Seaweed on the beaches tends to be more present during the off-season months, but most Isla Mujeres hotels do an excellent job cleaning their beaches.
When is the Best Time to Visit Isla Mujeres?
The best time to visit Isla Mujeres, and most places in this region of Mexico, is during the months of February and March. That's because, during this time, you get a combination of the best weather and prices on hotels in Isla Mujeres.
November through January are also great times to visit, but it will cost you more than February and March.
Where to Stay in Isla Mujeres
This comes down to preference; if you'd like to be close to all the restaurants, bars, and beach clubs, staying in the Centro area is for you.
If you'd prefer a more authentic, serene island experience, staying in the Joyxee Island area is best for you.
Is it Worth to Stay in Isla Mujeres?
100% yes. Isla Mujeres is one of the most beautiful islands in Mexico and is a different experience on its own, with many fun things to do.
As stated earlier, whether you're coming to Isla Mujeres to stay here for your whole trip or you're visiting from Cancun, you must visit Isla Mujeres!
By the way, if you're visiting Isla Mujeres, you'll more than likely want to see some cenotes; Mexico is known for its cenotes. Make a day trip to Tulum and explore the best cenotes in Mexico!
Best Isla Mujeres Resorts – Final Thoughts
Consider which part of the island you'd like to stay in first before choosing which of these amazing Isla Mujeres resorts you'd prefer!
While Isla Mujeres isn't a large island by any means, the southern part of the island is very different from the tourist-busy north.
So, if you're looking for a calmer atmosphere, or perhaps you're visiting with your partner and looking for a romantic vacation, consider hotels in the southern part of the island!
Subscribe to Travel Hiatus!
Receive updates on my latest posts, insider travel tips & the best destination guides to your inbox!
Happy & Safe Travels
---
Planning Checklist
---
Disclaimer: Please note that some of the links shared in this article might be affiliate links; this means that at absolutely no extra cost to you, we will earn a small commission for any sales generated through this article and/or this website. We recommend products/services we've either used or researched thoroughly – Thank you for supporting us so we can continue to share helpful travel content!