7 Best Things To Do In Puerto Vallarta
Are you looking for the best things to do in Puerto Vallarta? I've got you covered with this complete guide of things to do, delicious restaurant recommendations, and much more!
Puerto Vallarta is located on the Pacific Ocean, and surrounding the stunning town are dense green forests and mountains, a picturesque scenery. The diverse city is known for its beautiful beaches, lively nightlife, luxurious resorts, and excellent restaurants!
There is a wide variety of activities and things to experience in Puerto Vallarta, from whale watching, ziplining, hiking, discovering remote beaches, and more! There's something to do in Puerto Vallarta for everyone!
A great characteristic of Puerto Vallarta is you can explore the city on foot. You could always rent a car to make many day trips. But if you're staying in the city, it's small enough to easily walk from one end to the other, making it a perfect beach city!
Earlier this year, I spent seven days in Puerto Vallarta and enjoyed every second. I'd go back in a heartbeat. I stayed at the Hilton Vallarta Riviera All Inclusive; this article will suggest more accommodation options for all budgets.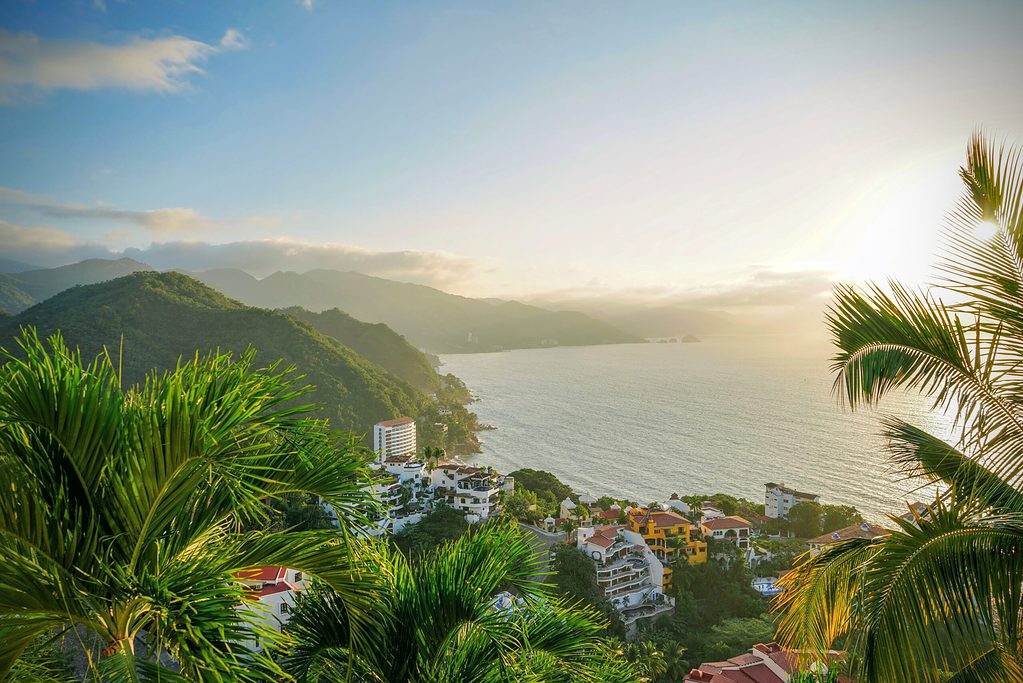 How to Get to Puerto Vallarta
Once you've arrived at Puerto Vallarta International Airport, you must get into the city center, which is located 25 minutes away from the city. Your options to get into the city center are the following:
TIP: Keep an eye out for scammers at the airport who will offer you a ride into town and tell you that they can tour you around town. They aren't looking to befriend you; the only thing they're looking to do is overcharge you for a ride into the city center
A taxi from Puerto Vallarta airport to the city center will cost you around 300 MXN Pesos/about $15-$20 USD.
Walk the Malecon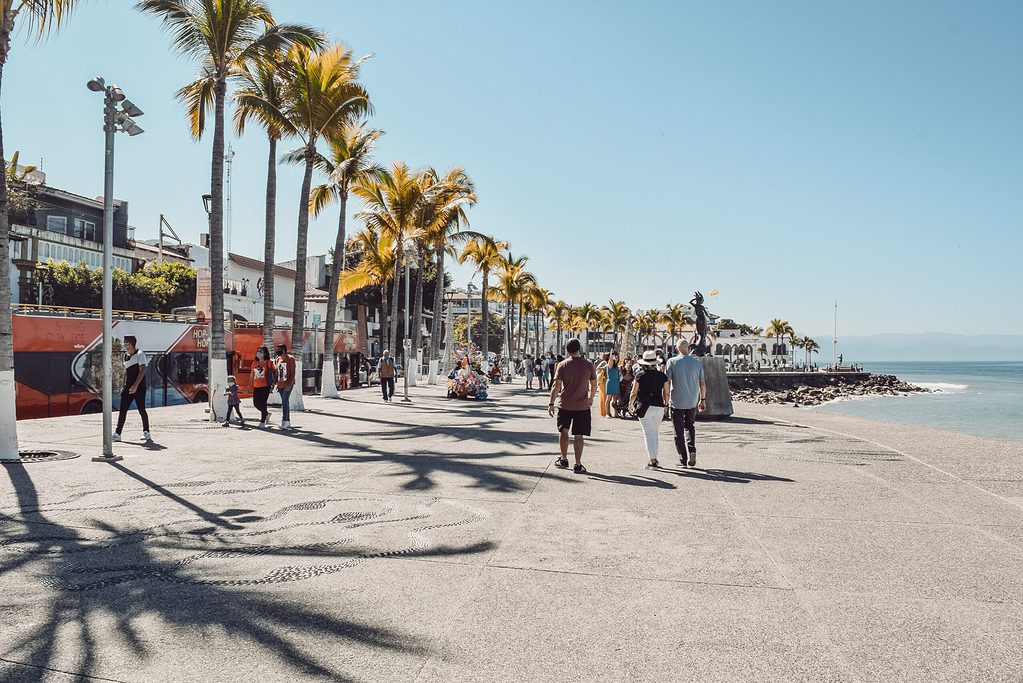 The Malecon is a stunning oceanfront boardwalk that runs from El Centro to the Romantic Zone. It is approximately 1.5km (1 mile) in length and makes for an ideal place to take a relaxing stroll.
You can admire the incredible collection of sculptures and the stunning views of palm trees moving and waves breaking. The cobblestone boardwalk is full of small shops, bars, and restaurants.
At night, the boardwalk is lit up with lights from all the businesses and is a beautiful site to see. There are several street performers, artists, and vendors along the boardwalk. Midway through the Malecon boardwalk, there's a stunning viewing pier that goes into the ocean, Los Muertos Beach Pier
Walking Malecon is the best part of Puerto Vallarta, and the boardwalk captures the overall atmosphere of this stunning Mexican beach city. From mid-November to mid-April, there's a free walking tour of the Malecon you can attend every Tuesday at 9:30 AM.
Visit Merietas Islands
One of the most popular things to do in Puerto Vallarta is visiting the Hidden Beach located on the Merietas Islands. These two small islands sit 10 minutes away from the shores of Puerto Vallarta.
On this Marietas Island Tour, you will get to visit Hidden Beach and snorkel around the two small islands, where you'll spot dolphins, sea turtles, whales, and other tropical fish!
The famous Hidden Beach is only accessible by water, and boats cannot come to the shore, so you will have to swim over to the hidden beach area in a life jacket. Though most days the Hidden Beach is accessible, there are limited days in the year when it's not accessible because of the tides.
Whale Watching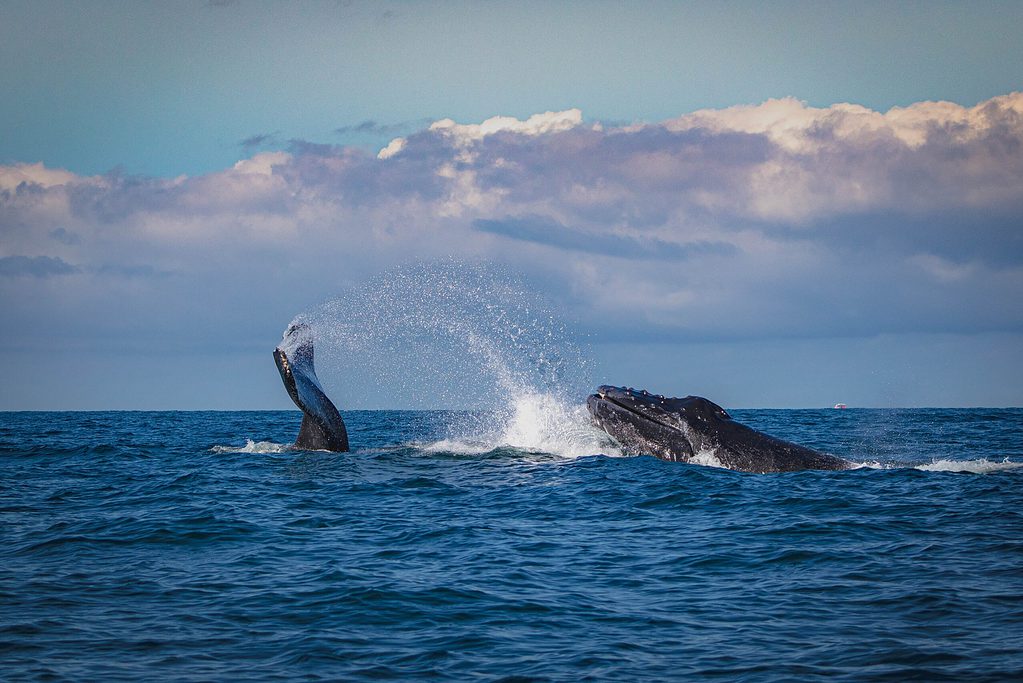 Many whale species enjoy visiting the waters of Puerto Vallarta, and because of this, whale watching is one of the must-do experiences when visiting Puerto Vallarta.
On this fun 4-hour whale watching tour, you will get close-up views of the many humpback whales that call these water home.
While onboard, a guide will educate everyone about the whales, and included in the tour cost is a Mexican buffet lunch and drinks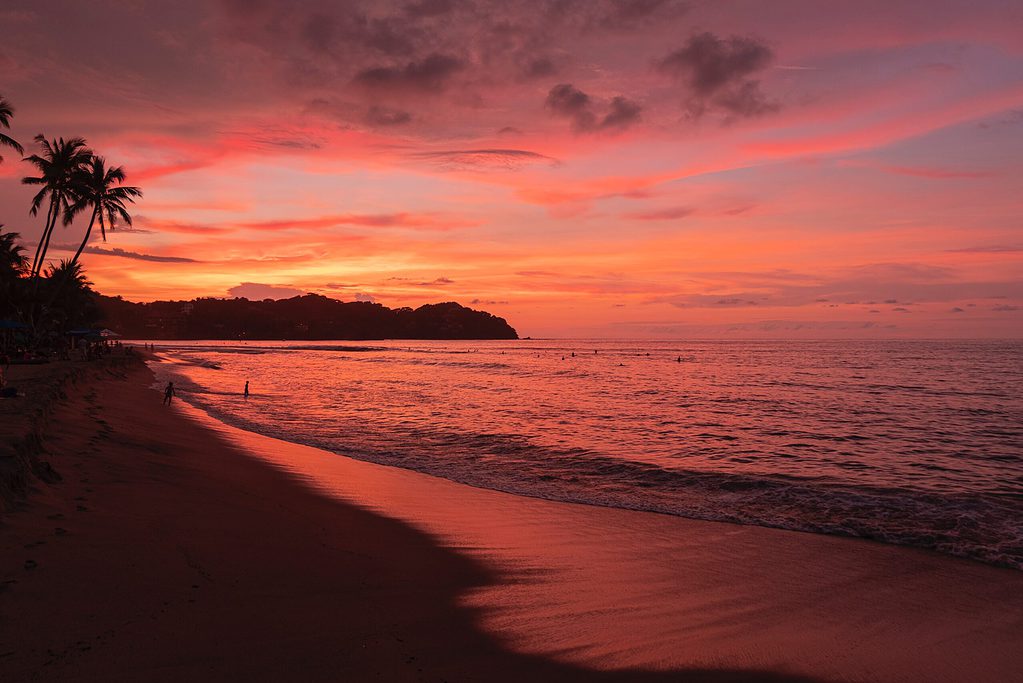 A day trip to the small beach village of Sayulita is a must-do when visiting Puerto Vallarta. This tiny surf town is a nice, calmer version of Puerto Vallarta and is famous for its vibrant sunsets!
Located just an hour North of Puerto Vallarta, it has a bit of a hippy-surfer beach town vibe to it. Sayulita reminded me a lot of Cozumel, an island in the Quintana Roo region of Mexico.
There's a long list of things to do in Sayulita; consider either doing a day trip to Sayulita or possibly spending a night there!
Check out Playa Los Muertos Beach
Walk around Sayulita Plaza & City Centre
ATV Jungle Adventure
With the picturesque mountain, forest, and jungle surroundings around Puerto Vallarta, it makes for an ideal place to go offroad ATVing!
On this exciting ATV tour, you will be joined by a guide as they take you and a group into the jungles of Puerto Vallarta. As you ride into the forest, you will experience beautiful mountain-top scenery, ride through water, see waterfalls, and more!
You can book this tour either in the morning or afternoon, depending on your time preference.
Taco & Tequila Food Tour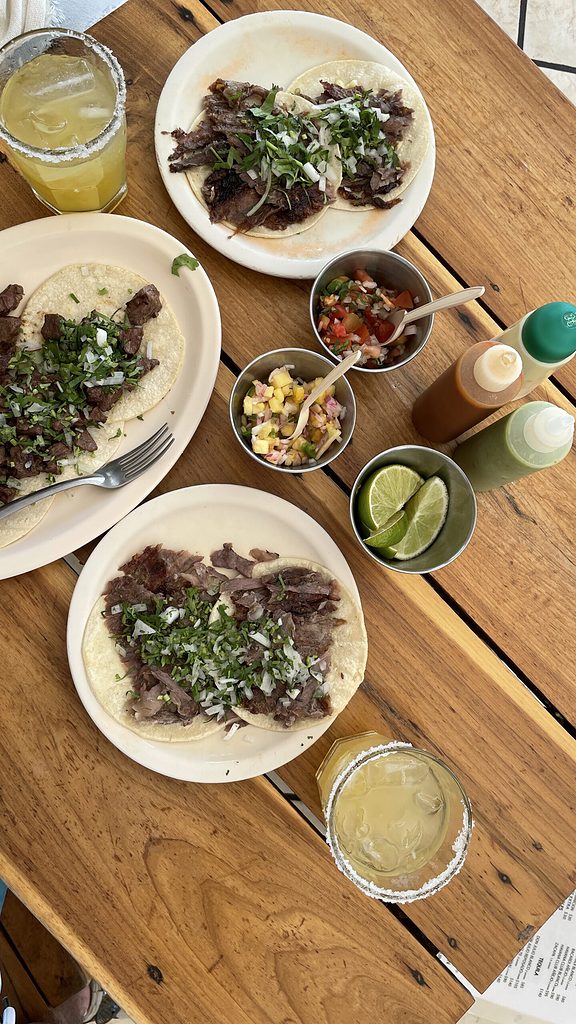 It doesn't matter what city you visit in Mexico. You must experience the city's local cuisine.
Join this top-rated local Mexican food/drink tour; a local foodie will tour you through the streets of Puerto Vallarta as they share with you 5 different food tastings and 6 Mexican cocktails, all included in the tour price!
Having visited several cities in Mexico and joined many food tours, I've come to realize one of the best/quickest ways to enjoy a city's best local cuisine is by joining a food tour with a local guide!
Yacht Excursion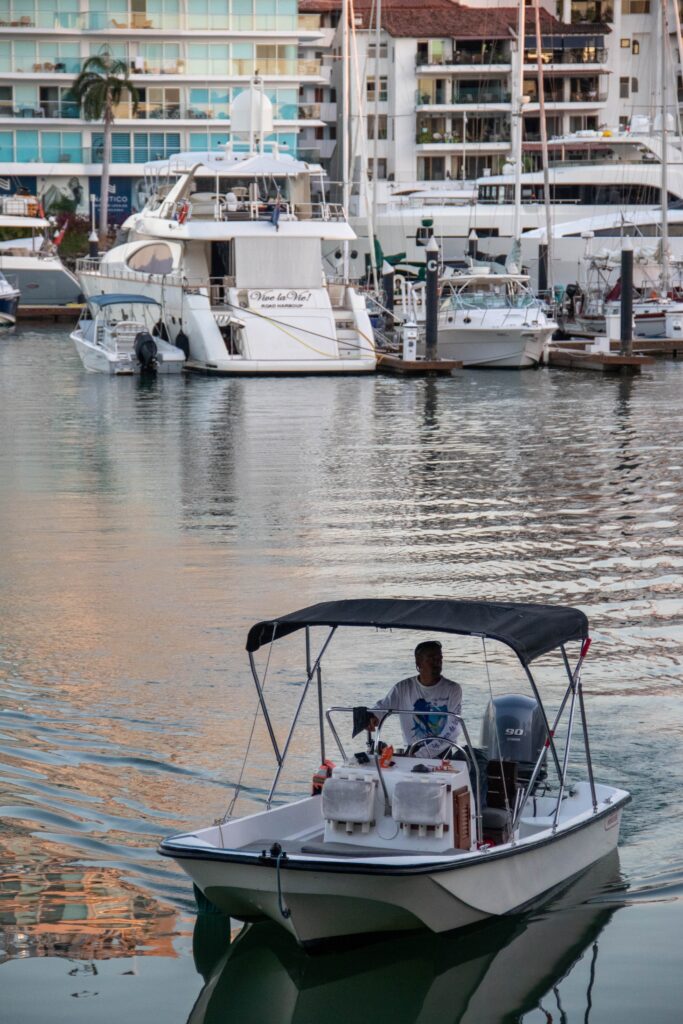 One of the best ways to see the waters of Puerto Vallarta is by getting out on a yacht with some friends!
This yacht excursion includes an open bar, snorkeling, visiting beaches, and other water sports. Enjoy the day on this large yacht with others as you soak in the sun and enjoy a few drinks.
Our friends attended and told us great things; the ratings were also excellent. This is on the top of my list next time I'm in Puerto Vallarta!
Puerto Vallarta Hotels
Grand Miramar All Luxury Suites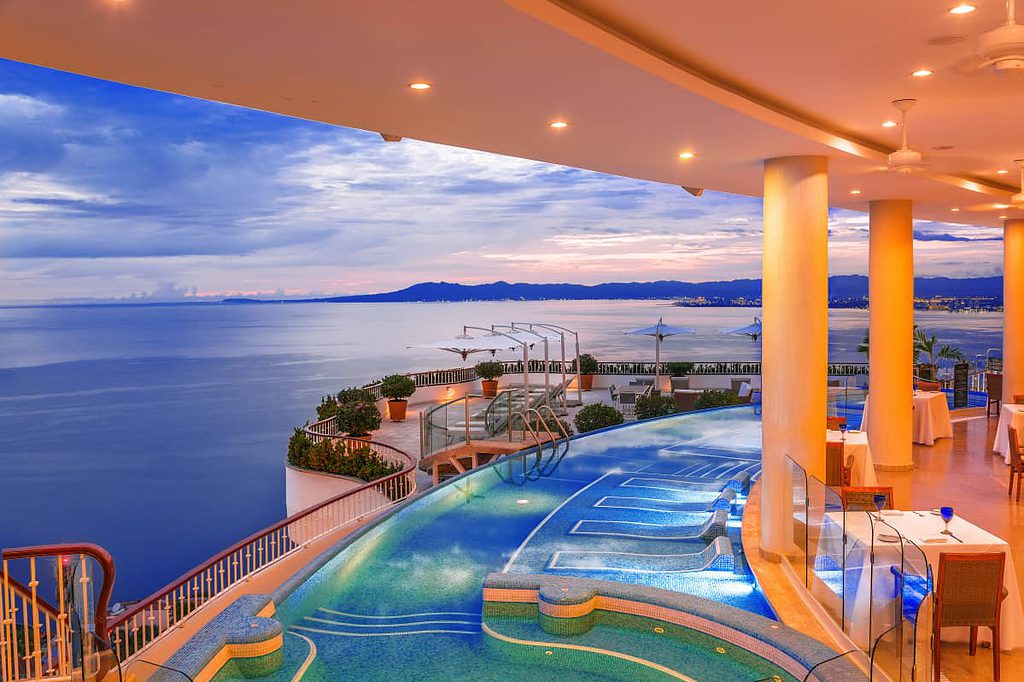 Grand Miramar is the stunning panoramic Pacific Ocean views this hotel offers. The hotel is located in a prime location, only seven minutes from the main beach boardwalk.
All the luxurious amenities your heart desires are here: a heated pool, an adult-only terrace, a fantastic spa, and more.
The hotel has private chefs for hire, just in case you want an elevated dining experience. Grand Miramar also has two specialty restaurants in the hotel. This hotel is highly recommended if you're visiting with a loved one.
The Paramar Beachfront Boutique Hotel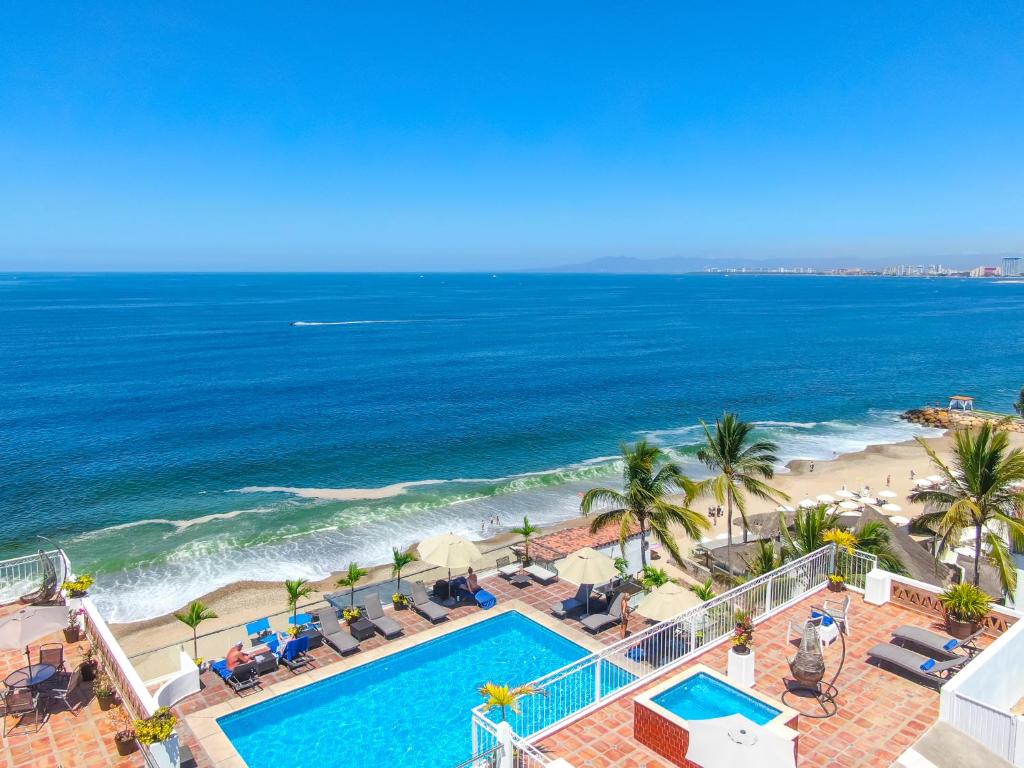 Located ideally along the Downtown Malecon (boardwalk), this boutique hotel has everything you need. All bookings come with an al carte breakfast. All rooms include a kitchen and dining area with ocean or city views.
Rooms at the Paramar include all necessities needed: WIFI, TV, hair dryer, toiletries, and more. Only some rooms include balconies, so book accordingly if you're looking for that.
Overall, the rooms here are pretty spacious, making Paramar a top choice for vacationers in Puerto Vallarta.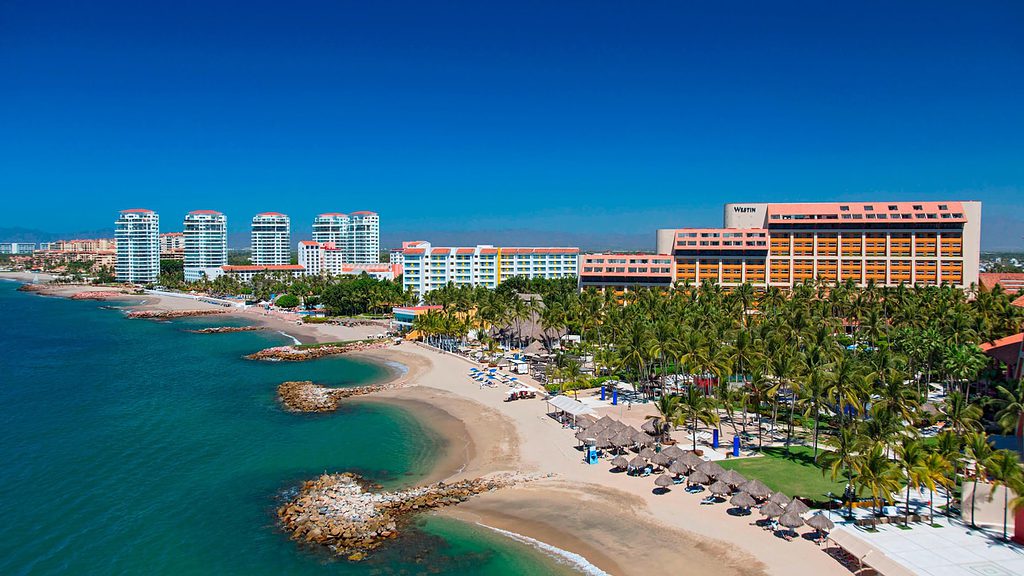 With a private beach overlooking the Pacific Ocean, The Westin is perfect for those coming with a family. The hotel offers various on-site water activities for all ages to enjoy.
Located close to the Marina Vallarta waterfront, The Westin is in a great area full of shops and entertainment. Everything you need is on-site, with a souvenir shop, local currency exchange, and much more.
Most rooms offer ocean views, including a jacuzzi on the balcony with lounge chairs. Other rooms include partial ocean views.
Tropicana Hotel Puerto Vallarta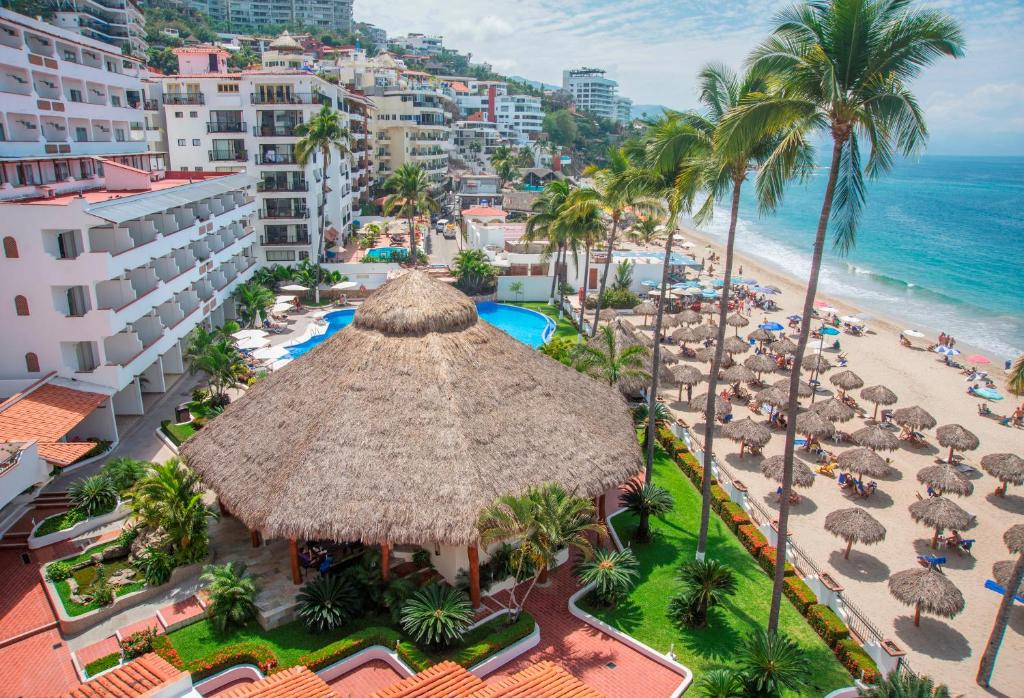 Tropicana is a beachfront hotel located in the city center of Puerto Vallarta. This is a good choice for those looking for a hotel with easy access to late-night street food!
Hotel amenities include WIFI, TV, a swimming pool, and more. Palapas are all over the beachfront at Tropicana, and hotel visitors get access to them.
The hotel is steps from Los Muertos Beach Pier, making for a perfect evening walk along the beach boardwalk. Lastly, the hotel is very well-priced in a city full of five-star resorts!
Hilton Vallarta Riviera All Inclusive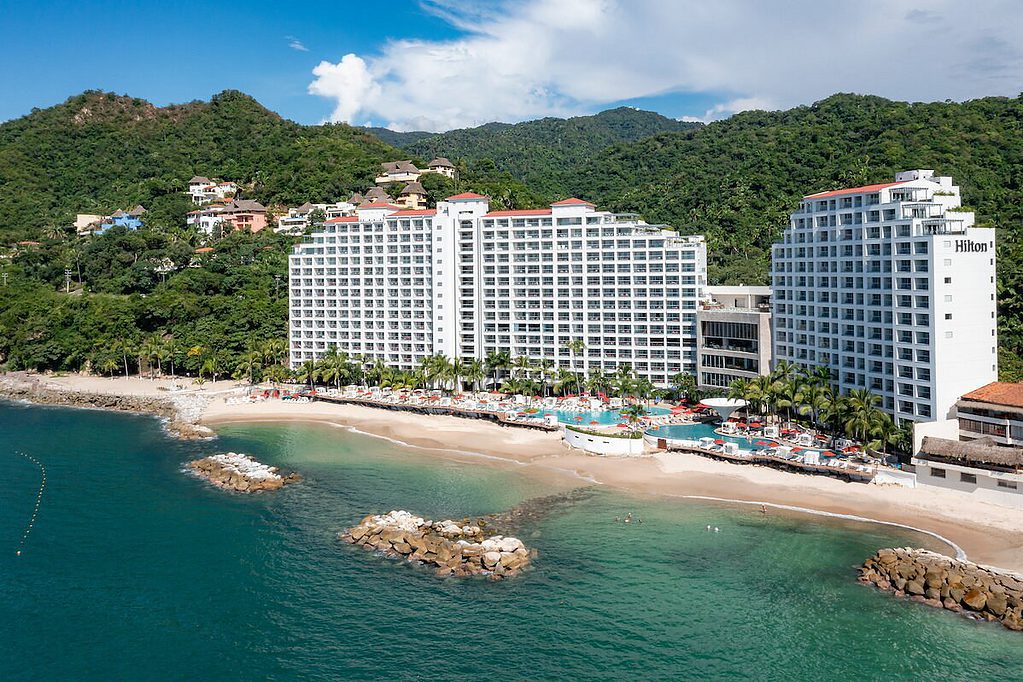 This is one of the most excellent all-inclusive resorts in Mexico. Located on a scenic coastline, The Hilton has some of the most stunning views. In front of the hotel is a private beach; behind the hotel are mountains filled with dense trees.
Regarding the atmosphere here, you truly feel like you're in a remote island destination far from everything. But conveniently the hotel is only 20 mins by car from the city center. The Hilton is one of the best all-inclusive resorts in Puerto Vallarta.
Completed with a modern design, the property is stunning, with exceptional amenities. Room service, an extensive fitness center, WIFI, restaurant, and spa on-site, and a wide selection of breakfast to choose from (breakfast buffet).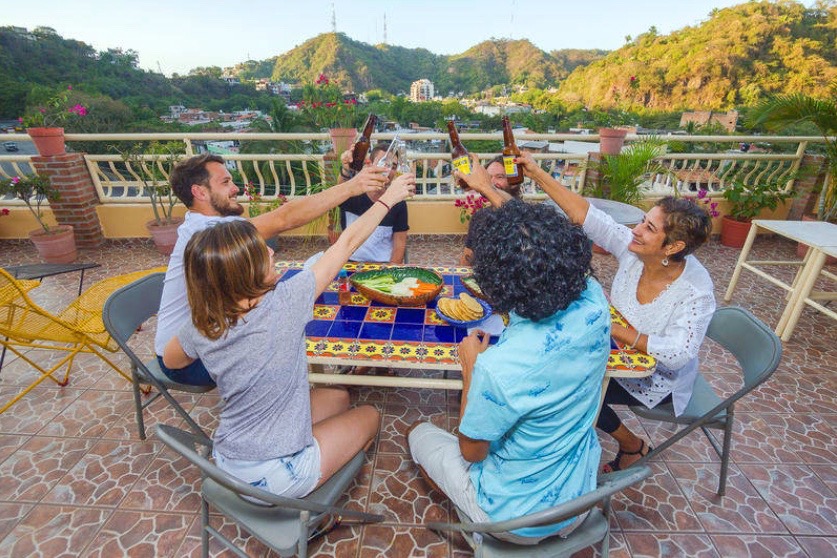 Opened in 2005, this backpacker-style hostel is a minute's walk from the city center. Offering private and dorm-style rooms (female-only dorms available also) and a shared rooftop terrace for visitors to mingle.
Visitors at the Oasis Hostel get complimentary breakfast between 8-10 AM. The hostel also features a 24-hour Kiosk full of snacks and beer for purchase on-site. They've even got a laundry service on-site for a small fee, as well as lockers.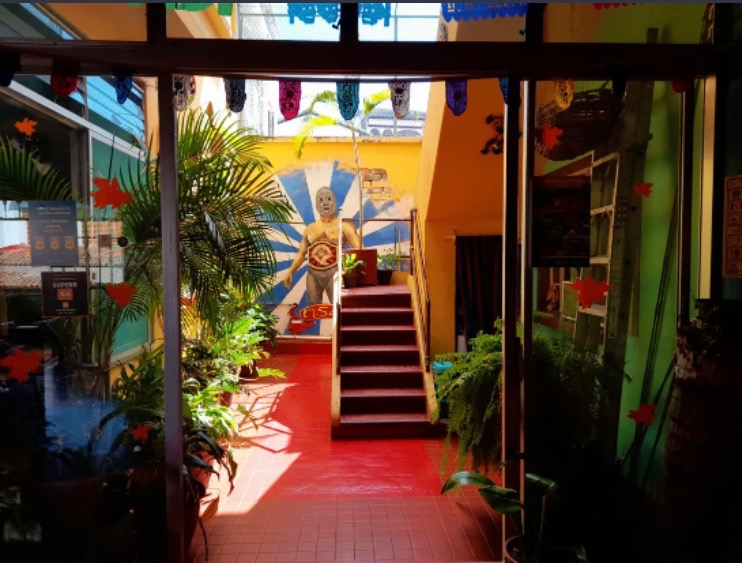 Located right in the city's downtown area, Casa Kraken is conveniently located to everything: beaches, bars, shopping, markets, and more.
They offer free daily activities you can attend with other visitors, an excellent thing for those traveling solo!
Dorm-wise, this hostel has mixed and female-only dorm rooms. All rooms come with assigned lockers and a padlock.
READ ALSO: Cozumel, Mexico Guide
Best Puerto Vallarta Restaurants
Hectors Kitchen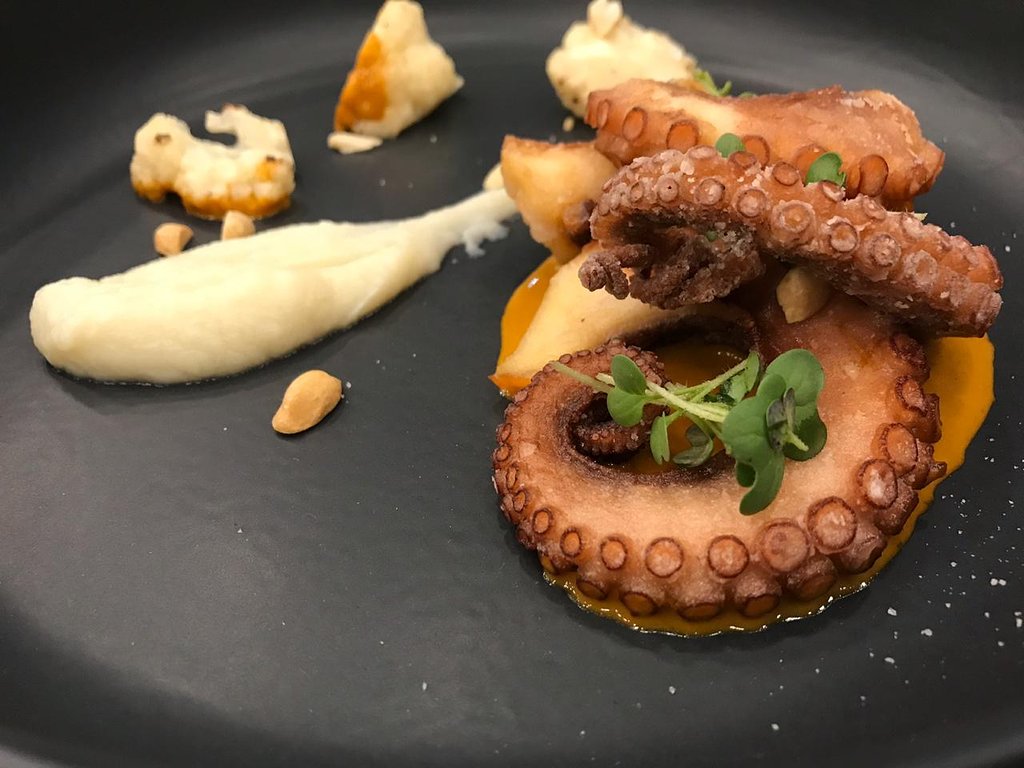 Look no further for a fine dining experience in the city. Chef Hector Leyva is originally from Oaxaca but has cooked all over the world.
Serving dishes like their famous Oaxacan mole, shrimp risotto, and black mole magret. This restaurant has made quite a name for itself in Puerto Vallarta. The food is delicious here, and each plate looks like a piece of art.
The restaurant has a large selection of wines and beers from all over the world. But what they're most famous for drink-wise is their many award-winning cocktails.
Widely known in the city as the #1 taco spot, Pancho's Takos is fantastic. Serving up Al Pastor, chorizo, bistec (steak), chicken tacos, and more. Other foods are guacamole and chips, gringas, quesadillas, and much more.
What makes these tacos unique, especially the classic Al Pastor, is how they cook them here.
Only a few taco places in Mexico cook using charcoal when operating a large meat spit. This cooking method is the original method the Lebanese brought to Mexico years ago. Lastly, make sure you order a margarita here. They're huge!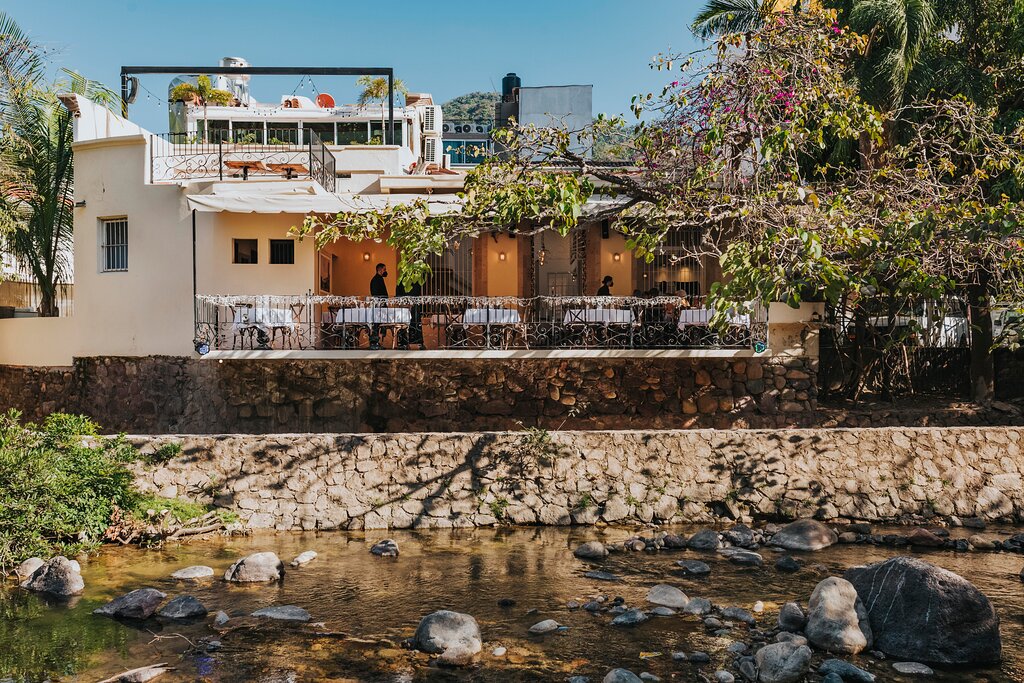 Tintoque has been ranked as one of the city's best fine-dining restaurants for several years now.
Offering modern Mexican cuisine, such as boneless lamb, entire lobster buttered up with chives, crab croquettes, a spinoff of an empanada, and much more.
They've got a large selection of wine and uniquely crafted cocktails. Dessert lovers can choose from pineapple yuzu and coconut, chocolate-covered foie gras, and much more.
Tintoque takes cuisine to another level, and the restaurant has a quaint, fancy atmosphere to it.
La Tienda Grande is a short drive from the city center on the main highway. It's a nonprestigious restaurant with classic Mexican decor but offers modern Mexican cuisine.
Some dishes to expect here are slow-roasted rib enchiladas, pumpkin soup, roasted pear salad, bittersweet duck breast, and more. Cocktails here are great; you'll notice a stunning large bar as soon as you walk in.
The menu changes from season to season to provide visitors with the best dining experience.
Best Puerto Vallarta Cheap Eats
Every city in Mexico has delicious food that is easily accessible and affordable. That's no different in Puerto Vallarta, despite the city being a tourist-centered beach town.
For those looking for cheap eats in the city, feat on this list! If you have any suggestions, please comment on them below!
Fredy's Tucan
Archie's Wok
Tacon Marlin
Tacos de 5 Pesos
River Cafe
El Barracuda
Best Time to Visit Puerto Vallarta
The best time to go to Puerto Vallarta is between November to March. Also referred to as the Dry Season here.
Here's a breakdown of the seasons here. I've personally always gone to Mexico during the dry season; the humidity can get quite high during the off-season.
Dry Season: November through March. It's also when it's the busiest in the city, so expect to see more tourists visiting. Prices are also slightly higher during this time because this is the best time to visit Puerto Vallarta.
Shoulder Season: March through May is the city's shoulder season. The weather is still good and much more bearable than off-season. The city is less crowded with tourists, and prices are significantly lower than in the dry season.
Off Season: May through October is when the weather heats up and becomes muggy and humid. Tropical rainfall occurs; it can be frequent, but it passes by quickly. Though some rare days, it rains all day. However, it is the cheapest time to visit Puerto Vallarta.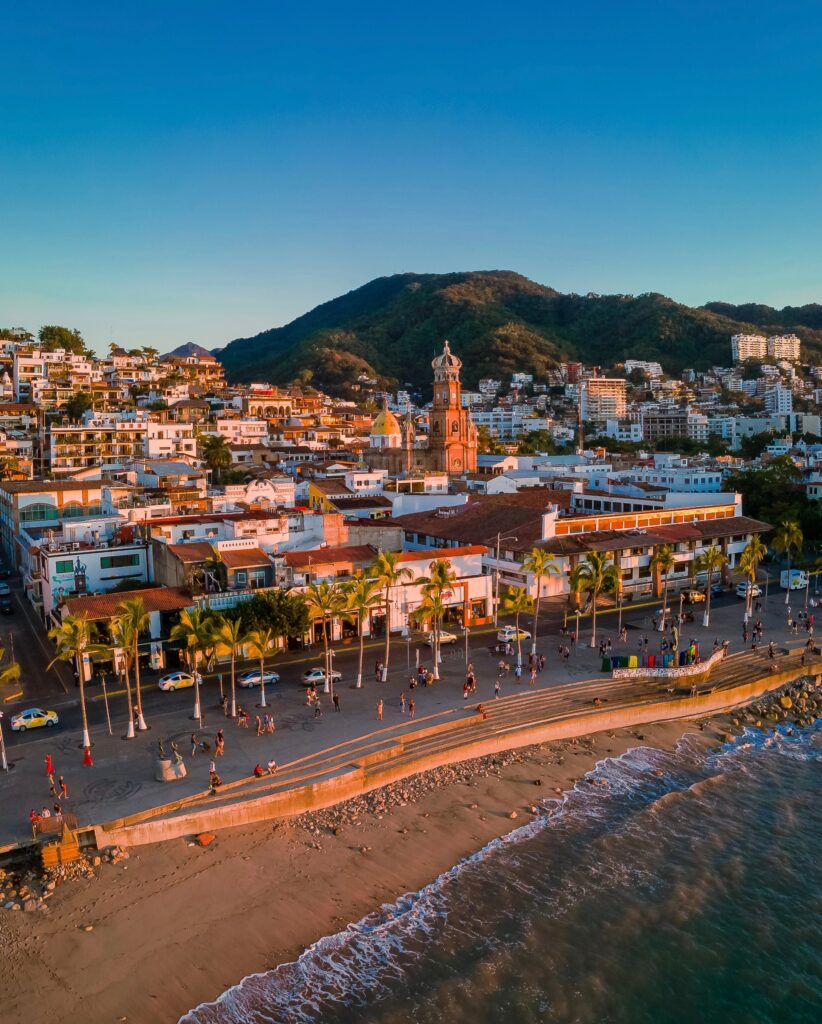 Is Puerto Vallarta Safe?
Yes, Puerto Vallarta is very safe. The city has been ranked one of the safest cities in Mexico for several years now.
Walking in the nighttime, even in the city, is relatively safe. Because the city is such a popular tourist destination, there are twice as many police officers in the city than the federal government requires, so violent crime here is quite rare.
The police patrol the streets at all hours during the day. So walking to your hotel or rental at night after a late night out is fine here.
Getting overcharged by a taxi is the worst thing that could happen here at night here
Nonetheless, it would be best if you took all the precautions you would take when visiting elsewhere. Keep your important items like your passport safe in your hotel room. Avoid carrying a lot of cash, and make sure your bags are closed when walking around busy streets.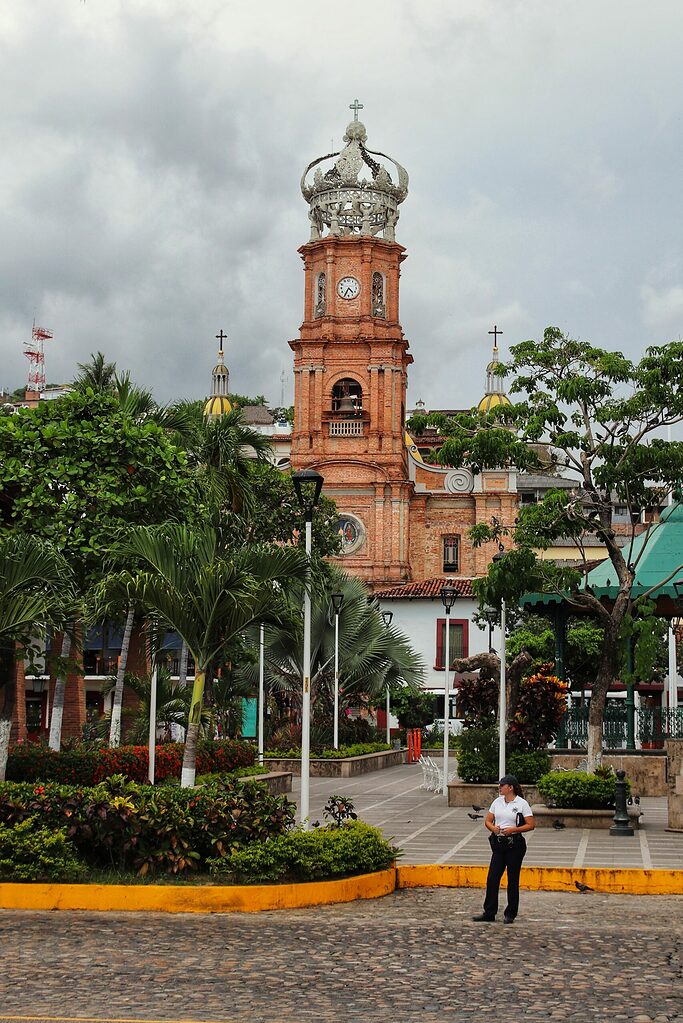 Is Puerto Vallarta Worth Visiting?
Yes, it is worth visiting; there are so many things to do in Puerto Vallarta, accommodations are excellent here, there are countless great restaurants to try, and overall, it's a very scenic destination!
But it's very walkable, for the most part, you can walk to most places you'd like to go. Otherwise, a quick 10-15 minute cab will get you anywhere you need to be.
Having visited earlier this year for the first time, we had a great time in Puerto Vallarta. The city is a perfect-sized beach town, ideal for relaxing, shopping, trying the local cuisine, and evenings walking Malecon (the main beach boardwalk) never got boring.
Puerto Vallarta has become one of my favorite cities in Mexico, and I plan to return soon. Other favorites of mine are Cozumel, Isla Mujeres, and Playa Del Carmen!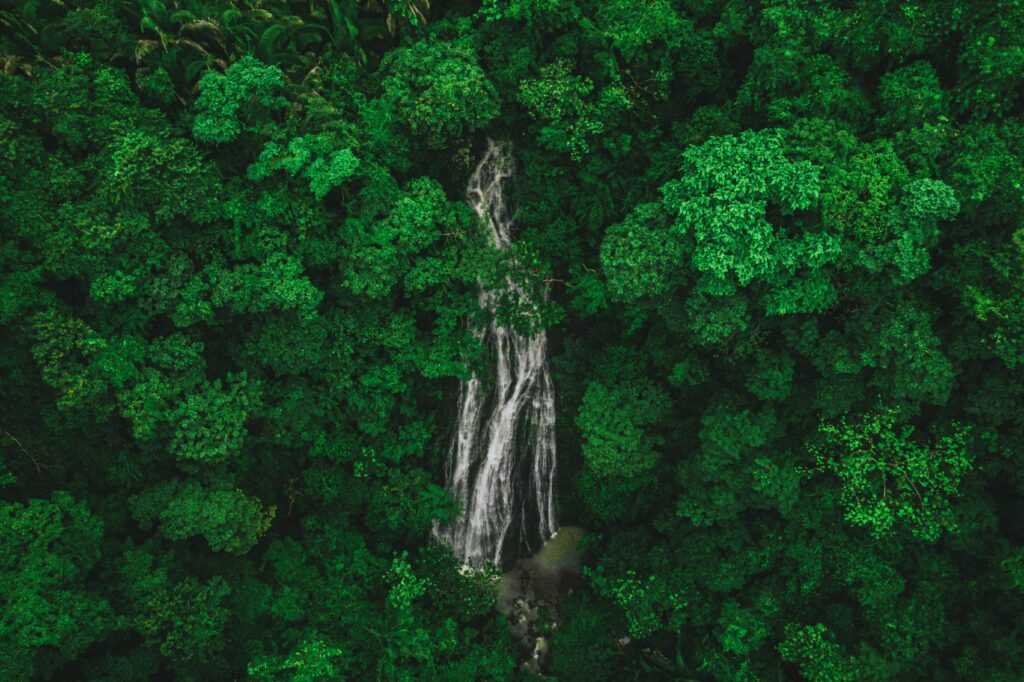 How many days is ideal for Puerto Vallarta?
Spend at least five days in Puerto Vallarta. There are many things to do here, and you may want to leave one day out to do a day trip outside of Puerto Vallarta.
Which is better to visit Cancun or Puerto Vallarta?
Both destinations are very different; Cancun is more touristy and famous for its many beaches and hotel zone, full of large resorts.
Puerto Vallarta is more famous for its scenic ocean mountain surroundings and is a more laid-back beach city than Cancun.
Where do tourists hang out in Puerto Vallarta?
The Malecon Boardwalk is the most popular spot for tourists in Puerto Vallarta. Here, you will find many bars, restaurants, shops, and beautiful statues with stunning views of the Pacific Ocean.
Why is Puerto Vallarta so popular?
With scenic surroundings, amazing restaurants, an amazing beach boardwalk, and being the safe city it is, Puerto Vallarta is popular for many reasons!
Subscribe to Travel Hiatus!
Receive updates on my latest posts, insider travel tips & the best destination guides to your inbox!
Happy & Safe Travels
Featured Image Credit: Nicole Herrero
---
Planning Checklist
---
Disclaimer: Please note that some of the links shared in this article might be affiliate links; this means that at absolutely no extra cost to you, we will earn a small commission for any sales generated through this article and/or this website. We recommend products/services we've either used or researched thoroughly – Thank you for supporting us so we can continue to share helpful travel content!