12 Best Things To Do in Isla Mujeres
Are you looking for the best things to do in Isla Mujeres? This list has amazing activities to do for everything! Along with everything you need to know!
Despite Cancun having so many things to do, there are also many things to do in Isla Mujeres, and the best part is the island is only a 15-20 minutes ferry ride away!
Most that visit Isla Mujeres come from Cancun only on a day trip, but I strongly recommend spending 1 to 3 nights on the island instead.
Isla Mujeres island atmosphere is something you can't experience in Cancun, and Isla Mujeres is very walkable!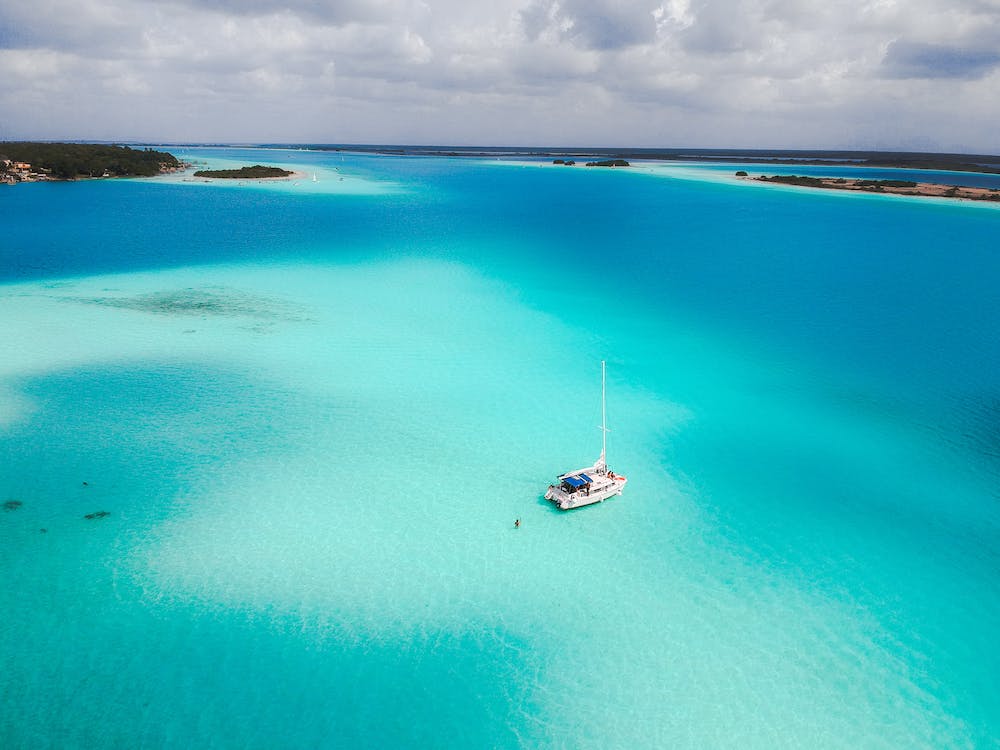 How to Get to Isla Mujeres
The only way to get to Isla Mujeres is by taking one of many Isla Mujeres Ferry. To take a ferry from Cancun to Isla Mujeres, first, you must go to one of the four different ferry departure locations.
Three ferries go back and forth from 9:00 AM to 7:00 PM throughout the day, departing roughly every hour.
Except for Puerto Juarez, this ferry has rides going back and forth from 5:30 AM to 12:00 AM every hour.
Puerto Juarez
Playa Tortugas
Playa Caracol
El Embarcadeo
Remember to book either a one-way or Roundtrip ticket, depending on your need!
Departing from Puerto Juarez tends to be the cheapest way because of the frequent trips back and forth to Isla Mujeres.
There are Standard ferries as well as High-Speed ferries. The time difference is only a few minutes.
How to Get to Isla Mujeres from Cancun Airport
For those who will be staying in Isla Mujeres and would like to go to Isla Mujeres directly from the airport.
Firstly, you must get to Puerto Juarez dock from Cancun International Airport and then take the ferry to Isla Mujeres.
To leave Cancun airport, I'd recommend you use Cancun Airport Transfer for a private car pickup, or if you're looking to budget, take the ADO Bus to Centro Cancun and then make your way to the dock. – Once at Puerto Juarez, take the Ferry to Isla Mujeres.
How to Get to Isla Mujeres from Hotel Zone?
Suppose you're at Cancun Hotel Zone already and looking to get to Isla Mujeres. Plan to go to one of the following docks and Book Tickets Here.
Playa Caracol (closest departure from the main Hotel Zone area)
Playa Tortugas (closest departure from the Northern Hotel Zone area)
Puerto Juarez (closest to Centro Cancun & main departure for Cancun)
Before you read this list of things to do in Isla Mujeres, I must mention Chichen Itza if you're looking to visit Chichen Itza while you're in Cancun or Isla Mujeres. Here is an in-depth guide on how to get to the world-famous Chichen Itza.
Beach Day at Playa Norte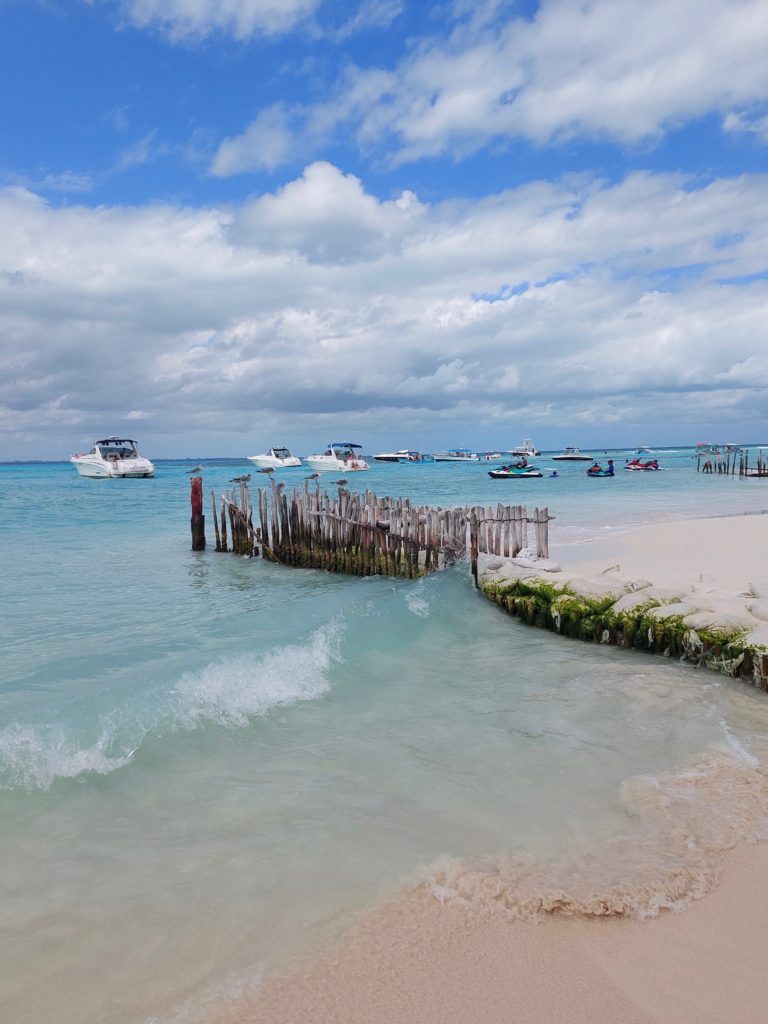 Playa Norte is located on the island's most Nothern area, the largest and main beach in Isla Mujeres.
Playa Norte has perfect white sand, and the water is various shades of turquoise blue; some of the most beautiful-looking seawater is in Isla Mujeres, which is one of many reasons why it's a popular destination to visit!
The beach is extensive and full of beach clubs, beach lounge chair rentals, beach bars, restaurants, and much more.
Because this is the main beach in Isla Mujeres, it's lively here day and night. During the day, several beachgoers spread out throughout the beach. In the evening, you will find a few bars/restaurants open.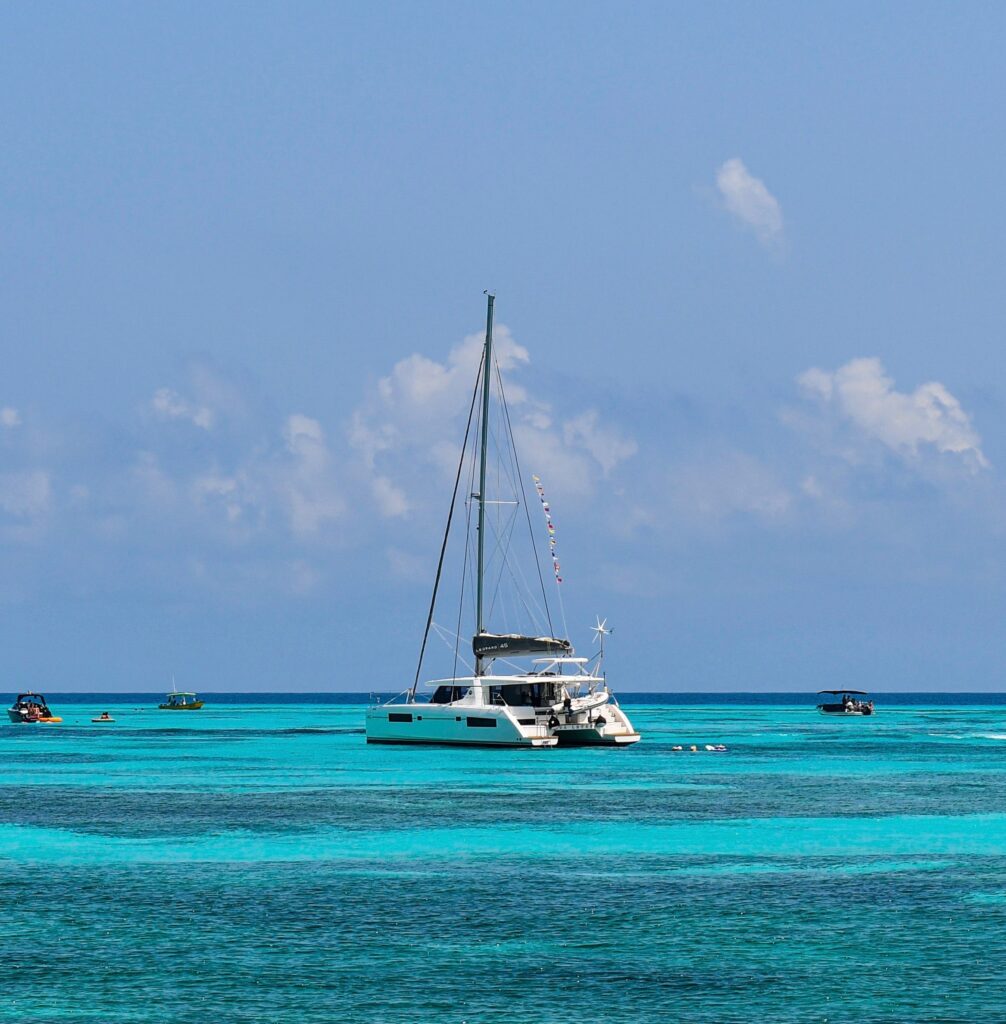 This is an activity to do with a group of friends. Other than going to the beach and exploring the Island on a golf cart/bike, this has to be the most popular thing to do when visiting Isla Mujeres. You will spot these sailboats all over the water during the day.
You can rent one of these sailboats with a captain for the afternoon (7 hours) and sail the waters of Isla Mujeres. It's a wide sailboat featuring a see-through netting at the front of the boat, the perfect area for sunbathing as you sail away!
It's not as expensive as you think. – It's $70 US/person x 6 people
This tour includes an open bar (unlimited drinks), an open buffet, and snorkeling gear for those who want to snorkel in the reefs.
For six people to share a sailboat for 7 hours with an open bar & buffet for only $70 US, you can imagine why this is one of the popular things to do in Isla Mujeres!
Note: The sailboat fits a maximum of 15 people, but it's recommended for a group of 6-8 to be comfortable
For those looking for a more luxurious experience, rent a Yacht in Isla Mujeres instead, though it will cost you more!
Located North of Isla Mujeres is Isla Contoy, a small deserted island full of several bird species. The entire island is covered in trees and is only inhabited by animals.
There is a beach there you can explore when you visit. Surrounded by the island are healthy coral reefs full of starfish, many tropical fish types, and more. Sterilized snorkeling equipment is provided on the tour.
TIP: Don't wear sunscreen to avoid infecting the healthy coral reefs in the water. It's not allowed here.
On this day trip tour, you will be taken to Isla Contoy on a large boat with several others.
Once you're at the island, you can enjoy lunch and an open bar on the island as you sunbathe and swim for the afternoon. – Lunch and Open Bar included in Tour Cost.
Hotel Transportation from your hotel to the boarding dock and back is provided and included in your tour cost as well.
Visit Punta Sur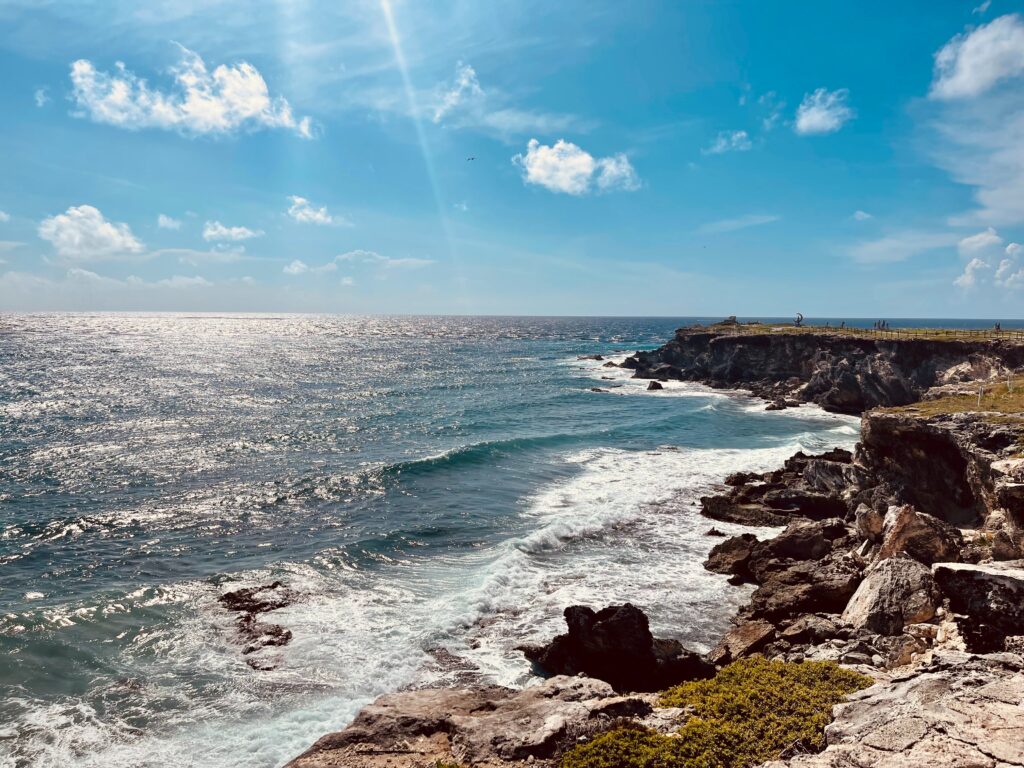 One of the most popular things to do in Isla Mujeres is visit Punta Sur, located on the island's southern end.
As you get there, you will notice large rock formations along the landscape, a trail to walk, and discover the beautiful sea views ahead.
Those looking for a nice photo, there are some very photogenic, ideal secret spots to take amazing pictures here!
As you make your way to the island's southern tip, you will get to Mirador Punta Sur, with breathtaking sea views. The area here is home to several iguanas. In the end, you will see a small white lighthouse.
Besides Playa Norte (the main beach), Punta Sur is also one of the most popular places to catch the sunset in Isla Mujeres!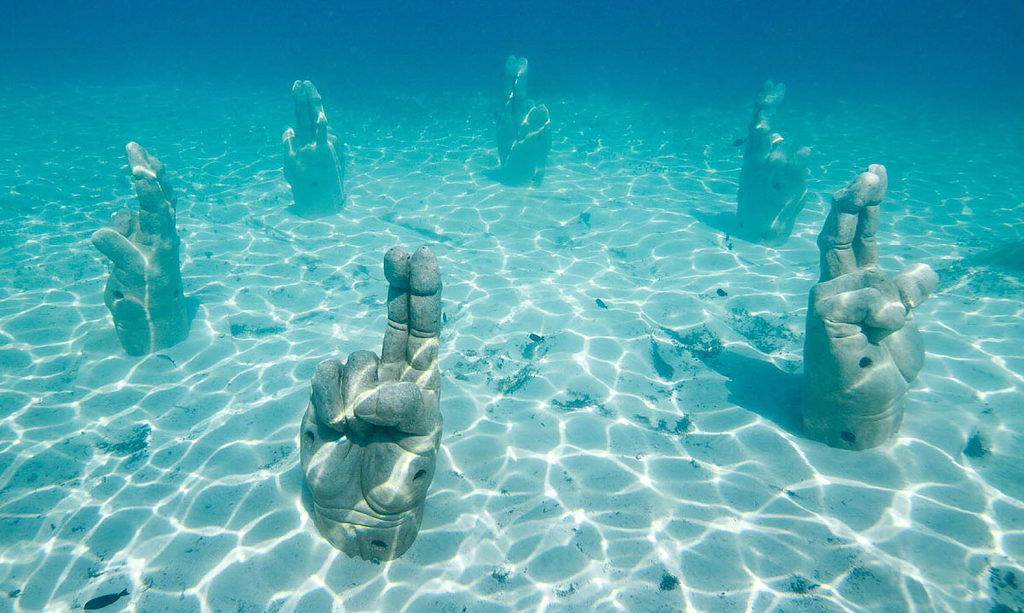 Below the water, not too far from Punta Sur, is Museo Subacuatico de Arte, known as the Underwater Museum of Isla Mujeres.
Underwater, you will find all sorts of statues and even a full-sized car sculpture. Exploring the Underwater Museum is one of the most incredible things to do in Isla Mujeres.
On this tour, a guide will take you by boat to the Underwater Museum and Manchones, a large coral reef. The trip includes snorkeling equipment. You'll be able to enjoy Mexican Ceviche and sandwiches on board.
Spend the Day a Beach Club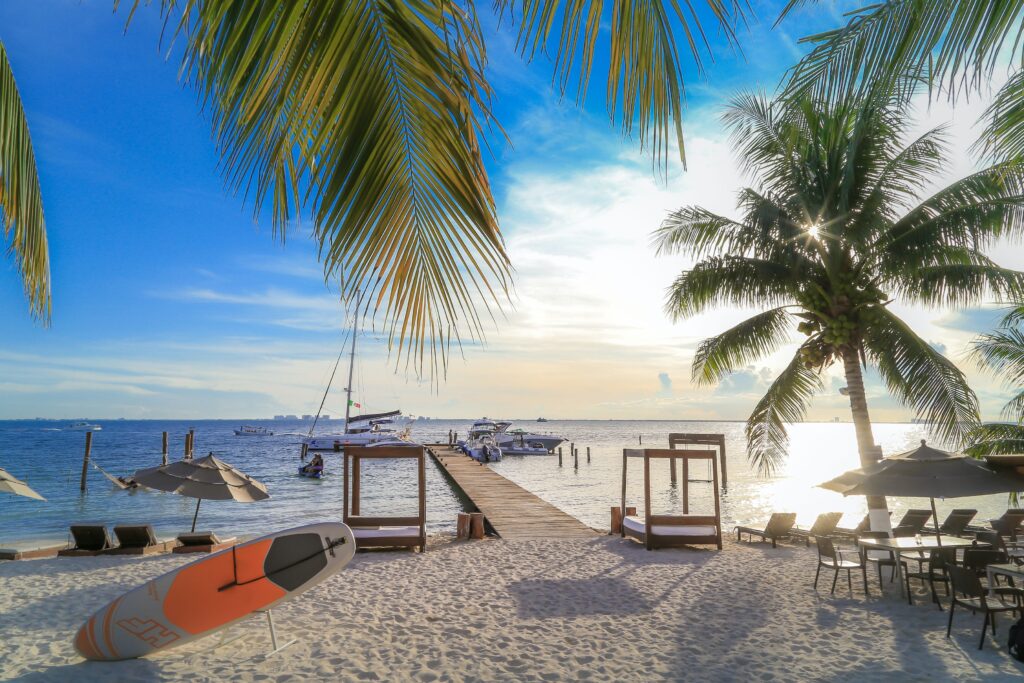 You're on an island with some of the most beautiful water in the Caribbean Sea; spending the day at a beach club with great food and drinks is one of the best ways to spend the afternoon.
While Isla Mujeres beach clubs are less famous than the ones in Tulum, the shores of the beach clubs in Isla Mujeres are superior!
Isla Mujeres is full of beach clubs along Playa Norte, perfect for spending the day. While there are many beach clubs, some are better than others.
Here's a short list of beach clubs to consider when visiting Isla Mujeres!
There are many more beach clubs to discover, and I invite you to go on Google and look at some more, but these five beach clubs are the best in Isla Mujeres.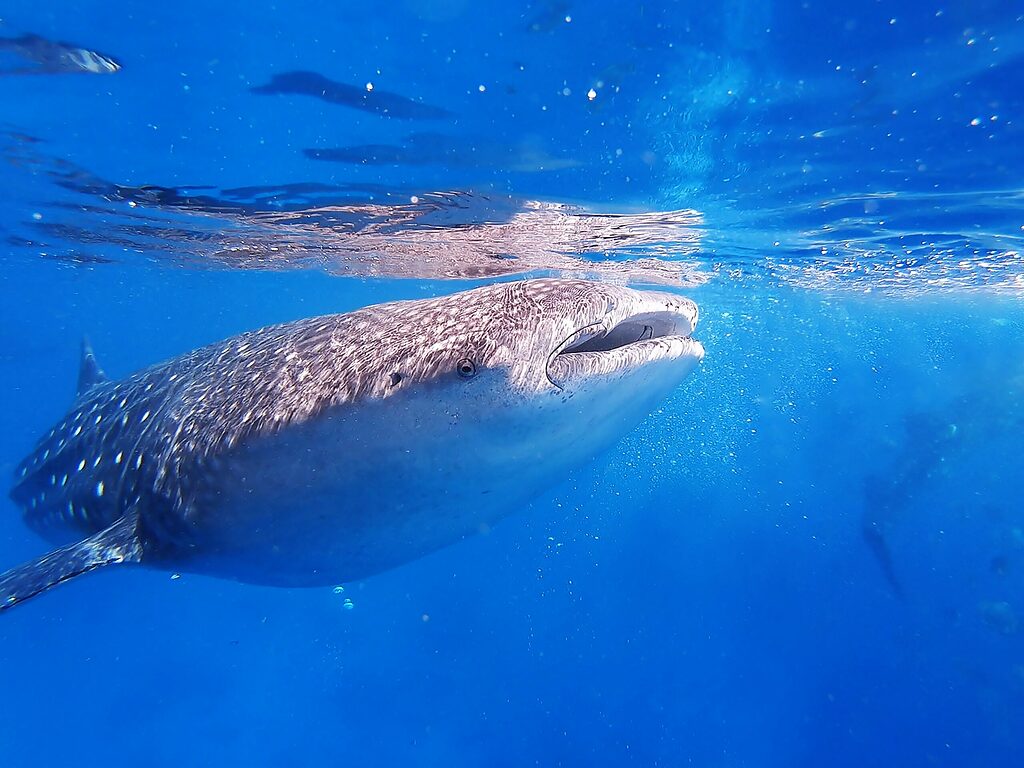 While I didn't get the chance to experience swimming with whale sharks in Isla Mujeres, I was able to experience this unique experience when I was in Isla Holbox. It was one of the most amazing experiences I've ever had to be able to swim so close to these large, friendly creatures.
You can do the same on this Whale Shark tour in Isla Mujeres! You will spend the whole day on a group tour snorkeling the Yucatan coastline with an expert guide.
These magnificent creatures are omnivorous and will eat plankton, so you don't have to worry about being eaten or bitten by them.
Don't be surprised if you find several dolphins, manta rays, sea turtles, and other tropical fish as you swim with the whale sharks, also known as the largest fish. Whale sharks can reach 14 meters long.
TIP: You can't bring sunscreen, so wear long sleeves or plan accordingly. The chemicals in these products are not safe for the animals.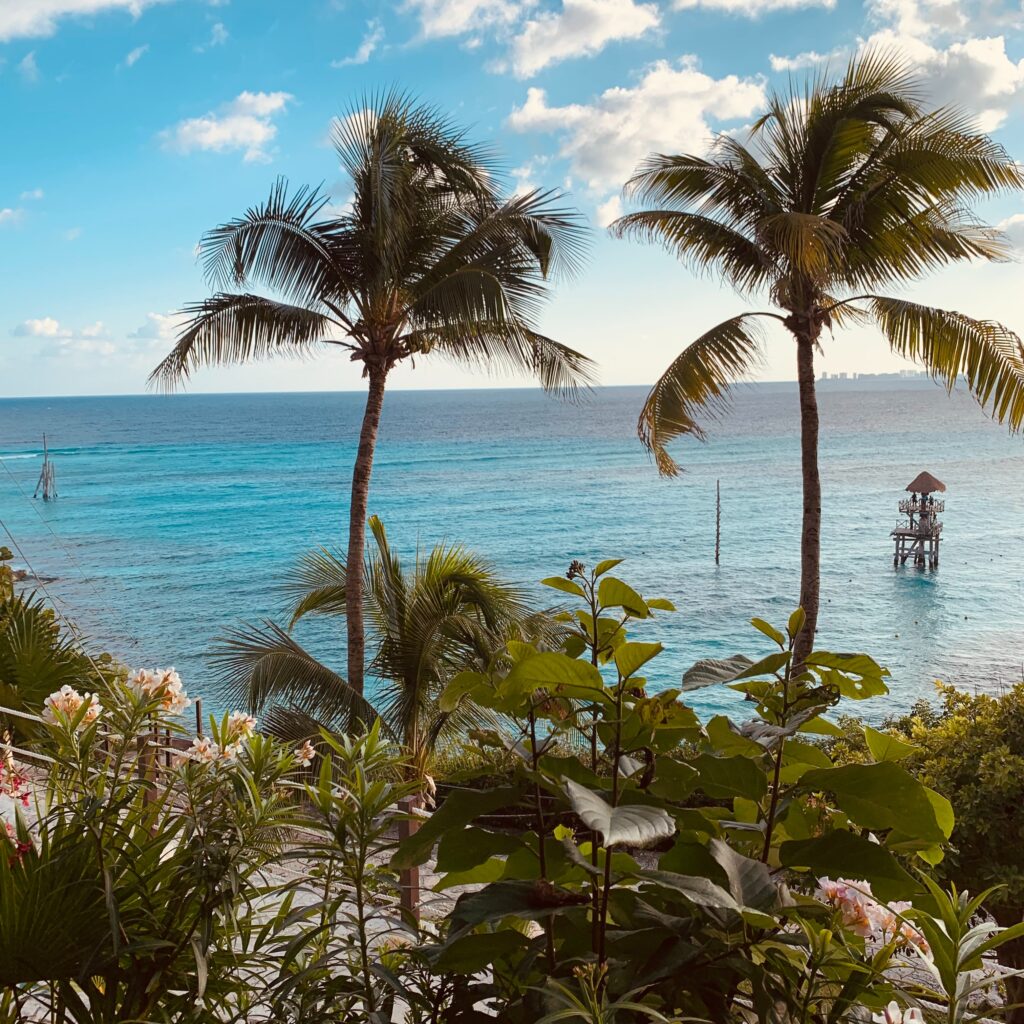 Garrafon Natural Reef Park is a fun place for everyone! Whether you're with some friends or on a trip to Isla Mujeres with your family, there is something for everyone here!
This activity park features activities like: Snorkeling, kayaking, zip-lining, a swimming pool overlooking the sea, the chance to swim with dolphins, a sauna, hot tubs, and so much more.
On the second floor, there is an observation deck with several beach lounge chairs and palapas for you to sunbathe. On-site are also two bars and a restaurant serving delicious food.
This VIP PASS into Garrafon gets you access to everything regarding the activities here, and you will also have access to the open buffet and bar! – The VIP lounge includes lounge chairs, hammocks, lockers, and everything else you need!
Garrafon Natural Reef Park is a great way to spend the day in Isla Mujeres; visiting the park is one of the most popular things to do in Isla Mujeres.
An afternoon on a luxurious yacht in the Caribbean Sea? Does it get better than this?
Whether you're with a few friends celebrating a birthday, or you know what, perhaps you're just looking to go all out. Chartering a yacht for the afternoon in Isla Mujeres is a great idea!
This Yacht Rental is for a 46-foot boat, with an air-conditioned cabin for those looking to take a break from the sun, and can handle 15 guests at max capacity.
Evening Walk at Parador Fotografico Isla Mujeres
Conveniently located close to the Centro area of the island is Parador Fotografico, a small but charming beach walkway with beautiful scenic views.
It's a popular place for many to watch the sunset in the evening or come and relax for the day. This is the next best option for those not looking to spend their evening at a beach club or restaurant!
Also, that's where the Isla Mujeres sign is for those who want to take a few pics, so come by and take a photograph for memories!
Go Bar-Hopping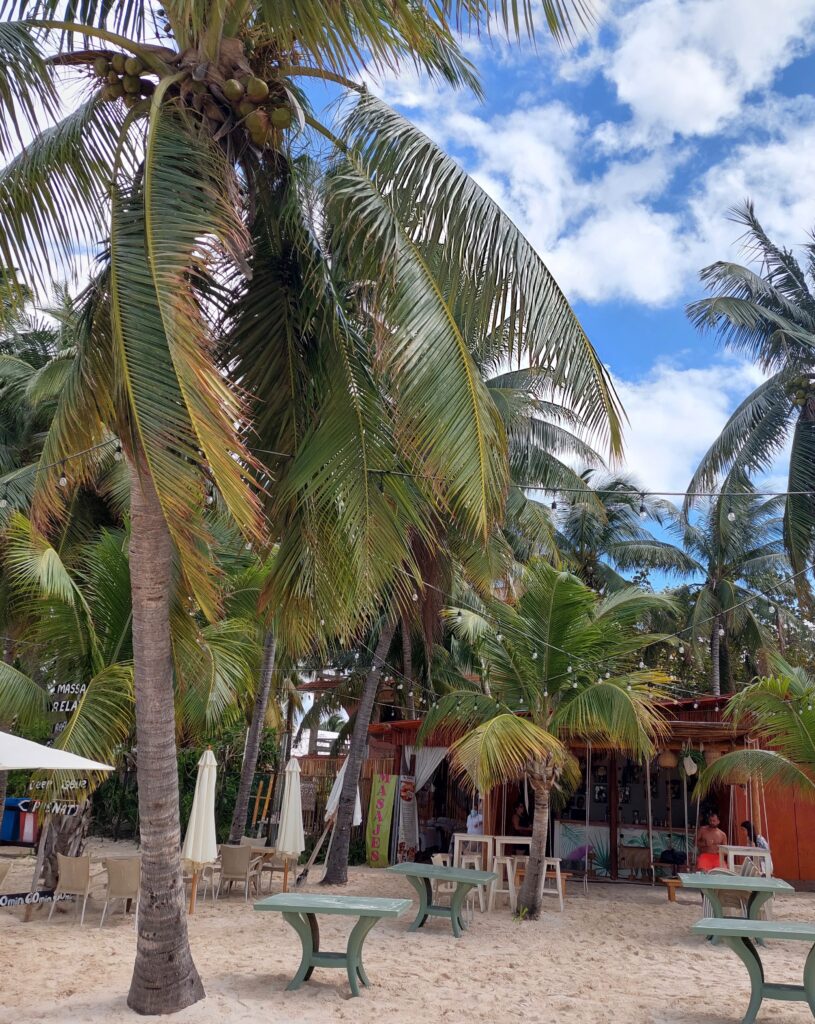 One of the best things to do in Isla Mujeres is spend an afternoon bar-hopping.
Especially with friends, you can get tipsy for the afternoon and not worry about transportation because you can walk to your hotel!
Isla Mujeres is full of bars everywhere you go, and it makes sense. Stunning island small enough to walk to most places, why not have a few drinks? – Here's a list of bars you should consider when visiting!
Earlier this year, I was in Phi Phi Don, an island in Thailand, and it reminded me of my time in Isla Mujeres. Seeing many tourists having a good time walking around the island tipsy and not worrying about transportation was fantastic!
Lastly, for those traveling solo, if you want to meet new friends/mingle, head over to either the Selina Isla Mujeres PocNA or Nomads Hotel Isla Mujeres for a drink or two. I'd suggest you either stay there or you can visit for the day, and both places are great for meeting other solo travelers!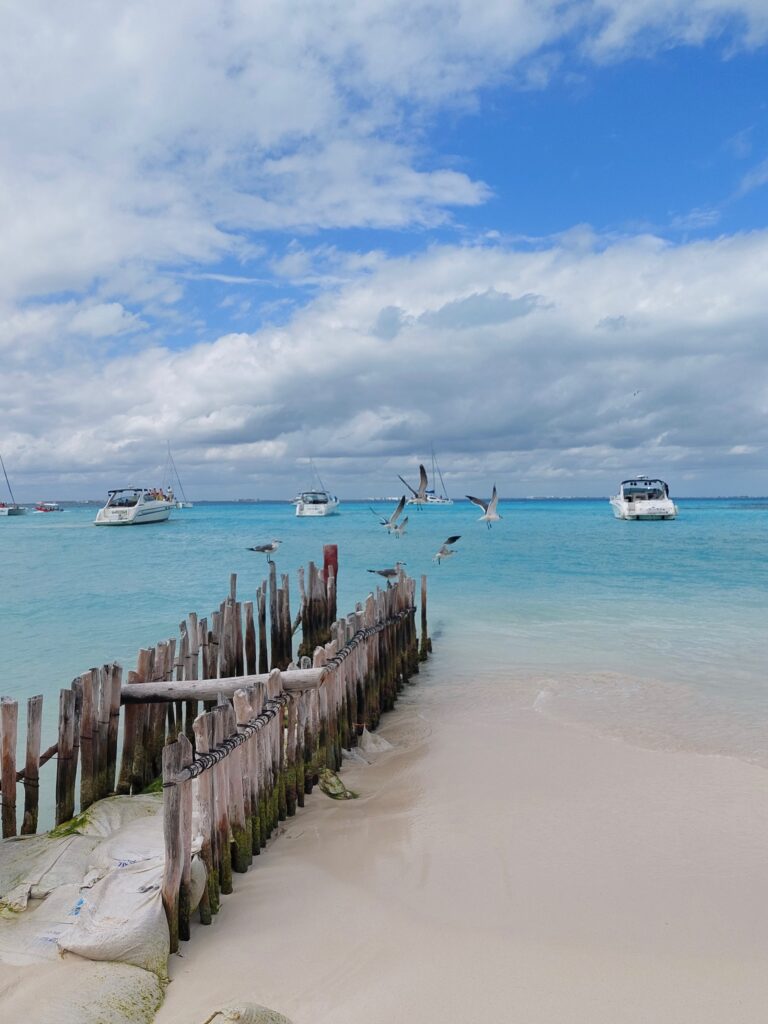 Rent a Bike & Explore Isla Mujeres
Walking around the Centro area of Isla Mujeres, several bike rental shops offer rentals for a few hours or the day.
Renting a bike for a few hours is a great way to see the island's coastline, and it's an ideal form of transportation to get to Punta Sur, south of the island. What you can also do is rent a golf cart, if you don't prefer any exercise.
I did this with friends, and cruising the coastline is one of the most incredible things to do in Isla Mujeres.
TIP: Make sure you take photographs of the bike AT the rental shop to ensure you aren't accused of any damages already on the bike.
I've learned this from years of travel, whether you're renting a car, scooter, bike, or golf cart, no matter what. Take a few photos of what you're renting before leaving the rental shop!
Where to Stay in Isla Mujeres
Suppose you're reading this article and have yet to reserve a hotel in Isla Mujeres. These are the best accommodation options for each budget. – A 5 Star hotel, 4 Stars, 3 Stars, and hostel, of course!
Are you looking for an apartment or villa rental, something more intimate than a hotel? Take a look here!
If you're staying in Cancun, I highly recommend you come to Isla Mujeres and spend at least one night here!
Impressions by Secrets – 5 Stars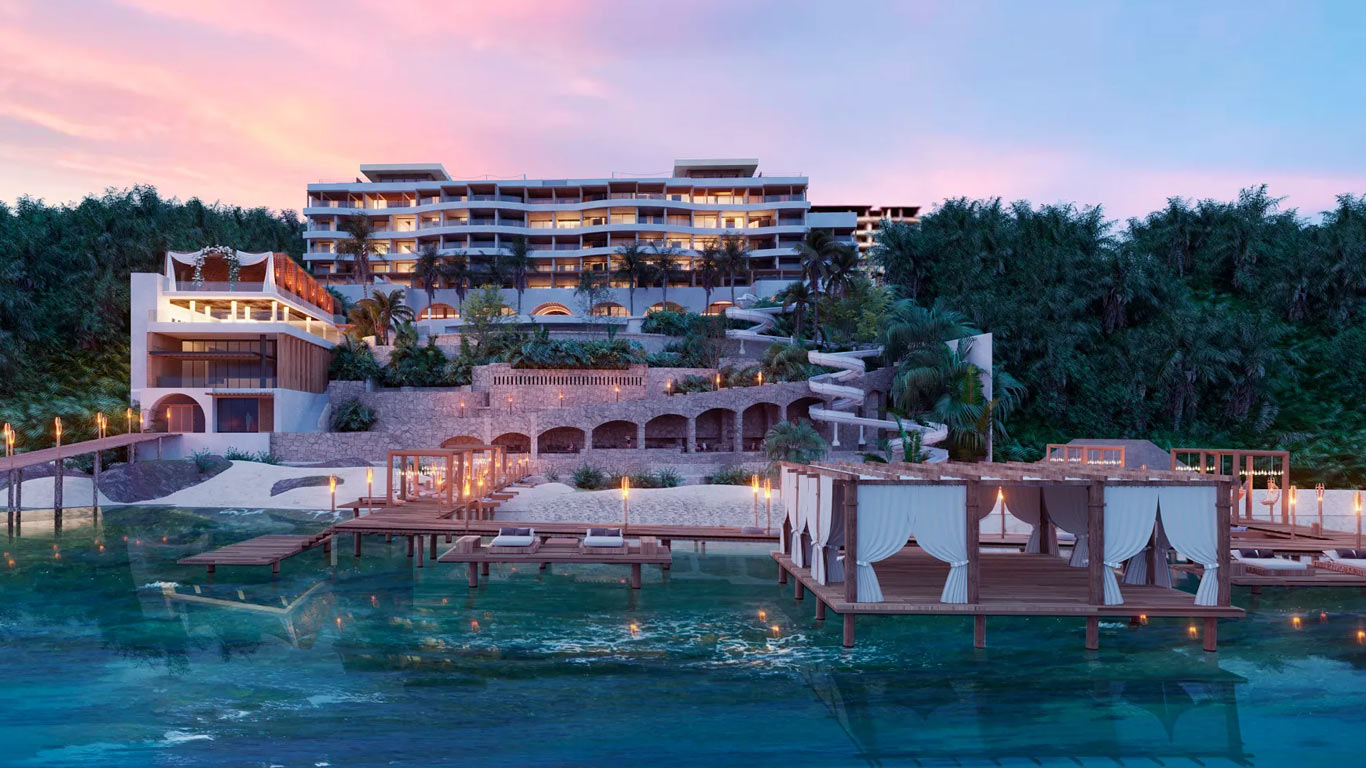 Impressions by Secrets is an exquisite boutique hotel that offers a unique and unforgettable experience for travelers seeking relaxation, natural beauty, and top-notch hospitality. It's the best hotel/most luxurious hotel in Isla Mujeres!
The hotel offers several great amenities, including a pristine infinity pool overlooking the ocean, providing a perfect spot to relax and soak up the sun, and an excellent spa.
Dining at Impressions by Isla Mujeres is a culinary journey that showcases the diverse flavors of Mexico. The hotel's restaurant sources locally and serves delectable dishes with seasonal ingredients.
When it comes to a luxurious experience on an island, Impressions Isla Mujeres does it best!
Mia Reef Isla Mujeres – All Inclusive / 4 Stars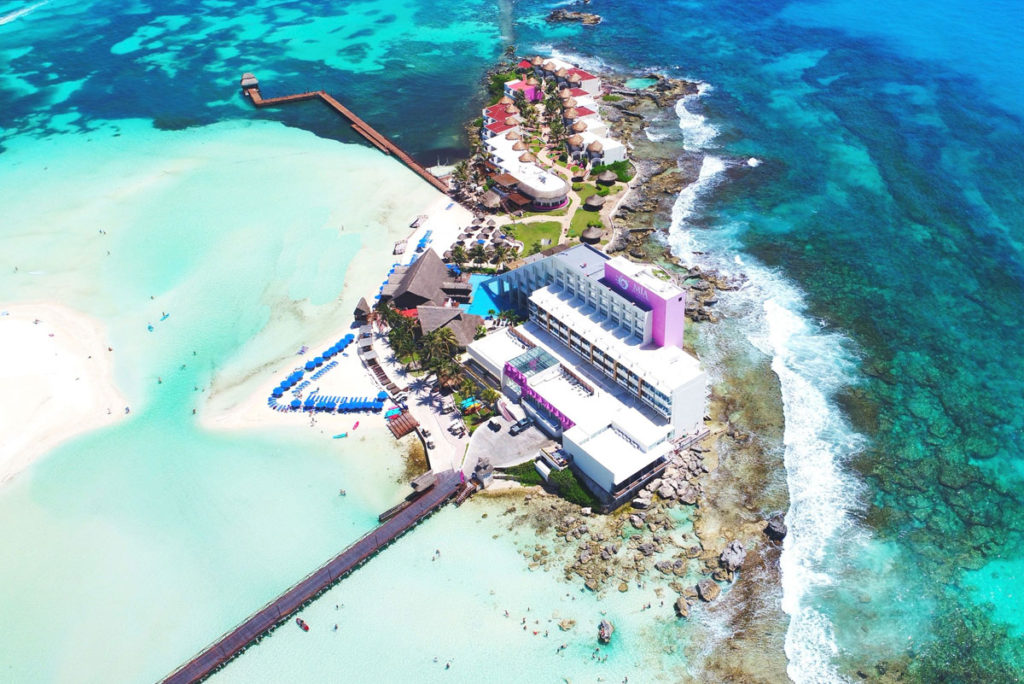 Looking for a spectacular hotel? But not wanting to pay slightly less than a 5 Star hotel would cost.
Mia Reef Isla Mujeres is the best 4 Stars hotel on the island, and some even say it's preferable to the above choice, though this hotel is more prominent, so more guests are coming/going.
The property is on its own island. Yes, you read that right. A convenient aspect of this hotel is its proximity to Centro Isla Mujeres, despite being on its own island. Don't worry; there's a pathway directly to the hotel from the mainland.
They have rooms on the ground floor with direct access outside, making it feel like you're renting a villa on an island rather than a hotel room.
Nautibeach Beach Front Condos North Beach – Condos / 3 Stars
For those looking for more apartment rental accommodation instead of a traditional hotel, this is perfect for you! – It's a mix between a hotel and a rental.
If you'd like to browse more rentals in Isla Mujeres, please look here.
Located steps away from the Centro area and right on Playa Norte, Nautibeach Beach Front Condos has a great location. And it's very well priced for what you get and the convenient location.
The condos are quite spacious as well. Downstairs, you will find several beach lounge chairs to get your sunbathe on for the day.
Nomads Hotel & Beach Club – Hostel
The Nomads Hostel is an excellent place for those visiting Isla Mujeres who want to stay here on a budget. It's beautiful here, and they've got a lovely beach shoreline just for the hostel, a great communal area, and much more.
Also, for those traveling solo, I recommend coming here. You're likely to meet fellow travelers staying here. They've got events going on in the evening and day.
Best Time to Visit Isla Mujeres
The best time to visit Isla Mujeres is between November and March. During this time of year, the weather is ideal; it's hot but bearable, unlike the Summer months here between May and September.
Remember that May through September are the rainiest months, but this doesn't mean it rains a lot.
I'm saying that it's more likely to rain during this time than it is during November and March. If it does rain, it tends to pass by quickly because of the tropical climate.
If you decide to visit between May and September, keep in mind that some things to do in Isla Mujeres are seasonal preferred.
November through March is considered the High Season in Isla Mujeres, and this is when most tourists come to visit because of the favorable weather.
If you want to spend less on flights and hotels in Isla Mujeres, avoid the end of November, all of December, and the first week of January. During these times, flights and hotels are more expensive because tourists travel for holidays.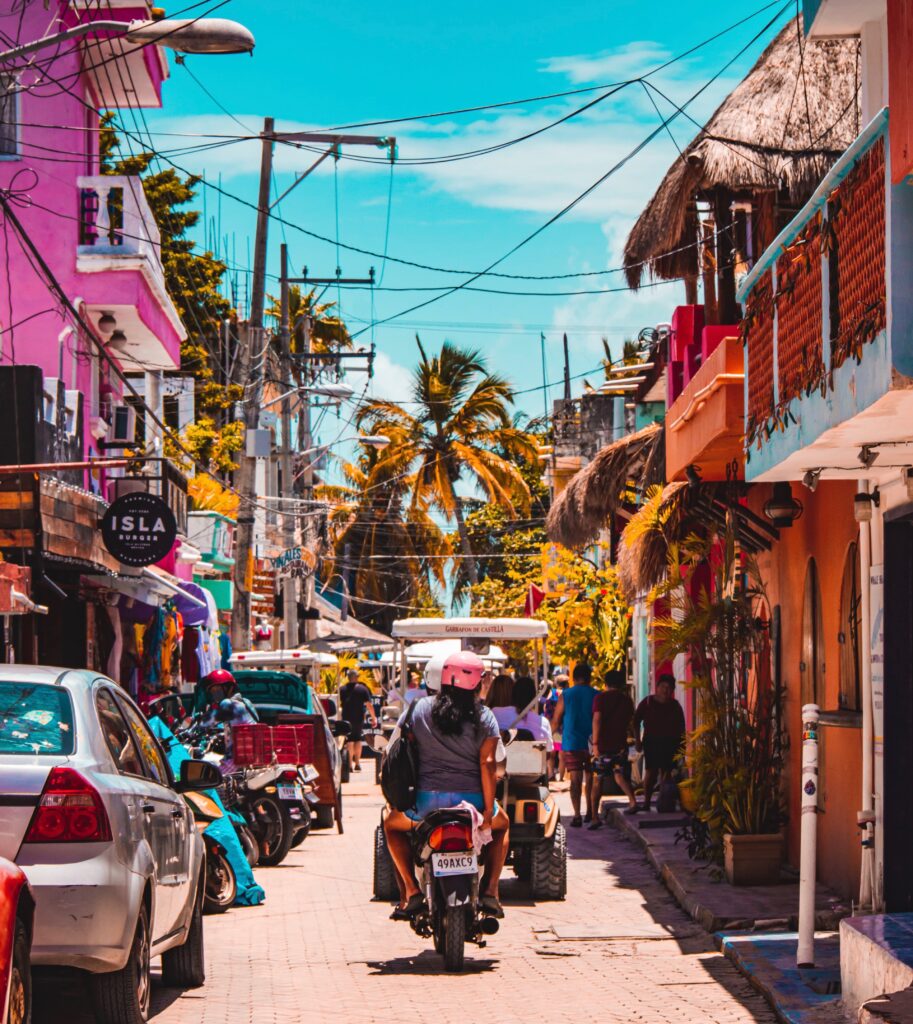 Things to Do in Isla Mujeres – Final Thoughts
There are plenty of amazing things to do in Isla Mujeres, no matter the type of activity you crave that day! Isla Mujeres is 100% worth visiting. If you're staying in Cancun, visiting Isla Mujeres should be at the top of your list of things to do.
Plenty of ferries go back and forth between Cancun and Isla Mujeres daily, so making a trip there is relatively easy! If you're staying in Cancun, I highly recommend staying one night in Isla Mujeres. It's worth it!
Alternatively, it's a great idea if you're considering staying on the island for your entire trip instead of Cancun. Isla Mujeres offers a slower atmosphere, more relaxing than Cancun, and a unique, beautiful island atmosphere.
Are you ready to continue your Island adventures in Mexico? I highly recommend you visit Isla Holbox and consider Cozumel, both beautiful islands with many things to do and see.
Featured Image Credit: David Emrich / Some Photos via Unsplash
Is there much to do in Isla Mujeres?
The activities are endless in Isla Mujeres: snorkeling, diving, parks, beach days, island hopping, and more!
How many days should you spend in Isla Mujeres?
It's best to spend at least two to three days in Isla Mujeres; there are many things to do on the island, and you'll want one day to relax.
What is special about Isla Mujeres?
Isla Mujeres has exceptional beaches, some of the best in the Caribbean. The island is also very walkable, so it makes for a fun place to visit.
When is the best time to visit Isla Mujeres?
Between the end of November and March is the best time to visit. The weather is perfect for the beach with low chances of rain, and humidity isn't high.
Subscribe to Travel Hiatus!
Receive updates on my latest posts, insider travel tips & the best destination guides to your inbox!
Happy & Safe Travels
---
Planning Checklist
---
Disclaimer: Please note that some of the links shared in this article might be affiliate links; this means that at absolutely no extra cost to you, we will earn a small commission for any sales generated through this article and/or this website. We recommend products/services we've either used or researched thoroughly – Thank you for supporting us so we can continue to share helpful travel content!