7 Best Things To Do In Huatulco, Mexico
Are you looking for the best things to do in Huatulco? You've come to the right place; this list includes the best tours, day trips, and more!
Santa María Huatulco, aka Huatulco for short, is a small beach town in the Oaxaca. It's most famous for its laidback beach lifestyle. Huatulco is ranked as one of the calmest cities in Mexico, perfect for those looking to whine down.
Over the years, Huatulco has become a popular place for nomads/ex-pats because of its liveable characteristics, beauty, safety, and charming beach town atmosphere.
Some have even chosen to retire here as well because Huatulco is one of the cheapest beach towns in Mexico to reside in.
Huatulco is a hidden gem in Mexico, which means fewer tourists! Think of it this way: unless you have friends who've traveled around Mexico a fair bit, you probably won't know anyone who's visited Huatulco. That's because Mexico has several more popular beach towns attracting tourists, such as Cancun, Puerto Vallarta, and Tulum.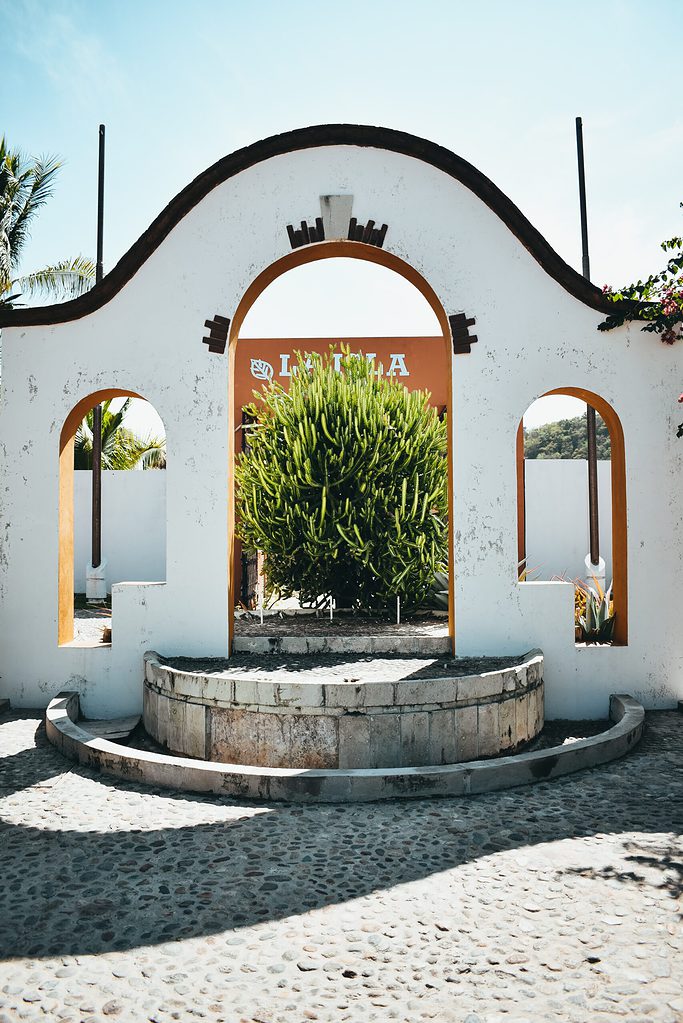 How to Get to Huatulco, Mexico
First, you must fly into Huatulco International Airport, the town's airport. This isn't a large international airport, so you most likely will have to fly here from a domestic airport in Mexico.
A round-trip flight from Mexico City to Huatulco Airport is available for as low as $120. Not bad at all, and the flight time is just over an hour!
The local airport is just 20 minutes by car from La Crucecita, the leading area of Huatulco, Mexico, by the beach. You can take a taxi to town!
For those looking to come to Huatulco from Oaxaca City, you've got two options: take a flight or drive there if you've rented a car. It's about a 5-hour drive.
Another option is taking the bus operated by Ómnibus Cristóbal Colón from Oaxaca City, which will take around 8 hours because of the frequent spots along the way.
Explore the City Centre (La Crucecita)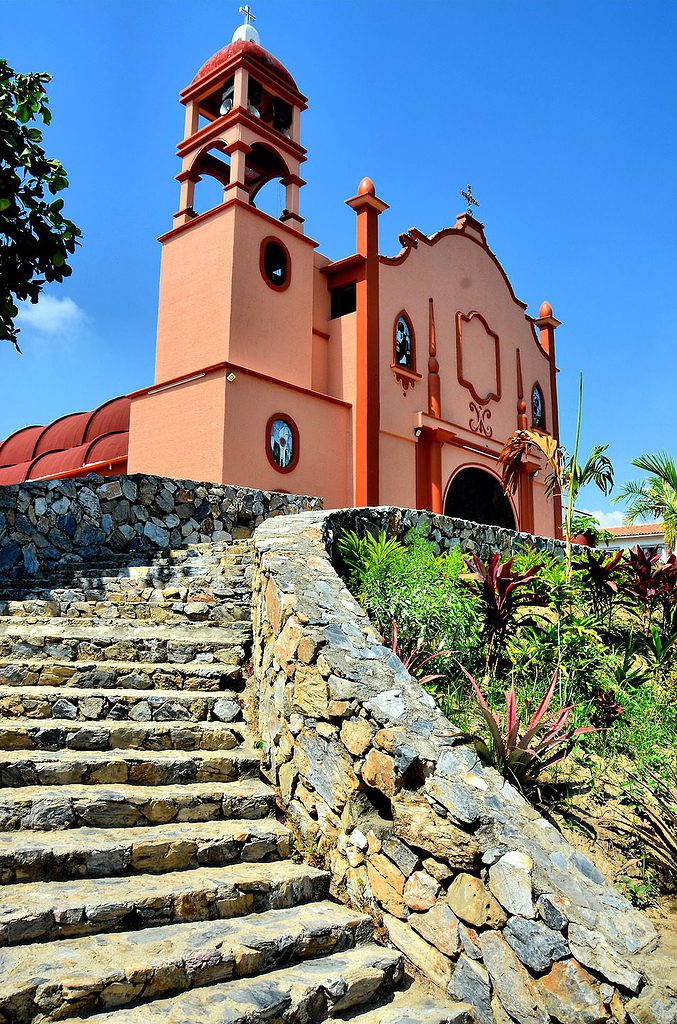 On the map, Huatulco's city center area is La Crucecita. It's a small city center with several hotels, bars, and small shops for necessities.
Although the area is a little small, it's got everything for those looking to stay in the quiet beach town.
The main point in the city center is this beautiful church along with a city center square (the zocalo). Outside the church is a beautiful fountain, a perfect spot to have some coffee and people-watch.
When you're finished exploring the city center, I recommend heading towards A Sta Cruz Street and walking towards the Tourist Corridor La Crucecita. It's a breathtaking boardwalk with views of the hills and beach!
At the end of the path, you will find the seaport full of boats docked named Darsena Bahia Santa Cruz. Around there, you will find more restaurants and bars to explore for the evening!
Visit Parque Nacional Huatulco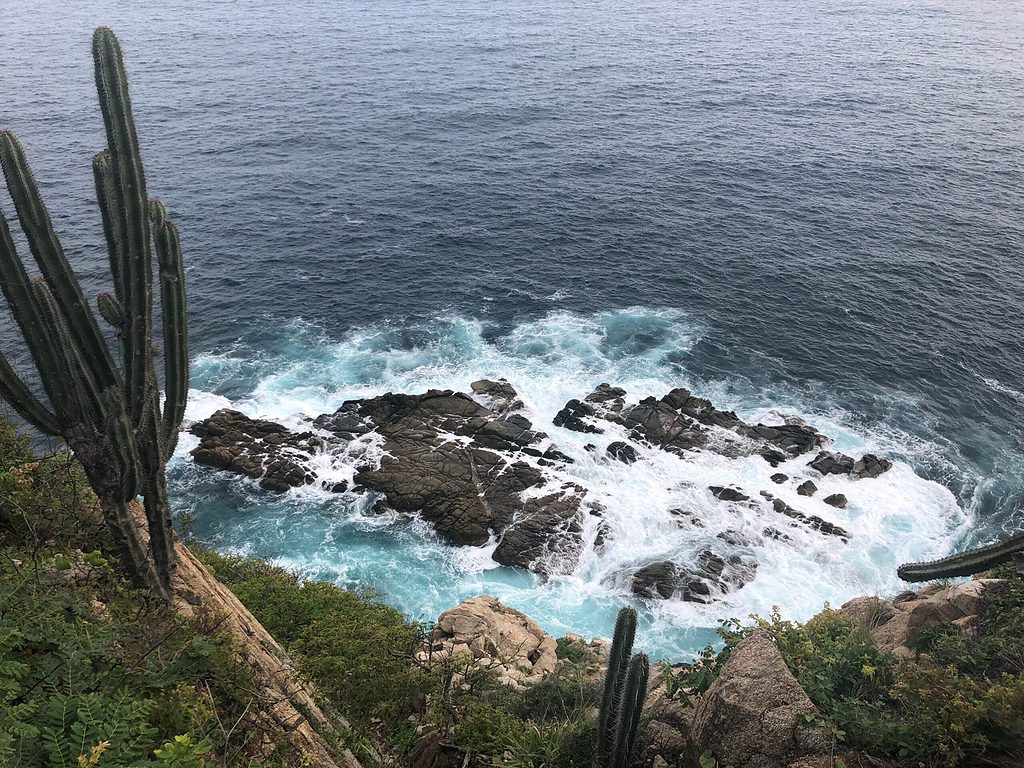 Huatulco National Park covers more than 29,400 acres. It is home to hundreds of animal species, such as lizards, birds, and turtles. Huatulco consists of nine bays with 36 beaches.
These remote beaches are what many love about this national park. There are many beach locations ideal for snorkeling at Huatulco National Park.
The park as a whole is quite vast in size, and you can get lost there. This is the last thing you want to do in a place full of wild animals. So, if you're looking to hike, stick to the main trail Sanate Trail-Huatulco National Park!
Or stick to the coastline along the water; you can't get lost this way. One way takes you back to the city's main port, and the other way takes you southwest towards the famous Bahia de San Agustin viewpoint!
Visiting the park is a must-do when in Huatulco; it's a beautiful place for a hike. Other options to explore the park include renting a bike or taking an ATV Tour!
Take a Boat Tour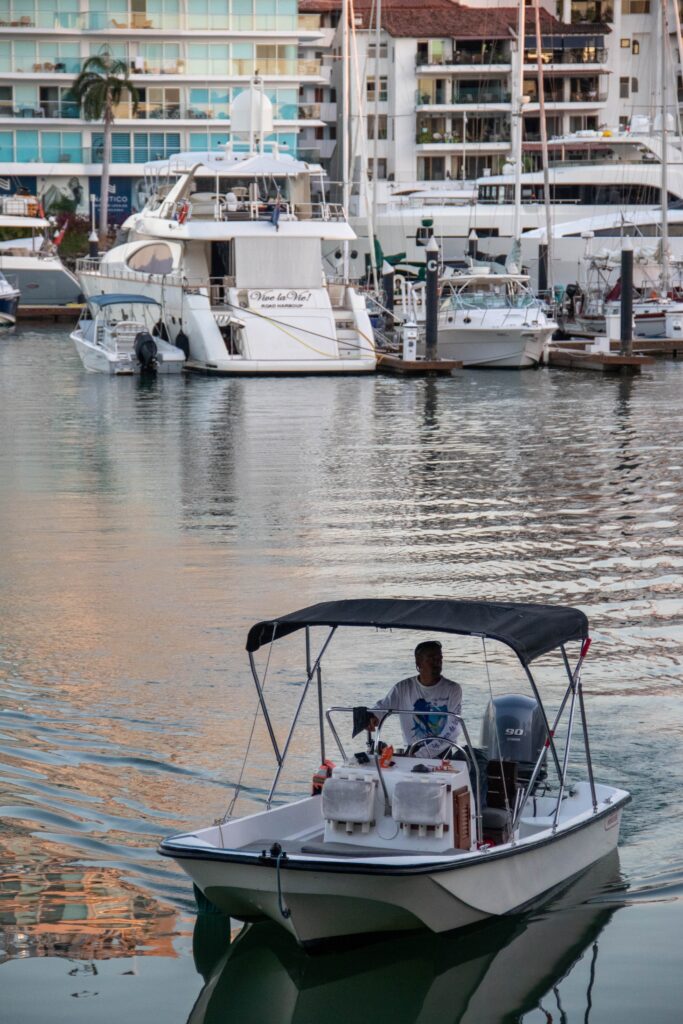 With its countless beaches, Hulatuco is famous for its many boat tours, and nothing beats a full day on the water!
This top-rated boat tour takes you through the many bays for the day. You'll get to stop at many beaches, snorkel, and more!
During the tour, you may spot dolphins, turtles, whales, and more. For an extra $10US, you can rent snorkel equipment to explore when docking at one of the many bays.
Water and soft drinks are offered and included in the tour cost, though feel free to bring a backpack full of your own beverages.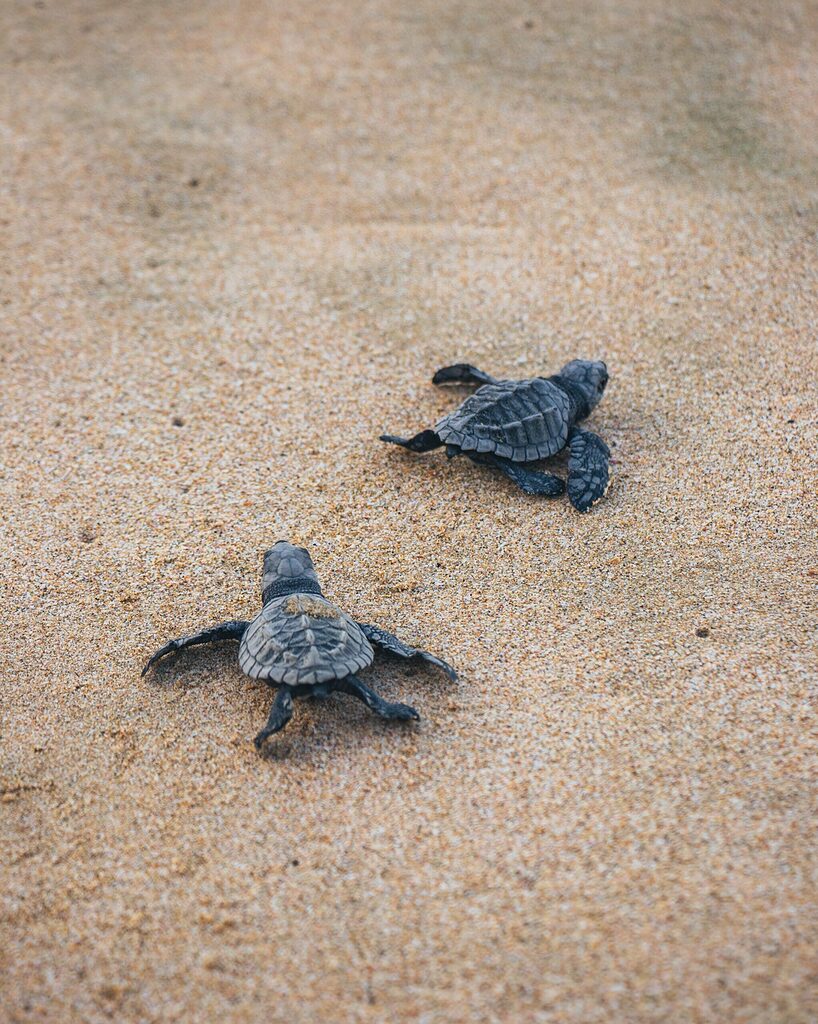 Head to the tiny nearby beach town of Mazunta, located just 1.5 hours from Huatulco. You can make your way there by taxi, rent a car and drive yourself, or take a tour, which will include transportation!
On this turtle release tour, join a guide and others as you explore the National Turtle Center. At the center, you will learn fascinating facts about sea turtles and the efforts to protect these friendly creatures!
The turtles can be seen year-round at the center. However, to get an opportunity to release them and watch them crawl toward the water, you must be there when they hatch in the Fall.
If you're visiting in the Fall, this is one tour in Huatulco you must do when visiting!
Day Trip to Puerto Escondido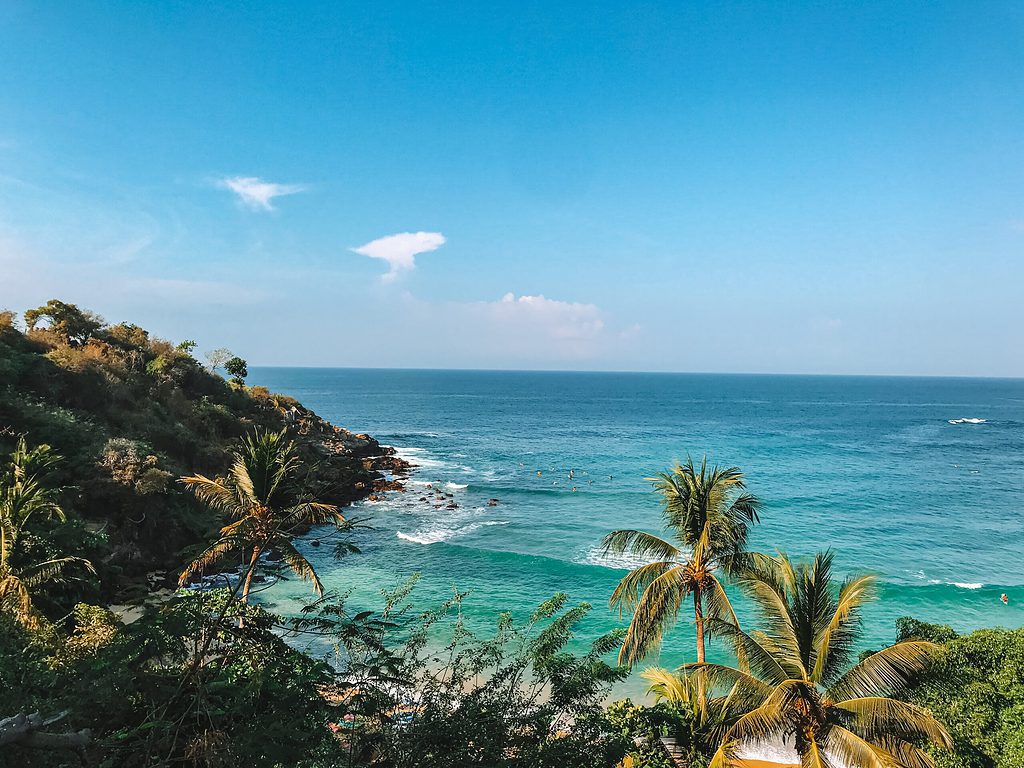 As charming and as calming as the atmosphere may be in Huatulco, everyone needs a night out of partying now and then!
Don't get me wrong, the downtown area of La Crucecita has its bars, but it can't be compared to Puerto Escondido.
Located approximately a 2.5-hour drive North of Huatulco is Puerto Escondido, a famous beach town for surfers and those looking to relax during the day and experience lively nights out!
Ranked as a top surfer destination and popular amongst backpackers. For those who've always been curious about surfing, it's the perfect place to take a lesson!
If you're visiting from Huatulco, I recommend you get a hotel in Puerto Escondido for a night or two. That way, you won't spend 5 hours commuting between both cities in one day.
At this point, you may be curious why you shouldn't visit Puerto Escondido instead. It depends on your preference. As mentioned, Puerto Escondido is busier than Huatulco. Also, Huatulco has better beaches and an overall more relaxing atmosphere compared to Puerto Escondido.
Mud Bath at La Bocana Beach
One of the most underrated activities to do here is taking a mud beach at Playa La Bocana. This beach is only a 20-minute drive from the city center but will make you feel like you're on a deserted island.
From Huatulco city center, a taxi ride for approximately $10-15 US will get you there.
Once there, you'll be greeted at the beach's entrance by the mud bath women. These women are the descendants of the Zapotec people who created this mixture. The clay blend will cost around 100 pesos per person to buy.
The women will cover you from head to toe in this mud mix. After they've covered your body, you let it dry in the sun for roughly 10-15 minutes. After that, the mud ladies rub it off of you. Once they're finished, you must go into the ocean to get the excess mud off you.
You'll be left with soft, smooth skin once finished. The mud blend exfoliates your skin. This reminded me of when I took a tour in Cozumel and rubbed ourselves with this magically pink sand. It did the same, also exfoliating my skin.
There is little to do at Playa La Bocana, literally two bars, a restaurant, and a hotel. So make sure you pack your bag with everything you may need for the afternoon.
Visit Beaches in Huatulco
Huatulco is known for its stunning beaches, especially its hidden beaches!
Nine bays in the region boast more than 35 beaches. Huatulco is the ideal place for anyone who loves sun, surf, sand, and the beach!
This is exactly what many love about Huatulco. It is a beach town full of some of the best beaches in Mexico but still has a tranquil and calming atmosphere. Most places in Mexico with excellent beaches are overflowing with tourists!
Here's a list of the best beaches in Huatulco. The beaches aren't ranked in order. Choose the beach that best suits your beach day needs!
Bahia Maguey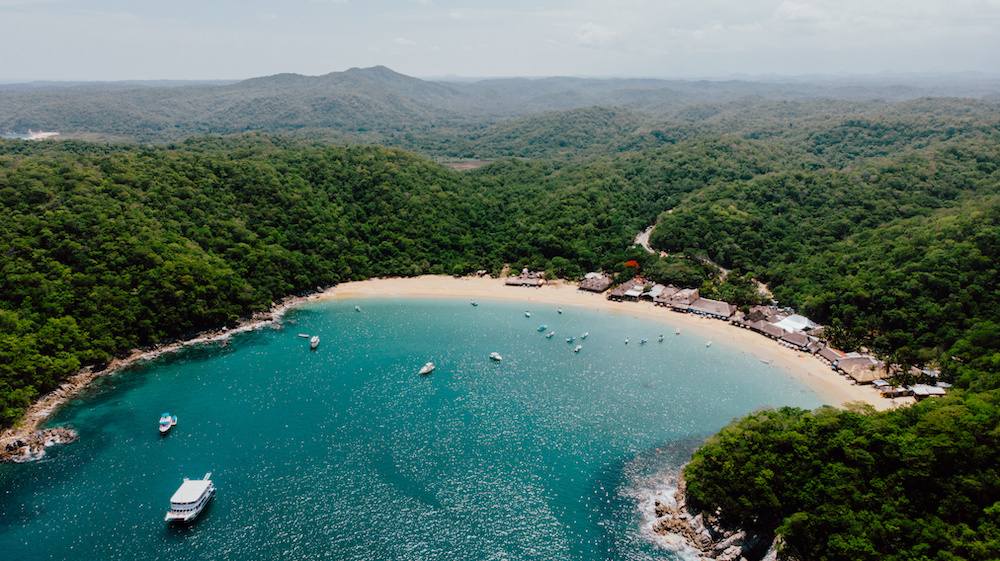 This beautiful beach is only an 11-minute drive from the main city center area.
Bahia Maguey is ideal for those who want to go snorkeling, go on boat tours, or just relax. Because it's one of the more popular beaches, it can get quite crowded here after 11 a.m.
Despite looking like a hidden beach, Bahia Maguey is accessible by taxi through a paved road and has seven restaurants to choose from when spending the day there.
If you're looking for a beach that looks like a hidden oasis but still has places nearby spots for lunch, this is the beach for you!
Playa Tangolunda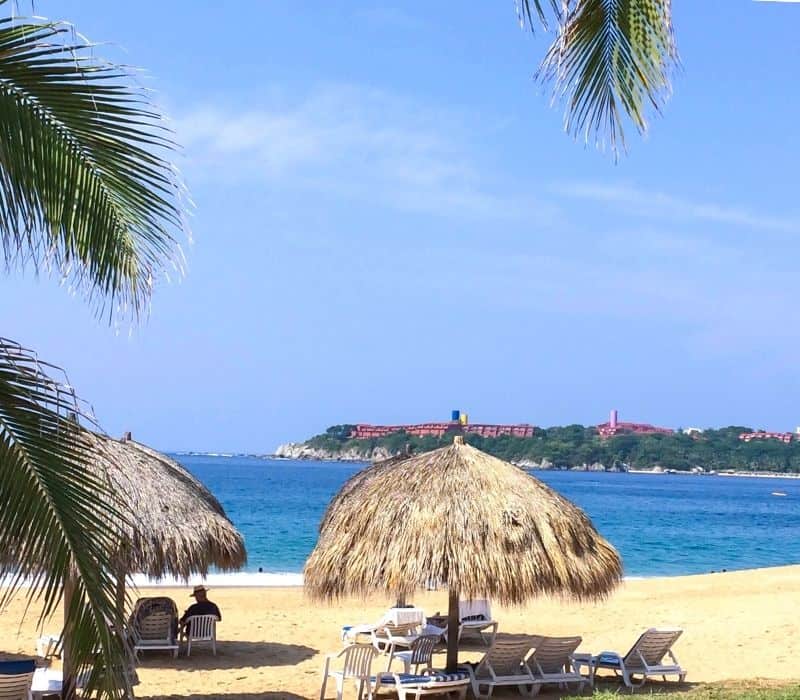 Located only a 10-minute drive from the main city center of La Crucecita is Playa Tangolunda. The best part about this beach is it has a long beach shoreline.
Also, there's a stunning observation deck here named the Mirador Tangolunda, a lovely viewpoint at all times of the day but extra beautiful at sunset!
There are several hotels, rooms to rent overlooking the ocean, and restaurants nearby, all within walking distance from the beach.
If you're looking for a beach with a more extensive shoreline, close to a lovely park you can explore and nearby restaurants, this beach is for you!
Playa Santa Cruz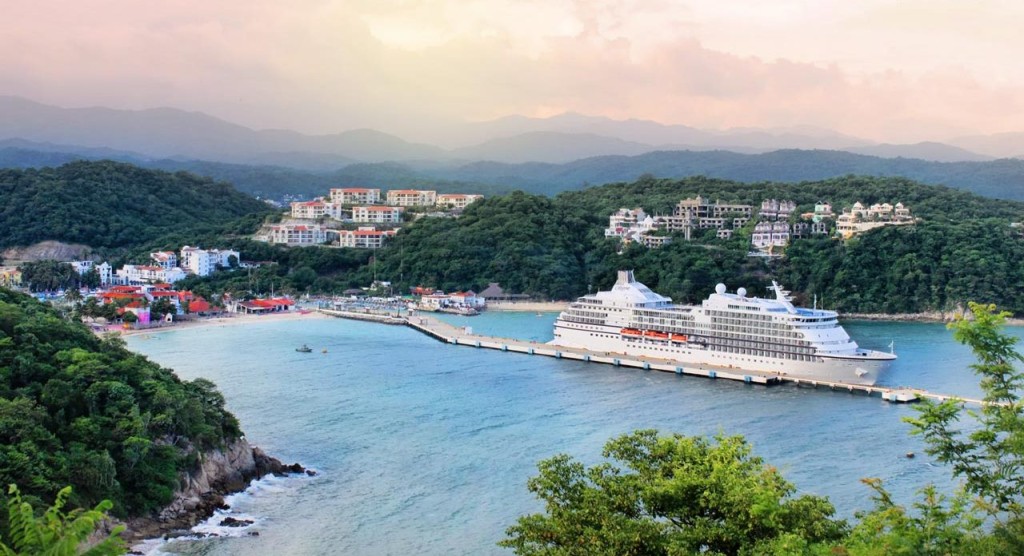 Santa Cruz Beach is the main Huatulco beach, and it's about a 20-minute walk from the city center. You can get there by walking the Tourist Corridor La Crucecita pathway and then taking a slight right.
The beach shoreline here is smaller than the others, but the beach is conveniently located. It's the closest to the city center and has many hotels/restaurants/shops close to it.
As convenient of a beach as Playa Santa Cruz may be, there is a downside, and that's the docking of cruise ships at times.
You can imagine what happens when cruise ships dock; the area is in flux with tourists deboarding to explore Huatulco quickly from the cruise ship—making the area much busier than most would like it to be!
This is the beach for you if you're looking for a nearby beach with many conveniences!
Playa Zipolite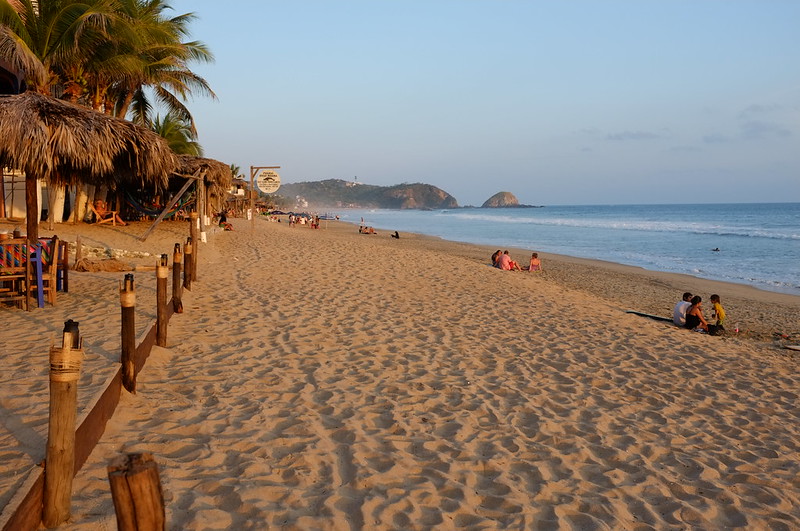 Of all the beaches on this list, Playa Zipolite is the most beautiful and recognized beach. The only possible downside for some is that it's also the furthest beach of the four from Huatulco.
Just over an hour's drive from the main city center, the beach is very much worth the drive, trust me. You can either take a taxi there or drive if you've rented a car.
For those visiting with kids, I'd avoid this beach because the North part of the beach is a nudist section. For those looking to avoid nudity, stay in the south section of the beach.
Make sure you visit Playa del Amor, a stunning viewpoint of the beach and a picturesque spot for a beautiful photo!
There are many restaurants and hotels, possibly more than any other beach on this list. So staying here for a night or two is relatively easy with the number of accommodation options.
Huatulco Hotels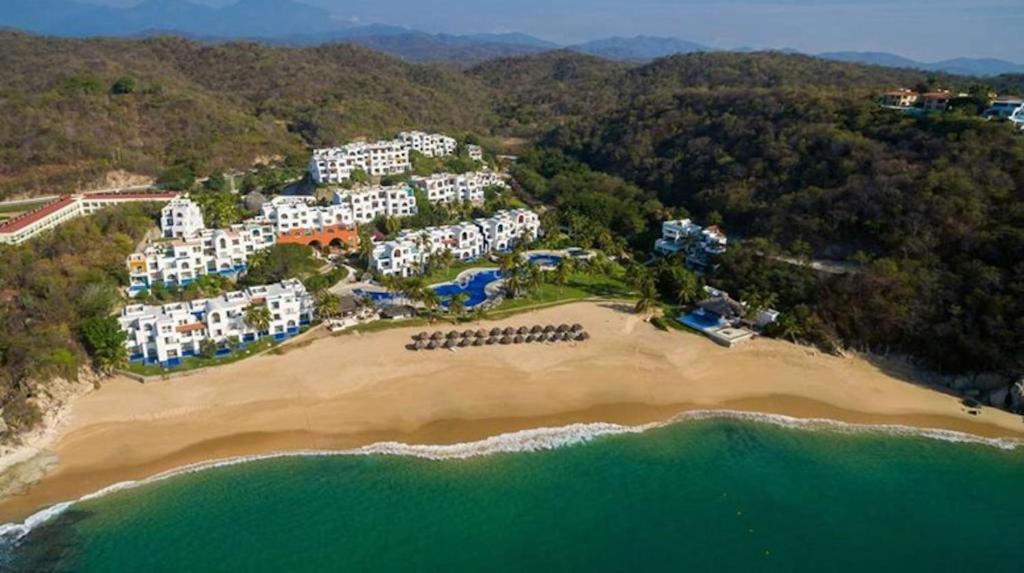 This beachfront hotel is breathtaking, located directly on Playa Tangolunda and only a 10-minute drive from the city center. Camino Real has a modern Miami hotel vibe to it because of its all-white exterior.
Outside the hotel is a large green area featuring a stunning pool overlooking the ocean. As well as a bar overlooking the ocean as well. On the actual beach are a bunch of beach lounge chairs with palapas for guests to use.
The hotel also features five on-site restaurants serving various types of food, A al carte style. So it's hard to get bored of the cuisine here!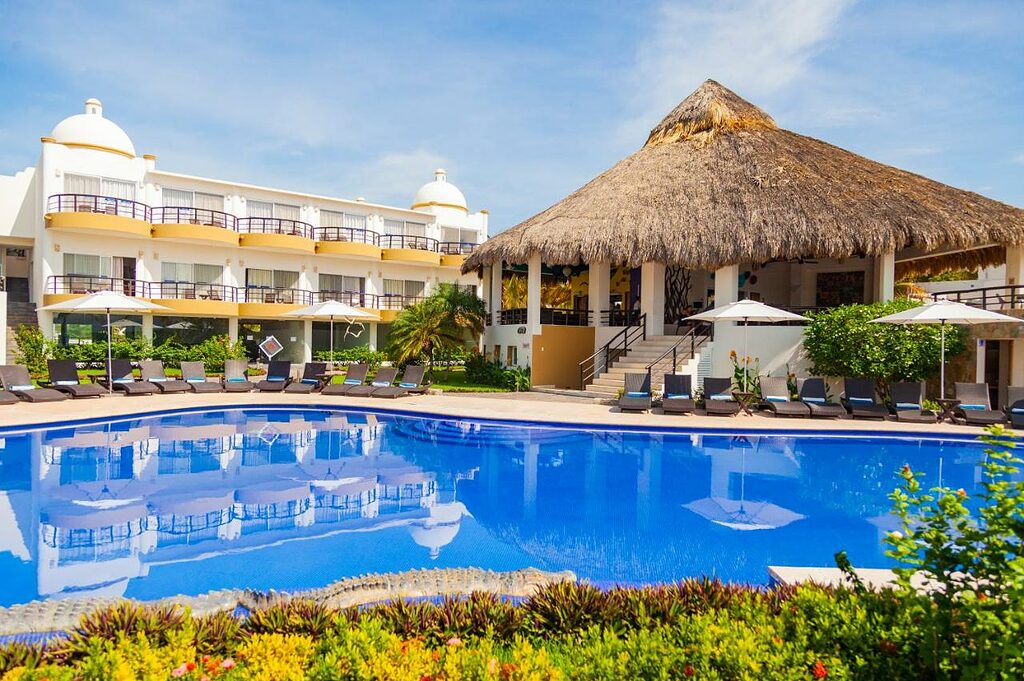 Another excellent hotel choice is the Quinta Bella, located just a 20-minute walk from the main city center and only a 7-minute walk from Playa Santa Cruz.
This modern hotel has absolutely everything you need: a beautiful private beach, a stunning garden, a snack bar, and a fitness room with ocean views. As well as two large pools in the front for guests to enjoy.
Last but not least, Quinta Bella has five different restaurants on-site for you to enjoy everything from seafood to Mexican, Japanese, and more.
There are three floors are at the hotel, so it's large enough and small enough to be considered a boutique hotel, making for a more intimate experience for guests.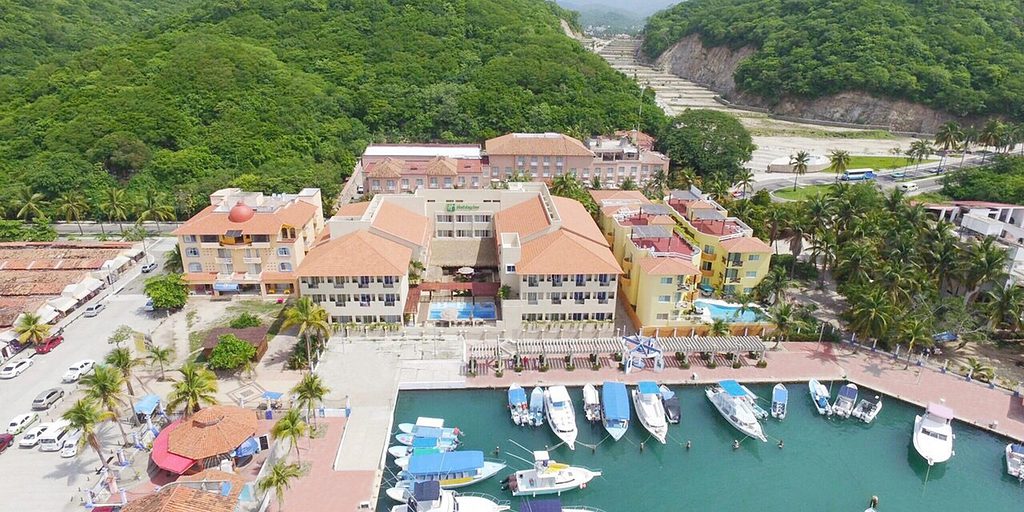 The Holiday Inn is located right on the main marina area where all the boats dock.
The hotel is well located, only a 15-minute walk from the city center, and Playa Santa Cruz is also only a 3-minute walk.
Despite being a humble-looking hotel, the Holiday Inn has raving reviews about its service. There's a pool here and a beautiful rooftop with a bar here as well.
They only have one restaurant on-site, Jaguar, serving Mexican cuisine, A la carte style. But the hotel is the most centrally located hotel on this list. So, several food options are just outside the hotel!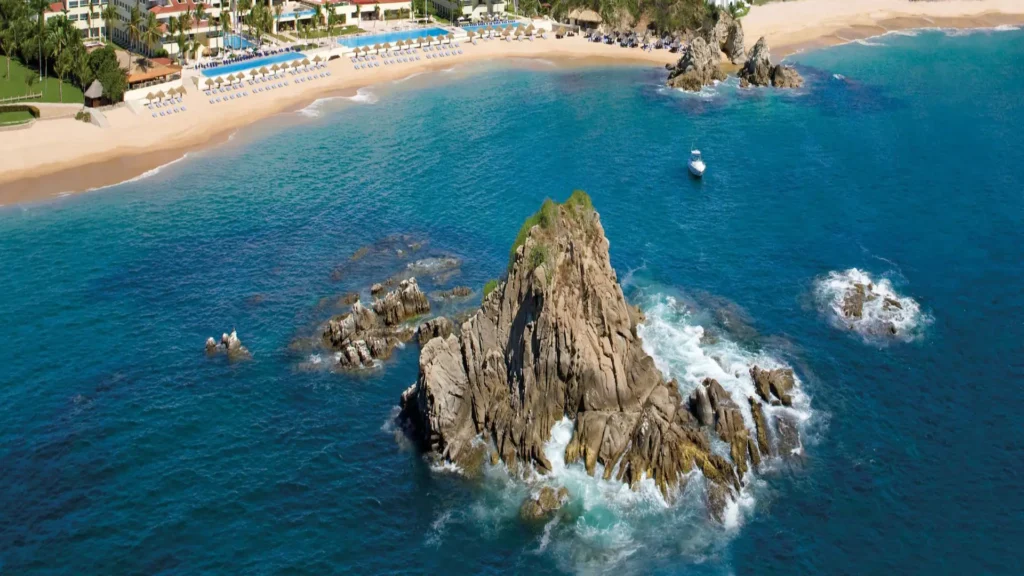 Ranked as the most popular All-Inclusive resort in Huatulco, Dreams Resort & Spa is a beautiful resort located right on Playa Tangolunda. And only 100 meters from Huatulco beach.
Dreams Resort/Spa has everything you want/need at an all-inclusive resort and more, including a stunning big pool, a fitness center, an impressive spa, and hydrotherapy treatments.
The resort as a whole is beautiful; rooms feature either the ocean or mountains for a view, giving a tropical atmosphere feel.
A selection of six different restaurants are on-site here to choose from, a mix of Asian, Mexican/Tex-Mex, Italian, and more. Lastly, the resort has plenty of planned activities for guests to enjoy throughout the day!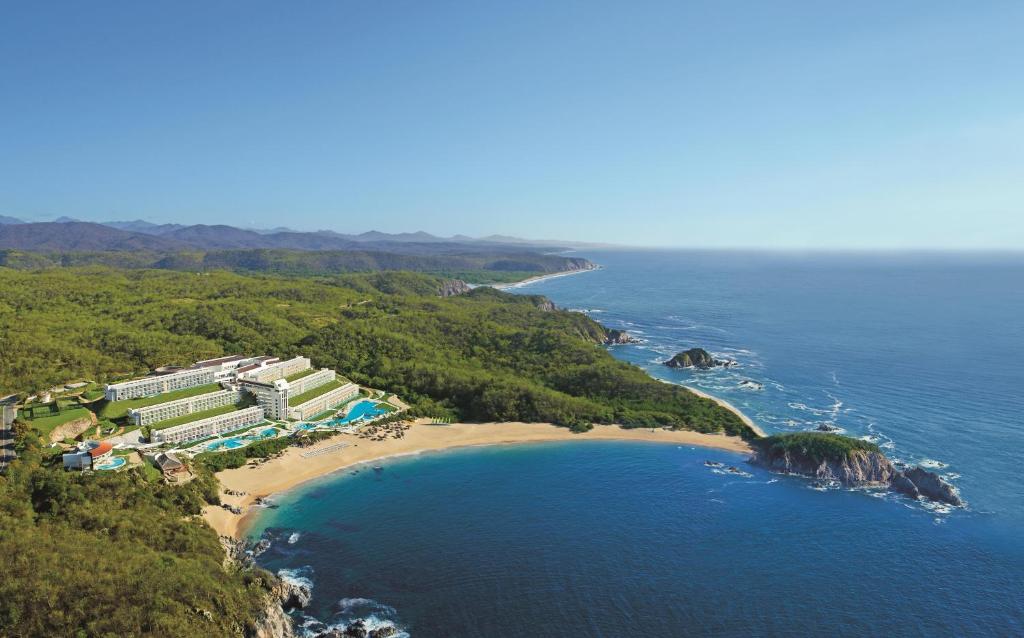 This excellent 5-star resort will make you feel like you're on a stunning deserted island because it's surrounded by mountains and a private beach. Keep in mind Secrets is an adult-only resort.
Having the best of both worlds, Secrets Resort/Spa is only a 15-minute car ride from La Crucecita, the center of town. Rooms here are tailored to all your needs, and some rooms even come with a pool outside the room!
The resort has a selection of 8 outstanding gourmet restaurants featuring French, Asian, Mexican, Italian, and other cuisines, and four stylish bars open late.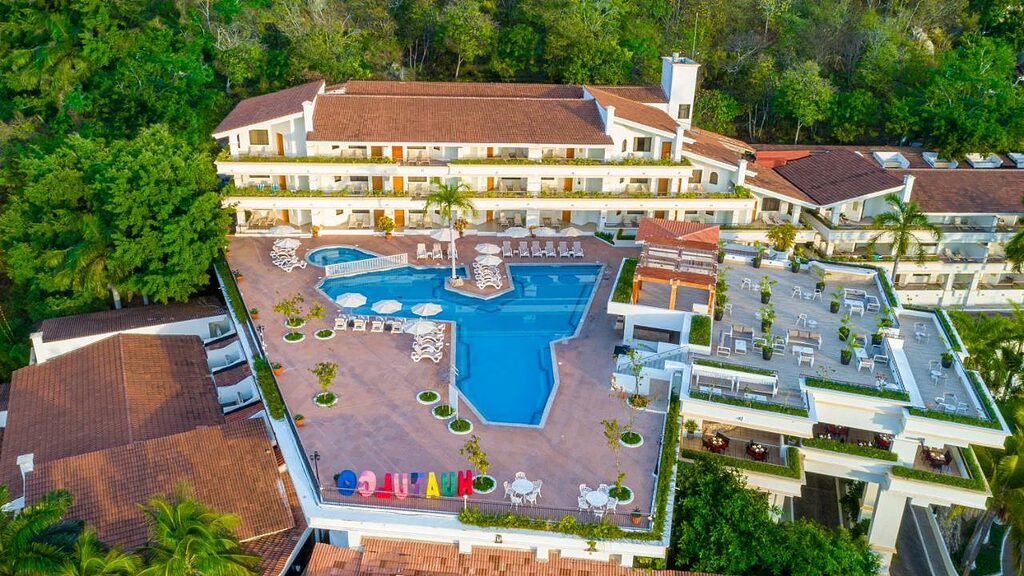 Situated in the mountain hills and close to Playa Tangolunda is the Park Royal all-inclusive resort. It's also located steps away from Las Portas Golf Club.
The resort has a stunning rooftop pool full of lounge chairs, cabanas, and a massive pool with views overlooking the ocean—an excellent spot to lounge around during the day and an even better spot to watch the sunset.
Two restaurants are on-site here, serving breakfast, lunch, and dinner, one of them being Andiamo (Italian).
Amenities are plentiful here, especially for those who like to be active. They've also got a full tennis court, and the gym is well-equipped here.
Best Restaurants in Huatulco
El Grillo Marinero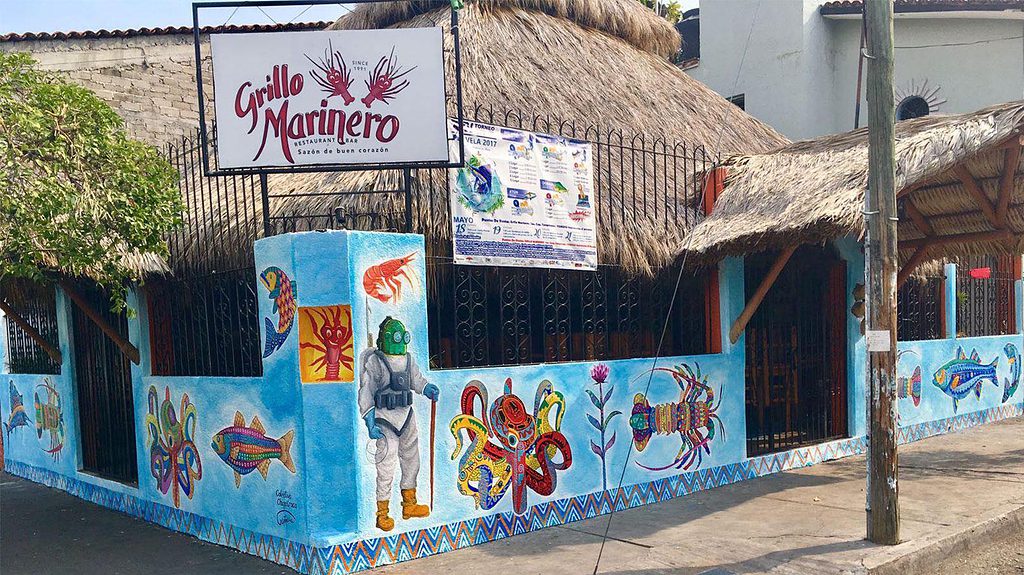 If you love seafood, this is the place to go! Located steps away from the main square is El Grillo Marienero. You can't miss it; the entire restaurant sits under a giant palapa!
This Mexican seafood restaurant serves all the seafood favorites: fried fish, Mexican ceviche, and much more.
A perfect place for a quick bite or afternoon lunch featuring great seafood and drinks!
Ocean Restaurant Huatulco
Known for its great-tasting seafood and exceptional sea views, Ocean is among the city's best restaurants, and it's easy to see why.
Located a 10-minute drive from the city center and right next door to Playa Arrocito beach, the restaurant lies amongst hills with breathtaking sea views.
Serving up delicious, beautifully plated Mexican seafood classics is what Ocean is about. Mexican Ceviche, Camarones al coco, and much more.
For those visiting with their partner, this is an excellent restaurant for a romantic date night with your loved one.
Cafe Casa Mayor
Cafe Casa Mayor is located in the city center, a cafe full of great food and a great remote working area for anyone looking for wifi and brunch!
The cafe dining area is on a deck above ground with views of the park across the street. They serve a spinoff of Mexican foods and Americanized Mexican food here for brunch.
At night, this place becomes quite lively; they've got a fully equipped bar with TVs, and sometimes the cafe hosts live performances at night!
Don Crudelio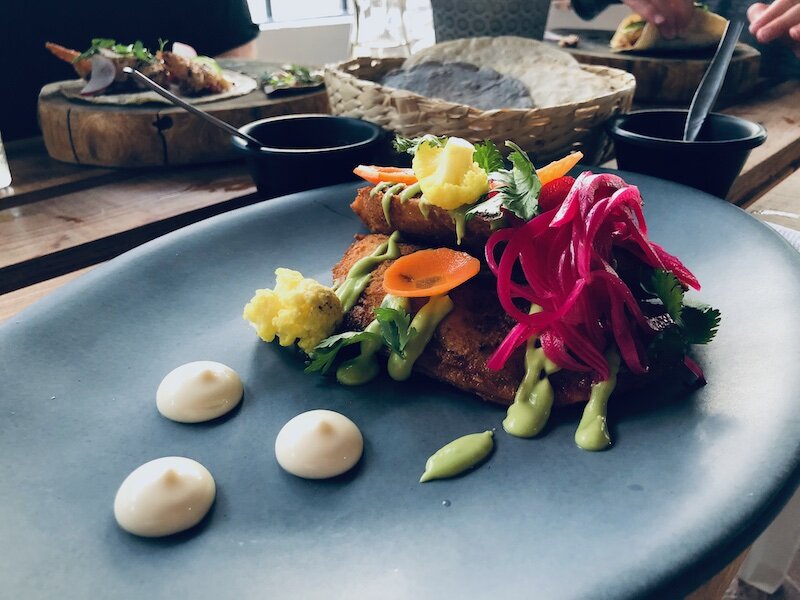 Possibly the most underrated restaurant in the city is Don Crudelio. Young chef Victor is serving up exceptional Mexican-style seafood with his twists. He is well-known for his octopus tacos, boa bun tacos, and shrimp dishes.
The plating here is unbelievable; you'd think you're at a 5-star restaurant in Miami. But with significantly lower food prices!
Best Time to Visit Huatulco
It can get scorching in Huatulco because the town is close to the equator, similar to other popular vacation spots in Mexico, like Cancun and Puerto Vallarta.
The best time to go to Huatulco is between November to March. Also referred to as "dry season". Here is a seasonal breakdown of Huatulco's weather!
Dry Season: The dry season is November through March; these are the best months to visit Huatulco. The climate is dry/hot, with little to no rain and low humidity.
Shoulder Season: The Shoulder Season here is March through May; during this time, the weather is still good and much more bearable than the off-season. There is lots of sunshine, and you will experience more rain than in the dry season, but it usually passes quickly.
Off Season: The off-season is from June through November. It's sunny during this time, but the sun and heat in town can be unbearable. Sun protection during this time should be taken seriously. Also, the humidity is the highest of the year here during these months.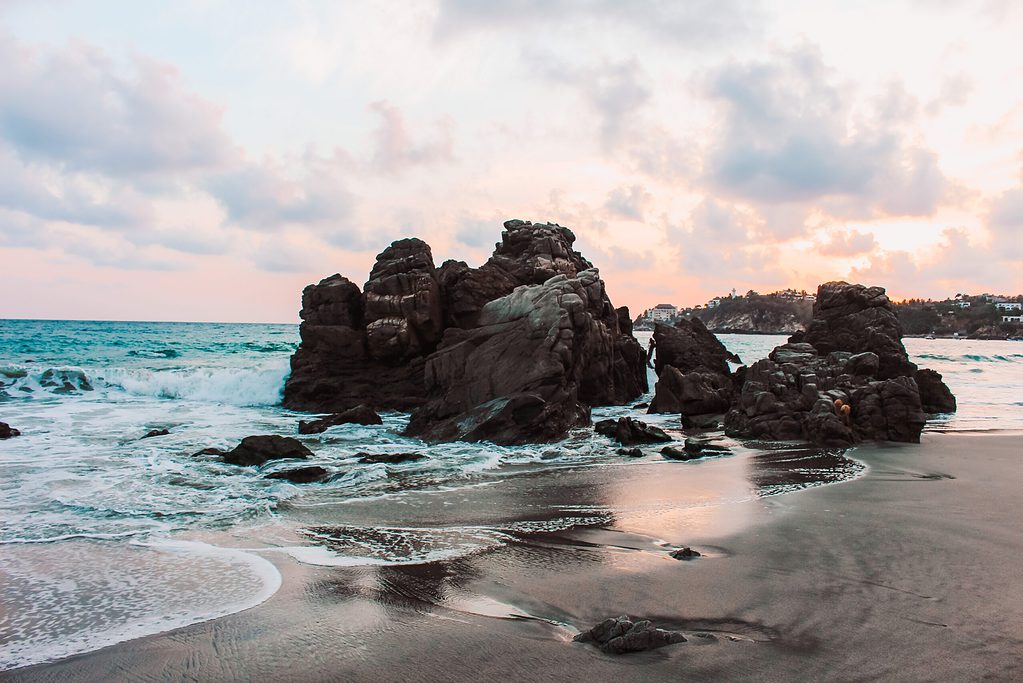 Is Huatulco Safe?
Huatulco is a safe city in Mexico, considering it's a smaller, peaceful beach town. Huatulco is quiet and not overcrowded with tourists. It's been ranked one of Mexico's safest cities for several years now.
The city has a small population, and most locals know one another. Activities of crime, gangs, or drug-related things are very unlikely to occur here. One of many reasons American/Canadian ex-pats have made Huatulco their home.
Despite being a safe city to visit and live in, ensure you're always aware of your surroundings. Book tours through trusted guides. We've shared plenty in this article, and make sure you confirm a price with your taxi driver before taking a taxi.
Lastly, make sure you have travel insurance before visiting Mexico. It's essential to be covered in case of an emergency!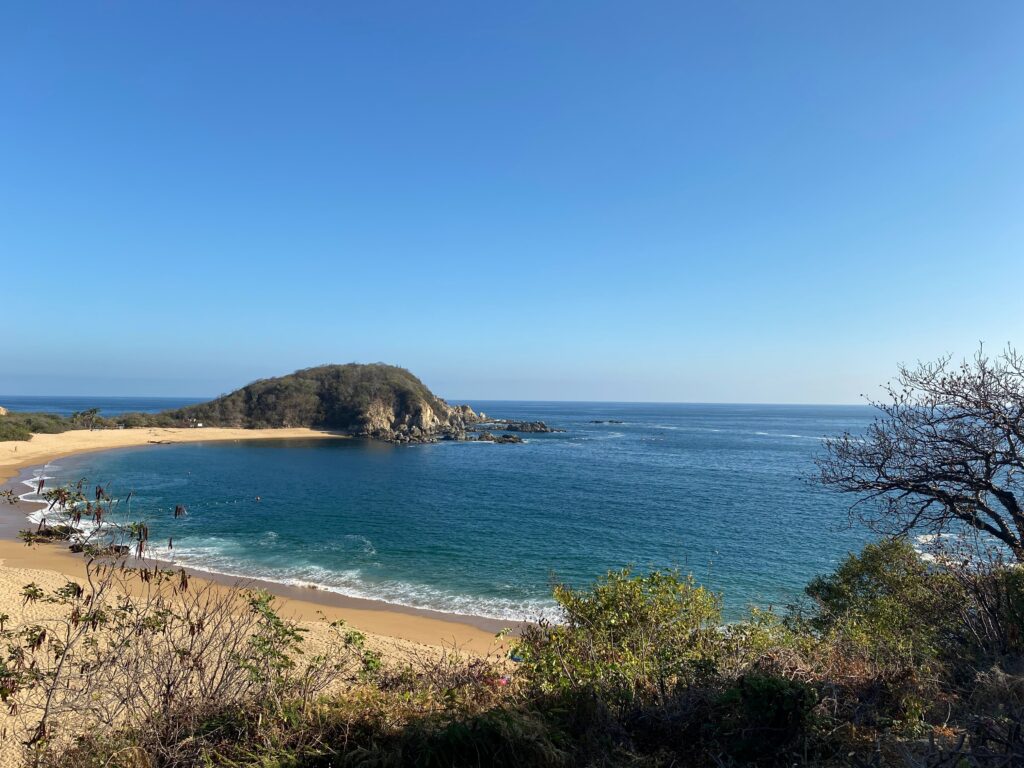 Things To Do in Huatulco – Final Thoughts
Huatulco, Mexico, is worth visiting! There are so many things to do in Huatulco; it's very picturesque, safe and has plenty of beaches everywhere.
With Huatulco not being as popular as other famous beach towns in Mexico, anyone who appreciates laidback beach towns with surreal nature will fall in love with Hualtco!
If you're coming to Huatulco expecting to really party, understand that Huatulco isn't known for this; your only option is to go to Huatulco's popular neighboring city for parties, Puerto Escondido!
But for those looking for a safe small beach town full of things to do with a laidback atmosphere, you must visit Huatulco!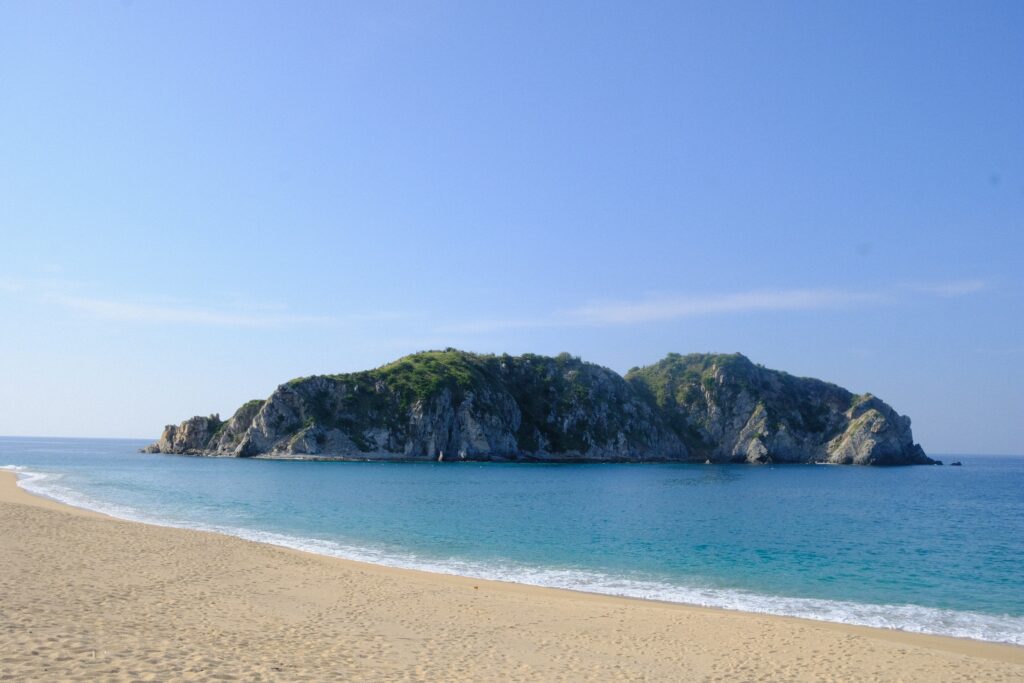 Is Huatulco a party town?
No, it's not; it's a sleepy beach town; there are bars and restaurants and all but nothing too party-like. If you're visiting Huatulco and want to party, head over to Puerto Escondido!
Is Huatulco better than Puerto Vallarta?
Both are beautiful Pacific Ocean beach towns, but Puerto Vallarta is a bigger city; it's more lively and active. Huatulco is calmer, less touristy, and offers better beaches/nature than Puerto Vallarta.
How do you get around Huatulco?
The most popular way to get round Huatulco is by taxi or you can rent a car.
Subscribe to Travel Hiatus!
Receive updates on my latest posts, insider travel tips & the best destination guides to your inbox!
Featured Image Credit: Liz Schorr / UnSplash
Happy & Safe Travels
---
Planning Checklist
---
Disclaimer: Please note that some of the links shared in this article might be affiliate links; this means that at absolutely no extra cost to you, we will earn a small commission for any sales generated through this article and/or this website. We recommend products/services we've either used or researched thoroughly – Thank you for supporting us so we can continue to share helpful travel content!