8 Cheapest Caribbean Islands to Visit
Are you looking for the cheapest Caribbean islands to visit? You've come to the right place! This complete guide ranks the cheapest Caribbean Islands to visit so you can visit and save!
The Caribbean Islands are a great place to relax and unwind in beautiful surroundings with stunning sunsets and plenty of palm trees. Located in close flying proximity to the US/Canada, the Caribbean islands are an escape for all from harsh winter climates up north!
Caribbean island vacations mean cool breezes, white sandy beaches, some delicious seafood, and a few drinks, of course!
These are the eight cheapest Caribbean Islands you should visit. Keep in mind all these destinations frequently offer winter sale packages to all-inclusive resorts! Those are always the cheapest deals!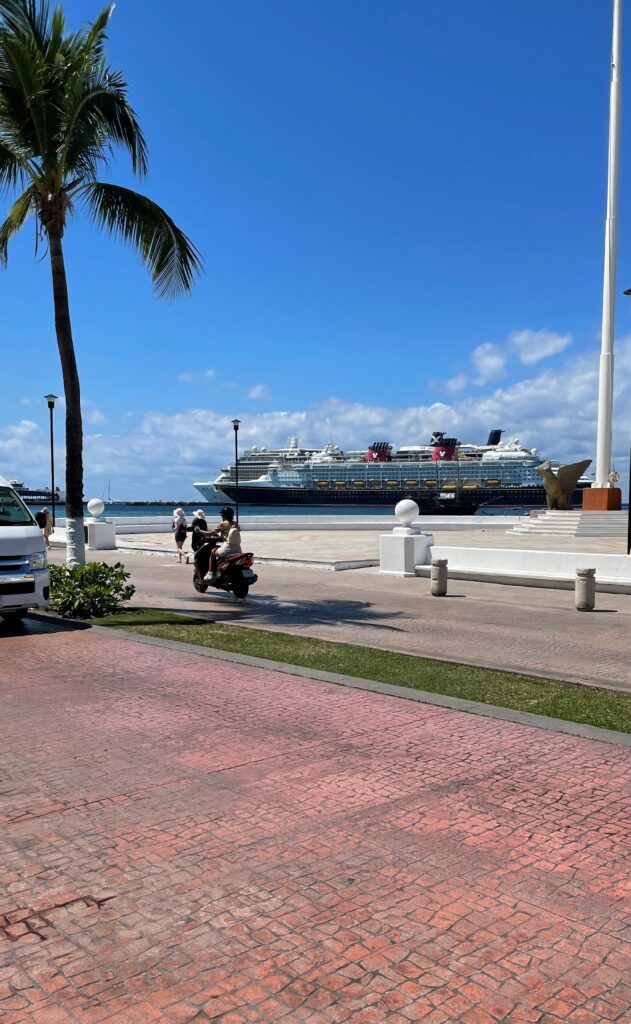 Best Time to Visit the Cheapest Caribbean Islands
The best time to visit these Caribbean islands is between January 10th through mid-March. You could go before January 10th, but be mindful of New Year's travel. The closer you get to January 1st, the higher the prices are.
During this time, the weather is excellent with smaller crowds because the holiday travel just ended, and the continuation of the high season doesn't pick up till mid-March.
Having gone all over the Caribbean for many years, I've always stuck with going during this time. It's the best-value time of the year to go!
If price isn't a big consideration, the best time to visit the Caribbean is between November through April; this is when the weather is most optimal in the region.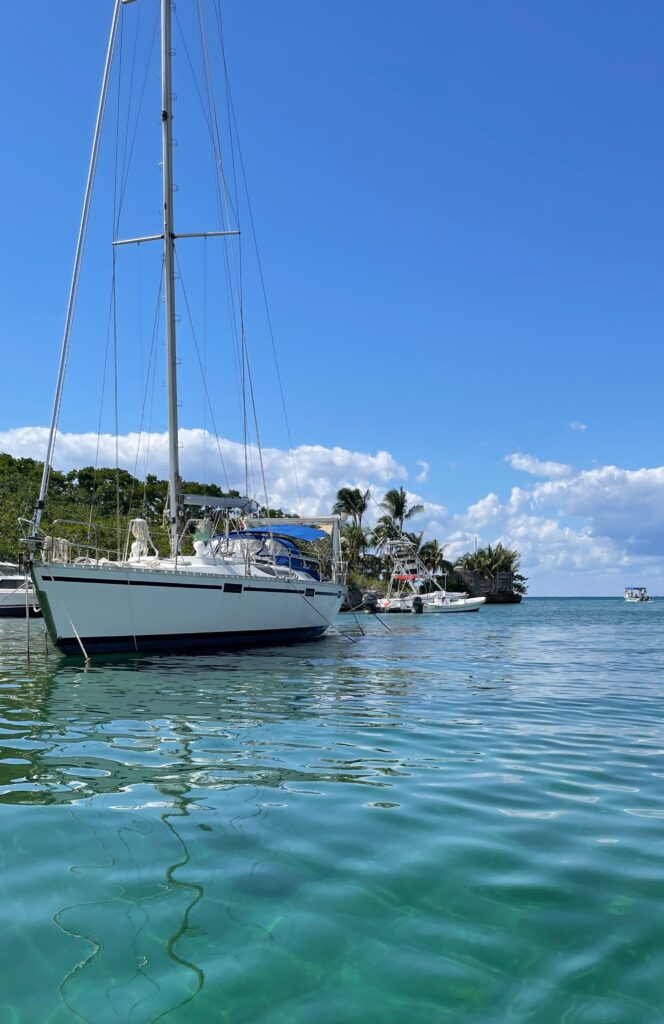 All prices listed below are priced in US dollars. I will share how much it will cost you to visit each destination per day, including taxes.
This price will include both accommodations and food. All accommodation recommendations will be all-inclusive hotels to keep costs as low as possible!
Remember that all destinations listed have more expensive all-inclusive resorts, but if you want to save, stick with our hotel recommendation!
Puerto Plata, Dominican Republic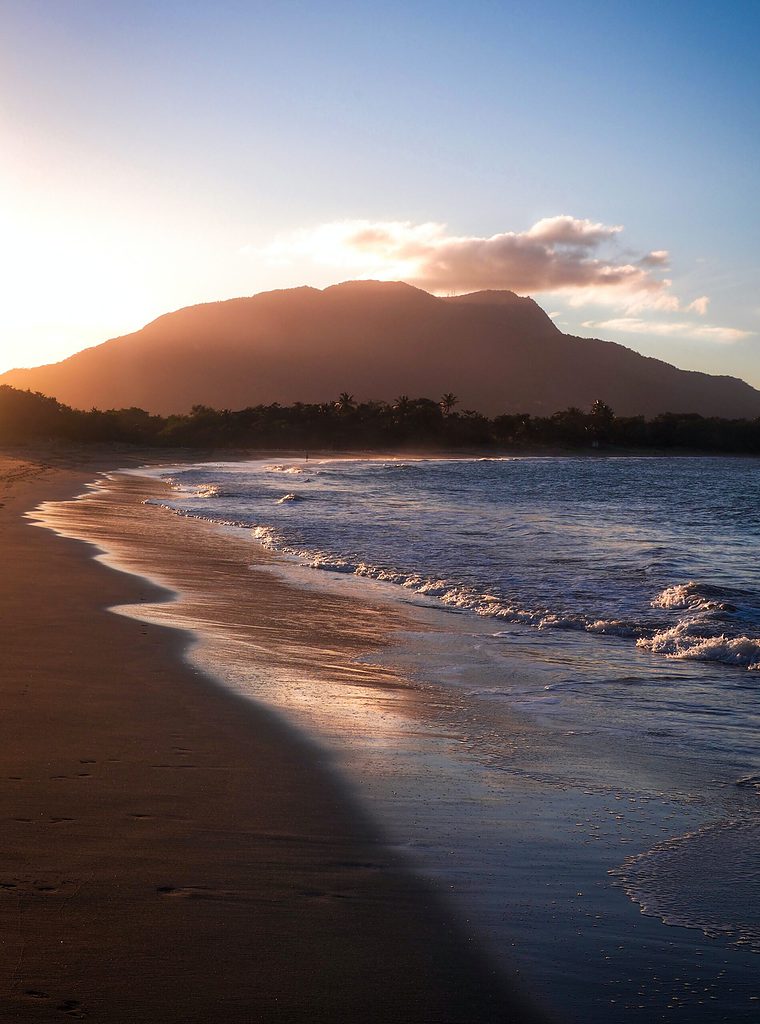 The Puerto Plata district is located on the Dominican Republic's northern coast. Although it doesn't have the most beautiful beaches, it has a lot of all-inclusive resorts at a very affordable price.
Flights can be a tad costly flying into the local airport here. The best way to avoid this is using SkyScanner or purchasing an all-inclusive package, including flight and hotel.
There are around 30 all-inclusive resorts here catering to tourists from all over the world. During the high season, you can find some good all-inclusive deals to come to Puerto Plata despite being surprisingly high season. Low season prices here occur during September and October.
Puerto Plata in the Dominican is great for having fun and saving money while vacationing. But as I stated, the beaches aren't the nicest, and the food isn't the greatest, to be honest.
As long as you're aware, the beaches aren't going to look like you're in Phuket.
Puerto Plata is an excellent option if your budget for a vacation is tight. If you can pay a little more, I recommend checking out the deals in Punta Cana, which ranks second on this list and has much better beaches!
Cost Per Day: $197 – Per Day for Two People
Hotel Recommendation: Be Live Collection Marien
Recommended Tour: The 27 Waterfalls of Damajagua
Punta Cana, Dominican Republic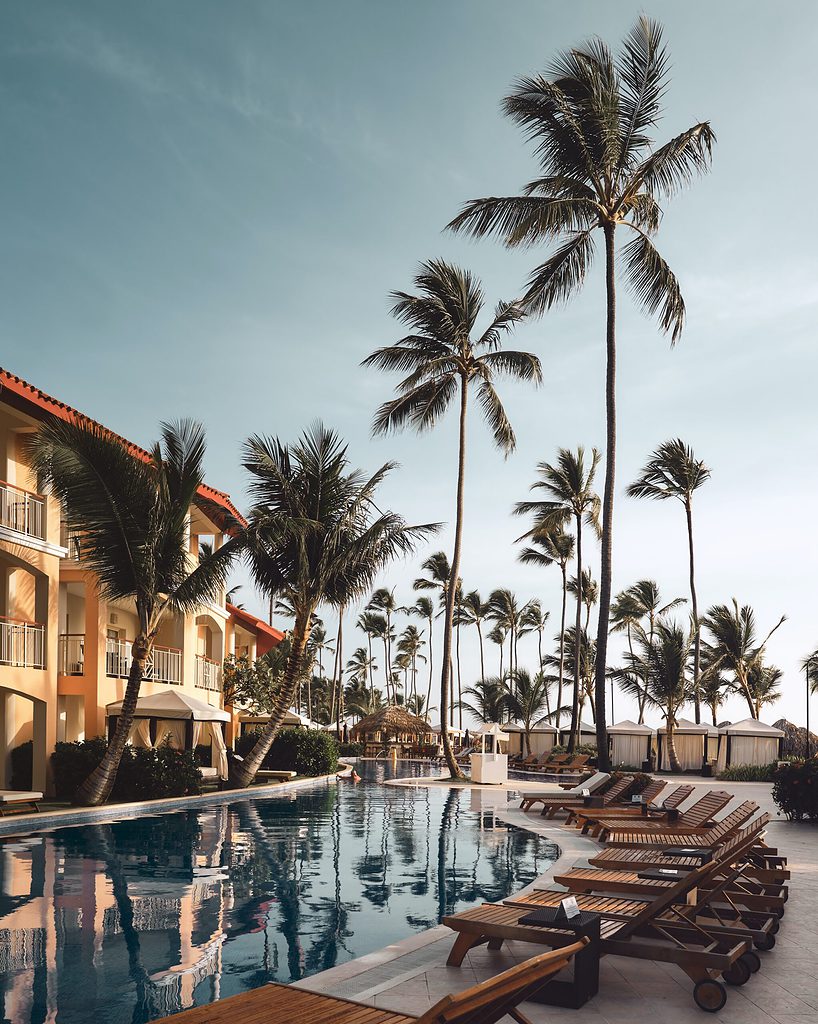 Another destination in the Dominican Republic is Punta Cana, but Punta Cana is not Puerto Plata. The beaches here are far more beautiful than in Puerto Plata. Despite being only a few hour's drive away from each other, the shorelines are much different.
Although some reasonably priced hotels exist in Punta Cana, it is best known for its all-inclusive luxury resorts. Costing you a fraction more than what you'd be paying in Puerto Plata, but it's worth it!
Despite being more expensive than Puerto Plata, you can find great deals on flight and hotel packages. Punta Cana is also conveniently located close to an airport.
The 3-star hotels at these prices will not be located on the beach as you might think, but they are usually close to the beach and have a pool. However, paying more for an all-inclusive on the beach is worth it.
If you're looking for the cheapest Caribbean islands to visit. Here's your answer: The Dominican Republic offers two options: Puerto Plata or Punta Cana. There are many all-inclusive packages available to visit Punta Cana.
Cost Per Day: $227 – Per Day for Two People
Hotel Recommendation: Bahia Principe Grand Punta Cana
Recommended Tour: Half-Day Aventure featuring ATV, Water Cave, and More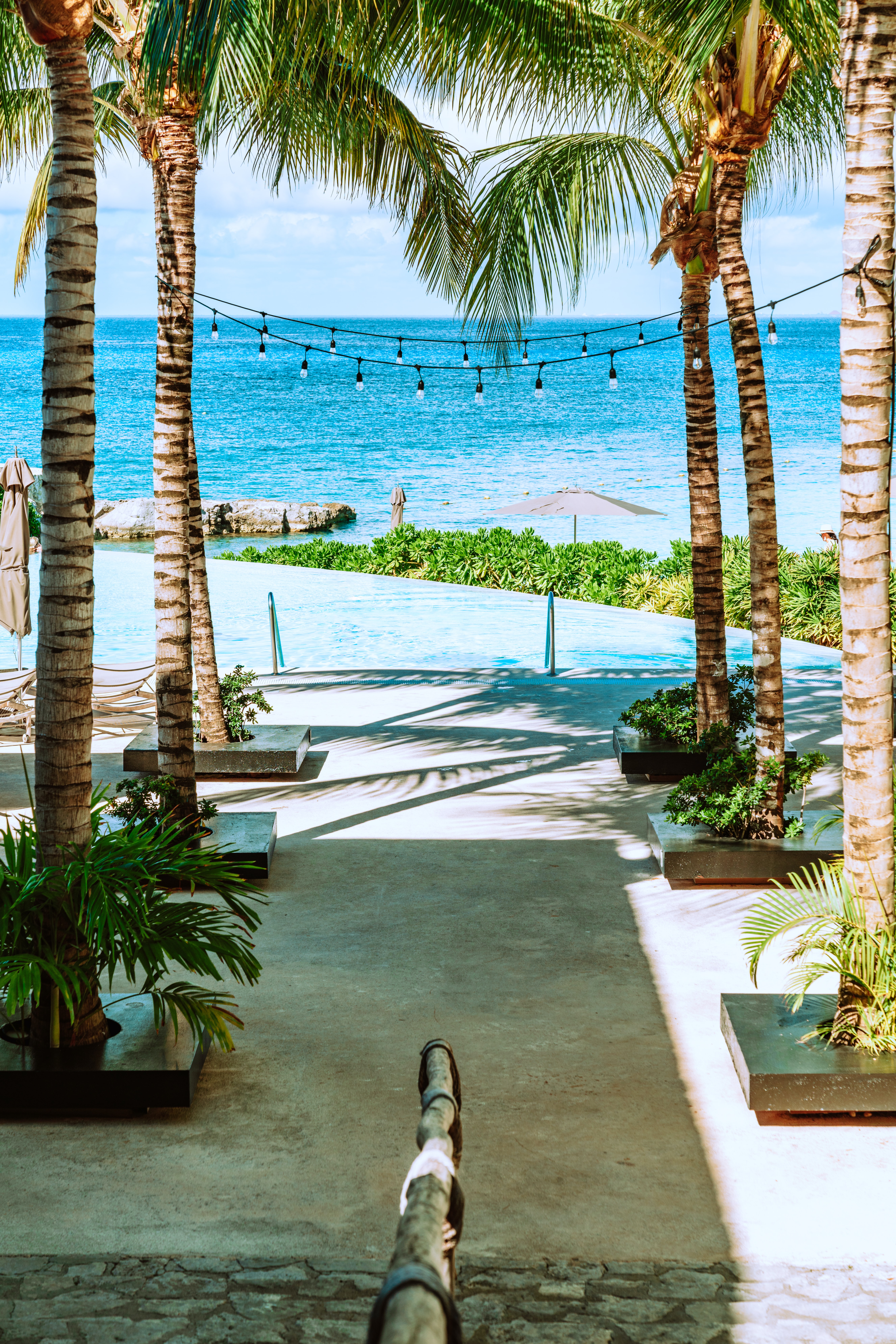 Cozumel is a small Caribbean island across the water from another popular beach city in Mexico, Playa del Carmen. Accommodation rates here are, for the most part, at a lower to mid-end price range for Caribbean all-inclusive packages.
The best part about Cozumel is the variety of fun day trips you can do while staying there. To get to the neighboring city, Playa del Carmen, it's a 40-minute ferry ride. From there, you can spend a day in Playa del Carmen; there's plenty to do there as well!
Or you can visit popular neighboring cities, Tulum or Cancun. If you visit Cozumel, I highly recommend you visit some cenotes in Tulum.
You can often get great deals, including a flight directly to Cozumel's airport. But for the most part, flying into Cancun International will usually be cheaper.
Read my in-depth Cozumel guide for more information on Cozumel and how to get there.
If you're looking to go somewhere on a budget but still want the option of many exciting places to visit nearby while on vacation, Cozumel is your best option in this list of the cheapest Caribbean islands to visit!
Cost Per Day: $227 – Per Day for Two People
Hotel Recommendation: Grand Park Royal Cozumel
Recommended Tour: Private Jeep Excursion with Lunch and Snorkeling
Bridgetown, Barbados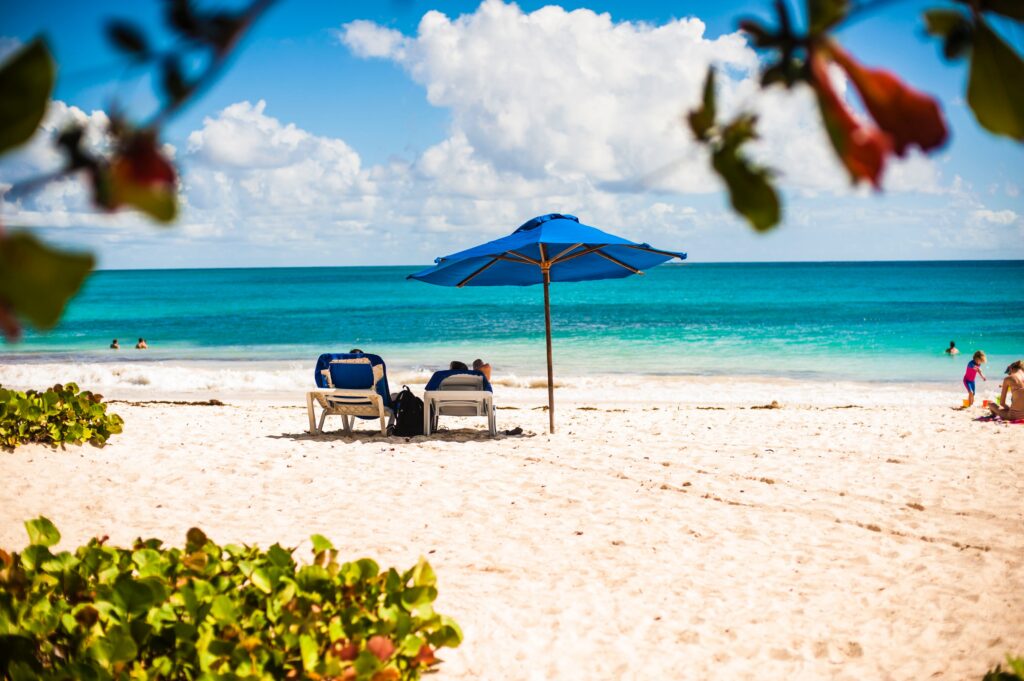 Barbados, a British Commonwealth country, is a very family-friendly island. It's home to Crane Beach and it's regarded as one of the most beautiful beaches in the Caribbean.
Bridgetown is the beautiful capital of Barbados, with plenty of resorts, restaurants, and things to do. Barbados is well-known for its low prices on hotels and affordable flight packages.
Barbados offers many fun activities, including swimming with turtles, exploring Animal Flower Cave, and sailing the Caribbean Sea.
It's easy to find affordable flights to Barbados due to its popularity. Looking for cheap air and hotel packages is not as easy as the other three destinations we listed before. But you find these packages, especially during winter months.
Barbados is quite popular with Europeans because of its many accommodation types. Those looking to stay in a mansion or a large beach house will love to come here. Despite that being the case, Barbados has over 20 all-inclusive resorts offering excellent vacation pricing.
Cost Per Day: $297 – Per Day for Two People
Hotel Recommendation: – Blue Horizon Hotel (only breakfast included)
Recommended Tour: Monkey feeding & Swimming with Sea Turtles
Montego Bay, Jamaica
Montego Bay is located between Ocho Rios and Negril and has the best connections to your hotel from the airport. There are many resorts in this area, including some of the most luxurious ones, like Sandals Royal Caribbean.
Jamaica is one of my favorite Caribbean islands because of its culture. It is known for its chill-out vibe, reggae, spicy food, and fantastic nightlife; parties here don't end early!
Montego Bay, Jamaica, has 25 all-inclusive resorts. However, some of them can get quite pricey, so I suggest choosing where you decide to stay and booking when all-inclusive deals are happening there.
Prices in Montego Bay follow the seasonal demand quite closely, so I suggest you go when best suits you, whether during the high or shoulder season.
Ocho Rios and Negril are also popular tourist places in Jamaica. Those looking for the most beautiful beaches may want to consider visiting Negril. But both these places will cost you more than visiting Montego Bay.
Cost Per Day: $397 – Per Day for Two People
Hotel Recommendation: Iberostar Grand Rose Hall
Recommended Tour: Blue Hole, Secret Falls, and Dunn's Falls Day Trip
Grenada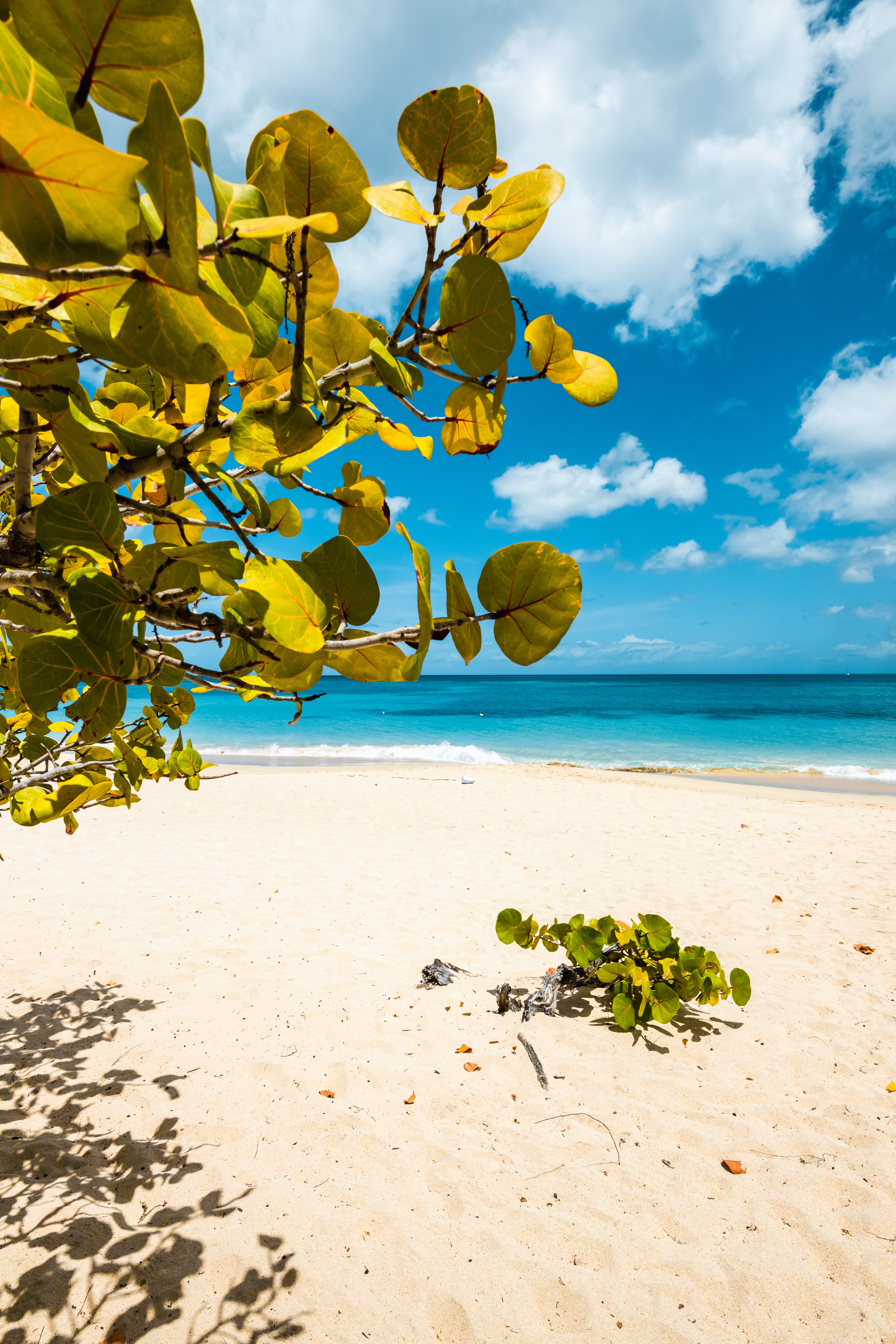 Grenada isn't too famous when you think of the cheapest Caribbean islands. But this island offers laid-back living and beautiful white sand beaches without spending much money.
The island was home to only one all-inclusive resort for the longest time, but since 2019, development has been ongoing on the island. Today, there are many all-inclusive resorts to choose from in Grenada.
Grenada is an English-speaking island, which makes it a popular destination for Americans, Canadians, and Brits.
Accommodations and almost everything on the island is cheap, but getting there isn't. The airport doesn't see as much traffic as other neighboring islands, so a flight there will cost more.
Grenada may not be your ideal option if you're after a package deal with a hotel and flight. However, you can always check for cheap flights and get an all-inclusive hotel separately.
If you're looking for a very laid-back atmosphere with your partner, Grenada is an excellent destination choice in this list of the cheapest Caribbean islands!
Cost Per Day: $477 – Per Day for Two People
Hotel Recommendation: Royalton Grenada, All-Inclusive
Recommended Tour: Full Day Tour: Concord Falls, Rum distillery, & more
St. Lucia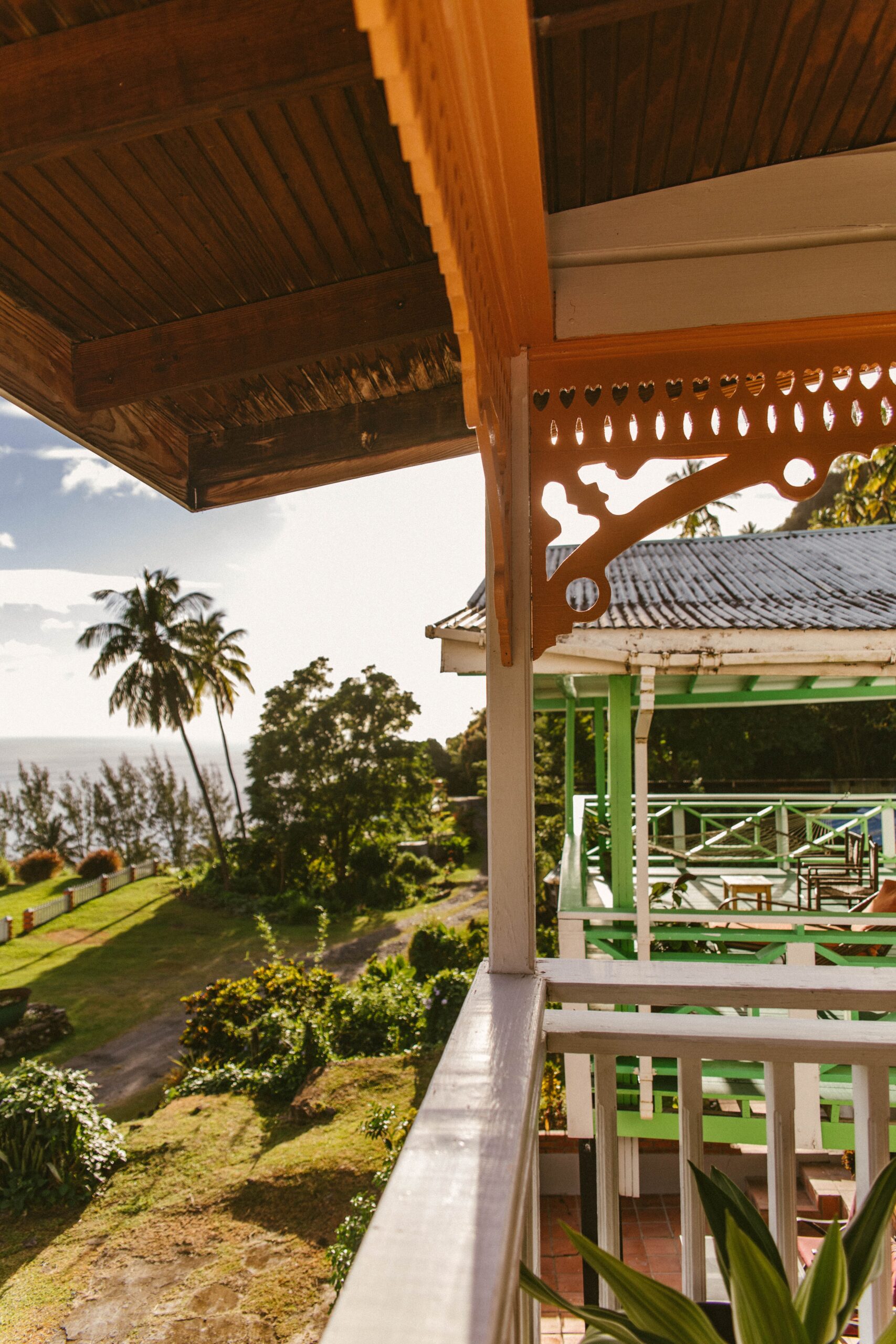 St Lucia is one of those picturesque places you see online and think, where is that!? This place is perfect for anyone who loves relaxing on the golden sands, exploring the rainforest, and enjoying water sports.
St. Lucia is more remote and exotic than all other options on this list and is undoubtedly the most beautiful Caribbean island!
Many all-inclusive resorts are located in St. Lucia, some with stunning mountain views, beautiful beaches, volcanic landscapes, and even the world's only drive-through volcano.
There is also wonderful marine life, port towns, fishing villages, and many other attractions to enjoy here.
With that being said, It can be challenging to find cheap flights to St. Lucia. However, it is definitely worth your time if you can find a package that includes both airfare and hotel.
Visiting St. Lucia, in general, will cost you more than all other Caribbean islands on this list. This island is highly recommended for those looking for a Caribbean island ideal for a romantic honeymoon. St. Lucia is exotic, remote, breathtaking, and very relaxing.
Cost Per Day: $497 – Per Day for Two People
Hotel Recommendation: Mystique St Lucia by Royalton
Recommended Tour: St Lucia Private Island Tour
Nassau, Bahamas
The Bahamas has always been a top Caribbean island destination for tourists to visit over time. But in the past decades, visiting this paradise island has become more costly. Nassau region is a popular place to stay for those looking to escape the snow up North.
Although the island is well-known for its luxurious hotels, it doesn't necessarily mean they have no affordable options.
Regarding all-inclusive options in the Bahamas, there aren't as many resorts as you'd think. There are only five all-inclusive resorts here, which is pretty low for a famous Caribbean island close to the US.
This makes the Bahamas the most expensive option in this list of the cheapest Caribbean islands to visit.
Keep in mind it's only a 50-minute flight from Fort Lauderdale airport. Nassau's greatest asset is its proximity to Florida. Flights are often very cheap, making them an excellent choice for long weekends when you don't want to travel too much from the US.
Cost Per Day: $497 – Per Day for Two People
Hotel Recommendations: Warwick Paradise (Adults Only) or Breezes Resort
Recommended Tour: Full Day Excursion to Rose Island (famous pig beach)
High Season vs. Low Season vs. Shoulder Season
The biggest cost factor for your vacation, no matter the destination, will be what time of year you choose to visit. Yes, these are the cheapest Caribbean islands to visit any time of year. But the price you pay for your visit will depend more on the time you visit, consider this.
There are three different seasonal periods for vacation goers throughout the year that dictate the price for flights and accommodations in the Caribbean. Here's a breakdown of each of them and what they mean.
High Season: This is during popular times of the year to travel, like Christmas, and when the weather is ideal.
The "high season" in the Caribbean runs from December to April, and the "peak time" is between December and January. The high season is also when the weather is the most ideal to visit the Caribbean.
Shoulder Season: This is the period between the High and Low seasons; it's an excellent time to visit for those looking for a great deal. Shoulder season is a weather transitional period in a region; flights/hotels are discounted, and during this time, you can find great deals!
The cheapest months are usually May, June, September, and October. These months are when Shoulder Season is on, the weather is transitioning, and most travelers are in other destinations worldwide instead of the Caribbean.
Low Season: This is the least popular time to travel to the Caribbean; this is during the rainiest months of the year. But the rain in the Caribbean does pass by quickly because of the tropical atmosphere.
The low season in the Caribbean islands is from July to August when the humidity levels are high and unbearable for some travelers.
RELATED: 12 Cheapest Countries to Travel in 2024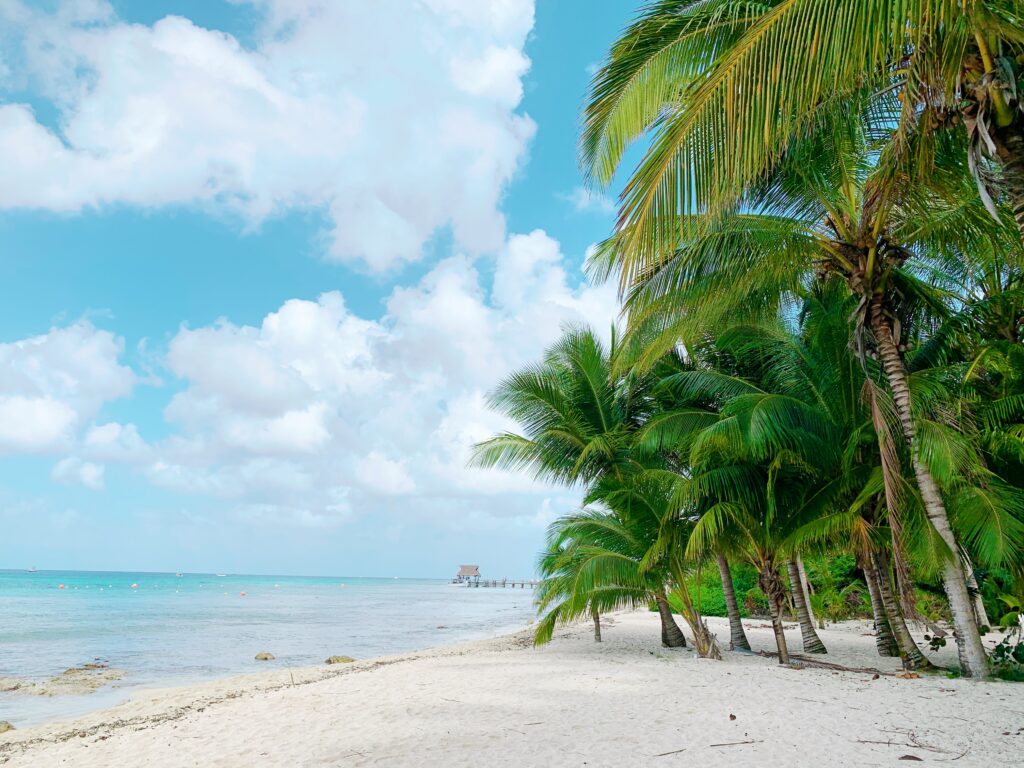 Final Thoughts – Cheapest Caribbean Islands
Whether you're looking for great destinations to explore or relax, all these Caribbean islands are ideal for both!
Having met many locals through my travel experiences in most of these Caribbean islands, they've always told me, "Nothing is more relaxing than a tropical island in the Caribbean."
For those looking for the cheapest Caribbean islands to vacation in, remember when you choose to go. This affects the price more than anything! But at the same time, also consider the fact you'd rather visit when chances are it's most likely sunny, and that's during the high season months!
Use tools like SkyScanner to find the cheapest flights and hunt online for cheap all-inclusive deals to these Caribbean islands.
Can you do the Caribbean on a budget?
You can; many places in the Caribbean offer winter gateway packages as low as $200 per day, split two ways, that's $100 US a day at some all-inclusive resorts!
What is the cheapest month to go to the Caribbean?
October is the cheapest month to visit the Caribbean; the weather is transitioning, and prices don't increase till November!
Which is the poshest Caribbean island?
It's a battle between Musha Cay, Bahamas, and St Lucia. Both are stunning and luxurious in their own right!
What is the best Caribbean Island?
St Lucia and Saint Martin are the two best islands in the Caribbean, both offering excellent accommodations, convenience, and serene natural surroundings!
Subscribe to Travel Hiatus!
Receive updates on my latest posts, insider travel tips & the best destination guides to your inbox!
Happy & Safe Travels
Featured Image Credit: Corinne Kutz
---
Planning Checklist
---
Disclaimer: Please note that some of the links shared in this article might be affiliate links; this means that at absolutely no extra cost to you, we will earn a small commission for any sales generated through this article and/or this website. We recommend products/services we've either used or researched thoroughly – Thank you for supporting us so we can continue to share helpful travel content!