Is Cozumel Expensive To Visit? Cost Guide
Famous for snorkeling and diving because of its healthy coral reefs, Cozumel is a beautiful island known for its beaches full of turquoise water and dense green jungle. But is Cozumel expensive to visit?
The short answer is no, Cozumel isn't expensive to visit; the average cost of a seven-day vacation for one person to Cozumel is $920 US per traveler. That includes accommodation, food, budget for activities, and transportation in Cozumel. This doesn't include flight costs; you'll have to factor that in.
I'll cover budget-friendly, mid-range, and luxurious ways to enjoy Cozumel. Trip costs for each will cover accommodation costs, eating out in Cozumel, activities/day tours, and transportation costs—some data assisted by champion travel.
When considering the costs of a trip to Cozumel, a major factor is the time of year you choose to visit; hotels and flights to Cozumel are cheaper during low season or shoulder season months.
When considering other cheapest Caribbean islands, Cozumel is regarded as one of the more affordable places to visit!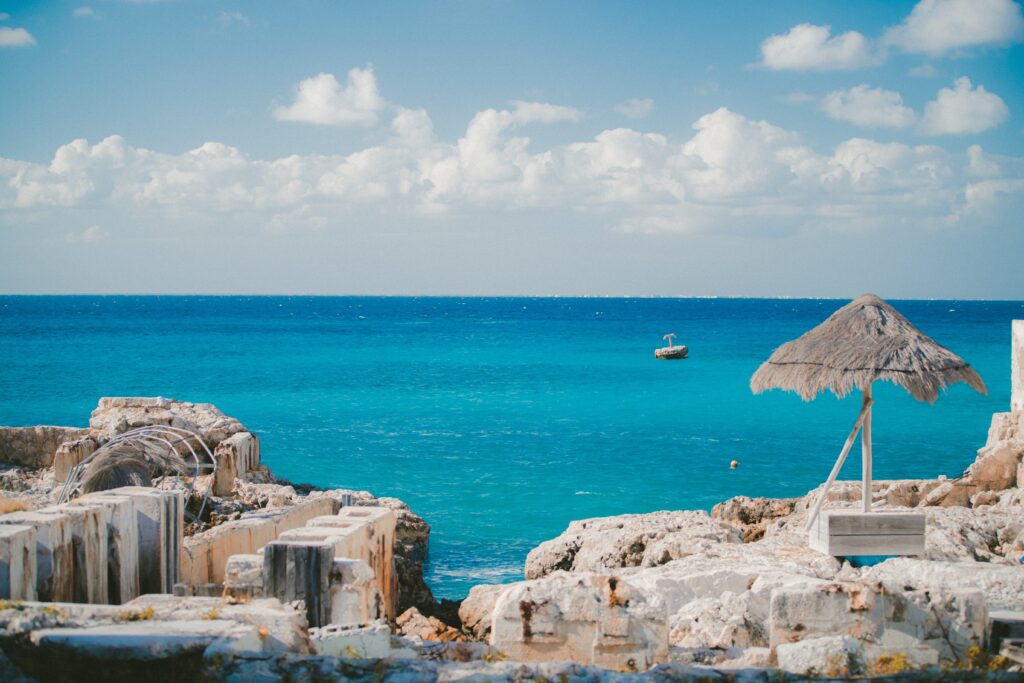 Getting to Cozumel
There are two ways to get to Cozumel. You can either fly into Cozumel International Airport (CZN) if you're flying from the US, Canada, or Mexico City.
Cozumel's airport isn't large, and because of this, there aren't too many flights coming in daily, which also means direct flights into Cozumel are costlier. But if you're not on a budget, I'd recommend it!
Otherwise, you must fly into Cancun International Airport, make your way to Playa Del Carmen, which is 1 hour away, and then take the ferry from Playa Del Carmen to Cozumel.
Here are the many ways to get to Playa Del Carmen from Cancun Airport:
Once in Playa Del Carmen, you must walk to the Cozumel ferry area. You can purchase your ferry ticket beforehand to save time!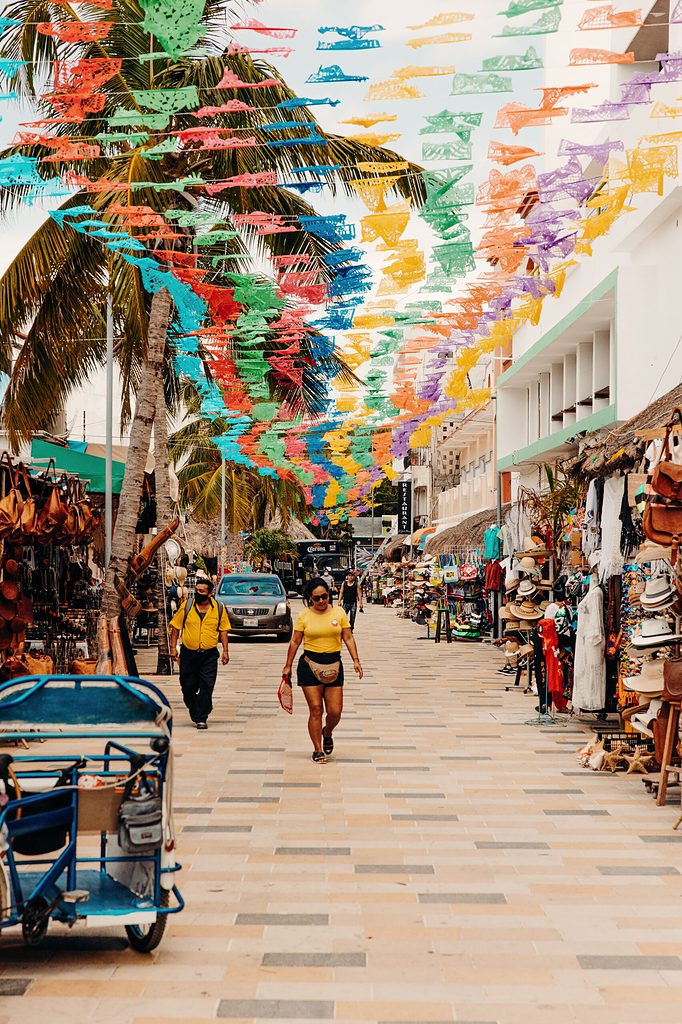 Where to Stay in Cozumel
Despite being an island in the Caribbean Sea, Cozumel has many types of accommodation options, from large resorts, hostels, and apartment rentals.
Below, I've put together for you the best hotels in Cozumel by budget type.
Cheap Hotel Prices: $35 – $50 US
Mid-Range Hotel Average Prices: $130 – $260 US
Luxury Hotel Average Prices: $320 – $600 US
All hotels and accommodations in Cozumel cost slightly more during the high season months: November to April.
Cheap Hotels In Cozumel
Amigos Hostel Cozumel – Shared hostel dorms with a convenient location minutes away from everything, has a pool and great communal space
Hostel Auikyani – Cozy, modern-decorated hostel in the Centro main part of town
Mid Range Hotels In Cozumel
Melia Cozumel All Inclusive – Popular large, all-inclusive resort amongst the tree-filled forests of Cozumel with many amenities and a private beachfront
Hotel Puerto Libre – Located along the main road with views of the water, steps away from the Cozumel Ferry
Luxury Hotels In Cozumel
InterContinental Cozumel – A luxurious oasis ranking #1 hotel on the island, decorated in a modern-wood design with countless amenities, an exceptional spa, a private beach area with top service
The Westin Cozumel – Known for its many amenities, sleek design, and exceptional sea views, the Westin is another top choice in Cozumel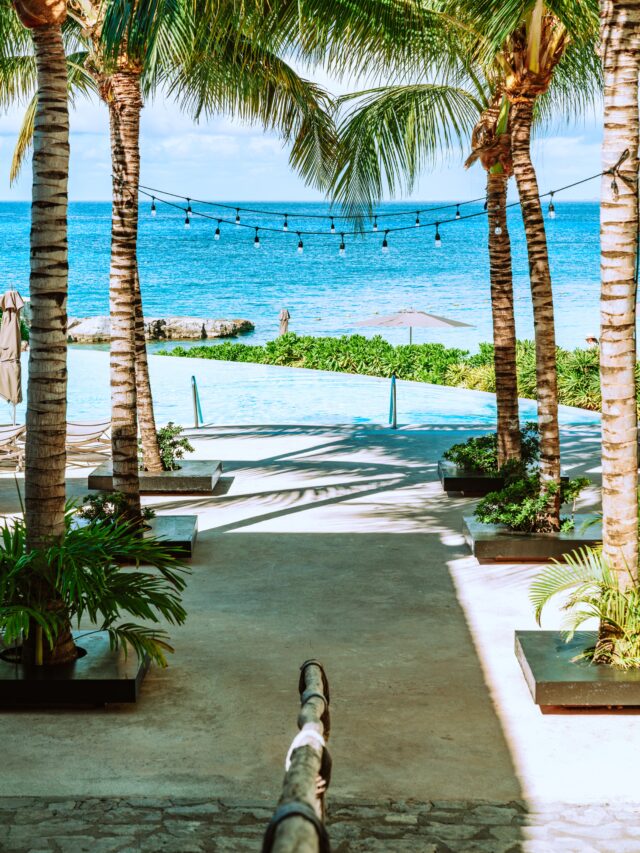 Cost of Eating Out in Cozumel
The cost to eat out in Cozumel is reasonable, especially compared to other nearby popular destinations like Tulum, Cancun, or Isla Mujeres. The cost of food in these other well-known destinations is 37% more.
Restaurants in Cozumel cater to all budgets. For those looking to budget, stick to your local Mexican taquerias, which usually have the best food anyway! You will find delicious tacos, tortas, and more at an average price of $1-4 US.
At mid-range restaurants in Cozumel, you can expect to pay $10-20 US per main dish, depending on what you order. No matter where you visit, local food will always be cheaper; anything imported will cost more.
When considering fine-dining restaurants in Cozumel, expect to pay an average of $20-$35 for a main dish.
Eating out in Cozumel will cost you the following on average for each meal:
Breakfast is $6-15 US
Lunch is $11-23 US
Dinner is $25+ US
How Much is a Meal in Cozumel?
The average cost of a meal in Cozumel is around $13 US. You can enjoy meals in Cozumel for far less than $13 US. This average cost is considering both cheap and expensive restaurants.
Tipping in Cozumel
The standard tipping percentage is 10% – 20% when dining in Cozumel. In some places like taco carts or takeout spots, you may want to round up the amount if you're going to give a tip.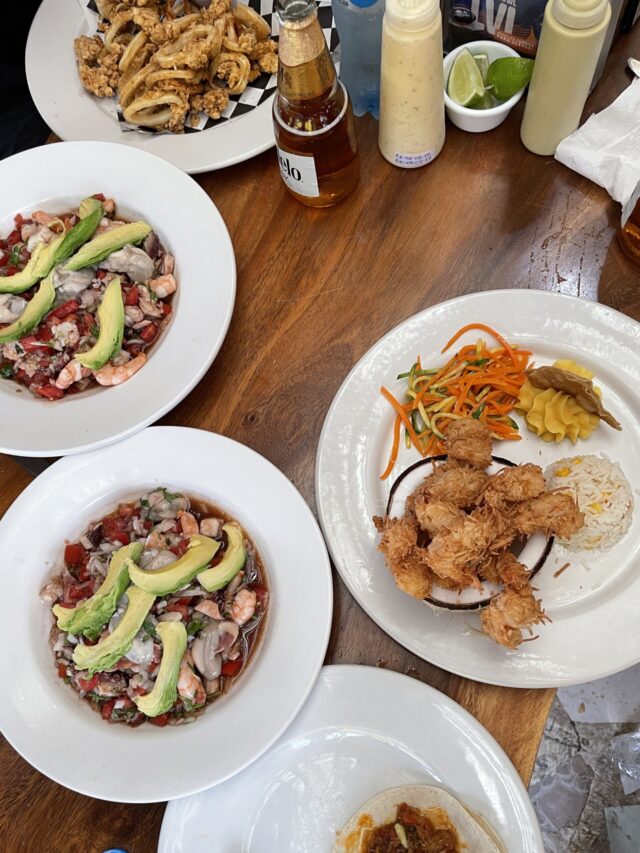 Cheap Restaurants in Cozumel
Mister Taco: Local taqueria most famous for its al pastor tacos with pineapple, cheesy gringas, and guac/chips
Corazon Ceontento: Breakfast restaurant serving up delicious Mexican breakfast dishes, from huevos motulenos, huevos rancheros, divorciados, and many more. They also serve classic western-style omelets as well
Taqueria El Pique: Authentic non pretentious taquiera known for its gringas, tacos, fajitas, tortas and much more – Some locals say its the best taqueria in town
Mid-Range Restaurants in Cozumel
K'ooben Laab: Cozy classic Italian restaurant serving up many pasta types, salads, and fresh bakery items in the morning
La Choza Cozumel: A Mexican restaurant famous for its wide variety of traditional dishes
Cerveceria Punta Sur: A popular microbrewery serving many different craft beers and wooden-fire pizzas
Fine Dining Restaurants in Cozumel
Kondesa: Serving up modern Mexican cuisine, Kondesa is most well known for its lobster ravioli and lionfish, amongst many other delicious dishes. The restaurant has a jungle vibe to it!
Casa Mission: An iconic Mexican restaurant that has been around for many years, most well known for its cocktails and many seafood dishes with a fancy garden atmosphere. They also host a tequila-tasting tour here!
Buccanos: Primarily a beach club, Buccanos is a fine-dining establishment in the evening, known for its octopus served of mango salad, countless seafood dishes, and more!
Cost of Things To Do in Cozumel
In most places, food would usually be your second-largest spend after accommodations.
But in Cozumel, your second-largest spend will be on activities because there are so many things to experience here, and you'll want to do a few at least!
Technically, you could visit Cozumel, lounge around the beach, and spend little to nothing on activities.
But it would make most sense to factor in a budget to experience a few activities on your trip to Cozumel.
Cozumel has many fun things to do, and the island is surrounded by some of the world's best coral reefs/marine life.
Consider an average of $27 US daily as your activity budget; this is an average for many days; you may spend much less on some days.
Cozumel Snorkeling Tour
An absolute must-experience when visiting Cozumel is to experience a snorkeling trip. Cozumel is home to many vibrant, healthy coral reefs with abundant marine life.
On this top-rated Cozumel snorkeling, you will spend the day snorkeling three different reefs, spotting sea turtles, starfish, many tropical fish, and more!
COST: $67 US
Beach Clubs in Cozumel
What better way to spend the day on an island than sunbathing in the sun under an umbrella, with a few drinks and some delicious food? It doesn't get much better.
Cozumel has several beach clubs to choose from that are full of amenities and activities to choose from.
Some are ideal for young adults, and others are preferable for those visiting with kids.
Make your pick and spend the day relaxing in style. A trip to Cozumel is complete with at least one afternoon at one of its many famous beach clubs!
Beach clubs operate differently regarding costs; some charge a cover, and you pay for everything else.
Others charge a cover to enter, but the cover charge goes to the cost of food/drinks.
And some are all-inclusive buffet-style beach clubs!
COST: $40 – $80 US / Depending on which beach club you choose to visit, prices vary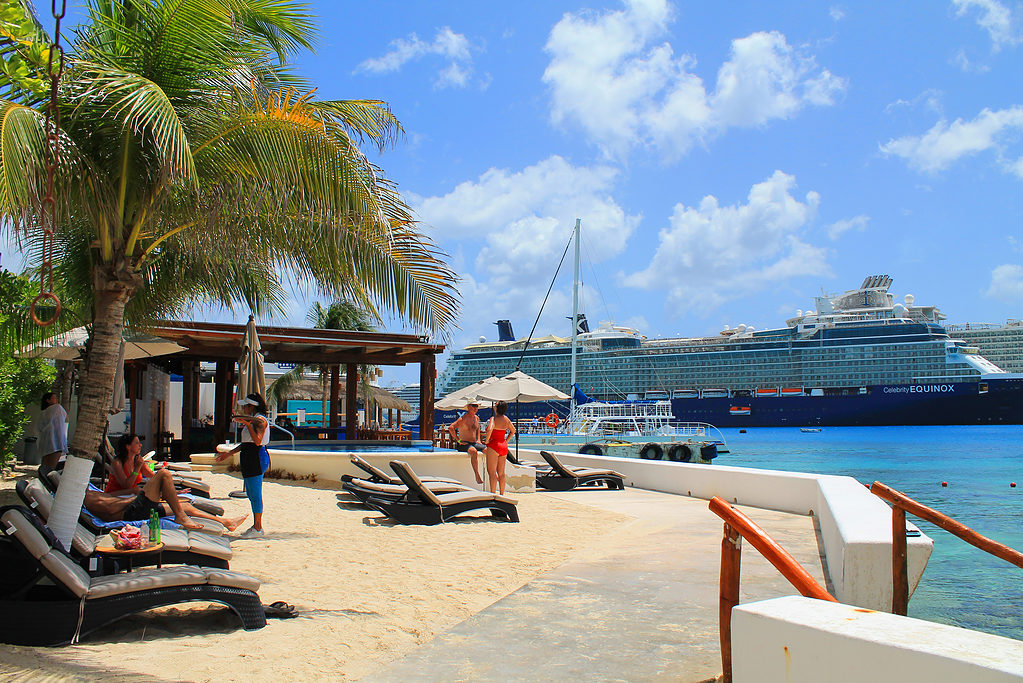 ATV Jungle Safari
One of the best ways to see the island is by joining a safari tour and experiencing the many things Cozumel has to offer!
On this fun ATV jungle tour, you will be led by a guide into the jungles of Cozumel as you head towards the famous Jade Cavern cenote!
Once there, you can snorkel/swim in the fresh spring water cenote and explore the cenote surroundings. For those who love adventure, this tour is for you!
If you aren't looking to do a tour but rather explore the island on your own, rent a bike, scooter, or ATV and ride around exploring the beautiful island.
The best part about exploring Cozumel is that it's impossible to get lost here; one main road runs through most of the island.
Explore Punta Sur Eco Beach Park
Another must-experience in Cozumel is a visit to Punta Sur Ecological Park. This nature preserve spans over 1000 hectares and contains lagoon systems, fauna, and flora.
Best described as a nature lovers' paradise, there are plenty of things to experience at the park, including:
Snorkeling along the reef
Relaxing on a hammock in the Beach Park
Exploring the Museum Lighthouse
Take a boat tour in the lagoon to see a wide variety of bird species, crocodiles & more.
General Information About Punta Sur Park
Entry Fee
Price Adults USD 18
Children USD 11 ( 4 to 12 years old)
Children under 3 Enter Free
Opening Time:
Monday to Saturday
9:00 am to 5:00 pm
Snorkel Equipment Rental
Available in Playa del Cielo – 15 USD
Day Trip to Playa Del Carmen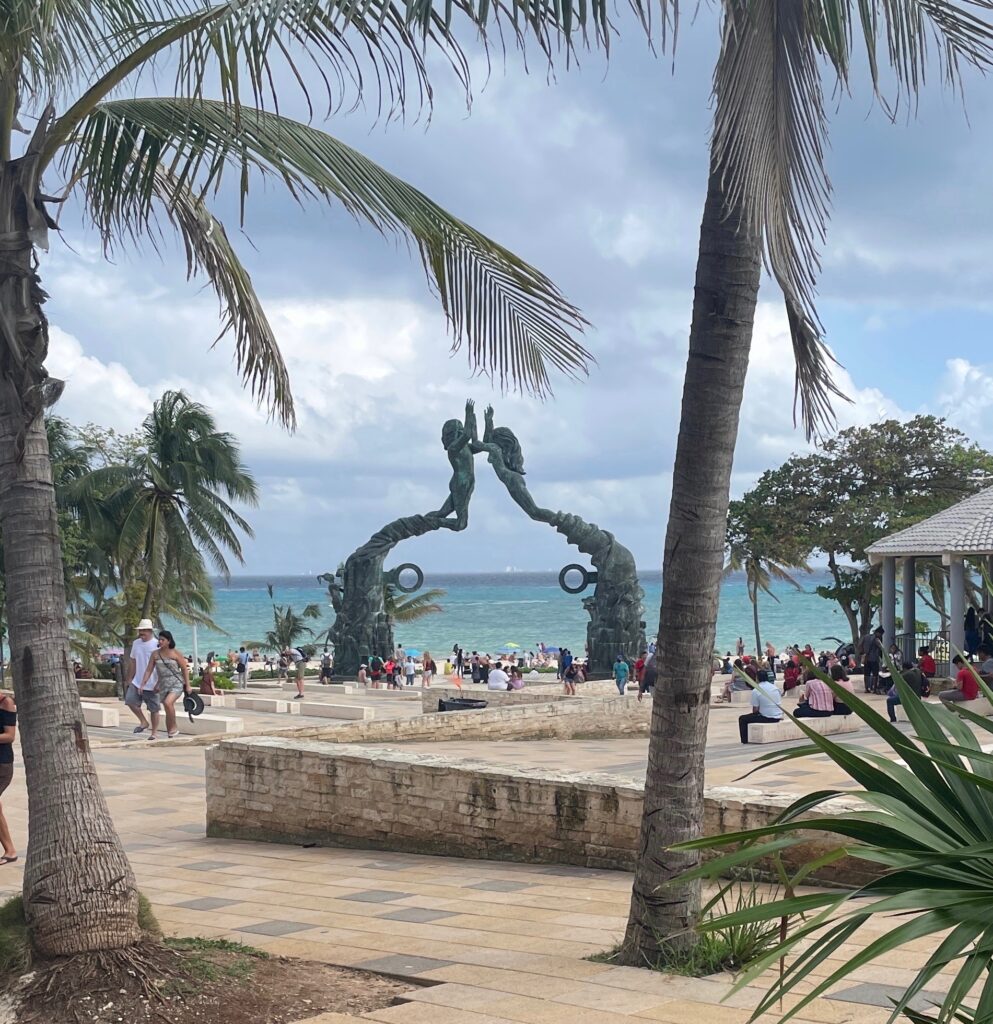 Playa Del Carmen is only 40 minutes away by ferry from Cozumel. Many of you will automatically visit Playa Del Carmen to get to Cozumel by ferry, but the famous beach town is worth spending a full day in!
Most famous for its vibrant beach town atmosphere because of its popular touristy 5th Avenue Street, there are plenty of things to do in Playa Del Carmen.
With several beautiful beach shorelines, cenotes, nightclubs, adventure parks, excellent restaurants, and the best tacos in the region, Playa is home to many things to keep you busy!
If you plan on visiting/staying in Cozumel, it's essential to know that there isn't much nightlife there, and bars aren't open too late.
Playa Del Carmen, on the other hand, is a different story, with many bars and nightclubs open late, so you should consider getting a hotel for a night here.
RELATED: 5 Beach Towns near Cancun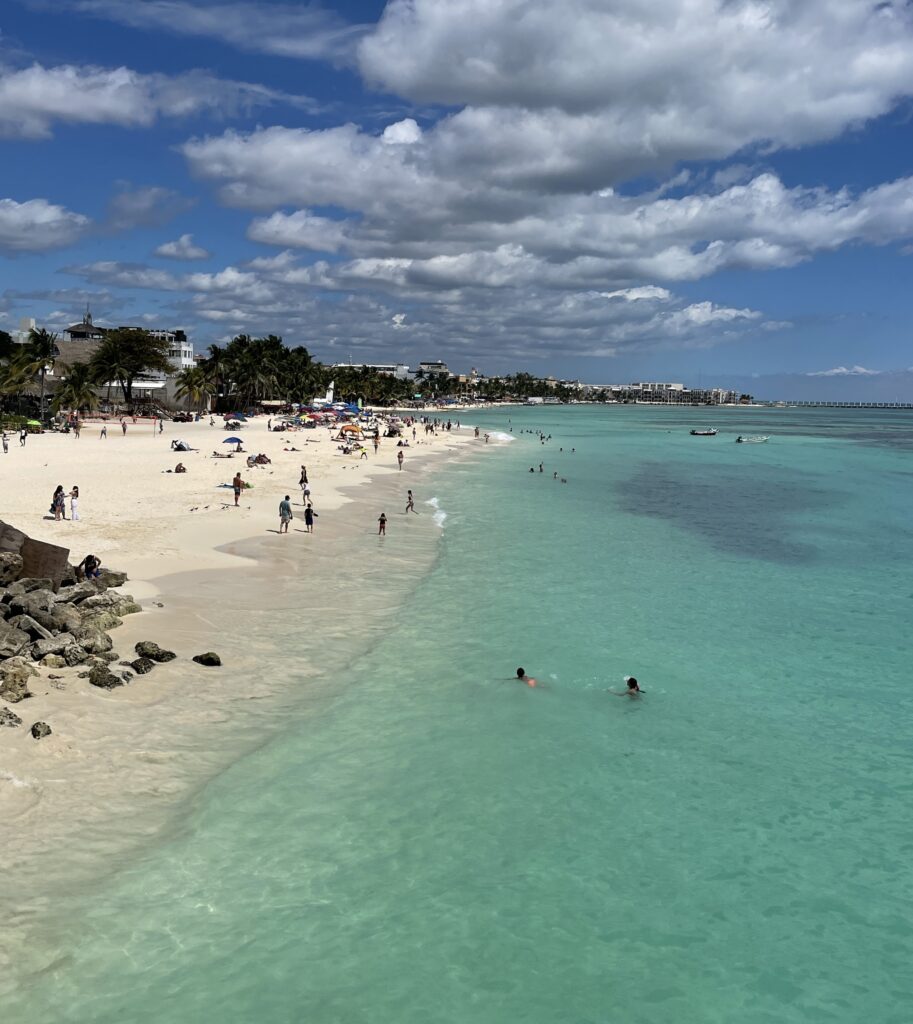 Getting Around Cozumel
It's easy to get around Cozumel, but there isn't any public transportation on the island.
Depending on where you're staying, you can walk everywhere. The Centro area is the city center, and you can walk to all the stores/bars/restaurants within 15-20 minutes.
If you stay at a large resort, you will most likely need a taxi to get places; some large hotels/resorts provide their own taxi/shuttle services.
Please have a look here for taxi pricing on the island; destinations have set prices on Cozumel.
You could rent a bike/scooter, but adding this as a daily expense wouldn't make sense. Once you are in the Centro area, you can walk everywhere, and most tours/activities you may want to do usually include roundtrip transportation from and back to your hotel.
Is Cozumel Walkable?
The city center of Cozumel is very walkable, but if you're looking to get to other sides of the island, you will need to use some sort of transportation.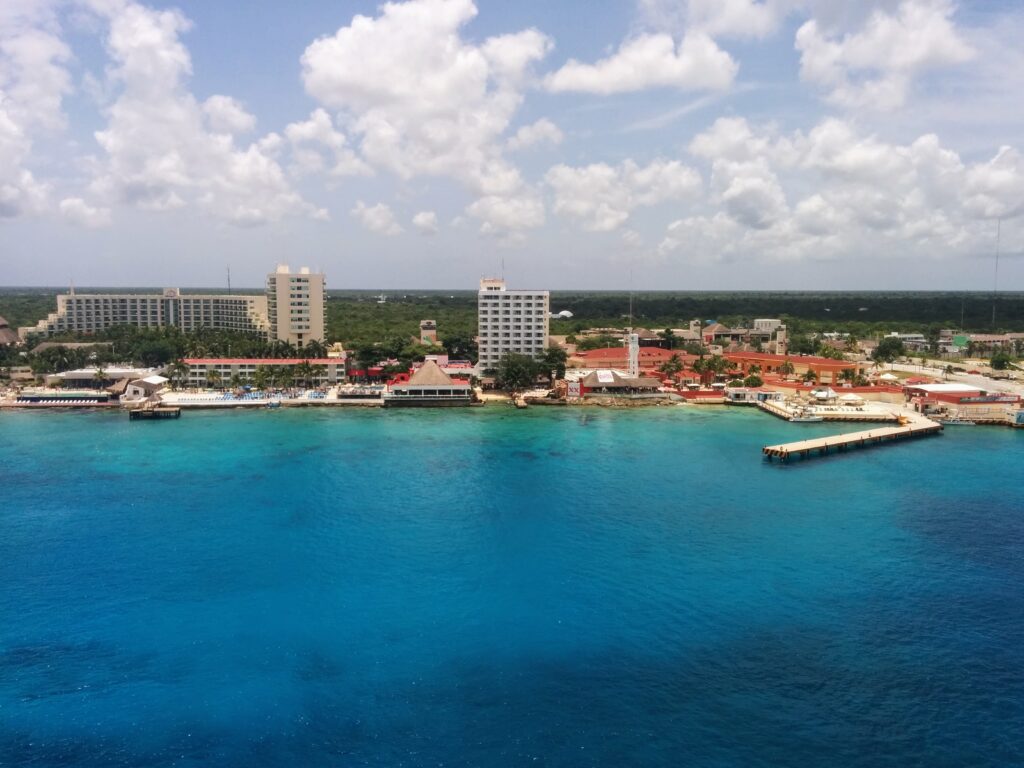 Best Time to Visit Cozumel
Cozumel has two main seasons: the dry season from November to April and the rainy season from May through October.
The best time to visit Cozumel is during the dry season when the weather is ideal; it's hot and suitable for the beach, with a low chance of rain and lower humidity levels compared to the off-season months.
Suppose you choose to visit Cozumel between May and October, the rainy season. The weather can fluctuate; some days will be perfectly sunny, and others may be portions of rain throughout the day. One thing is sure: the humidity levels are high during this time in Cozumel, and some days, it's scorching hot!
If you want to visit during the dry season but save money on hotels/flights, I recommend traveling to Cozumel in November.
Dry Season: November to April
Rainy Season: May to October
RELATED: 11 Cheapest Beach Towns in Mexico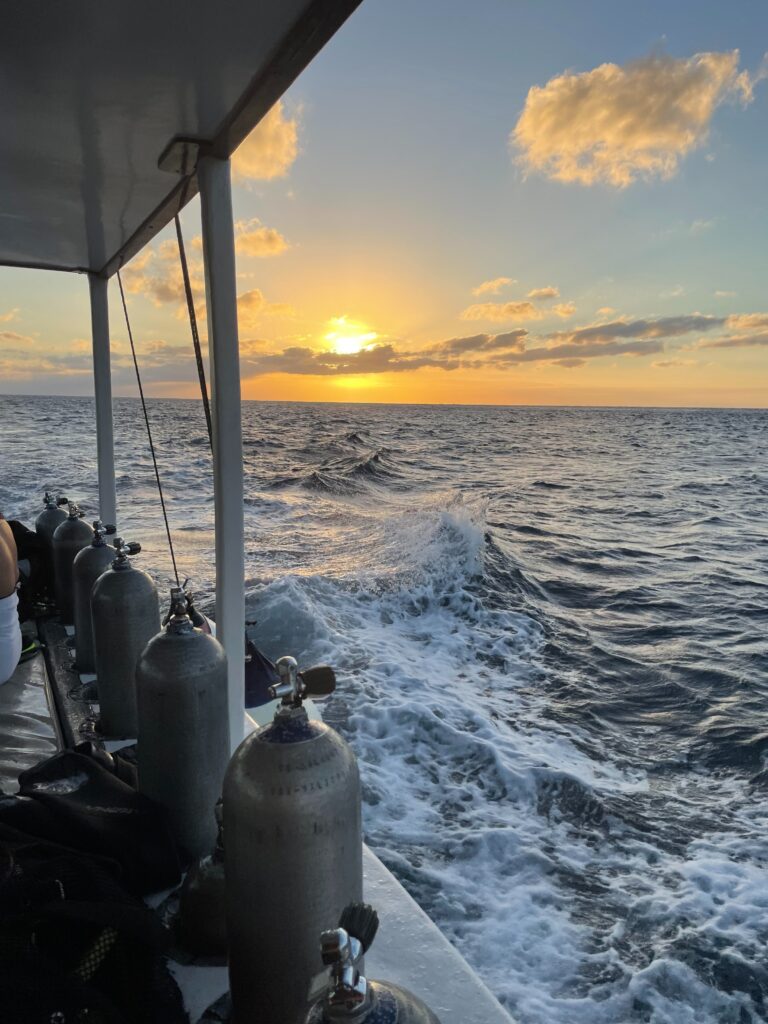 Tips for Cozumel
Here are a few tips I'd advise you to consider when visiting Cozumel; consider them all!
Don't drink the tap water; you might get ill – If you do accidentally and feel bad, go to one of the many pharmacies
If you choose to visit Playa Del Carmen for the day, make sure to catch the last ferry at 9:00 PM back to Cozumel
While Cozumel is a safe place to visit, you should watch for your belongings when visiting the beach or beach clubs here
Many restaurants offer happy hour with great pricing in Cozumel; take advantage of it
Suppose your flight is landing late at Cancun Airport, and you know most likely you will miss the last ferry to Cozumel from Playa Del Carmen. Get a cheap hotel in Playa Del Carmen by the ferry and enjoy a fun evening/night on 5th Avenue in Playa!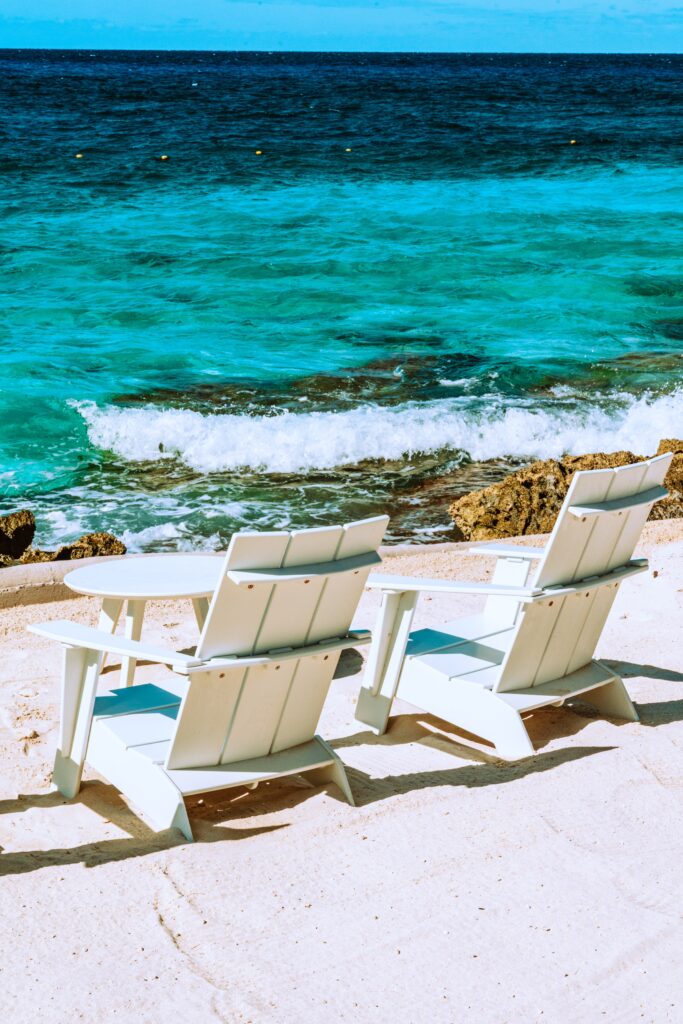 Is Cozumel Expensive to Visit — Final Thoughts
With all that you know now, what do you think? Is Cozumel expensive to visit?
Cozumel isn't expensive to visit, but it's not cheap either; it's a mid-ranged-priced destination. But it's slightly more affordable than other popular destinations nearby, like Cancun and Tulum.
Also, if you live in the US or Canada and are considering a vacation down south, Cozumel is one of the cheapest islands to visit!
I've listed three average day costs for types of visitors, considering all budget categories I've spoken of above; this will help you determine if Cozumel is expensive in your opinion to visit!
All costs below are average day costs for Cozumel per person. You could always spend less or more compared to these average day costs!
Hotel costs will be slightly cheaper if you're splitting the cost with someone else. Also, consider the fact hotel prices fluctuate depending on the season.
| | | | | | |
| --- | --- | --- | --- | --- | --- |
| Visitor Type | Hotel | Food | Transportation | Activities | Average Day Cost |
| Budget | $40 | $20 | $10 | $15 | $85 US |
| Mid-Range | $160 | $40 | $15 | $27 | $237 US |
| Luxury | $420 | $130 | $40 | $50 | $640+ US |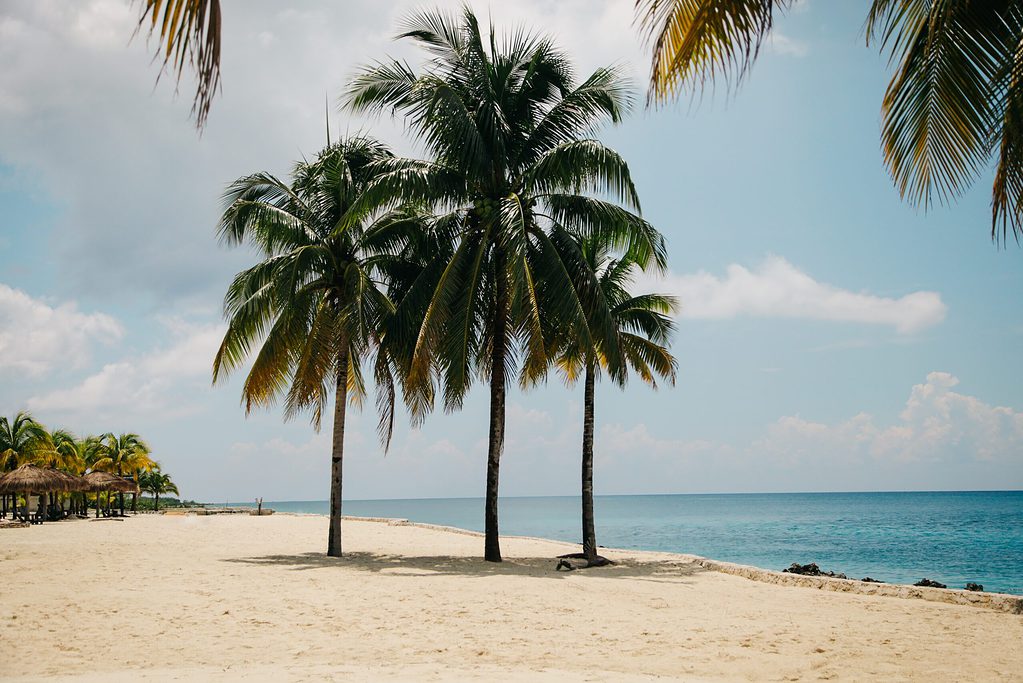 What is the cheapest month to go to Cozumel?
The cheapest months to visit Cozumel are between May and October, the off-season months in Cozumel
Is Cozumel less expensive than Cancun?
While accommodations prices are similar in Cancun and Cozumel, Prices for food, activities, and everything else in Cancun are more expensive than in Cozumel.
How many days is enough for Cozumel?
There are many things to experience and explore on this magical island, so spend at least three or four nights. This will give you enough time to do many things in Cozumel, relax, and get a natural feel for this popular island destination.
How much does it cost to take the ferry to Cozumel?
It costs around $10-14 US for a one-way ticket from Playa Del Carmen to Cozumel.
Subscribe to Travel Hiatus!
Receive updates on my latest posts, insider travel tips & the best destination guides to your inbox!
Happy & Safe Travels
---
Planning Checklist
---
Disclaimer: Please note that some of the links shared in this article might be affiliate links; this means that at absolutely no extra cost to you, we will earn a small commission for any sales generated through this article and/or this website. We recommend products/services we've either used or researched thoroughly – Thank you for supporting us so we can continue to share helpful travel content!