Mayan Train in Mexico: Everything to Know
The Mayan Train is finally here and ready to revolutionize travel within Mexico's famous Riviera Maya and Yucatan regions!
September 1st, the Mayan Train has successfully run on a few routes as a test run. The official operating date is planned to be December 1st.
If you've visited or spent time researching the Quintana Roo and Yucatan regions of Mexico. You must have noticed many beautiful places to visit, only a few hours from one another!
With so many popular tourist destinations to visit close to one another in this region of Mexico, and that's where the idea for Tren Maya, aka the Mayan Train, was created.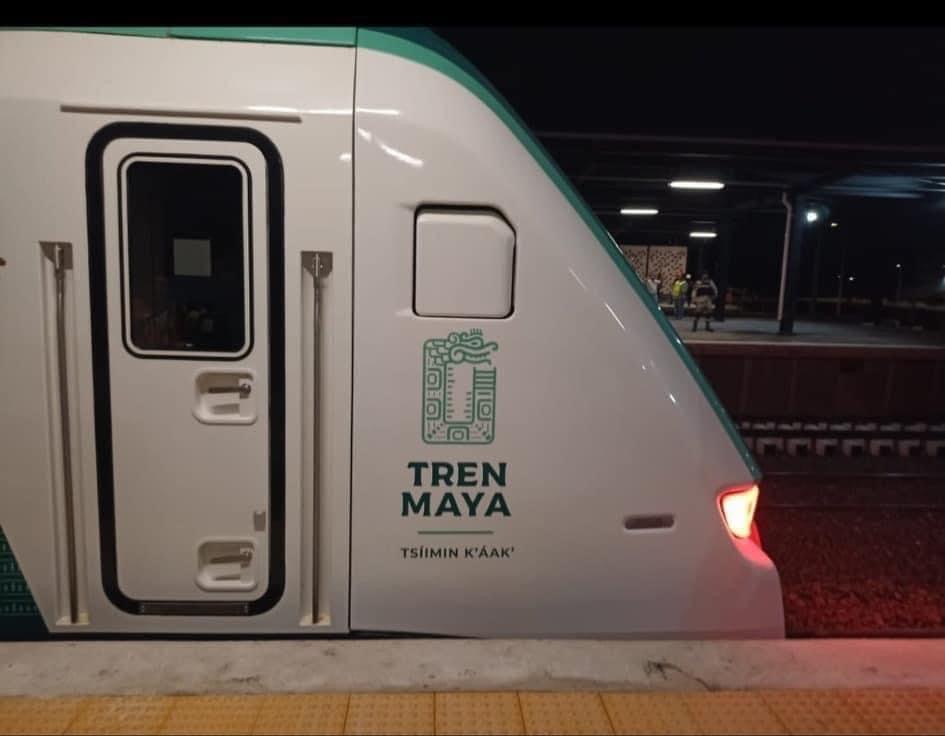 A train connecting all these popular destinations means economic growth for an already famous thriving tourist region.
For those unfamiliar, allow me to explain the sheer number of famous cities within the Quintana Roo and Yucatan region.
You've got Cancun, the most famous vacation city in the region, Puerto Morelos, Playa Del Carmen, Tulum, Bacalar, Chetumal, Valladolid, and more.
All of these cities are famous in their own right. So you can only imagine what the Mayan Train will do towards the movement within this region!
What is the Mayan Train Project?
Announced in September 2018 by the sitting Mexican government, the Mayan Train is a 1525 km train connecting all the major cities/towns in the Quintana Roo, Yucatan region, and a few other states.
Testing of the Mayan Train was successfully done on September 1st, 2023. With a planned launch for December 2023.
The route will encircle the peninsula, going from Cancun Airport to Palenque and connecting five different states: Chiapas, Tabasco, Campeche, Yucatan, and Quintana Roo.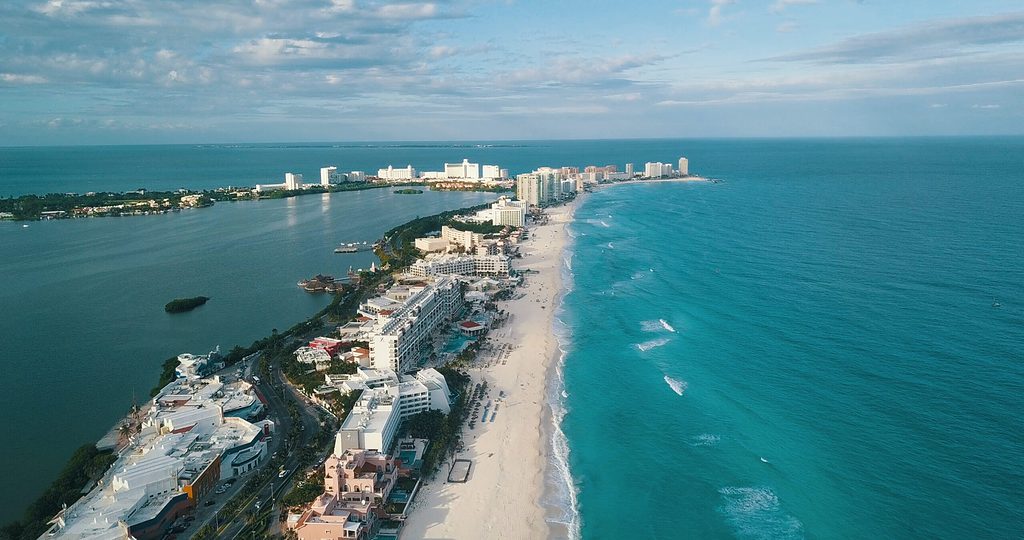 The diesel/electric train will be moving at a top speed of 160 KM/H, officially holding 300 passengers per car, and is estimated to attract as many as 10,000+ locals/tourists traveling around the region daily.
There will be 42 X'trapolis trains operating between 6 AM and 10 PM daily, seven days a week.
By the numbers, this project is supposed to cost the government an estimated 7.7 Billion US dollars. Still, they've gone well over budget, and it's now costing Mexico north of 25 Billion US dollars.
Why The Mayan Train is a Big Deal
As stated earlier, the Quintana Roo and Yucatan region is a famous destination for travelers worldwide. In fact, in 2021, at the highest point, Cancun International Airport saw north of 400,000 tourists flying in daily.
Yes, you read that right. That's a lot of tourists coming on vacation. Cancun International is the main airport for the region for international flights.
Many tourists landing in Cancun International Airport don't only stay in Cancun. Here is a list of popular destinations in the Quintana Roo and Yucatan region that you can visit by flying into Cancun International Airport, and soon, you will be able to get to these destinations from Cancun's airport using the Mayan train!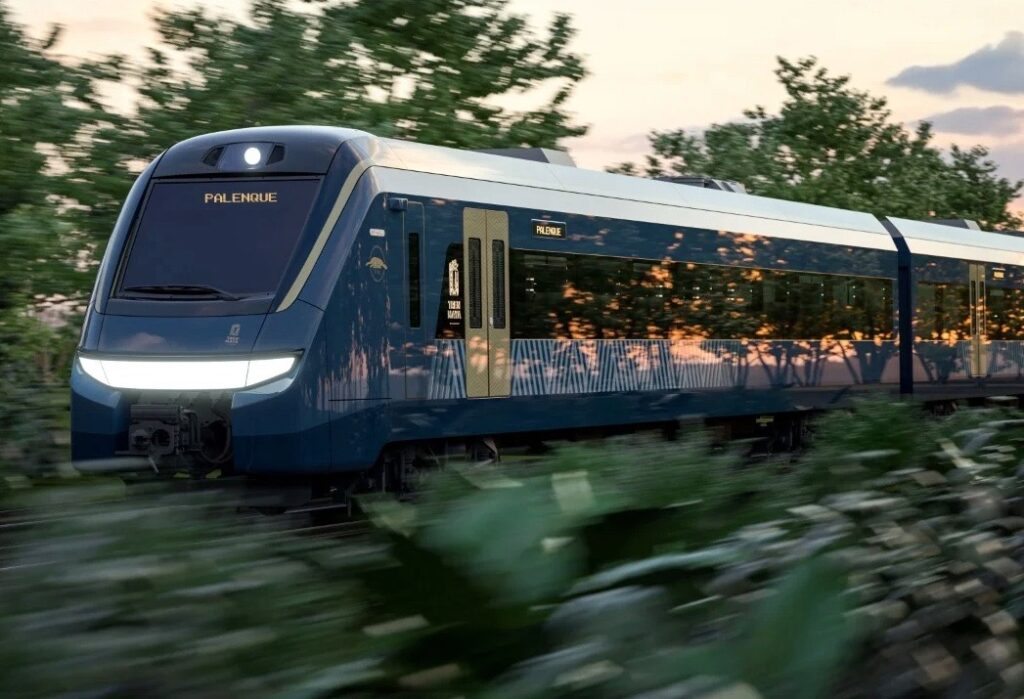 Cancun
Puerto Morelos
Playa Del Carmen
That is a long list of destinations if you ask me. Now, all these popular vacation destinations are only 1 to 4ish hours away from one another because of the ease of movement within the region.
It's easy to imagine what a train running at 160 km daily throughout the region would do economically for the entire region and each city's economy with stops for the Tren Maya.
At this moment, if you want to go to Playa Del Carmen, for example, you need to fly into Cancun International and then make your way to Playa Del Carmen by ADO bus, taxi, or private car, and it will take 1 hour. Tulum is the same thing, except it's 2 hours.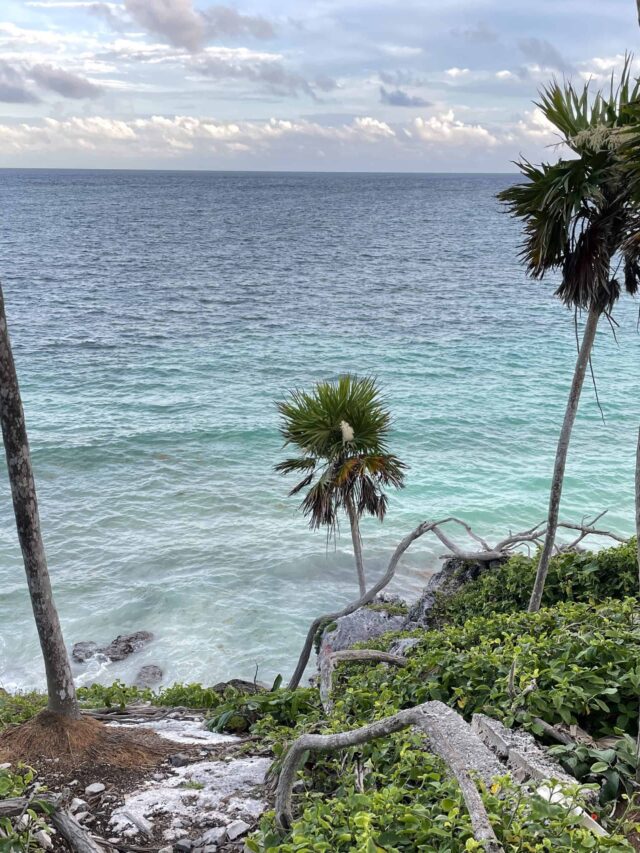 While the ADO bus does its job, it's outdated for a region seeing the number of tourists the Quintana Roo and Yucatan region sees daily. Trains are more practical, efficient, and, of course, quicker.
After years of traveling throughout the Quintana Roo region by taxi, rented car, and ADO bus, I can imagine how convenient it is knowing I can go to Tulum for the day from Playa Del Carmen and return later that day quickly by train.
The Mayan train will bring a modern experience to a relatively current region. You will feel like you're in Europe, getting off a plane and hopping on a train to go anywhere you want!
Where Will The Mayan Train Run?
As you can see below, this is the route map for the Mayan Train, making spots in various cities in all five states and crossing the famous Yucatan and Quintana Roo region – Take a look at the MAP Below
42 Trains will be operating the encircle route Daily
Mayan train will run from 6:00 AM till 10 PM / 7 Days a week – Leaving every station every two hours
The 18 stops for the Mayan Train will include:
Palenque, Chiapas – This is the first departure point located in the South
Boca del Cerro, Tabasco – Famous for it's Usumacinta River
El Triunfo, Tabasco – Known for Mayan architecture
Escarcega, Campeche – Small city
Xpujil, Campeche – Small city with Mayan ruins
San Francisco de Campeche, Campeche – Historical large city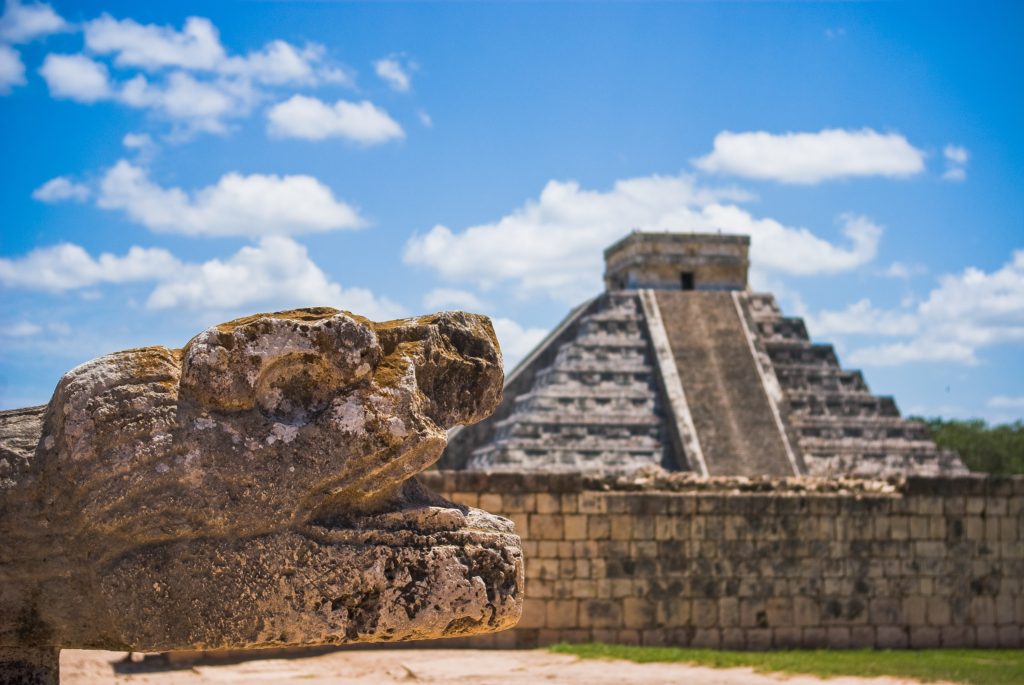 Merida (Airport) – Merida is the capital of the Yucatan and is famous for its food.
Izamal, Yucatan – Known as the Yellow City, it's a famous tourist attraction.
Chichen Itza, Yucatan – Home to the world-famous Chichen Itza site
Valladolid – The small city is known for being the closest city to Chichen Itza and cenotes
Nuevo Xcan, Quintana Roo – Home to the Xibalba Cenote and is the last stop before Cancun.
Cancun Airport – This will be the most popular stop for tourists.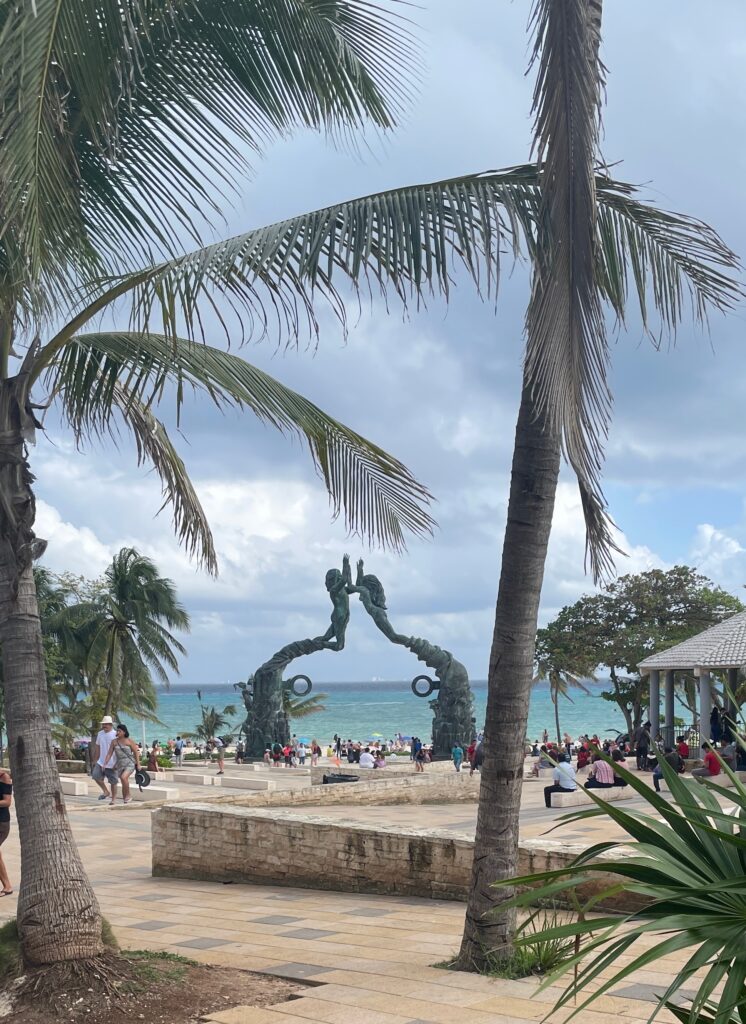 Puerto Morelos – Famous for its National Park, beaches, and being in between Cancun and Playa
Playa Del Carmen – Home to beaches, 5th Avenue Tourist Street, resorts, and more.
Tulum (Airport) – Tulum will have an airport soon, and the train will stop there.
Felipe Carrillo Puerto – Small town famous for its authentic Mexican food
Bacalar – Known for its famous Bacalar Lagoon, a must-visit
Chetumal (Airport) – Small city close to the Belize border. The train will stop at the airport here.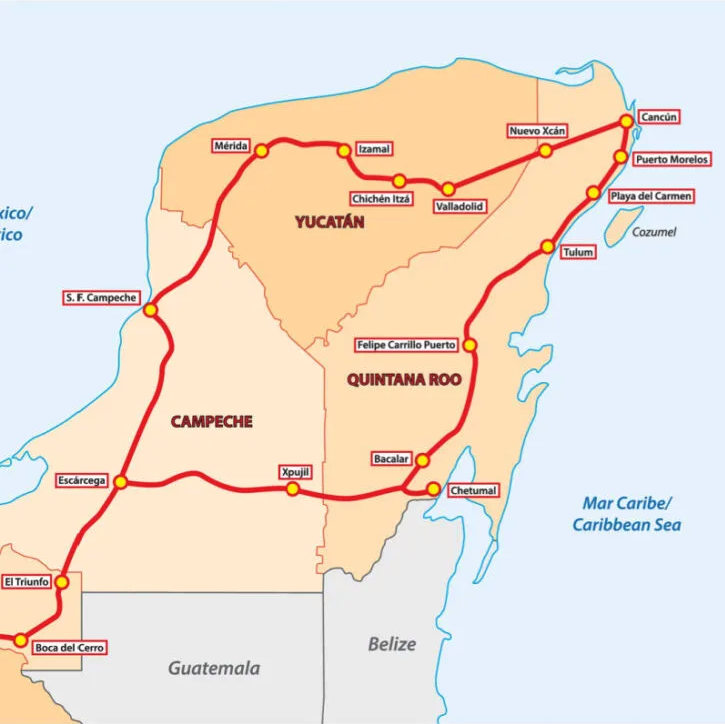 Mayan Train Controversy
The news of the new train going through many famous cities in this region was great news for some locals and tourists.
It was horrible news to many others. Some locals are fighting back and stating the railway construction is destroying a lot of jungles and affecting biodiversity. Some locals and biologists say the wildlife will also be affected, some already endangered species.
Over 25 injections in the Mexican court system have been filed over the construction of Tren Maya.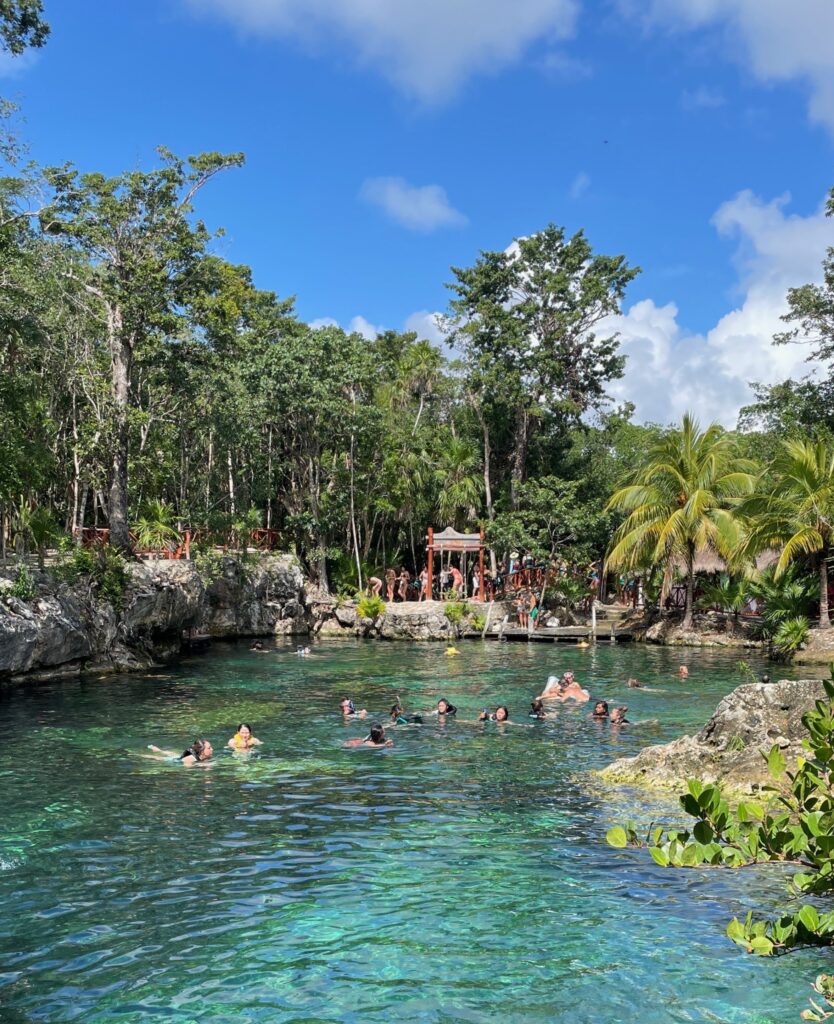 Another aspect they've said to consider is several cenotes within the regions. Biologists continue to share their thoughts about some cenotes collapsing, but it's too late as the train project is finished.
Despite some locals being unhappy with the change, others are excited about the train because of the future economic growth the train will bring to the region.
With 18 different spots on the route, many of these places will now be visited by tourists that were visited less before.
Is The Mayan Train Open?
The Maya train project has been completed. A recent announcement has stated the Maya train, or Tren Maya in Spanish, will be operational on December 1, 2023.
How Much Will Tickets Cost?
The price for tickets is currently a mystery. There has been no discussion or public press regarding the costs of tickets.
Many tourism agencies have heard approximately $30-$50 US (500-1000 pesos) per ticket, depending on the distance traveled. Tickets will be organized within the Tren Maya app.
Another unknown thing is luggage costs, whether each ticket will allow one piece of luggage or multiple or will luggage cost extra as a whole—all questions we would like to know.
What is known is that there will be three different types of tickets. A ticket for your regular passenger experience, another offering a dining-like experience, and one for longer routes offering a more comfortable experience.
Three different ticket prices are expected for the different types of train cars.
Xiinbal (Walking) — Designed for passengers coming on quickly
Janal (Eat) — Ideal for those looking to relax and dine as they ride the train
P'atal (Stay) — For longer distances, will include amenities such as a sleeping area
Once official ticket prices are announced, be sure to check back, as I will update this article with the info!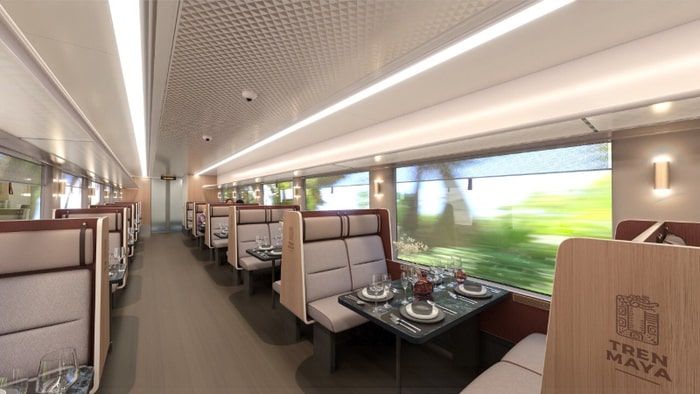 Mayan Train "Tren Maya" — Final Thoughts
I have mixed feelings about this project. On the one hand, I'm very excited because I know the inconveniences of traveling around the Yucatan and Quintana Roo regions firsthand.
After visiting over the years, I can only imagine this train's capability for the region. And I'm sure the Maya train will decrease the car/bus traffic on the main 307 highway along the Riviera Maya.
But on the other hand, I've done my research, and I'm aware of the rainforest/jungle deforestation, which includes 1200 km, clearing over 9 million trees. Not only that, but several native Mayans have been evicted to make way for this project.
I'm not taking a specific side here; I understand the economic growth and reasoning for the train, but I also understand the negative cause this project has had on the region.
I plan to revisit the Quintana Roo region next year, so I look forward to taking the train and seeing new cities I didn't get to last time!
Featured Image Credit: Alstrom/Government of Mexico
What is the status of the Mayan Train?
The Mayan train had a successful test run on September 1st, 2023, and plans for operations to begin for the train on December 1st, 2023, are going as planned.
What are the benefits of Tren Maya?
The benefit of Tren Maya is the capability to connect several popular cities and tourist destinations in a region where many cities are only 1 to 4 hours away.
Not only will this result in economic growth, but it will be easier for tourists/locals to get around the region.
What is the top speed of the Mayan Train?
160 KM/H will be the top speed the Mayan Train will reach when operational.
Is the Mayan Train finished?
The Mayan train is nearly finished; it had a successful test run on September 1st, 2023.
Subscribe to Travel Hiatus!
Receive updates on my latest posts, insider travel tips & the best destination guides to your inbox!
Happy & Safe Travels
---
Planning Checklist
---
Disclaimer: Please note that some of the links shared in this article might be affiliate links; this means that at absolutely no extra cost to you, we will earn a small commission for any sales generated through this article and/or this website. We recommend products/services we've either used or researched thoroughly – Thank you for supporting us so we can continue to share helpful travel content!