Benidorm, Spain – Best Complete Travel Guide
Benidorm is a small seaside town located on the Eastern side of Spain. The town was once a tiny fishing village, though it's far from that today. Benidorm is a Mediterranean holiday hotspot for tourists to enjoy its many beaches, bars/pubs, nightclubs, and more.
The coastal Spanish city's tourism has boomed in recent years. I mean, look at those many skyscrapers in Benidorm.
Many of these condos are owned by Europeans who frequent Bendirom every Summer. The closest big city to Benidorm is Valencia, just 90 minutes North.
This Spanish city is one of the most varied metropolises in the world. On one side is a lively party scene full of party lovers from around the globe, while on the other is a historic, beautiful, and richly populated old town.
Benidorm is also conveniently located close to the port city of Denia. From the town of Denia, you can access the famous islands of Spain, Ibiza, and Palma by ferry. The town of Denia is only a 30-minute drive North of Benidorm. Or you can take a flight from Alicante airport to Ibiza.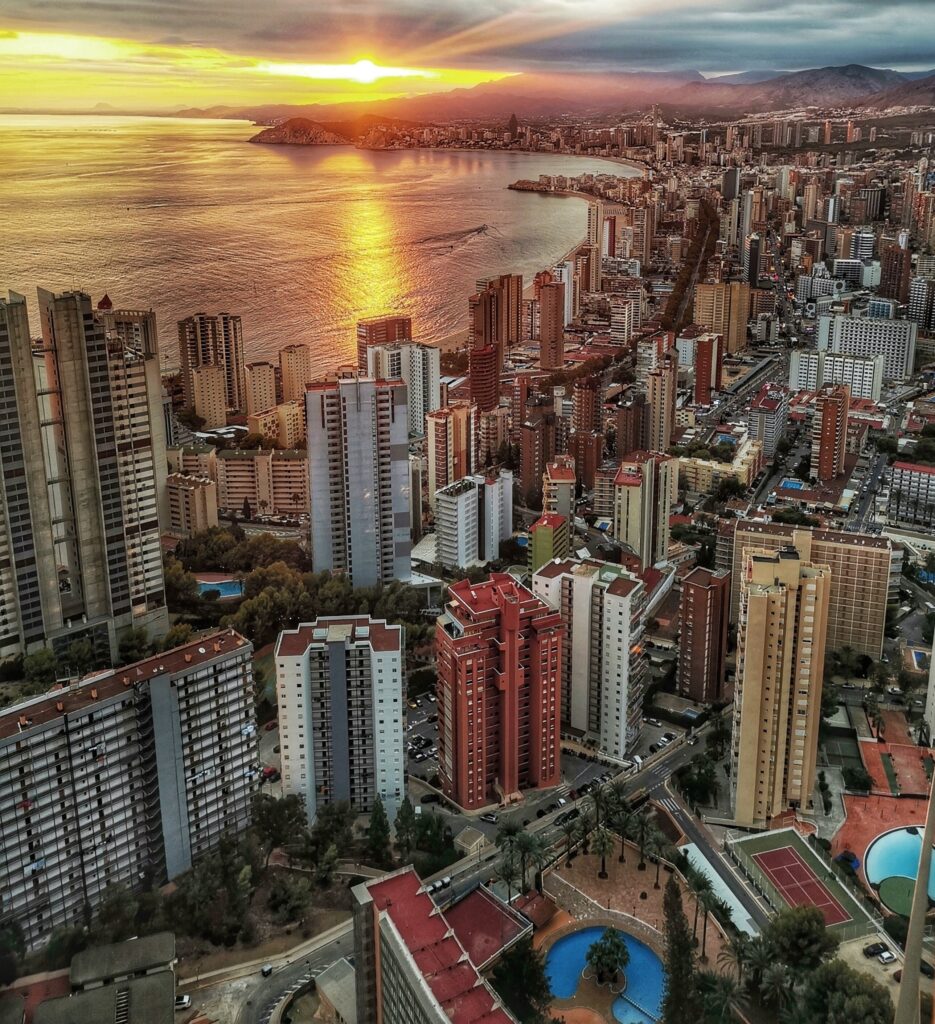 What's Benidorm Famous for?
Benidorm is famous for its many skyscrapers covering its skyline, beaches, lively nightlife, and overall being an exceptional holiday destination that caters to all visitors.
Bendirom is also known for its endless activities, such as golfing, amusement parks, day excursions, shopping, and pubs, cafes in the city center.
The city is called the "Manhattan of Spain" or "BeniYork" because of its many skyscrapers. There are currently more than 345 buildings high up along the coastline. They are all apartments and hotels offering stunning ocean views. Benidorm is one of Europe's most dense areas for residential buildings.
Most cities in Spain have strict development rules for the height of buildings. That is not the case in Benidorm; skyscrapers are everywhere you look here. This gives Benidorm a Miami or Panama City vibe.
For family vacations, a group of single friends, or solo trips, Benidorm is one of those places that caters to all. The central downtown core tends to be more fun and loud. And the old town, which is quieter and more relaxing.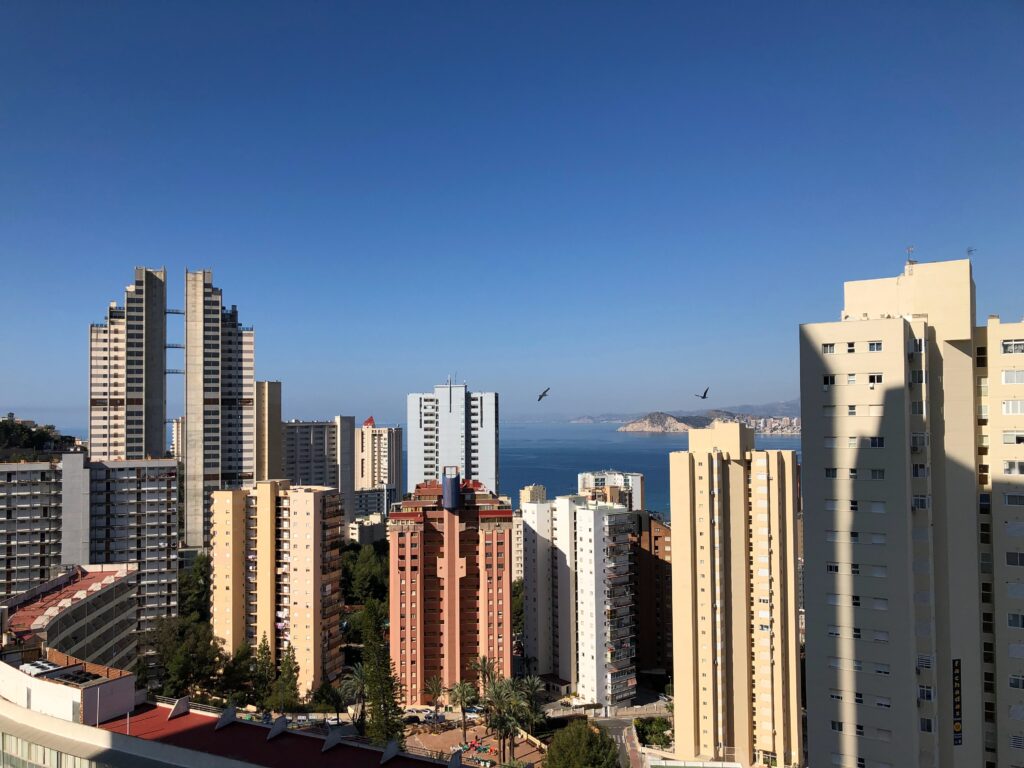 How to Get to Benidorm?
Benidorm doesn't have its own airport. So you can't fly into the city by direct flight. The closest airport to Benidorm is located in its neighboring city Alicante.
To find the cheapest flights to Benidorm / Alicante Airport (ALC), use SkyScanner to view all your options.
You have a few different ways to get to Benidorm from Alicante Airport. Alicante Airport is a 40-minute from Benidorm by car.
The airport shuttle is the cheapest and most convenient option if you're coming alone or with one/two other people.
But if you're coming with your family or a bigger group of friends, you'd be better off booking a private airport transfer.
READ ALSO: Lagos, Portugal Guide
Things To Do in Benidorm
Benidorm is full of many things to do; no matter what you're in the mood for that day, you will find something you'd like to do. It's all here for beaches, bars, pubs, shopping malls, amusement parks, golfing, and more.
Want to be active? There are plenty of spots to hike. Want to go shopping? Boutiques/malls are everywhere. Go day drinking and lounging at a beach club? Spa Day?
Or perhaps you're with your family and want to take the kids to a zoo or waterpark; the city has that too. There's something for everyone here!
Levante Beach / Benidorm Beaches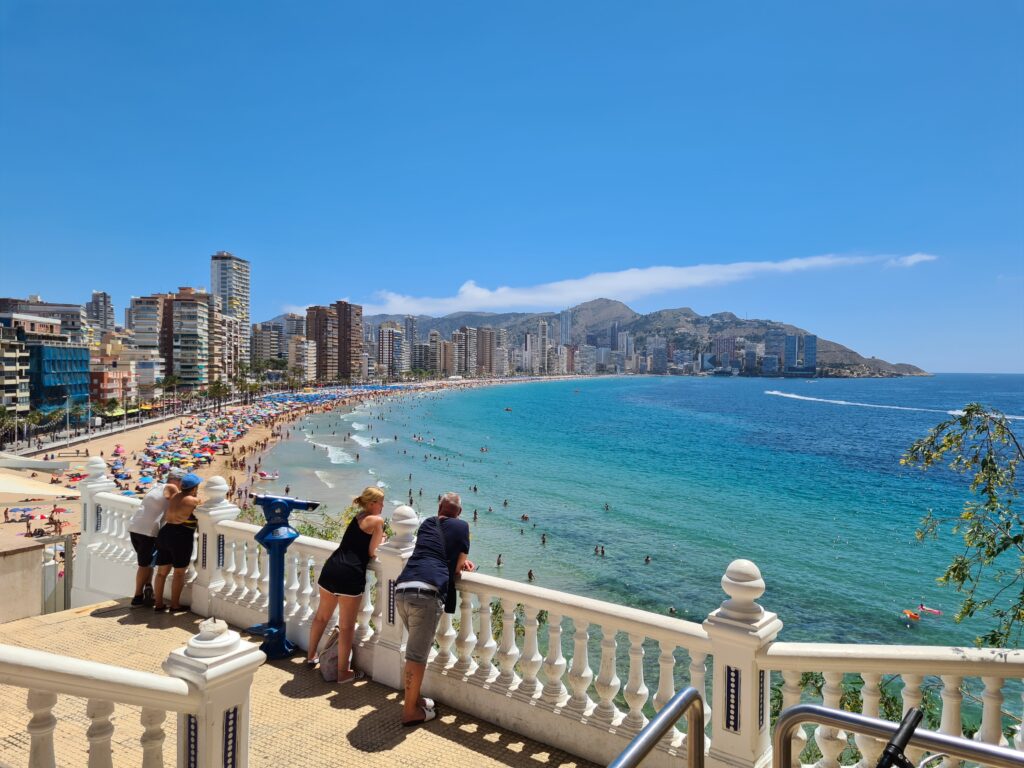 Levante Beach, also known as sunrise beach, is Benidorm's most visited and famous beach.
There are many water sports and activities available here for kids. If you want a lively atmosphere, this beach is for you. Avoid it if you prefer to sunbathe in quieter surroundings and visit one of the other beaches I suggested below.
While the beach is busy in summer, you can still find quiet places to retreat from the masses that tend to crowd the waterline.
Other Beaches in Benidorm:
Platgeta del Mal Pas
Playa de Poniete
Platja de La Cala de Finestrat
Explore Old Town Benidorm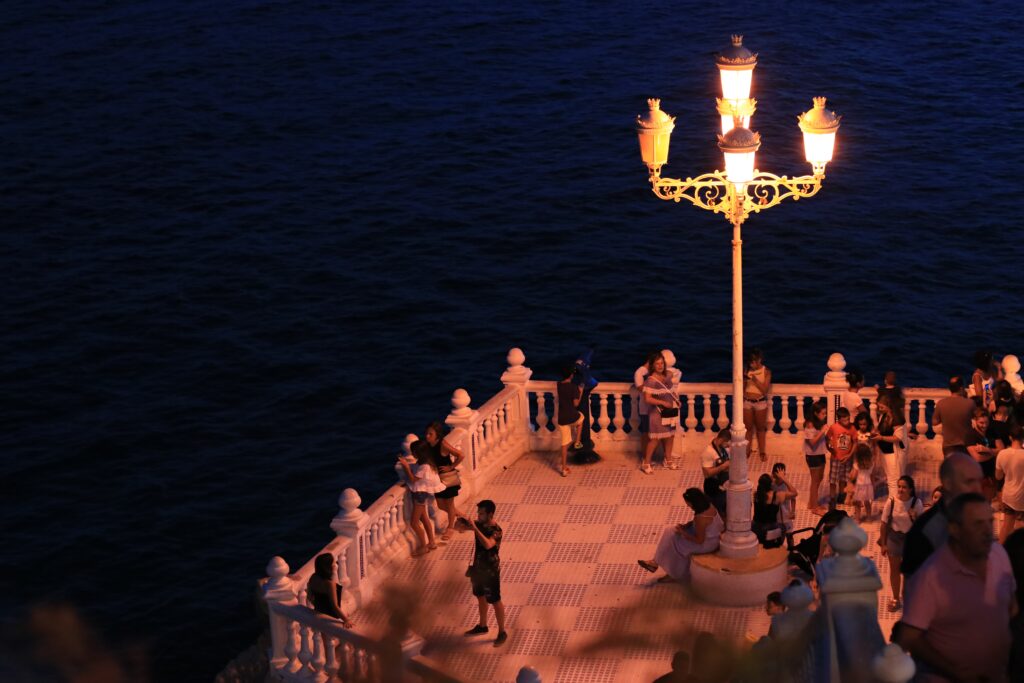 While Benidorm is known for its skyscrapers close to a beach shoreline, the Benidorm old town is a hidden cultural treasure in Benidorm.
Visitors can taste traditional Spanish architecture here, with its white-washed walls, unique features, and quirky details. It is one of the city's most charming areas.
The tiny Old Town Benidorm lies on a hill between the main beaches. It is a must-see when you visit. It contrasts the modern city's narrow streets and the beautiful church Esglesia de Sant Jaume I Santa Anna.
Photographed about is the Balcó de la Mediterrània, also known as the Mediterranean Balcony, one of Benidorm's most famous tourist attractions in the Old Town.
There are many lovely cafes and great restaurants in Old Town Benidorm. You can also find charming boutique hotels like the Gastrohotel Boutique RH Canfali, a long-standing famous hotel in the area.
The Cross (La Cruz)
It is worth visiting the Cross of Benidorm; it's one of the most famous landmarks in the city. This breathtaking attraction is situated on a hill overlooking the entire city from Siera Helada Natural Park.
The view from the town's top is stunning with its magnificent skyline and deep blue ocean. You can hike up to get to the cross. However, it is also possible to drive there.
The cross at the west of Benidorm was made a tourist attraction. It was then replaced by a permanent monument in 1975 after the old one was destroyed in a storm. Standing its time, The Cross (La Cruz) has continued to be a popular tourist spot.
Siera Helada Natural Park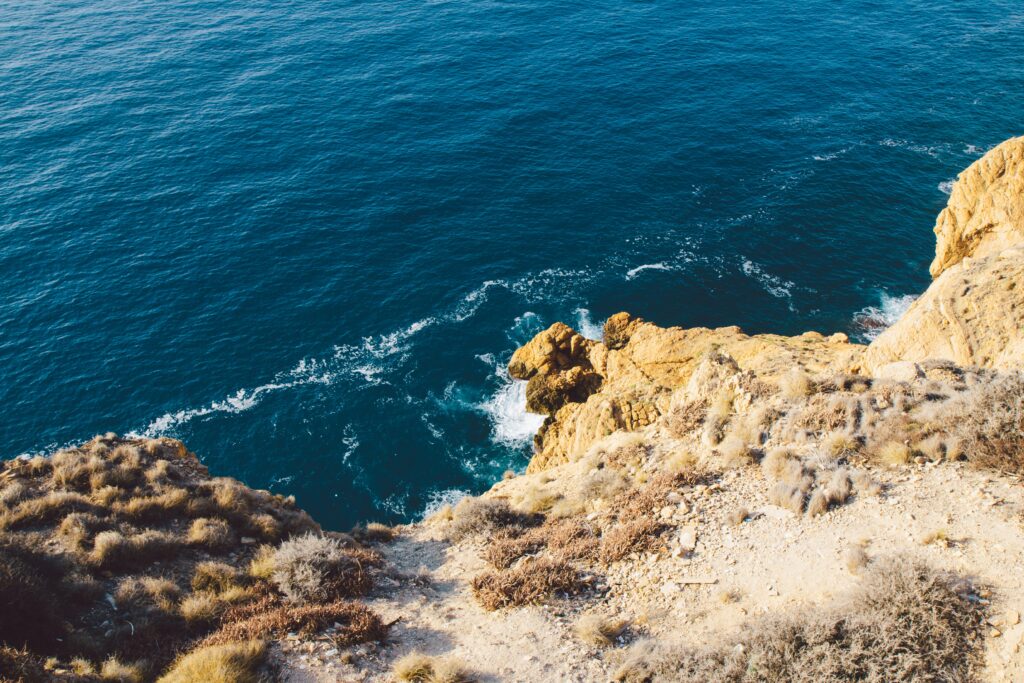 Sky-scraping towers can be left behind and replaced by sky-scraping cliffs in minutes. This is the magical part of this city that makes it so unique. Hiking, beach lounging, old town exploration, it can all be done here.
This picturesque view is one of Benidorm's most stunning natural attractions in Siera Helada Natural Park.
This hiking area boasts the highest cliffs along the east coast of Spain; the cliffs are more than 400m high. Start the coastal hike from Benidorm's cross.
Although the hike is steep, you'll be rewarded with stunning views and beautiful scenery once you reach the top.
The Northern road leads to a paved path to Albir Lighthouse.
Amusement Parks for Kids
For those visiting with families, Benidorm amusement parks are full of a wide range of activities your kids will love.
Conveniently, all amusement parks are located nearby. Here's a list of fun theme parks to take the kids to when visiting!
Aqualandia Benidorm – This is a huge outdoor water park fund for the whole family
Terra Natura – A wildlife and water theme complex park complete with a wide variety of activities
Mundomar – Animal park featuring marine life shows and more
Visit Altea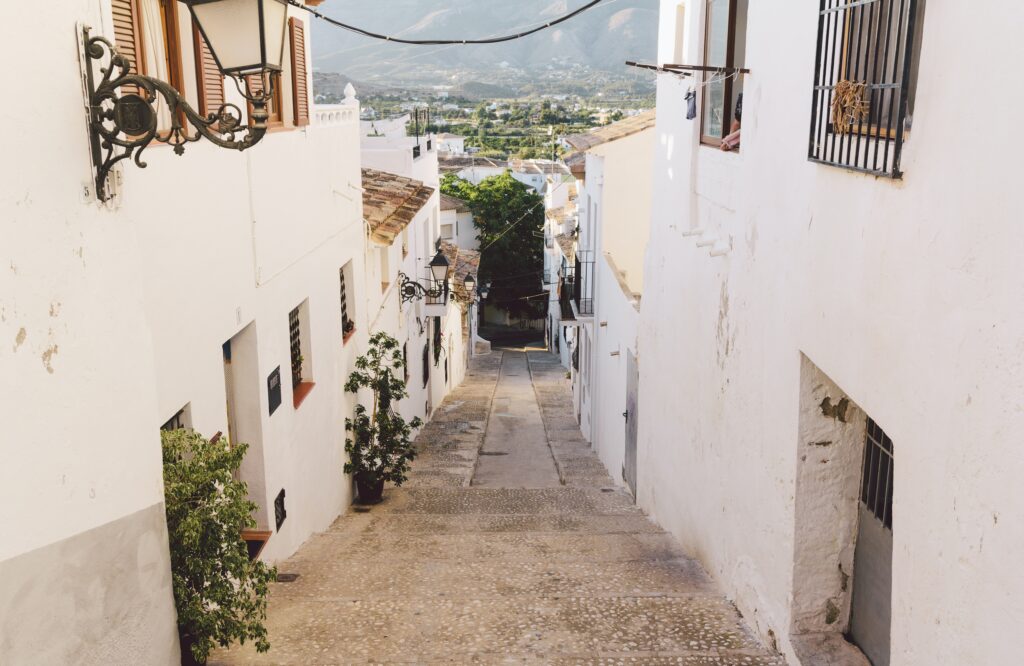 The port city of Altea is another essential attraction that can be found just around the corner. It is a particularly fascinating place to visit.
This town has white houses and is a unique spot in the region. Visiting the small town of Altea, you'll think you're in the hills of Santorini, Greece.
The small town is located on a hillside with a steep gradient and is filled with alleyways and stairways.
Altea is more peaceful than Benidorm and offers a unique old Mediterranean town to explore. Altea is approximately a 15-20 Minute drive from downtown Benidorm.
Benidorm Nightlife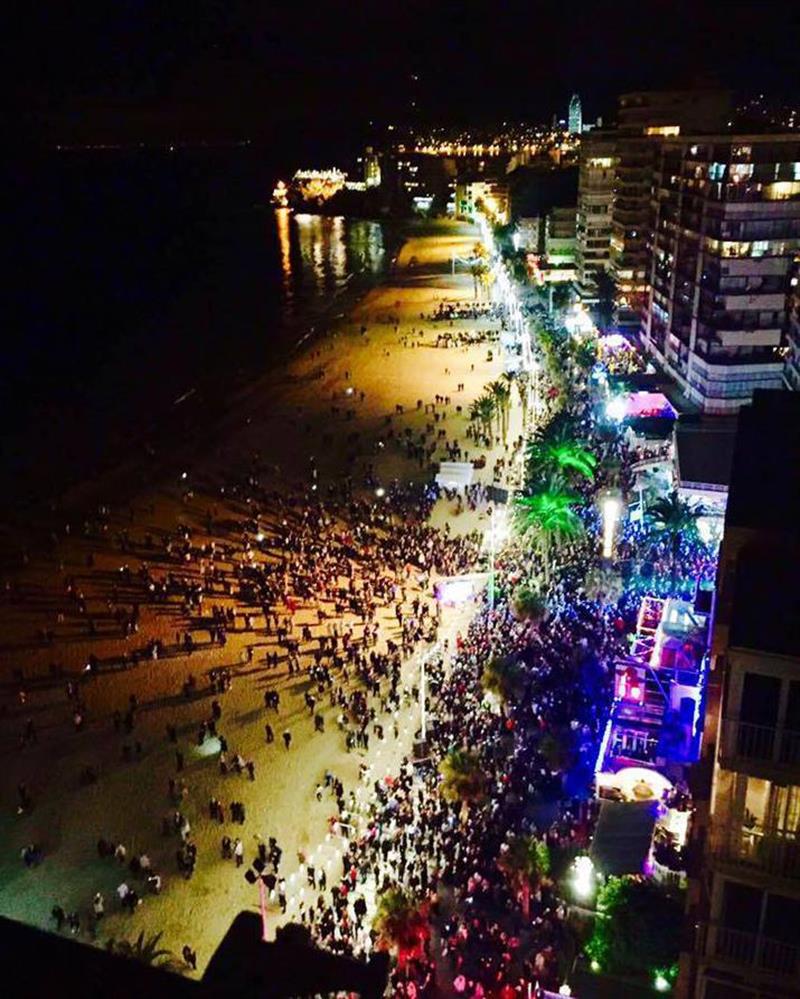 Benidorm is famous for its nightlife; take your pick at nightclubs, fancy cocktail bars, pubs, go-go bars, and much more. Many holiday goers come to Benidorm for this specific reason, the nightlife here is lively.
People party here in the high season until the early morning hours. The best nightclubs in Benidorm are KM Playa and Discoteca Pelelope Benidorm.
Don't forget the pubs; the city has so many darn pubs. There's a reason British people love this city; it caters to their love of pubs.
There are concerts, karaoke bars, and cabaret shows for those looking for different entertainment options in the evening.
Benidorm summer nights are far from boring; there's an array of things to do into the late morning hours every night.
Benidorm Hotels
Benidorm is not short of accommodation options, from boutique hotels to large hotel chains and all inclusive apartments and more.
These are the best Bendiform hotels at each price point, whether coming here on a budget or looking for a 5 Stars hotel.
It also depends on the time you decide to visit; prices are higher for accommodations during the high season. The high season is during the Summer months, June through the end of August.
If you want the cheapest accommodations, go during shoulder season, though it will be too cold for the beach.
Hotel Boutique Villa Venecia – 5 Stars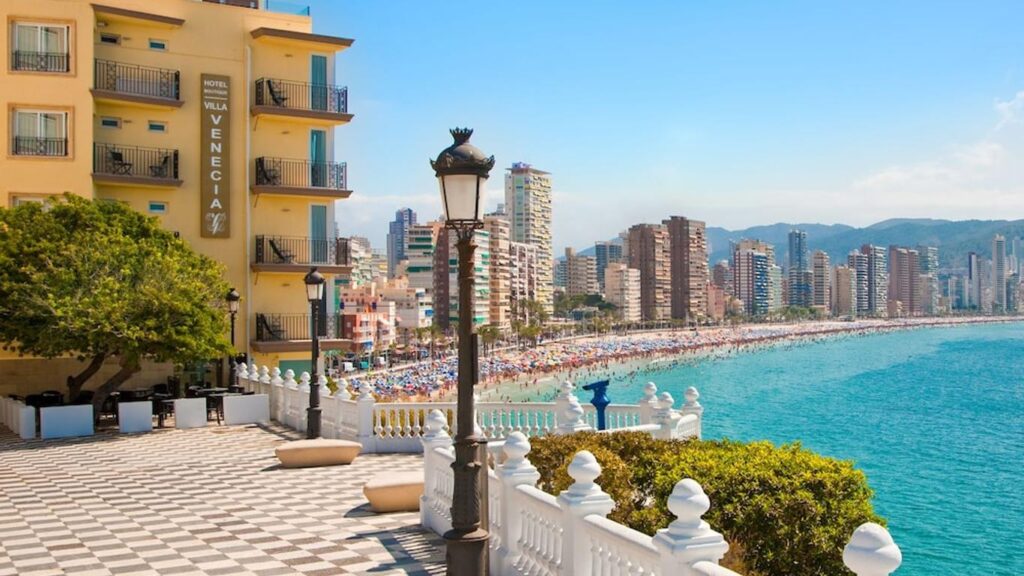 Villa Venecia Hotel Boutique is next to Levante Beach(the main city beach).
This boutique hotel has a beautiful terrace above the hotel with spectacular sea views. There's also a stylish bar on the deck, so you can conveniently enjoy a drink while gazing at the sunset in the evening.
All rooms have free Wi-Fi, a flat-screen TV, and a hydromassage bathtub. The best part about this hotel is each room here has a view of the sea and town.
Inside the hotel is Lium del Mar, a restaurant that serves Mediterranean cuisine and fine wines from all over the country. Other features include a spa and sauna, and massages are available on a request basis.
Gastro Boutique RH Canfali – 4 Stars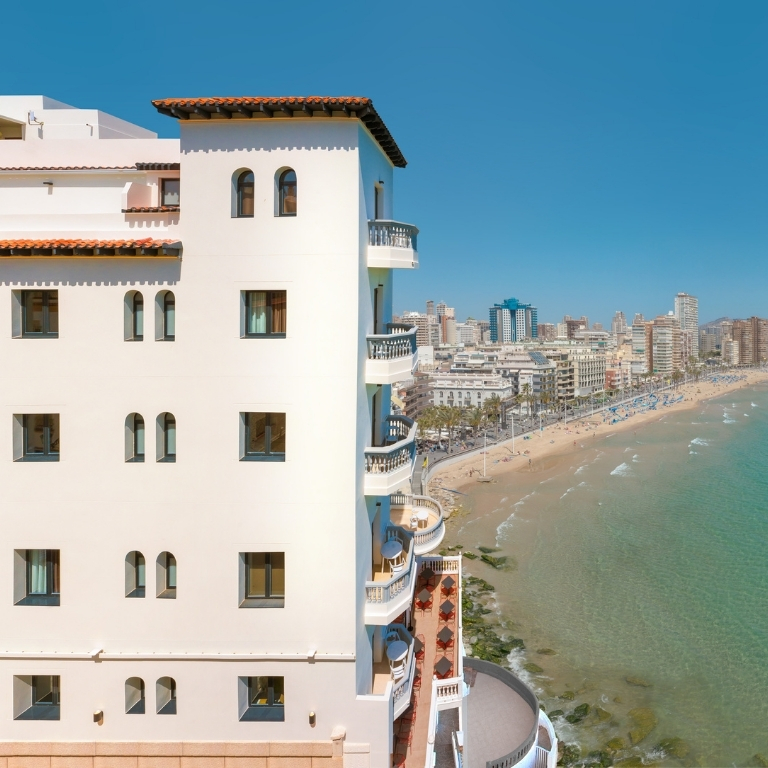 Possibly the most well-known historic hotel to stay at in the whole city. The Gastrohotel RH Canfali is located in Benidorm's old town center and offers stunning views of the Mediterranean Sea.
The historic hotel is conveniently close to the bars, best restaurants, and nightlife.
All rooms have stunning views of Benidorm Bay; the rooftop terrace offers must-see sights—a great spot for early morning breakfast or a cocktail in the evening.
H10 Porto Poniente – 4 Stars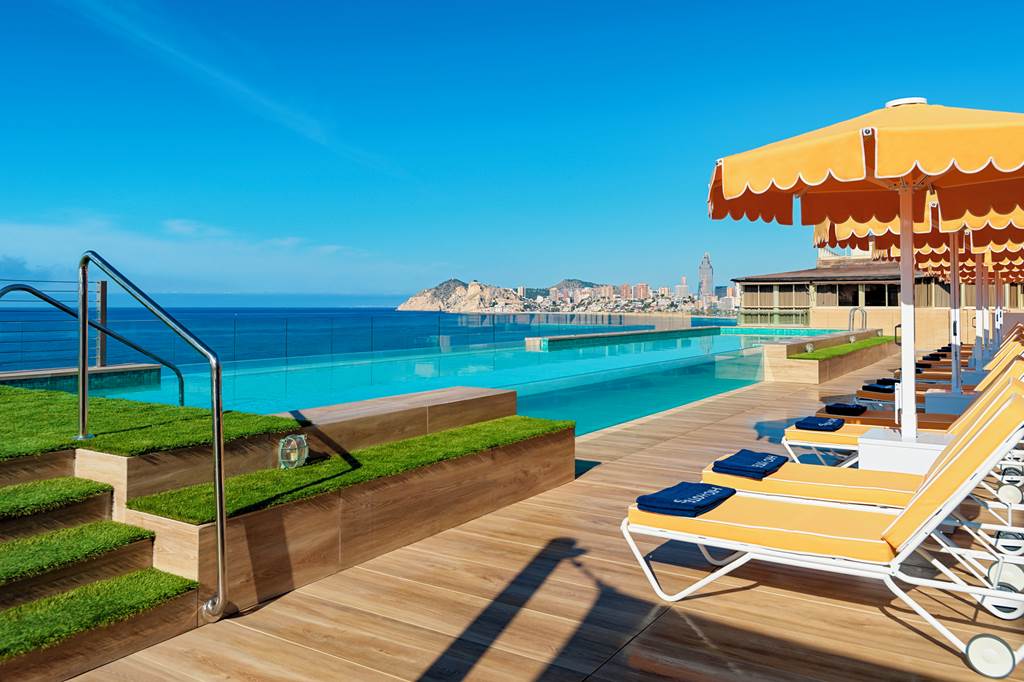 H10 Porto Poniente is located next to Poniente Beach. It offers two plunge pools and stunning sea views.
There is a heated pool and a gym at the Despacio Spa Centre, which is only for adults. The suites are well-lit, have air conditioning, and have free WiFi.
The hotel is also conveniently located on the beach; many rooms have stunning sea views.
You will also find the Tortuga Restaurant and Marea Alta Rooftop bar inside the hotel. The rooftop has stunning views, and you can expect a gathering in the evening—a great hotel choice for those looking to be by the beach.
Hostal Anna Benidrom – Hostel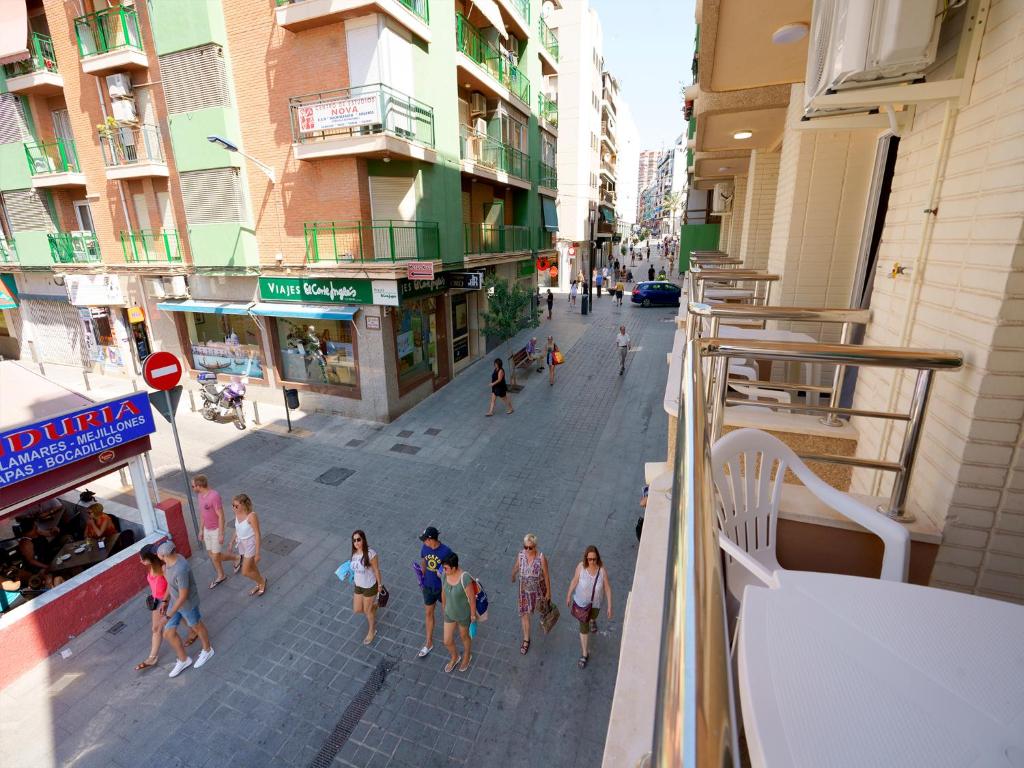 Hostel Anna is clean, modern, and well-equipped in the Old Town of Benidorm. It's an excellent option for those looking to be more budget-friendly. It's about 600 meters from central Levante Beach and 450 meters from Poniente Beach.
Despite costing less than the other options on this list, Hostal Anna in Benidorm is conveniently close to everything.
Rooms are modern and clean and come with a microwave, fridge, tv, and private washroom. Daily housekeeping is available, and WiFi is free. This hostel is an excellent idea for those looking to visit on a budget.
Benidorm Restaurants
There are plenty of different types of cuisines in Benidorm. Because this famous seaside city attracts tourists from all over Europe. Restaurants here cater to all sorts of food cravings.
You'll find several classic Spanish restaurants, British pubs, and various Asian fusion restaurants.
In this list of restaurant recommendations, I stayed on theme with Spanish cuisine because one is visiting Spain, after all.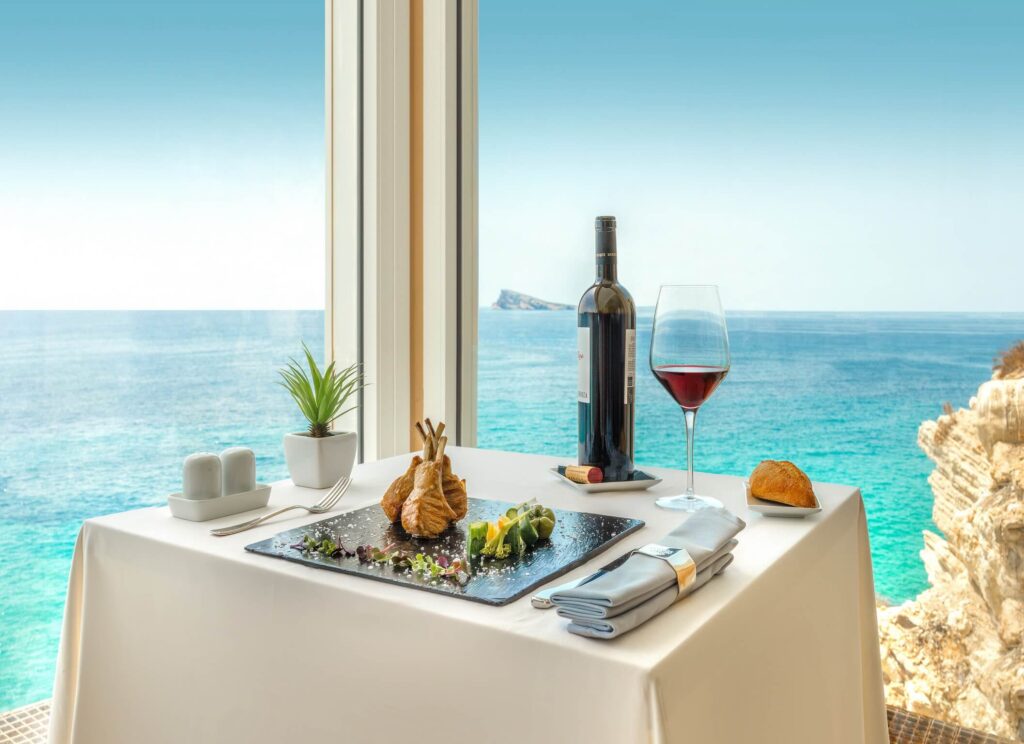 Llum del Mar is part of the hotel Villa Venecia, but not to worry, you don't need to be a guest to dine here.
The restaurant offers an array of flavourful and eye-appealing Mediterranean cuisine alongside stunning sea views. What's not to love?
Lamb chops, sea bass cooked perfectly, stunning charcuterie boards, and desserts that will have you craving more. The food here is delicious.
I highly recommend this restaurant even more if you're with a loved one. The outdoor seating gives a romantic touch to your evening.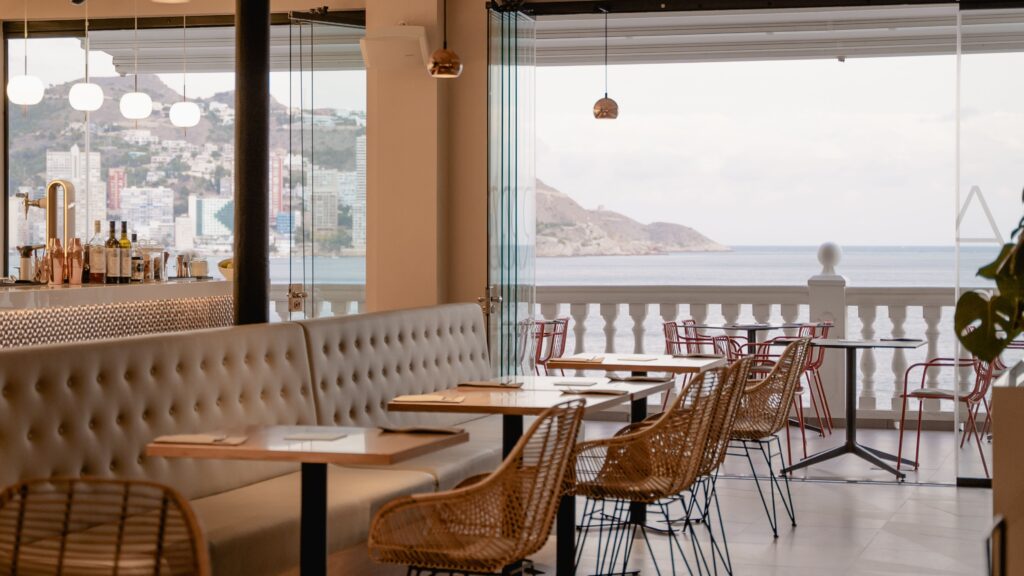 Another restaurant with great food and beautiful sea views, D-vora, is on a terrace, so the views are extra spectacular.
D-vora also offers a mix of Mediterranean and Spanish dishes. They're well known for their ceviche and juane dishes.
Their menu has an extensive list of local wines, beers, and liqueurs. Get the hot brownie with caramel ice cream and fresh fruit for dessert.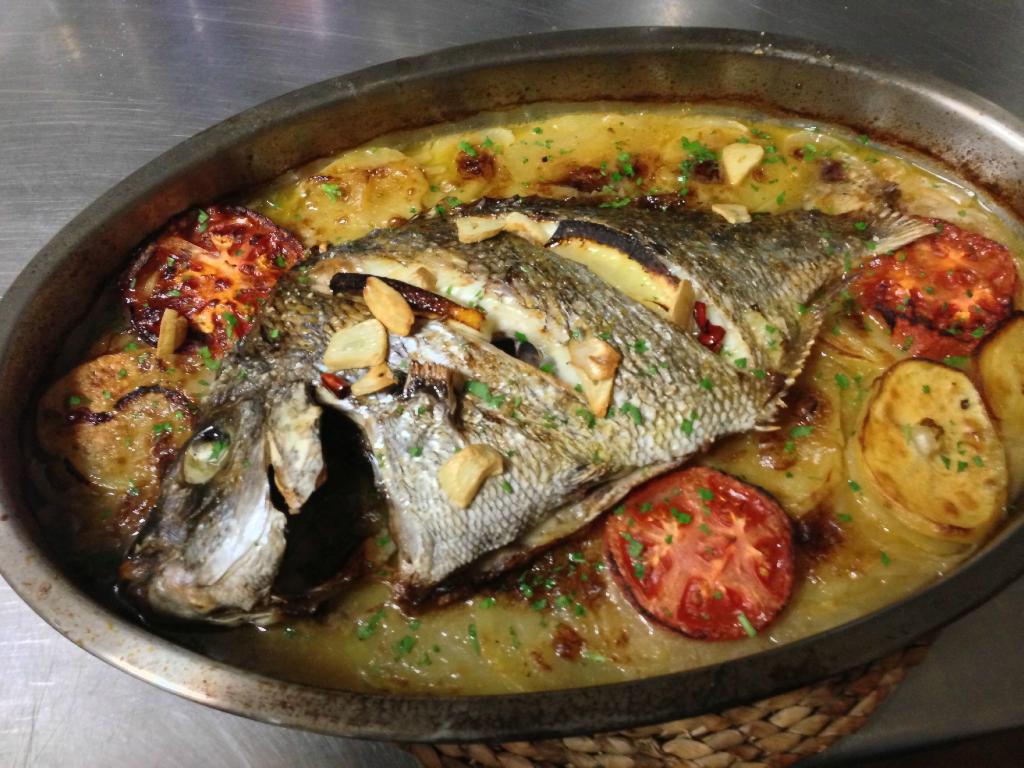 Casa Toni is different from the other two places on this list; there are no seaside views or fancy eye-appealing plates carefully decorated. This place is casual Spanish, served to you as you'd eat at home.
Serving up a wide choice of different Spanish seafood dishes. Despite being third on this list, I highly recommend you go.
Fresh prawns were terrific, the paella was perfectly cooked, and who doesn't love a side of fresh sea oysters? Remember to try the octopus or squid, too. The restaurant is located just an 8-minute walk North of Levante Beach.
Cheap Eats in Benidorm
Here's a short list of cheap restaurants for food in the city center to consider!
La Mejillonera
Mamma Leone
Altona
La Bahia
Is Benidorm Expensive? – Average Travel Costs
It all depends on two factors; how are you looking to experience Benidorm?
If you compare Benidorm to other popular holiday places in Spain, such as Ibiza, Palma, Malaga, Barcelona, and Marbella.
Benidorm is the cheapest place to holiday in compared to these other popular Spain holiday destinations.
Here is an average price for a seven-day holiday in Benidorm, including travel, food, and accommodations. I've listed below the costs you can expect to pay, depending on if you're going alone or with others.
Solo Traveler: €1,300
Couple: €2,100
Family of Four: €4,000
For those looking to visit and strategically budget their trip, prices are slightly lower than listed above.
Here is an average price you should expect to pay for seven-day Benidorm holidays. Again, this includes travel, food, and accommodations.
Budget Solo Traveler: €800
Budget Couple's Trip: €1,800
Budget Family Vacation of Four: €3,800
Now for those looking to experience a more luxurious trip to Benidorm, here is an estimate of the prices you should expect to pay.
There's no ceiling regarding the cost of a luxury trip, but this is an average spend.
Luxury Solo Traveler: €5,000
Luxury Couple's Trip: €8,500
Luxury Family Vacation of Four: €15,000
Is it Expensive in Benidorm?
It depends on what you're comparing Benidorm to; for a European holiday, Benidorm is considered cheap!
The convenience you get in Benidorm is excellent; everything is close to each other. So you don't have to worry about spending too much on transportation here.
If you're looking to holiday in Spain but not break the bank, Benidorm is a great place to do just that.
If you're still considering Spain or perhaps somewhere else for your holiday country, here's a list of the cheapest Summer destinations in the world.
And for those looking for a luxurious holiday and ready to spend, I recommend Positano Italy!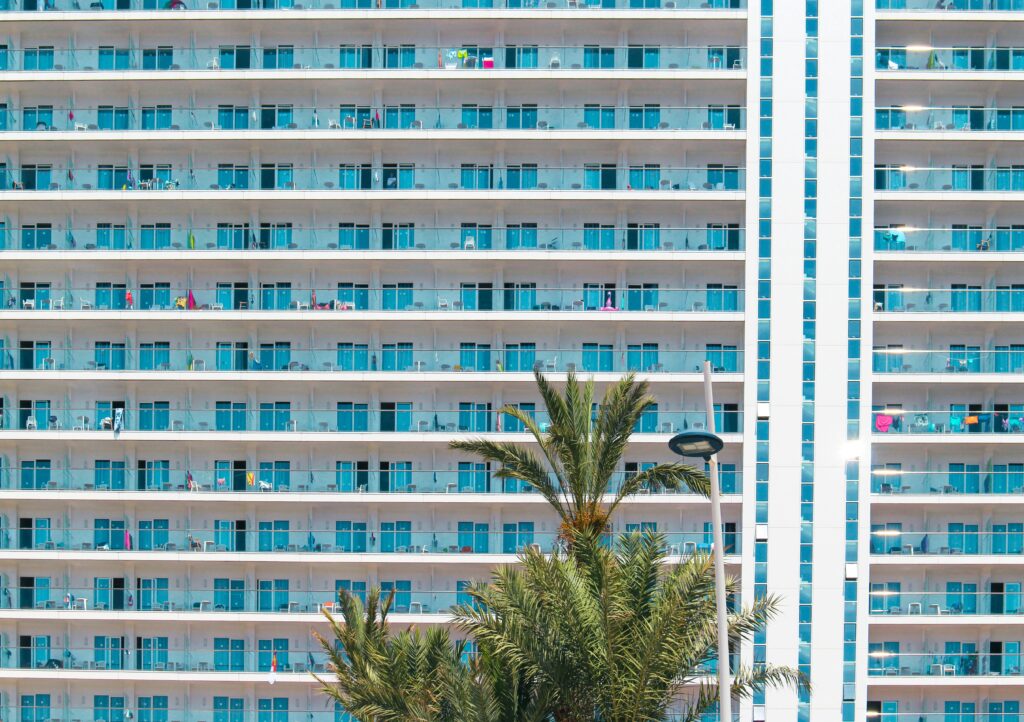 Benidorm Weather All Year Round – Best Time to Visit
Benidorm enjoys a Mediterranean climate, where the summers are long, and the winters are relatively short.
During the summer, you can expect a temperature of around 20-30 °C. During winter, you can expect temperatures of about 12-18 °C. Not a bad winter for those who hate the cold!
The best time to go is June through August for those who love the sun and plan on going to the beach. Sometimes September gives similar temperatures to the summer, but nothing is guaranteed!
The weather in Benidorm from September to April is considered the off-season months when you can expect rain. But it's not too frequent!
Is Benidorm Worth Visiting?
Yes, it's worth visiting. A Benidorm vacation is a great idea, especially for those looking to holiday in Spain and would prefer to spend less than in other popular holiday cities in Spain.
I said it before, and I'll repeat it, what I love about this city is how convenient everything is.
With so much at your doorstep, getting to most places you'd like to go is easy. Also, because the city is small, it's hard to get lost here.
Why do Brits go to Benidorm?
When visiting Benidorm, you will quickly notice many British tourists there. This is because Benidorm has done an excellent job catering to Brits; the city is covered in pubs serving English cuisine. Also, many Brits have apartments here purchased long ago.
Lastly, there's a British series called "Benidorm," a popular sitcom show in Benidorm. So you can imagine a Benidorm tv show only adds to the already famous seaside town.
Is Benidorm Safe?
Yes, it's perfectly safe in here. You've got nothing to worry about, even walking at night.
Of course, use your big city intuition, watch for pick-pocketing, be aware of your surroundings, and keep your belongings close.
Make sure to purchase travel insurance before visiting Spain.
Those who usually go to Benidorm in the summer but then leave Benidorm in the winter because of the colder climate. Head to Playa Del Carmen or Puerto Escondido, where it's hot in the winter; that's my recommendation for those looking to escape winter climates.
Subscribe to Travel Hiatus!
Receive updates on my latest posts, insider travel tips & the best destination guides to your inbox!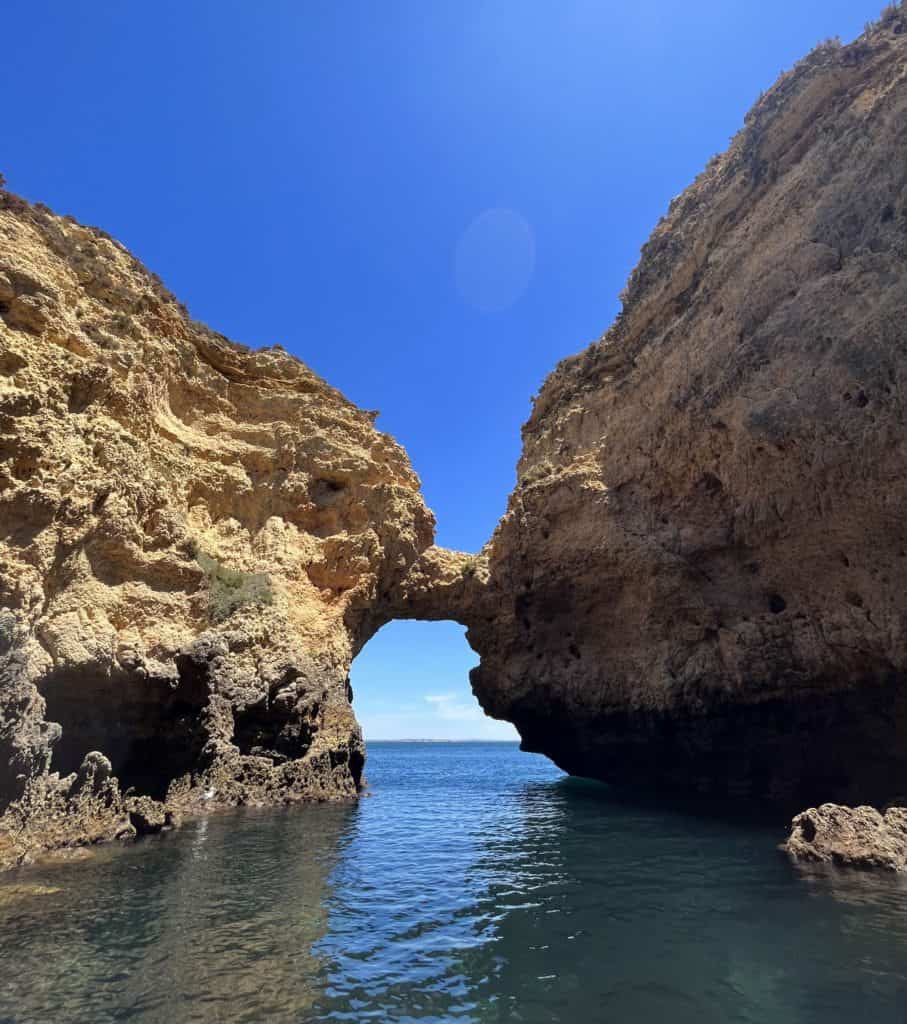 Featured Image Credit: Maksim Ivanov
Happy & Safe Travels
---
Planning Checklist
---
Disclaimer: Please note that some of the links shared in this article might be affiliate links; this means that at absolutely no extra cost to you, we will earn a small commission for any sales generated through this article and/or this website. We recommend products/services we've either used or researched thoroughly – Thank you for supporting us so we can continue to share helpful travel content!