Is Holbox Expensive To Visit? Cost Guide
Holbox is one of the most laidback/relaxing places in the Quintana Roo region of Mexico, but is Holbox expensive to visit?
No, Holbox is not expensive to visit. Holbox is mid-range priced; the average cost of a seven-day vacation for one person to Holbox is $950 US per traveler.
This includes accommodations, eating out, and a budget for activities. This figure doesn't include flight/transportation costs to get there. Transportation costs are not needed there; you can walk everywhere in Holbox.
When comparing Holbox against other destinations in the region, like Cancun, Puerto Morelos, and Tulum, Holbox is cheaper to visit than other places!
Random Note: The word "Isla" in Spanish means "island" in English; some call it "Isla Holbox," and others call it Holbox!
I'll cover budget-friendly, mid-range, and luxurious ways to enjoy Holbox. Average daily costs again will include hotel, eating out, and activities/day tours — some data assisted by ChampionTravel
A factor of price when visiting Holbox is the time of year you choose to visit, which affects both hotel and flight prices. Hotels/Flights are cheaper in Holbox during the off-season (May-October)!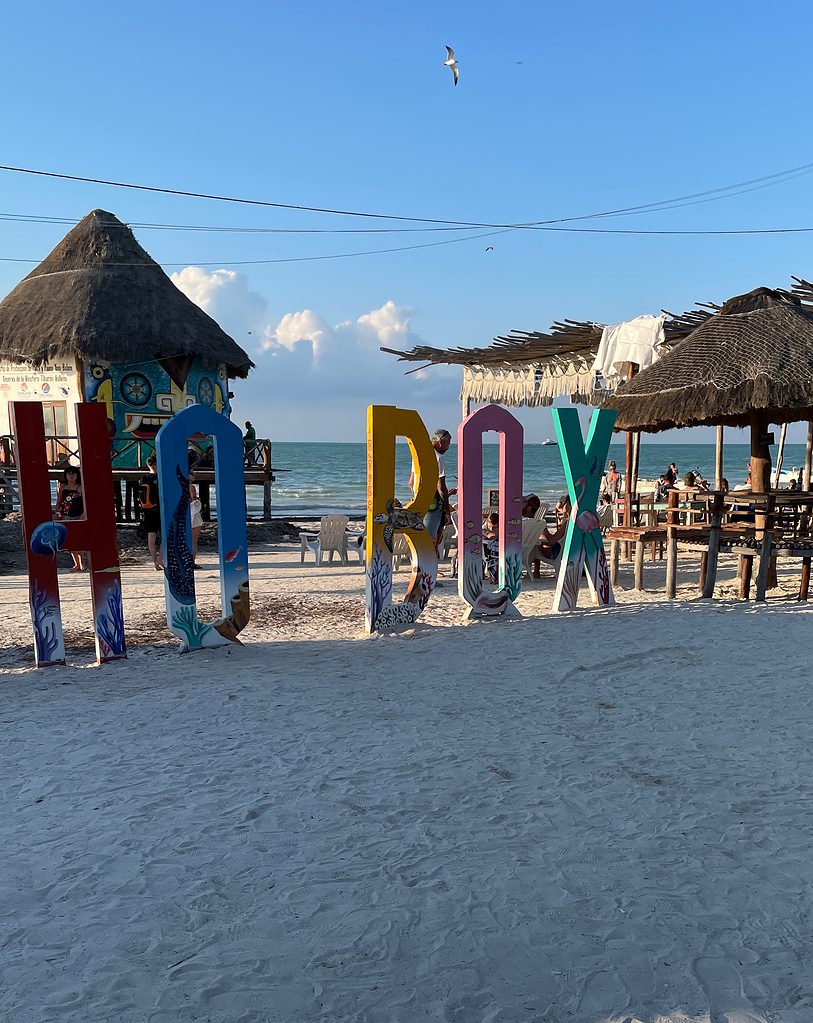 Getting to Isla Holbox
First, you must fly into Cancun International Airport, the closest major airport to Holbox.
Once you've arrived at Cancun Airport, you must go to Chiquila, a small town where the ferries depart to get to Holbox. It takes 2 hours to get to Chiquila from Cancun Airport.
Here are the different ways to get from Cancun Airport to Chiquila:
Once you've arrived in the tiny town of Chiquila, you must walk north towards the ferries departing to Holbox.
TIP: Avoid anyone randomly on the street selling ferry tickets.
You can purchase your ferry ticket; from Chiquila to Holbox, the ferry takes 20 minutes.
Once you arrive at Holbox, you will spot several yellow golf cart taxis ready to take you to your hotel with your bags. They charge anywhere from $6 – $12 US to bring you to your hotel.
You can always walk; most hotels and resorts are a maximum 15-minute walk in Holbox from the ferry dock. However, the streets in Holbox aren't paved, and it is hard to push a suitcase around.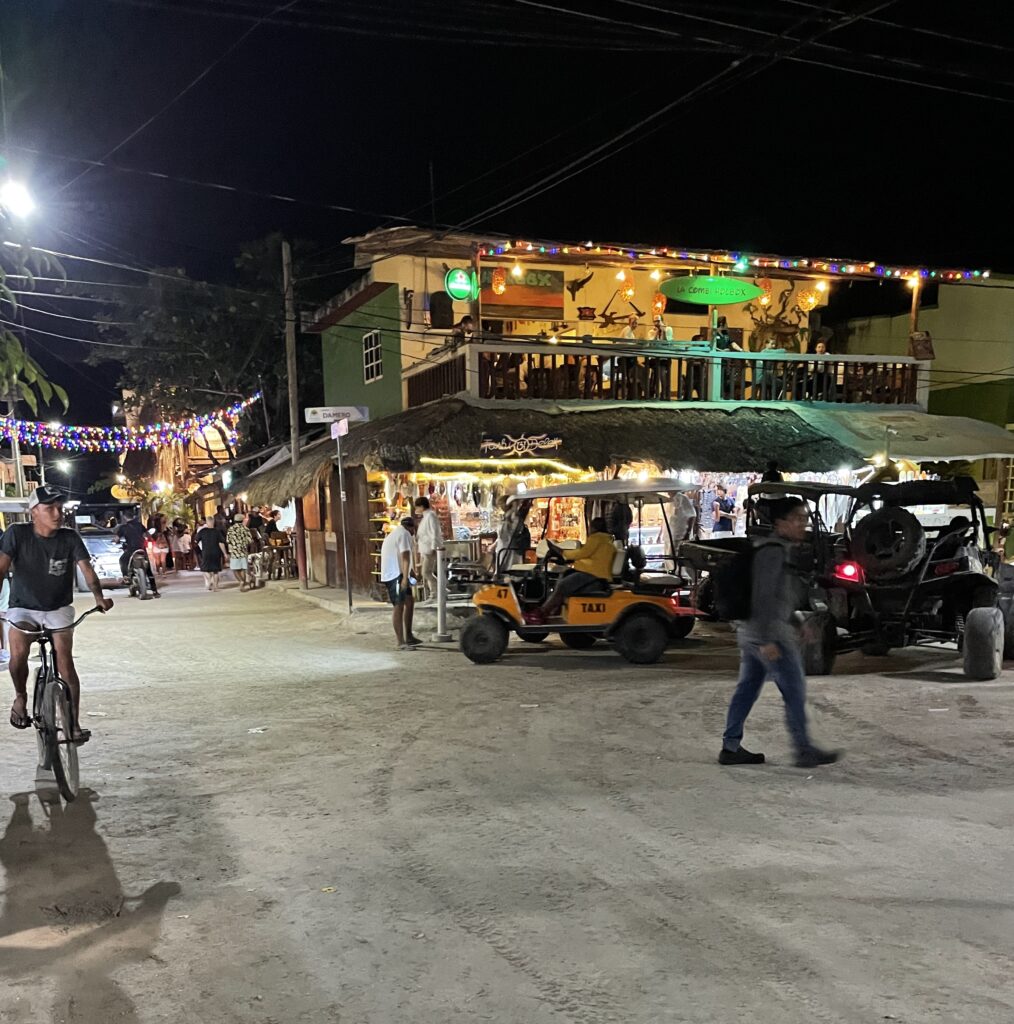 Where to Stay in Holbox
There are many hotels to choose from in Holbox; accommodations here are either in Holbox Town or along the central main Beach.
In Holbox, you'll find small resorts, boutique hotels, and several hostel stays. Below, I've compiled the best hotels in Holbox by budget type for you!
Cheap Hotel Prices: $40 – $90 US
Mid-Range Hotel Average Prices: $170 – $320 US
Luxury Hotel Average Prices: $400 – $500+ US
All hotels and accommodations in Holbox cost slightly more during the high season, November to April.
Cheap Hotels in Holbox
Che Holbox Hostel & Bar: Known for its fun pool bar, Che is the most popular hostel in town, offering both dorm & private rooms
Tribu Hostel: Located steps away from the main beach, Tribu Hostel is a fun jungle-vibe hostel with a spacious communal space and restaurant
Mid Range Hotels in Holbox
Hotel Para Ti: This Fun Adult Only hotel is located in the center of town and is known for its jungle decor, spacious rooms, and fun rooftop bar
Las Nubes de Holbox: Stunning boutique hotel located along the main beach; known for its beautiful patio with exceptional ocean views
Luxury Hotels in Holbox
Hotel Villas Flamingos: Best described as luxurious bohemian chic, Villas Flamingos is located along the main beach, offering private villas with either ocean or jungle views
Mystique Holbox: Beautiful resort-style hotel located minutes from the beach and center of town, offering spacious rooms and many exceptional on-site amenities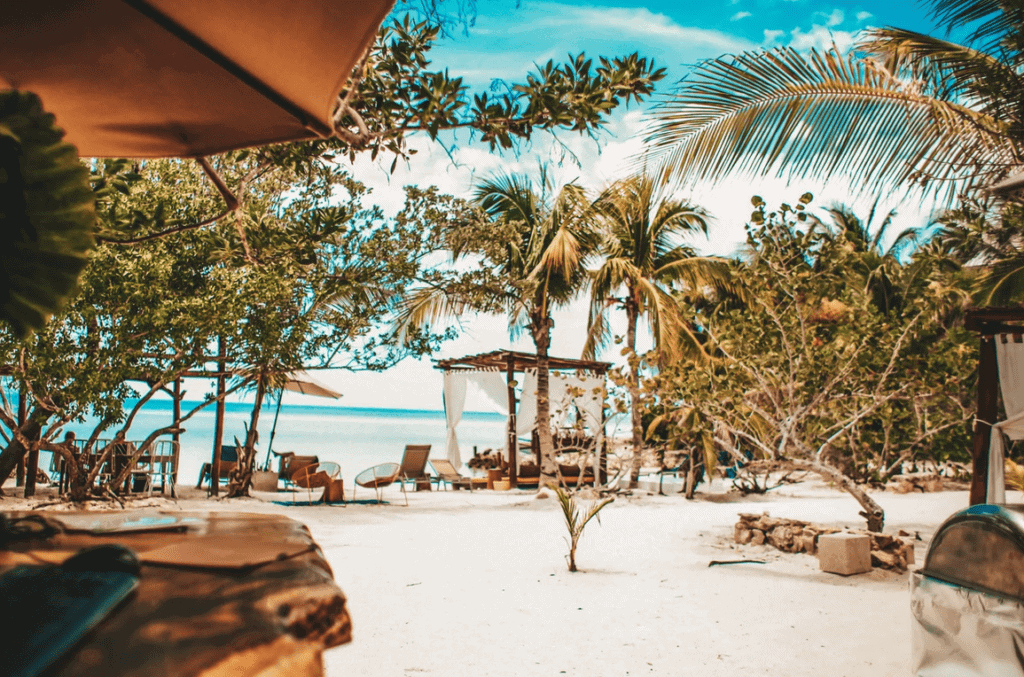 Eating Out in Holbox
The cost of eating out in Isla Holbox is reasonable but not the cheapest, though many local restaurants are the most affordable.
Compared to other popular destinations in the Quintana Roo region, like Cancun, Isla Mujeres, or Tulum, Holbox is much cheaper for eating out.
The cuisine in Holbox is quite diverse, something I quickly noticed when visiting, a big bonus for us foodies! From Japanese cuisine to Italian and local seafood restaurants.
If you'd like to budget your spending, stick to the local Mexican taquerias most nights; they're always the most affordable. You will pay around $10 US on average for a meal there.
At mid-range restaurants in Holbox, expect to pay $13-24 US per main dish, depending on what you order. No matter the restaurant you choose to visit, even at mid-range restaurants, the local Mexican cuisine will always be cheaper.
There are a few fine dining restaurants in Holbox; for a main dish, expect to pay an average of $27-35+ US.
For each meal of the day, expect eating out in Holbox to cost you the following:
Breakfast is $7-15 US
Lunch is $15-20 US
Dinner is $17+ US
Tipping in Holbox
In Mexico, the tipping percentage recommended for dining at a restaurant is 10% – 20%. Some places, like takeout or taco carts, round up the amount if you want to tip.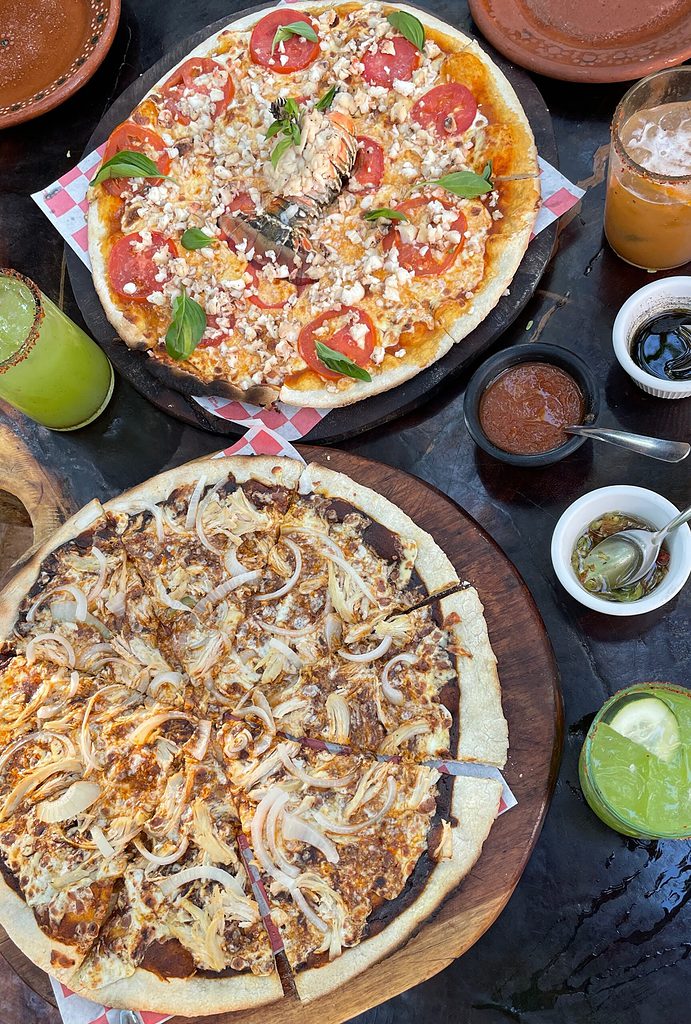 Cheap Restaurants in Holbox
Los Tacos De Barbacoa / Street cart serving Barbacoa Tacos throughout the evening time
Taco Queto / Two taco food tours with plenty of outdoor seating serve all the classics you're craving in Mexico – Rule of thumb for Mexico: When you see plastic Coca-Cola red chairs anywhere, you know they serve good local Mexican food
Las Panchas/ Best seafood restaurant on the island, is steps away from the beach
Mid Range Restaurants in Holbox
Restaurante Viva Zapata / Ranked as one of the top Mexican restaurants on the island, serving a wide variety of local cuisine
Roots Pizzas a La Lena / Pizzeria serving wood oven pizzas and fancy cocktails throughout the day
Salma / Fancy twists on Mexican cuisine and excellent cocktails, and the restaurant has a dim vibe to it
Fine Dining Restaurants in Holbox
LUUMA / Fancy tapas restaurant serving unique foods and great cocktails
Casa Nostra / Those craving some pasta, pizza, and any other Italian classic dish, this is your spot
Parador 33 / A fusion fine dining experience, from Argentinian to Italian, French, and local Mexican cuisine, as well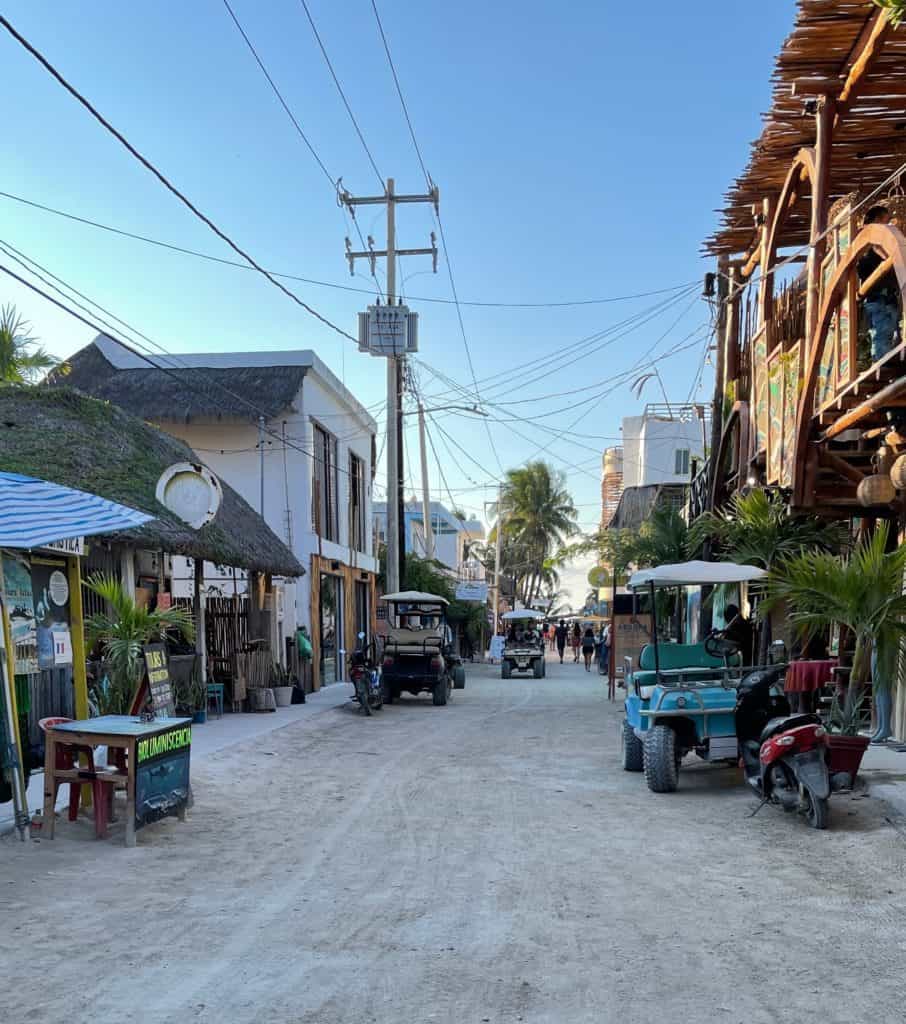 Things to Do in Holbox
No matter where you choose to visit in this region of Mexico, whether Isla Mujeres, Cancun, Playa Del Carmen, or any other popular places, you must include some of your trip budget for activities!
There are many things to do in Holbox, including island tours, whale shark swimming, kayaking, kite surfing, and so on!
Could you make sure you explore the town center of Holbox? The main town area has something to do at all hours of the day. During the day, many quiet coffee shops, and brunch restaurants with patios, and the streets are full of awesome graffiti.
At night, there are many lively restaurants, bars, and street food being sold from food carts. And the island is very walkable, so wandering is never a bad idea in Holbox!
This part of your budget will depend on how active you are; if you're more laid back, you will only spend a little on activities. Those who plan to experience much, consider an average of $20 US daily for your activity budget.
Three Island Tour
Known as the most popular thing to do in Holbox, the 3 Island tour, this boat tour is an excellent way to see the island's natural beauty and wildlife.
You will visit Bird Island, Passion Island, and a Yalahau cenote. Depending on the month you go, you may glimpse the flamingos. You won't be allowed to walk on Bird Island amongst the birds because this is a protected area, but you get close enough to take some pictures!
Passion Island (Isla Pasion), where you can wander, handfish, and spot some wildlife. You'll also see the Yalahau Cenote, a naturally bubbling cenote.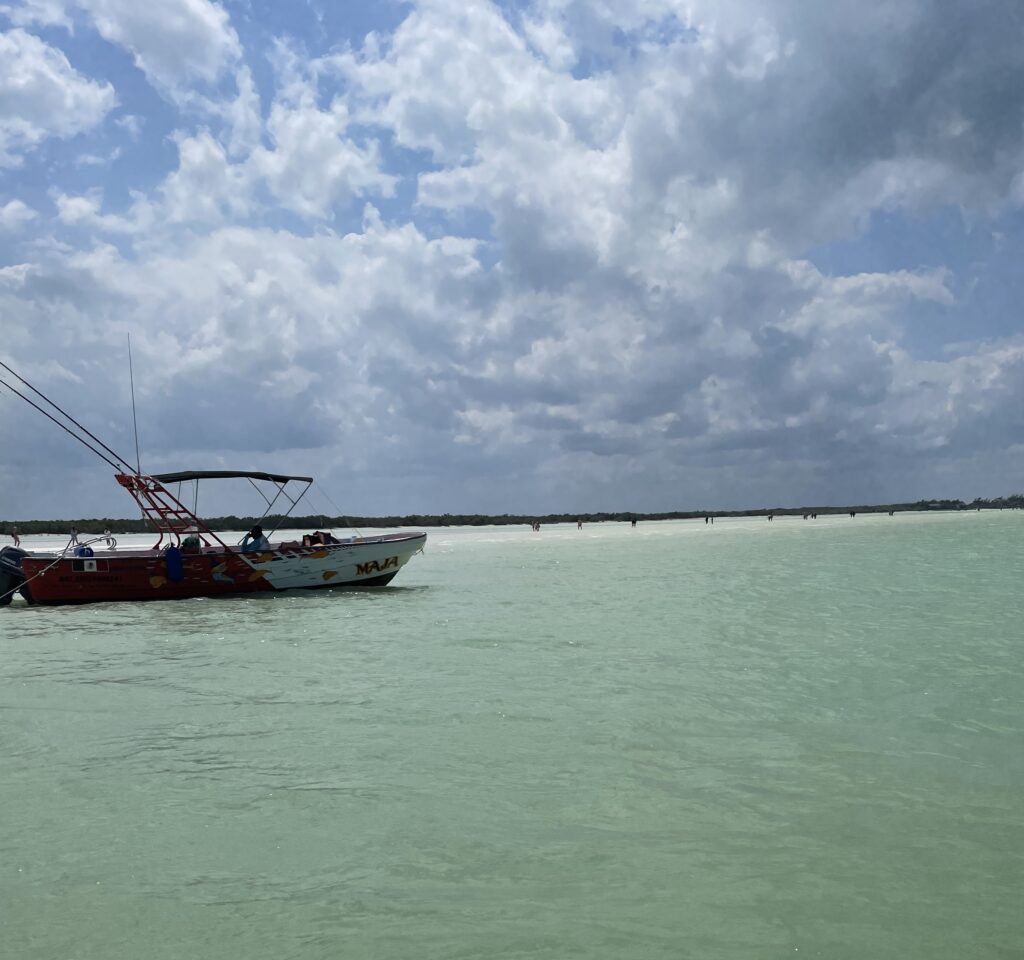 Bioluminescent Water Tour
Holbox's bioluminescent waters are found on the island's southern shores. It can be seen when there is no moonlight. If you've never experienced this before, it's a must-do!
Join a small group on this Kayaking Bioluminescent tour guided by locals!
This stunning phenomenon illuminates the seashore with certain micro-organisms, which light up when they strike the waves.
Snorkel with Whale Sharks
One of the most popular things to do is to swim with whale sharks in Holbox; snorkeling and seeing these gentle giants is a fantastic experience.
Whale Shark season runs from mid-May through mid-September. Other times, this activity wouldn't be available.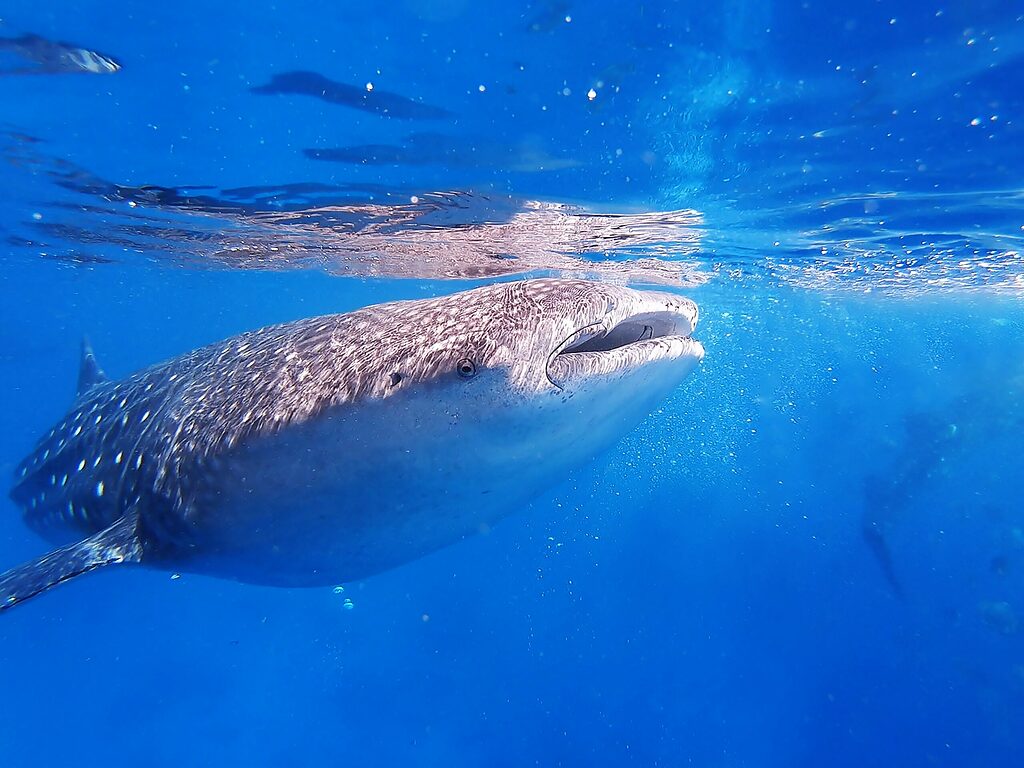 KiteSurfing
The best place in this part of Mexico to experience Kite Surfing is in Isla Holbox.
That's because the conditions here are ideal for kite surfing; the winds on most days are easy, and the water is very shallow in Holbox.
Playa Punta Cocos
Known more by locals and longtime visitors of Holbox, Playa Punta Cocos is a beach on the other side of Holbox. It's calmer, less touristy, and captures the more local side of Holbox.
It is just several minutes west by bike from the main town area. This beach makes for the ideal laidback day; many bird species call it home, and if you're lucky, you might spot a few flamingoes in their natural habitat.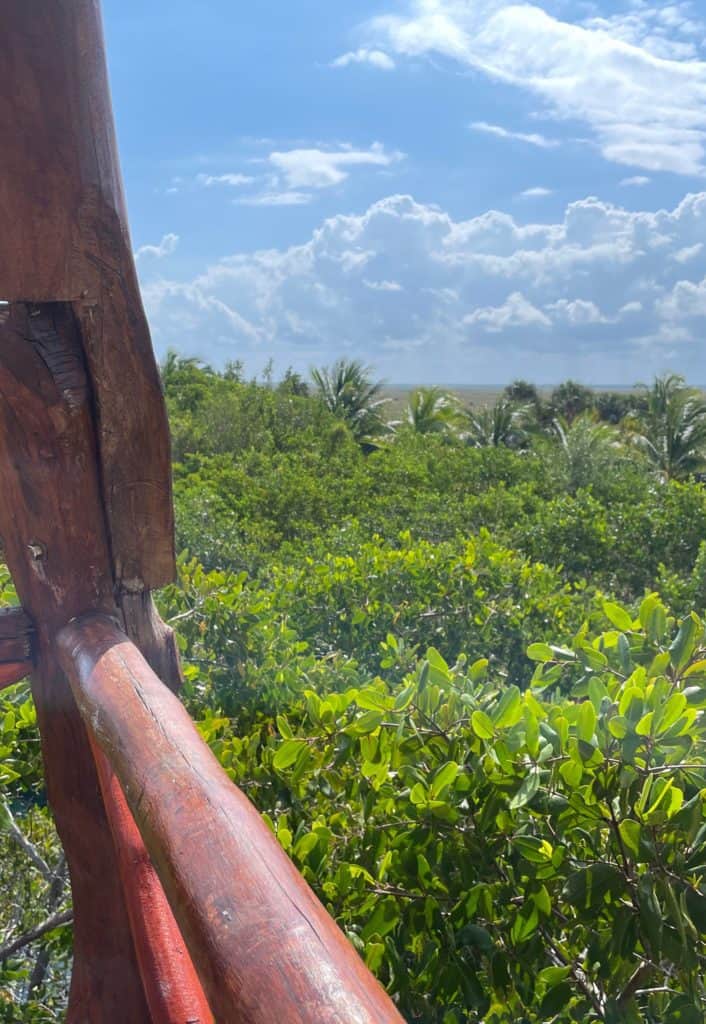 Getting Around Holbox
Isla Holbox is a remote island; besides golf carts and bikes, there's no other way to get around besides walking. The roads are just dirt, the way a remote island should be!
The island is very walkable, too, and you can walk just about everywhere within 5 to 20 minutes. So there's no reason to rent a golf cart or bike, unless you're doing it for fun!
A rental for a golf cart averages around $100 US/day, which is not cheap, considering you can walk everywhere. Bike rentals in Holbox cost an average of $20 US/day.
If you don't want to walk, you can always take a golf cart taxi, which you'll frequently spot in Holbox; they're the yellow golf carts (same ones you'll see when you get to Holbox at the dock).
Negotiate if you choose to take a golf cart taxi; they'll charge you between 50-250 Mexican Pesos, which is $3-14 US, depending on where you're going from and to.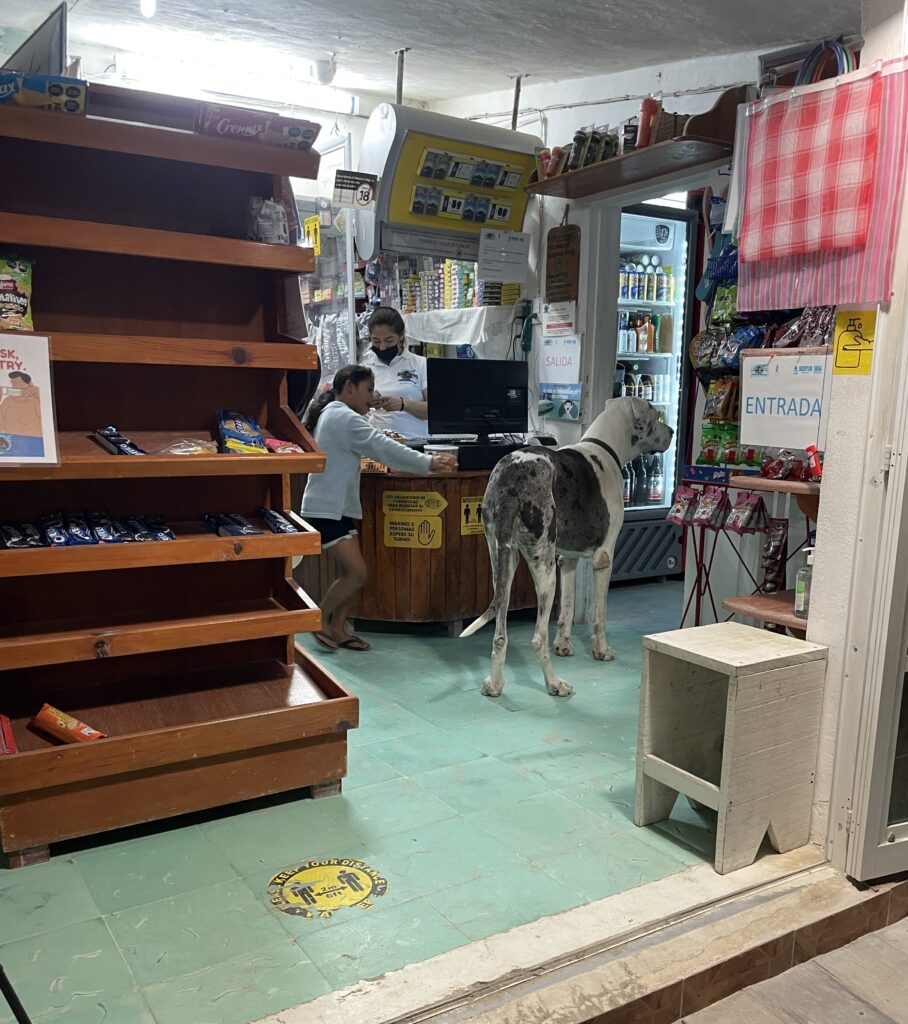 Best Time to Visit Holbox
The Quintana Roo region weather has two main seasons: the dry season from November to April and off season from May to November.
The best time to visit Holbox is during the dry season when the weather is ideal; the days are dry/hot with low humidity levels and a low chance of rainfall.
If you choose to visit Holbox during the off-season months from May to October, understand that there are more weather fluctuations during this time of year.
Some days may be perfectly sunny during the off-season and others rainy, though one thing is certain: humidity levels are higher during the off-season months!
For those looking to visit during ideal weather and lower prices, consider shoulder season months in the region: November and April.
Dry Season: November to April
Off Season: May to October
RELATED: 11 Cheapest Beach Towns in Mexico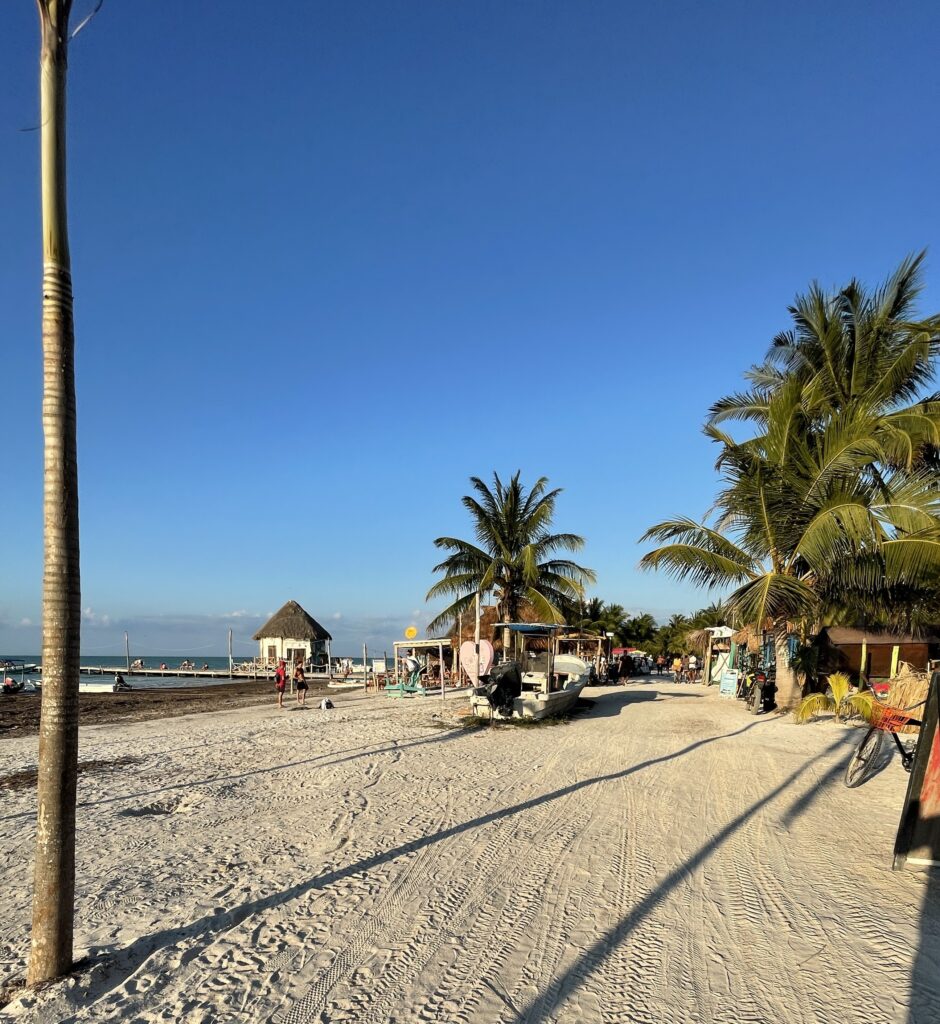 Tips for Holbox
Isla Holbox is one of those places where knowing a few tips before visiting will make your visit smoother!
Bring mosquito spray, if you're by the beach, especially at night; the mosquitos can be nasty in Holbox
Cash is king in Holbox, and bring what you need because ATMs in Holbox are limited, and most restaurants only take cash
Many restaurants offer happy hour with great pricing in Holbox; take advantage of it
Make sure you bring everything you need; this isn't a place to go shopping. You're on a remote island. You're not visiting Playa del Carmen or Cancun, where you'll find anything you need
Get Travel Insurance before visiting Mexico; if anything happens, hospital visits aren't cheap in Mexico
Be mindful of the ferry schedule when leaving; leaving Holbox late in the evening is not a good idea. The last ferry is usually 8:30, sometimes 9:30 PM. If you miss the last ferry, you're stuck till the following day at 6:00 AM.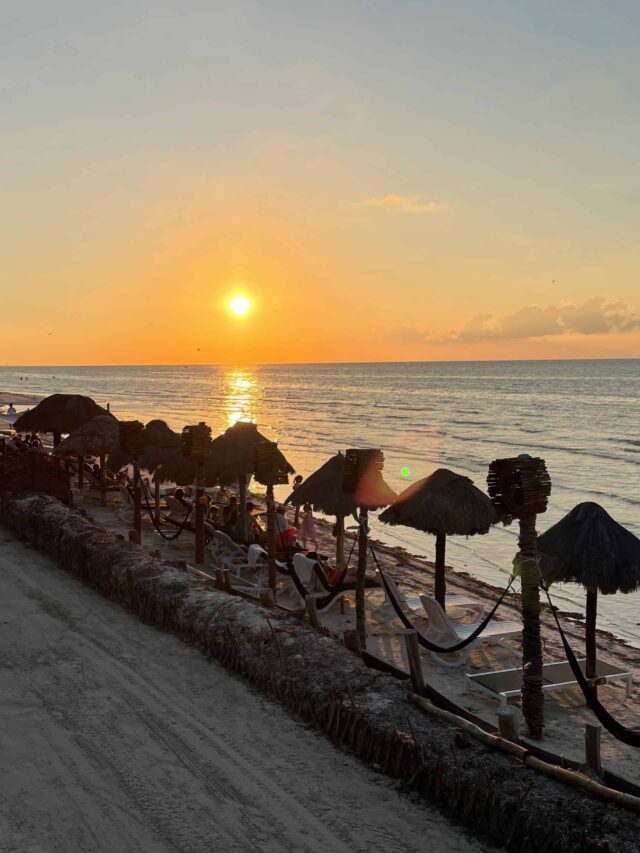 Is Holbox Expensive to Visit? — Final Thoughts
So, is Holbox expensive to visit? Please let me know what your thoughts are in the comment section below.
Holbox isn't costly, and there are many ways to visit Holbox in a budget-friendly manner.
But Holbox isn't cheap to visit per se, and there are more affordable places to visit not too far away; Sisal and Progreso are two excellent examples of that.
Though Holbox is a fun place to visit and a unique experience overall, it's as famous as other spots in the region, like Isla Mujeres, Playa del Carmen, and Tulum.
If you're curious how prices compare to these destinations, Holbox is cheaper than Isla Mujeres and Tulum but about the same as Playa del Carmen.
Holbox was one of my favorite places I've had the pleasure to visit in Mexico; the island embodies the ultimate laidback atmosphere.
It's safe, and you'll meet other tourists, but it's not too touristy; it's walkable, and most days revolve around the beach. Holbox is very laidback and relaxing, and I highly recommend visiting Holbox!
Below, I've shared an average day cost breakdown for Holbox by traveler type. The figures below are per person.
| | | | | | |
| --- | --- | --- | --- | --- | --- |
| Visitor Type | Hotel | Food | Transportation | Activities | Average Day Cost |
| Budget | $50 | $32 | $0 | $15 | $97 US |
| Mid-Range | $178 | $45 | $5 | $20 | $246 US |
| Luxury | $400 | $107 | $20 | $30 | $557 US |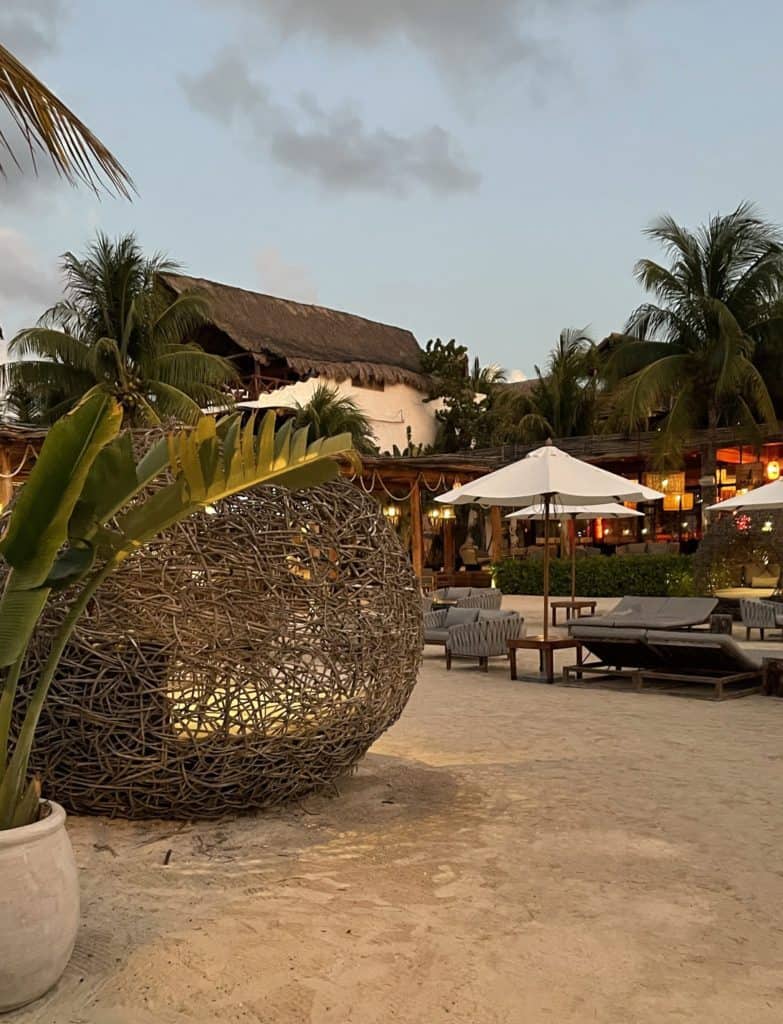 How much does it cost per day in Holbox?
This depends on the type of traveler you are, but the average daily cost in Holbox is between $75 to $132 US per day for most travelers.
How much is a beer in Holbox?
Beer costs 30 to 50 Mexican Pesos, about $1.70 – $2.80 US per bottle.
What is Cheaper Tulum or Holbox?
It's far cheaper to visit Holbox than to visit Tulum; everything costs more in Tulum, including hotels, eating out, and activities. In fact, Tulum is the most expensive place to visit in this region of Mexico.
How many days should I spend in Holbox?
Plan to spend at least 3 days in Holbox; with that amount of time, you'll get to enjoy the beach, explore the town, and experience a few activities on the island.
Subscribe to Travel Hiatus!
Receive updates on my latest posts, insider travel tips & the best destination guides to your inbox!
Happy & Safe Travels
---
Planning Checklist
---
Disclaimer: Please note that some of the links shared in this article might be affiliate links; this means that at absolutely no extra cost to you, we will earn a small commission for any sales generated through this article and/or this website. We recommend products/services we've either used or researched thoroughly – Thank you for supporting us so we can continue to share helpful travel content!