Sayulita, Mexico: Complete Visitor Guide
Sayulita is a small beach village often overshadowed by its neighboring city Puerto Vallarta, a more famous destination for tourists visiting the Pacific Coast side of Mexico.
After visiting myself, I'd recommend you do as well! It was a nice change from the busy crowds in Puerto Vallarta!
Smaller than Puerto Vallarta, Sayulita is a small beach town; it has a bit of a hippy-surfer vibe but has a luxurious feel at times because of the much fewer crowds versus Puerto Vallarta.
For those looking for a small walkable beach town with fewer tourists, great restaurants, and spectacular nature, Sayulita is perfect for you!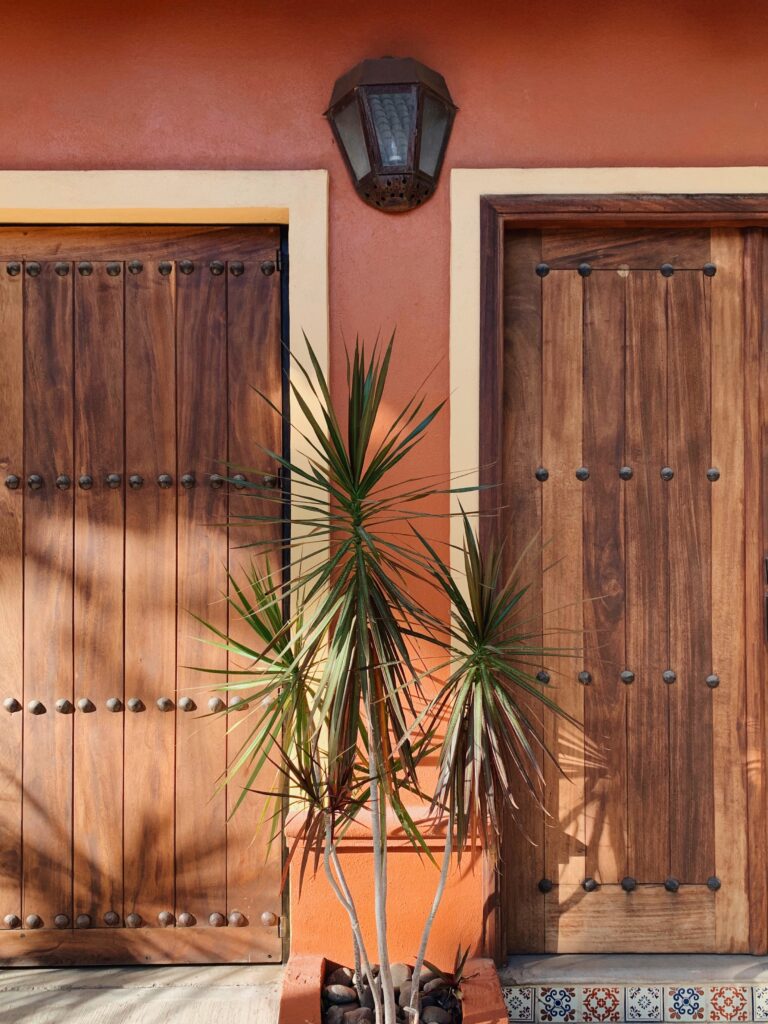 What you shouldn't expect when visiting Sayulita is a party atmosphere, don't get me wrong, in the evening, you've got a fair share of bars and restaurants open into the late evening hours.
But don't expect much more than that. Puerto Vallarta would be more suitable if you want to party quite a bit. Another wonderful beach town on the Pacific Coast is Ensenada, and you can drive there from the US!
In this guide, I will share everything you need to know when visiting, how to get to Sayulita, things to do there, and hotel and restaurant recommendations.
How to Get to Sayulita, Mexico?
To get to Sayulita, you must first fly into Puerto Vallarta International Airport (PVR). It's the closest airport to Sayulita.
After arriving, you'll need to make your way by vehicle one hour North from Puerto Vallarta to Sayulita.
A taxi from the airport (PVR) will cost you around $2000 Mexico Pesos ($108 US). The better idea is to book private transportation in advance, and it's also cheaper, costing about $1480 Pesos ($80 US).
For those already in the country visiting the capital, Mexico City. Several airlines provide flights to Puerto Vallarta airport from Mexico City, and it's only a 90-minute flight.
More Beautiful Mexican Cities to Discover here
Things to do in Sayulita, Mexico
Despite being a small beach town, there is plenty of things to do here—hiking, several beautiful beaches, whale watching, and surfing.
Surfing in Sayulita is one of the top activities here because of the beginner-friendly beach waves.
In this guide, I'll share with you all you need to know about all the great activities here.
Visit the Marietas Islands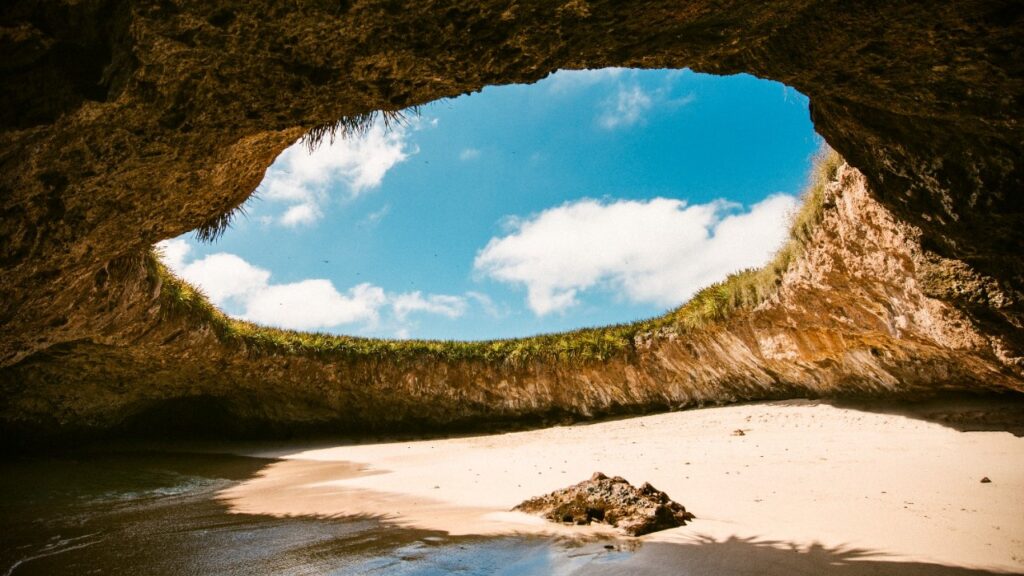 A must-do activity in Sayulita is visiting Playa del Amor (Lover's Beach). It's a secret beach located at Marietas Islands National Park.
These islands are only accessible by boat; reaching them takes around 20/30 mins.
Tours here run throughout the year. It's such a famous sight that most tours come from Puerto Vallarta. Many make day trips from there to see the Marietas islands.
Here is some important information to know about the islands before going
The Mexican government has implemented a limit of 125 visitors per day to preserve this special place.
Preservation measures from the government only allow access to the beach from Wed-Sun – It's closed on Mondays and Tuesdays.
Not ALL "Marietas Islands Tours" are the same; some only take you near the hidden beach but don't drop you off to actually walk on the beach.
This Marietas Island Tour takes you to Hidden Beach with access to walk on the beach. It's essential you book this tour in advance, as it does always sell out, especially during Mexico's high tourist season!
Hike Monkey Mountain
For those looking to get some outdoor exercise and see beautiful aerial views of Sayulita, I strongly recommend you hike Monkey Mountain. The views from the top of the mountain are spectacular!
It's important to know that Cerro del Mono, aka Monkey Mountain, is closed from June to October. This activity is accessible seasonally.
You must first go South to Higuera Blanca to get there from Sayulita. From there, the 45-minute hike starts; the whole walk is roughly 3.1 KM long.
If you prefer a local guide to take you around – Book this tour!
Visit Sayulita Beaches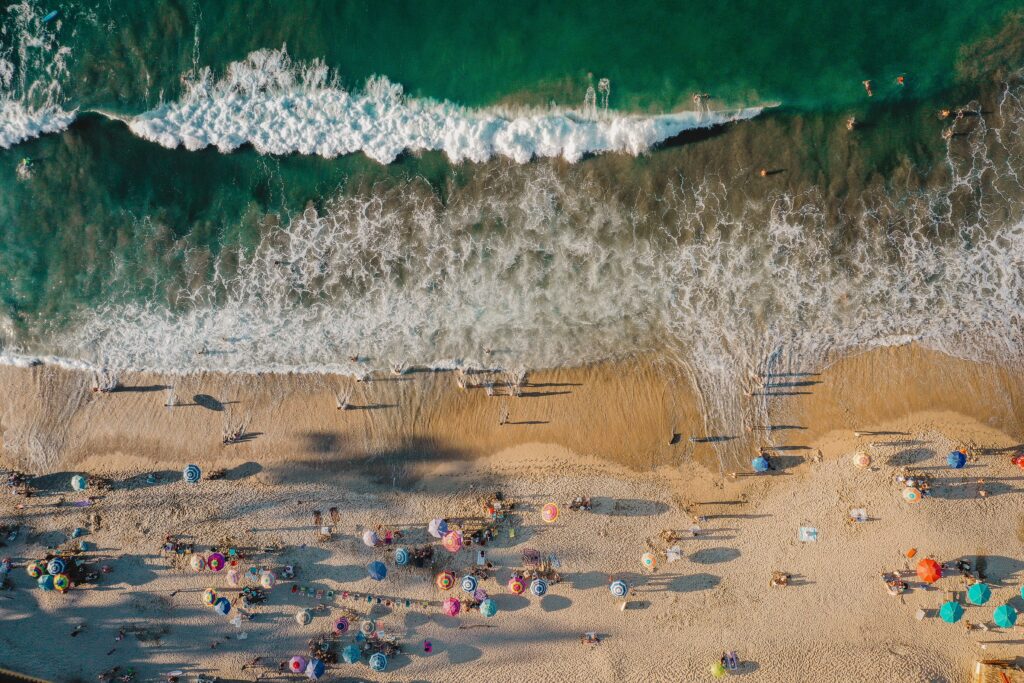 As mentioned in this article, Sayulita is a beach town famous for its many beautiful beaches. But the best part about the beaches here is that each beach has its own vibe.
Whether you're looking for a busy beach with many restaurants close by or a secluded, quiet beach, it's all here. These are the three best beaches in Sayulita.
Playa Sayulita
This is the main beach for the city, located right in the heart of things.
The beach connects to the main city center area and is quite convenient for those looking to take a beach break and have lunch at one of the many restaurants nearby!
Playa De Los Muertos
This beach is just a short distance from the city center; it only takes 10 minutes to walk. It is smaller than the central city's beach but worth visiting!
Playa Malpaso
This is the most beautiful beach in the city. Playa Malpaso is located just North of the city center.
To get here, it's around a 40-minute walk, stick to the shoreline North from the main city beach, and you'll get there!
If you visit, make sure to return to the main beach before it's dark; there is absolutely no light there at night.
Whale Watching in Sayulita (seasonal)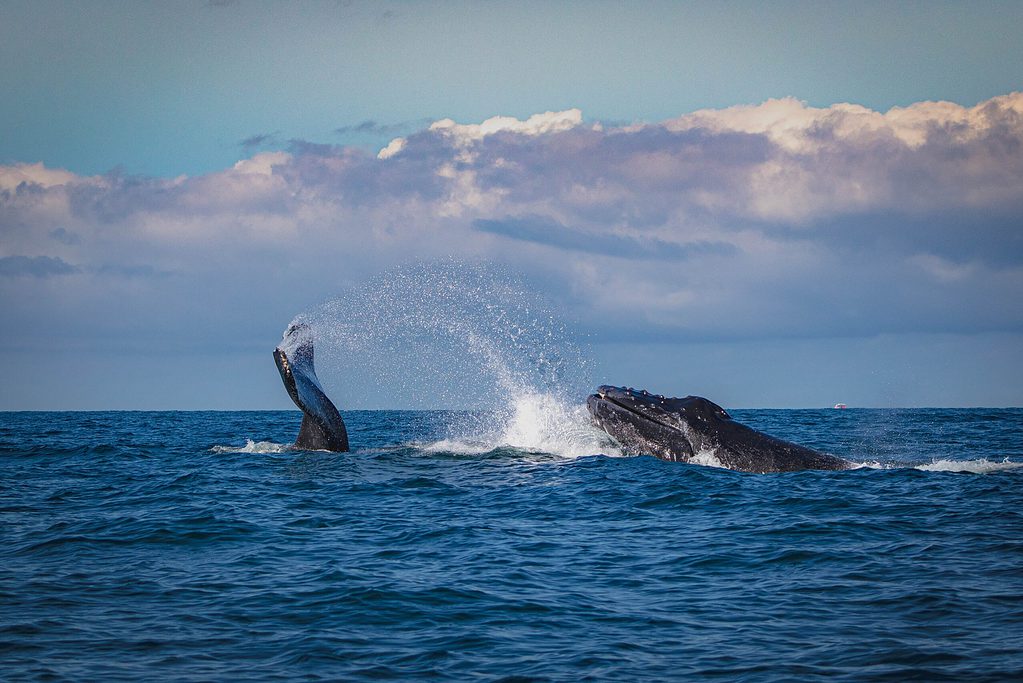 If you haven't been whale watching before, I highly recommend experiencing it; seeing these giant creatures in person is special.
Several species of whale migrate to the Sayulita waters in the winter months.
This is a 3-hour Whale Watching Tour that also includes snorkeling.
Whale watching here is a seasonal activity, so if you're visiting during December and April, you will be able to do this. Otherwise, whale watching isn't possible here during other months of the year.
Take Surf Lessons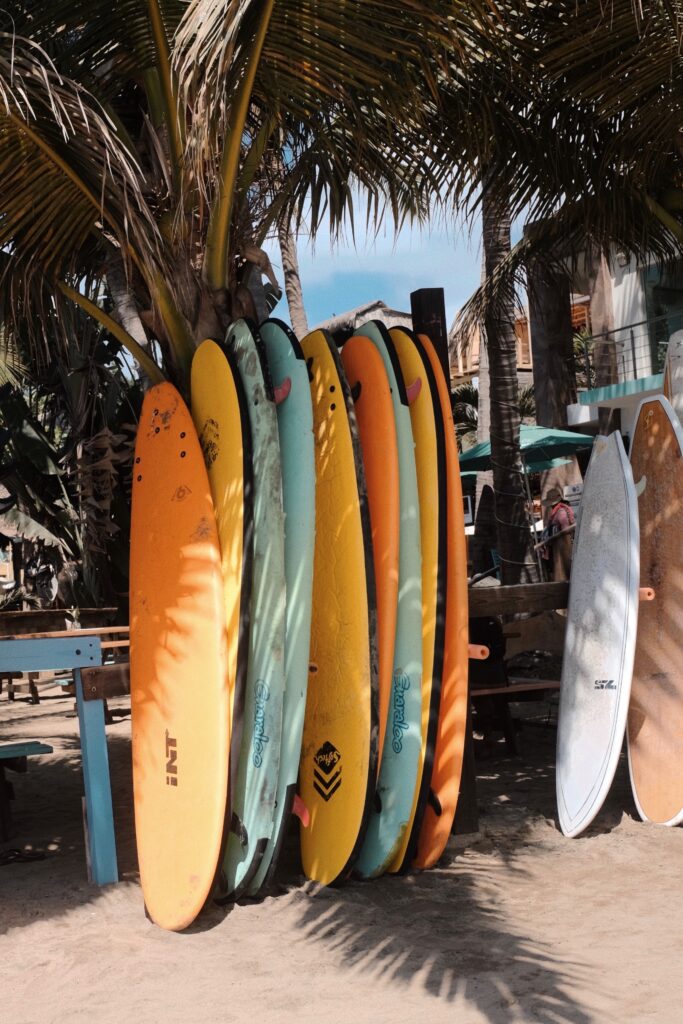 For those who've always wanted to learn how to surf, Sayulita is the perfect place to learn! Sayulita's waves are beginner-friendly.
Book a Private Sayulita Surf Lesson here.
As mentioned earlier, surfing in Sayulita is one of the popular activities here; tourists come from all over to learn how to surf here.
Here is more in-depth information about Sayulita surfing.
Sayulita Hotels
There is plenty of hotels in Sayulita, from 5-star hotels to boutique hotels, all-inclusive hotels, and many hostels. Here are some recommendations for where to stay in Sayulita!
Please consider the location when deciding; if you like the city center's conveniences, please consider that.
No matter your budget, I've shared excellent hotel options below for every price point!
This 5-star hotel is just outside the city center, so you get the best of both worlds. You're close to the city but not the city center; you're within nature instead.
Wildly known as the highest-rated hotel in Sayulita, Hotel Boutique OZ is a top choice here.
Iberostar Selection Playa Mita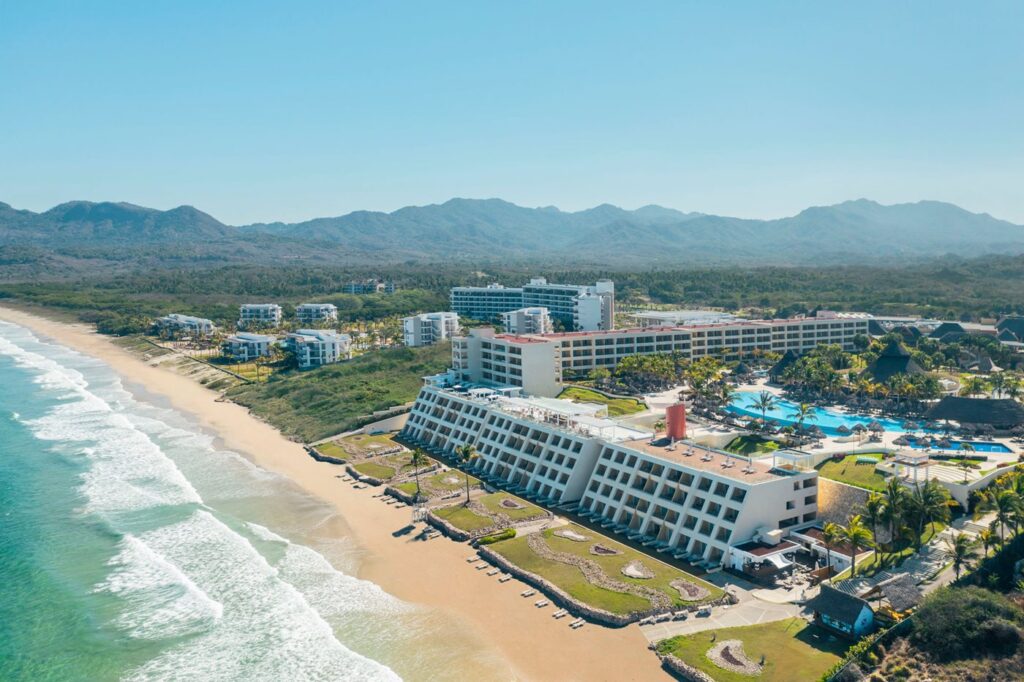 Another excellent 5-star hotel option is Iberostar Selection Playa Mita; this 5-star resort is just outside the city center. The resort is only 20 minutes from Sayulita and only 50 minutes from Puerto Vallarta.
The best part about Iberostar Selection Playa Mita resort is the dense green jungle that surrounds it, yet you still have 5-Star accommodations in the wilderness.
The Selina is located in the heart of the city, steps away from the city's main beach. It's a stunning affordable 2-Star hotel; this is a great option for those on a budget!
If you're unfamiliar with the brand, Selina has hotels all over Mexico, and it's an excellent/affordable option in many cities.
The hotel tends to host a younger crowd, so if you're traveling solo, this is a great place to stay!
Grand Palladium Vallarta Resort & Spa (All Inclusive)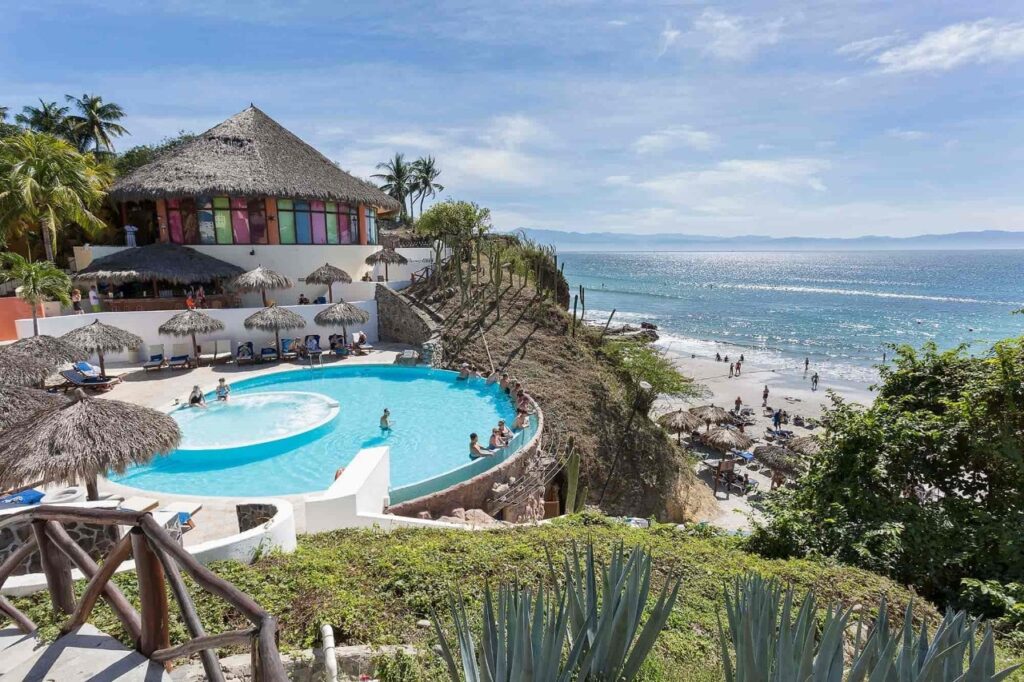 For those who love all-inclusive resorts, this is the place to visit in the area! I say location because Grand Palladium Vallarta is closer to Puerto Vallarta than Sayulita.
Regardless, staying here, you will still be much closer to Sayulita than if you stayed in Puerto Vallarta and wanted to visit.
The Grand Palladium has an impressive private beach, many restaurants, and everything you need!
La Redonda Sayulita (Hostel)
Those looking to stay in a hostel and meet fellow travelers. La Redonda is the highest-rated hostel in the city.
Located in the city center and steps away from the main city beach, everything is close to you here.
Hostel rooms are in sizes 4,6,8, and 10. Lockers are available here, with WIFI, free coffee, fans, lounge chairs, and everything you need!
Sayulita Restaurants
The food scene here is fantastic, one of the best in Mexico. Not only is there great Mexican food here, but other international cuisines as well! I'm going to share with you the best restaurants in Sayulita.
Sayulita is famous for its Tacos; tourists come from Puerto Vallarta to Sayulita to eat tacos.
Don Pedro's Restaurant & Bar
Known as one of the highest-rated restaurants in the city is Don Pedro's, a Mediterranean restaurant serving all types of cuisines: whole lobsters, sushi, sashimi, and more.
The restaurant is located on the beach, making for an excellent evening dinner venue!
La Rustica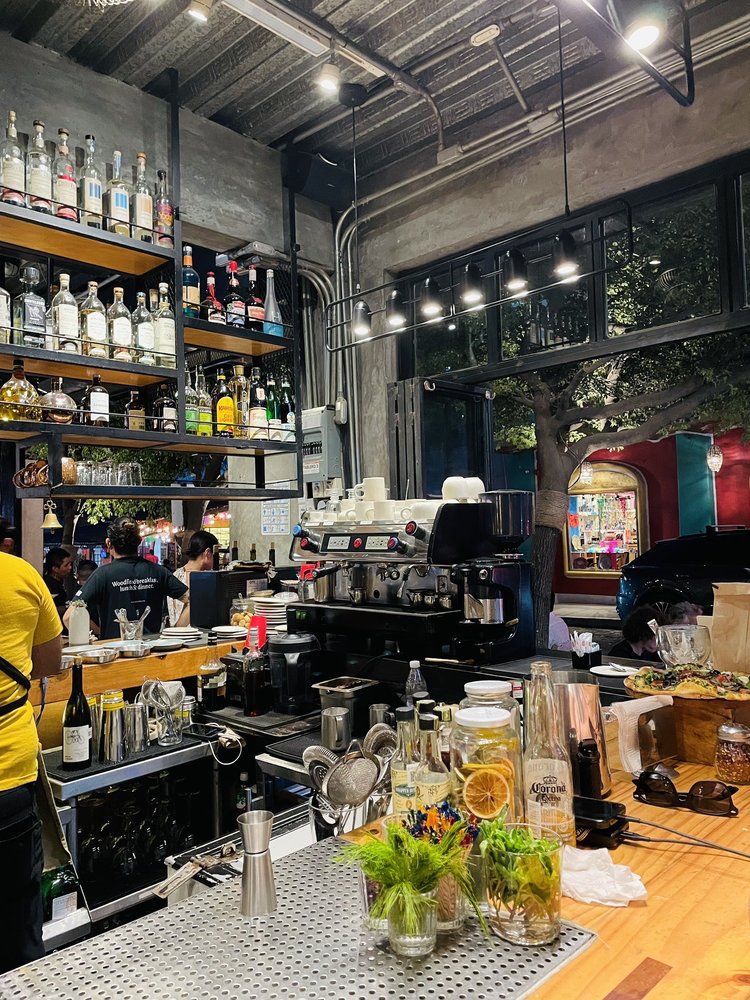 La Rustica is located in the city center, a great Italian restaurant focusing on wood-fired pizzas and excellent cocktails! Of course, they have other Italian cuisines.
When visiting, we came here three times; I mean, who doesn't love great Italian food and exceptional cocktails?
Tacos Al Pastor Tal ivan
A humble taco joint serving locals and tourists on the streets of Sayulita. It doesn't get more local than this place; the tacos are exceptional, you can feel the local ingredients, and the service is fast!
The perfect place to stop for a mid-beach day snack!
Achara
Following up on my promise to show you more international cuisines in Sayulita, Achara is a great local Thai restaurant in town.
I was surprised to find good Thai food in a relatively small city. Having been all over Thailand, I can confirm that the food here is authentic!
El Itacate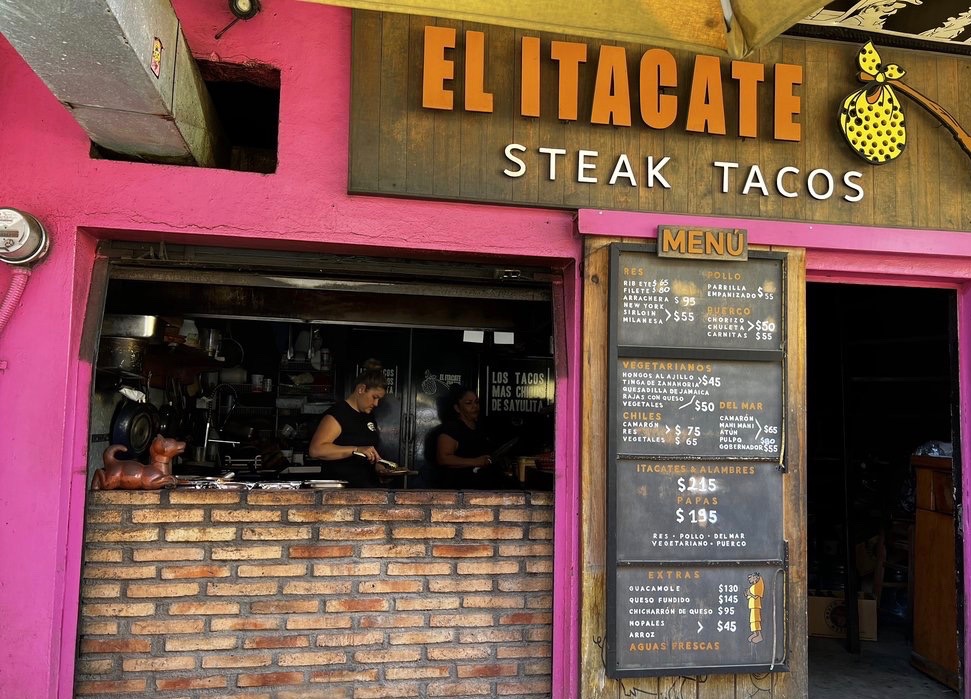 Another exceptional place for tacos in town is El Itacate; the restaurant is famous for its steak tacos. Also, they've got the best guacamole and chips we had in the city.
I loved the taco presentation here, and they've got a wide variety of hot sauces for your tacos here!
Sayulita Weather
The city of Sayulita has very much a tropical climate, the winters are hot, and its summers are mild with some rain.
For a month-to-month breakdown of the weather, you can click here.
When is the Best Time to Visit Sayulita?
Sayulita is located on the Pacific Coast of Mexico, and the best time to visit the Pacific Coast of Mexico is from November to March. During this time of year, there is no rain or humidity.
I wouldn't recommend visiting in the Summer months; the heat here is overbearing and gets in the way of your day-to-day. We all love sunny weather, but days aren't as enjoyable when there is too much humidity!
Make sure you purchase Travel Insurance before your trip!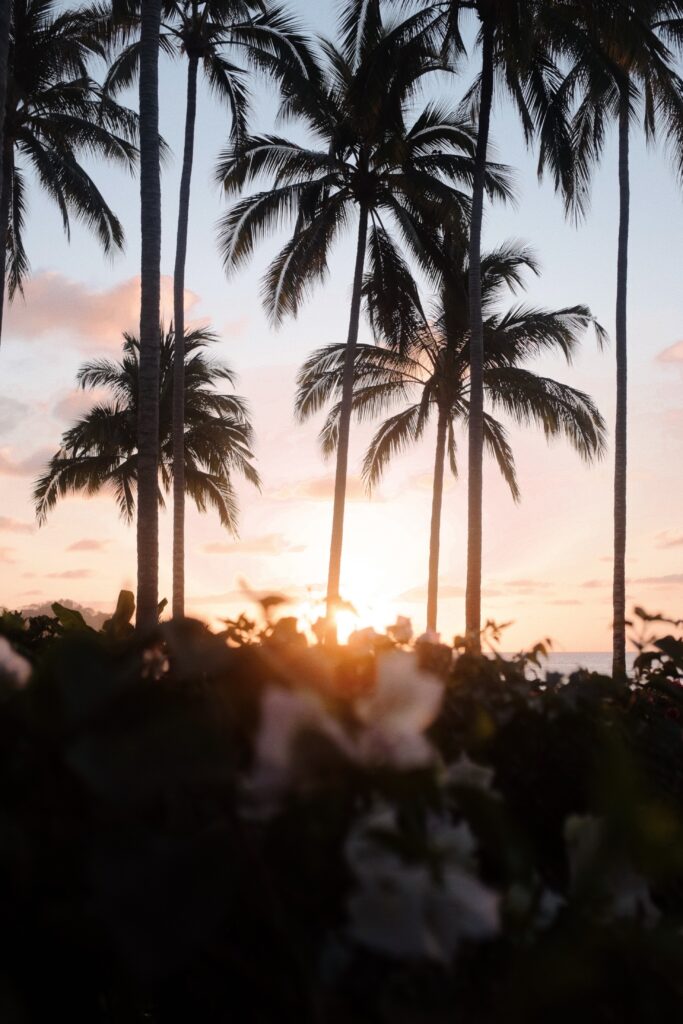 Is Sayulita Safe?
It's very safe here, as mentioned earlier, it's a small town, which helps safety-wise. The small population of locals that call this town home are very friendly.
And the city doesn't attract high tourist numbers like Cancun, for example, so you don't have to worry.
Nonetheless, you should be aware of your belongings in general, have an eye out for pickpockets, etc.
But when it comes to violent crime here, there's nothing to worry about! Coming here is ideal for families, solo female travelers, and everyone!
Sayulita is regarded as one of the safest cities in Mexico. Coming here reminded me of Huatloco, another small beach town.
Is Sayulita Mexico Worth Visiting?
I want to assume that after reading this article, you don't need more convincing.
But yes, Sayulita is worth visiting. In fact, I prefer it over Puerto Vallarta; the overall town is calmer than Puerto Vallarta, making it easier to relax, and it's also much cheaper to visit!
Regardless of my opinion, you should visit both cities and return to this article to let me know which one you prefer and why.
Sayulita Mexico FAQS
How many days should you spend in Sayulita?
At least two days in Sayulita would be enough time to experience most of what Sayulita has to offer. Many do visit Sayulita for a day trip from Puerto Vallarta.
Can you swim in the beaches of Sayulita?
All the beaches in Sayulita are swimmable, but watching for the beach flag is advised because sometimes the waves in Sayulita can be significant. It is a surf town, after all!
Is it safe to walk around at night?
It is safe to walk around in Sayulita, even at night; it's a family-oriented beach town. But it's still advised to be alert and aware of your surroundings.
Subscribe to Travel Hiatus!
Receive updates on my latest posts, insider travel tips & the best destination guides to your inbox!
Featured Image Credit: Philippe Gauthier / photos via UnSplash
Happy & Safe Travels
---
Planning Checklist
---
Disclaimer: Please note that some of the links shared in this article might be affiliate links; this means that at absolutely no extra cost to you, we will earn a small commission for any sales generated through this article and/or this website. We recommend products/services we've either used or researched thoroughly – Thank you for supporting us so we can continue to share helpful travel content!