9 Safest Cities in Mexico to Visit & Live in
Are you looking for the safest cities in Mexico to visit? Mexico is one of those countries that gets a bad reputation for violence.
Don't get me wrong, there's some of it throughout the country, but it is not bad everywhere. If it were, Mexico wouldn't be a top vacation destination worldwide.
With a mix of various cartel organizations throughout the country and a possible corrupt government, the country has a long history of continuous crime in multiple parts.
So, for the most part, there is nothing to worry about as long as you follow simple safety tips when visiting any of these safest places in Mexico.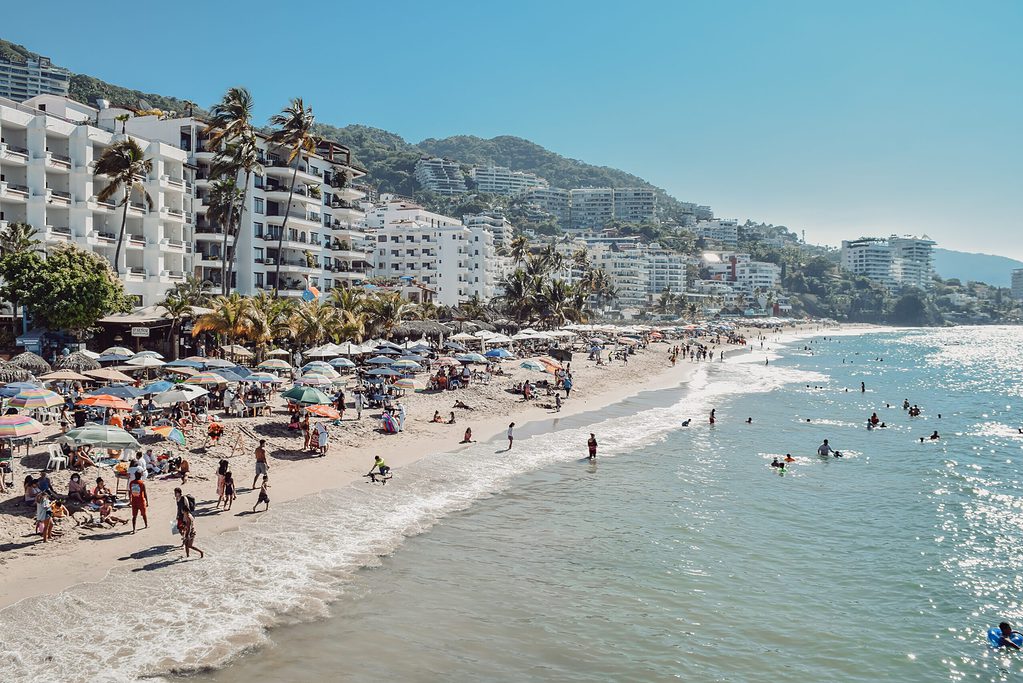 In General, Is Mexico Safe?
Yes, Mexico is safe, depending on where you're going. Everywhere has crime in the world; no matter where you go, you can't deny that.
I can honestly tell you that I felt very safe in all the cities I visited in Mexico, with basic safety precautions. Walking in some of these cities at night, I felt safer than in major North American cities, such as Toronto and Chicago.
I've been to Cancun, Isla Mujeres, Playa del Carmen, Holbox, Tulum, Mexico City, and Puerto Vallarta.
The locals are friendly in Mexico, some of the nicest people I've ever met.
The hospitality here is excellent, they enjoy foreigners, and if you can speak Spanish, they'll most likely have a lengthy conversation with you and share a few laughs. I enjoyed meeting the locals in all parts of the country.
RELATED: 8 Beautiful Cities in Mexico to Visit
Safest Cities in Mexico
These are the safest cities in Mexico to either visit or live in. Because, after all, the country has a strong and thriving tourism industry for many years now, and it doesn't seem to be slowing down anytime soon.
These cities mentioned below, especially the tourist-crowded ones, are flooded with Mexican state police or the national guard army protecting tourist-busy areas.
Merida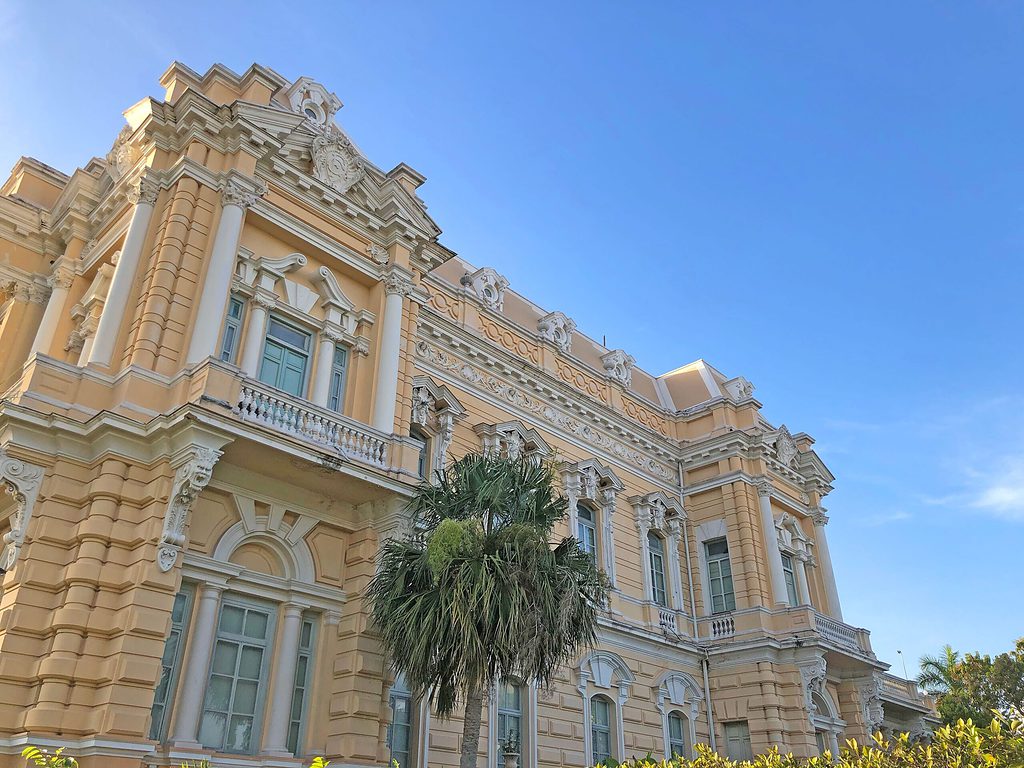 A small city named Merida in the Yucatan region of Mexico is the safest city in Mexico. It's also the capital of the Yucatan region. The most dangerous part about living here is the traffic, and that's something you can manage with. Something else to be aware of when in the downtown core is pickpocketing; be careful.
Merida is well-known for its incredible colonial architecture, fantastic food, and close proximity to stunning archaeological sites such as the famous Chichen Itza and the neighboring city Valladolid.
This city is a hidden gem and isn't too far from many of Mexico's more popular cities to visit. Merida is a photogenic city; take a look at the photo above. These sorts of buildings are all over the city. I suggest taking a stroll in the city center and interacting with the friendly locals.
Yucatan-style food here is well represented in Merida and in an authentic way. Dishes like cochinita pubil (pulled pork, sopa de lima (lime soup), and the street dessert marquestitas (chocolate crepes) are everywhere in the city.
Another city to visit when in Merida is Campeche, a famous port city. Also, while Merida doesn't have a beach, it's close to two small beach port cities, Sisal and Progreso.
Merida is not only one of the safest cities in Mexico but is also one of the best food cities in Mexico.
Planning Your Trip to Merida, Mexico
Puerto Vallarta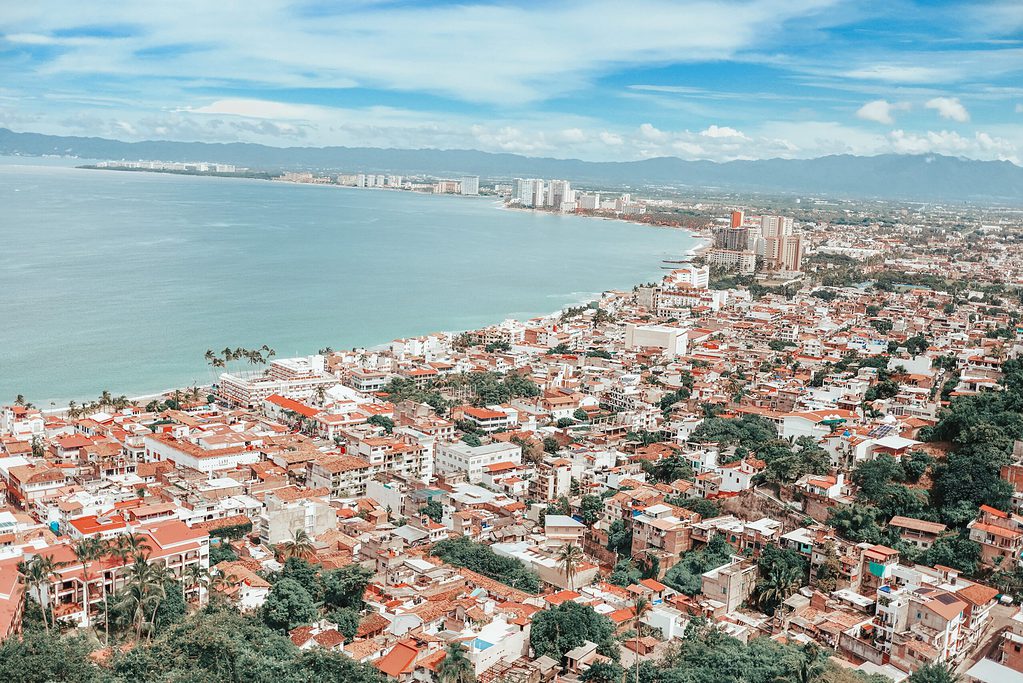 Puerto Vallarta, a popular tourist destination, is known for its beautiful beaches, vibrant nightlife, and marine life. It's an excellent destination for same-sex couples and is family-friendly as well.
Puerto Vallarta has been relatively uninvolved with cartel conflicts, and crime rates are significantly lower than those of major American cities. It would be best to take some precautions to avoid petty crimes such as pickpocketing, bag snatching, and theft.
We were in Puerto Vallarta earlier this year and had a splendid time at the Hilton Vallarta Riviera All Inclusive. We felt safe in Puerto Vallarta. Even the downtown core area at night is perfectly safe for walking.
Vendors approached us to sell items, but we didn't feel any pressure or hostility from them. Puerto Vallarta has been one of the safest cities in Mexico for many years.
The beachside city is known for its sandy beaches, perfect turquoise waters, and fun activities for all ages. Puerto Vallarta is full of delicious restaurants and shopping places; the best part is how walkable the city is!
Planning Your Trip To Puerto Vallarta, Mexico
Huatulco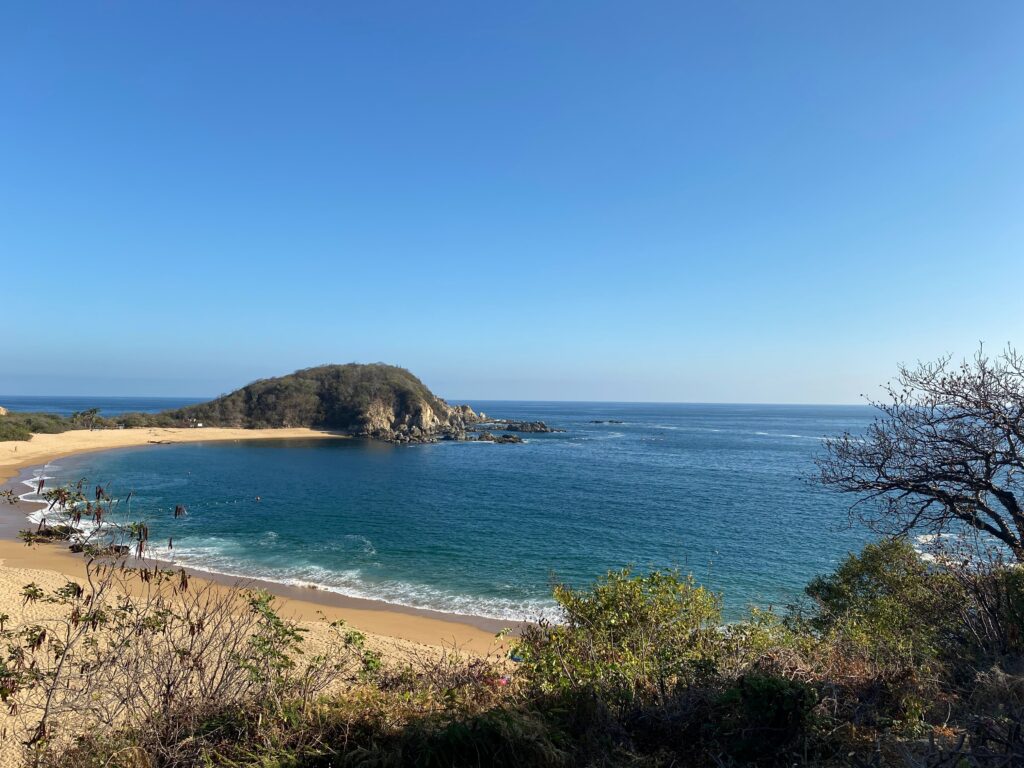 Huatulco is a quiet beach town located in the Oaxaca region of Mexico. The town is home to some of Mexico's most beautiful beaches.
Popular things to do in this beach town are visiting Huatulco National Park, just minutes from La Crucecita, Huatulco's main town. Other popular activities are water sports such as snorkeling and diving, off-road ATVing, or biking.
Huatulco is one of the safest cities in Mexico, and because of that, Huatulco is home to a large ex-pat community from the US and Canada. The beach town is also popular for families to visit because it is safe.
The town is perfect for those looking to relax to the fullest. The beach town has the atmosphere you don't get in larger beach cities.
Huatulco reminded me of Isla Holbox and Bacalar, possibly the only other places as relaxing as Huatulco, though Holbox is a larger beach town.
Planning Your Trip to Huatulco, Mexico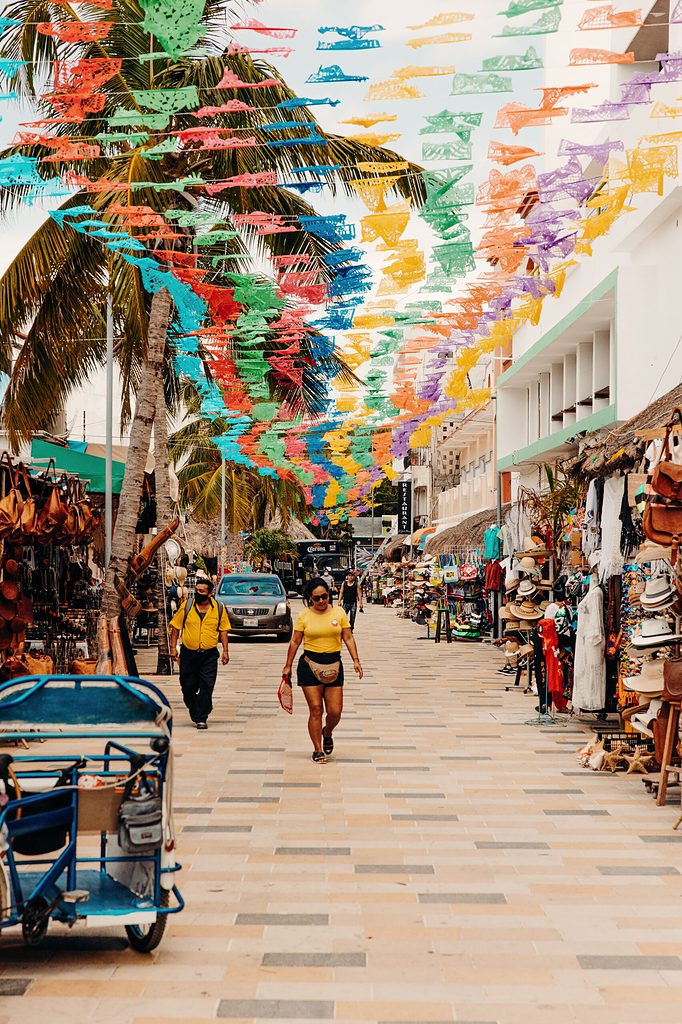 Cozumel Island is a stunning island known for its stretches of beaches, luscious green jungles, and scuba diving adventures. It's home to the Mesoamerican Barrier Reef, the second-largest barrier leaf in the world. So snorkeling and scuba diving are popular activities here.
The island is also popular for its wide choice of all-day beach clubs. My favorite is Mr. Sanchos, you can spend countless beach days there and not get bored! The Punta Sur eco-park is also a must-do when you visit the island.
It's only a 40-minute ferry ride from Playa Del Carmen, but it feels like an entire world away. So when visiting Cozumel, make sure to make a day trip to Playa Del Carmen, which is also included in our safest cities in Mexico list. However, the island of Cozumel is safer than Playa del Carmen.
Like many islands in Mexico, Cozumel has plenty of turquoise waters and palm-lined beaches. The island is perfect for driving around and exploring remote empty beach shorelines.
Considering the only way to get to the island of Cozumel is by boat or plane, the island has always been considered one of the safest cities in Mexico. Just keep an eye out for your belongings, and if renting a car, don't keep anything inside the car in the window site.
Planning Your Trip to Cozumel, Mexico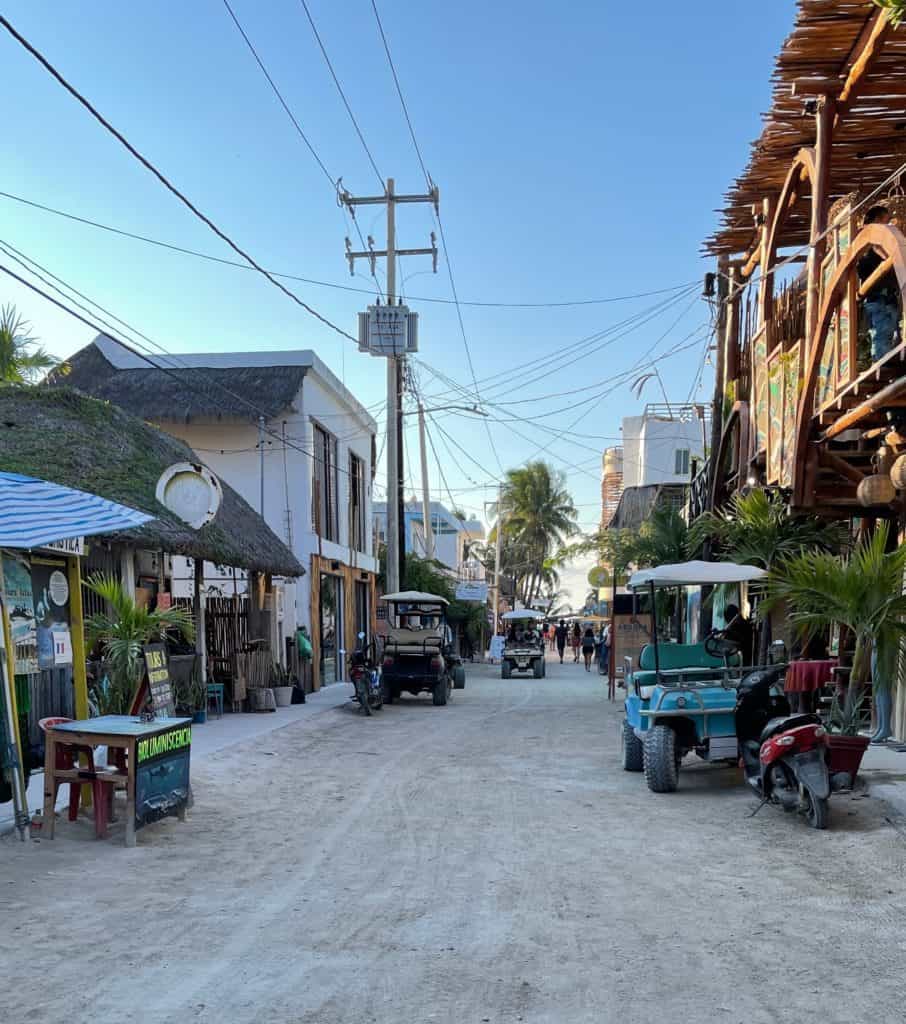 Isla Holbox is just a few hours away from Cancun, so if you're visiting, making a day trip, there is possible. Though when visiting from Cancun, it feels like the world's away from the busyness in Cancun.
The atmosphere in Isla Holbox is very laid back. There are no paved roads here; getting around here is on a rented golf cart or scooter. However, most places are walkable here if you're staying in the city center.
The island is known for its rich nature and low tide water that you can walk into for a kilometer without getting too high.
Favorite activities on this island include seeing the Bioluminescent water at night, snorkeling with whale sharks or kitesurfing, and much more!
If you're considering visiting Isla Holbox, our guide covers things you must do here, the best hotels to stay at, and several restaurant recommendations.
Isla Holbox is one of the safest beach towns in Mexico. It has a tight-knit community. This sleepy town has virtually no crime and is less touristy than Isla Mujeres or Cozumel.
Considering you need to get to a small village named Chiquila first and then take a 20-minute ferry to Isla Holbox, it makes the island one of the safest cities in Mexico. To get to Chiquila, either drive there or take the ADO bus.
Planning Your Trip to Isla Holbox, Mexico
Isla Mujeres
The beautiful island of Isla Mujeres is just minutes from Cancun's coast. It is situated in the Caribbean Sea. It is home to many laid-back, friendly locals and is one of the safest cities in Mexico.
I highly recommend visiting Isla Mujeres if you're vacationing in Cancun; it's just too close not to see. And the constant amount of ferries going back and forth between Isla Mujeres and Cancun makes it easy to visit!
The island is home to roughly only 12,000 people, so the community here is small. The island is 4 miles long, so getting around by golf cart, scooter, or bicycle is ideal.
Despite being a smaller island, Isla Mujeres is home to many resorts, hotels, and hostels. The downtown area has several restaurants, bars, and shops. Isla Mujeres offers many wonderful activities, including snorkeling and fishing.
Planning Your Trip to Isla Mujeres, Mexico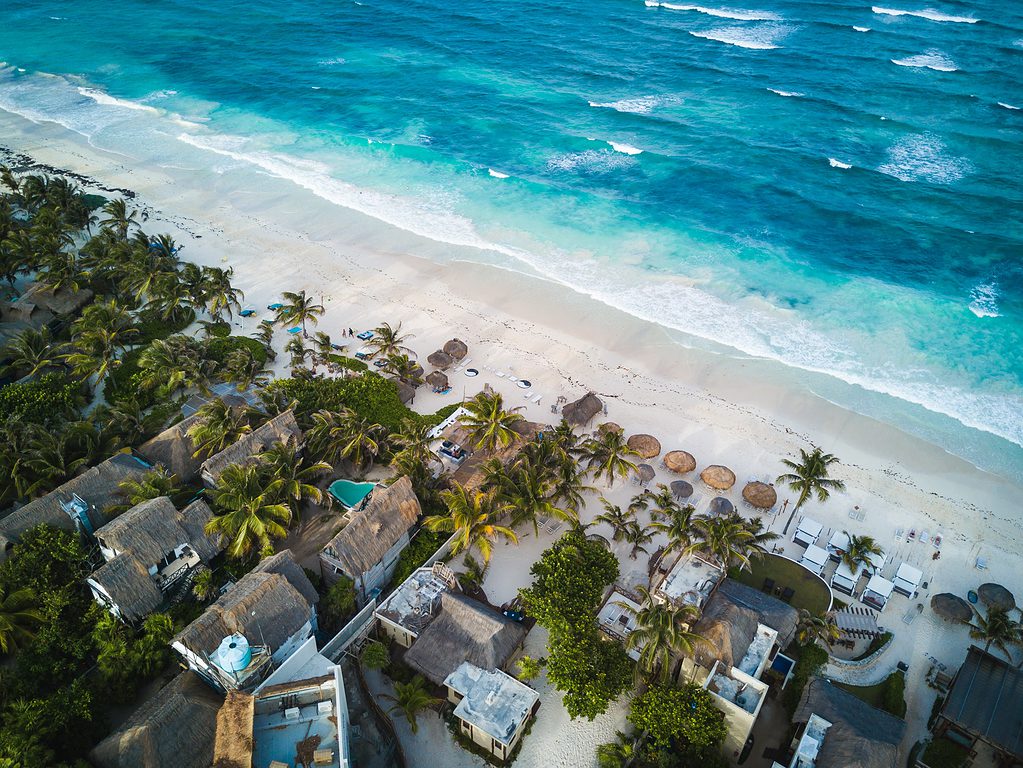 Tulum is a paradise on the beach with palm-lined beaches and turquoise waters. Besides Cancun, Tulum might be the most popular destination in the country. The city is also well known for its bohemian vibe, Mayan ruins, cenotes, jungle parties, beach clubs, and food.
While the city is known as a luxury vacation destination, Tulum does have its crime, but it's not frequent. The crime here is relatively low compared to other cities in Mexico. So there's nothing to worry about for the most part.
What you should avoid doing in Tulum is walking at night, especially in dark streets. The city is not fully developed, so most roads don't have a light source. At night, always take a taxi.
The downtown area is relatively safe at night, but caution is still advised. Downtown Tulum comes alive at night, not only because of its bars and nightclubs but the amount of street food on the street.
Planning Your Trip to Tulum, Mexico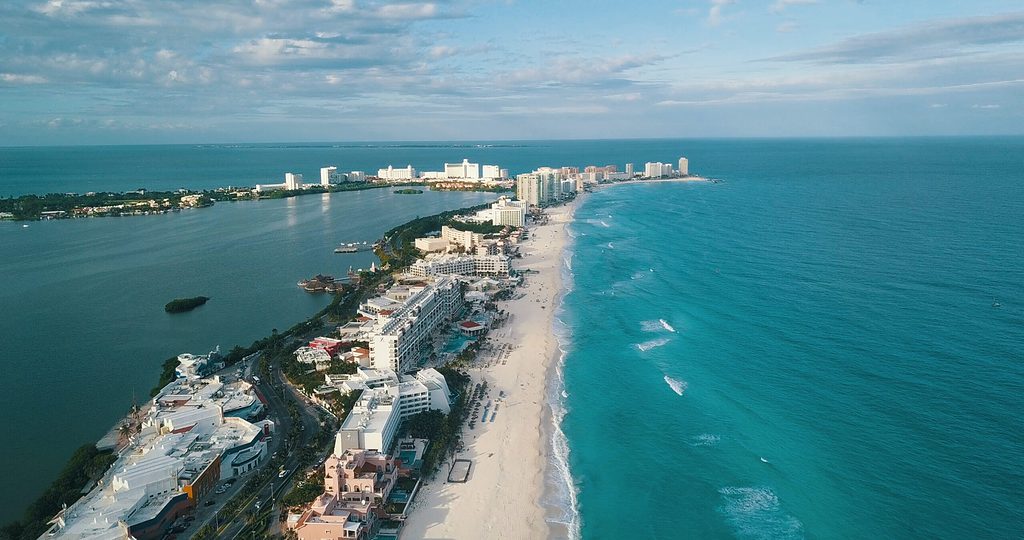 Cancun might be the most popular place to visit in Mexico, the city is a top choice for tourists to vacation in Mexico, and it's not hard to see why.
The city is home to the most all-inclusive resorts in the country. The number of hotels and accommodation options in Cancun is endless. Zona Hotelera is the Cancun Hotel Zone. The long strip of land runs along the Caribbean Sea (photo above). Because there is only one main road running from north to south, it's straightforward to navigate.
There is a good infrastructure for tourists, many restaurants, bars, and nightclubs, as well as shops and attractions that will suit all travel budgets. The city also has excellent museums and a small Mayan archeological location.
Because Cancun is such a popular vacation place in Mexico, the national guard and police here are heightened, making it one of the safest cities in Mexico.
So, for the most part, you don't have anything to worry about. Occasionally, petty crime and fights happen in the late hours close to nightclubs and bars. But that's something expected in all big cities worldwide.
If you're looking for a resort-like vacation but prefer somewhere much quieter/safer than Cancun, visit Puerto Morelos, only 30 minutes away!
Planning Your Trip to Cancun, Mexico
Playa Del Carmen is another famous city in the Quintana Roo region of Mexico. Located between Cancun and Tulum, the city is an hour from both.
The best part about Playa is how walkable this city is; everything is close to one another. Within a few hours, you could be at a beach club, then at your hotel or one of the two malls.
The famous 5th Avenue street runs directly through the city, full of great restaurants, bars, nightclubs, and shops.
Playa del Carmen does have some crime, which is usually cartel related. But for the most part, the city is relatively safe. The Mexican national guard and police patrol the streets 24 hours a day. With many patroling the town, Playa is one of the safest cities in Mexico.
Walking at night, especially in crowded tourist areas, is perfectly fine, though still keep aware of your surroundings. But if your accommodations are quite a bit North of 5th Avenue, I recommend taking a taxi at night.
This beachside city is a popular place for ex-pats and digital nomads because of its excellent infrastructure, great WiFi, and low cost of living.
Planning Your Trip to Playa Del Carmen, Mexico
Basic Safety Protocols
Despite this list being about the safest cities in Mexico, you still need to use basic safety protocols when visiting or living in these cities, as you would anywhere in the world.
Don't walk on roads that aren't too well-lit at night with a minimal amount of people, meaning after 8:00 PM, especially not alone. Take a taxi always at night when in this scenario, it's just not worth it.
As for well-lit streets, with tourists around and such, it's very safe, and you have absolutely nothing to worry about!
Drugs are rampant around Mexico, primarily in tourist-filled areas, do not purchase anything from anyone. Not only is this not a good idea, but you don't know who you'll be speaking to, which could lead to a wrong path of events.
It's best to go with a group of three or more when attending outings such as nightclubs, beach parties, and jungle parties.
Other obvious safety protocols you must be aware of at all times:
Be alert, and be aware of your surroundings when walking at night.
Hide your valuables
Plan your route wherever you're going. Walking around senselessly isn't practical.
Follow these simple safety protocols anywhere in the world, decreasing the likelihood of encountering problems. Regardless, these nine cities are the safest places in Mexico to travel.
I have several friends who've relocated around Mexico, and they've advised me with the same information. I have spent many months in Mexico throughout different cities in the country. Follow these simple safety tips in Mexico, and you should be fine. For more information, check out WorldNomad's safety tips when visiting Mexico.
Best Cities in Mexico for Digital Nomads & Expats
We've discussed the safest cities in Mexico to visit. Now let's discuss which cities in Mexico are most suitable for digital nomads and ex-pats to live in.
Cities suitable for ex-pats and digital nomads should have fast internet, convenient accommodations, and a community of other nomads. Meeting others on a similar journey gives you a sense of community.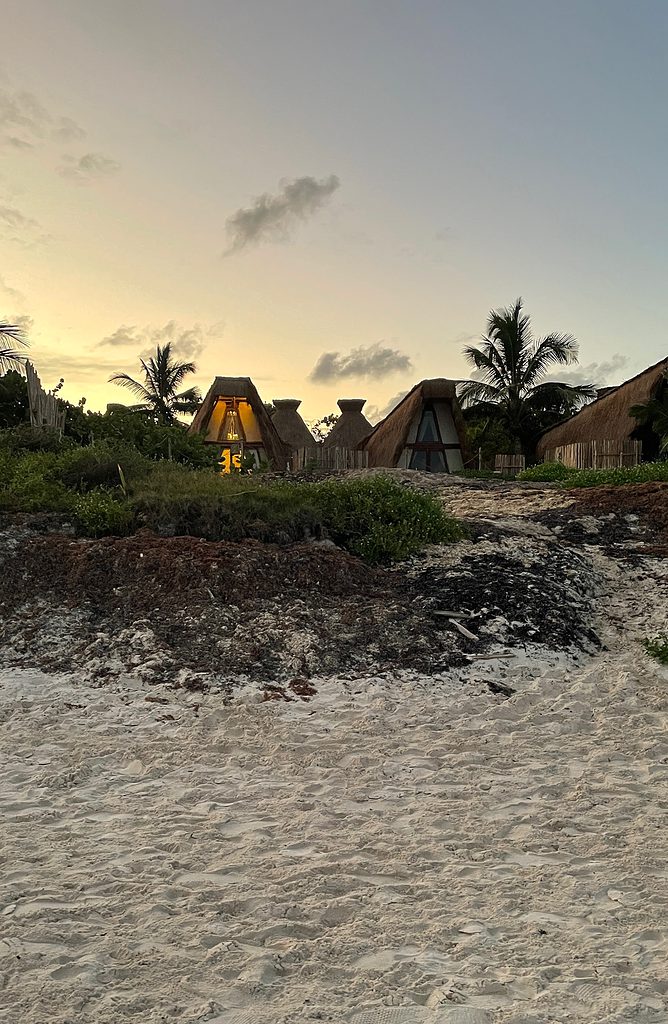 These three cities are included in this list of safest cities in Mexico and serve as great hubs for ex-pats because of what they offer.
All three cities have good internet, convenient transportation, excellent accommodations, and great nomad/ex-pat communities.
Puerto Escondido and Chetumal are two more cities I recommend visiting as a digital nomad in Mexico. Though these cities are small, they have ex-pats/nomads there, but not close to the amount in other cities I've listed above.
This city ranking is in no specific order. Having spent time in all three cities, I can say they're all great!
Puerto Vallarta
Ranking third in our list of the safest cities in Mexico, Puerto Vallarta is a great city to visit and live in all year round. It's small enough that it's not considered a big city, but also big enough that you won't get bored!
The infrastructure here is excellent, and the internet is fast. You've got a wide variety of housing here, from traditional homes to high-rise condos. There is a good ex-pat/digital nomad community here.
Playa Del Carmen
Playa is famous equally for vacation and its ex-pat community. Walking around the city, you will constantly see tourists everywhere all year round. But that doesn't mean the digital nomad community doesn't exist here.
The ex-pat community here is significant because the city is walkable, has excellent infrastructure, and has a wide selection of restaurants/bars. Digital nomads from Canada, the US, Germany, and other countries live here. And it's conveniently only one hour away from both Cancun and Tulum.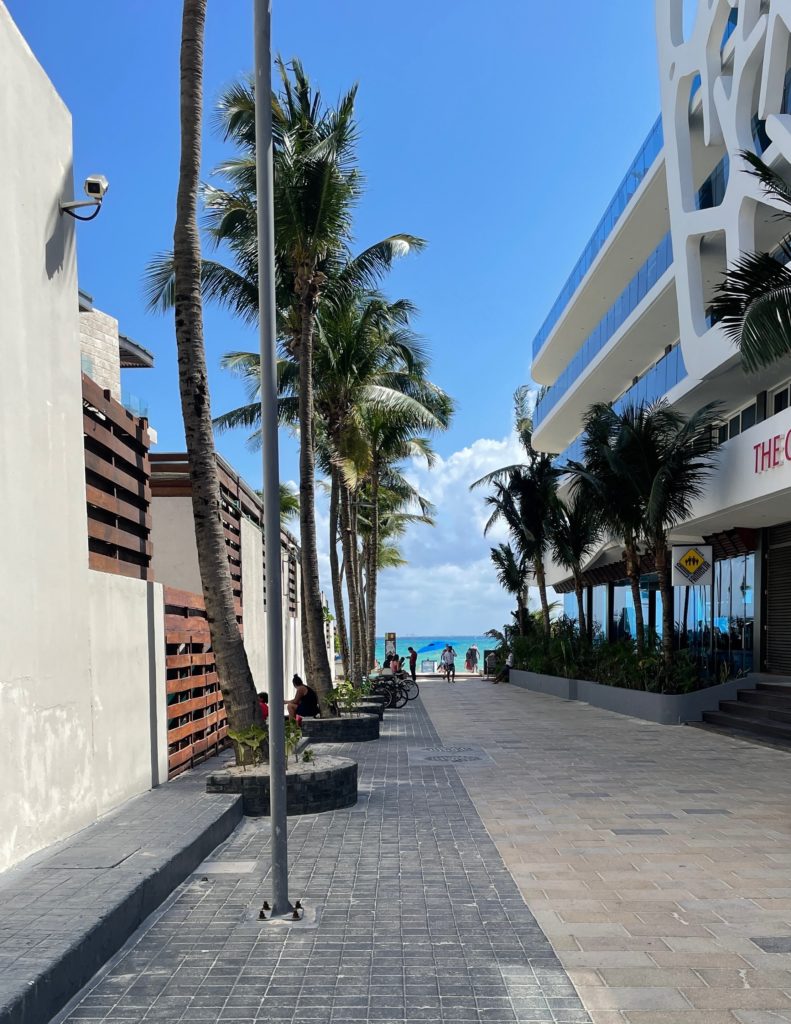 Tulum
If we compare Tulum to Playa del Carmen and Puerto Vallarta, it's the most miniature-developed city of the three. However, the city is growing infrastructure-wise and fast. Development has been rampant here in the past few years.
Though this is part of why some prefer to settle in Tulum, it has a bohemian lifestyle. And realistically, it still has everything you need. Tulum is the safest place to live in Mexico for nomads.
The ex-pat community here is extensive, with many individuals choosing to live here from all over the world. Many are also seasonal Tulum residents, living there every year from October – April. Remember that Tulum is ranked second in this list of safest cities in Mexico.
Final Thoughts – Safest Cities in Mexico
Mexico has its crime; it is obvious to anyone who watches the news. But that doesn't mean it's a dangerous country. This list of the safest cities in Mexico is safer than most cities in the United States.
Having been to most cities on this list, I have always felt safe in Mexico. Following basic big-city protocols anywhere in Mexico is all you need. Use your instinct. Only walk in well-lit streets and around tourists.
Don't do anything you wouldn't do back home where you're from, and you will be fine visiting or living in any of these safest cities in Mexico. And last but not least, make sure you get travel insurance when visiting!
Subscribe to Travel Hiatus!
Receive updates on my latest posts, insider travel tips & the best destination guides to your inbox!
Happy & Safe Travels
Featured Image Credit: Joseph Barrientos
---
Planning Checklist
---
Disclaimer: Please note that some of the links shared in this article might be affiliate links; this means that at absolutely no extra cost to you, we will earn a small commission for any sales generated through this article and/or this website. We recommend products/services we've either used or researched thoroughly – Thank you for supporting us so we can continue to share helpful travel content!