6 Best Things To Do in Puerto Aventuras
Planning a trip to Puerto Aventuras? And are you looking for the best things to do in Puerto Aventuras? You've come to the right place!
Puerto Aventuras is located along the stretch of the Riviera Maya. It's a beautiful, tiny town most well known for its resorts and access to exceptional beach shorelines.
Because Puerto Aventuras is located between two famous larger beach towns along the Riviera coastline, Playa Del Carmen and Tulum, most tourists tend to go there instead, making Puerto Aventuras a calmer beach town to visit!
It is famous for its many large resorts that occupy quite a bit of the shoreline here. That said, there are still beautiful beaches here available to the public, but limited.
Other than the large resorts here, if you head north of town, you will be in the residential/local area. Here, you'll find several shops, restaurants, bars, and grocery stores.
Suppose you want to stay at a large resort but prefer a more intimate atmosphere than a big, crowded city like Cancun. I'd highly recommend visiting Puerto Aventuras instead!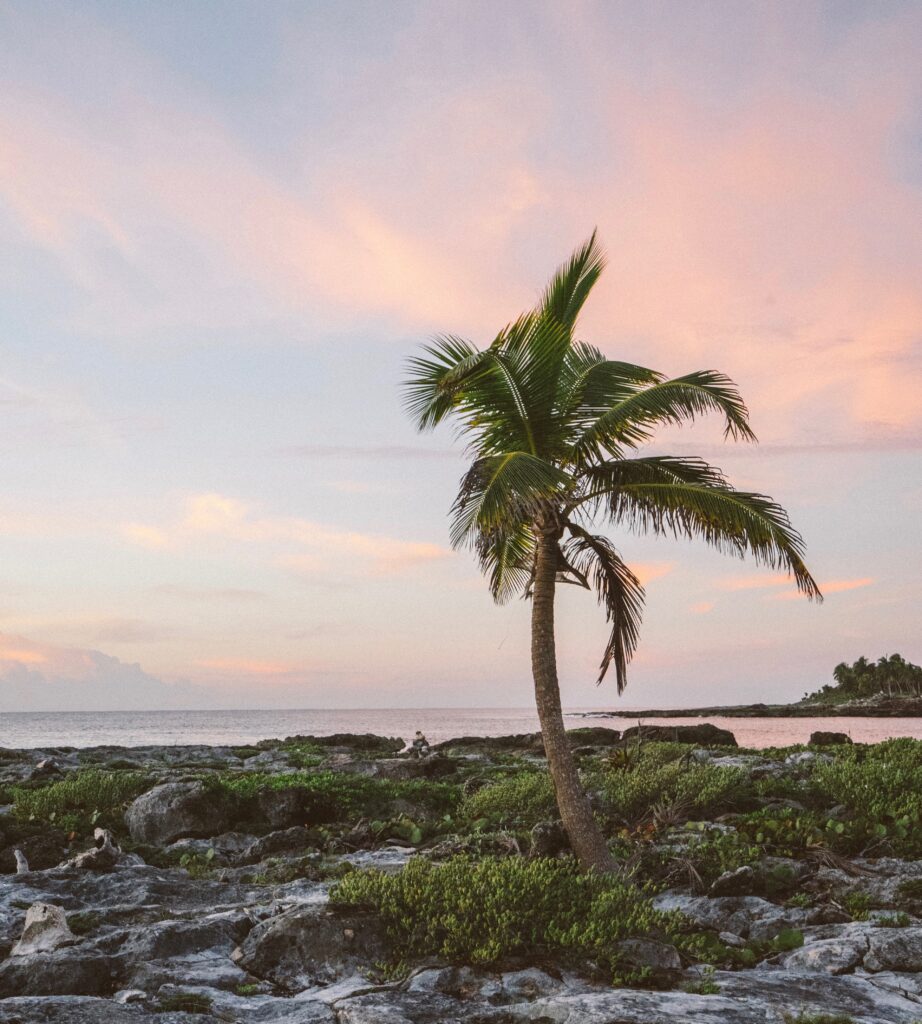 How to Get to Puerto Aventuras
Once you've arrived at Cancun International Airport, you must make your way for 1 hour and 15 minutes by car to Puerto Aventuras.
Here are all the possible ways to get to Puerto Aventuras from Cancun International Airport.
Options to Puerto Aventuras from Cancun Airport
Those curious about taking the ADO Bus (travel bus in Mexico), the bus doesn't go directly to Puerto Aventuras; the closest it gets to there is Playa Del Carmen. If you're looking to take the Bus, you'll have to go to Playa Del Carmen and then take a taxi to Puerto Aventuras. Not too convenient.
If you're looking for the cheapest method to get to Puerto Aventuras, use a Shared Shuttle. If you're looking for the most convenient way, book a Private Airport Pickup.
How far is Puerto Aventuras from Cancun Airport?
From Cancun International Airport to Puerto Aventuras, it's approximately a 1 Hour and 15-minute drive with a total of 89km/55 miles.
Beach Day
You're visiting one of the most beautiful coastlines in the world, the Riviera Maya. Of course, spending the day at the beach is one of the best things you can do here.
If you're staying at one of the many large resorts here, you might spend most of your time at the resort's private beach. But don't let that lure you away from visiting the public beaches as well!
Beaches to Visit
Playa Xpu-Ha
Paamuel Beach
Playa Kantenah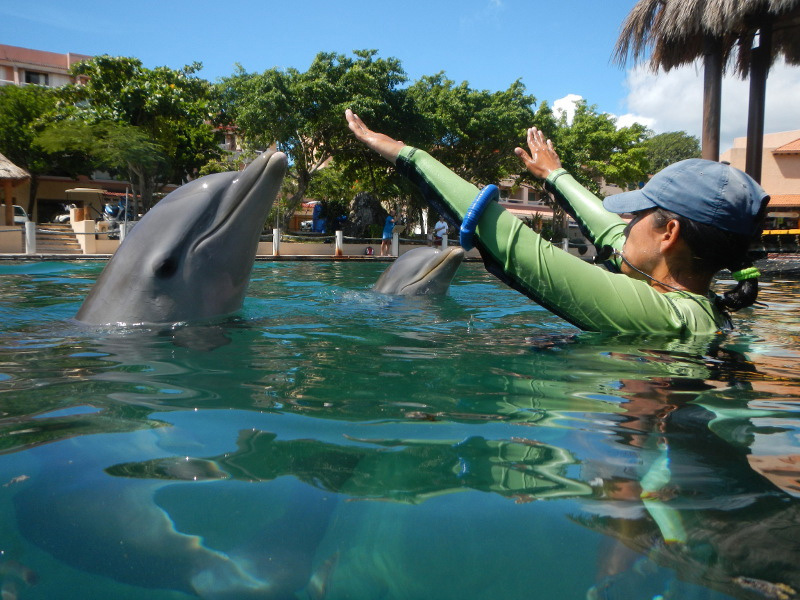 One of the top attractions in Puerto Aventuras is Dolphin Discovery, and it's conveniently located right in town, so you don't have to go far to experience this fun activity.
At Dolphin Discovery, you can interact and swim with dolphins. An English or Spanish-speaking guide will accompany you – Book Advanced Tickets.
After your fun swimming experience with the dolphins, your entry ticket includes access to Moroma Beach Club. You can continue your day after at this beach club, relaxing along the beach with some great food and drinks!
For those who love adventure, here is a tour that you will absolutely love. It's action-packed with all the must-do activities when visiting Mexico.
On this tour, you will get to drive ATVs off-road in the mud in the middle of the jungle, zipline from tree rooftops, and, most importantly, visit a cenote, an absolute must-do activity when visiting this region of Mexico.
All equipment is provided for all activities on the tour, and the tour also includes lunch in the tour price.
While all these activities don't take place in Puerto Aventuras, the tour includes roundtrip transportation, so you won't have to worry about anything. Everything is conveniently sorted out for your adventure day!
Visit Cenotes Nerby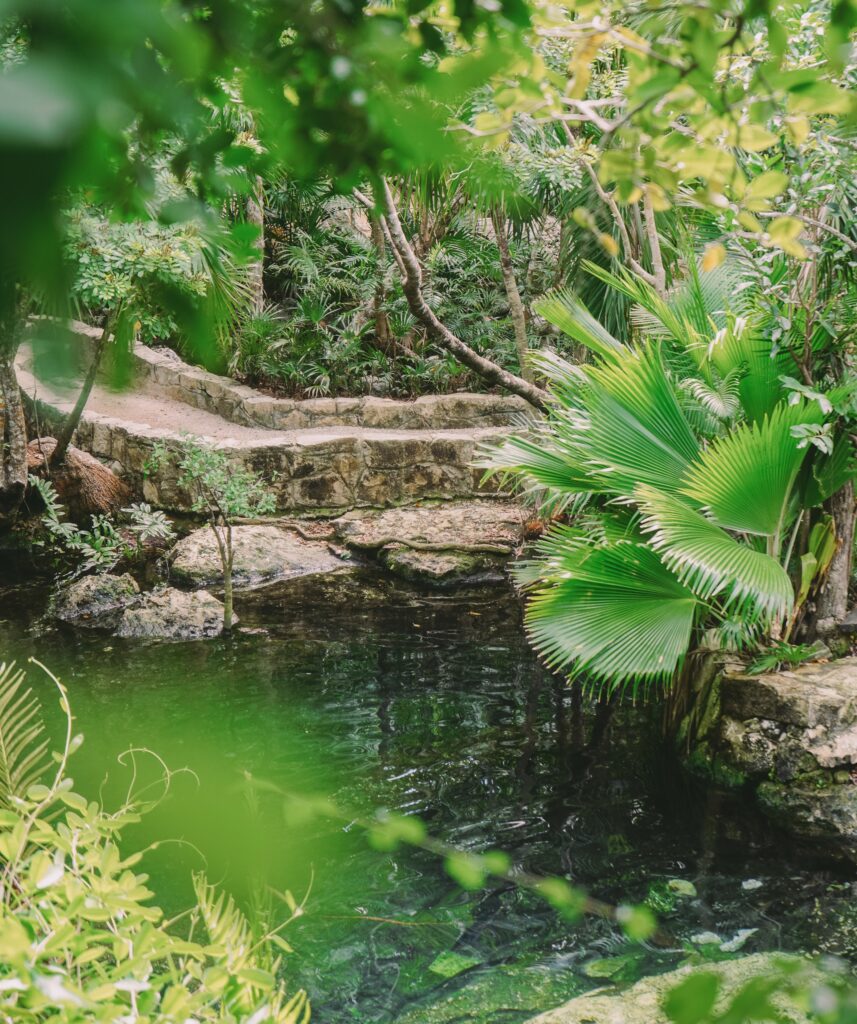 As I mentioned earlier, one of the activities you must do when visiting this part of Mexico is to swim in a cenote at least once.
If you're unfamiliar, a cenote is a natural sinkhole formed from collapsed limestone full of natural spring water. Cenotes were once used for water supply by the Mayan Civilization.
Lucky for you, there are several cenotes nearby Puerto Aventuras for you to visit. I say lucky because not all cities have beautiful cenotes to visit. Cancun is an example of that; there aren't cenotes nearby Cancun.
Cenotes tend to have an entrance cost of around $9-$15 US (adult) per person, and kids' entrance fees tend to be slightly lower.
Cenotes Nerby to Visit:
Cenote Azul
Cenote Cristalino
Kantun Chi
Jardin Del Eden Cenote
This tour includes Cenote swimming, snorkeling with sea turtles, and an authentic Mexican lunch. These small group tours include snorkeling equipment and round-trip transportation to from and back to your hotel.
On this tour, you will be taken to Tulum as your first stop, where you will visit a beautiful cenote with stunning turquoise waters and unique rock formations above it.
After that, you will be taken to Akumal Beach, a stunning beach famous for its laid-back atmosphere and abundant marine life. Including a wide variety of tropical fish, healthy, colorful coral, and many sea turtle species!
Sail On a Private Boat
Those looking to go all out and enjoy a private afternoon on the water. You can book a private sailboat to enjoy the waters of the Riviera Maya. Prices depend on group sizes and more.
CataMaya is a popular private boat charter in town. They will take you out on the water for the afternoon, and packages include an open bar, snorkeling, and lunch.
Where to Stay in Puerto Aventuras
While Puerto Aventuras isn't that large, the town is full of several accommodations to choose from.
However, most of the real estate on the beach here is taken up by large resorts, which you can browse below.
I've included the best Puerto Aventuras hotels for anyone's budget. Please review the selection of hotels and see what suits your needs/budget best!
If you're looking for more intimate accommodation, such as vacation rentals in Puerto Aventuras, browse apartment rentals in Puerto Aventuras.
Dreams Puerto Aventuras Resort & Spa – (4 Stars)
Known for being the most popular resort in town, Dreams Puerto Aventuras has everything you need—a large private beach for guests, jacuzzis, pools, and many room accommodations.
Best For: Most popular rated Hotel in Town
Barcelo Maya Riviera – Adult Only (5 Stars) / All Inclusive
For those looking for a luxurious modern resort with an extended beach shoreline only for Adults, this is the place to come.
What's most stunning about the Barcelo Maya Riviera is its layout. It's spread out in more of an open layout format, with no buildings obstructing anywhere close to the shoreline.
Best For: It's beach shoreline and layout, Adults-only, 5 Stars
Hard Rock Hotel Riviera Maya – (4 Stars) / All Inclusive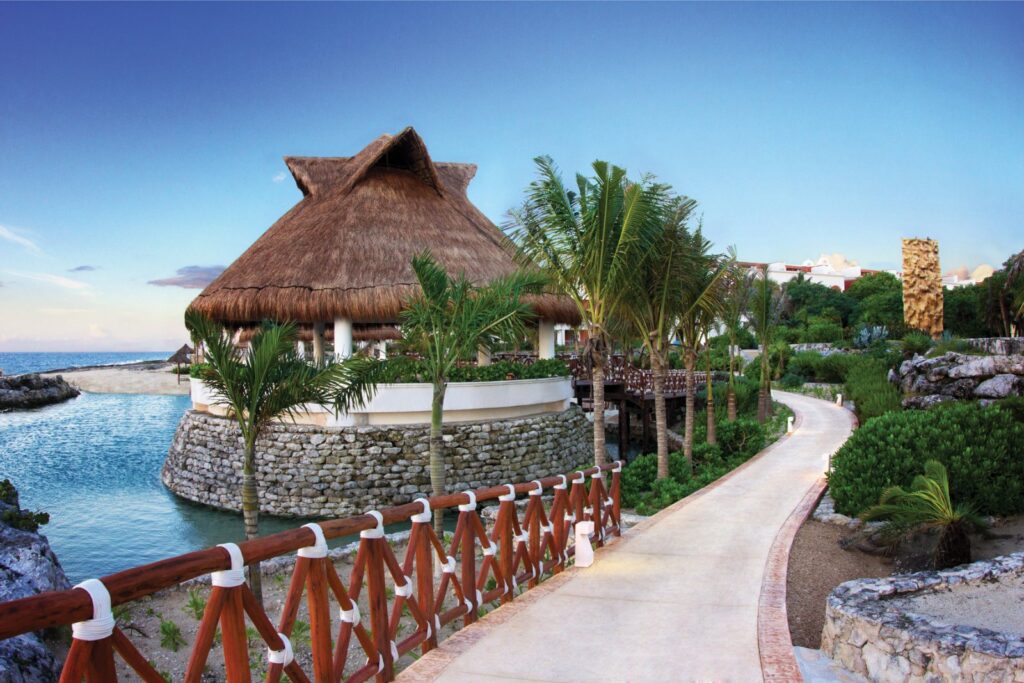 The Hard Rock in Riviera Maya is very impressive. The restaurants at the resort include a steakhouse, a buffet, a Japanese hibachi, Italian, and more. – The hotel has both a family part of the hotel and an adults-only section.
Amenities include a private beach, multiple pools, a semi-Olympic pool, a large jacuzzi, a dive pool, a gaming room for kids, and a fitness trail/gym.
Best For: Those coming with a big family; there's something for everyone here.
Catalonia Riviera Maya Resort – (4 Stars) / All Inclusive
Catalonia Riviera Maya is between Dreams and the Hard Rock Hotel, a stunning yet affordable 4 Stars resort along the coast.
The decor at the Catalonia Riviera is quite tropical; you will spot palapas everywhere. Amenities here feature a private beach shoreline, a gym facility, several pools, and more.
Best For: An affordable Resort with several amenities suitable for all
Puerto Aventuras Hotel & Beach Club – (4 Stars)
A simple but efficient beach resort offers guests many amenities with beachfront shoreline access.
While the Puerto Aventuras Hotel is a 4-star, it cannot be put in the same category as the hotels above; the resorts listed above are far superior in every way.
But the cost here is lower than the others, and that's where this resort comes on top.
Best For: Affordable beachfront resort suitable for all
Chez Waffle Hotel – (3 Stars)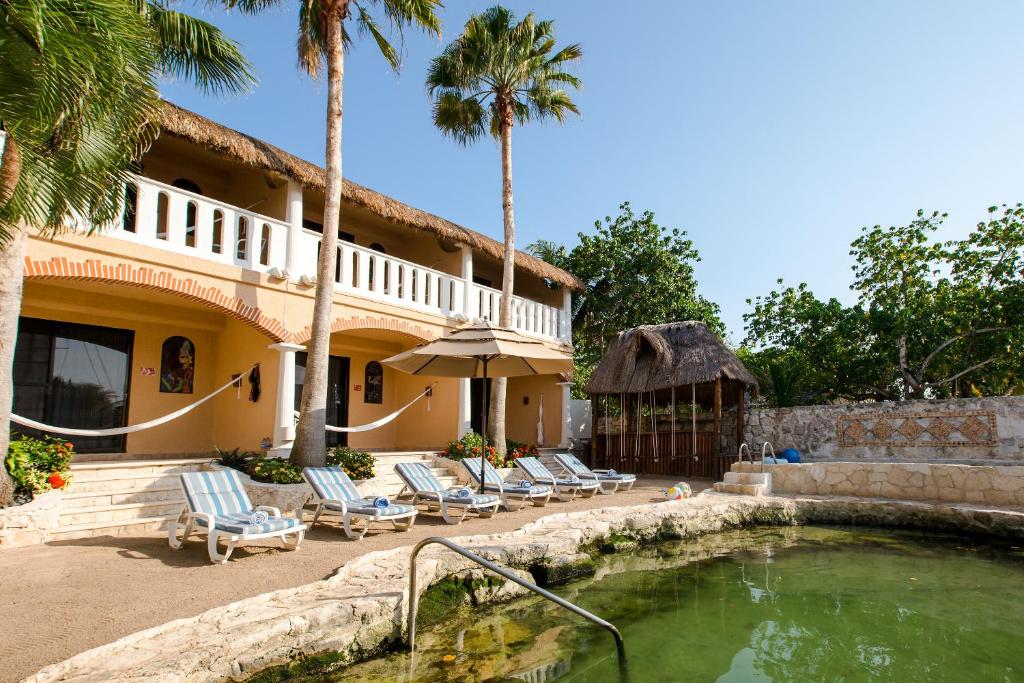 The Chez Waffle Hotel is a small, charming Spanish-styled boutique hotel located right along the water.
The hotel has a small area where you can sunbathe by the pool, but not an actual beach shoreline.
It's cozy and simple but has everything one may need. What this hotel is most known for is its breakfast. Guests from around town come here just for breakfast!
Best For: Cozy, affordable, well-rated hotel with great breakfast
Where to Eat in Puerto Aventuras
While there aren't too many restaurants here because Puerto Aventuras is a smaller town, there are a few restaurants you should consider visiting!
I'd recommend you go out and support local restaurants, even if you're staying at an all-inclusive hotel. Get out of your hotel, taste the delicious local cuisine, and support the local restaurants!
For restaurant recommendations in Puerto Aventuras, consider this restaurant list!
Being a small town, there are only so many restaurants here. But if you're looking for a more extensive selection of restaurants, I recommend visiting Playa Del Carmen's restaurants!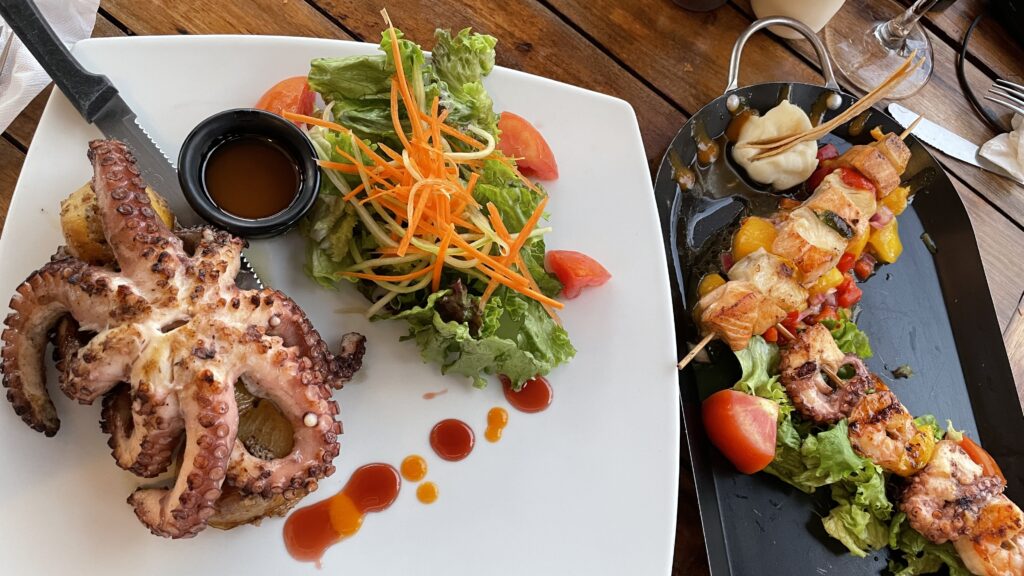 Puerto Aventuras – Nearby Cities
When visiting any city, anywhere in the world, it's common to be curious about other destinations nearby. There are quite a few nearby cities to Puerto Aventuras you may consider visiting for a day trip or perhaps visit and spend a night there!
Here is a list of nearby towns/cities that aren't too far from Puerto Aventuras that you could do day trips to!
Nearby Cities:
Another place you may want to consider visiting when in Puerto Aventuras is the most popular attraction in Mexico, Chichen Itza, conveniently only 2.5 hours from Puerto Aventuras.
The best way to do just that is by attending this Chichen Itza Tour from Puerto Aventuras, which includes roundtrip transportation from your Puerto Aventuras hotel.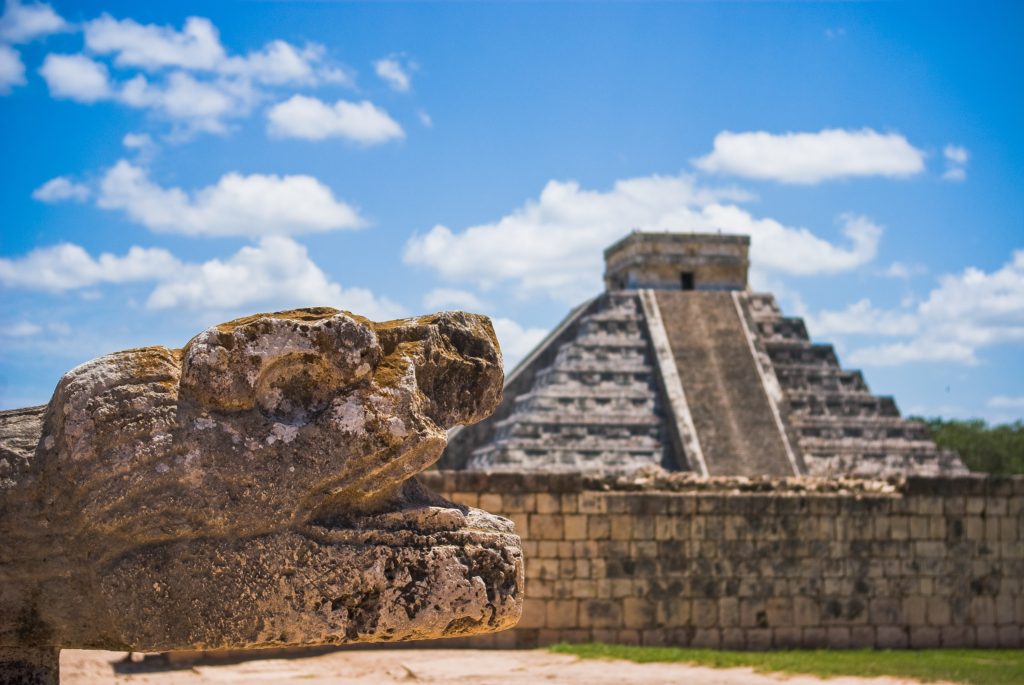 Is Puerto Aventuras Safe?
Yes, Puerto Aventuras is perfectly safe; you have nothing to worry about. You will spot police as well as the Mexican National Guard patrolling beaches and streets during different hours of the day, as well as at night.
Regarding safety in Puerto Aventuras, it's very safe. The town is small, with an approximate population of just over 20,000 people, and everyone knows one another.
Puerto Aventuras is much safer than its neighbors, Playa Del Carmen and Tulum. With a more prominent city comes more crime, and a smaller one naturally has less crime.
It's important to note that most resorts/hotels here have 24/7 security throughout the premises.
Best Time to Visit Puerto Aventuras
Puerto Aventuras has two main seasons, similar to the rest of the Riviera Maya region.
The dry season is the best time to visit Puerto Aventuras; the dry season is from November through April. During this time, you can expect hot days with low humidity and cooler evenings.
During the off season, the weather in the Riviera Maya is scorching hot with high humidity.
Dry Season: November to April
Off Season: May to October
If you choose to visit during the off season months, understand that it's very hot and the humidity levels are quite high, especially from June to August. Something else to consider is rain; during the off season it's more likely to rain compared to the dry season!
Things To Do in Puerto Aventuras – Final Thoughts
It depends on what you're coming here for; I'll be honest, Puerto Aventuras isn't some sort of destination like Tulum where you must visit.
But if you're looking for sizeable resort-style hotels with everything you need and a beautiful private beach shoreline, which Puerto Aventuras is known for.
Also, if you prefer to go somewhere less crowded and safer than Cancun, Puerto Aventuras is perfect and worth visiting!
Is Puerto Aventuras a good place to visit?
Puerto Aventuras is an excellent beach town choice in the Riviera Maya, offering many excellent accommodation options and things to do. It's calmer than its neighboring cities, Playa Del Carmen and Tulum.
Is it safe to walk around Puerto Aventuras?
Yes, it is; Puerto Aventuras is a small, lazy beach town; the locals know one another here, and the town is incident-free!
How far is Cancun Airport to Puerto Aventuras?
It's 77 km in distance and usually around a 1-hour drive, but can take longer depending on traffic on the main highway.
What airport do you fly into for Puerto Aventuras?
Cancun International Airport is the closest to Puerto Aventuras. And it's 77 km away, and the drive time is just over 1 hour long, depending on traffic.
Subscribe to Travel Hiatus!
Receive updates on my latest posts, insider travel tips & the best destination guides to your inbox!
Featured Image Credit: Engin Yapici / Others vis UnSplash
Happy & Safe Travels
---
Planning Checklist
---
Disclaimer: Please note that some of the links shared in this article might be affiliate links; this means that at absolutely no extra cost to you, we will earn a small commission for any sales generated through this article and/or this website. We recommend products/services we've either used or researched thoroughly – Thank you for supporting us so we can continue to share helpful travel content!