9 Best Lake Tahoe Winter Activities To Do
Are you looking for the best Lake Tahoe winter activities to experience on your upcoming trip? You've come to the right place!
There are several fun activities to do in Lake Tahoe in both the Summer and winter time, making it a great destination to visit no matter the season!
Last year, while debating between going to Lake Tahoe in the winter or NYC for a winter trip, I decided on Lake Tahoe and was glad I did so.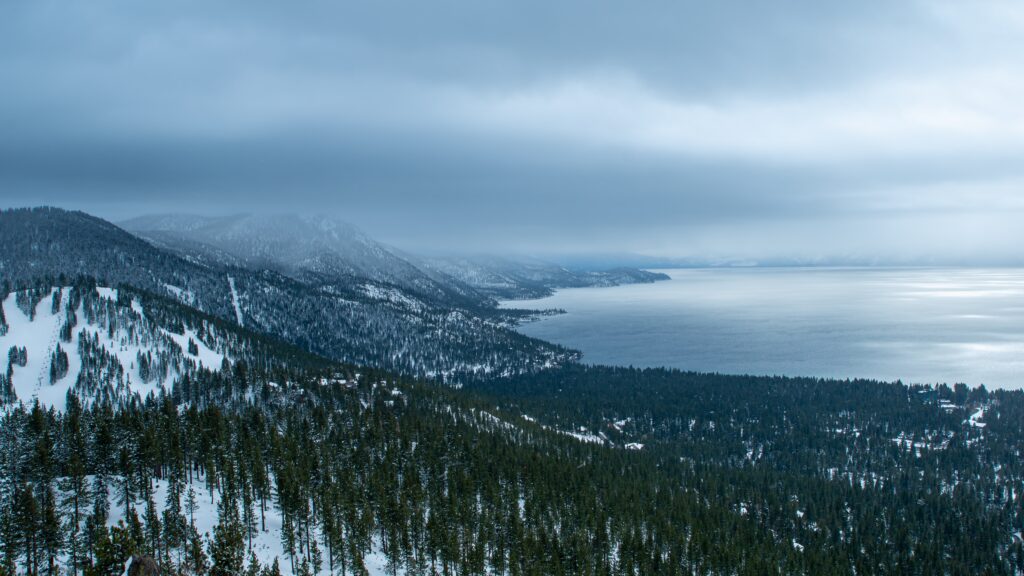 Anyway, my main reason for wanting to go to Lake Tahoe in the winter was because I've seen it online several times, and it looks beautiful during the wintertime.
There are plenty of relaxing and active Lake Tahoe winter activities to do. I did NOT include Snowboarding and Skiing in this list. I wanted to share less-known Lake Tahoe winter activities to do!
Where to Stay in Lake Tahoe
Before I share my favorite things to do in Lake Tahoe in the winter, let's discuss where to stay in Lake Tahoe.
Hotel bookings here can be booked up fast, so don't plan any part of your trip until you've booked a hotel!
There are two main spots in Lake Tahoe: South Lake Tahoe and Incline Village.
Incline Village is very small and quiet, with not as much to do as South Lake Tahoe. Depending on what type of experience you're looking to have, make your choice.
Hyatt Lake Tahoe (Incline Village)
Located in the Incline Village of North Lake Tahoe, this popular hotel offers a private beach area, casino, spa, and much more. For those looking for a posh resort to visit in North Tahoe, this is it.
The Coachman Hotel (South Lake Tahoe)
This charming boutique hotel is located in South Lake Tahoe. The hotel is located conveniently close to many restaurants and the main beach. The interior of Coachman Hotel is like a lodge, the exact type of feel you want when visiting a winter destination.
My favorite part about this hotel is the outdoor fire pits, an excellent activity to do after a long day of adventures!
Basecamp Tahoe (South Lake Tahoe)
Also located in Southlake Tahoe, Basecamp is famous for its beer garden. You can find heat lamps, firepits on weekends here, and sometimes live music!
HOTEL TIP: Camp Richardson area is not recommended to stay at during winter months. Sure, it may be nice and quiet there. But sometimes, that section of the road gets closed due to the heavy snowfall.
It's too far away to walk to any popular attractions in South Lake Tahoe. Although the Lake Tahoe Basin Management Unit attempts to keep things clean, it sometimes gets difficult.
Affordable Lake Tahoe Accommodations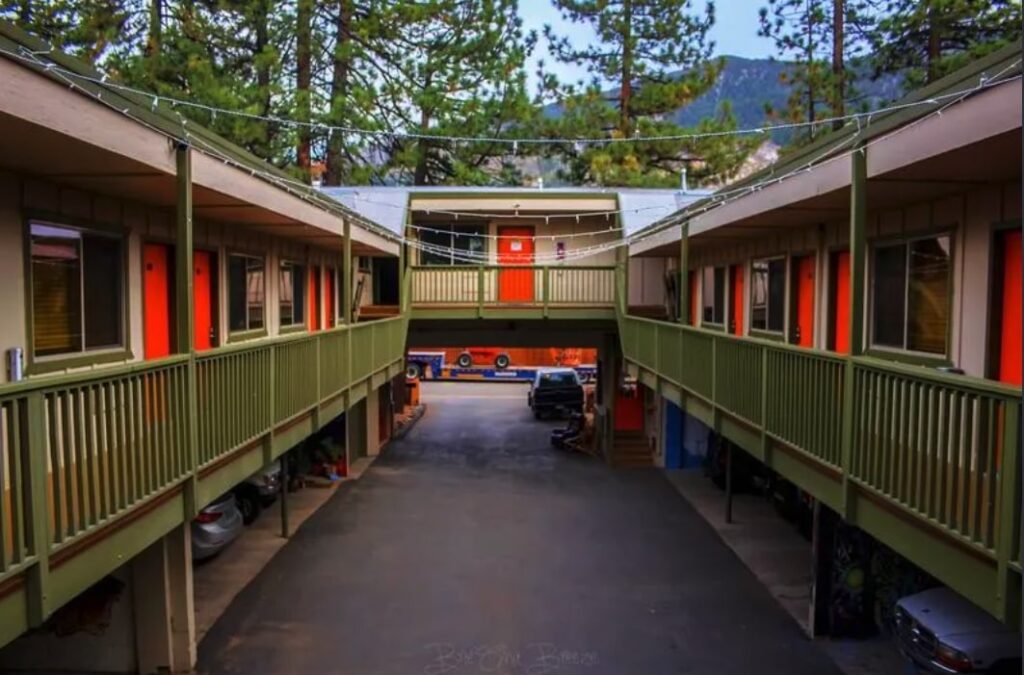 Let's get something straight: Lake Tahoe isn't the cheapest place to visit. As I mentioned earlier, hotel bookings are competitive here, so the demand is there.
For those wanting to visit Lake Tahoe in the winter but want to budget on their accommodations, I recommend both suggestions below!
Mellow Mountain Hostel (South Lake Tahoe)
For those looking for a dorm-like experience, consider the Mellow Mountain Hostel. The lodge-like hostel features dorm rooms with several communal spaces. It's a great place to stay if that's the type of experience you're after or if you're visiting Lake Tahoe alone.
A basic old-school-looking motel is what you should expect here, nothing too fancy, but it does the job and is cheap!
It is conveniently very close to Lakeside Beach and not too far from several restaurants.
Lake Tahoe Snowmobile Tour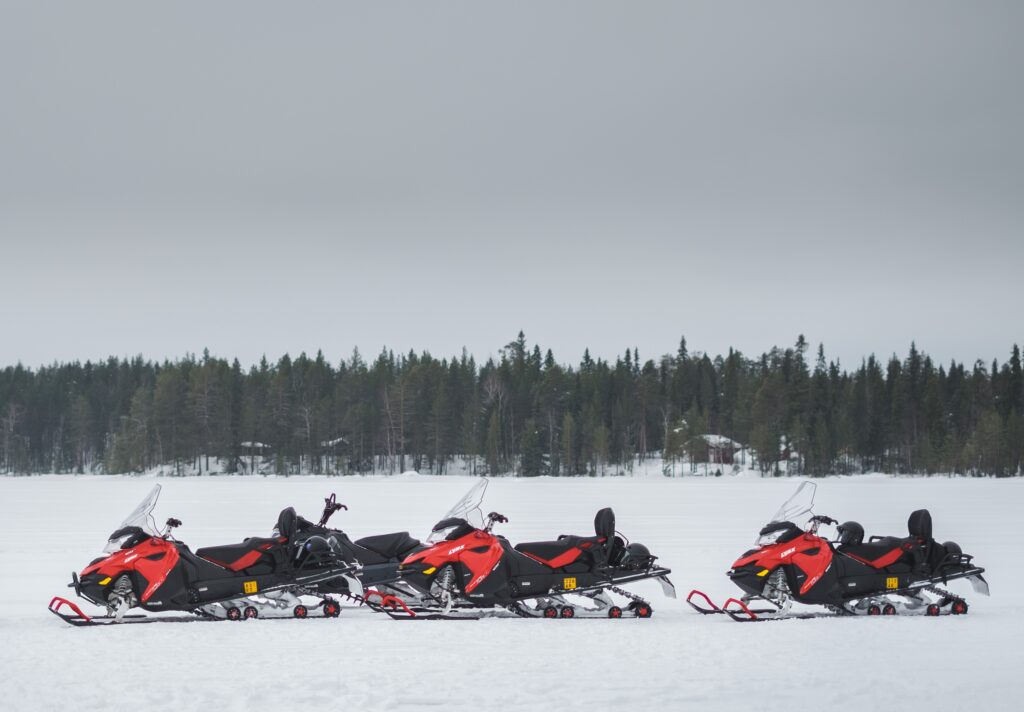 Fresh air in a secluded area of the Lake Tahoe forests, the sound of your snowmobile as it glides through a fresh blanket of snow. The sun shines bright as you see the clear road ahead.
Snowmobiling is a fun and exciting activity without much physical effort. This was my favorite of all South Lake Tahoe winter activities we did.
Snowmobile tours take you around for 2-4 hours with an intimate group; there are tours for both beginners and experienced riders.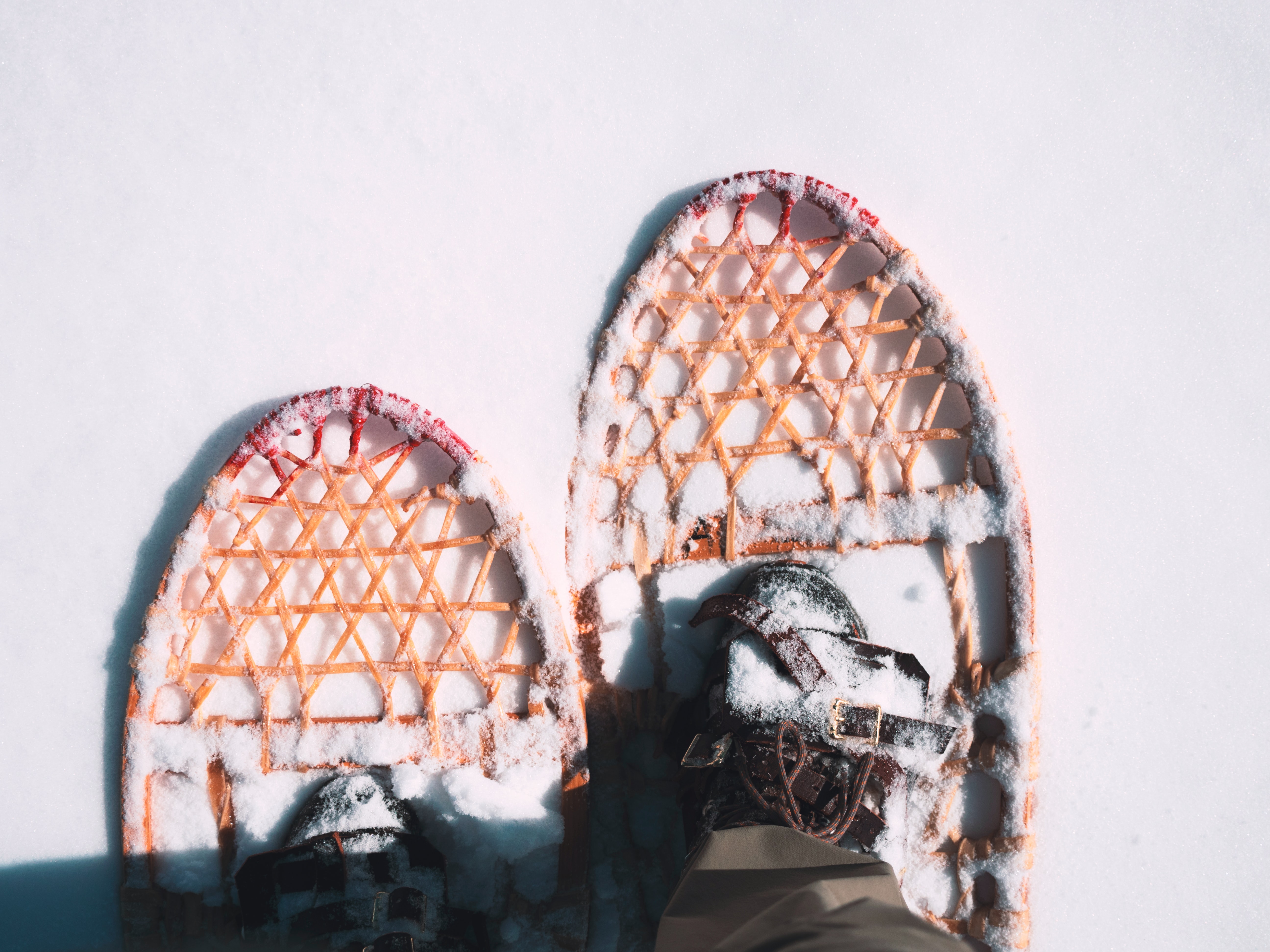 Tahoe is home to some of the most snow-covered areas in North America during the wintertime.
Meaning it's one of the best places to use snow shoes! Rent a pair of snow shoes if you don't own some, and take a walk around the park or beach covered in snow!
When it snows so much in Tahoe, people walk in the middle of the road in snow shoes like it's some secluded area in Antarctica! Consider this popular snowshoe tour!
Brewery Hopping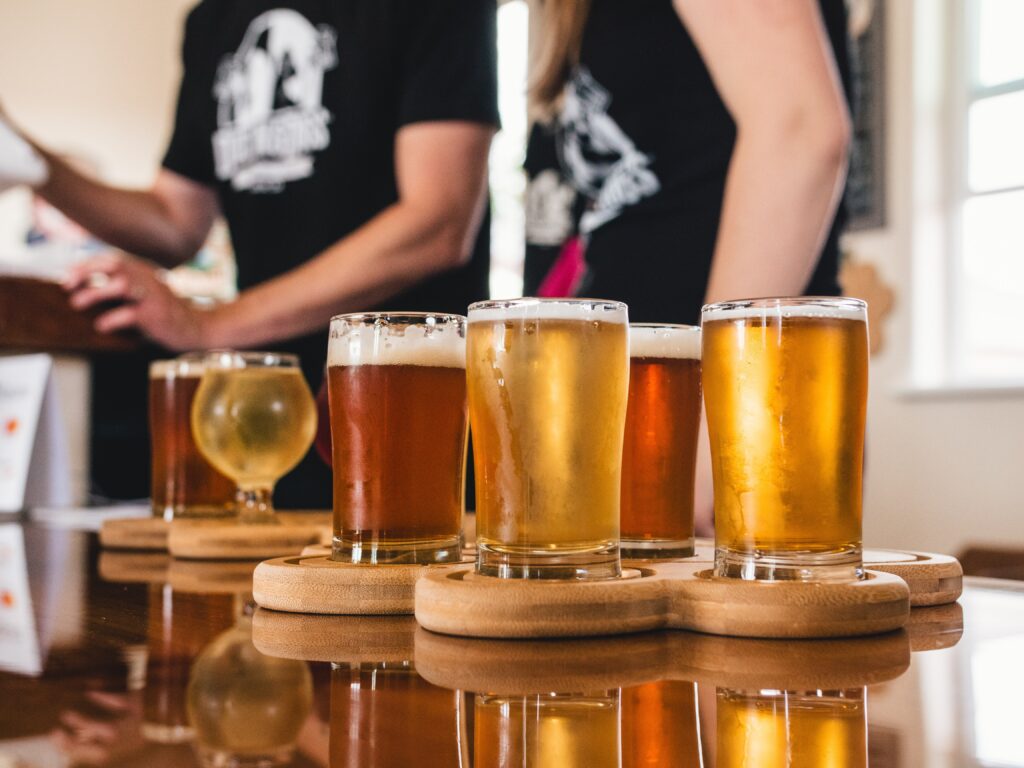 I'm not a big beer drinker myself; I'm more of a wine person. However, I had to include brewery hopping because there are many breweries here, and visiting them is a popular winter activity in Lake Tahoe.
By the way, expect to try some beer-infused foods when visiting some of these breweries!
Because many of the breweries are close to one another, you can visit several in a day. And since you'll be walking, everyone can drink; there's no need to have a designated driver.
Most breweries have a wood-filled interior, giving you that cozy mountain cabin vibe. It's cold out, so drinking is an activity, whether beer, wine, cocktails, or champagne!
Spa Day / Outdoor Hot Tub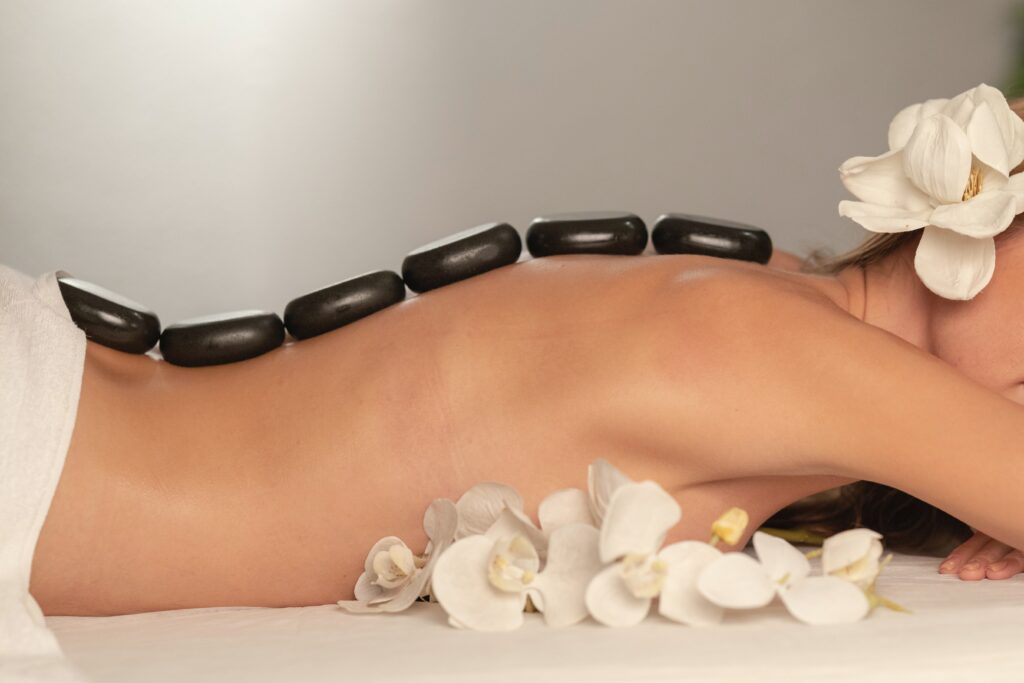 You've spent the last two days doing fun winter activities in Lake Tahoe. And now you'd like to switch it up and do something more relaxing. Or perhaps you had too much to drink last night, and your hangover prevents you from doing something too energy-consuming!
Spa day, that's what you need to do. Either detox all the alcohol you drank yesterday or relax.
But if you decide to use an outdoor hot tub, a cocktail or a drink is the perfect companion.
The evening before the sun is about to go down is the best time to drink in a warm hot tub here. Bring a hat as temperatures get colder into the evening— this is one of my favorite Lake Tahoe winter activities at night.
I was surprised to find this out, but there's a castle in Lake Tahoe. I have a bit of fascination when it comes to castles. Who doesn't?
Located on the shores of Emerald Bay, you'll find Vikingsholm Castle. While it's a popular spot to boat or hike into in the summer, it's perfect for a winter hike because it's much less busy.
You can park at the top of the hill and walk down to the castle. You should wear good grip shoes as the trail can get slippery—one of those ideal Lake Tahoe winter activities to grab some fresh air.
Apres Ski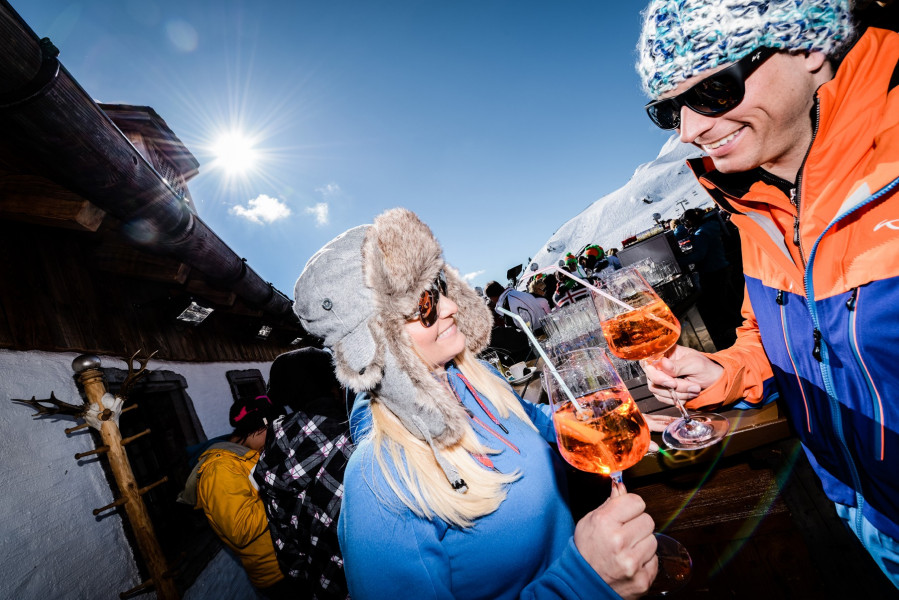 According to the Merriam-Webster dictionary, Apres-Ski means "a social activity (as at a ski lodge) after a day's skiing." In this case, a drink after any of Lake Tahoe's winter activities.
Luckily, all of the significant Tahoe ski resorts offer Happy Hours. Perhaps you've seen sweaters with "apres-ski" printed on them; it's a popular activity when lodging anywhere.
Apres ski is just a vibe, to put it simply. In other words, it's an excuse to have a drink after your long day of skiing or any other winter activity!
Lake Tahoe resorts and restaurants take apres ski seriously! Tapas, wood fire pizzas, seafood feasts, and great happy hour drink prices. And no, not just beer but cocktails and champagne also!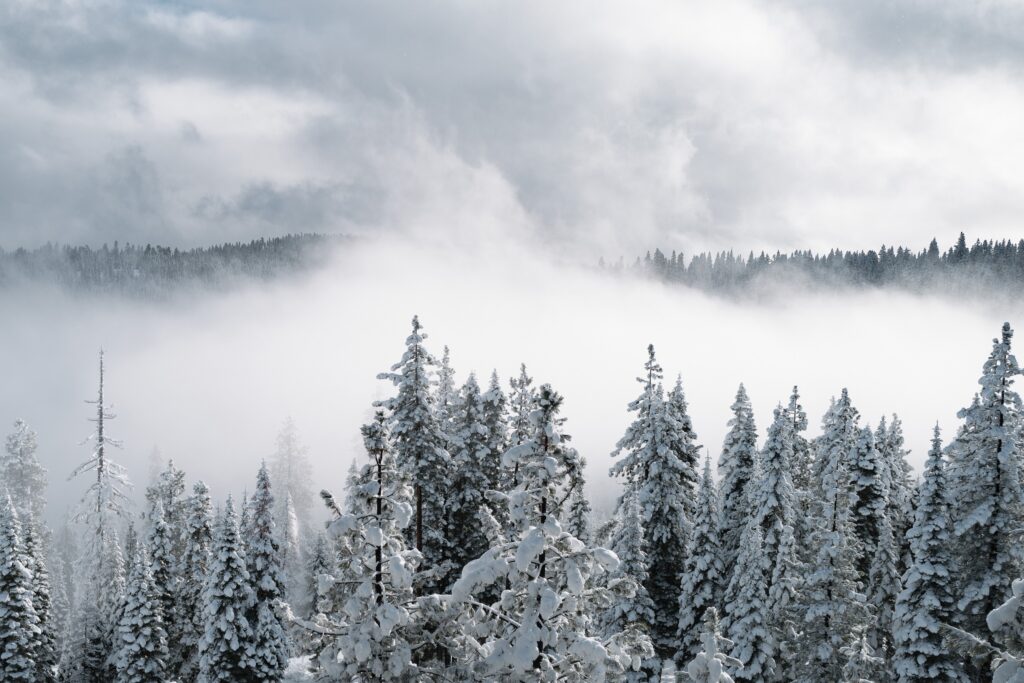 I've yet to take a helicopter tour in Tahoe, but my friend has gone, and she told me great things. This will be on the top of my list the next time I visit Lake Tahoe, whether winter or summer.
You can see the dense green woods of Tahoe and the entire beautiful rounded-shaped lake. And there's a romantic feel when it comes to helicopter rides if you're with your partner.
This isn't one of the cheaper Lake Tahoe winter activities, but it's not a bad idea if you're coming to South Tahoe for a special occasion with your loved one!
Lunch & Shopping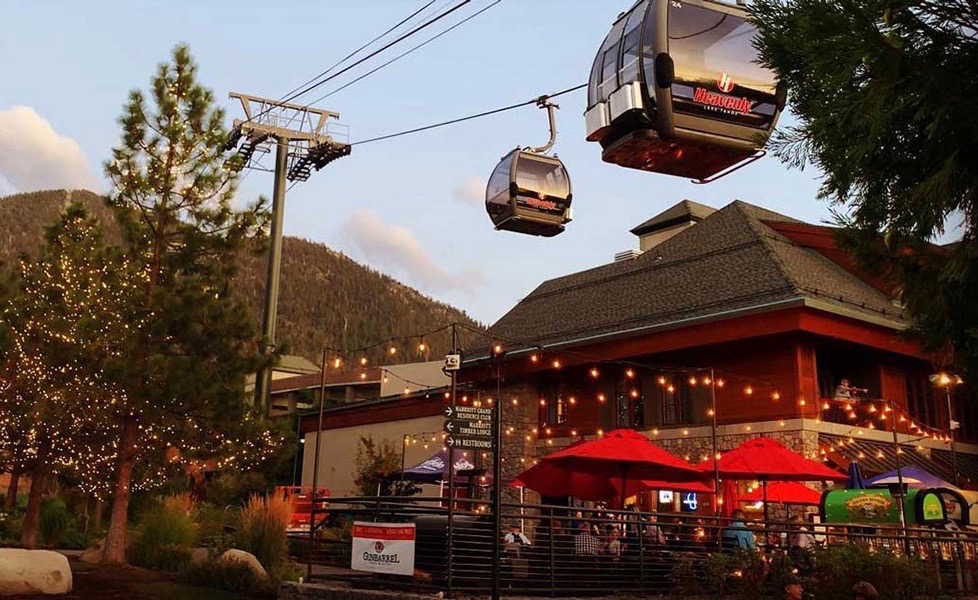 One cannot do winter activities every day on their trip; they will burn out. That's why taking a day to have a good lunch, maybe a happy hour, and following it up with shopping is a great idea.
South Tahoe has several shopping villages to visit, each packed with its unique set of stores, art galleries, and restaurants.
Buy a new sweater, perhaps get a souvenir from a gift shop, or get some hot chocolate; take a stroll and experience the overall village shopping atmosphere.
The Shops at Heavenly Village is the most popular shopping village in town, so I recommend you start your day there. Then move along to the Village Shopping Center for some more shops to discover, but don't forget to stop for a second drink on the way there!
Gamble at a Casino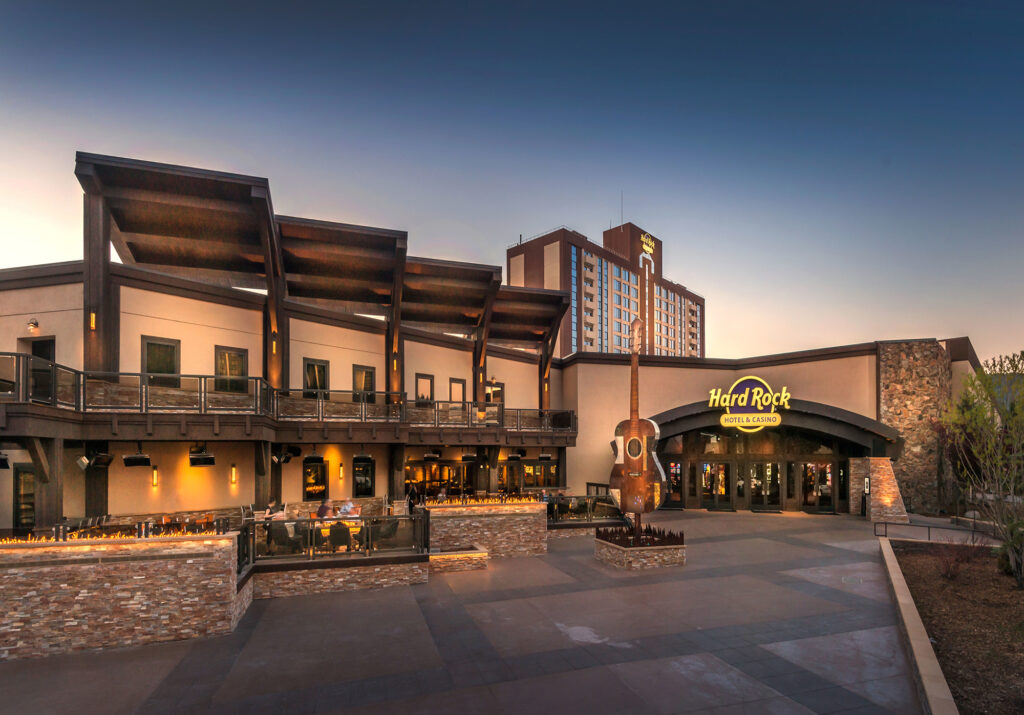 Conveniently, South Tahoe borders two states, California and Nevada. And what is Nevada famous for? That's right, Las Vegas, Sin City, and gambling.
This is a perfect way to spend an evening for those who enjoy gambling. Or maybe head over with $100 and see what happens for fun!
Head north on Lake Tahoe Boulevard's main street, and you'll quickly notice the higher-built, flashy-looking buildings like Sin City.
Popular Casinos in South Lake Tahoe
Harrah's Lake Tahoe
Hard Rock Hotel & Casino Lake Tahoe
Bally's Lake Tahoe
South Lake Tahoe Restaurants
I'm a foodie at heart, so anywhere I travel in the world, I'm continually listing places to eat and then green-pinning them on my Google Maps!
After a long day of Lake Tahoe winter activities, you want excellent food! Luckily, Lake Tahoe has a wide selection of restaurants, from fine dining to tavern-styled casual bars.
Here's my list of South Lake Tahoe restaurants to consider when visiting. I've included all types of food in this list: happy hour, fine dining, and even a pizza place in case you'd like to grab takeout and have a cozy winter movie night at your hotel!
Edgewood Restaurant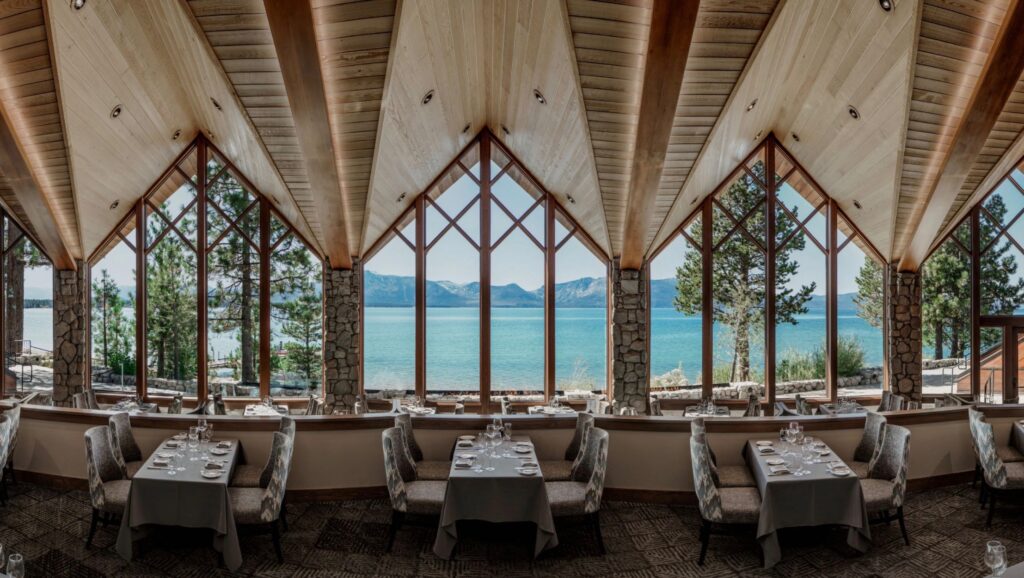 This fine dining establishment is inside the Edgewood Hotel, which is convenient if you stay there. But that doesn't mean you must stay there to dine there!
Amazing views of the mountains and lake are possible through floor-to-ceiling windows; if you're after a view when dining, this is the place to go!
Food-wise, you can expect contemporary American-style dishes. Various meat-centric entrees, great wine pairings, and desserts will blow your mind away.
They also serve breakfast here: chicken and waffles, eggs cooked with truffle butter, and everything one wants for a fancy breakfast.
It gets busy in the evening; it's the place to go for a view of the lake after a day of Lake Tahoe winter activities. So make sure you make a reservation!
Azul-Latin Kitchen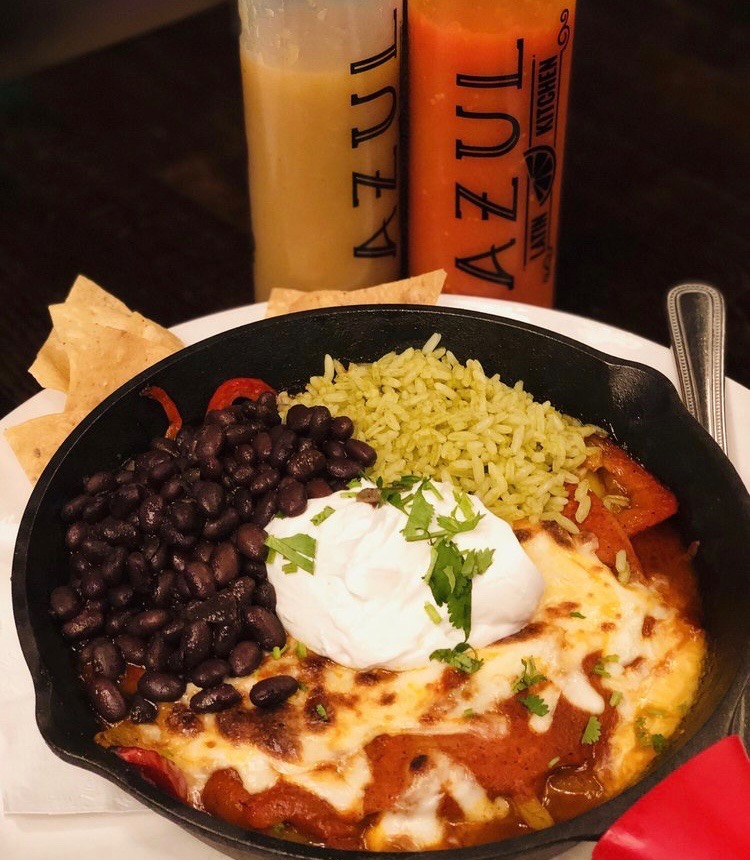 Latin food in Tahoe, perhaps you weren't expecting it. This place has put Latin food on the map in South Tahoe, a popular spot amongst locals.
Who doesn't like to warm up with spicy food and margaritas after a long day outside in the cold? It's a perfect way to end a Lake Tahoe winter day.
Tacos, enchiladas, fajitas, tostadas, and all the famous Mexican favorites are served here, along with an extensive list of liquors.
Azul is conveniently located in the Heavenly Village shopping area, so you can quickly stop by while shopping for lunch if you don't plan on going for dinner. This place is one of my favorite South Lake Tahoe restaurants.
Oyster Bar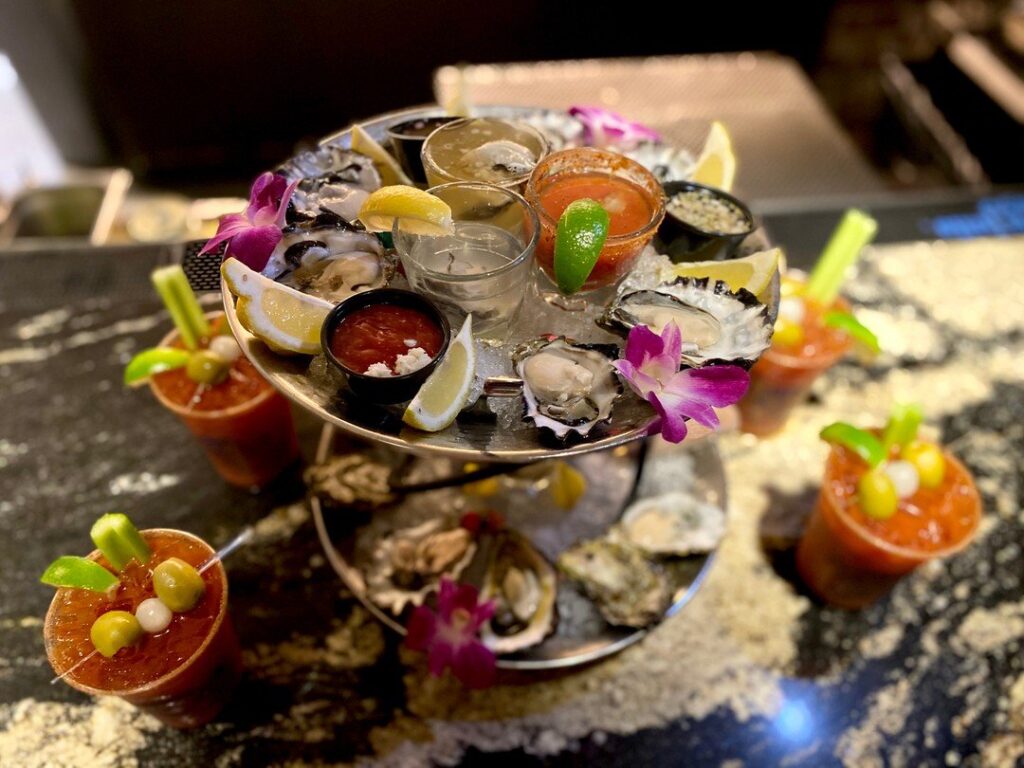 Seafood lovers, here's your spot to visit in Lake Tahoe; look no further. But let's get something straight: this is a bar-style restaurant inside the Hard Rock Casino.
So there's no actual restaurant-style seating. You can skip the Lake Tahoe winter activities for a day, gamble, and follow it up with some great seafood. This place is ideal for a seafood lunch or snack with a few drinks!
They've got all the seafood favorites, including clam chowder, jambalaya, gumbo, lobster rolls, and oysters. Those are the popular dishes here, but there are many more options on their menu, too.
Base Camp Pizza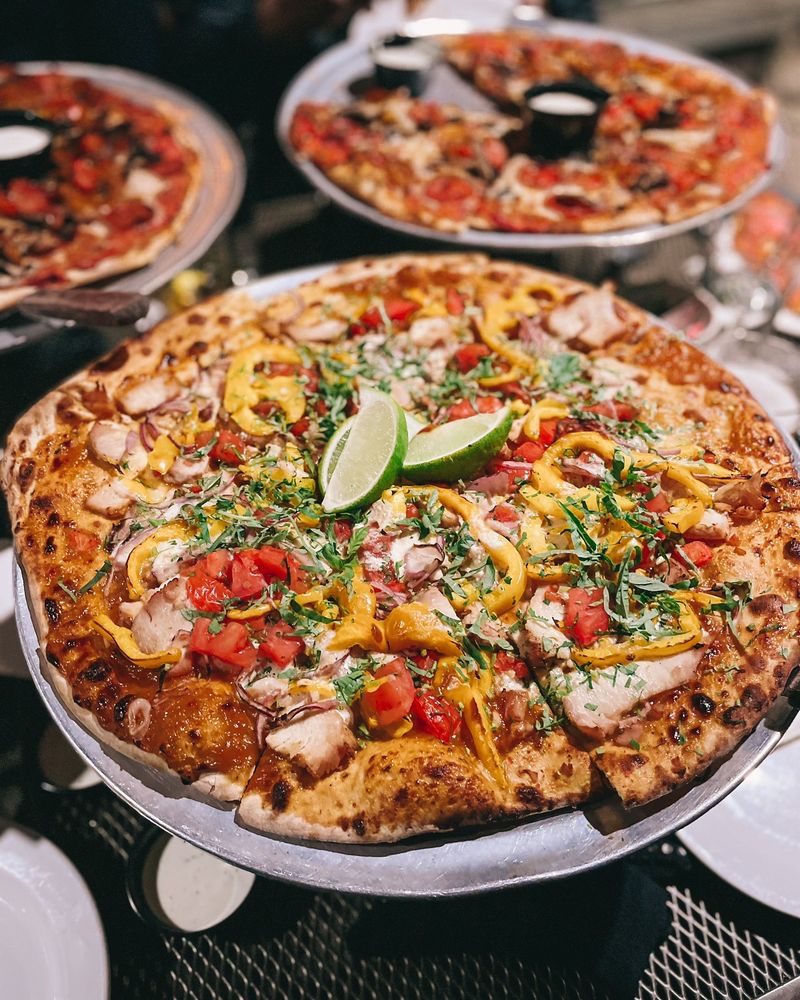 Pizza is never a bad idea wherever you go in the world. Base Camp Pizza is one of the most popular South Lake Tahoe restaurants, and it's easy to see why.
They make great pizza with a large selection of toppings and have great sides to choose from—warm, delicious pizza pairs great after a few Lake Tahoe winter activities.
Cold Water Brewery and Grill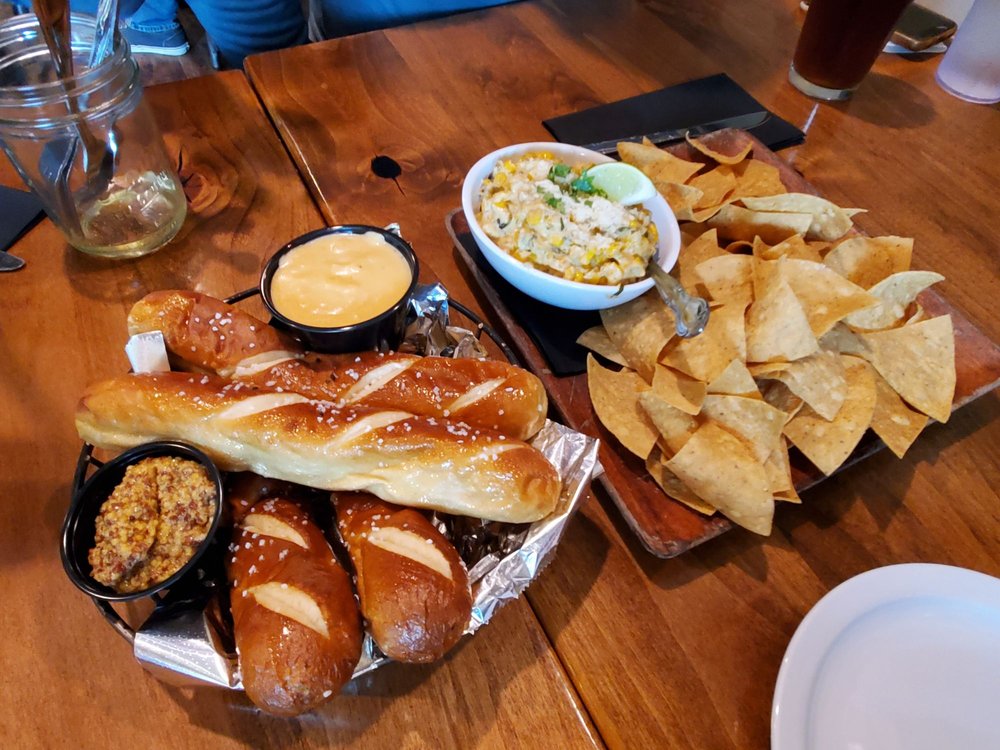 This is where you need to come for those looking to indulge in beer tastings. The interior is a lodge-like space, a very cozy restaurant. They've got several beer selections on tap for you to try.
For those coming with others who aren't big beer drinkers, don't worry. They've got other liquors as well.
Food-wise, they've got everything you'll crave when having a cold foamy beer. Tacos with salsa and chips, chicken burgers, garlic bread with tasty spinach dip, and classics like fish and chips.
After a long day of Lake Tahoe winter activities, this is a perfect place to get cozy, drink lots of beers, and indulge in some bar food!
Lake Tahoe Winter Activities – Final Thoughts
I hope you found a few Lake Tahoe winter activities you couldn't think of before reading this list.
Lake Tahoe is beautiful to visit any time of the year; Tahoe has a long list of summer activities to do as well!
So, if you're reading this debating on whether to go in the winter or summer, decide what seasonal activities suit you more!
But if you are looking for a winter gateway specifically, with days of winter activities, happy hour as you warm up, and a cozy atmosphere with your loved one, visiting Lake Tahoe is an excellent idea!
For a fun summer destination in the US, I'd highly recommend Siesta Keys, Florida!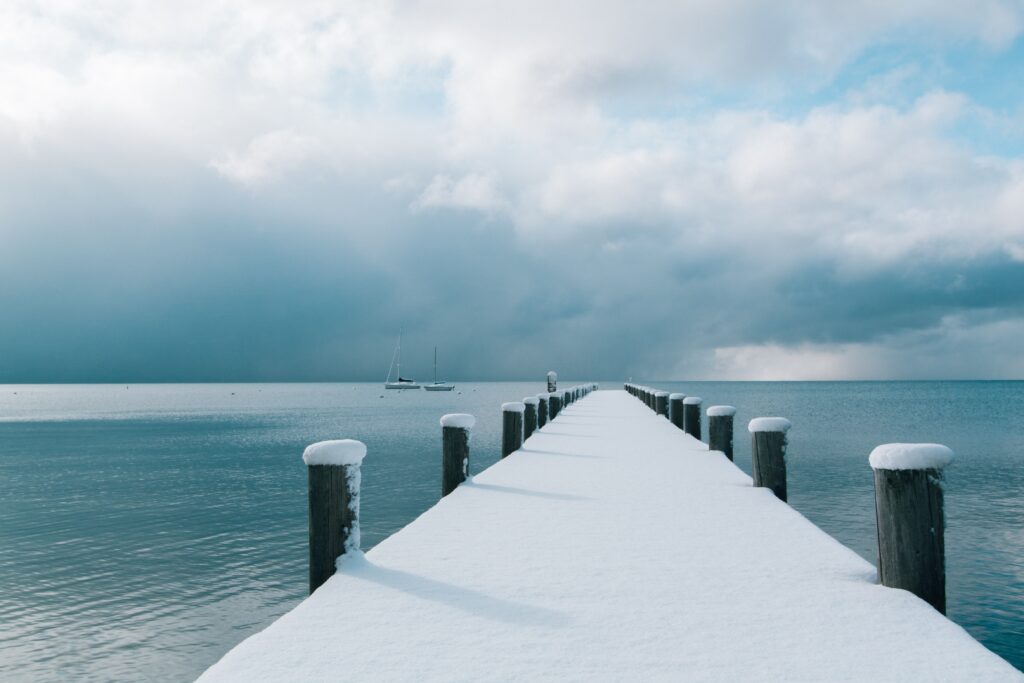 Is Lake Tahoe worth visiting in winter?
If you are looking for a fun winter destination with many things to do and a fun village atmosphere, yes, Lake Tahoe is definitely worth visiting in the winter!
Is Lake Tahoe pretty in December?
Yes, it is; Lake Tahoe is well-decorated during the holidays, and with the snow, it makes for an ideal fun holiday destination!
Is Lake Tahoe fun in January?
January is a great time to visit Lake Tahoe. During this time, it will be slightly busier than in December, and you'll still be able to experience all the fun winter activities in Lake Tahoe.
Which part of Lake Tahoe is best in winter?
North Lake Tahoe is an excellent place to visit during the winter for a calmer, quiet atmosphere.
If you'd prefer to be around many restaurants, bars and shopping. Then, staying in South Lake Tahoe would make more sense for you.
Subscribe to Travel Hiatus!
Receive updates on my latest posts, insider travel tips & the best destination guides to your inbox!
Happy & Safe Travels
Featured Image Credit: Ethan Walsweer
---
Planning Checklist
---
Disclaimer: Please note that some of the links shared in this article might be affiliate links; this means that at absolutely no extra cost to you, we will earn a small commission for any sales generated through this article and/or this website. We recommend products/services we've either used or researched thoroughly – Thank you for supporting us so we can continue to share helpful travel content!