5 Best Beaches in Siesta Key Florida
The beaches in Siesta Key are some of the most beautiful in the United States. Every year, seasonal and first-time visitors from all over the US come to spend days at the beach shorelines of Siesta Key.
Siesta Key is a barrier island in the Gulf of Mexico—separated from the mainland. There are two convenient ways to get there. Use the Siesta Key North Bridge or Stickney Point Road in the South to get into the island.
The best part about the beaches in Siesta Key is they are all located next to one another. Making it relatively easy to visit them all. But if you want to go to one beach and want to know the best beach on siesta key, this guide will help!
In this guide, I will share with you the five best beaches in Siesta Key, Florida. The best time to visit the beaches, things to do at the beaches, and restaurant recommendations.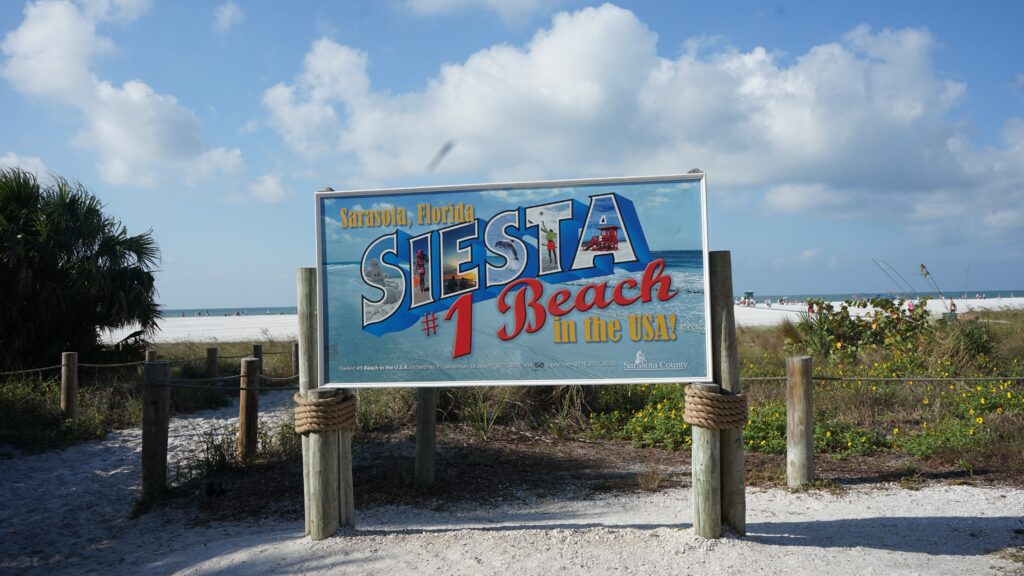 Remember that these beaches are always stunning no matter what month you visit because of Florida's good weather year-round.
But in saying that, the best times of the year to visit the beaches in Siesta Key are between March, May, September, and November. This is when you can get the best price, temperature, and fewer tourists. I will cover this in detail later on in this article.
The beaches in Siesta Key are well-known for their calm waters, serene coast, and peaceful vacation vibes.
You can see fish swimming in the water and many shells and stones on the white sand. All these beaches offer shallow water and powdery white sand; the beaches here reminded me of Tulum in Mexico.
There are plenty of fun activities at Siesta Key beaches, including snorkeling, excursions, biking, kitesurfing, late-evening dinners, and more. I've included a list of things to do in Siesta Key below and included something for everyone!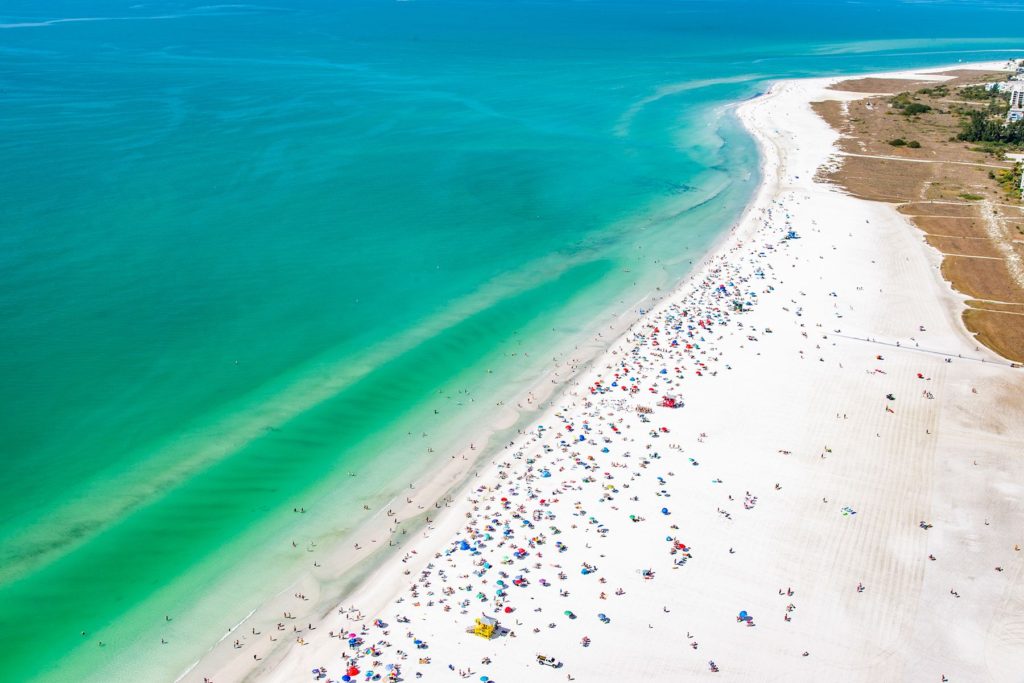 Siesta Key beaches offer many great restaurant options. I will include the best places to eat close to each beach. Because what's a beach day if it's not followed up with some good food? Not a good one!
The best restaurant area on the island is St. Armands Circle, which is right by Lido Beach. Here you'll have your best selection of various styles and cuisines near one another. Popular throughout the day and evening time. Are you ready to plan your perfect Siesta Key vacation? These are our top-rated Siesta Key beaches.
READ ALSO: 9 Best Lake Tahoe Winter Activities (Perfect Winter Getaway)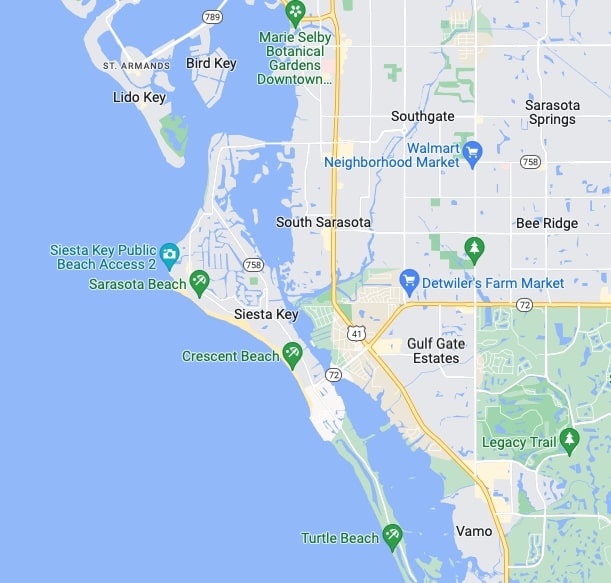 Best Beaches in Siesta Key #1-2
Siesta Key Beach
Siesta Beach is the best beach in Siesta Key because of its quartz sand, shallow water, and beautiful views.
The public beach is great for enjoying the elegant turquoise waters flowing in and out of the island's coast. It has been rated one of America's top beaches (source). The Sarasota Beach section is my personal favorite!
Siesta Key is a public beach with several fun amenities and visitor activities, such as a Sunday evening drum circle, volleyball courts, concession stands, and more. The vast parking lot at Siesta Key Beach is a testament to its popularity.
The lot is rarely entirely full despite the large crowds that frequent this beach. Of course, weekends are much more crowded than weekdays.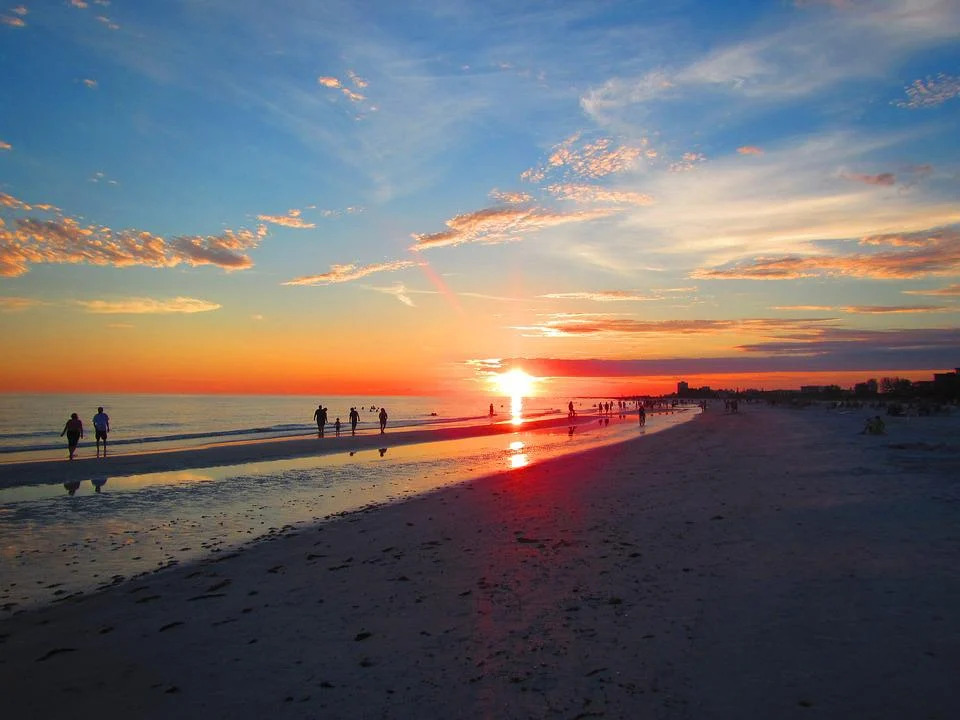 Point of Rocks is one of Siesta Key's most sought-after fishing spots and a must-visit. It's a short walk away from Siesta Beach. After catching a mesmerizing sunset, continue your evening at the Siesta Key Village, the island's little downtown core.
Food-wise, head over to Lobster Pot; they do everything with .. ya, you guessed it .. Lobster! Chowder, lobster rolls, whole lobster with lots of butter. It's a lobster lovers' paradise. After lunch, walk south towards Daiquiri Deck Siesta Key Village and enjoy a boozy daiquiri drink!
Turtle Beach
Turtle Beach is located at the southern tip of Siesta Key. It's one the most beautiful beaches on Siesta Key island, with golden sand, petrified shark teeth, and Blind Pass Lagoon to the other. Turtle Beach is the second-best beach on Siesta Key.
A half-mile of sandy beach is peaceful, making it the perfect place to relax with a book, shade from an umbrella, and the ocean sounds.
Turtle Beach is an excellent place to shell. You can find shark teeth and rare shells or discover tiny coves made by the waves. There is a boat launch to rent small boats and kayaks. You can also find many picnic spot areas for lunch.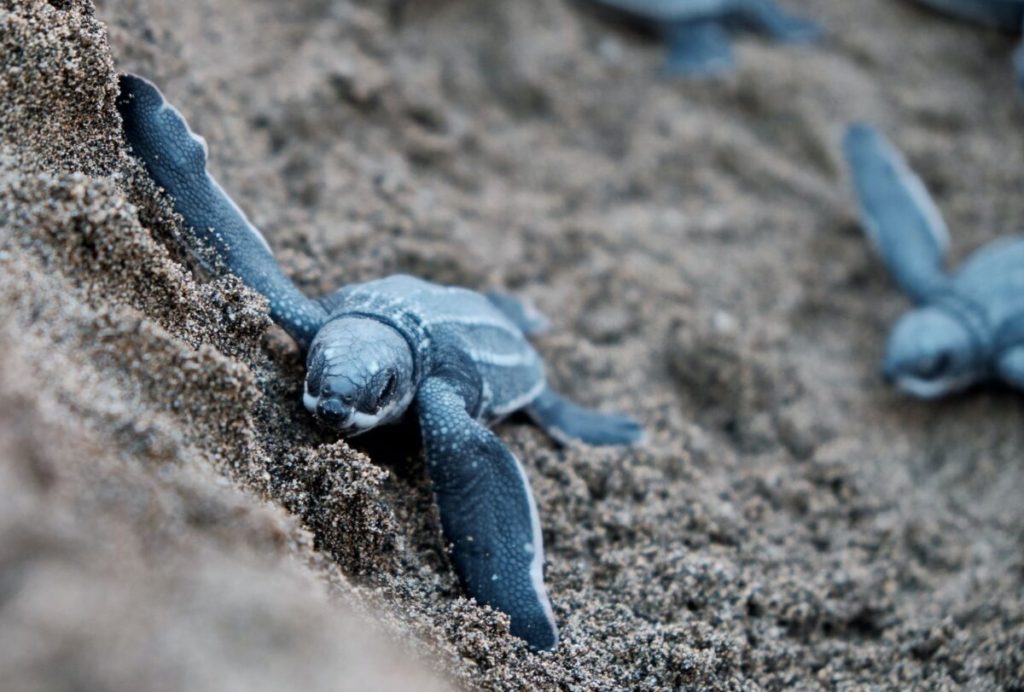 If you're there at the right time, you may find several turtles basking in the sun on the sand.
Because Turtle Beach is on a narrow strip of land, there aren't too many restaurant options. The two places exist, dining right on the water and making for a romantic evening. I recommend Ophelia's on the Bay.
Best Beaches in Siesta Key #3-5
Palmer Point Park
Palmer Point Beach Park is located further south of Turtle Beach. The park is a beautiful dune landscape far from resorts and residential areas.
One trail takes you through the beautiful but secluded beachfront park. Keep in mind Palmer Point Beach Park does not have any amenities.
This is the ideal place to visit in Siesta Key for some solitude. Those who arrive with all they need will have a wonderful day.
An estuary runs parallel to the beach, leading to the Jim Neville marine preserve. Palmer Point is a great place to take the kayak and explore local ecosystems.
The beach is peaceful and offers stunning sunsets. For more information on Palmer Point Park, click here.
Very few people are usually there; the park gives you a private atmosphere.
Crescent Beach
If you're like me and you prefer a quiet beach vs. a loud one with too many people. Crescent Beach is the place you need to be when visiting Siesta Key. Regarding the best beaches in Siesta Key, Crescent Beach is my favorite.
Crescent Beach runs south of Siesta Key Beach and is famous for vacation rental guests who stay in nearby hotels. It shares many similarities with the famous Siesta Key Beach. But it's much quieter without a constant influx of locals and tourists.
Crescent Beach reminded me of Praia Does Estuadantes beach in Lagos, Portugal.
It's a quiet beach with only one access road. Parking is limited, so arrive early to reserve a spot. Next to Crescent Beach is Palmer Point Park, as I mentioned earlier. It's a great place to fish, snorkel and discover the rich marine life and vibrant coral formations.
After enjoying a beautiful sunset at this secluded beach, I recommend walking a few blocks to Midnight Pass Road. There's a wide selection of delicious restaurants to enjoy there. My recommendation is Captain Curt's Oyster Bar.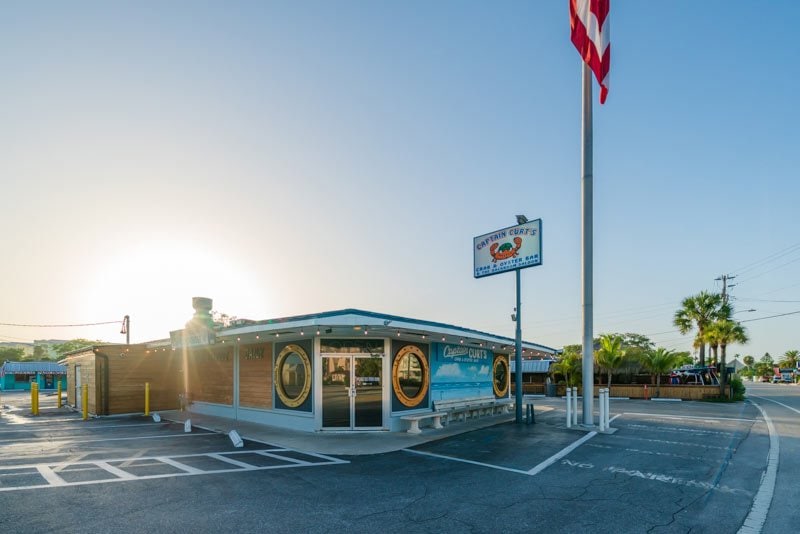 Best Beaches in Siesta Key #5
Lido Key Beach
Lido Beach is located just opposite Siesta Key's Big Sarasota Pass. Lido Key Beach is the island's most popular public beach. Travelers will take approximately 30 minutes to reach the beautiful stretch of coast from Siesta Key Village.
A large parking area and a paved walkway will take you to Lido Key Beach. You'll find bathrooms, showers, and rental equipment like umbrellas and chairs along the route.
It's the ideal beach if you'd like many amenities nearby. One of many reasons Lido Key is one of the best beaches in Siesta Key.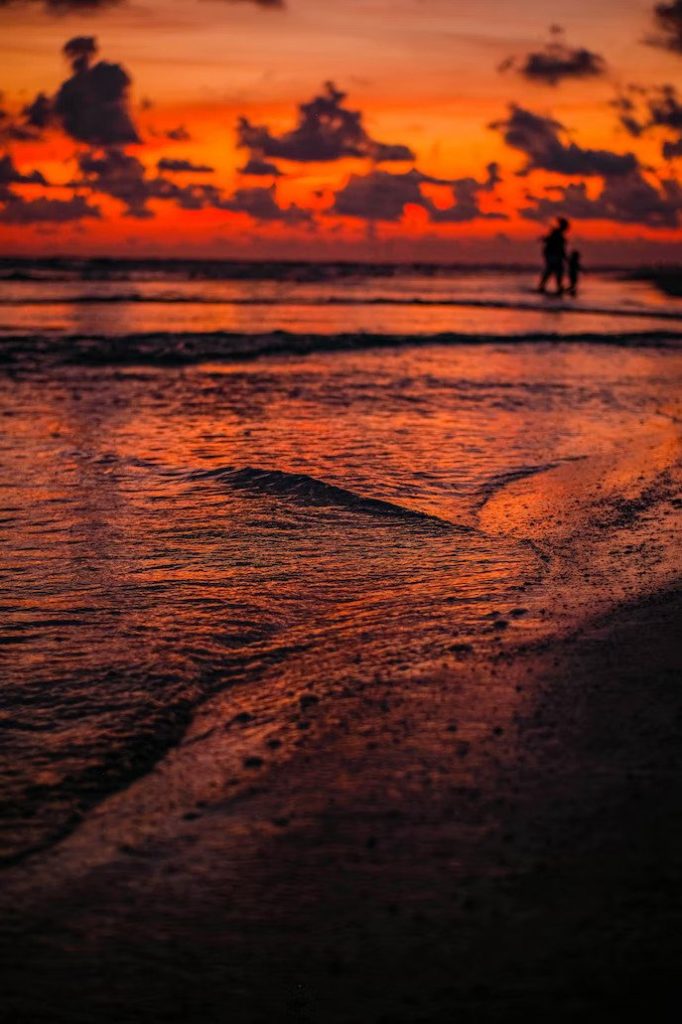 When it's lunchtime, you can take a quick bite at a concession stand or head into the shopping center in St. Armands Circle. I recommend Columbia Restaurant; this establishment has been open since 1905, standing the test of time. If you're not feeling Spanish food today, I'd also strongly recommend Shore St.Armands.
Beaches in Siesta Key vs Key West – Florida
Many say the beaches in Siesta Key are the nicest in the United States, and the main sign at Siesta Key states so. But there's a long-standing debate between the Siesta Key coasts and the Key West beaches.
Both places are islands, beautiful with everything you need to relax. But why take anyone's opinion for it? If you're in Florida, especially from abroad, it's worth catching a flight to Miami, visiting Miami, and then commuting down South to the Key West and seeing it for yourself.
Despite the Key West beaches being more secluded, beaches in Siesta Key are more convenient because of its close mainland. The beaches there give a more tropical Hawaiian vibe.
Many tend to say that Key West is famous for parties. So if you're looking for a quieter stay, the beaches in Siesta Key would be a better choice versus the Key West beaches.
Best Time of Year to Visit Siesta Key Beaches
The best time to visit all these beautiful Siesta Key beaches is between March and May. This is the optimal time for the warmest weather with the slightest possibility of rain throughout the year.
Springtime is one of the busiest times in Siesta Key, so head out to the beaches early in the morning!
On average, the temperatures in Florida, especially the South, tend to be higher throughout the year, but that doesn't mean the state doesn't have its fair share of rain here and there. But when it does rain, it's short and quick, passing by relatively fast. So usually, you don't have to worry about any showers ruining your entire afternoon.
Remember, when you choose to visit during the Spring and Summer, you've got more time to spend on the beach because of daylight savings. The sunsets later in the day, allowing you more time to enjoy the beach and outdoors of what Florida offers.
Siesta Key Weather by Season
Spring (March – May): Temperatures are between 70 – 82° with slight rain
Summer (June – August): Temperatures are between 82 – 92° with slight rain
Autumn (September – November) – Temperatures are between 70 – 80° with steady rain
Winter (December – February) – Temperatures are between 60 – 70° with slight rain
Things To Do in Siesta Key
As beautiful as the beaches are in Siesta Key, one can only have so many beach days before wanting to switch it up and do something else.
Well, not to worry, Siesta Keys are full of many great things to do besides going to the beach!
Siesta Farmers Market
Who doesn't love a Sunday morning farmer's market? Siesta Key farmers market has been around for years. You can come to buy fresh produce, chat with locals, and of course, buy a few snacks!
Get a Bike Rental
You're visiting one of the beautiful places in the US, with breathtaking beaches. Renting a bike and riding around is a great idea!
There is so much to see here, and the Siesta Key island separation from the mainland offers stunning views on a bike ride! Another great biking option is attending this Electric Bike Sunset Tour!
Take a Guided Mangrove Tour
An afternoon kayaking in the sun and spotting wildlife is a perfect way to spend the afternoon instead of going to the beach for once!
Attend this guided 2-hour award-winning Mangrove tour. You can spot dolphins, rays, and several bird species!
Visit Phillippi Estate Park
Enjoy a nice day at the park for the afternoon and then follow it up with lunch at one of Siesta Key's many great restaurants.
This park is dog-friendly for those traveling with their dog, so it's perfect for bringing your dog to a park.
Have a Tipsy Afternoon at Daiquiri Deck
Look, you're on vacation if you're visiting Siesta Key. That means it's time to relax and let loose. Well, Daiquiri Deck is the place to do just that.
This place is legendary for its frozen daiquiris and finger food and is an absolute must-visit when you're in Siesta Key!
Siesta Key Watersports
Those adrenaline junkies, this is for you. Parasailing rides high up in the sky with views of the entire Siesta Key island. They've also got several jetskis for rental and dolphin tours you can attend. For more information, visit their site!
Visit Ellenton Premium Outlets
This isn't recommended, in my opinion, but hey, ladies love to shop, even on vacation! Well located 40 minutes away from the Siesta Key island is Ellenton Premium Outlets, located right on the highway. It's the best outlet shopping you can find in the area. – Google Location
Conclusion: Best Beaches in Siesta Key
Well, there you have it, these are the best beaches in Siesta Key. As stated earlier, they're all relatively close to one another.
So you don't have to debate which one to go to; you could easily go to at least two or three in a day. Spend a day or two exploring the best beaches in Siesta Key; you won't regret exploring all of them!
Crescent Beach was my favorite because of how secluded it was; we went to Palmer Point Park later that day. Considering both spots are next to one another, we made a day of just visiting the two!
We also went to St Armand's Circle; I enjoyed walking around and checking out the boutique stores and restaurants. It's a great area surrounded by water, a beautiful place to spend the afternoon or get coffee and people-watch.
Lastly, I'd like to mention how family-friendly the Siesta Key beaches are, many think of Fort Lauderdale, Hollywood, or Miami when visiting an area full of beaches in Florida.
But when it comes to the most excellent beaches in Florida and, conveniently, the most family-friendly beaches as well, Siesta Key's beaches take first place in Florida, if not the US!
Keep up with my US archives for more guides on places all over the US to come!
Plan on visiting Siesta Key beaches, and you're not from the US? Well, make sure you buy travel insurance before going! – Hospital visits in the US aren't cheap.
If you're browsing around for beautiful beaches and stumbled on this article but thought, "I want something a bit more international," I'd strongly recommend you catch a short flight to Playa Del Carmen, Mexico!
Subscribe to Travel Hiatus!
Receive updates on my latest posts, insider travel tips & the best destination guides to your inbox!
Photos via Unsplash
Happy & Safe Travels
---
Planning Checklist
---
Disclaimer: Please note that some of the links shared in this article might be affiliate links; this means that at absolutely no extra cost to you, we will earn a small commission for any sales generated through this article and/or this website. We recommend products/services we've either used or researched thoroughly – Thank you for supporting us so we can continue to share helpful travel content!