9 Best Tulum Beach Clubs to Spend the Day
Tulum Beach Clubs take things to another level; the decor is quite over the top at most places, and service is top-notch.
While spending the day at a beach club in Tulum is a great idea, you should know it's not always cheap!
Some Tulum beach clubs have a spending minimum; some charge a flat cover. This is all covered in this guide.
In this article, I will share the best Tulum Beach Clubs, how to get them, and dining tips and advice you should know when visiting them!
If you're curious about how to get to Tulum, please take a look at my complete guide on how to get to Tulum from Cancun Airport.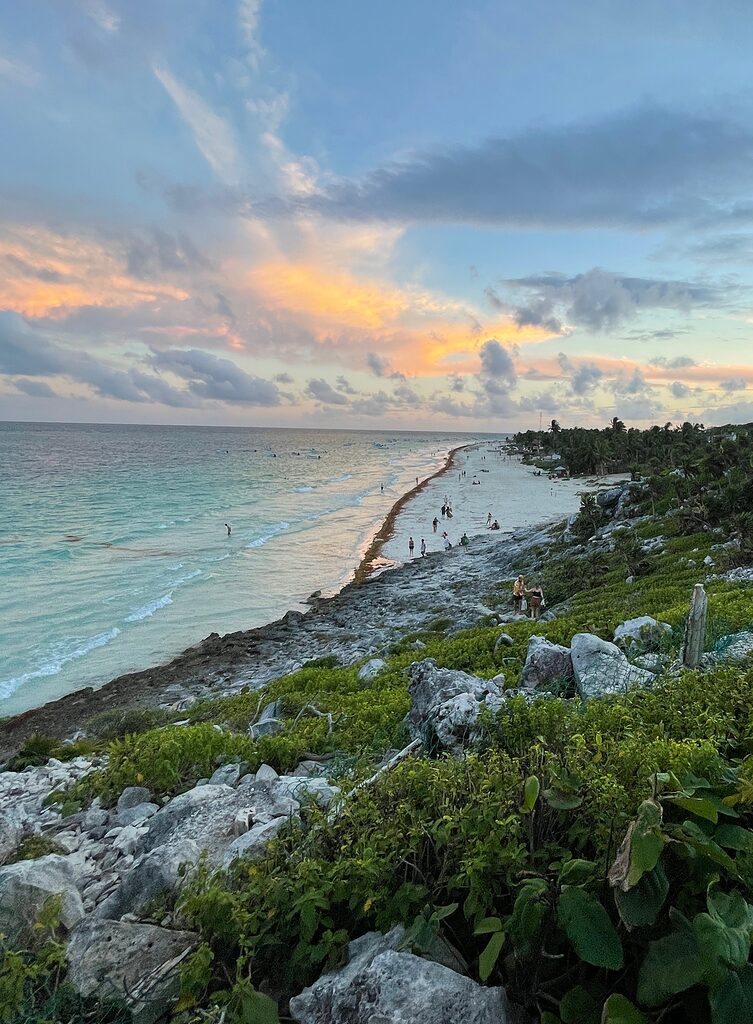 All Tulum Beach Clubs in this list are excellent choices, but some have their advantages; for example, RosaNegra's food is better than Taboo's. But Taboo overall has a more vibrant party atmosphere in the day than RosaNegra. See my point?
Go to the beach club that best suits the day you're looking to have. Remember that if you're with a partner and want some peace, you can always take a walk on the beach and take a break from the day party, no matter what beach club you go to.
Minimum Spend & Cover Charge – TULUM BEACH CLUBS
There is a minimum spend required for most Tulum beach clubs. This means you must eat and drink enough to pay for the cover charge at least. And if you decide not to, they will still charge you this minimum amount anyways.
The average cost is usually between $50 and 150 USD at most Tulum beach clubs. Staff at the beach club will most likely quote your bill in dollars but will end up charging you in Pesos.
The minimum spend and cover charges are different at all Tulum Beach Clubs. Some places have a minimum spend and a cover fee. Ask this question upfront before entering, as they may not tell you about the cover fee until you receive your receipt.
The cover charge is similar to any entry fee you would pay at most nightclubs worldwide. Cover can be anywhere from $5-$15 per person. Alternatively, some Tulum beach clubs have a cover fee but have no minimum spend amount.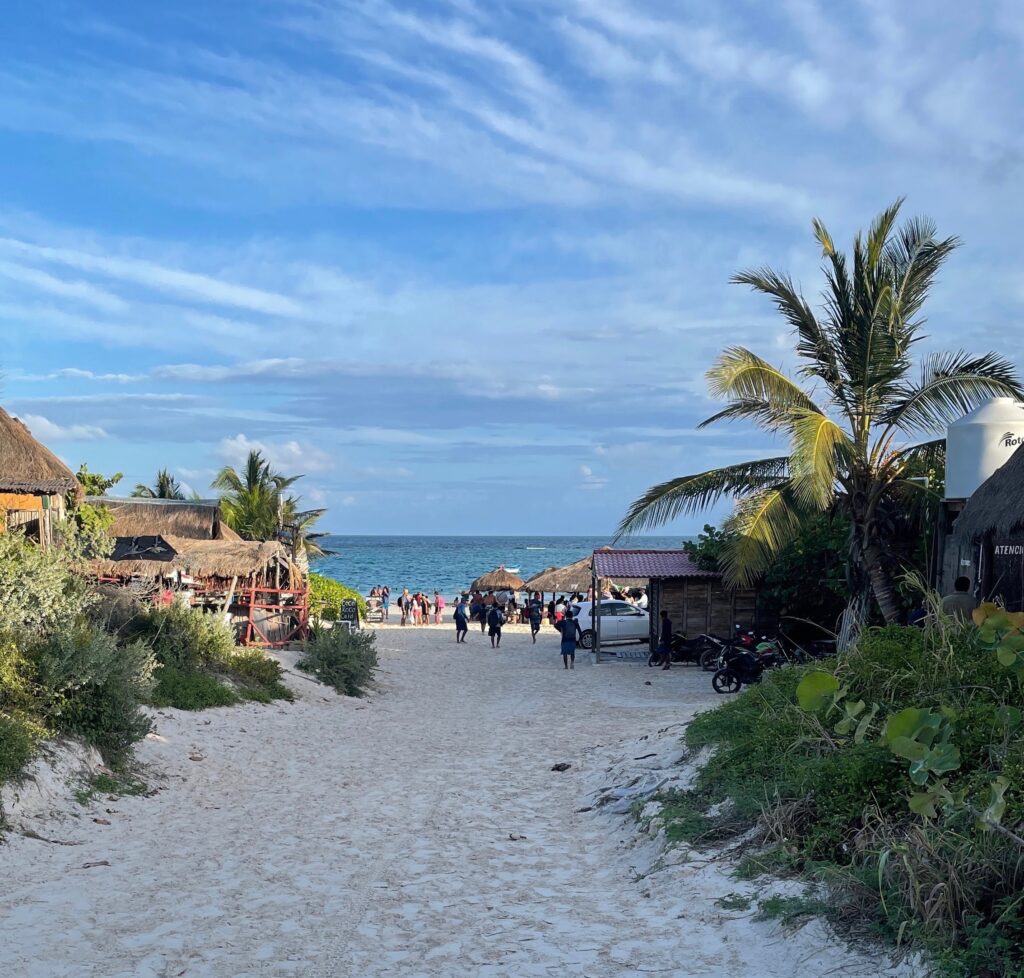 This is an ideal option for those wanting to relax but who don't want to order food or drinks. Also, for those in big groups, not everyone may want to eat/drink; some may want to. These beach clubs are perfect for that.
TULUM BEACH CLUBS PRICING: Pricing listed in this article may not always be accurate because pricing is subject to change occasionally at these beach clubs. I will list pricing for each place, but I'd advise you to contact the venue before going for more precise pricing!
I recommend you make a reservation at any of these Tulum beach clubs you're looking to go to, they get pretty busy, and it's not fun getting there, waiting, or being told you can't come today. Plan ahead!
You MUST do Three Things before you leave Tulum:
TIP: Remember, each Tulum beach club has its own atmosphere and attractions. So make sure you choose what's best for you and the type of day you want!
Taboo Tulum Beach Club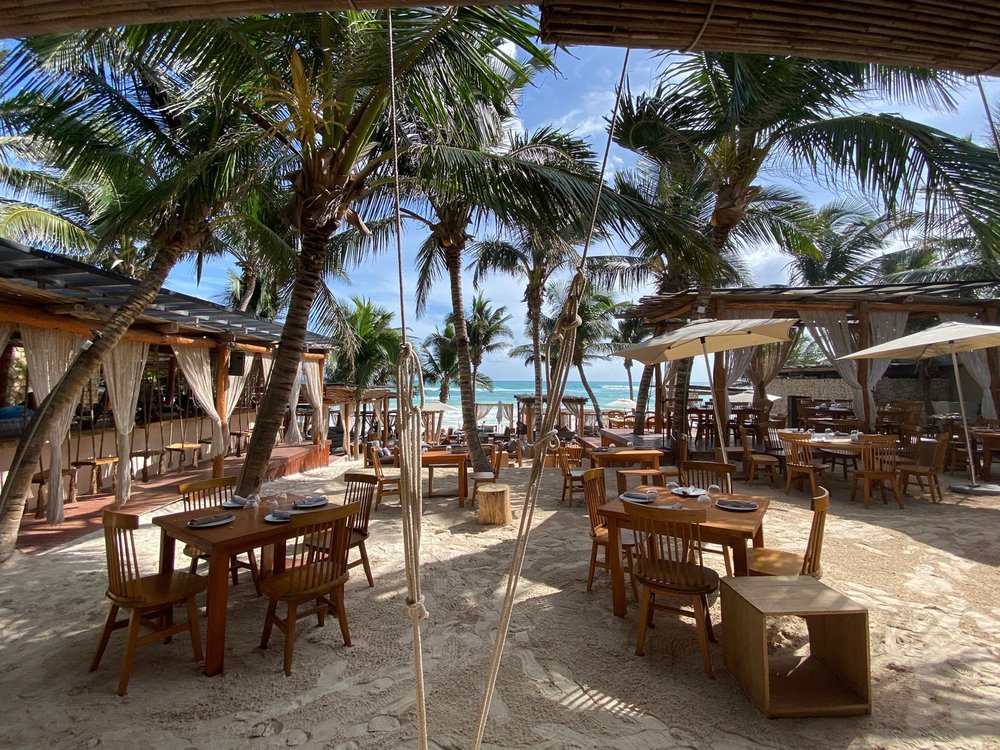 Taboo Tulum has got to be the most famous beach club in Tulum; if you have friends who've been to a Tulum beach club, there's a good chance they came here.
The venue claims to have the best day parties of all beach clubs in Tulum. It's also one of the Tulum beach clubs with a pool.
The nice part about Taboo Tulum Beach Club is the venue has a day restaurant, so you can sit at a table for a meal and enjoy a view of the day party and beach. They've also got relaxing daybeds on the beach.
Taboo's food is exceptional, and so are the prices. Although it is one of the most expensive Tulum beach clubs, this is a great place to experience a high-end beach club experience. For small appetizers, expect to pay $10-$15; fresh seafood or steaks will cost you upwards of $30+.
Beer and cocktails will cost you around $7-$20. They've got bottles of all sorts of liquors and champagne; check the drink list on their website for prices. For those who like to smoke shisha, Taboo has many flavors to choose from to smoke.
My favorite part about Taboo Tulum? The half-hour massages you can enjoy on the beach for $50.
As I mentioned, this is Tulum's most popular beach club, so you can't just show up and get in. You'll need to book in advance! They're always busy, especially during the high season (November through April).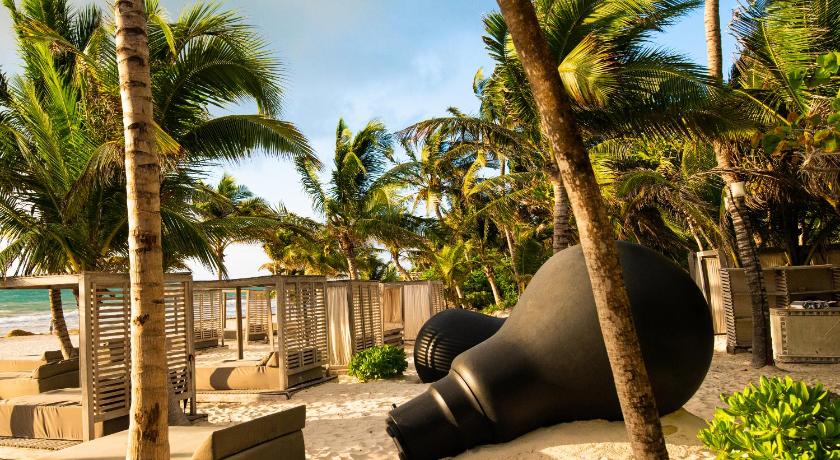 The interior of Casa Malca can be described as a work of art. The lobby is a mix of contemporary art and boho design. Don't miss the famous Hanging Couch, Keith Haring bar, and Chandelier Room.
This beach club is also a beach resort you can stay at; might I add, this is a unique beach resort in Tulum.
The Casa Malca's Beach Club is located on the most famous beachfront of Mexico's Quintana Roo. It features a perfect mixture of colorful, woven Mayan hammocks and rustic teepees. This place is a sexy tropical oasis.
A long time ago, this property was Pablo Escobar's mansion in Mexico. Famous NYC art dealer Lio Malca repurchased the mansion years later and redeveloped the property into this stunning masterpiece. The attention to detail at this venue is spectacular.
With your day pass, you'll have access to all three pools at Casa Malca, including the Rooftop Terrace, perfect for watching spectacular Tulum jungle sunsets.
One thing Casa Malca is not short of is food and drink options; the venue has three different restaurants: Philosophy and Ambrosia, Head of a Mad Man which is a beachside restaurant, this restaurant is named in homage to a painting by one of the best contemporary artists ever to live Jean Michele Basquiat.
Day passes are $160 and cover your entry. $110 USD go towards food/drink credit. For those driving here, parking will cost you $10.
---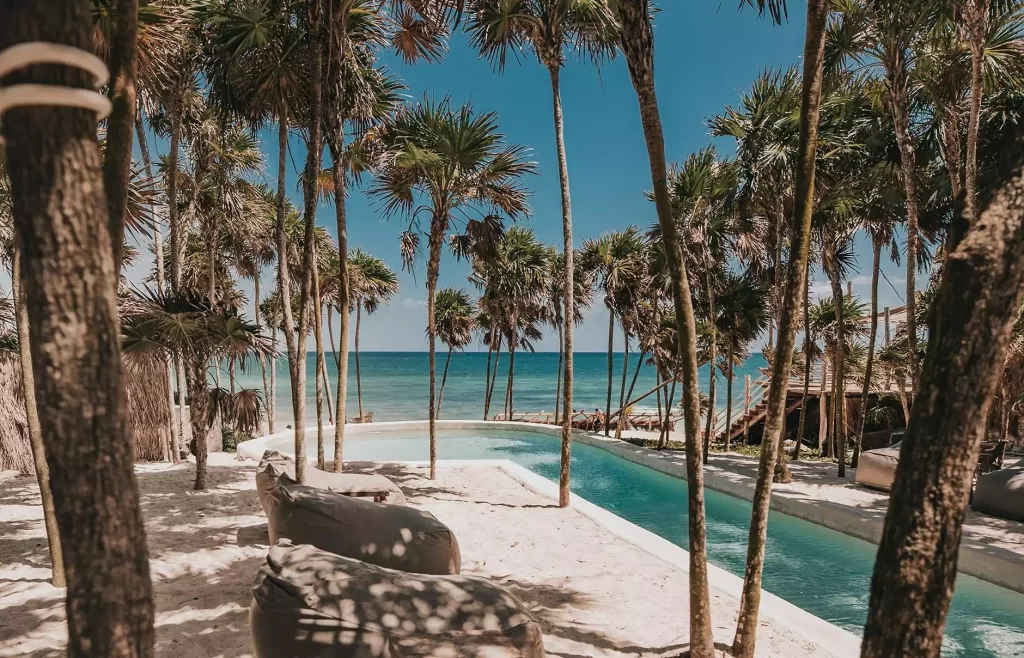 The Papaya Playa Project, one of Tulum's most popular beach clubs, is also an excellent boutique hotel.
Papaya Playa Project Tulum, an eco-hotel, is located near the archaeological zone of Tulum. This beach club is just a few minutes from the heart of Tulum. It blends into the jungle and has an artistic decor that enhances the unique atmosphere.
For those looking to party at Papaya Playa and stay here, the beach resort offers rustic cottages or cabins with stunning Caribbean Coast views and lush tropical jungle.
During the high season, Papaya Playa is one of the busiest Tulum beach clubs, the venue is stunning, and the beach day parties here are lively.
On weekdays the entrance is $30, excluding drinks or food; on weekends, it's simply a $100 minimum spend on food or beverages because it's busier then. Also, there's a live band or DJ on weekends during the day.
Once a month, they host a fun Full Moon party on the beach at night. This party reminded me of the famous Full Moon parties on Ko Pha Ngan island in Thailand. The venue hosts one of my favorite touring parties this year, All Day I Dream. Papaya Project is one of the best party beach clubs in Tulum.
Lastly, the food is good; there's a wide selection of appetizers and main courses here. Appetizers will cost you around $14-$20, and most main courses here will cost you around $40-$60. Bottles are everywhere here, and cocktails are great, make sure you try the Don Mateo Cupreaata Pechuga de Pavo Mezcal!
Papaya Playa Project Hotel Booking
RosaNegra Beach Club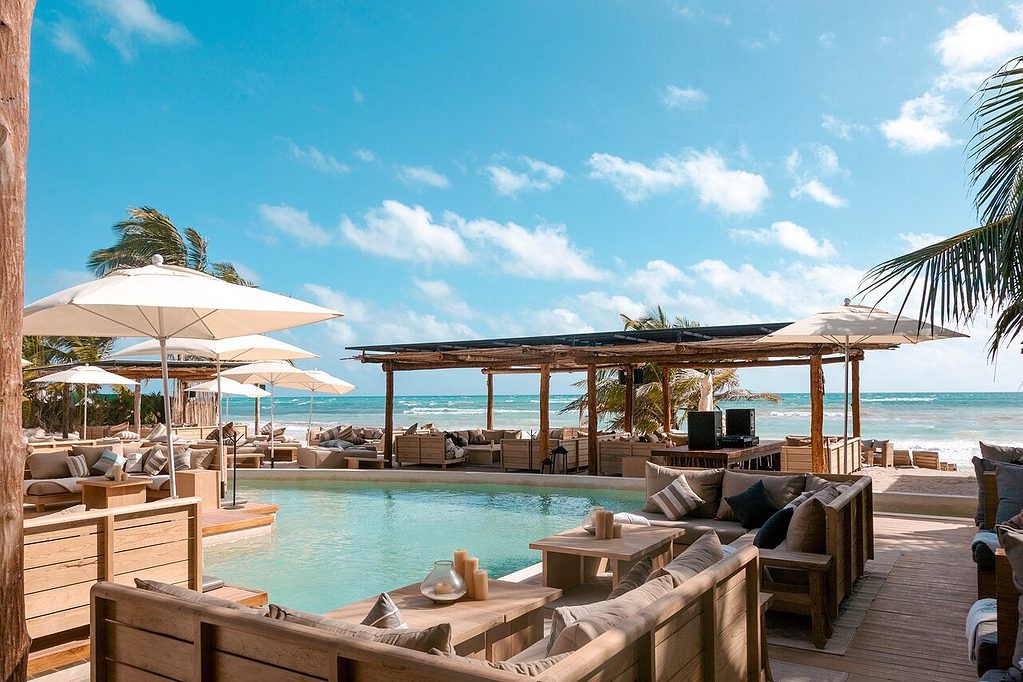 RosaNegra is a beach club that turns into a lively restaurant after 7:00 PM. RosaNegra beach club makes you feel like you are at a remote private beach.
The beach club has a luxury feel, and it comes with a premium price tag as well. RoseNegra is one of the most expensive Tulum beach clubs.
If you're wondering what the hype is, it's the food and drinks here. RosaNegra has delicious food, and their drinks are significantly over the top, but that's precisely what you want if you're coming to Tulum. Some beach clubs get away with serving subpar food because many attendings are tipsy and are more focused on partying.
RosaNegra cares about putting out good food; as a foodie, I appreciate that. For me, a lovely day at the beach isn't complete without some good food.
Expect to pay around $10-$30 for appetizers; full-course meals will cost you about $35-$250, depending on your order. For cocktails, expect to pay about $20-30 a cocktail.
This place is the best option for a group of friends who want to spend the day relaxing on the beach with good food and excellent service.
Mia Restaurant & Beach Club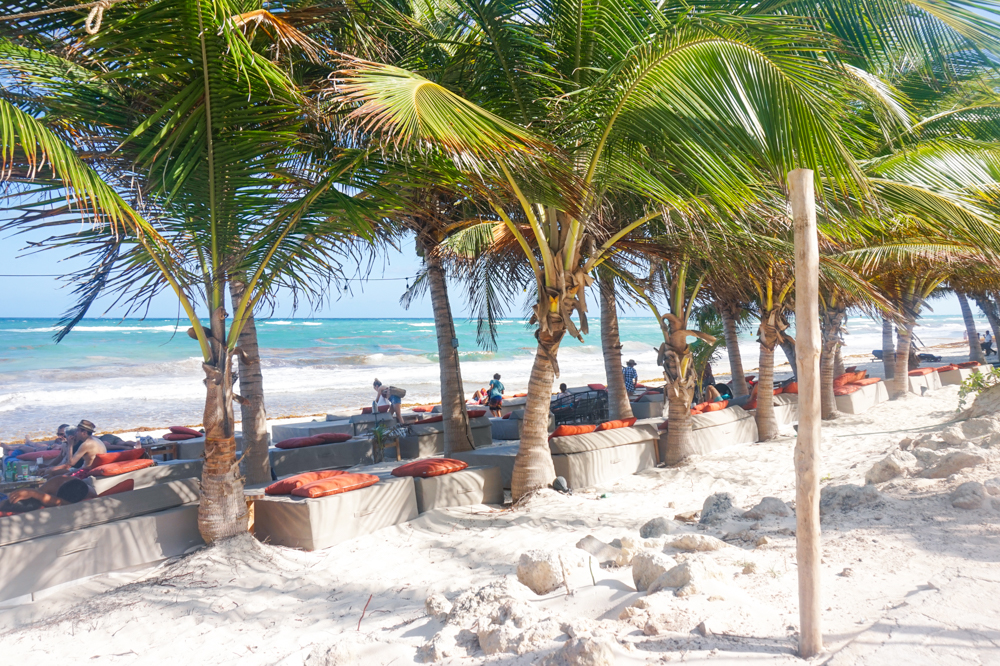 Mia Restaurant & Beach Club can be found in the middle of Tulum's famous Hotel Zone. It is one of the most fashionable and upscale Tulum beach clubs. Mia's has a full-service bar, restaurant, and substantial day beds to lounge around under the sun.
This is the perfect spot for those looking to have a chic place with great drinks, food, and comfortable seats on the beach. You can also enjoy the sun and a spectacular view of the Caribbean Sea from the pool.
Mia's serves upscale Mexican food, including ceviches, seafood, and tacos. There are also a few American options like ribs and hamburgers.
Lunch and dinner options are priced at $20-30 per plate. By the way, Mia's has a great breakfast menu, and it's quiet there then; not a bad idea to come by and have breakfast on a quiet beach!
I found the food delicious here, it was slightly overpriced, but that's something you have to get used to when going out in Tulum unless you're eating cheap street food in Tulum. Mia's offers a great selection of cocktails, beers, and much more, and prices are similar to the food.
Minimum food/drink consumption depends on the season. For more information, contact Mia's before going.
Ziggy's Beach Club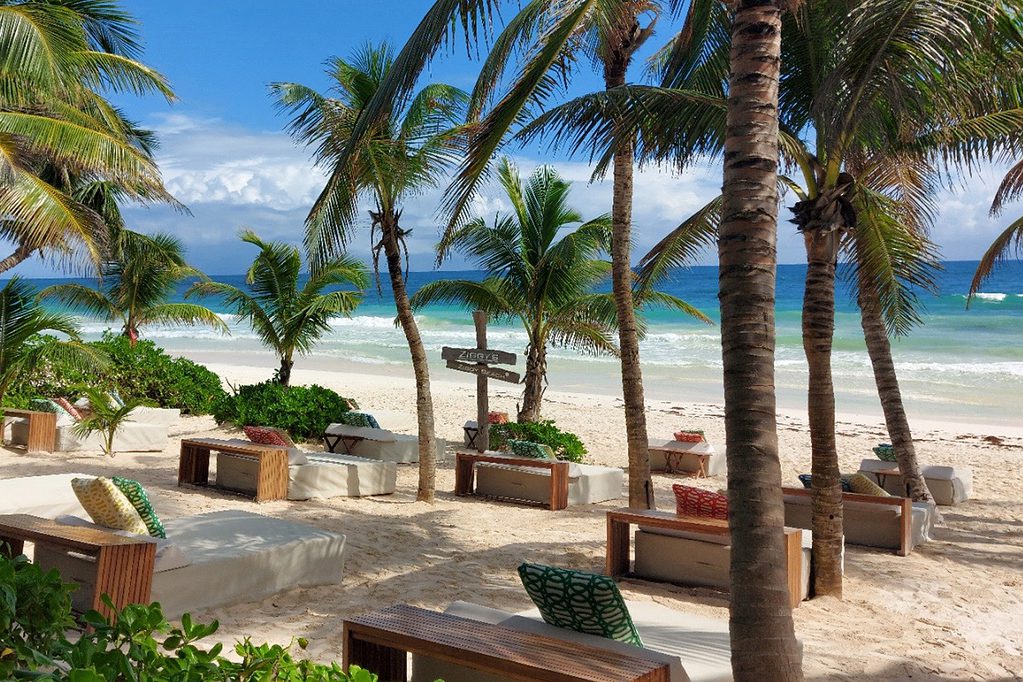 Ziggy's has been voted one of Tulum's top beach clubs for several years. The beach club is open from 9 AM to sunset every day.
The best thing about this beach club? There is no entry fee! It is a beautiful venue surrounded by a white sandy beach, palm trees, and stunning blue waters.
They have plenty of amenities at Ziggy's, including sunbeds, bathrooms, showers, a pool table, and much more. However, you won't be able to access any of these amenities unless you pay a flat fee of $50 per person. Live music is available every day from 7:30 to 9:30 PM.
The beach club hosts many other events, which makes Ziggy's stand out from the rest. There is an event every day of the week. You will find a Mexican Wine Tasting Event on Thursdays, while Saturdays feature Caribbean Latin Rhythm music.
Ziggy's Beach Club prides itself on its food being prepared with the best local ingredients; vegetarians have many options here. They've got Guacamole, ceviches, tacos, delicious grilled Mahi Mahi, and more for appetizers.
The food selection is excellent here; plates range from $5 to $30, which is reasonably priced for Tulum beach clubs. For drinks, they've got cocktails, mocktails, beers, champagne; you name it!
Not only is Nomade Tulum, a beach club, but it's also a charming boutique hotel. This resort and beach club is on Tulum's main beach strip, serving the ultimate chic, sophisticated boho experience.
When entering Nomade Tulum, visitors are taken through a typical forest to reach the venue. You'll be led down to the beach, passing elegant outdoor tents, and finally, you'll get to the stunning private white sandy beach here. Guests have plenty of sunbeds and lounge chairs to lay down on and enjoy cocktails for the day.
Nomade is next door to the best hotel in Tulum, Be Tulum, but it costs a fraction of the price to stay here than it is to stay at Be Tulum.
When it comes to food, you'll find La Popular, the resort's beachfront restaurant at Nomade. La Popular serves a wide range of delicious seafood dishes. Most of their seafood comes from local fishermen, providing them with the freshest seafood.
You should know that Nomade Tulum has a cashless policy. So bring your card to pay.
Nomade requires a spend of $100 USD minimum, so relax, order a few drinks, and eat some good food.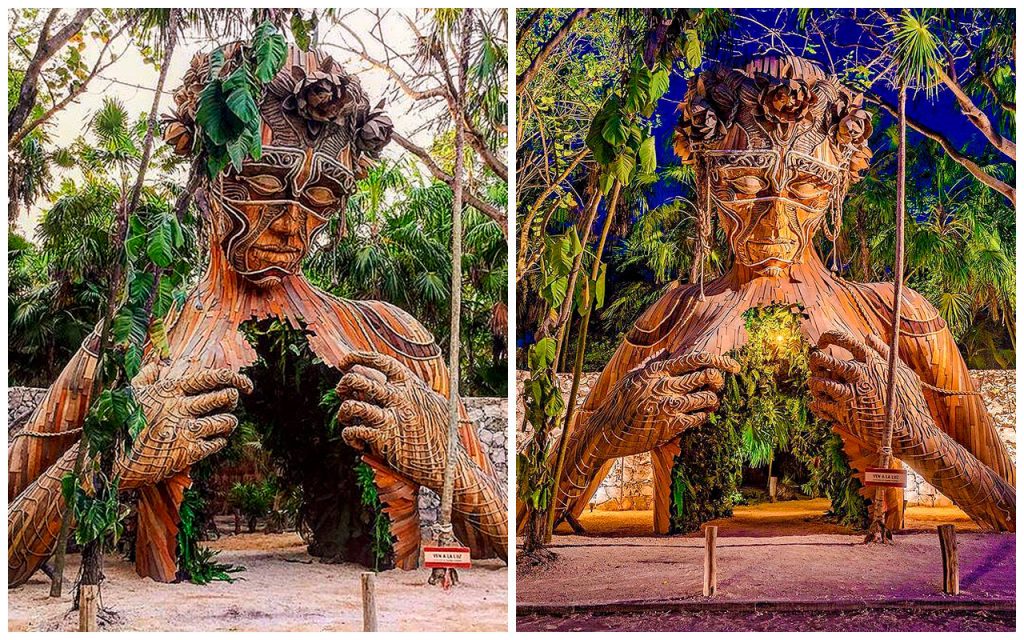 Raw Love Beach Club, aka Ahau Tulum Beach Club, is known for its unique wooden sculptures made by artists. This is a great spot to take photos and an excellent place for lunch.
You've seen the famous Ahau Statue online somewhere if you googled "Tulum" or saw some Instagram photos from a blogger visiting Tulum.
The restaurant here focuses on organic, raw ingredients; the vision of this beach club and resort is health. Smoothie bowls, fruit bowls, yogurt, avocado toast, and everything your healthy heart desires are here. Everything here is vegetarian, with several vegan options.
This private beach club is part of the hotel. However, it is open to all daily visitors. The Ahau Tulum beach club price is $20 USD for food and beverages; that's the minimum spend. If you stay at the hotel, you'll have access to the beach club at no extra cost.
You'll also find great yoga classes offered throughout the day at Raw Law.
Tantra Tulum Beach Club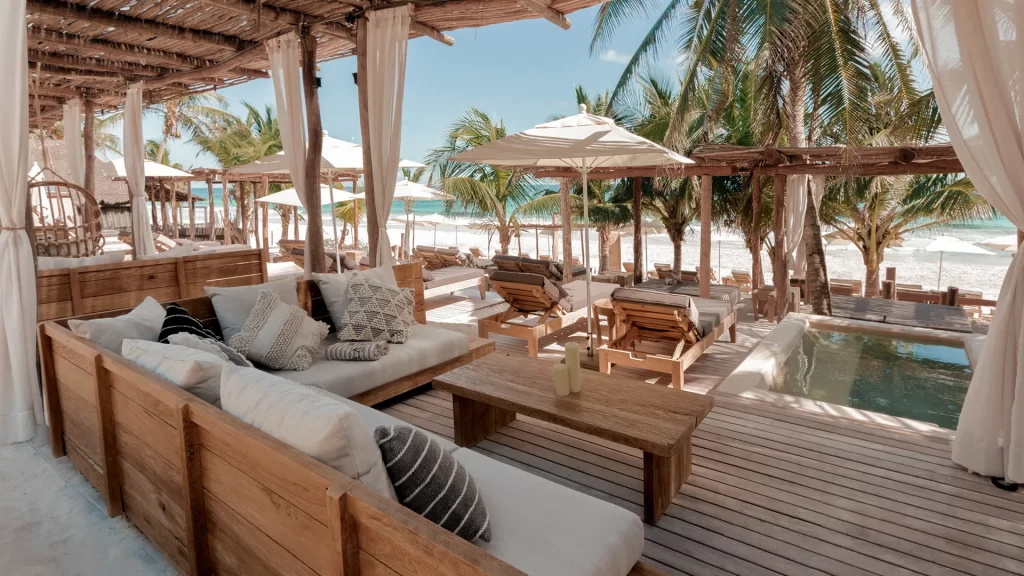 Tantra beach club is located on the Southern part of the beach, close to several other Tulum beach clubs.
They provide a bohemian luxury day experience here, the venue is nicely decorated, and you can feel the Tulum jungle vibe.
They have several lounge chairs you can relax on and a small pool to cool off in if you don't fancy going into the sea. The venue isn't the biggest and can get quite crowded sometimes; that's the only downside. Sometimes Tantra will have live musical performances, a gentleman playing sax or violin, and a resident DJ.
My favorite part about Tantra is the food. They've got some of the best food at any beach club in Tulum. The seafood selection is overwhelming but in a great way. There's so much to choose from, and the drinks are great.
Regarding the food at Tulum Beach Clubs, Tantra Tulum is easily top 3.
---
Transportation & Tips for Tulum Beach Clubs
Tulum beach clubs in this list are located in the Southern part, Tulum Beach South. Some other Tulum beach clubs, not included in this list, are located in the North, but very few.
Always have pesos on you, always. Cash is king in Mexico; most places accept credit cards; make sure that if you're paying by card, you're paying in pesos and not in USD because you'll end up paying high currency exchange fees.
How to Get to Tulum Beach Clubs
You can go to Tulum Beach South by taxi, a rented scooter, or a bike. But if you're going to a beach club and looking to party and relax for the day, get a taxi; it's your best option. It shouldn't cost more than $7-15 US from downtown Tulum to the Beach.
Overall, taxis in Tulum aren't cheap; they're expensive. Taxi drivers here are known for overcharging tourists, especially ones who don't speak Spanish.
Make sure you always ask for the price before you take a taxi, and bargain because drivers usually will tell you a high price. Don't waste too much time, if he's stern, find another taxi! Getting a taxi on the street will cost less than getting one from a taxi stand.
You can drive yourself there for those who've got a car rental. You may find free parking at the hotel or expect to pay around $10 US for parking, and parking at times during the high season is not easy to find. So keep that in mind.
Are Tulum Beach Clubs Expensive?
As mentioned, expect to pay around $50-150 US no matter what at these Tulum beach clubs because there is usually a minimum spend or entry fee and minimum spend amount.
You can expect to pay more if you're looking for extra accommodations at the beach clubs, such as different seating or a private reserved booth area.
Yes, Tulum beach clubs are expensive. Food prices at these venues are often overpriced, but it makes sense why. Tulum is not a cheap place to visit unless you're doing free activities and mainly eating street food.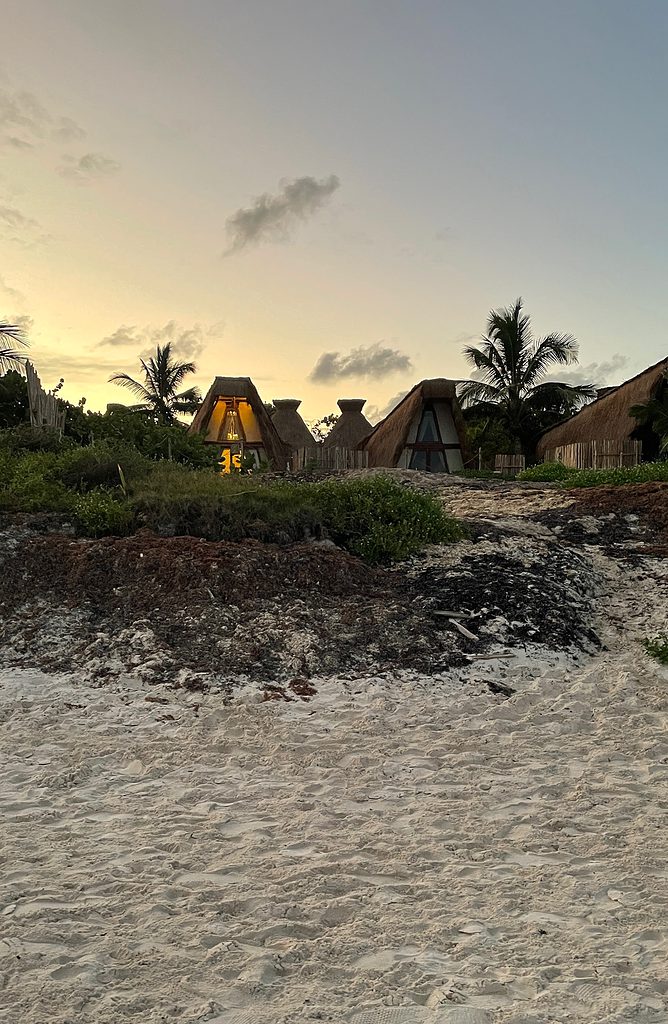 For those who don't know, Tulum is the place to be from January-April. Wealthy individuals, celebrities, and social media influencers are all in Tulum this time of year. Because of all that, Tulum's beach clubs are used to catering to well-off individuals. Many well-off individuals say, "I stay in Ibiza, Spain, for the Summer and Tulum for the winter."
I've been to RosaNegra, Taboo, Casa Malca Papaya Playa Project, Ziggy's, and Nomade Tulum, and most times, I spent anywhere from $170 – $250 US in a day at each club I went to. But I am a foodie who ordered a mix of dishes at each beach club I went to. This, of course, added to my cost for the day there.
Going for the first time, I'd bring $170 US to be safe. That should cover everything, including a taxi there and back from your hotel.
Dining Tips & Advice – Tulum Beach Clubs
Most Tulum beach clubs close at 7:00 PM, except for the ones that are restaurants as well. The beach clubs with restaurants inside of them have the option to dine after your day of sunbathing and partying at their beach club. These venues stay open until midnight and continue the party inside after 7:00 PM.
Tulum nightlife is excellent for those looking to continue the party; Tulum has jungle parties (which I highly recommend you go to), and Tulum's central downtown is full of bars and clubs.
Dining Tips & Advice
If it's your first time visiting Mexico, you should know that Mexico has a North American tipping culture. Unlike most places in Europe or Asia, tips here are usually expected. Sometimes they're put on top of your bill without your discretion.
Some beach clubs in Tulum add a "service fee," which means a tip to your bill for around 15-20%. This is normal for some beach clubs, but not all. So when paying your bill, ensure not to tip if you see this service charge; you'll be tipping twice!
Other times, some employees will add their tips to the machine. It could be 15-20%, despite this not being the standard at your beach club.
So if you get a bill with a service fee listed, make sure you receive clarification from other staff or a manager that this is the norm at this beach club. Otherwise, you're forced to pay a tip on their terms instead of yours, which isn't fair.
That being said, make sure you don't get deceived but also make sure you tip!
Always pay in pesos, never in USD, as you will pay more in fees. If you're presented with a bill in USD, do the exchange on your phone and request a new receipt priced in Mexican pesos.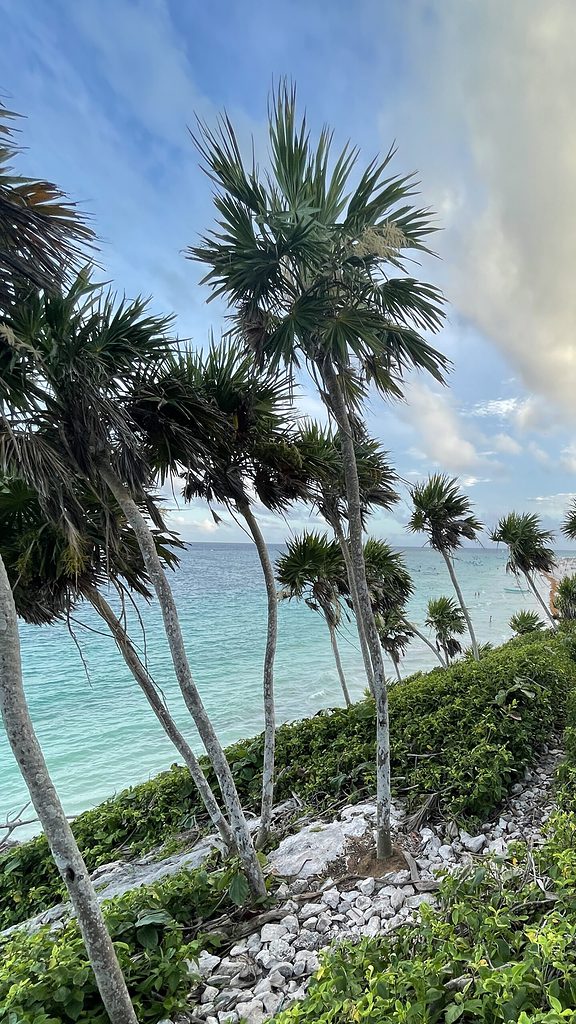 Watch for your belongings when sunbathing or partying at Tulum beach clubs. If you're with a large group, it's a little easier, but regardless, keep an eye out for your things.
Do not flaunt your wealth; you never know who's around at these beach clubs, and you don't want to attract too much attention to yourself. People will assume you're well off anyways; you're vacationing in Tulum sunbathing at a beach club.
Evening Transporation Safety
For those planning on staying on the Tulum Southern Beach strip after 7:00 PM but don't have a hotel there and are staying downtown or close to downtown Tulum. Expect many taxi drivers ready to surcharge you for your ride back to the hotel.
It's nighttime, and tourists are everywhere; taxi drivers know they can charge you more. You can bargain with them a bit, but you will most likely pay more coming at night.
If you're considering avoiding getting a ride back to your hotel at night and walking for 1-2 hours back into the center of town or your hotel, I highly advise against it. For the most part, Tulum is safe, but it is not recommended to walk around after dark in areas, not well-lit.
If you decide to do just that, you could run into a cartel or police; some police are corrupt here. Sometimes, they will shake you down for some money you have. All roads back to the center of town from the main beach aren't well-lit. After 7:00 PM, I recommend you take a taxi.
Subscribe to Travel Hiatus!
Receive updates on my latest posts, insider travel tips & the best destination guides to your inbox!
Happy & Safe Travels
Featured Image Credit: TabooBeachClub
---
Planning Checklist
---
Disclaimer: Please note that some of the links shared in this article might be affiliate links; this means that at absolutely no extra cost to you, we will earn a small commission for any sales generated through this article and/or this website. We recommend products/services we've either used or researched thoroughly – Thank you for supporting us so we can continue to share helpful travel content!