How To Get From Phuket Airport To Kata Beach
Are you visiting Kata Beach, Phuket, and wondering how to get from Phuket Airport to Kata Beach? I've got you covered with this transportation guide!
These are the five ways you can get from Phuket Airport to Kata Beach; I will include the cheapest way, fastest way, tips, and everything you need to know regarding getting to Kata Beach from Phuket International Airport.
Once you're in Kata Beach, the area is quite walkable, and you can get to the beach, restaurants, and shops by walking around; you won't need any transportation.
But if you plan to visit other areas in Phuket, you must use public transportation, taxi/Grab, or rent a scooter!
No matter where you're flying from into Phuket International Airport, use SkyScanner to save on flight costs!
Phuket Smart Bus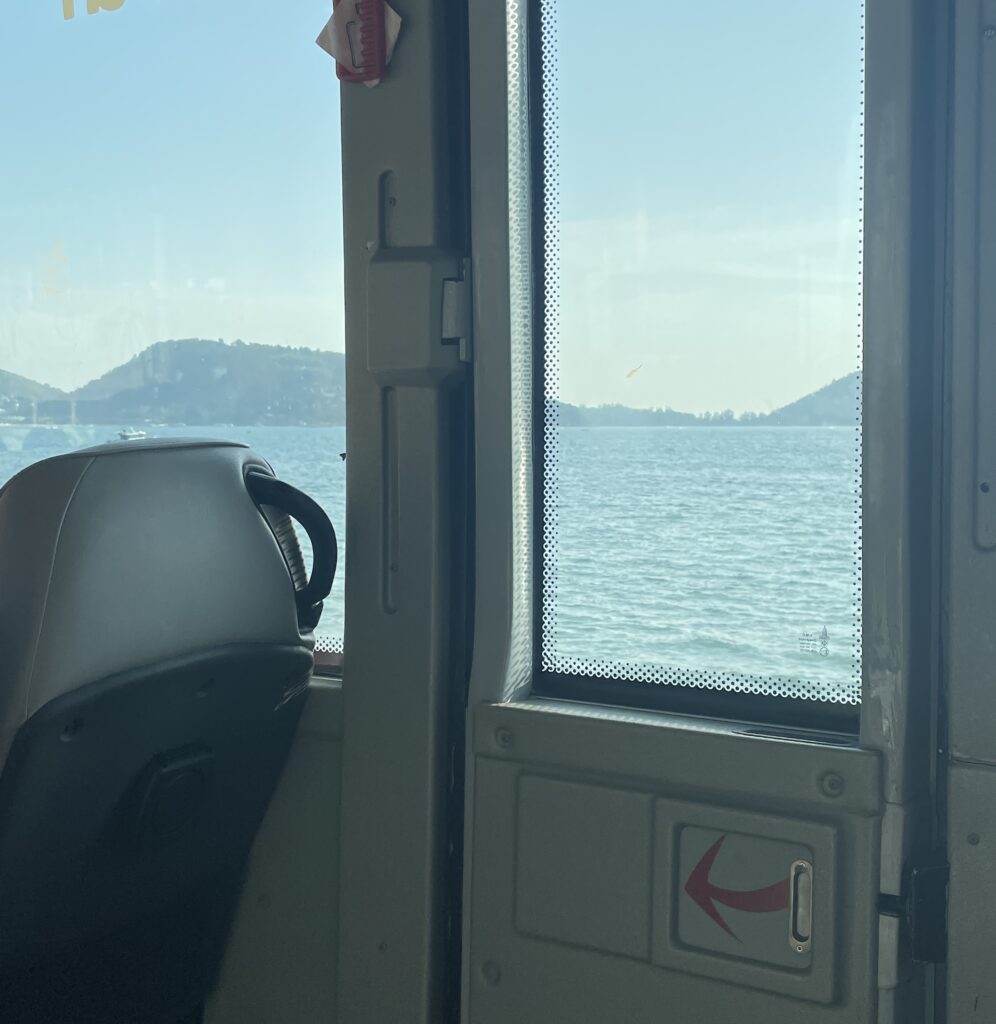 The best and cheapest way to leave Phuket Airport to Kata Beach is by taking the Phuket Smart Bus.
This local bus has air conditioning, is comfortable, and travels along the island's west coastline, stopping at all the popular beach areas.
It costs 100 Baht (2.88 US) per person; you must pay cash, come with cash, or withdraw some at the airport ATM.
As you board the bus, it will continuously stop at other beach areas such as Surin Beach, Kamala Beach, and others before getting to Kata Beach.
On the bus, there's a section for your luggage; keep an eye out for it so no one accidentally takes it when deboarding. Also, the luggage room is limited; keep that in mind.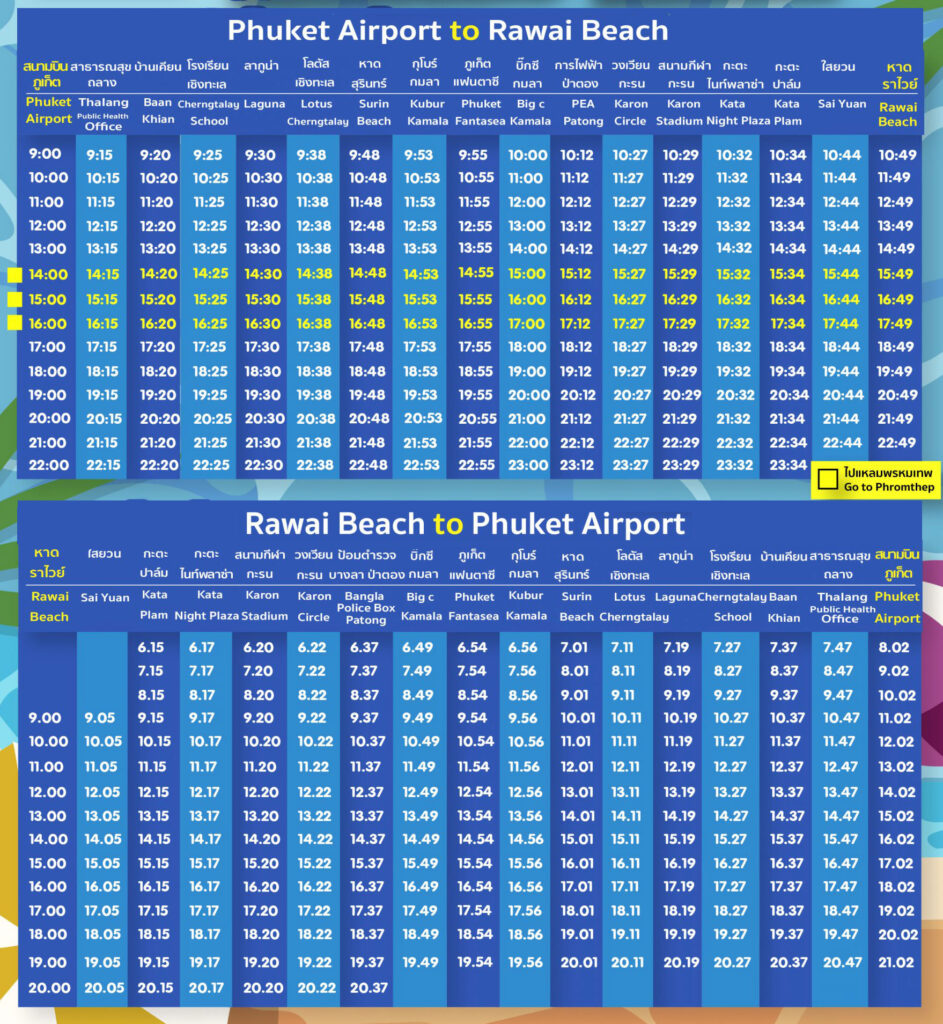 The bus will stop at Kata Night Plaza, and you can then go to your hotel! If your plane lands late or in the middle of the night, you won't be able to use the bus, and the last bus leaves Phuket Airport at 10:00 PM.
The Phuket Smart bus is the only affordable way to leave the airport, and it can get crowded sometimes. I wouldn't recommend taking it if you visit with your family; a private car would be a better idea!
Above is the Phuket Smart Bus timetable, though I recommend you check the official website for an updated schedule!
TIP: When in Phuket, if you want to visit many of the other beautiful beaches in Phuket, using the Phuket Smart Bus is the best way to do it!
Grab or Bolt Apps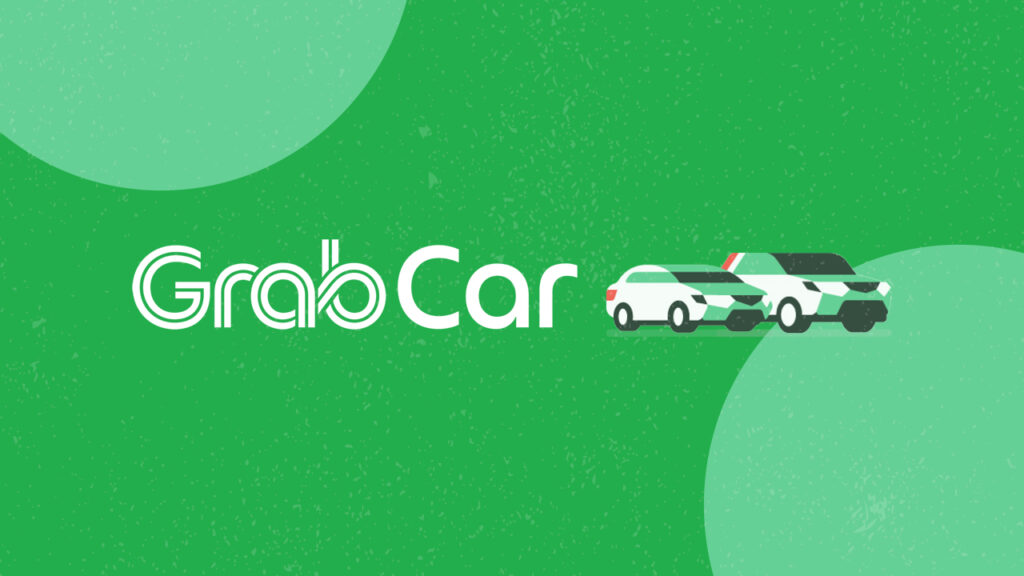 Grab or Bolt are ridesharing apps that are convenient and easy to use to get around Phuket.
Once you've landed at Phuket Airport, you can pull up your app and order a car to pick you up.
No matter your party size, there are different vehicles you can request for pickup on Grab/Bolt; some vans can fit up to 12 people.
Prices for your private ride will vary by the type of vehicle, demand, and the time of day. Expect to pay anywhere from 900 to 1,250 Baht, which is around $25 – $35 US.
Both apps are great. Grab is more reliable when trying to find a ride, but Bolt tends to be cheaper. From the airport, I'd recommend you use Grab for ease of arrival!
Important TIP: Grab or Bolt cars aren't allowed to enter Phuket Airport, meaning you MUST leave the main airport and go to the Main Road to meet your Grab/Bolt driver.
Private Airport Transfer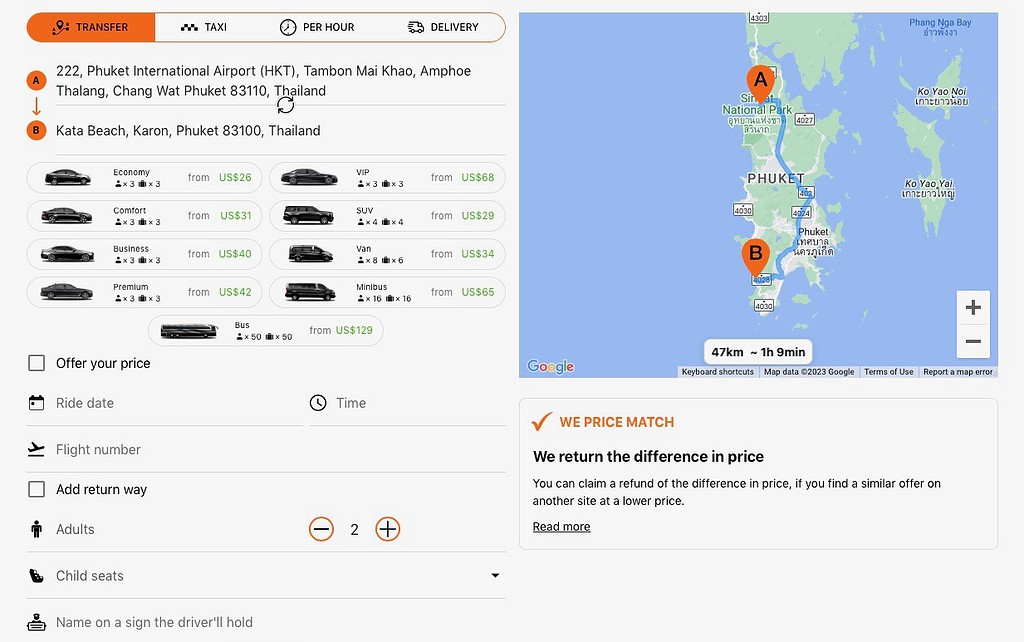 The most convenient way to leave Phuket Airport to Kata Beach is by organizing a private airport transfer in advance.
This way, you'll have a driver waiting for you in the vehicle of your choice, and once you arrive, you won't have to do anything!
With many vehicle types to choose from, no matter your party size, they'll be able to accommodate you and take you straight to your hotel.
The price for your Private Airport Transfer to Kata Beach depends on your vehicle of choice. The cost is around $30 – $40 US, and you'll have plenty of room for luggage!
No matter when you land or if your plane is late, your driver will wait for you, and flight details will be asked. You can also ask for an English-speaking driver as a preference.
Important TIP: You must leave the airport and walk to the main road for your pick-up; vehicles can't enter Phuket International Airport.
Taxi
Another way to leave Phuket Airport to Kata Beach is by taking one of the many taxis waiting at Phuket International Airport, ready to take tourists all over the island.
Something important to know about the taxis at Phuket Airport is that a taxi mafia controls departures from the airport. So the only vehicles allowed to leave the airport directly are taxis amongst those who cooperate.
A taxi from Phuket Airport to Kata Beach will cost you 1,000 – 1,400 Baht / $28 – $40 US. It depends on the time of the day and the driver.
TIP: Sometimes, they overcharge tourists, so stay firm on your price and be careful of taxi scams in Phuket!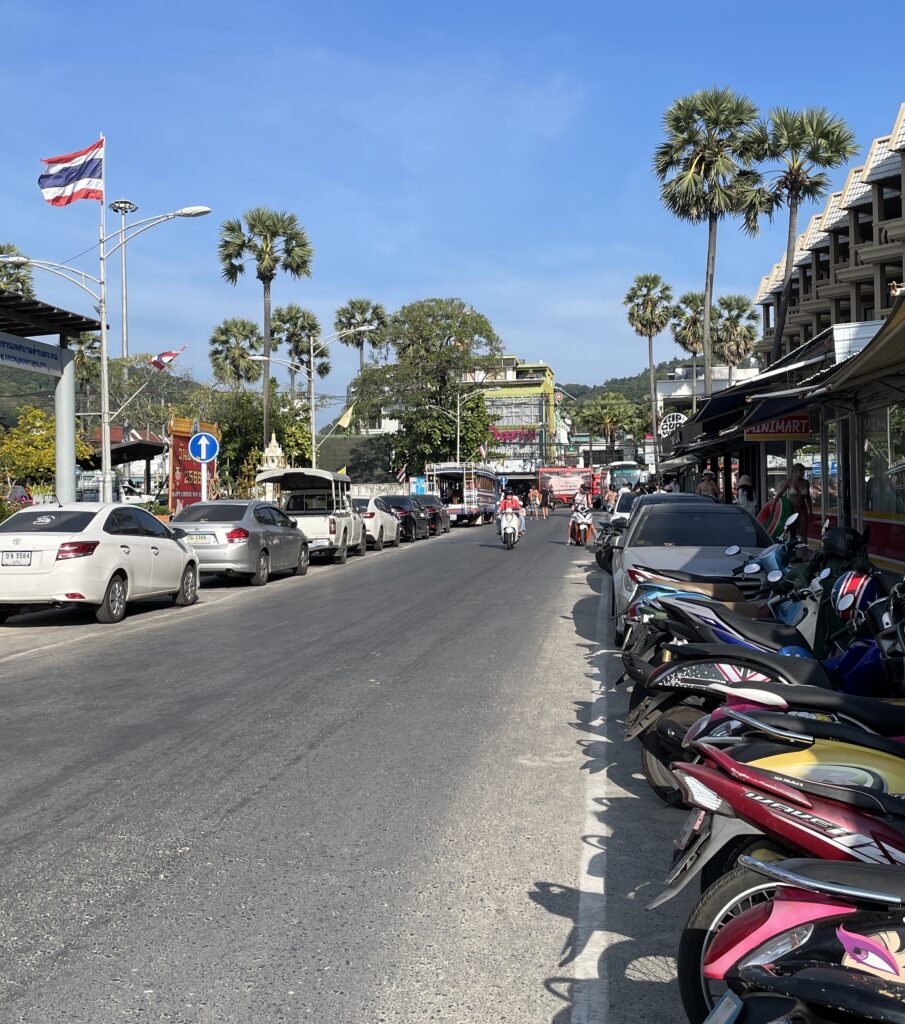 Rent a Car
For the adventurous type, renting a car at Phuket Airport is a great idea. Phuket is a large island, and you'll most likely end up keeping your rental for your stay in Phuket, especially if you're visiting with a family.
The price for your vehicle will depend on the size and make. Make sure you get insurance with your rental!
Driving around Phuket is easy to navigate and picturesque, to say the least, so renting a car on the island to leave the airport to Kata Beach and keeping the rental for your stay is an excellent idea!
TIP: Make sure to check the car's condition and take a quick video to avoid complications when returning the vehicle.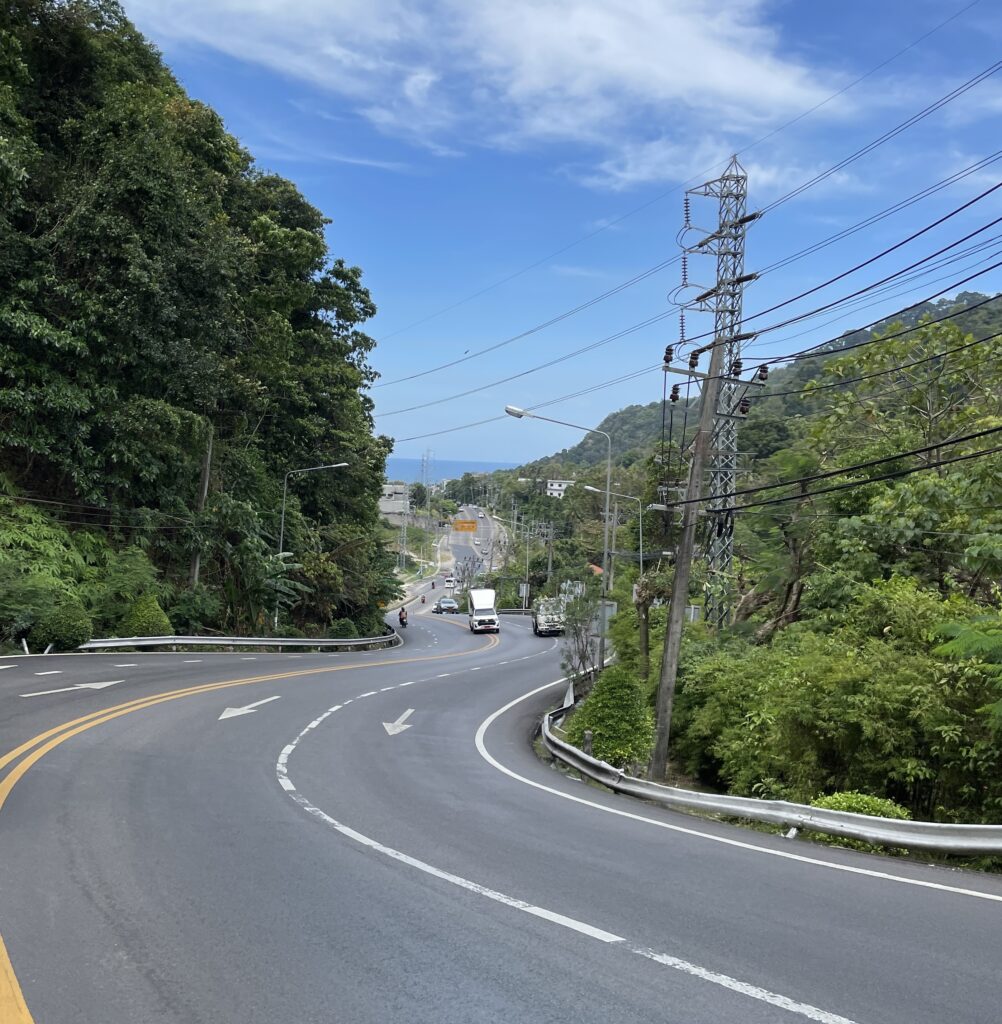 Phuket Airport to Kata Beach — Final Thoughts
Well, those are all the ways to get from Phuket Airport to Kata Beach. Make sure to take notes of the many tips I've shared for each transportation method!
For more info on how to get around Phuket and a list of the best things to do in Phuket, refer to my Phuket Guide!
Kata Beach is an excellent area in Phuket; not only does Kata have one of the best beaches, but the area is walkable, full of shops and restaurants, and plenty of things to do!
Suppose you're staying in a different area and trying to find out how to leave Phuket Airport. You can use all of these transportation options to other beach areas in Phuket as well:
RELATED: 8 Best Beaches in Phuket to Visit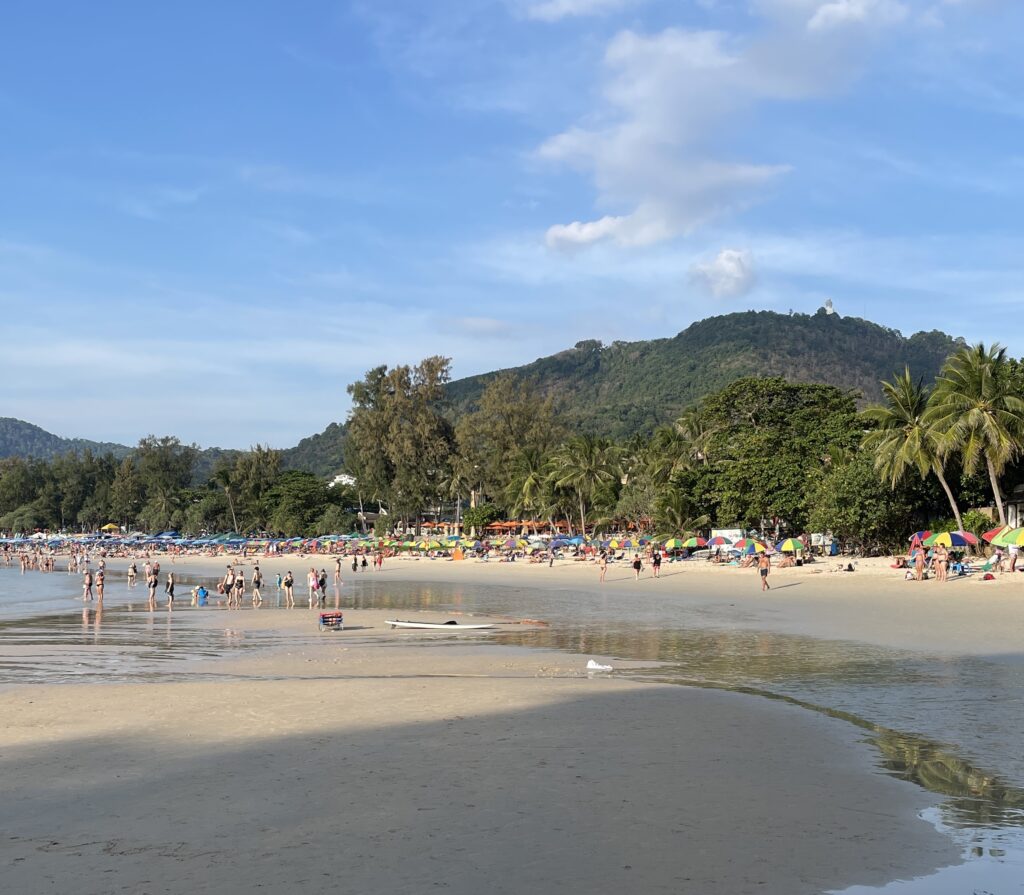 How do I get from Phuket Airport to Kata Beach?
There are many ways to get to Kata Beach from Phuket Airport, but the Phuket Smart Bus is the cheapest way. Grab or a Taxi are also great ways to get from Phuket Airport to Kata Beach.
How much is a taxi from Phuket Airport to Kata?
A taxi from Phuket Airport to Kata Beach should cost 1,000 – 1,400 Baht / $28 – $40 US. Be careful; some taxi drivers scam tourists and overcharge them!
Can you bring luggage on Phuket Smart Bus?
Yes, you can; there is a designated area for luggage on the Phuket Smart Bus. But the room is limited, so don't bring too many bags. And make sure to keep an eye out for your luggage to avoid having someone accidentally taking it when deboarding.
Subscribe to Travel Hiatus!
Receive updates on my latest posts, insider travel tips & the best destination guides to your inbox!
Happy & Safe Travels
---
Planning Checklist
---
Disclaimer: Please note that some of the links shared in this article might be affiliate links; this means that at absolutely no extra cost to you, we will earn a small commission for any sales generated through this article and/or this website. We recommend products/services we've either used or researched thoroughly – Thank you for supporting us so we can continue to share helpful travel content!