Krabi 4 Island Tour, Best In-Depth Guide
You're visiting and staying in Ao Nang or Railay, or maybe even Phuket, and considering going on an excursion for the day. Luckily, there are many great excursions to experience in Krabi, Thailand.
But look no further; this region's best and most popular excursion is the Krabi 4 Island Tour.
I will share everything you need to know regarding this famous tour in this in-depth guide, including how to book the tour from three different places, depending on where you're staying and the transportation options.
This is an in-depth review of 4 Island Tour Krabi. I will share with you what islands you will visit and what to expect. As well as what's included in the tour, what to bring, and a few extra tips!
About Krabi 4 Island Tour
The four-island tour in Krabi is a fun all-day excursion to visit four stunning islands. Each tour varies slightly depending on who you book with and what's included in the tour you purchase.
The first thing to consider is whether you will be experiencing this excursion with a group on a speed boat or prefer a longtail boat rental with a driver for the day. I will go into this more below.
Each tour visits the four islands in different orders; if you're charting a longtail boat for the day, you usually can ask the driver where you'd like to go first.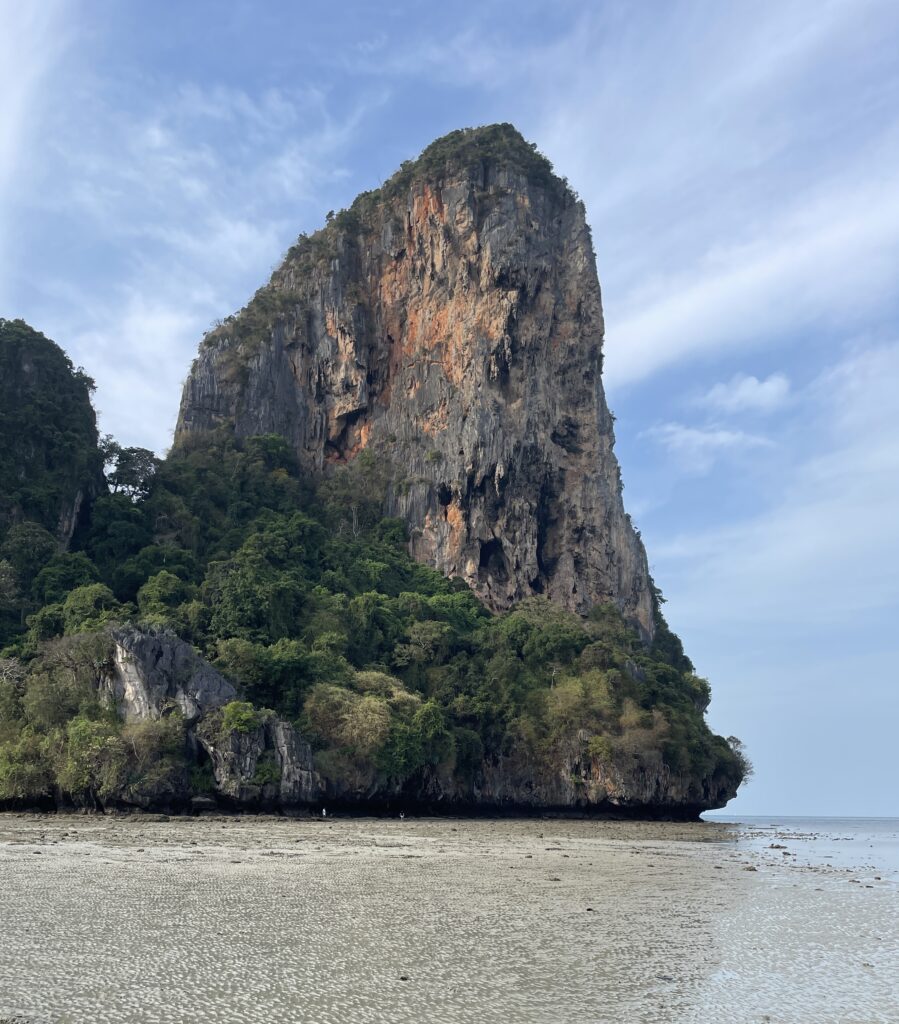 Most tours include lunch, water, and snorkeling gear for those who want to snorkel. These tours are mainly operated by speed boats. For those taking a longtail boat, check to see what your tour includes.
What's important to know is that only some tours include the National Park fee($6 US / 200 THB). Check to see whether this is included or not in your tour.
The four-island Krabi tour lasts approximately 6 to 8 hours, depending on the tour you attend.
How much is the 4 Islands Tour in Krabi?
This all depends on the type of transportation you choose to take.
If you attend the tour on a speed boat with a group, expect to pay around 1,100 – 1,300 Thai Baht ($33 – $39 US)
If you choose to charter a long tail boat, expect to pay around 4,000 – 4,500 Thai Baht ($118 – $133 US)
Krabi 4 Island Tour by Speed Boat
During a Speed Boat tour, you will be accompanied by an English-speaking guide and enjoy the tour with a group.
The Speed Boat is convenient because it's fast, and for those who get seasick, it's better than the Longtail boat despite being fast.
Krabi 4 Island Tour by Longtail Boat
With a longtail boat charter, your driver will likely speak some English but not fluently.
The Longtail boat charter is convenient because you can choose if you'd prefer to spend more time on one island versus another. However, there is a set time for the entire tour, usually 6 hours.
If you get seasick, understand that you will likely be better off attending the tour on a speed boat.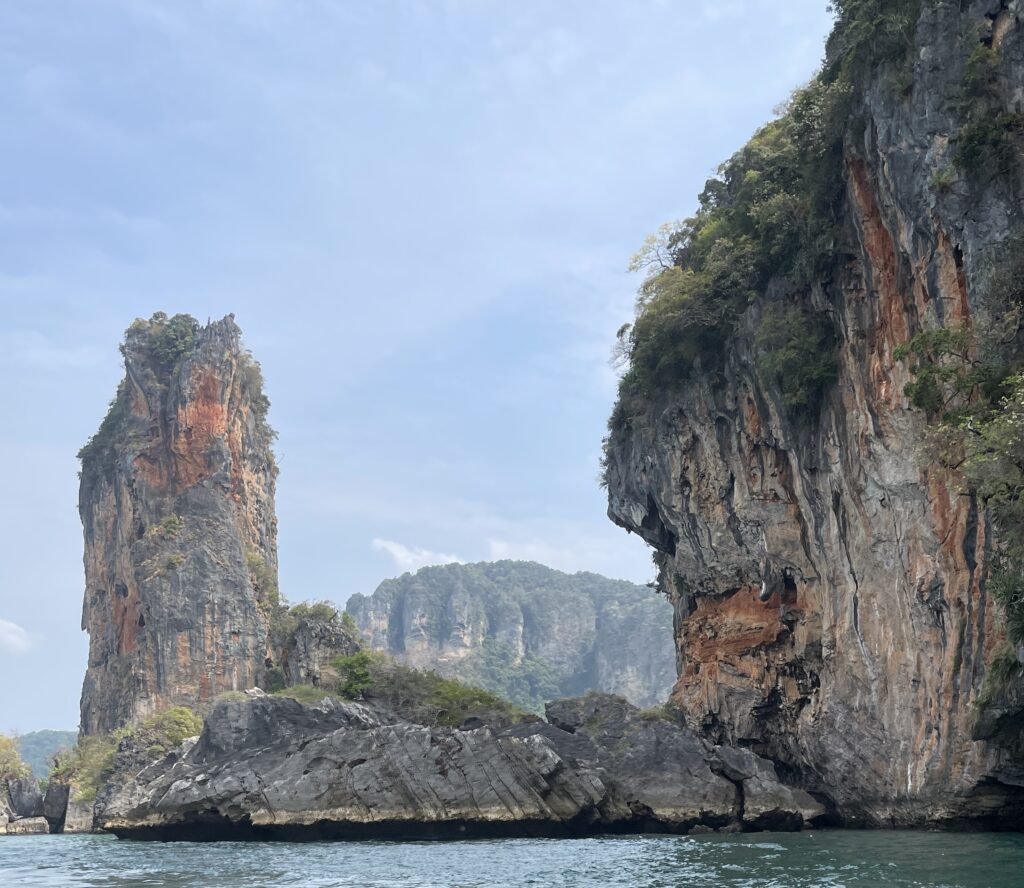 Different Departure Locations
The four-island tour will depart from the following locations depending on where you're leaving from.
If you need more clarification, speak to your guide through the contact details provided before the tour. – Some tours do hotel pick-up also.
Krabi 4 Island Tour from Ao Nang
If you're staying in Ao Nang, you're in luck because most of the 4 island tours leave from here. There usually are two different tour times, morning and afternoon.
From Ao Nang, you've got a selection of both the Speed Boat and a Private Longtail Boat. If you're in a small group of friends, a longtail boat split amongst your friends is a great idea!
Book 4 Island Tour by Speed Boat from Ao Nang
Book 4 Island Tour by Private Longtail Boat from Ao Nang
Krabi 4 Island Tour from Railay Beach
For those staying in Railay Beach, some tours will pick you up from Railay Beach or East Railay dock. The Speed Boat tour I've shared below will pick you up from Railay Beach; the organizer will coordinate a meeting spot on the beach for pickup.
If you'd like to charter a Private Long Tail from Railay, your best option is to take a longtail water taxi to Ao Nang and then go from there.
Book 4 Island Tour by Speed Boat from Railay Beach
Book 4 Island Tour by Private Longtail Boat from Railay Beach
Krabi 4 Island Tour from Phuket
If you're staying all the way over in Phuket, you're the furthest out of the three locations to get to the 4 Island tour, and options for this tour from Phuket are limited. But it's still doable, thanks to this tour below!
This 4 Island from Phuket includes hotel pickup/drop off to Rassada Pier, where you will be leaving from. Everything is taken care of for you!
Are you staying in Phuket?
Check out this list of things to do in Phuket!
Book 4 Island Tour by Speed Boat from Phuket
Longtail Charter from Phuket is unavailable; it's too far.
Krabi 4 Island Tour Stops
Now that we've got all the essential information out of the way, you're likely sure what type of tour you'd like to book. Let's discuss the 4 different islands you will see in Krabi and what you should expect when visiting each island!
As I mentioned earlier, the order in which island you will see varies from tour to tour.
Koh Thap & Ko Mor (twin islands)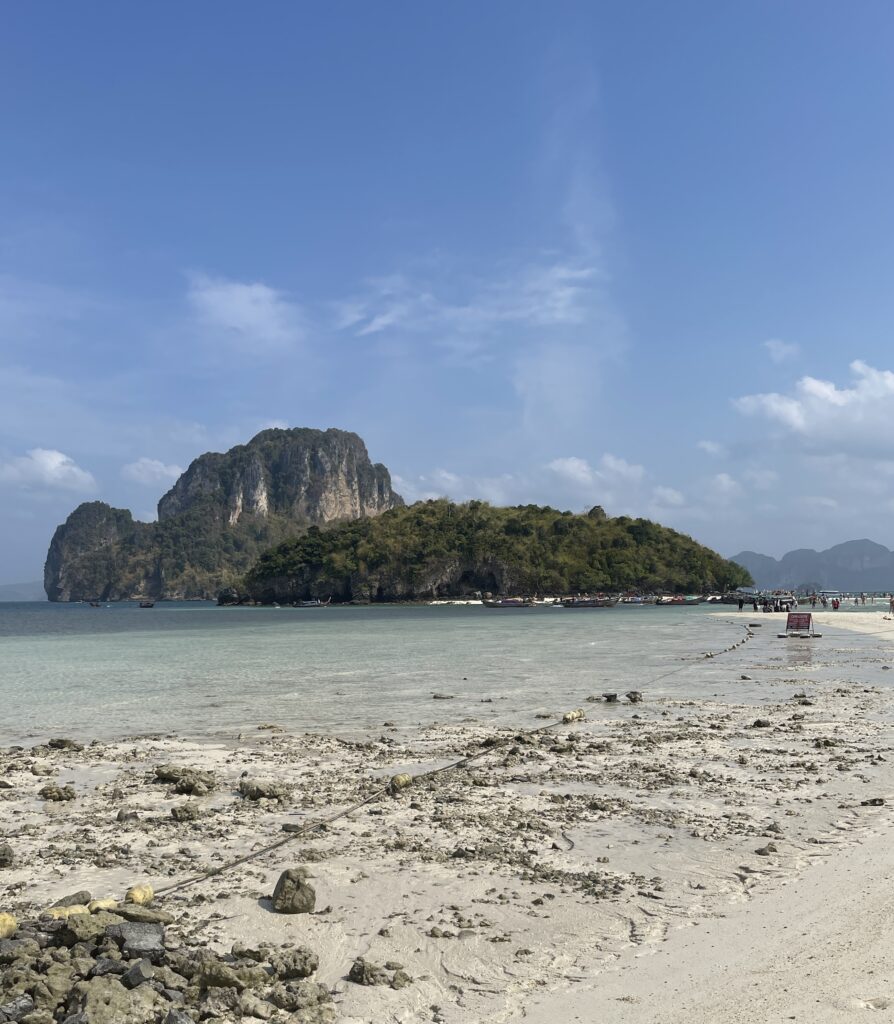 Starting off with the two sister islands, Koh Thap and Ko Mor, they sit side by side.
If the tide is low when visiting, you can walk in the water from one island to another. But it's important to know that the tide changes every few minutes, so you may have to swim across if it gets higher.
When I went on the tour, everyone could walk over and back.
Both islands are beautiful but quite small and simple for the most part, though I did find it quite unique that these two islands were so close to one another yet not connected to one another. Most tours stop here for 1 hour.
Ko Kai aka Chicken Island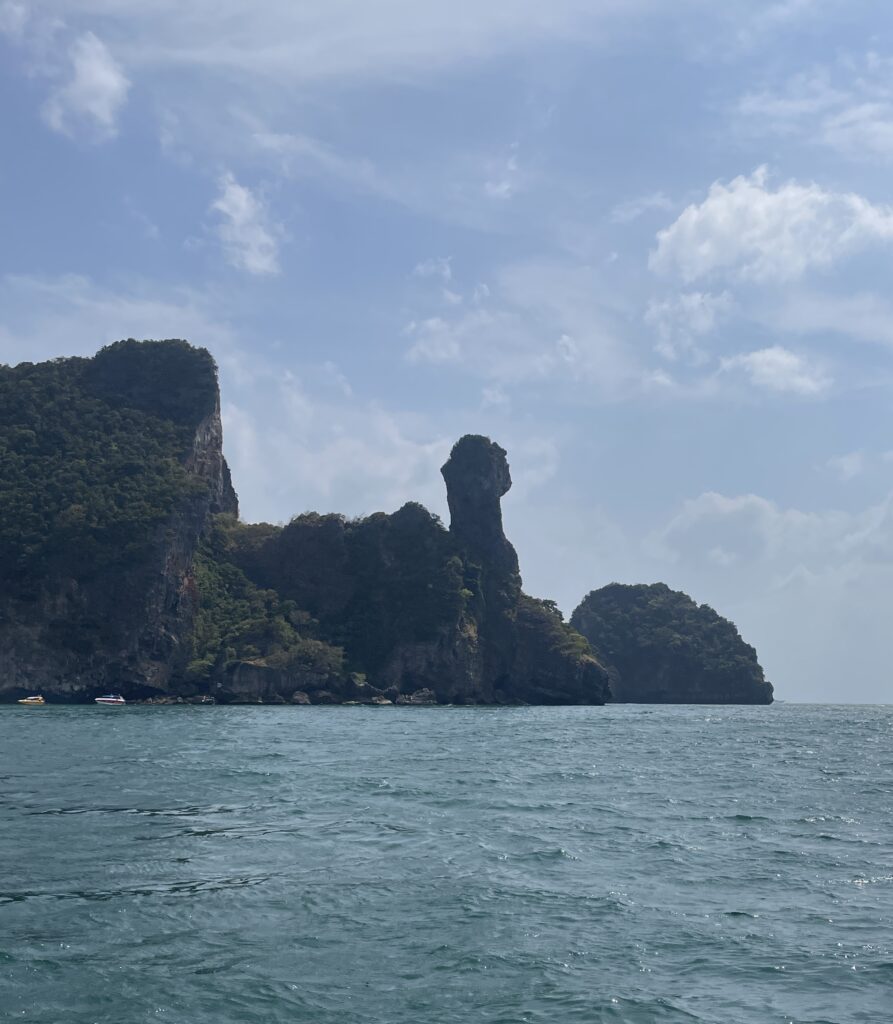 Once you've visited the twin islands, the tour will move on to the famous Chicken Island. The reason for its name is the distinct rock formation photographed above.
At Chicken Island, the boat will anchor, and you can snorkel in this well-known snorkeling location. Most tours stop here for approx 30-45 minutes. It wasn't much of an Island visit to me only because we didn't get to go on an actual island; Chicken Island is part of most tours.
Ko Poda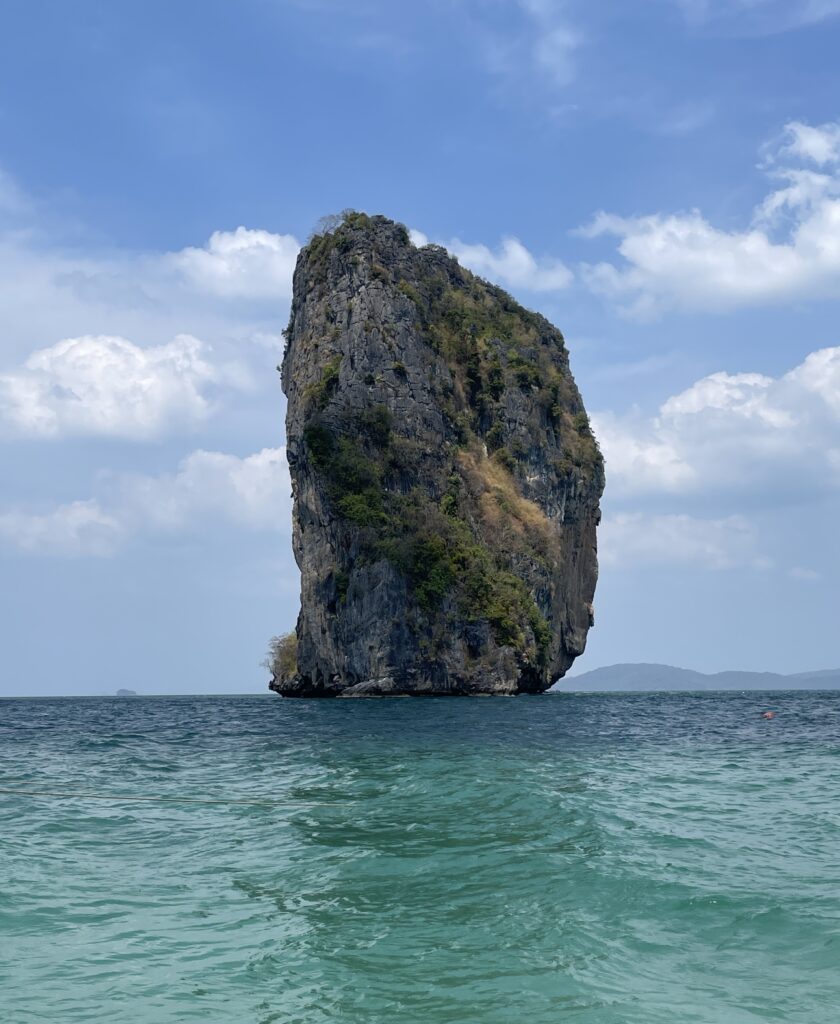 Ko Poda is a stunning island, and it's the most significant island you will be visiting for the day and is considered a national park.
At Ko Poda, there are two white sandy beaches you can spend your time on for the duration you're there. The island has several picnic tables, a washroom, and vendors selling snacks/foods.
You will more than likely have your included tour lunch in Ko Poda due to the convenience of the picnic tables and space. This island will likely be your longest tour stop, approximately 2 Hours (your guide will tell you precisely how long).
From the main Ko Poda Beach, you will spot a massive rock formation in the middle of the ocean; Ko Ma is its name. Many get confused (including myself) when searching Ko Poda because when researching Ko Poda, Ko Ma will come up due to the fantastic view. To clarify, that massive rock in the ocean is Ko Ma, the view of it is from Ko Poda.
Phra Nang Cave Beach & Railay Beach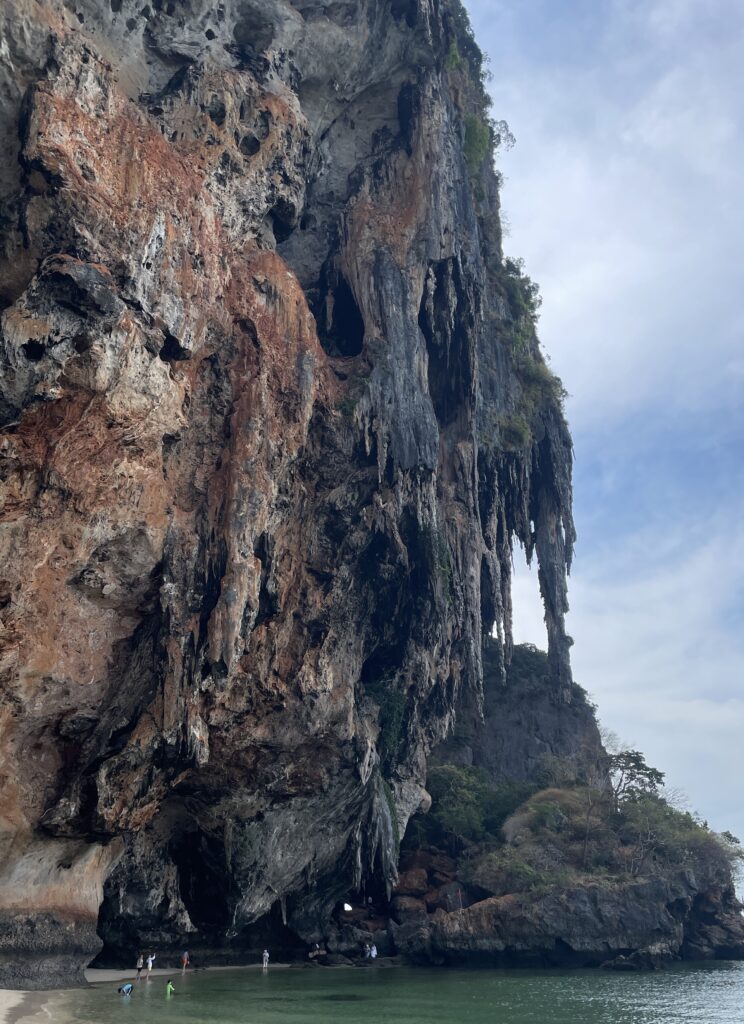 Coming here, you will be taken to East Railay (floating pier). Once you arrive, you will walk left towards the main Easy Railay trailhead walkway with your guide.
The walkway is stunning. On your left, you will spot unique rock formations during the entire trail to Phra Nang Cave Beach and a few monkeys jumping around on the trail.
Once you arrive at Phra Nang Cave, you will notice these massive high cliffs of rock hanging above the water, and it's spectacular!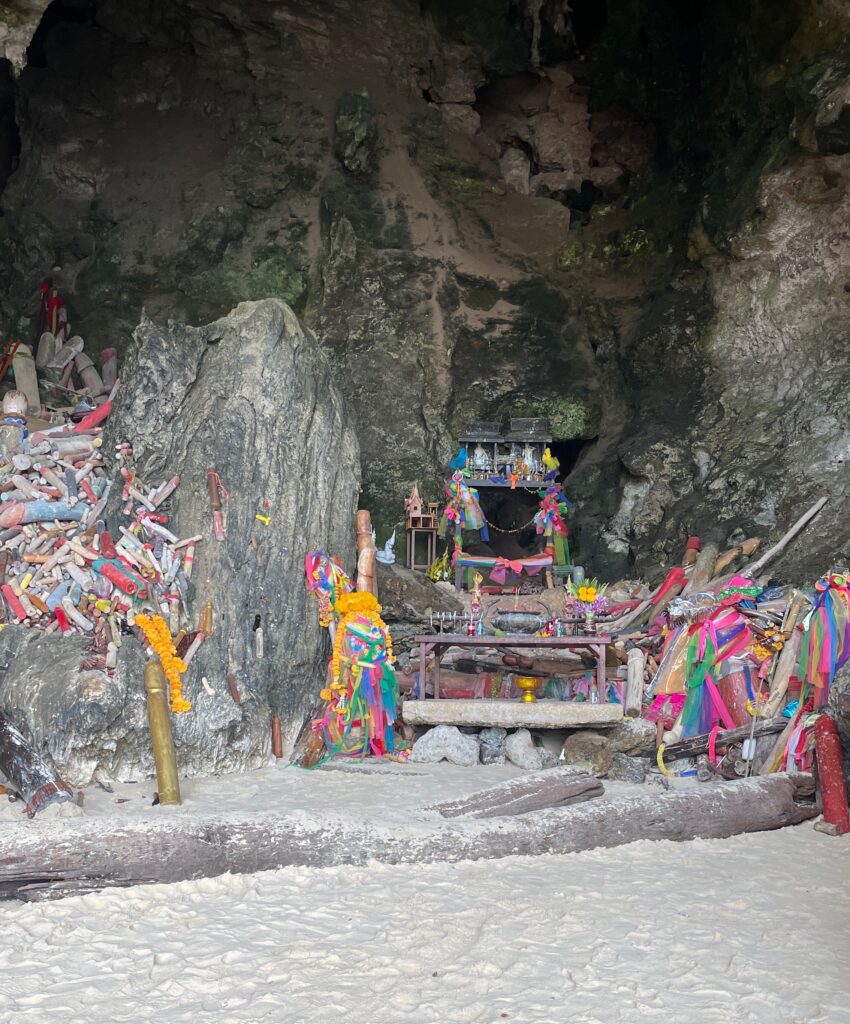 Close to that, you will find the Princess Cave, a shrine for Buddhists. There are some wooden objects there you may find funny, but please be respectful. This is a holy site for Buddhists, and some locals may be there praying. No matter your opinion of the objects, please be respectful when visiting.
Walking on the beach, you will most likely quickly notice Ko Rang Kok, a massive large rock formation in the middle of the water. It has a tiny beach area in which you can swim to!
Here's a Tip: Walk towards the very end of Phra Nang Beach; it tends to be much less busy with beautiful views!
Depending on if your tour is giving you time, Railay Beach is on the other side of Railay. It's a beautiful beach with amazing views and is where longtail boat taxis go back and forth between Ao Nang and Railay.
If you're staying in Ao Nang and want to come to Railay for the day, this is where you'd get dropped off and leave from back to Ao Nang.
Visiting Phra Nang Cave Beach and Railay will likely be your tour's last stop before taking you back. Again, depending on the tour's island visiting order.
If I weren't already staying in Railay Beach, I would say visiting Phra Nang Cave Beach was my favorite part of the tour. But because I was staying in Railay, I visited both beaches several times before attending the tour.
Phra Nang Cave Beach and Railay are technically NOT on an island because they connect to mainland Krabi, but they very much feel like an island!
If you're staying in Railay Beach instead of Ao Nang (which is what I did, it's much more beautiful and tropical, despite having fewer conveniences with stores compared to Ao Nang).
Check out my in-depth Railay Beach Guide, letting you know everything you need to know before visiting.
Krabi 7 Islands Sunset Tour
Another tour to possibly consider, especially for those looking to catch some spectacular sunsets, is the 7 Islands Sunset Tour, including a full BBQ Dinner! – This 7 Krabi Islands Tour is spectacular!
Both tours are excellent and highly recommended in Krabi! – Tour is Available from Ao Nang or Railay Beach
A Shortlist of Items to Consider Packing
Visiting a tropical place like Ao Nang, Railay, or anywhere in Thailand's Southern region, you will find yourself island hopping and sometimes half in water when going on or off a boat.
Here's a short list of items to consider packing before visiting!
A Dry Bag – When you arrive by boat, you may sometimes have to go into the water and walk to the shore. You run the risk of getting any electronics or other things wet. This Dry Bag is perfect for protecting your items!
Fast Drying Towel – A towel is necessary, of course. But the best towel to bring is something made from microfibre, which drys quickly. You'll be in and out of the water frequently, so always having a fast-drying towel is nice.
Power Bank – You don't want your phone to run out of battery as you take many pictures!
Waterproof Mobile Phone Case – When you're on excursions, you will more than likely want to take pictures when you're on the boat, but that also means your phone will get wet. This waterproof phone case will prevent that from happening!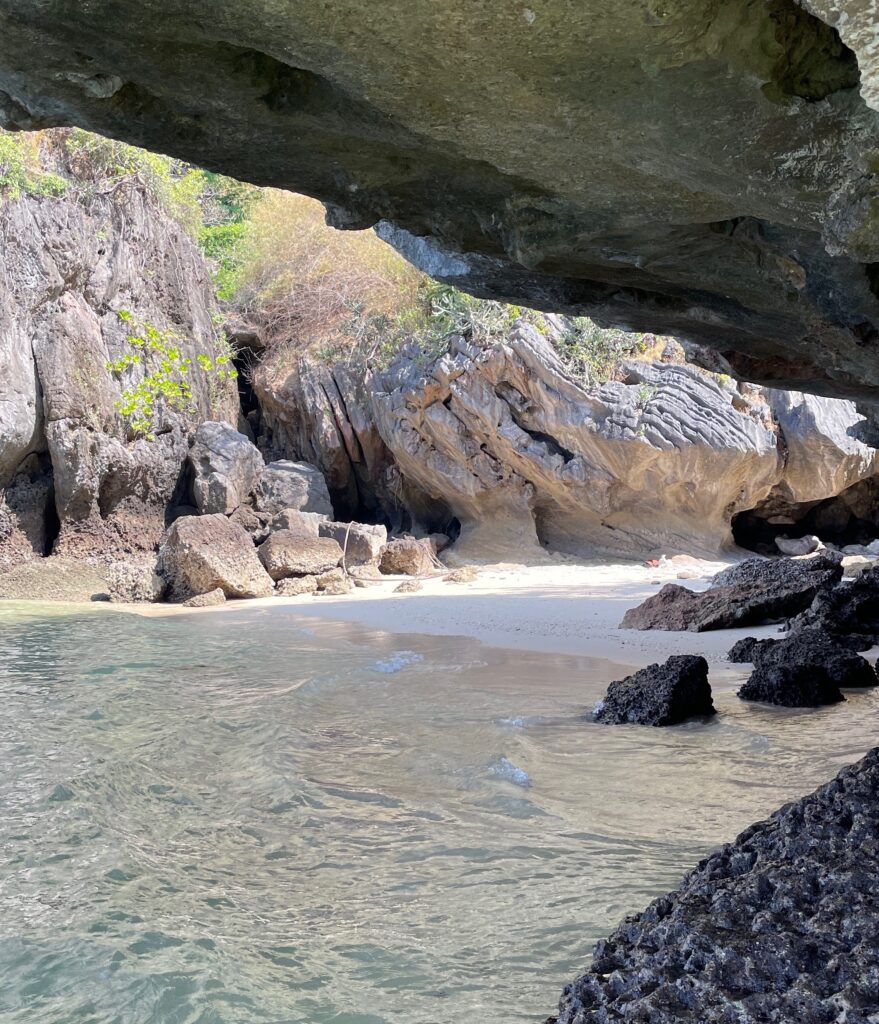 Is the 4 Islands Tour Krabi Worth It?
Yes, it's definitely worth experiencing. There's a reason it's the most popular tour in Krabi. – If you're planning your trip to Thailand, look at my other Thailand Guides.
I felt some things could have been skipped during the tour, but that's my opinion. My favorite island was Ko Poda. It was a spacious island with a beautiful beach area, and the shade around the trees was lovely for anyone wanting to avoid the sun.
Speaking of Islands in Thailand, I'd recommend visiting Phi Phi Islands and Koh Samui!
When visiting Thailand, it's advised to purchase Travel Insurance before visiting.
Subscribe to Travel Hiatus!
Receive updates on my latest posts, insider travel tips & the best destination guides to your inbox!
Happy & Safe Travels
---
Planning Checklist
---
Disclaimer: Please note that some of the links shared in this article might be affiliate links; this means that at absolutely no extra cost to you, we will earn a small commission for any sales generated through this article and/or this website. We recommend products/services we've either used or researched thoroughly – Thank you for supporting us so we can continue to share helpful travel content!