Akumal vs Tulum: 7 Things to Consider
Can't decide between Akumal vs Tulum? You've come to the right place! Both of these two beautiful destinations in the Riviera Maya have a lot to offer, but they differ in many ways.
There is no shortage of stunning beach towns to visit along the Riviera Maya coast. Still, oftentimes, because Akumal and Tulum are neighboring cities very close to one another, they're often compared to one another!
Visiting this article, I will assume you've narrowed your search to Tulum vs Akumal; both are fantastic beach destinations, but you may prefer one after reading this comparison guide full of deciding factors!
I've stayed in Tulum countless times over the years, watching it go from a small town to the world-famous destination it is today. I'm also familiar with Akumal because I've had the pleasure of spending a few weeks there, as friends of mine are locals.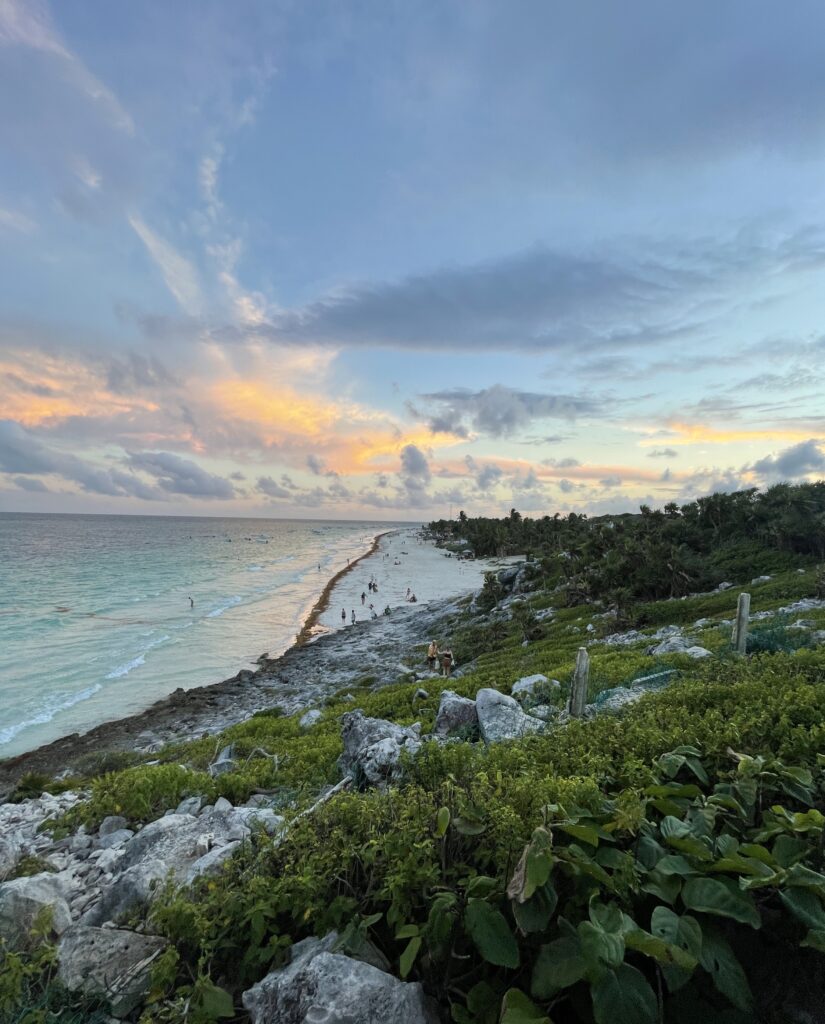 How to Get to Akumal or Tulum
Here is some quick information on how to get to Akumal or Tulum from Cancun International Airport.
The drive from Cancun to Akumal takes about 1 hour and 30 minutes, and the drive from Cancun to Tulum takes around 2 hours. Time depends on the traffic on the main Highway 307.
From Akumal to Tulum and vice-versa, it's about a 30 Minutes drive on the exact same main Highway 307.
If you want to visit Akumal or Tulum from a nearby city, you can use the ADO Bus or Collectivo.
Options to Get to Akumal or Tulum from Cancun Airport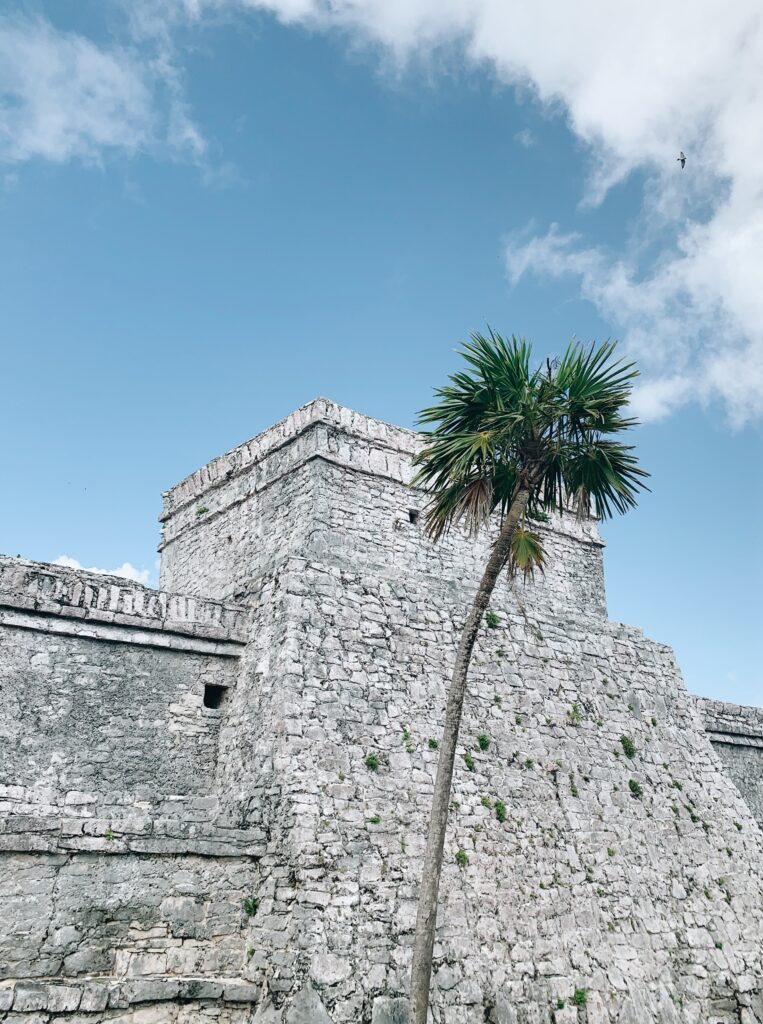 Akumal vs Tulum – Main Differences
For those in a rush, here's a quick table breakdown of the main differences between the two popular beach towns!
While this breakdown is helpful when deciding where to stay, I'd recommend you read further to know in-depth about all seven deciding factors between Akumal and Tulum!
| | | |
| --- | --- | --- |
| Things to Consider | Akumal | Tulum |
| Main Attractions | Good | Better |
| Beaches | Great | Great |
| Restaurants | Limited | Great |
| Hotels | Good | Good |
| Nightlife | Bad | Great |
| Walkability | Good | Bad |
| Safety | Great | Okay |
Akumal vs Tulum: Things To Do
Let's discuss the best things to do in both places. While both beach towns offer many things to do, some activities vary between the two places, and you may prefer one beach town over the other when considering things to do!
Akumal and Tulum share similar activities, such as afternoons at the beach and cenotes visits. Now let's discuss the other things to do in each beach town!
Things To Do in Akumal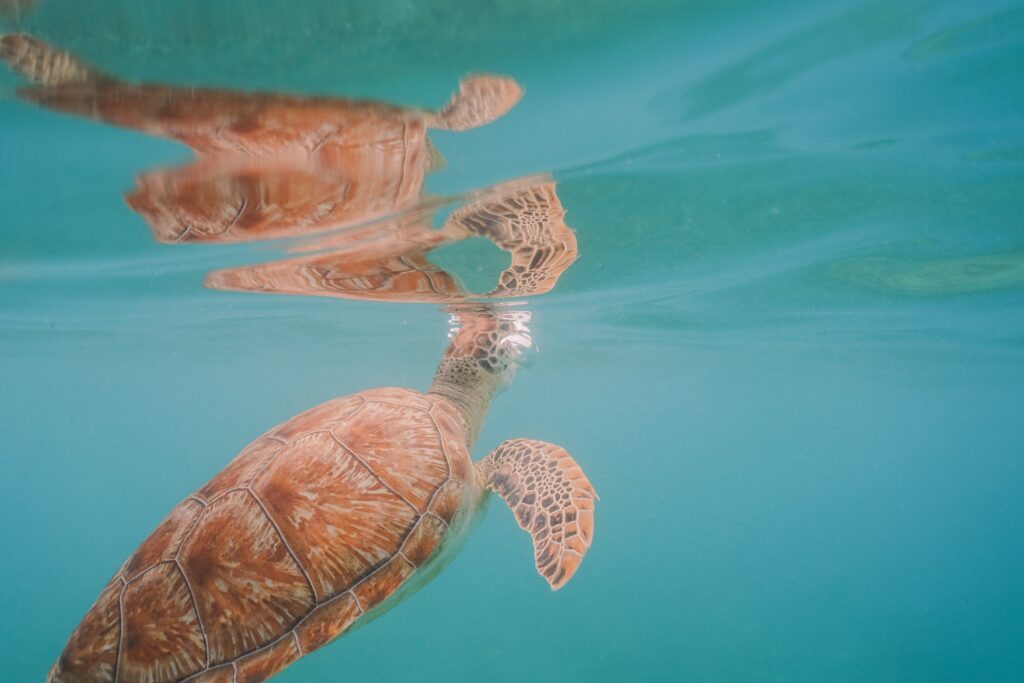 These are the main attractions in Akumal; for a more in-depth look into the many things to do in Akumal, refer to my Akumal activity guide for more info!
Fun Fact: "Akumal" literally translates to "place of turtles" in Mayan.
The city center area of Akumal is limited; there's nothing there in this laidback, sleepy beach town!
Regarding restaurants in Akumal, there are a few, but the selection is very limited here; it's a small town, after all.
Beach Day at Akumal
See what I mean by most of the activities in Akumal are similar? Akumal is most famous for snorkeling with Sea turtles. There is a beach club or two, but the beach clubs in Akumal are nothing special compared to those in Tulum.
Cenotes in Akumal
Cenote Puerta Maya
Cenote Media Luna
Aktun Chen
Cenote Xunaan Ha
Things To Do in Tulum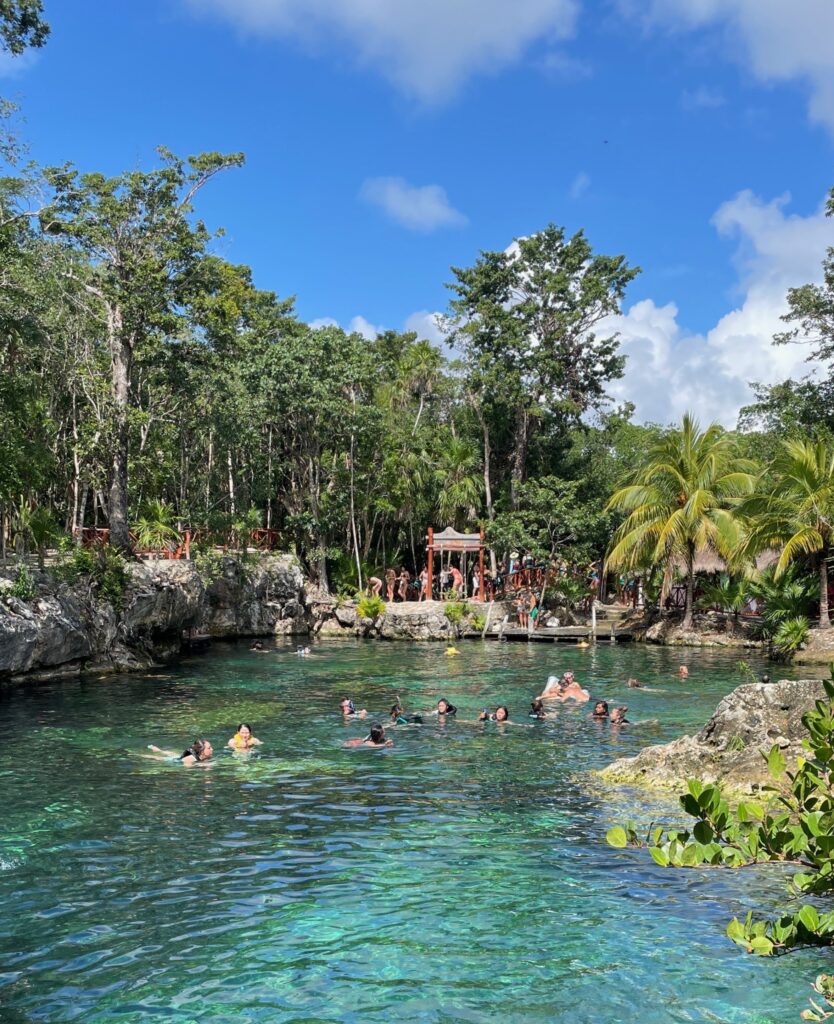 There are many things to do in Tulum, more than in Akumal, that's for sure. Tulum is a much larger beach town, after all, than Akumal. These are the main attractions in Tulum!
Tulum's city center area is vibrant and lively, with shops, bars, and restaurants. The area is always lively whether you walk here during the day or at night.
Regarding restaurants in Tulum, the food here is exceptional and caters to all budgets. You can find everything from fine dining to street tacos in Tulum.
Tulum Ruins & National Park
Nightlife in Centro Tulum
As you can see, the things to do in Tulum compared to Akumal, because Tulum is a larger beach town, the options are treated! And there's a mix of different things to do in Tulum, unlike Akumal.
Cenotes in Tulum
Cenotes Casa Tortuga
Dos Ojos Cenote aka Two Eyes Cenote
Big Cenote aka Gran Cenote
Cenote Calavera aka Skull Cenote
For an extensive guide on the cenotes in Tulum, look at my complete Tulum Cenotes guide; after all, Tulum is known for its cenotes!
Akumal vs Tulum: Beaches
It's time to discuss the beaches in each beach town; you're coming here on vacation, and more than likely, so many aspects of the beach matter!
Akumal has two beach areas, Akumal Beach and Half Moon Bay. The beaches at both bays are perfect for a stroll, offering just the ideal length for a relaxing walk.
While they may not stretch for miles, they provide a lovely spot to soak up the sun and enjoy the ocean breeze.
One slight downside about some of the beaches in Akumal is that some will charge you a $5 US entrance fee, but as a result of that, you can expect a less busy and quieter beach.
The beaches in Akumal are better if you're looking for a beautiful, calmer beach with activities.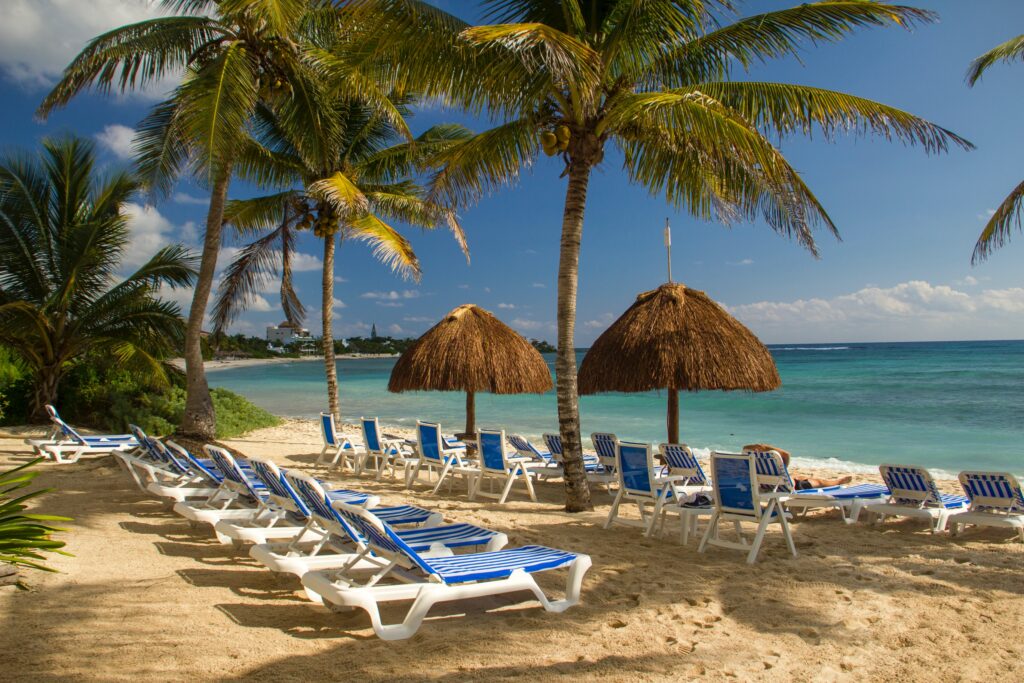 Tulum's Beach, on the other hand, is extensive with km's of space and faces the open ocean.
Due to its size and proximity to the jungle, Tulum Beach is iconic in its self-right. And that's why you will find more tourists visiting Tulum Beach than Akumal.
Tulum Beaches are better if you're looking for a beautiful, lively beach with activities, many beach clubs, and restaurants.
Akumal and Tulum have small parts of their shorelines closed off for resorts/hotels, but Akumal has more hotels taking up its shorelines compared to Tulum. But it's nothing that you have to worry about!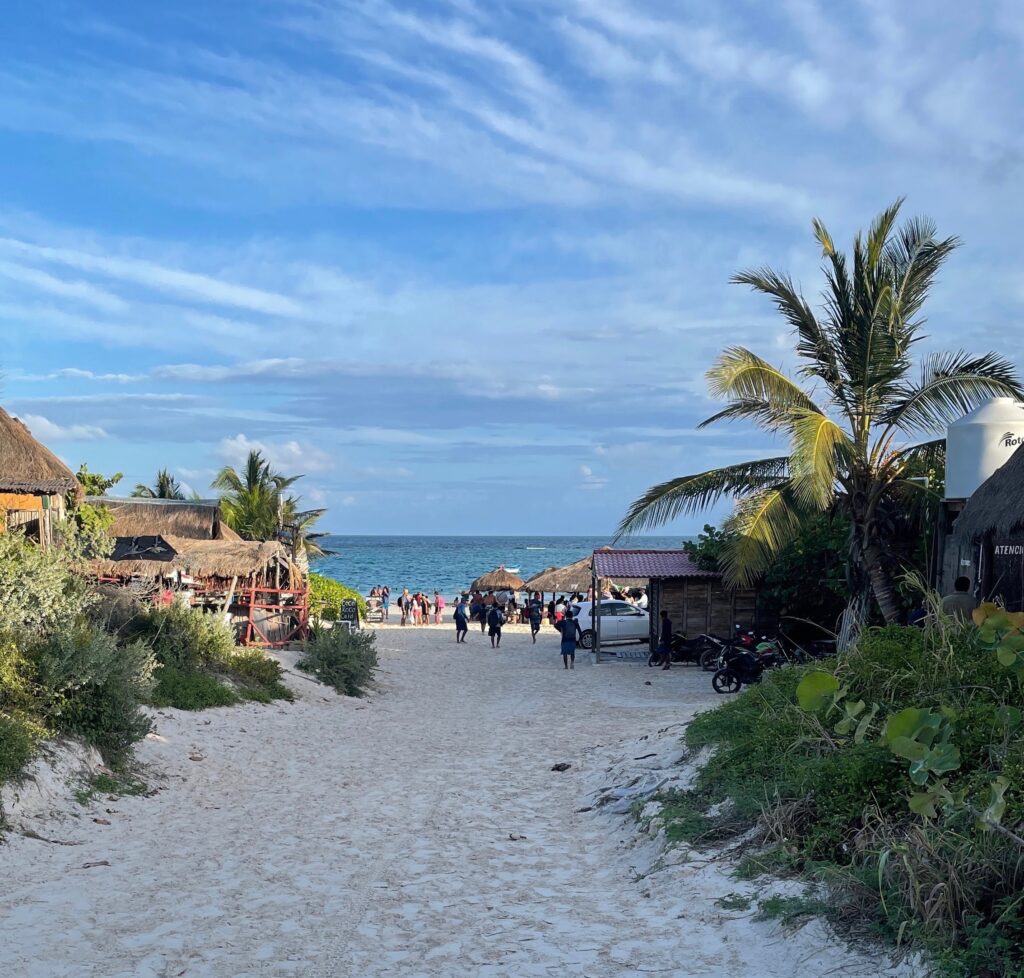 Akumal vs Tulum: Resorts/Hotels/Rentals
Regarding accommodations, this may be a deciding factor for many when considering visiting Akumal or Tulum.
While both Akumal and Tulum have plenty of accommodations, each beach town is more known for its types of accommodations.
Akumal is known for its Resorts and Hotels.
Tulum is known for its Hotels, Boutique Hotels, Rentals, and Hostels
Where to Stay in Akumal
Akumal doesn't have different areas to choose from. You'll most likely be staying somewhere along the shoreline.
As mentioned earlier, Akumal is very walkable due to the town's small size, so no matter where you stay in Akumal, you should be close to everything!
Here is a short list of resorts and hotels in Akumal that I recommend!
Akumal Resorts: Secrets Akumal & Akumal Wellness and Beach Resort
Akumal Hotels: Villa Morena
Akumal Glamping: Akumal Natura
Akumal Hostel: ITZA Hostel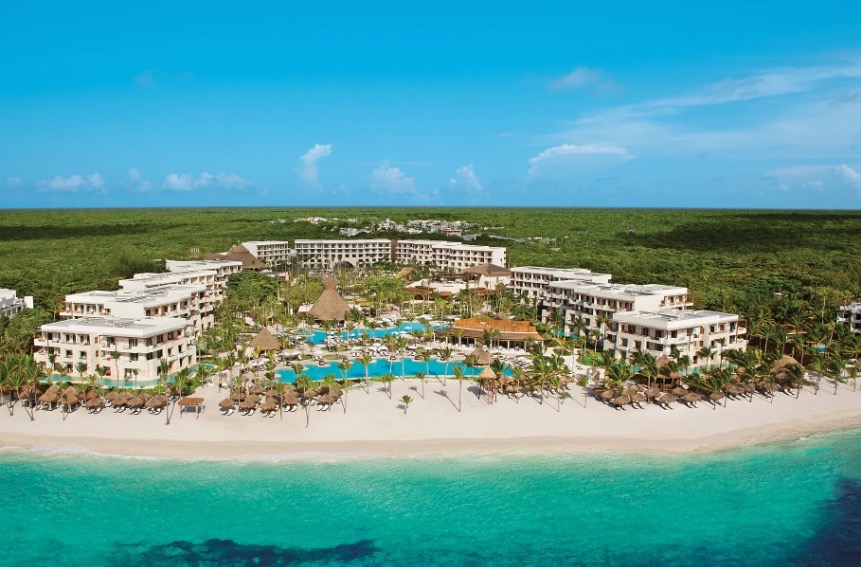 Where to Stay in Tulum
Tulum has three different areas to choose from, and because Tulum isn't walkable, each area has its pros/cons, and I'd recommend you choose wisely due to town distances.
These are the three different areas in Tulum to consider. You will have to use a form of transportation to get around Tulum no matter where you stay.
Tulum Beach: For those who want to be close to the beach, the downside is other than fancy restaurants, staying here means you're further from most things in Tulum.
Aldea Zama: This is the most popular area in Tulum; it's in the middle between Centro Tulum and the beach. Staying here means you're close to both main points of Tulum.
Centro Tulum: Staying in Centro means you're close to all the restaurants, bars, and shops. It's very convenient, but you will be furthest from the beach among these three areas.
Here is a short list of luxury boutique hotels, Centro hotels, and budget-friendly hostels in Tulum that I recommend!
Tulum Luxury Boutique Hotels: Be Tulum Hotel/Spa & Casa Malca
Tulum Hotels: Layla Tulum & Hotel Bardo
Tulum Hostels: Mayan Monkey Tulum & Che Tulum Hostel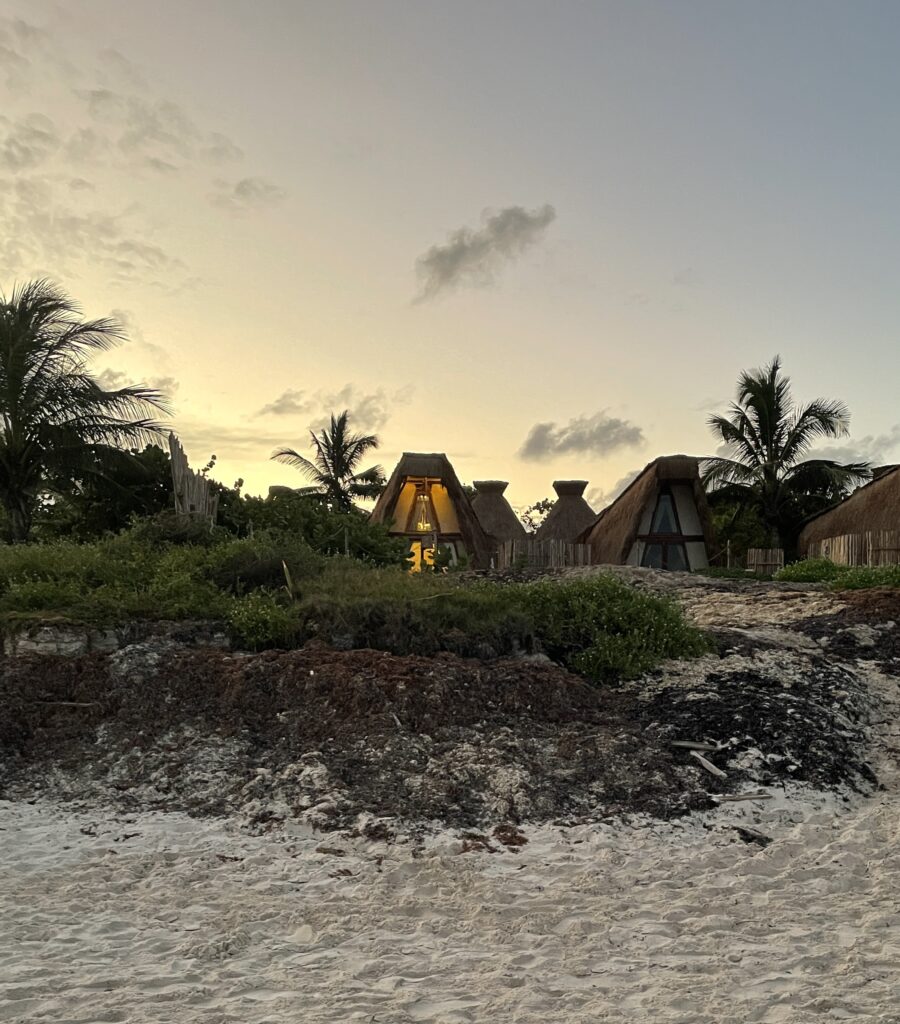 Akumal vs Tulum: Nightlife
Regarding nightlife, this is the most significant difference when considering Tulum vs Akumal.
That's because there is no nightlife in Akumal unless you count some activities that may happen at the resort you're staying at. But that doesn't matter because that would be exclusive to the resort you're staying at.
If you're staying in Akumal and want a night out in Tulum, you could sort a private taxi from your hotel if they offer the service. Otherwise, you must take a taxi; remember that taxis in Tulum, especially at night, can be costly, and watch out for Tulum taxi scams!
Akumal isn't meant to have a lively nightlife; it's a tiny beach town known for its daily activities and resorts.
Tulum Nightlife
Tulum is famous for its nightlife scene and has various things to do at night, from bars and nightclubs in Tulum Town to beach clubs turning into late-evening dinner parties, jungle parties in the middle of the jungle, and sunrise techno events in the early morning hours by the beach.
As you can see, Tulum is well known for its nightlife; many come from neighboring cities like Playa Del Carmen and even Cancun to party in Tulum. Techno events like Day Zero and other yearly events have made Tulum a techno music mecca.
If you're coming to Tulum and looking to party, I recommend you visit the local Facebook groups and experience a jungle party.
Otherwise, I'd recommend checking out Papaya Playa Project, a beach club, hotel, and nightclub, and here's a list of more Tulum beach clubs to consider!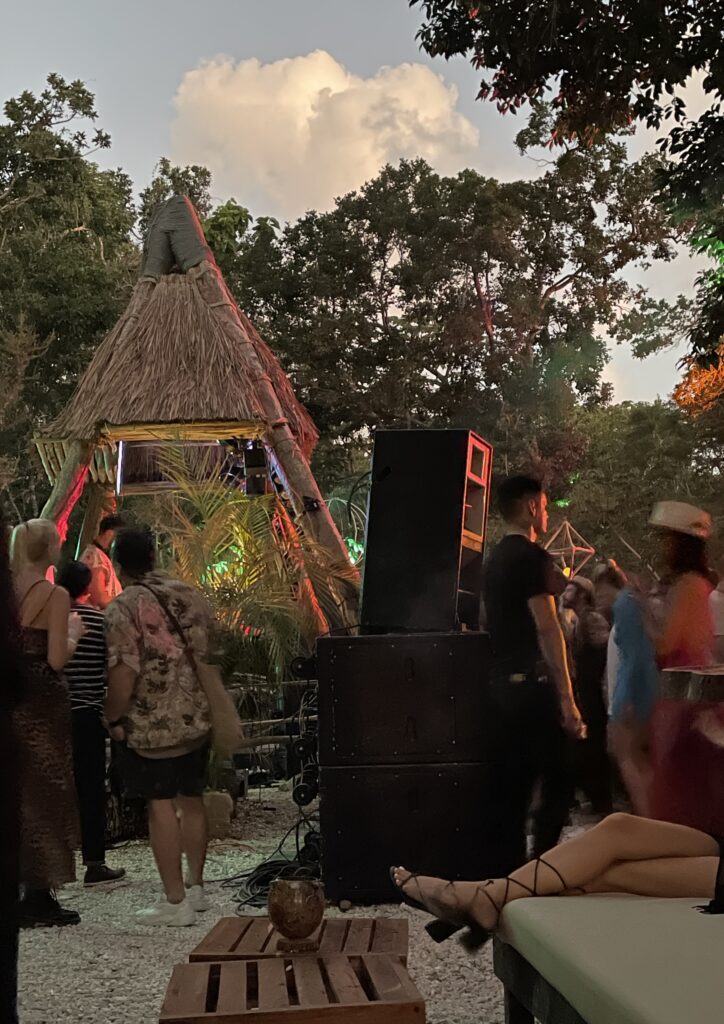 Akumal or Tulum: Costs
Compared to Akumal, Tulum is significantly more costly to visit. Don't get me wrong; you can visit Tulum on a budget; there are plenty of hostels in Tulum and affordable restaurants.
I'm referring to the average spend in Tulum, and when considering that, it's more expensive than visiting Akumal.
Those looking to visit and are on a budget. You're better off staying in Akumal and making a day trip or two over to Tulum; it's only 30 minutes away from Tulum.
The cheapest way to travel between Akumal and Tulum is by Collectivo (white taxi vans), which operate on Highway 307 frequently, passing every few minutes and costing around $1-$2 US.
You can also take the collectivo from Tulum to Akumal and vice-versa. Refer to my Tulum transportation guide for more info about how to use collectives in Tulum!
BUDGET TIP: If you're looking for cheap/delicious food in Akumal and Tulum, visit the Centro areas in each town and browse restaurants! – Eating near the beach is always more costly.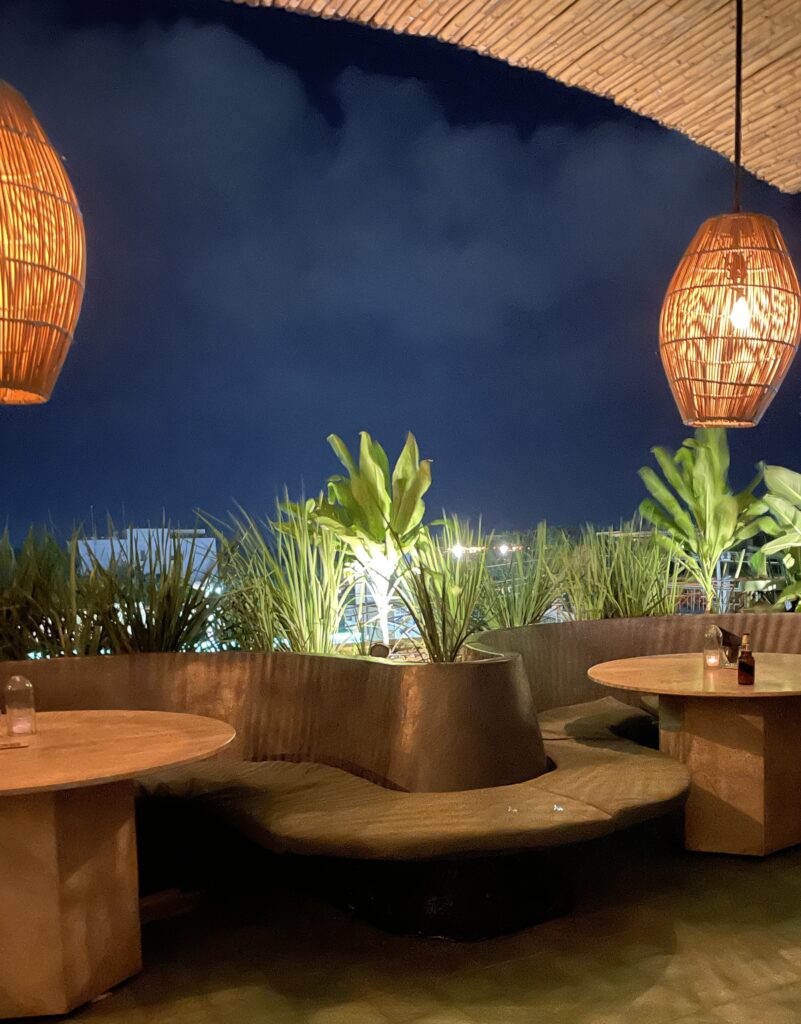 Akumal Avg Costs:
Most accommodations in Akumal are all-inclusive hotels; because of this, the average travel cost to visit Akumal is based on this factor.
The average price for one week in Akumal is $995 US, and this is only factoring in hotel costs—info from BudgetYourTrip.
Most eat at the resort they're staying at in Akumal, but if you visit restaurants, they're cheaper than restaurants in Tulum.
Tulum Avg Costs:
The average cost in Tulum is fairly higher for one week at $1,300 US, a significant difference compared to Akumal. This includes only accommodations.
You should potentially factor in a higher cost than the average $1300 because of transportation costs. Most places are far from one another in Tulum.
Also, there are more things to do in Tulum vs Akumal, so you will be tempted to spend more in Tulum!
Eating out in Tulum is more expensive than in Akumal, but cheap food is easy to find in Tulum. Go to Tulum Town, and you will find a few affordable spots; I've mentioned a few cheap eats in Tulum in this list.
But don't let the higher costs discourage you from visiting Tulum if you'd like to visit; as I mentioned earlier, it's easy to visit Tulum on a budget unless you're coming with your family.
Is Akumal Safe for Tourists?
Akumal is very safe for tourists; it's a small beach town home to primarily resorts and a relatively small local community.
Most of the foot traffic in Akumal is from tourists staying for a week, renting long-term accommodations, or visiting nearby cities to swim with the turtles!
If you're traveling with children, Akumal's beaches are safer for swimming than Tulum's.
Another popular beach town nearby that is just as safe as Akumal is Puerto Aventuras, only a 15-minute drive away; I recommend visiting it as well!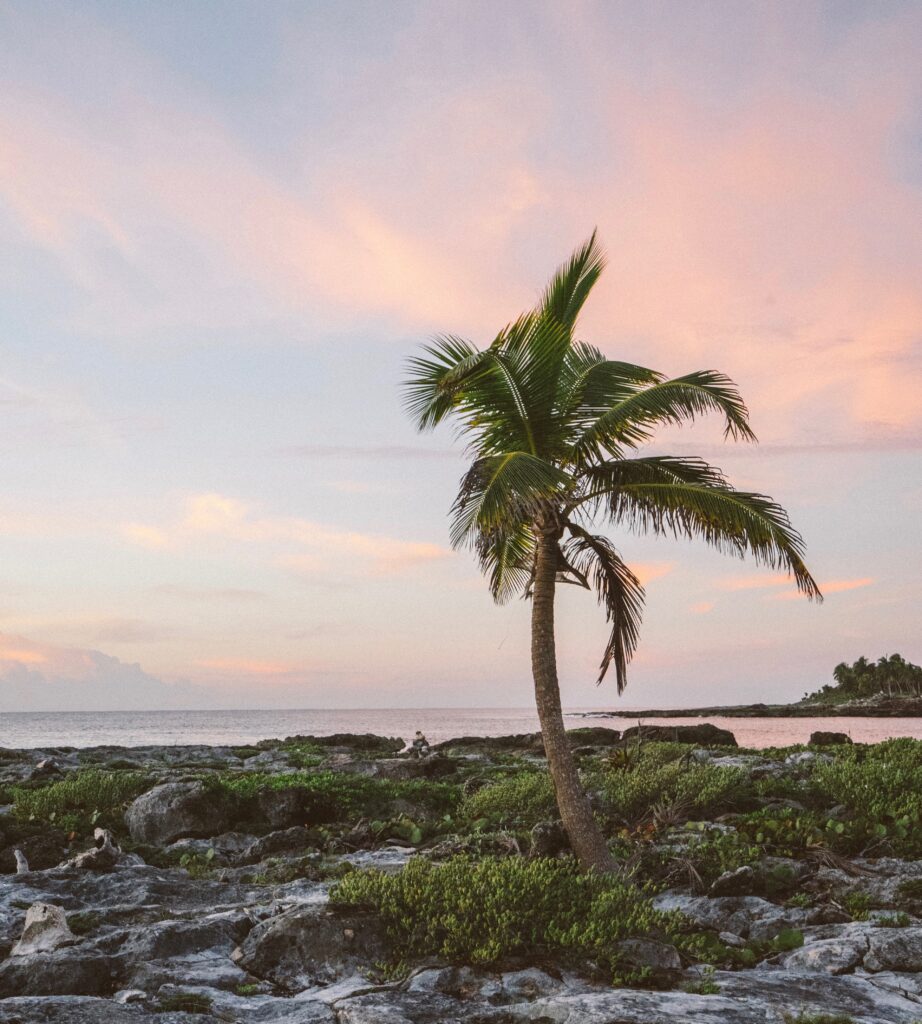 Is Tulum Safe for Tourists?
Safety in Tulum in the last decade has been a complex topic to address, and that's because while the town, for the most part, is relatively safe, Tulum has its crime moments for sure.
In the daytime, especially in the popular tourist areas like Tulum Town, the Hotel Zone, Tulum Beach, and other tourist attractions in Tulum, it's relatively safe, and you don't have much to worry about.
At night, I'd suggest taking precautions in Tulum at night. Walking around Tulum Town is fine, but I wouldn't recommend walking in areas where streets aren't well-lit, and there isn't much foot traffic.
Generally, it's best to take a taxi at night when going and coming from places at night in Tulum.
Regarding which place is safer, Tulum or Akumal, Akumal is far safer than Tulum.
Make sure you purchase travel insurance before visiting Mexico!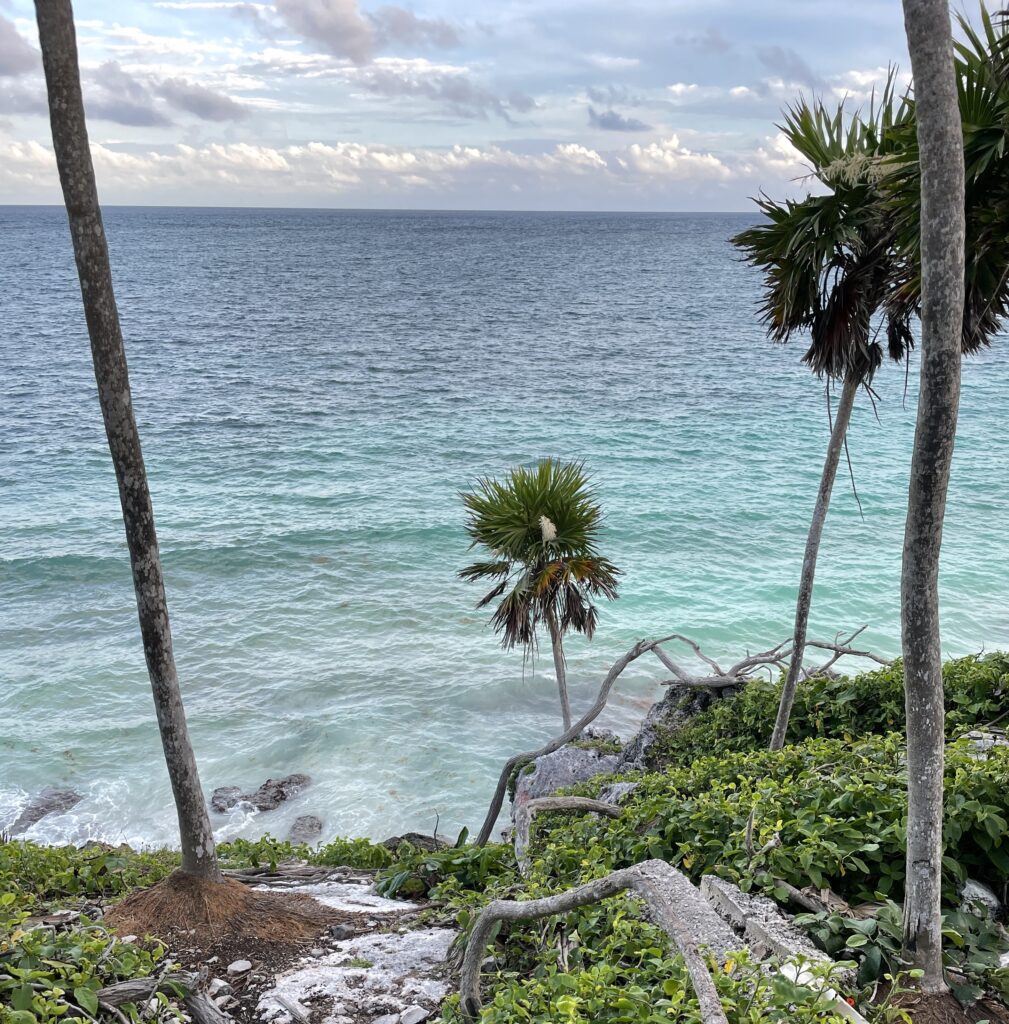 Best Time to Visit Tulum or Akumal
The best time to visit Tulum or Akumal is during the dry season, from December through April.
This is when the weather in the Riviera Maya is ideal; it's hot enough to go to the beach, but the humidity levels aren't high, unlike the off-season months here.
During the off-season in Tulum and Akumal, humidity index levels are high, and there's a greater chance for rainfall.
Tulum and Akumal are neighbors and share the same weather forecast. Below, you will find a seasonal breakdown during the year.
Dry Season: December to April
Off Season: May to mid-November
Hurricane Season: June to November
BUDGET TIP: If you're looking for the best deal during the dry season, avoid visiting during December and the first week in January. With an influx of holiday travel during this time of year, prices for flights and hotels increase!
Is Tulum or Akumal better? — Final Thoughts
After reading this Akumal vs Tulum comparison guide, I'd like to be convinced you've decided where you should visit!
But if you're still undecided, here are a few parting words about each beach town that may convince you to go to one place over the other!
Solo Traveler: Both places are great for solo travelers; Tulum is favorable but more costly.
Couple: Both places are recommended for couples; if you're looking for a calmer vacation, then visit Akumal; if you're looking for more adventure and a lively environment mixed with relaxation, then do Tulum.
Group of Friends: Tulum is better to visit, without question. Akumal is too small for a group of friends, and being in a group of friends, different people may want to do different activities or eat different cuisines!
Family: Akumal is more family-friendly than Tulum; you could always make a day trip to Tulum from Akumal.
If Akumal sounds attractive, another place you should consider is Cozumel. And for those who find Tulum attractive, consider Playa Del Carmen!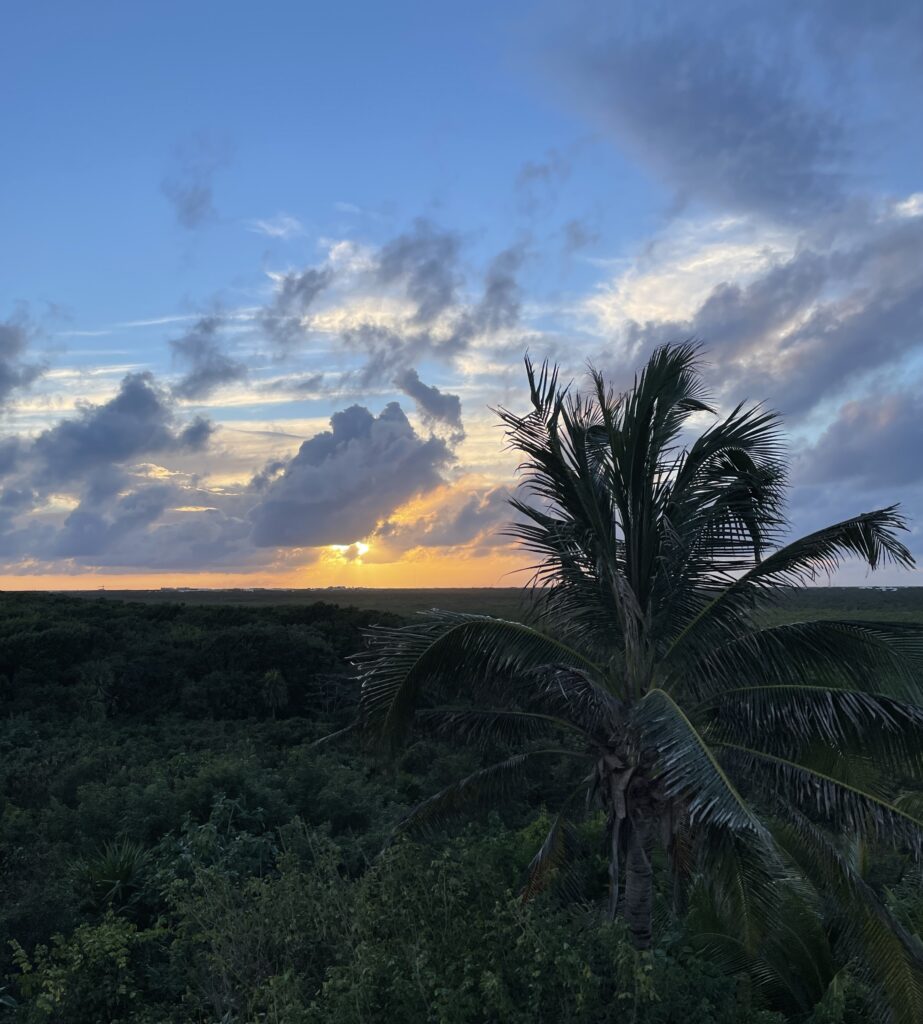 Is Akumal in Tulum?
No, it's not. Akumal and Tulum are two separate towns in the Riviera Maya. Akumal is part of the Tulum municipality, and that's why many need clarification, thinking it's in Tulum, but it's not.
How Far is Tulum from Akumal?
Tulum is 26km or 13 miles from Akumal and takes around 30 minutes. You can go back and forth between both towns by accessing the main Highway 307.
Is Akumal a party town?
Although Akumal is close to Tulum and Playa Del Carmen, it's not a party town. Akumal is a small town full of resorts and a small local community.
There's no nightlife in Akumal; it's a relaxed, laidback beach town.
Is it worth going to Akumal?
Visiting Akumal is an excellent idea; the beaches there are beautiful and less touristy than their neighboring towns, and the marine life in the water here is extraordinary!
Subscribe to Travel Hiatus!
Receive updates on my latest posts, insider travel tips & the best destination guides to your inbox!
Happy & Safe Travels
---
Planning Checklist
---
Disclaimer: Please note that some of the links shared in this article might be affiliate links; this means that at absolutely no extra cost to you, we will earn a small commission for any sales generated through this article and/or this website. We recommend products/services we've either used or researched thoroughly – Thank you for supporting us so we can continue to share helpful travel content!