Isla Holbox, Mexico Perfect Travel Guide
Isla Holbox is a secluded island beach town in the North part of the Yucatan region of Mexico.
Isla Holbox, often times referred to as "Holbox," has gained popularity over the last few years because of its relaxed secluded beach island atmosphere.
Something the other popular tourist cities in the Quintana Roo region cannot offer, such as Cancun, Playa Del Carmen, and Tulum.
The island offers complete relaxation and fun nights out, including bar-hopping and parties that go on briefly into the night because most visitors are here to relax.
No cars are on the island because the dirt roads are only made for golf carts; it's a tropical, remote paradise here. Biking or golf carts are the primary forms of transportation around the island.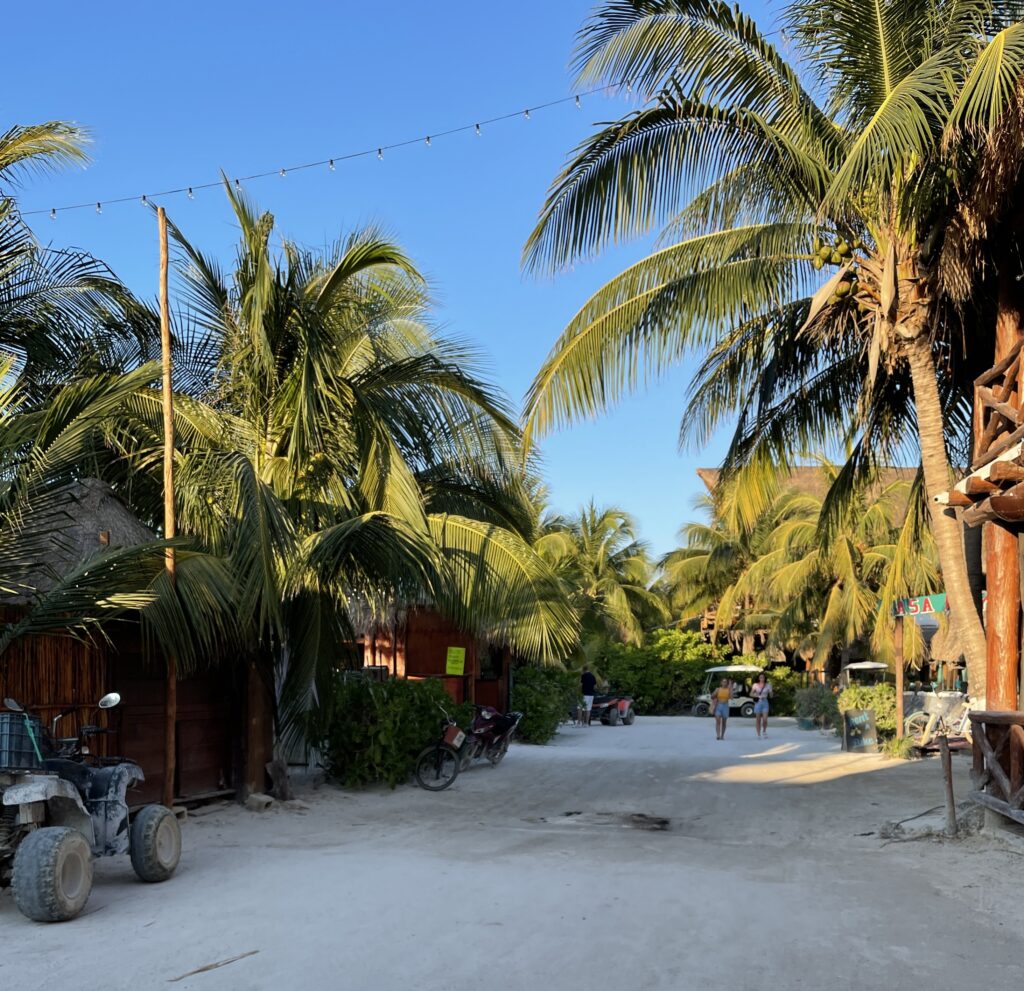 Isla Holbox is entirely off the grid, and that's the point. There are no high-rise buildings here, no commercialized business here, and all businesses here are locally owned.
Despite being so off the grid, there are many things to do in Holbox, and the island has modern accommodations and amenities. Like Isla Mujeres, another island I strongly recommend you visit in Mexico.
In this complete guide, I will share how to get here using the Holbox ferry, the many things to do here, hotel recommendations, the best restaurants to visit, and more.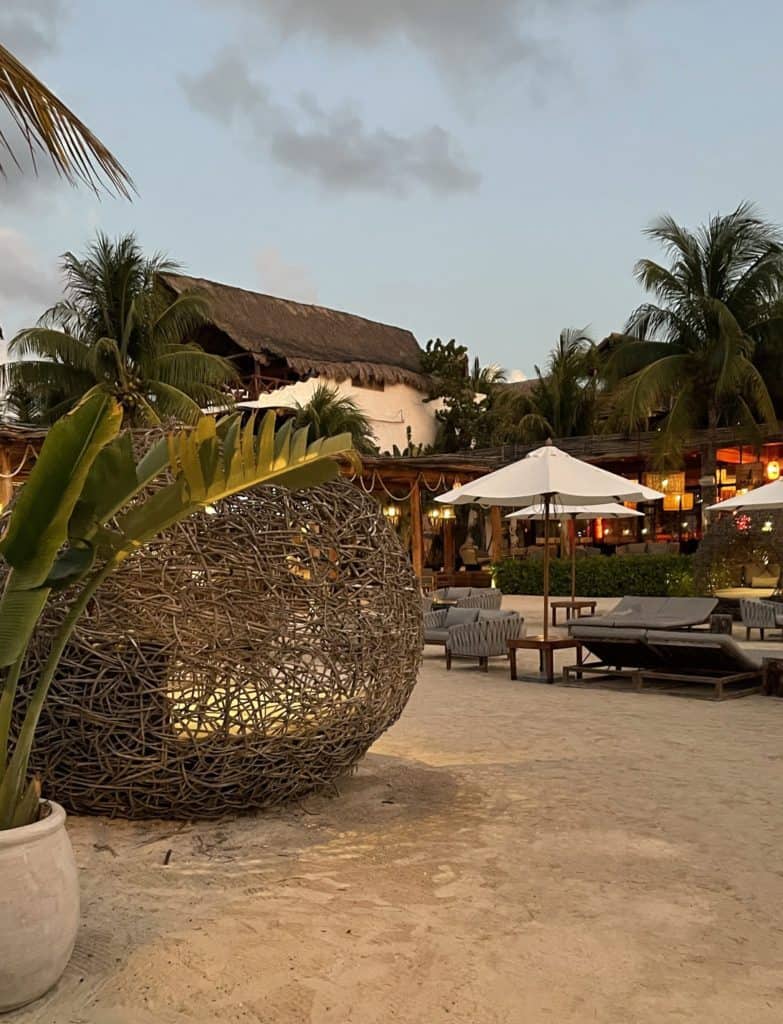 How to Get to Isla Holbox
First, you must get to Chiquila (another small town). If you're going from Cancun to Holbox, it's about a 2-hour drive to Chiquila.
If you're coming from Tulum, it's about a 2.5 hours drive to Chiquila. If you're leaving Playa Del Carmen, it's around 1 hour and 50 mins to Chiquila. Either take a taxi or the ADO Bus there. The bus is around 10 USD and quite convenient.
If you're coming to Isla Holbox straight from Cancun Airport, here's how to get to Holbox from Cancun; you can either take the ADO Bus to Chiquila or arrange private airport transportation from Cancun Airport directly to Chiquila.
Once you arrive in Chiquila, you must walk north towards the Ferry Holbox. Two or three companies are selling ferry tickets here; avoid anyone randomly on the street selling ferry tickets.
Once there, you must take about a 20-minute ferry ride to the island. Book your advanced Ferry ticket here.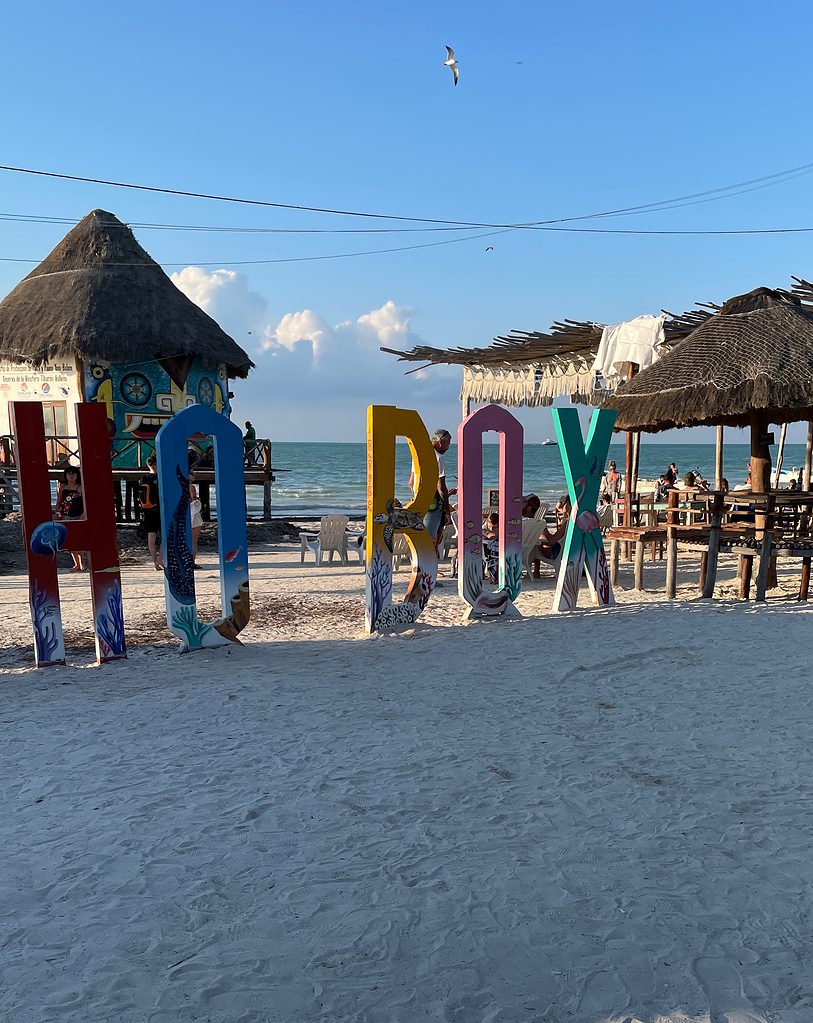 You can't fly into Isla Holbox for those curious if you can fly in. The closest airport is Cancun International (CUN). From there, you need to make your way.
There are many flight deals throughout the year for flights into CUN worldwide. I use SkyScanner, which scans over 400 flight accommodation websites and finds you the best price.
5 Things To Do in Isla Holbox
Holbox's bioluminescent waters are a phenomenon found on the island's southern shores. It can be seen when there is no moonlight.
This stunning phenomenon illuminates the seashore with certain micro-organisms, which light up when they strike the waves.
Many luminous points shine. These are bioluminescent plankton, tiny organisms that emit blue light like fireflies. The water is so bright that fish can see through it.

The phenomenon is most common between July and January. Many tours offer a one-hour tour for those who wish to see this unforgettable natural spectacle.
This is a must-do in Holbox; you will be blown away. There's a reason the bioluminescent water is first on my list!
The Three Islands boat trip is popular because it's a great way to see the island's natural beauty and surroundings. This tour is a great way to see the wildlife around the island.
Depending on your tour, each tour guide does the order of the islands differently, but you will get to see all three islands no matter which tour guide you choose.
You will be seeing bird island (Isla Pajaros), which is home to over 150 different bird species.
Depending on the month you go, you may catch a glimpse of the flamingos. You won't be allowed to walk on bird island amongst the birds because this is a protected area, but you get close enough to take some pictures!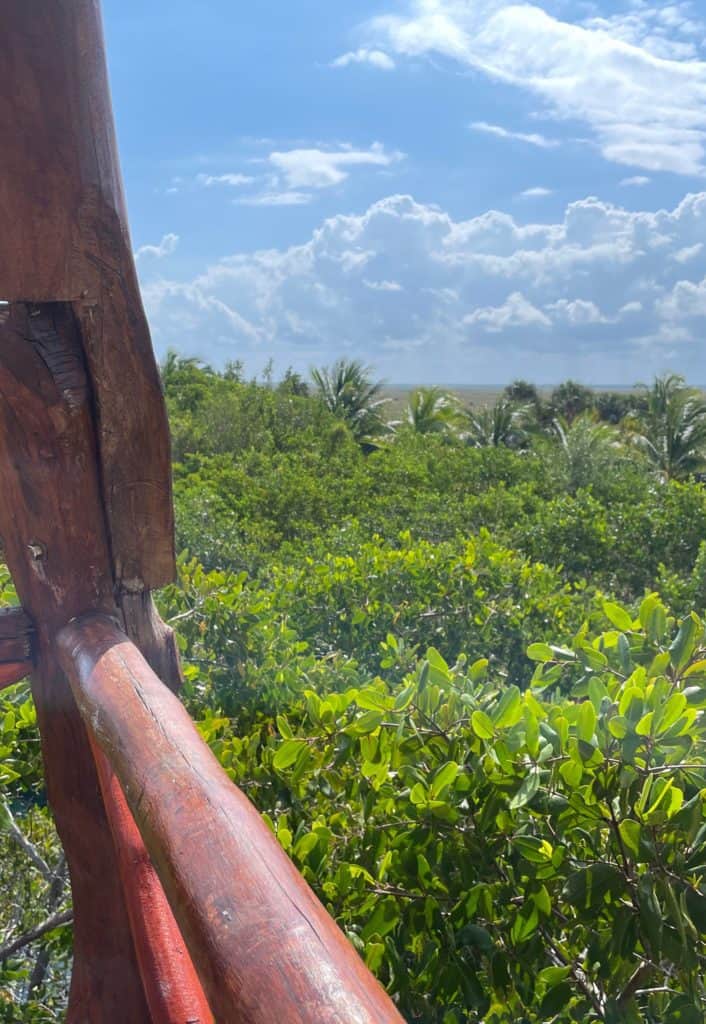 The other stop will be visiting is Passion Island (Isla Pasion), where you can wander the island, handfish, and spot some wildlife. You'll also see the Yalahau Cenote, which is a naturally bubbling cenote.
You will also spend some time in the freshwater swimming and exploring at Yamaha. Depending on how busy each location is, your guide will determine the order you should visit each place.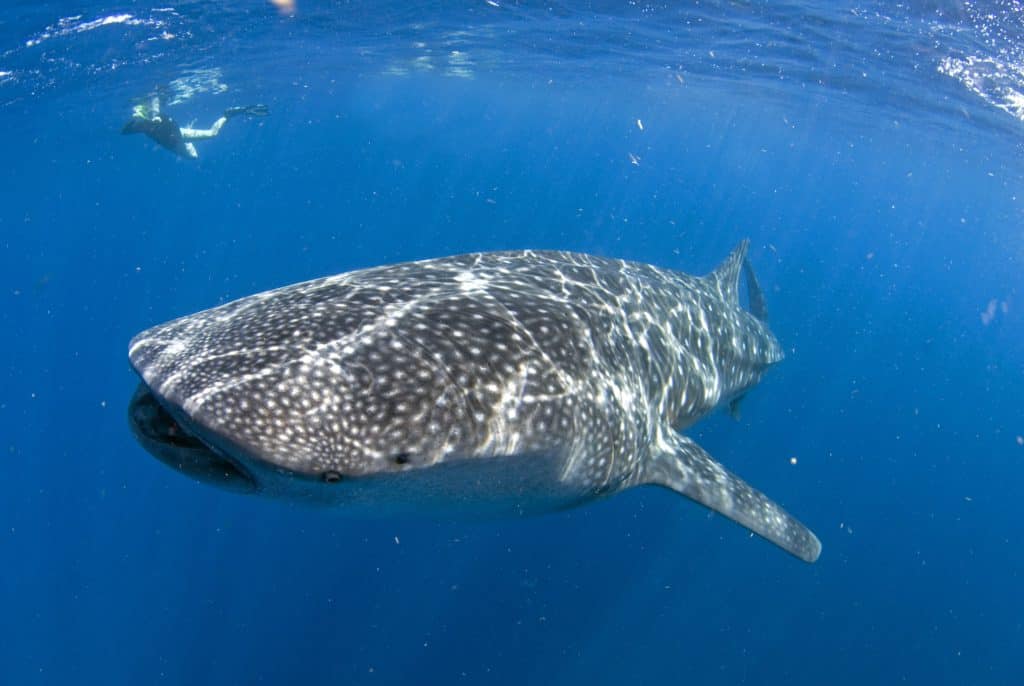 Another popular thing to do on the island is snorkel with whale sharks. These whale sharks may seem big and scary, but they're very friendly, despite measuring 14 meters+!
These magnificent creatures are omnivorous and will eat plankton, so you don't have to worry about being bitten by them.
You must book a permit to scuba dive with the whale sharks. During the snorkeling tour, you will be accompanied by an operator who will take you to the fantastic creatures.
It's well known that you should not wear sunscreen, and flash photography is prohibited or touching whale sharks. But you can bring a GoPro and capture some great footage!
While visiting these gentle giants, watch for the other species, such as the giant manta rays and sea turtles!
You'll also be able to stop by Cabo Catoche for a snorkeling trip to the Cuevones reef on the way back.
Whale Shark season runs from mid-May through mid-September.
Kitesurfing is an excellent way to see an aerial view of the entire island. Holbox is famous for this fun water sport.
The conditions here are perfect for kitesurfing because of the easy wind conditions.
For those experienced with kitesurfing, you can get right to it after speaking with your guide. For beginners, do not worry. The water is shallow, so this will help. Classes for kitesurfing happen daily.
Be Lazy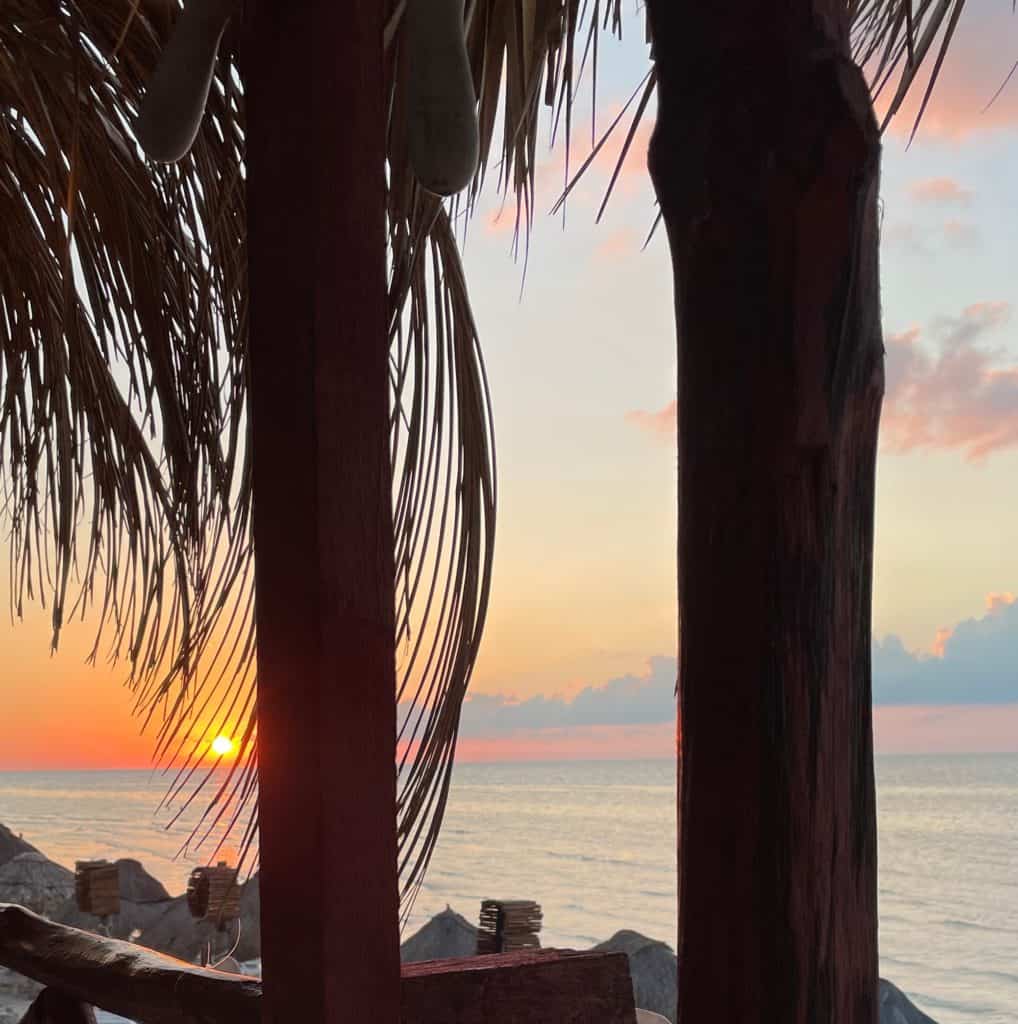 Do exactly what you came to do here, be lazy. As stated earlier, Holbox is off-grid and calm, and the atmosphere there is ideal for simply relaxing.
So please do just that, put your phone away (reception is terrible in some places on the island anyway), but in hindsight, that's a good thing.
Disconnect, breathe, and take in the relaxing atmosphere here.
Stroll through the center of the town. Admire all the brightly colored buildings, go for an evening walk in town, and meet other travelers.
Enjoy delicious food such as the famous lobster pizza, or get some barbacoa from the street vendor. I strongly recommend Los Tacos De Barbacoa.
Relax in a hammock by the sea. The sunsets are beautiful here; you can walk forever in the shallow water before it gets even slightly deep. Perfect for those looking to have a lazy walk in the water.
It would help if you treasured this island for its slow pace and pleasure. Explore the streets and alleyways containing many colorful murals and other artistic creations. You can also buy handmade artisan pieces from many vendors to take some of the island's art home.
Best Hotels in Holbox
There are various hotels on Holbox Island types; you've got fancy resort-style hotels, hostels, boutique hotels, and even an option for camping/glamping!
Research and see what best works for you. I'll share our favorite three hotels to stay at in this list.
All vary in different price ranges. Alternatively, if you're looking for a rental property in Holbox, look here.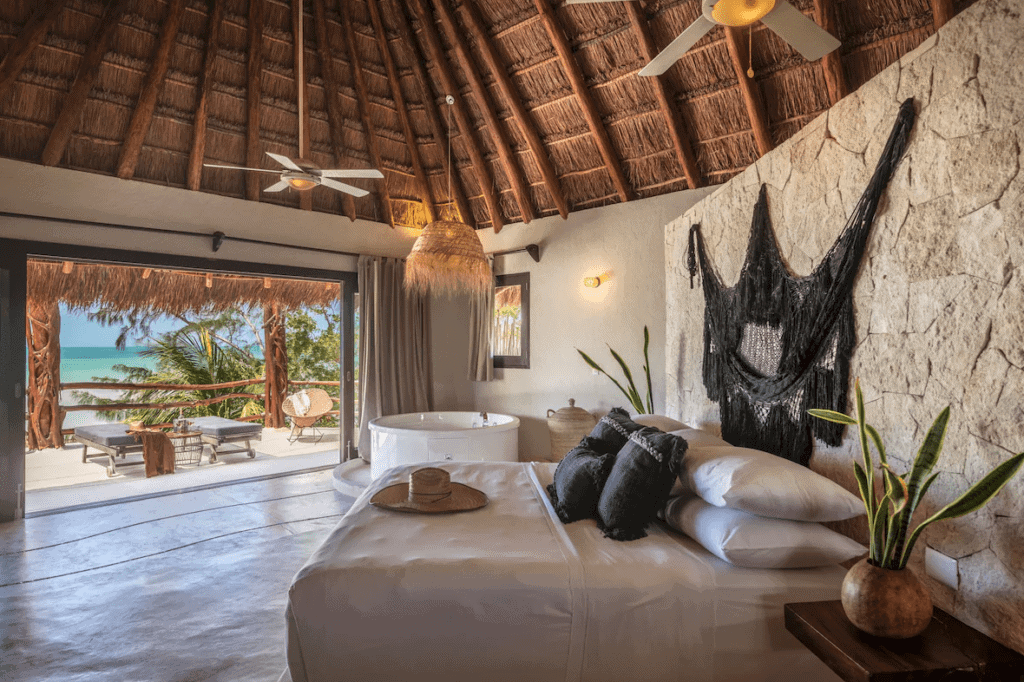 This hotel is located in the Yum Balam Nature Reserve and features a combination of sand, ocean, and cool ocean breeze. The suites and bungalows are opulent and overlook the surrounding sandbanks and the always-warm, shallow waters.
The atmosphere at this bohemian-chic hotel is enhanced by hammocks strung between poles at the ocean and romantic moonlight meals on the beach.
For a different bathing experience, large circular plunge pools separate the rooms from the beaches. You can always use a paddleboard on the water or ride a bike around the island to experience the local atmosphere of the island.
PRICE RANGE: $350 – $750 USD/Night
FOR BOOKINGS: Hotel Villas Flamingos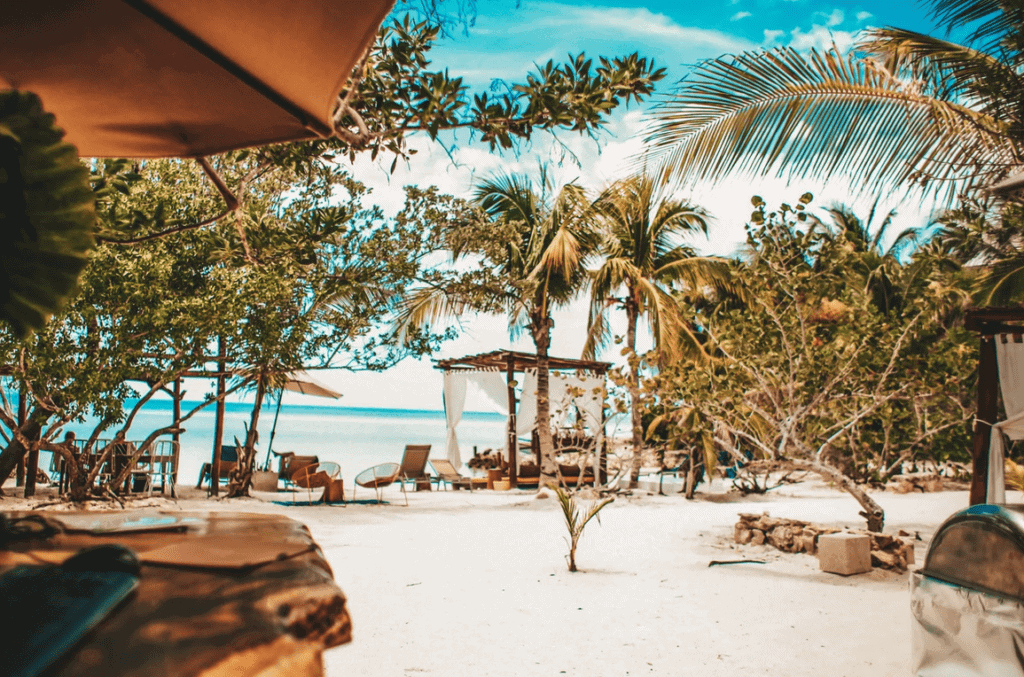 This boutique hotel is situated at the end of the beach, with fantastic sea views. Stunning sea views, well-rated, and many paddle boats. What more can one ask for?
Each accommodation also includes a private bathroom with a shower. Some rooms offer ocean views.
Often flamingos and iguanas can be seen right from your windows. The boutique hotel also offers an exceptional beach area to relax.
PRICE RANGE: $250 – $700 USD/Night
FOR BOOKINGS: Las Nubes de Holbox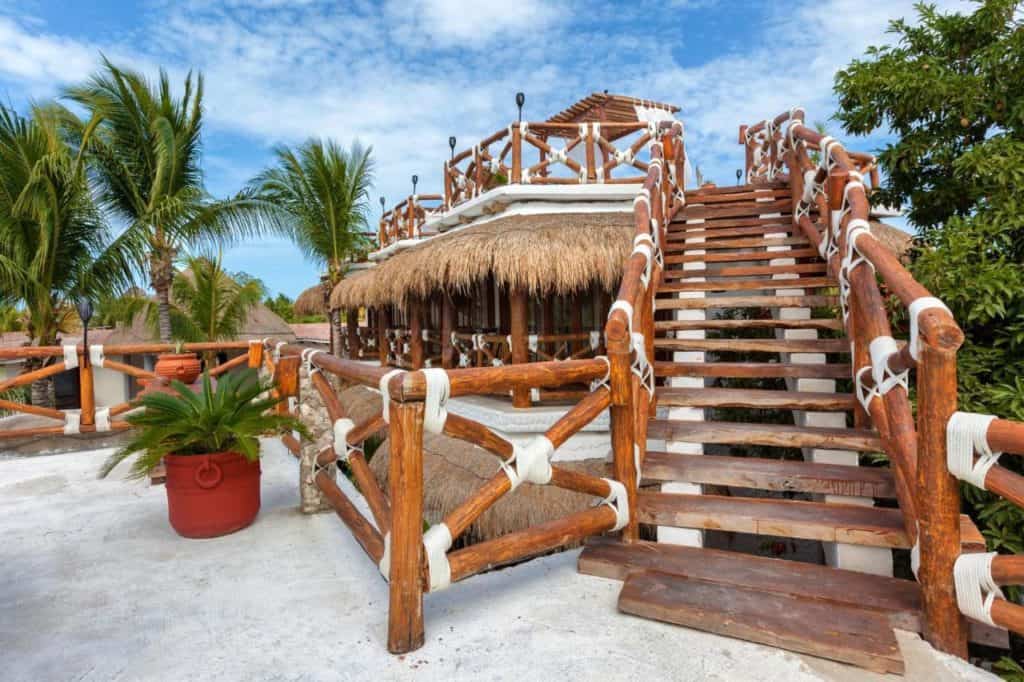 Located in the main square, considered the island's city center area. Hotel Para Ti offers an excellent jungle vibe with outstanding decor, a great outdoor swimming pool, and a bar.
This hotel provides adults-only accommodations only. Being in the main square, you're close to restaurants, street vendors, and convenience/grocery stores.
The property is approximately 250m from Playa Holbox (the main beach) and 1.9km from Punta Coco. So it's still very close to the main beach, despite not overlooking the sea.
Hotel Para Ti is the most affordable hotel on this list, and it's preferred by many looking for well-priced hotel accommodations.
PRICE RANGE: $150 – $250 USD/Night
FOR BOOKINGS: Hotel Para Ti – Adults Only
Best 3 Holbox Hostels
Those looking to visit but prefer to spend less on accommodations. Holbox has several great hostels to choose from. The best part is all the hostels here are centrally located.
So even if you're opting for a more affordable accommodation type, you'll still be able to be close to the beach and city center area!
I've compiled a quick list of the top 3 Holbox hostels. I've only stayed at one of them (Che Hostel & Bar) because they offer private rooms—something I prefer.
But I've heard great things from friends who've stayed at both other hostels I've listed below. Tribu and Hostal Holbox only offer dorm room-style stays.
Isla Holbox Restaurants
The food in Isla Holbox is diverse and delicious. Besides how good it is, I love that the city center has so many restaurants nearby to one another.
I was surprised by the diversity of food, something you wouldn't expect when visiting a secluded island. After all, this is an island where golf carts are the main form of transportation.
Restaurants here seem to cater to all crowds. Some restaurants are bar-like with bar food and drinks, and others are casual all-day types of restaurants, and lastly, quite a few fine dining restaurants option as well.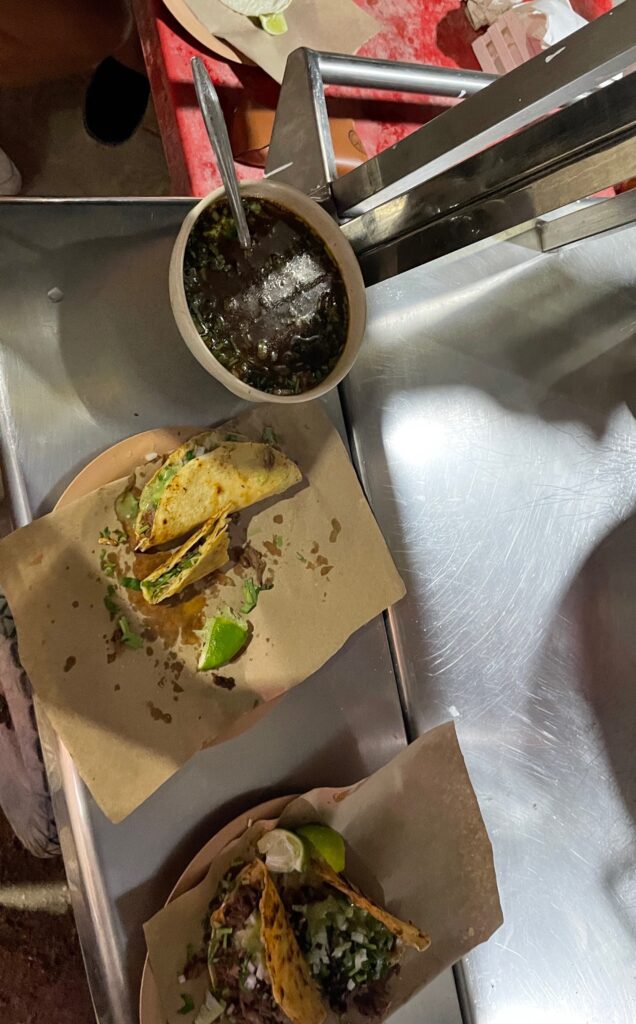 Here is a short list of some of the best restaurants, my favorite being Los Tacos de Barbacoa, a taco cart in the city center. If you aren't familiar with what type of tacos these are, you can learn more about Barbacoa tacos here.
Plenty of stalls here sell great street food throughout the evening as soon as the sun comes down around 7:00 PM. Food carts started popping out everywhere in the city center of the island.
We also ate a all sorts of restaurants when staying here. Getting food on the street and walking by the beach was my favorite type of dining here. Here are some exceptional restaurants you should consider when visiting!
Restaurante Viva Zapata / Top-rated Mexican restaurant on the island
Cenaduria La Tapatia / Mexican eatery serving classics with Live Music some nights
Las Panchas/ Best seafood restaurant on the island steps away from the sea
LUUMA / Luxurious tapas restaurant serving unique foods and great cocktails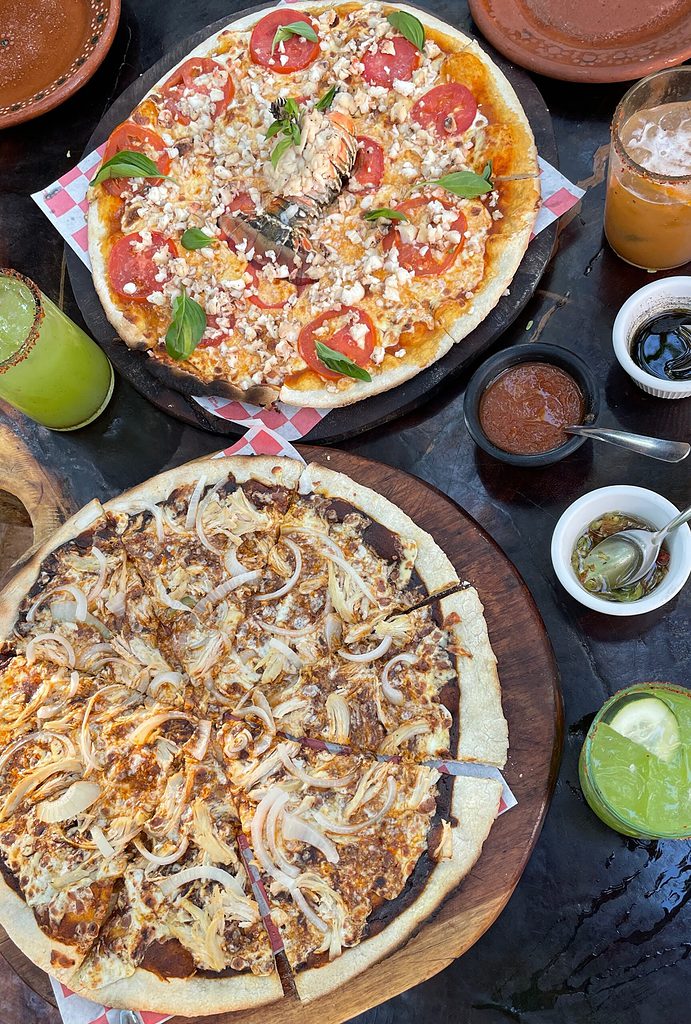 Salma / Fancy twists on Mexican cuisine and excellent cocktails, and the restaurant has a dim vibe to it
Roots Pizzas a La Lena / Pizzeria serving wood oven pizzas and fancy cocktails throughout the day
Los Tacos De Barbacoa / Street cart serving Barbacoa Tacos throughout the evening time
Isla Holbox vs Tulum
Many people often compare these two famous destinations because of some of their similarities, but they're also very different.
They're both great places, and I recommend you visit both; but if you want to choose between the two, it all depends on the experience you're looking for and your type of person.
Both cities have touristy crowds, but Tulum attracts more tourists than Isla Holbox. Despite being busy at times, Tulum is still famous for its relaxing atmosphere, and the cenotes in Tulum are a must-see.
Tulum is also very well known for its famous main Tulum Beach, beach clubs, jungle parties, nightclubs, and the downtown strip in the Centro area, which is full of various types of bars, shops, and restaurants.
Tulum's restaurants are fantastic, but prices are much higher than in Holbox. Tulum is known for being a costly destination in this region of Mexico to visit.
You can go to Tulum and still visit it on a budget, but overall, it's much more costly than Holbox.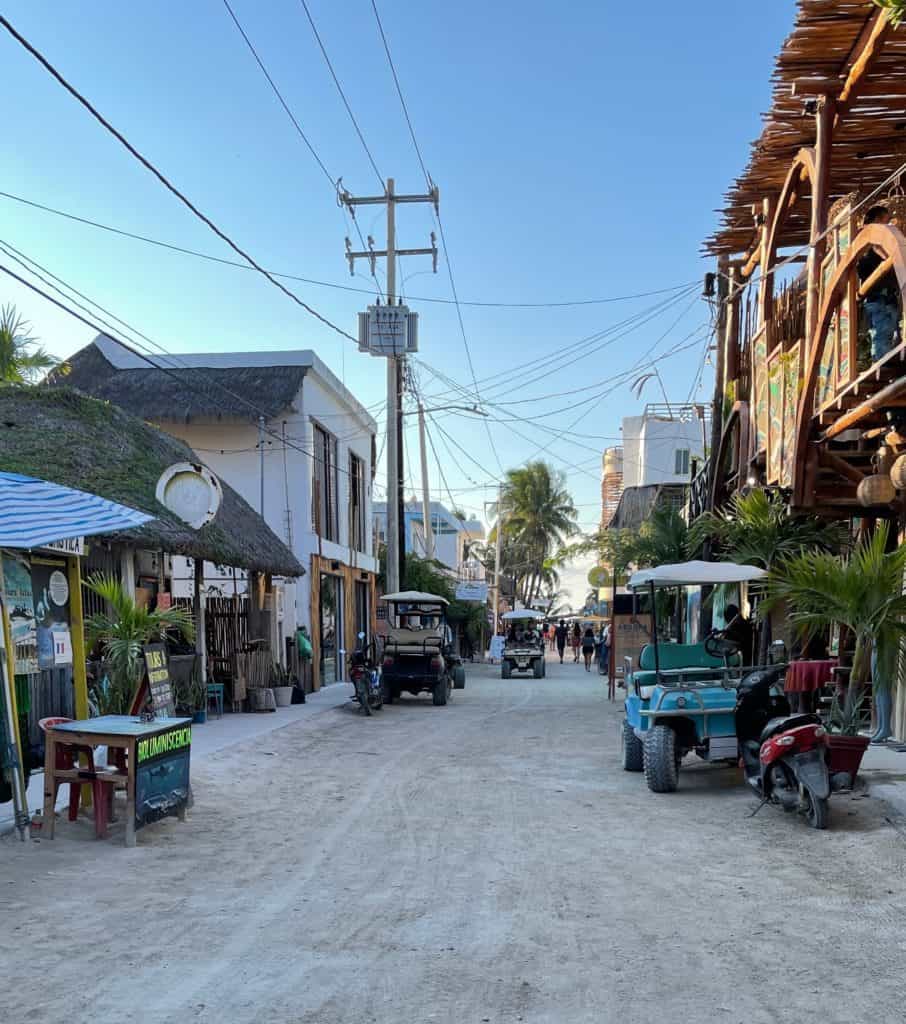 Isla Holbox is just as beautiful as Tulum but much less touristy. The island is much smaller and less famous than Tulum, making for a more quiet, relaxing atmosphere here.
Also, you should consider transportation regarding both destinations; it's much easier to get around in Isla Holbox vs Tulum.
There are many things to do here, but as mentioned earlier, Holbox is not known for its parties. But there are several bars to visit, but nothing like a techno party and several nightclubs around here.
Want to discover more places in Mexico? Check out our destinations here Mexico.
Lastly, as I mentioned, Isla Holbox Mexico will cost you a fraction of what Tulum will cost you. Everything is cheaper, from food to hotels and transportation.
Both places are great to visit, but if you're looking to get off the grid and want to relax to the fullest. I 100% recommend Holbox over Tulum!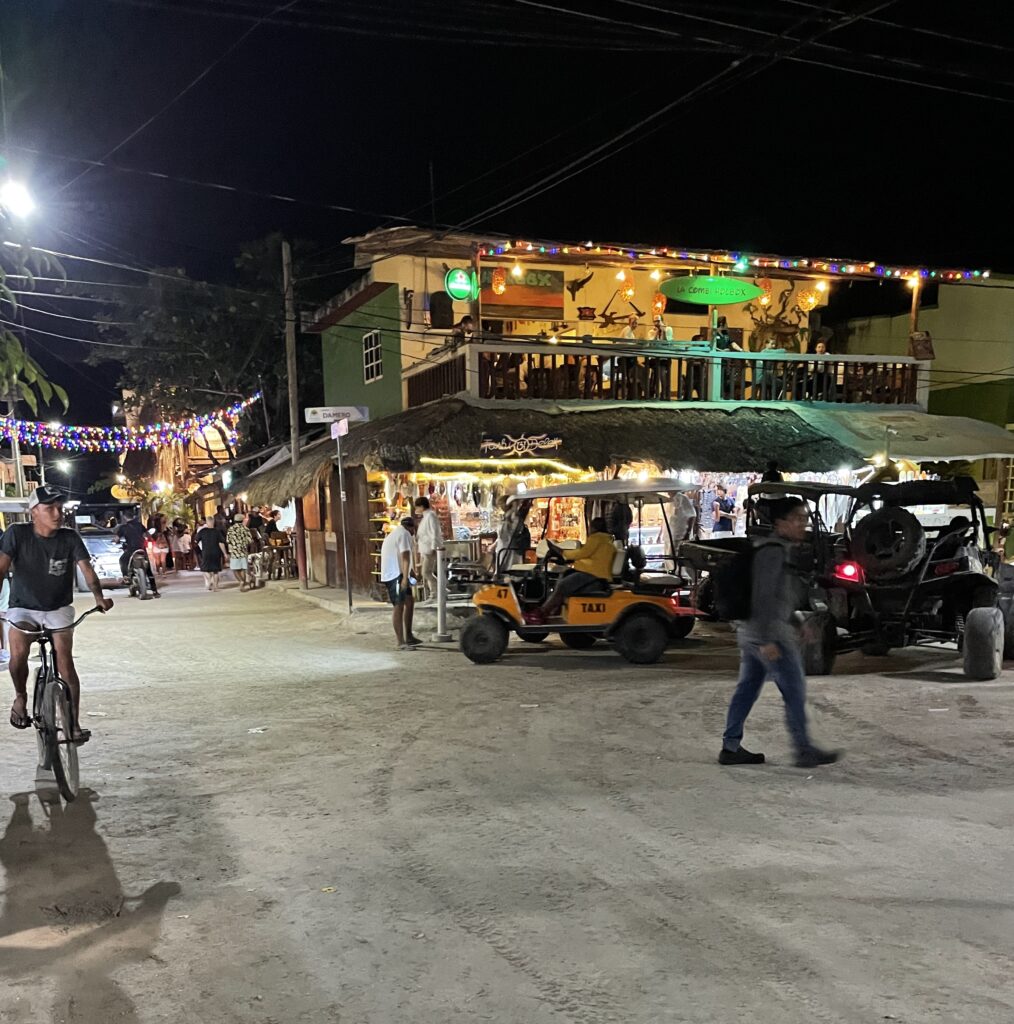 Is Isla Holbox Safe?
Yes, Isla Holbox is a very safe place to visit in Mexico. The island is secluded and far off from the mainland, and not much goes on around here besides tourists visiting!
Locals living here all know one another; even at night, it's safe to walk. It's one of the most relaxing places in the Yucatan region and one of the safest places in Mexico.
When is the Best Time to Visit Isla Holbox?
Like all the destinations in the Riviera Maya, the best time to visit is during the dry season from November to April; this is when the weather is optimal; it's warm with clear skies and low humidity.
During the off-season months, from May to October, you can expect high humidity and the chance of rainfall when visiting.
Is it Worth Visiting Isla Holbox? – CONCLUSION
It would be best if you visited Holbox; I believe I've given you enough reasons to.
If you're visiting the Rivera Maya and Yucatan region of Mexico, I recommend making Holbox your last stop if possible.
You know when someone says, "I need a vacation from my vacation," meaning they need to relax because their trip has been full of endless activities. Well, that's precisely what this beautiful off-the-grid island is intended for!
Make sure you have travel insurance when visiting Mexico. It's always good to be covered in case something happens. I use SafetyWing!
Oh, and please make sure to bring cash here; most places don't accept any cards here. There are ATMs, but they are challenging to find.
Subscribe to Travel Hiatus!
Receive updates on my latest posts, insider travel tips & the best destination guides to your inbox!
Happy & Safe Travels
---
Planning Checklist
---
Disclaimer: Please note that some of the links shared in this article might be affiliate links; this means that at absolutely no extra cost to you, we will earn a small commission for any sales generated through this article and/or this website. We recommend products/services we've either used or researched thoroughly – Thank you for supporting us so we can continue to share helpful travel content!