5 Small Beach Towns Near Cancun to Visit
Are you looking to visit the Riviera Maya instead of revisiting Cancun? But you would prefer to visit one of the small beach towns near Cancun this time.
You've come to the right place! This guide covers the 5 best small towns near Cancun!
These small towns near Cancun are located in the Riviera Maya region. Cancun is the only city along this Caribbean coastline of Mexico that isn't considered part of the Riviera Maya.
Let me explain if you've stumbled on this article and need clarification about why one would consider small beach towns near Cancun.
Many tourists would like to visit smaller beach towns, but the only way to get to them is by first flying into Cancun International Airport. Cancun has the main international airport for this region.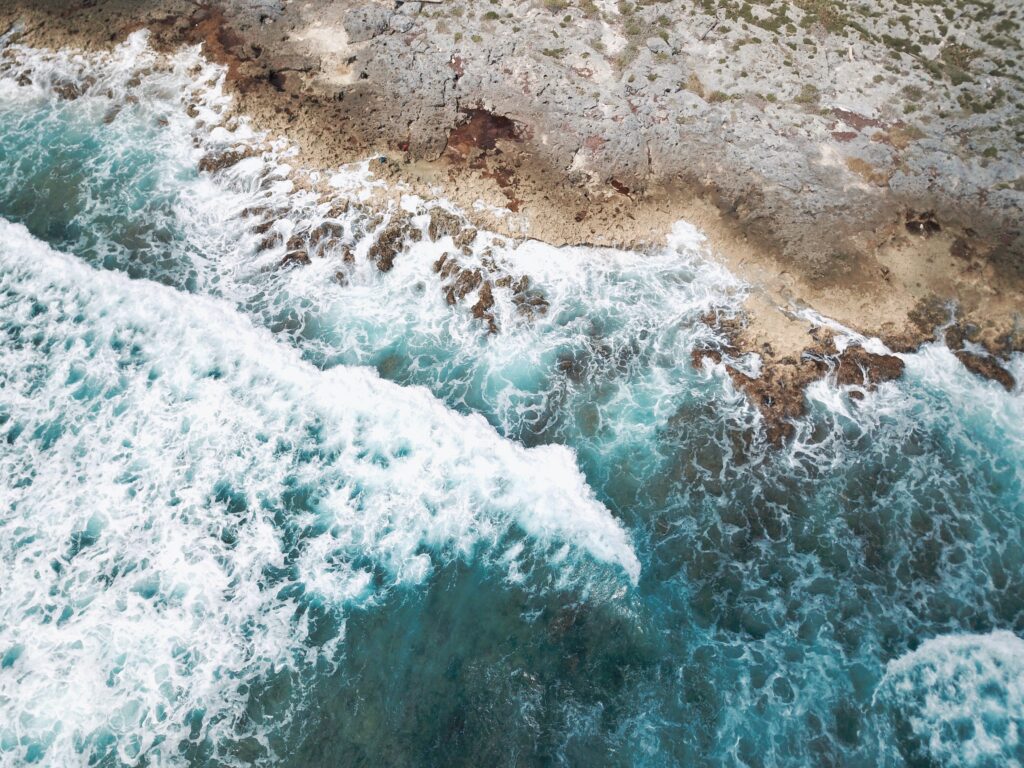 All of these beach towns offer excellent accommodations, a beautiful beach shoreline, and many amenities. Perfect for those looking for a relaxing, quieter vacation with their loved ones or family.
Places like Playa Del Carmen and Tulum won't be included in this list. These beach towns are more considered cities nowadays because of their larger population size, development, and tourism popularity. Both are great places to visit, but they aren't small beach towns by any means!
For your convenience, the small beach towns are listed from closest to furthest to Cancun.
How to Get to Small Beach Towns Near Cancun
Here is some quick information on how to get to any of these small beach towns in the Riviera Maya from Cancun Airport.
A popular and cheap way to travel around Mexico is by using the ADO Bus. Unfortunately, the bus doesn't stop at most of these small beach towns. And if they do, the schedule is inconsistent and isn't reliable.
These are your two transportation options for Puerto Morelos, Playa Paraiso, Puerto Aventuras, and Akumal.
Private Airport Transportation: The most convenient way to leave Cancun Airport and get anywhere, you'll have an English-speaking driver waiting for you, and you can choose the vehicle size of your choice!
Shared Shuttle Bus: On a shared shuttle, you'll be boarding a van full of passengers stopping in different places along the coast.
For Cozumel: To get to Cozumel from Cancun Airport, you can take any of the two transportation methods above to Playa Del Carmen and then take the ferry from Playa Del Carmen to Cozumel. Or take the ADO Bus to Playa Del Carmen and then the ferry.
Puerto Morelos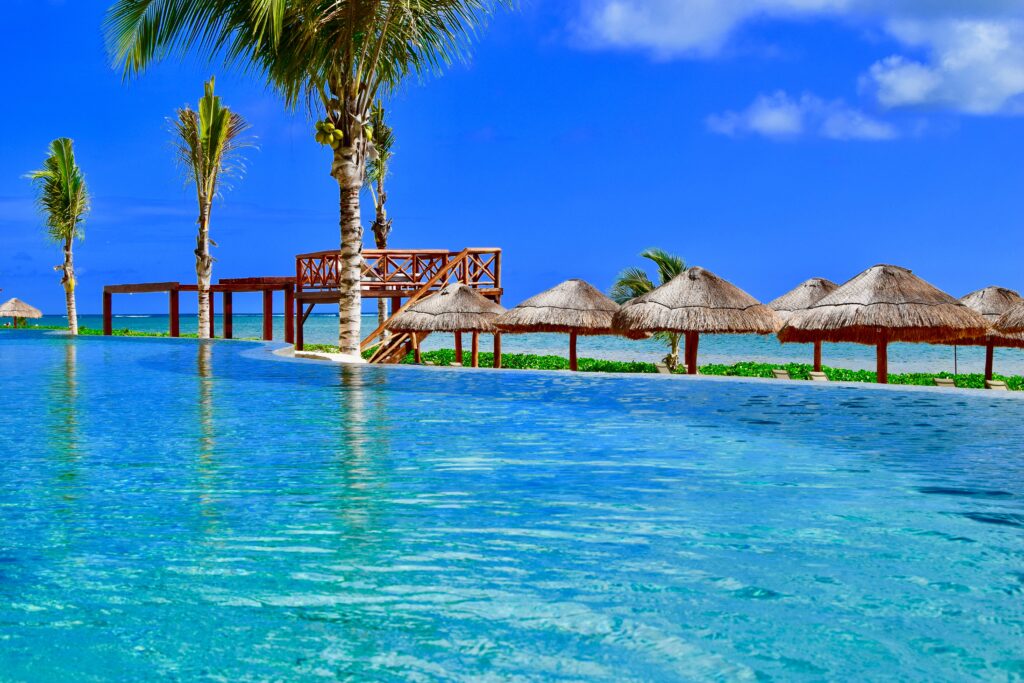 The drive time from Cancun Airport to Puerto Morelos is only 20 minutes, with a distance of 25 km.
Due to its proximity to Cancun, Puerto Morelos, once a small fishing village, has undergone significant changes over the years.
As Cancun became a popular vacation destination, Puerto Morelos experienced growth and development also.
Today Puerto Morelos is a small beach town full of large resorts, a Centro area full of supermarkets, restaurants, and local markets. The most well-known resorts here are Dreams Riviera Maya and Zoetry Cancun. Puerto Morelos is also home to a thriving expat community.
There are plenty of things to do in Puerto Morelos, the town has a few beaches, several delicious restaurants, and a zoo, and it's one of the best places to snorkel in the Riviera Maya.
Playa Paraiso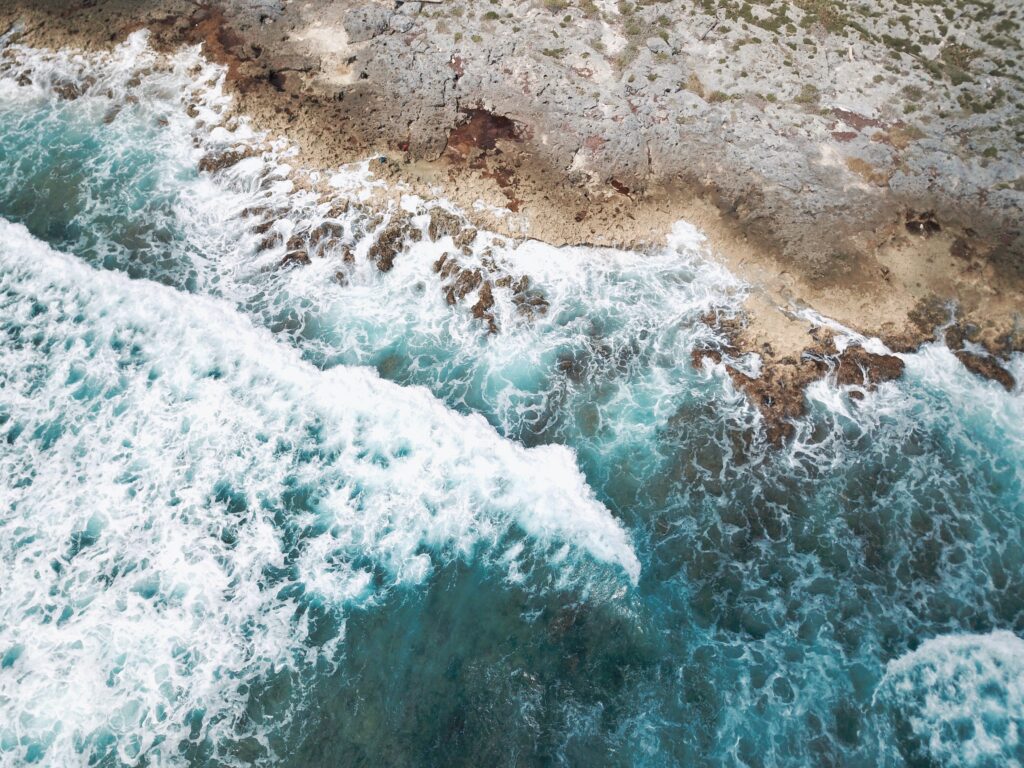 Located only a few minutes away from Puerto Morelos is Playa Paraiso, a tiny beach town along the coastline. From Cancun Airport to Playa Paraiso, the drive time is 30 minutes with a distance of 36km.
Playa Paraiso primarily consists of large resorts and many separate entertainment options for guests to enjoy, such as Cirque Du Soleil JOYA, Jungala Aqua Experience, and the Mayan Water Complex.
The most well-known resorts here are Iberostar Paraiso Beach and Valentin Imperial Riviera Maya, though this resort is only for adults only.
This is an excellent town to visit if you're visiting with kids and would like for there to be many different activities for the family to enjoy and quieter beaches!
Staying in Playa Paraiso means you're only 25 minutes away from Playa Del Carmen. You can go into a town for a day or two to check it out, do some souvenir shopping, and try the many excellent restaurants there.
Puerto Aventuras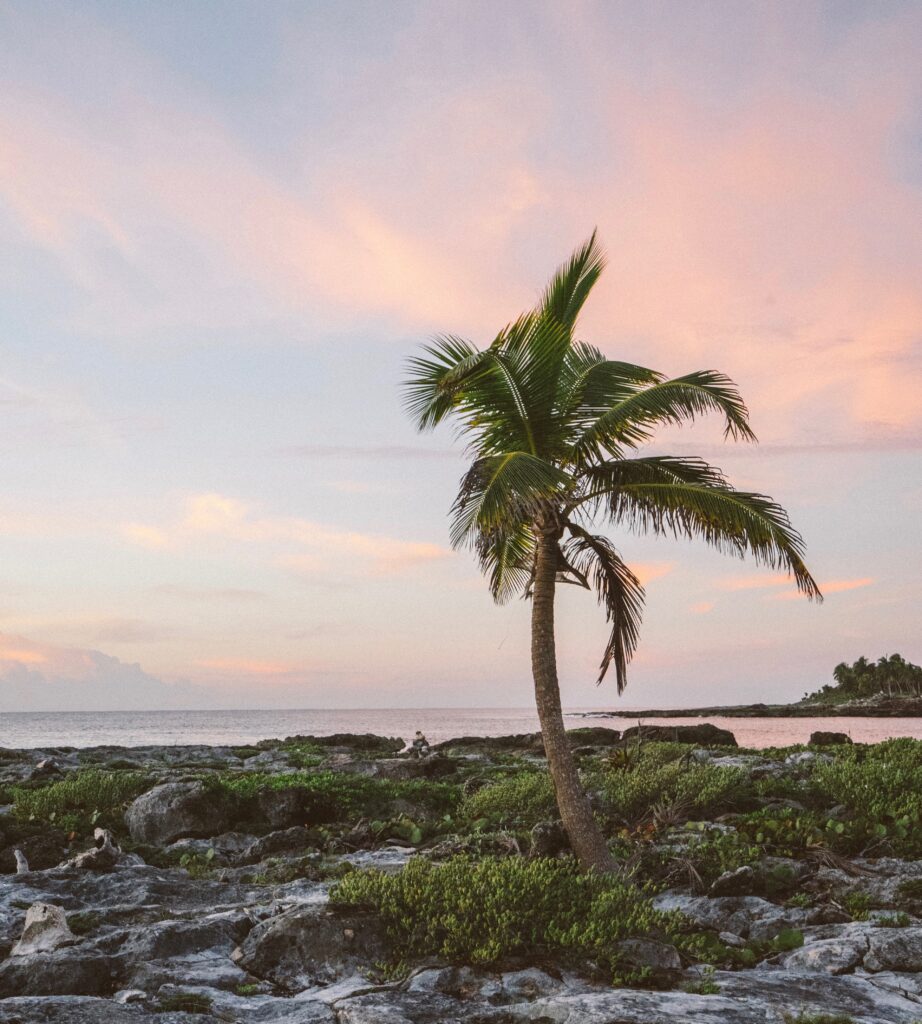 Slightly further than the first two beach towns, Puerto Aventuras is 1 Hour and 10 minutes, a total distance of 76km from Cancun Airport.
Puerto Aventuras is famous for its large resorts like the first two beach towns listed. However, unlike Puerto Morelos and Playa Paraiso, Puerto Aventuras is more of a developed small beach town.
There are plenty of things to do in Puerto Aventuras; you can rent a yacht and sail the Caribbean Sea, visit Dolphin Discovery, or head over to Parque Xcaret, the best adventure park in the Riviera Maya.
Dreams Puerto Aventuras and the Hard Rock Hotel Riviera Maya are the two highest-rated resorts in town. Puerto Aventuras has a few beaches taken up by resorts, but there are also Playa Xpu-Ha and Paamul Beach, both excellent public beaches!
The small Centro area has many excellent restaurants, cenotes nearby to explore, and many residential buildings. Because of its small-town charm, many ex-pats call Puerto Aventuras home.
Akumal Beach is only 15 minutes from Puerto Aventuras, a famous beach to swim with sea turtles! Also, Puerto Aventuras is between Playa Del Carmen and Tulum, so if you'd like to visit either town for a day trip, it's easy!
Akumal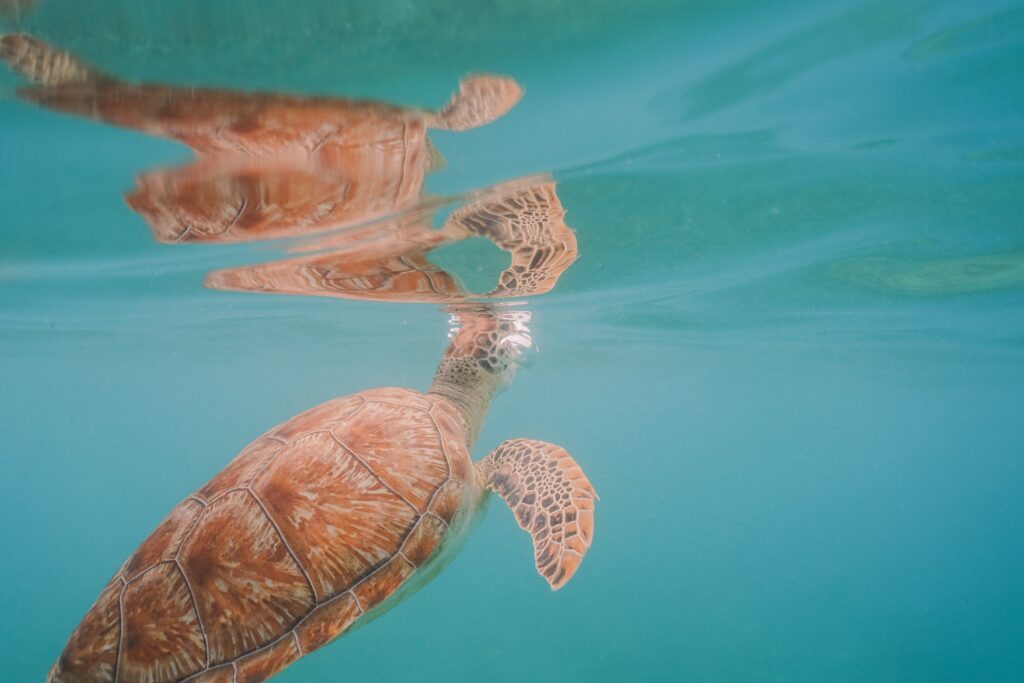 One of the most popular small beach towns near Cancun is Akumal. The main reason being Akumal Beach is home to seven species of sea turtles, and locals/tourists come to Akumal to swim with them!
Akumal is 1 hour and 20 minutes from Cancun Airport, with a distance of 92 km.
Swimming with sea turtles in Akumal is the most popular attraction here, but there are many other things to do in Akumal as well. There are excellent local restaurants in the Centro area of town.
Akumal has many beaches to discover along its coast. There are plenty of nearby cenotes to discover, a monkey sanctuary, and Yal Ku Park.
A must-experience when visiting Akumal is Casa Tortuga Cenotes, this cenote park has four mesmerizing incredible cenotes to discover!
Secrets Akumal is famous for being one of the best resorts in all of Mexico, and it's located right here in Akumal. If out of budget, consider Akumal Bay Resort.
Cozumel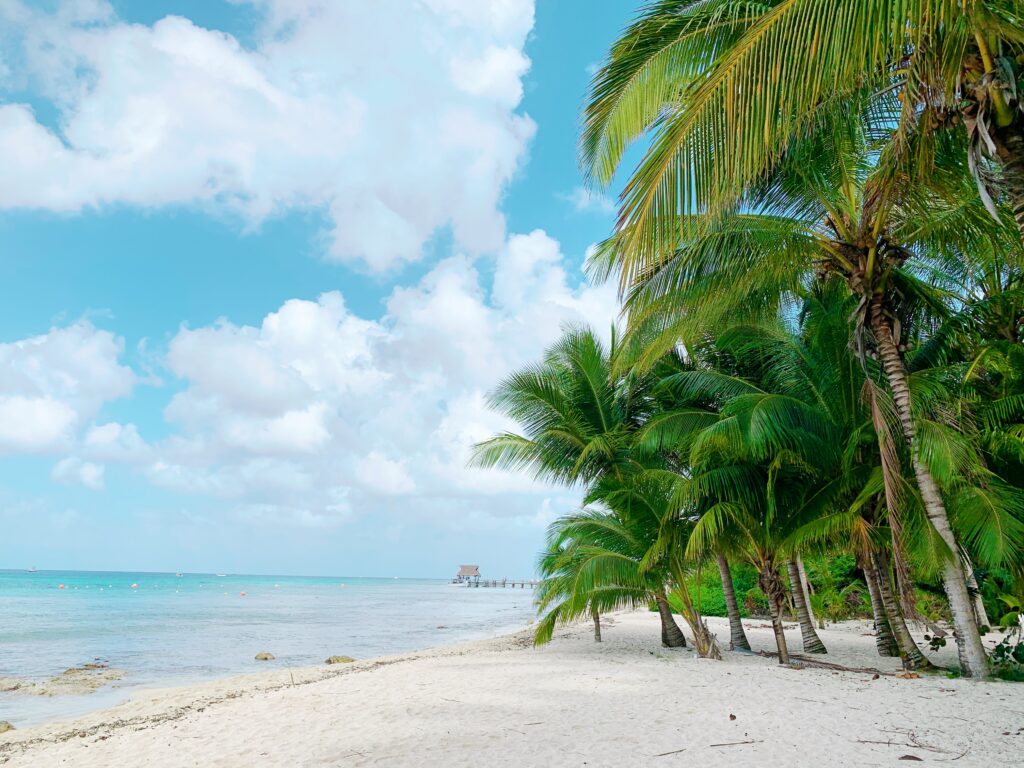 Lastly, Cozumel is not a beach town but sometimes feels like one when visiting. It is located across the water from Playa Del Carmen. Cozumel is one of the most beautiful islands in Mexico, full of luscious green jungle and stretches of beach shoreline, and famous for its snorkeling/diving adventures.
Cozumel is 1 hour and 40 minutes from Cancun Airport. You can fly into Cozumel Airport, but if you can't find a direct flight to Cozumel, you must first go from Cancun Airport to Playa Del Carmen and then take the ferry from Playa Del Carmen to Cozumel.
There are so many things to do and experience in Cozumel. The island is known for snorkeling and scuba diving because of its rich and healthy coral reefs.
But besides that, other top activities in Cozumel include jeep safaris, visiting Punta Sur ecological park, and riding around the island's coastline.
Another popular activity in Cozumel is spending an afternoon at the many beach clubs here that include all-inclusive all-you-can-eat and drink passes! Mr. Sanchos and Paradise Beach Club are the most well-known ones!
For those visiting with their loved one, consider Presidente InterContinental, one of the best resorts in the Riviera Maya. If you're visiting with your family, Melia Cozumel is a great all-inclusive offering many amenities for the whole family!
Ferries go back and forth between Cozumel and Playa Del Carmen from morning to night. So making a day trip to Playa Del Carmen from Cozumel is easy and convenient!
Why Visit a Small Beach Town in The Riviera Maya
If you're reading this list of small beach towns and thinking to yourself, what are the benefits of going to a small beach town when you can go to big ones like Cancun or Playa Del Carmen? Here are a few reasons why!
You've been to Cancun and would like to check out elsewhere in the region.
This is a romantic getaway or honeymoon for you and your partner, and you'd like to visit a beach town that's quieter, calmer, and can cater to special romantic requests.
For those visiting with their intimate or extended family, visiting a smaller beach town makes things easier for the family and safer for kids.
Are these Small Beach Towns near Cancun Safe?
These small beach towns in the Riviera Maya are safer than the bigger towns like Cancun, Playa Del Carmen, and Tulum.
Don't get me wrong; these towns are safe also but not nearly as secure as the smaller beach towns I've listed above. With less foot traffic and tourist, it's typical for a town to be safer!
These quiet beach towns near Cancun are simple beach towns with minimal to no nightlife with small residential communities where everyone knows one another.
Remember to purchase travel insurance before visiting Mexico in case anything happens!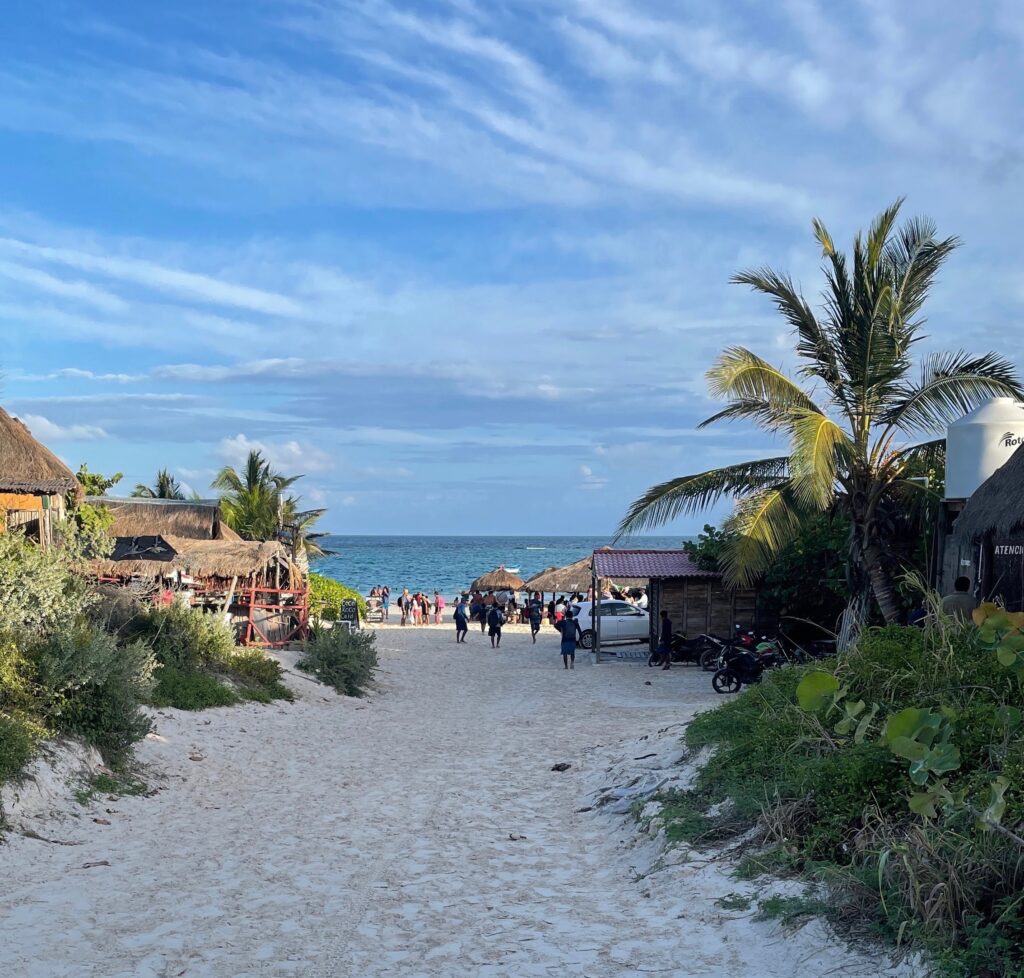 Best Time To Visit Riviera Maya
The best time to visit any of these towns in the Riviera Maya is between November and April; this time of year is considered the dry season in the Riviera Maya.
During the dry season, the weather is most optimal in the region. It's hot enough to go to the beach, the humidity isn't nearly as high as in the rainy season, and you're less likely to experience rain when visiting.
Dry Season: November to April
Rainy Season: May to October
The Riviera Maya has two main seasons, the dry and rainy season, also part of the hurricane season.
What is the rainy season like in Riviera Maya?
It's much hotter during the rainy season, and the humidity levels are at their highest during this time of year. Rainfall does occur sometimes, and when it does, it usually is brief rainfall because the region has a tropical climate.
But during this time, you are more likely to encounter days where it may rain all day versus when visiting during the dry season.
What is the best month to visit Riviera Maya?
Anytime throughout the dry season is an excellent time to visit the Riviera Maya. But if you want to visit when it's hot and the cheapest, you should visit in November.
This month is considered the shoulder season here, and hotels/flights are still cheap compared to later in the year!
What is the quiet city near Cancun?
Puerto Morelos is the quieter version of Cancun and is also very close, only 20 minutes away from Cancun International Airport.
Although both places have large resorts and exceptional beaches, Puerto Morelos differs greatly from Cancun.
What is the best beach town south of Cancun?
It depends on what type of experience you're looking to have. If you'd like a more local version of Cancun that is more walkable, then Playa Del Carmen is the answer for you.
But if you're looking for a smaller beach town south of Cancun, then you're better off visiting Puerto Morelos, Puerto Aventuras, or Akumal.
What's the difference between Cancun and Riviera Maya?
Cancun is a large city, and the Riviera Maya is south of Cancun, making up several smaller beach towns such as Puerto Morelos, Playa Del Carmen, Akumal, Tulum, and more.
Subscribe to Travel Hiatus!
Receive updates on my latest posts, insider travel tips & the best destination guides to your inbox!
Happy & Safe Travels
---
Planning Checklist
---
Disclaimer: Please note that some of the links shared in this article might be affiliate links; this means that at absolutely no extra cost to you, we will earn a small commission for any sales generated through this article and/or this website. We recommend products/services we've either used or researched thoroughly – Thank you for supporting us so we can continue to share helpful travel content!