5 Best Tulum Resorts in Mexico
Tulum is one of Mexico's most beautiful cities along the Riviera Maya coastline. The tropical atmosphere that possesses Tulum, its Mayan Ruins, and the breathtaking Tulum extensive beach shoreline along the Caribbean Sea have made Tulum a top destination.
Along its beautiful beach shoreline, there are several Tulum resorts to choose from, and in this list, I will cover the best Tulum all-inclusive resorts, so you can compare which of these Tulum resorts is best for you to visit.
Tulum resorts are breathtaking, from the decor, amenities, and beautiful jungle vibes. When it comes to full-service hotels and resorts, Tulum is up there.
This city has become a popular tourist destination because of its chic and luxurious atmosphere, Mayan ruins, unique cenotes, beach clubs, and beautiful beach shoreline.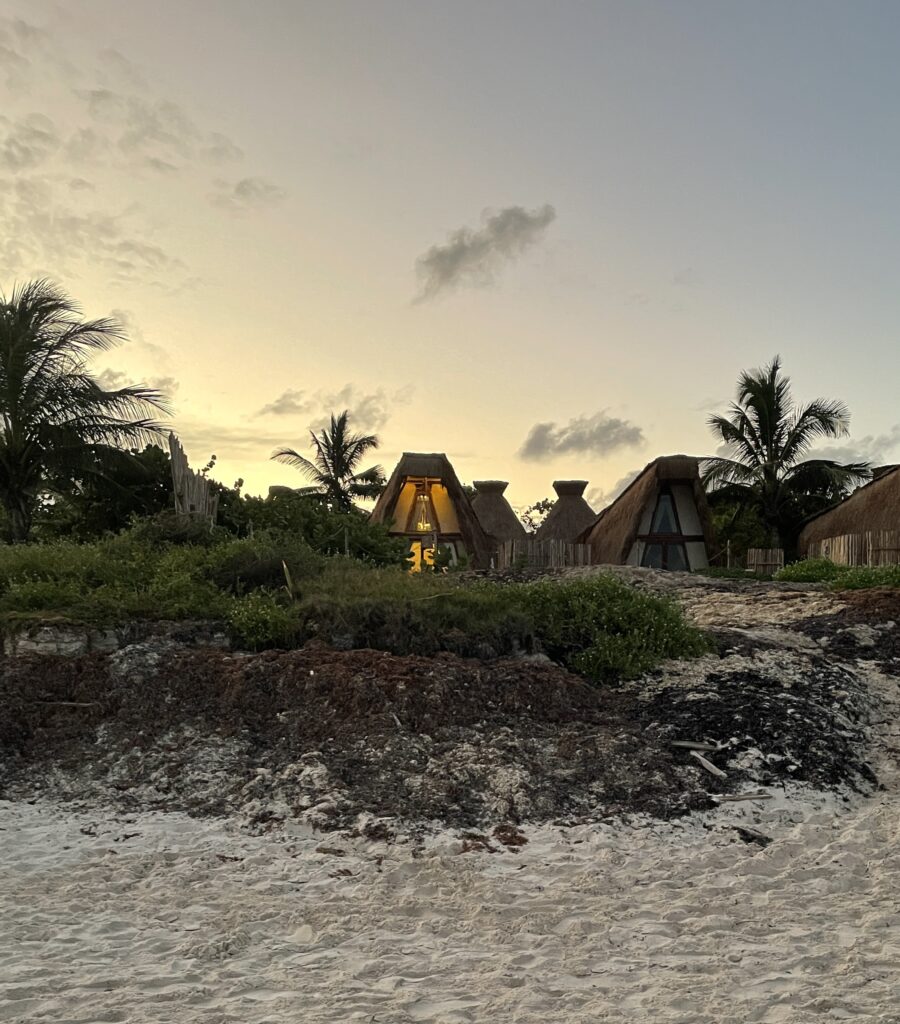 Every year during the high season months of November till April, Tulum attracts millions of tourists. Besides being a fantastic destination, there are other unique places next to Tulum, such as Akumal and Playa Del Carmen, that you can always visit when you're in Tulum!
Something important to know is that the resorts in Tulum are very different than the actual atmosphere in Tulum. Tulum has embodied a bohemian-like/Bali atmosphere. Other than the beach shoreline along the resorts and jungles surrounding these resorts in Tulum, they don't embody the entire atmosphere Tulum is famous for.
In this list of the best Tulum all inclusive resorts and regular resorts, I will cover the main features of each resort, stand-out features, and more.
How to Get to Tulum from Cancun Airport
Tulum is easy to get to. From Cancun International Airport to Tulum, it's a two-hour drive. The main highway traffic can affect timing by an additional 10 to 15 minutes to Tulum from Cancun Airport. For more info, I have a complete guide on how to get to Tulum from Cancun Airport.
Options to Tulum from Cancun Airport: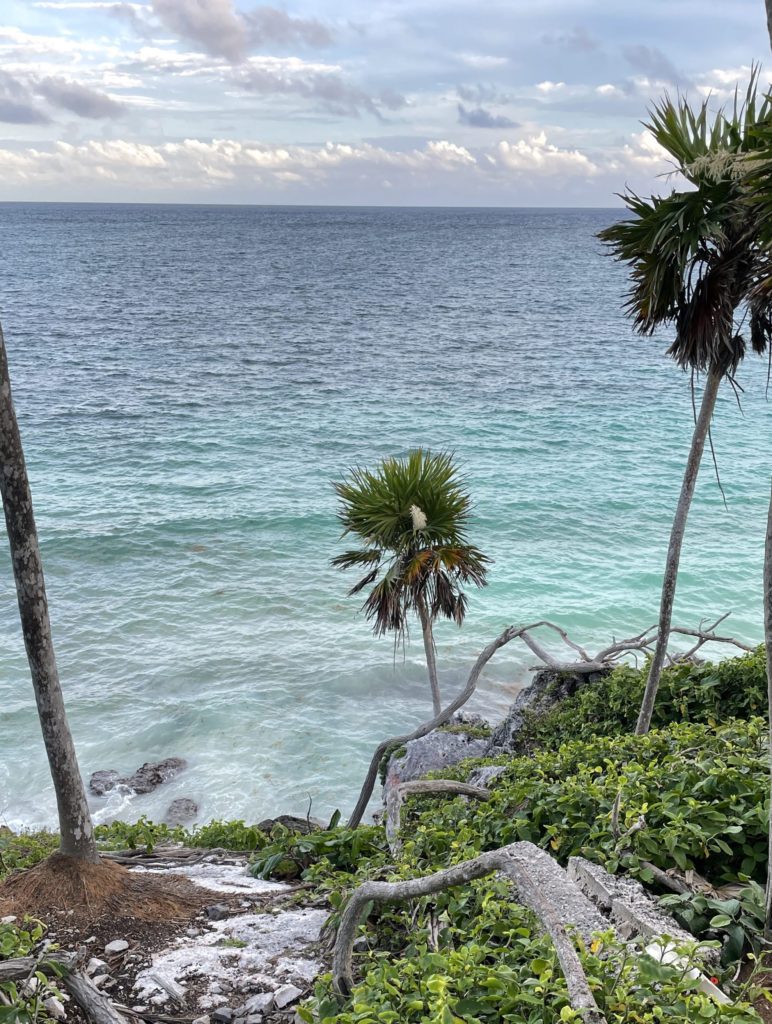 Tulum originally wasn't technically famous for its resorts, unlike Cancun, which is renowned for its resorts. Tulum is more famous for its boutique hotels and long-term rentals.
But as the towns gained popularity over the years, hotel developers couldn't resist not constructing a few beach resorts in Tulum.
There are only a few all-inclusive resorts in Tulum resorts, and that's because the town isn't known for resorts, as suggested above. But it's a beautiful place to stay, and if a resort is what you're after, here is the ultimate list of all the resorts in Tulum you should consider staying at!
Best Tulum Resorts #1-2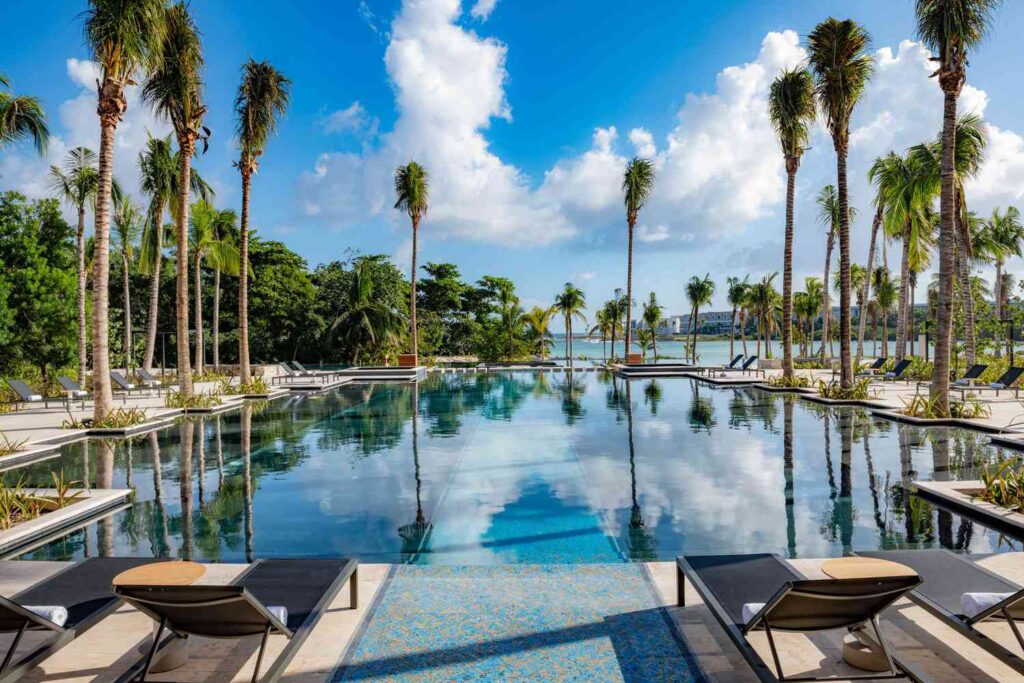 If you have money, you must stay at Conrad Tulum Riviera Maya, ranked Tulum's best resort. This stunning five stars resort provides everything you're looking for in a luxurious stay. Everything is pristine here, from the beach to the hotel's interior design.
This impeccable resort attracts couples and families because its water park is near the beach, indoor playroom, and more.
Guests here love the amenities, including an excellent spa, gym, valet parking, multiple dining options, and more. Conrad Tulum is not only the best resort in Tulum but one of the highest-ranked resorts along the entire Riviera Maya coastline.
Conrad Riviera Maya is a chic, luxury property ideal for anyone. It's minutes from Akumal, a small city known for its beach but most famous for those looking to swim with sea turtles.
The design element of the hotel is what stands out the most here. The fact that the resort has such an impeccable modern design nestled between the jungles of Tulum is fascinating.
There are pools surrounding the property here, from a small infinity pool, to an extensive main pool for guests to enjoy and a water park pool area for children.
If you're after a luxurious resort with excellent service and beautiful views, consider Conrad Riviera Maya spot for those looking for a luxury beach vacation with stunning views and high-end design.
The design at this resort is dissimilar to the environment. of Tulum because of its modern design. But this is it if you're looking for a luxurious resort in Tulum.
FOR BOOKINGS: Conrad Tulum Riviera Maya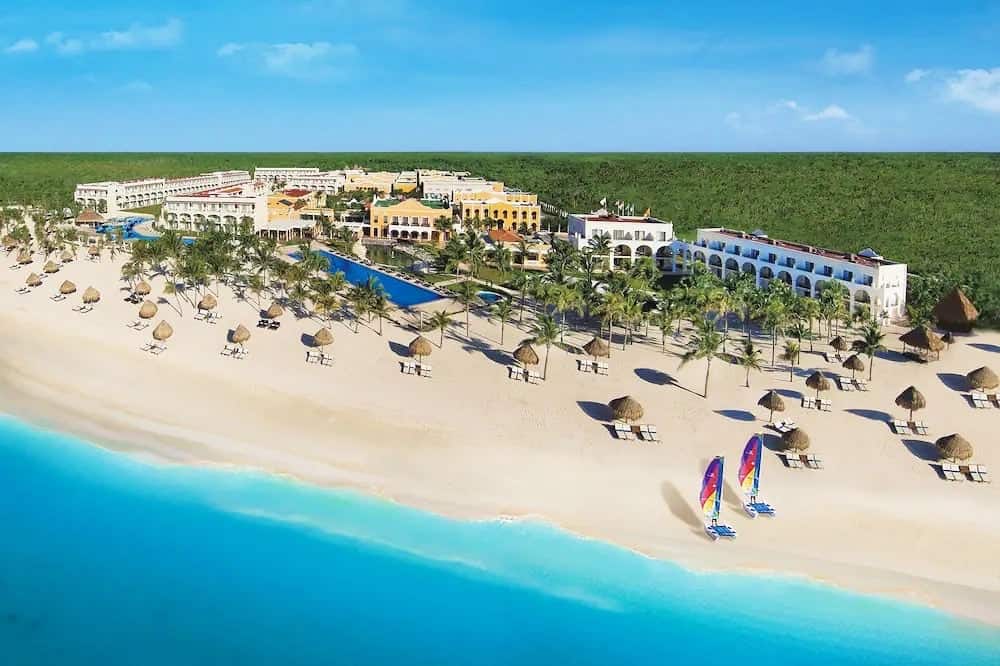 Dreams Tulum Resort and Spa is full of charm and elegance. It seamlessly blends Mexican colonial styling and modern design with many amenities. Dreams Tulum Resorts & Spa can be found just 15 minutes away from Tulum. It is a colonial estate located on the Riviera Maya's sugary shores.
The rooms are pretty spacious and have a private balcony or terrace. Traditional hacienda vibes are very present in these rooms. It contains earth tones, marble or wooden flooring, leather headboards, and wrought iron accents.
Dreams Resort and Spa offers a range of amenities to cater to families and adults. Enjoy two oceanfront swimming pools, including a poolside swim-up bar for a refreshing drink. Indulge in luxurious spa experiences, including a hydrotherapy room.
For those looking to stay active, dance lessons are available. Families can enjoy the kids' waterpark with six waterslides, while adults can relax in the adult-only section. With nine restaurants and seven bars, there's something for everyone to enjoy.
The Deluxe rooms offer either ocean or garden views to guests who stay in them. An upgrade to the Deluxe Junior Suite will give you more space. The Preferred Club Deluxe Garden View Swim-Out adds the added benefit of a shared pool and garden area.
Those honeymooning will enjoy the adults-only area of the resort. Families will appreciate the wide range of amenities and services that cater to children. This makes Dreams one of the best Tulum all-inclusive family resorts. Dreams Tulum even offers swim-out suites directly accessing the resort's immense swimming pools.
Rooms come with stunning views of the Caribbean Sea, the perfect view to wake up to. One of many reasons it's been one of the most popular Tulum resorts for years now.
Our favorite part of this resort is the surrounding jungle; it makes Dreams Tulum stand out! This is why Dreams Tulum ranks first for the best all-Inclusive resorts in Tulum.
FOR BOOKINGS: Dreams Tulum Resort & Spa
Best Tulum Resorts #3-4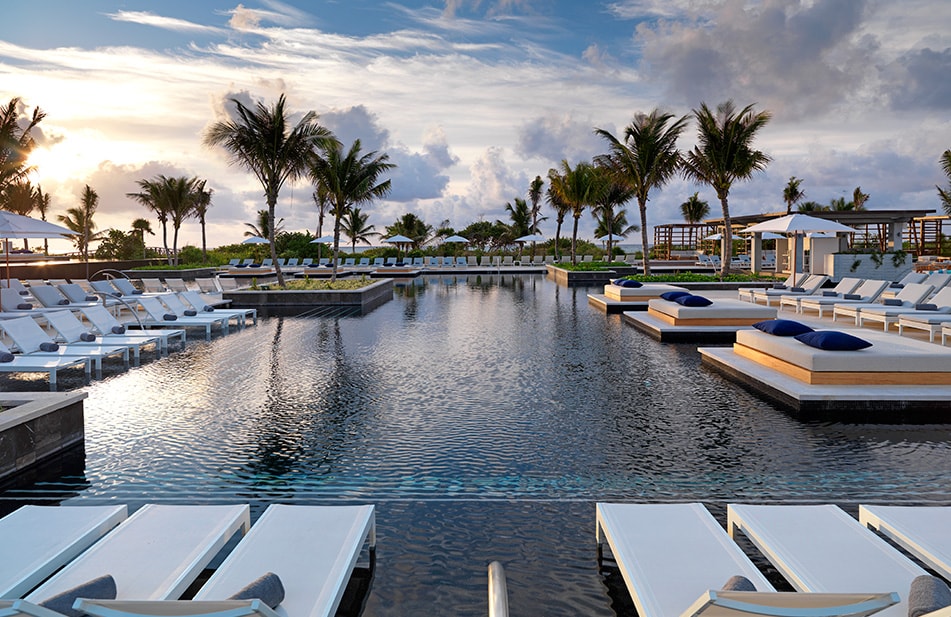 UNICO 20°87° Hotel Riviera Maya is a top all-inclusive resort in Mexico, 25 minutes North of Tulum.
The resort impresses travelers and has many repeat guests. It has less than 450 rooms and sits on a quiet stretch of beach in a protected bay.
UNICO hotel features two pools, one for all activities and another for a more relaxing atmosphere. All rooms have a terrace with a soaking tub or direct access to a plunge pool. The vibe is high-end but approachable.
The spa offers signature treatments like an Age Defying facial or a Volcanic Massage. The gym has plenty of equipment and offers spin classes.
With a total of six restaurants and three bars on-site, there's no shortage of dining and drink options at this establishment. Whether you're in the mood for Japanese cuisine at Mura House, Italian dishes at Mi Carissa, or traditional Mexican flavors at Cueva Siete, there's something for everyone.
For those looking to unwind with a cocktail and a cigar, the Palmera Lounge is the perfect spot.
The UNICO Hotel Riviera Maya is a top choice for those seeking an Adults Only resort in Tulum.
FOR BOOKINGS: UNICO Hotel RIVIERA MAYA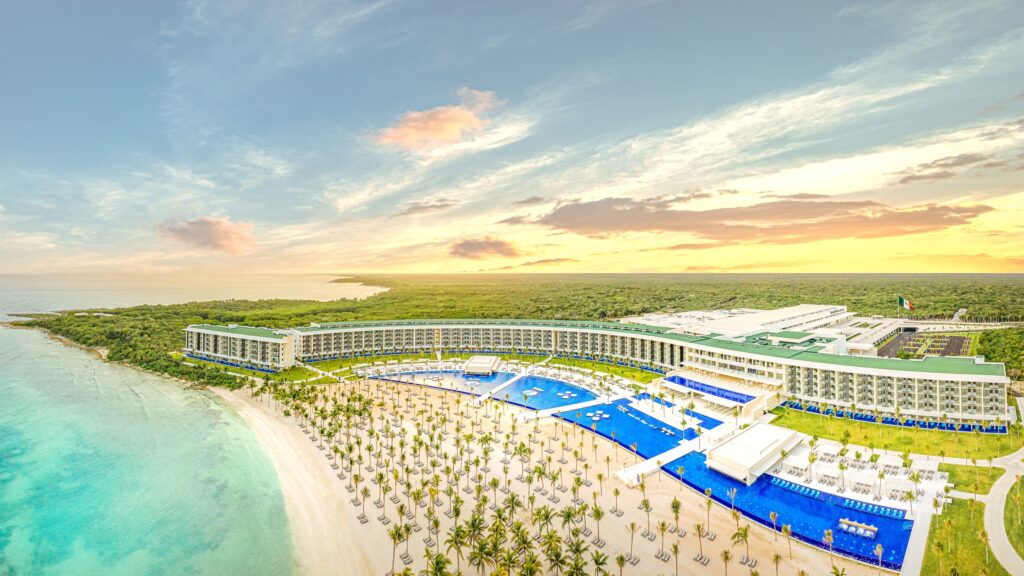 Nestled just a short drive from Tulum, Mexico, the Barcelo Maya Riviera resort boasts a prime location near the stunning Xpu-Ita Beach. This luxurious resort offers top-notch amenities and services, ensuring an exquisite and comfortable stay.
Guests can relax in their spacious rooms with a private terrace and a soothing hydromassage tub. With around 500 rooms offering breathtaking ocean views and 100 featuring a private pool, there's no shortage of options for a truly indulgent getaway.
If you're looking for a luxurious getaway, this resort has everything you need to relax and have fun. Take a dip in the largest infinity pool in Riviera Maya, or choose from one of the seven other pools.
Stay active with tennis courts and a fitness center, or pamper at the U-Spa Wellness and Fitness Center. And when it's time to let loose, enjoy theme nights like taco night, hit the bowling alley, or grab a drink at one of several bars, including a swim-up pool bar.
If you're looking for various dining options, Barcelo Maya Riviera has 5 restaurants and 5 bars on-site.
For a unique culinary experience, head to Sapporo Nikkei Experience, where you can indulge in Japanese-Peruvian fusion cuisine. If Italian food is more your style, check out Dolce Vita for delicious pasta and pizza. And for those craving authentic Mexican flavors, Agave is the perfect taqueria to satisfy your cravings.
FOR BOOKINGS: Barcelo Maya Riviera
Best Tulum Resorts #5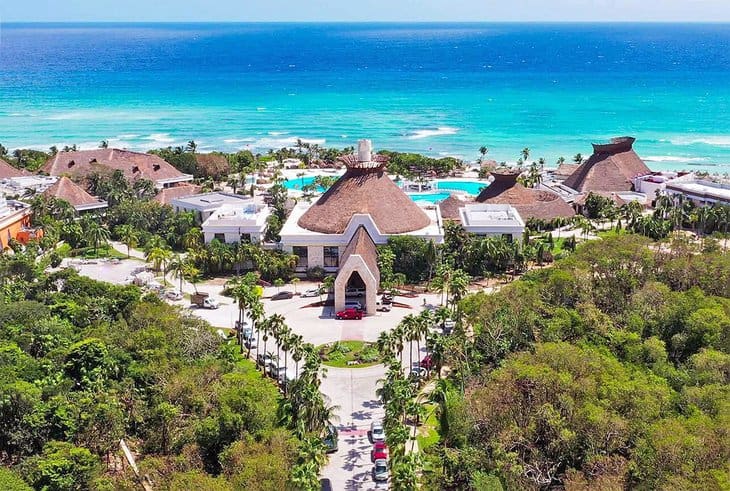 Ranked fifth on our list of top 5 Tulum Resorts is Bahia Principe Grand Tulum. Everything you need here is packed into one place with a breathtaking coastline.
Located just a short drive from the heart of Tulum, the Bahia Principe Grand Tulum resort offers a luxurious and family-friendly all-inclusive experience.
Situated right on the beach, guests can enjoy spacious and immaculate rooms, attentive service from the wait staff, and delicious cuisine, even at the buffet. With its top-tier amenities and prime location, this resort is a must-visit for anyone looking for a relaxing and indulgent getaway.
The rooms are clean and spacious, but not too many bells and whistles. Guests can expect a private patio, sitting area, and marble bathroom. Hydromassage tubs are an added feature in Junior Suite Superior rooms.
As one would expect from an all-inclusive resort, there is a vibrant entertainment scene here. There are daily dance classes, aerobics, and a children's club. A spa is also available on the property.
Indulge in a culinary adventure at the 13 restaurants and bars available on-site. Savor the flavors of international cuisine with a twist at Yucatan Restaurant, or explore the authentic tastes of Mexico at Tequila Restaurant. For a taste of Italy, head over to the beloved Cozumel Restaurant. Various cuisine choices are abundant here!
The main attraction is the Bahia Principe Grande Tulum beach, the longest stretch of beach among the resorts. This is why Bahia Principe is one of the best all inclusive resorts in Tulum.
FOR BOOKINGS: Bahia Principe Grand Tulum
Tulum, Mexico, On Map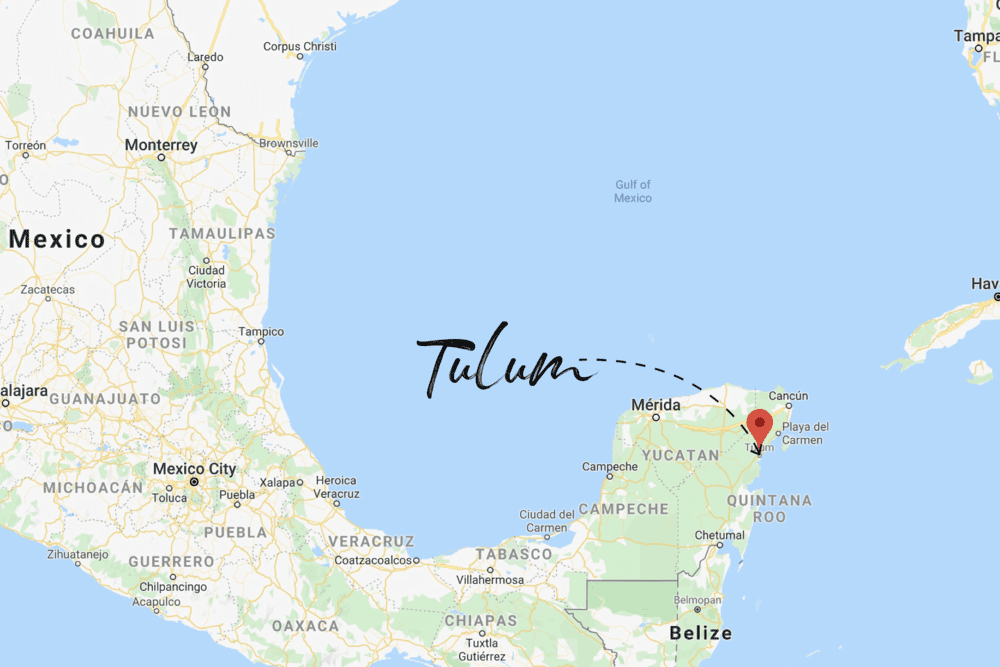 Tulum is the middle of the long-lost Mayan civilization in Mexico's Yucatan region.
Tulum is in the heart of the Riviera Maya on the beautiful Caribbean Sea. Conveniently it's located in several other great cities in the region to visit, like Playa Del Carmen, Cancun, Valladolid, Cozumel, and more!
Here is a short list of the best things I'd highly recommend you do in Tulum when visiting.
Tulum Beach
Tulum Ruins and National Park
When visiting Tulum, spend a day at one of the beach clubs in Tulum. Tulum is famous for its day parties at its beach clubs!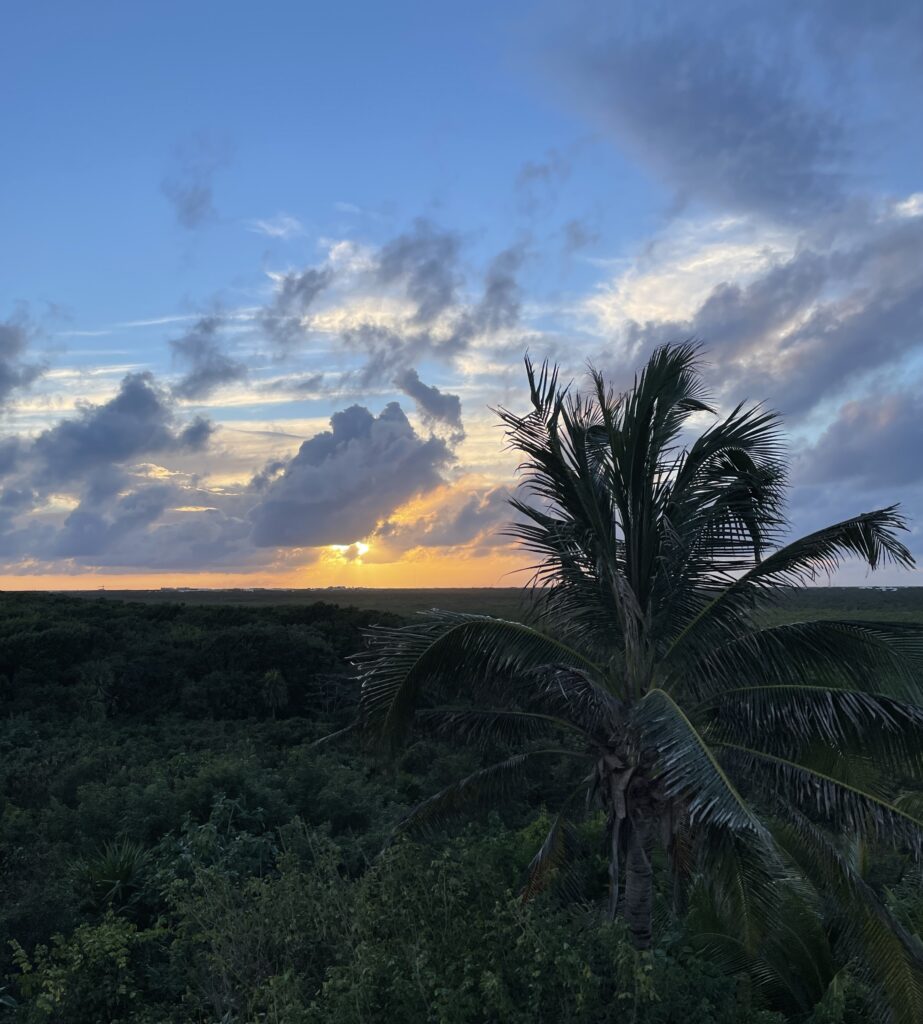 Best Time to Visit Tulum
If you're planning a trip to Tulum, you'll want to consider the best time to visit. While Tulum is a great destination year-round, the ideal time to go is from December through April. However, this is also when the high season is in Tulum because of its great weather.
You can expect plenty of sunshine, warm days, and cooler nights during this time. Additionally, the humidity is low, making it more comfortable to explore the area.
For those looking to go during the high season but would like to avoid the higher costs, go from February through April. To avoid the high cost of travel during the holiday months. This is when I've always gone to Mexico through the years, and it's a combination of the best weather and prices during this time.
Lastly, you could always go during the shoulder season if you'd like to visit Tulum on a budget. Shoulder season is through July and August, but with the savings comes high humidity and more sargassum along the beaches.
CONCLUSION
Being a famous tourist attraction city, there are all types of Tulum resorts, from luxurious to all-inclusive. If you want to splurge and money is not a problem, go to Be Tulum. But if you want to pay and experience an all-inclusive experience, head over to Dreams Tulum.
If nothing on this list is within your budget, Tulum has many great hostels to choose from. My favorite is the Mayan Monkey Hostel. This hostel reminds me of Nomads Hostel in Isla Mujeres. And here are a few more Hostels in Tulum for you to browse!
Keep in mind if you decide to stay at an all-inclusive resort. Don't you dare stay only stay at your resort the whole time! Tulum's so much to do, from the Mayan ruins to countless cenotes for you to discover.
Not to mention Tulum's great parties during the high season (November – April). The downtown core offers countless lovely shops and eating options to discover.
If you're reading this article and possibly debating either Tulum or Cancun to visit, my Tulum vs Cancun guide will help you decide! And if you're debating between Tulum and Playa Del Carmen, here is a Tulum vs Playa Del Carmen guide to help you decide!
RELATED: Scams in Tulum
Something important to keep in mind if you're looking to go to Tulum and spend less money. Go during the off-season! Tulum resorts are much cheaper during the off-season, from May to September.
It's still hot, and the weather is excellent, but this time is considered off-season, so it's much less crowded. Other than cheaper resorts and hotel accommodations, everything else will cost you the same: food, transportation, etc. But humidity is high then.
Now that you've read our list of the best resorts in Tulum, check out the best Isla Mujeres resorts. – A famous island located across the water from Cancun. For more large resorts near Tulum, check out Puerto Aventuras!
When choosing which resort to choose, determine which Tulum resorts best suit your needs.
Subscribe to Travel Hiatus!
Receive updates on my latest posts, insider travel tips & the best destination guides to your inbox!
Happy & Safe Travels
---
Planning Checklist
---
Disclaimer: Please note that some of the links shared in this article might be affiliate links; this means that at absolutely no extra cost to you, we will earn a small commission for any sales generated through this article and/or this website. We recommend products/services we've either used or researched thoroughly – Thank you for supporting us so we can continue to share helpful travel content!