Ao Nang or Railay beach: Which to Stay In?
Ao Nang or Railay Beach is a debate many have when researching where to stay in this area of Krabi.
The debate is because both places are next to one another on the mainland, but Railay Beach can only be reached by boat.
In this Ao Nang vs Railay Beach comparison guide, I will highlight how to get to both places, the main attractions, restaurants, and hotel recommendations.
I will also include tips and descriptions of both areas to help you decide whether to stay in Ao Nang or Railay Beach.
By the end of this Ao Nang or Railay Beach comparison guide, you should know where you'd prefer to stay between the two. Significant differences exist between the two places, so deciding which suits you best should be easy!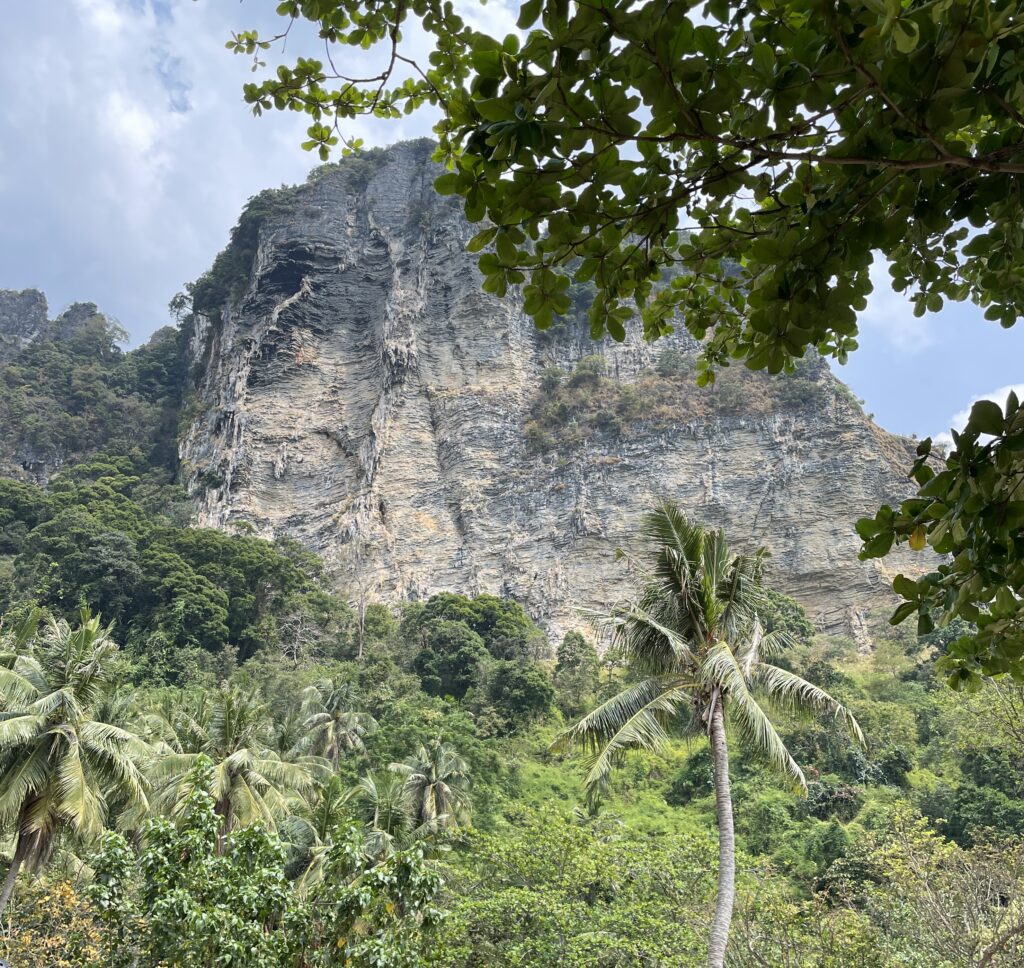 How to Get to Ao Nang
Here are the many ways you can get to Ao Nang, whether from Bangkok, Phuket, or Surat Thani Town.
TIP: From Bangkok, fly from Don Mueang Airport (DMK), a domestic airport offering cheaper flights!
Bangkok to Ao Nang
Flight from Bangkok Airport to Krabi Airport – Fly into Krabi Airport, and from there, go to Ao Nang by taxi
Time: 1.5 Hours – Cost: $25 – $45 US
Bus from Bangkok to Krabi Town – Take the bus to Krabi Town, and from there, go to Ao Nang by taxi.
Time: 13 Hours – Cost: $20 US
Phuket to Ao Nang
Ferry from Phuket to Ao Nang – The best/fastest way to Ao Nang from Phuket is by ferry from Rassada Pier
Time: 2 Hours – Cost: $20 – $25 US
Surat Thani Town to Ao Nang
Van from Surat Thani Town to Ao Nang – The best/cheapest way to Ao Nang from Surat Thani Town
Time: 4 Hours – Cost: $13 – $16 US
For those in Koh Samui, Ko Pha Ngan, or Ko Tao, to get to Ao Nang, first take a boat off of any of these islands and then take a taxi to Surat Thani Town. From there, you can get to Ao Nang.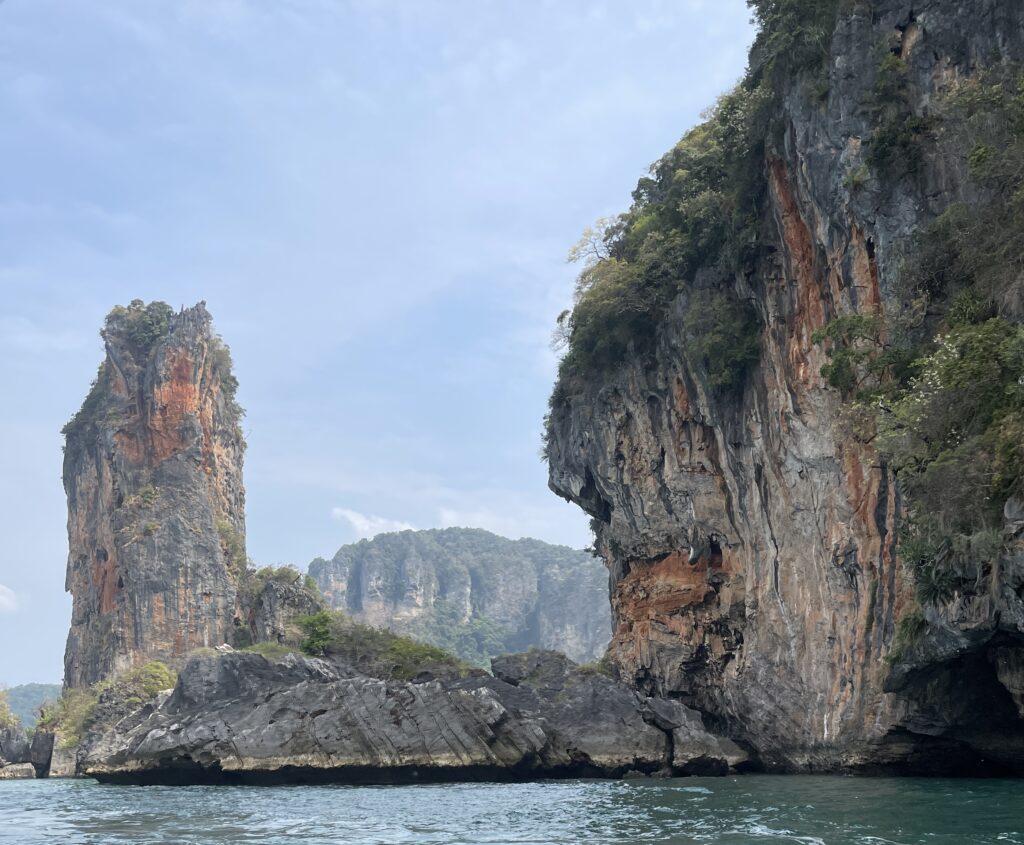 How to Get to Railay Beach
There is only one way to get to Railay Beach from Ao Nang: a longtail boat taxi at Ao Nang Beach. Here's everything you need to know about going from Ao Nang to Railay Beach and vice versa.
How do I get from Ao Nang to Railay Beach?
Once you're in Ao Nang, walk over to Ao Nang Beach, and on each end of the beach are several long-tail boat taxis going back and forth between Ao Nang and Railay Beach throughout the day.
At each end of Ao Nang Beach, on each side, there is a stall selling long-tail boat taxi tickets, and if you need clarification about where to go, ask the longtail taxi drivers, and they'll point you in the right direction!
It's important to know that long tail boat taxis STOP at 6:00 PM because of the low tide at Railay Beach. So leave before if you're visiting from Ao Nang or vice versa. Boat taxis start at 8:00 AM.
Longtail boat taxis don't leave until the boat is full of people, so you might have to wait a few minutes before leaving until the boat is full. – Cost: 100 – 150 Baht / $3 – $4 US per way.
Ao Nang or Railay Beach: Things To Do
Ao Nang and Railay Beach are different regarding things to do in each place. The only similarity is the excursions from each area.
Whether you're staying in Ao Nang or Railay Beach, both places offer the same type of day excursions to experience.
Before you read further, here's a list of the best excursions to attend from Ao Nang or Railay Beach.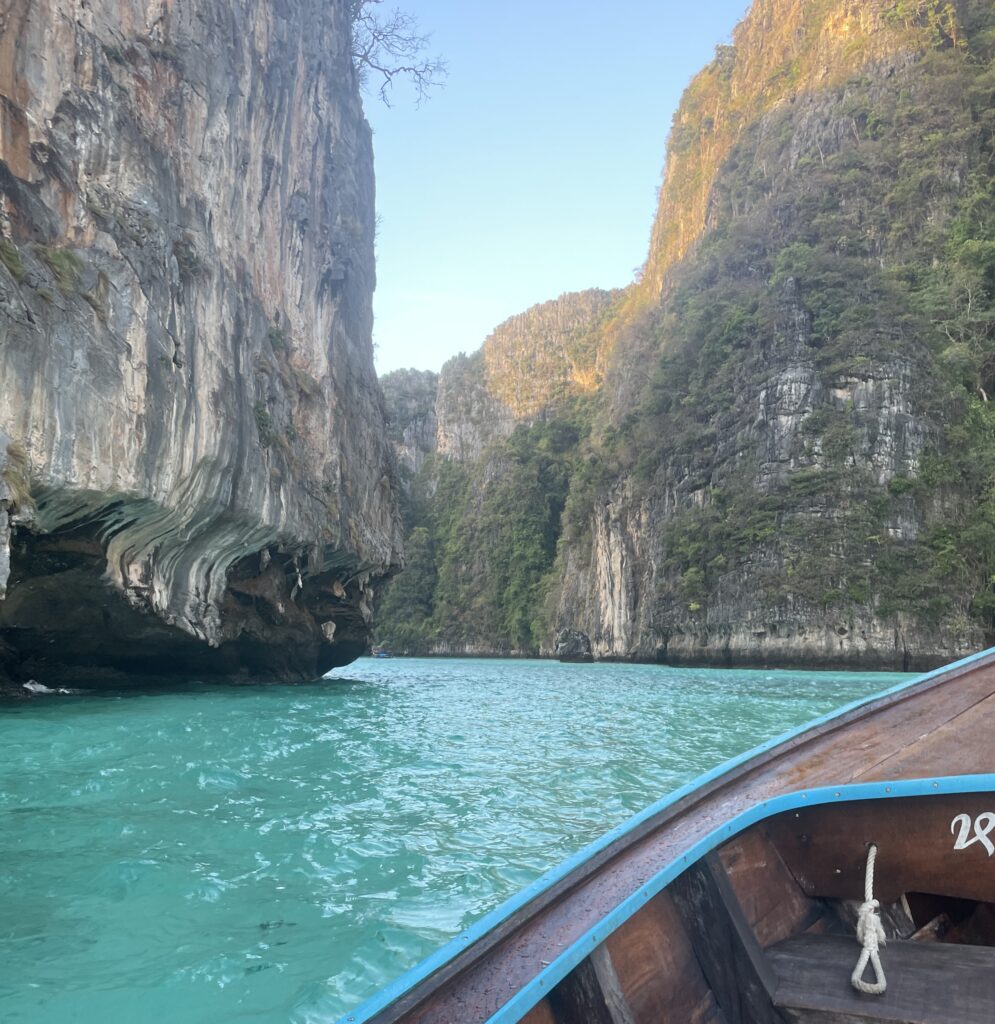 Best Things To Do in Ao Nang
While Ao Nang shares a few similar activities as Railay Beach, there are a few things you can do in Ao Nang you can't do in Railay Beach because Ao Nang is significantly more developed than Railay Beach. Here are the best things to do in Ao Nang when visiting.
Relax at Ao Nang Beach
The main attraction in Ao Nang is the beach, of course. Ao Nang Beach is approximately 1.5 km long, offering plenty of room to sunbathe and go swimming.
Overall, Ao Nang has a chilled-out atmosphere, making it an ideal place to relax and unwind.
Many cafes and restaurants surround the beach, so it's convenient when you're looking to buy some food during your beach day.
From budget-friendly backpacker stays to luxurious hotels, Ao Nang Beach has many nearby accommodations to suit every traveler's needs.
Check out Monkey Trail when visiting Ao Nang Beach, an area with many monkeys jumping around in the wild.
While Ao Nang Beach is an excellent relaxing place, it could be better for swimming. You're better off going to Railay Beach when it comes to a good beach for swimming.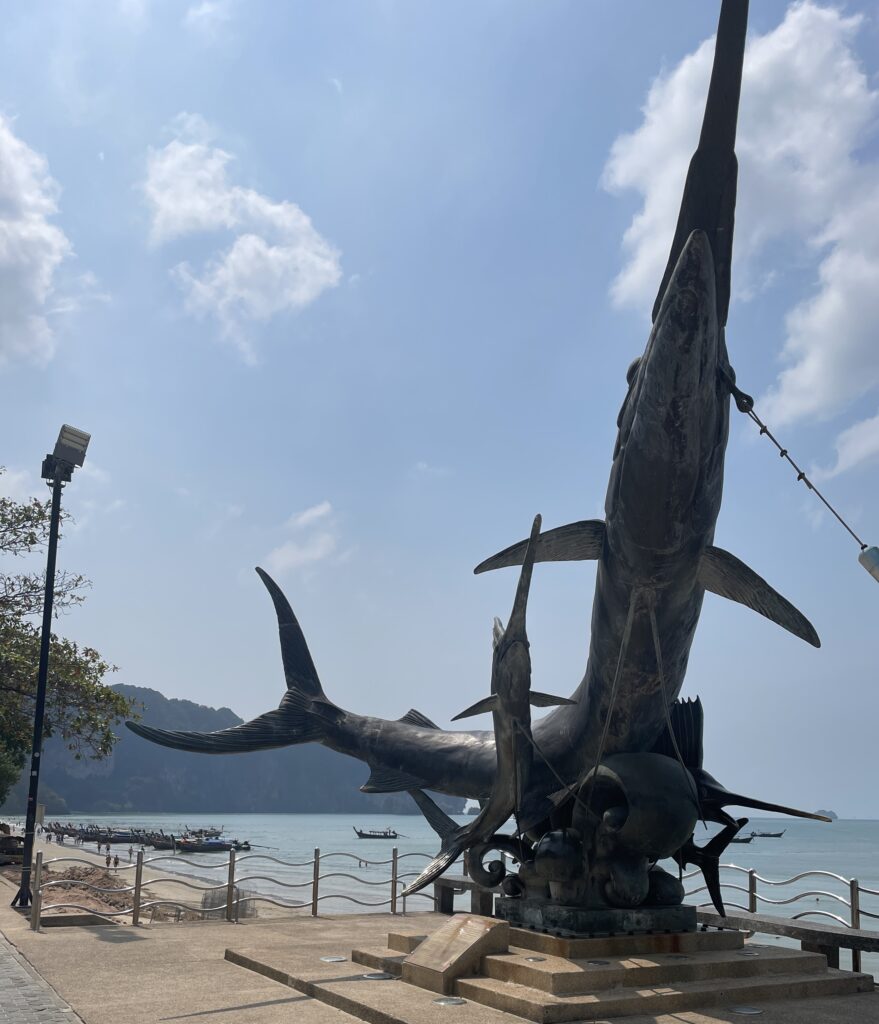 Visit Krabi Town
Krabi Town is the capital of the province of Krabi, and it's a small but laid-back town full of many things to do.
Some of the best local food can be found in Krabi Town because it's far less touristy than Ao Nang.
The Krabi Walking Street gets lively on weekend nights, a fun place to walk around and do some shopping/eating.
Krabi Town offers a look into the daily life of those living in the province. Something nice to experience because while Krabi province is home to many popular destinations, the tourism side isn't all it has to offer!
Go to Ao Nang Elephant Sanctuary
No matter where you visit in Thailand, visiting an elephant sanctuary is one of the most popular things to experience when visiting.
During this Elephant Sanctuary Tour, you will experience an afternoon of interacting with these large majestic animals, bathing with them, and feeding them. It's an unforgettable experience! – Tour includes roundtrip transportation
Another must-do activity in Thailand is visiting the many night markets; if you've been traveling around Thailand, you must have gone to a few. But if you're visiting for the first time, go to a night market!
Ao Nang Landmark Night Market is the most popular night market in town. There, you will find several street food stall vendors selling foods from pad Thai, lots of seafood, fresh fruit, cocktails to drink, and much more!
The night market opens at 5:30 PM till 10:00 PM daily.
This is your spot for those looking for cheap street food in the afternoon!
While Ao Nang is home to many different restaurants offering different cuisines, sometimes you want to eat different small plates of street food!
Walking down the main 4203 Street, you will notice a sign that says RCA; this is where the cheap street food stalls are.
You will find tom yum soup, pad Thai, pad kra pow, fried rice, kebabs, and burgers, amongst many other local dishes. Most food here will cost you $2.5 – $4 US per plate.
Street Food TIP: Close to the end of Ao Nang Beach, you will spot a man cooking corn that's deaf. He cooks corn with coconut charcoal and has a sign suggesting he makes the best corn. I highly recommend you try his corn; best corn I've had anywhere.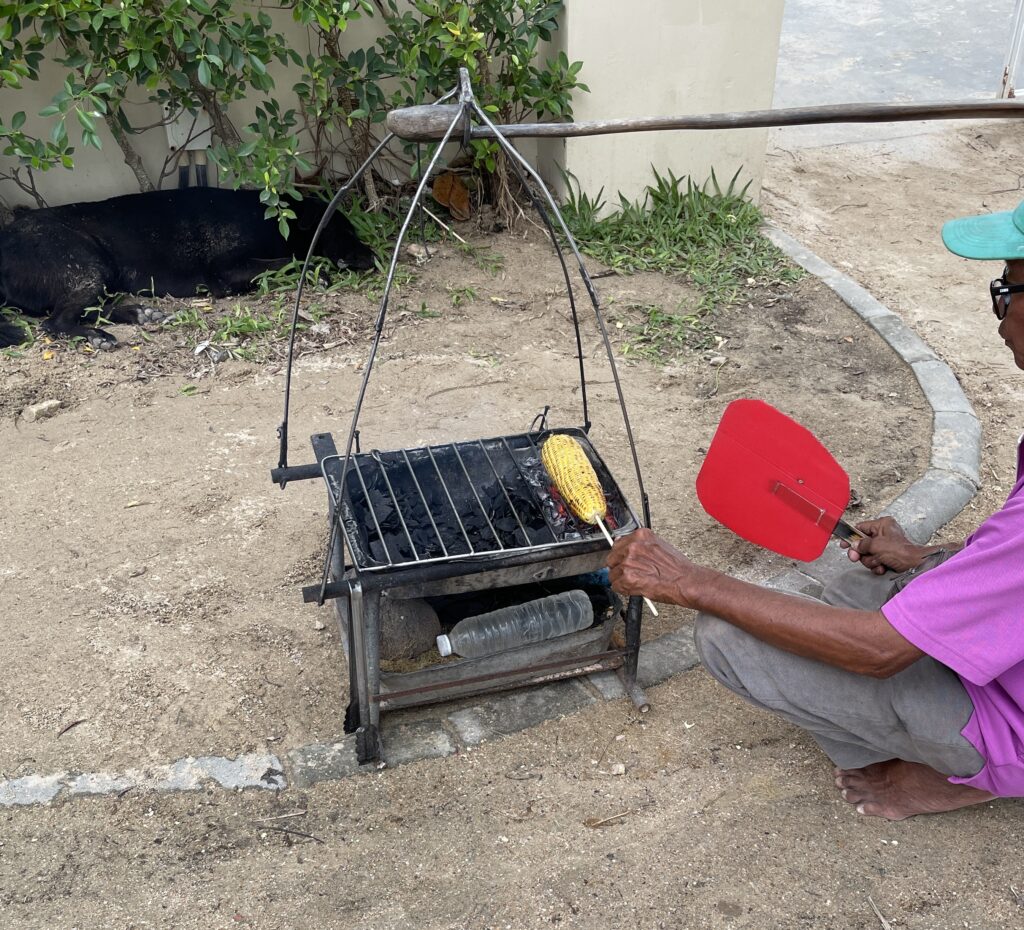 What is Ao Nang known for?
Ao Nang is known for its unique location, offering access to many other islands in Krabi.
It's a great place to stay for those looking to do many excursions from Ao Nang because of its Nopparat Thara Pier. It's also known for its main beach, shopping, restaurants, and resorts.
Best Things To Do in Railay Beach
The activities in Railay Beach vs Ao Nang are very different. Besides relaxing at the beach, the activities at Railay Beach tend to be more active and adventurous.
Relax at the Beach
There are three beaches to spend the day in Railay, and I highly recommend you visit them all because they are all alluring in their own right.
Choosing between Railay Beach or Ao Nang will be easy if beaches are important to you because Railay has much better beaches.
Spend a relaxing afternoon at any of these beaches and enjoy the tropical atmosphere Railay offers!
Railay West Beach – This is the famous main beach and where you will arrive if you're coming from Ao Nang.
Tonsai Beach – Located next to Railay West Beach, you can only access this beach by swimming, hiking over the rocks, or by boat. It's the most peaceful beach among the three on this list.
Phra Nang Cave Beach – Located in the Southern area of Railay, this beach is ranked one of the best in the world and is the most ideal for swimming in Railay.
Visit Diamond Cave, aka (Phra Nang Nai Cave)
Diamond Cave is the largest cave in Railay, accessible through the only trail that heads North of Railay.
Walking on the course, you will notice the cave's exterior alongside several monkeys jumping around.
The inside is beautiful, and you will hear several bats screeching. I highly recommend visiting. Walking through the entire cave is only a 15-minute activity or so. The cost to enter is 200 Baht per adult.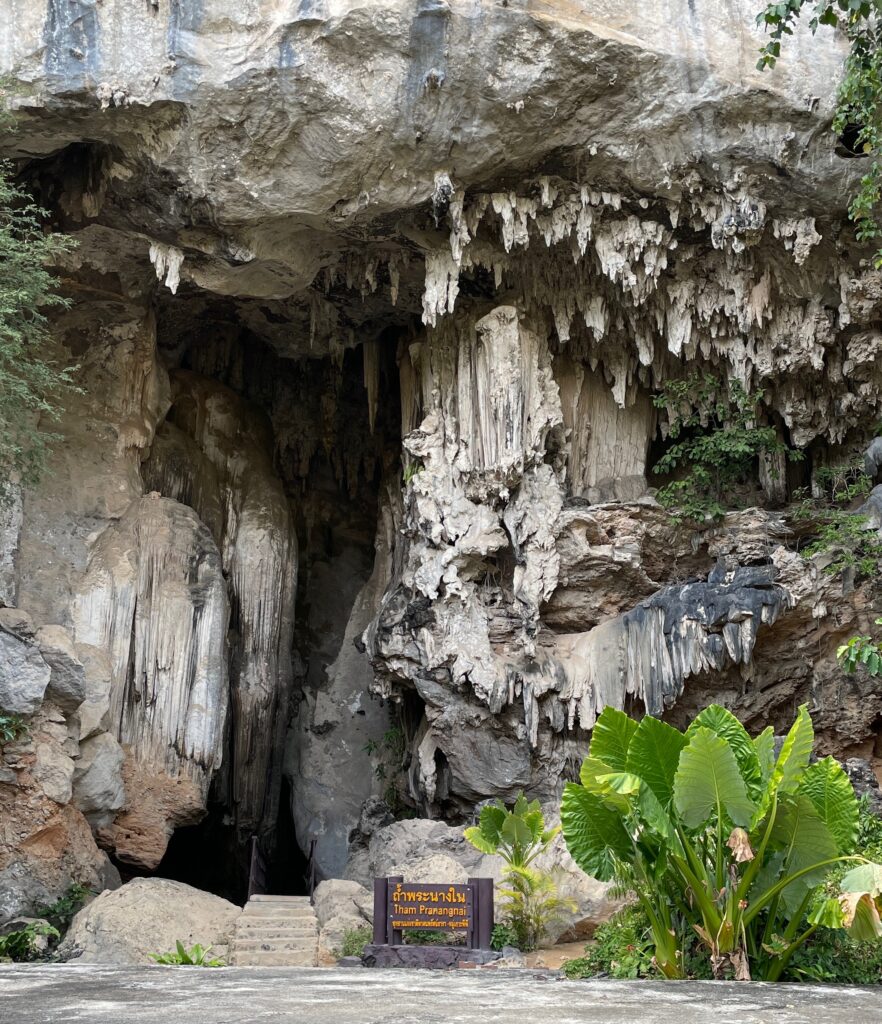 Kayaking or Paddle Boarding
With beaches surrounded by large limestones and exotic views everywhere you look. One of the best ways to appreciate these picturesque views is to kayak or paddleboard along the water!
You can rent a kayak or paddleboard and do just that. Both options will cost 200 baht to rent per hour, or if you want to use them for the entire day, each should cost 800 baht.
Rock Climbing
Rock climbing is popular in Railay, and it's easy to see why. Railay is home to several large limestones, ideal for rock climbing.
Some well-known rock climbing spots include Bat Cave, Diamond Cave, and Phra Nang Cave Beach.
To do any rock climbing here, you've got to book through a local company. – Book Rock Climbing
Or, if you're not up for some rock climbing, go on a hike in Railay. The Railay Lagoon and East Railay viewpoint are both popular hiking destinations here.
What is Railay Beach known for?
Railay Beach is famous for its mesmerizing beaches, large beautiful limestones, rock climbing, and nature.
But it's most famous for its overall remote, relaxing jungle-like atmosphere. It cannot be entirely described but more felt when you visit.
Despite not being an island, Railay Beach feels like a laid-back island.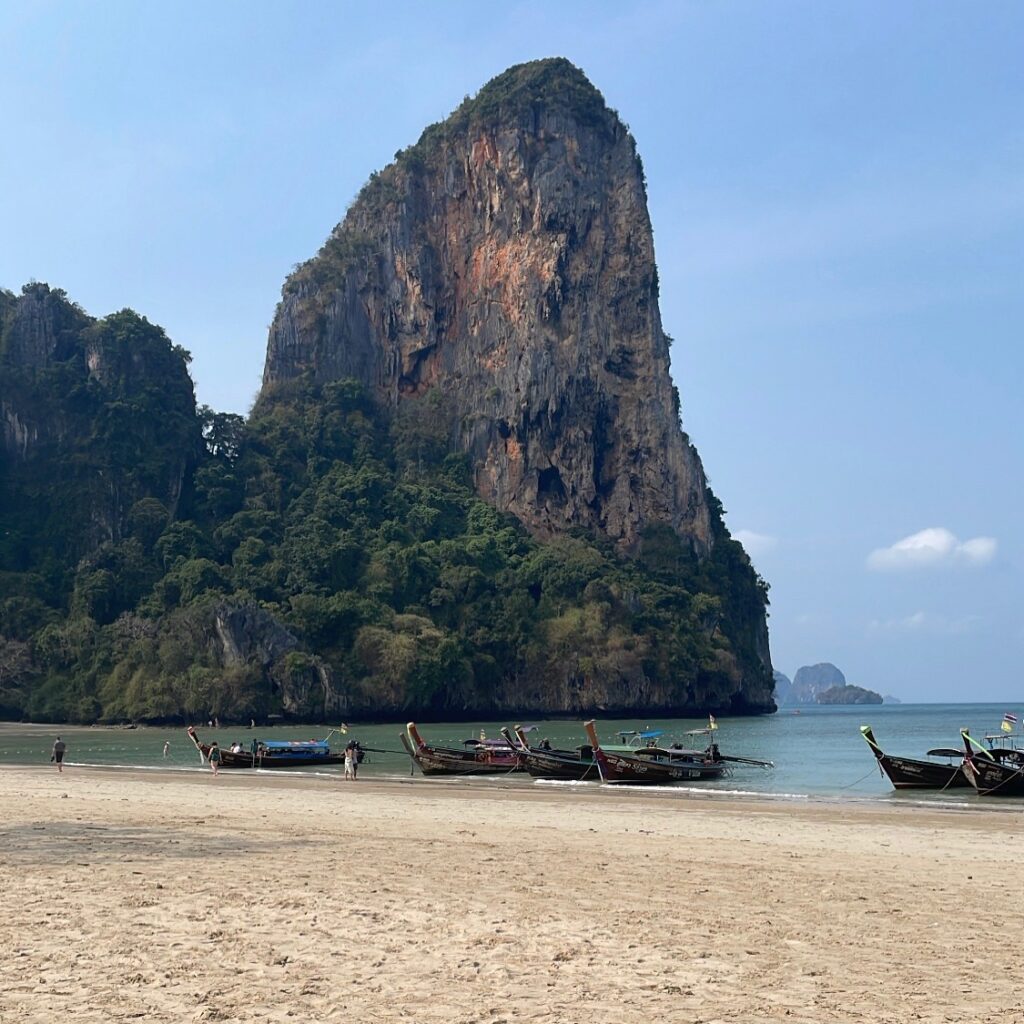 Ao Nang or Railay Beach: Hotels & Resorts
Whether you stay in Ao Nang or Railay Beach, both places have many different accommodations to choose from.
Ao Nang has a more extensive selection because it's more developed than Railay Beach, but Ao Nang doesn't offer the same relaxing remote atmosphere Railay Beach has.
Ao Nang and Railay Beach are small, so where you stay, area-wise, will only matter a little.
I've included three different accommodations for Ao Nang and Railay Beach. I've included luxury options, mid-tier, and hostel accommodations for both places.
So, no matter your budget, these are the best hotels to stay in when visiting either place.
Where to Stay in Ao Nang
These are your three best accommodation options in Ao Nang to choose from! – No matter your budget!
Holiday Ao Nang Beach – 5 Stars
Holiday Ao Nang is a stunning 5 Star resort right in the heart of it all, located directly on Ao Nang Beach. The resort has a pool and several beach loungers to enjoy.
Staying here means you're only a short walk away from everything: restaurants, bars, markets, and more.
Cosi Krabi Ao Nang – 3 Stars
COSI Ao Nang is a fun, colorful modern hotel offering exceptional rooftop views. It's a short walk away from Ao Nang Beach, and the road it's located on has several nearby restaurants.
K Bunk Ao Nang – Hostel
K Bunk is known for being the highest-rated hostel in Ao Nang. They have a choice of private rooms as well as dorm rooms.
The communal area is spacious, and they have a breakfast bar to eat at in the morning. It's also close to many restaurants on the main 4203 Road. Ao Nang Beach is a 20 Minute's walk away.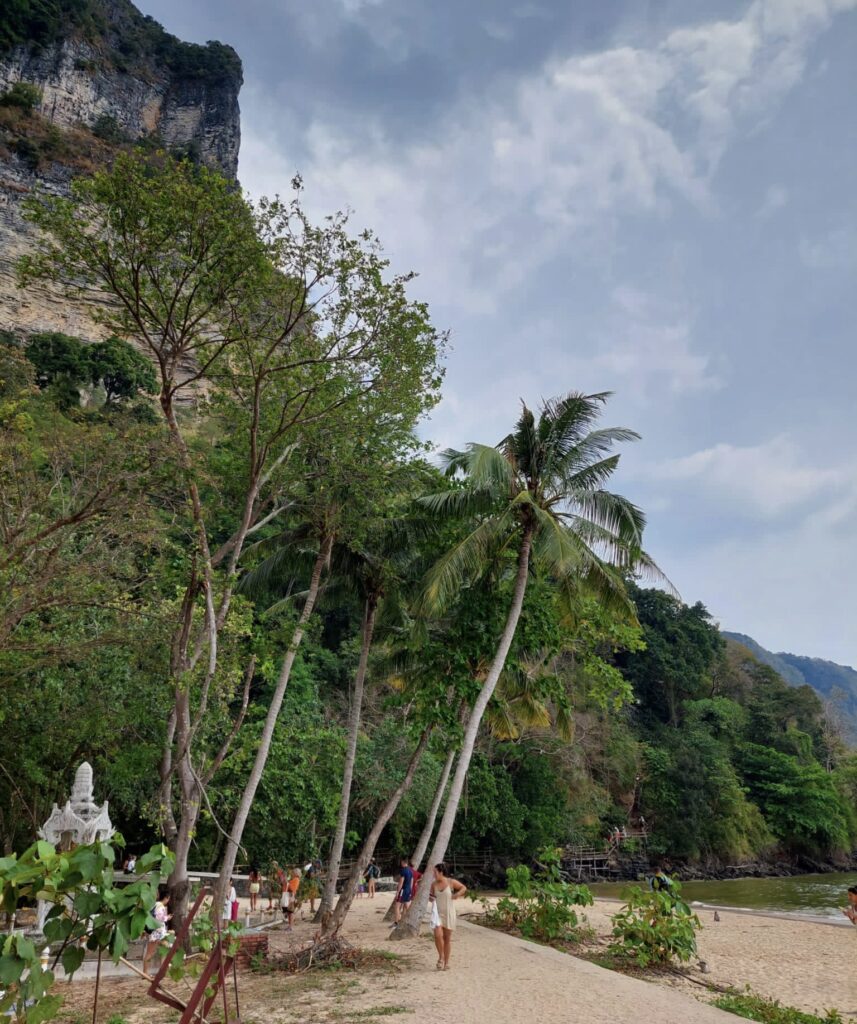 Where to Stay in Railay Beach
These are your three best accommodation options in Railay Beach to choose from! – No matter your budget!
Rayavadee – 5 Stars
Located at the south end of Railay's West Beach is Rayavadee, a stunning 5-star oasis. This resort has done an exceptional job delivering a luxury experience in the middle of the jungle.
Staying at the Rayavadee is a unique experience in itself. Just look at the backdrops surrounding this hotel; they're spectacular!
Avatar Railay Resort – 3 Stars
Avatar Railay Resort is located along Railay's East side, an exceptional 3-star hotel. Just read the reviews and browse some of the photos of the rooms.
Some rooms face each other because the pool is in the center, so privacy could be better, but again, considering the price and reviews, this is a strong choice for a mid-tier hotel!
Blanco Hideout Railay – Hostel
Those looking for hostel accommodation in Railay Beach, look no further than Blanco Hideout. This is the top-rated hostel in Railay Beach.
A pool with an exceptional view, it's clean, and the communal area is spacious.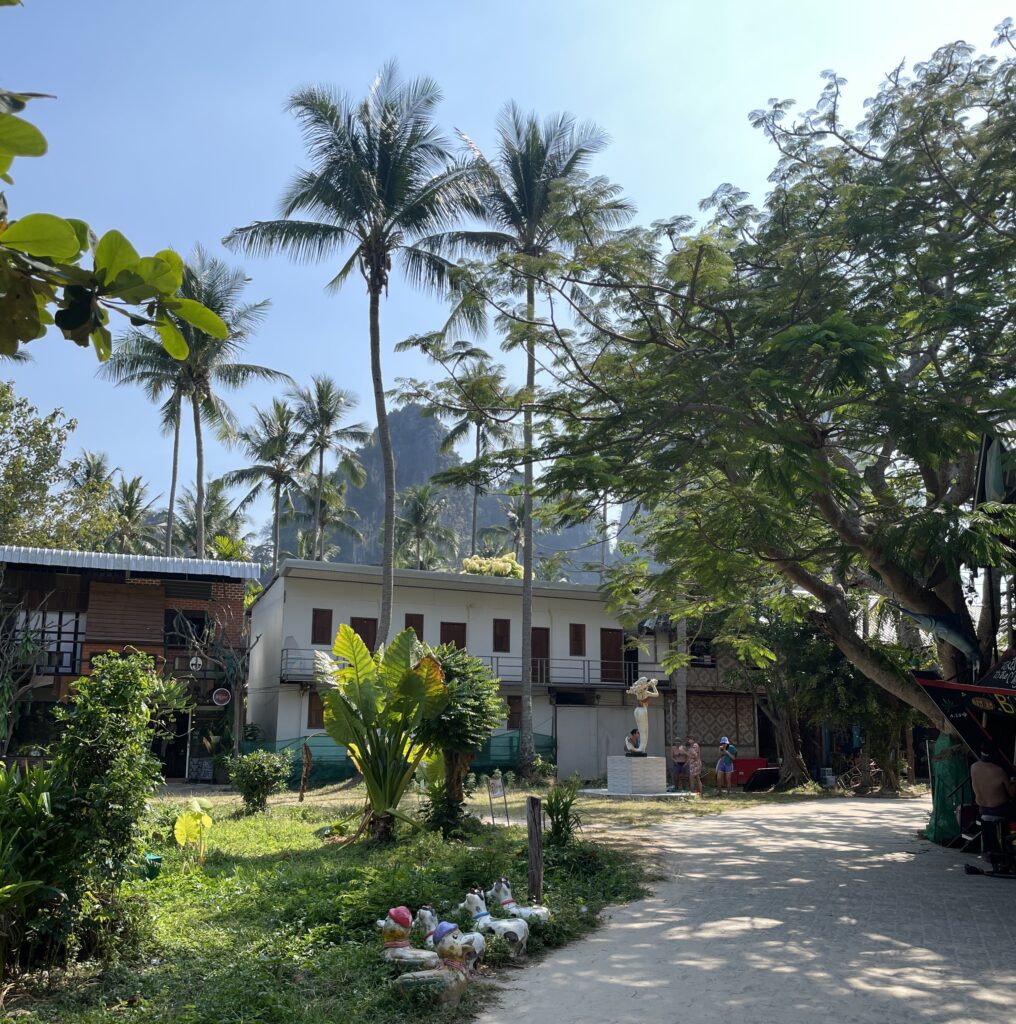 Ao Nang or Railay Beach: Restaurants
Let's discuss the food in Ao Nang and Railay Beach because when it comes to the restaurants, street food, and cuisine variety, Ao Nang is significantly better than Railay Beach.
Below, I will share a list of the best restaurants in each place. But before I do that, I'd like to mention that Ao Nang has a street food culture/night market, something Railay Beach doesn't have.
Also, Ao Nang has various cuisine types from Middle Eastern, Mexican, and American fast food chains.
The last time I was in Railay Beach, which was earlier this year, 2023, there was construction near the main walking street, and I think they're building a market there.
Best Restaurants in Ao Nang
Kodam Kitchen – Thai Restaurant
The Hilltop Ao Nang – Viewpoint Restaurant
Manana Mexican Restaurant – Authentic Mexican Food
Ton Ma Yom ThaiFood – Authentic Thai
Best Restaurants in Railay Beach
The Heart Restaurant – Traditional Thai Food
Railay Cafe Thai – Noodle Shop
Summer Fresh – Breakfast Cafe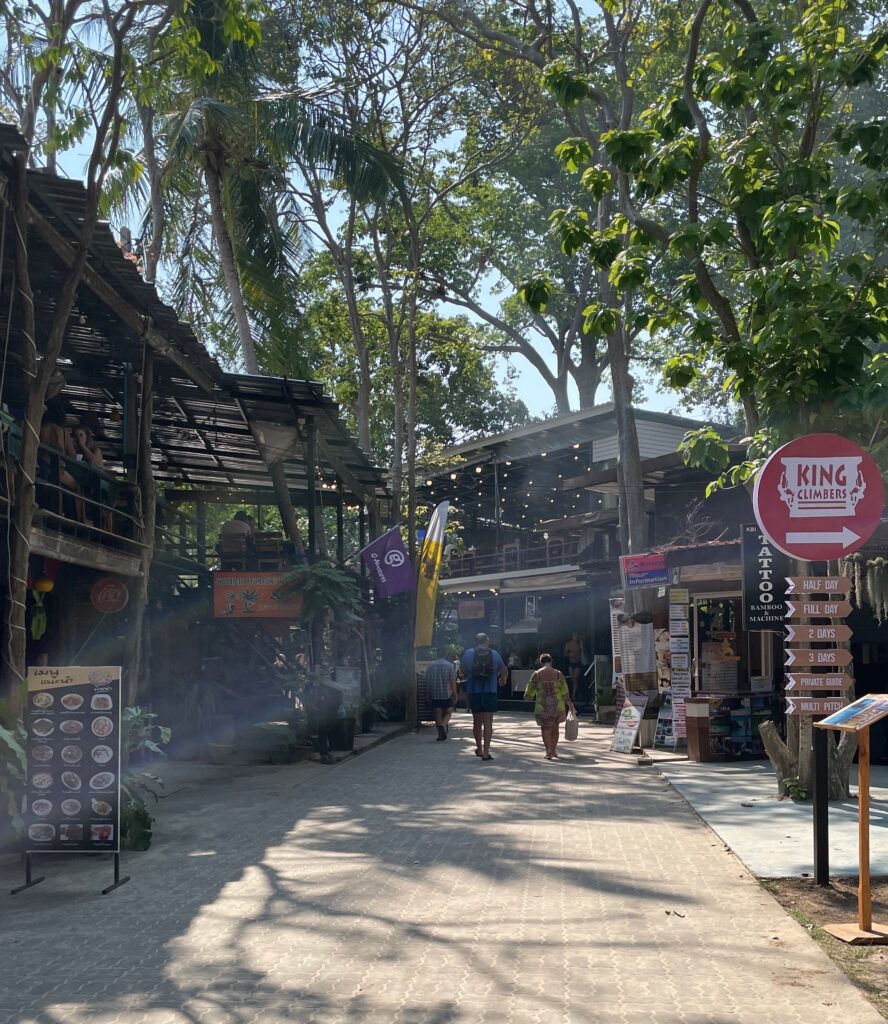 Tips for Ao Nang
If you're on a budget, there's plenty of affordable food at the markets here I've mentioned above
If you visit Railay Beach from Ao Nang, return before 6:00 PM. – Longtail Boat Taxis stop after
Ao Nang has cheaper food on average compared to Railay Beach
Tips for Railay Beach
Don't spend the whole day laying around when visiting Phra Nang Beach; walk around; there's so much to see there
If you visit Ao Nang for the day, return before 6:00 PM – Longtail Boat Taxis stop after
If you visit Ao Nang for the day, buy things you may need, Railay Beach has its convenience stores, but the variety of items is limited here
Things to Pack for Ao Nang or Railay Beach
Here are a few items to consider packing when visiting both Ao Nang and Railay Beach.
A Dry Bag – When you arrive by boat or island hopping in Krabi, you sometimes have to go into the water and walk to the shore. You run the risk of getting any electronics/ things wet. This Dry Bag is perfect for protecting your items!
Fast Drying Towel: A towel is necessary, of course. But the best towel to bring is something made from microfibre, which drys quickly. You'll be in and out of the ocean frequently, so always having a dry towel is convenient!
Waterproof Mobile Phone Case – When you're on excursions, you will more than likely want to take pictures when you're on the boat, but that also means your phone will get wet. This waterproof phone case will prevent that from happening!
Travel Insurance – You never know what may happen when visiting a foreign country; hospital visits in Thailand can add up—boat accidents, food poisoning, flight cancelations, etc. Don't take the risk!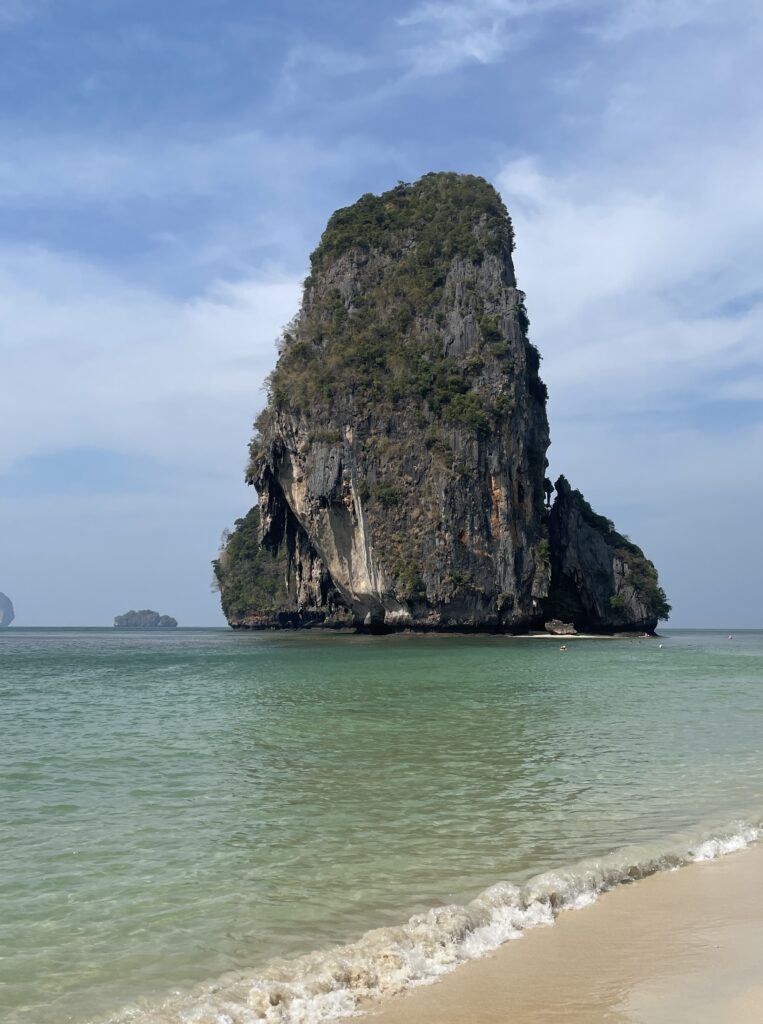 Is Ao Nang or Railay Beach better to stay?
After reading this Ao Nang or Railay Beach comparison guide, I would like to believe you've decided where to stay.
But if you're still undecided, here are some parting words about each place that may convince you to go to one place over another!
No matter where you choose to stay, Railay Beach or Ao Nang, I highly recommend the Krabi 4 Islands Tour!
Ao Nang is a developed city and caters to everyone; while it has a large beach, it's nothing too special compared to most beaches in Thailand.
Ao Nang is pretty touristy but has its conveniences food-wise, transportation-wise, etc. And it's an excellent place to do excursions from.
Railay Beach offers a more intimate, tropical, laidback atmosphere. Shops/restaurants are all owned by locals here, no cars are around, and you feel like you're on a deserted tropical island with few conveniences.
Outdoor activities and the beaches in Railay are far superior to Ao Nang.
Solo Traveler: Both places are popular amongst solo travelers, but Railay Beach is favorable!
Couple: Both places are excellent for couples. Ao Nang has larger town conveniences, but Railay is more intimate.
Group of Friends: It depends on the group of friends; if your group likes outdoor activity and adventure, go to Railay, but if your friends prefer to relax and shop/food, then Ao Nang will be better.
Family: Ao Nang is far better for a family; Railay Beach is less kid-friendly and has far fewer conveniences than Ao Nang.
Where to after Ao Nang and Railay Beach?
Are you looking to visit another destination after Ao Nang or Railay Beach?
If you're visiting Thailand from far, it would make sense! – My favorite is Phuket because of its many beautiful beaches, similar to Railay.
Here are some destinations you should visit after:
RELATED: 7 Best Islands in Thailand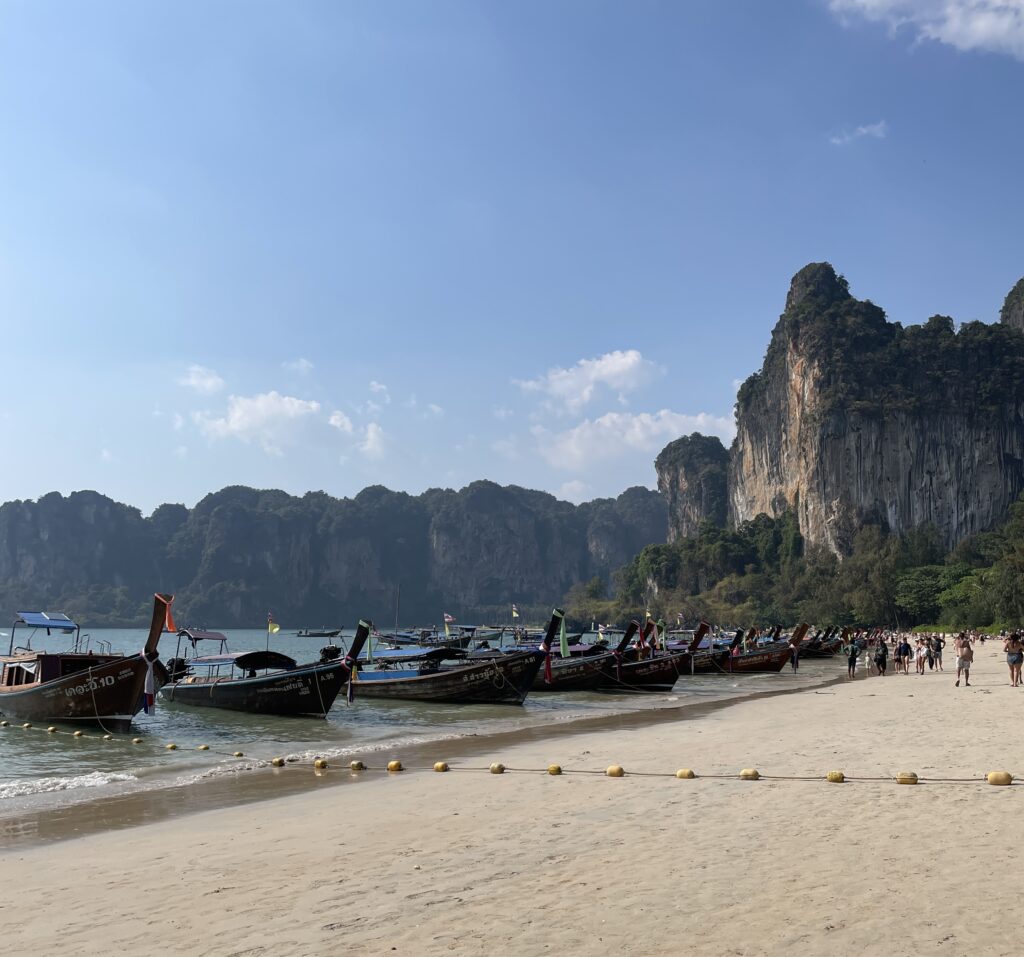 Ao Nang or Railay Beach FAQ
Is Ao Nang better than Railay?
It depends on who for; Ao Nang offers several conveniences that Railay does not.
Conversely, Railay offers beaches, nature, and an atmosphere that Ao Nang does not.
Is Railay Beach worth it?
Yes, visiting Railay Beach is a must-visit when in Krabi province. It's home to beautiful beaches and several outdoor activities, and the nature surrounding Railay Beach is breathtaking.
Is it worth going to Ao Nang?
While Ao Nang is convenient because of its many hotels and restaurants, other than being a great place to do excursions from, it doesn't have much to offer.
Can you walk from Railay Beach to Ao Nang?
No, you cannot walk from Railay Beach to Ao Nang. Despite both places being next to one another, large limestones and nature divide both areas.
Why is Railay Beach so popular?
Besides its breathtaking nature, Railay Beach is popular amongst solo travelers and backpackers for its extremely laid-back atmosphere.
To learn more, read my Railay Beach guide for everything you need to know about Railay.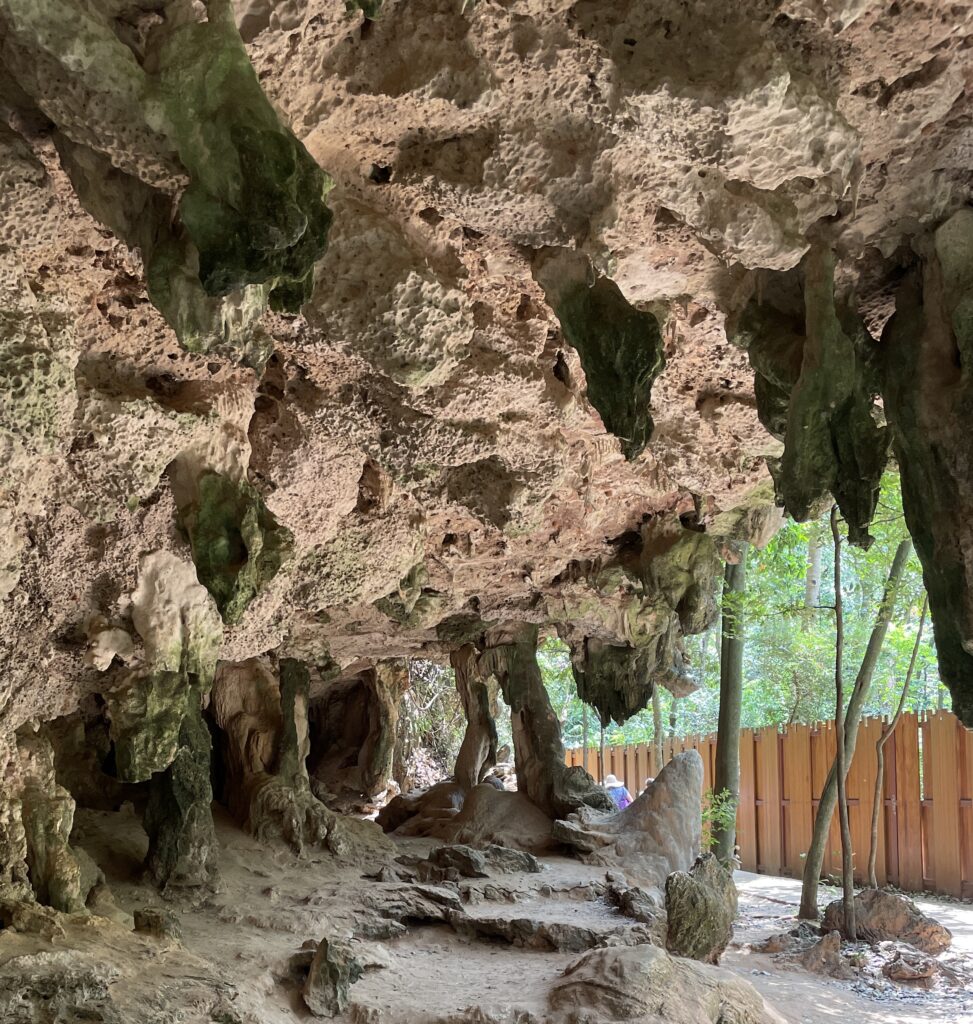 Subscribe to Travel Hiatus!
Receive updates on my latest posts, insider travel tips & the best destination guides to your inbox!
Happy & Safe Travels
---
Planning Checklist
---
Disclaimer: Please note that some of the links shared in this article might be affiliate links; this means that at absolutely no extra cost to you, we will earn a small commission for any sales generated through this article and/or this website. We recommend products/services we've either used or researched thoroughly – Thank you for supporting us so we can continue to share helpful travel content!