Tulum vs Cancun: Which Is Better to Visit?
With so many amazing cities to visit in the Quintana Roo region of Mexico, oftentimes times cities are put against each other when most are debating on where to visit.
Tulum and Cancun are two of Mexico's most popular vacation destinations, so it makes sense that Tulum vs Cancun is a hot topic.
Other popular city debates are Playa Del Carmen vs Cancun and Tulum vs Cozumel. City debates continue because of how many beautiful destinations are located in this region of Mexico.
But as the title of this article suggests, I will be focusing on Cancun and Tulum, the differences between the two cities, what each city is famous for, what other cities are close to each city, the nightlife, the beaches, cenotes, things to do, and much more.
This is an in-depth comparison guide between these two popular beachside Mexican cities.
Whether you're debating which city you should visit for the first time or possibly you're looking to relocate to one of the two cities to live in. This comparison guide will answer all of your questions and curiosities.
Tulum vs Cancun – Main Differences
To get a quick idea of each city, you should know the four main differences between the two cities immediately before going into more detail.
First: Cancun versus Tulum is more commercialized. It's a bigger city and caters mostly to vacationgoers from the US/Canada. Tulum, on the other hand, still has more of its original town characteristics compared to Cancun.
Second: Tulum is slightly closer to more cities than Cancun. Cancun is on the east tip of the Quintana Roo region.
Third: Cancun's atmosphere is busier than Tulum's. Tulum offers a more backpacking/yogi, slower-paced atmosphere.
Fourth: Cancun has the largest International airport in the region. Tulum doesn't have an airport yet, though a date for April 2024 has been announced for the opening of Tulum Airport.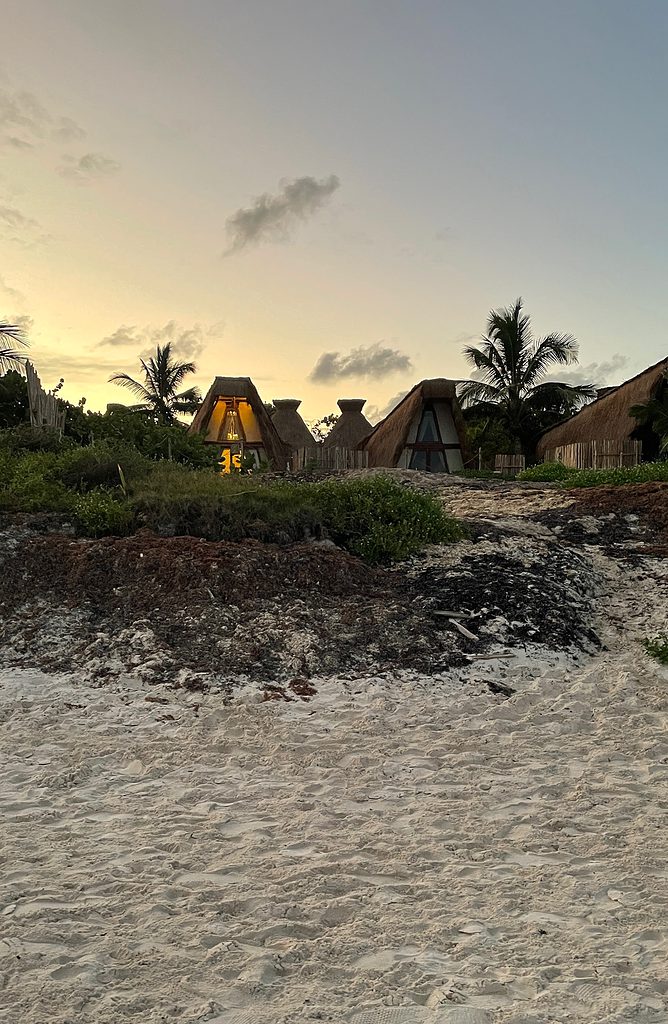 How To Get To Cancun or Tulum
After you've decided to visit and stay in one of these two beautiful beach cities, you must know how to get there first.
Cancun is very easy to get to because of Cancun International Airport; it has flights from all over the world and is the main airport for Mexico's Yucatan and Quintana Roo regions.
Once in Cancun, you've got to make your way to Cancun's Centro or Hotel Zone depending on where you're staying. Travel time from the airport to Cancun takes around 20/30 Minutes.
Options to Leave Cancun Airport to Hotel:
Tulum is easy to get to, but of course, it's further. From Cancun International Airport to Tulum, it's a two-hour drive. The main highway traffic can affect timing by an additional 10 to 15 minutes to Tulum from Cancun Airport. If you'd like more information on how to get to Tulum from Cancun Airport, refer to my complete transportation guide.
Options to Tulum from Cancun Airport:
City Walkability – Tulum vs Cancun
For the most part, both cities are not walkable. However, each city has its El Centro (city center) walkable areas. You will find yourself taking taxis for transportation in both cities.
Each city's Centros (city center) is full of restaurants, bars, and stores to shop for anything you may need.
Cancun's El Centro is full of malls, taquerias, big box stores, and almost everything you'd see in a big city worldwide.
Cancun's Hotel Zone is quite popular because of its big resorts/hotels, beaches, nightclubs, and restaurants.
In Tulum, places are more scattered throughout the city, except for many of the high-end restaurants and beach clubs which are located along the Southern part of Tulum Beach. Tulum's Centro is one large street in the center full of bars, nightclubs, hotels, hostels, and restaurants.
Tulum vs Cancun – Nearby Cities
You're visiting Mexico for the first time, or maybe you've been before, but you'd like to explore more. Well, here's a comparison list of nearby cities for both Tulum and Cancun.
NOTE: The distance between Tulum and Cancun is about a 2 hours drive with a distance of 131 km/81 Miles.
Tulum – Nearby Cities
Cancun – Nearby Cities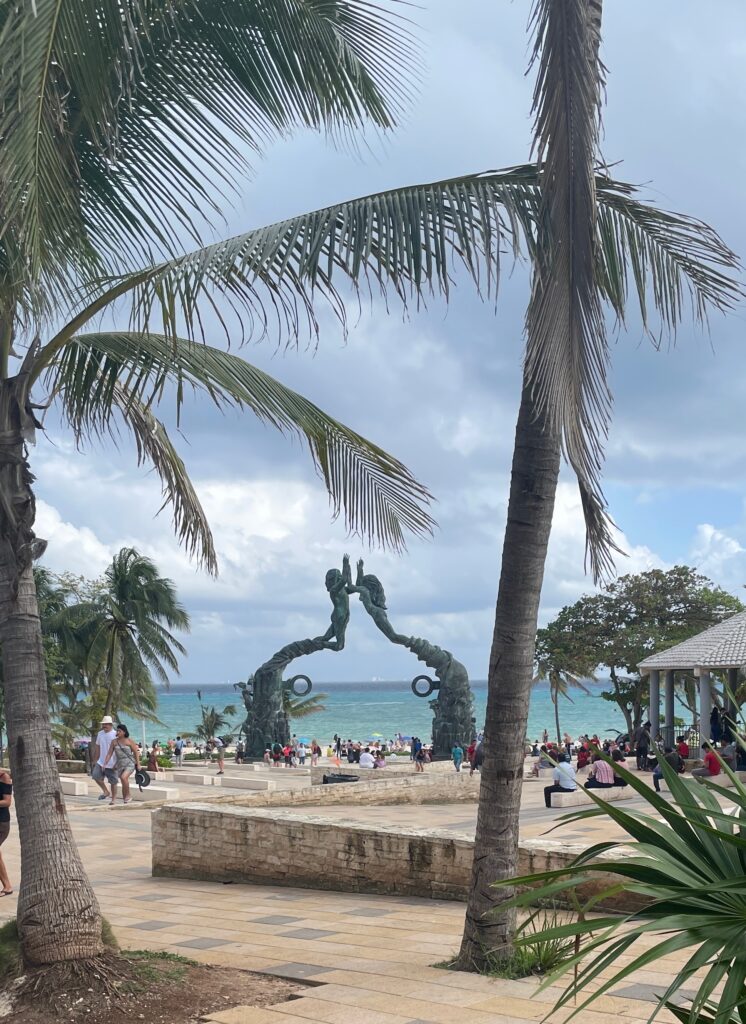 Which City has Closer Destinations?
As you can see by the list of cities near both Tulum and Cancun, Tulum is slightly the winner here.
Because Tulum is located further South in the Quintana Roo region, it's closer to the Yucatan region, which is home to places like Valladolid, Chichen Itza, Merida, and more!
Cancun sits by itself in the eastern part of the Quintana Roo. It's still close to a few places but not as close to as many cities as Tulum is.
The travel times from Cancun aren't a big difference, but if you want to see many places, the extra travel time will add up!
If you're coming to this region in Mexico and you'd like to visit as much of this region as possible, it would make more sense to stay in Tulum versus Cancun.
Cancun vs Tulum Beaches
Regarding the beaches in Tulum and Cancun, this has to be the toughest debate category of everything listed regarding both cities in this article.
Both Tulum and Cancun have stunning beaches that are alluring.
Tulum has several beaches along its coastlines, Playa Paraiso, Playa Las Palmas, and the famous Tulum Beach; shorelines connect. The sand here is white, with palm trees throughout the beach and perfect turquoise blue waters. Walking along the beaches in Tulum, you will notice bohemian-style homes and dense forest green jungles behind them.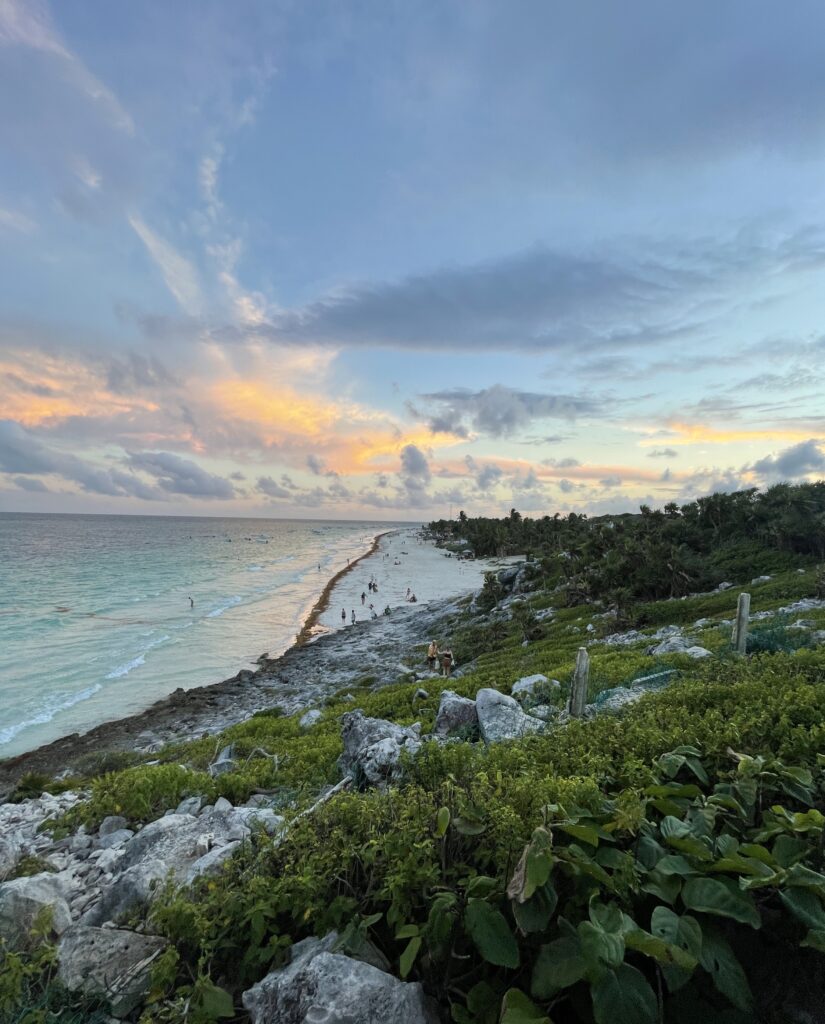 The atmosphere in Tulum is special; there's a reason it's one of the most visited cities in the world during winter months.
Don't forget to walk along the Parque Nacional Tulum, a small forest hike with mesmerizing views of Tulum's beach shorelines.
Moving on to Cancun, Cancun also has picture-perfect beaches; the entire hotel zone in Cancun is a thin strip of land sitting on the water, and as you walk along the hotel zone, you've got water views from both sides.
Cancun's water is crystal clear, and it's one of the main attractions of Cancun's beaches.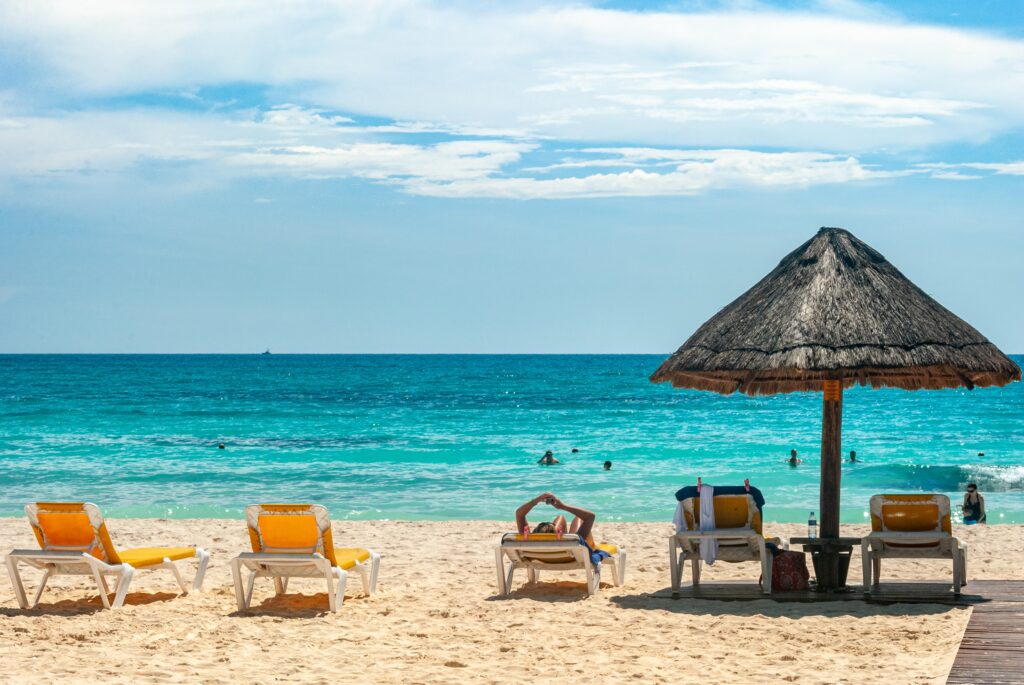 If you want to visit Tulum from Cancun, this award-winning tour will cover everything you need to see Tulum's beaches and ruins!
I also must mention Isla Mujeres, a stunning island located directly across from Cancun, which you can access by a 20-minute ferry ride. Isla Mujeres is a must-visit when you're in Cancun.
Which City has Better Beaches?
Cancun beats Tulum regarding nicer beaches. It's hard to compete with the landscape that Cancun has to offer. The hotel zone is famous worldwide, and for a good reason.
That said, it also depends on what type of beach you may prefer because Tulum's beaches offer a more bohemian, nature-friendly, yogi-type atmosphere, if you know what I mean.
It's mostly beach, with a lot less developed landscape compared to Cancun. So, in Tulum, you more or less feel like you aren't somewhere too built up but rather on a more deserted beach, despite Tulum not being a small town.
Tulum vs Cancun – Cenotes
Visiting a cenote when in Mexico is at the top of everyone's must-do list, especially when visiting the Yucatan and Quintana Roo regions.
If you're unfamiliar with it, a cenote is a natural sinkhole formed from collapsed limestone full of natural spring water. Cenotes were once used for water supply by the Mayan Civilization years ago.
Cancun technically doesn't have any cenotes worth visiting; there is only one cenote there, Cenote Azul, just north of the city, and it's quite small. Not nearly as nice as most of the cenotes in the region.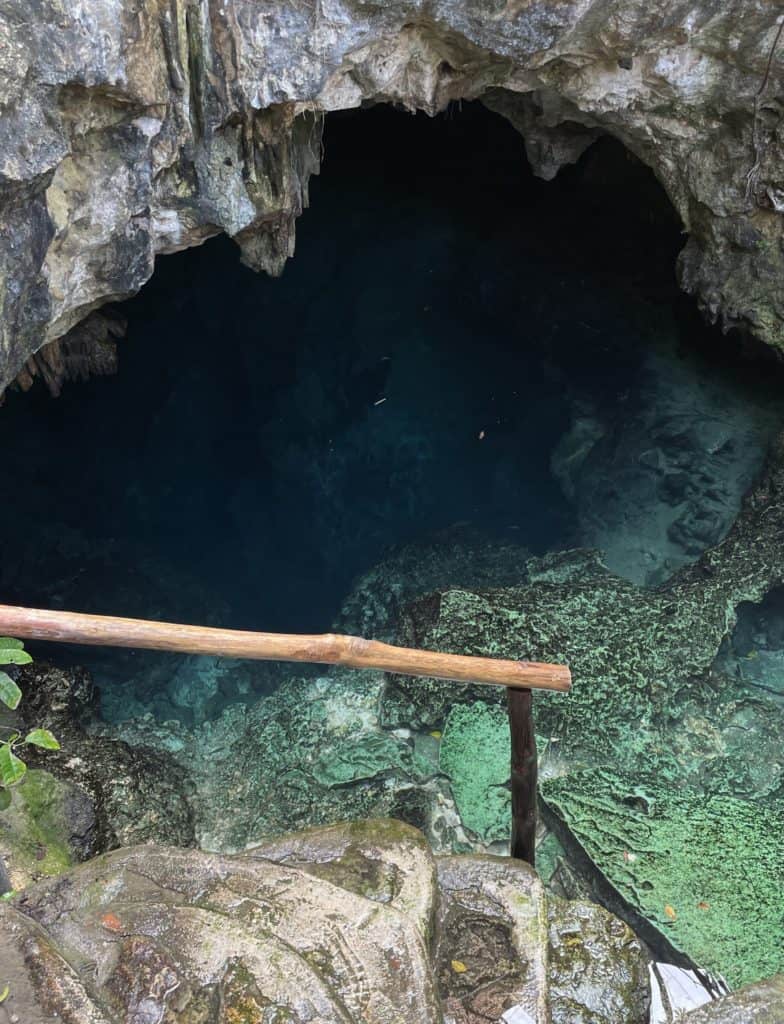 Most tourists wanting to visit cenotes from Cancun do day trips toward Valladolid, where you will find a few beautiful cenotes to visit and get a chance to visit Chichen Itza as well!
Tulum, on the other hand, is famous for its Cenotes. Arguably, Tulum has the best cenotes in all of Mexico. There are a large variety of cenotes here, from hidden cenotes that are free, where you will spot little to no tourist, to large cenote parks with entrance fees.
One cenote even has a restaurant and beach club inside of it, Casa Tortuga Tulum. – Photo Below: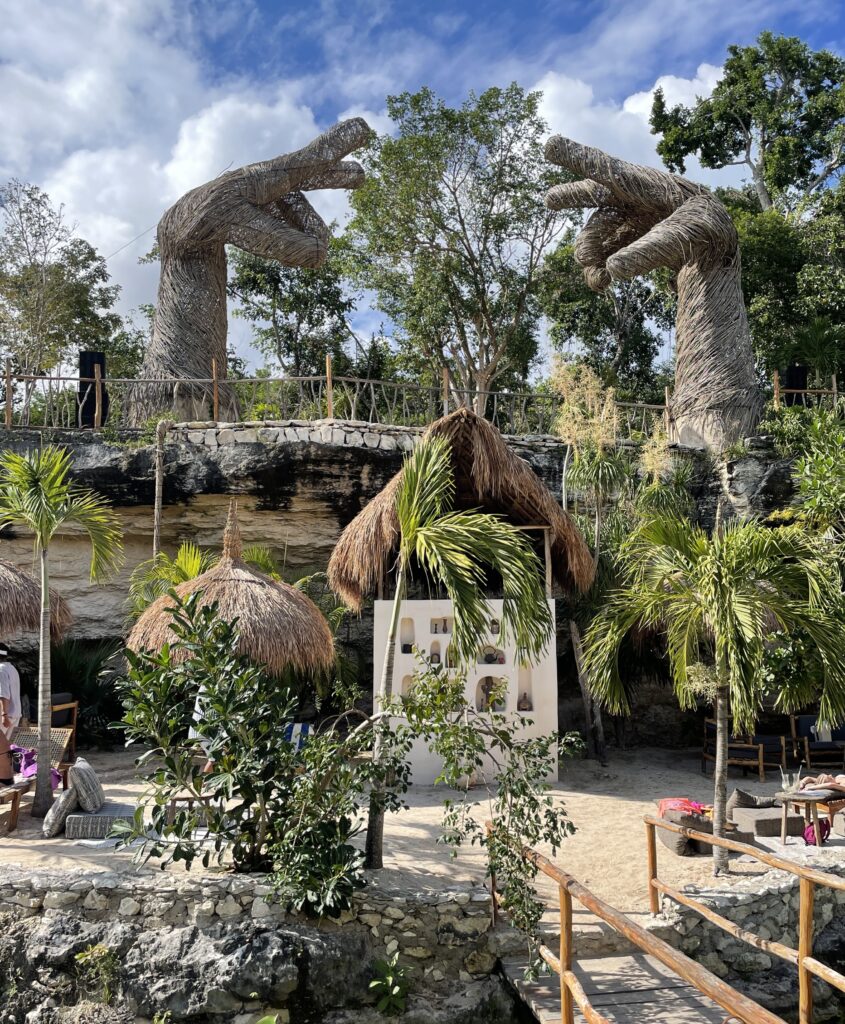 Tulum vs Cancun – Resorts/Hotels/Rentals
Regarding hotels and resorts, Tulum and Cancun couldn't be more different than one another.
Both cities have their fair share of hotels, resorts, hostels, and rentable apartments.
What's different is the quantity of each accommodation type in each city. The difference accommodation-wise in both cities is as follows:
Cancun is famous for its huge hotels/resorts, and they're everywhere; in fact, when you're flying into Cancun, if you have a window seat on the plane, it will be hard not to notice these big hotels from above.
Regarding big resorts and hotels, Cancun has many more options than Tulum. It's not even close. If you're coming with your family, or perhaps a big group of people, Cancun's resorts are quite suitable just for that!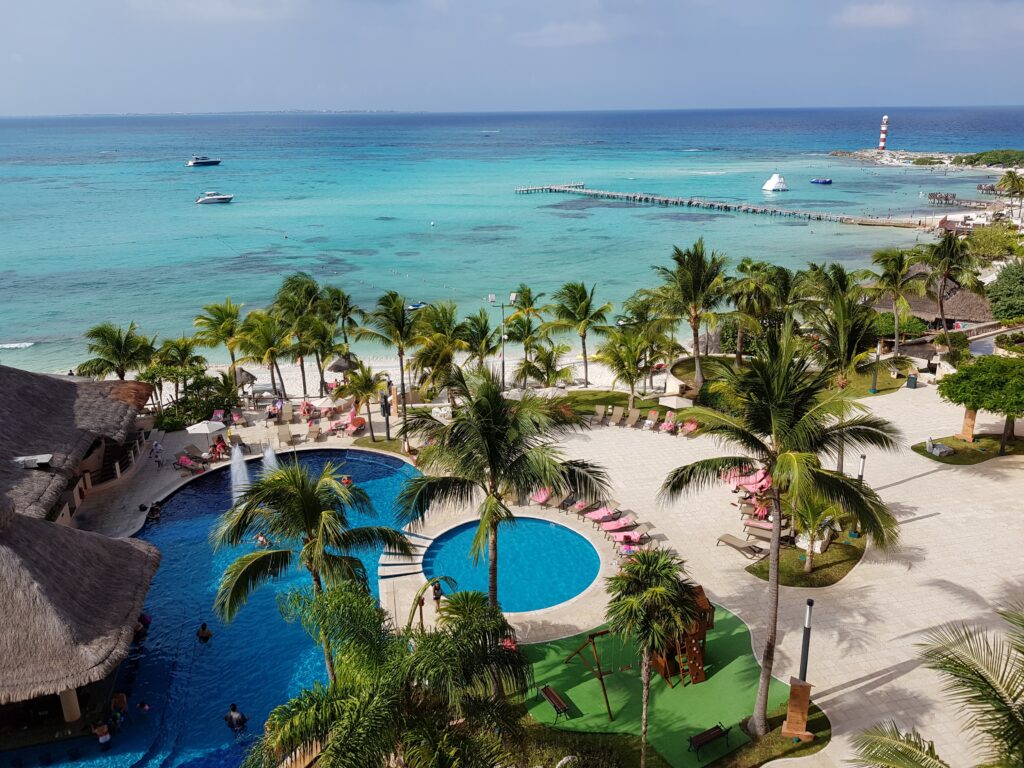 Tulum, on the other hand, is more known for its boutique hotels and apartments/houses for rent.
The 5-star boutique hotels in Tulum offer a more intimate luxury stay versus any 5-star resort in Cancun. Also, if you want to come for 3 weeks or more, you will find more rent-friendly accommodations in Tulum vs Cancun.
Lastly, hostels are more prominent in Tulum versus Cancun, that's because Tulum is popular with yogis, backpackers, and such.
Cancun Accommodations:
Tulum Accommodations:
Which City has Better Accommodations?
This is a tough question to answer, and I'd say there isn't a winner in this category.
It depends on what type of vacation you're looking to have regarding both your experience and surroundings.
Questions to Ask Yourself are:
Are you traveling solo? If so, go to Tulum; it's easier to meet people, nomads/ex-pats, backpackers, and such.
Are you on a honeymoon? If so, both destinations work well, but realize that Tulum will be less fast-paced and more intimate than Cancun. But if you're after a good all-inclusive deal, Cancun is perfect for you!
Are you coming with a large group of friends? Both cities cater to large groups, but in this case, you may want to ask yourself, are you looking for a resort experience with a lot to offer without much planning to do?
In that case, choose Cancun. Or would your group prefer a rental house where you and your friends can relax in a private space and plan activities, etc, on your own? If that's the case, then Tulum is the obvious choice.
Depending on your party, your interests, and the experience that you're looking to have, one city will be the obvious choice for you accommodation-wise.
As stated, both cities have all accommodation types, but the quantity of each accommodation type is the only difference between Cancun vs Tulum.
Tulum vs Cancun Nightlife
The nightlife in both cities is quite lively, but it varies. First I'll discuss with you the areas each city has to offer.
Don't worry. I will cover things to do at night in both cities as well, other than partying.
Starting off with Cancun, Cancun has its popular Hotel Zone full of nightclubs to visit and, of course, the Coco Bongo nightclub/experience.
Throughout Cancun's Centro, you will find countless amount of bars to visit, opened into the early hours of the morning.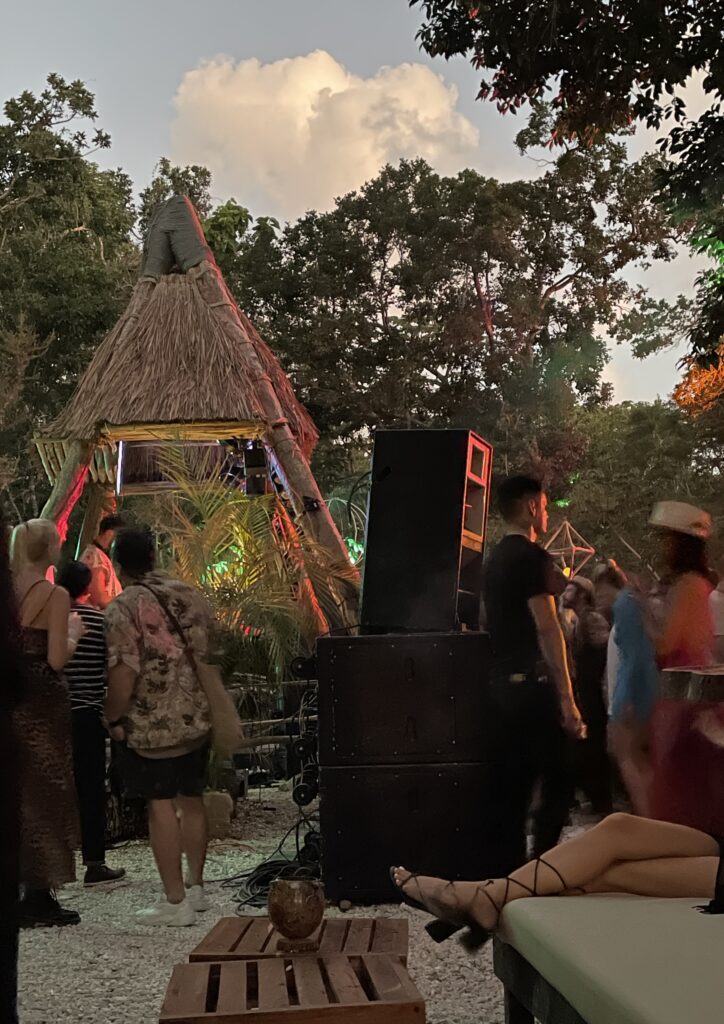 Tulum, compared to Cancun, has lots of bars and nightclubs as well. Tulum Centro is one of the main streets in the city center, and it has several restaurants, bars, and nightclubs.
You can find all types of venues in Tulum Centro: a party with a college-like atmosphere, a house music vibe, or a Latin bar!
What Tulum's nightlife is really famous for is its authentic Techno parties. Many who listen to house or techno music know Tulum is one of the most renowned cities in the world for this genre because of how many DJs frequent the city all year round.
Tulum's techno parties include parties in the middle of the jungle that go into the early morning hours, private parties at villas, festivals, and nightclubs, of course.
Things To Do at Night in Each City
For those not up to the party, perhaps you're with your family or simply looking to have a quiet night, here are some suggestions for you to enjoy your evening!
Things To Do in Cancun at Night
Get some food and then take a walk along Malecon Tajamar (scenic spot)
Gamble at Dubai Palace Casino
Things To Do in Tulum at Night
Have dinner South of Tulum Beach; several fancy restaurants are located here.
Walk on the beach and follow your evening up with street tacos
Walk the main Centro street and see where the night takes you
Visit Mystika Immersive (art museum, closes at 9 PM)
Tulum vs Cancun for Living
In the last 10 years, development has been rampant in both Cancun and Tulum regarding condo complexes, gated community housing, and more. Both cities look much different than they did 10 years ago.
Expats, nomads, and those retiring from mostly the US and Canada increasingly want to make Mexico their new home.
And why not? Beautiful weather; who doesn't love Mexican food? And these cities have all the conveniences one may need.
As I stated earlier, Cancun has a faster pace of life, more people coming in and going, and condos in Cancun are bigger developments, similar to ones you'd see in any big city worldwide. Locals know each other here, but you couldn't say there are tight-knit communities in Cancun.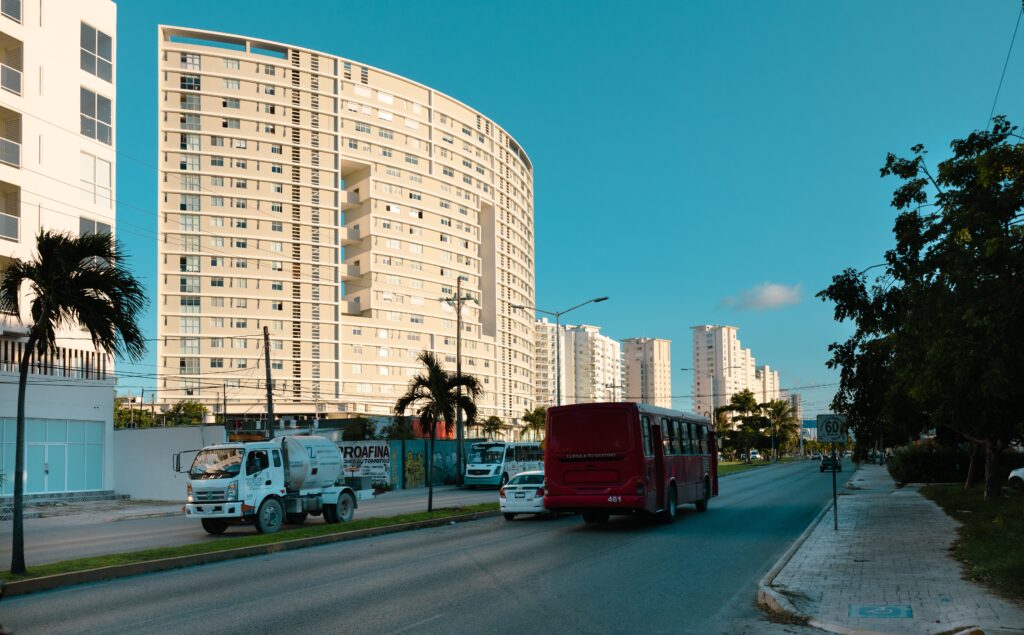 Alternatively, Tulum is the opposite. Things are much slower here. Those who live in Tulum live to experience a slower pace of life and the beach.
Bohemian-chic living to the fullest. While development is happening throughout Tulum, projects aren't on the scale compared to Cancun.
Condos available for rental in Tulum aren't 10+ floors; they're much smaller, going along with the theme of the overall beach town.
Expats, nomads, and locals know each other for the most part, Tulum may have a lot of tourism, but besides that, it's a small beach town!
Which City is Better for Living?
First, ask yourself what sort of atmosphere you'd prefer. Do you prefer nature, a slower-paced lifestyle, and a tighter-knit community? If so, Tulum is the place for you to live versus Cancun.
Or would you rather be close to a major International airport to leave and come quickly, possibly live in a high-rise condo, be close to big box retail stores, and have all the conveniences a big city can offer? Well, if so, Cancun is the place for you to live between the two cities.
Curious about my opinion? I'd go with Tulum. That's because the city still has more of its original character compared to Cancun. Also, despite Tulum being busy, it still experiences fewer tourists coming and going than Cancun.
Tulum vs Cancun – Which is Safer?
This can be a tough subject to discuss only because it's factual that things happen from time to time in both cities, often time these incidents are cartel-related, but of course, at times, tourists are caught up in the mix of things.
Having been to both cities many times, I've spent weeks in both cities and have several friends who are locals in both cities. Here's what you should know:
Tulum and Cancun are safe cities in Mexico for the most part, but there are things to pay close attention to.
At nighttime, always take a taxi in both cities, always.
Don't use unsupervised ATMs. – Card Tip: use WISE when paying foreign currency with a card
Corrupt officials are around in both cities and target those under the influence walking around (this is one of many reasons why I said take a cab back to your hotel )
Make sure to watch your drinks wherever you go.
Lastly, keep a close eye on your belongings no matter what time of day.
Don't purchase illicit things from anyone. If propositioned, politely decline and keep walking.
Other than that, both cities are safe. Yes, things happen from time to time crime related, but it's nothing that doesn't happen in big North American cities such as NYC, Chicago, LA, Toronto, etc.
Follow the protocols listed, and you'll be fine!
Is Cancun or Tulum more Expensive?
They're the same regarding cost. Neither of these cities is more expensive than the other.
You can visit both cities on a budget if you'd like. You can stay at hostels, eat street food, and experience several free activities.
And, of course, you can also spend an infinite amount of money, which is very easy to do in both Tulum and Cancun.
Tulum has high-end chic boutique hotels like Be Tulum and Azulik, beach clubs that are far from cheap, and so on.
Cancun, yacht rentals for the day are everywhere, and several high-end restaurants serving gold-plated something are all over the city.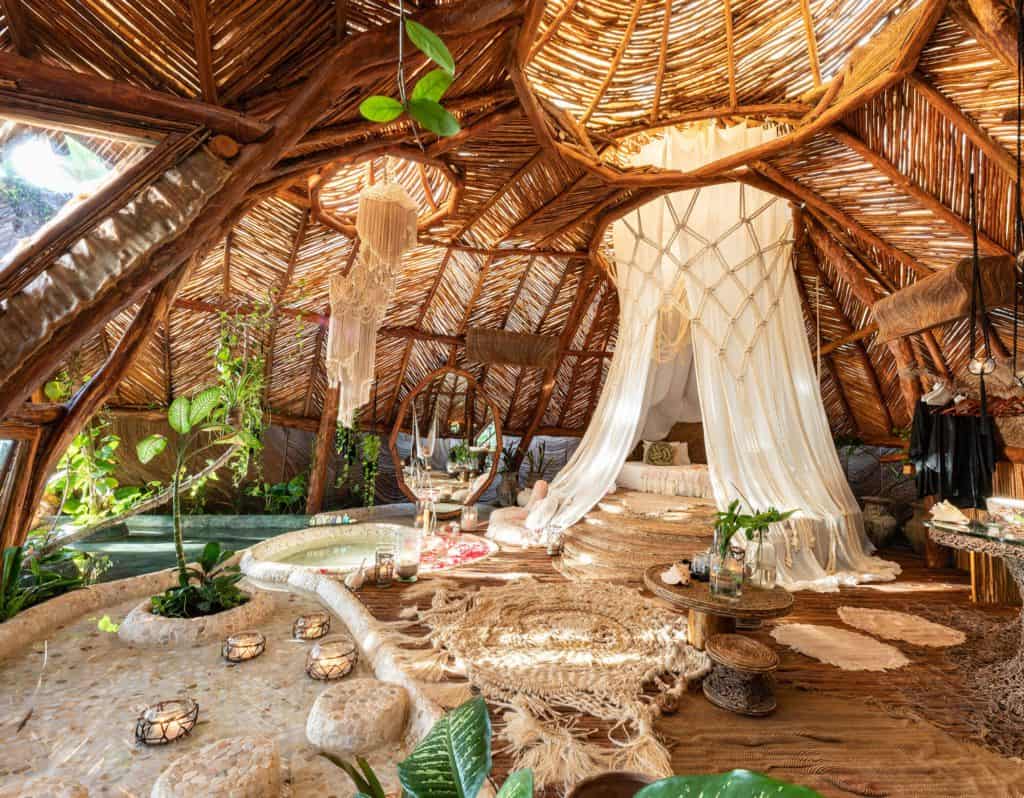 Why is Tulum Popular?
Tulum is home to one of the most excellent beaches in Mexico, Mayan ruins, beautiful cenotes, and much more.
Over the last 7-10 years, Tulum has become one of the most famous cities in the world for those who aspire to a bohemian-like lifestyle, yogis, and backpackers.
For those who enjoy techno or house music, Tulum hosts some of the best events throughout October – April, so it's also a popular destination for techno/house music fans.
Lastly, Tulum has this "cool factor" to it because of Instagram, celebrities, and Instagram bloggers visiting throughout the year yearly.
Why is Cancun Popular?
Cancun is famous for its grand large beach resorts along the hotel zone beach, offering convenient beach access to guests.
With so many hotel accommodations here, Cancun always has great all-inclusive deals.
Also, the big city conveniences here are a plus for those visiting with families!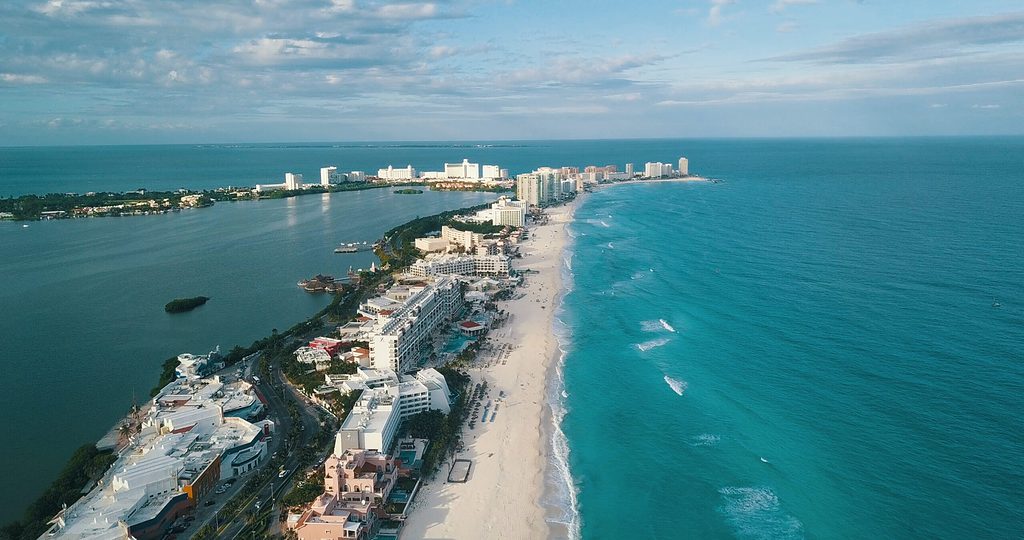 Which is Better Cancun or Tulum?
After reading this article, I'd like to believe that you can answer this question for yourself. It depends on what type of experience you'd like to have.
Another place I'd like to mention for those looking for large resorts but a smaller city is Puerto Aventuras, it's also along the Riviera Maya!
Both cities cater to everyone, but it's easy to differentiate between them and decide which city would be more suited for you to visit!
Tulum vs Cancun for families: Cancun is very much the clear winner. Being with your family, you want a stress-free holiday. As soon as you get to Cancun, your hotel will only be a 15/20 minute drive away, and there are more activities for kids in Cancun vs Tulum.
If you're coming with friends who aren't looking to explore much but rather have things to do close by and simple, Cancun.
If you're coming solo, go to Tulum; you'll meet some new friends and enjoy it more.
If you're coming with a loved one, I'd recommend either going to Cancun or staying in Isla Mujeres for a more intimate atmosphere compared to Cancun. Or go to Tulum instead and stay at a boutique hotel, even better!
If you've never traveled anywhere before, you could go to either; I recommend Cancun slightly more than Tulum to those coming from the US or Canada and are nervous about seeing somewhere new for the first time. Otherwise, I'd recommend Tulum!
I've enjoyed both cities through the years and will continue to go to both in the future.
I recommend you visit both of them one day if you can't do so on this trip!
Subscribe to Travel Hiatus!
Receive updates on my latest posts, insider travel tips & the best destination guides to your inbox!
Selective Photos via UnSplash
Happy & Safe Travels
---
Planning Checklist
---
Disclaimer: Please note that some of the links shared in this article might be affiliate links; this means that at absolutely no extra cost to you, we will earn a small commission for any sales generated through this article and/or this website. We recommend products/services we've either used or researched thoroughly – Thank you for supporting us so we can continue to share helpful travel content!