7 Delicious Montreal Food Spots You Must Try
Montreal is one of the best food cities in the world and Canada's best food city. I will cover the best Montreal food spots you must try when visiting in this food guide.
These food spots include Montreal eats, which best represent the city and are all must-try when in visiting the city!
With so many diverse ethnicities making Montreal their home over the years. World cuisine is well-represented in Montreal.
You can easily find delicious food from all across the world in Montreal. While Montreal's first language is French, and French cuisine is well-represented here; Italian, Middle Eastern, classic fast food, and steakhouses are also well-represented food cuisine types in Montreal.
Montreal has the highest number of restaurants per capita in Canada and is second in North America, only after New York City.
Like New York City, many restaurants in Montreal have stood the test of time in the city, becoming food institutions. It's common to visit restaurants in Montreal and quickly notice they've been open for 20,30,50+ years.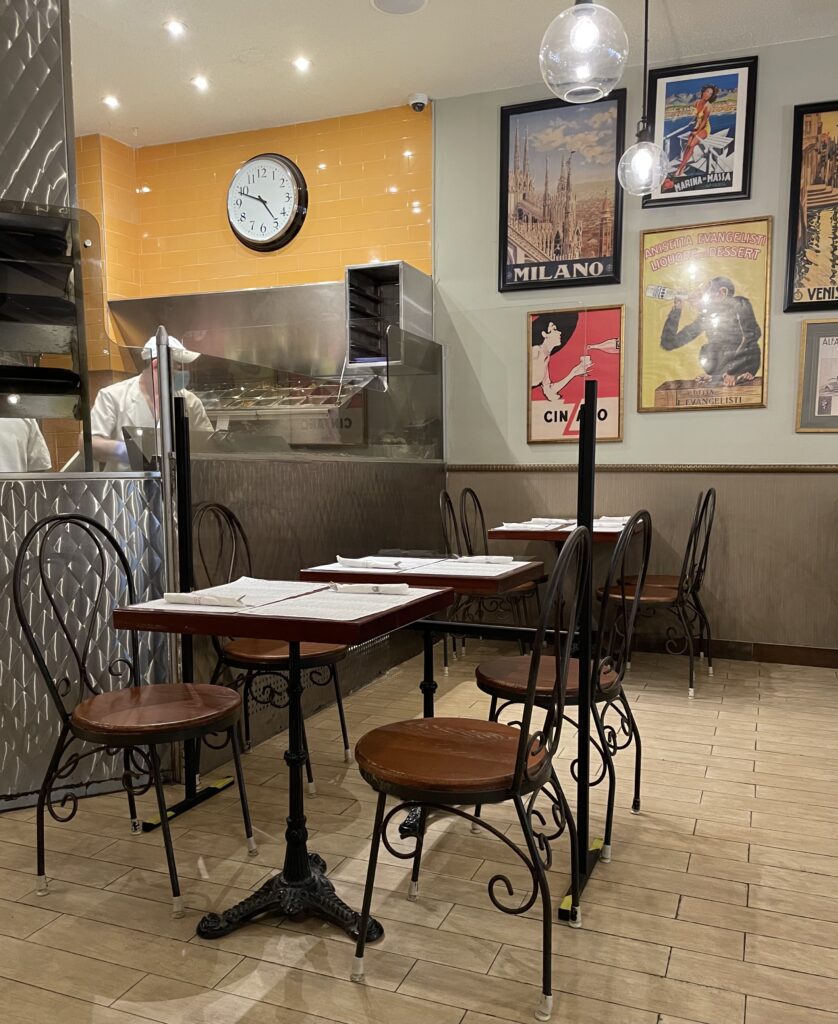 Let me be clear: I'm sharing with you the best of Montreal food in Montreal, and this list isn't intended for the best restaurants in Montreal, fine-dining-wise, except the first pick.
I'd like to clarify that because Montreal has its share of excellent fine-dining establishments.
Montreal is a great destination for those who want to experience a different culture in North America.
The Quebecois island city lies less than 400 miles from New York City. It is known for its chic architecture, quirky street art, and diverse population.
What Food is Montreal Famous for?
Everyone quickly attaches Montreal to their creation of poutine. Montreal food is much more than poutine; you can find cuisine here in some restaurants as good as its origin country.
That said, some classic foods represent Montreal best. Smoked meats, bagels, rotisserie chicken, steakhouses, classic fast food, and French cuisine. Middle Eastern food is also well represented in Montreal because of the city's high Arab population.
Looking to discover Montreal's food scene differently? Take a Montreal Food Tour!
Is Montreal a Foodie city?
Yes, very much so. Foodies love Montreal, myself included. The city is a dense cosmopolitan, so restaurant choices are abundant and close to one another.
Montreal has unique country-centered neighborhoods like Little Italy, Little Portugal, and several more. Some of the best food in Montreal is in these small ethnic communities.
Montreal Food Spots #1-3
Joe Beef Montreal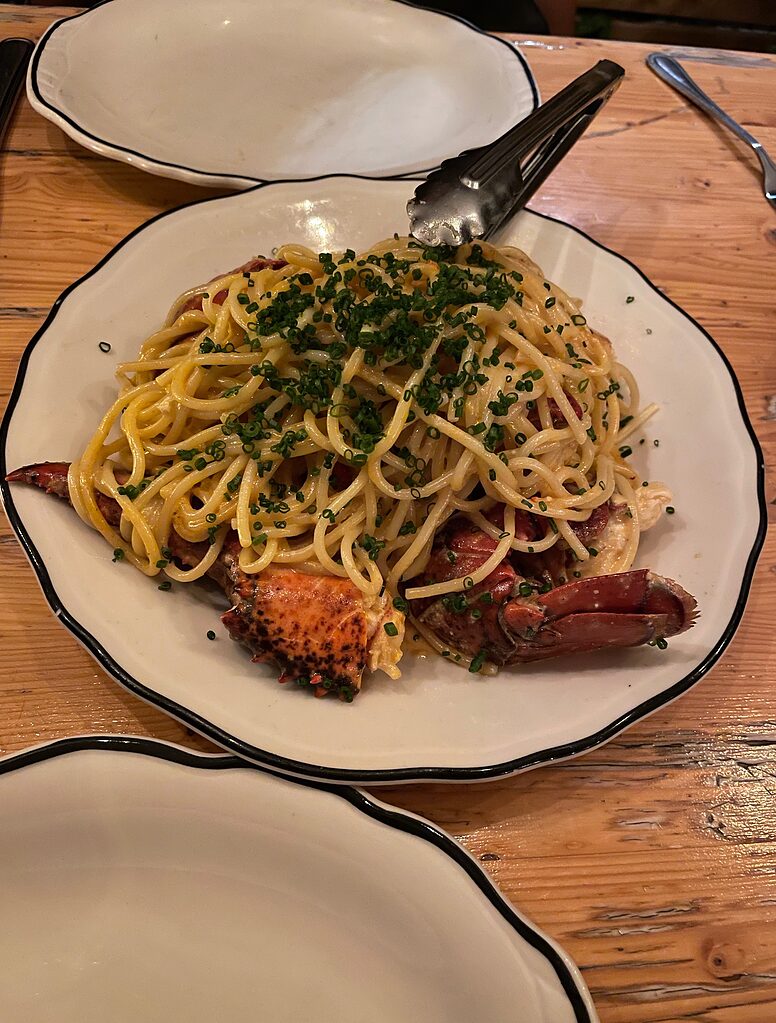 Chefs David McMillan and Fred Morin are legendary in the Montreal food scene and great friends with the late food legend Anthony Bourdain.
The chefs have made their mark on the city's food scene, and Joe Beef Montreal is only one example.
Joe Beef has been open since 2005 and is located on Notre Dame-West in Montreal. They are dishing out several classical French dishes and some of their spinoffs of French cuisine here.
The restaurant is ranked #3 in Canada, but I believe it's #1.
Canadian Oysters, mashed potatoes with bone marrow, lobster pasta, and a Marjolaine dessert layered full of hazelnut sponge and mouse. The food here is elaborate, and I'd advise you to visit Joe Beef at least once.
You must plan if you're looking to visit Joe Beef; reservations here are sought after. Expect to make a reservation 2-6 weeks in advance. And if you're looking for a reservation around 5-8 PM, expect to book 4-8 weeks ahead.
Hours of Operation: Tuesday – Saturday / 5-10:30 PM
Reservations for Joe Beef Montreal via Resy
Wilensky's Light Lunch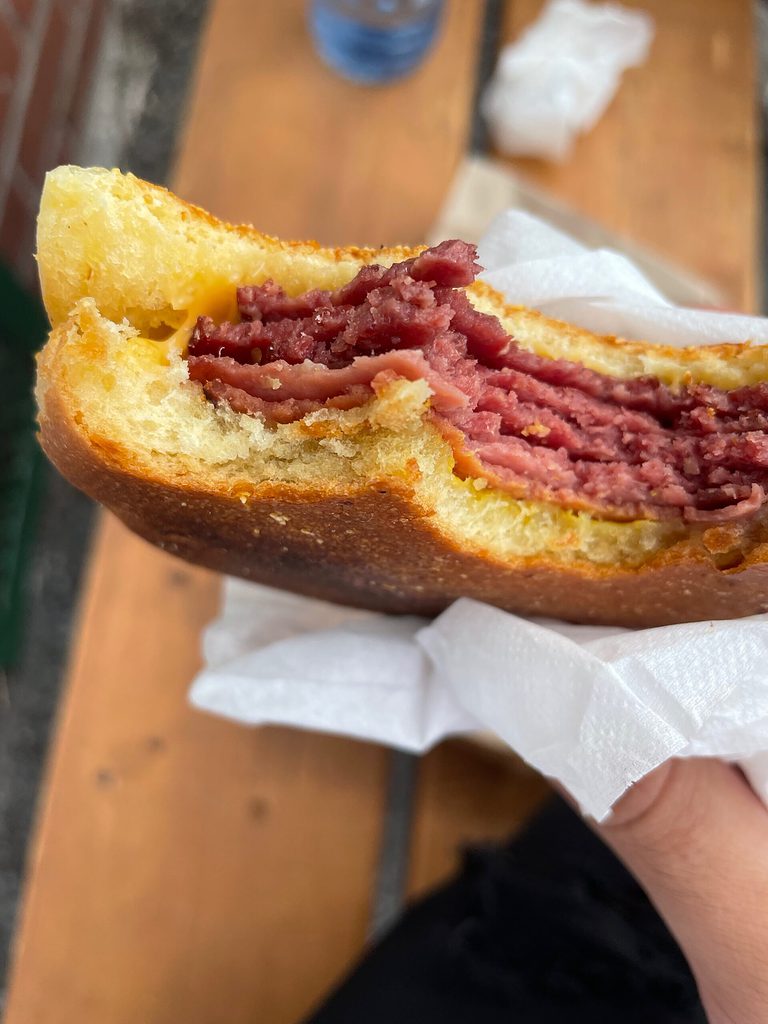 Opened in 1932, Wilensky's Light Lunch is a staple in Montreal's food scene. It's a quiet, old-fashioned serving up simple sandwiches and soda fountain drinks.
So darn simple but so damn delicious. But that's exactly why this place has stood the test of time.
Wilensky's is most well known for its "The special"; it's a small perfect sandwich full of slices of all-beef salami and bologna, pressed flat with either cheddar or Swiss cheese and a light spread of mustard on each side.
Don't forget to get a pickle on the side. Pair your sandwich with a black cherry soda on tap.
Here's what NOT to do when visiting: Don't ask for special requests for your sandwich; it will not happen. This sandwich is served in its original form every time.
There's a sign in the store stating no modifications to your sandwich. The original owner's daughter, who runs the place today, is proud to keep her father's tradition alive and serve "the special" in its authentic original form.
Hours of Operation: Tuesday – Saturday / 10 AM – 4 PM
Schwartz's Deli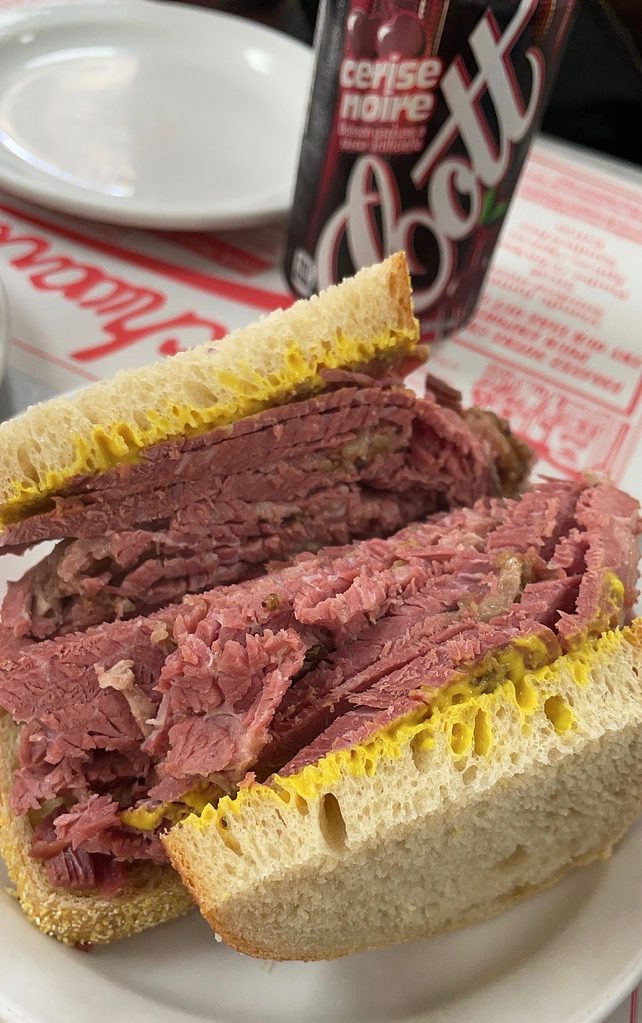 Arguably the most famous place to eat in Montreal. Schwartz's Deli is a landmark in this city, where people have come for years to get their hands on this tasty smoked meat sandwich.
Opened in 1928, they've been around for quite some time, soon closing in on almost 100 years. Schwartz is an iconic in the Montreal food scene.
The kosher-style meat here is cured for 10 to 12 days in Schwartz's signature spice mixture. The meat is smoked for 8 to 9 hours in Schwartz's brick smokehouse. After that, the meat is then steamed for 3 hours.
The result? A salivating, decedent piece of smoked Montreal meat to make a perfect smoked meat Montreal classic sandwich.
Walking around Montreal, you'll notice that you can find smoked meat sandwiches just about everywhere!
But Schwartz's Deli holds its place for being the original place for it. So in Montreal, Schwartz doesn't have competition. Because of that, don't be surprised if there's a line when you arrive.
Their only competitor is Katz's Delicatessen in New York City, which opened in 1888. Famous for a similar sandwich, but the meat used there is pastrami beef. I've had both. I enjoyed both. But I won't say which I prefer; each is different in their way. It would be best if you tried both.
Hours of Operation: 10 AM – 11 PM
Montreal Food Spots #4-7
St Viateur Bagel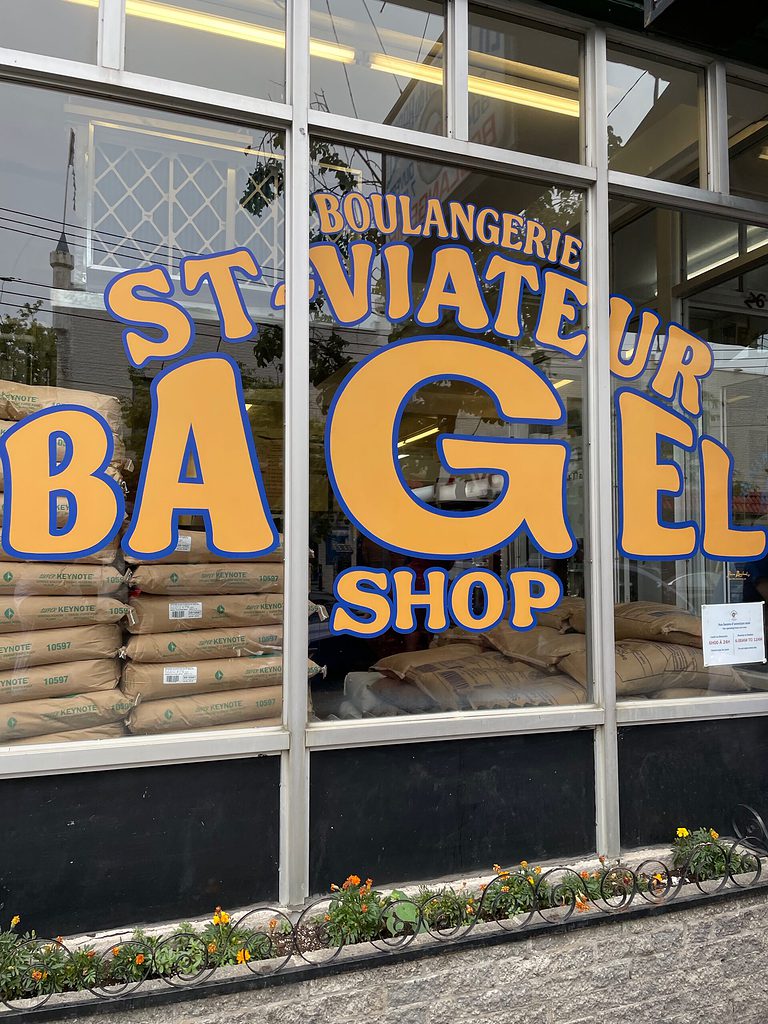 When it comes to Montreal food, bagels are often mentioned. Montreal is known for its bagels; the city proudly claims the world-famous Montreal-style bagel as its own.
One of the most popular spots in Montreal is St Viateur Bagel, located in the Jewish neighborhood on Rue Saint-Viateur Street. This establishment has been open since 1957, passing the test of time.
Their bagels are boiled in honey water for sweetness and slowly baked in a wood-burning oven. And most importantly, they're always fresh!
They have several kinds, but the original Montreal bagel is a sesame seed bagel. You can't go to Montreal and not have a bagel or two.
A competitor to St Viateaur is Fairmont Bagels, about an 8-minute walk. They've been open since 1919 and crossed their 100-year mark not too long ago. I can't tell you what the best bagels in Montreal are. Both establishments make great bagels; choosing one over the other is hard.
New York City is the bagel capital city in the world, some say. However, Montrealers disagree with that. Those who've tried bagels in both cities may have their own opinion. But there's no debate; Montreal bagels differ from New York City bagels.
Like Montreal, NYC bagels are boiled in kettle water rather than honey water. Also, NYC bagels are much bigger than Montreal bagels, with a smaller hole in the middle and more dough. Mtl bagels have a giant hole in the middle and use much less dough.
Hours of Operation: 24 Hours – 7 Days a week
Ma Poule Mouilee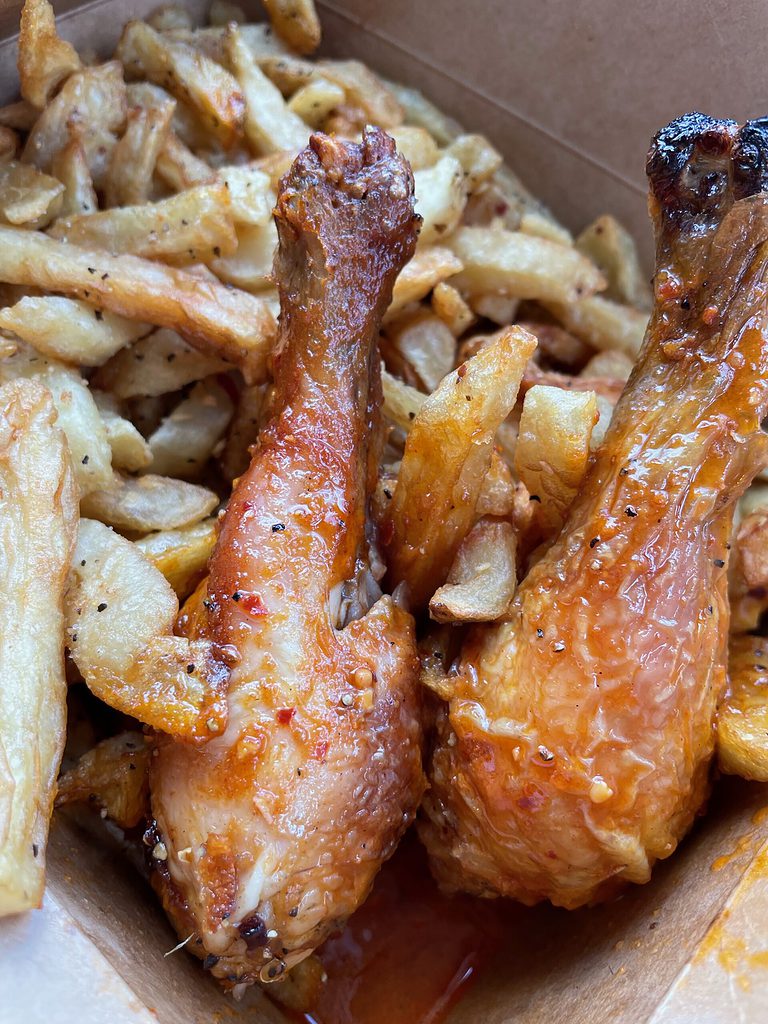 Located in the Portuguese neighborhood of downtown Montreal, Ma Poule Mouilee has been serving mouth-watering rotisserie chicken since July 29, 2013. And by the looks of it, I wouldn't be surprised if this place passes the 100-year mark. It's THAT good.
What makes their rotisserie chicken better than others is their cooking method; they cook it under a charcoal fire. And of course their special sauce. On weekends you can expect to line up for a few mins; this place is popular.
Other than their famous rotisserie chicken with their secret sauce, they've got poutine with bits of chicken and fatty sausage mixed with gravy and their renowned sauce, a fantastic chicken sandwich with coleslaw, and much more. By far, and I mean by far, this is the best chicken in Montreal.
Across the street is La Banquise, Montreal's most famous poutine spot, though Ma Poule Mouliee has the better poutine. Later in this article, I will share the best 5 poutine restaurants in Montreal.
The first thing I do every time I arrive in Montreal is head over to SAQ (a local liquor store franchise). Followed by a trip to Ma Poule Mouilee and order a quarter chicken with their famous house salad and poutine.
Then head over to one of Montreal's best parks/Parc La Fontaine, conveniently located steps away from Ma Poule Mouilee; I find a quiet bench in the park and indulge in my food.
Hours of Operation: Tuesday – Sunday / 10 AM – 9 PM
Reuben's Deli and Steakhouse
Over the decades, Reuben's has made quite the noise in the Montreal food space, and it's easy to see why. They serve all the foods Montreal is famous for under one roof. And they do an excellent job at it too. They have poutine that comes with smoked meat on top of it; that is the most Montreal dish ever.
Open since 1976; this deli has got all the Montreal favorites, smoked meat sandwiches, poutine, steaks, burgers, and much more. What stands out at Reuben's Deli and Steakhouse is the food quality.
Despite having a more extensive menu than most of the other famous food establishments in this list, Reuben's is somehow still able to hold a high standard with all their food.
There's a large selection to choose from for dessert, including Reuben's famous homemade strawberry cheesecake, red velvet deluxe cake, and my favorite, cinnamon apple cobbler crisp. As soon as you walk into Reuben's, you'll see cakes sitting below the counter!
Some Montreal locals will argue that Reuben's smoked meat sandwich is better than Schwartz's. So it's safe to say this is a must-visit food spot in Montreal.
Hours of Operation: 12- 11 PM / Sunday 12 – 10 PM / Monday 12 – 9 PM
Beauty's Restaurant
This retro-style breakfast/luncheonette has been open since 1942, another quintessential staple in Montreal's food scene.
Popular amongst locals and tourists, Beauty's is about an early morning/late afternoon breakfast.
The Loxs and Cheese are a must-eat in a warm sesame bagel from Fairmont Bagels. Their classic features two eggs, your choice of meat, and a Montreal sesame bagel.
The chicken salad is an excellent choice for those coming in late or perhaps Beauty's burger. For those who prefer something sweet in the morning, the pancakes here are perfect, rich, and fluffy, paired with fresh Montreal maple syrup.
Beauty's has been featured in Anthony Bourdain's show "The Layover."
Everything tastes excellent at Beauty's, and the decor here is the cherry on top regarding this place. When visiting, I could feel the years of history here.
They do Montreal food right; Beauty's is a must-visit. Who doesn't adore retro-style breakfast places in Montreal? Beauty's is a Montreal food staple.
Hours of Operation: Wednesday – Monday / 8 AM – 3:30 PM
Other Notable Mentions
Pizza Il Focolaio – Most well-known and best pizza spot in Montreal
La Banquise – The most famous Poutine place in Montreal
Dunn's Montreal Famous – Montreal Deli serves great food 24 hours a day – The best place to eat late-night
Fairmont Bagels Montreal – Original Bagel place in Canada, over 100 years old
---
Bar George – Modern British restaurant in an old-style cigar house (my favorite bar in Montreal)
BAR – Big in Japan – Cocktail bar with a great selection of drinks
Sumac – Middle Eastern restaurant serving all the Palestinian and Lebanese classics
Gibeau Orange Julep – Popular fast food joint famous for its hot dogs, orange drinks, and more
La Capital Tacos – Hip taco place serving Mexican classics, including Birria tacos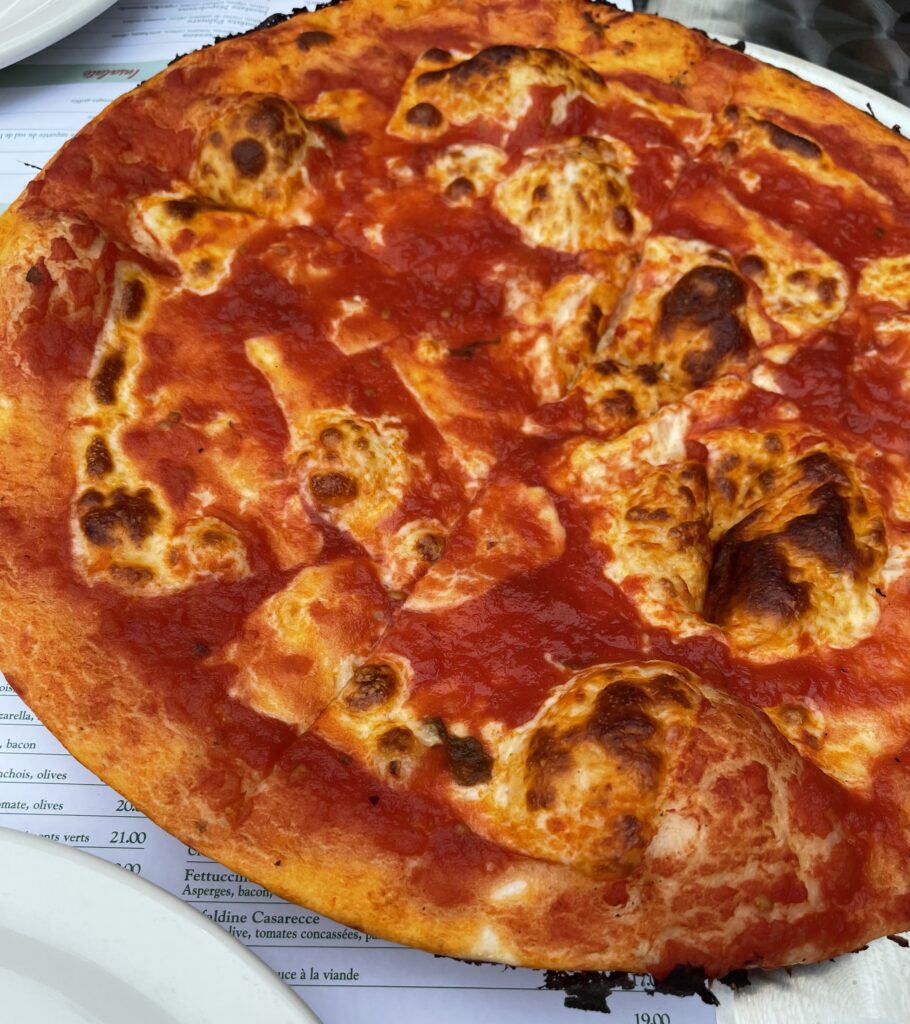 5 Best Montreal Poutine Spots
There is no food Montreal is more known for than its poutine. This could be said about Canada as a whole country; I know this well because I'm from Canada.
So naturally, I had to add a list of the best poutine spots in Montreal because it is the home of poutine. Most casual restaurants in Montreal you will visit will have poutine; they know it's a local/tourist favorite.
But this list features places specializing in poutine & more; there are the 5 best Montreal poutine spots.
Restaurant Paulo & Suzanne
Chez Tousignant
Restaurant Chez Claudette
La Banquise (best-known but overrated, in my opinion)
Is the Food Better in Toronto or Montreal?
Two of Canada's biggest cities have long debated over who's got better food. Both cities are home to several ethnicities, and many world cuisines are well represented in both Canadian cities.
Toronto only beats Montreal in one way when it comes to food. Toronto is home to 73 national cuisines, while Montreal is home to 56 national cuisines, according to Bootonline's Foodie Capitals of the World list.
Besides world cuisine representation, Montreal is a much better foodie city than Toronto. It's not a debate; most who disagree aren't genuine foodies. Or they're from Toronto and biased!
Montreal food claims, poutine, bagels, and smoked meat
Toronto is home to great food, but claims no food of its own
Montreal has more restaurants in the city per capita than Toronto
On average, Montreal is home to more long time standing food establishments than Toronto
Montrealers are picky with their food; restaurants here don't just "stay open."
Torontonians aren't as picky, and restaurants here get away with reputation and pretty plates
I'm not saying Toronto doesn't have great food; it does, and a lot of it. There are several excellent restaurants in Toronto. But on average, the food is better in Montreal.
Montreal Food Tour to Consider when Visiting!
My Favourite 3 Food Spots
I'm a foodie at heart, if you couldn't tell by this article. Montreal is one of my favorite cities for food, and I love Montreal food. Whenever I visit any city in the world, the first thing I look into isn't the main attractions; it's where the best food is.
With so many great places to eat and streets full of restaurants like Saint Laurent Blvd, which goes on for kilometers full of excellent restaurants with a wide range of cuisine, it can be hard to decide where to eat.
RELATED: Is Montreal Expensive to Visit?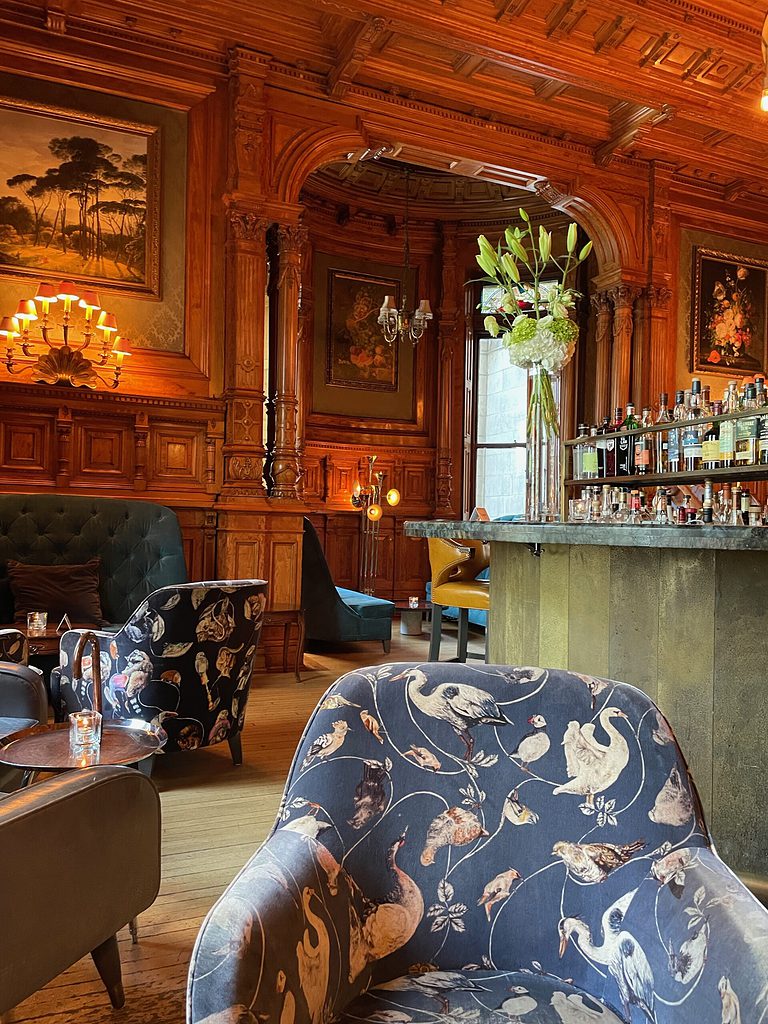 Having tried all the restaurants in this list several times, I have favorites among this list of the 7 best Montreal restaurants. But I will say you can't go wrong trying any of these restaurants on this list.
As mentioned earlier, there are iconic food to eat in Montreal; if you're looking for the best restaurants, this is another food category.
However, I have included restaurants in this list under Notable Mentions and Joe Beef, of course.
Your opinion may differ, but that's why you should go out and try all these great Montreal food spots on this list!
1: Ma Poule Mouilee
2: Wilensky's Light Lunch
3: Joe Beef Montreal
4: Pizza ll Focolaio
5: Bar George
Not Montreal food related but make sure you visit Old Montreal when you're in the city. The French architecture here is stunning, and it's right by the river, and the area is full of lovely shops and restaurants.
Group Walking Tour of Old Montreal with a local guide.
I hope you've found a few restaurants to try; if you have any great suggestions for our readers, please leave a comment below!
Check out our Food Guides archives for more great places to eat in other cities. For in-depth city guides, view our Travel Guides.
Subscribe to Travel Hiatus!
Receive updates on my latest posts, insider travel tips & the best destination guides to your inbox!
Happy & Safe Travels
---
Planning Checklist
---
Disclaimer: Please note that some of the links shared in this article might be affiliate links; this means that at absolutely no extra cost to you, we will earn a small commission for any sales generated through this article and/or this website. We recommend products/services we've either used or researched thoroughly – Thank you for supporting us so we can continue to share helpful travel content!