Ao Nang Or Krabi Town: Which To Stay In?
Ao Nang or Krabi Town is a popular debate many have when researching where to stay in the Krabi Province of Thailand.
That's because Ao Nang and Krabi Town are two of the most popular places in Krabi Province.
While both places share a few similarities, there are apparent significant differences between Ao Nang and Krabi Town.
Ao Nang is more of a beach resort town, while Krabi Town is a more local, less touristy explorer town.
By the end of this Ao Nang or Krabi Town comparison guide, you should have a definite decision about where you'd prefer to stay between the two places!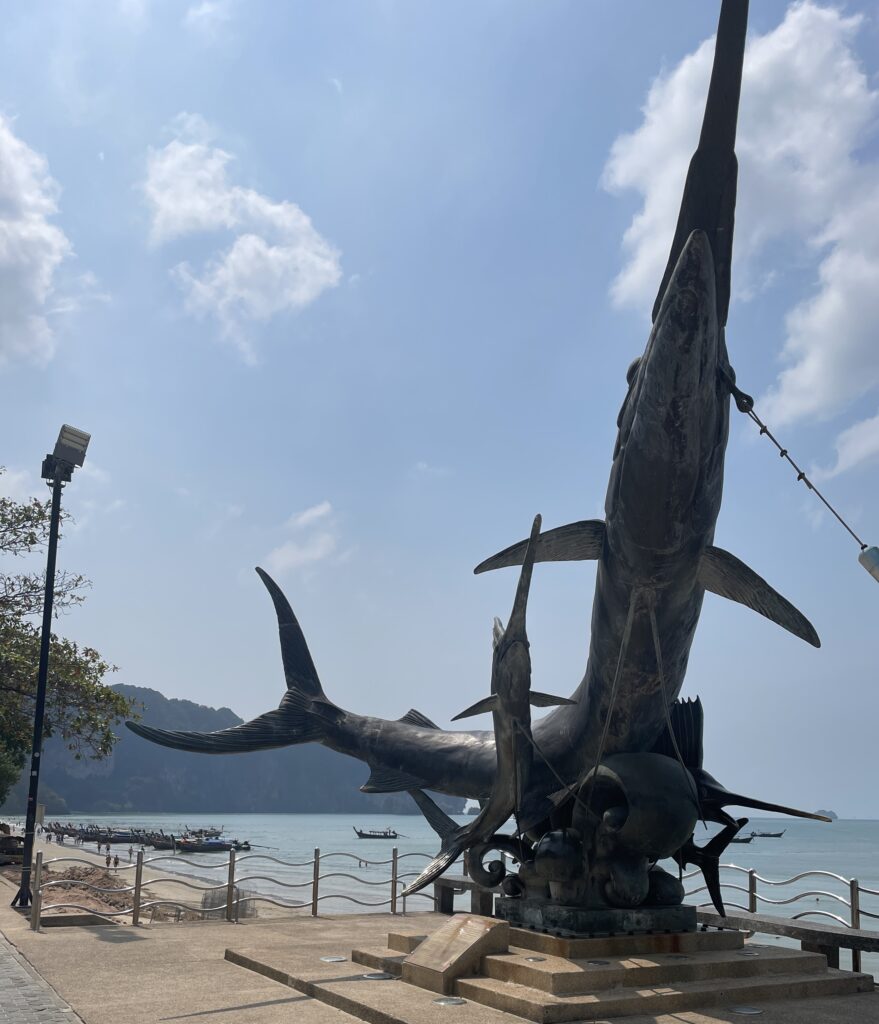 How to Get to Ao Nang or Krabi Town
Depending on where you're coming from, there are a few different ways to get to Ao Nang or Krabi Town.
The fastest way to get to Ao Nang or Krabi Town is to fly into Krabi International Airport (KBV).
Once at Krabi Airport, you can take a private airport transfer, taxi, or airport shuttle bus to Krabi Town or Ao Nang.
Phuket to Ao Nang or Krabi Town: Take the Ferry or MiniBus taxi
Ao Nang or Krabi Town – Main Differences
For those in a rush, here's a quick comparison of the main differences between Ao Nang or Krabi Town.
While this table breakdown will give you a quick idea about the positives/negatives, I'd recommend you read further to decide where you should visit!
Ao Nang: A well-known resort town in the Krabi Province, popular amongst many locals/tourists for its beach and day trips
Krabi Town: The capital of Krabi Province, by the Pak Nam River, an authentic Thai town ideal for those who love to explore
It's important to note Ao Nang is slightly more expensive to visit than Krabi Town.
| | | |
| --- | --- | --- |
| Things to Consider | Ao Nang | Krabi Town |
| Main Attractions | Great | Good |
| Beaches | Okay | None |
| Restaurants | Good | Good |
| Hotels | Great | Good |
| Nightlife | Okay | Okay |
| Walkability | Great | Great |
| Touristy | Yes | No |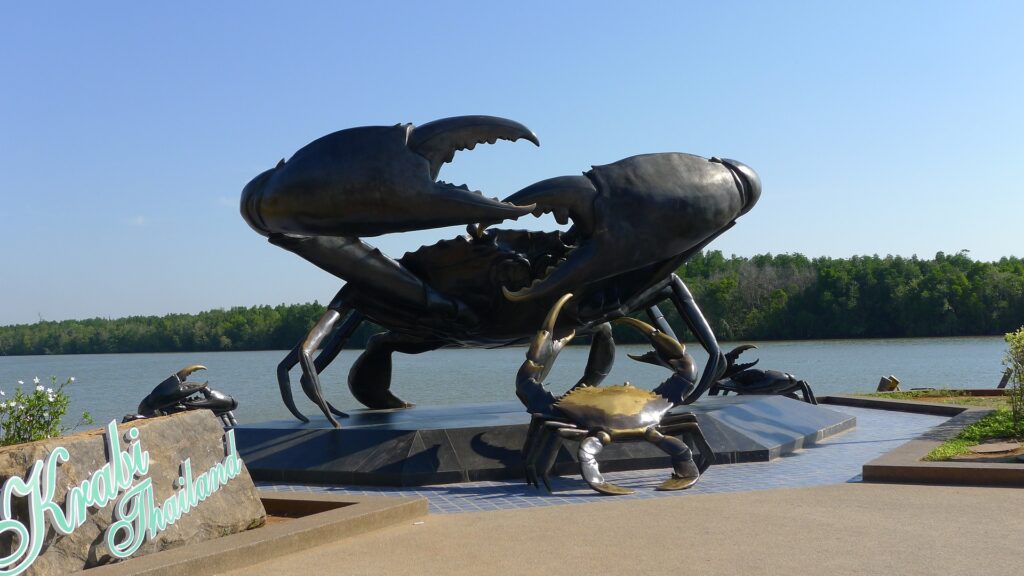 Ao Nang or Krabi Town: Things To Do
When considering things to do in both places, Ao Nang and Krabi Town are very different.
Whether you're staying in Ao Nang or Krabi Town, both places offer the same type of day trips, but Ao Nang offers more because of its location and pier.
Keep in mind that Ao Nang and Krabi Town are only 20 minutes away from one another, so no matter where you stay, you can do things on either list below!
Ao Nang is more convenient as a base for day trips, and this may be a deciding factor for you in determining where to stay. Ao Nang also has beaches, while Krabi Town doesn't, but Ao Nang is also far more touristy than Krabi Town!
Best Things To Do in Ao Nang
Being the popular resort town it is, there are many things to keep you busy in Ao Nang.
From the main beach, daily night market, day trips over to Railay Beach, which is only 10 minutes away by longtail taxi, and more!
Here is a short list of the top things to do in Ao Nang – Also, consider other Ao Nang Day Tours
Relax at Ao Nang Beach
Ao Nang Beach is the main attraction in town, and the main beach here extends approximately 1.5km long.
With a relaxing atmosphere and countless restaurants/resorts located right along the beach, Ao Nang Beach is an ideal place to relax for the day.
At the end of one side of the beach is the popular Monkey Trail, a path with several monkeys jumping around.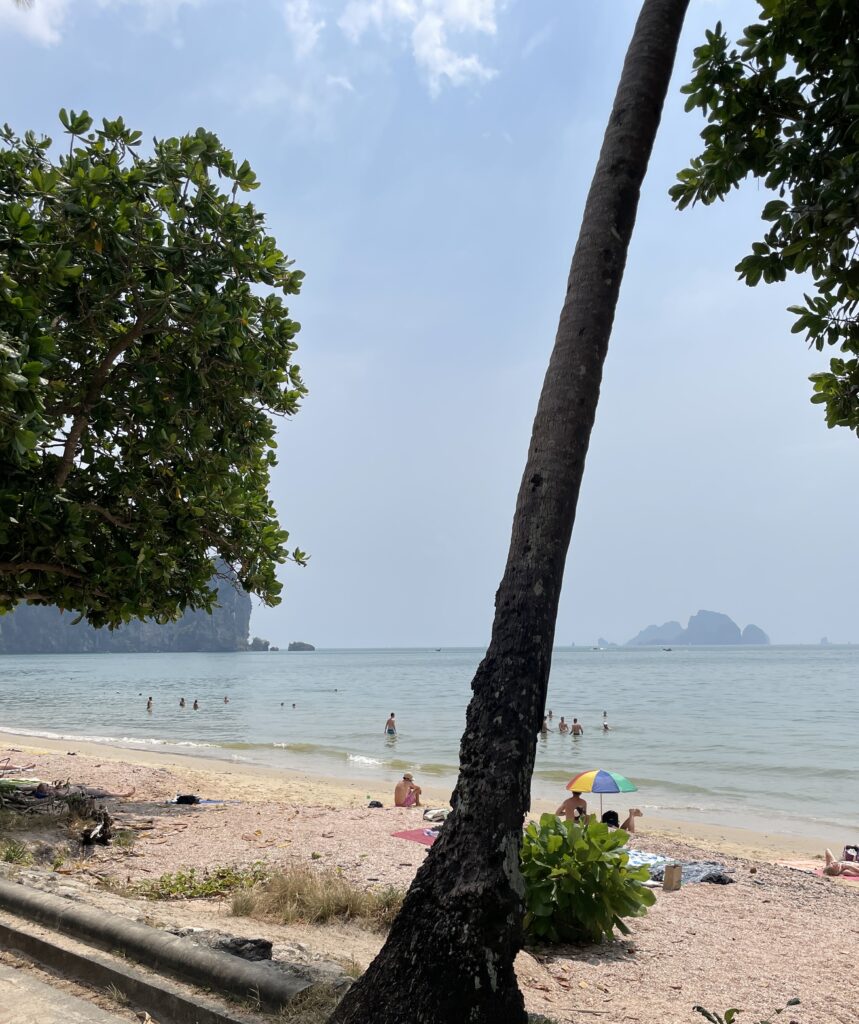 Visit Railay Beach
Famous for being home to one of the best beaches in the world, Phra Nang Cave Beach, and being a tropical paradise, Railay Beach area is a must-visit when in Krabi!
Railay was once only popular with backpackers, but today, it's popular with all and is steadily growing.
Besides its breathtaking three beaches, Railay is also known for rock climbing, viewpoint hikes, kayaking, and more!
There are two different areas on Ao Nang Beach where several longtail boat taxis are waiting to take locals/tourists over to Railay Beach. It costs 100 BAHT (2.80 US) per way, and it's a 10-minute boat ride – You can only access Railay by boat; there's no other way
Ao Nang Landmark Night Market
The popular Ao Nang Night Market is open daily. Like your typical night market in Thailand, here you'll find many street-eats to indulge in, from pad krapow, pad Thai, soups, grilled seafood, desserts, and more!
And if you're looking for souvenirs, night markets are always the best place to find them. No matter which place you choose to visit in Thailand, make sure to visit the local night market!
Krabi 4 Island Tour
One of the best tours to do from Ao Nang is the Krabi 4 Island Tour; this fun all-day trip includes visiting four stunning islands in the Krabi region.
On the excursion, you will visit Koh Thap and Ko Mor, the twin islands that connect to one another when the tide is low. Other islands you will see are the famous Chicken Island, Ko Poda, and more!
Overall, it's a fun island-hopping day trip, allowing you to see the beauty of Krabi Province and experience a few of the many remote islands in the region!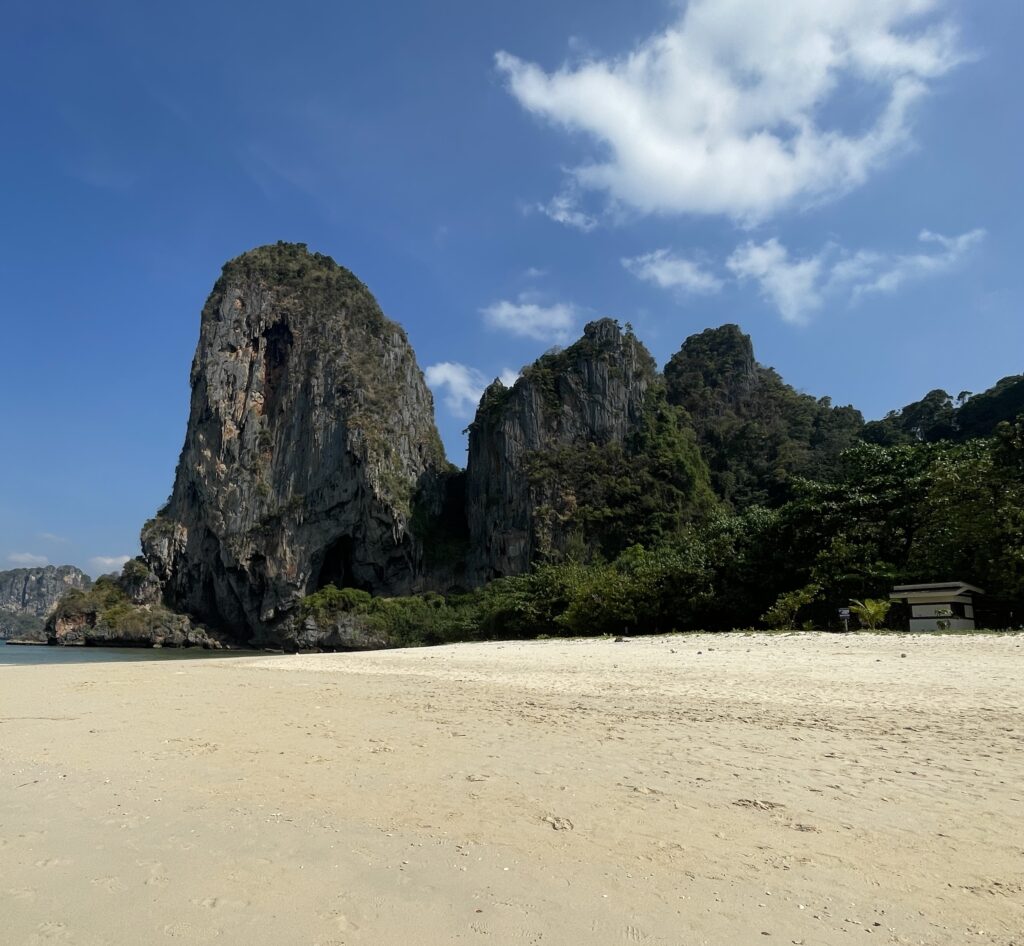 What is Ao Nang Known For?
Ao Nang is most known for being a resort town because of its extensive beach shoreline with several hotels/resorts located close to it.
Besides that, Ao Nang is also known for being a great base for day trips because of Nopparat Thara Pier. Places like Phi Phi Islands, Hong Islands, and others are easily accessible from this pier!
Best Things To Do in Krabi Town
There are several things to do in Krabi Town, from temple hikes to museums, river trips, hot springs visits, and more!
Besides that, Krabi Town is known for its laid-back atmosphere and is very walkable, and you walk to most places in town within a few minutes.
Stroll the Pak Nam River
The most popular thing to do in the evening is to walk along the Pak Nam River.
Along the boulevard, you'll find a greenery park area where many locals/tourists relax, buy some food nearby, and have a picnic, or sit around and people-watch!
Because most of Krabi Town sits along this river, the Pak Nam River is popular amongst locals.
Wat Tham Seua Krabi
Also known as the Tiger Temple to many, Wat Tham Seua is the most well-known temple and tourist attraction located just outside of Krabi Town.
The famous temple sits high up on the top of a mountain, and it takes 1,200 steps to get to the top.
But it's well worth the hike; the mountain-top 360° views of Krabi feature mountainous limestones, rolling hills, and sea views and are just spectacular! At the top, you will find the large golden Buddha.
The best time to do the hike is in the morning when it's least crowded and temperatures aren't nearly as high; the earlier, the better! The trail opens at 4:00 AM.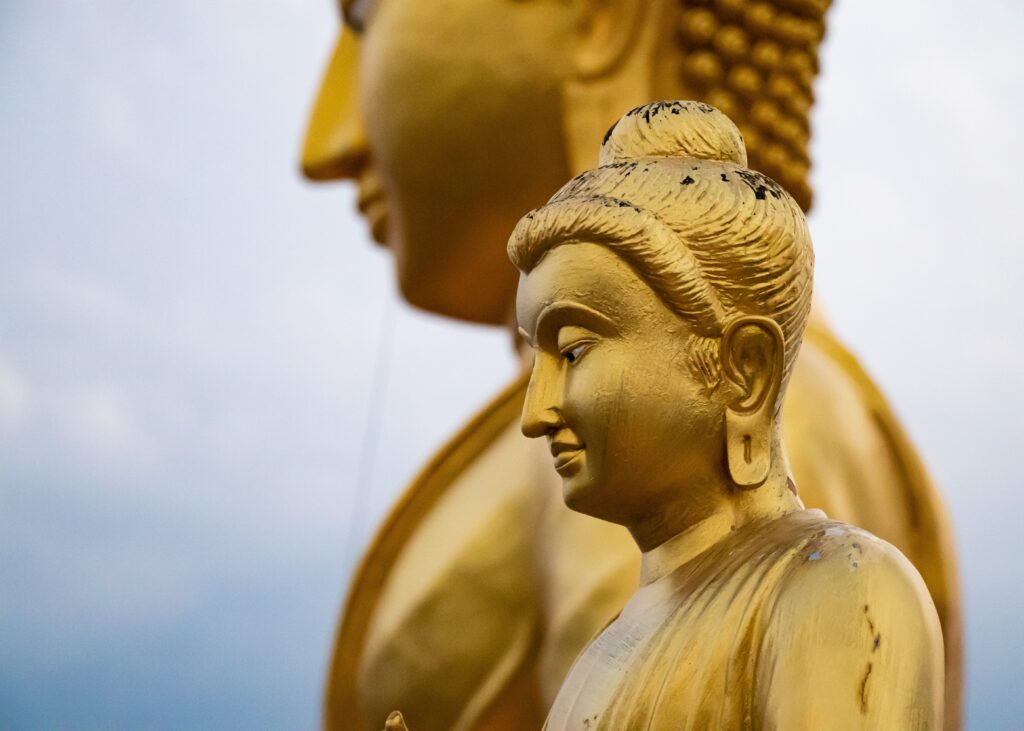 Mangrove Kayak Trip
What better way to admire the landscape of Krabi than from the water? Kayak your way through several mangroves in Krabi's jungles, canyons, and many lagoons.
Join this kayak tour and paddle your way through the many stunning scenic locations in Krabi.
From the large limestones in the Andaman Sea to the long-branched trees in the mangroves, this kayak tour will leave you speechless!
Krabi Weekend Night Market
Located in the heart of town and steps away from the Pak Nam River is the famous Krabi Town Weekend Night Market.
The Krabi Weekend night market only happens three nights every week; because of this, the night market has more of a local feel to it. Unlike most night markets in Thailand, that can sometimes come off a bit too touristy!
At the market, you'll find all the favorites: Thai pancakes, satay, pad Thai, mango sticky rice, clothing, sunglasses, and more. Performers also frequent the market as well!
So grab yourself some delicious street food from the night market, and find a seat to enjoy the sunset at the park by the river!
Krabi Town Night Market Hours: Friday to Sunday from 5 PM – 10 PM
If you don't visit Krabi Town during the weekend, try Poo Dam Night Market, which is open from Monday to Wednesday from 5 PM – 10 PM.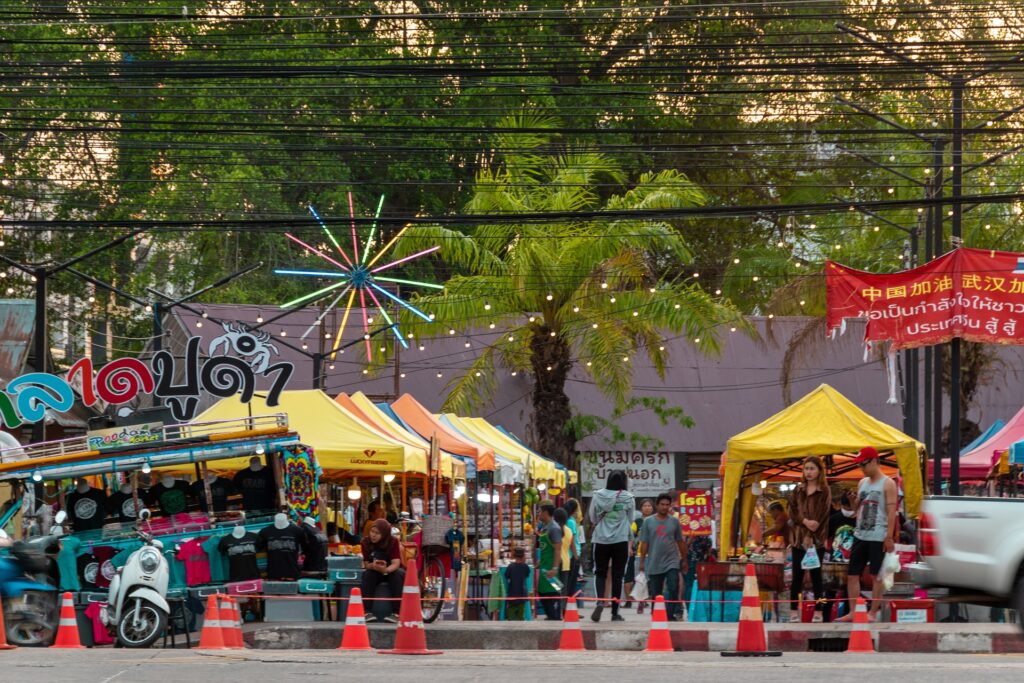 What is Krabi Town Known For?
Despite being a destination for some tourists, Krabi Town is more of a local town than anything else.
Krabi Town is known for its jungle surroundings, mangroves, temple hikes, and authentic Thai small-town atmosphere.
Ao Nang or Krabi Town: Hotels & Resorts
Both Krabi Town or Ao Nang have many accommodations to choose from, but there is a distinct difference regarding hotels in both places.
Ao Nang has a more extensive selection of hotels because it is famous for being a beach resort town; it also has luxury hotel options to choose from.
Krabi Town is a smaller town and, because of this, has far less hotel selection compared to Ao Nang; also, most of the hotels in Krabi Town range between 2-4 stars.
Below, you will find three different accommodations for Ao Nang and Krabi Town. Included are luxury, mid-range, and hostel accommodations for both destinations!
Where to Stay in Ao Nang
These are your three best accommodation options in Ao Nang to choose from! – No matter your budget!
Holiday Ao Nang: This a beautiful 5 star resort located directly on Ao Nang Beach. The large resort also has a pool and is a short walk away from shops, restaurants, markets, and more.
Panan Krabi Resort: A modern hotel located just steps away from the main beach with a stunning rooftop pool.
K Bunk Ao Nang: Ranked #1 hostel in Ao Nang, the hostel has beautiful mountain views and a delicious breakfast restaurant in the lobby.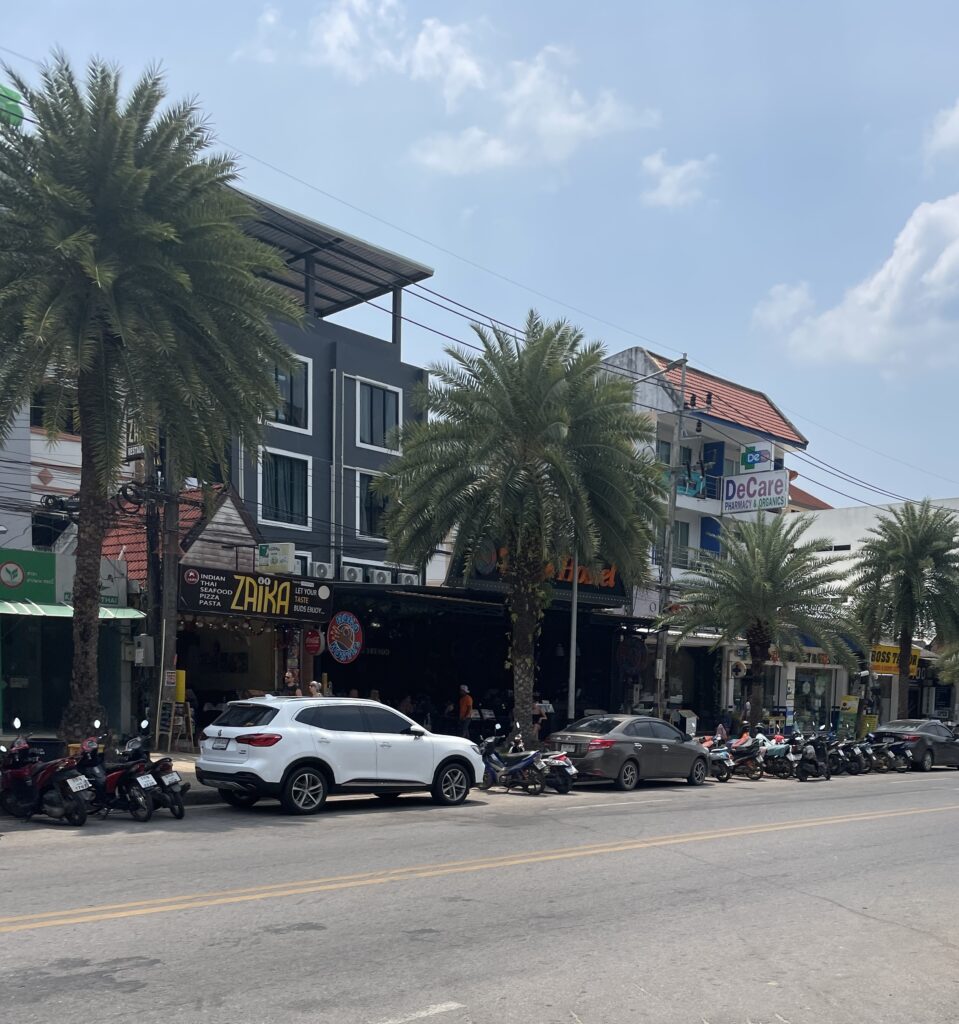 Where to Stay in Krabi Town
These are your three best accommodation options in Krabi Town to choose from! – No matter your budget!
While there are many accommodation options in Krabi Town, there aren't any luxury hotels here. And that's because Krabi Town is less touristy than most places frequented by tourists in Thailand.
The Brown Hotel: Rated #1 boutique hotel in town, located right in the heart of Krabi Town
Krabi SeaBass Hotel: Fully equipped modern hotel with a beautiful pool and many amenities
Leisure Hostel: Centrally located, affordable, and very clean hostel
Ao Nang or Krabi Town: Restaurants
Food/Restaurants is always a factor when considering where to visit; let us discuss the restaurants, street food, and cuisine variety in both towns.
Ao Nang is better than Krabi Town regarding restaurant selection because it's a larger town catering to tourists; you can find a wider selection of restaurants here, along with more cuisine types.
Besides the local food, of course, in Ao Nang, you can find Arabic food, Mexican, and big American fast food chains as well. Ao Nang has around four different night markets to check out as well, and they are open most nights.
Krabi Town has excellent Thai cuisine options, a few Italian restaurants, Indian and others. There are two popular night markets in Krabi Town. Unfortunately, one only opens on weekend nights.
Both have several delicious food options, but if you're looking for a wide variety of restaurants and you're a picky eater, Ao Nang will be preferable for you food-wise!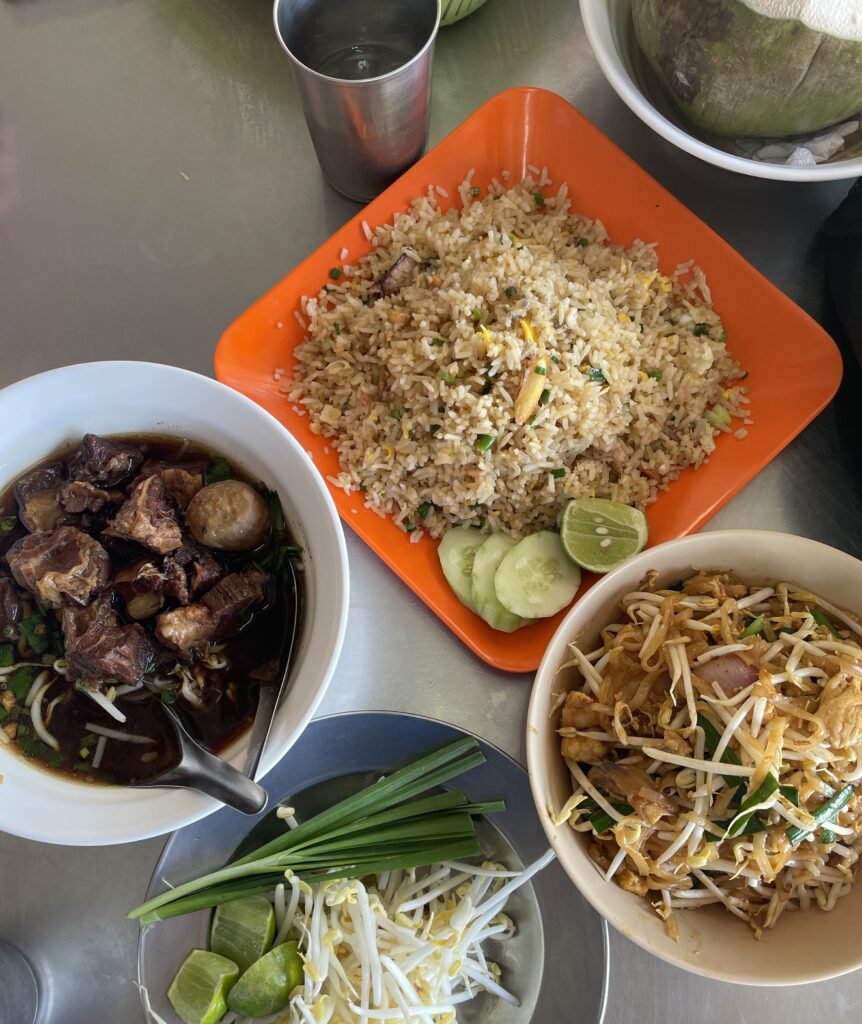 Best Restaurants in Ao Nang
Kodam Kitchen – Thai Restaurant
The Hilltop Ao Nang – Viewpoint Restaurant
Manana Mexican Restaurant – Authentic Mexican Food
Ton Ma Yom ThaiFood – Authentic Thai
Best Restaurants in Krabi Town
Ko Suang Restaurant – Authentic Thai
The Rivier Restaurant & Bar – Authentic Thai Riverview Restaurant
Uno Restaurant – Classic Italian Food
Pirates House Restaurant – Authentic Indian Restaurant
Pad Thai and Fried Mussels – Local Grab&Go quick street food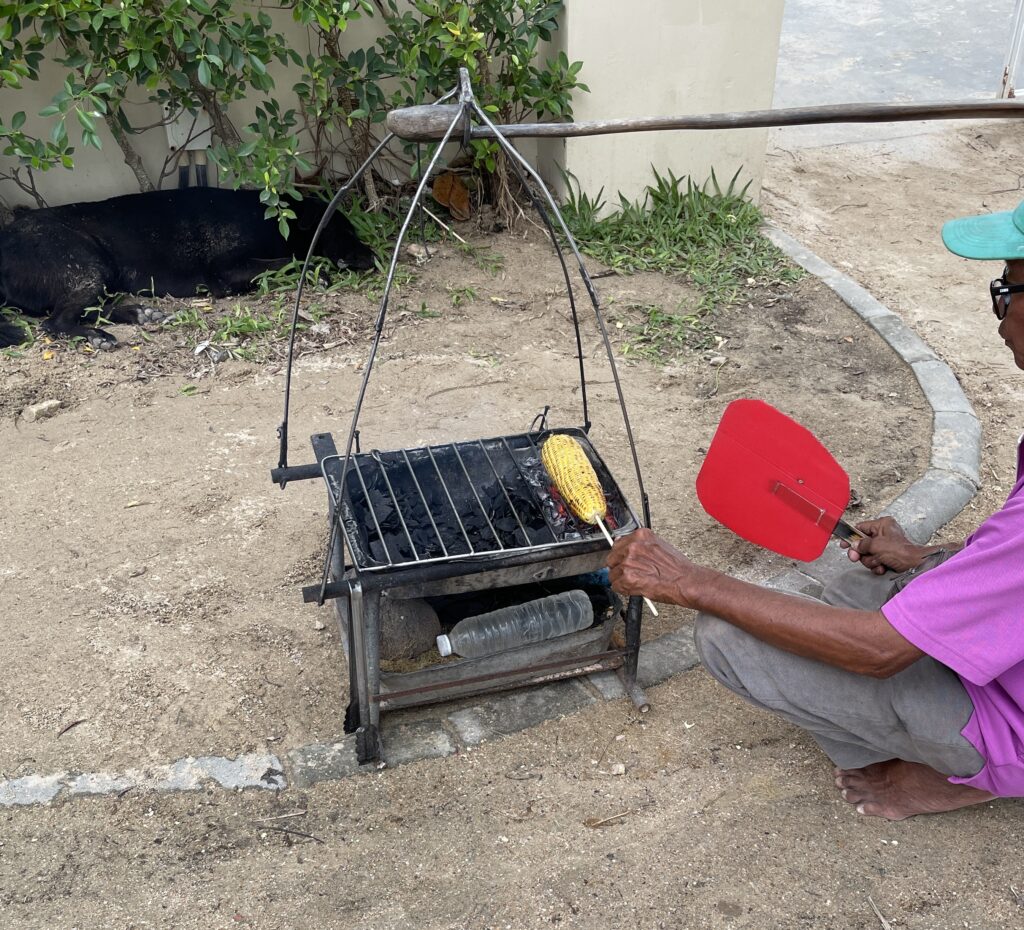 Ao Nang or Krabi Town: Nightlife
Both places have similar nightlife, which, for the most part, is non-existent besides bars.
In Ao Nang or Krabi Town, don't expect large parties, concerts, or any sort of similar events.
The nightlife in both these towns primarily consists of bars where you can meet locals/tourists; some may have a live band performing some nights, but that's about the extent of nightlife in both destinations!
Nightlife in Ao Nang
Tribe Beach Bar – Fun cocktail bar with a live DJ and beautiful beach views
Bamboo Bar – Popular open-layout bar with plenty of pool tables
Upbeat Bar – Located along the beach road, popular for its large selection of liquors
Reggae Town Bar – Rasta-style Jamaican bar serving plenty of Thai dishes, many drinks/weed with live performances
Nightlife in Krabi Town
Booze Bar – Laidback Jamaican rasta-style bar with beautiful river views
Deep – Fancy NYC-style bar with the best cocktails in Krabi Town
Ole Bar – Popular bar featuring board games and live music some nights
The Living Room – Open layout restaurant/bar, a great place for food/drinks; there's a pool table here too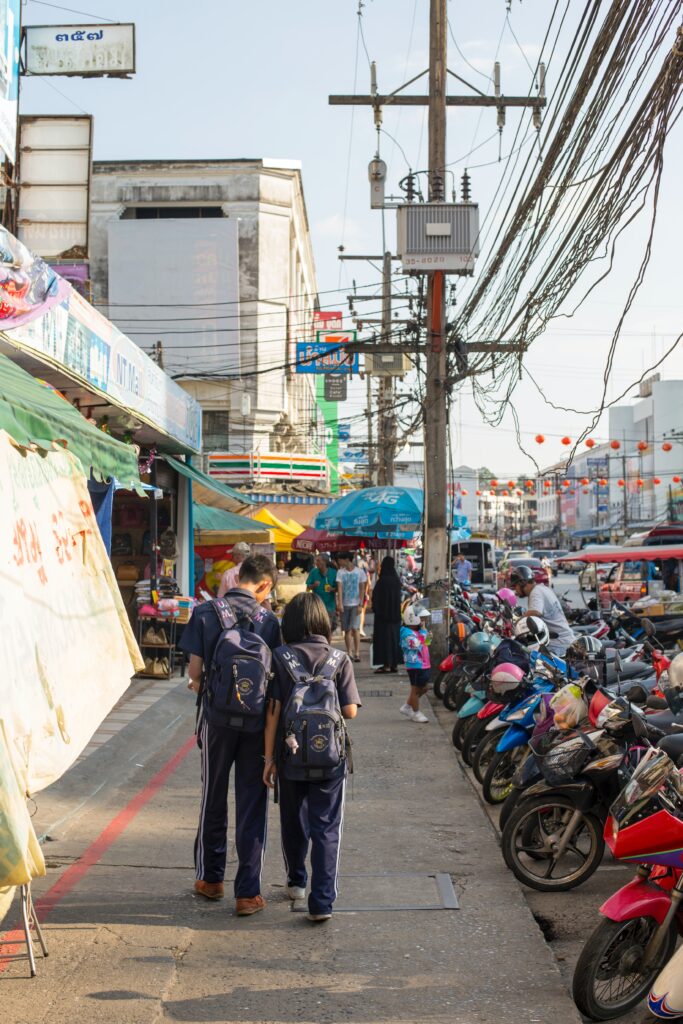 Best Time to Visit Ao Nang or Krabi Town
The best time to visit Ao Nang or Krabi Town is during the dry season for the southern region of Thailand, which is from November through April.
This is when the weather is ideal, the humidity is lower than the rainy season, and rainfall isn't as likely compared to the rainy season, which is from May to October.
These two seasons apply to all of the popular southern Thailand destinations, including Phuket, Phi Phi Island, and others!
You can visit Ao Nang or Krabi Town during the rainy season and still experience several sunny days, but don't be surprised if you experience rainfall some days, and the humidity levels will be higher during this time compared to the dry season months!
Dry Season: November to April
Rainy Season: May to October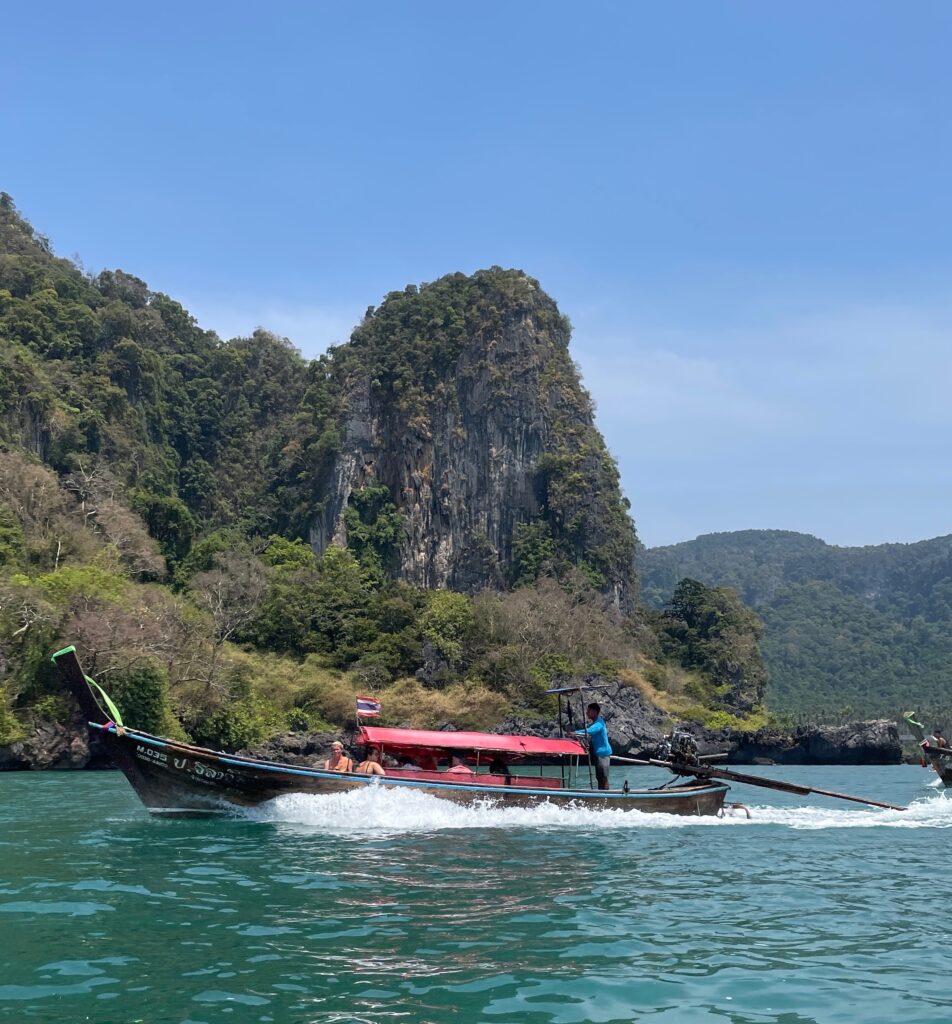 Ao Nang or Krabi Town — Final Thoughts
Have you decided where you'd like to stay in Ao Nang or Krabi Town? If not, here are a few parting words about each place that may convince you to visit one place over the other!
Ao Nang = Touristy beach resort town with many things to do
Krabi Town = Authentic Thai town, less touristy, many adventures to do, ideal for explorers
Solo Traveler: Both places are well-suited for solo travelers; Ao Nang has a beach with slightly more things to do, though Krabi Town is more authentic, less touristy, and very affordable to visit, so make your pick
Couple: Depending on the trip you looking to have with your loved one, Ao Nang does offer better accommodations, dining options, etc. – Slightly more suitable for couples versus Krabi Town
Group of Friends: It depends on the type of group you are with, but Ao Nang would be the better pick between both places for most groups.
Family: Ao Nang is a far better destination for families than Krabi Town. There are many hotels to choose from, a wide variety of dining options, and more activities for kids in Ao Nang
RELATED: Ao Nang or Railay Beach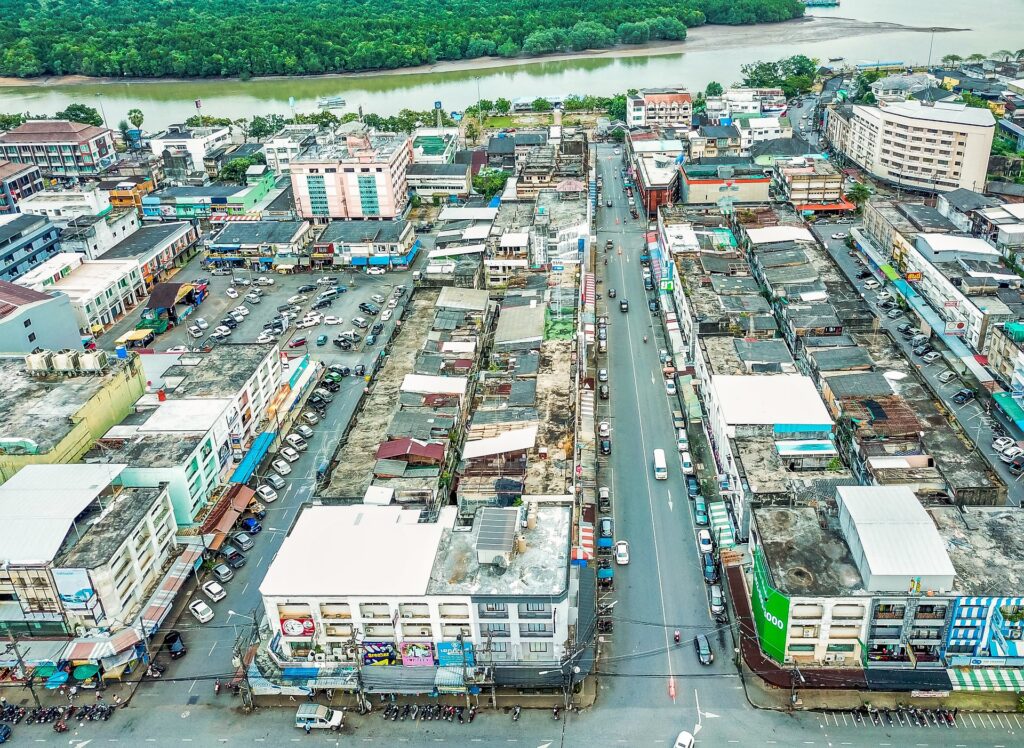 Is it better to stay in Ao Nang or Krabi Town?
Ao Nang is better if you're looking to be by the beach, and the town is more accommodating to tourists. Krabi Town is more of a non-touristy local experience place to discover.
How touristy is Ao Nang?
What is Krabi Town known for?
Krabi Town is known for its laidback vibes, temple mountain hikes, hot springs, national parks, and authentic Thai town attributes.
How do I get from Krabi Town to Ao Nang?
The best and cheapest way to get to Ao Nang from Krabi Town is by Songthaew, a shared taxi pickup truck. Hop on pay 60 Baht, and it takes you directly to Ao Nang from the Krabi Town River.
Subscribe to Travel Hiatus!
Receive updates on my latest posts, insider travel tips & the best destination guides to your inbox!
Happy & Safe Travels
---
Planning Checklist
---
Disclaimer: Please note that some of the links shared in this article might be affiliate links; this means that at absolutely no extra cost to you, we will earn a small commission for any sales generated through this article and/or this website. We recommend products/services we've either used or researched thoroughly – Thank you for supporting us so we can continue to share helpful travel content!