8 Best Things To Do in Puerto Escondido
Are you looking for the best things to do in Puerto Escondido? This guide covers things you must do as a first-time visitor to Puerto Escondido and restaurant/hotel recommendations and tips for Puerto Escondido!
Known as one of the best surf towns in Mexico, Puerto Escondido has slowly established itself as a lively beach town destination with many great restaurants and a buzzing nightlife scene.
Puerto Escondido attracts a younger crowd of surfers, yogis, backpackers, and beachgoers.
The city has a similar atmosphere to Tulum but with less than half the number of tourists than Tulum, and Puerto Escondido is also much cheaper to visit than Tulum.
Despite the town seeing growth lately, Puerto Escondido is still one of the cheapest beach towns in Mexico!
Where is Puerto Escondido, Mexico?
Located on the Pacific Coast and in the Oaxaca state, the famous surfer town of Puerto Escondido is one of the most Southern points in Mexico.
Puerto Escondido is conveniently located on one of Mexico's most significant highways, Mex Highway 200.
The main highway connects Puerto Escondido to other popular towns along the coast, such as Mazunte, Huatulco, and others!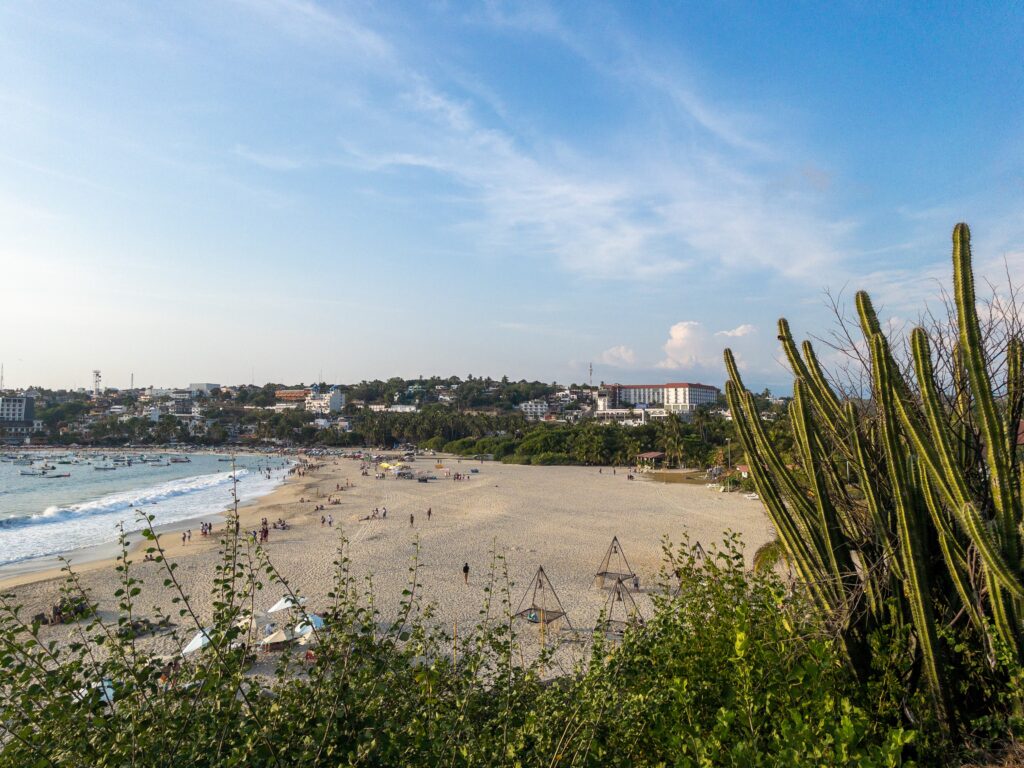 How to Get to Puerto Escondido
Puerto Escondido has its own airport, but most flights coming here aren't frequent. Unless you're coming from Mexico City via Viva Aerobus, TAR Airlines, or Interjet, you likely won't be able to fly right into Puerto Escondido airport.
The best way to fly to Puerto Escondido is by flying into Huatulco International Airport (HUX), a neighboring city's airport only 2 hours away.
Once you arrive, you must commute by taxi or bus to Puerto Escondido. A taxi will cost you around $90US, and an OCC bus will cost you around $14US.
You can book your OCC bus ticket here. If you plan on taking a taxi, you can take one directly from the airport (ensure the driver doesn't overcharge you). Make sure you confirm the price twice before taking the taxi!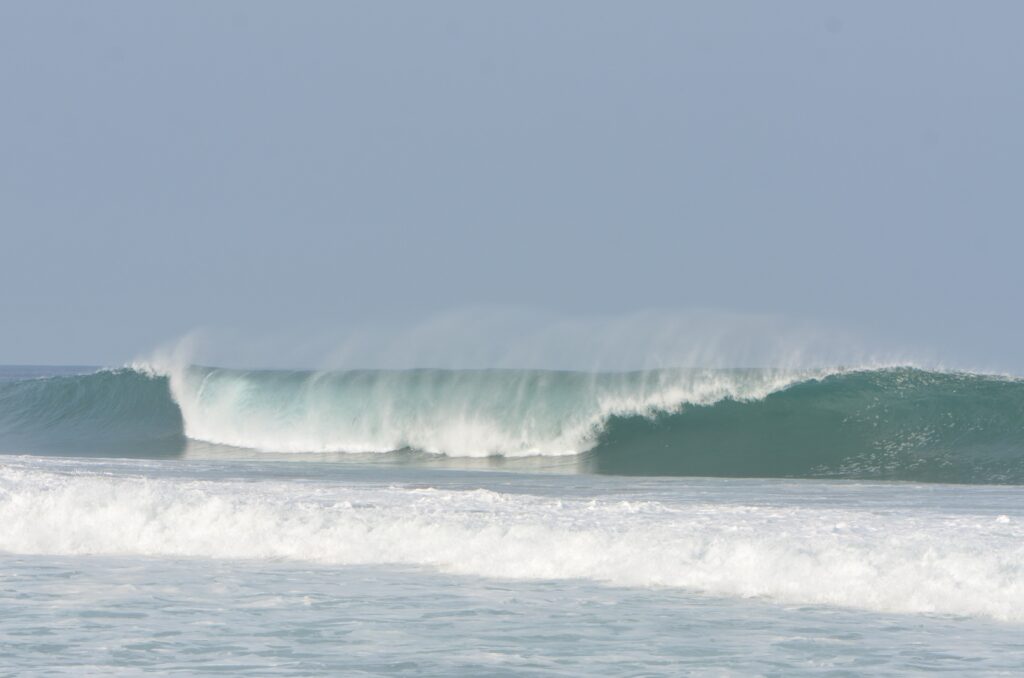 Given that Puerto Escondido is one of the best places to surf in Mexico, why not try surf lessons when visiting?
You will notice many surfers around town as soon as you get here. A trip to Puerto Escondido is only complete with riding a few waves!
Attend this 2 Hour Surf lesson with a pro surfer and learn how to catch some waves. The class even offers drone footage of you catching waves (for an extra cost). The class hosts a maximum of eight people at a time.
Relax at Puerto Escondido Beaches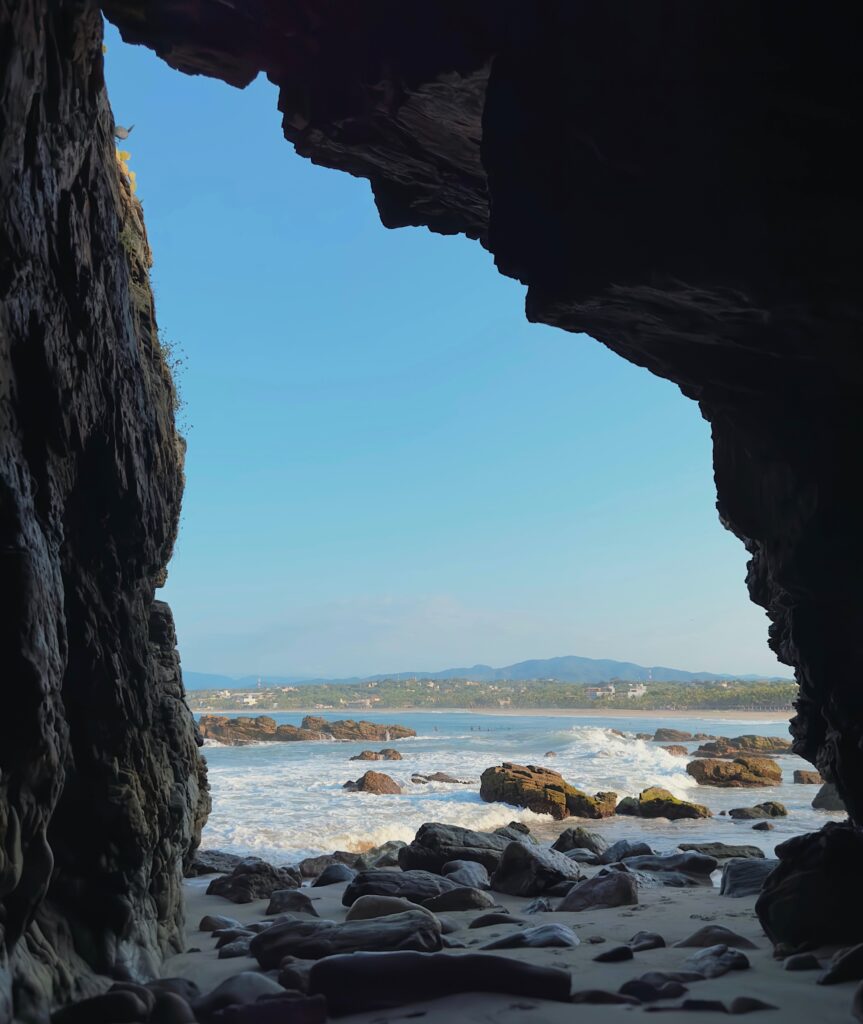 Puerto Escondido is home to some of the best beaches in Mexico. Some of the beaches in Puerto Escondido are more suitable for certain relaxing, and others are more suitable for surfing!
Below, I've listed the four most well-known beaches in Puerto Escondido for you to visit. See which one best suits you, though I recommend you visit them all!
Playa Zicatela – (Main town beach, long beach shoreline, many restaurants/bars beside it)
Playa Carrizalillo (Small, secluded, but still top-rated beach with fantastic ocean views)
Playa Bachocho (Large beach shore full of small sea turtles, and rarely ever busy)
Playa Agua Blanca (Very secluded beach with turquoise waters, but is a 45 min drive away)
Here are a few more beach recommendations for you! Playa Manzanillo/Playa Angelito (these two beaches are next to each other). Playa Coral is another excellent option as well!
Remember, the beach town is on Mexico's central Pacific Coast highway (Mex Highway 200). If you rent a car here, you can always drive down the coast and discover secluded beaches!

Take an evening tour and experience this natural bioluminescent spectacle. When the water is full of algae bloom of plankton, the sea at night glows in a vivid blue color; it is fantastic to see!
This Bioluminescent tour takes you on a boat ride in a lagoon at Parque Nacional Lagunas de Chacahua, the most well-known national park in town. You will be able to swim in the water as well!
The tour lasts 3 hours and includes roundtrip transportation from your hotel to the lagoon. Your ticket also includes boat transportation at the lagoon.
Another popular place in Mexico to experience Bioluminescent waters is Isla Holbox.
The birthplace of mezcal is the state of Oaxaca, Mexico. And since Puerto Escondido is a town in Oaxaca, it's fitting to do mezcal tastings.
If you need to be able to familiarize yourself with Mezcal, it's Tequila's richer cousin.
Mezcal has a savory and smoky flavor—compared to Tequila, which has a sweet and smooth one. Also, Mezcal is aged longer than Tequila, and its process takes much longer. This makes it more expensive than Tequila.
On this distillery tour, you will be educated on the history and fun facts about mezcal as you experience a guided tour. You will try several fresh mezcal liquors; the tasting is unlimited!
Roundtrip transportation to get there/back is included in the tour cost; the distillery is only 15 minutes from the town center.
Day Trip to Mazunte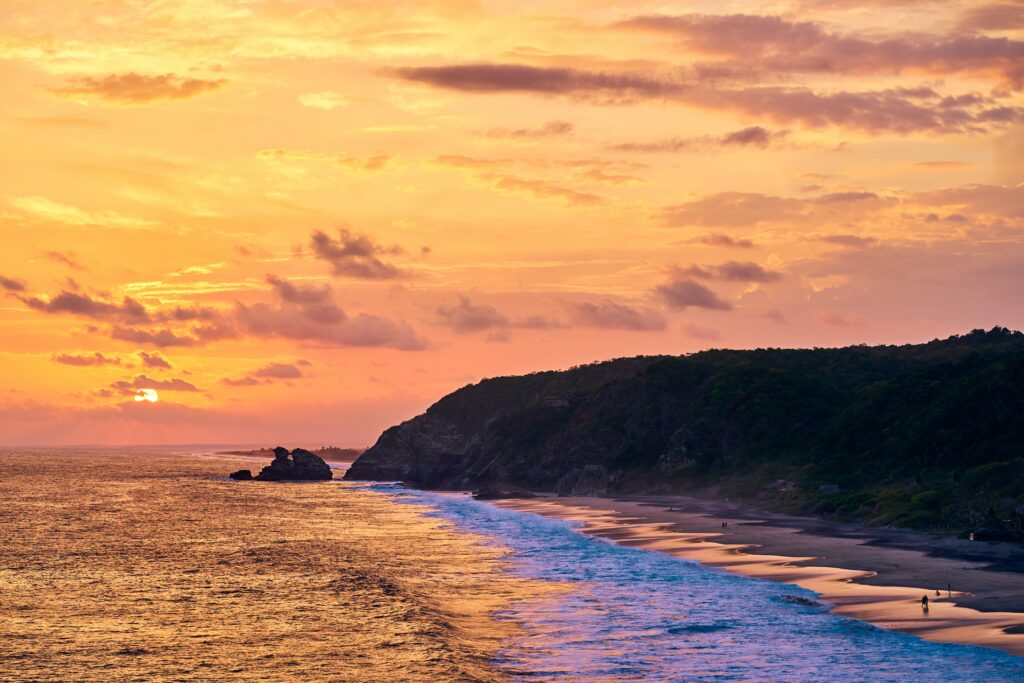 Just over an hour's drive away South is a smaller beach surf town, Mazunte.
The town is located along the main Mex Highway 200, so directions are straightforward. You take the highway straight until you reach Mexico 175 and turn right.
Mazunte is known for its surfing and beaches. Playa Mazunte is the main beach, and Playa Mermejita is another famous beach. There are several excellent restaurants for you to try there as well.
Before leaving at the end of the day, I recommend hiking to the Punta Cometa viewpoint to experience a beautiful sunset from this viewpoint!
Turtle Release in Puerto Escondido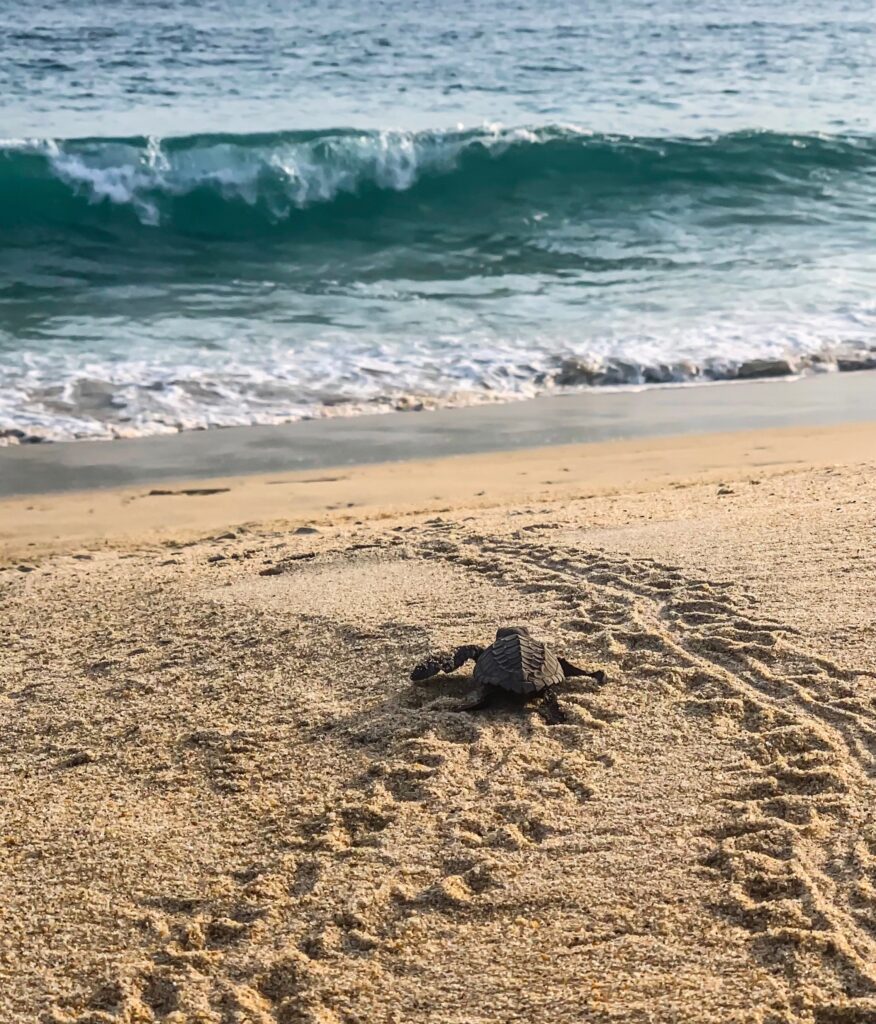 The turtle release in Puerto Escondido is one of the most popular things to do in Puerto Escondido.
Releasing baby sea turtles into the ocean at sunset as they venture off into their life journey is an exciting experience.
Several organizations offer this experience; refer to my turtle release guide in Puerto Escondido for all the info!
Once you arrive at any beaches to release turtles, a local guide will talk about the conservation efforts in Puerto Escondido for sea turtles and the reasoning behind turtle releases.
You'll be given a sea turtle in a half coconut for you to release into the ocean. Make sure to hold your turtle carefully to avoid having them escape before you get to release them!
Not only is Puerto Escondido one of the only places you can experience this activity, but it's also one of the best places to do it because of the various sea turtle species living here!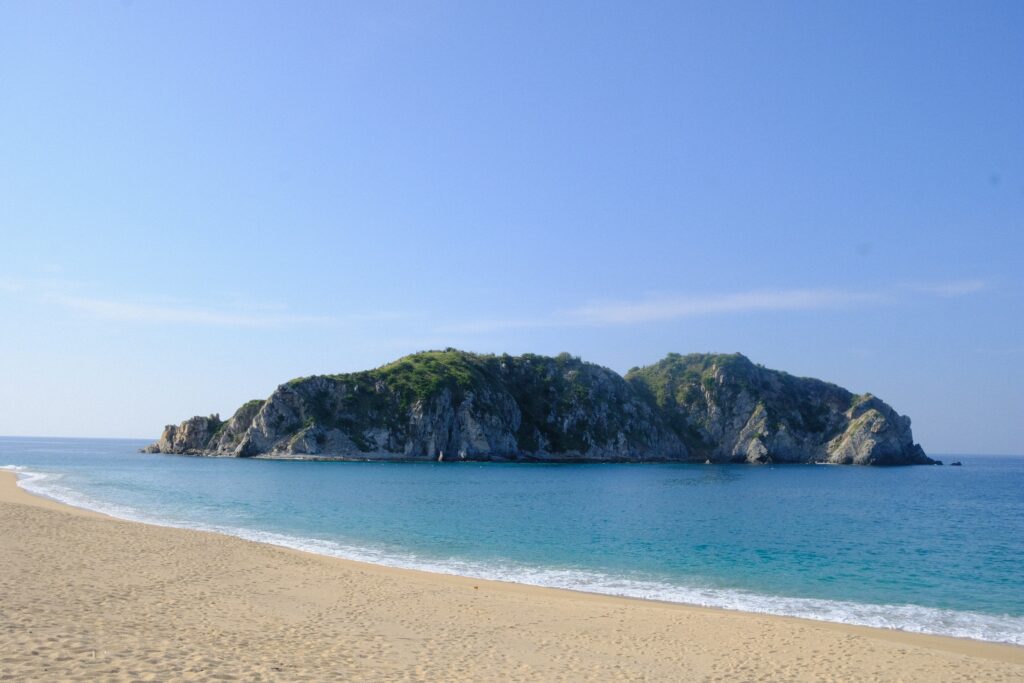 Another excellent day trip from Puerto Escondido is visiting Santa Maria Huatulco, aka Huatulco.
This small beach town is smaller than Puerto Escondido. Huatulco is a charming tiny town known for its beaches, city center, and massive national park.
Some of the best beaches in Huatulco are Playa Arrocito, Playa Tangolunda, and more. The city center area is named La Crucecita. You will find a fair share of restaurants, hotels, and shops.
The only time the town gets busy is when the passenger cruise ships stop and tourists deboard to explore Huaultco briefly, which happens throughout the year.
If you're looking to wind down without too much going around you, I highly recommend visiting Huatulco for a night or two!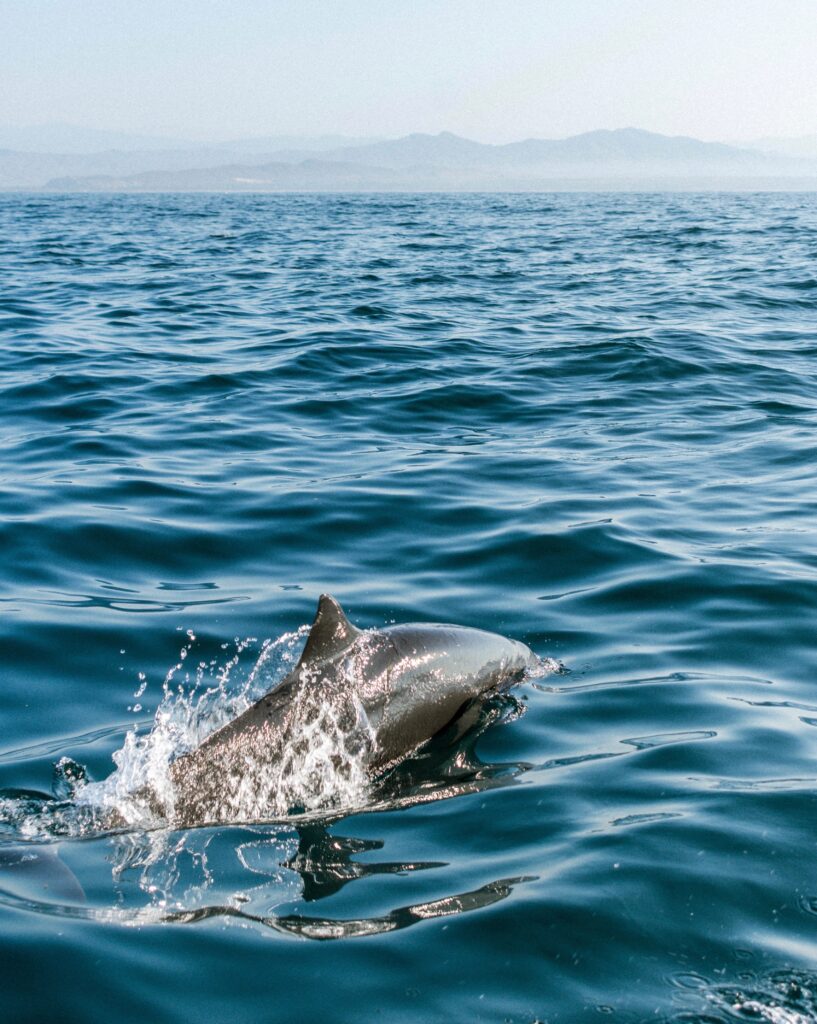 Who doesn't love to watch dolphins in their natural habitat? Luckily, many dolphins inhabit the waters of Puerto Escondido, and you can spot them early in the morning.
This fun dolphin-watching tour takes you into the ocean at 7:00 AM to see four different types of dolphins in the ocean. You will also be able to swim and snorkel with them!
The tour also includes vehicle transportation to and back to your hotel.
Where to Stay in Puerto Escondido
Hotels in Puerto Escondido are impressive, with unique decor and chic-boho vibes!
There is a large variety of accommodation types here, from bungalows to 5-star hotels with ocean views.
To simplify things, here is a shortlist of the best hotel options for each budget!
Whether you're looking for a 5-star hotel or a hostel, each choice below is the best hotel option in Puerto Escondido for your budget.
Casa Joseph Zicatela (Adults Only) – 5 Star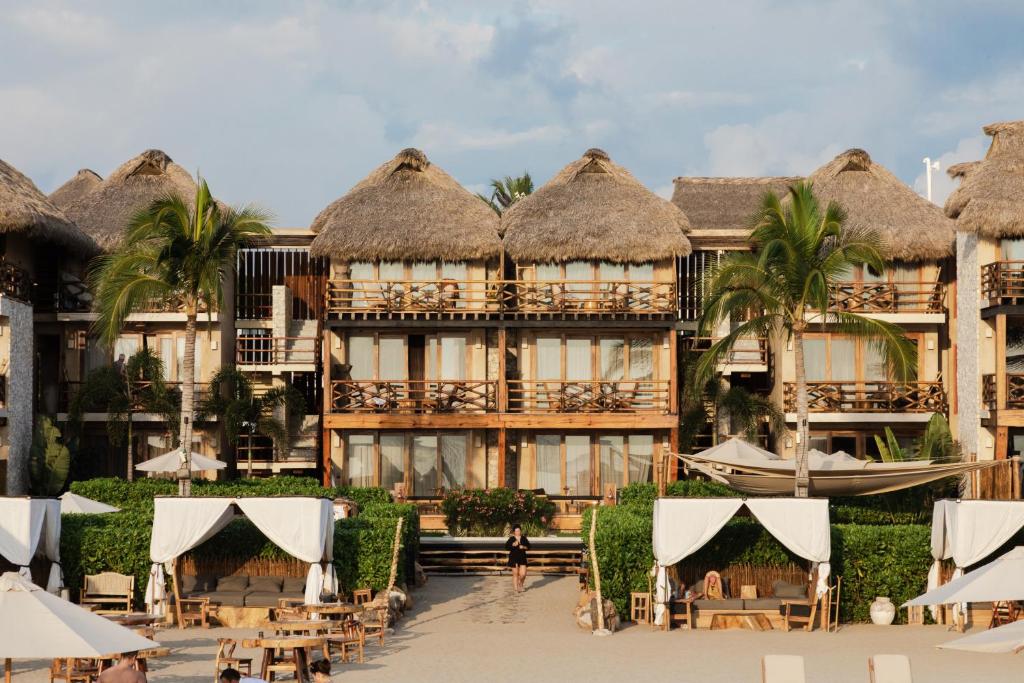 Starting with the best, Casa Joseph is a stunning contemporary luxury hotel on the main beach, Playa Zicatela. This hotel is an adults-only property.
Despite being on the main beach, the hotel does have its beach area full of cabanas and day beds on the main beach where hotel guests can privately relax. As well as a fantastic pool facing the ocean.
Because there are few rooms available here, there is an intimate feel when staying at Casa Joseph Zicatela. A preferable hotel for couples!
In the morning, they have yoga lessons; at nighttime, you can enjoy live music at dinnertime!
Posada Real Puerto Escondido – 4 Star
Posada Real is ranked as one of the best hotels in Puerto Escondido. Located just minutes outside the city center, Posada sits on a corner street with easy access to two beaches: Playa Bacocho and Playa Coral.
They've got an extensive private beach area full of hammocks, day beds, and a dining room with stunning ocean views.
Rooms are modern looking, and some come with ocean views. The pool is located in the middle of the property, with extensive grass space to relax.
Hotel Caracol Plaza – 3 Star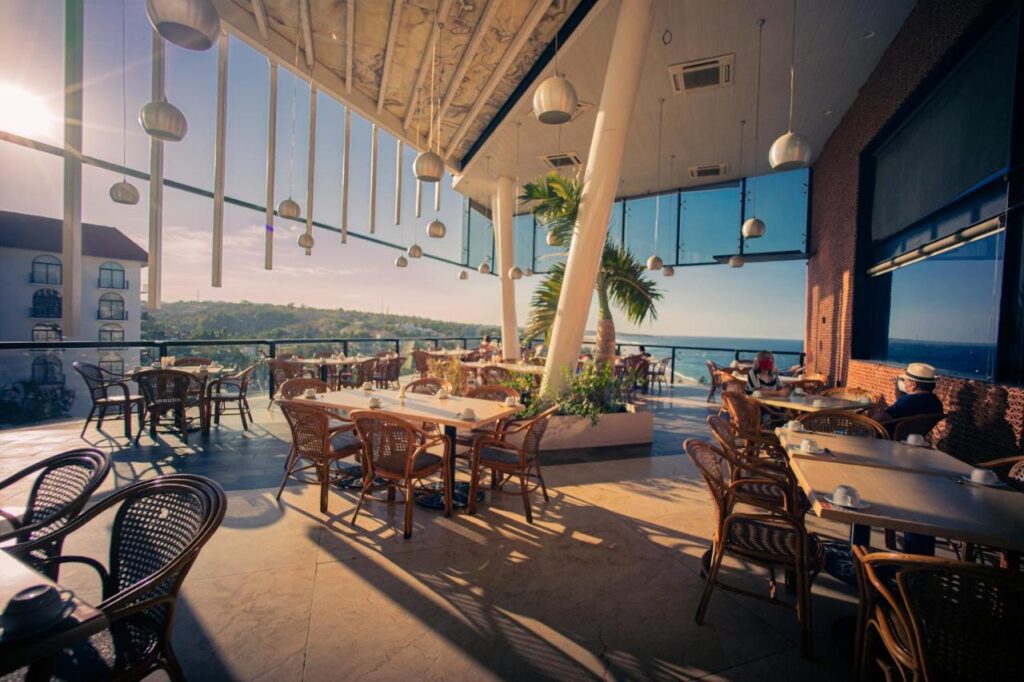 Caracol Plaza is a hotel located basically in the city center of town. It's a higher-rise property with fantastic ocean views.
While the property doesn't have direct beach access, it's only a 15-minute walk from the town's main beach, Playa Zicatela.
Despite not being on the beach, the location is excellent for evening dinners/walks in the city center because you're close.
They have a beautiful dining area where you can enjoy the sunrise and sunset. And a pool, in case you want to get your tan on that day.
This fantastic hostel is in Puerto Escondido town (city center). Staying here, you will meet fellow travelers from all over the world.
They've got a beautiful communal area full of things to do, a pool table, hammocks, a pool with beach volleyball, and more.
Tower Bridge Hostel has lockers, an outdoor terrace, and WIFI; it is known for being the best hostel in town!
You've got three different beaches to choose from that are only a 15-20-minute walk away: Playa Carizalillo, Playa Coral, and Playa Manzanillo.
And lastly, staying here means you're close to the best breakfast spot in town, Antojitos Regionales La Juquilena, and the local market I mentioned earlier is also close, Mercado Benito Juarez.
Another excellent hostel option is Selina Puerto Escondido!
Where to Eat in Puerto Escondido
You will find restaurants everywhere here, by the beach, in the Centro area (Centro means a city center in Spanish), and just about everywhere you look!
What surprised me most about the cuisine here is that there is excellent Mexican cuisine and many different international cuisines in Puerto Escondido as well!
Listed below are a few I'd recommend you visit! And below, I've shared the 5 best restaurants in Puerto Escondido!
Chili Garden (Asian)
Holy Moly (Vegan)
El Sultan (Lebanese, listed below)
Other Notable mentions
La Juquilena (If you want to try Mexican breakfast, you come here, period.)
La Parrilla Mixteca (top rated taco spot)
Pepe's Fish Tacos (the best fish taco spot in town)
You must also make time to check out Mercado Benito Juarez. It's a fresh food grocery market with local food stalls selling delicious food for cheap!
Restaurant El Nene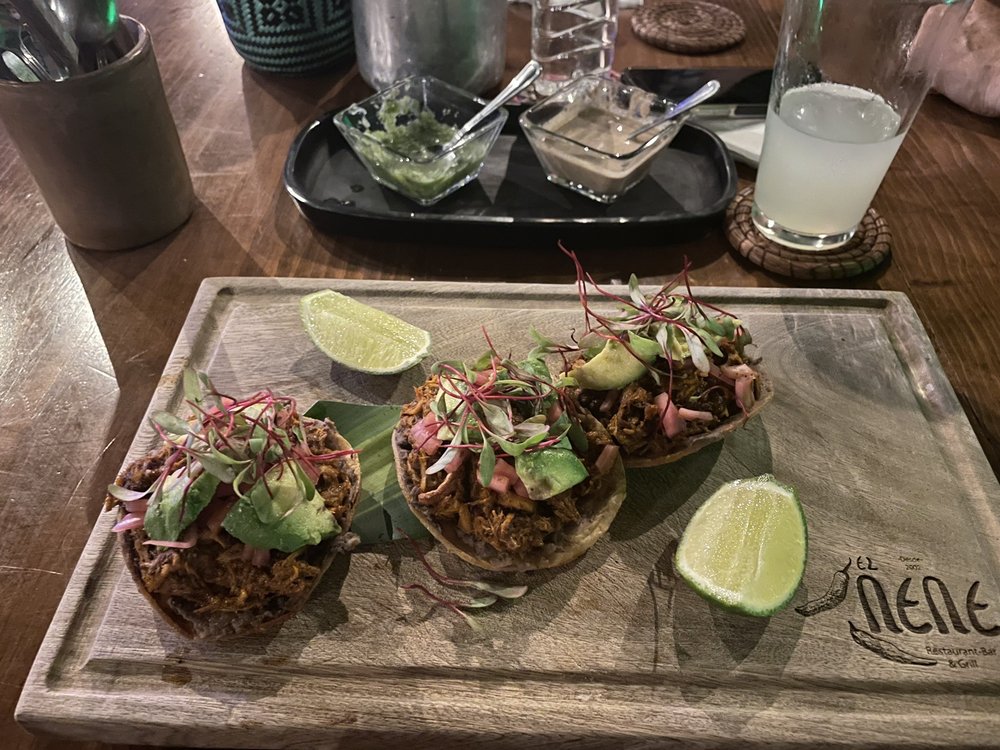 This Mexican restaurant is famous for its cocktails and delicious local dishes. They've got amazing tacos, seafood/ceviche tostadas, and more.
The grilled octopus here is a popular choice, as well as the sashimi and tartar.
When you come, please ensure you get a few mezcal-infused cocktails; as I said, they're known for that!
The JP Bunker aka, El Bunker de JP
JP Bunker is in the town center, hidden from plain street sight, and right behind a car wash; you may wonder what's unique about this place as you walk up.
As I always say, don't judge the exterior of a place; judge the food!
This humble establishment is famous in town for its sashimi, shellfish, ceviches, and more. While the food is terrific, the prices are great too! By far the cheapest/best restaurant in town if you had to compare quality and price.
As you arrive, you will instantly notice several locals eating there, and you know what they always say: where the locals eat is where the best food is.
El Sultan
I was surprised to find out that there's excellent Lebanese food in town. El-Sultan is just that; they've got all the Arabic food favorites here!
From hummus with pita bread, shawarma, falafel, grape leaves, kebabs, and more!
I'd also recommend the Mexican/Lebanese fusion food they sell here. They've got shawarma and falafel empanadas!
The best part about this restaurant is the food is genuinely authentic despite having a few fusion dishes.
Taqueria El Chilango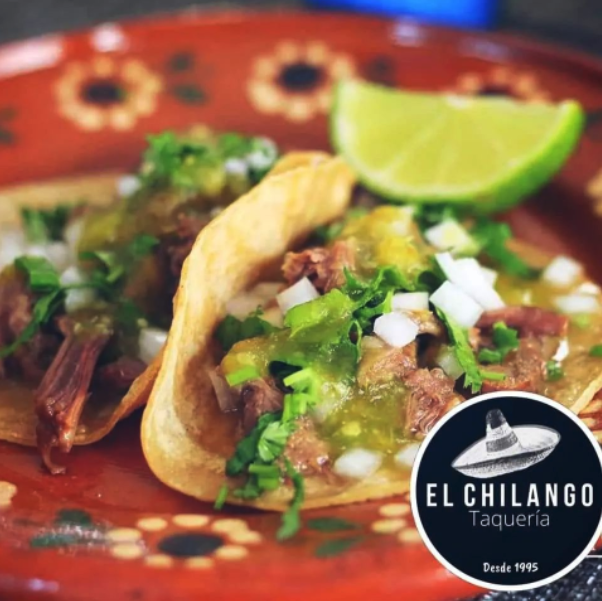 Located in the Centro area of town is Taqueria El Chilango. This taco place takes its tacos seriously, which is why we went to try it.
They have a wide selection of tacos, burritos, and tlayudas (a famous Oaxaca dish you must try).
And for those who're vegan/vegetarian, they got terrific tacos for you! The selection of wide salsa/hot sauces and pickled veggies is the main reason I returned.
A local family owns the restaurant, and it's been open since 1995.
Best Time to Visit Puerto Escondido
The weather in Puerto Escondido is similar to that in all of southern Mexico. It is warm throughout the entire year, experiencing a tropical climate. But it has its ideal visiting time!
November through April is the best time to visit Puerto Escondido, which is when the dry season is. You can expect a dry climate with little humidity and lots of sunshine! Refer here for an in-depth weather analysis.
May through October is when the off season is. During the off season, you can expect scorching hot and humid temperatures and a higher chance of rain than the dry season.
But when it does rain in the off season, it's usually a rapid rainfall. During the rainy season, if rainfall is happening that day, it tends to occur in the afternoon, rarely in the evening.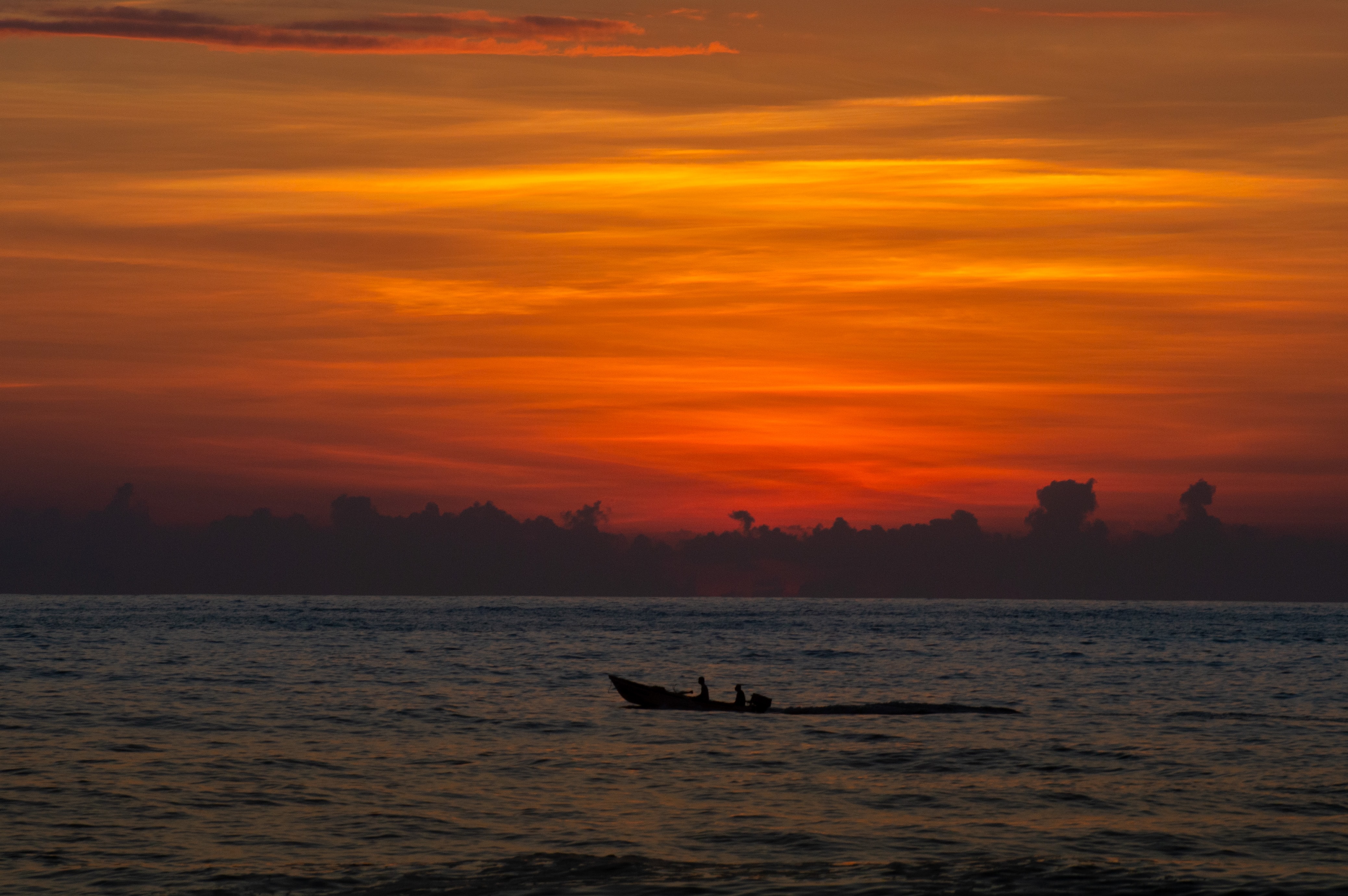 Things To Do in Puerto Escondido – Final Thoughts
Those are the nine best things to do in Puerto Escondido, and there are several more to consider, but for first-time visitors, stick to this list of must-do experiences!
Puerto Escondido is a fun place, home to some of the best beaches. It's rich in nature and food; the crowd is younger and fun.
As I mentioned earlier, the beach town is very much still undiscovered by most tourists. Consider visiting Puerto Escondido before it becomes a broadly well-known beach town!
One of the main reasons Puerto Escondido isn't as busy as other beach towns similar to it is that it's not located in the famous Riviera Maya, where Playa Del Carmen, Tulum, and other popular beach towns are located!
If you're a surfer, check out these other popular surfer beach towns in Mexico: Sayulita and Ensenada!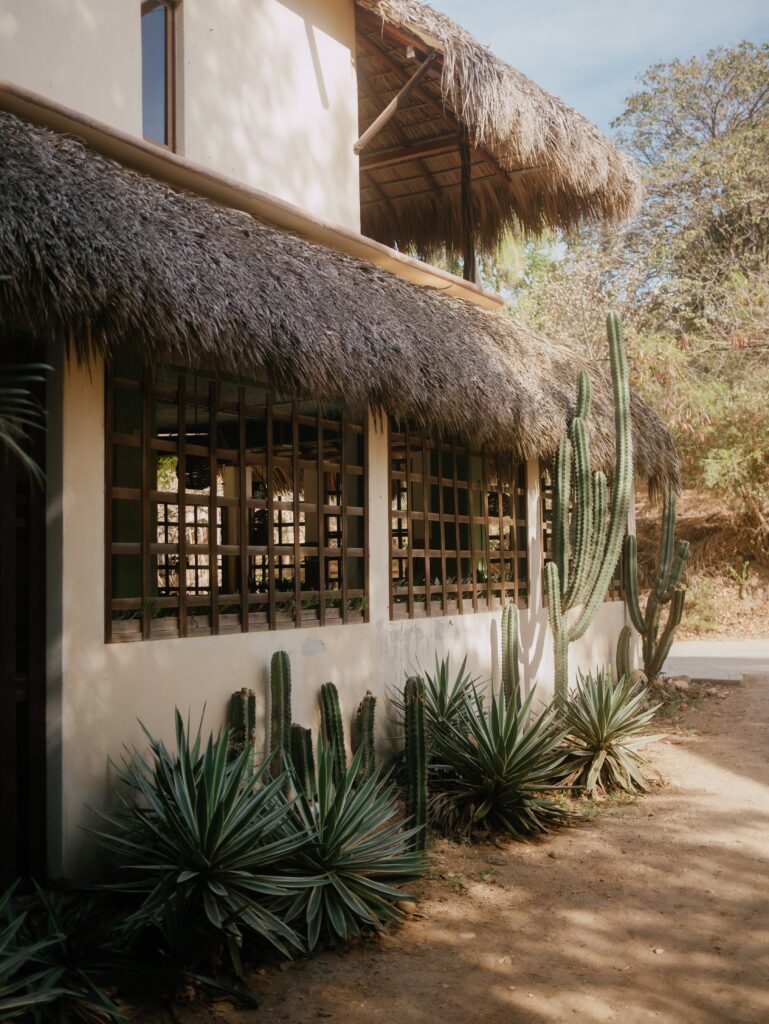 Is Puerto Escondido Safe?
Puerto Escondido is safe, like most small beach towns in Mexico. You've got nothing to worry about visiting here. Even walking the streets late at night is safe; the only thing I'd advise is to stick to well-lit streets.
Be mindful of your surroundings, and make sure to keep an eye on your belongings when at crowded beaches.
Is Puerto Escondido cheaper than Tulum?
Puerto Escondido is fairly cheaper than Tulum in all ways, including accommodations, transportation, and food. Tulum is more expensive to visit than Puerto Escondido.
What is better Huatulco or Puerto Escondido?
Despite being neighboring beach towns, Huatulco and Puerto Escondido are quite different. Huatulco is more well-known for its nature and quiet beach town atmosphere. Puerto Escondido is similar to Huatulco but more lively, with more things to do!
How do you get around Puerto Escondido?
Taxis and collectivos (white minibus taxis) are the most common ways to get around Puerto Escondido. Or you can rent a scooter/car and drive yourself around!
Subscribe to Travel Hiatus!
Receive updates on my latest posts, insider travel tips & the best destination guides to your inbox!
Featured Image Credit: Lorraine Mojca/photos via UnSplash
Happy & Safe Travels
---
Planning Checklist
---
Disclaimer: Please note that some of the links shared in this article might be affiliate links; this means that at absolutely no extra cost to you, we will earn a small commission for any sales generated through this article and/or this website. We recommend products/services we've either used or researched thoroughly – Thank you for supporting us so we can continue to share helpful travel content!