7 Best Things To Do in Campeche Mexico
Are you planning a trip to Campeche and looking for the best things to do in Campeche? You've come to the right place!
Campeche is a beautiful city along the Gulf of Mexico, famous for its beautiful colorful architecture in the Centro area of town.
Campeche is often overshadowed by its neighboring city Merida, the capital of the Yucatan.
What's the best part about Campeche? If you want to avoid large tourist crowds and see a city full of Mexican Culture, it's the perfect place to visit. I'd highly recommend a trip to Campeche, Mexico.
In the historical old town, you will see outer walls and fortifications built long ago to defend the port from Pirate attacks in the 17th and 18th centuries. This has earned Campeche Mexico its UNESCO World Heritage Site.
Besides the city's Mayan Ruins and beautiful architecture, Campeche is famous for its Mexican seafood cuisine!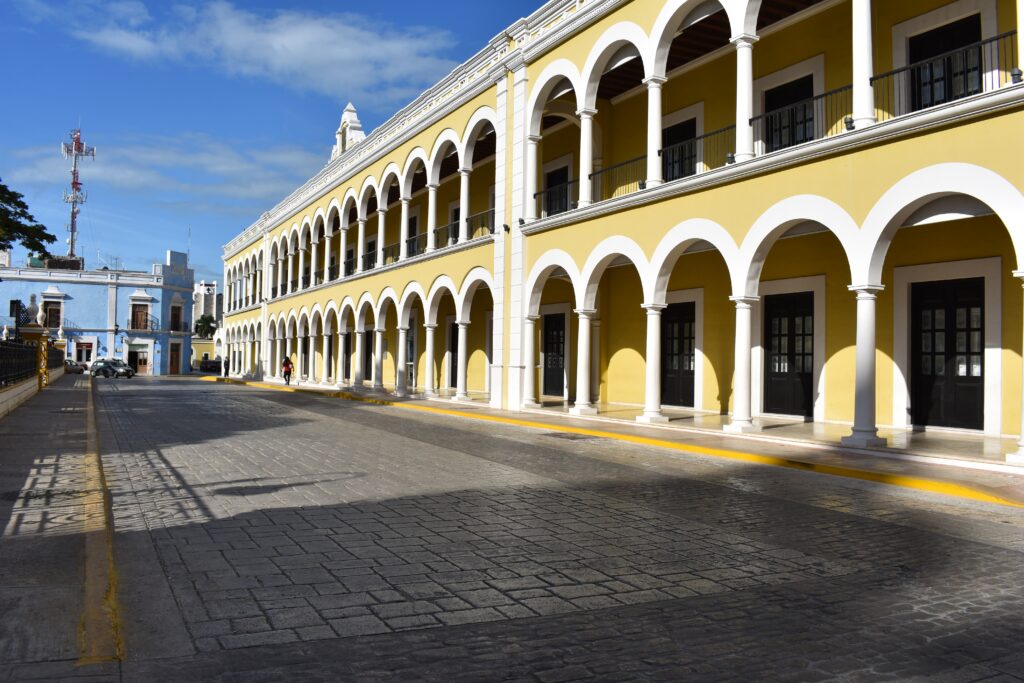 How to Get to Campeche Mexico
Many tend to drive to Campeche when visiting Merida. But you can still visit Campeche from other cities nearby. Here are all the different ways for how to get to Campeche.
Drive to Campeche
If you've rented a car, you can always drive to Campeche; the roads are pretty clear regarding how to get there. Whether you're in Merida, Valladolid, or any other city in the region, driving here is a great idea!
Fly Into Campeche
A small local airport in town doesn't operate international flights like Cancun Airport, the closest airport with several international flights.
Flying into a Campeche would require that you're already in Mexico City.
ADO Bus
This is the cheapest and most convenient way to get to Campeche from just about anywhere. ADO Bus is Mexico's largest bus company and operates in all major cities nationwide. – Book ADO Bus Tickets
Whether in Merida, Valladolid, Tulum, Playa Del Carmen, or anywhere else, you can take the ADO Bus to Campeche.
Mayan Train (available as of Dec 2023)
The Mayan train is being built and will be stopping in Campeche soon. If you would like more info, please refer to this article.
Things To Do in Campeche Mexico – #1-2
Explore Zona Centro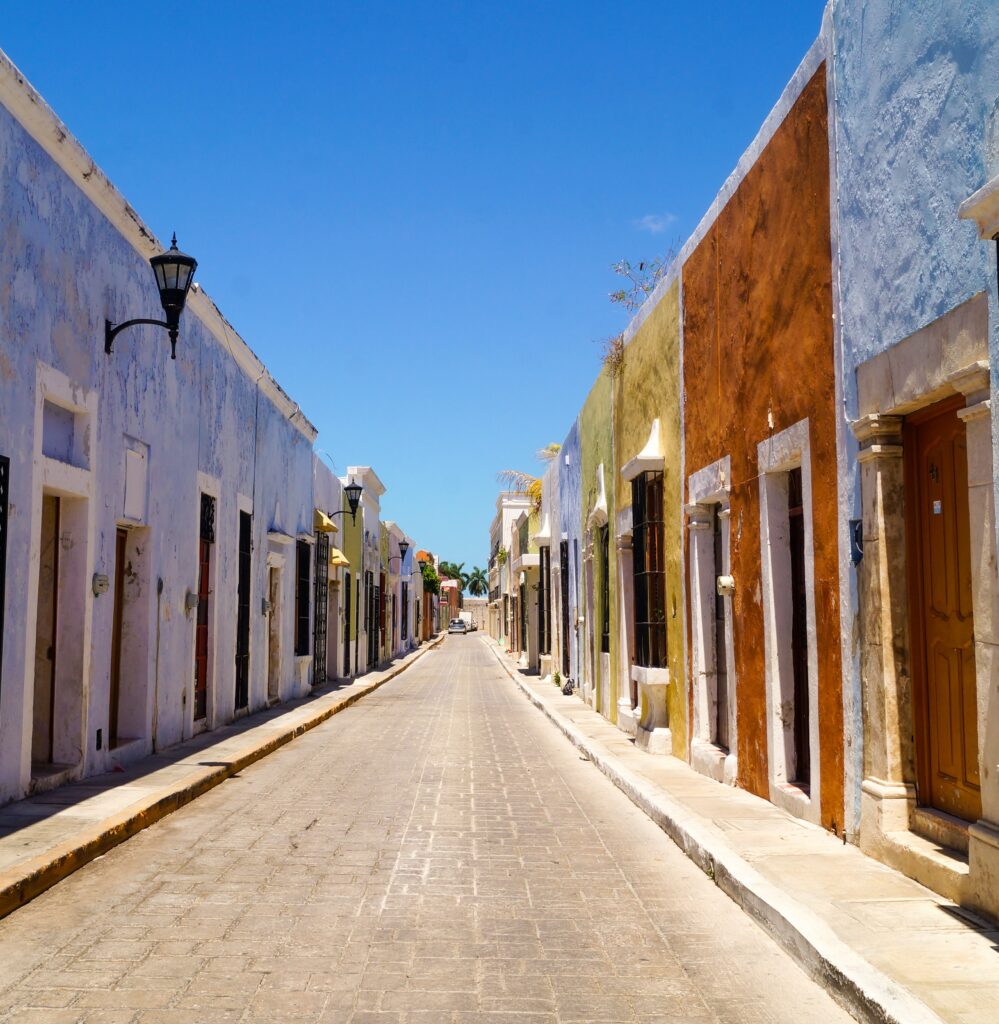 As you walk around Zona Centro, the city center area of Campeche, you will quickly notice the beautiful old architectural buildings. The famous church stands tall, close to the yellow buildings with large white arches.
And what Zona Centro is most known for is the streets full of colorful buildings; as you see them, it's hard not to fall in love.
It's safe to say that Zona Centro in Campeche is very picturesque.
Are you looking to learn more about these colorful buildings and the history of Campeche City? Attend this Theatrical Performance tour of Mexican Tales in a group at night, or attend this Day City tour!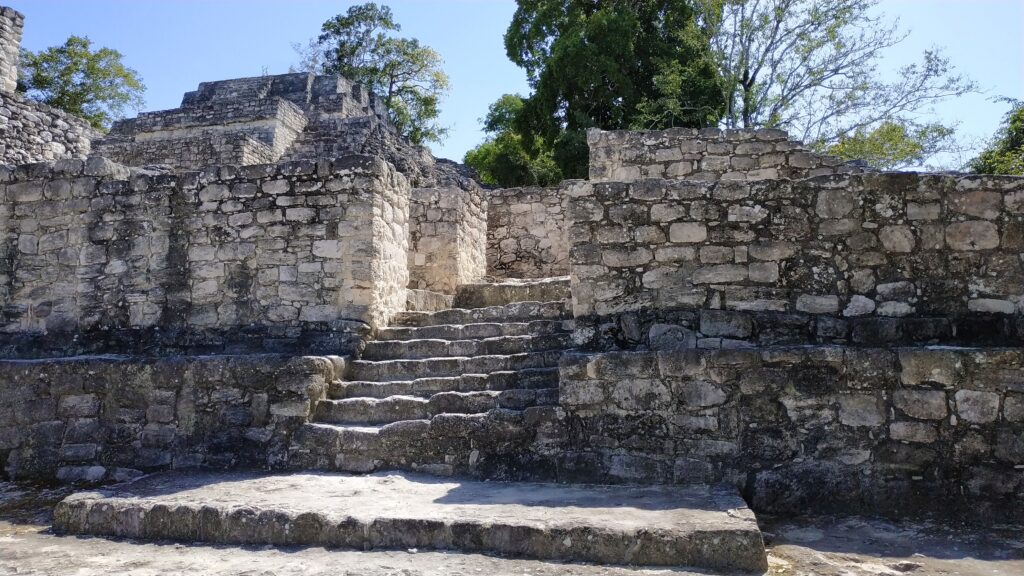 Another thing Campeche is famous for is its Mayan Ruins, an essential part of its history in Campeche. The most historically-significant Mayan Ruin here is Calakmul.
The only downside to this beautiful ruin is unlike Chichen Itza; unfortunately, it's not easy to get to. The best way to get there is by attending this Calakmul tour from Campeche, which includes a roundtrip to the ruins.
You could always drive yourself; it's about a 4-hour drive from Campeche.
Visiting this region of Mexico, you should put visiting various Mayan Ruins at the top of your list. The Mayan Civilization is a crucial part of how this region came to be today.
Things To Do in Campeche Mexico – #3-4
Visit Fort San Miguel
Located just about 10 minutes from Campeche's city center is Fort San Miguel. San Miguel is home to several Mayan relics and is a famous piece of the city's history.
You can take a taxi to get there; it's not necessarily in the town, but it's pretty close too!
As you arrive, you'll notice some old canons, the old fort structures still intact, spy towers, and more. Inside you'll be able to see a few ancient Mayan artifacts.
You'll be presented with beautiful sea views when you reach the top of the fort.
Beach Day at Playa Bonita
Located South along the coast is Playa Bonita, the city's most beautiful and famous beach. It's only a 20-minute drive or taxi ride from the Centro area of Campeche.
The beautiful white sandy beach is famous amongst locals, especially on weekends; the shoreline isn't extensive but not too small. There's a lifeguard on duty, washroom facilities, and several palapas all over the beach that you can use to stay in the shade.
On the small boardwalk to the beach is Restaurante CostaMar Playa, the only restaurant here serving exceptional seafood.
Other Beaches in Campeche Mexico
As mentioned before, besides Playa Bonita, the other two beaches in Campeche could be better. Playa Bonita is the most beautiful beach in Campeche Mexico.
If you want to explore other beautiful beaches just 2.5 hours from Campeche, you can visit Sisal or Progreso, both famous beach towns in the Yucatan!
Things To Do in Campeche Mexico – #5-7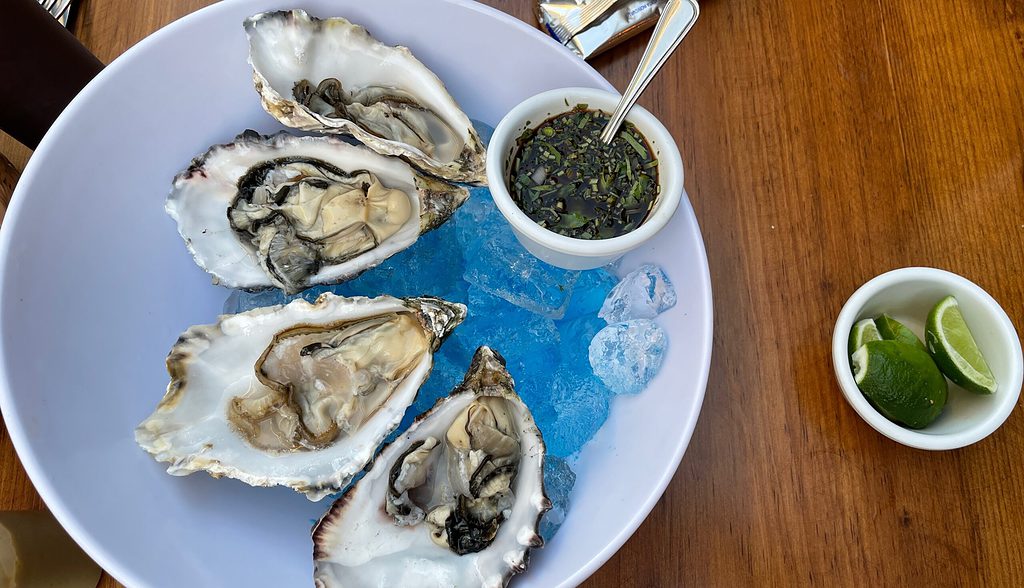 Who doesn't love a good foodie tour? It's no secret that Mexican food is famous worldwide, and rightfully so, I love Mexican food.
I recommend going on Foodie Tours wherever you are in Mexico; they're always a great time!
Well, Campeche has claimed its Mexican style of food, with influences from Mayan, African, and European heritage. On this guided Campeche Food Tour with a local, you will try various essential flavors of Campeche. The tour is done in a group of 5, so it's pretty intimate and lasts 4 hours.
For those not looking to go on a foodie tour but would like some great Campeche Restaurant recommendations, I've got you covered; here's a list of restaurants to consider!
Restaurant Recommendations:
Walk Malcon de Campeche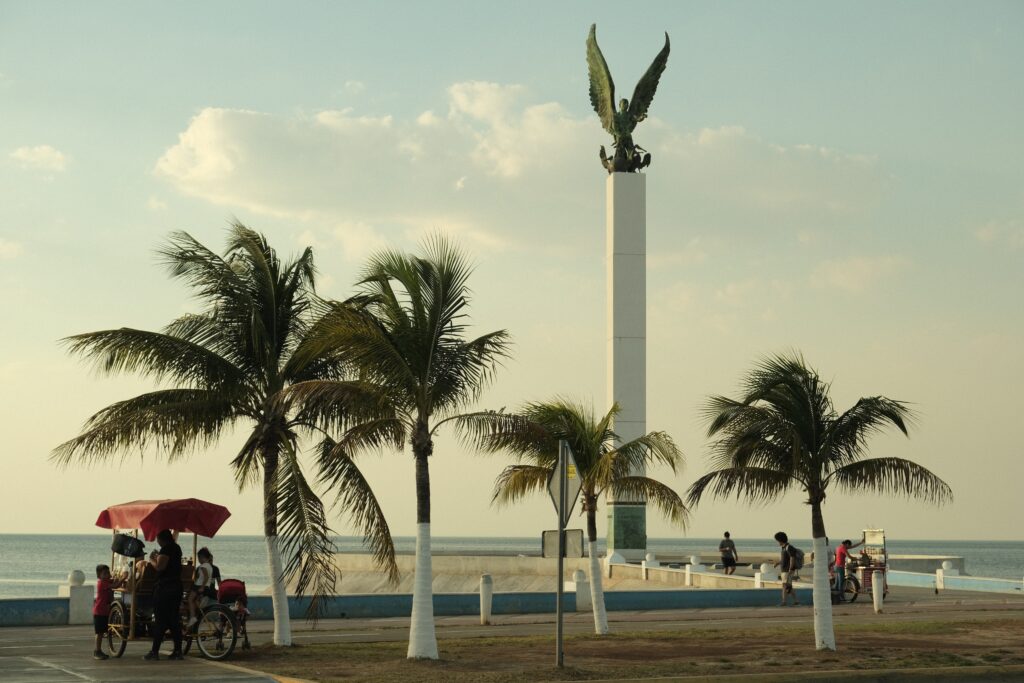 Just a short minute's walk from the Centro area of town is Malcon de Campeche, the town's main waterfront promenade boardwalk. A popular place to sit down, relax, and enjoy sunsets in the evening.
You will also spot the Campeche sign there as well. Some evenings the boardwalk has a few vendors serving various snacks/foods for locals and tourists to enjoy. The entire waterfront boardwalk is well-lit at night.
Walking along the boardwalk, you will also notice many beautiful city sculptures.
Located North of Campeche is Isla Arena, a small remote island full of wildlife, mangroves, a fascinating museum, and much more.
There are a few restaurants, but they all serve seafood, so those who don't love seafood may not want to come!
Isla Arena is two and a half hours away, you can drive there, but the best way to go is by tour.
This Isla Arena Tour from Campeche will provide a roundtrip to Isla Arena; a tour guide will take you to see the Pink Flamingos, visit the Ria Celestun Biosphere reserve, and more!
Campeche Hotels
Now that you know the best things to do in Campeche Mexico, let's discuss hotels and where it would be best for you to stay.
See what best fits your budget and where you'd like to be in the city and decide.
In this list of Campeche Hotels, I've included the best hotel option, no matter your budget!
Hotel Boutique Casa Campeche – (5 Stars)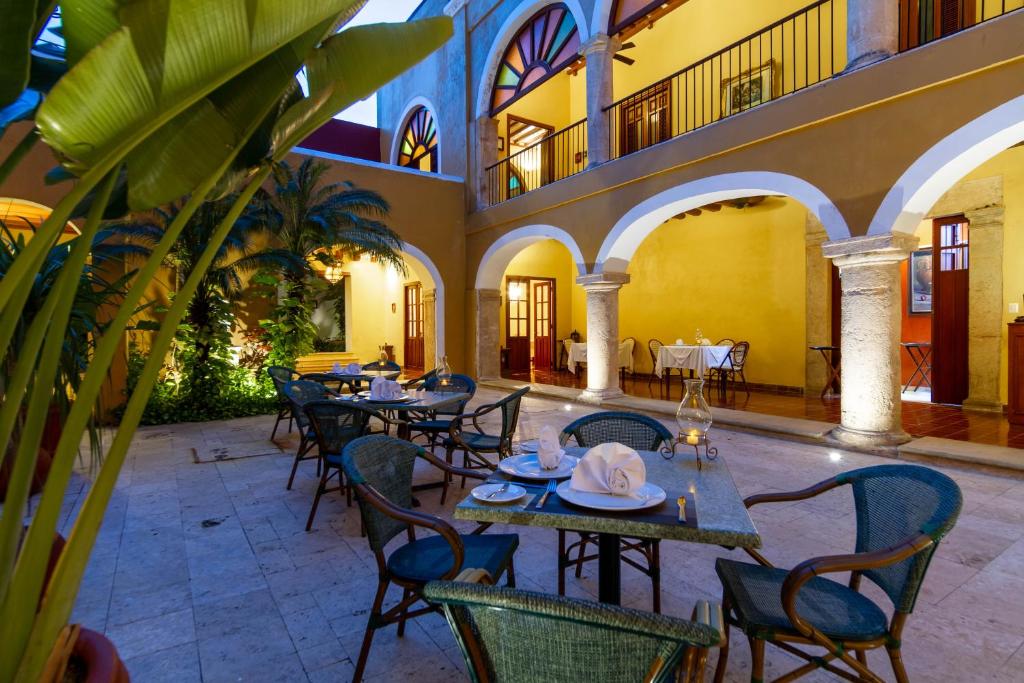 Visiting this hotel will make you feel like you've entered a time capsule and returned in time, which is the best part.
The owners of this beautiful hotel have surely put the effort to keep it intact and preserve the original building's look and aesthetic. Hotel Casa Campeche is immaculate, don't take my word for it, have a look.
Best For: Unique Hotel, 5 Star Service
Hotel Plaza Campeche – (4 Stars)
Located near the Centro area of town is Hotel Plaza Campeche, another beautiful hotel that has come with some of its old feel styles.
The rooms at Hotel Plaza Campeche are friendly and spacious; the hotel has a pool for guests and an extensive on-site restaurant.
Best For: Good Location, Spacious
Gamma Campeche Malecon – (3 Stars)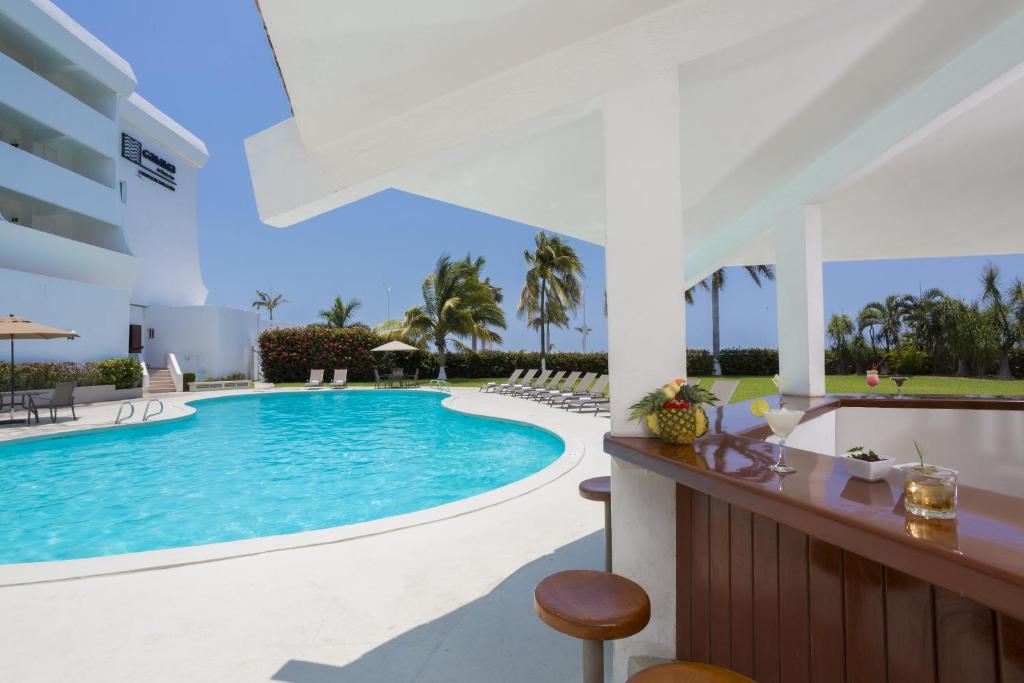 For those looking for a modern decorated hotel, Gamma Campeche Malecon is perfect for you. The hotel is next to the town's waterfront promenade boardwalk and offers exceptional sea views.
The rooms at the Gamma Campeche are modern, spacious, and equipped with everything you need. The large pool at the back of the hotel is perfect for sunbathing with sea views. The hotel is also only steps away from the Centro area.
Best For: Nice Views, Modern Stay
Viatger Inn – (hostel)
Located right in the Centro area of town is Viatger Inn, the highest-rated hostel in town.
The Viatger Inn Hostel has everything a solo traveler may need, clean rooms and bathrooms, a small communal area, and a large kitchen full of appliances.
Best For: Solo Traveler, Great Hostel
Is Campeche Mexico Safe?
For the most part, Campeche is generally a safe town, the city does have a bit of corruption, and it would be best to avoid walking home alone at night and watching your alcohol consumption.
Make sure you purchase Travel Insurance before visiting Mexico.
Use your big-city safety measures when visiting here, be aware of your surroundings, watch your belongings at all times, and know where you're going. Follow these precautions, and you should be fine.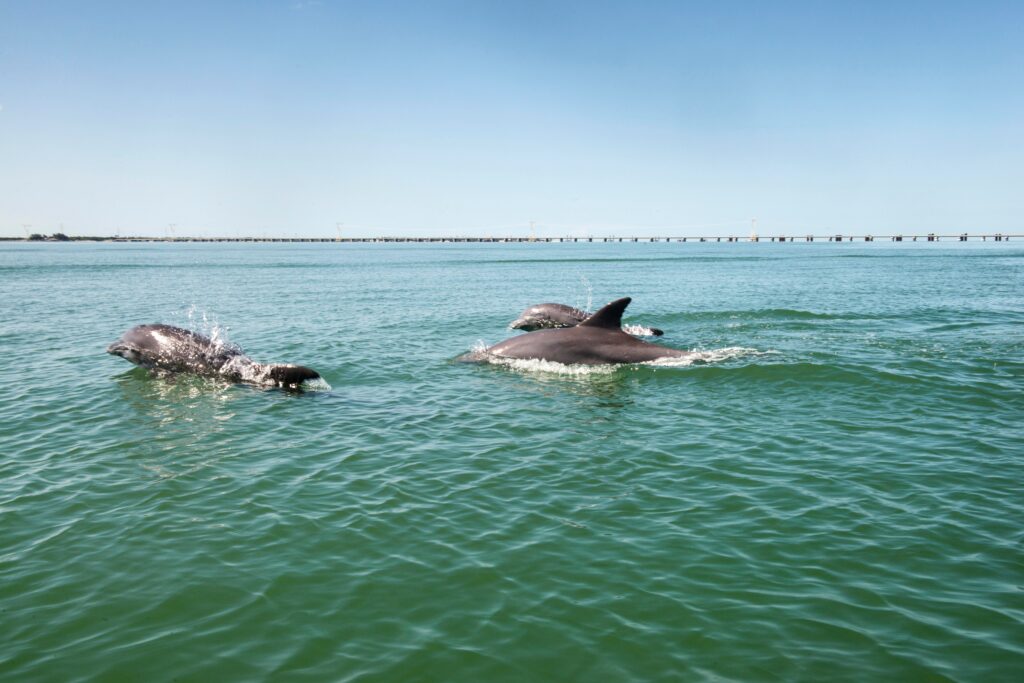 Is Campeche Mexico Worth Visiting?
It depends on why you're looking to visit Campeche. The city is famous for its history, its admirable architecture in the Centro area, and is full of culture. Campeche is worth visiting if that's the experience you're looking for!
If your idea of the city is partying, with so many things to do, you can't decide, you'd best stay/visit Cancun, Tulum, or Playa Del Carmen.
If you're staying in Campeche, visit Merida and the beach town Progreso, known for its extended beach shoreline.
Also, remember that Chichen Itza is 3 Hours and 50 minutes away from Campache, a must-visit when you're in Mexico.
Subscribe to Travel Hiatus!
Receive updates on my latest posts, insider travel tips & the best destination guides to your inbox!
Featured Image Credit: Tulip Sunflower / Other Photos via Unsplash
Happy & Safe Travels
---
Planning Checklist
---
Disclaimer: Please note that some of the links shared in this article might be affiliate links; this means that at absolutely no extra cost to you, we will earn a small commission for any sales generated through this article and/or this website. We recommend products/services we've either used or researched thoroughly – Thank you for supporting us so we can continue to share helpful travel content!