8 Best Hotels in Ensenada Mexico
Located roughly 108 km South of the US border is Ensenada, Mexico—a beautiful coastal surf town known for its wineries, surfing, and stunning nature.
The town is frequented by not only US tourists but several locals as well. Not only is it beautiful, but the food here is some of the best in all of Mexico. In fact, famous chef Anthony Bourdain's favorite street food is in Ensenada!
Ensenada is a popular getaway for those living in San Diego, California. Because Ensenada is only a two-hour drive away, it's the perfect weekend getaway!
For those living in San Diego looking to go to Ensenada, as of June 2023 San Deigo to Ensenada ferry will be a thing, you will be able to go by ferry! The cost is $28 US, with a capacity of 300 passengers on board at a time.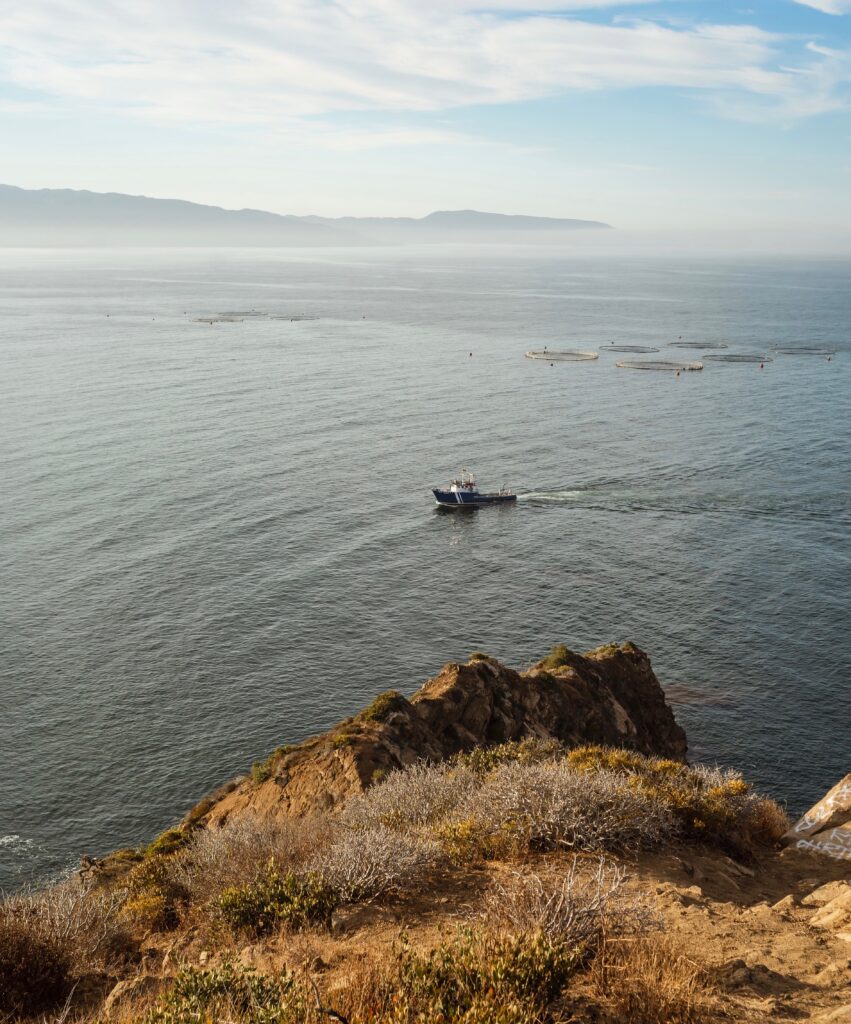 For those already familiar with the town, you must be looking for the best hotels in Ensenada Mexico. Well, here they are!
Please refer here if you'd like to learn everything about Ensenada, Mexico. We will be talking about the hotels here only.
Where to Stay in Ensenada Mexico
When visiting Ensenada, you have a few options regarding the area you choose to stay in. And here are your options regarding the different areas.
Centro – This is the city center, the downtown area of the city, you'll be close to lots of restaurants and shopping.
Coastal Area – This area is just North of the city center, just before San Miguel Bay, and offers beautiful Pacific Ocean views from hotels.
Near the Winerys – Also North of the city center, you will find several wineries and beautiful nature here.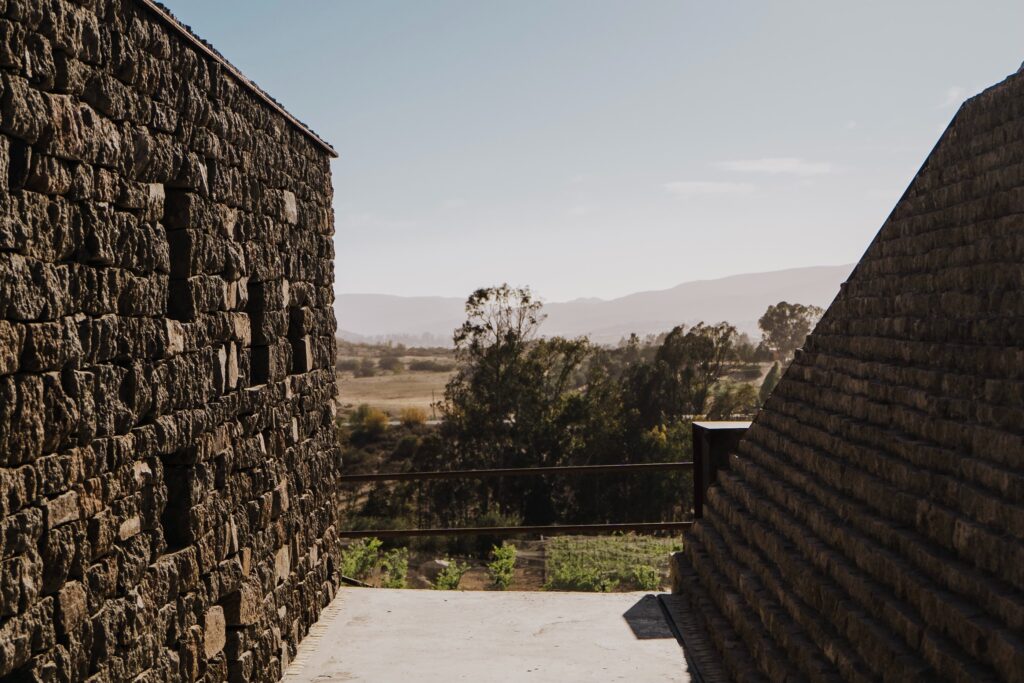 Best Hotels in Ensenada Mexico – #1-3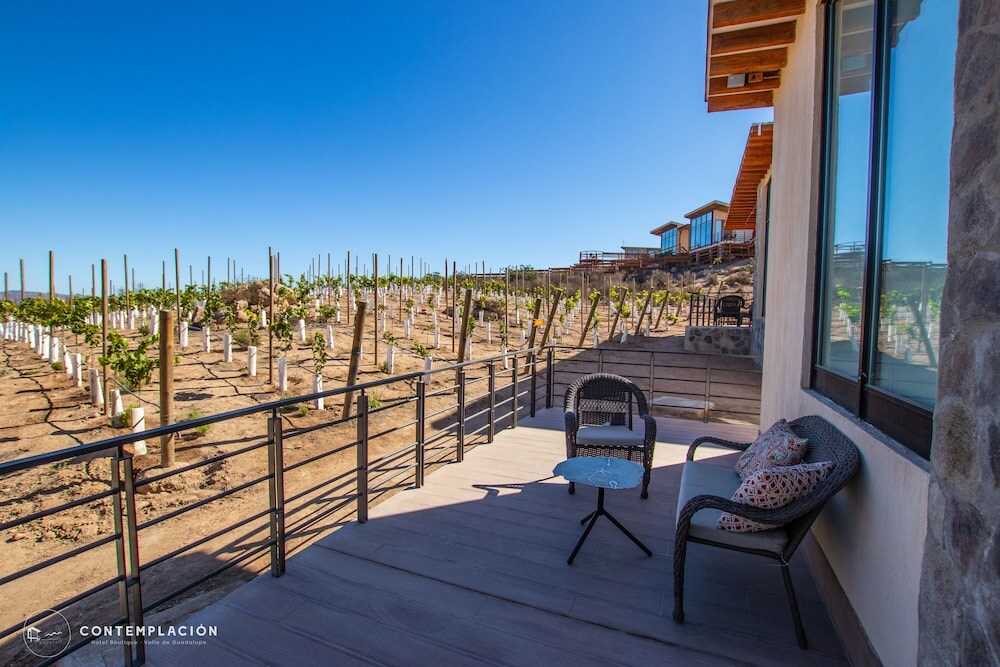 Starting with one of the best hotels in Ensenada, Contemplacion is a 5-star resort located by several wineries. This is where you relax to the fullest, whether alone or with a loved one.
This property can be described as a secluded oasis, and each room has its own luxurious shack with stunning countryside views of Ensenada.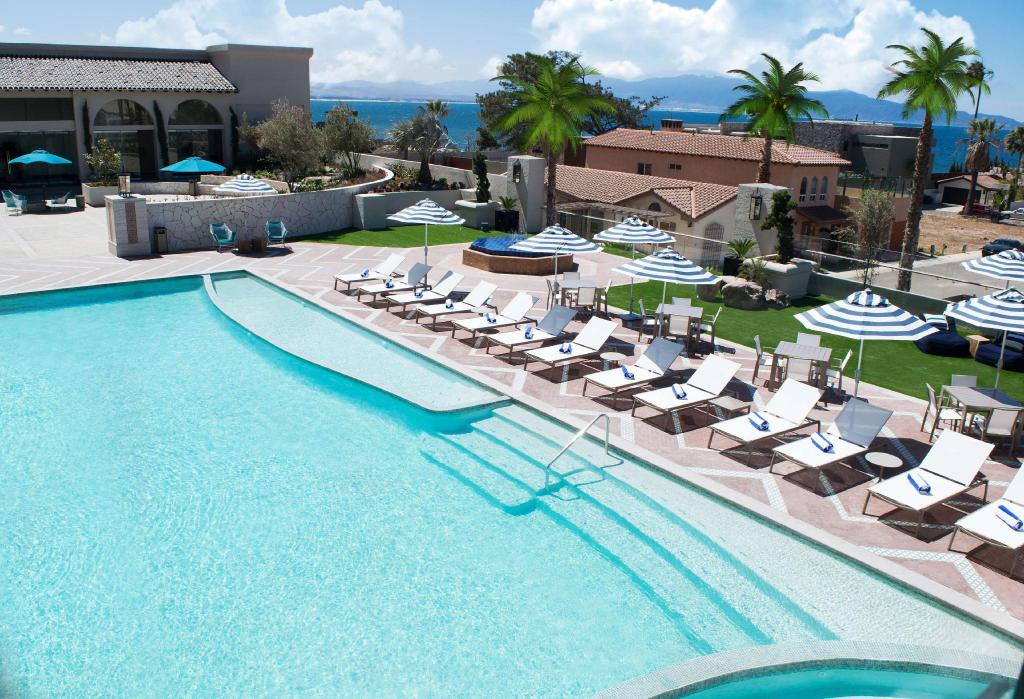 Torre Lucerna Hotel is located in the coastal area near San Miguel Bay and is a short taxi ride from the city center, a luxurious building-style hotel with a grand entrance.
This 5-star hotel has a beautiful pool facing the Pacific Ocean, and several rooms have that same view, a great way to wake up in the morning.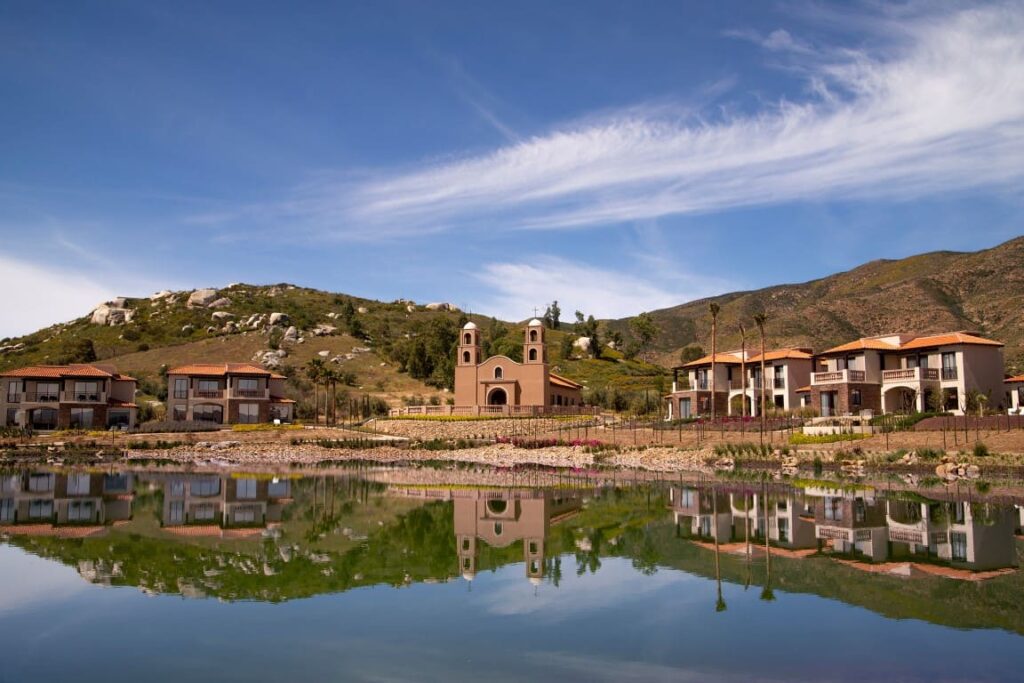 Not only is this resort a hotel, but it's also a well-known winery. Tourists come from all over to visit this winery. If you stay here, you'll have easy access to it!
El Cielo Resort sits on a stunning river stream in the countryside of the Ensenada. Mountains surround the winery and greenery, and they also have a beautiful pool for guests. If you love nature, look no further. This is one of the best hotels in Ensenada Mexico, for nature views!
Another beautiful beach town in Mexico is Puerto Escondido!
Best Hotels in Ensenada Mexico – #4-6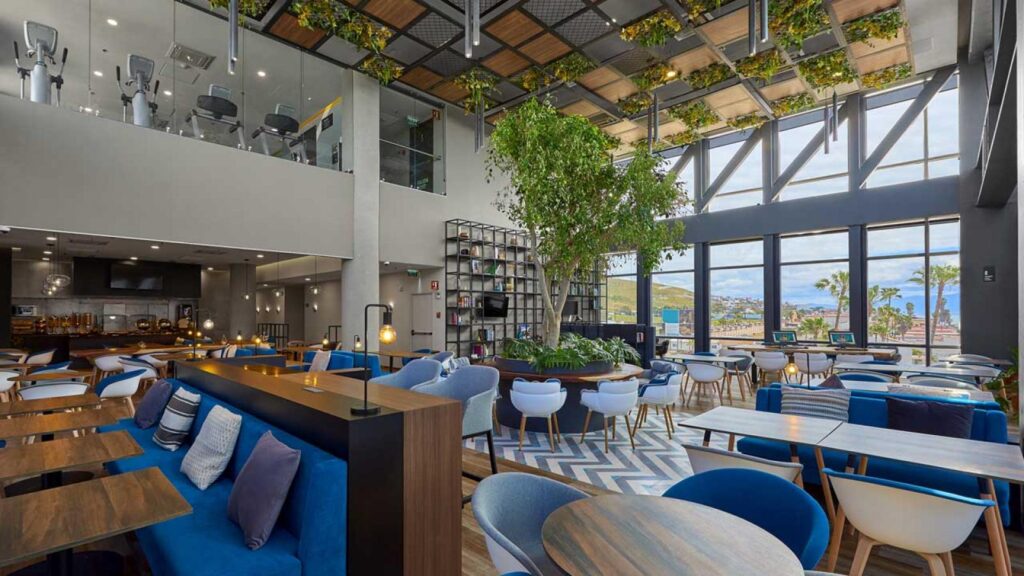 Located in front of San Miguel Bay, City Plus Ensenada is a modern, high-rise hotel with exceptional finishes. They're known for their rooftop offering beautiful sunrise/sunset views along with the Pacific Ocean.
The rooftop has a fantastic in-house restaurant and bar, a setting for a romantic evening. If you prefer a modern space, City Plus is one of the best hotels in Ensenada Mexico.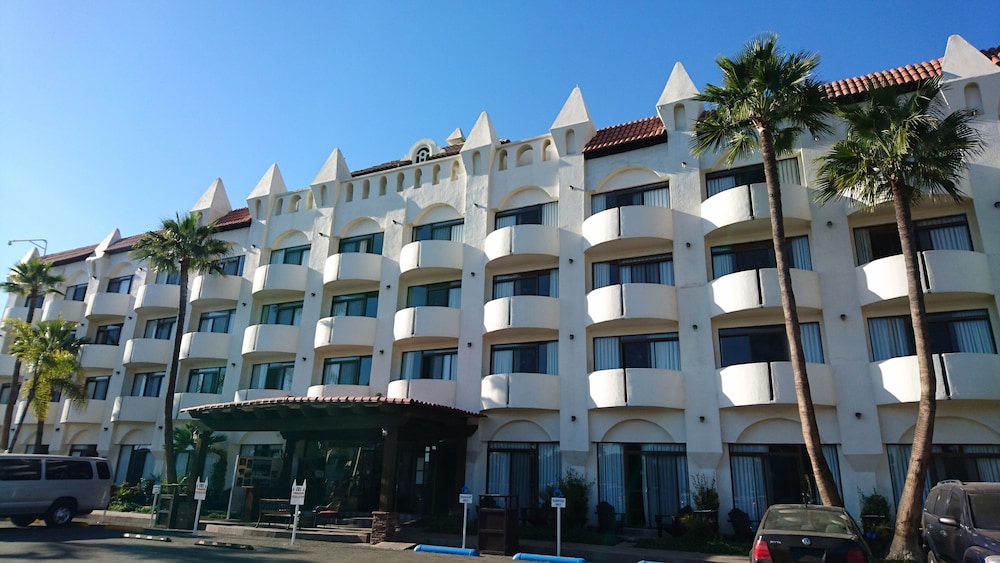 The Hotel Corona & Spa is a fantastic hotel and spa in front of the city's main port. You will have a nice view of boats/cruise ships docking and leaving throughout the day and evening.
While the inside isn't modern, the hotel has an art-deco vibe to it. Staying here also means you're steps away from the city center, and everything is accessible.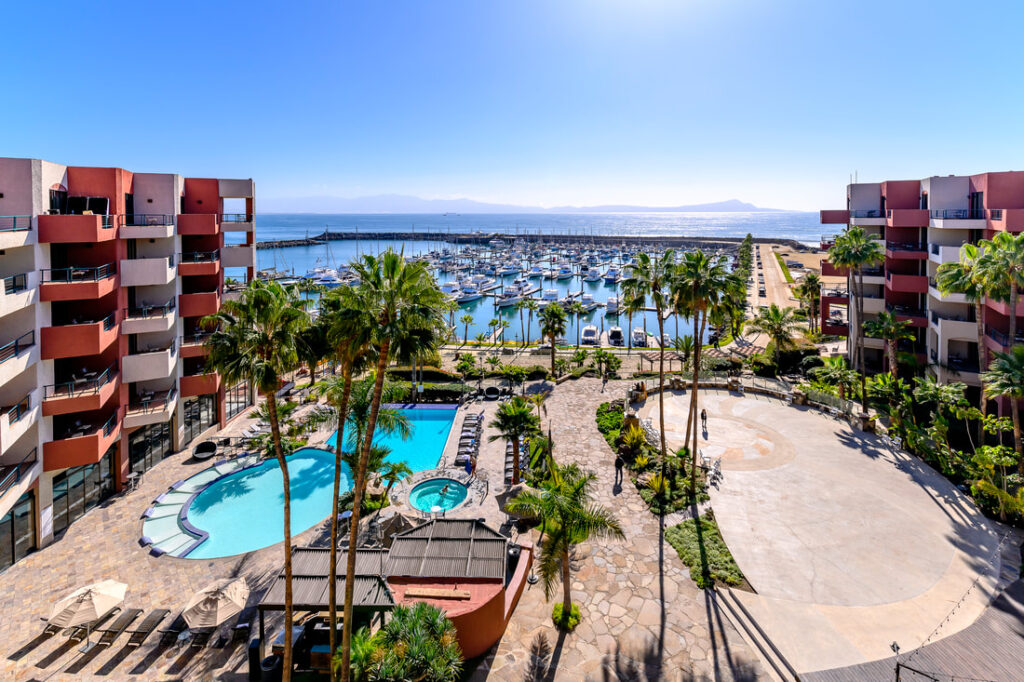 Known as one of the highest-ranked hotels in the city, Hotel Coral Y Marina is not only a great value, but its location is also excellent. In front of the marina, Hotel Coral has an outdoor and indoor pool.
Each room has a small living area which is excellent, especially if you're traveling with kids. The hotel also has a uniquely designed bar we'd suggest you visit!
Best Hotels in Ensenada Mexico – #7-8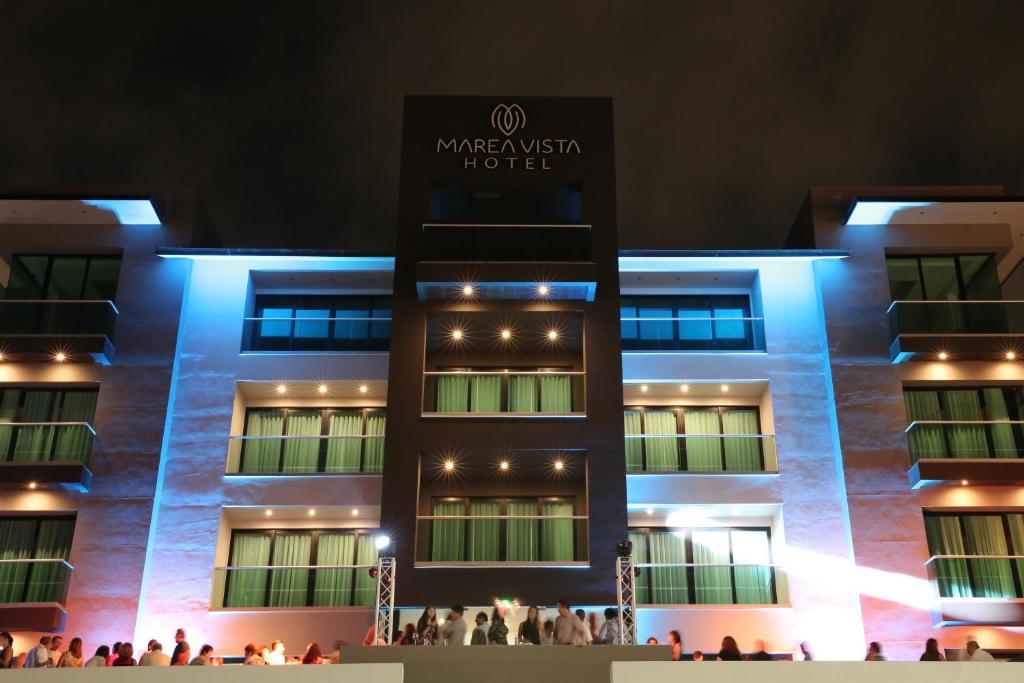 Conveniently located right behind Malecon de Playa Hermosa, staying at Hotel Marea Vista means you've got direct beach access! Not all, but several rooms here offer ocean views.
With modern finishes and spacious rooms, this hotel is very well-priced, and for the convenience of the beach, staying here is worth it!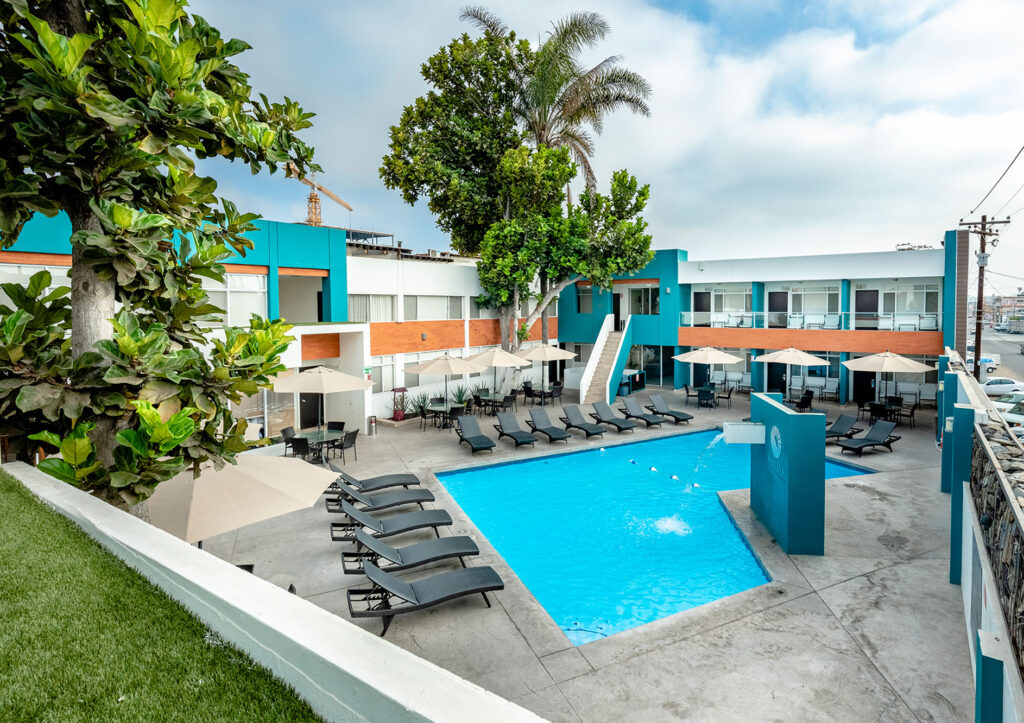 Located in the heart of the city, with beautiful ocean views, Hotel Cortez is steps away from the inner city center, marina, and only a 30-minute walk to the beach. If you're looking to be by the beach, this is one of the best hotels in Ensenada Mexico, to stay at.
It's a smaller hotel, but they've got everything you need. There is a pool, and many rooms have a kitchen area suitable for families.
Cheap Hotels in Ensenada
For those looking for cheap and best hotels in Ensenada Mexico, lucky for you, they do exist. That said, you will likely end up with a 2-Star or 3-star hotel.
Prices for hotels in Ensenada Mexico are pretty close to each other. If you play around with the dates of your booking, you can get a 3 or 4-star hotel for the price of a 2-star at times.
Here are your three best options for a cheap hotel in Ensenada.
When is the Best Time to Visit Ensenada?
The best season to visit Ensenada is from October to May, the weather is hot, but the mugginess, prevalent during the Summer months, isn't there during this time.
Consider the slight rise in mugginess from June to October. However, this does not mean that you should avoid Ensenada. Mugginess-wise, some weeks are better than others.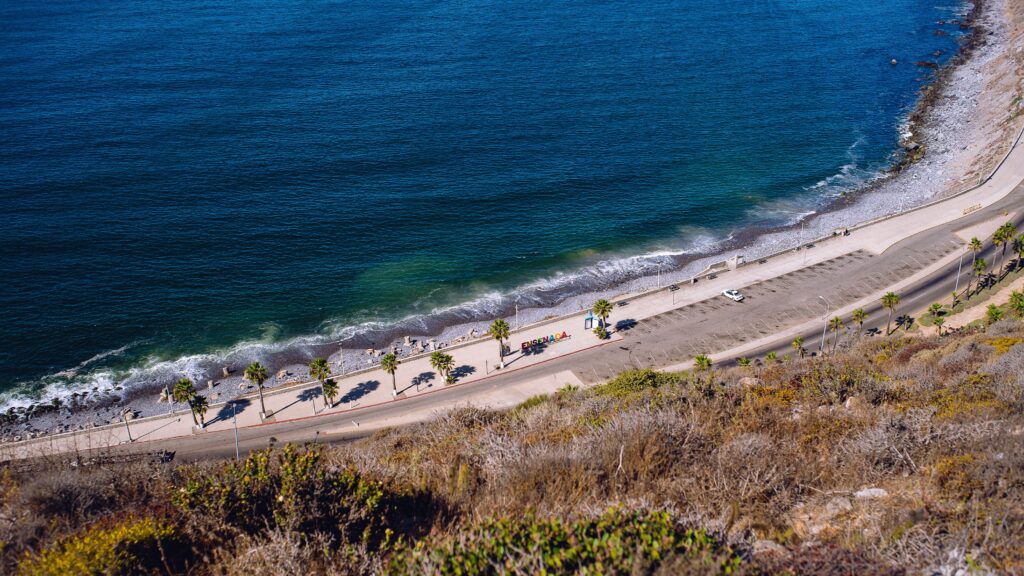 Is Ensenada Mexico Worth Visiting?
It's definitely worth visiting. This small town is home to a wine country with beautiful beaches and delicious Mexican food. It's got it all!
For an in-depth guide on the town of Ensenada regarding things to do, restaurants, hotels in Ensenada, tours, and much more, please look at our Ensenada Travel Guide.
If you've been to Ensenada before and are debating returning or visiting a different small beach town in Mexico, we highly recommend Huatulco, Sisal, or Sayulita!
Subscribe to Travel Hiatus!
Receive updates on my latest posts, insider travel tips & the best destination guides to your inbox!
Featured Image: Credit: Josue Michel via UnSplash.com
Happy & Safe Travels
---
Planning Checklist
---
Disclaimer: Please note that some of the links shared in this article might be affiliate links; this means that at absolutely no extra cost to you, we will earn a small commission for any sales generated through this article and/or this website. We recommend products/services we've either used or researched thoroughly – Thank you for supporting us so we can continue to share helpful travel content!