11 Cheapest Cities in Portugal to Visit
Are you looking for the cheapest cities in Portugal to visit or live in? I've got you covered with this complete list of the cheapest places in Portugal, along with daily/monthly cost data!
Portugal is one of the cheapest countries in Europe to both visit and live in; those who reside in Europe have known this for some time.
Besides its rich history, diverse landscape, and delicious food, Portugal is a very safe country and has a variety of tourist visas for those looking to visit for a while or relocate.
Included under each city are the average daily visiting cost and average monthly living costs. There are averages, and this figure can be higher or lower depending on your budget and travel style in Portugal—some figures assisted by BudgetYourTrip and Numbeo.
For those looking to visit Portugal on a budget, try your best to visit during shoulder season, when you'll find the best deals on flights/hotels!
Castelo Branco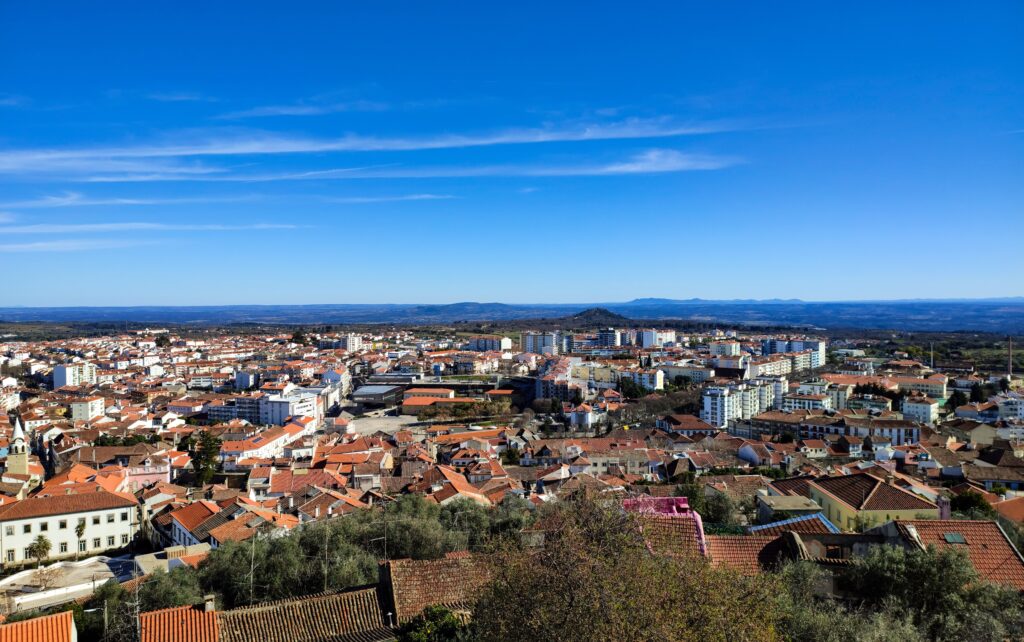 The charming city of Castelo Branco is iner located city in central Portugal, close to the Spain border. Serving as the capital of the Castelo Branco District, the city is known for its rich history and cultural heritage.
With cobblestone streets, historic buildings, and beautiful gardens, the old town is picturesque. The most famous landmark in Castelo Branco is the Jardim do Paço Episcopal.
Day-to-day life here is laidback quiet, with an approximate population of 35,000 inhabitants.
Castelo Branco has a Mediterranean climate, with hot summers and mild winters, making it an inviting destination year-round.
The town makes for an excellent base for exploring the nearby Serra da Estrela mountains and the beautiful countryside of central Portugal.
Average Daily Visitor Cost: $106 US
Average Monthly Living Cost: $1,061 US
Santarém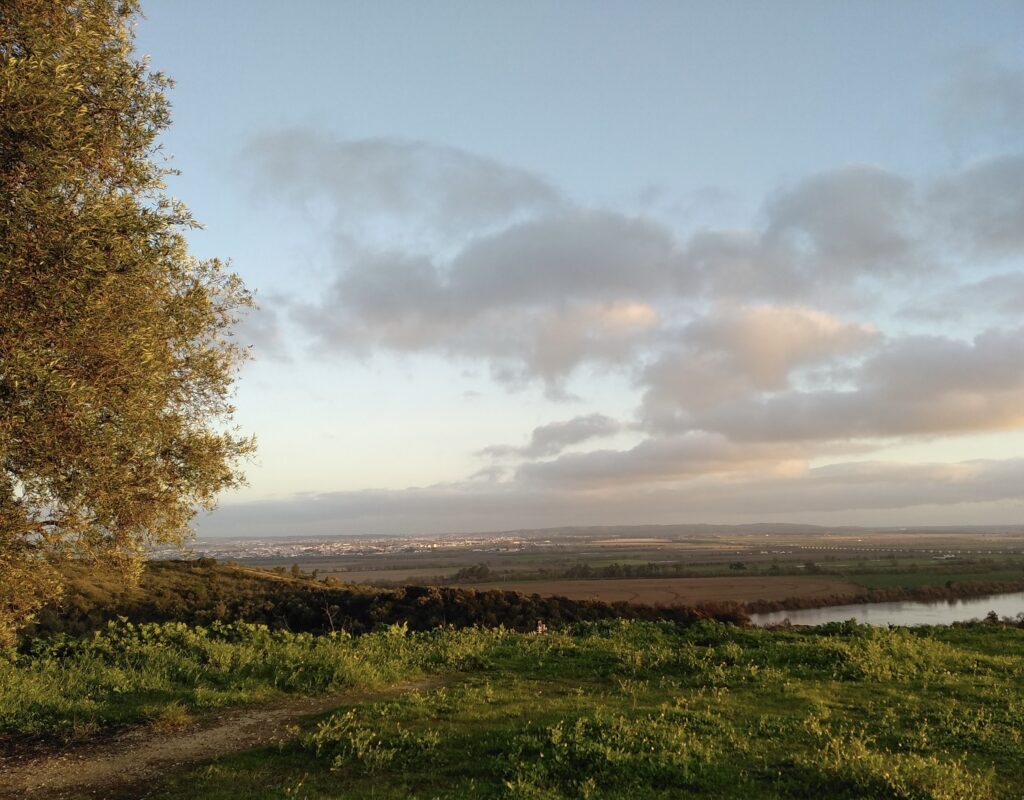 The historic city of Santarém is situated on the banks of the Tagus River. Dating back to Roman times, the city is one of the oldest in Portugal.
Santarém's most famous landmark is the Jardim das Portas do Sol, a stunning garden with panoramic views of the Tagus River.
Walking around town, you'll notice many buildings with Gothic architecture; because of this, Santarém is often referred to as the "Capital of the Gothic."
With its charming squares, cobblestone streets, and rich history, Santarém's charm can be noticed at all times as you scroll the town. Also, for those who enjoy river-related activities, it's a place to do just that due to its location along the Tagus River.
Annually, there's an agricultural fair, the Feira Nacional de Agricultura; the town takes pride in its fresh produce. This only elevates your food experience when dining at the many restaurants in Santarém.
Average Daily Visitor Cost: $110 US
Average Monthly Living Cost: $1,080 US
Viana do Castelo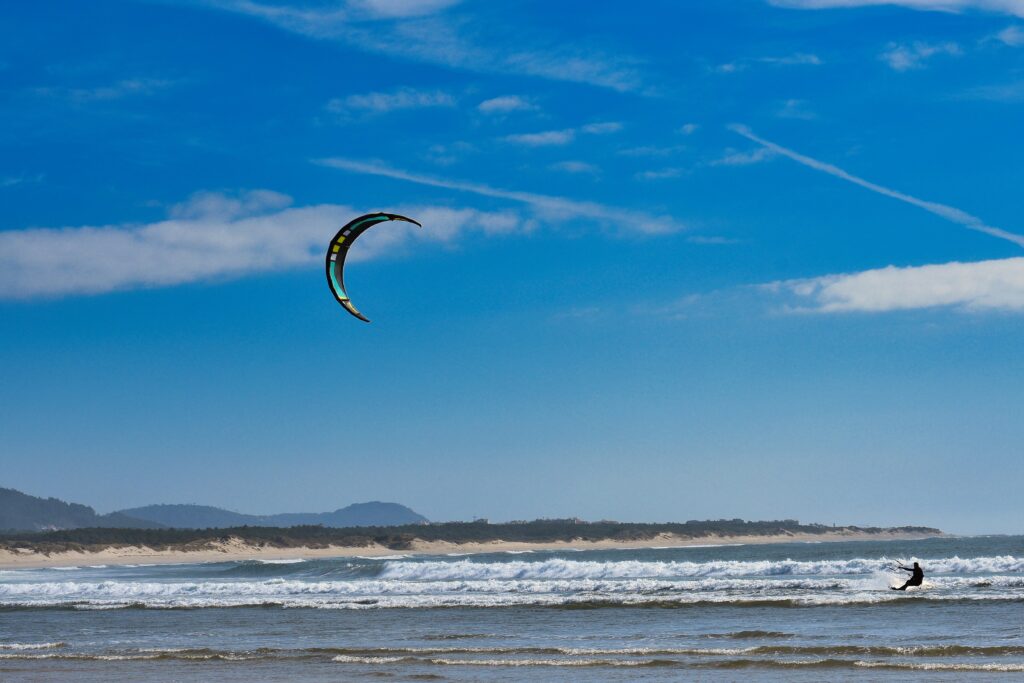 Viana do Castelo is located along Portugal's coast in the North and is just minutes away from the Portugal/Spain border. It's known for its vibrant cultural scene, historic architecture, and beautiful coastal coastline views.
Sitting in the middle of the city is the Lima River, making for a unique city landscape, an area where a river and the Atlantic Ocean meet. As you head north of Viana do Castelo, you'll constantly be met with charming countryside.
Situated at the top of Monte de Santa Luzia sits the city's famous Sanctuary of Santa Luzia, a stunning old church with remarkable architectural traits. Visiting it offers exceptional panoramic views of the whole city. Another must-visit is The Gil Eannes, a former hospital now turned into a maritime museum.
Viana do Castelo is well-known for its traditional handicrafts and vibrant and intricately embroidered costumes. The city hosts the renowned Romaria de Nossa Senhora d'Agonia, one of Portugal's largest religious festivals, showcasing a large display of cultural traditions, foods, and music.
With its stunning beaches, rich cultural atmosphere, unique natural landscape, and great weather, Vianna do Castelo is a top choice to visit in this list of the cheapest cities in Portugal!
Average Daily Visitor Cost: $122 US
Average Monthly Living Cost: $1,092 US
Figueira da Foz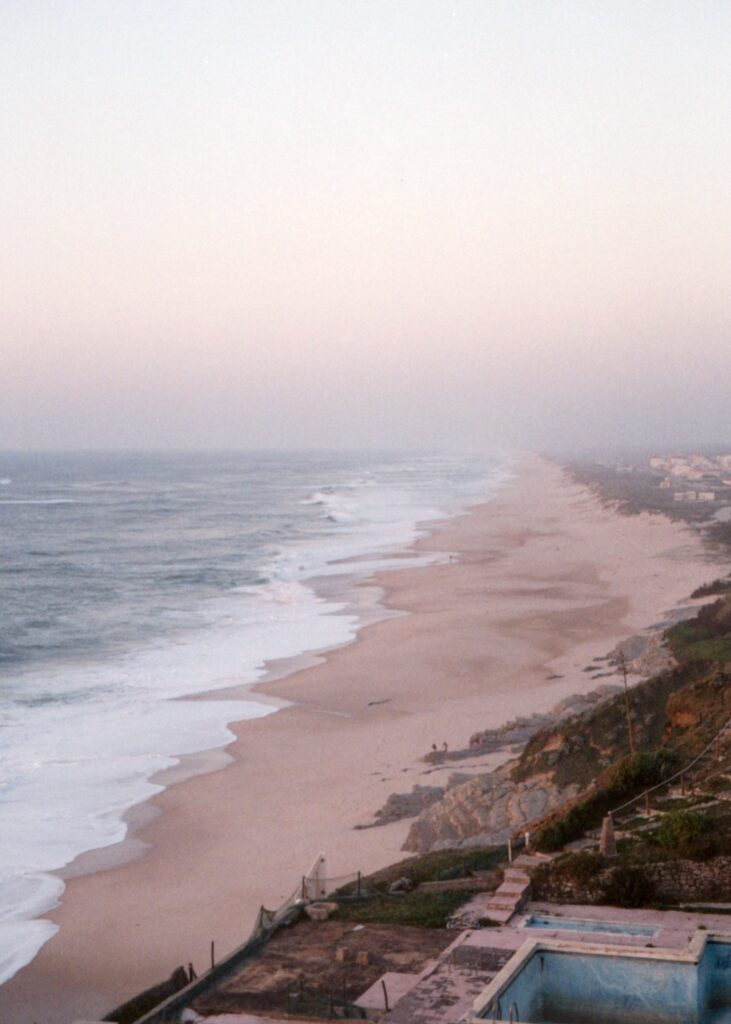 Figueira da Foz is a stunning coastal city located in central Portugal, almost halfway between Lisboa and Porto, the two biggest cities in Portugal.
Located along the Atlantic City, the town boasts beautiful beaches, lively boardwalks, and a full-on beach town atmosphere. Praia da Claridade is the most famous beach in town, and locals come from far away just to visit it.
There are many things to do in Figueira da Foz, sunbathing and several water sports, and don't forget to visit the delicious fresh seafood restaurants, another must-do when visiting!
Being a popular beach town, there's also a lively nightlife here with many clubs, bars, and restaurants open till the early morning!
Another must-mention is the city's Casino, which is used as an entertainment venue as well.
With the beach town's rich history, many things to do, and several cultural events held throughout the year, Figueira da Foz is an excellent place to consider visiting/living in Portugal!
Average Daily Visitor Cost: $137 US
Average Monthly Living Cost: $1,170 US
Ponta Delgada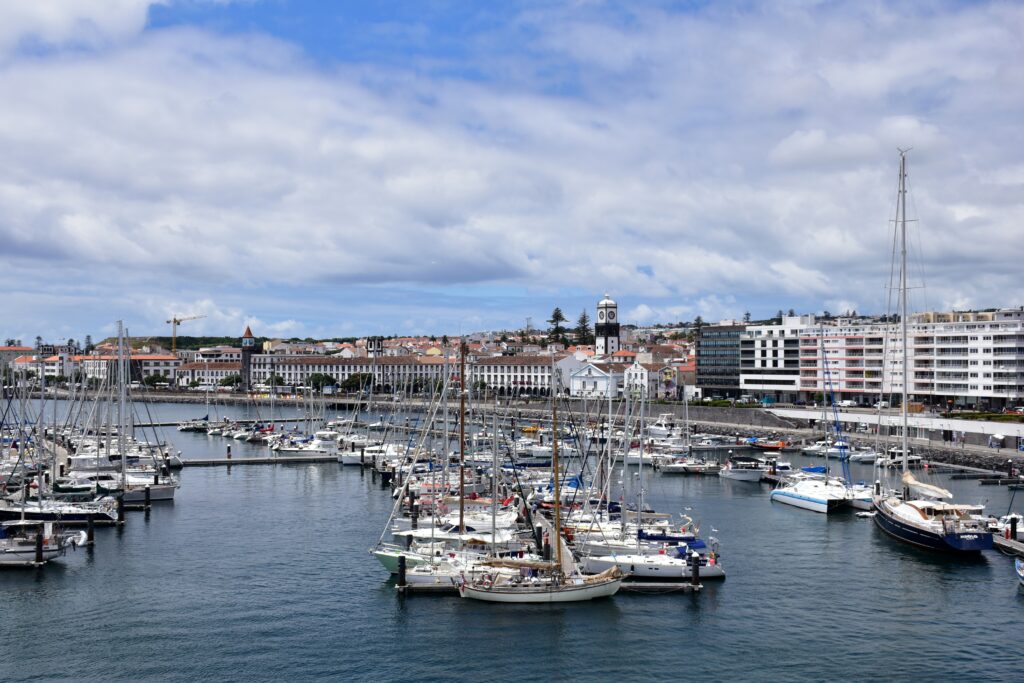 Ponta Delgada is the largest city in Sao Miguel, on the largest island in Portugal in the Atlantic Ocean.
The beautiful coastal city has its unique architecture, rich cultural heritage, and stunning natural beauty. With a diverse natural landscape of both beaches and mountains, Ponta Delgada has it all!
Walking around, you'll find many beautiful old churches, cobbled streets, and grand squares. The most notable landmark in the city is The Portas da Cidade (City Gates), with its elegant arches.
Ponta Delgada's marina is a beautiful place to go watch the sunset, experience many water sports and activities, or enjoy a delicious meal in the evening.
The cuisine in Ponta Delgada primarily focuses on fresh seafood, dairy products, and wine. Also, the city is known for its tea and coffee cultivation.
Ponta Delgada is an excellent destination to consider visiting in Portugal, with its stunning nature, including beaches, lush landscapes, volcanic craters, and hot springs. On top of all that, the added allure of being on an island in the middle of the ocean!
Average Daily Visitor Cost: $167 US
Average Monthly Living Cost: $1,207 US
Alcobaça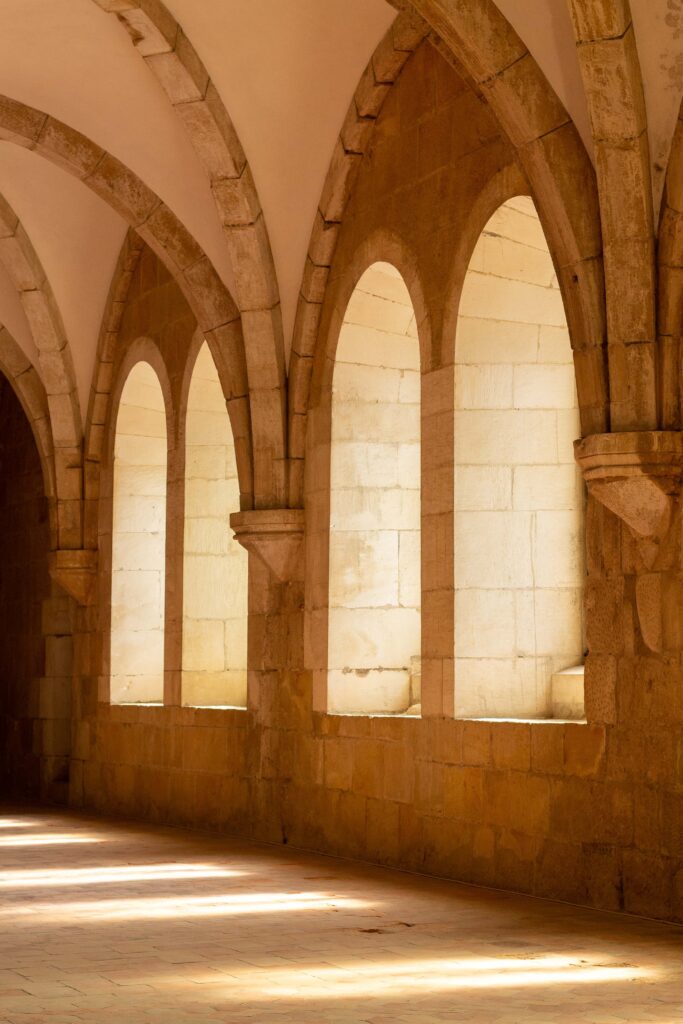 With its renowned rich cultural heritage, Alcobaca is most known for its Monastery of Alcobaca, a UNESCO-recognized World Heritage Site. Founded in 1153, the magnificent building is a prime example of Portugal Gothic architecture.
The city is known for its many quaint cafes and shops. For those who love baked goods, Alcobaca is famous for its many traditional Portuguese pastries. Being only 15 minutes away from the ocean, Alcobaca's regional cuisine mostly comprises seafood dishes.
With its rich history and relaxing atmosphere, Alcobaca is a top town to relocate to in Portugal. Another excellent aspect of Alcobaca is its nearby beaches of Nazaré and São Martinho do Porto, offering a short drive for coastal relaxation.
The city has a tranquil and charming ambiance, adding to its overall appeal and making it a delightful stop for travelers exploring the region.
Average Daily Visitor Cost: $172 US
Average Monthly Living Cost: $1,262 US
Évora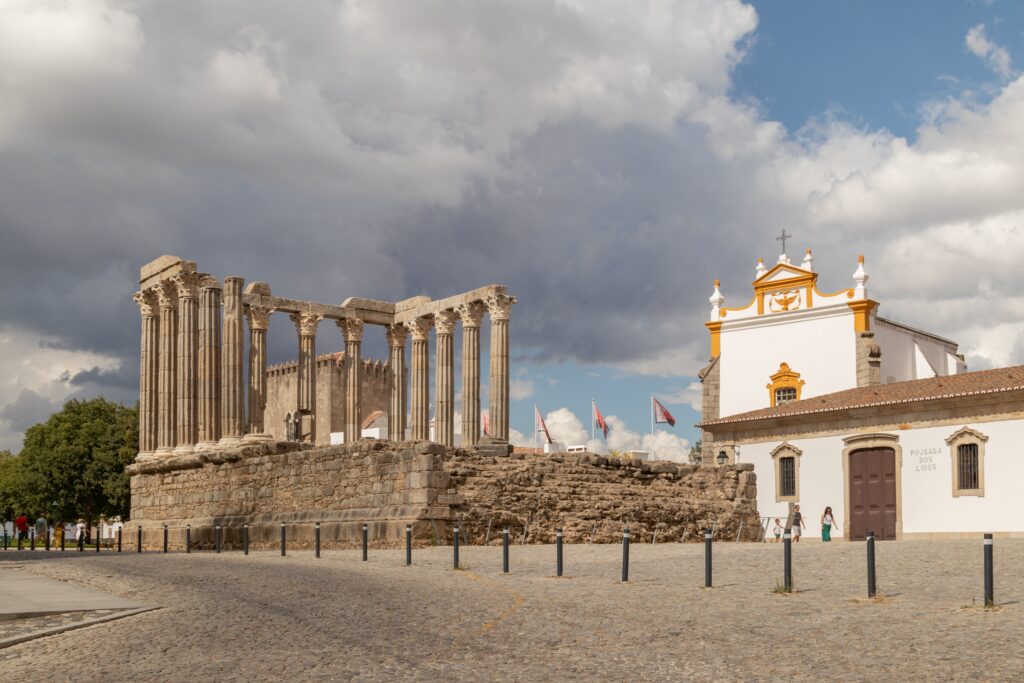 Often referred to as the "Museum City" due to its architecture and many historical sites, Evora is a historic city located in the Alentejo region of Portugal. Conveniently, it's located under 2 hours away from Lisboa, the capital.
With plenty of Gothic architecture, Renaissance buildings, and other famous landmarks like the Temple of Diana. Evora ranks as a must-visit for those who appreciate medieval architecture and history.
Evora is famous for its regional wines and ranks as a top destination for experiencing Portuguese wine. Évora offers a serene and relaxing atmosphere, with plenty of rich history and culture to explore.
The city's central location makes it a great base for exploring the surrounding countryside, vineyards, and more!
With its nearby distance from Lisboa, Evora also makes for a great weekend trip from the capital!
Average Daily Visitor Cost: $182 US
Average Monthly Living Cost: $1,070 US
Póvoa de Varzim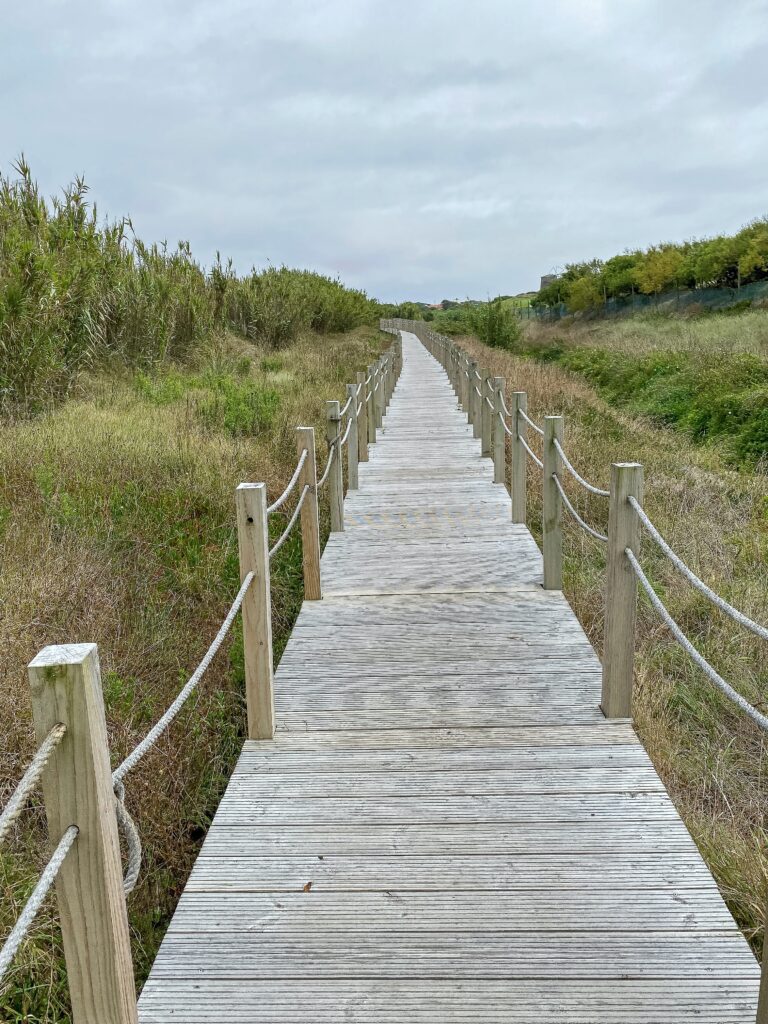 Located along the Northern coast of Portugal, Povoa de Varzim is a vibrant, lively city full of beach shoreline, several restaurants, and shopping.
Known for its seafood due to its long history of the fishing community, you'll quickly notice the many fishing boats here going out to the shore to catch fresh catch daily.
The city's two most popular beaches, Praia da Lagoa and Praia Redonda attract locals and tourists alike for sunbathing and water activities.
During the night, the city has much to offer, from bars, restaurants, and its famous Povoa de Varzim Casino with its distinctive architecture.
As you wander the city, you'll notice the charming narrow streets with traditional Portuguese houses. Unlike other towns/cities mentioned in this list, Povoa de Varzim has a skyline and is a fully developed city.
Póvoa de Varzim's proximity to Porto makes it a popular destination for locals and tourists visiting Porto. If you're in Porto, you must make a trip out to Povoa de Varzim!
Average Daily Visitor Cost: $184 US
Average Monthly Living Cost: $1,090 US
Aveiro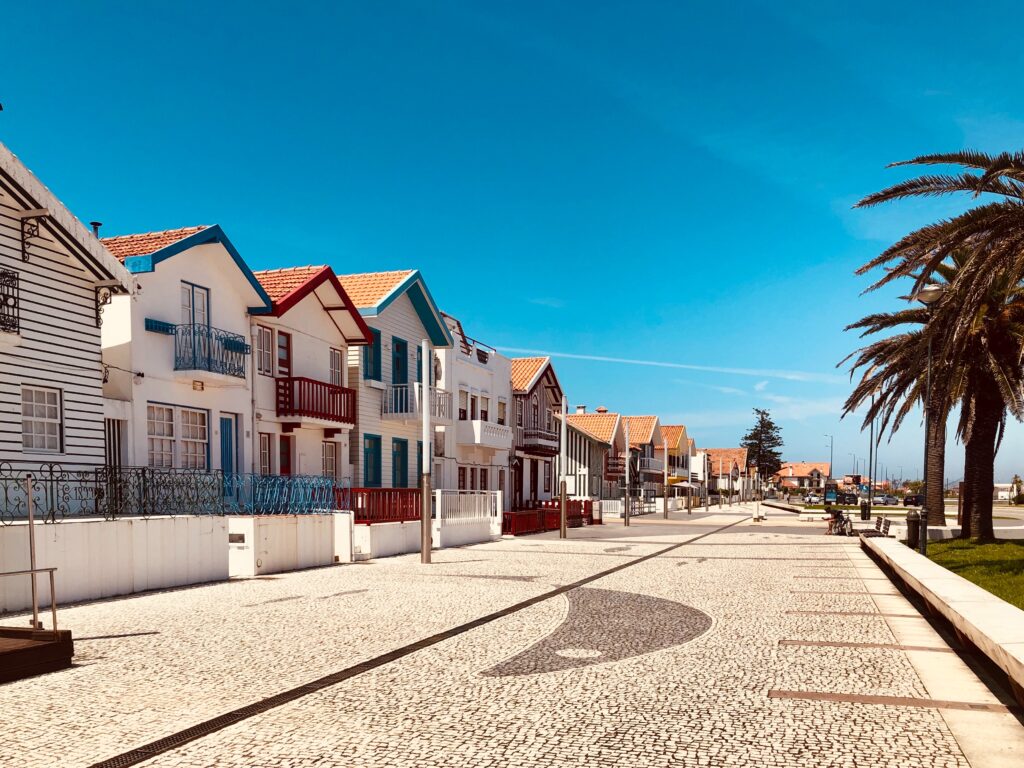 Often referred to as the "Venice of Portugal" due to its colorful boats and charming canals. Aveiro is known for its unique landscape and many traditional Portuguese architectural buildings.
Aveiro is approximately in the middle between Porto and Lisboa along the coast. On one side of the city is the Boco River, and along its shores is the Aviero Lagoon.
Touring the canals of the city on Moliceiro offers a fun and unique way to experience the history and see the city!
Aveiro's central Rossio Square is a popular area for social and cultural activities, surrounded by shops, cafes, and lively street performances. Nearby is the Aviero Museum, a must-visit when in town.
With its unique blend of history, architecture, and unique canal landscape, Aveiro is a must-visit destination for travelers exploring Portugal.
Average Daily Visitor Cost: $187 US
Average Monthly Living Cost: $1,270 US
Caldas da Rainha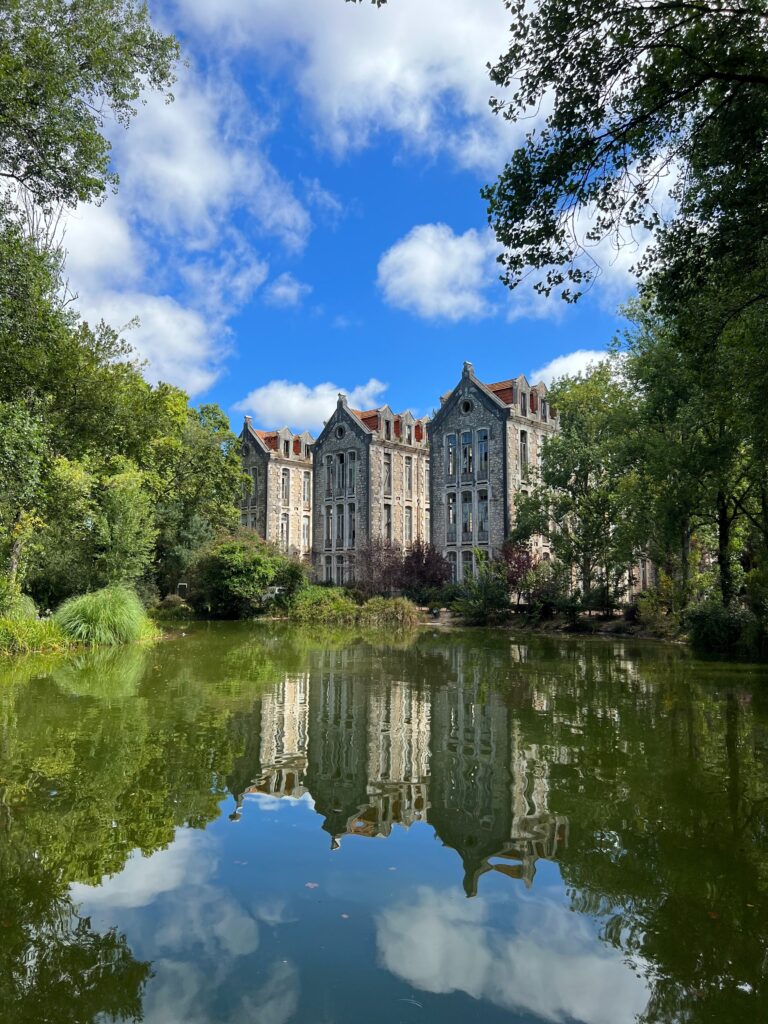 Caldas da Rainha is located almost along the coast of Portuguese, and the city is ideal for those looking for a mix of a medium-sized city, not too big, and also not a tiny town!
The city is home to many beautiful parks and squares throughout. Parque D. Carlos is the most well-known landmark in the city, a spacious, picturesque park with a lake and many old sculptures.
Walking around, you'll think you've stepped back in time; the park is quite remarkable.
Mercado da Praça da Fruta is a daily local market full of local crafts, fresh produce, and many artisanal products. Caldas da Rinaha is known for its traditional pottery culture, and you will spot pottery products being sold throughout town.
Due to its close proximity to the coast, there are many beaches only 20 minutes away from Caldas da Rainha. Also, Caldas da Rainha is only an hour and 20 minutes from Lisbon.
Average Daily Visitor Cost: $192 US
Average Monthly Living Cost: $1,276 US
Cacela Velha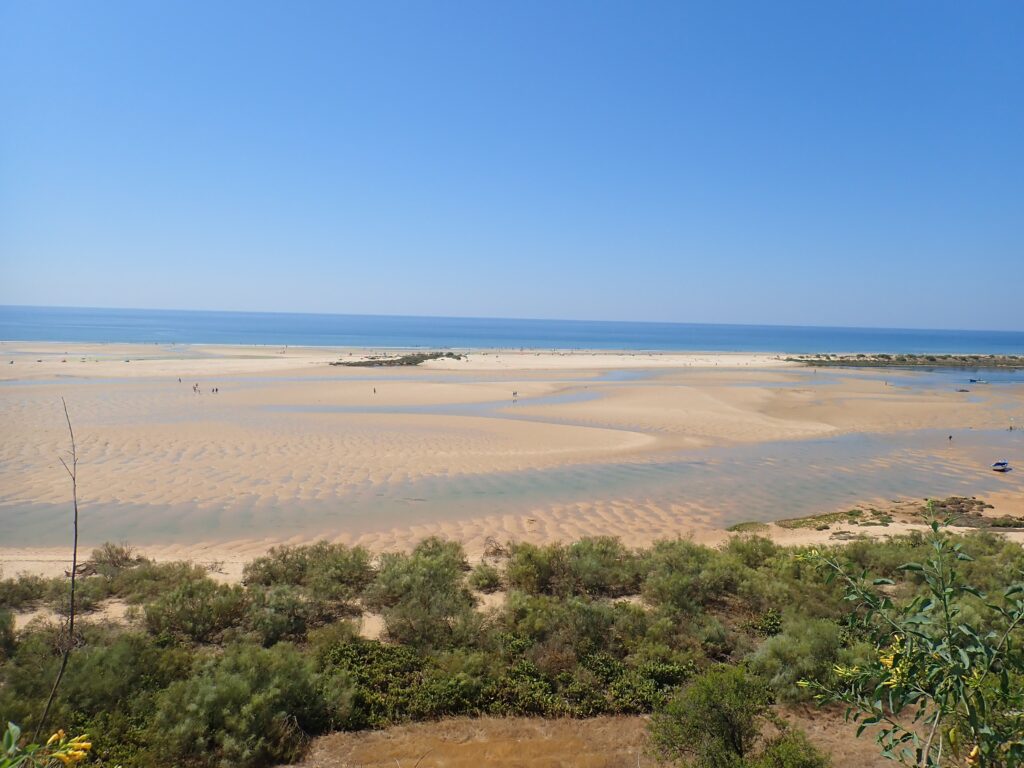 Located in the famous Algarve region of Portugal, for those who don't know, the Algarve Coastline region is Portugal's most beautiful region, full of some of the best beaches in the world.
While Cacela Velha may be the last in this list of the cheapest cities in Portugal, it's arguably the most beautiful city on this list!
The small yet picturesque village perched up on a hill overlooking both Ria Formosa Natural Park and the Atlantic Ocean is the ideal location for those looking to wind down with serene nature.
Continually walking around town, you're met with stunning ocean views. The town is celebrated for its beaches.
And with several other stunning beach towns neighboring Cacela Velha, a weekend trip from here is always a great idea. The most famous nearby town is Lagos!
When it comes to the food, the town is known for its authentic Algarvian cuisine, featuring lots of seafood, wine, and more. Another must-mention is the nearby salt pans in town that add to the town's charm and contribute to the local economy.
Average Daily Visitor Cost: $196 US
Average Monthly Living Cost: $1,207 US
Cheapest Cities in Portugal — Final Thoughts
There you have it; those are the cheapest cities in Portugal; all destinations are great for visiting or relocating to!
All the cities and towns listed are developed enough and very liveable places in Portugal!
For many years, Portugal has been one of the cheapest countries to visit in Europe, and it is significantly cheaper than its neighboring country, Spain.
Curious what the most popular places to visit in Portugal are, disregarding cost? Lisbon, the capital, Porto, and Lagos in the Algarve region!
RELATED: 10 Cheapest Cities in Turkey
Is Portugal a cheap country to vacation?
What is the cheapest place to go on holiday in Portugal?
Castelo Branco is the cheapest place to holiday in Portugal, with an average spend of only $106 US/day for all travel expenses.
What is the cheapest island to visit in Portugal?
Sao Miguel is the cheapest island in Portugal to visit, and it would be best to stay in Ponta Delgada, the island's largest city.
Is Portugal cheaper than Spain?
Portugal is cheaper than Spain for everything, including accommodations, eating out, transportation, and any tour activities.
Subscribe to Travel Hiatus!
Receive updates on my latest posts, insider travel tips & the best destination guides to your inbox!
Happy & Safe Travels
---
Planning Checklist
---
Disclaimer: Please note that some of the links shared in this article might be affiliate links; this means that at absolutely no extra cost to you, we will earn a small commission for any sales generated through this article and/or this website. We recommend products/services we've either used or researched thoroughly – Thank you for supporting us so we can continue to share helpful travel content!