9 Best Bacalar Hotels in Mexico to Consider
Looking to visit Bacalar, Mexico, and can't decide where to stay in Bacalar? You've come to the right place; this guide covers the best Bacalar hotels to consider!
The small town is located in the Quintana Roo region of Mexico and is also Southeastern to the Belize border.
Bacalar is often shadowed by the popular neighboring cities in Notherneast, such as Tulum, Playa Del Carmen, and Cancun. But over the years, Bacalar hotels seem to be under development more and more.
What makes Bacalar unique compared to its neighboring cities is the Bacalar Lagoon.
The various shades of the turquoise water in the lagoon are stunning; the lagoon's nickname isn't the Lagoon of Seven Colours for no reason. When swimming, you can see everything right down to the bottom.
The word "lagoon" is usually associated with questionable murky water, but this is NOT the case here. Many say the Bacalar Lagoon, aka Lake Bacalar, is a hidden gem in Mexico, and I would have to agree, but that may be different shortly with its popularity rising!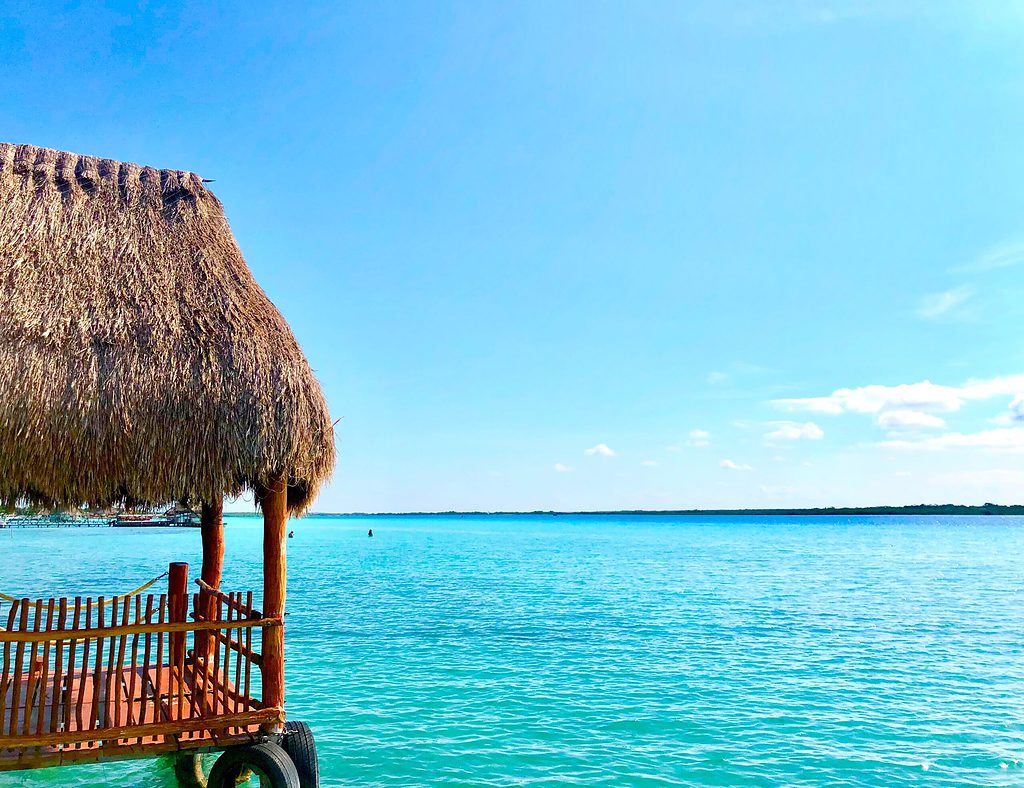 Some Bacalar hotels provide a different experience than visiting hotels on the beach in Tulum, Playa Del Carmen, or Cancun. That's because several Bacalar hotels are next to the Bacalar Lagoon; these hotels have boardwalks right into the lagoon for quick access.
Some Bacalar hotels also have pools and greenery next to the lagoon, making for a perfect sunbathing spot or evening gathering with beautiful views!
When choosing from these Bacalar hotel options, consider where you'd like to be. Some Bacalar hotels are closest to the city center, while others are a few minutes drive away.
We've included all types of accommodation options in this Bacalar Mexico hotels list, Luxury Hotels, Affordable options, one all-inclusive resort, and a few Hostels for those on a budget visiting Bacalar, Mexico. This is an ordered list.
How to Get to Bacalar, Mexico
The easiest and fastest way to go to Bacalar, Mexico, is by flying into Chetumal International Airport (CTM).
Chetumal, Mexico, is close to Bacalar, and from Chetumal Airport to Bacalar is only a 35-minute drive.
You must check from where you're flying in if there are direct flights to Chetumal airport. Otherwise, you'll do a flight transfer from either Cancun International or Mexico City International Airport to Chetumal's airport.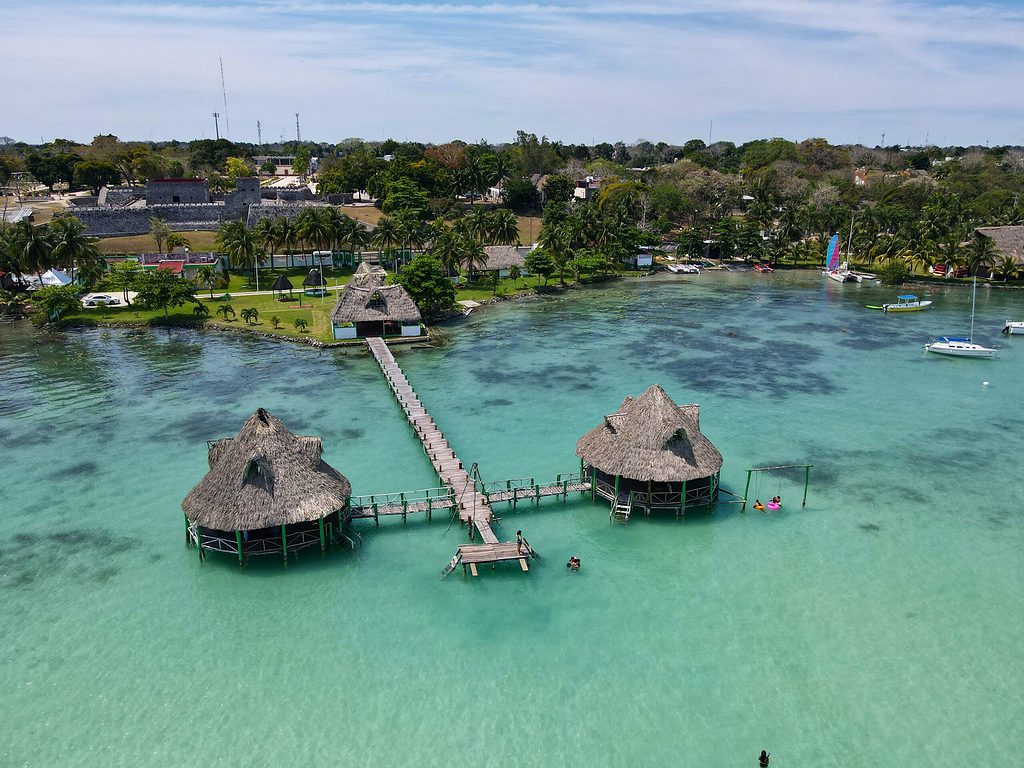 If you're considering flying into Cancun or Mexico City, stopping for a few days to explore, and then flying Chetumal, you can conveniently book a Multi-Stop flight here!
Does Bacalar have an airport? No, Bacalar has no airport; Chetumal's airport is the closest.
If you're staying in nearby cities such as Tulum, Playa Del Carmen, and Cancun, you can either drive there if you've rented a car or take the ADO bus into Bacalar directly.
Later this year, you can take the Mayan Train to get to Bacalar Lagoon from Playa Del Carmen, Tulum, Cancun, and many other cities!
If you decide to drive there, do not worry. The drive is easy to navigate as the roads are well marked, you're going South along the coastline, and signs are easy to follow.
Drive Time and Distance from each city:
Cancun to Bacalar: 4 hours 15 minutes | 345 KM
Playa del Carmen to Bacalar: 3 hours 15 minutes | 279 KM
Tulum to Bacalar: 2 hours 20 minutes | 215 KM
Bacalar Hotels #1-3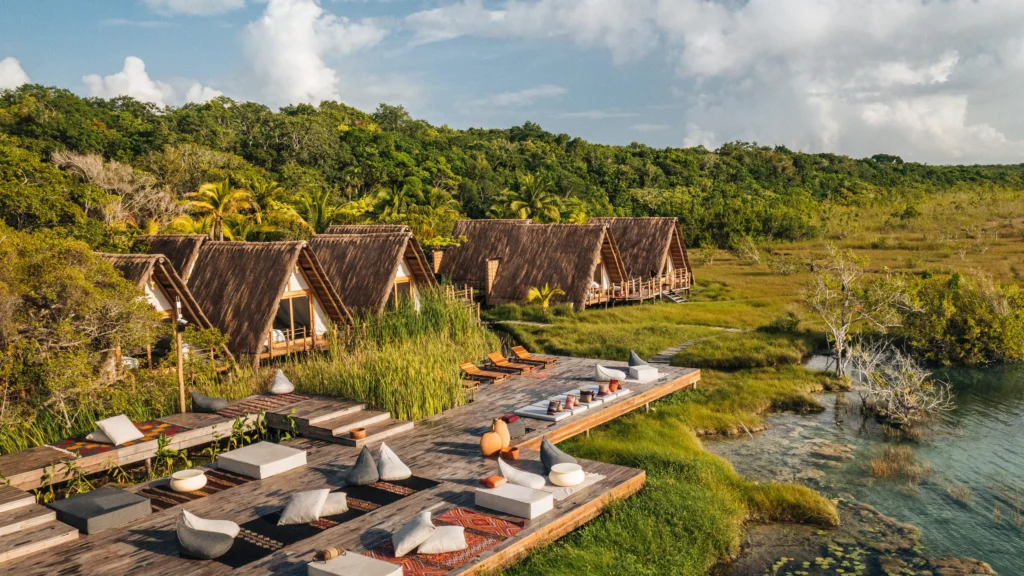 This stunning 5-star hotel located right on the Bacalar Lagoon is breathtaking. Rooms here are cozy individual cabins with beautiful views overlooking the lagoon.
Habitas has a large deck on the water where they host yoga classes throughout the day. Those not up for some yoga, do not worry. Next to this space is a beautiful outdoor bar with bartenders ready to order your drink.
They serve A la carte Mexican food, breakfast, lunch, and dinner during all day hours. If you want to go into the town's city center, it's only a 9-minute taxi ride straight on one road.
Regarding luxury hotels in Bacalar, Mexico, look no further Habitas takes first place.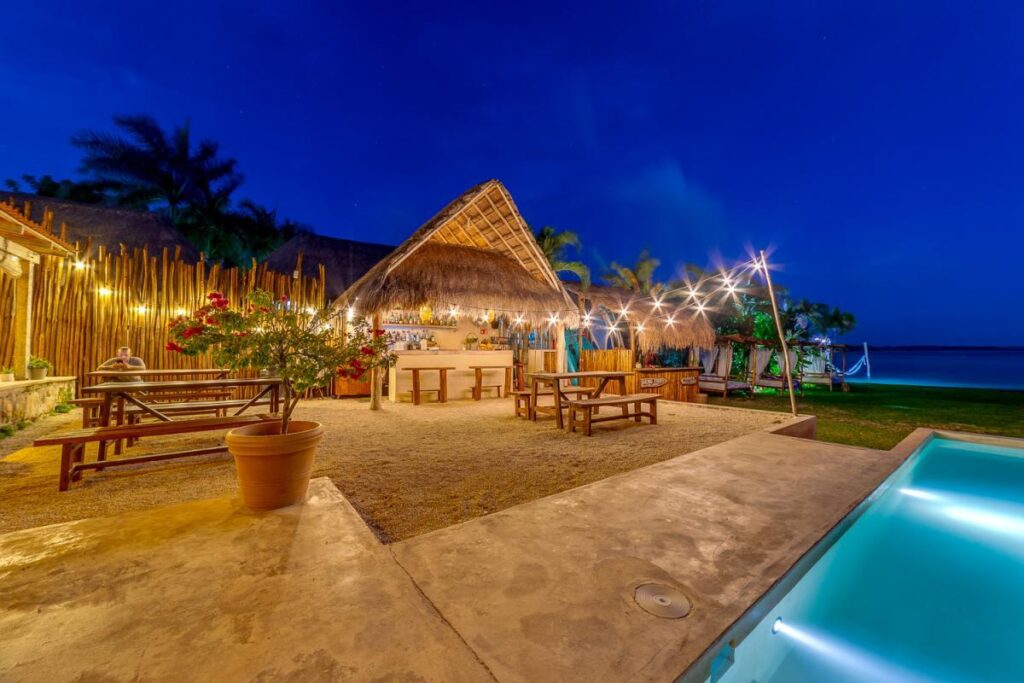 CasaBakel is very much a chic bohemian experience right on the Bacalar lagoon. The hotel is stunning and has a generous greenery area by the water; they've also got a pool where you can sunbathe for the day.
Accommodations here are flexible; they've got Lagoon view rooms, standard rooms, studio-like rooms, and more. So pricing will vary on the choice you prefer.
When it comes to activities, CasaBakal is not short of them; they've got evening live performances, aerobics, badminton, various water sports, and windsurfing (additional charge),
A la carte type menu is available for those looking to go to the city center; it's only a 25-minute walk, or you can take a 10-minute taxi. The hotel does accommodate families, so if you're looking for an adult-only stay, reconsider staying here.
Also very bohemian decorated, La Albarina is another excellent hotel choice here in Bacalar. The hotel is right on the lagoon, with a large greenery area full of lounge chairs to get your tan on.
La Albarina is most well-known for being next to Cenote Azul, one of the most popular attractions in the city. Please take a look at this article if you need to familiarize yourself with cenotes.
Mexican food is served for breakfast, lunch, and dinner at Seldom's, the hotel's on-site restaurant. Otherwise, check out Restaurant Eco Turistico, which is steps away from the hotel. And if you want to go into the city center, it's a 9-minute taxi.
There are only two room options here; they each come with lagoon views, so you won't have to worry about not getting a view! Families are welcome to stay here.
Bacalar Hotels #4-6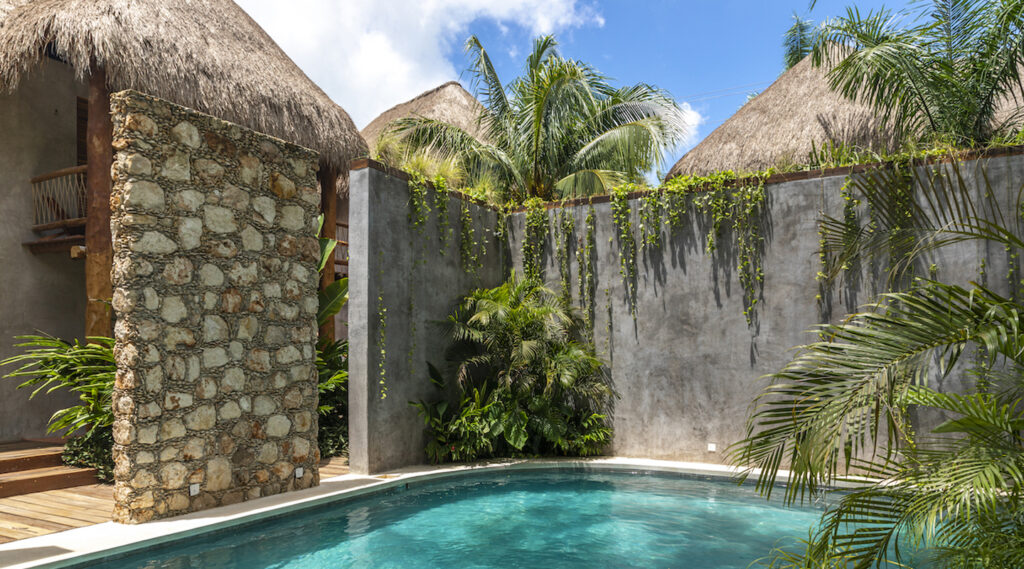 Located right in the city center of Bacalar is Hotel Casa Hormiga, a beautiful minimalistic decor hotel. They've done an excellent job here regarding the decor; being there feels like you're experiencing a retreat somewhere far in the mountains.
Please keep in mind that this hotel is not located right on the lagoon, so you can go ahead and skip this option if that is a requirement you have. Nonetheless, the lagoon is just a 4-minute walk down the street, only 350m from the hotel.
Accommodations here get either a garden or pool view. The hotel has a nice, perfectly sized pool on the property.
They serve food throughout the day here but keep in mind because you're in the city center, many restaurants are close by within walking distance.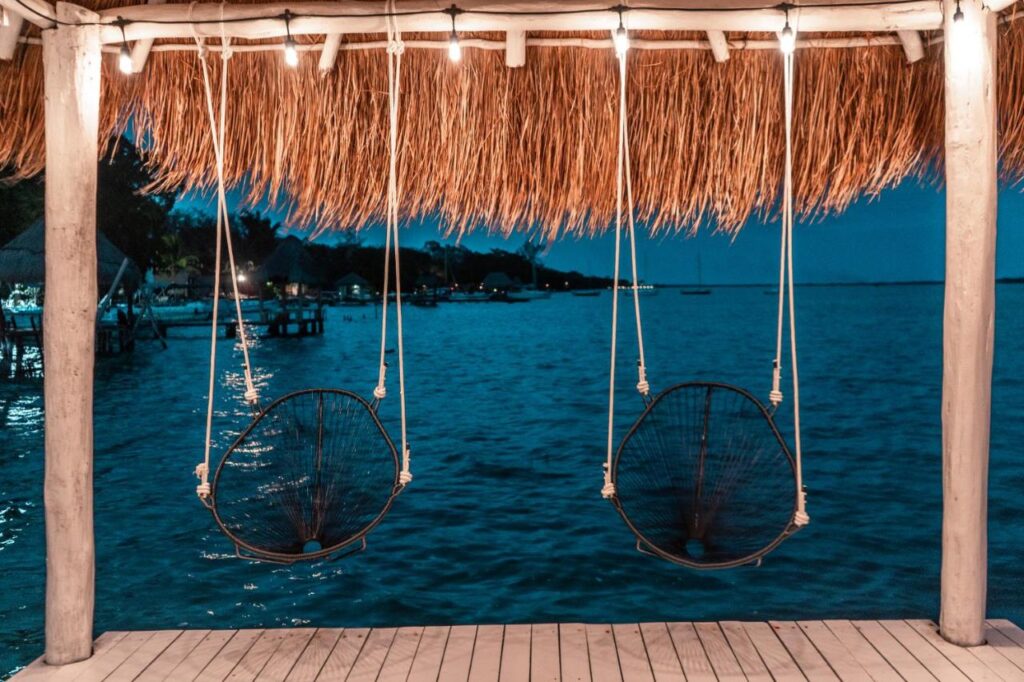 The Royal Palm has modern decor and is located right on the lagoon but is still quite close to the city center (2KM away), which is convenient. Being close to the lagoon and the city center, you've got the best of both worlds.
Four different room accommodations are available here, and the rooms are pretty spacious. Choose what best suits you, and children are allowed at the hotel. No rooms are lagoon facing, despite so close to it.
They've got a nice pool here for all guests to use, an excellent extended deck that goes into Bacalar lagoon, and the hotel's also conveniently close to Cenote Negro.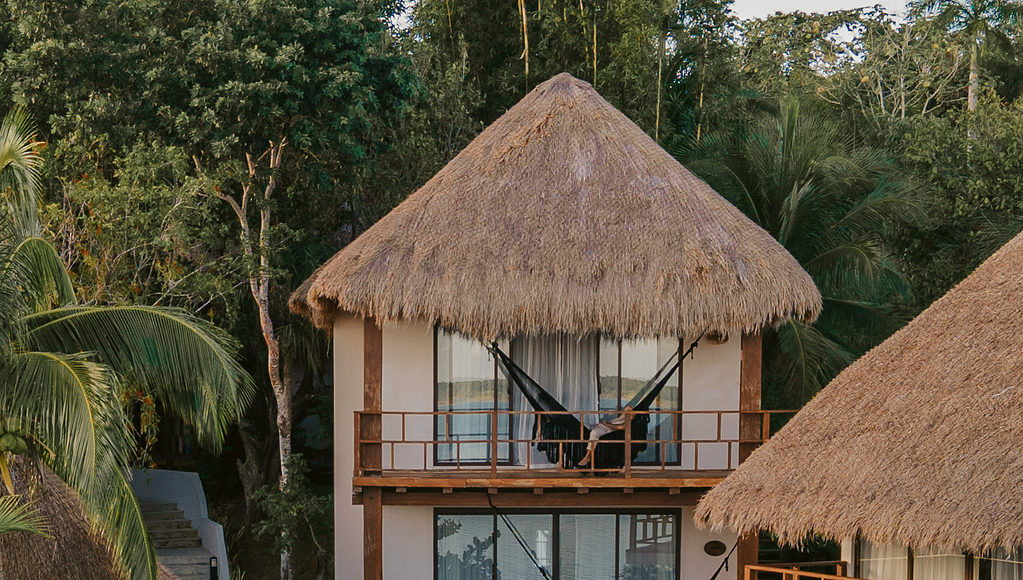 The Khaban is a boutique hotel located a tad north of the city center and is a perfect choice for those coming to Bacalar looking for some tranquil peace. Surrounding the hotel are strictly trees, and the Lagoon is right in front of the hotel.
Rooms here in various 2-floor cabins located steps away from the lagoon. Some rooms do have views. Like several Bacalar hotels, they have a pool and a long deck that extends into the lagoon.
Kinal, the on-site hotel restaurant, serves Mexican food all day. If you want to go to restaurants in the city, you must go into the city center; it's about 10km and a 10-minute drive away.
They offer additional charge activities here, including a cooking class, a culture tour, or happy hour. For those looking to relax, there are several massages you can receive here or attend a yoga close on-site.
Bacalar Hotels #7-9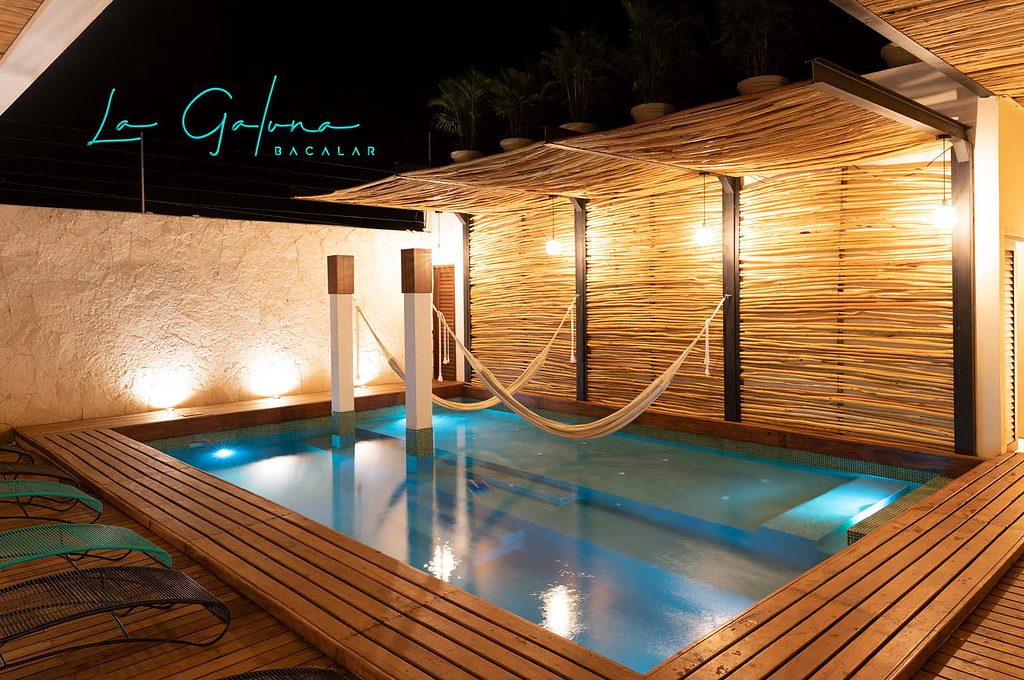 A charming boutique hotel with balcony views of the lagoon and is located in the city center of Bacalar. La Galuna is ideal for those looking to stay close to everything in the city at a reasonable price.
You can find affordable deals at this hotel throughout the year.
The hotel has three different room types; those with their significant other have a suite room option with a hot tub. The overall decor here is tropical-like; you will find the hotel pool in the middle of the hotel.
Regarding food, they do serve breakfast here, but that's about it. Though keep in mind, you're within walking distance to many restaurants, getting lunch or dinner here will be fine!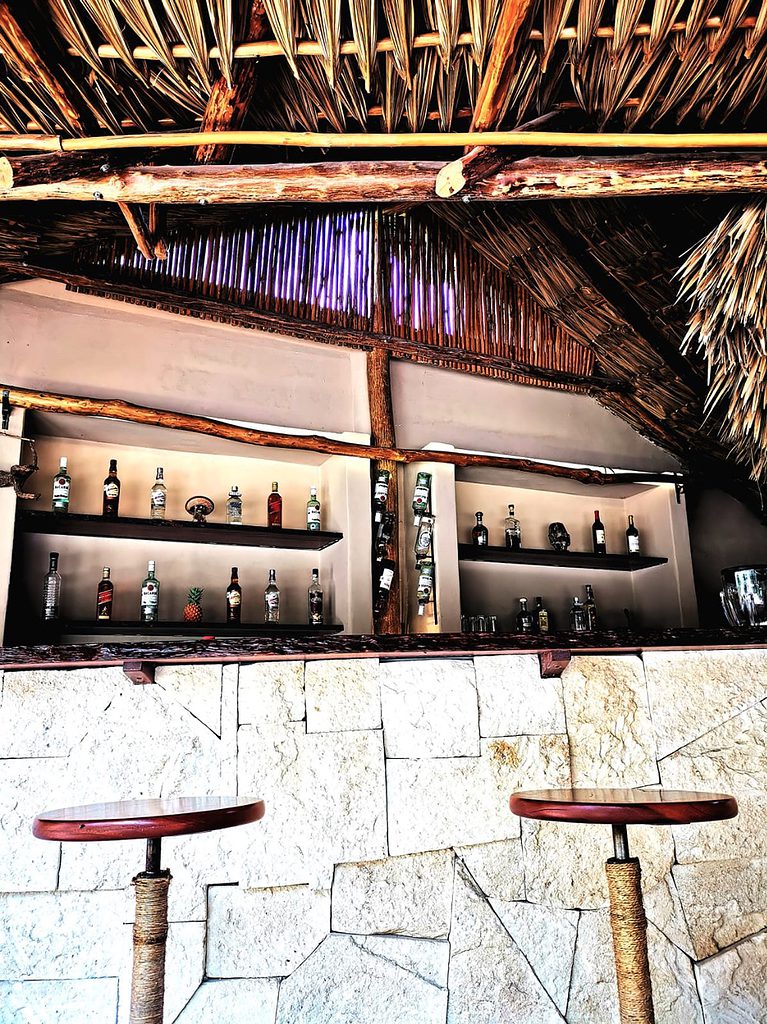 Circulo Bacalar offers a fancy lodge-like stay located in the city center. Getting to the Bacalar Lagoon is only a 10-minute walk down the street, so you're still quite close.
The best part about this hotel is the various types of rooms they have here. There are a total of eight different types of rooms. So whether you're coming here alone, with family, or in a group, this hotel can accommodate you well!
There's a pool with an excellent bar next to it, a perfect spot for pre-drinks before leaving the hotel or a cocktail-by-the-pool kind of afternoon.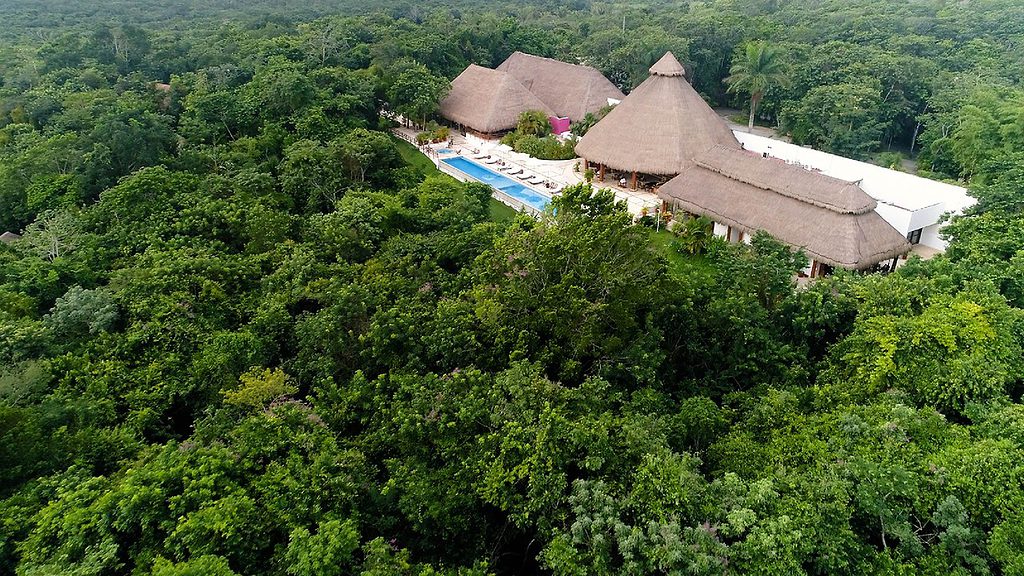 This all inclusive hotel is far from the city center and the lagoon. It's about a 40-minute drive to the lagoon and a 55-minute drive to the city center of Bacalar.
I included this resort in the list of Bacalar hotels for anyone looking for an all-inclusive experience – There aren't any Bacalar All inclusive hotels; this is the closest option.
When visiting the Explorean Kohunlich, there is absolutely everything here; if you don't want to, you don't have to leave the resort (if that's your thing).
When it comes to being secluded, no other hotel is more secluded on this list; this entire resort is in the middle of the forest.
Now for those looking to do things outside of the resort, they host daily tours here just about everywhere, and the best part is you're with a guide, so they take care of everything for the group. They've also got a shuttle service.
The resort has just about everything, a rooftop infinity pool, bikes to use, jacuzzi, a few bars, a fire pit, and more.
Bacalar Hostels
If none of these Bacalar hotels are within your budget price, do not worry.
The hostels in Bacalar are the perfect option for those looking for budget-friendly accommodations. They're not only well-priced but beautiful as well!
All of these hostels I've listed are stunning, centrally located, and very well-priced.
Pricing here, of course, varies depending on the time of year you choose to visit, but for the most part, these hostel's rates are around $11-$60 US a night. – This is an ordered list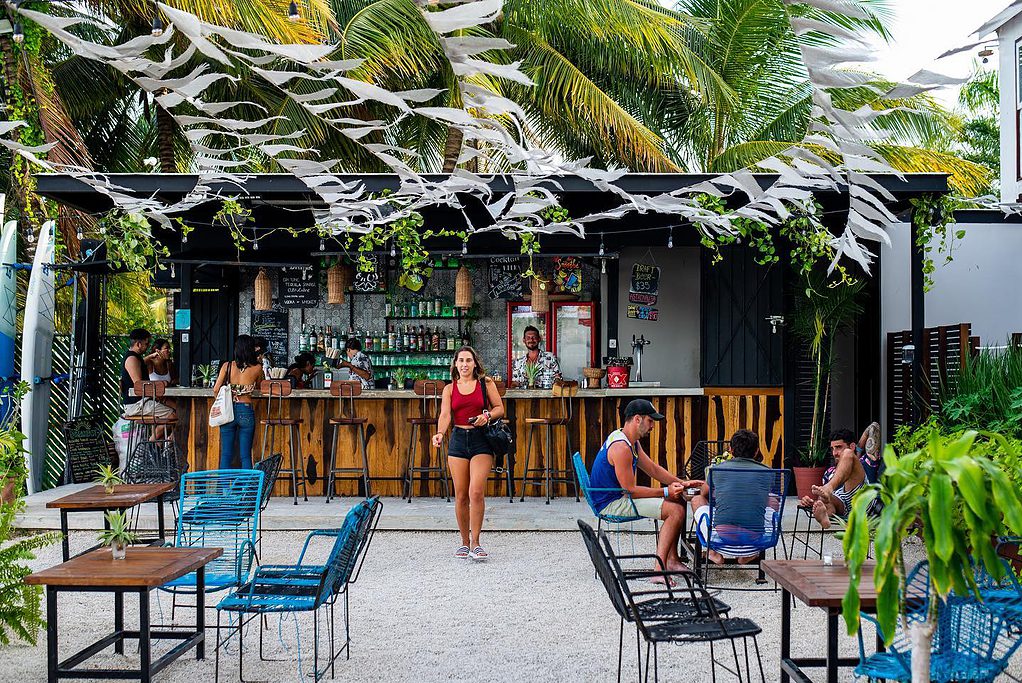 Best For: If you're looking for an affordable option right along the Bacalar lagoon and in the center of the city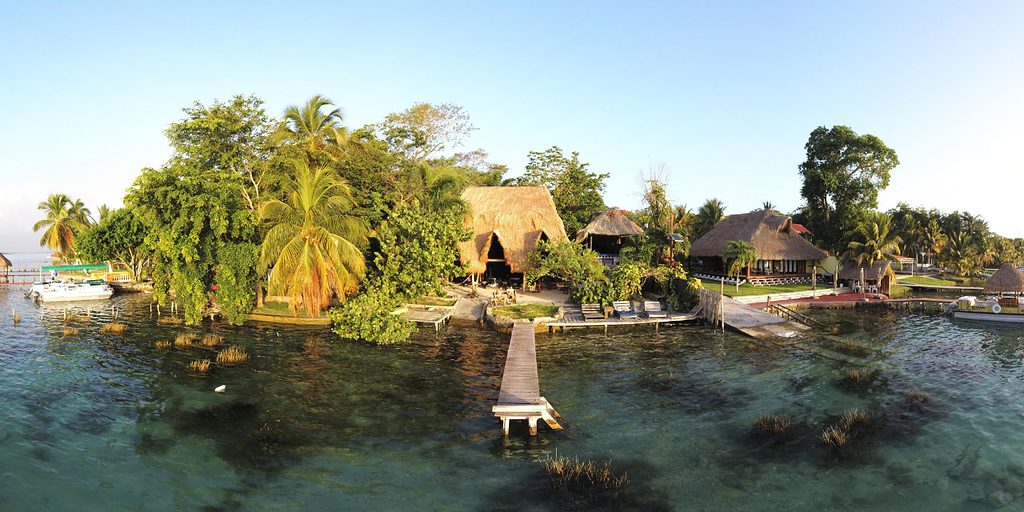 Best For Another affordable option along the Bacalar lagoon, and conveniently next door to Bacalar Beach club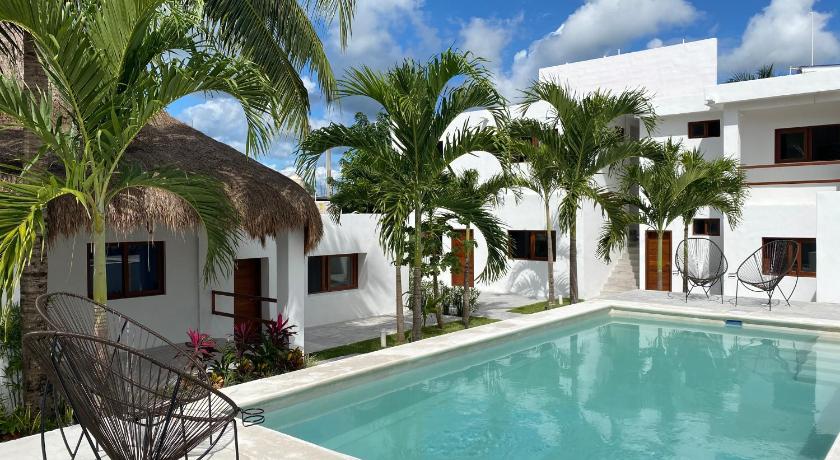 Best For: Most centrally located hostel in this list, close to several shops, restaurants, and cafes
Is Bacalar Mexico Safe for Tourists?
Yes, Bacalar, Mexico, is very safe. The town of Bacalar is relatively small; as stated earlier, international tourism here is pretty new but growing nonetheless.
Tourists visiting are not targets for theft, violent crimes, or petty pickpocketing.
Before your trip to Mexico, make sure you purchase Travel Insurance so that you're covered during your trip!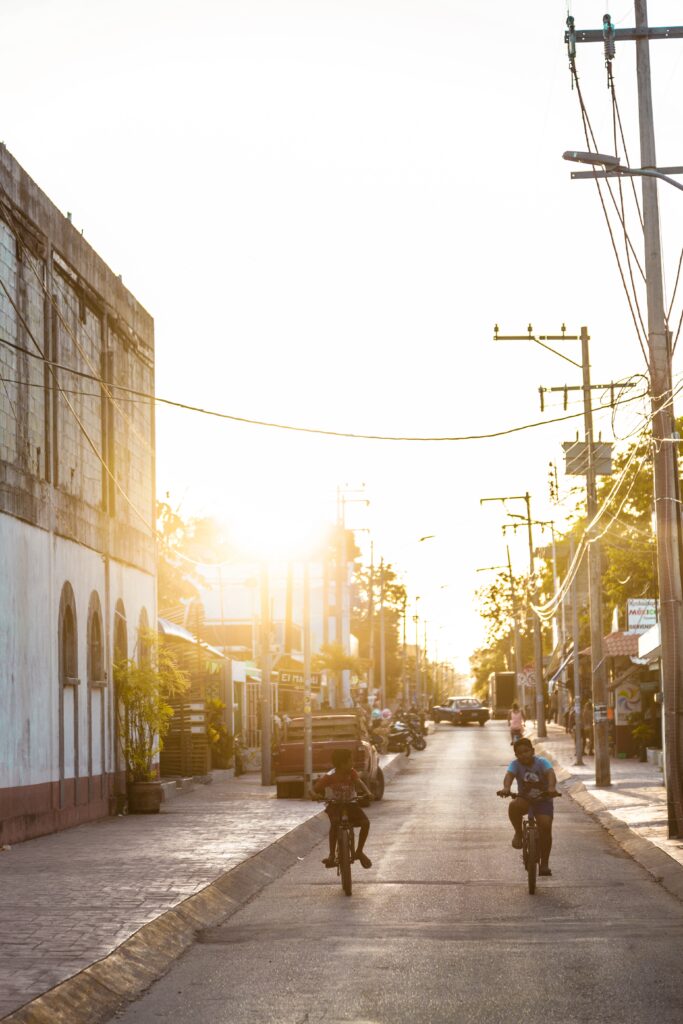 Having been to several cities in Mexico, I've covered which cities are the safest to visit in Mexico. I did mention Cancun, Tulum, and Playa Del Carmen in the list, and I didn't bother mentioning Bacalar because the city is still in its early stages of international tourism.
But rest assured, Bacalar is safer than Cancun, Tulum, and Playa Del Carmen. Don't get me wrong; these other three cities are also relatively safe.
Is Bacalar Mexico, Worth Visiting?
Yes, Bacalar is worth visiting. Bacalar is rich in nature; dense tropical forests surround the city, and its famous lagoon is a hidden treasure.
And the fact that several Bacalar hotels are right on the lagoon makes for an extra unique visiting experience.
The city is full of great local restaurants, cafes, and things to do, such as swimming in one of the many cenotes here, kayaking, boat excursions, and more. Bacalar is underrated.
After exploring the Bacalar Lagoon, you can always go to Mahahual Beach, only an hour away!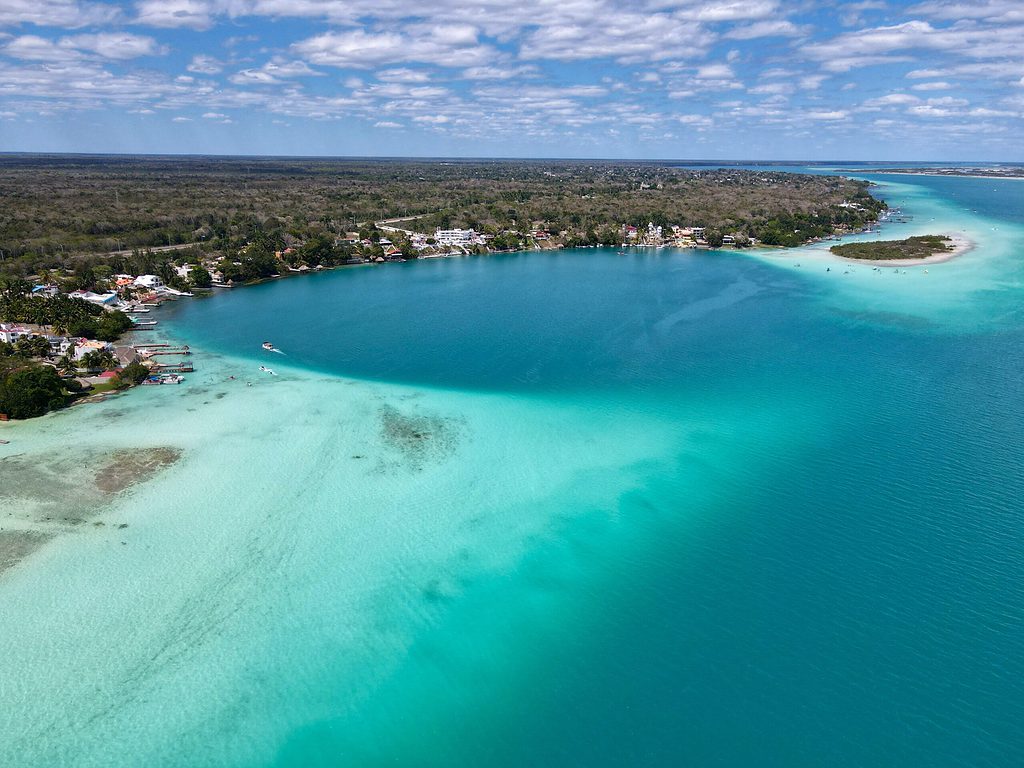 Lastly, for the most part, Bacalar is a great place to visit, considering it's developed but still needs to be discovered by the average tourist.
Hence, it's quiet for the most part here and usually full of locals and minimal tourists compared to its busier neighboring hotspots, Tulum, Playa Del Carmen, and Cancun.
If you're debating where to visit in Mexico and prefer a more laid-back city, I'd recommend Bacalar, Huatulco, or Isla Holbox.
Subscribe to Travel Hiatus!
Receive updates on my latest posts, insider travel tips & the best destination guides to your inbox!
Featured Image Credit: Tomas Martinez / Unsplash
Happy & Safe Travels
---
Planning Checklist
---
Disclaimer: Please note that some of the links shared in this article might be affiliate links; this means that at absolutely no extra cost to you, we will earn a small commission for any sales generated through this article and/or this website. We recommend products/services we've either used or researched thoroughly – Thank you for supporting us so we can continue to share helpful travel content!