Is Koh Chang Worth Visiting? Honest Opinion
Let's get right to it: Is Koh Chang worth visiting? Yes, it is. It's one of the most beautiful islands in Thailand, if not the world!
This breathtaking island is located in the Gulf of Thailand. It is famous for its mountainous landscape, National parks, dense jungle with many waterfalls, pristine beaches, and small pockets of civilization scattered throughout the island!
Koh Chang is approximately 84 square miles and is the third largest island in Thailand, only after Phuket and Koh Samui!
While both those islands are more popular than Koh Chang, they're very touristy, with a larger residential population. Koh Chang is the best representation of an authentic Thai Island experience.
Let's get into why Koh Chang is worth visiting. In this complete Koh Chang travel guide, I'll go over the best things to do in Koh Chang, hotel recommendations in different areas on the island, the best restaurants in Koh Chang, and more!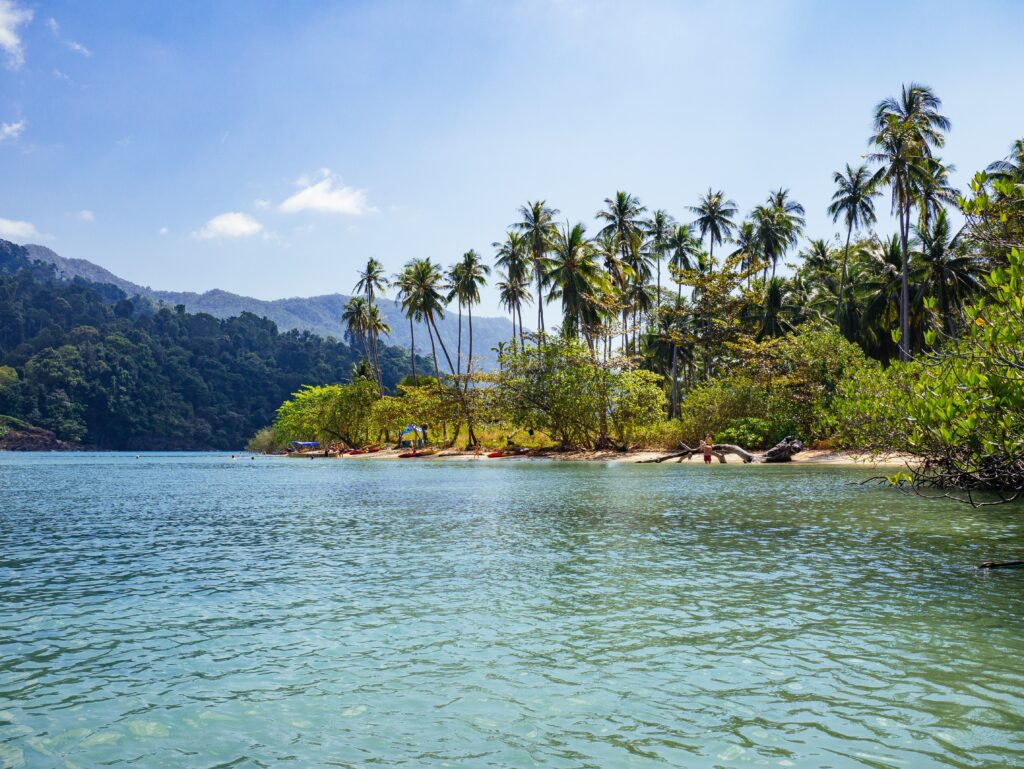 How to Get to Koh Chang
To get to Koh Chang from any nearby places, such as Chanthaburi, Pattaya, or Bangkok, you must take a travel bus and then a ferry.
Depending on where you come from will determine the travel time; Bangkok is the furthest from Koh Chang, and it will take 6-7 hours by bus/ferry. Most travel tickets include both the bus and ferry transfer at one cost.
Koh Chang doesn't have an airport; the closest airport is Trat Airport, a small airport on the mainland. From Bangkok, it's a 1-hour flight, though you still will need to make your way to Koh Chang by a short taxi ride and then a ferry.
It's cheaper to take the bus and ferry; taking a flight to Trat will only save you approximately 4 hours.
Getting around Koh Chang is easy, but there are only two options: rent a scooter or take the Songthaew, a public transportation bus that travels in a circle around the island.
Things to Do in Koh Chang
Koh Chang is a fun island, and there are many amazing things to do on the island suited for all visitors.
The best part is that Koh Chang is less known than other popular Thai islands, such as Koh Phangan, Samui, and Phuket.
This means beaches, tours, and main attractions in Koh Chang are more relaxed!
Have a Beach Day
The beaches in Koh Chang make the island exceptional, calm, pristine, and unique, with countless beautiful shorelines all over the island.
Whether you'd like to visit a developed beach near beach bars, restaurants, shops, or secluded beaches where you may be entirely alone, Koh Chang is a beach paradise.
The most well-known beaches in Koh Chang are Lonely Beach, White Sand Beach, Klong Prao Beach, and Kai Bae Beach; these developed beaches are located along the island's west side.
These popular beaches are not only great in the day, but at night, they're lively with many locals/tourists watching the sunset, dining, and people watching.
Check out Long Beach and Wai Chaek Beach for those who prefer more secluded beaches.
The most picturesque beach in Koh Chang, which you must visit, is Ko Ngam Beach, located on an island south of Koh Chang accessible by boat or kayak.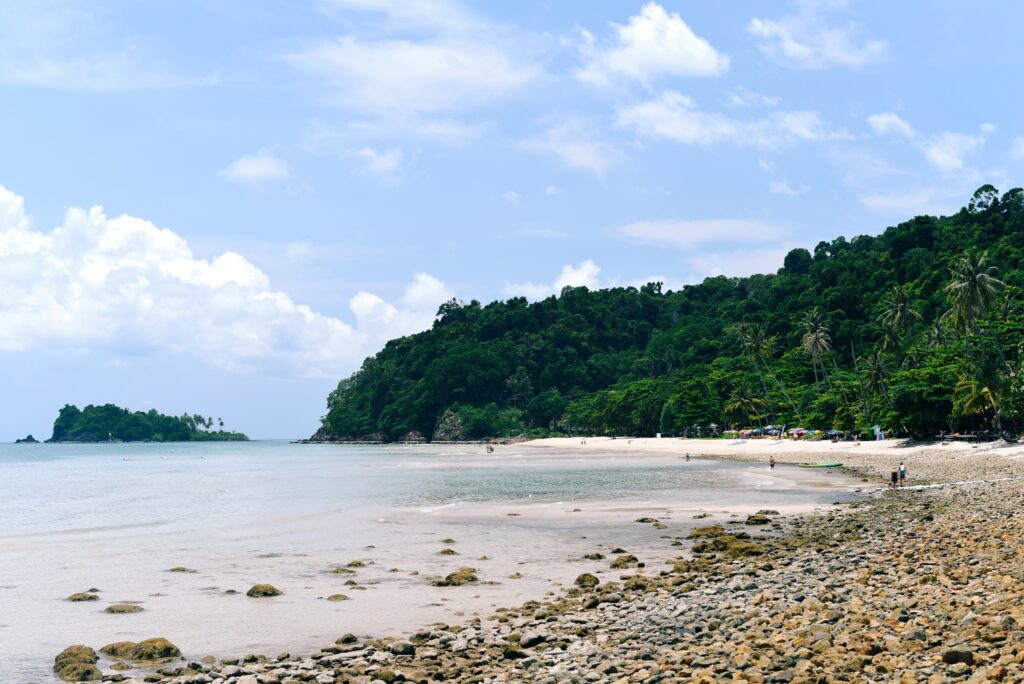 Visit the Bang Bao Pier/Fishing Village
One of the most popular tourist attractions in Koh Chang is Bang Bao Pier fishing village.
An extended pier area with shops, beautiful coastline views, and seafood restaurants. Also, you can take ferries from the pier to nearby islands.
At the end of the pier is the Bang Bao Pier Tower, an excellent place to watch the sunset!
Go Snorkeling/Diving
Koh Chang is home to stunning, healthy coral reefs, and along with its clear turquoise waters/gentle tides, it's one of the best places to go snorkeling destinations in Thailand.
From the island, there are other smaller islands you can visit and snorkel there. On this all-day snorkeling tour, you will check out many of the best snorkeling locations in and around Koh Chang and visit Koh Rang National Park. It also included lunch and hotel transfers!
For those looking to go diving instead, Koh Chang is famous for its diving excursions. Walking around the island, you'll spot a few dive shops. Explore the sealife below on this full-day 2-dive tour; tanks, buffet-style food, and hotel transfer are all included.
Visit Klong Plu Waterfall
Who doesn't love a good hike with a beautiful waterfall? Luckily, Koh Chang is known for its waterfalls!
Klong Plu waterfall is the most famous waterfall in Koh Chang, conveniently near the main town area. On a hot day, this waterfall is a popular place to swim in its natural refreshing spring water, so remember your bathing suit!
To get to the waterfalls, you first must enter Mo Koh Chang National Park. From there's clear signage to the waterfalls.
Hours: Daily from 8:00 AM – 4:30 PM — Cost: 200 Baht/$6 US
Hike to a Viewpoint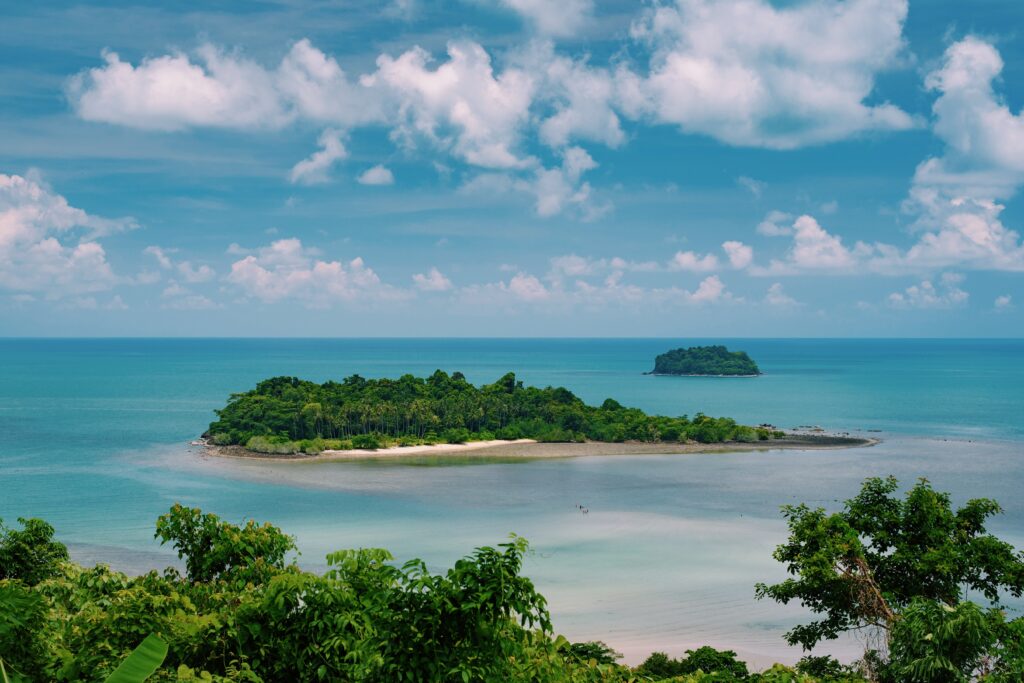 The best way to see any island is to hike to one of its many viewpoints and observe the dense jungles and coastlines that surround it.
Koh Chang has several viewpoints to hike and see some spectacular views!
Kai Bae Viewpoint
Rasta Viewpoint
White Buddha Viewpoint
Not only do you get a great workout, but the views are well worth it! If you're hiking an area known for inhabiting monkeys, don't hold any food or plastic. This will most likely result in a monkey on your head!
Also, if you come with a bag, don't just hold it in your hand; it might get snatched from a monkey!
Evening Dinner + Fire Show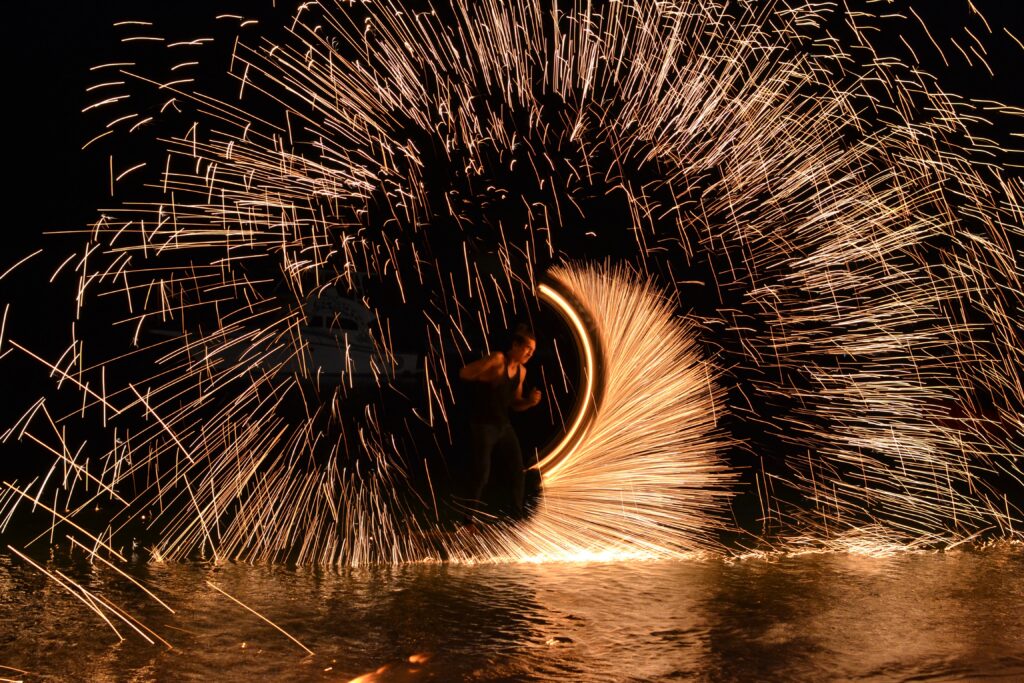 Dinner by a beach shoreline and eating excellent local Thai food is always a good idea, but added evening entertainment makes it a fantastic idea!
Many restaurants in Koh Chang located along the beaches provide fire show performers doing all types of acrobatics at night for guests to view as they dine.
It's fun, neat to see, and a great added entertainment to your evening meal!
Koh Chang Nightlife
Koh Chang has a fun nightlife, but the island is not known for its nightlife. It's not Koh Phangan or Patong Beach, Phuket.
Koh Chang is a more laidback island, so the nightlife here mainly consists of charming bars on the island's west side. Some of them are even roadside, perfect for people-watching.
Also, don't forget to consider visiting the local Night Market in Koh Chang for a few street food flavors and possibly any clothing/or souvenirs you may need!
A few venues will host live music or a DJ playing music some nights, but that's the extent of the nightlife in Koh Chang! Here are a few bars/clubs to consider during your visit.
Lighthouse Nightclub
ESCOBAR
Yak Yak Bar
Sky Bar Koh Chang
Beautiful Bar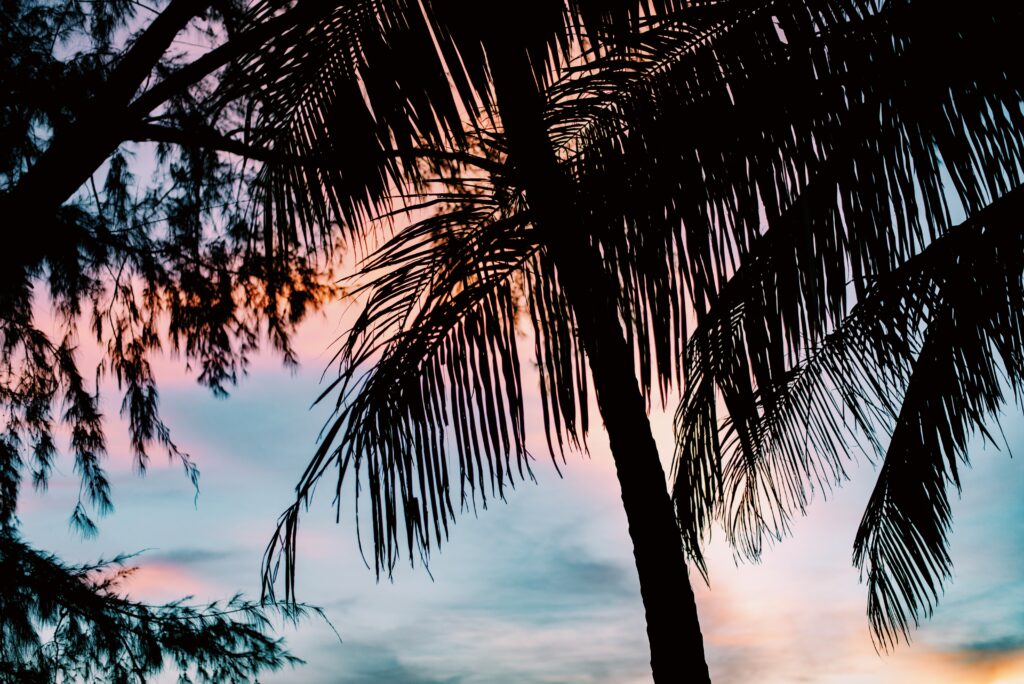 Where to Stay in Koh Chang
Koh Chang is a large island, and getting around is less convenient than other more developed islands like Koh Samui and Phuket, so deciding which area you'd prefer to stay in on Koh Chang is essential.
The primary and most popular area on the island is along the island's Western coastline, where you'll find shopping, bars, resorts, bungalows, and everything!
Besides that, the other area to consider is Bang Boa, the fishing village I mentioned earlier. There is less happening around here, but you have a selection of hotels, shops/restaurants, etc.
If you stay on the Eastern side because you'd prefer a more secluded island atmosphere, do it! Just understand that you will find yourself going into town often and that at night to get back to your hotel you'll need to drive yourself by scooter!
KC Grande Resort – 5 Stars / A luxurious modern resort right on the beach with plenty of amenities and conveniently located just a short walk from cafes and the town night market
SYLVAN Koh Chang – 5 Stars / Secluded luxurious resort nestled between a hilly greenery area providing exceptional sea views, private and ideal for honeymooners
GajaPuri Resort – 4 Stars / Located right in the heart of town, this resort provides guests with private bungalows, and some even come with a pool
Santhiya Tree – 4 Stars / Beachfront property with an exceptional pool and an authentic resort-like convenience and located only minutes away from several restaurants
Oasis Koh Chang – 3 Stars / Located slightly south of the main town area on the west, this wooden jungle vibe resort is ideal for those looking to relax within the authentic surroundings of Koh Chang
Pajamas Koh Chang – Hostel / Ranked #1 hostel on the island, Pajamas offers both dorm rooms and private room accommodations. They've got a nice pool, bar, and spacious communal area, and it's located near many restaurants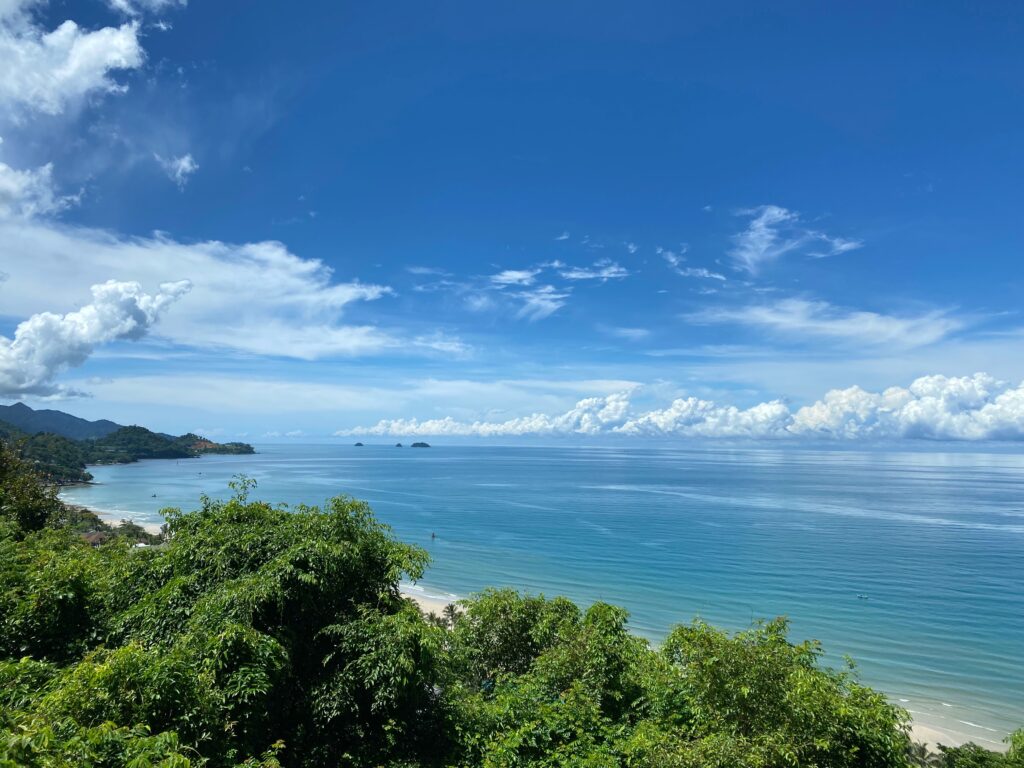 Best Restaurants in Koh Chang
While Koh Chang isn't full of restaurants like some well-developed islands, there's still a wide variety of cuisine types on the island, all located along the West side in the main town areas!
Here are some of my favorite restaurants; I enjoyed visiting Koh Chang earlier this year.
Mordi E Fuggi: The typical Italian restaurant serving wood-fired pizzas, pasta, and more; highly suggest their seafood pasta
Nong Bua Seafood: The name says it all: this is the best seafood restaurant on the island; crab, fried fish, and many local Thai seafood dishes are served here
The U-Turn: Thai classic restaurant, pad thai, pineapple rice, tom yum soup, grilled prawns on salad, anything you crave Thai food-wise is served here in an outdoor open restaurant layout
El Barrio: Mexican restaurant serving skillet hot fajitas, various taco types, nachos, and more; the drinks were great here
Burger Station: Sometimes you're just craving a big juicy burger; that's exactly what this place offers: big burgers with delicious potato wedge-style fries. Might I add, it's cheap to eat here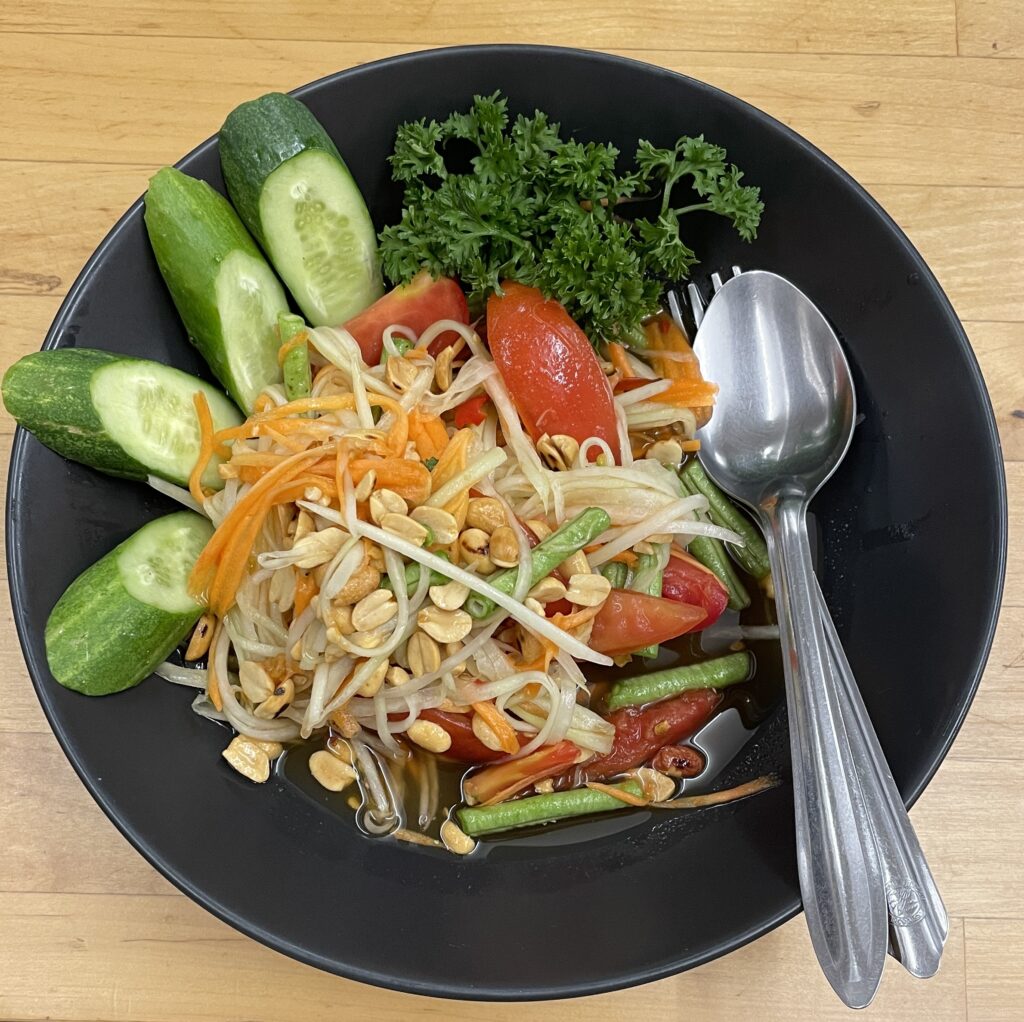 Best Time to Visit Koh Chang
Koh Chang is located in the Gulf of Thailand, but its weather patterns are different from the other islands in the Gulf, like Koh Samui, Koh Phangan, and Ko Tao.
Its weather pattern resembles Bangkok, Pattaya, and Thailand's southern region.
The dry season, also the best time to visit Koh Chang, runs from November to April. You can expect drier climates, lower humidity, and minimal rainy days during this time.
The rainy season, often called the Monsoon Season, runs from May to October. You should expect higher humidity levels, more chance of heavy rainfalls, and minimal dry/sunny days during this time.
Dry Season in Koh Chang: November to April
Monsoon Season in Koh Chang: May to October
Fun Fact: Koh Chang's nickname is "Elephant Island" because the island has an elephant head shape.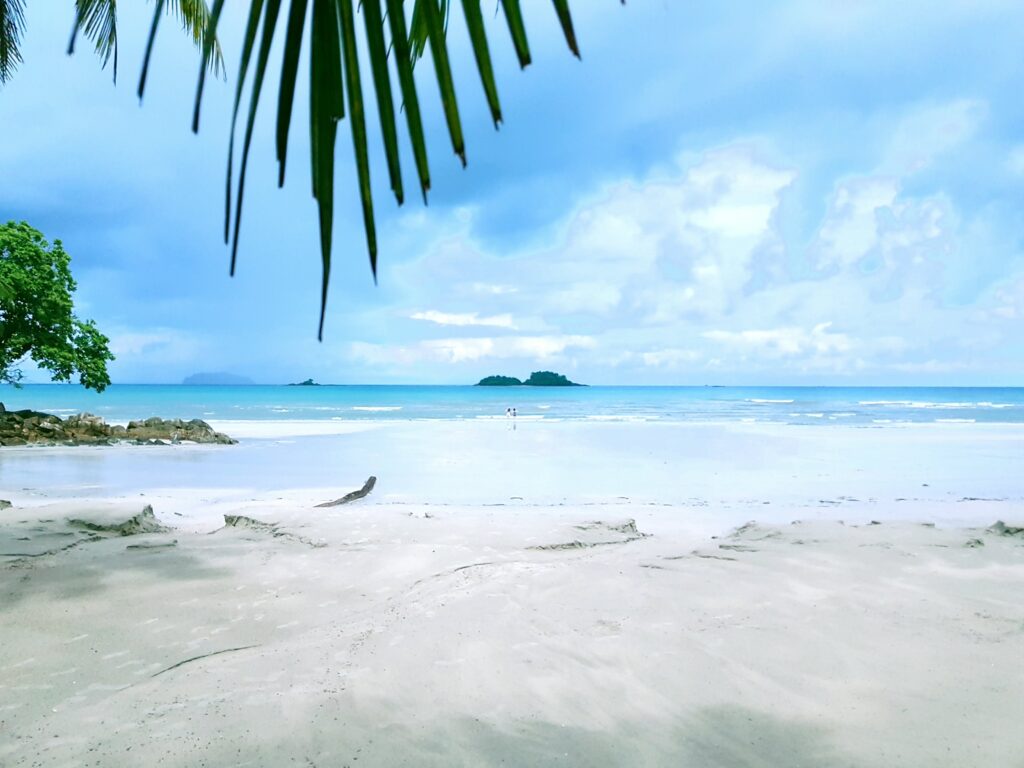 Is Koh Chang Worth Visiting? — Final Thoughts
So, is Koh Chang worth visiting? Most definitely! Koh Chang is the most underrated island in Thailand.
Those who've been to Thailand more than once or who've done their research about the many islands in Thailand know about this gem.
Ko Chang is suitable for all traveler types. Its proximity to Bangkok makes it convenient to visit, and best of all, it's far less touristy than the other famous islands!
Besides all those things, there are many things to do in Koh Chang, and it offers an authentic Thai island experience.
Lastly, the island's breathtaking mountainous landscape, stunning beaches, and nearby small islands accessible from here make Koh Chang a nature's paradise!
If you need another reason to visit, Koh Chang is one of the cheapest places in Thailand to visit!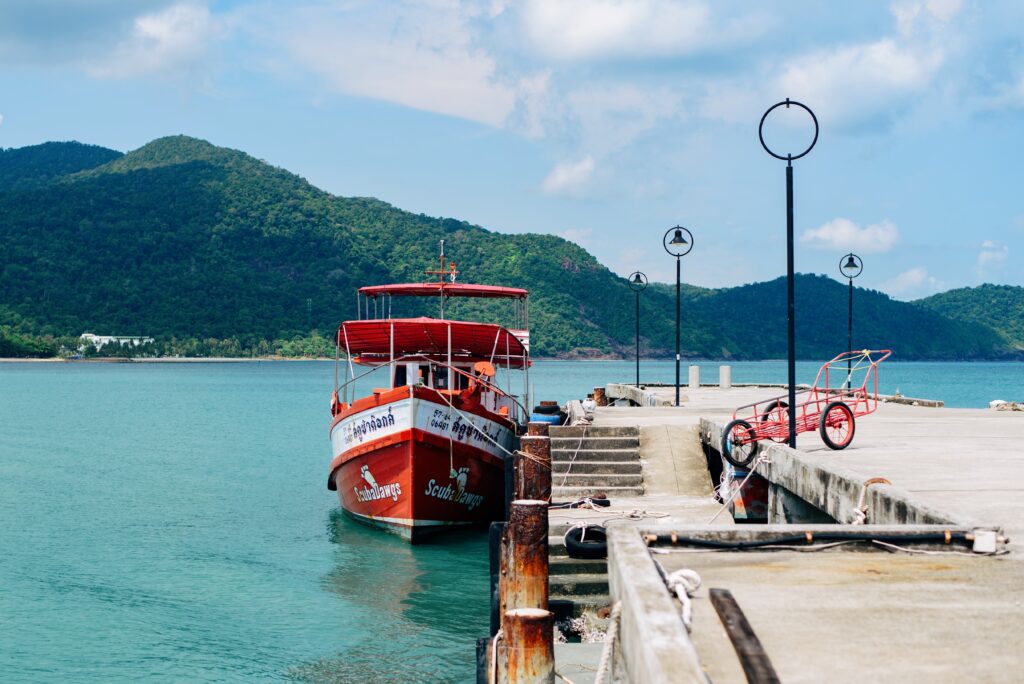 How many days should I spend in Koh Chang?
Plan to spend at least 3-4 days at a minimum in Koh Chang; the island is large with many things to do, and it's an excellent island to sit back/relax.
Is Koh Chang expensive to visit?
No, it's not; Koh Chang is one of the most affordable islands to visit in Thailand. You can find Four-star hotels for around $35-$40 a night, and hostel stays can go for as little as $12 US a night.
Which is better Koh Chang or Koh Samui?
These two Thai islands are very different from one another; Koh Chang is a nature's paradise, offering a laidback, simpler atmosphere and a more authentic Thai island experience.
Koh Samui is a beautiful island with nice beaches but is very well-developed with malls, Western fast food, and even has its own airport. It's not the most authentic Thai island experience!
Which month is best for Koh Chang?
Anytime from November to April is a great time to visit Koh Chang; during these months, it's the dry season. You should expect dry weather with low humidity and very minimal rainfall. Perfect weather for the beach and exploring!
Subscribe to Travel Hiatus!
Receive updates on my latest posts, insider travel tips & the best destination guides to your inbox!
Happy & Safe Travels
---
Planning Checklist
---
Disclaimer: Please note that some of the links shared in this article might be affiliate links; this means that at absolutely no extra cost to you, we will earn a small commission for any sales generated through this article and/or this website. We recommend products/services we've either used or researched thoroughly – Thank you for supporting us so we can continue to share helpful travel content!