Is Krabi Expensive to Visit? Cost Guide
Krabi is one of the most beautiful nature-rich regions in Thailand, but is Krabi expensive to visit?
Being one of the most popular regions to visit in Thailand, most have the assumption that Krabi is expensive to visit. But that's not true; Krabi is cheap to visit!
Before we get into the numbers, it's important to know that Krabi is a region and not a city/town/island.
Krabi is a popular region home to many great places to visit, including Phi Phi Islands, Railay, Ao Nang, and more!
In this article, I'll cover budget-friendly, mid-range, and luxurious ways to enjoy Krabi.
Average daily costs include hotel, eating out, and activities/day tour costs. Take a look, and see which daily spend best suits your travel style!
| | | | | | |
| --- | --- | --- | --- | --- | --- |
| Visitor Type | Hotels | Food | Transportation | Activities | Average Day Cost |
| Budget | $17 | $9 | $4 | $5 | $35 US |
| Mid-Range | $40 | $15 | $7 | $15 | $77 US |
| Luxury | $200 | $50+ | $15 | $27 | $292 US |
Scroll Right
Where to Stay in Krabi
Krabi is a large province, and there are many places to stay, but these four are the most popular places to consider.
All are home to many things to do, several hotels, and accommodations for tourists! Here are some averages for hotel costs by spend.
Budget Hotel Prices: $8 – $27 US
Mid-Range Hotel Average Prices: $30 – $90 US
Luxury Hotel Average Prices: $140 – $400 US
Phi Phi Islands
Phi Phi Don is the main island located in the middle of the Andaman Sea. Phi Phi Islands are world famous, and anyone visiting Southern Thailand must make at least a day trip here!
Most famous for Maya Bay Beach, the island is touristy and fun, with a vibrant nightlife. It's home to only 5000 residents, and you must walk everywhere, an authentic island experience!
Hotels in Phi Phi Islands:
Zeavola Resort / A luxurious 5 Star resort offering a secluded, quiet atmosphere on the island
Phi Phi Anita Resort / 3 Star resort located in the heart of the island, nearby bars, restaurants, and only a 10 minute walk to the main port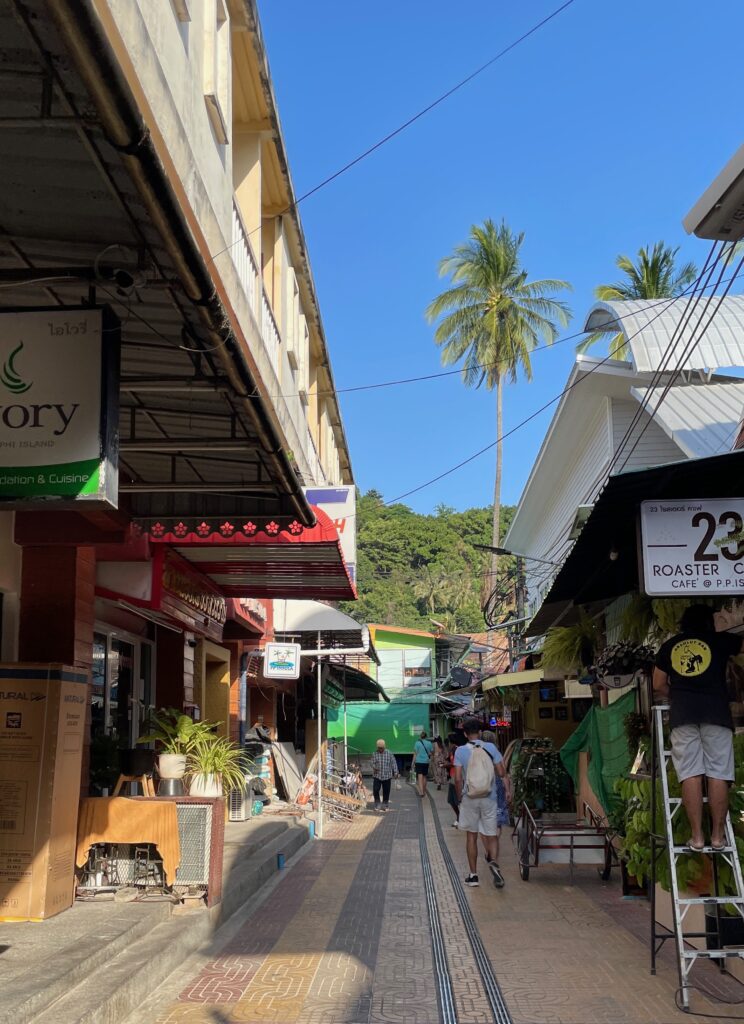 Ao Nang
Ao Nang is a popular resort town and is the best base to stay in Krabi for those looking to do many island tours! Including the Phi Phi Island tour, Krabi 4 Island tour, and others!
The town has a long beach shoreline and a main street where you'll find countless hotels, restaurants, and markets.
Hotels in Ao Nang:
Holiday Ao Nang / A beautiful 5 star resort located on Ao Nang Beach. The resort also has a pool and is a short walk away from shops, restaurants, and market
Panan Krabi Resort: A modern hotel located just steps away from the main beach with a stunning rooftop pool
Railay
Railay is a nature-rich small town only accessible by boat despite being connected to the mainland.
It's best known for its beaches, activities like rock climbing, and picturesque nature. It is one of the most beautiful places in all of Thailand.
Hotels in Railay:
Rayavadee / A stunning 5-star oasis. This resort has done an exceptional job delivering a luxury experience in the middle of the jungle.
Avatar Railay Resort is located along the Railay's East side, an exceptional 3-star hotel with spacious rooms and great location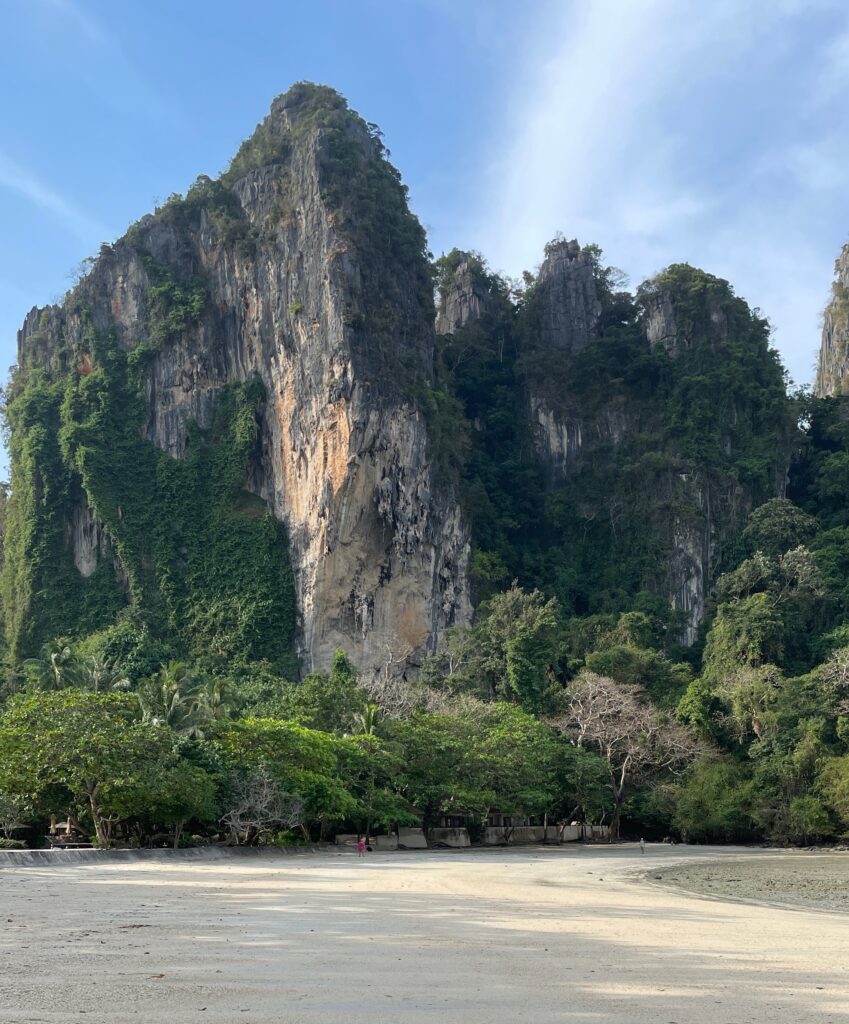 Krabi Town
Krabi Town is the capital of Krabi, and it's a small town that's less touristy than the others with many things to do. It's also one of the cheapest places in Thailand to visit!
Though there's no beach here, there's a river, and the town is near plenty of the dense jungle in Krabi; it's an ideal destination for those enjoying trekking.
Hotels in Krabi Town:
The Brown Hotel: Rated #1 boutique hotel in town, located right in the heart of Krabi Town
Krabi SeaBass Hotel: Fully equipped modern hotel with a beautiful pool and many amenities
Is Krabi expensive to Eat Out?
The cost of eating out in Krabi is cheap, but costs rise depending if you're consistently eating Western or other cuisine types. Local Thai food is always the cheapest in Thailand, no matter where you visit!
Krabi Town is the cheapest to eat out in Krabi. The prices are slightly higher for the rest, Ao Nang, Railay, and Phi Phi Don; the prices are consistent amongst those three when eating out.
If you want to budget your spending on eating out in Krabi spending, stick to the local Thai restaurants or street food most nights; they're always the most affordable. You can find meals for 80-100 baht, which is $2-3 US.
At mid-range restaurants in Krabi, expect to pay $5-9 US per main dish. In all destinations mentioned, you will find plenty of mid-range restaurants to try.
Fine dining in Krabi is limited for the most part in the region. At a fine dining restaurant, expect to pay around $11-22 US.
Breakfast is $3-8 US
Lunch is $4-12 US
Dinner is $7-14+ US
Don't forget the night markets in each place; they're always a great place to go for a delicious, well-priced meal!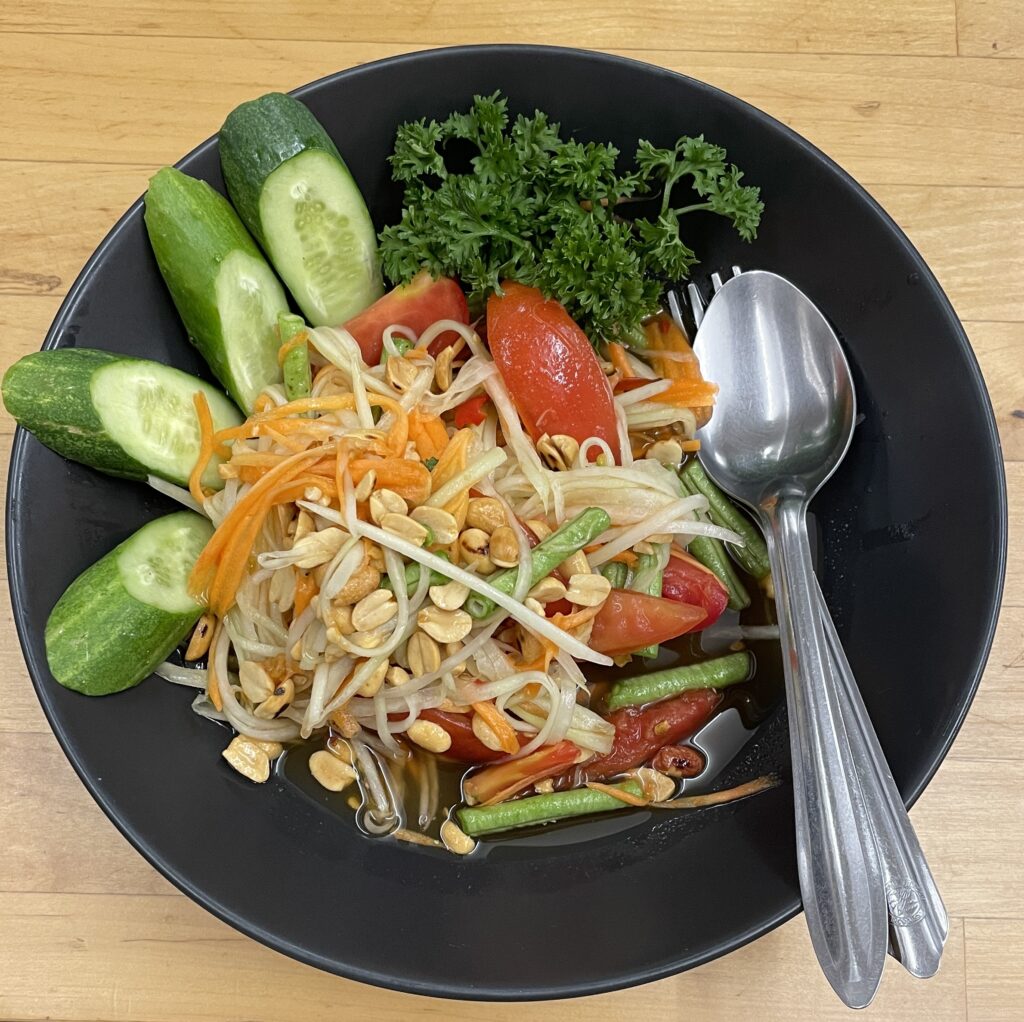 Krabi Day Tours & Activites
No matter where you visit in Thailand, you'll want to reserve part of your trip budget for day tours and activities.
Especially in Krabi, there are countless fun tours to do here, from island hopping tours to elephant sanctuaries, rock climbing, and more! Krabi is famous for its many islands, and you must experience one island hopping tour when visiting!
This part of your trip cost depends on how many tours you'd like to do. Those who plan to experience one or two tours, consider an average of $15 US daily into your trip budget. The average day tour price in Krabi is around $75 US.
Krabi 4 Island Tour: The Krabi 4 Island tour is a fun island hopping tour where you'll get to visit four different islands, including Railay!
Phi Phi Island Tour: Phi Phi Island tour is one of the most famous; on this tour, you will visit the world-famous Maya Bay Beach, Pi Leh Lagoon, and more!
Hong Island Tour: The Hong Islands are known for their emerald waters, lagoons, beautiful limestone formations, and more!
James Bond Island: Famous for its James Bond movie setting, the James Bond Island. Phang Nga Bay is full of stunning limestones, mangroves to canoe in, and more!
Getting Around Krabi
One of the best things about all destinations in Krabi is how walkable each place is; transportation isn't needed for any of them. No transportation means a sure money saver for your trip spend.
In Phi Phi Don, there are no cars or taxis, you must walk everywhere. Krabi Town is small, and you can walk everywhere, though taxis are available, or you can use Grab.
Ao Nang has two main streets, and you can walk anywhere in 10-20 minutes if you want; you can take a taxi there. Railay is secluded, and you must walk everywhere here; it takes no longer than 10-15 minutes to walk anywhere in Railay.
As for getting around the Krabi region from one place to another, in some places, you will have to take a bus or taxi/Grab. Other places, like Phi Phi Islands and Railay, you can only get to by boat.
For getting from one place to another in Krabi, the average transportation cost is $4-12 US. For all your transportation needs in Krabi, use 12GO to assist you!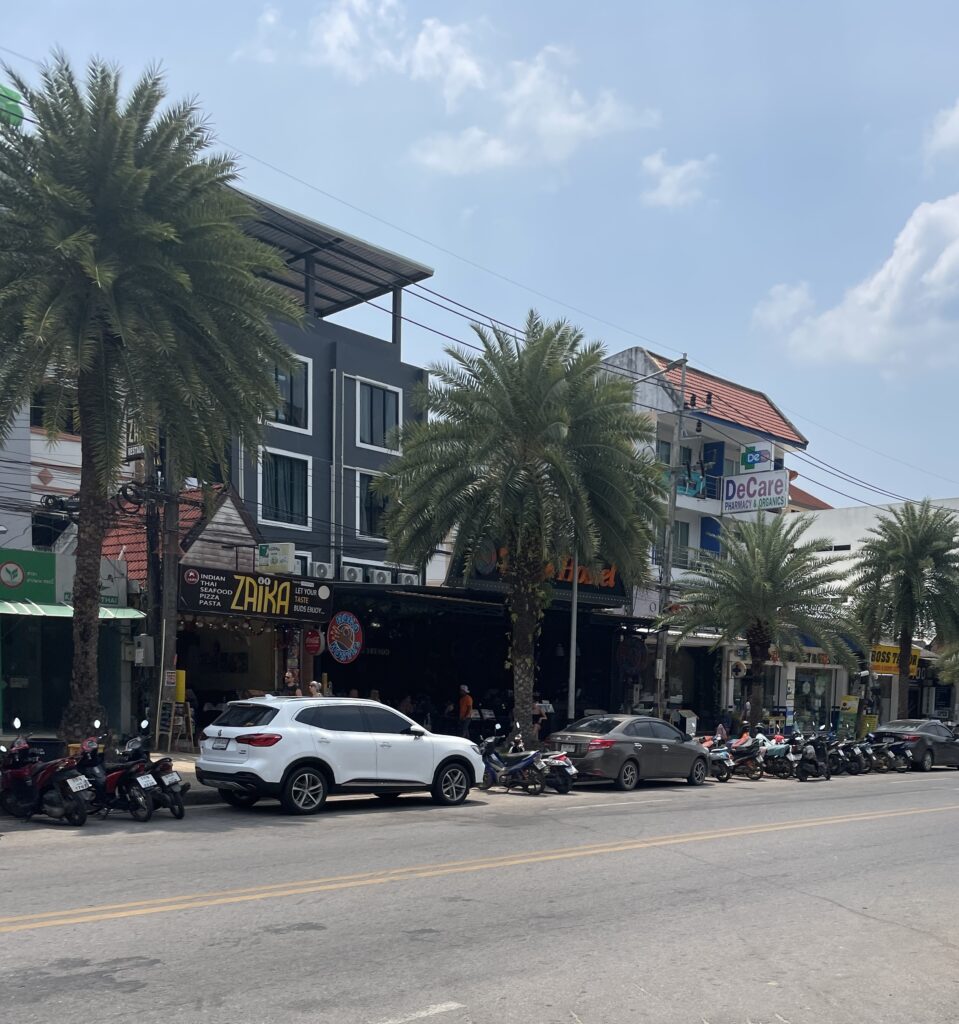 Best Time to Visit Krabi
The best time to visit Krabi or anywhere in southern Thailand is during the dry season, from November to April.
During the dry season in Krabi, you can expect beautiful weather daily with minimal to no rain whatsoever, and humidity levels are low.
The rainy season in Krabi is from May to October. If you choose to visit during this time, you will experience sunny weather, but understand the chances of it raining are much higher than when visiting during the dry season.
Dry Season in Krabi: November to April
Monsoon/Rainy Season in Krabi: May to October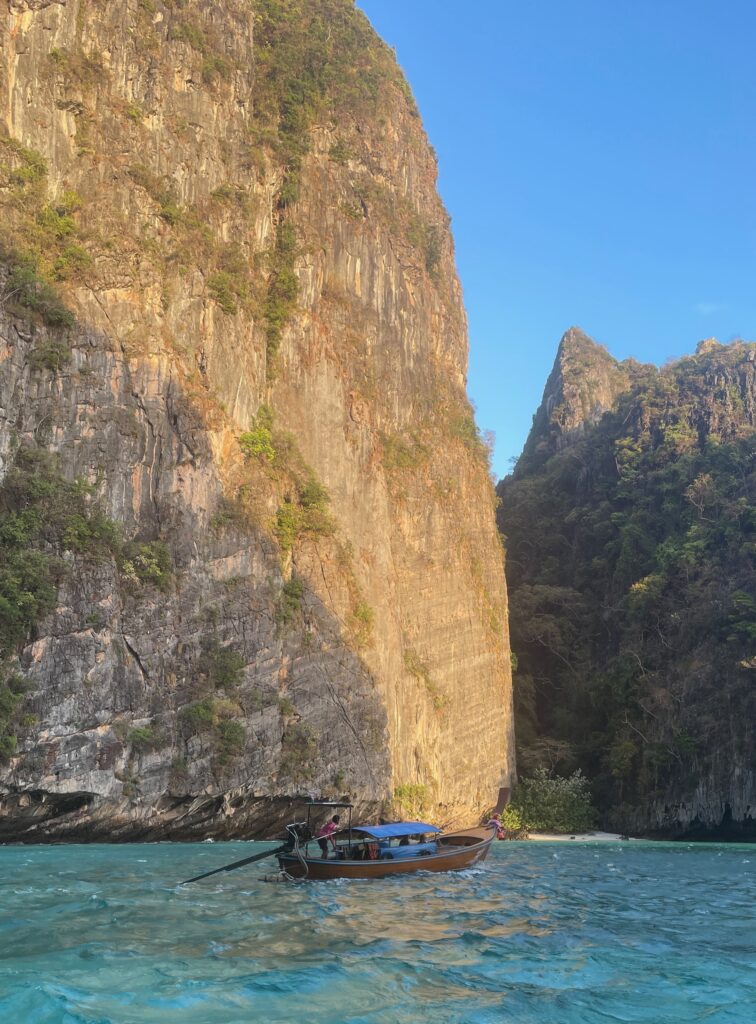 Is Krabi Expensive to Visit? — Final Thoughts
No, Krabi isn't expensive to visit; Krabi is quite cheap to visit! Finding hotels in Krabi for around $30 US is quite common, meals for $3-7 US is the average, and tour/transportation expenses are affordable as well.
The average seven-day vacation in Krabi costs $539 US, and this works out to $77 US/day. Understand that this is only an average and you can spend easily spend less when visiting Krabi!
Thailand as a whole is one of the cheapest countries to visit in the world, so budgeting yourself here is always possible!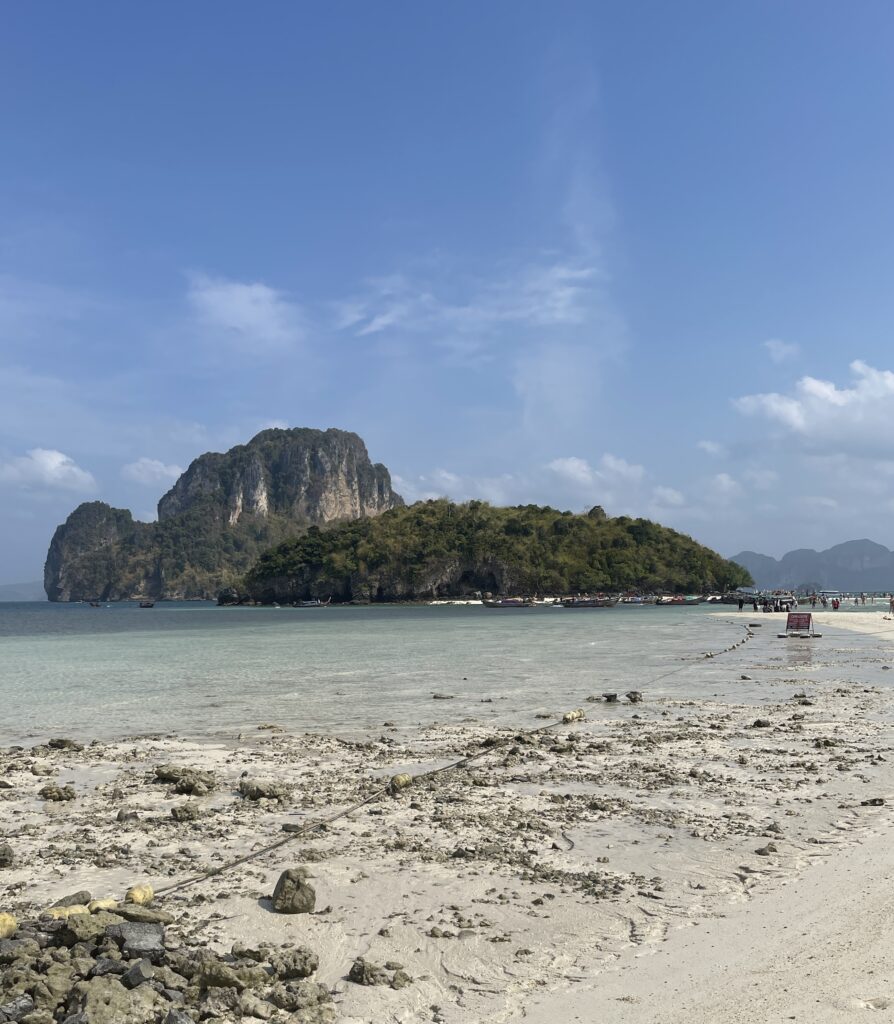 first page applicable
Subscribe to Travel Hiatus!
Receive updates on my latest posts, insider travel tips & the best destination guides to your inbox!
Happy & Safe Travels
---
Planning Checklist
---
Disclaimer: Please note that some of the links shared in this article might be affiliate links; this means that at absolutely no extra cost to you, we will earn a small commission for any sales generated through this article and/or this website. We recommend products/services we've either used or researched thoroughly – Thank you for supporting us so we can continue to share helpful travel content!